Welcome to the enchanting city of Zürich, nestled in the heart of Switzerland. Known for its picturesque landscapes and vibrant city life, Zürich offers a magnificent array of luxurious retreats where you can indulge in rejuvenating spa experiences. Immerse yourself in tranquility as you explore the realm of pampering and relaxation amidst this stunning destination.
Zürich boasts a selection of exquisite spa hotels that are renowned for their opulent amenities and impeccable service. Take a break from your daily routine and immerse yourself in an oasis of serenity as you embrace the soothing ambiance enveloping these extraordinary properties. With their idyllic settings, these sanctuaries provide an ideal escape from the hustle and bustle of everyday life.
Prepare to be mesmerized by Zürich's remarkable blend of history, culture, and natural splendor while surrendering to well-deserved moments of self-care at these exceptional spa hotels. From invigorating massages to revitalizing facials, allow yourself to be transported into a world where blissful indulgence is only steps away. Join us as we embark on this journey through Zürich's most exquisite spa hotels, promising unforgettable moments that will leave you feeling refreshed and rejuvenated like never before.
Zürich Most Relaxing Spa Resorts and Hotels
AMERON Zürich Bellerive au Lac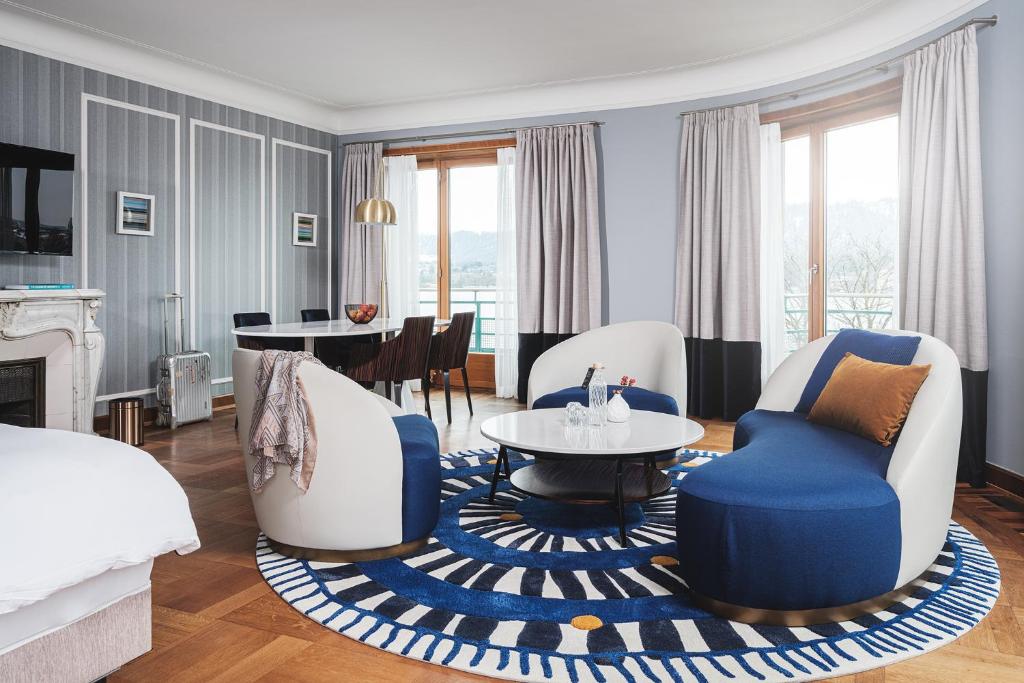 AMERON Zürich Bellerive au Lac is a luxurious 4-star hotel located in the heart of Zürich, just steps away from Zurich Opera House. This contemporary hotel offers an array of premium amenities such as concierge services, allergy-free rooms, a fitness centre, and free WiFi throughout the property. The on-site restaurant and bar provide delectable dining options for guests to indulge in. The stylishly designed air-conditioned rooms are well-appointed with modern comforts including a wardrobe, coffee machine, minibar, safety deposit box, flat-screen TV, and a private bathroom with a shower. Some rooms even feature balconies with breathtaking lake views. Guests can start their day with a delicious breakfast buffet offering various options including American and vegetarian choices. For those looking to explore the city, the hotel's prime location allows for easy access to popular attractions such as Bellevueplatz, Grossmünster, and Fraumünster. Additionally, guests can enjoy activities like cycling in and around Zurich. A business center is available for any work-related needs while vending machines stocked with snacks and drinks ensure convenience during your stay. With its impeccable service and excellent amenities, AMERON Zürich Bellerive au Lac guarantees an unforgettable experience for luxury-seeking travelers.
– Superb location near Zurich Opera House
– Modern design & stylish interiors
– Exceptional service & attentive staff
– Fitness center for wellness enthusiasts
– Free WiFi throughout the property
The Dolder Grand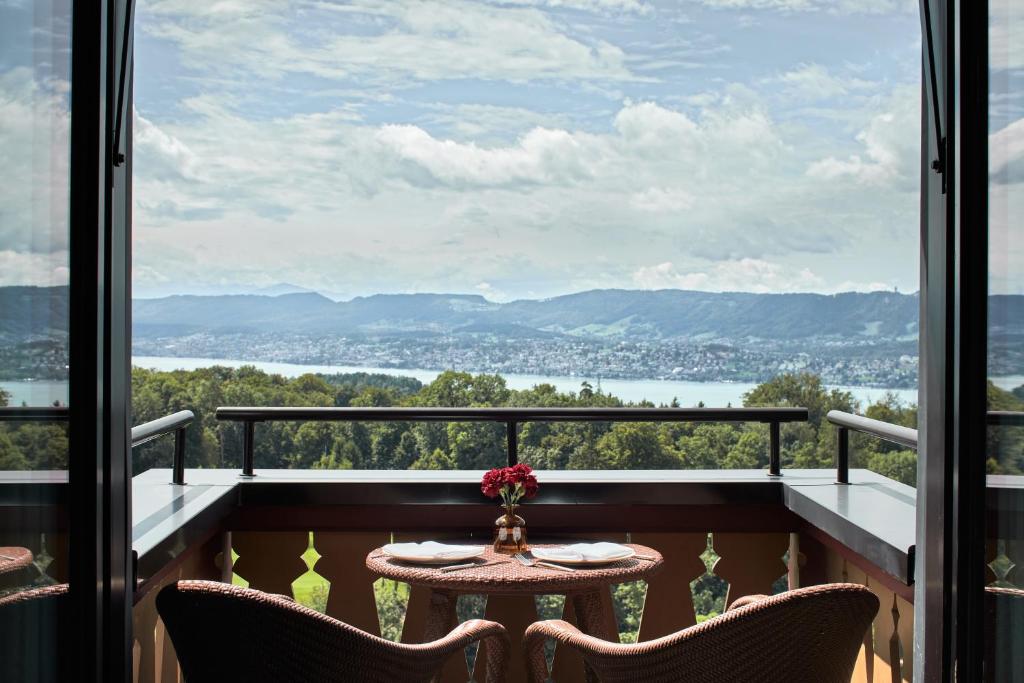 Located in the beautiful natural surroundings above Zurich, The Dolder Grand is a luxury spa hotel that offers a truly indulgent experience. With its 4,000 m² spa, guests can relax and rejuvenate in style. The hotel also features two award-winning restaurants where guests can savor modern international cuisine and a wide selection of fine wines and drinks. All rooms are equipped with modern amenities such as flat-screen satellite TVs, bathrobes, and slippers. The exclusive Dolder Grand Spa includes a large pool with panoramic views, fitness facilities, and 18 treatment rooms. For those seeking ultimate relaxation, the spa also offers two Spa Suites for an even more luxurious experience. What sets this hotel apart is its stunning views over Zurich, Lake Zurich, the Alps, or the nearby forest from many of its rooms and facilities. Guests can also take advantage of complimentary shuttle service to the city center or opt for their exclusive limousine service upon request.
– Stunning location above Zurich
– 4,000 m² luxury spa with panoramic pool
– Two award-winning restaurants serving international cuisine
– Spectacular views over Zurich and surrounding nature
– Complimentary shuttle service to the city center
H+ Hotel Zürich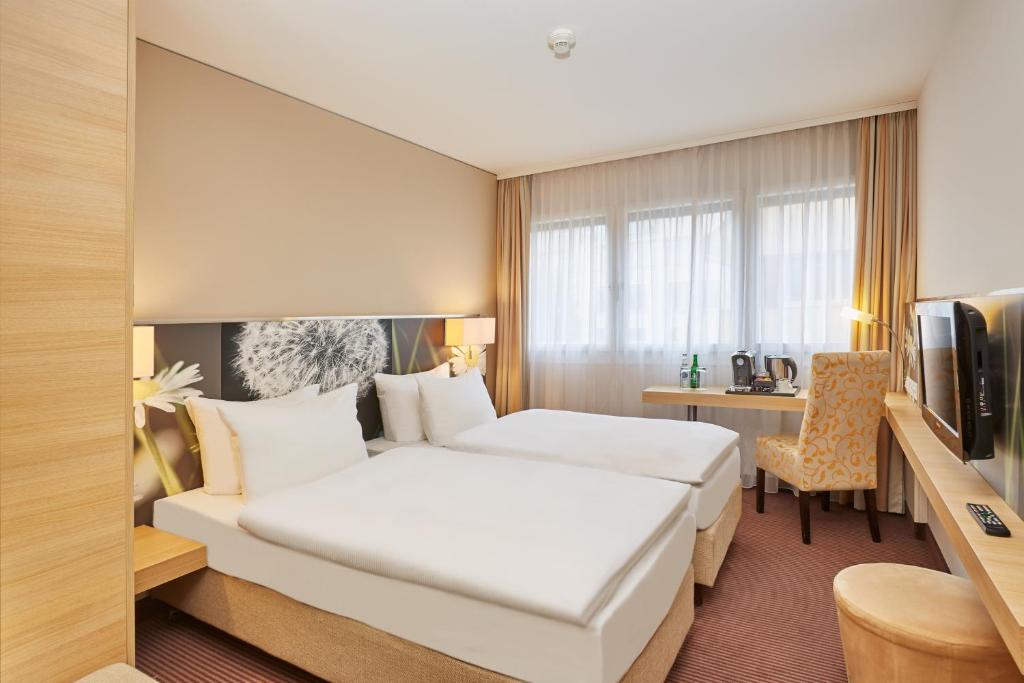 Located in the vibrant district of Zurich-West, H+ Hotel Zurich offers convenient access to public transportation and is situated directly across from Letzigrund Stadium. The hotel boasts a modern lobby bar where guests can relax with cocktails and a selection of wines. The spacious rooms are equipped with free WiFi, flat-screen satellite TVs, and all the necessary amenities for a comfortable stay. Guests can also take advantage of the on-site gym facilities. The hotel is well-connected to Zurich's main train station via tram lines 2 and 14, making it easy to explore the city's attractions, including museums and its bustling nightlife. Private garage parking is available for an additional fee.
– Convenient location in Zurich-West
– Modern lobby bar serving cocktails and wines
– Spacious rooms with free WiFi
– On-site gym facilities
– Easy access to public transportation
Other places to stay in Zürich
Zürich Luxury Spa Hotels
Zurich offers a selection of luxurious spa hotels that provide guests with an unparalleled experience of relaxation and rejuvenation. With serene atmospheres, indulgent treatments, and breathtaking views, these spa hotels offer the perfect escape from the bustling city life.
Swiss Holiday Park Resort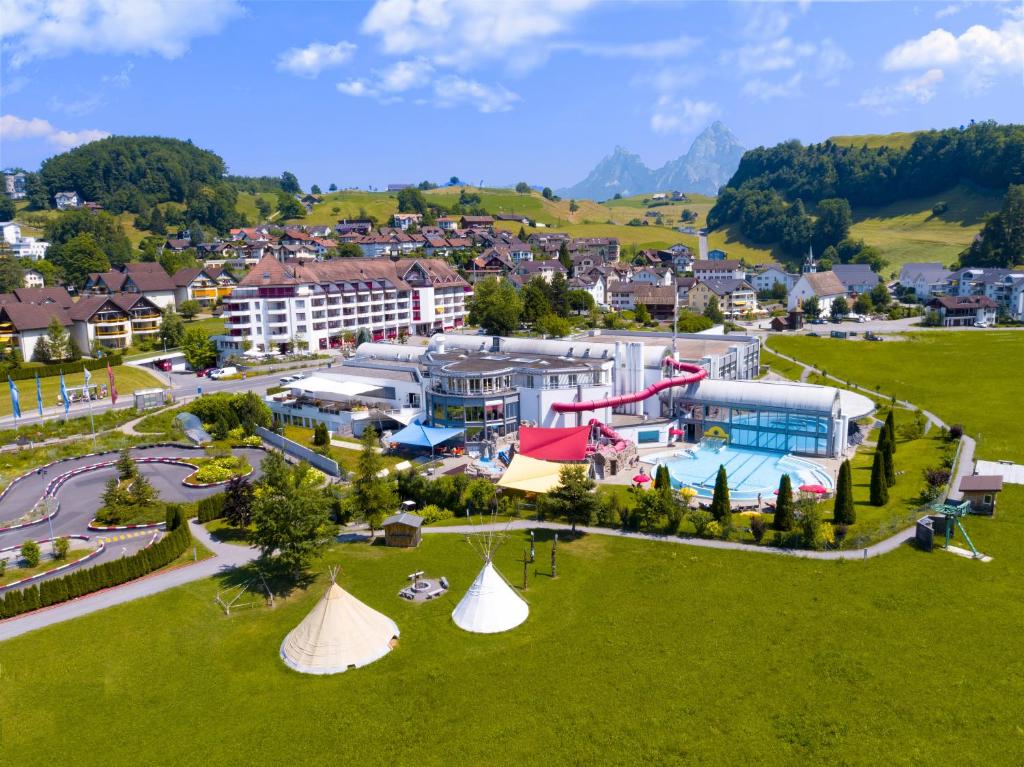 Located in the picturesque village of Morschach above Lake Lucerne, Swiss Holiday Park Resort is the ultimate luxury getaway in Switzerland. Surrounded by breathtaking mountains and lush meadows, this resort offers stunning views of the lake and Alps. With a wide range of leisure activities, spa facilities, and restaurants, guests are spoiled for choice during their stay. The extensive spa area, which is complimentary for guests, features an adventure pool with two spectacular water slides, a designated area for toddlers, a hot tub, climbing rocks, and even a white water channel. For an additional cost, guests can also enjoy various saunas, a saltwater pool, and a saltwater hot tub. The resort offers several accommodation options including modern hotel rooms with flat-screen TVs, simply furnished hostel rooms with bunk beds, and apartments with fully equipped kitchens. Sports enthusiasts will appreciate the range of indoor and outdoor activities available on-site as well as access to the fitness center. Families traveling with children will find plenty to keep them entertained too – from an adventure farm with petting animals to supervised kids' clubs and special children's buffets. Three on-site restaurants cater to different tastes – offering seasonal Swiss cuisine at Schwiizer Stube or international dishes with panoramic views at Restaurant Panorama. The Il Gusto specializes in pizza and pasta specialties while Neptun snack bar at the adventure bath serves snacks and drinks throughout the day. After a day of exploring the surrounding mountains or nearby lakeside towns like Lucerne or enjoying family-friendly leisure activities in winter such as skiing or tobogganing at their small ski lift slopes for kids within the resort premises- guests can relax knowing that they have access to ski storage facilities onsite where they can also purchase ski passes.
Pros:
– Stunning location overlooking Lake Lucerne
– Extensive free spa facilities including adventure pool
– Variety of accommodation options from modern hotel rooms to apartments
– Range of on-site sports activities and games available
– Family-friendly amenities including supervised kids' club and adventure farm
Renaissance Zurich Tower Hotel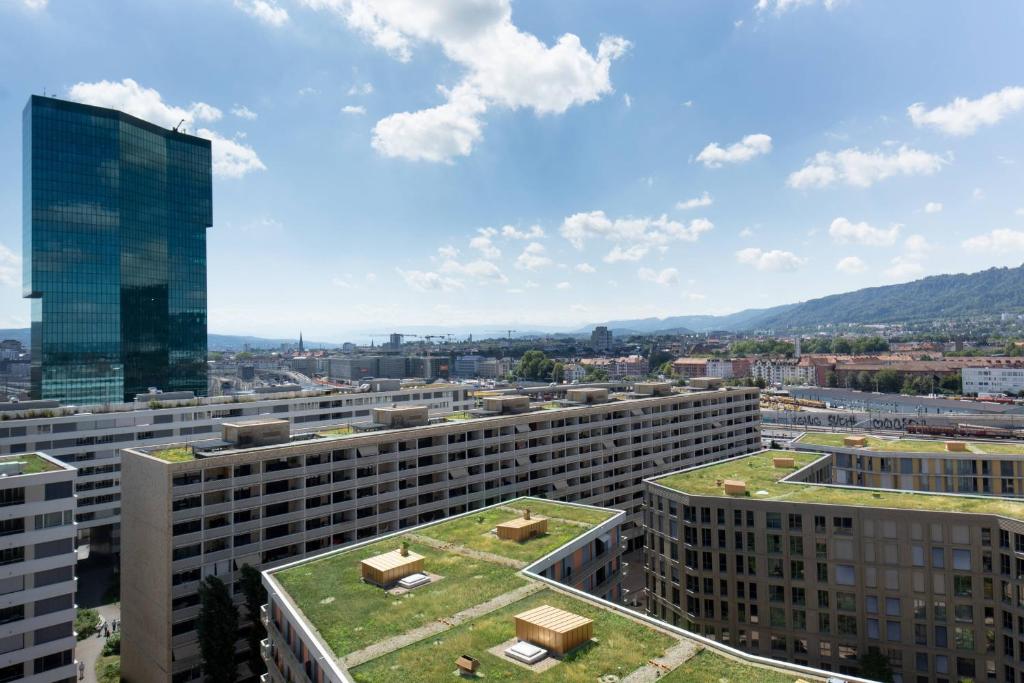 The Renaissance Zurich Tower Hotel is a 5-star boutique hotel located in the modern Mobimo Tower in the vibrant Zurich-West district. With its unique location, guests are within walking distance of corporate offices and popular clubs like Moods im Schiffbau, Komplex457, and Hive. The hotel is conveniently situated just 500 meters from Zurich Hardbrücke railway station, offering direct connections to Zurich Central Station and popular attractions such as Zurich Lake and Bahnhofstrasse shopping mile. The elegant rooms and suites at the Renaissance Zurich Tower Hotel feature floor-to-ceiling windows that offer breathtaking panoramic views of the city. Additional amenities include flat-screen TVs with Chromecast, free tea and coffee-making facilities, and air conditioning. Guests staying in a Club room or suite also enjoy complimentary access to breakfast at the hotel's restaurant as well as free drinks and food during special hours at Lucid Bar. On the 15th floor, guests can enjoy a well-equipped gym with impressive views over Zurich. The Equinox restaurant offers a diverse menu of dishes and wines, while the summer terrace provides a relaxing space for guests to unwind. Drinks and snacks are available at Lucid bar, which also features a 24/7 room service option for added convenience. The hotel's proximity to (S16) makes it easy to reach Zurich Airport in Kloten within only 11 minutes.
Pros:
– Unique location in trendy Zurich-West district
– Stunning panoramic views from floor-to-ceiling windows
– Complimentary access to breakfast for Club room or suite bookings
– Well-equipped gym on the 15th floor with impressive city views
– Convenient access to transportation options
Grand Resort Bad Ragaz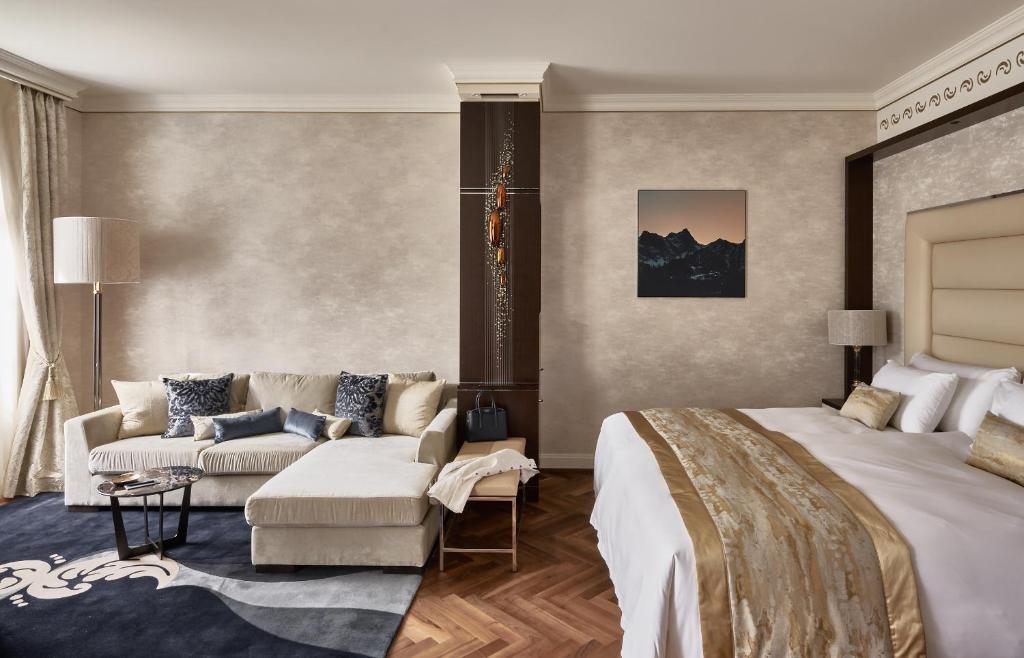 The Grand Resort Bad Ragaz is a luxurious spa hotel located in Eastern Switzerland, just an hour's drive from Zurich. Nestled amidst the breathtaking beauty of the Alps, this first-class resort offers guests a range of exceptional amenities and activities. With picturesque hiking trails and world-class ski resorts surrounding the property, outdoor enthusiasts will find themselves in paradise. The resort also features two golf courses, a meetings and events center, a public thermal spa called Tamina Therme, and even its own casino. The thermal spa boasts a variety of pools including the historic Helena pool, sports pool, garden pool, family spa, and sauna area – all filled with 36.5°C thermal water sourced from the nearby Tamina gorge. Additionally, the resort offers its own thermal spring and medical health center for guests seeking wellness treatments or medical services during their stay. Accommodations at Grand Resort Bad Ragaz are elegant and comfortable with stylish design elements throughout. The dining options are equally impressive with seven restaurants earning a combined total of 75 GaultMillau points and six Michelin stars. To further enhance their offerings, there is also a sushi takeaway spot as well as a bistro and café to satisfy every culinary desire. This magnificent resort combines unparalleled luxury with extensive wellness facilities that include not only spas but also expert medical care for convalescent patients through their renowned health center – truly making it an oasis of relaxation and rejuvenation.
– Stunning location amidst the foothills of the Alps
– Variety of pools including historic Helena pool
– Two golf courses on site
– Seven restaurants with exceptional culinary offerings
– Complementary medical expertise available at health center
5 Star Spa Hotels in Zürich
Zürich boasts a selection of luxurious 5-star spa hotels that offer unparalleled relaxation and rejuvenation experiences. From opulent spa facilities to personalized treatments, these hotels provide the perfect sanctuary for indulging in ultimate self-care and escaping the hustle and bustle of the city.
Bürgenstock Hotels & Resort – Palace Hotel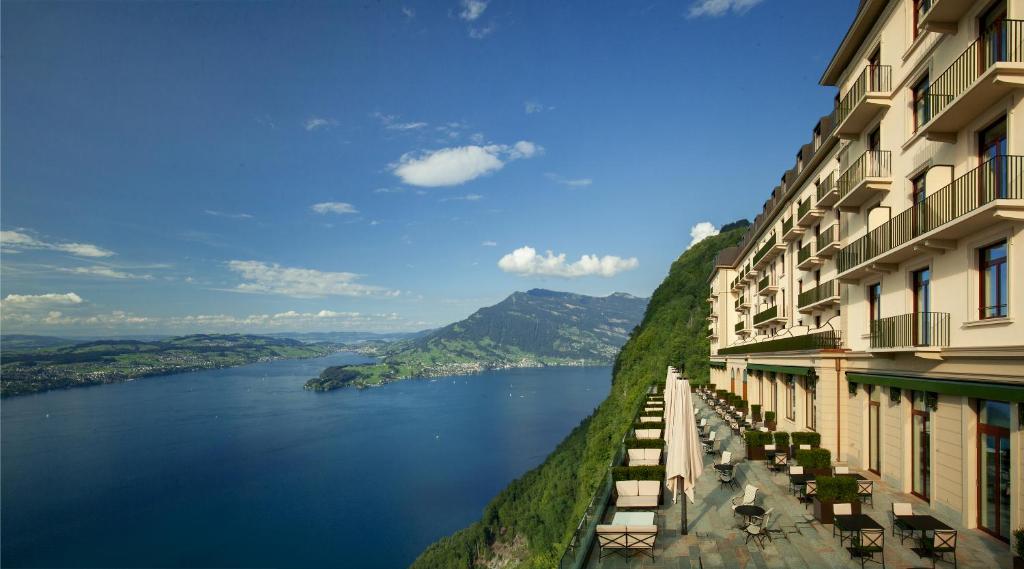 Located on the Bürgenberg, 450 meters above Lake Lucerne in Nidwalden, Bürgenstock Hotels & Resorts – Palace Hotel offers guests a luxurious retreat with its 109 classic yet modern rooms and suites. The hotel features a fine dining restaurant, Ritzcofier, as well as its own lounge and Salon 1903. Guests can also explore the unique Museum corridor showcasing the iconic history of the Bürgenstock Resort. Each room is equipped with a flat-screen TV, seating area, private bathroom, and either a terrace or balcony. Free WiFi is available throughout the property. In addition to the hotel's amenities, guests can enjoy access to nine other restaurants and bars within walking distance that offer a variety of cuisines from around the world. For relaxation and rejuvenation, there is also an impressive 10,000 m² Alpine Spa featuring an indoor pool, two outdoor pools, a fitness room, saunas, and more. Families are welcome at this resort as it boasts its own Kids Club catering to children aged 3-12 years old. Sports enthusiasts will delight in activities such as tennis and golf at the hotel's facilities while nature lovers can embark on mountain biking or hiking adventures nearby. Notably close by is Europe's highest outdoor lift – Hammetschwand lift – adding another exciting attraction for visitors to explore during their stay. To further enhance convenience for guests' travels around Lucerne, they have complimentary access to the Bürgenstock Boat Shuttle as well as a funicular ride throughout their entire stay.
– Stunning panoramic views of Lake Lucerne
– Access to multiple dining options within walking distance
– Extensive Alpine Spa facilities including pools and saunas
– Family-friendly with dedicated Kids Club
– Proximity to attractions like Hammetschwand lift
Park Hyatt Zurich – City Center Luxury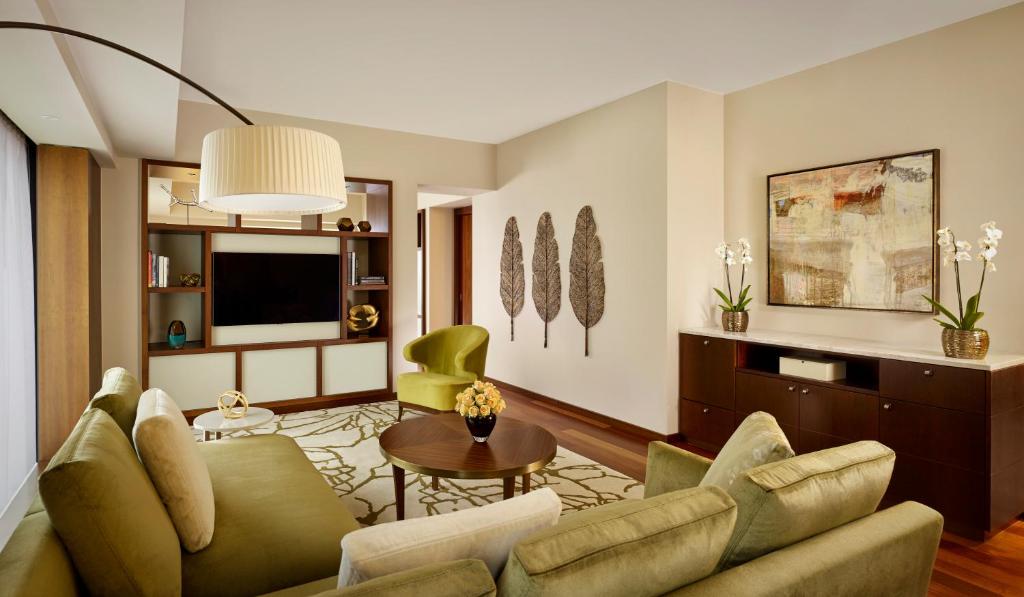 Located in the heart of Zurich, the Park Hyatt Zurich is a contemporary 5-star hotel that offers luxury and convenience. Situated just steps away from the fashionable Bahnhofstrasse shopping street, Lake Zurich, and the Old Town, this hotel is perfectly situated for exploring all that Zurich has to offer. The hotel features a health club with a gym, steam bath, sauna, and treatment rooms for ultimate relaxation. The avant-garde architecture and contemporary art displayed throughout the hotel create a stylish and sophisticated atmosphere. The spacious accommodations provide guests with plenty of room to unwind after a day of exploring the city. Food lovers will enjoy watching chefs at work in the show kitchen of the 'parkhuus' Restaurant, which boasts floor-to-ceiling glass on three sides. Additionally, wine enthusiasts will appreciate the two-story wine library that houses an impressive selection of 3000 bottles of wine. For those looking for a place to relax and unwind with a drink or snack, both the ONYX bar and The Lounge provide comfortable seating options as well as an inviting atmosphere. With its convenient location near public transportation options such as Stockerstrasse Tram Stop and Main Train Station, getting around Zurich is easy from this luxurious hotel.
– Convenient location in the heart of Zurich
– Health club with gym facilities
– Stylish design with avant-garde architecture and contemporary art
– Impressive selection of wines in two-story wine library
– Comfortable lounges for relaxation
Widder Hotel – Zurichs luxury hideaway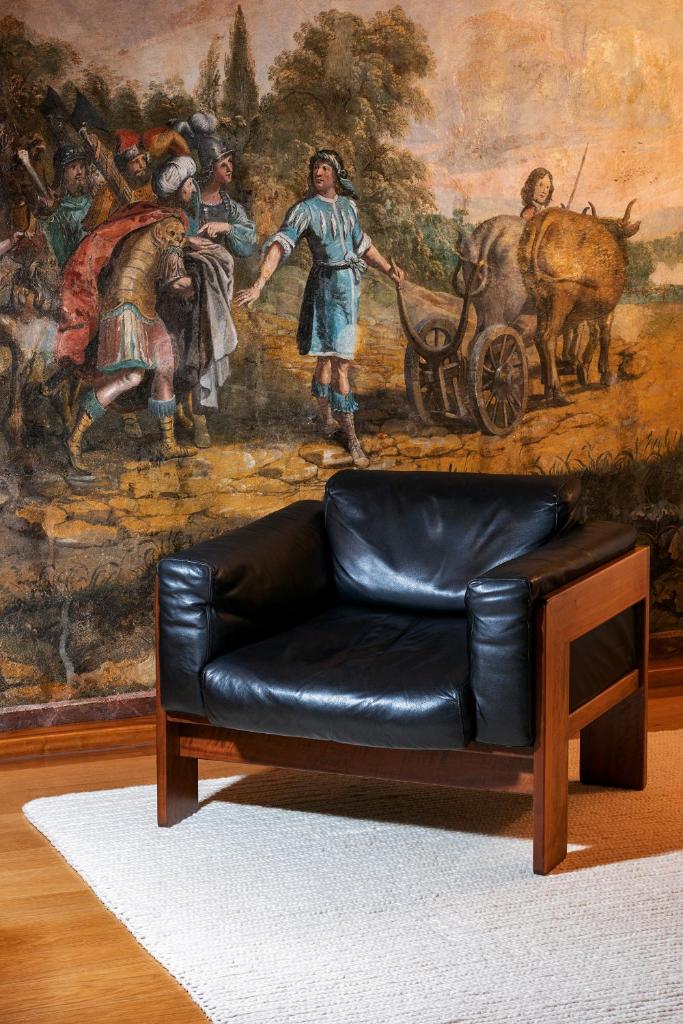 Located in Zurich's Old Town, just steps away from the Bahnhofstrasse shopping street, Widder Hotel is a luxurious boutique hotel that spans across 9 carefully renovated historic buildings. The hotel boasts an impressive collection of artwork by renowned artists such as Andy Warhol and Robert Rauschenberg. Individually decorated rooms offer modern amenities including air-conditioning, a video and audio entertainment system by B&O, and complimentary soft drinks. Guests can indulge in gourmet cuisine at the award-winning Widder Restaurant or enjoy traditional Swiss dishes at Zur Schtund restaurant. The Widder Bar offers a wide selection of spirits from around the world along with live jazz performances. With Zurich's Main Train Station and Lake Zurich within walking distance, this hotel is the perfect choice for luxury travelers looking to explore the city.
Pros:
– Tranquil location in Zurich's Old Town
– Unique and historic atmosphere with carefully curated artwork
– Award-winning gourmet restaurant
– Luxurious individually decorated rooms with modern amenities
– Conveniently located near major attractions
Spa Hotels in Downtown Zürich
Downtown Zürich is home to a variety of luxurious spa hotels, offering guests a tranquil and rejuvenating escape from the bustling city. With world-class treatments and serene environments, these spa hotels provide the perfect opportunity to indulge in relaxation and wellness amidst the vibrant energy of Zürich's city center.
FIVE Zurich – Luxury City Resort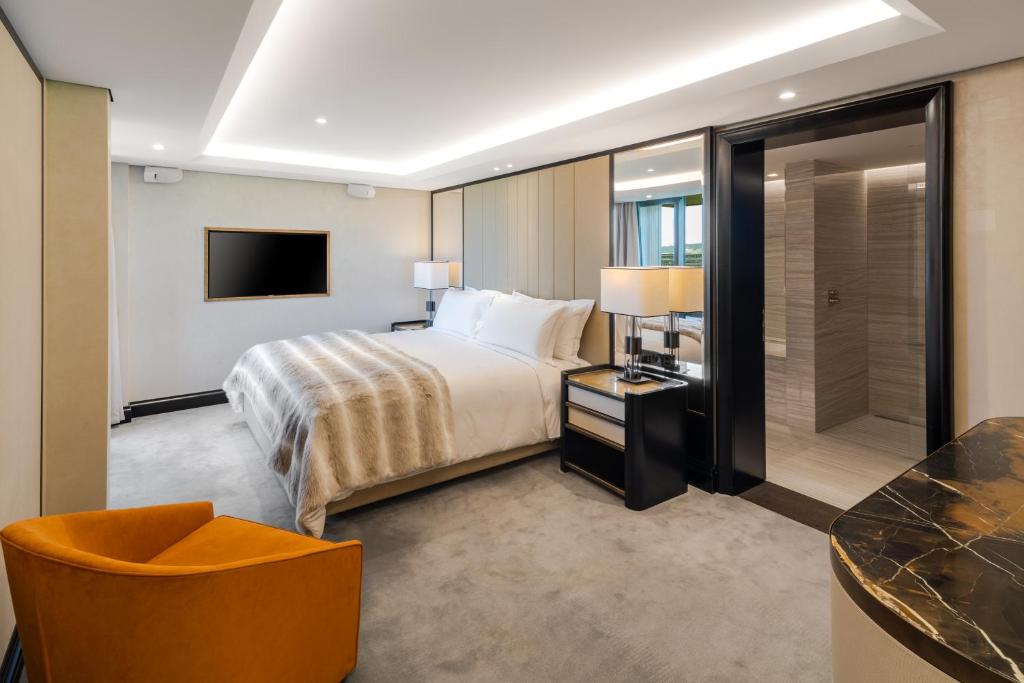 FIVE Zurich – Luxury City Resort is an upscale hotel located in the vibrant district of Wiedikon in Zürich. Boasting a wide range of amenities, guests can enjoy a restaurant, free bikes, a seasonal outdoor swimming pool, and a fitness center. The hotel also offers an indoor pool and hammam for ultimate relaxation. With multiple dining options, a bar, and even a nightclub on-site, guests will never run out of entertainment choices. The 24-hour front desk provides excellent service along with room service and currency exchange facilities. Each air-conditioned room is well-appointed with modern amenities including a flat-screen TV with satellite channels, safety deposit box, and a private bathroom featuring luxurious bathrobes and slippers. Some rooms even come with additional features such as kitchenettes equipped with fridges, dishwashers, and ovens. Guests can start their day off right with either the buffet or à la carte breakfast offered at the hotel before embarking on activities like hiking and cycling around Zürich. For added convenience, the hotel offers airport shuttle services for those arriving or departing from Zurich Airport which is located just 14 km away.
– Wide range of amenities including outdoor swimming pool and fitness center
– Multiple dining options available
– Luxurious rooms equipped with modern amenities
– Convenient location for exploring Zürich's attractions
– Airport shuttle services provided for easy transportation
Alma Hotel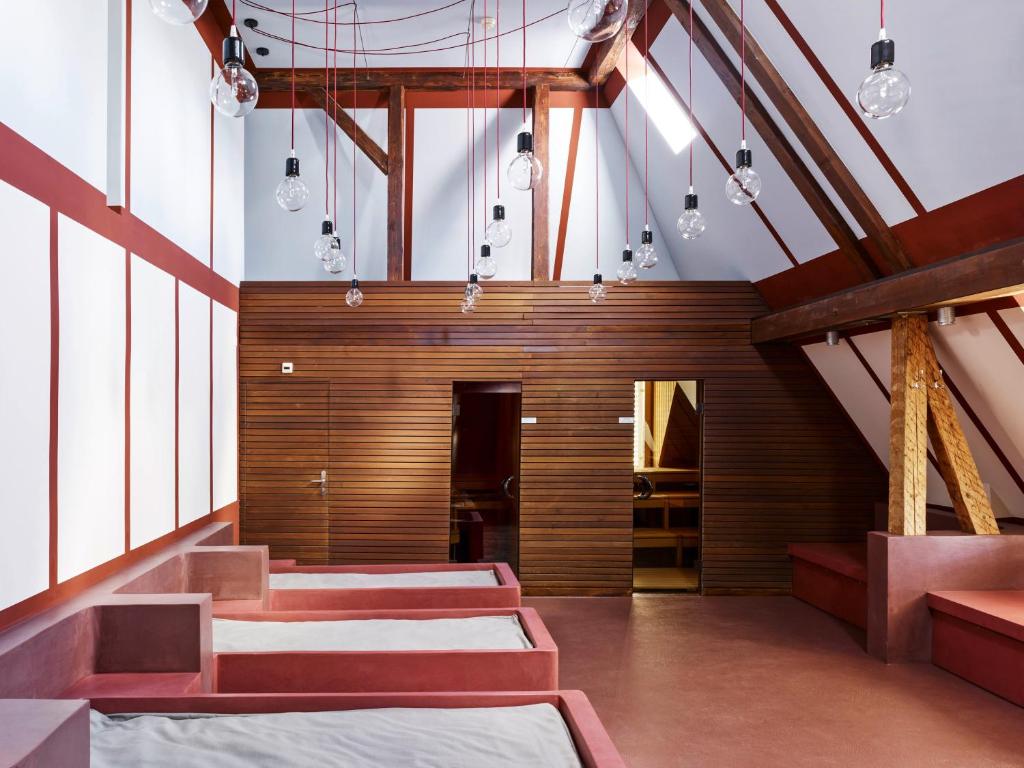 The Alma Hotel is a luxurious spa hotel located in a quiet 19th-century building, just 100 meters from Lake Zurich and conveniently close to tram and bus stops. Within walking distance, guests can explore attractions such as the Zurich Opera House, Bellevue Square, and various restaurants and cafés. The hotel's spa area is exclusively available for women and offers amenities such as a steam bath, Finnish sauna, and bio sauna. The modern rooms are equipped with a work desk, TV, and private bathroom. Wheelchair accessible rooms are available upon request. Free WiFi access is provided throughout the hotel. Guests can enjoy a delicious breakfast buffet featuring regional, organic, and fair trade products or order Italian cuisine from a neighboring restaurant. Additionally, the upper floor features a relaxation room and a private roof terrace with breathtaking views of the city skyline, lake, and mountains. For those seeking tranquility amidst the bustling city center, the hotel also boasts an inviting rose garden accessible via worn stone steps. Moreover, there is an elegant wooden veranda that serves as an entrance to the hotel while providing another delightful space for guests to savor their meals or drinks. Furthermore, their Salon Rosengarten offers an intimate ambiance perfect for organizing family celebrations or hosting meetings with up to eight participants; this space is also available for outsiders to rent for various events like workshops or press conferences. With its convenient location near public transportation options such as trams that allow easy access to Zurich's Main Train Station within 10 minutes' ride away; Alma Hotel promises its guests an enticing blend of comfort and convenience along with stunning views of the cityscape.
– Convenient location near Lake Zurich
– Exclusive spa area for women
– Modern rooms equipped with essential amenities
– Tranquil rose garden
– Intimate Salon Rosengarten available for private events
Zürich Spa Hotels Information
| | |
| --- | --- |
| 🛎️ Spa Hotels in Zürich | 11 |
| 💵 Hotels Prices From | $136 |
| 💵 Highest price | $1282 |
| 🥇 Average Review Score | 8.7/10 |
| 🛏️ Average number of Rooms | 141 |
Top SPA hotels in Zürich
| | |
| --- | --- |
| Bürgenstock Hotels & Resort – Palace Hotel | 9.3/10 |
| Widder Hotel – Zurichs luxury hideaway | 9.3/10 |
| Grand Resort Bad Ragaz | 9.2/10 |
| The Dolder Grand | 9/10 |
| FIVE Zurich – Luxury City Resort | 9/10 |
FAQ
What are the top luxury spa hotels in Zürich?
Zürich offers a range of luxurious spa hotels that cater to discerning travelers. Some of the top choices include The Dolder Grand, a renowned five-star hotel with an exquisite spa featuring panoramic views of the city
Are there any budget-friendly spa hotels in Zürich?
While Zürich is known for its luxurious offerings, there are also some budget-friendly options for those looking to relax without breaking the bank. Hotel Marta is a centrally located boutique hotel that features a cozy wellness area with sauna and steam bath at an affordable price. Additionally, Hotel Fly Away offers comfortable rooms and an on-site spa center at reasonable rates.
What amenities can I expect in Zürich's luxury spa hotels?
Luxury spa hotels in Zürich pride themselves on providing exceptional amenities for their guests. From state-of-the-art fitness centers and swimming pools to spacious relaxation areas and private treatment rooms, you can expect nothing short of opulence. Many properties also offer unique experiences such as rooftop spas or outdoor hot tubs overlooking scenic landscapes.
Which neighborhoods in Zürich have the best selection of spa hotels?
Zürich has several neighborhoods that boast a great selection of spa hotels catering to different tastes. The Old Town (Altstadt) is perfect for those seeking charming historic buildings paired with modern wellness facilities. For breathtaking lake views and proximity to nature, consider staying in Seefeld or Enge districts. If you prefer vibrant nightlife and upscale shopping options nearby your tranquil retreat, then Kreis 1 (City Center) or Bahnhofstrasse are ideal choices.
Do I need to make advance reservations for treatments at Zürich's spa hotels?
Given the popularity of Zürich's spa hotels, it is highly recommended to make advance reservations for treatments. This ensures that you secure your preferred time slot and allows the hotel staff to tailor the experience to your specific needs. It's best to contact the hotel directly or utilize their online booking system well in advance to guarantee availability during your stay.
Popular Wellness Hotels destinations