Welcome to the enchanting region of Veneto, Italy, where luxury and relaxation seamlessly blend together in the exquisite realm of spa hotels. Nestled amidst breathtaking landscapes and charming cities, Veneto offers an abundance of options for those seeking a rejuvenating retreat. Unwind and indulge in the opulence of Veneto's wellness havens, where tranquility and serenity await.
Veneto boasts a plethora of magnificent establishments that cater to your every desire, providing an oasis of calm amidst the bustling rhythm of Italian life. Immerse yourself in the soothing ambiance as you explore the diverse selection of spa hotels scattered throughout this captivating region. From grand palaces nestled along peaceful canals to idyllic countryside resorts surrounded by lush vineyards, each destination embraces its own unique charm while delivering exceptional service and world-class amenities.
Whether you are yearning for holistic therapies inspired by ancient traditions or innovative treatments using cutting-edge technology, Veneto's spa hotels offer an impressive array of wellness programs tailored to meet every guest's needs. Indulge in invigorating massages overlooking picturesque vistas or soak away your worries in thermal baths enriched with natural minerals. Discover gastronomic delights prepared with locally sourced ingredients at award-winning restaurants before unwinding with a glass of exquisite regional wine.
Embrace the artful balance between luxurious comfort and profound relaxation as you embark on a journey through Veneto's unrivaled collection of spa hotels. Allow yourself to be pampered amidst stunning surroundings, immersing mind, body, and soul in pure bliss. Join us as we uncover these hidden gems that promise unforgettable experiences that will leave you feeling revitalized and renewed."
Veneto Most Relaxing Spa Resorts and Hotels
Hotel Terme Antoniano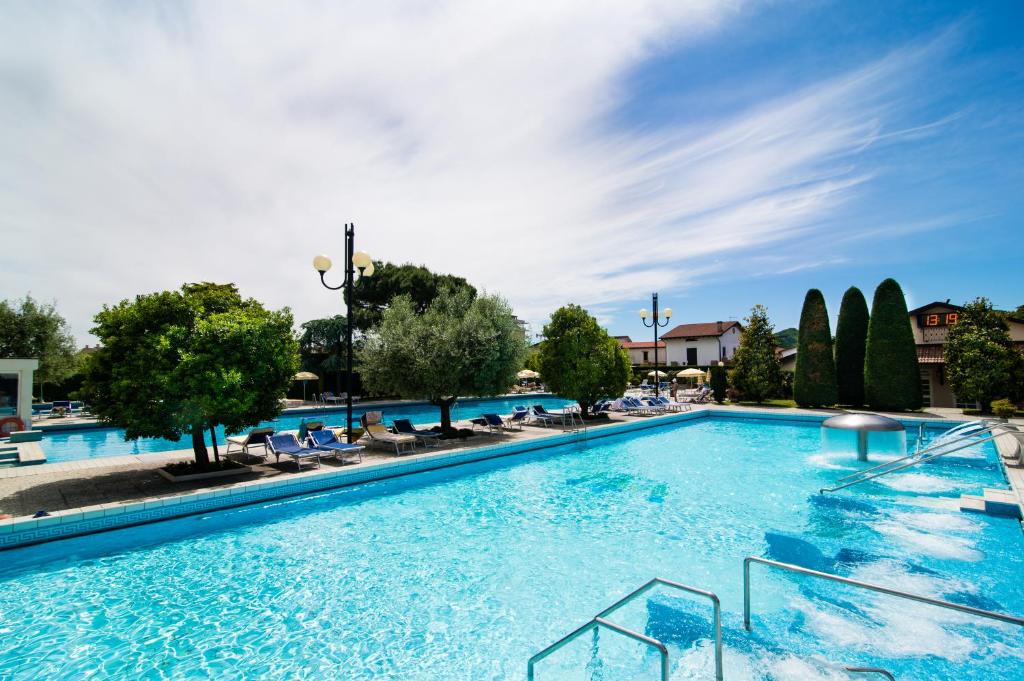 Hotel Terme Antoniano is a luxurious spa hotel located just 15 km from Padua. This beautiful hotel offers a range of amenities including a tennis court, gym, and free lobby Wi-Fi. The rooms are spacious and comfortable with air-conditioning, satellite LCD TVs, and private bathrooms with soft slippers. The highlight of the hotel is its spa, which features 4 thermal pools with hydromassage features at varying temperatures. Guests can indulge in mud therapy and massage treatments or seek advice from the fitness instructor on exercise programs. The hotel also boasts a Veneto restaurant that specializes in local cuisine using carefully selected seasonal ingredients. With Battaglia Terme Station only 9 km away and the A13 Autostrada Bologna-Padova motorway just a 15-minute drive away, Hotel Terme Antoniano offers convenience along with luxury.
– Tennis court and gym available
– Free lobby Wi-Fi
– Spa with thermal pools and hydromassage
– Veneto restaurant specializing in local cuisine
– Mud therapy and massage treatments offered
Hotel Metropole Venezia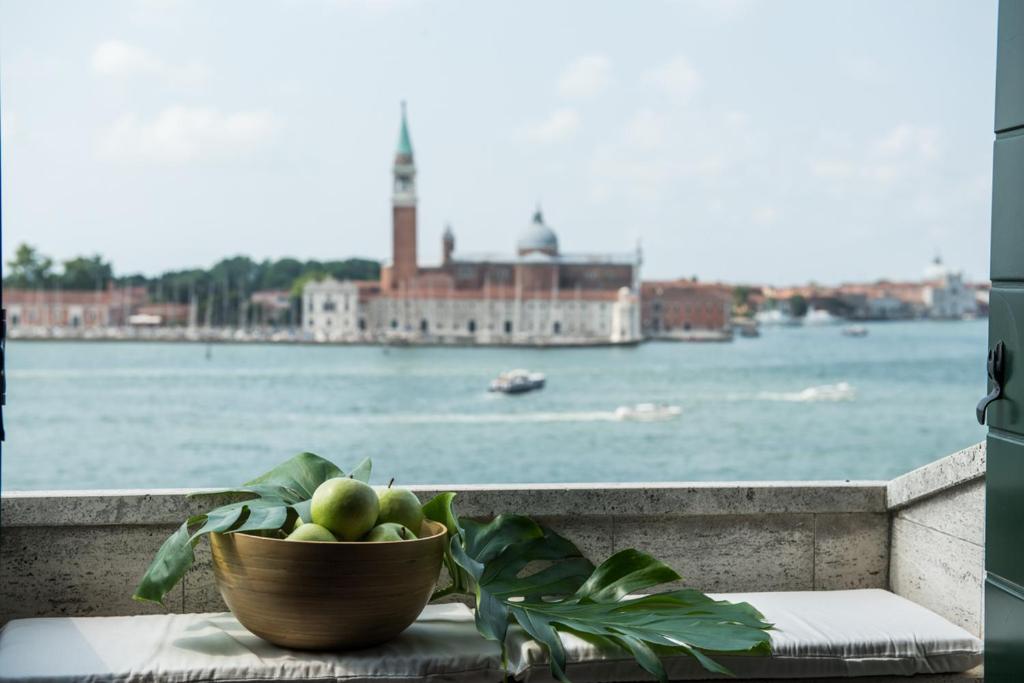 Hotel Metropole Venezia is a boutique hotel located just 350 meters from Saint Mark's Square, offering guests a privileged location in Venice. The hotel features luxurious rooms with antique furnishings and fine fabrics, all uniquely decorated in an oriental style. Guests can enjoy stunning views of the Venice Lagoon while dining at the contemporary restaurant or relaxing in the ethnic lounge bar and citrus garden. The corridors of Metropole SPA & Wellness showcase an eclectic collection of antique fans, tapestries, and other artifacts. Guests can also indulge in the spa's amenities, including a private bathroom with bathrobe, slippers, and free toiletries. Additional highlights include palm trees in the garden and a 14th-century well. A delicious buffet breakfast awaits guests each morning, featuring bacon, eggs, hams, cheeses as well as seasonal fruit, tiramisu, and pannacotta. For fine cuisine options throughout the day or evening, Oriental Bar & Bistrot is available on-site. With its close proximity to San Zaccaria Vaporetto water bus stop (just 200 meters away) and being only a 5-minute walk from the Bridge of Sighs; Hotel Metropole Venezia offers guests convenience combined with luxury.
Pros:
– Privileged location near Saint Mark's Square
– Luxurious rooms with antique furnishings
– Stunning views of Venice Lagoon
– Eclectic collection of artifacts throughout the hotel
– Spa amenities for relaxation and rejuvenation
Wellness Hotel Casa Barca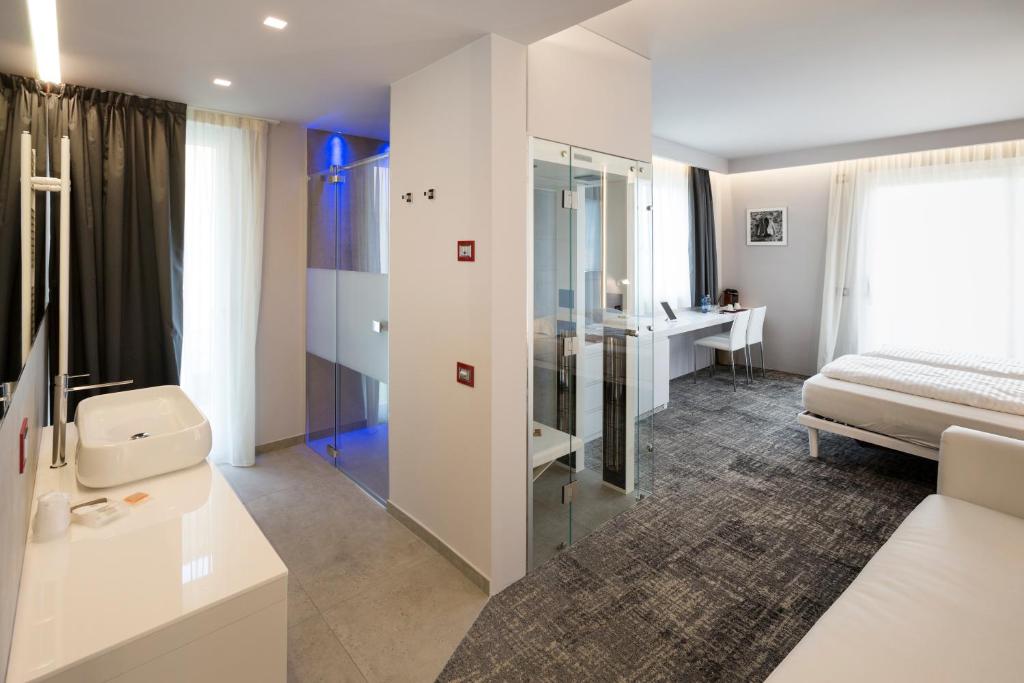 Wellness Hotel Casa Barca (Adult Only) is a charming, family-run hotel situated on the picturesque shores of Lake Garda. With its recent renovation, this modern hotel offers guests stunning 360° views of the glistening water. Surrounded by a vast olive grove, the hotel provides a tranquil retreat just moments away from the captivating historic center of Malcesine. Indulge in ultimate relaxation at the hotel's newly built health spa or bask in luxury within its exquisite private garden and swimming pool. Each guest room at Casa Barca Hotel boasts a balcony with breathtaking lake views, ensuring an idyllic stay.
– Serene location with spectacular lake views
– Modern and recently renovated facilities
– Brand new health spa for ultimate relaxation
– Exquisite private garden and swimming pool for leisurely enjoyment
Veneto Luxury Spa Hotels
Veneto, located in northeastern Italy, is known for its luxurious spa hotels that offer a blissful retreat for guests. With serene surroundings and world-class spa treatments, these hotels provide the perfect opportunity to relax, rejuvenate and indulge in true luxury.
Hotel Corte Valier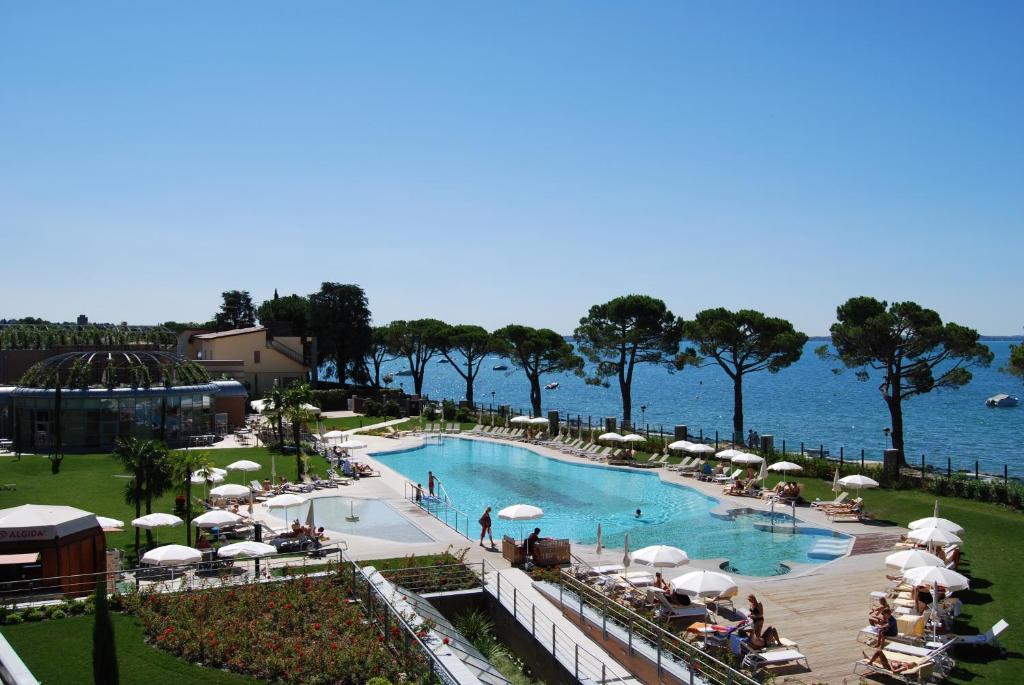 Hotel Corte Valier in Lazise offers luxurious rooms with modern decor and stunning views of Lake Garda. Each room is equipped with a 47" LCD TV, air conditioning, minibar, and free wired internet access. Guests can enjoy the Mediterranean and international cuisine at the Dome Restaurant while overlooking the beautiful lake. The hotel also boasts a modern 450 m² wellness area complete with a Finnish sauna, Turkish bath, beauty treatments, outdoor and indoor swimming pools. The panoramic terrace bar is the perfect spot to sip cocktails while taking in the breathtaking view of Lake Garda. With its proximity to Lazise town centre (just a 10-minute walk away), guests can easily explore the charming town. For those looking to venture further out, Verona is only 25 km away and the A22 motorway is just 12 km away.
– Stunning views of Lake Garda
– Luxurious rooms with modern decor
– Extensive wellness area with sauna and beauty treatments
– Outdoor and indoor swimming pools
– Proximity to Lazise town centre for easy exploration
Hotel Garden Terme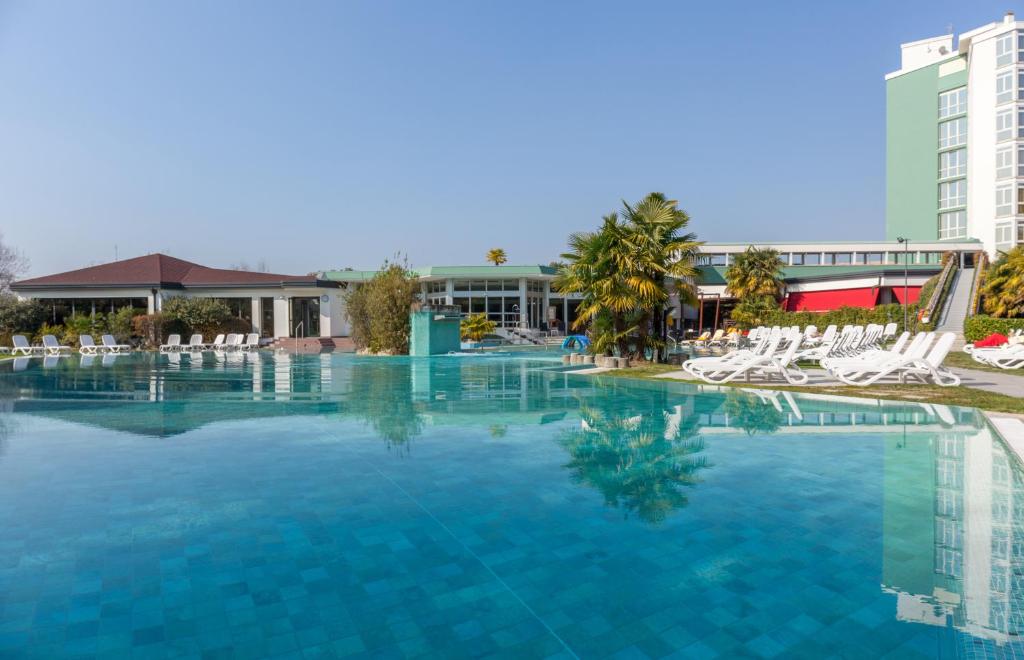 Located in the heart of the Veneto region, in the town of Montegrotto Terme, Hotel Garden Terme offers elegant accommodation surrounded by 50,000 m² of beautiful parkland. Situated within a 50 km radius of Vicenza, Padua and Venice, this specialized health resort provides a relaxing getaway and a range of spa treatments. Guests can indulge in various spa facilities such as wine therapy, massages, Ayurveda treatments, holistic healing and beauty farm services. The hotel boasts several lounges, three thermal swimming pools with underwater music, a winter garden and hot tub. It is also worth noting that Hotel Garden Terme is the official health care center for the Austrian ski team and makes use of natural resources like the Euganean hot thermal spring dating back to 49 B.C. Classic mud therapy is one of their specialties. Established in 1906 by the current owner's grandfather, this family-run hotel offers personalized care in a serene environment overlooking Pine, Magnolia and Cedar trees.
– Elegant accommodation surrounded by lush parkland
– Wide range of spa facilities including wine therapy and Ayurveda treatments
– Three thermal swimming pools with underwater music
– Official health care center for Austrian ski team
– Family-run hotel providing personalized care
Europa Terme Boutique Hotel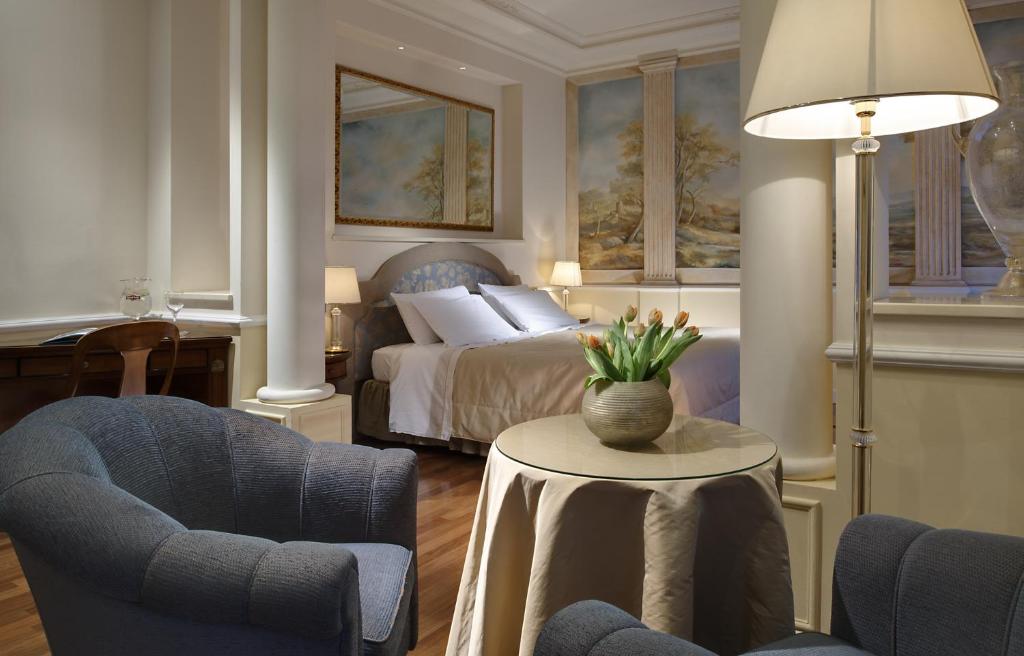 The Europa Terme Boutique Hotel is a classic-style accommodation located in the heart of Albano Terme. The hotel features an outdoor and indoor pool, along with a beautiful garden for guests to enjoy. Additionally, the property offers a spa, fitness centre, and free bike rental, ensuring that guests have plenty of options for relaxation and wellness. The air-conditioned rooms come with free WiFi access, a terrace or balcony, refrigerator, and satellite TV. The private bathrooms are equipped with either a shower or bath. Guests can start their day with a delicious continental breakfast that includes hot drinks, cold meats, and homemade pastries. For dining options throughout the day, there is also a bar and restaurant serving local cuisine. Conveniently located near public transportation links, a bus stop just 50 metres away provides easy access to Padova and Montegrotto Term. Furthermore, Abano Terme Train Station is only a short 5-minute drive from the hotel.
Some highlights of Europa Terme Boutique Hotel include:
– Outdoor and indoor pools for refreshing dips
– Beautiful garden surroundings
– Spa facilities for ultimate relaxation
– Complimentary bike rental to explore the area
– Convenient location near public transportation links
5 Star Spa Hotels in Veneto
Veneto, in northern Italy, offers a range of 5-star spa hotels that provide guests with luxurious and rejuvenating experiences. With world-class facilities and serene surroundings, these hotels offer the perfect combination of relaxation and indulgence for those seeking a truly pampering escape.
Grand Hotel Terme & Spa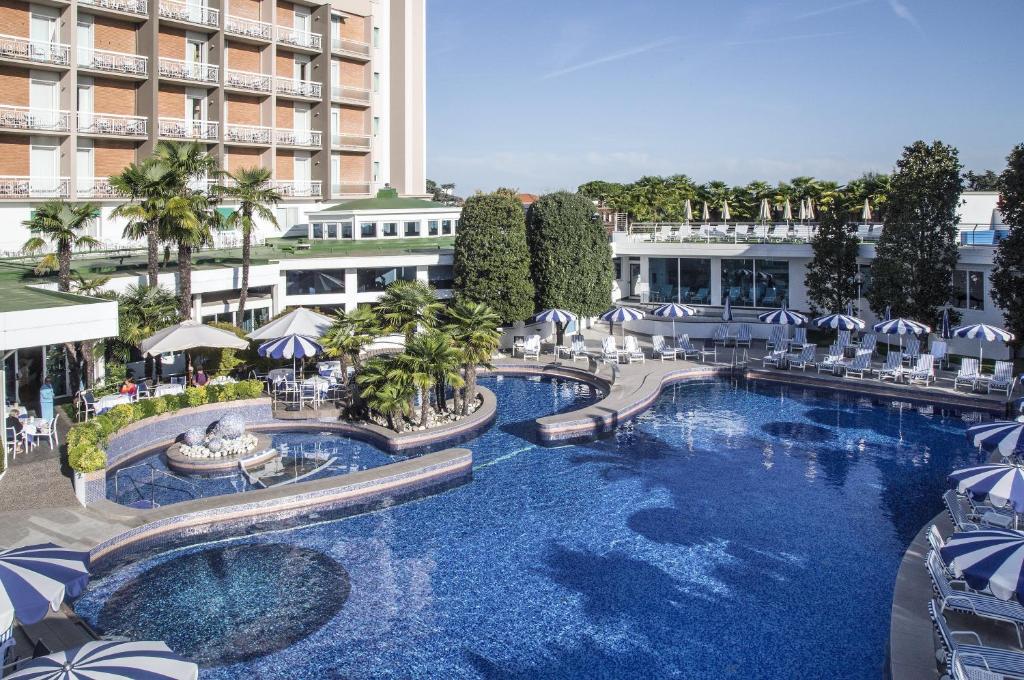 Grand Hotel Terme & Spa is a luxury hotel located in Montegrotto Terme, just a short 20-minute drive from Padova. This elegant hotel features an impressive wellness center and fitness area, making it the perfect destination for those seeking relaxation and rejuvenation. The hotel offers two restaurants, where guests can indulge in delicious meals while enjoying stunning views. Whether you choose to dine by the poolside restaurant for breakfast or savor local cuisine with panoramic views on the sixth floor, there is something to please every palate. The rooms are beautifully decorated and equipped with modern amenities such as air conditioning, satellite flat-screen TVs, and private bathrooms with showers. Some rooms even boast balconies to enjoy the surrounding scenery. With its convenient location, Grand Hotel Terme & Spa is also an excellent base for exploring nearby attractions such as Abano Terme (only 6 km away) or taking a day trip to Venice (just a 50-minute drive).
– Luxurious wellness center
– Indoor and outdoor pools
– Exquisite dining options
– Convenient location for exploring nearby attractions
– Modern amenities throughout
Hotel Querceto Wellness & Spa – Garda Lake Collection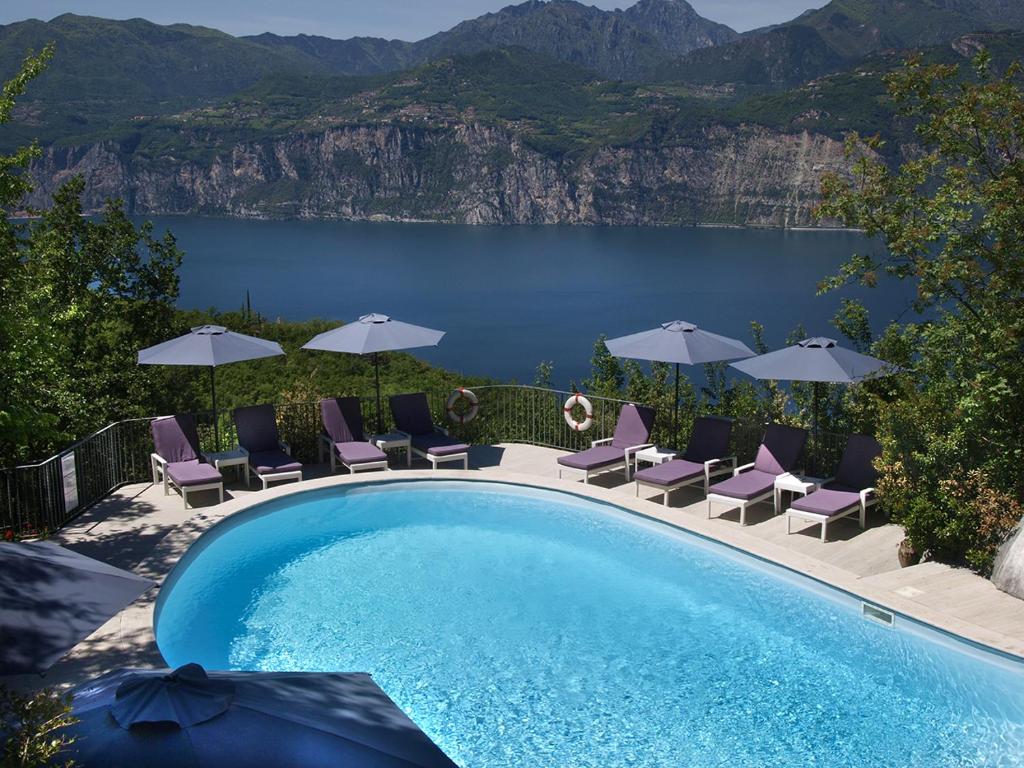 Set among green hills and oak woods overlooking Malcesine, Hotel Querceto Wellness & Spa- Garda Lake Collection offers a tranquil retreat for those seeking relaxation and rejuvenation. The hotel features a panoramic outdoor swimming pool carved into the natural rocky terrain, providing guests with stunning views of the surrounding landscape. With its convenient location, guests can easily explore the nearby paths for walking, trekking, or mountain-biking adventures. The cozy double rooms are decorated with country-style furnishings and offer modern comforts along with balconies that overlook the lake or parkland. Indulge in the hotel's wellness facilities which include a sauna, Swedish shower, and hydromassage bath. Dining at Hotel Querceto is a delight as guests can savor regional cuisine made from fresh ingredients while enjoying breathtaking views from the terrace. The restaurant and bar areas feature an elegant rustic design that enhances the overall dining experience. For added convenience, an airport shuttle service is available at an additional cost.
– Panoramic outdoor swimming pool with stunning views
– Convenient location for walking, trekking, and mountain biking
– Cozy double rooms with country-style furnishings
– Wellness amenities including sauna and hydromassage bath
– Delicious regional cuisine served on a terrace overlooking beautiful surroundings
Hotel Cristallino d'Ampezzo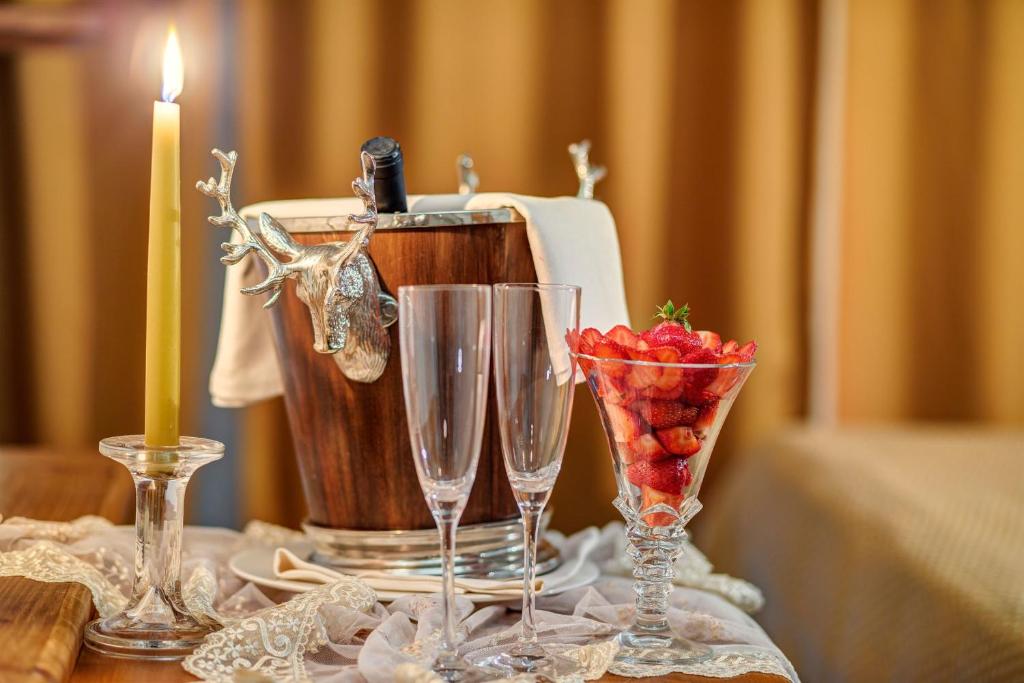 Centrally located in the famous ski resort of Cortina d'Ampezzo, Hotel Cristallino d'Ampezzo offers a luxurious and convenient stay. Guests can take advantage of free parking and free WiFi during their visit. The hotel boasts a top-notch wellness centre, complete with a sauna, Turkish bath, salt cave, and sensory showers, among other amenities. The rooms exude elegance with their wooden furniture and plush carpeted floors. Each room comes equipped with an LCD TV, minibar, and breathtaking mountain views. Many of the rooms also offer a balcony for guests to enjoy the picturesque scenery. Start your day off right with the diverse breakfast buffet that features both savory and sweet options. When it's time to hit the slopes, guests can conveniently catch the ski bus just a few meters from the hotel to access the nearest ski lifts. Additionally, for those looking to indulge in some retail therapy or explore local restaurants and cafes, Corso Italia is just an 8-minute walk away.
– Convenient central location in Cortina d'Ampezzo
– Luxurious wellness centre featuring sauna and Turkish bath
– Stylish rooms with stunning mountain views
– Free parking and WiFi available
– Close proximity to ski bus stop for easy access to slopes
Spa Hotels in Downtown Veneto
Downtown Veneto offers a variety of luxurious spa hotels where guests can indulge in ultimate relaxation and rejuvenation. From serene surroundings to expert therapists, these hotels provide a tranquil escape for travelers seeking a pampering experience in the heart of the city.
Laguna Park Hotel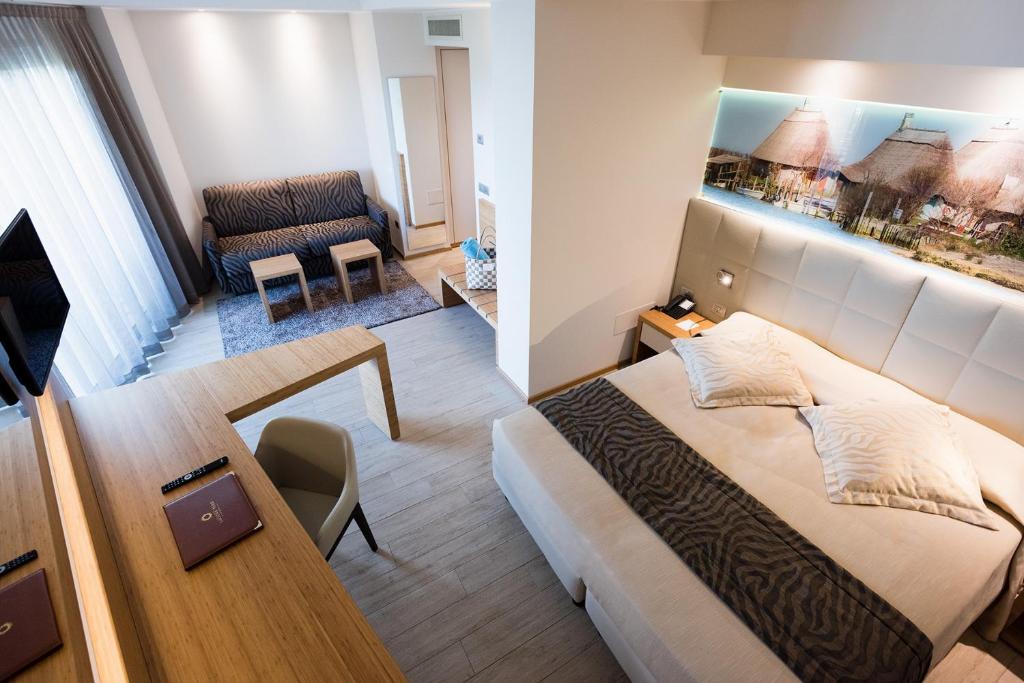 Located in Bibione Pineda, Laguna Park Hotel is a luxury spa hotel that offers a range of impressive amenities. Guests can enjoy the hotel's free spa which includes a panoramic terrace with hot tubs on the 7th floor, as well as a Turkish bath, Finnish sauna, sensory showers and relaxation area. The rooms at Laguna Park Hotel are beautifully designed and feature private terraces, air conditioning, flat-screen TVs, safes and minibars. The hotel also provides free bike rental and free WiFi throughout. With its seafront location and proximity to attractions such as the Port of Baseleghe, Laguna Park Hotel is the perfect choice for a luxurious beach getaway.
– Free access to the spa facilities including hot tubs and saunas
– Private terraces in all rooms
– Free bike rental for guests to explore the surrounding areas
– Seafront location with easy access to the beach
– Close proximity to attractions such as the Port of Baseleghe
Veneto Spa Hotels Information
| | |
| --- | --- |
| 🛎️ Spa Hotels in Veneto | 10 |
| 💵 Hotels Prices From | $185 |
| 💵 Highest price | $851 |
| 🥇 Average Review Score | 8.6/10 |
| 🛏️ Average number of Rooms | 77 |
Top SPA hotels in Veneto
| | |
| --- | --- |
| Wellness Hotel Casa Barca | 9.4/10 |
| Hotel Corte Valier | 9.1/10 |
| Hotel Garden Terme | 8.8/10 |
| Hotel Metropole Venezia | 8.7/10 |
| Europa Terme Boutique Hotel | 8.6/10 |
FAQ
1
What are some luxury spa hotels in Veneto, Italy?
There are several luxurious spa hotels in Veneto, Italy. One popular option is the GOCO Spa Venice at JW Marriott Venice Resort & Spa. This stunning hotel offers a range of spa treatments and facilities, including a thermal pool and sauna. Another great choice is the Abano Grand Hotel, located in the famous spa town of Abano Terme. This hotel boasts multiple thermal pools and a variety of wellness programs for guests to enjoy.
2
What kind of spa treatments can be found in Veneto?
In Veneto, you can find a wide range of spa treatments to suit your needs. From traditional massages to innovative beauty therapies, there is something for everyone. Many spas offer specialized treatments using local products such as grape extracts or olive oil. You can indulge in facials, body wraps, hot stone massages, hydrotherapy sessions, and much more.
3
Are there any outdoor spa facilities available in Veneto?
Yes, there are outdoor spa facilities available in Veneto that allow you to relax while enjoying the beautiful surroundings. Some luxury hotels have rooftop spas with panoramic views of the city or countryside. These outdoor spas often feature swimming pools or Jacuzzis where you can unwind under the open sky.
4
Can I book a day pass at a luxury spa hotel without staying overnight?
Yes, many luxury spa hotels in Veneto offer day passes for non-guests who wish to experience their world-class facilities without staying overnight. This allows visitors to enjoy all the amenities including access to pools, saunas, steam rooms and fitness centers during their visit.
5
Are children allowed at luxury spa hotels in Veneto?
While each hotel has its own policies regarding children at their spas, generally speaking most luxury spas cater primarily to adults seeking relaxation and tranquility away from daily responsibilities. However it is recommended that you check directly with the specific hotel you are interested in, as some may have designated family-friendly areas or certain times when children are allowed to use the facilities.
Popular Wellness Hotels destinations