Welcome to a captivating journey through the breathtaking region of Vaud, Switzerland, where tranquility and indulgence seamlessly intertwine. Nestled amidst the picturesque landscapes, Vaud offers a plethora of opulent spa retreats that promise to rejuvenate your mind, body, and soul. Prepare to embark on an unparalleled adventure as we unveil some of the most luxurious wellness havens in this enchanting Swiss region.
Immerse yourself in a world of serenity as you discover the art of pure relaxation at these sumptuous spa hotels. Indulge your senses with lavish treatments and therapies that are designed to melt away your worries. Whether you seek respite from the bustling city life or simply crave some well-deserved pampering, Vaud has something extraordinary to offer every discerning traveler. From traditional Swiss herbal remedies to cutting-edge techniques inspired by global best practices – each spa hotel in this splendid region presents an exquisite blend of ancient traditions and modern innovation.
Allow yourself to be transported into a realm where time stands still and bliss becomes your closest companion. With its idyllic surroundings and world-class amenities, Vaud beckons you to experience moments of intense tranquility amidst verdant landscapes and awe-inspiring mountainscapes. Soothe your senses with therapeutic massages, revitalize with invigorating beauty treatments or revel in serene hot springs that are sure to leave you feeling refreshed like never before.
Prepare for an unparalleled escape as we take you on an exploration through the finest luxury spa hotels that grace Vaud's captivating landscape!
Vaud Most Relaxing Spa Resorts and Hotels
Château d'Ouchy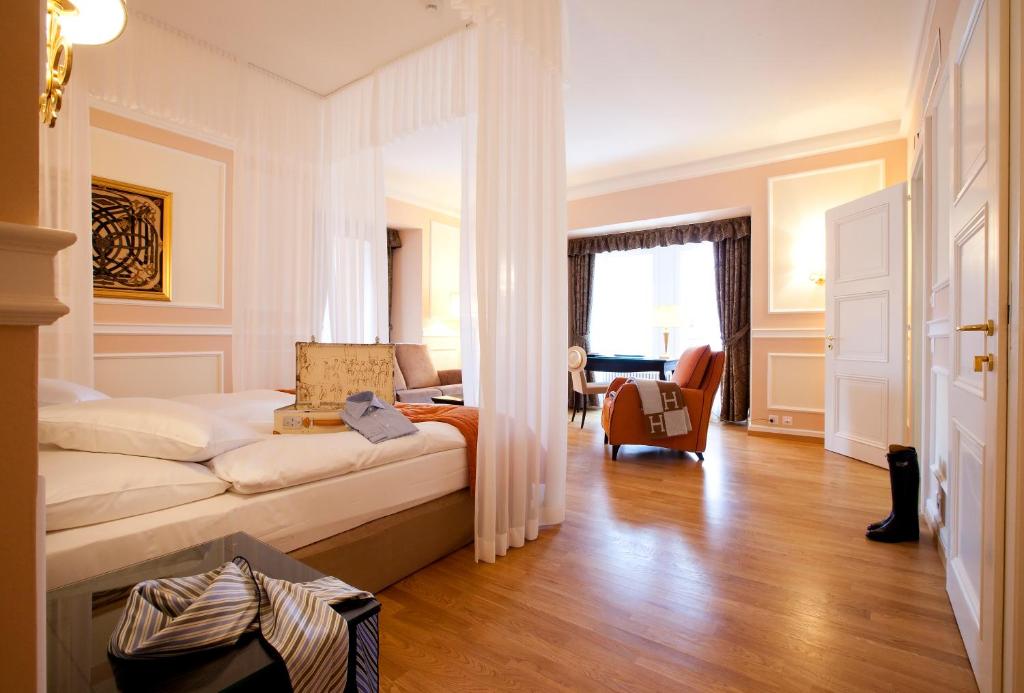 The Château d'Ouchy is a beautifully renovated medieval castle situated in the picturesque city of Lausanne, directly overlooking the stunning Lake Geneva. This historic hotel boasts an original donjon (keep) and offers guests a truly unique and luxurious experience. The hotel features a delightful Mediterranean restaurant where guests can savor delicious cuisine, as well as a cozy bar to unwind in. Additionally, visitors can take advantage of the outdoor pool, perfect for relaxation on warm days. For those seeking ultimate rejuvenation, the modern leisure area offers a soothing sauna and hammam experience. The hotel also boasts a terrace facing the lake, allowing guests to soak in breathtaking views. Each room is elegantly decorated and equipped with air conditioning, a TV, comfortable seating area, minibar, and luxurious bathroom complete with bathrobes and slippers.
Pros:
– Renovated medieval castle with original donjon
– Scenic location directly on Lake Geneva's shores
– Mediterranean restaurant serving delectable cuisine
– Relaxing outdoor pool for ultimate rejuvenation
– Modern leisure area featuring sauna and hammam
Aquatis Hotel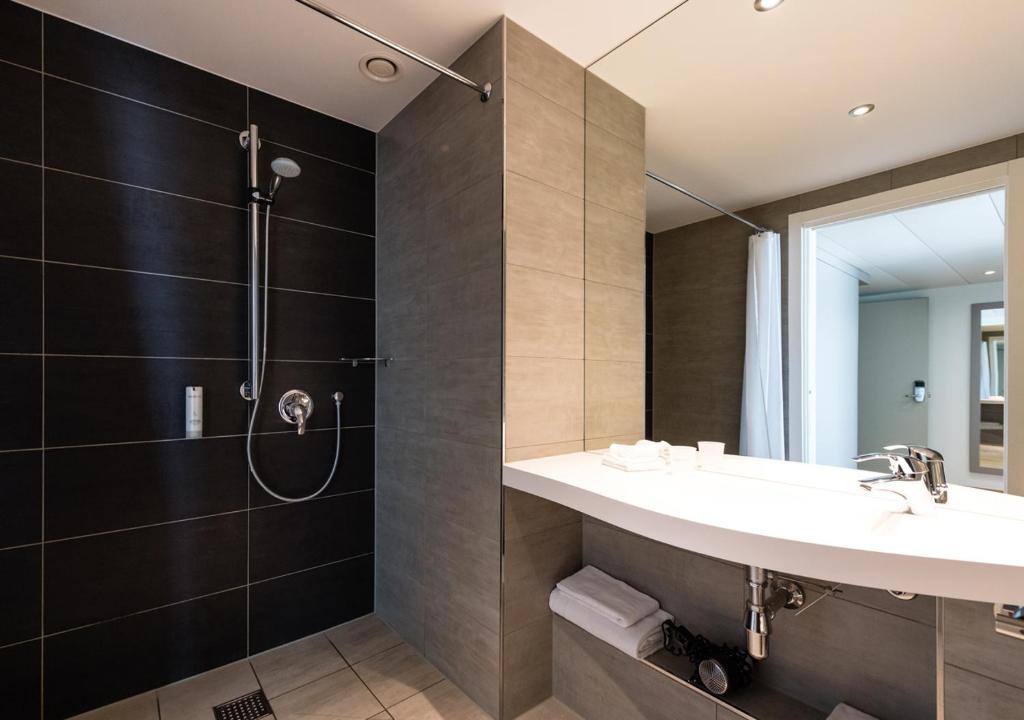 Aquatis Hotel, located in Lausanne, is a luxurious 4-star property offering a range of amenities for guests to enjoy. The hotel features a fitness centre and offers free WiFi throughout the premises. For relaxation, guests have access to a sauna and hammam. The on-site restaurant serves an array of delicious International dishes. Each room at Aquatis Hotel is tastefully furnished with a desk and comes with a private bathroom equipped with free toiletries. Some rooms also boast a terrace, providing stunning views of the surroundings. Additionally, there is a playroom where guests can have fun playing table football, Nintendo Switch, or billiards. The reception staff can assist guests in German, English, Spanish and French languages. Conveniently situated at the exit of the A9 motorway and next to Vennes metro station, Aquatis Hotel provides easy access to the city center and lakeside attractions within minutes. Geneva International Airport is just 69 km away.
– Well-equipped fitness centre
– Free WiFi throughout the hotel
– Sauna and hammam for ultimate relaxation
– Delicious International cuisine served at the restaurant
– Convenient location with easy access to city center
Hôtel Des Trois Couronnes & Spa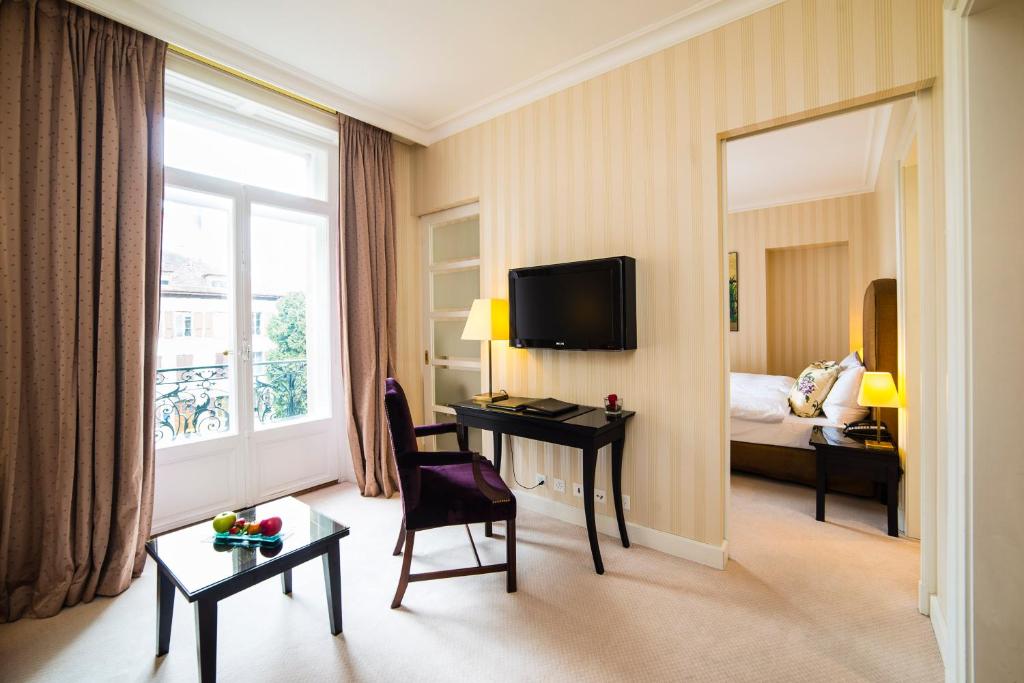 Located in the heart of Vevey, Switzerland, on the shores of Lake Geneva, Hotel Des Trois Couronnes offers a mesmerizing view of the lake and the Alps. This historic hotel has been hosting esteemed guests since 1842, including heads of state and royalty. The Puressens Spa at the hotel offers a range of rejuvenating treatments and features an indoor swimming pool with underwater music, a jacuzzi, steam bath, sauna, fitness room, massages, and beauty center. The spacious rooms are individually decorated and most offer private balconies with stunning views of the lake and mountains. Amenities include 2-line telephones, fax machines, interactive satellite TVs with plasma screens, and Wi-Fi throughout the hotel. The hotel's restaurant serves refined French and Mediterranean cuisine on its grand panorama terrace while guests can enjoy gentle piano music in the Veranda Bar. Private banqueting rooms are also available for special events. With its exquisite setting and luxurious amenities, Hotel Des Trois Couronnes provides an unforgettable spa retreat experience.
– Stunning view of Lake Geneva and Alps
– Puressens Spa with a wide range of rejuvenating treatments
– Spacious individually decorated rooms with private balconies
– Refined French and Mediterranean cuisine at the hotel's restaurant
– Proximity to Geneva International Airport (45 minutes away)
Vaud Luxury Spa Hotels
Vaud Luxury Spa Hotels offer a serene oasis for travelers seeking relaxation and rejuvenation. With world-class spas, tranquil settings, and exquisite attention to detail, these hotels provide the perfect escape from the stresses of everyday life.
Royal Savoy Hotel & Spa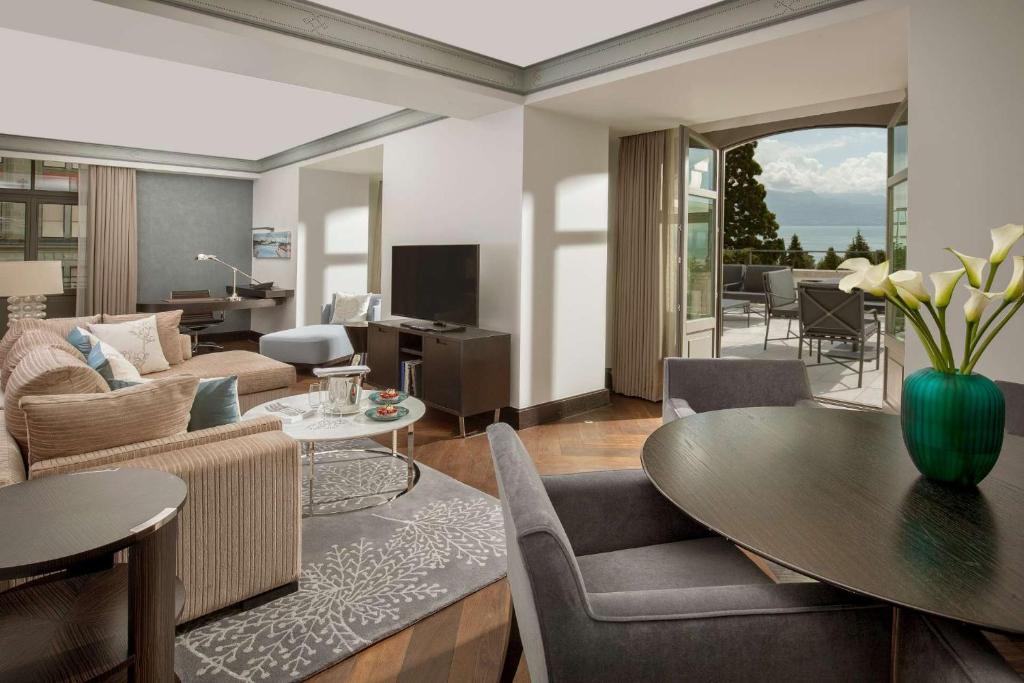 The Royal Savoy Hotel & Spa is a luxurious hotel located in the heart of Lausanne, just a 5-minute walk from Lake Geneva. With its elegant Art Nouveau-style building and breathtaking views of the city or lake, this hotel offers a truly indulgent experience. The spacious rooms and suites are equipped with all the modern amenities one would expect, including air-conditioning, flat-screen TVs, and minibars. Guests can enjoy access to the Spa du Royal, which features indoor and outdoor pools, private spas, a fitness room open 24 hours a day, and eight treatment rooms offering beauty treatments and massages. The hotel also boasts several dining options including Brasserie du Royal restaurant serving Swiss cuisine with a Mediterranean twist and the Sky Lounge on the top floor offering stunning panoramic views. With its convenient location near attractions such as the Fine Arts Museum and Olympic Museum, as well as being within walking distance to Lausanne Train Station, guests at Royal Savoy Hotel & Spa will have everything they need for an unforgettable stay.
– Convenient central location
– Access to spa facilities included
– Spectacular views of city or lake
– Luxurious rooms with modern amenities
– Multiple dining options available
Eurotel Montreux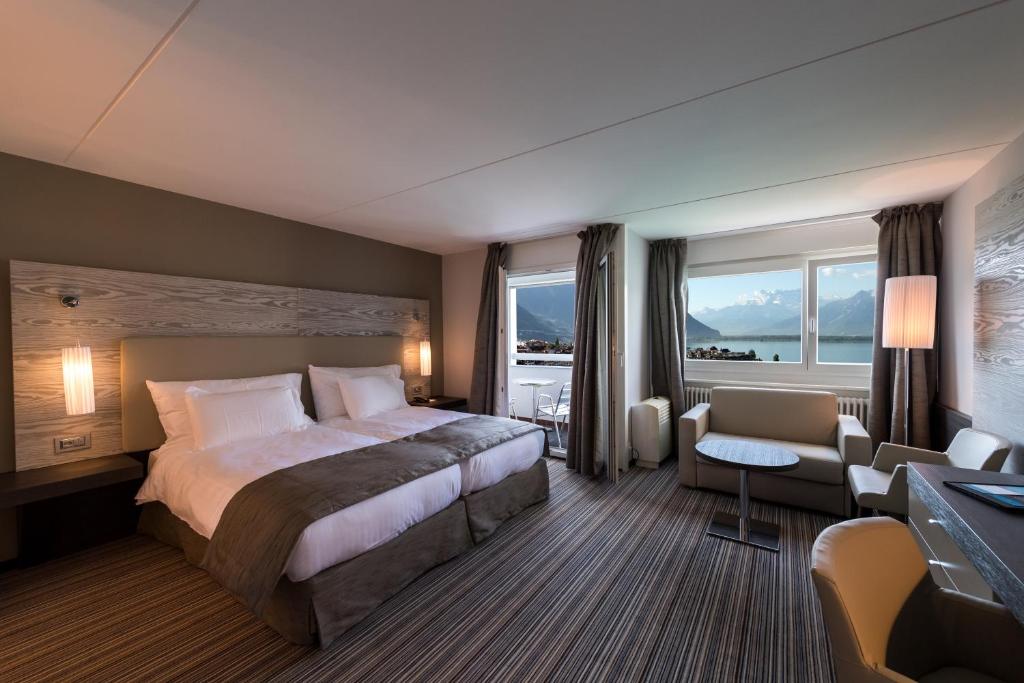 The 4-star superior Eurotel Montreux is a luxury spa hotel located on the picturesque banks of Lake Geneva in Montreux. With stunning views of the lake and the Alps from all rooms, guests can truly indulge in a tranquil and serene atmosphere. The hotel offers free WiFi access, satellite TV, and minibars in each room, with the majority also featuring balconies. Guests can savor Swiss and international cuisine at the lakeside restaurant, which is listed in the prestigious Gault & Millau guide, or enjoy barbecued dishes on the terrace during summer months. Conveniently situated only 300 meters away from the Montreux Music & Convention Centre as well as the railway and boat station, Eurotel Montreux ensures easy access to local attractions. Additionally, guests have access to a fitness center and can freely use bicycles and paddle boards provided by the property. Private parking is available for an additional fee.
– Spectacular views of Lake Geneva and Alps
– Free WiFi access
– Gourmet lakeside restaurant listed in Gault & Millau guide
– Convenient location near major attractions
– Access to fitness center, bicycles, and paddle boards
Hotel Victoria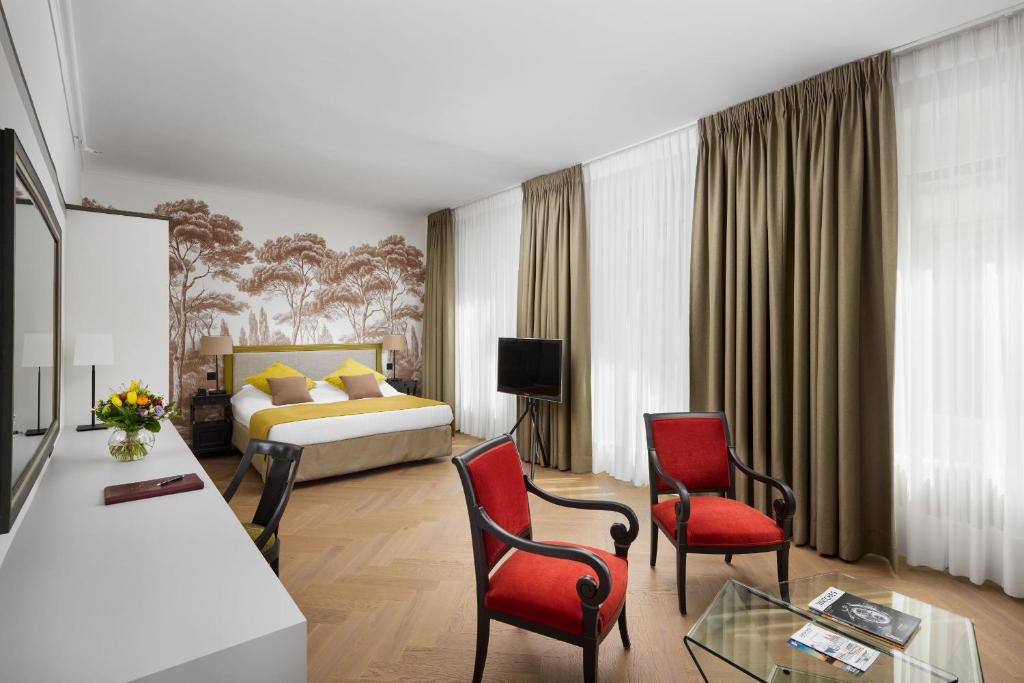 Hotel Victoria, located just 150 meters from Lausanne's main railway station and a short 5-minute walk from the city center, offers guests a truly unique and tasteful experience. The hotel's air-conditioned rooms are beautifully furnished with their own distinctive styles. Visitors can enjoy a small menu of seasonal dishes at the lounge bar, either in person or through room service. In addition, guests have access to a complimentary business corner, ensuring that all work-related needs are met. For those looking to stay active or unwind after a busy day exploring Lausanne, there is an on-site gym and sauna available. Moreover, within just a 15-minute walk from Hotel Victoria, patrons can easily reach both the lake and congress center.
– Convenient location near the main railway station and city center
– Unique and tastefully furnished rooms
– Lounge bar offering seasonal dishes
– Complimentary access to business corner
– On-site gym and sauna for relaxation
5 Star Spa Hotels in Vaud
Vaud, Switzerland boasts a selection of luxurious 5-star spa hotels that offer an indulgent escape for travelers seeking relaxation and rejuvenation. With stunning landscapes as the backdrop, these hotels provide top-notch spa services and amenities to pamper guests in style.
Alpha-Palmiers by Fassbind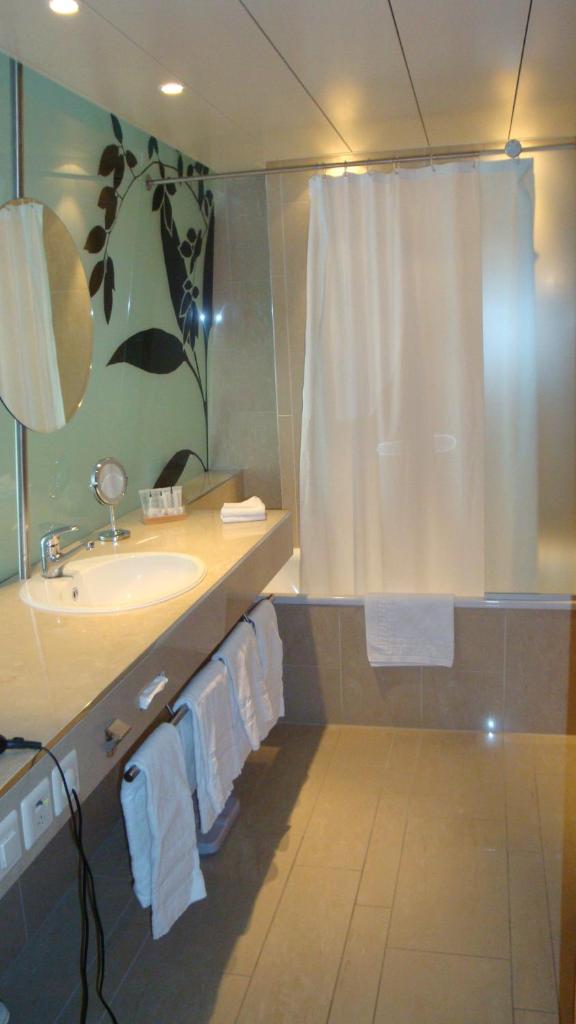 Located in the quiet center of Lausanne, just a short 2-minute walk from the main train station, Alpha-Palmiers by Fassbind is a luxury spa hotel that immerses guests in a tropical oasis. Surrounded by lush gardens, this hotel offers a range of amenities including two restaurants serving Thai and Swiss cuisine, a sauna, steam bath, fitness room, and free WiFi. The modern rooms are equipped with individually controllable air conditioning, LCD TVs, large openable windows, minibars, tea and coffee-making facilities, and private bathrooms. Some rooms even offer stunning views of the serene tropical garden. As an added bonus, guests receive a complimentary pass for free use of public transportation in Lausanne.
– Convenient location near the main train station
– Two on-site restaurants offering diverse culinary experiences
– Relaxing spa facilities including sauna and steam bath
– Modern well-equipped rooms with stylish decor
– Complimentary pass for free use of public transport
Baron Tavernier Hotel Restaurant & SPA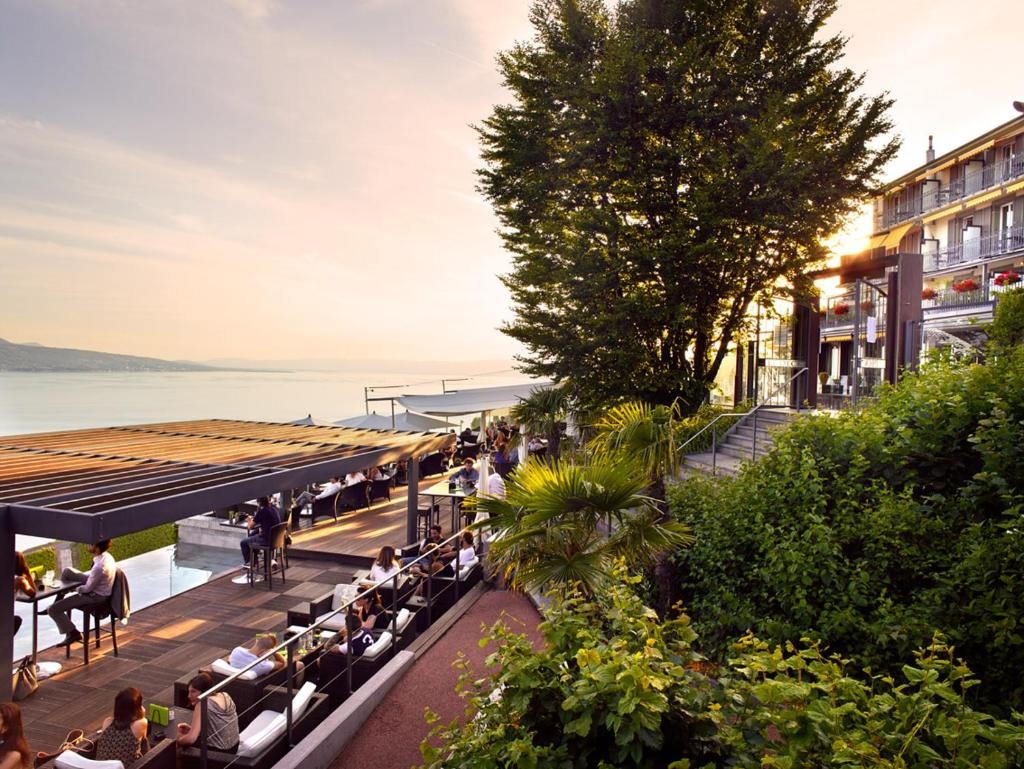 Located in Chexbres, amidst picturesque vineyards and the scenic Lavaux wine region, Baron Tavernier Hotel Restaurant & SPA offers a luxurious retreat with magnificent panoramic views of Lake Geneva from its expansive terrace. The elegantly decorated rooms and suites feature private bathrooms, minibars, cable flat-screen TVs, free WiFi, and balconies or terraces. Guests can explore the charming town of Chexbres with its historic buildings and the UNESCO World Heritage Site of Lavaux's vineyard terraces. The hotel boasts a beautifully furnished dining area and a welcoming lounge bar for relaxation. During summer months, guests can indulge in fine dining at Le Deck restaurant and terrace while during winter, they can enjoy exquisite cuisine at Le Baron restaurant or the cozy atmosphere at Le Bon Sauvage Bistro. The spa facilities include a 31°C warm salt-water pool, fitness rooms, hot tubs, hammams, saunas, relaxation areas,and outdoor pavilions (accessible for an extra charge). Beauty treatments and massages are available upon request. Guests can also unwind in the enchanting on-site garden or make use of the convenient meeting room. For leisure activities nearby,a 15-minute drive will take you to an 18-hole golf course or to skiing slopes within 40 minutes by car.The charming towns of Lausanne and Vevey are also just a short drive away (15 minutes). Complimentary private parking is available on site.
– Stunning panoramic views of Lake Geneva
– Luxurious spa facilities with salt-water pool
– Fine dining options including Le Deck restaurant
– Beautifully decorated rooms with balconies or terraces
– Convenient location near historic sites and vineyards
Everness Hotel & Resort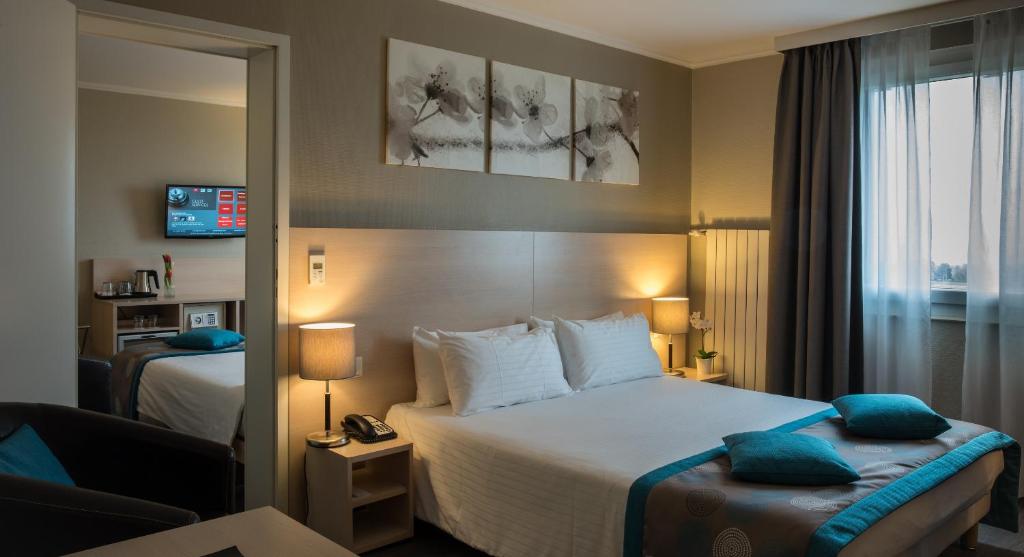 Everness Hotel & Resort is a luxurious spa hotel located just a short 15-minute drive from Geneva Airport. The hotel boasts an array of impressive amenities including an outdoor pool, four tennis courts, a fitness center, and a spa complete with a sauna and hammam. Guests can indulge in relaxation and rejuvenation at the hotel's massage institute. The dining options at Everness Hotel & Resort are equally enticing with a bar serving Swiss wine and a restaurant offering delicious gourmet dishes made from fresh local ingredients. Each of the 170 air-conditioned rooms provides modern comforts such as flat-screen TVs, safes, and tea/coffee making facilities. Superior rooms offer breathtaking panoramic views of Lake Geneva and the Mont Blanc Mountain. Additionally, the hotel features 15 fully equipped banquet and event rooms designed to facilitate collaboration and creativity. Complimentary amenities include free WiFi and free private parking.
– Outdoor pool for refreshing dips
– Fitness center for exercise enthusiasts
– Spa with sauna and hammam for ultimate relaxation
– Panoramic views of Lake Geneva and Mont Blanc Mountain from superior rooms
– Free WiFi access throughout the property
Vaud Spa Hotels Information
| | |
| --- | --- |
| 🛎️ Spa Hotels in Vaud | 9 |
| 💵 Hotels Prices From | $85 |
| 💵 Highest price | $707 |
| 🥇 Average Review Score | 8.4/10 |
| 🛏️ Average number of Rooms | 105 |
Top SPA hotels in Vaud
| | |
| --- | --- |
| Royal Savoy Hotel & Spa | 9.1/10 |
| Hôtel Des Trois Couronnes & Spa | 8.9/10 |
| Château d'Ouchy | 8.8/10 |
| Baron Tavernier Hotel Restaurant & SPA | 8.4/10 |
| Eurotel Montreux | 8.2/10 |
FAQ
What are some popular luxury spa hotels in Vaud, Switzerland?
Vaud, Switzerland offers several popular luxury spa hotels for travelers seeking a relaxing and rejuvenating experience. Some of the top choices include the Fairmont Le Montreux Palace, which features an extensive spa with panoramic views of Lake Geneva. Another option is the Lausanne Palace, known for its luxurious accommodations and state-of-the-art wellness facilities. The Royal Savoy Hotel & Spa in Lausanne is another highly recommended choice with its luxurious spa treatments and stunning lake views.
Are there any all-inclusive spa hotels in Vaud, Switzerland?
Yes, there are all-inclusive spa hotels available in Vaud, Switzerland. One such example is the Hôtel des Trois Couronnes in Vevey. This magnificent hotel not only provides guests with access to a beautiful spa facility but also offers all-inclusive packages that include accommodation, meals, and various wellness treatments. Guests can indulge in massages, facials, hydrotherapy sessions, and enjoy gourmet dining options without having to worry about additional costs.
What types of spa treatments can I expect at luxury hotels in Vaud?
Luxury hotels in Vaud offer a wide range of exquisite spa treatments to pamper their guests. From traditional massages like Swedish or deep tissue massage to specialized therapies such as hot stone massage or aromatherapy massage – you will find it all. Additionally, many spas offer facial treatments using high-end skincare products tailored to individual needs. Other common services may include body wraps and scrubs for exfoliation and detoxification purposes.
Do luxury spa hotels provide fitness facilities?
Yes! Alongside their exceptional spas, most luxury hotels in Vaud provide well-equipped fitness facilities for health-conscious guests who want to maintain their exercise routines while traveling. These fitness centers often feature modern equipment such as treadmills, stationary bikes, weight machines as well as areas for yoga and Pilates. Some hotels even offer personal training sessions for those seeking extra guidance during their workout sessions.
What are some popular tourist attractions near luxury spa hotels in Vaud, Switzerland?
Vaud is home to several popular tourist attractions, ensuring that guests staying at luxury spa hotels have plenty to explore and experience. One must-see attraction is the Chillon Castle in Montreux, a stunning medieval fortress located right on the shores of Lake Geneva. The Olympic Museum in Lausanne is another prominent site where visitors can learn about the history of the Olympics through interactive exhibits. Additionally, nature lovers can venture into Lavaux vineyards, a UNESCO World Heritage Site renowned for its scenic beauty and excellent wine production.
Popular Spa Hotels destinations