Welcome to our latest guide exploring the world of premium spa hotels in Tulum, Mexico. Known for its scenic beaches and serene environment, Tulum offers some of the most luxurious spa retreats in the world with an array of wellness treatments.
Whether you're looking to recharge your batteries or indulge in a luxury escape, this destination has got it all. From the pristine waters and vibrant coral reefs to its ancient Mayan history, Tulum is a destination that should definitely be on your bucket list for a truly unforgettable experience.
From yoga classes on the beach to healing holistic therapies at renowned spas, there are plenty of ways to pamper yourself in Tulum's top-class spa resorts. So get ready to relax and rejuvenate amidst natural beauty and attentive hospitality while indulging your senses with exotic scents and soothing sounds – only possible at these plush Mexican havens!
Tulum Most Relaxing Spa Resorts and Hotels
Coco Hacienda Tulum – Adults Only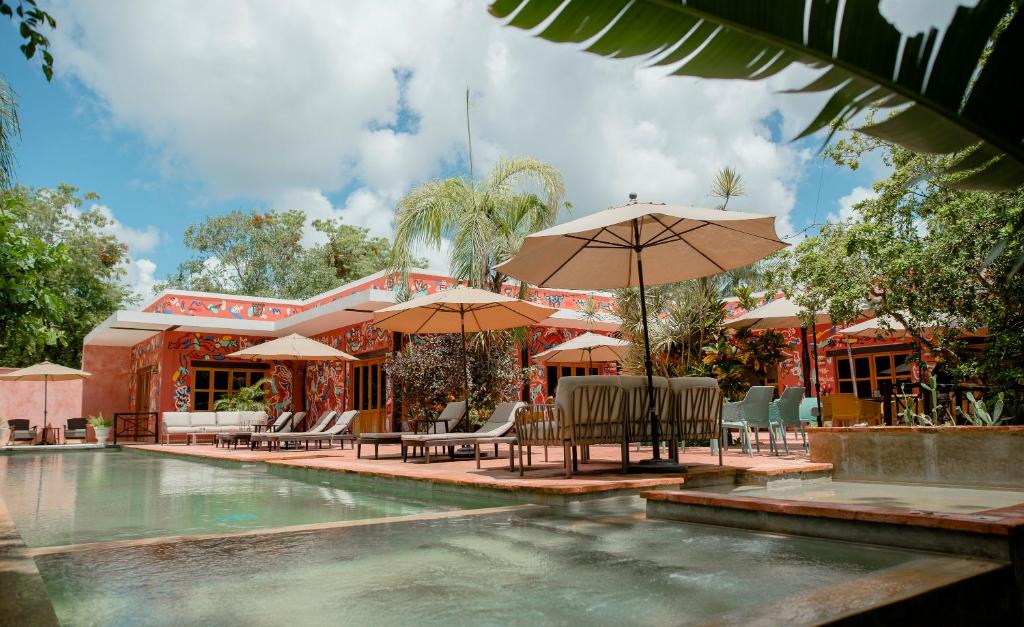 Coco Hacienda Tulum is an adult-only boutique hotel that offers a relaxing and intimate retreat for travelers who want to experience the natural beauty of Tulum while enjoying exceptional amenities. The hotel is located in downtown Tulum at La Veleta district, making it a great base for exploring the area's many attractions. Guests can enjoy two outdoor pools, spa services, delicious meals at the on-site restaurant, and drinks at the bar. Each room is air-conditioned and comes with a flat-screen smart TV and private bathroom with some rooms featuring a bathtub. Additional features include free Wi-Fi throughout the property, bike and car hire services available on site, as well as popular snorkeling, cycling and fishing activities nearby. Free private parking is also available on site.
– Convenient location in downtown Tulum
– Adult-only atmosphere for maximum relaxation
– Two beautiful outdoor pools to choose from
– Delicious on-site restaurant serving local cuisine
– Free Wi-Fi throughout the property
Roc Jungle Tulum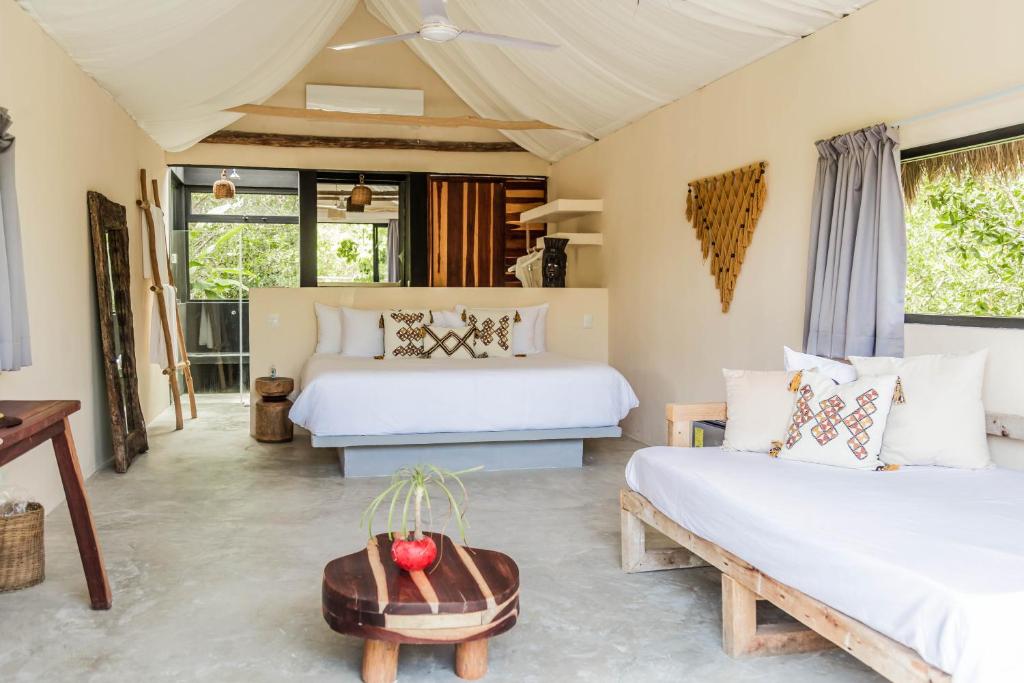 Opened in December 2020, Roc Jungle Tulum is a luxurious 5-star hotel situated amidst the stunning jungle of Tulum. The hotel offers air-conditioned accommodations with private bathrooms and free WiFi. Additionally, guests can enjoy a range of amenities including a fitness center, free private parking, garden area, and terrace. The property features a 24-hour front desk, concierge service and tour organizing facilities for guest convenience. Further making your stay enjoyable is the continental breakfast provided daily to guests. With Tulum Archeological Site located only 6km away from the hotel and Parque Nacional Tulum just 2 km away, there's plenty to explore nearby! Lastly, Cozumel International Airport is the nearest airport which is located approximately 67 km from Roc Jungle Tulum.
– Luxurious accommodations in a serene jungle setting
– Fitness center on site
– Free private parking available for guests
– Organized tours available through the hotel's concierge service
– Continental breakfast provided daily
Alquimia Hotel Boutique
Alquimia Hotel Boutique is a stunning hotel located in the heart of Tulum beach, offering breathtaking views of the Caribbean Sea right from the comfort of your own private beach cabanas. Their Eco-Chic decor rooms feature air conditioning, hot and cold water for a great shower, daily cleaning, room service, and access to their private Beach Club where you can enjoy an infinity pool, volleyball net, kayaks, swings, a beach bar with great mixology and delicious Mexican food. This pet-friendly hotel allows you to bring along your furry friends so they can also enjoy the beautiful surroundings. The fantastic location means being just 5 minutes away from Tulum's main attractions including exclusive boutiques and beach clubs as well as restaurants and nightlife in the area.
– Stunning ocean views
– Eco-chic decor rooms
– Access to private Beach Club with infinity pool
– Fantastic location near all main attractions
– Pet-friendly
Other places to stay in Tulum
Tulum Luxury Spa Hotels
Tulum Luxury Spa Hotels are the perfect getaway for travelers seeking relaxation, pampering, and rejuvenation. These hotels offer a range of spa treatments and wellness activities amidst the beautiful natural surroundings of Tulum.
La Zebra a Colibri Boutique Hotel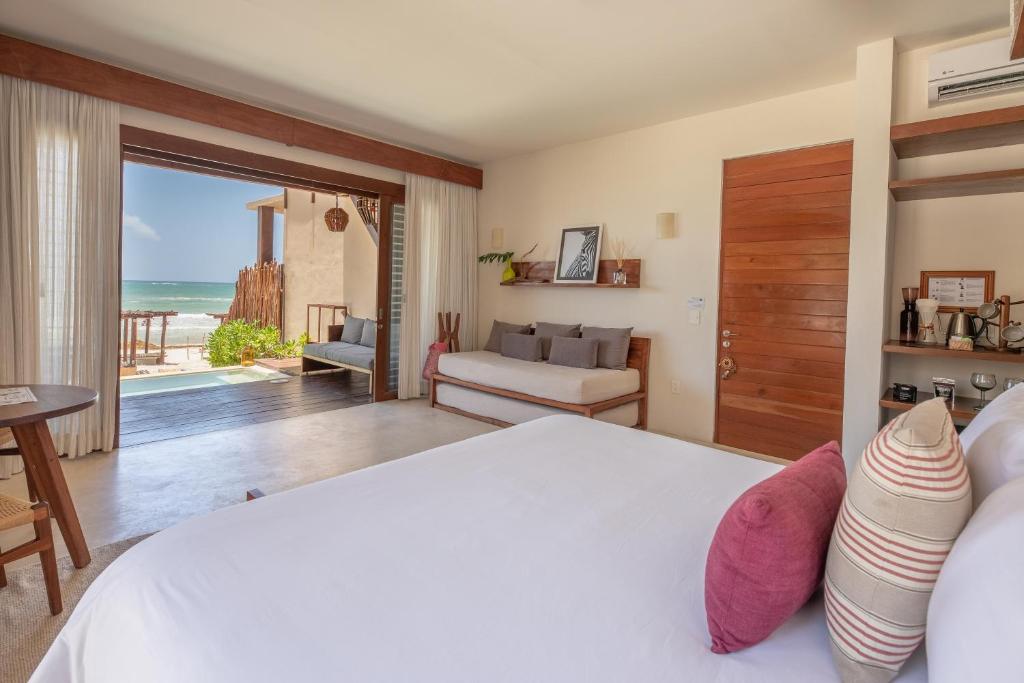 La Zebra, a Colibri Boutique Hotel, is a top-of-the-line luxury hotel that offers one of the best "Beach Chic" experiences in Tulum. With its fun and vibrant atmosphere, it provides a luxurious haven for all those looking to enjoy an amazing time on the beach. This boutique hotel caters to everyone from families on vacation to couples on romantic getaways and groups of friends seeking fun and relaxation. It's the perfect place to become part of the Tulum scene with its phenomenal dining experience, customized drinks, and lively music. Some short pros include:
– Phenomenal dining experience
– Customized drinks
– Amazing music
– Perfect location for soaking up sun on the beach
Mahekal Beach Front Resort & Spa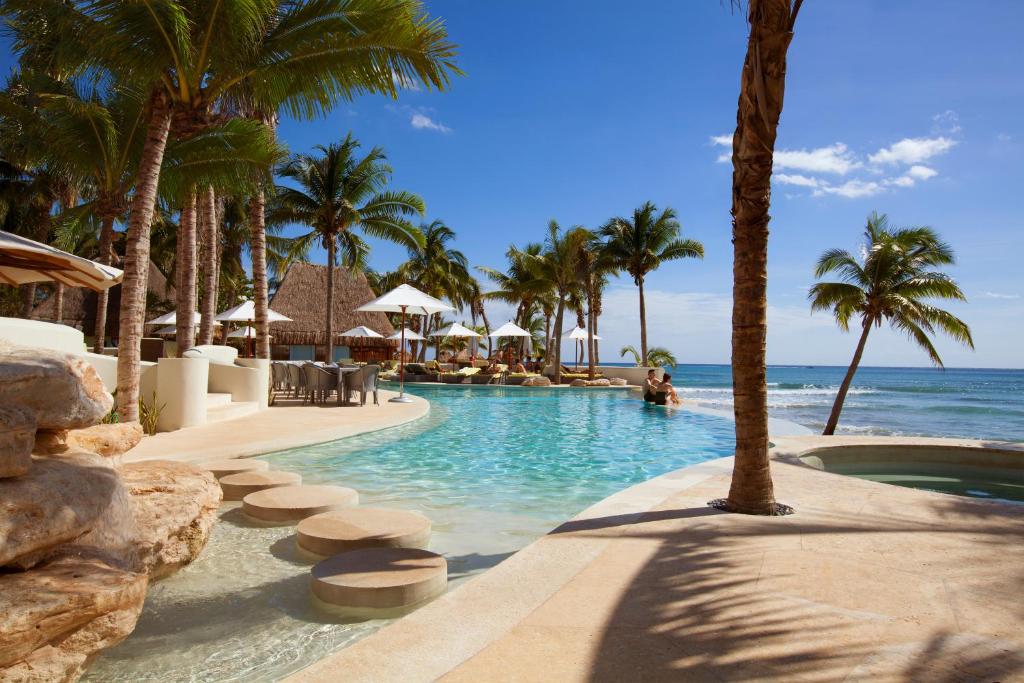 Mahekal Beach Front Resort & Spa is a stunning beachfront resort located in Playa del Carmen. This luxurious property boasts 4 outdoor pools, yoga classes, and massages. The Dive Center offers diving certification courses, ocean dives, cenotes dives and night diving experiences. Guests can enjoy daily breakfast and à la carte lunch at the Olas Restaurant or indulge in four-course set dinners at Fuego Restaurant with regular theme nights and live music performances. The rooms are spacious, air-conditioned with Mayan-style décor featuring a private safe box, private bathroom with a hairdryer, terrace with hammocks overlooking the sea or tropical gardens. The resort also has an on-site concierge to arrange visits to nearby attractions like Tulum National Park.
– Stunning beachfront location
– Four outdoor pools for guests' relaxation
– Dive Center offering unique underwater experiences
– Two beautiful restaurants serving delicious meals with live music performances
– Convenient location close to 5th Avenue
OurHabitas Tulum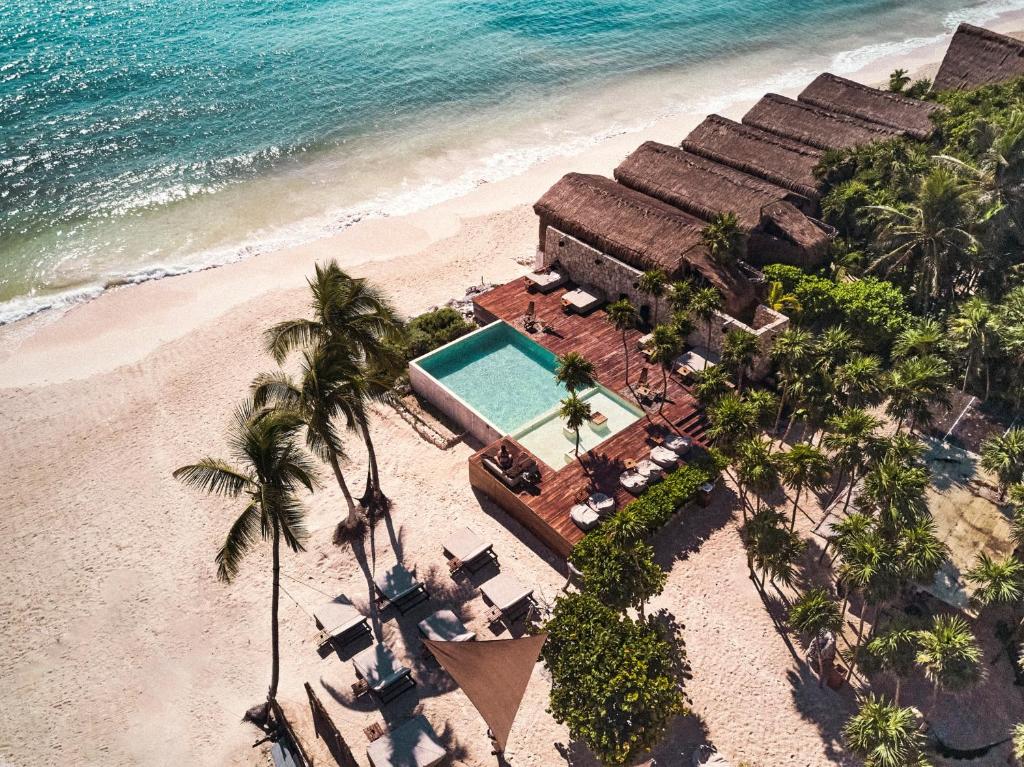 Nestled in the Quintana Roo Region of Tulum, OurHabitas Tulum is a luxurious Eco-resort hotel that offers guests unparalleled comfort and relaxation. Featuring a year-round outdoor pool and private beach area, this property is perfect for travelers looking to unwind and enjoy a tranquil getaway. The on-site restaurant serves up delicious dishes, while the free WiFi throughout the property ensures that guests stay connected even while they escape from the hustle and bustle of daily life. With bathrobes and free toiletries provided for ultimate comfort, OurHabitas Tulum goes above and beyond to make sure that every aspect of your stay is taken care of. Additionally, the 24-hour front desk is always available to assist you with any needs or questions you may have during your visit.
– Private beach area
– Year-round outdoor pool
– On-site restaurant serving delicious cuisine
– Free WiFi throughout the property
– 24-hour front desk for your convenience
5 Star Spa Hotels in Tulum
Tulum, Mexico is home to some of the best 5-star spa hotels in the world. These luxurious accommodations offer guests a chance to relax and rejuvenate while enjoying stunning coastal views and impeccable service. From indulgent spa treatments to gourmet dining experiences, these hotels provide everything one could need for a truly unforgettable getaway.
Casa Malca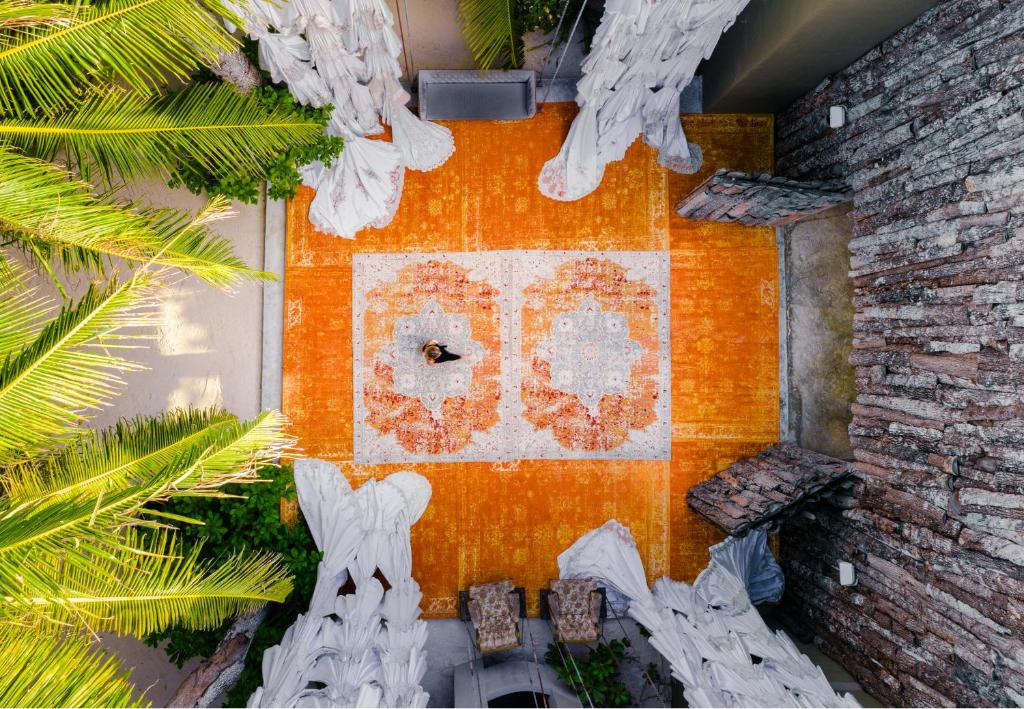 Casa Malca is a stunning boutique hotel that sits on an untouched beach in Tulum, near the Sian Ka'an Biosphere Reserve. This luxurious retreat boasts of a bar-restaurant, lush tropical gardens, and chic air-conditioned accommodations. The town of Tulum and the breathtaking Mayan ruins are a short distance away from this property. Each room and suite at Casa Malca has been designed with an elegant white decor and offers captivating views of either the gardens or the Caribbean Sea. Guests can enjoy complimentary parking during their stay.
Pros:
– Located on an unspoiled beach
– Stylish rooms with beautiful views
– Lush tropical gardens on site
– Short distance to Tulum town and Mayan ruins
– Complimentary parking available
Dune Boutique Hotel located at the party zone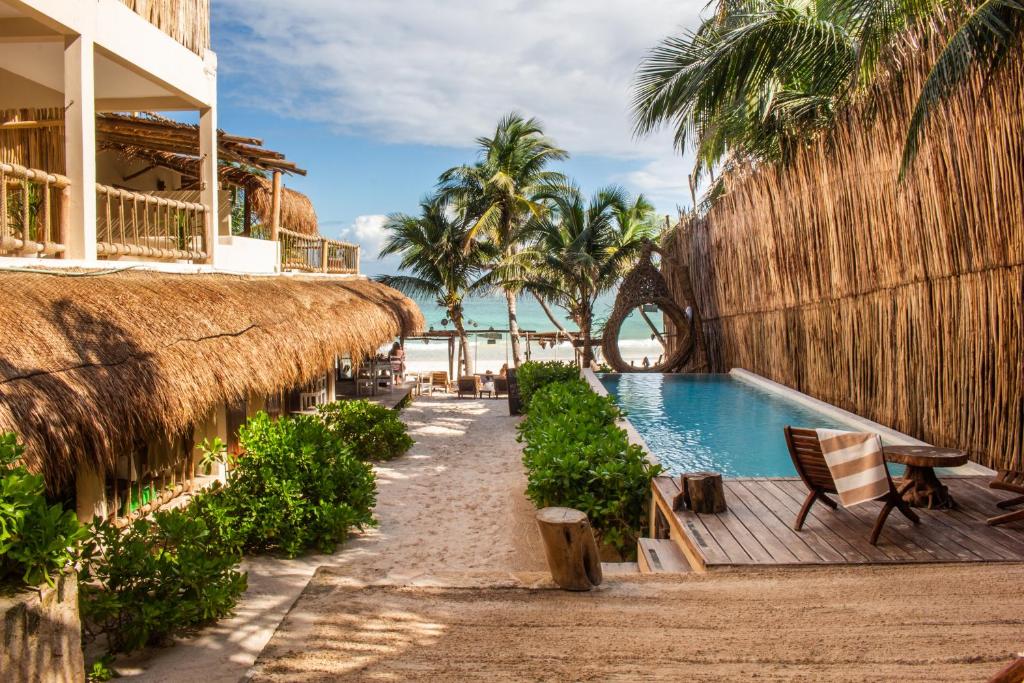 The Dune Boutique Hotel located at the party zone in Tulum offers free WiFi and a terrace for its guests. You can sip on tropical cocktails at the bar or enjoy a delicious meal from the Dune Restaurant and Beach Club under the shade of palm trees. The hotel has a private beach area where you can engage in activities like snorkeling, windsurfing, and diving. Some rooms offer breathtaking views of the sea or garden, and all rooms come with a private bathroom. Bike hire is also available for added convenience.
– Private beach area
– Delicious cuisine at Dune Restaurant and Beach Club
– Various water sports activities available
– Breathtaking views of either sea or garden from some rooms
– Convenient bike hire service
Azulik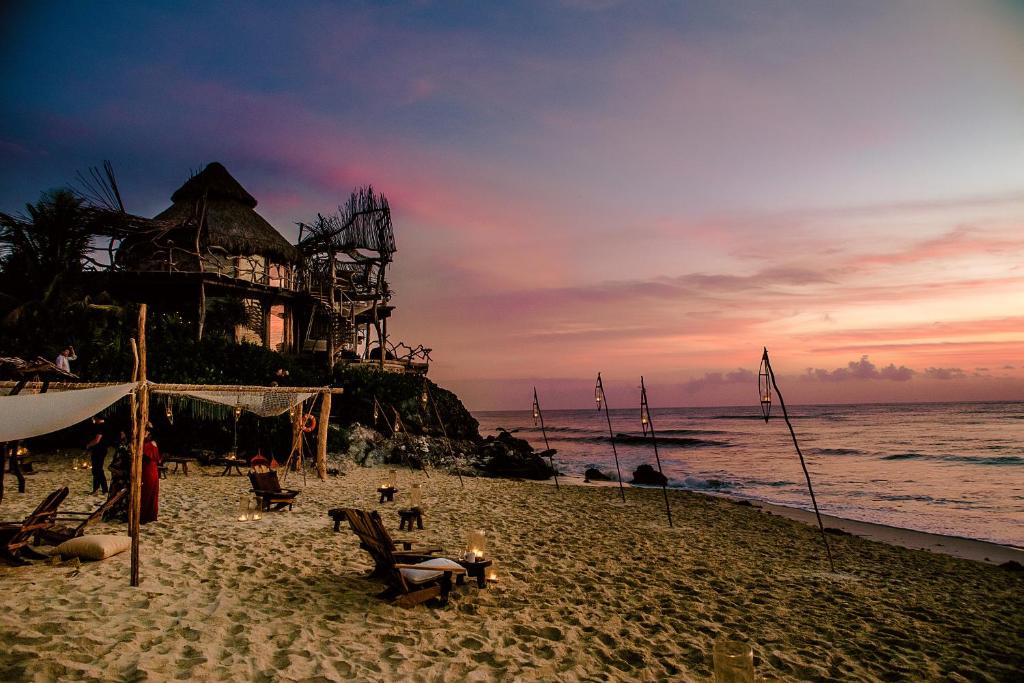 Azulik is a private, adults-only beach resort and Mayan Wellness Centre located in Tulum, Mexico. The resort features a secluded, clothing-optional beach which is perfect for sunbathing or swimming. The tree house accommodations are made from Mexican-royal-ebony Khatalosh and feature floor-to-ceiling windows providing natural daylight and mosquito nets. Each treehouse also has a private deck with outdoor day beds and seating areas that offer views of the lush jungle and Caribbean Sea. The rooms do not have TVs, phones or electricity to help guests relax and reconnect with nature. Azulik also offers traditional Mayan massage and healing therapies as well as medicinal herbal baths in special invigorating bathtubs filled with rich mineralized cenote's water.
Pros:
– Secluded, clothing-optional beach
– Unique tree house accommodations made from Mexican-royal-ebony Khatalosh
– Relaxing spa services such as traditional Mayan massage and healing therapies
– Special invigorating bath options in unique Mayan mosaic bath tubs
– Private deck with outdoor daybeds offering views of the lush jungle and Caribbean Sea
Spa Hotels in Downtown Tulum
Downtown Tulum offers spa hotels with a focus on luxury, relaxation, and well-being. Each hotel offers unique spa experiences that cater to the individual needs of their guests.
Casa Violeta
Casa Violeta is an exquisite boutique hotel located on the beautiful Tulum Beach. With its charming beachfront bungalows and breathtaking views of the Caribbean Sea, it's the ideal location for a luxurious vacation. Boasting both thatched-roofed beach front bungalows and garden view bungalows, Casa Violeta provides guests with an unforgettable experience. The hotel features a spa that offers various beauty and health treatments, as well as a restaurant that serves delicious meals throughout the day. Visitors can enjoy various activities such as snorkeling tours, kiteboarding, and cave diving cenotes arranged by the hotel's staff. Some of the pros of this hotel are:
– Stunning views of the Caribbean Sea
– Beautifully decorated bungalows
– Spa with a variety of beauty treatments
– Restaurant serving delicious meals throughout the day
– Proximity to Tulum National Park and Sian-Ka'an Biosphere Reserve
Tulum Spa Hotels Information
| | |
| --- | --- |
| 🛎️ Spa Hotels in Tulum | 10 |
| 💵 Hotels Prices From | $86 |
| 💵 Highest price | $1175 |
| 🥇 Average Review Score | 8.4/10 |
| 🛏️ Average number of Rooms | 46 |
Top SPA hotels in Tulum
| | |
| --- | --- |
| La Zebra a Colibri Boutique Hotel | 9.2/10 |
| OurHabitas Tulum | 9/10 |
| Coco Hacienda Tulum – Adults Only | 8.9/10 |
| Casa Malca | 8.9/10 |
| Dune Boutique Hotel located at the party zone | 8.8/10 |
FAQ
What are the best spa hotels in Tulum?
Tulum is renowned for its luxury spa hotels. Some of the most popular options include Be Tulum, Jashita Hotel, and Ahau Tulum, all of which offer a range of rejuvenating treatments and services. Each hotel has its own unique atmosphere and approach to wellness, so it's worth doing your research to find the perfect fit for you.
What kind of spa services can I expect at Tulum's luxury hotels?
From deep-tissue massages to detoxifying facials, there are plenty of luxurious spa services on offer in Tulum. Many hotels also offer classes in yoga and meditation as well as other holistic healing practices like acupuncture and reiki. Whether you're looking to relax or indulge in some indulgent pampering, there's something for everyone at Tulum's top spas.
Are there any eco-friendly spa hotels in Tulum?
Yes! Eco-conscious travelers will be happy to know that many of the top spa hotels in Tulum prioritize sustainability and environmental responsibility. Hotels like The Beach Tulum and Azulik use eco-friendly materials throughout their properties while offering low-impact spa treatments that incorporate organic ingredients sourced from local farms.
Can non-hotel guests access spas at luxury hotels in Tulum?
Most spas at luxury hotels in Tulum are open exclusively to guests staying on property. However, some may allow non-guests to book treatments with advance notice (though availability is not guaranteed). It's worth calling ahead if you're interested in visiting a specific hotel's spa as a non-guest.
Are there any budget-friendly spa options available in Tulum?
While many of the top-rated spas in Tulum come with a hefty price tag, there are still some more affordable options available if you're on a tight budget. Places like Yaan Wellness Energy Healing Spa offer wallet-friendly massage packages alongside more comprehensive wellness programs. Alternatively, you could book a treatment at one of the many smaller spas scattered throughout Tulum town.
Popular Wellness Hotels destinations