Welcome to the enchanting city of Stuttgart, a hidden gem nestled in the heart of Germany. If you're seeking a tranquil haven where relaxation and rejuvenation take center stage, look no further than the exquisite spa hotels scattered throughout this vibrant metropolis. Immerse yourself in opulence as you explore an array of luxurious accommodations that cater to every discerning traveler.
Indulge your senses at these extraordinary wellness retreats, where lavishness meets serenity in perfect harmony. Discover a sanctuary where stress fades away upon arrival, replaced by a sense of tranquility that permeates every inch of these magnificent establishments. With their impeccable service and state-of-the-art facilities, these spa hotels offer an unrivaled experience for those seeking solace from the hustle and bustle of everyday life.
Allow yourself to be pampered by expert therapists who are dedicated to your well-being. Experience an assortment of world-class treatments that combine ancient traditions with modern techniques, ensuring ultimate relaxation and holistic healing. Revel in sumptuous surroundings infused with elegant decor, creating an ambiance that effortlessly transports you to a realm of unparalleled bliss.
As we delve deeper into Stuttgart's spa hotel offerings, prepare to embark on a journey like no other – one that promises rejuvenation for both mind and body. Join us as we uncover the secrets behind this city's most lavish sanctuaries, inviting you to immerse yourself in pure luxury while discovering the captivating charm of Stuttgart along the way.
Stuttgart Most Relaxing Spa Resorts and Hotels
Park Inn by Radisson Stuttgart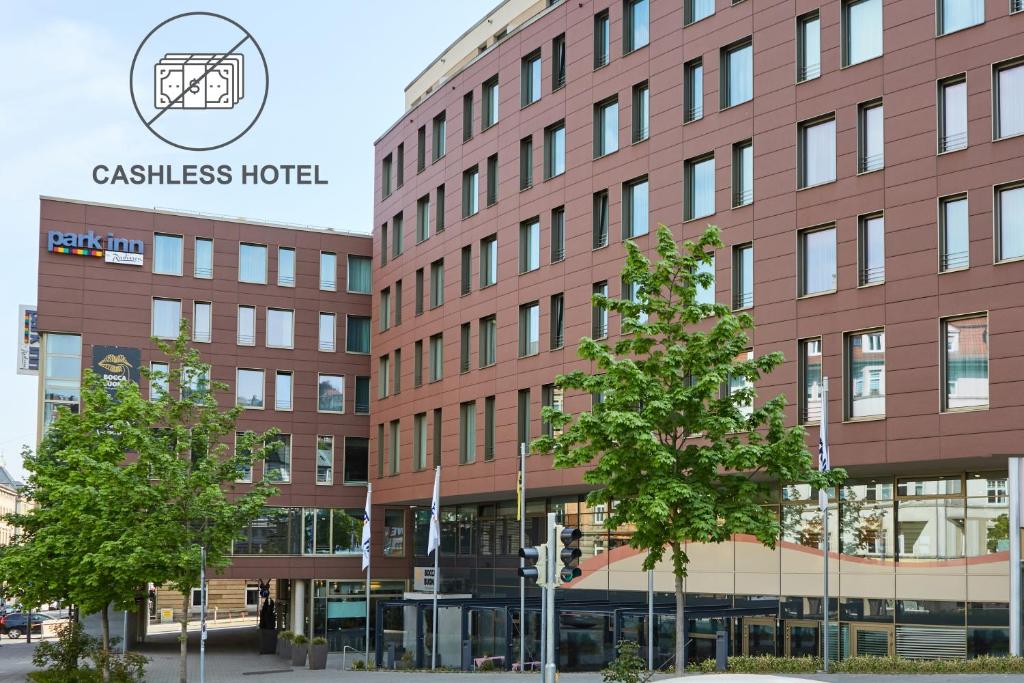 The Park Inn by Radisson Stuttgart is a luxury hotel that offers a range of amenities for guests to enjoy. Located just a 2-minute walk from Marienplatz Square and 1.2 km from Stuttgart city center, this hotel provides convenient access to the city's attractions. The rooms are soundproofed and equipped with free Wi-Fi, ensuring a comfortable stay. Guests can take advantage of the rooftop fitness center, which includes a sauna, quiet room, and well-equipped gym. Italian specialties are served at the Bocca Buona Restaurant, while the Lounge Bar offers snacks and drinks. Additionally, Stuttgart Central Station is only a 5-minute drive away, making transportation hassle-free.
– Free Wi-Fi
– Soundproofed rooms
– Rooftop fitness center with sauna
– Italian restaurant on-site
– Convenient location near city center and public transportation
Mövenpick Hotel Stuttgart Messe & Congress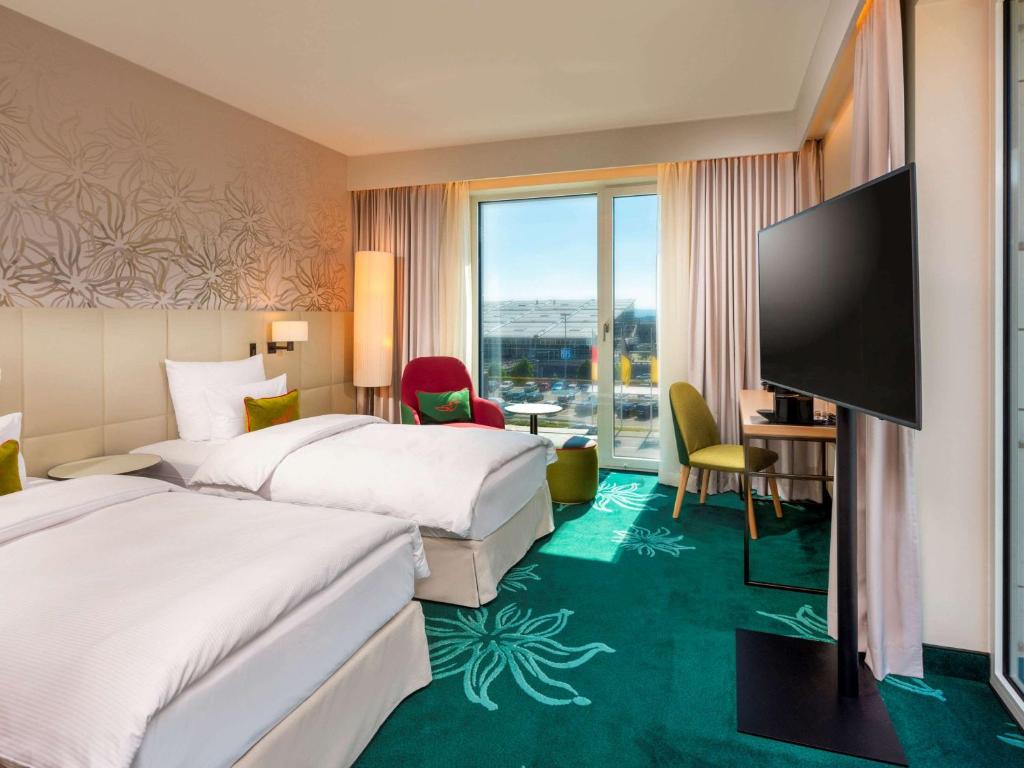 Mövenpick Hotel Stuttgart Messe & Congress is a luxurious spa hotel located in Stuttgart, just 10 meters from Fair Stuttgart. This newly opened hotel offers comfortable accommodation with a range of amenities including a restaurant, private parking, and a fitness centre. The hotel features family rooms and provides excellent service with its 24-hour front desk and room service. Guests can relax and rejuvenate at the spa and wellness centre. The well-appointed rooms are equipped with modern facilities such as air conditioning, flat-screen TVs, fridges, kettles, showers, hairdryers, and desks. A buffet breakfast is served daily at the hotel's restaurant. Other amenities include a business centre for those traveling on business. The convenient location makes it easy to visit popular attractions such as State Theater (14 km) and Porsche-Arena (17 km). With its close proximity to Stuttgart Airport, Mövenpick Hotel Stuttgart Messe & Congress offers convenience for travelers looking for luxury accommodations in the city.
– Recently opened in January 2020
– Convenient location near Fair Stuttgart
– Luxurious spa and wellness center
– Family-friendly rooms available
– Excellent customer service
Hotel Azenberg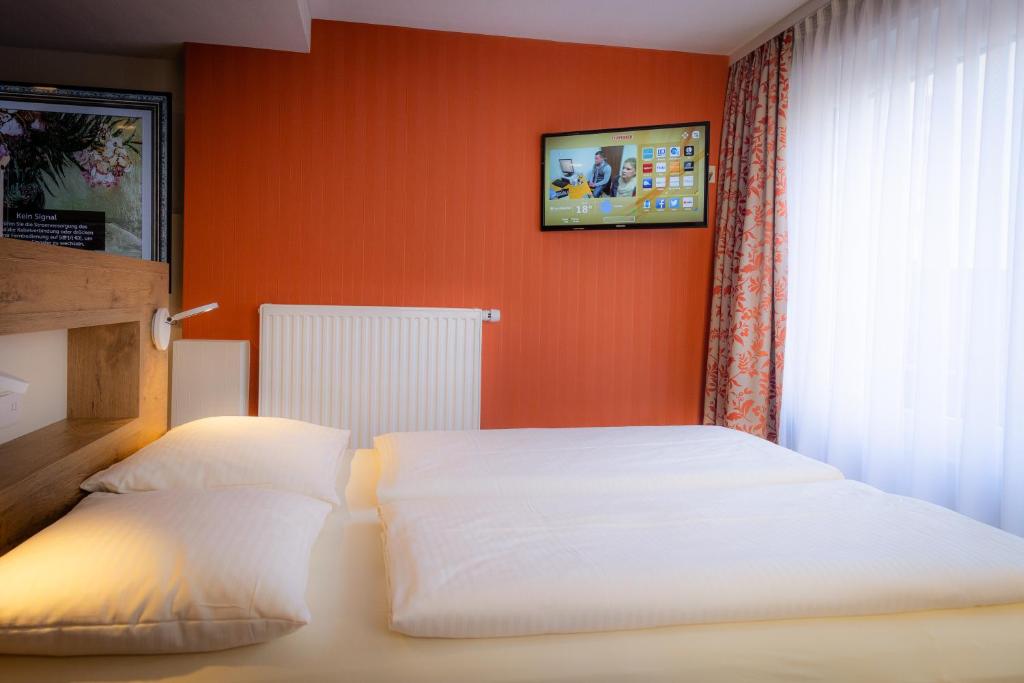 Hotel Azenberg is a modern 4-star hotel located in a peaceful area, just a 15-minute walk from Stuttgart Main Station. The hotel offers free WiFi and features an idyllic garden and a wellness area with a swimming pool. The rooms at Hotel Azenberg are warmly furnished with bright colors and include satellite TV and a private bathroom. Guests can enjoy a full buffet breakfast each morning in the stylish restaurant, as well as snacks and drinks throughout the day in the bar with an open fireplace or on the hotel terrace. The hotel is surrounded by leafy surroundings, with Kräherwald Hills only 1.5 km away and Killesberg Park just 2 km away. Children are welcome to enjoy the playroom, and if reserved in advance, guests receive free entrance during the day at the spa which includes a sauna, steam bath, Kneipp basin, and relaxation area. On-site parking is also available.
– Peaceful location
– Idyllic garden
– Wellness area with swimming pool
– Buffet breakfast included
– Free entrance to spa (if reserved in advance)
Other places to stay in Stuttgart
Stuttgart Luxury Spa Hotels
Stuttgart is home to a variety of luxurious spa hotels that offer an indulgent retreat for guests. With their serene ambiance, expertly curated treatments, and attention to detail, these establishments provide the perfect opportunity to relax and rejuvenate in style.
Kronenhotel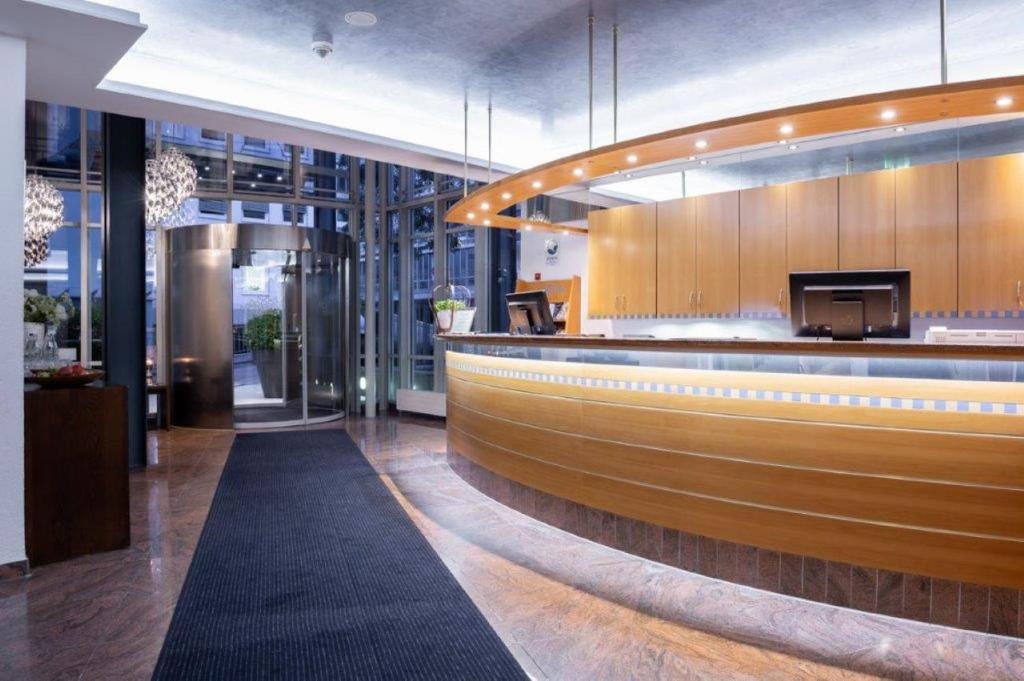 Located in a peaceful street close to Stuttgart's pedestrian zone and train station, Kronenhotel is a highly-rated 4-star property that boasts an array of luxurious amenities. Guests can unwind in the sauna and steam bath before indulging in the delectable offerings at the gourmet breakfast buffet. The hotel features spacious and soundproofed rooms equipped with complimentary WiFi for guests' convenience. With its prime location only 400 meters away from Stuttgart Main Station and a short stroll from Königstraße, this privately owned hotel offers easy access to the city's main attractions. For those seeking relaxation, there is a charming garden terrace where they can bask in tranquility or enjoy refreshing beverages at the lobby bar.
– Convenient proximity to Stuttgart Main Station
– Luxurious amenities including sauna and steam bath
– Complimentary WiFi throughout the property
– Beautiful garden terrace for ultimate relaxation
– Lobby bar perfect for unwinding with drinks
Waldhotel Stuttgart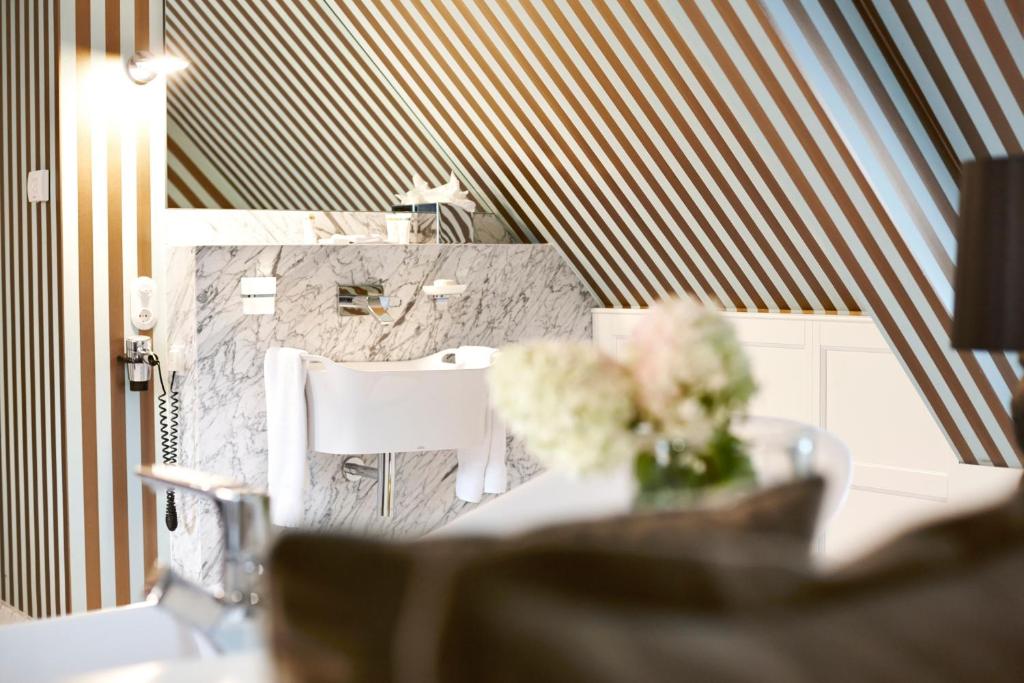 Located in a serene forest setting, the Waldhotel Stuttgart offers a luxurious 4-star superior experience just a short 15-minute drive from Stuttgart Central Station. The hotel provides well-appointed rooms with modern amenities such as flat-screen TVs, free Wi-Fi, and tea/coffee facilities. Guests can unwind at the spa center featuring a gym and sauna or attend events at the spacious ballroom. For those looking to explore the city, the Stuttgart TV Tower is only a 5-minute walk away. Indulge in delectable regional and international cuisine at the stylish on-site restaurant, or enjoy a relaxing drink at the hotel bar. With elegant rooms equipped with minibars and work desks, guests are guaranteed comfort during their stay. Some rooms also feature balconies or terraces for breathtaking views of the surroundings. Sports enthusiasts can take advantage of the on-site tennis court or nearby sports courts for some active fun. Additionally, convenient access to A8 Motorway is just a 10-minute drive away, making it easy to explore further afield.
– Peaceful forest location
– Spa center with gym and sauna
– Stylish restaurant serving regional and international cuisine
– On-site tennis court
– Convenient access to A8 Motorway
Hotel Traube Tonbach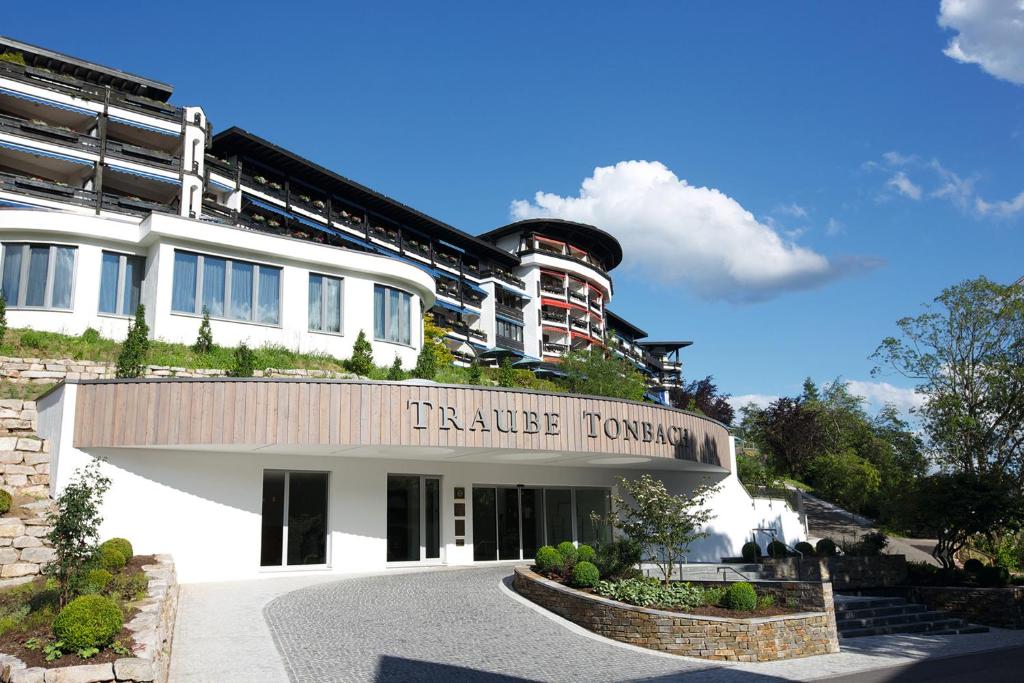 Hotel Traube Tonbach is a luxurious 5-star hotel located in the breathtaking scenery of the Black Forest, just 4 km from Baiersbronn. This exquisite hotel boasts four exceptional restaurants, offering a range of delectable French and local Black Forest cuisine. Guests can enjoy panoramic views of the forest from their balcony and indulge in a luxury bathroom experience in every room. With eight generations of family ownership since its establishment in 1789, Hotel Traube Tonbach offers spacious cottage-style rooms furnished with elegant wooden furniture and equipped with flat-screen TVs. The hotel also provides an extensive list of amenities including free WiFi, access to spa facilities such as hot tubs, saunas, steam rooms, and fitness centers, as well as a wide variety of massages and beauty treatments. Families will find great joy in the children's facilities available at the hotel which include an indoor playroom, playground, children's restaurant, cooking lessons for kids, indoor football pitch and toy cars. Additionally, guests can partake in various free activities organized by the hotel such as hikes, sports programs excursions yoga classes and more.
– Stunning panoramic views of the Black Forest
– Four exceptional restaurants serving award-winning cuisine
– Spacious cottage-style rooms with elegant wooden furniture
– Extensive spa facilities including hot tubs and saunas
– Family-friendly amenities including an indoor playroom and children's restaurant
5 Star Spa Hotels in Stuttgart
Stuttgart offers a range of luxurious 5-star spa hotels that cater to guests seeking the ultimate relaxation experience. These hotels boast exquisite spa facilities and services, providing a serene sanctuary for visitors to unwind and rejuvenate during their stay in the city.
relexa Waldhotel Schatten Stuttgart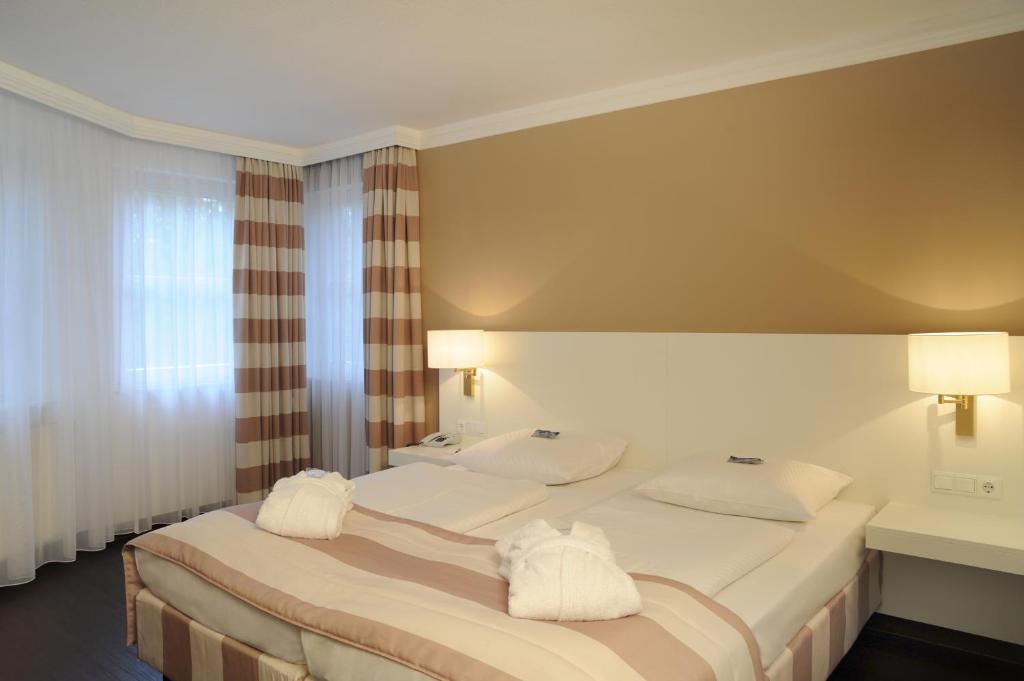 The relexa Waldhotel Schatten Stuttgart is a historic 4-star hotel located in the Vaihingen district of Stuttgart. Dating back to 1783, this carefully renovated hotel offers generously equipped rooms and suites with modern amenities such as wireless internet access. Guests can enjoy a variety of facilities including a restaurant, soft sauna and steam bath, fitness facilities, and modern conference rooms. The hotel also features an underground parking garage for guests' convenience. Other highlights include the cozy fireplace where guests can relax before indulging in the widely appreciated specialties at the restaurant. The Solitude Bar offers a fine selection of wines, spirits, and non-alcoholic beverages for guests to enjoy. Additionally, electric bicycles are available for rent at the hotel.
– Well-equipped rooms and suites with wireless internet access
– Restaurant offering widely appreciated specialties
– Cozy fireplace for relaxation
– Fine selection of wines, spirits, and non-alcoholic beverages at the Solitude Bar
– Electric bicycles available for rent
Mercure Hotel Stuttgart Airport Messe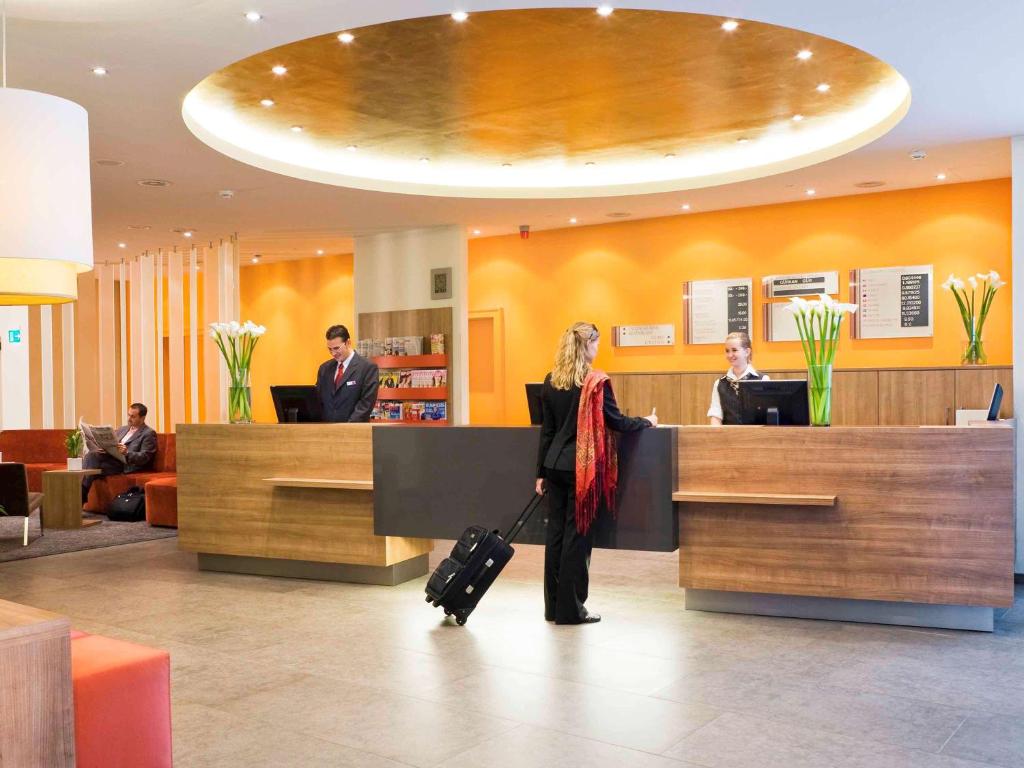 Located just 5 km from Stuttgart Airport and the exhibition centre, the Mercure Hotel Stuttgart Airport Messe is a modern 4-star hotel that offers all the comforts and amenities for a luxurious stay. The hotel features stylish rooms equipped with Wi-Fi, satellite TV, and private bathrooms. Guests can enjoy a delicious breakfast buffet each morning and indulge in Swabian specialties and international dishes at the Le Faisan restaurant or the traditional Stüble lounge. In addition to its excellent dining options, the hotel also offers private parking and free internet access in its business centre. With its proximity to SI-Centrum, which boasts a casino, cinema, two musical theatres, and thermal baths, guests can easily explore the local attractions. Whether you're traveling for business or leisure, Mercure Hotel Stuttgart Airport Messe provides an ideal base for your stay.
– Modern rooms with Wi-Fi and satellite TV
– Delicious breakfast buffet
– Swabian specialties and international dishes at on-site restaurants
– Proximity to SI-Centrum with various entertainment options
Hotel Engel Obertal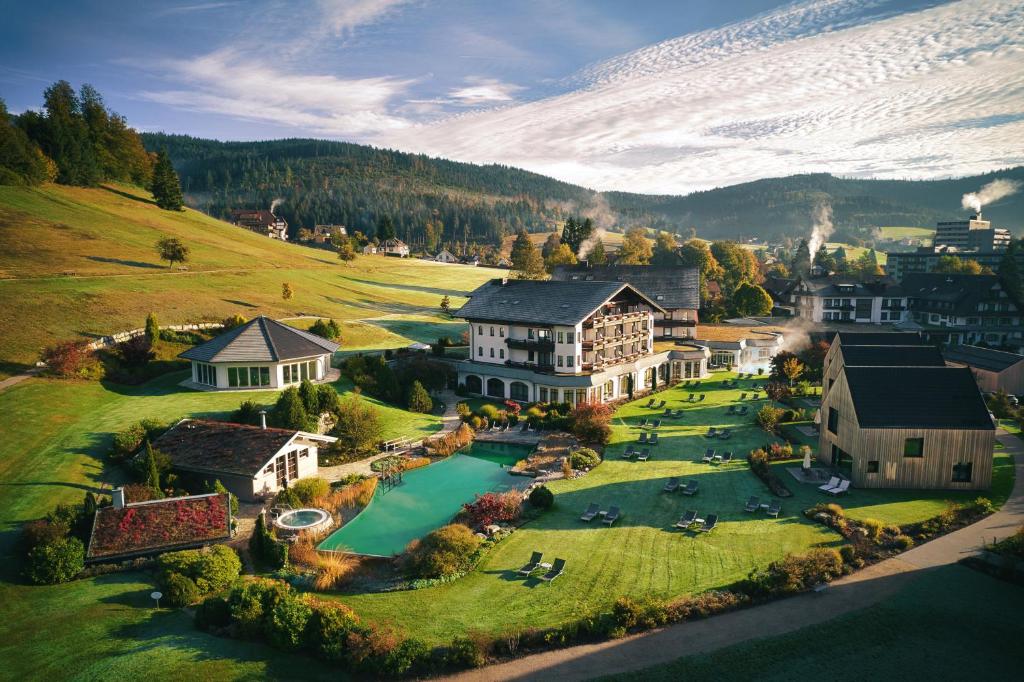 Located in Baiersbronn, Hotel Engel Obertal is a 5-star luxury spa hotel that offers guests a range of amenities to ensure a relaxing and enjoyable stay. With an outdoor swimming pool, fitness center, and sauna, guests can unwind and rejuvenate their bodies and minds. The hotel also boasts an indoor pool and hot tub for additional relaxation options. For those looking to stay active, the hotel offers tennis facilities as well as nearby hiking and skiing opportunities. The rooms are elegantly designed with modern amenities such as flat-screen TVs with cable channels, safety deposit boxes, and private bathrooms with free toiletries. Some rooms even have kitchenettes for added convenience. Guests can start their day off right with a buffet breakfast before heading out to explore the beautiful surroundings. The hotel staff is multilingual and always ready to assist guests in German, English, or French. Overall, Hotel Engel Obertal provides an excellent location for those seeking luxury accommodations paired with world-class spa facilities.
Pros:
– Outdoor swimming pool
– Fitness centre
– Sauna
– Indoor pool
– Tennis facilities
Spa Hotels in Downtown Stuttgart
Downtown Stuttgart boasts a selection of luxury spa hotels that offer an indulgent retreat for travelers seeking relaxation and rejuvenation. These hotels provide a tranquil ambiance, soothing spa treatments, and exceptional service, making them the perfect choice for a luxurious getaway in the heart of the city.
Jaz in the City Stuttgart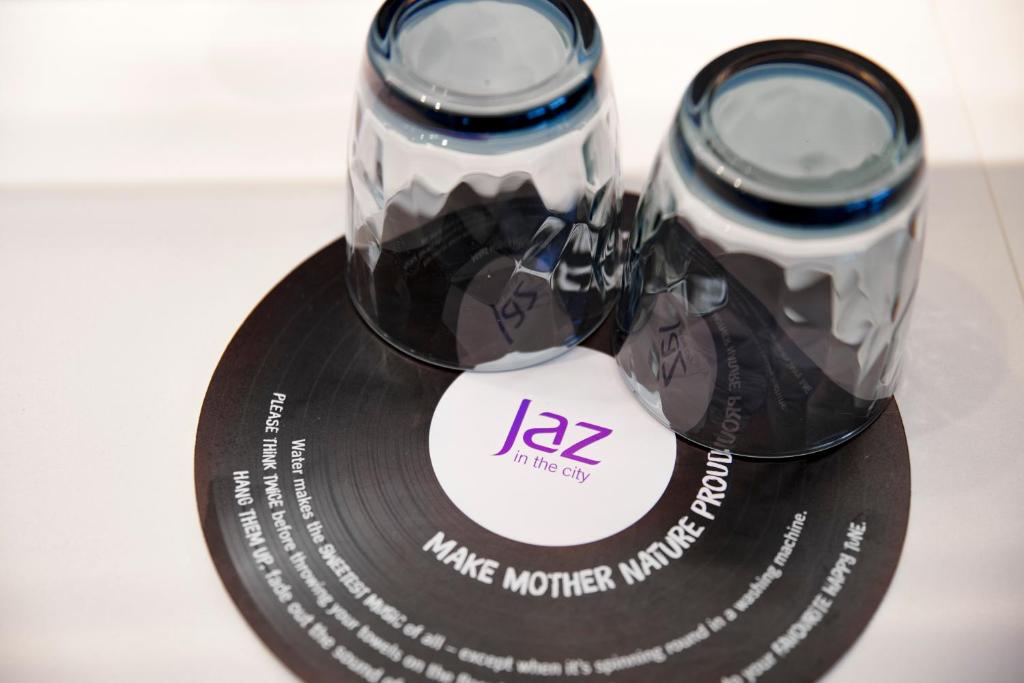 The Jaz in the City Stuttgart is a modern and stylish lifestyle hotel located directly next to the Milaneo shopping center. With the Königstraße just 1.5 km away and the Stadtbibliothek Underground Station only 150 meters from the hotel, guests have easy access to explore all that Stuttgart has to offer. The hotel opened its doors in early 2018 and features guest rooms with air conditioning, flat-screen TVs with cable channels, fridges, coffee machines, baths, and desks. The private bathrooms are equipped with chic rain showers and complimentary toiletries. Guests can dine at the trendy Restaurant Rhythms Bar & Kitchen which offers dry-aged meat and steaks or enjoy cocktails, wines, and snacks while taking in views of Stuttgart on Balinese sky beds at the Wolfram Bar & Terrace rooftop terrace. For relaxation, guests can work out in the 24-hour gym or unwind in the wellness area featuring two saunas and a steam room.
– Convenient location next to Milaneo shopping center
– Stylish design hotel opened in early 2018
– Rooftop terrace with stunning views of Stuttgart
– Well-equipped gym open 24 hours a day
– Relaxing wellness area with saunas and steam room
Mövenpick Hotel Stuttgart Airport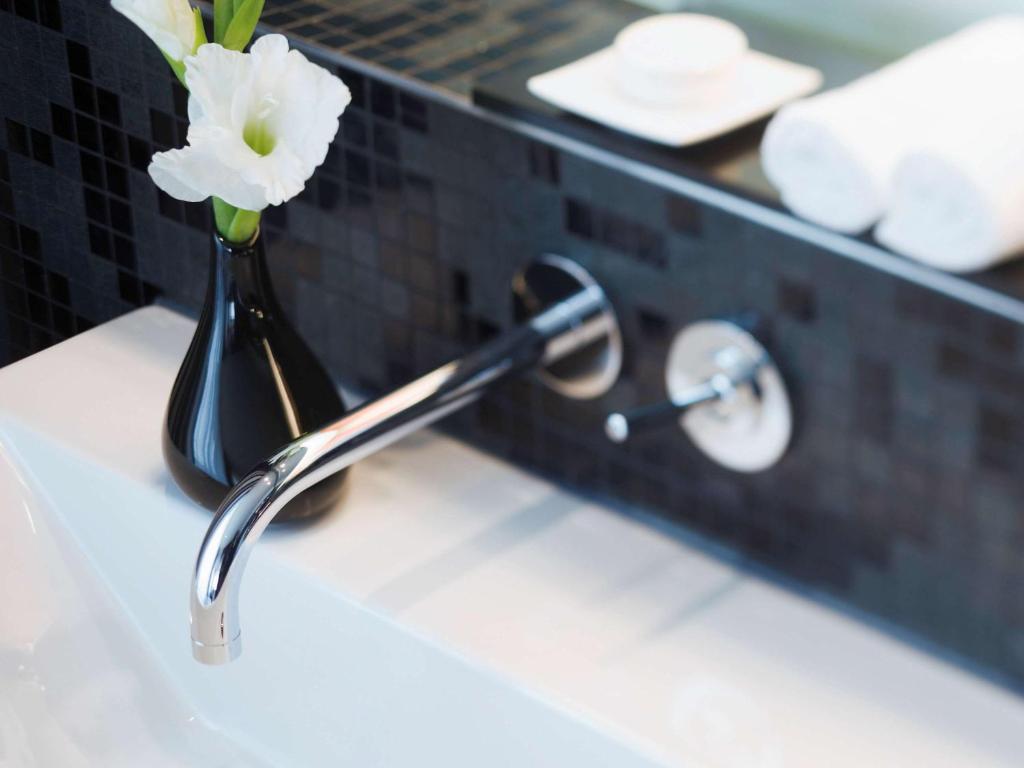 The Mövenpick Hotel Stuttgart Airport is a stylish and luxurious 4-star hotel located opposite the Stuttgart Airport. The hotel offers soundproofed rooms, free Wi-Fi, and easy access to the S-Bahn train station, making it convenient for both business and leisure travelers. The Messe Stuttgart Exhibition centre is just 200 meters away, allowing guests to easily attend conferences or events. The hotel's rooms are non-smoking and equipped with tea/coffee facilities, a flat-screen TV, and a minibar. For relaxation, guests can enjoy the spacious spa area which includes a modern gym, saunas, and massages upon request. When it comes to dining options, the Trollinger restaurant serves international specialties as well as traditional Swabian dishes on its terrace. Guests can also unwind in the Message Café & Bar or cozy up beside the fireplace in the lounge. With its prime location near major highways such as A8 motorway and excellent amenities such as free Wi-Fi and spa facilities, Mövenpick Hotel Stuttgart Airport is an ideal choice for those seeking luxury accommodations near the airport.
Pros:
– Convenient location opposite Stuttgart Airport
– Easy access to S-Bahn train station for quick connections
– Spacious spa area with modern gym and saunas
– International cuisine offered at Trollinger restaurant
– Cozy ambiance in Message Café & Bar / lounge
Stuttgart Spa Hotels Information
| | |
| --- | --- |
| 🛎️ Spa Hotels in Stuttgart | 11 |
| 💵 Hotels Prices From | $242 |
| 💵 Highest price | $1312 |
| 🥇 Average Review Score | 8.3/10 |
| 🛏️ Average number of Rooms | 164 |
Top SPA hotels in Stuttgart
| | |
| --- | --- |
| Waldhotel Stuttgart | 8.9/10 |
| Hotel Engel Obertal | 8.8/10 |
| Hotel Traube Tonbach | 8.7/10 |
| Kronenhotel | 8.5/10 |
| Hotel Azenberg | 8.4/10 |
FAQ
Is Stuttgart in Germany known for its spa hotels?
Yes, Stuttgart is recognized for its fabulous spa hotels. With a wide range of luxurious accommodations to choose from, visitors can indulge in rejuvenating spa treatments and experience ultimate relaxation. Whether you prefer a modern hotel with state-of-the-art facilities or a traditional retreat nestled in nature, Stuttgart offers an array of options to cater to every traveler's preference.
What are some popular spa hotels in Stuttgart?
Stuttgart boasts several popular spa hotels that provide top-notch service and amenities. The Breuninger Hotel & Spa offers a tranquil oasis right in the heart of the city, featuring elegant rooms and an exceptional spa experience. Another renowned option is the Le Méridien Stuttgart, which combines contemporary design with holistic wellness offerings. For those seeking a more nature-oriented setting, the Alder Hotel & Spa provides a serene escape amidst lush greenery.
What types of treatments can guests expect at spa hotels in Stuttgart?
Spa hotels in Stuttgart offer a diverse range of treatments to cater to various needs and preferences. Guests can enjoy classic massages like Swedish or deep tissue massages for physical relaxation and stress relief. Additionally, many spas offer specialized therapies such as aromatherapy sessions or hot stone massages for an extra touch of indulgence. Some establishments even feature unique treatments like vinotherapy using grape extracts or thermal baths infused with natural minerals.
Do I need to make reservations ahead of time for spa treatments at these luxury hotels?
While it is always recommended to make reservations ahead of time when visiting luxury spa hotels in Stuttgart, it ultimately depends on availability during your desired time frame. As these establishments often prioritize guest satisfaction and limited capacity may exist due to high demand, making prior arrangements ensures you secure your preferred treatment slots without any inconvenience upon arrival.
What other attractions can guests explore while staying at a luxury spa hotel in Stuttgart?
Beyond pampering oneself at the luxurious spas within Stuttgart, guests have plenty of other attractions to explore during their stay. The city is home to fascinating cultural sites like the Mercedes-Benz Museum and the Stuttgart State Opera House, providing enriching experiences for art lovers. Additionally, nature enthusiasts can venture out to the nearby Black Forest or explore beautiful parks such as Rosenstein Park or Killesberg Park for a tranquil retreat amidst nature's beauty.
Popular Wellness Hotels destinations