Welcome, fellow wanderers, to the enchanting realm of Spa Hotels in Stockholm, Sweden. Nestled amidst the picturesque landscapes and majestic architecture, this Scandinavian gem offers an exquisite selection of wellness retreats that will leave you rejuvenated and spellbound. Discover a harmonious fusion of luxury and tranquility as you embark on a journey through opulent havens where pampering reaches new heights.
Immerse yourself in a world of serenity where stress melts away with each gentle touch. With its myriad saunas, steam rooms, and therapeutic treatments, Stockholm's spa hotels present an oasis of calm amidst the bustling cityscape. Unwind your mind in sophisticated settings adorned with plush furnishings and soothing color palettes that evoke a sense of inner peace. Whether indulging in invigorating massages or revitalizing facials, these sanctuaries cater to every discerning traveler seeking solace from the fast-paced modern world.
Prepare to surrender yourself to momentary bliss as highly trained therapists employ ancient techniques infused with innovative practices. Allow your senses to soar amidst aromatic scents while indulging in luxurious amenities such as heated pools and plush relaxation lounges. As night falls over this ethereal cityscape, let go of all worries while embracing pure relaxation under starlit skies at rooftop spas boasting breathtaking views over Stockholm's captivating skyline.
Join us on an unforgettable exploration into Stockholm's finest spa hotels where self-care is elevated into an art form. Let go of everyday worries as you immerse yourself in heavenly treatments that promise divine rejuvenation for both body and soul.
Stockholm Most Relaxing Spa Resorts and Hotels
Scandic Grand Central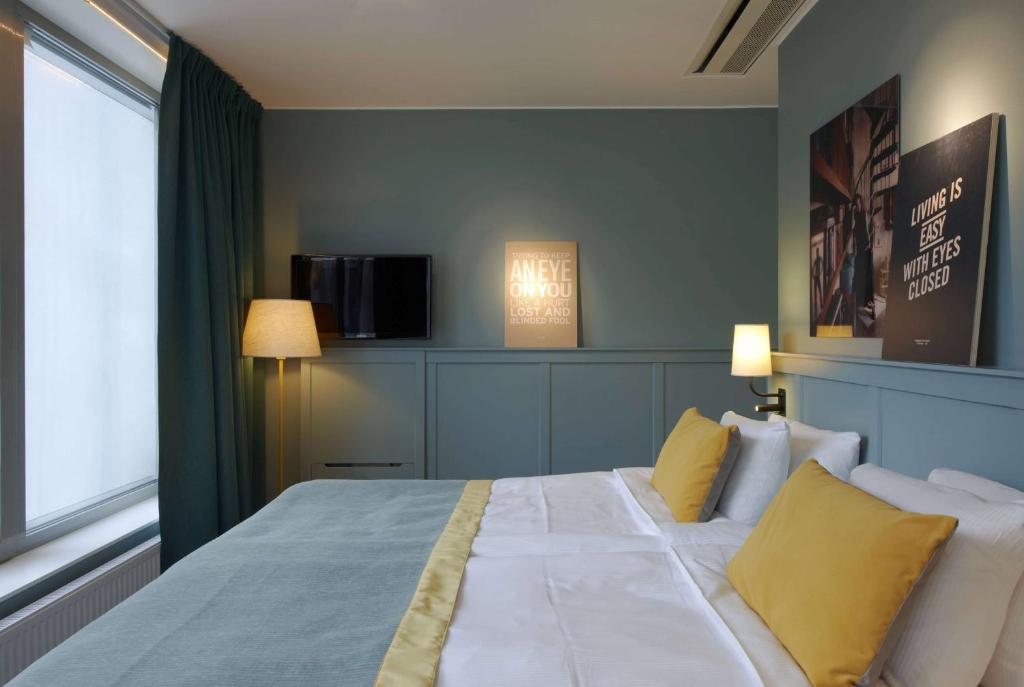 Located in an 1880s building, the Scandic Grand Central is a stylish hotel conveniently situated just 150 meters from the Arlanda Express Airport Train and Stockholm Central Station. With free WiFi, a gym, sauna, and bike access, guests can enjoy modern amenities during their stay. The hotel also provides luxury toiletries with its own signature scent. Across from the hotel are popular attractions such as the Oscar Theatre and Casino Cosmopol. Each room features a flat-screen TV for entertainment. Guests can dine at Teaterbrasseriet for classic Swedish dishes made from fresh, seasonal ingredients or visit Bistron restaurant for a pleasant atmosphere and a variety of menu options at the bar. At Bar Acoustic, creative cocktails await along with DJ evenings for some lively entertainment. Within just three minutes' walk are shops, cinemas, and pubs located at Drottninggatan and Hötorget Square.
– Prime location near transportation hubs
– Free WiFi available throughout the property
– On-site gym and sauna provide wellness opportunities
– Variety of dining options to suit different tastes
– Vibrant nightlife scene nearby with DJ evenings arranged
Villa Dagmar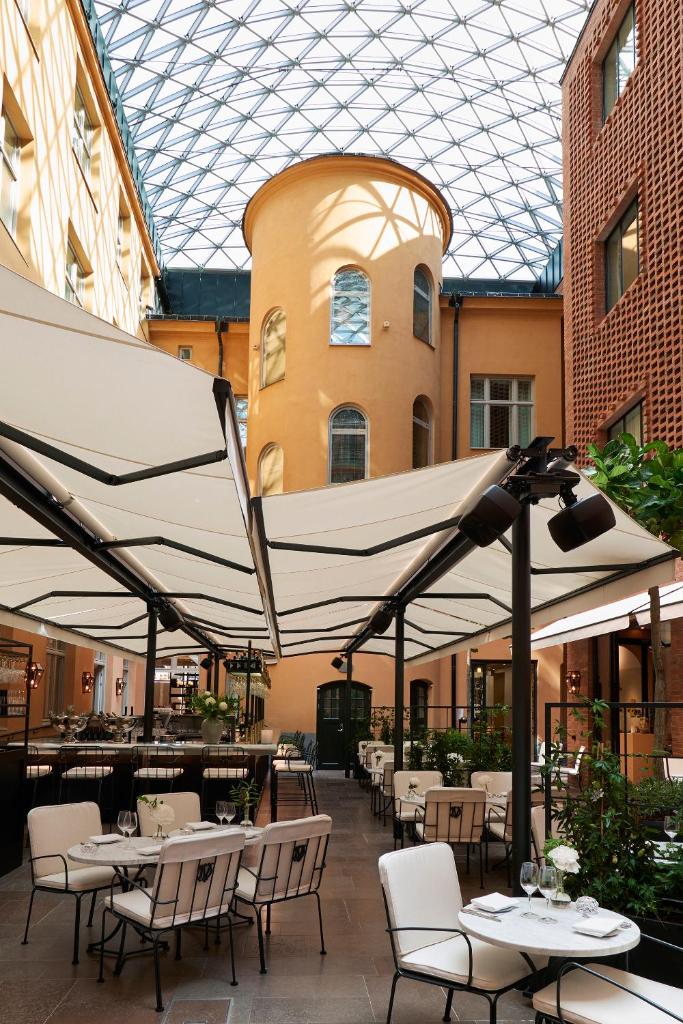 Villa Dagmar is a luxurious 5-star hotel located in Stockholm, just 200 meters from the Army Museum. This elegant hotel, which opened in March 2020, offers a range of amenities including a fitness center, private parking, a restaurant, and a bar. Guests can enjoy the convenience of a concierge service and the comfort of a 24-hour front desk. The rooms are beautifully designed and equipped with modern amenities such as flat-screen TVs, desks, private bathrooms, coffee machines, and safety deposit boxes. Some rooms also feature balconies with stunning views. Guests can stay connected with free WiFi throughout the property. In addition to its prime location near popular attractions like Stureplan and Sergels Torg Square, Villa Dagmar provides airport transfers for added convenience. Start your day off right with a delicious buffet or continental breakfast served at the accommodation.
– Recently opened luxury hotel
– Convenient location near popular attractions
– Fitness center available for guests
– Elegant design and modern amenities in rooms
– A wide range of services offered by the friendly staff
Victory Hotel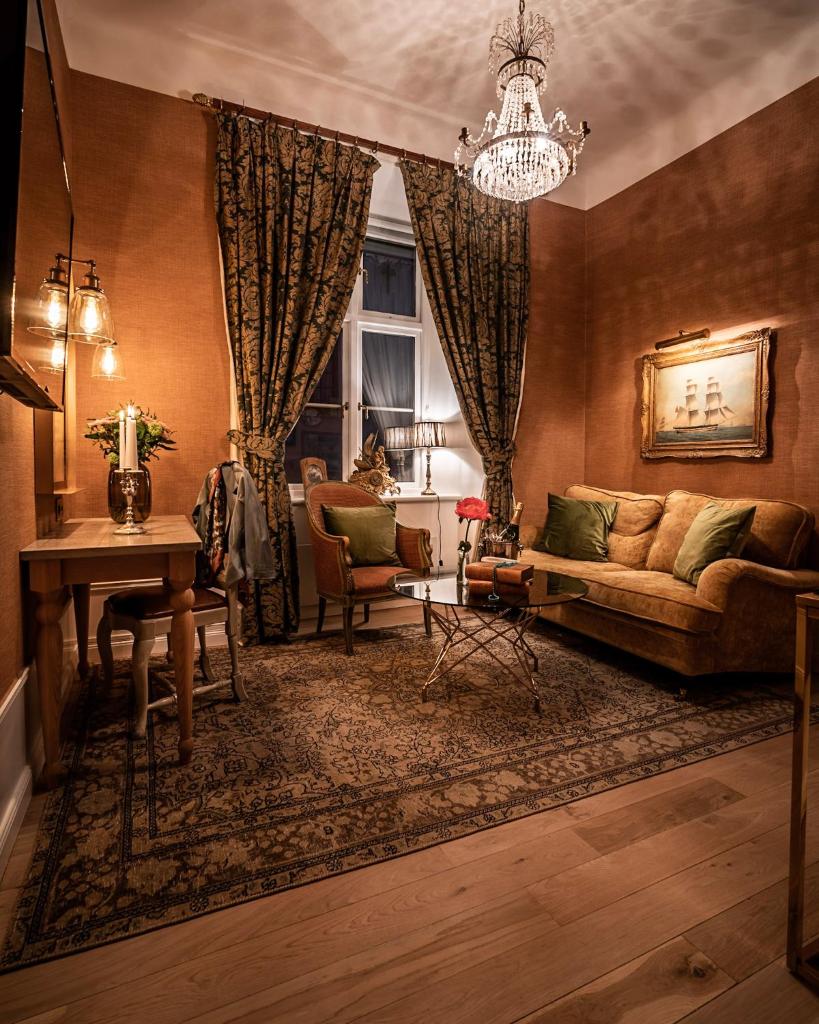 Located in Stockholm's enchanting Old Town, the Collector's Victory Hotel is a luxurious spa hotel just a 2-minute walk from Gamla Stan Metro Station. The beautifully adorned rooms boast unique décor, including flat-screen TVs and heated bathroom floors. Indulge in a culinary journey at the on-site restaurant, Djuret, which showcases delectable meat and seafood dishes made with locally sourced and organic produce. Immerse yourself in the maritime ambiance of the hotel as each room is inspired by its own antique collection. Stay connected with free Wi-Fi available throughout the property. Unwind in style at the cosy lounge bar Tweed or explore an array of fine wines at The Burgundy wine bar. For ultimate relaxation, take advantage of leisure options such as a rejuvenating sauna and invigorating plunge pool.
– Convenient location in Stockholm's Old Town
– Unique and stylishly decorated rooms
– On-site restaurant showcasing locally sourced ingredients
– Cosy lounge bar for unwinding or socializing
– Spa amenities including sauna and plunge pool
Other places to stay in Stockholm
Stockholm Luxury Spa Hotels
When it comes to luxury spa hotels, Stockholm offers a range of options that cater to the discerning traveler seeking relaxation and rejuvenation. With a focus on quality treatments, serene atmospheres, and professional staff, these hotels provide an oasis of tranquility in the heart of the city.
Berns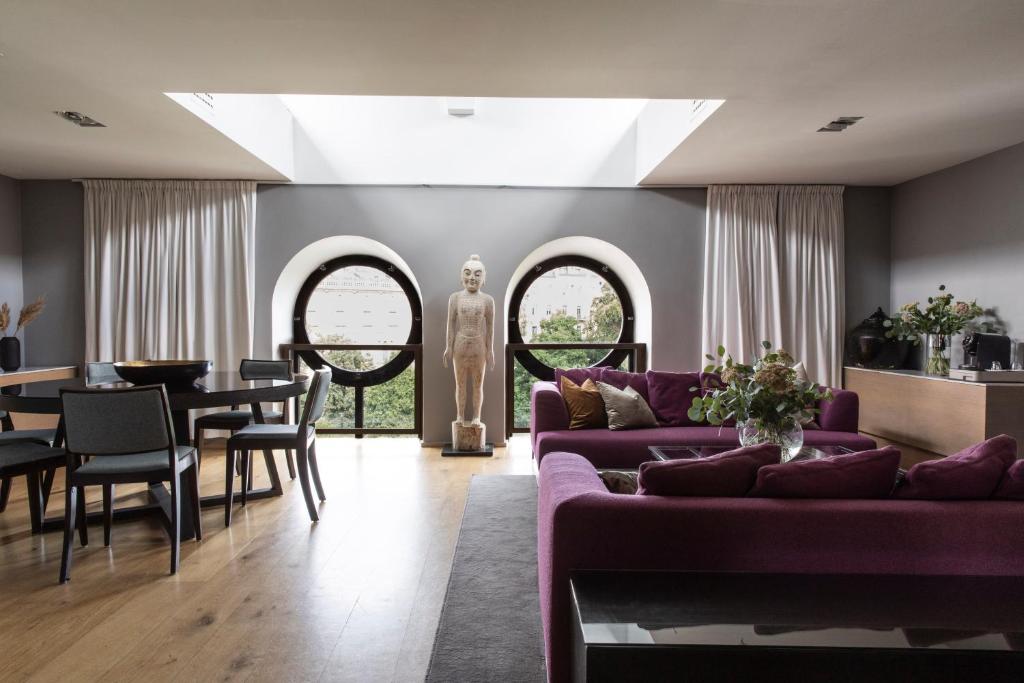 Berns Hotel is a stylish boutique hotel located next to Nybrokajen Harbour in central Stockholm. This iconic building dates back to 1863 and boasts a historic dining hall, multiple bars, and a vibrant nightclub, making it the house that never sleeps. Just steps away from Stureplan, one of Stockholm's most luxurious shopping and nightlife areas, Berns Hotel offers guests an ideal location for exploring the city. The hotel features 82 personally decorated rooms with a mix of unique antiques and modern designs. For those seeking something extraordinary, there are suites available with signature features such as a terrace Jacuzzi with beautiful views, a private sauna or the chance to wake up with the old clockwork scenery of the building. Within walking distance are attractions like the Old Town and the Royal Palace. Berns Hotel also houses two renowned restaurants; Berns Asiatiska which serves upscale Asian cuisine primarily inspired by Japan, Korea and Vietnam flavors; while Calle P restaurant offers Swedish dishes with European influences meant for sharing.
– Iconic historic building
– Central location near luxury shopping and nightlife
– Personally decorated rooms mixing antique charm with modern design
– Suites offering unique features such as terrace Jacuzzis or private saunas
– Two exceptional restaurants serving Asian and Swedish-European fusion cuisine
Mornington Hotel Stockholm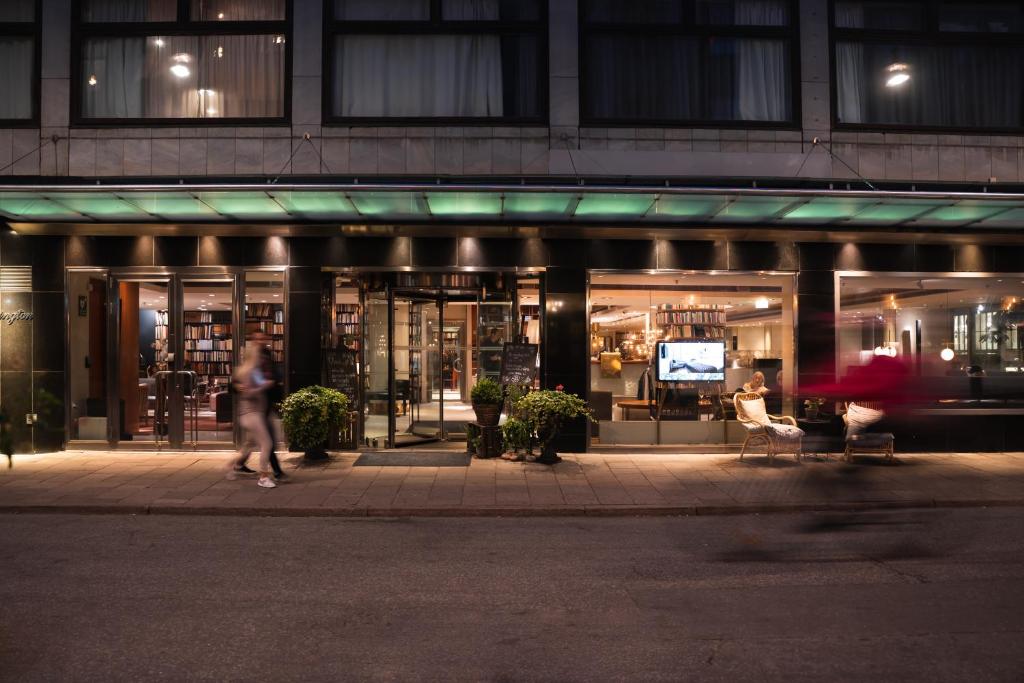 Located in Stockholm's elegant Östermalm district, Mornington Hotel Stockholm is a stylish hotel just a 5-minute walk from the vibrant Stureplan Square. The individually designed rooms feature wooden flooring, armchairs or sofas, and a tea/coffee maker. Many rooms also include bathrobes and slippers. Superior and Executive Rooms offer free gym and sauna access. The hotel's restaurant serves traditional Swedish cuisine as well as international dishes, and its inner courtyard is a popular spot for afternoon coffee and evening cocktails. Guests can also enjoy the health club and sauna for relaxation. With Östermalmstorg Metro Station just 150 meters away, exploring the city is convenient. The Royal Dramatic Theatre is only a 7-minute walk from the hotel, while Djurgården Island offers picturesque scenery just a 20-minute stroll away.
– Stylishly designed rooms with amenities like bathrobes and slippers
– Free gym and sauna access in Superior and Executive Rooms
– Restaurant serving traditional Swedish cuisine
– Inner courtyard for relaxing with coffee or cocktails
– Convenient location near metro station
Grand Hôtel Stockholm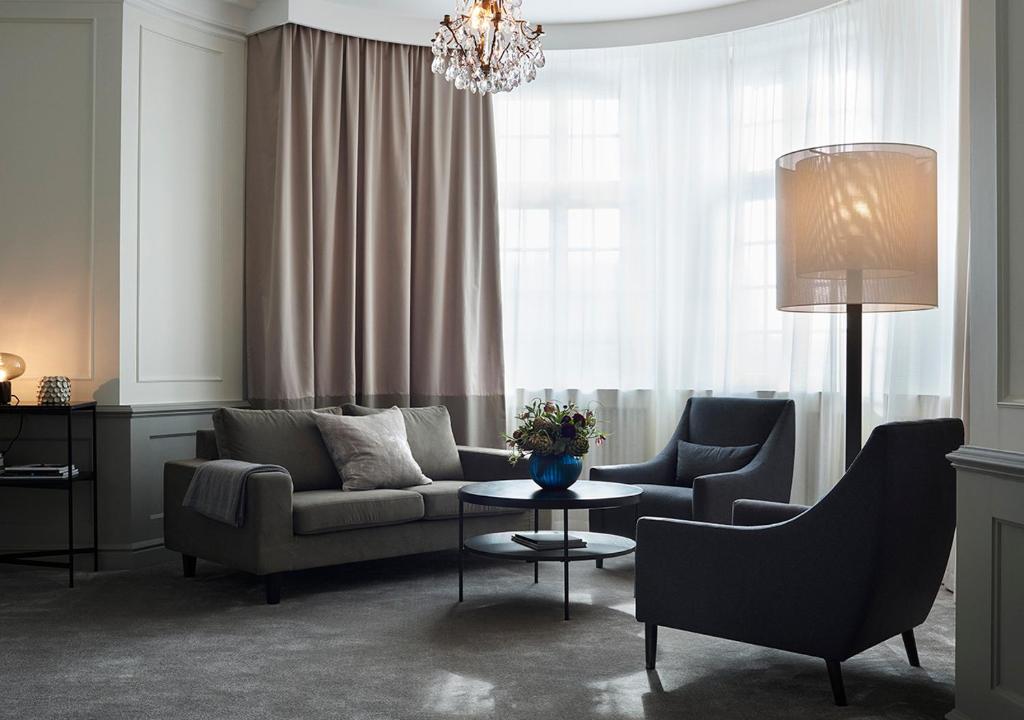 Located on the waterfront across from the Royal Palace and the Old Town, 1 km from Central Station, Grand Hôtel Stockholm is a luxurious destination offering a range of amenities to its guests. The hotel features fine dining options, a spa with various treatments, and complimentary WiFi access. The Grand Hôtel Nordic Spa & Fitness provides exercise equipment and an indoor pool for guests to enjoy. Indulge in rejuvenating spa treatments such as facials, foot massages, and naprapathy. The air-conditioned rooms at Grand Hôtel Stockholm are equipped with LCD TVs featuring satellite channels, minibars, and offer breathtaking views of the courtyard, city or waterfront scenes. To enhance your stay even further, the hotel offers chauffeur-driven limousine transfers and 24-hour room service.
– Spectacular waterfront location
– Luxurious Nordic Spa & Fitness facilities
– Fine dining options
– Complimentary WiFi access
– Chauffeur-driven limousine transfers available
5 Star Spa Hotels in Stockholm
Stockholm boasts a range of luxurious 5-star spa hotels, each offering an indulgent haven of relaxation and rejuvenation. With impeccable service, serene surroundings, and an array of top-notch spa treatments, these hotels provide the perfect retreat for those seeking ultimate pampering in the heart of Sweden's capital city.
Scandic Continental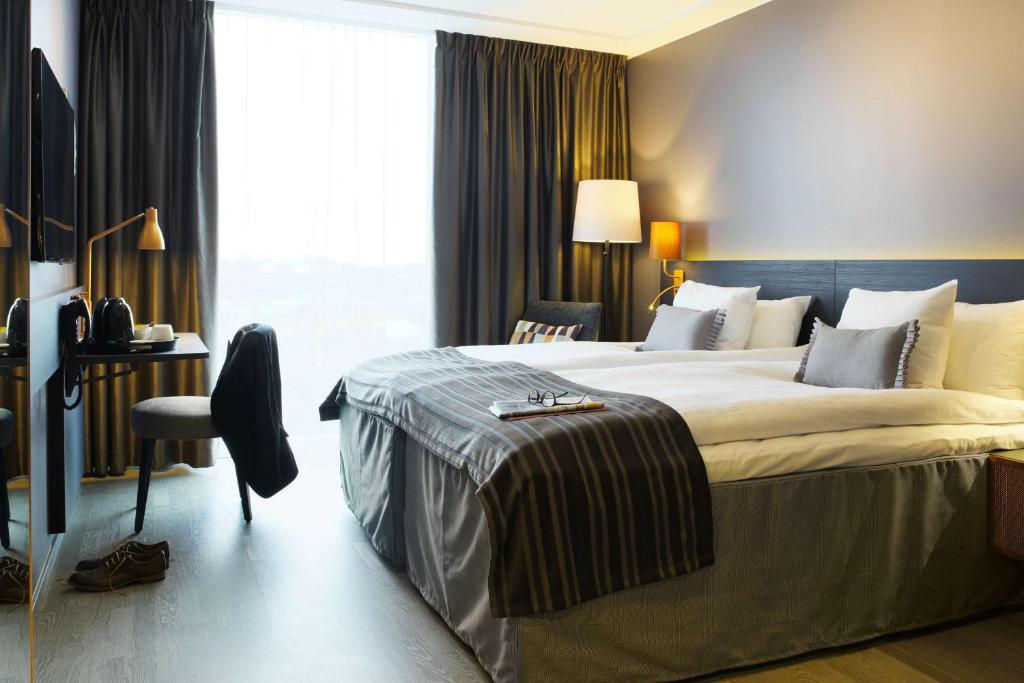 Located directly across the street from Stockholm Central Station, Scandic Continental is a luxury hotel with modern furnishings and impressive city views. The hotel boasts a roof-top terrace bar, an in-house restaurant called The Market that serves organic and local produce, as well as Café Caldo for quality coffee and light meals. Guests can enjoy free access to the gym and sauna, borrow walking poles and bicycles, and relax at the sun deck on the 11th floor. With its convenient location, popular attractions such as Stockholm City Hall, Kungstragarden Park, and the Old Town are just a short walk away. Plus, free WiFi is available throughout the hotel.
Hotel Esplanade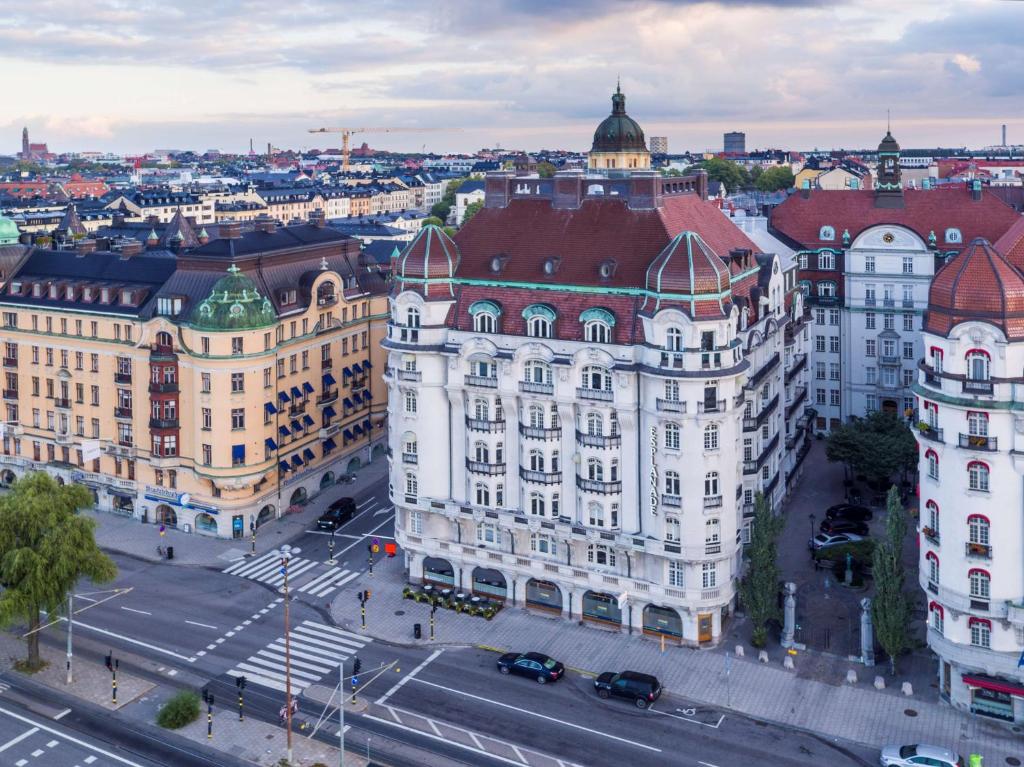 Sure Hotel Collection by Best Western Hotel Esplanade is a boutique hotel located on the prestigious Strandvägen Street in central Stockholm. The hotel offers individually decorated Art Nouveau-style rooms with free WiFi, providing guests with a unique and charming experience. The Royal Dramatic Theatre is just 150 meters away, allowing guests easy access to cultural entertainment. Each spacious room boasts high ceilings and hardwood floors, as well as a 22-inch flat-screen TV, seating area, and work desk. Guests can enjoy beautiful views of Nybroviken Quay or the tranquil courtyard from their rooms. A buffet breakfast is served daily in the delightful breakfast room. The hotel's convenient location allows for easy exploration of Stockholm's attractions, such as the Old Town with its Royal Palace just a 10-minute walk away, and Stureplan Square for shopping and nightlife only 500 meters away.
– Individually decorated Art Nouveau-style rooms
– Free WiFi
– Close proximity to cultural attractions
– Beautiful views of Nybroviken Quay or courtyard
– Convenient location for exploring Stockholm's attractions
Scandic Sjöfartshotellet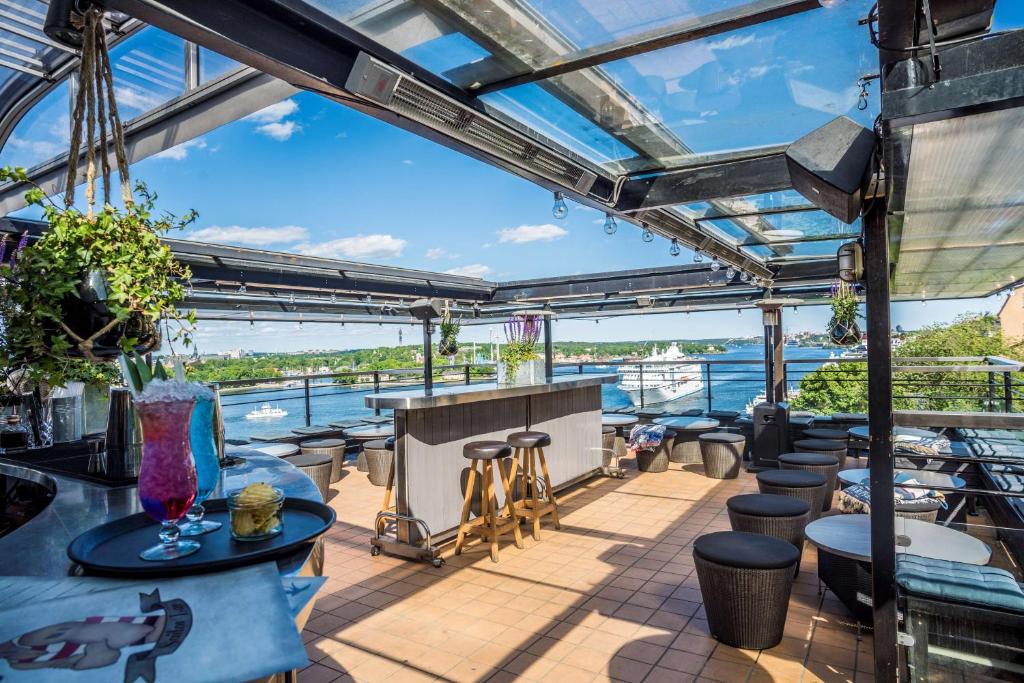 Located in the lively district of Södermalm, just a short stroll from Stockholm's charming Old Town, Scandic Sjöfartshotellet is an ideal choice for travelers seeking a luxurious stay with convenient access to the city's attractions. The hotel boasts a range of amenities including an organic breakfast, complimentary Wi-Fi, and a rooftop terrace offering stunning views of the city. The guest rooms are tastefully decorated with wooden floors and nautical accents, equipped with comfortable work desks and armchairs. Some rooms even offer bathrobes and kettles for added convenience. Indulge in delectable Scandinavian and international cuisine at The Lighthouse Restaurant or enjoy fair trade coffee, chilled beers, and snacks at the Lighthouse Bar & Coffee Shop. As a guest at Scandic Sjöfartshotellet, you'll have free access to the relaxation area featuring a sauna and fully equipped gym – perfect for unwinding after exploring the nearby attractions such as Gröna Lund Amusement Park and Vasa Museum which can be easily reached within 10 minutes on foot via Djurgården Ferries. Additionally, Slussen metro station is conveniently located only 100 meters away.
– Prime location near Stockholm's Old Town
– Organic breakfast included
– Rooftop terrace with panoramic city views
– Relaxation area with sauna and gym access
– Close proximity to popular attractions like Gröna Lund Amusement Park
Spa Hotels in Downtown Stockholm
Downtown Stockholm boasts a range of luxury spa hotels that offer a serene oasis amidst the bustling city. With their tranquil atmospheres and expertly curated treatments, these spa hotels provide the perfect escape for relaxation and rejuvenation in the heart of Stockholm.
Elite Hotel Carolina Tower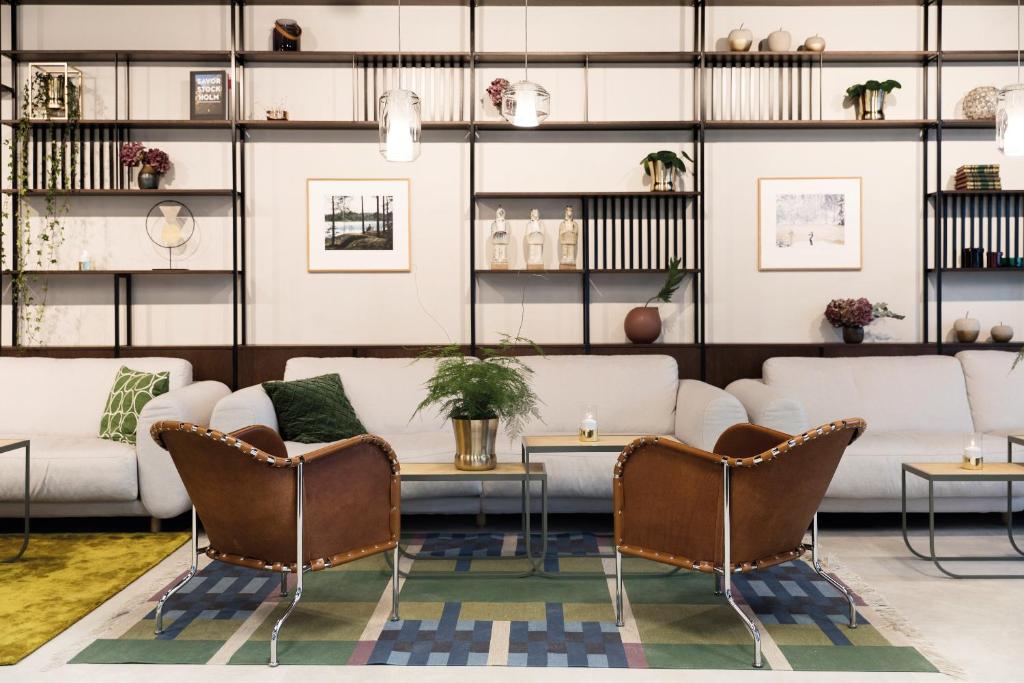 The Elite Hotel Carolina Tower is a luxury hotel located in the Hagastaden area, right next to the prestigious Karolinska Institute and Karolinska University Hospital. The hotel offers guests a range of amenities including a gym, sauna, and relaxation area on the 16th floor, providing stunning views of the city. Each room is equipped with air conditioning, a desk, and a flat-screen TV with Chromecast streaming capabilities. Guests can also enjoy free WiFi, a laptop safe, ironing facilities, and a modern bathroom with a shower, hairdryer, and toiletries. The on-site restaurant Haga Bottega serves delicious Italian dishes that are perfect for sharing in a relaxed setting. On Sundays, guests can take advantage of late breakfast until 12:00 and check-out until 18:00 (subject to availability). The hotel also boasts a 24-hour front desk and offers modern meeting facilities for business travelers. Public transportation options are easily accessible from the hotel with both bus and metro stops nearby. Additionally, Arlanda Airport can be reached in just 30 minutes by taxi or via the convenient public airport shuttle which stops right outside the hotel.
– Convenient location next to Karolinska Institute
– Spectacular views from gym and relaxation area
– Modern rooms with Chromecast streaming capabilities
– Delicious Italian cuisine at on-site restaurant
– Late breakfast option on Sundays
Hotel Diplomat Stockholm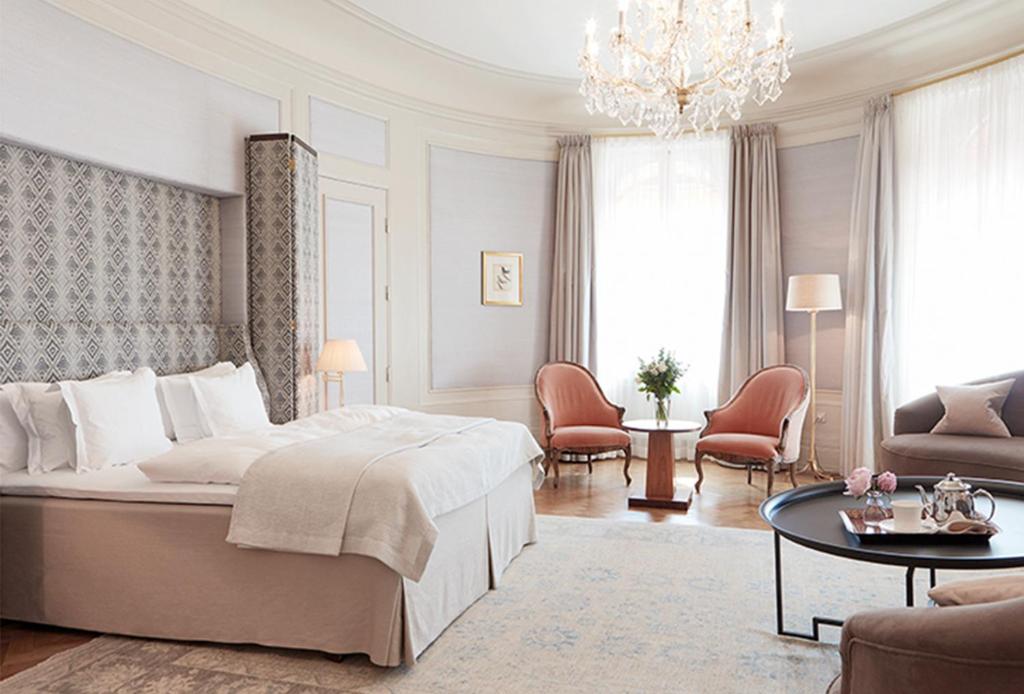 Located on the prestigious Strandvägen boulevard, Hotel Diplomat Stockholm is housed in a beautiful Art Nouveau building from 1911. Offering stunning views of Nybroviken Bay, this luxury hotel provides guests with access to a spa and fitness room, as well as a restaurant with a summer terrace. The interior of the hotel was designed by renowned architect Per Öberg and seamlessly combines classic elegance with contemporary design. Each room comes equipped with luxurious amenities such as blackout curtains, a spacious workspace, and comfortable Dux beds with premium linen. Guests can indulge in delectable Swedish dishes with a Mediterranean twist at the in-house restaurant or enjoy a cocktail while taking in waterfront views on the terrace. For relaxation or exercise needs, there is also a well-equipped gym and sauna available. The hotel's convenient location allows for easy access to Stockholm's Royal Theatre and various transportation options including local buses and archipelago-bound boats.
– Stunning views over Nybroviken Bay
– Access to spa and fitness room
– Beautiful Art Nouveau building
– Restaurant with summer terrace
– Convenient location for exploring Stockholm
Hôtel Reisen in The Unbound Collection by Hyatt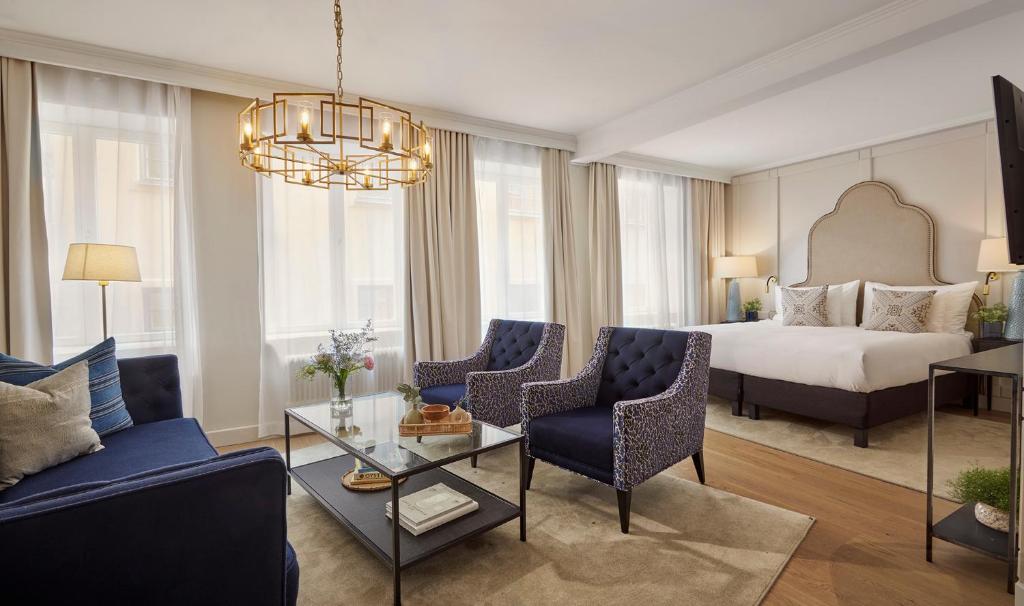 Hôtel Reisen in The Unbound Collection by Hyatt Waterfront is a luxurious spa hotel located on the waterfront in Old Town, just 150 meters from the Royal Palace. The hotel offers stunning panoramic views of the Baltic Sea and features rooms with a TV and pay channels. Some rooms also include a seating area, a private sauna, and a balcony. Guests can easily explore the city as Gamla Stan Metro Station is only a 10-minute walk away, and there is also a bus stop located just 50 meters from the hotel.
– Spectacular waterfront location in Old Town
– Rooms with stunning panoramic views of the Baltic Sea
– Private saunas available in some rooms
– Convenient access to public transportation options
– Close proximity to attractions like the Royal Palace
Stockholm Spa Hotels Information
| | |
| --- | --- |
| 🛎️ Spa Hotels in Stockholm | 12 |
| 💵 Hotels Prices From | $246 |
| 💵 Highest price | $1237 |
| 🥇 Average Review Score | 8.4/10 |
| 🛏️ Average number of Rooms | 161 |
Top SPA hotels in Stockholm
| | |
| --- | --- |
| Grand Hôtel Stockholm | 9.1/10 |
| Villa Dagmar | 9/10 |
| Victory Hotel | 8.9/10 |
| Hôtel Reisen in The Unbound Collection by Hyatt | 8.7/10 |
| Elite Hotel Carolina Tower | 8.6/10 |
FAQ
What are the top luxury spa hotels in Stockholm?
Stockholm offers a range of luxurious spa hotels that cater to different preferences. Some of the top choices include the Grand Hôtel Stockholm, known for its opulent spa facilities and stunning waterfront location. Another popular option is the Nobis Hotel, which boasts a modern spa with a tranquil atmosphere. Additionally, the Lydmar Hotel features a small but exclusive spa where guests can enjoy personalized treatments.
Are there any budget-friendly spa hotels in Stockholm?
While Stockholm is known for its luxury accommodations, there are also some budget-friendly options available for travelers on a tighter budget. The First Hotel Kungsbron offers affordable rooms and an on-site spa where guests can unwind after a day of exploring the city. The Scandic Klara is another good choice, offering comfortable rooms and wellness facilities at reasonable prices.
What amenities can I expect at a luxury spa hotel in Stockholm?
Luxury spa hotels in Stockholm offer an array of amenities to ensure their guests have an unforgettable experience. From rejuvenating treatments such as massages and facials to state-of-the-art fitness centers and swimming pools, these hotels leave no stone unturned when it comes to pampering their guests. Many also provide access to saunas, steam rooms, and relaxation areas for ultimate indulgence.
Can I book spa treatments without staying at the hotel?
Yes! Most luxury spas in Stockholm welcome non-hotel guests to indulge in their exceptional treatments. Whether you're a local resident or visiting from out of town, you can typically book individual services or even opt for day packages that include multiple treatments along with access to other facilities like saunas or pools. It's best to contact your desired spa hotel directly to inquire about availability and reservations.
Are children allowed at luxury spa hotels in Stockholm?
Many luxury spas prioritize creating serene environments that promote relaxation and tranquility for their adult guests. As a result, children may not typically be allowed in areas like the spa or wellness facilities. However, some hotels do offer family-friendly amenities and services, such as designated swimming pools or special treatments tailored to younger guests. It is recommended to check with the specific hotel about their policies regarding children and spa access.
Popular Wellness Hotels destinations