Welcome to a heavenly haven of relaxation and rejuvenation nestled in the captivating St.Gallen Canton, Switzerland. Prepare to embark on a sensory journey like no other as we delve into the world of opulent spa retreats that are sure to captivate your senses and leave you feeling pampered from head to toe. Discover tranquility amidst breathtaking scenery, as each spa hotel offers a unique blend of luxury, indulgence, and wellness.
Indulge your senses in the heart of this enchanting region with an array of luxurious wellness options that will transport you to a state of pure bliss. Immerse yourself in serenity as you explore these exquisite spa hotels meticulously designed to cater to your every whim. From therapeutic treatments inspired by centuries-old traditions to cutting-edge therapies tailored specifically for your needs, these spas offer an unrivaled selection of restorative experiences.
Let the tranquil ambience envelop you as highly skilled therapists work their magic using natural products and techniques passed down through generations. Surrender yourself completely in healing hands amid lush surroundings boasting panoramic views of majestic mountains and pristine lakes. Whether it's soothing massages, invigorating facials or revitalizing body scrubs, these sumptuous sanctuaries have it all – ensuring an unforgettable experience one can only dream about.
Join us on this extraordinary journey through the world-class spa hotels in St.Gallen Canton that will leave you feeling refreshed, revived, and ready for whatever comes next.
St.Gallen Canton Most Relaxing Spa Resorts and Hotels
Radisson Blu Hotel (St. Gallen)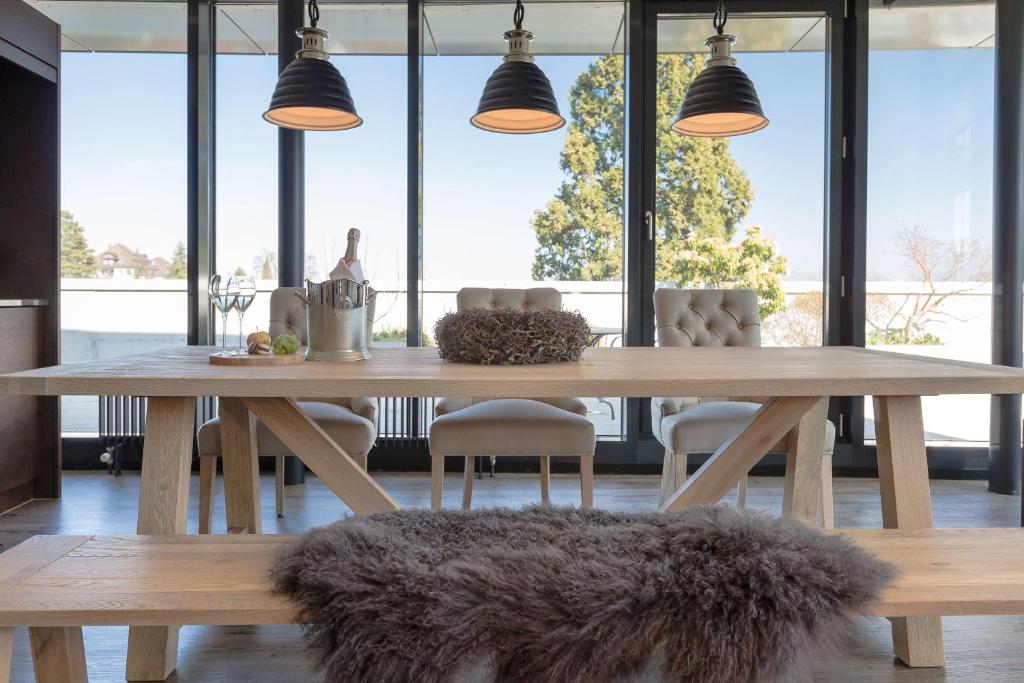 Located opposite the trade fair grounds and just a short stroll from St. Gallen's Old Town and train station, the Radisson Blu Hotel offers a modern and luxurious experience for its guests. The spacious rooms are tastefully furnished and come equipped with amenities such as air conditioning, free Wi-Fi, cable TV, and minibars. Guests can enjoy access to a sauna and fitness area, as well as complimentary admission to six nearby fitness studios. The hotel also features a 24-hour reception with ticket service and tour desk, an elegant restaurant serving international cuisine and Swiss dishes, a bar offering drinks and snacks, and even an on-site casino. With its convenient location near public transportation options like the Schützengarten Bus Stop, exploring the city is made easy.
– Convenient location opposite trade fair grounds
– Spacious rooms with modern furnishings
– Access to sauna and fitness area
– Complimentary admission to nearby fitness studios
– On-site casino for entertainment
Hotel Stump's Alpenrose (Wildhaus)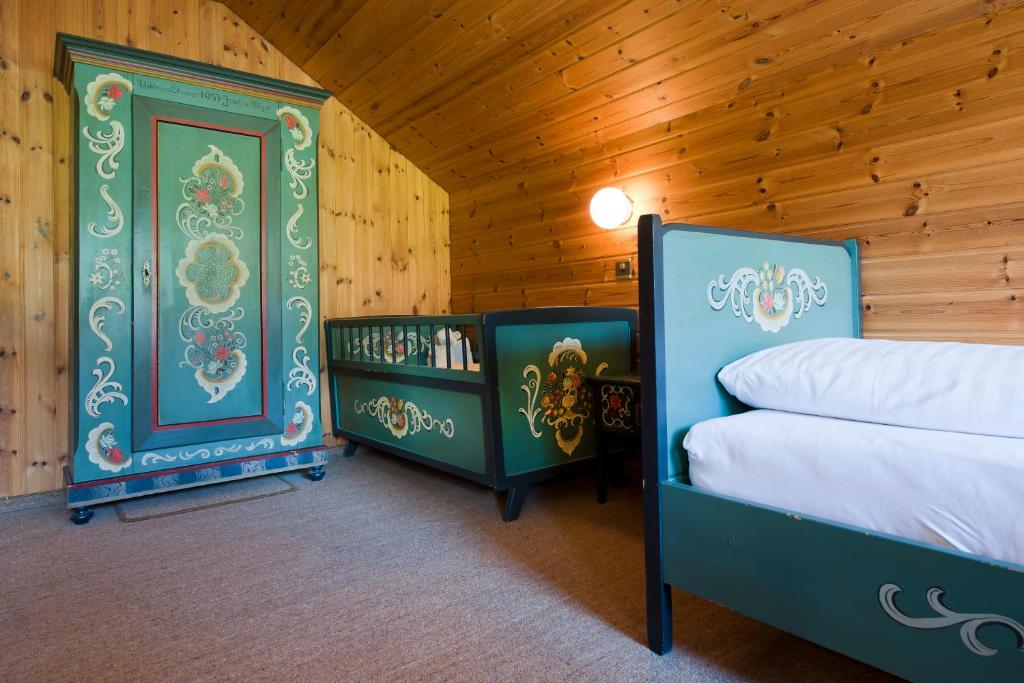 Hotel Stump's Alpenrose in Wildhaus is a luxurious 4-star hotel located right next to the ski slopes and the Iltiosbahn Cable Car. The hotel offers stunning views of the garden and the Säntis Mountain from each room's balcony. Guests can indulge in the spa facilities, including a hot tub, sauna, steam bath, and sun bed. Free Wi-Fi is available throughout the hotel. In addition to that, there is also a fitness room and a relaxation room with background music for guests to enjoy. The bright rooms at Hotel Alpenrose feature wooden furniture, carpeted or wooden floors, satellite TV, a minibar, and a bathroom complete with bathrobes, slippers, toiletries, and hairdryers. The on-site restaurant serves Swiss and international dishes as well as seasonal specialties on its terrace. Other amenities include ski storage rooms for guests' convenience along with billiards and table tennis for entertainment purposes. The hotel also has a children's playground in its beautiful garden area. Guests will appreciate the free private parking available on site.
Pros:
– Convenient location next to ski slopes and cable car
– Beautiful views from balconies overlooking the garden and mountains
– Well-equipped spa facilities including hot tubs and saunas
– Comfortable rooms with modern amenities
– On-site restaurant offering delicious Swiss cuisine
Oberwaid – Das Hotel., ST. GALLEN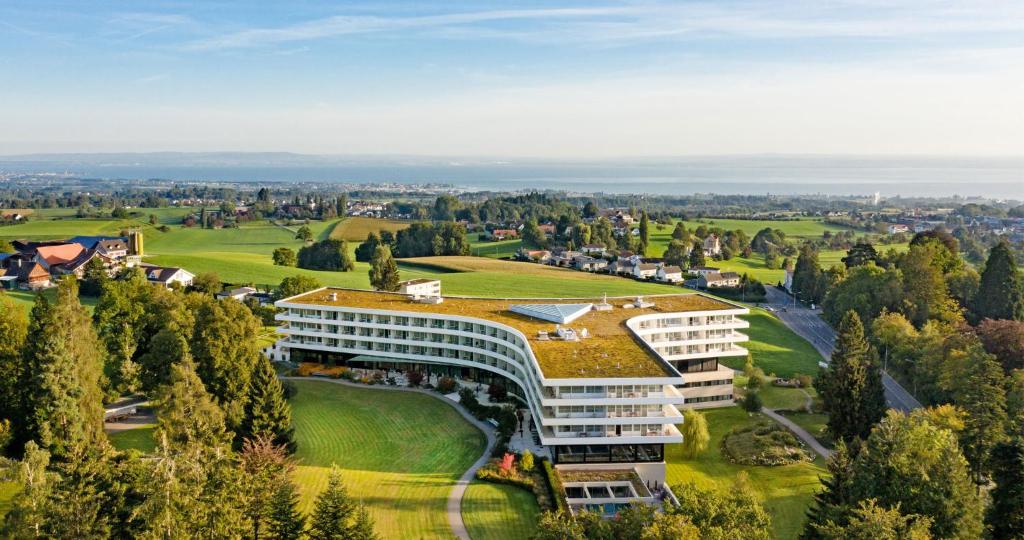 Located just a short drive from Sankt Gallen, Oberwaid – Das Hotel. is a luxurious spa hotel offering a range of amenities for guests to enjoy. The hotel features a large wellness area with a sauna, hot tub, Turkish bath, indoor and outdoor whirlpools, steam bath, and treatment rooms. Guests have free access to the spa area, allowing them to relax and rejuvenate during their stay. The hotel also offers shuttle services to and from St. Gallen Train Station at an additional charge for added convenience. The spacious and modern rooms at Oberwaid – Das Hotel feature flat-screen satellite TVs, wooden floors, and comfortable seating areas. Each room also has a balcony with panoramic views of the surrounding area and a bathroom with complimentary toiletries, hairdryer, slippers, and bathrobes. Free WiFi is available in all rooms for guests' convenience. For those looking for extra indulgence during their stay, the hotel offers private spas for two people as well as psychosomatic, cardiological, and orthopedic rehabilitation services on-site. Guests can start their day with a freshly prepared full breakfast served on-site or request room service if preferred. Special dietary requirements can be accommodated upon request as well. In addition to its impressive spa facilities, Oberwaid – Das Hotel also boasts a gym where guests can maintain their fitness routines while away from home. Outside the hotel's doors lies a beautiful park-like garden complete with sunbathing terrace that provides an oasis of calm amidst nature's splendor.
Pros:
– Extensive wellness area including sauna,Turkish bath,and treatment rooms
– Stunning panoramic views of Lake Constance
– Complimentary access to spa facilities
– Private spas available
– Convenient shuttle service available
St.Gallen Canton Luxury Spa Hotels
The St. Gallen Canton offers an array of luxurious spa hotels that provide guests with a tranquil retreat amidst stunning natural landscapes. These upscale properties offer world-class spa services and wellness facilities, ensuring a rejuvenating experience for visitors seeking relaxation and pampering.
Bad Horn – Hotel & Spa, HORN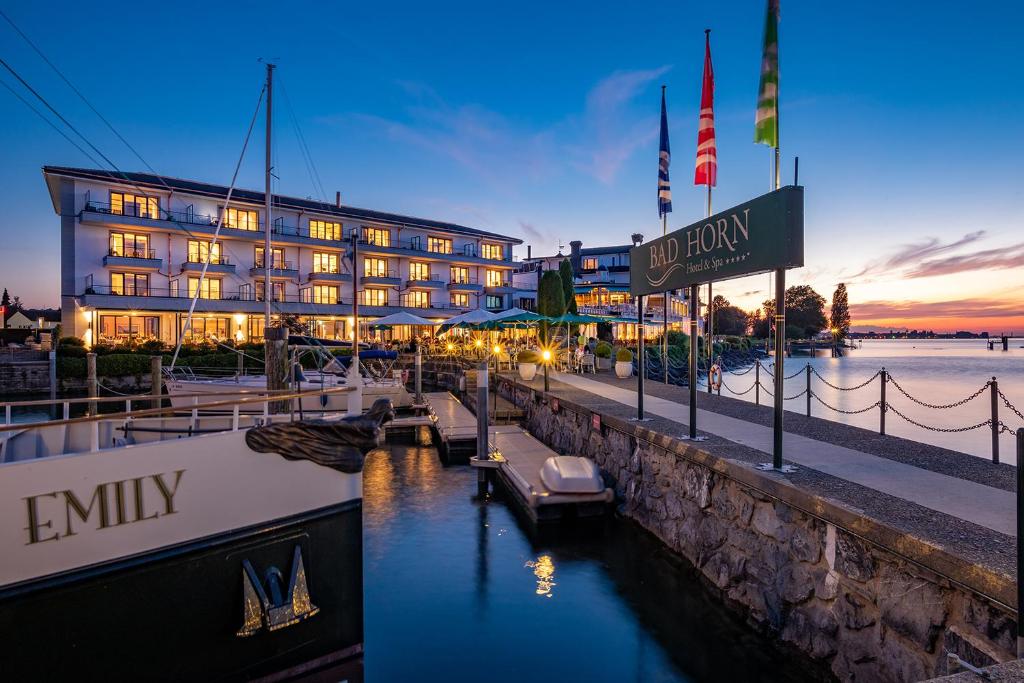 Located right on the shores of Lake Constance, Bad Horn – Hotel & Spa is a charming 4-star hotel in Horn that exudes a maritime-style ambiance dating back to 1827. The hotel boasts a sprawling 1,500 m² spa area complete with an indoor pool, saunas, steam bath, outdoor hot tub, and separate women's spa. In addition to its impressive wellness facilities, the hotel offers two restaurants serving Mediterranean cuisine and gourmet regional dishes with stunning views of the lake. Guests can also unwind at the Faro bar or lobby bar while enjoying panoramic lake views. The elegantly furnished rooms feature mahogany and brass accents and offer modern amenities such as satellite TV and minibar. Many rooms provide breathtaking views of Lake Constance. Visitors can explore the area by taking advantage of the hotel's private shipping pier or embarking on excursions aboard the elegant yacht Emily. A range of massage and beauty treatments are available for ultimate relaxation, while fitness enthusiasts can make use of the small but well-equipped fitness room. Conveniently located near public transportation links and popular nearby towns such as Arbon (4 km) and Romanshorn (13 km), Bad Horn – Hotel & Spa offers a luxurious retreat amidst picturesque surroundings.
– Stunning location on the shores of Lake Constance
– Impressive spa area with various saunas, steam bath, hot tub, and private spa suites
– Elegant yacht Emily available for excursions
– Two restaurants offering Mediterranean cuisine and gourmet regional dishes with lake views
– Bright rooms featuring maritime ambience and modern amenities such as seating area, satellite TV, minibar
Hotel Hirschen Wildhaus (Wildhaus)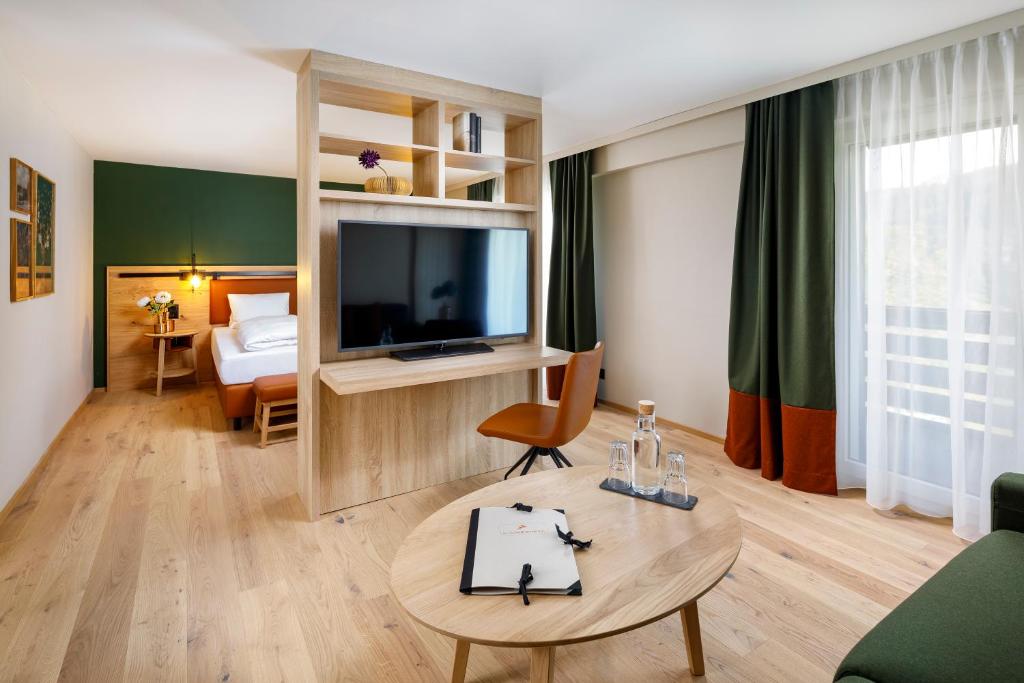 Located in the heart of Wildhaus, Hotel Hirschen Wildhaus is an alpine retreat that offers comfortable guest rooms, a rustic-style restaurant, and spa facilities. The hotel provides free WiFi in all rooms, allowing guests to stay connected during their stay. The lounge at Hotel Hirschen Wildhaus features two bowling alleys, a pool table, and darts, providing ample entertainment options for guests. Additionally, there are sun loungers available in the garden where visitors can relax and soak up the beautiful surroundings. The hotel's traditional restaurant serves Swiss specialties and gourmet cuisine, offering guests a delightful culinary experience. For those seeking convenience and added comfort during their stay, half and full board options are available upon request.
Pros:
– Comfortable guest rooms
– Rustic-style restaurant serving Swiss specialties and gourmet cuisine
– Spa facilities for relaxation
– Entertainment options including bowling alleys and pool table
– Beautiful garden area with sun loungers
Grand Resort Bad Ragaz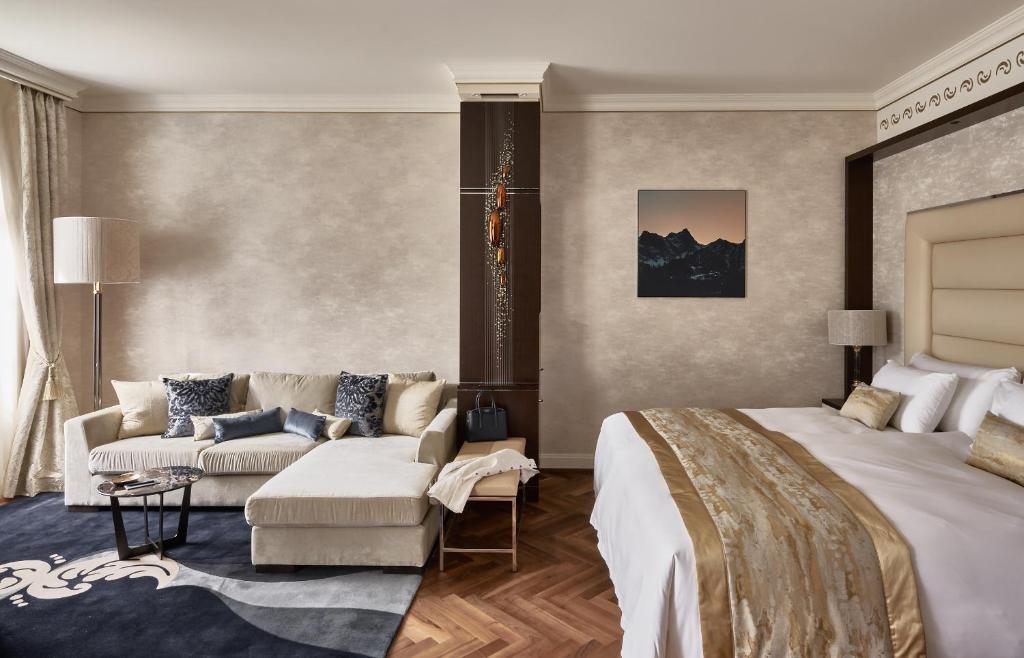 The Grand Resort Bad Ragaz is a luxurious spa hotel located just an hour's drive from Zurich, surrounded by the breathtaking beauty of the Alps in Eastern Switzerland. With its stunning mountain landscape and proximity to ski resorts and hiking trails, it offers a perfect retreat for nature enthusiasts. The resort features 2 golf courses, a meetings and events center, the Tamina Therme thermal spa, and even its own casino. The thermal spa itself boasts various pools including the historic Helena pool, sports pool, garden pool, family spa, and a sauna area with 36.5°C thermal water sourced from the nearby Tamina gorge. In addition to these amenities, the resort also houses a medical health center that specializes in convalescent care. The elegantly designed rooms and suites provide ultimate comfort and style for guests. Furthermore, guests can indulge in culinary delights at any of the 7 restaurants offering gourmet cuisine with an impressive total of 75 GaultMillau points and 6 Michelin stars combined. For those seeking rejuvenation of body and mind along with world-class medical expertise in wellness treatments, this comprehensive spa hotel experience is unparalleled.
– Spectacular mountain landscape
– Accessible skiing resorts
– Two golf courses on-site
– Thermal spring water for ultimate relaxation
– Outstanding dining options
St.Gallen Canton Spa Hotels Information
| | |
| --- | --- |
| 🛎️ Spa Hotels in St.Gallen Canton | 6 |
| 💵 Hotels Prices From | $164 |
| 💵 Highest price | $1855 |
| 🥇 Average Review Score | 8.5/10 |
| 🛏️ Average number of Rooms | 93 |
Top SPA hotels in St.Gallen Canton
| | |
| --- | --- |
| Grand Resort Bad Ragaz | 9.2/10 |
| Oberwaid – Das Hotel., ST. GALLEN | 8.9/10 |
| Bad Horn – Hotel & Spa, HORN | 8.9/10 |
| Hotel Stump's Alpenrose (Wildhaus) | 8.4/10 |
| Hotel Hirschen Wildhaus (Wildhaus) | 8/10 |
FAQ
What are some of the top luxury spa hotels in St.Gallen Canton, Switzerland?
St.Gallen Canton in Switzerland boasts several luxurious spa hotels that offer world-class amenities and services. Some of the top choices include The Einstein St.Gallen Hotel Spa, a 5-star hotel with an exquisite spa offering rejuvenating treatments and breathtaking views of the city. Another popular option is the Grand Hotel Hof Ragaz, known for its thermal baths and exceptional wellness facilities. Additionally, the Hotel Säntispark offers a unique combination of a high-end spa and an impressive water park for guests to enjoy.
Can you recommend any budget-friendly spa hotels in St.Gallen Canton?
While St.Gallen Canton is renowned for its luxury offerings, there are also some budget-friendly options for travelers seeking relaxation on a smaller budget. One such hotel is Hotel Domizil, which offers comfortable rooms and a charming spa at affordable rates. Another choice is Hotel am Spisertor, located within easy reach of St.Gallen's attractions and featuring a modest yet inviting spa area. These options provide excellent value for money without compromising on quality.
What types of spa treatments can I expect to find in St.Gallen Canton?
In St.Gallen Canton's luxurious spas, you can indulge in a wide range of rejuvenating treatments designed to pamper your body and soul. From traditional massages like Swedish or Thai massage techniques to signature facials using premium skincare products, these spas have it all. Guests can also experience hydrotherapy treatments like hot stone therapy or soak in healing mineral-rich thermal baths unique to certain properties.
Are there any outdoor activities available near the luxury spas in St.Gallen Canton?
Absolutely! In addition to their world-class spas, many luxury hotels in St.Gallen Canton offer various outdoor activities for guests who want to explore nature while enjoying ultimate relaxation. From guided hikes through picturesque mountains to cycling tours around the scenic countryside, there are plenty of opportunities to immerse yourself in the region's natural beauty. Some hotels even provide access to nearby golf courses or arrange horseback riding excursions.
What is the best time of year to visit St.Gallen Canton for a spa getaway?
St.Gallen Canton is a great destination for a spa getaway throughout the year, as it experiences all four seasons with their unique charms. Spring and autumn are particularly pleasant, with milder temperatures and fewer tourists compared to the peak summer season. However, if you want to combine your spa experience with winter activities like skiing or snowboarding, visiting during the colder months can be equally delightful. The choice ultimately depends on your preferences and desired itinerary.
Popular Wellness Hotels destinations