Welcome to my guide on the finest Spa Hotels located in Stellenbosch, South Africa. This charming town is a great escape for those who need relaxation and tranquility. Situated in the heart of Cape Winelands, it is one of the most beautiful places to visit.
Stellenbosch provides luxury spa accommodations with exceptional services, offering an array of treatments that cater to all preferences. From body scrubs to massage therapies, guests can enjoy a refreshing experience while overlooking stunning views of vineyards and mountains. The tranquil atmosphere creates a perfect balance between nature and comfort, making this an ideal destination for those seeking wellness retreats.
If you are looking for ultimate rejuvenation with world-class amenities and services, then look no further than Stellenbosch's Spa Hotels. Get ready to immerse yourself in calm surroundings away from the hustle and bustle of city life while indulging in luxurious treatments that will leave you feeling refreshed and renewed!
Stellenbosch Most Relaxing Spa Resorts and Hotels
Angala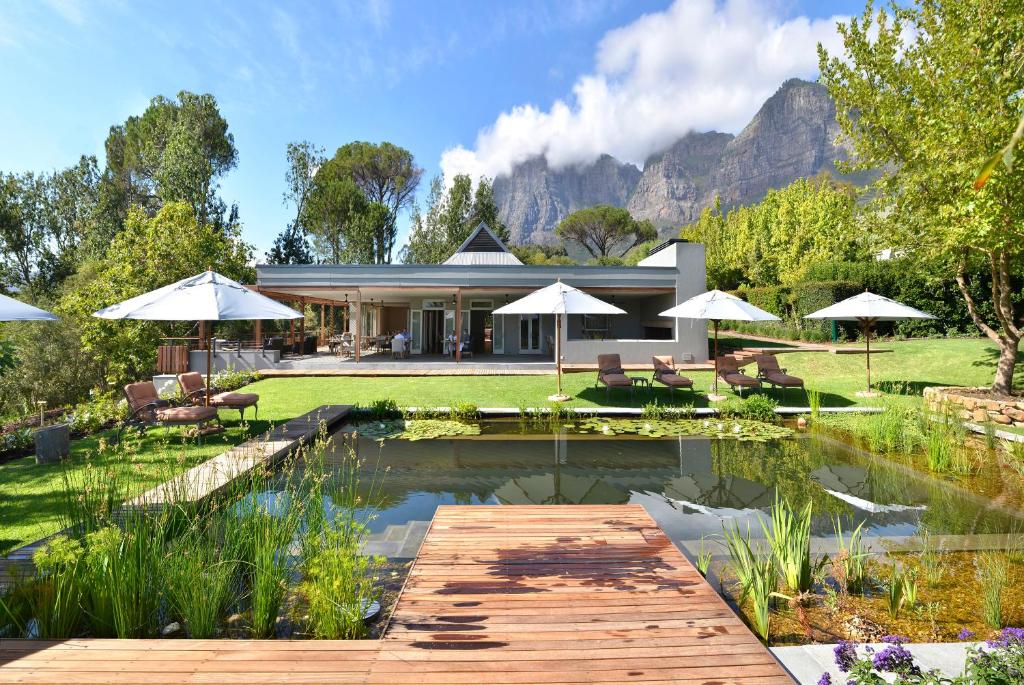 Angala is a charming boutique hotel situated amidst the stunning Cape Winelands in Paarl, South Africa. This luxurious property features an outdoor pool, conference facilities and is located near renowned golf courses. The spacious rooms and suites are decorated with natural colors, sculptures and selected decoration items, offering guests a comfortable and elegant stay. Visitors can relax in the natural pool that offers breathtaking panoramic views of the surrounding mountains or pamper themselves in the infrared sauna, steam room or ozonated solar heated pool with spa. A delicious breakfast buffet is served every morning at Angala's restaurant where guests can also enjoy lunch and dinner while admiring the Du Toits Kloof Mountains from its terrace. Some other pros of staying at Angala include:
– Private spacious rooms and suites
– Fantastic location close to famous golf courses
– Natural outdoor pool with panoramic views
– Infrared sauna, steam room & ozonated solar heated pool
– Beautifully decorated interiors featuring sculptures & selected decoration items
Protea Hotel by Marriott Dorpshuis & Spa Stellenbosch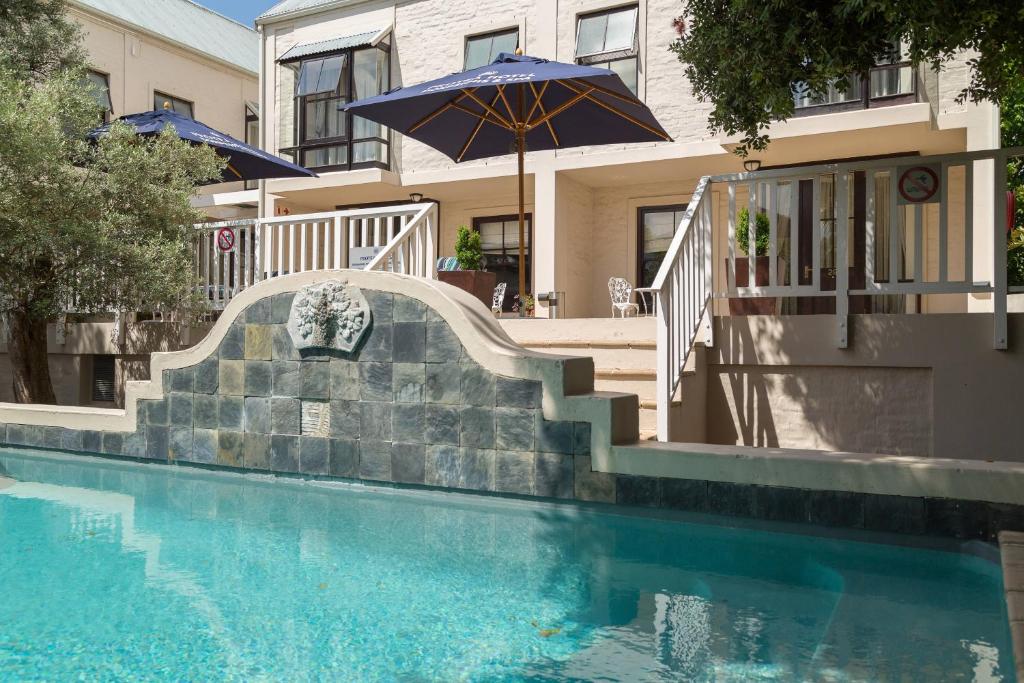 Protea Hotel by Marriott Dorpshuis & Spa Stellenbosch is a magnificent Victorian Boutique Hotel located in Stellenbosch, South Africa. The hotel offers guests the perfect blend of old-school hospitality and modern comfort, surrounded by picturesque vineyards and mountains. Amenities include an outdoor pool that is heated during winter, a sauna, various massage treatments, and deluxe skincare options at the Dorpshuis Spa. Each room boasts antique furnishings and comes equipped with air conditioning and satellite TV. The Oak-leaf Restaurant serves delicious traditional South African dishes such as Cape Malay Bobotie or Venison braai for dinner while afternoon tea or coffee can be enjoyed on the vine-covered patio.
Pros:
– The hotel's location amidst beautiful vineyards and mountains makes it ideal for nature lovers.
– Guests can indulge in relaxing spa treatments or take a dip in the heated pool after a day out exploring.
– Rooms are individually decorated with elegant antique furniture adding to the charm of this boutique hotel.
– Traditional South African cuisine at the Oak-leaf Restaurant provides an authentic culinary experience.
– Free parking is available on-site making it convenient for those traveling with their own vehicles.
River Manor Boutique Hotel by The Living Journey Collection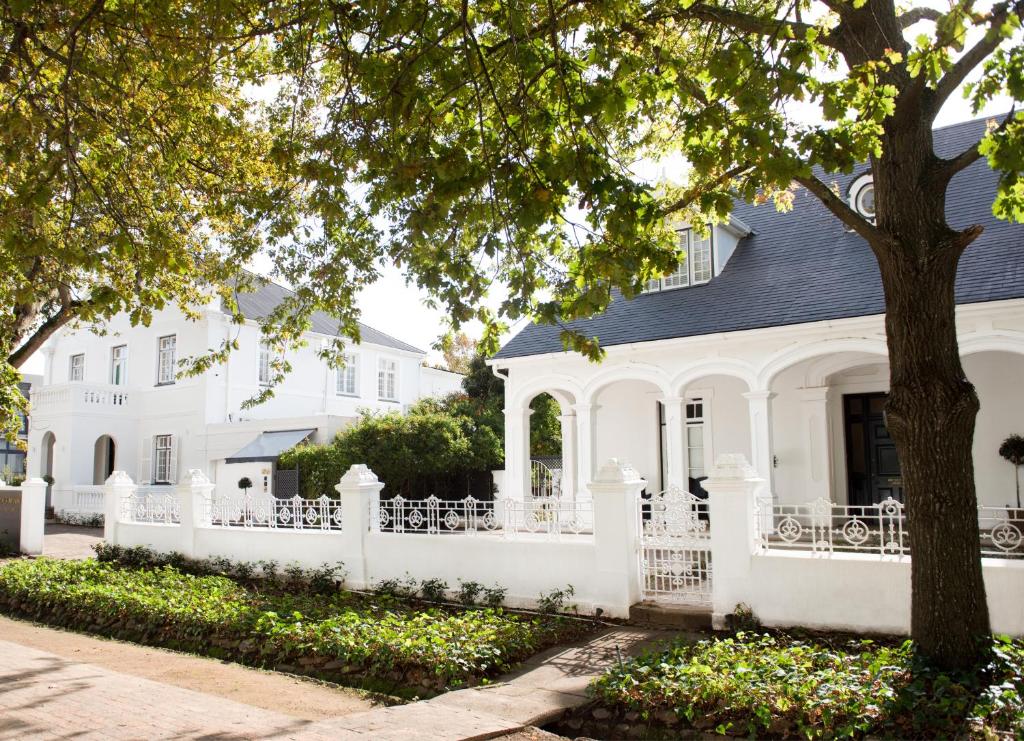 River Manor Boutique Hotel by The Living Journey Collection is a luxurious hotel located in the heart of Stellenbosch, offering guests accommodation on the banks of the Eerste River. The hotel consists of two adjacent manor houses surrounded by a landscaped garden. Each room is beautifully decorated with Cape antiques and contemporary furniture, providing guests with an elegant and comfortable stay. The hotel is conveniently located near shops and restaurants, as well as Stellenbosch University. Additionally, guests can unwind in the library or socialize with others in the lounge or dining areas that lead onto terraces overlooking two pools.
– Conveniently located near shops and restaurants
– Elegant rooms decorated with Cape antiques and contemporary furniture
– Beautiful landscaped gardens
– Two swimming pools
– Library available for relaxation
Other places to stay in Stellenbosch
Stellenbosch Luxury Spa Hotels
Stellenbosch is a popular destination for luxury spa hotels in South Africa. Visitors can indulge in world-class spa treatments while enjoying the natural beauty of the region.
Spier Hotel and Wine Farm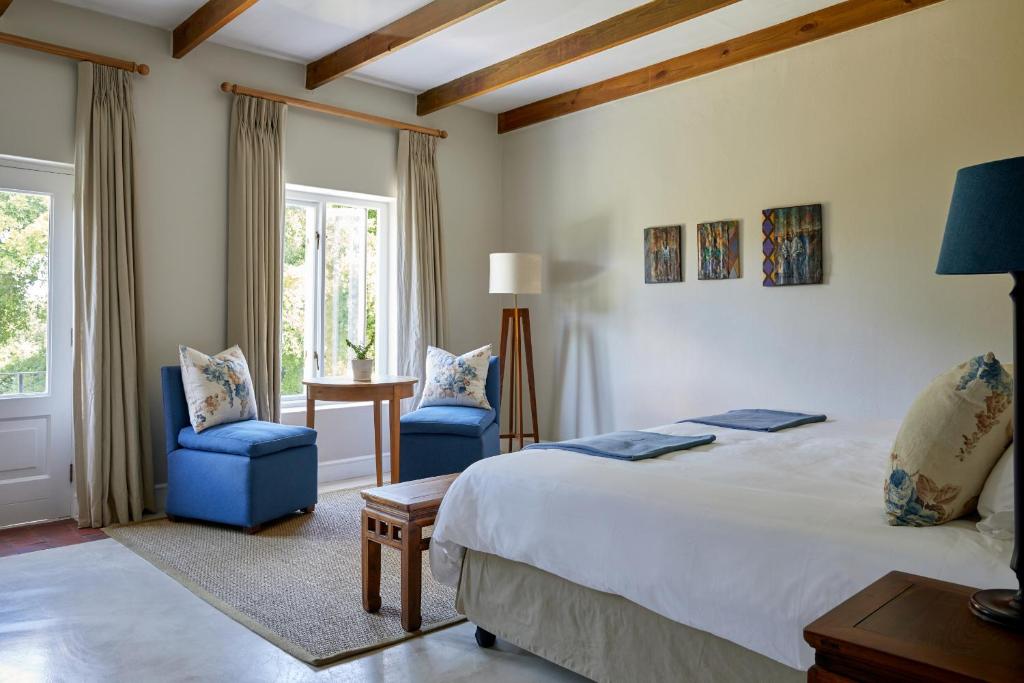 Spier Hotel and Wine Farm is a luxurious 4-star hotel located in the heart of the Stellenbosch wine-growing region. The hotel boasts spacious rooms with an outdoor patio and contemporary artworks from the Spier Art Collection. Guests can enjoy an outdoor pool, on-site travel desk services for arranging activities and tours, health and beauty treatments at The Spa at Spier, and wine tastings at the Wine Shop where they can also purchase Spier's own wines.
– Excellent location in the heart of Stellenbosch
– Beautiful contemporary artworks from Spier Art Collection
– Outdoor pool for relaxation
– On-site travel desk service for easy itinerary planning
– The Spa at Spier offers a variety of health and beauty treatments
Erinvale Estate Hotel & Spa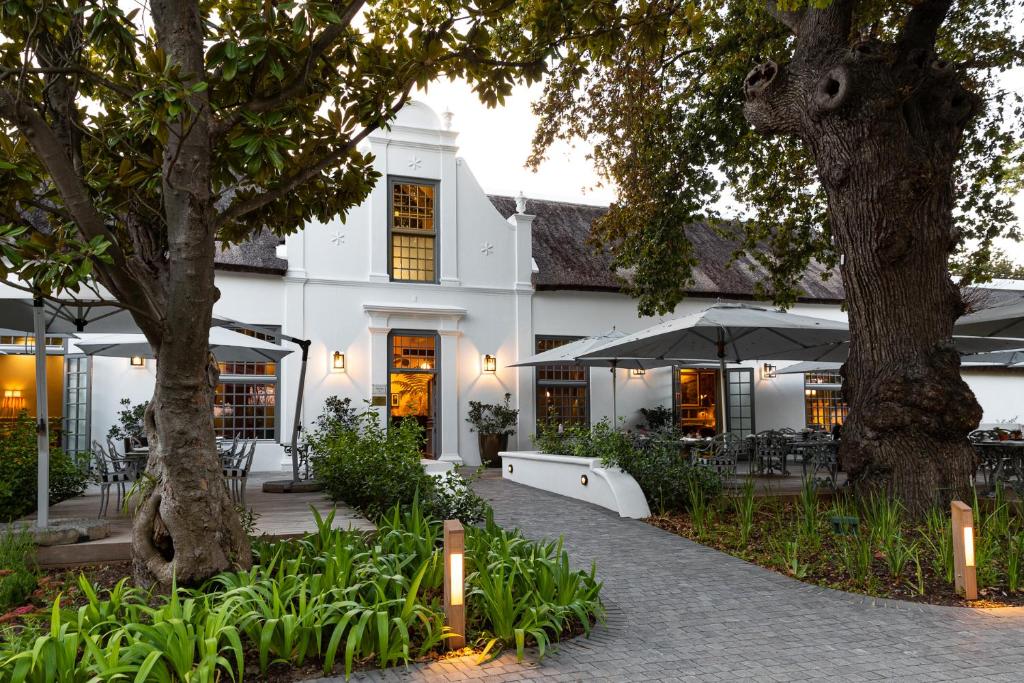 Erinvale Estate Hotel & Spa is a charming boutique hotel located in the heart of Helderberg, surrounded by the stunning Hottentots Holland Mountains and neighbouring the prestigious Erinvale Golf Course. The property boasts elegant private gardens, cobbled walkways and beautiful oak trees that add to its historic charm. Guests can enjoy a peaceful and memorable stay here with plenty of outdoor activities like golfing, spa treatments, wine tasting at famous estates and mountain biking, all just a stone's throw away. With only 40 minutes from Cape Town and 20 minutes from Stellenbosch, it is perfect for a weekend getaway or even an extended vacation.
– Unique golfing challenge at Gary Player-designed Erinvale Golf Course
– Tranquil ambience of Erinvale Spa with necessary commodities expected of four-star hotel
– Easy access to outdoor leisure activities including wine tasting
– Private gardens, cobbled walkways and beautiful oak trees add to historic charm
– Perfect location for weekend getaways
Lanzerac Hotel & Spa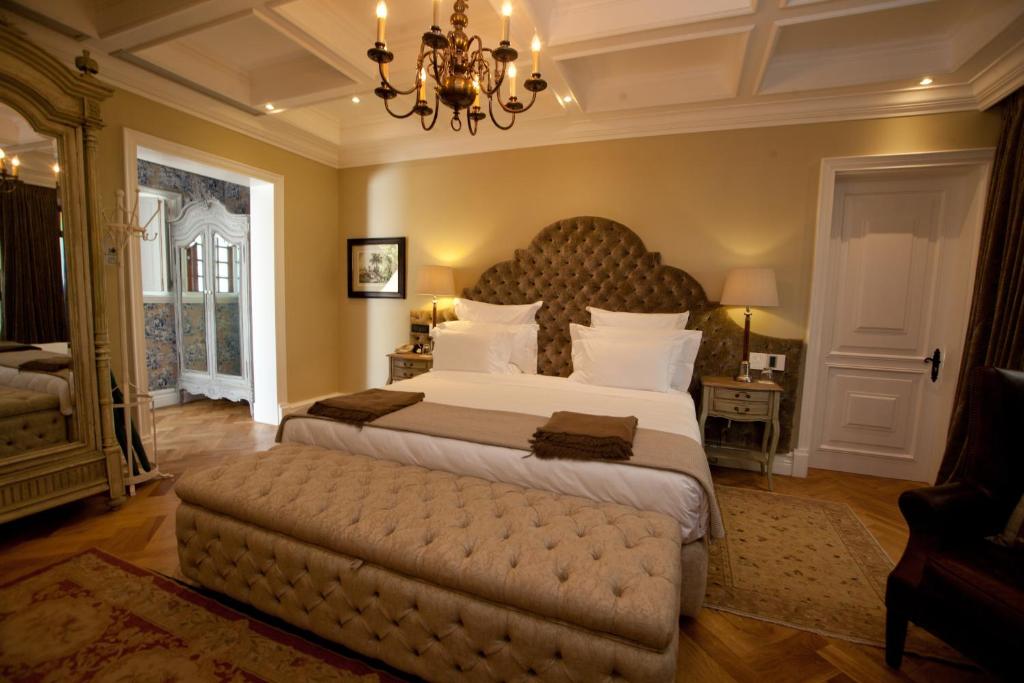 The Lanzerac Hotel & Spa is a luxurious retreat located on a private wine estate in the Jonkershoek Valley, surrounded by picturesque mountains. The hotel boasts world-class amenities including two outdoor pools, one heated indoor pool, and an indulgent spa featuring 8 treatment rooms where guests can enjoy relaxing massages and beauty treatments. Each of the spacious air-conditioned rooms includes a seating area with a satellite TV, tea-and-coffee making facilities, and a minibar. The onsite Manor Kitchen serves classical dinners with contemporary influences while light meals are available at Taphuis restaurant. A continental buffet and hot breakfast options are served each morning alongside homemade jams, freshly baked produce, cheese platters, and picnic baskets from The Deli. Guests can also enjoy drinks and tapas at The Craven Lounge which offers an excellent selection of wines, spirits as well as craft beers in its relaxed atmosphere with fireplace ambience.
Pros:
– Situated in the midst of breathtaking views.
– World-class amenities including three different pools for swimming enthusiasts.
– Indulgent spa featuring 8 treatment rooms offering relaxing massages
– Spacious air-conditioned rooms having various modern facilities
– Delicious meals at Manor kitchen give delightful experience
5 Star Spa Hotels in Stellenbosch
Stellenbosch is home to a range of luxurious 5-star spa hotels that offer an indulgent escape from the hustle and bustle of everyday life. Each hotel boasts beautiful surroundings, elegant decor, and superior service to ensure guests leave feeling truly pampered and relaxed.
The Cellars-Hohenort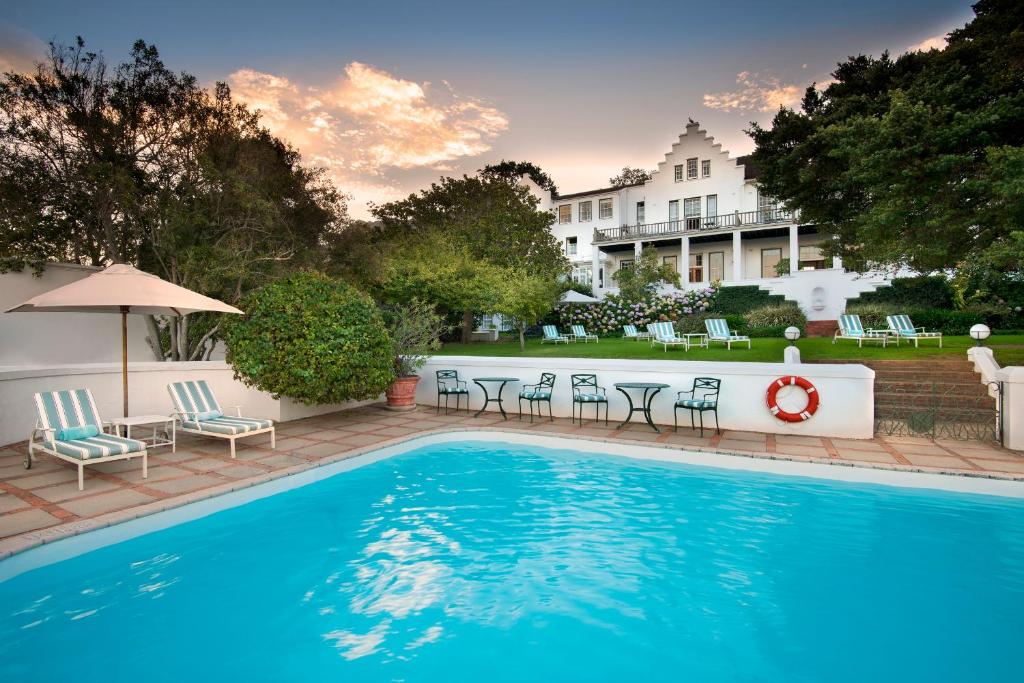 The Cellars-Hohenort is a luxurious hotel located in the beautiful Constantia Valley, with stunning views of its gardens and vineyards. Guests can enjoy a wide range of facilities, including two award-winning restaurants, two swimming pools, and a tennis court. The hotel's Fresh Wellness Spa offers a holistic approach to health and beauty, with various treatments available. Rooms are elegantly decorated with unique artworks by South African artists and feature all the modern amenities one could need, including air conditioning and smart TVs. Guests can also dine in The Conservatory restaurant built around a 300-year-old oak tree. Kirstenbosch Botanical Garden is just 4 km away from the hotel, while Cape Town city centre is easily accessible within 15 minutes by car.
– Stunning views of gardens and vineyards
– Award-winning restaurants on-site
– Fresh Wellness Spa with holistic approach to health and beauty
– Elegant rooms uniquely decorated with artworks by South African artists
– Convenient location near Kirstenbosch Botanical Garden and Cape Town city centre
Coopmanhuijs Boutique Hotel & Spa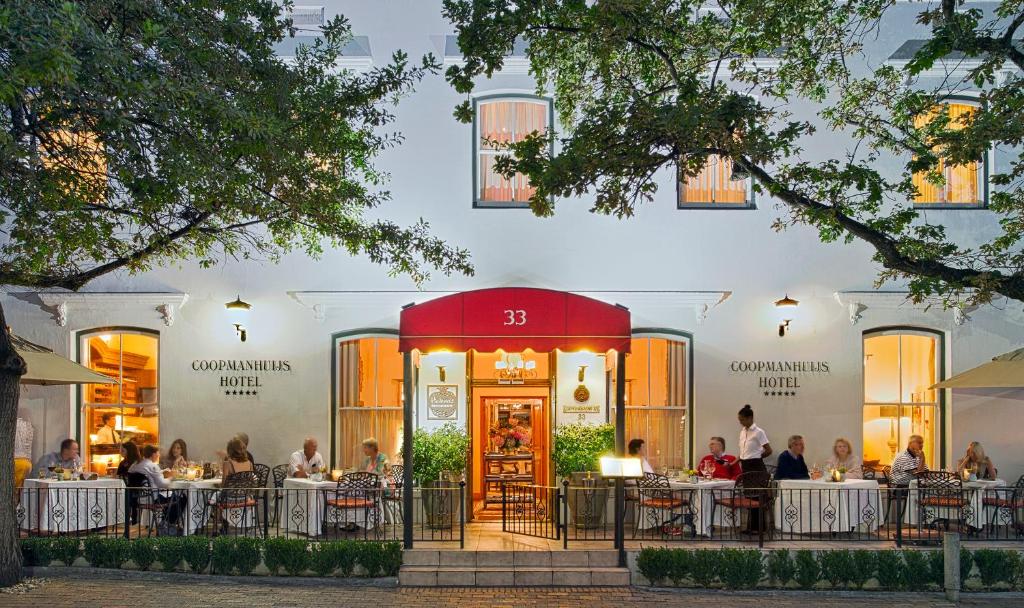 Coopmanhuijs Boutique Hotel & Spa is a 5-star hotel, located in the historic Stellenbosch town. The hotel boasts of cozy rooms that feature classic decor with amenities like air conditioning, cable TV, and private bathrooms with underfloor heating. Guests can enjoy free Wi-Fi throughout the hotel and views of the pool and courtyard from their balconies. The spa at Coopmanhuijs offers a range of treatments including indulgent facials and massages. Helena's Restaurant serves Provençal cuisine and Cape wines, which guests can relish indoors or outdoors next to the pool or on the sidewalk terrace. Local activities include hiking, horseback riding, golfing, shopping at Stellenbosch shops & galleries or exploring nearby museums.
Short Pros:
– Cosy rooms with classic decor
– Spa offering a range of indulgent treatments
– Outdoor dining options available
– Free Wi-Fi throughout the hotel
– Surrounded by local activities such as shopping & museums
The Andros Boutique Hotel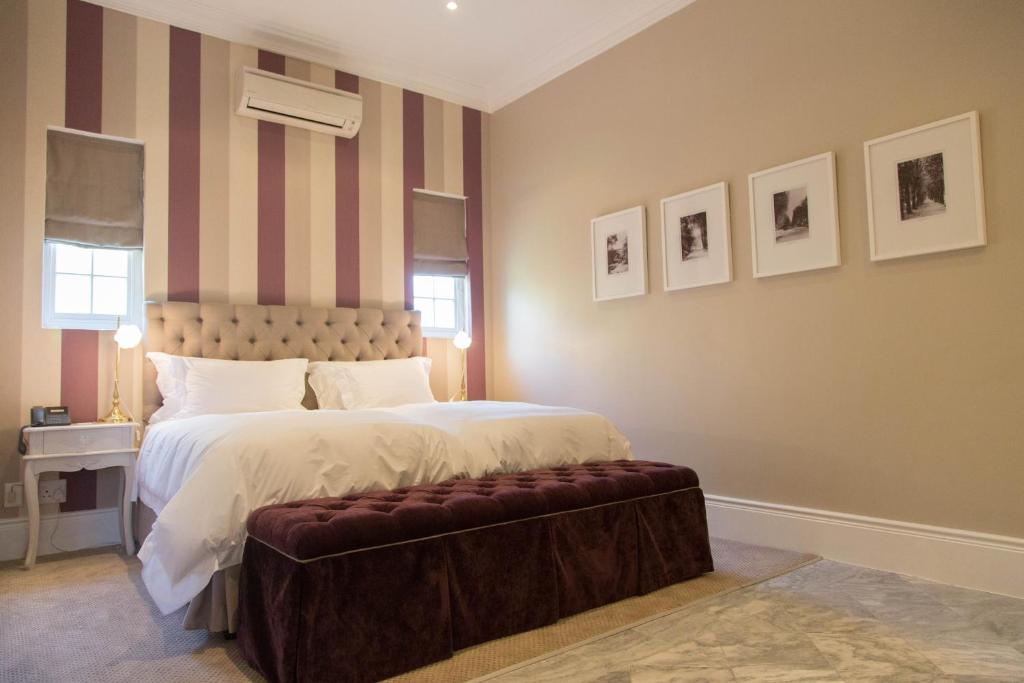 The Andros Boutique Hotel is a charming manor house located in the heart of Claremont, just 15 minutes away from Cape Town's city center. It boasts of country chic rooms, individually decorated in an elegant style and equipped with free Wi-Fi, seating areas, and air-conditioning. Guests can enjoy personalized treatments at Andros Boutique's Beauty Salon Ginkgo Spa or take a dip in the outdoor swimming pool. The hotel also has a gym and sauna available for guests to use. In-room dining is offered while guests can have freshly prepared cocktails and pre-dinner drinks at the champagne room. The à la carte restaurant serves country cuisine with French influence in an intimate setting. The hotel provides easy access to popular tourist destinations such as Kenilworth Race Course and Kirstenbosch National Botanical Gardens which are just five minutes' drive away.
– Beautifully designed rooms
– Convenient location near top tourist destinations
– Excellent spa services
– Great food options at the on-site restaurant
– Free private parking on site
Stellenbosch Spa Hotels Information
| | |
| --- | --- |
| 🛎️ Spa Hotels in Stellenbosch | 9 |
| 💵 Hotels Prices From | $72 |
| 💵 Highest price | $1140 |
| 🥇 Average Review Score | 8.9/10 |
| 🛏️ Average number of Rooms | 35 |
Top SPA hotels in Stellenbosch
| | |
| --- | --- |
| The Andros Boutique Hotel | 9.5/10 |
| Lanzerac Hotel & Spa | 9.4/10 |
| Angala | 9.2/10 |
| The Cellars-Hohenort | 9.2/10 |
| Erinvale Estate Hotel & Spa | 9/10 |
FAQ
What are the most popular spa hotels in Stellenbosch?
Stellenbosch is known for its luxurious spa hotels. Some of the most popular spa hotels in Stellenbosch include The Devon Valley Hotel, Asara Wine Estate & Hotel, and Majeka House. These hotels offer world-class amenities such as heated pools, indoor and outdoor treatment rooms, saunas, steam rooms, and Jacuzzis for guests to indulge in a relaxing and rejuvenating experience.
Are there any budget-friendly spa hotels in Stellenbosch?
While Stellenbosch has many luxury spa hotels, there are also options for those on a budget. The Spier Hotel offers affordable packages that include access to their award-winning Camelot Spa facilities which feature a hydrotherapy pool, steam room and sauna. Additionally,the Lanzerac Hotel & Spa offers mid-range prices while still providing top-notch amenities like their heated swimming pool.Their facilities will help you unwind after a long day out exploring the sights of Stellenbosch.
What kind of treatments do the spas at these luxury hotels offer?
Spas at luxury hotels in Stellenbosch offer a variety of treatments designed to pamper guests from head to toe. From traditional massages to facials and body wraps customized according your preferences.All You need is relax! One popular treatment is vinotherapy which uses grapes grown locally to create products rich in antioxidants that nourish skin cells.Other treatments are aromatherapy massages,toxin eliminating seaweed wraps,bamboo massages etc.
Do these luxury spa hotels have fitness centers?
Yes!Many high-end spas often have fitness centers where guests can maintain their workout routine during their stay.The Vineyard Hotel has an extensive gym with state-of-the-art equipment,and guests can participate in yoga or Pilates classes held throughout the week.Another hotel with impressive fitness center is Delaire Graff Lodges & Spa.Guests have access to a fitness center that features top-of-the-line equipment as well and an outdoor pool.For those who prefer the outdoors, some hotels offer walking and running trails.
What is the best time of year to visit Stellenbosch for a spa holiday?
The best time to visit Stellenbosch for a spa holiday is during the shoulder seasons of Spring (September-November) and Autumn( March-May). During these months, the weather is mild, with fewer crowds allowing visitors more opportunities to unwind in peace. Additionally, many hotels offer lower rates during these periods so you can indulge in luxurious spa treatments at a fraction of high season prices.
Popular Spa Hotels destinations