Welcome to our latest exploration of opulent wellness retreats in the beautiful city of Siracusa, Italy. This enchanting destination offers an abundance of luxurious spa resorts that promise to immerse you in a world of serenity and rejuvenation. Prepare to embark on a sensory journey as we delve into the captivating fusion of ancient history and modern indulgence found within these prestigious accommodations.
Nestled amidst the breathtaking landscapes of Siracusa, these extravagant sanctuaries cater to those seeking solace from the fast-paced demands of everyday life. Unwind and pamper yourself amidst lavish surroundings, where every detail has been carefully crafted for your comfort. Immerse yourself in tranquility as you are enveloped by soothing scents, gentle melodies, and expertly trained therapists who will transport you to a state of complete bliss.
Indulge in world-class treatments inspired by both traditional Sicilian practices and contemporary wellness techniques. Here, time stands still as you bask in therapeutic baths infused with organic essences or surrender to skilled hands delivering rejuvenating massages tailored specifically for your needs. With their extensive range of facials, body scrubs, and holistic rituals, these spa hotels offer an escape from reality into a realm of ultimate relaxation.
Join us as we embark on an unforgettable journey through some of the most luxurious spa hotels Siracusa has to offer. Be prepared to let go, unwind, and indulge your senses while immersing yourself in pure luxury and utter tranquility.
Siracusa Most Relaxing Spa Resorts and Hotels
Minareto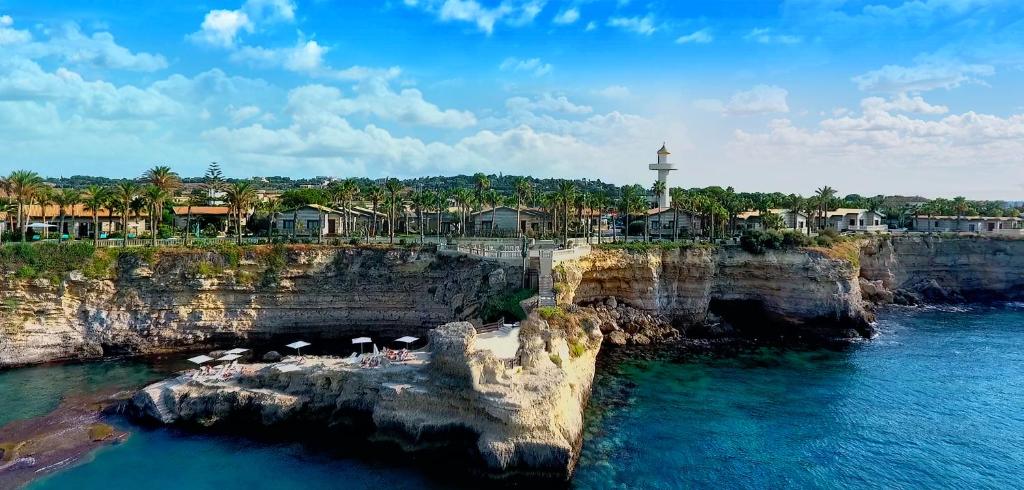 Located on the cliffs overlooking Siracusa and Ortygia Island, Minareto is a prestigious 5-star luxury hotel situated in the protected Plemmirio area. This exclusive property offers a tranquil setting, an outdoor pool, two private beaches, and breathtaking panoramic views. The rooms feature a sophisticated Italian design with exquisite works of art adorning the walls and luxurious fabrics and linens. Guests can indulge in Sicilian and Italian cuisine at the restaurant, which also provides an enchanting rooftop terrace for al fresco dining during the summer months. The air-conditioned rooms boast balconies with sea views and interactive LCD TVs with complimentary internet access. For those seeking additional privacy, villas with private gardens and pools are available as well. Guests have complimentary access to the private beach along with a beach set that includes sun loungers, parasols, and beach towels. A buffet-style breakfast is served each morning at Minareto. The hotel's convenient location places it just a 15-minute drive from both Siracusa center and Ortygia Island while being only 9 km away from the ancient ruins of the Greek Amphitheater. Additionally, guests can request to use the shuttle boat service to explore Siracusa further upon availability. Complimentary parking facilities are provided for guests' convenience.
– Stunning cliffside location overlooking Siracusa
– Outdoor pool and two private beaches
– Elegant rooms featuring Italian design
– Rooftop terrace for al fresco dining in summer
– Villas with private garden and pool available
Ortea Luxury Palace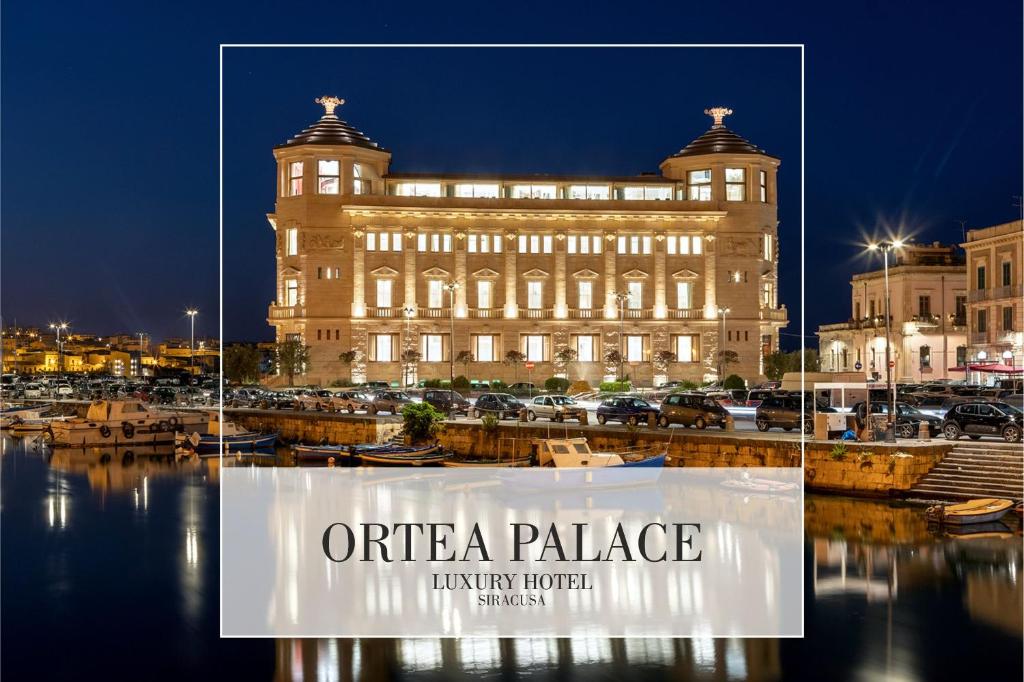 Located on the picturesque Ortigia island in Siracusa, the Ortea Luxury Palace is a converted Art Nouveau post office that offers a luxurious and relaxing stay. The hotel features a spa, complete with 2 Turkish baths, a sauna, and a gym for guests to unwind and rejuvenate. After indulging in the spa amenities, guests can take a dip in the indoor pool or enjoy delicious cuisine at the hotel's restaurant. The modern rooms are equipped with all necessary amenities such as air conditioning, satellite flat-screen TV, kettle, minibar, and private bathroom with soft bathrobes and slippers. Some rooms even offer stunning views of Porto Piccolo marina. With its excellent location, just steps away from attractions like the Temple of Apollo and Ortigia Street Market, as well as being within walking distance of Siracusa Cathedral, Ortea Luxury Palace is an ideal choice for those seeking luxury and convenience during their stay.
– Spa facilities including Turkish baths and sauna
– Indoor pool for relaxation
– Convenient location near major attractions
– Modern rooms with beautiful views available
– Restaurant serving delicious cuisine
Hotel Roma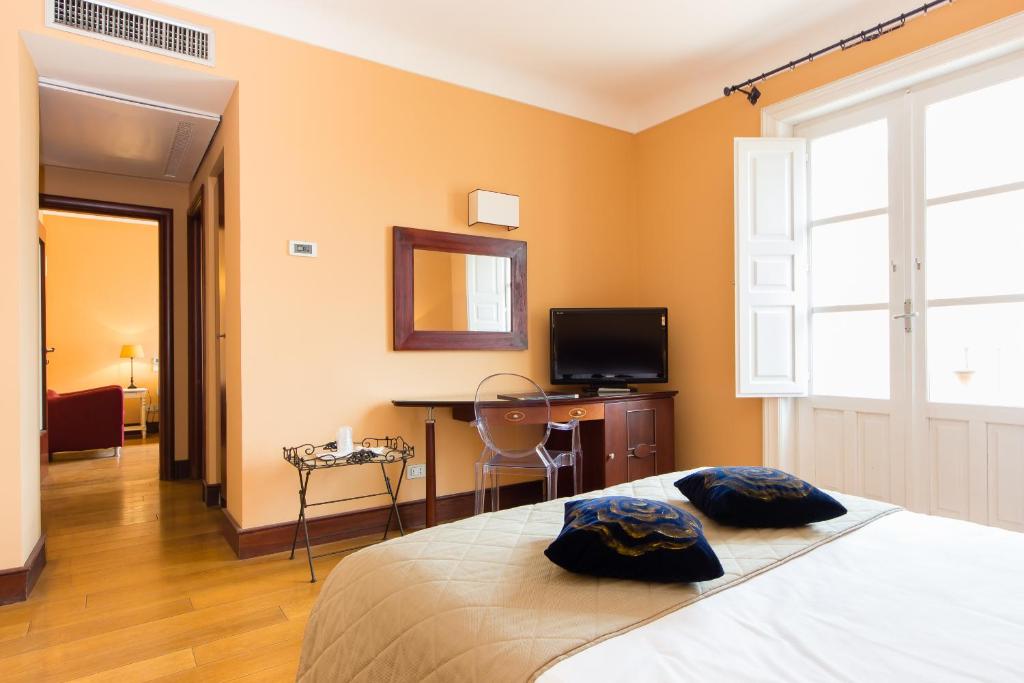 Hotel Roma is a luxury hotel located in the heart of Ortigia Island, right next to the Cathedral. The hotel offers modern and air-conditioned rooms with free lobby Wi-Fi. Guests can indulge in delicious new and traditional Sicilian recipes at the Roma Restaurant or enjoy drinks at the bar, which can also be savored in Piazza Minerva square. The hotel is conveniently situated just 2 km away from both the Paolo Orsi Archaeological Museum, which is named after a famous archaeologist who was once a regular guest at Hotel Roma, and Neapolis Park.
– Central location on Ortigia Island
– Modern and air-conditioned rooms
– On-site restaurant serving Sicilian cuisine
– Bar for drinks and relaxation
– Close proximity to Paolo Orsi Archaeological Museum and Neapolis Park
Siracusa Luxury Spa Hotels
Siracusa Luxury Spa Hotels offer a blissful retreat for those seeking rejuvenation and relaxation. With their serene ambiance, indulgent spa treatments, and attentive service, these hotels provide the ultimate luxury experience for guests looking to unwind and pamper themselves.
Algilà Ortigia Charme Hotel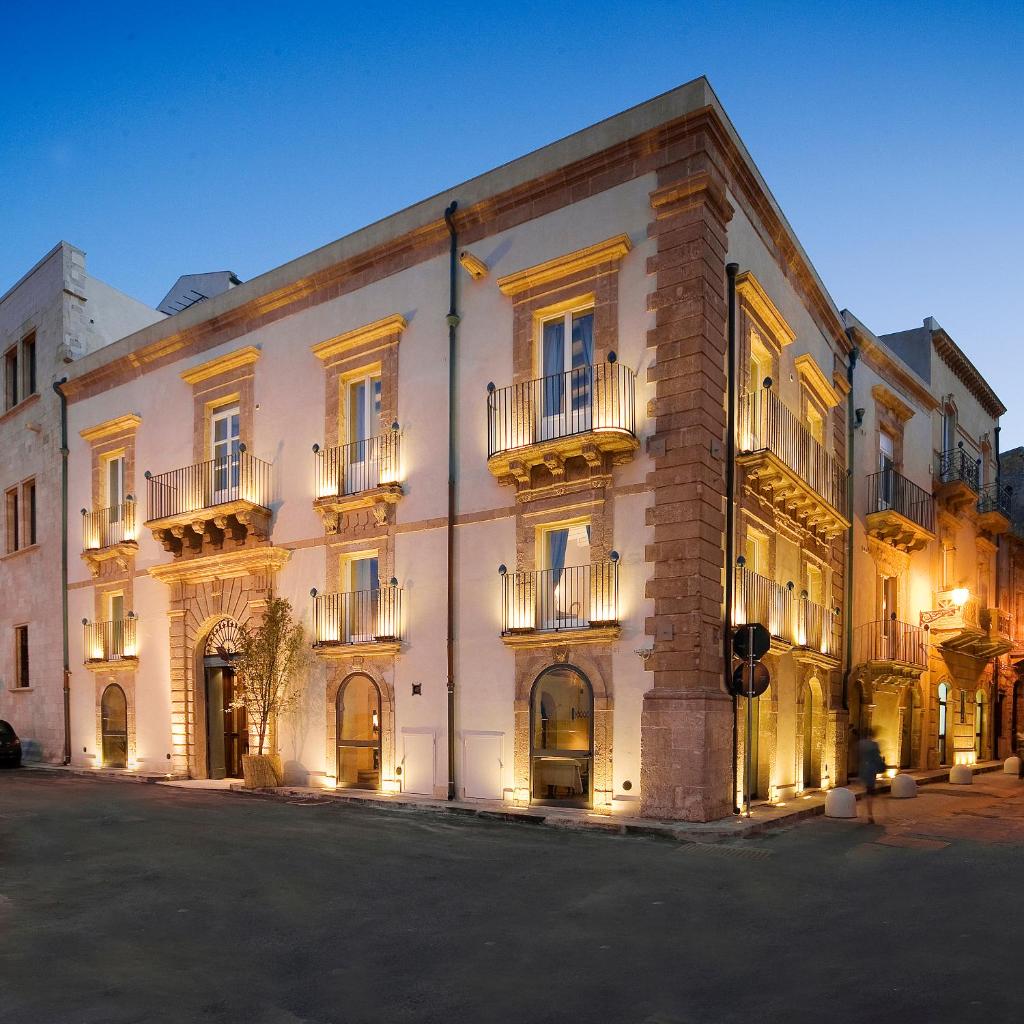 Located on Ortigia Island with breathtaking views of the Ionian Sea, Algilà Ortigia Charme Hotel is a luxurious spa hotel that offers an unforgettable experience. The hotel consists of three beautifully restored buildings from the 1700s, adorned with antique furnishings and decorations, creating an atmosphere of elegance and charm. The rooms are air-conditioned and feature unique antique furniture, private bathrooms with decorative tiles, and some even have wood-beamed ceilings or four-poster beds. The restaurant serves delectable Mediterranean cuisine with a focus on seafood specialties and gluten-free options. Guests can enjoy a buffet-style breakfast that includes Sicilian delicacies like organic marmalades. Additional services provided by the hotel include free WiFi, complimentary bike rentals, and free phone calls to Europe and North America. Within walking distance from Siracusa Cathedral and just one kilometer away from Castello Maniace, this exclusive hotel is also conveniently located near the ancient Greek amphitheater. Overall, Algilà Ortigia Charme Hotel is a perfect choice for those seeking luxury combined with history in a stunning seaside location.
Pros:
– Stunning seafront location on Ortigia Island
– Elegant rooms featuring antique furnishings
– Delicious Mediterranean cuisine with seafood specialties
– Free WiFi throughout the property
– Additional amenities such as complimentary bike rentals and free international phone calls
Borgo di Luce I Monasteri Golf Resort & SPA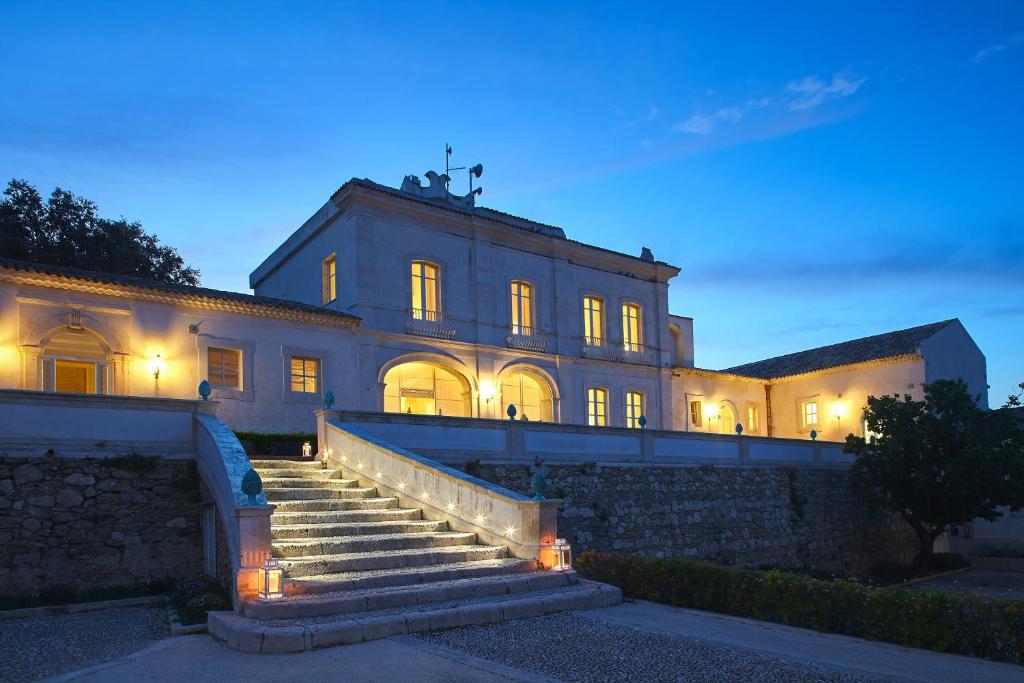 Boasting a wellness center, Borgo di Luce I Monasteri Golf Resort & SPA is a luxurious hotel located 18 km from Siracusa. With free WiFi available in all rooms and public areas, the resort also features an outdoor pool. Guests can enjoy a buffet breakfast and dine at one of the two restaurants specializing in Sicilian cuisine. The elegant air-conditioned rooms are set in a Benedictine monastery, some offering a furnished patio with stunning views. The resort's wellness center includes a hot tub, Turkish bath, sensory shower, and sauna. Additionally, there is a bar with an impressive wine selection. Avola, known for its red wine, is just a 20-minute drive away from the property. For convenience, the hotel offers paid shuttle services to/from Catania Fontanarossa Airport, Comiso Airport, and Siracusa's historical center.
– Impressive wellness center with various facilities
– Beautifully designed rooms set in a historic monastery
– Delicious Sicilian cuisine offered at two onsite restaurants
– Outdoor pool for relaxation and sunbathing
– Convenient shuttle service to nearby airports and attractions
Grand Hotel Ortigia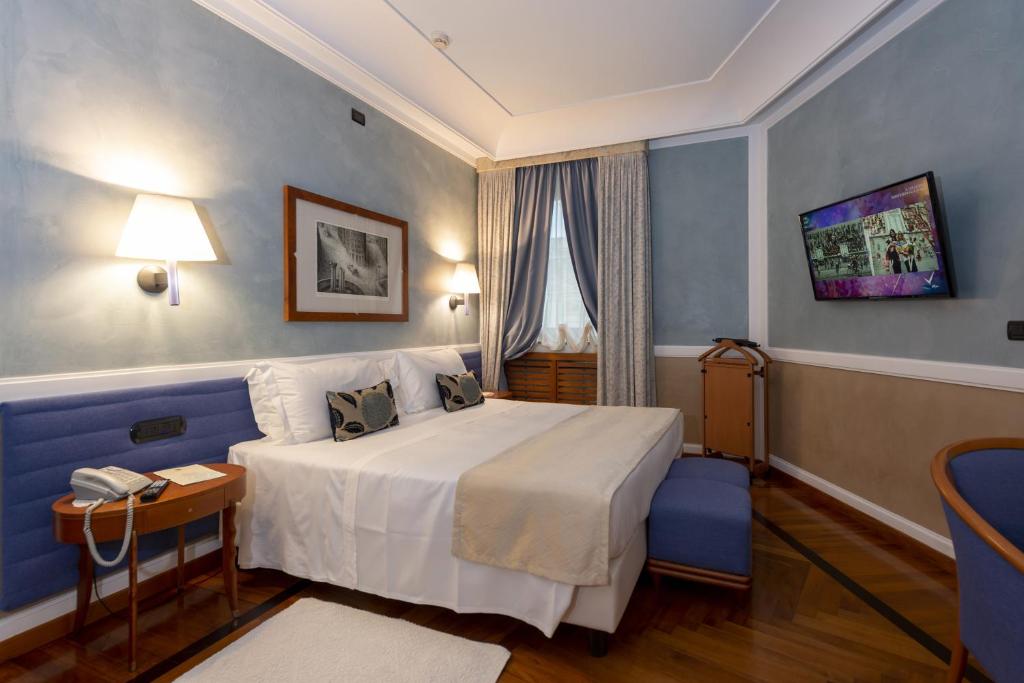 The Grand Hotel Ortigia is a luxurious spa hotel located next to the main harbor in Ortigia. With its rooftop terrace and glass elevator offering breathtaking sea views, this hotel provides an unforgettable experience for guests. It is also the only hotel in Ortigia that offers private parking and spa facilities, including some rooms with a spa bath. The spacious rooms at the Grand Hotel Ortigia are equipped with modern amenities such as free Wi-Fi access, a flat-screen TV, and air conditioning. The highlight of the hotel is the Terrazza sul Mare restaurant on the top floor, where guests can savor fine wines and indulge in regional specialties while enjoying panoramic views of the sea and harbor.
– Rooftop terrace with stunning sea views
– Glass elevator providing a unique experience
– Private parking available
– Spa facilities including some rooms with spa baths
– Terrazza sul Mare restaurant offering fine wines and regional specialties
5 Star Spa Hotels in Siracusa
Siracusa offers a range of exquisite 5-star spa hotels, where guests can indulge in ultimate relaxation and rejuvenation. These luxurious properties boast well-appointed spas, top-notch treatments, and tranquil settings, ensuring an unforgettable spa experience for travelers seeking indulgence.
Relais San Giuliano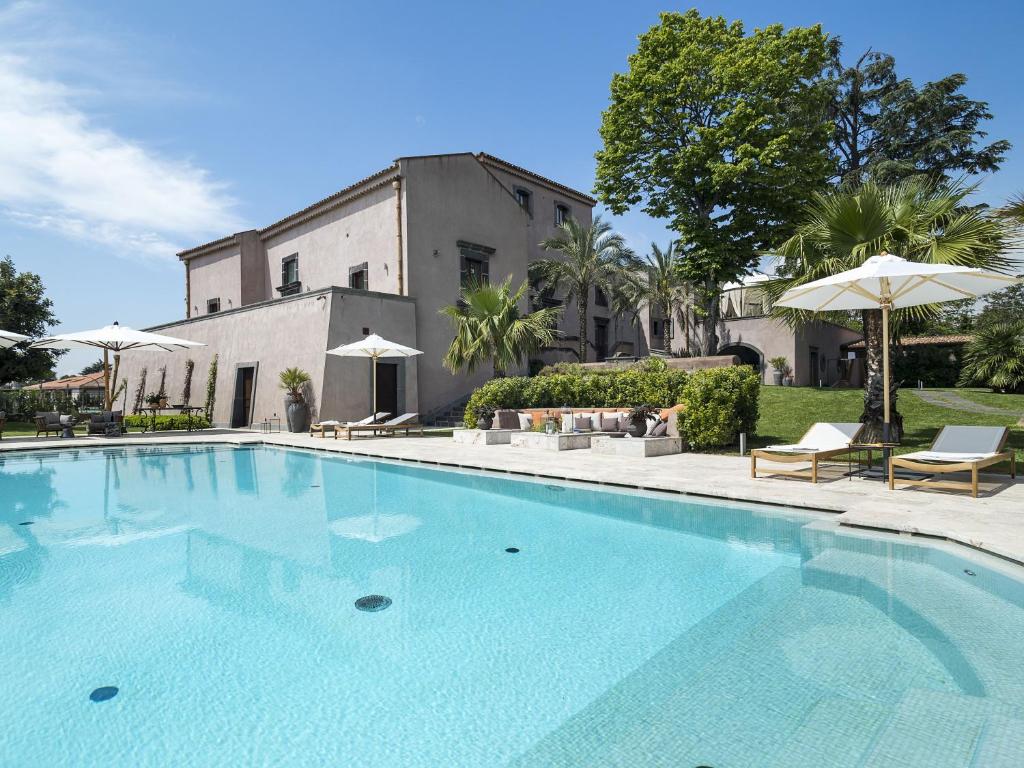 Located in the charming town of Viagrande, Relais San Giuliano offers a tranquil escape with its lush garden, inviting shared lounge, and stylish bar. Guests can enjoy the convenience of free WiFi throughout the property. The well-appointed rooms feature private bathrooms and some even have a terrace for guests to unwind and take in the scenic views. With a sun terrace on site, guests have the perfect spot to soak up the Mediterranean sun. Each guest room is equipped with a comfortable seating area and a flat-screen TV. Air conditioning ensures a pleasant stay, while a desk provides space for work or leisure activities. Start your day off right with a delicious continental breakfast served every morning at the property. For those looking to explore further, Catania is just 13 km away and Taormina is 31 km from the hotel. Conveniently located only 16 km from Catania Fontanarossa Airport, Relais San Giuliano offers easy access for travelers.
Pros:
– Tranquil setting in Viagrande
– Lush garden for relaxation
– Stylish bar for drinks and socializing
– Comfortable rooms with modern amenities
– Convenient location near Catania and Taormina
Hotel Relax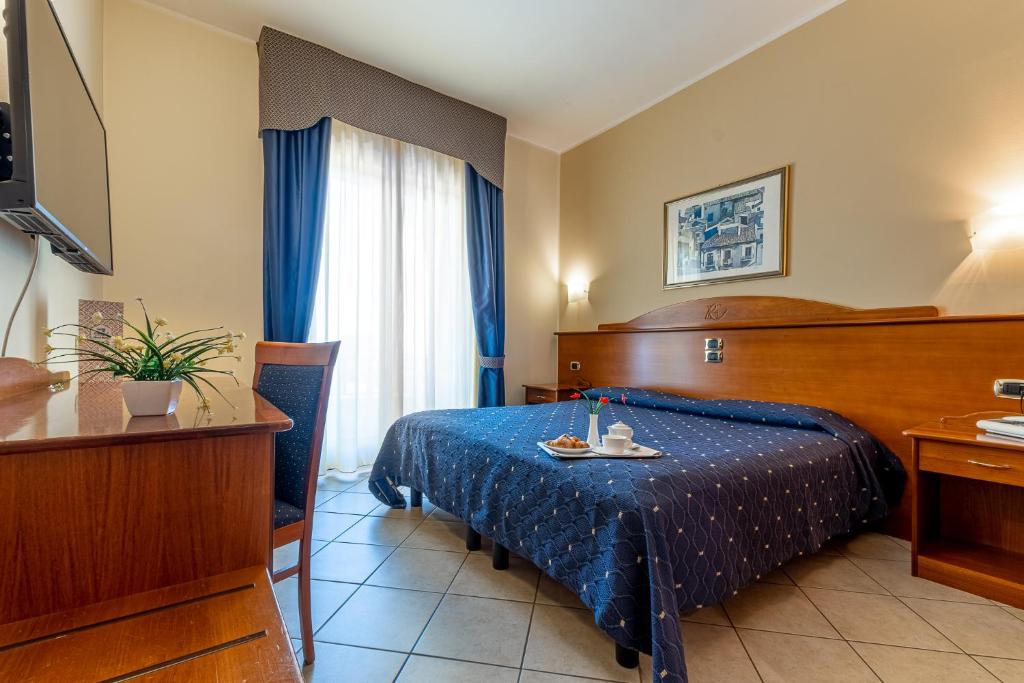 Hotel Relax is nestled in the picturesque Neapolis Park, surrounded by the ancient Greek Theatre and Dionysian walls. The hotel offers free parking and complimentary Wi-Fi in all rooms. La Dolce Vita spa is a haven of relaxation with its Turkish bath, massage rooms, and sauna. Located just 3 km from the center of Syracuse, this Mediterranean-style hotel boasts a large sun terrace, a refreshing swimming pool, and a delightful garden. Each spacious room is air-conditioned and features a flat-screen TV, while some also offer stunning views of the marina, pool or city from their balcony. Guests can indulge in local and national cuisine at the hotel's own restaurant or enjoy international cocktails at the bar. Breakfast is served buffet style for an energizing start to your day.
– Free parking
– Complimentary Wi-Fi
– Luxurious spa facilities
– Stunning views from select rooms
– Convenient location near Syracuse city center
Hotel Parco delle Fontane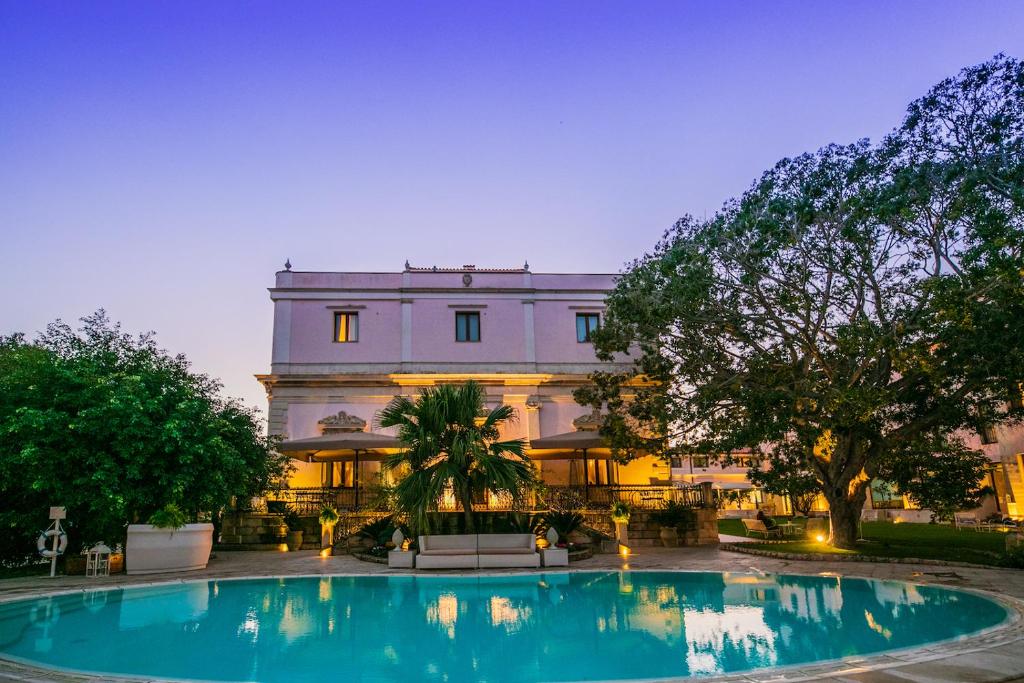 Hotel Parco delle Fontane is a luxury hotel located in Siracusa, just 4 km from Ortigia Island. With its elegant rooms equipped with air conditioning, flat-screen TV, and minibar, guests can enjoy a comfortable stay. The hotel also offers a restaurant serving delicious local Sicilian food and a sweet and savory breakfast daily. Guests can relax in the beautiful garden or on the sun terrace while enjoying free WiFi access throughout the property. Convenient amenities include free private parking on site and proximity to popular attractions such as the Neapolis Archeological Site, which is only 4 km away. Siracusa Train Station is also just an 8-minute drive from the hotel.
– Beautiful garden and sun terrace
– Delicious local Sicilian food served at the restaurant
– Elegant rooms with modern amenities
– Free WiFi access throughout the property
– Proximity to popular attractions like Neapolis Archeological Site
Siracusa Spa Hotels Information
| | |
| --- | --- |
| 🛎️ Spa Hotels in Siracusa | 9 |
| 💵 Hotels Prices From | $68 |
| 💵 Highest price | $1616 |
| 🥇 Average Review Score | 8.5/10 |
| 🛏️ Average number of Rooms | 56 |
Top SPA hotels in Siracusa
| | |
| --- | --- |
| Relais San Giuliano | 9.2/10 |
| Ortea Luxury Palace | 8.9/10 |
| Algilà Ortigia Charme Hotel | 8.9/10 |
| Minareto | 8.6/10 |
| Hotel Parco delle Fontane | 8.5/10 |
FAQ
Can you recommend any luxury spa hotels in Siracusa?
Certainly! One highly recommended luxury spa hotel in Siracusa is the Grand Hotel Ortigia. This stunning hotel offers a wide range of spa treatments and facilities, including massages, facials, and hydrotherapy baths. Guests can also enjoy the beautiful views of the sea while indulging in their spa experience.
What amenities can I expect at a luxury spa hotel in Siracusa?
Luxury spa hotels in Siracusa typically offer a range of amenities to enhance your stay. These may include spacious and beautifully decorated rooms, exceptional dining options serving delicious gourmet cuisine, fitness centers equipped with state-of-the-art equipment, swimming pools for relaxation or exercise, and of course, top-notch spas with a variety of luxurious treatments.
Are there any wellness programs available at luxury spa hotels in Siracusa?
Absolutely! Many luxury spa hotels in Siracusa offer wellness programs designed to help guests achieve optimal well-being during their stay. These programs may include activities such as yoga classes, meditation sessions, personalized fitness training sessions, healthy cooking workshops, and educational seminars on various aspects of wellness.
Can I book spa treatments even if I'm not staying at a luxury hotel in Siracusa?
Yes! Some luxury spas in Siracusa allow non-guests to book appointments for their services. However, it is advisable to check availability and make reservations well in advance to ensure you can secure your desired treatment time slot.
What makes Siracusa an ideal destination for a luxury spa getaway?
Siracusa is an ideal destination for a luxury spa getaway due to its unique combination of breathtaking natural beauty and rich historical heritage. In addition to indulging in luxurious spa treatments offered by top-notch hotels, visitors can explore ancient ruins like the Greek Theater or take leisurely walks along picturesque waterfronts. The serene atmosphere combined with world-class hospitality ensures a truly rejuvenating and memorable spa getaway experience.
Popular Wellness Hotels destinations