Welcome to my guide on indulgent retreats in the stunning alpine town of Schladming, Austria. Nestled in the heart of the majestic Austrian Alps, Schladming offers a perfect blend of tranquility and adventure for those seeking a rejuvenating getaway. In this guide, I will unveil a handpicked collection of opulent wellness havens that will leave you feeling pampered, relaxed, and completely revitalized.
Prepare to be captivated by the serene beauty that surrounds these luxurious wellness sanctuaries. Immerse yourself in the idyllic landscapes as you embark on a journey towards complete serenity. Whether you long for breathtaking mountain views or lush green valleys, Schladming has it all. Indulge your senses with aromatic spa treatments that harness the healing power of nature's bounty – from soothing massages to revitalizing facials, every experience is custom-tailored to ensure your ultimate relaxation.
Escape from everyday life and embark on an unforgettable retreat at one of Schladming's exclusive spa hotels. Each property boasts an array of lavish amenities designed to cater to your every need. From lavish swimming pools and state-of-the-art fitness centers to holistic therapies and gourmet culinary experiences – these establishments redefine luxury at every turn. Soothe your body and mind with their extensive range of wellness activities or simply unwind in opulent surroundings as expert therapists work their magic.
Prepare yourself for an unforgettable journey into pure bliss as we explore these extraordinary spa hotels nestled amidst the picturesque landscape of Schladming, Austria.
Schladming Most Relaxing Spa Resorts and Hotels
Hotel Schröckerhof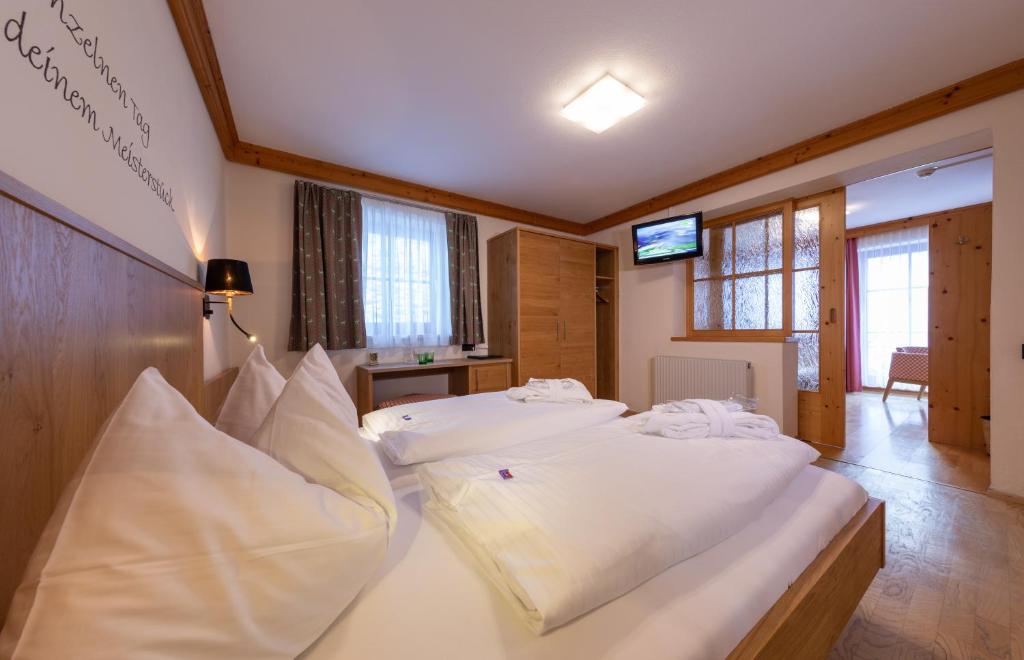 Located on a hillside with direct access to the ski slopes and just a 5-minute walk from the Planai Chair Lift, Hotel Schröckerhof offers a perfect retreat for winter sports enthusiasts. The hotel features a restaurant serving regional cuisine with stunning panoramic mountain views, as well as a sun terrace to soak up the alpine atmosphere. Guests can relax in the wellness area, which includes a swimming pond, steam bath, and various saunas. The spacious rooms all come with balconies and free WiFi, while the garden offers amenities such as a playground, barbecue facilities, and even a football field. With horseback riding available on site and convenient access to transportation via the free ski bus stop just minutes away, exploring the surrounding area is made easy. Additionally, guests staying between late May to November can enjoy added benefits with the included Schladming-Dachstein Sommercard, which offers discounts and free use of local cable cars and buses.
– Direct access to ski slopes
– Regional cuisine at on-site restaurant
– Wellness facilities including swimming pond
– Spacious rooms with balconies and free WiFi
– Convenient location near transportation options
Johannesbad Hotel Palace – Kinder bis 11 kostenfrei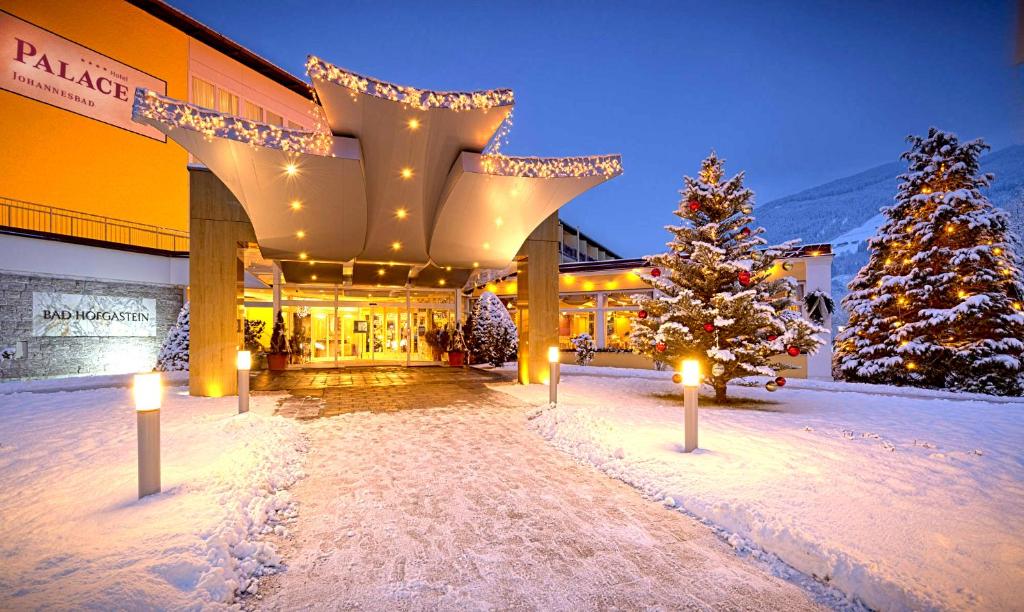 Located just a short stroll from the heart of Bad Hofgastein, Johannesbad Hotel Palace – Kinder bis 11 kostenfrei is a haven of tranquillity and relaxation. Surrounded by stunning natural landscapes, this hotel offers an extensive health and beauty programme to rejuvenate your mind, body, and soul. The spacious spa area boasts a panoramic indoor pool, herbal sauna, steam bath, and much more for ultimate relaxation. Take a leisurely walk through the expansive 30,000 m² hotel park with its terrace and walking trails. Indulge in pampering treatments at the beauty farm or unwind with a thermal bath or soothing massage. The hotel also features an indoor tennis centre with two carpet courts for those seeking active pursuits. Accommodation options include comfortable rooms with beautiful mountain views. Enjoy live music at the bar or relax in the elegant lobby with an open fireplace. Medical treatments such as thermal baths and fango are also available on-site.
– Extensive health and beauty programme
– Spacious spa area with panoramic indoor pool
– Expansive hotel park with terrace and walking trails
– Beauty farm offering indulgent treatments
– Indoor tennis centre for active guests
Premium Wanderhotel Steirerhof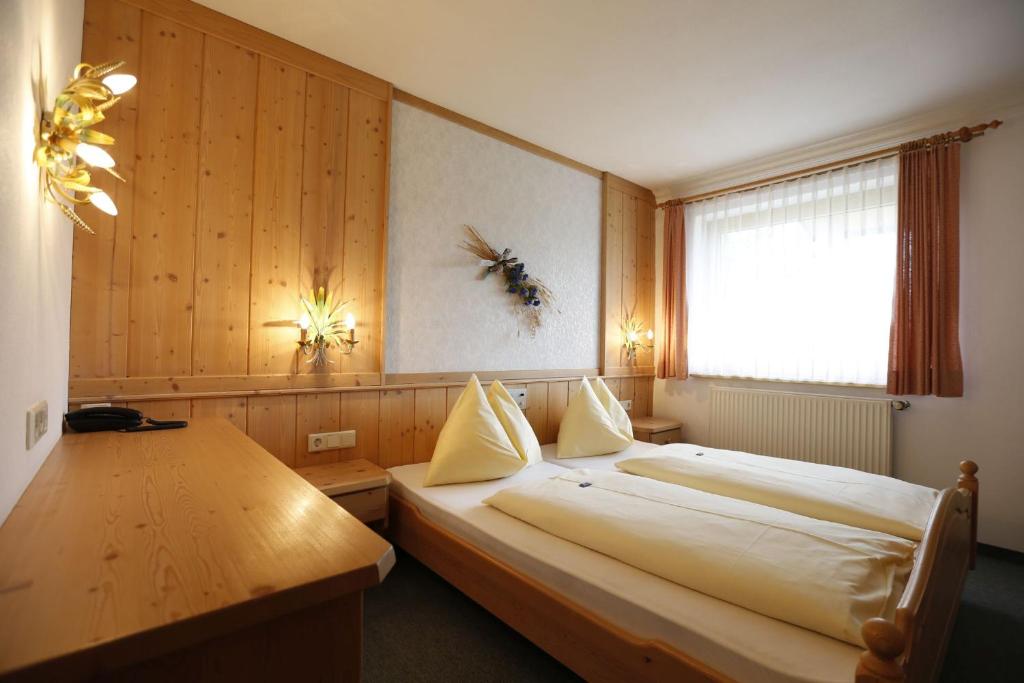 Located at 1,050 meters above sea level in the picturesque Schladming-Dachstein holiday region, the family-run Premium Wanderhotel Steirerhof offers a relaxing hiking holiday. With its ideal location on the Ramsau high plateau, guests can enjoy stunning mountain tours and guided hikes to explore the most beautiful places in the area. In addition to its proximity to the scenic slopes of Skiwelt amadé, guests have endless opportunities for winter activities such as skiing, snowshoeing, cross-country skiing or ski touring. After an adventurous day, guests can unwind in the hotel's wellness oasis and take in panoramic views. The half-board option includes a generous breakfast buffet, afternoon coffee, tea and homemade pastries, as well as a choice between three 4-course dinners with a salad buffet. Guests are also provided with a Summer Card that grants them free access to public transport, cable cars, toll roads and more within the Schladming-Dachstein region.
– Ideal starting point for hiking and mountain tours
– Guided hikes offered by owners to explore beautiful places
– Proximity to Skiwelt amadé for winter activities
– Wellness oasis with panoramic views
– Half-board option with delicious meals included
Schladming Luxury Spa Hotels
Schladming Luxury Spa Hotels offer a serene and rejuvenating experience for travelers seeking ultimate relaxation. With world-class spa facilities and therapeutic treatments, guests can unwind and indulge in luxurious pampering amidst the beautiful natural surroundings of Schladming.
Sporthotel Royer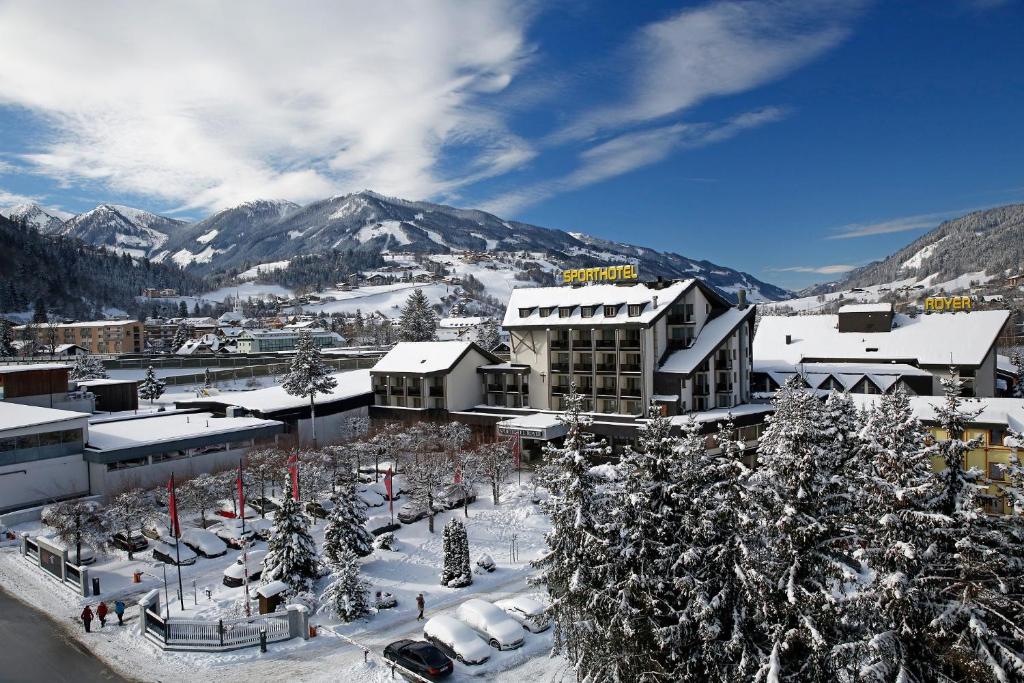 The Sporthotel Royer is a conveniently located luxury hotel, just a 5-minute walk from the Planai cable car and the town centre. This hotel is perfect for those seeking relaxation and rejuvenation, as it offers both indoor and outdoor pools, as well as a range of other leisure facilities. Guests can indulge in excellent cuisine and exquisite wines at the three on-site restaurants and the hotel bar. The hotel also caters to specific dietary needs with special menus available upon request. All rooms and bathrooms have been recently renovated and redesigned to ensure a comfortable stay. Additionally, guests can enjoy the large wellness and fitness area offered by the hotel.
– Convenient location near cable car and town centre
– Indoor and outdoor pools for relaxation
– Excellent cuisine served in three restaurants
– Newly renovated rooms for ultimate comfort
– Large wellness and fitness area for guests' enjoyment
Ferienresidence Vital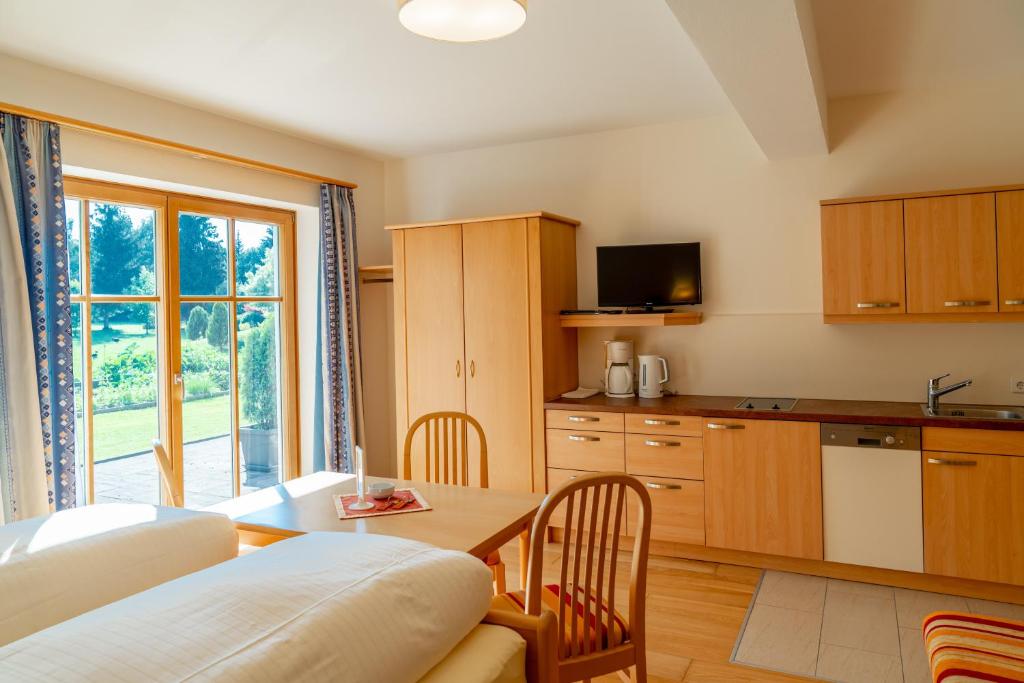 Just 500 meters from the Planai Cable Car and 800 meters from Schladming's center, Ferienresidence Vital is a 4-star resort nestled in a picturesque 10,000 m² park. The resort offers an array of luxurious amenities such as two tennis courts, free bicycle hire, and complimentary WiFi. The apartments at Ferienresidence Vital are spacious and elegant, featuring bright wooden furniture and balconies that offer breathtaking views. Each apartment comes with a fully equipped kitchenette, dining area, flat-screen cable TV, and a bathroom complete with bathrobes and a hairdryer. The spa facilities include two saunas, a steam bath, an infrared cabin, and a fitness area. Guests can indulge in various massage treatments available at the Vital Ferienresidence. Other conveniences include free internet terminals, ski storage room facilities as well as complimentary private parking including garage space for bicycles and motorcycles. Hiking and cycling trails are easily accessible right outside the resort while guests can also enjoy free access to Schladming's public swimming pool located just 200 meters away (subject to availability). From December 2016 onwards breakfast will be offered upon request for an additional charge.
– Convenient location near cable car and city center
– Spacious and elegant apartments with beautiful views
– Luxurious spa facilities including saunas and steam bath
– Complimentary bicycle hire for exploring the surroundings
– Free WiFi throughout the property
Hotel Erlebniswelt Stocker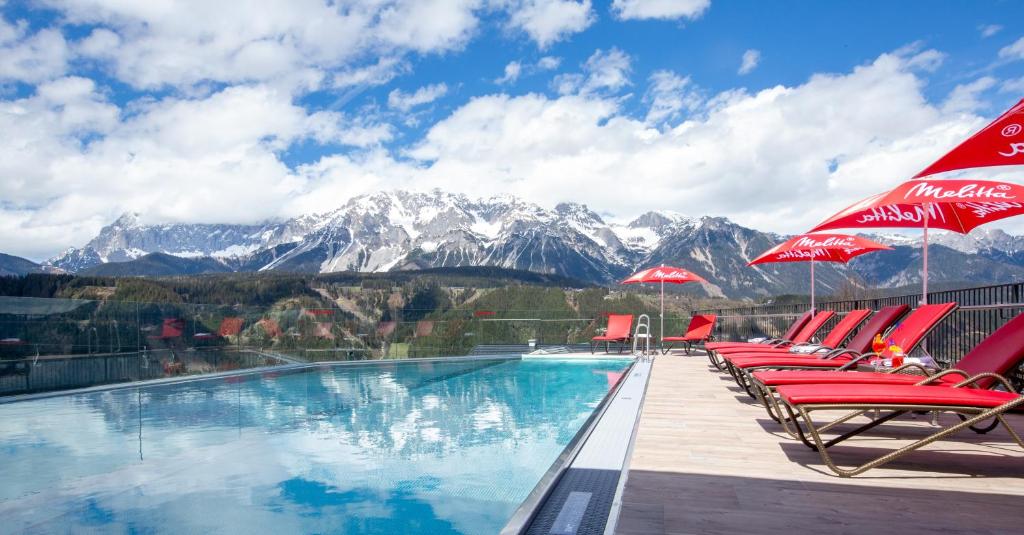 Located in Rohrmoos, Hotel Erlebniswelt Stocker is a luxury spa hotel situated right next to the slopes of the Schladming-Dachstein Ski Area. All rooms at this hotel feature a balcony and offer free WiFi. The spa area overlooks the village and mountains, and includes amenities such as a Finnish sauna, bio sauna, and steam bath. Guests can also enjoy two bowling lanes on-site. The soundproof rooms are equipped with bright wooden furniture, cable TV, a seating area, and a bathroom complete with bathrobes and hairdryers. This hotel also boasts an excellent dining experience with Austrian cuisine, Styrian specialities, and fine wines served at the restaurant Dorfstöck'l. In winter months, half-board guests can enjoy a soup buffet for lunchtime as well. Additionally, Hotel Erlebniswelt Stocker features a beer pub, après ski bar, and sun terrace for guests to unwind after hitting the slopes. Ski passes can be purchased on-site and guests have access to storage facilities for their skiing equipment. Free private parking is available on-site for added convenience. From May to October, guests can take advantage of the Schladming-Dachstein Summer Card which is included in the rate at this hotel; this card offers benefits such as free use of cable cars.
Pros:
– Convenient location right next to the slopes of Schladming-Dachstein Ski Area
– Balconies with stunning views from all rooms
– Spa area offering various saunas for relaxation
– On-site bowling lanes for entertainment
– Excellent dining options including Austrian cuisine and fine wines
5 Star Spa Hotels in Schladming
Schladming offers a range of luxurious 5-star spa hotels, providing guests with a serene and indulgent retreat. With top-notch spa facilities, impeccable service, and breathtaking natural surroundings, these hotels are the perfect destination for relaxation and rejuvenation.
Almwelt Austria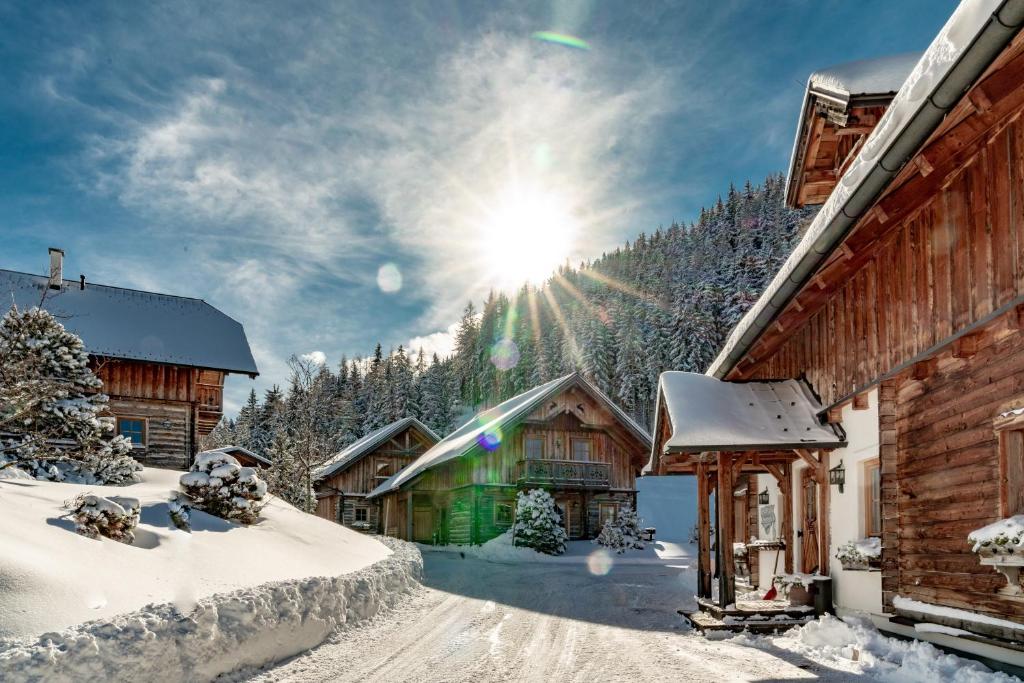 Located on the slopes of Pichl, 7 km from the city Schladming, Almwelt Austria offers guests a luxurious retreat in beautifully furnished chalets. Each chalet comes with a private sauna and hot tub for ultimate relaxation. The hotel's spa area, located in a separate hut, features panoramic windows in the sauna, an aroma steam bath, and a serene relaxation room. Guests also have the option to book the entire spa area for their exclusive use. The rooms are equipped with modern amenities such as cable flat-screen TVs and free wired internet access. Private bathrooms with toiletries are also available. The hotel's restaurant, Schnepf'n-Alm, serves traditional and seasonal cuisine and has a children's playroom for families traveling with kids. Meals can be enjoyed on the sunny terrace which offers breathtaking views of the Dachstein massif. Ski enthusiasts will appreciate the convenience of having Reiteralm ski region right outside their doorstep while Planai ski region is only a 10-minute drive away. Other amenities include a ski storage room and onsite ski pass purchase options. Free private parking is available for guests' convenience.
– Chalets with private sauna and hot tub
– Panoramic windows in spa area
– Stunning views of surrounding Alps
– Children's playroom at restaurant
– Convenient location near ski regions
JOHANN Schladming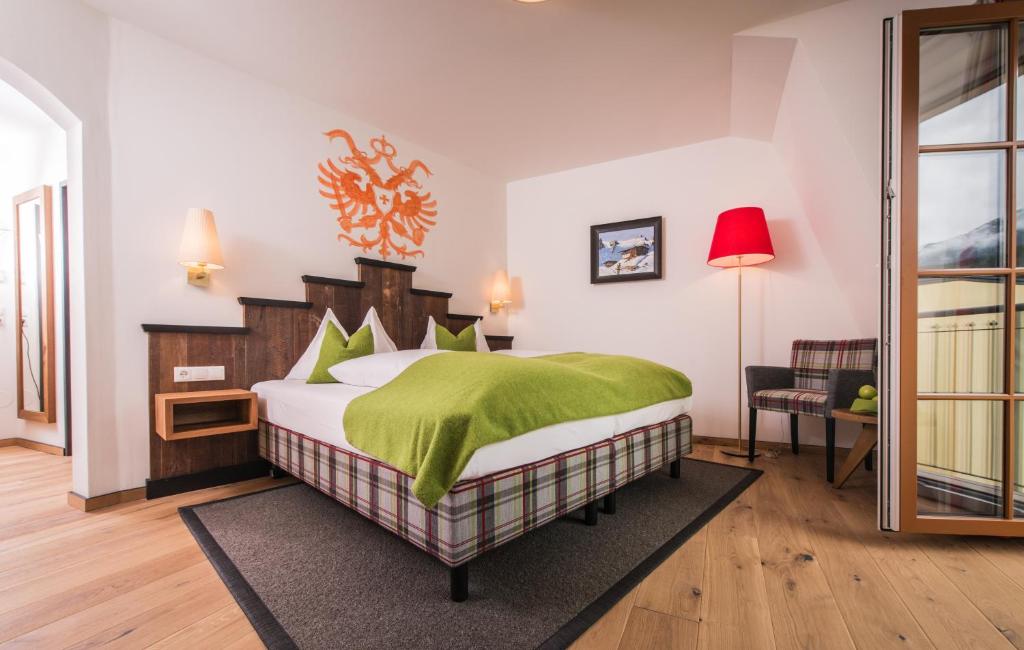 The newly renovated JOHANN Schladming is a luxury spa hotel located right on the main square of Schladming, and only 250 meters from the Planai valley station. The hotel boasts a bar, an award-winning restaurant, a wellness area, a gym, and free private parking. Each room features wooden floors, a rain shower, USB charging sockets, an ergonomic sleeping system with high-quality bed linen and a minibar. Guests can enjoy activities such as hiking, skiing and cycling in Schladming. The hotel is conveniently located 250 meters away from the Schladming – 4 Berge Skischaukel ski resort where ski passes can be purchased at the front desk. During the summer months, guests can also take advantage of the 'Sommercard', which offers free use of amenities including cable cars and toll roads as well as free visits to public lakes and swimming pools. The nearest airport is Salzburg W.A. Mozart which is approximately 90 km away from JOHANN Schladming.
Pros:
– Convenient location in close proximity to ski resort
– Newly renovated rooms with modern amenities
– Wellness area for relaxation and rejuvenation
– Award-winning restaurant offering gourmet dining experiences
– Complimentary access to 'Sommercard' during summer months for additional amenities and activities
Hotel Vitaler Landauerhof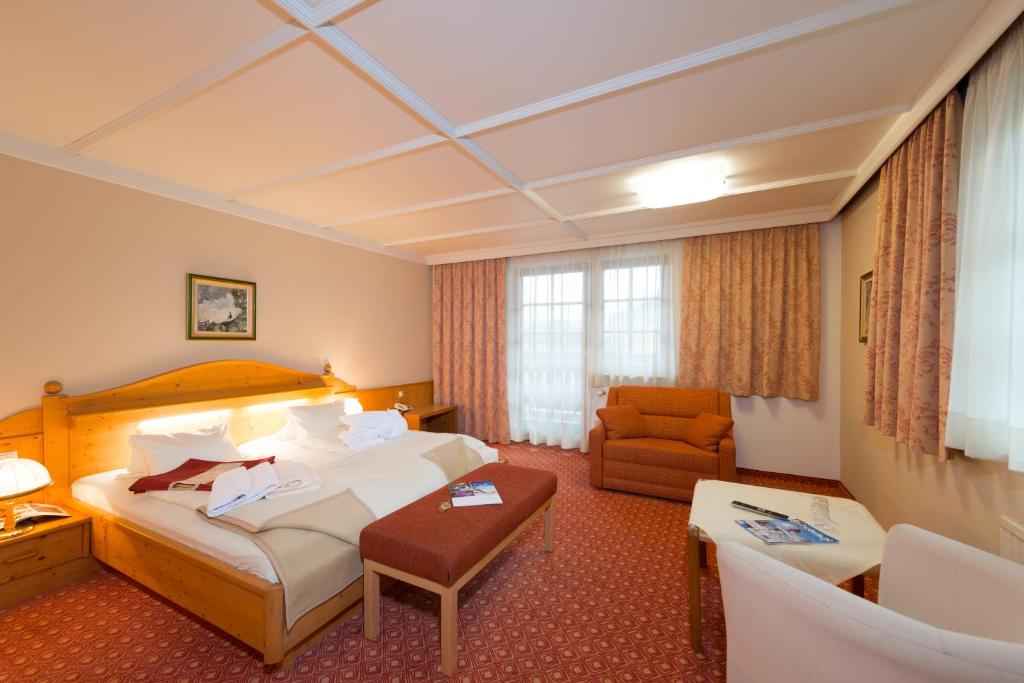 Hotel Vitaler Landauerhof is a charming 4-star Alpine hotel situated at an elevation of 900 meters in Untertal, within the picturesque Dachstein-Tauern Region. Just a short 30-minute walk or a quick 5-minute drive from Schladming, this hotel offers guests a serene escape with its spacious spa area featuring saunas, Kneipp pool, hot tub, and infrared cabin. Fitness enthusiasts will appreciate the well-equipped gym and tennis courts, while those seeking relaxation can indulge in various beauty treatments and massages. The heated outdoor pool overlooks a deer enclosure, providing a unique and tranquil atmosphere. Guests can soak up breathtaking views of the Dachstein from the terrace or enjoy gourmet meals at the restaurant which serves a delightful 4-course dinner or à la carte dishes accompanied by an extensive selection of wines. Winter visitors will relish in the proximity to cross-country ski runs and direct access to ski slopes from the hotel. Ski tours and guided mountain expeditions are also available on request. During summer stays of at least two nights, guests have complimentary access to cable cars for exploration purposes. With nearby hiking trails and mountain bike routes, Hotel Vitaler Landauerhof is an idyllic destination year-round.
– Spacious spa area with saunas, Kneipp pool, hot tub, and infrared cabin.
– Fitness facilities including a gym and tennis courts.
– Heated outdoor pool overlooking deer enclosure.
– Scenic views of the Dachstein from terrace.
– Proximity to ski slopes, cross-country ski runs, hiking trails,and mountain bike paths.
Schladming Spa Hotels Information
| | |
| --- | --- |
| 🛎️ Spa Hotels in Schladming | 9 |
| 💵 Hotels Prices From | $260 |
| 💵 Highest price | $869 |
| 🥇 Average Review Score | 8.8/10 |
| 🛏️ Average number of Rooms | 60 |
Top SPA hotels in Schladming
| | |
| --- | --- |
| Ferienresidence Vital | 9.4/10 |
| Hotel Schröckerhof | 9.2/10 |
| Almwelt Austria | 9.1/10 |
| JOHANN Schladming | 8.9/10 |
| Hotel Erlebniswelt Stocker | 8.8/10 |
FAQ
What are some popular luxury spa hotels in Schladming?
Schladming offers several popular luxury spa hotels that cater to travelers seeking relaxation and indulgence. Some top options include the Falkensteiner Hotel Schladming, which boasts a state-of-the-art spa and wellness center with various treatment options, as well as the Wellness Hotel Royer, known for its extensive range of wellness facilities such as saunas, pools, and massage services.
What amenities can I typically find at a luxury spa hotel in Schladming?
Luxury spa hotels in Schladming offer an array of amenities to ensure a truly pampering experience. Guests can often enjoy access to luxurious swimming pools, Jacuzzis, saunas, steam rooms, and fitness centers. Many establishments also provide specific treatments like massages, facials, body scrubs and wraps using high-quality beauty products. Additionally, some properties may have yoga or meditation classes available for those seeking inner peace and serenity.
Are there any outdoor activities near the spa hotels in Schladming?
Absolutely! In addition to providing exceptional spa facilities, many luxury hotels in Schladming take advantage of their picturesque surroundings by offering exciting outdoor activities. Guests can explore breathtaking hiking trails with stunning mountain views or enjoy adrenaline-pumping sports such as skiing or snowboarding during the winter months. For those who prefer a more relaxed atmosphere outdoors, golfing or horseback riding are popular options.
Do the luxury spas in Schladming cater to dietary restrictions?
Yes! Most luxury spas in Schladming understand the importance of catering to guests' dietary preferences and restrictions. They typically offer a variety of culinary options designed to accommodate different needs such as vegetarian or vegan diets and gluten-free alternatives. Guests are encouraged to inform the hotel about their dietary requirements ahead of time so that they can be properly accommodated during their stay.
Can non-guests visit the spas at luxury hotels in Schladming?
While policies may vary between establishments, many luxury spa hotels in Schladming do offer day spa packages that allow non-guests to enjoy their exceptional facilities. These packages usually include access to the spa areas, selected treatments, and sometimes even meals or refreshments. It's recommended to contact the hotel directly to inquire about availability and any specific requirements for day visitors.
Popular Spa Hotels destinations