Welcome to Sao Paulo, Brazil's bustling metropolis and a haven for luxury spa hotels. Whether you are seeking tranquility amidst the urban chaos or indulging in some much-needed self-care, Sao Paulo has an array of opulent retreats that promise to pamper your body and rejuvenate your soul.
Step into a world of pure bliss as you immerse yourself in the idyllic ambiance of Sao Paulo's top-notch spa resorts. Unwind in exquisite surroundings, adorned with elegant decor and soothing palettes that create a sense of calm from the moment you enter. Luxuriate in revitalizing treatments provided by highly skilled therapists, who use organic products and holistic techniques to ensure an unparalleled spa experience. From Swedish massages to Ayurvedic rituals, these spas offer an unrivaled menu of services tailored to cater to your every need.
Escape the hustle and bustle of city life as you embrace serenity within these hidden sanctuaries nestled within Sao Paulo's vibrant neighborhoods. Discover wellness facilities that boast state-of-the-art equipment, including fitness centers equipped with cutting-edge technology and expert trainers at hand. After an invigorating workout session, indulge in lavish steam rooms or saunas that detoxify both body and mind. Immerse yourself in sparkling pools enveloped by lush gardens, providing the perfect oasis for relaxation under the warm Brazilian sun.
Embark on a journey of ultimate comfort and bliss as we explore some of Sao Paulo's most luxurious spa hotels that will leave you feeling recharged and revitalized like never before. Soothe your senses as we dive headfirst into this unparalleled world where indulgence knows no bounds!
Sao Paulo Most Relaxing Spa Resorts and Hotels
Renaissance São Paulo Hotel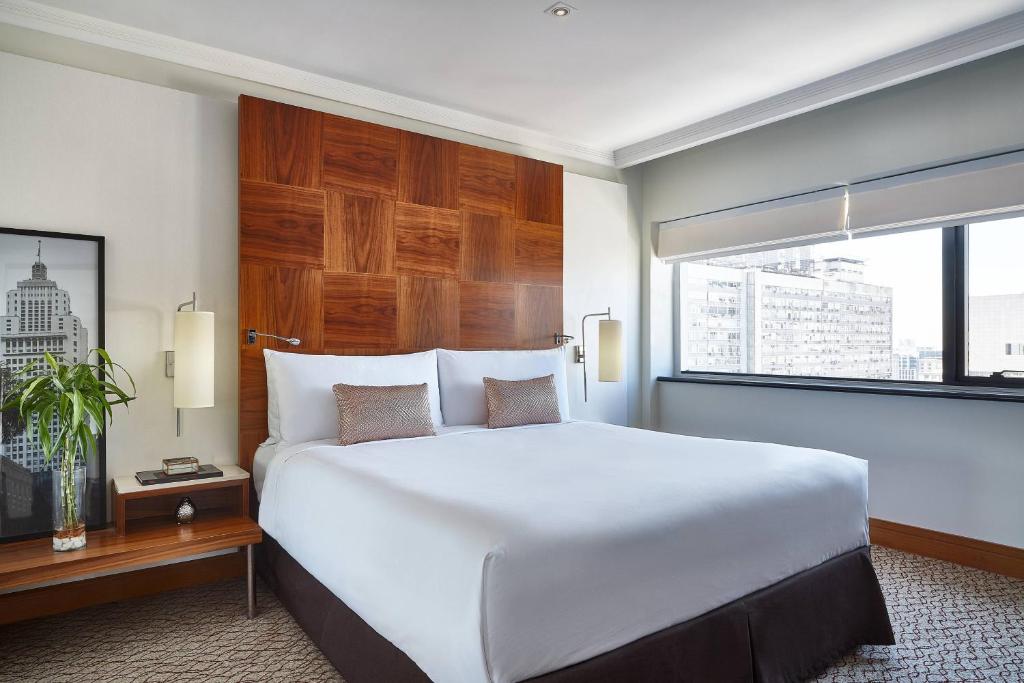 The Renaissance São Paulo Hotel is a luxurious 5-star hotel located in the Jardins district of São Paulo. With its impressive architecture and stylish décor, it stands out as an elegant choice for travelers. The hotel is conveniently situated near popular attractions such as Paulista Avenue, Oscar Freire Street, and the Museu de Arte de São Paulo – MASP. The tastefully decorated rooms offer comfortable beds, a flat-screen TV with cable channels, a work desk, a telephone, and a minibar. The hotel's ZenZone floor is dedicated to wellness and houses The Spa at Renaissance where guests can indulge in relaxing experiences including reflexology, Reiki, shiatsu, massages, and beauty treatments. Some rooms also feature city views and a seating area adding an extra touch of luxury to the stay. Guests can enjoy the outdoor swimming pool or make use of the well-equipped fitness center and sauna. For dining options, Terraço Jardins Restaurant offers delicious recipes from Brazilian cuisine with influences from both beachside and countryside flavors using fresh ingredients sourced from local producers. Additional amenities provided by the hotel include a meeting room accommodating up to 550 people and the Renaissance Theatre hosting performances on weekends. Conveniently located near high-end shops and renowned restaurants within walking distance,the hotel allows easy access to explore all that São Paulo has to offer including attractions like Ibirapuera Park just 2 km away.Guests traveling by air can reach Guarulhos International Airport which is 30 km away or Congonhas Airport which is only10 km away.
– Impressive architecture with stylish décor
– Convenient location close to popular attractions
– Luxurious rooms with comfortable amenities
– Relaxing spa services offered at The Spa at Renaissance
– Delicious Brazilian cuisine served at Terraço Jardins Restaurant
Blue Tree Premium Faria Lima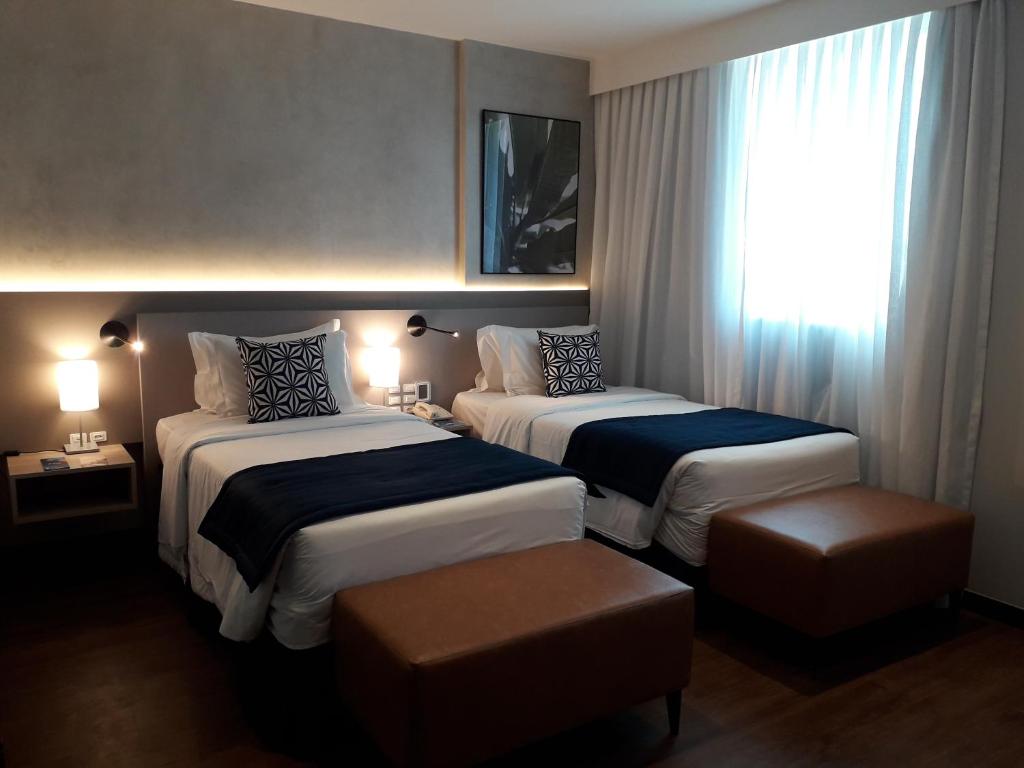 Blue Tree Premium Faria Lima is a luxurious spa hotel located in São Paulo on Faria Lima Avenue, one of the city's main business avenues. With its modern facilities, WiFi, and parking options, this hotel offers convenience for both business and leisure travelers. The hotel features indoor and outdoor pools where guests can relax and take a dip. There is also a well-equipped gym for those who want to stay active during their stay. The rooms are elegantly designed with air conditioning, LCD TVs with cable channels, desks, and minibars. Guests can enjoy a 360-degree view of the city from the property. Dining options include Noah restaurant which serves contemporary international cuisine with 24-hour room service, as well as a lobby bar for drinks and cocktails. In terms of location, Blue Tree Premium is close to popular districts like Itaim Bibi, Vila Olímpia, and Vila Nova Conceição. It is also conveniently located near Congonhas Airport and attractions such as Ibirapuera Park and Paulista Avenue.
– Indoor and outdoor pools for relaxation
– Modern facilities including WiFi and parking
– Conveniently located near major business districts
– Elegant rooms with all necessary amenities
– Stunning 360-degree views of São Paulo from the property
Address São Paulo Faria Lima by Intercity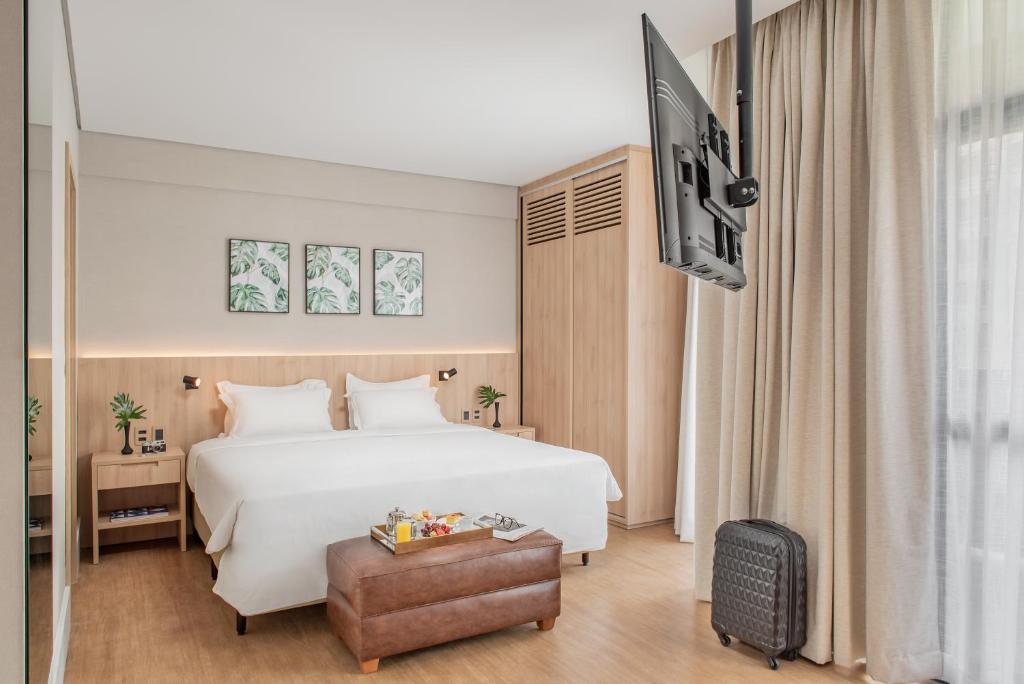 Located just 1 km from São Paulo's Iguatemi Shopping Centre, Address São Paulo Faria Lima by Intercity is a practical and convenient choice for travelers. The hotel offers comfortable rooms with free WiFi, as well as an indoor pool with panoramic city views, sauna, and gym. Each room is bright and airy, featuring amenities such as a flat-screen TV, minibar, and private bathroom. The hotel's restaurant serves a delicious daily breakfast buffet with a variety of fresh fruits, breads, and cold meats. Guests can also indulge in regional and international specialties while enjoying a selection of drinks. With its prime location, the hotel is easily accessible to popular attractions like Ibirapuera Park (4 km), Paulista Avenue (4.5 km), Congonhas Airport (7 km), and even Arena Corinthians (45 km).
Pros:
– Convenient location near shopping centers
– Indoor pool with breathtaking city views
– Free WiFi throughout the hotel
– Fitness facilities including sauna and gym
– Delicious breakfast buffet with regional specialties
Sao Paulo Luxury Spa Hotels
Sao Paulo offers a variety of luxury spa hotels that cater to discerning travelers seeking relaxation and rejuvenation. These upscale properties provide top-notch spa experiences with luxurious treatments, serene environments, and attentive service, ensuring a truly indulgent stay.
INNSiDE by Meliá São Paulo Iguatemi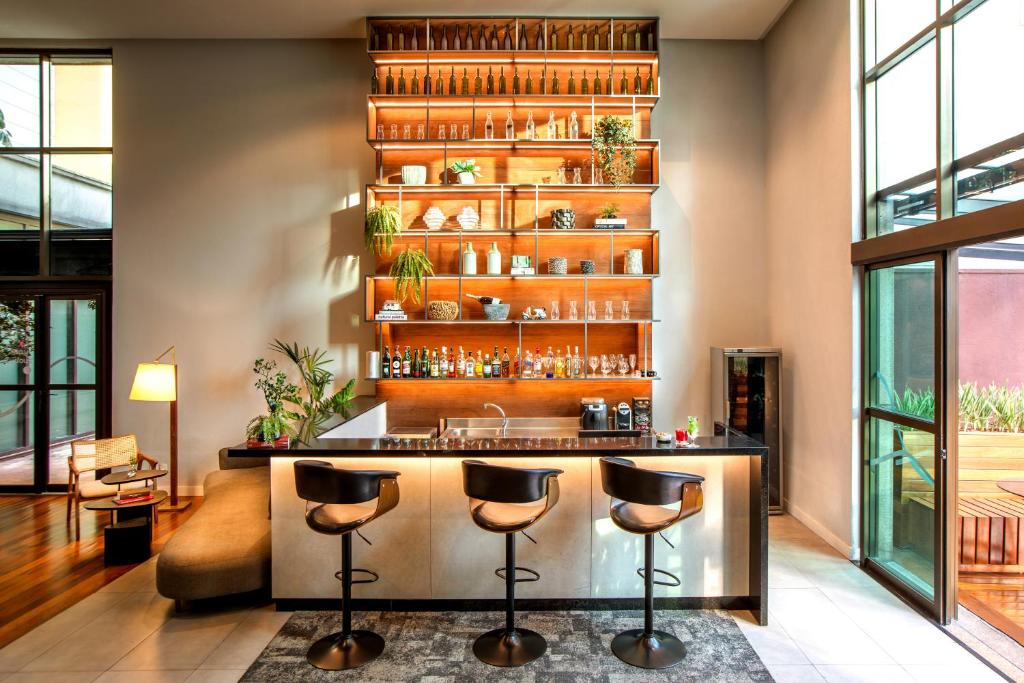 Located in the upscale neighborhood of Itaim-Bibi, INNSiDE by Meliá São Paulo Iguatemi is a luxurious spa hotel offering unparalleled comfort and relaxation. The hotel features an Open Sky pool with stunning city views, a spa offering massages, beauty treatments, and physiotherapy sessions, as well as a fitness center. The spacious rooms are stylishly decorated with contemporary décor and come equipped with amenities such as air conditioning, cable TV, minibar, and free WiFi. Guests can enjoy a 24-hour room service and indulge in a rich buffet breakfast at the restaurant that serves international dishes. In addition to its convenient location near classy bars, restaurants, and shops, the hotel is also close to Brigadeiro Faria Lima Avenue and Iguatemi Shopping Centre. With its exceptional amenities and prime location in São Paulo's vibrant neighborhood, INNSiDE by Meliá São Paulo Iguatemi promises an unforgettable luxury experience.
– Stunning Open Sky pool with city views
– Spa offering massages and beauty treatments
– Spacious rooms with contemporary decor
– Convenient location near shops and restaurants
– Rich buffet breakfast served at the restaurant
L'Hotel PortoBay São Paulo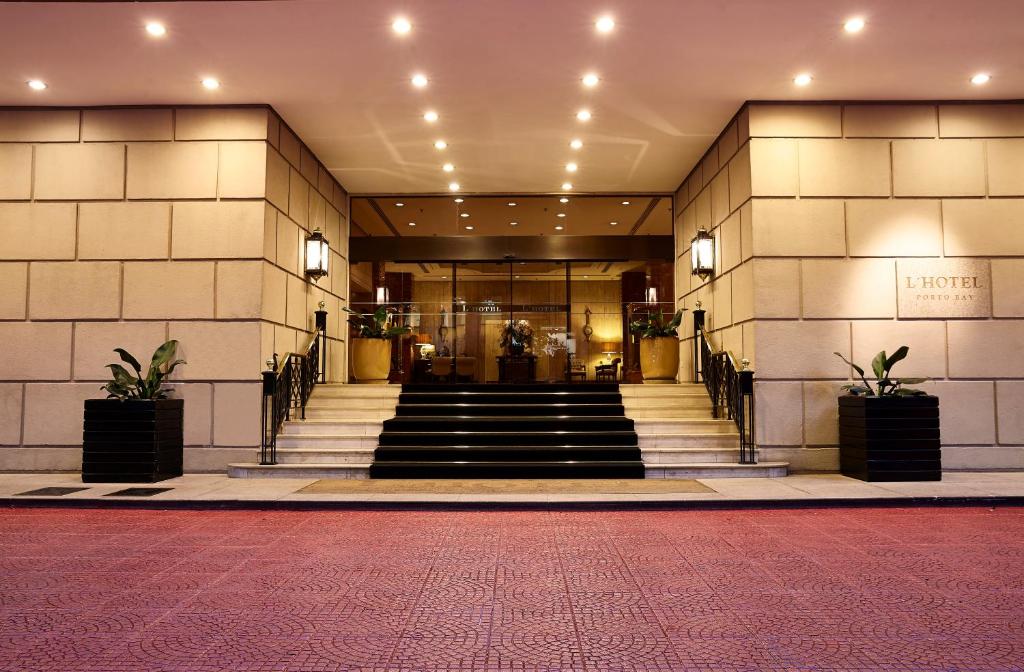 L'Hotel PortoBay São Paulo is a luxury 5-star hotel located in Bela Vista, Sao Paulo, just 100 metres from Trianon-Masp metro station. The hotel offers elegant and spacious rooms with free WiFi, cable TV, work desk and en suite bathroom. Some rooms also feature a comfortable seating area. Guests can indulge in the spa facilities which include massages and an indoor heated swimming pool. The hotel also boasts the Trebbiano Restaurant serving Italian and Mediterranean specialties and the Il Piano Bar offering cocktails and refreshments. Conveniently situated near Paulista Avenue, guests can easily explore nearby restaurants, bars, museums, and stores. Liberdade is 2.5 km away while Congonhas Airport is a short 10 km drive.
– Luxurious accommodation
– Spa facilities for relaxation
– Indoor heated swimming pool
– Fine dining at Trebbiano Restaurant
– Close proximity to attractions on Paulista Avenue
Hotel Emiliano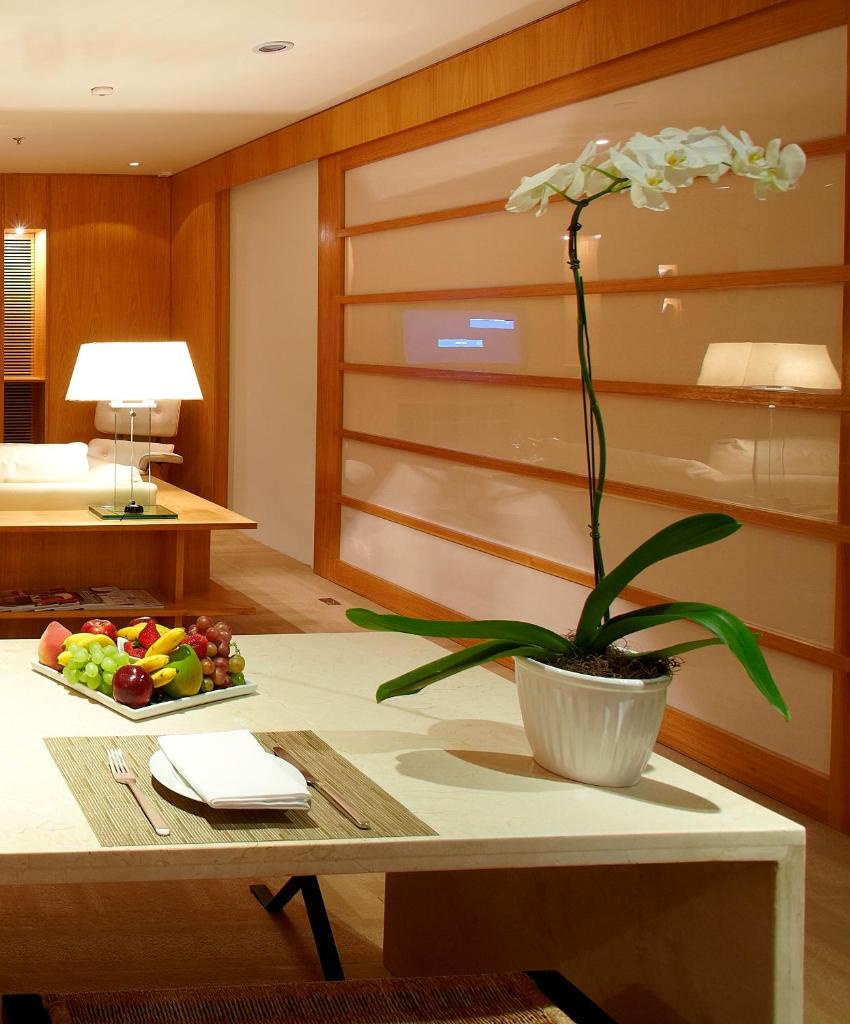 Hotel Emiliano is a stunning design hotel located on São Paulo's fashionable Oscar Freire Street. This luxurious hotel offers an array of exquisite amenities, including its own helipad, a relaxing spa, and a stylish bar serving champagne and caviar. The hotel also features Restaurante Emiliano, where guests can indulge in delicious contemporary Italian cuisine. The rooms at Hotel Emiliano are decorated with elegant and modern touches, featuring light wood furnishings and soothing color palettes. Each room is equipped with air conditioning, free WiFi, an LCD TV, and an iPod docking station for ultimate convenience. The spa at Hotel Emiliano offers a variety of indulgent treatments such as massages and beauty therapies along with sauna facilities and hot tubs. For guests with specific dietary preferences or requirements, personalized menus as well as vegan and gluten-free meals are available upon request. Additionally, the hotel boasts a chic champagne bar and trendy lounge bar complete with DJs and a vertical garden to create the perfect ambiance for relaxation or socializing. Ibirapuera Park is just a 5-minute drive away from Hotel Emiliano while Congonhas Airport can be reached within 20 minutes by car.
– Impressive design hotel located in Sao Paulo's stylish Oscar Freire Street
– Own helipad for convenient arrival
– Luxurious spa offering various massage therapies
– Personalized menus catered to specific dietary preferences
– Chic bars serving champagne and caviar
5 Star Spa Hotels in Sao Paulo
Sao Paulo boasts a selection of luxurious five-star spa hotels that offer guests the ultimate indulgence and relaxation. With a range of world-class treatments and therapies, these hotels provide a serene oasis in the bustling city, allowing visitors to unwind and rejuvenate in style.
JW Marriott Hotel Sao Paulo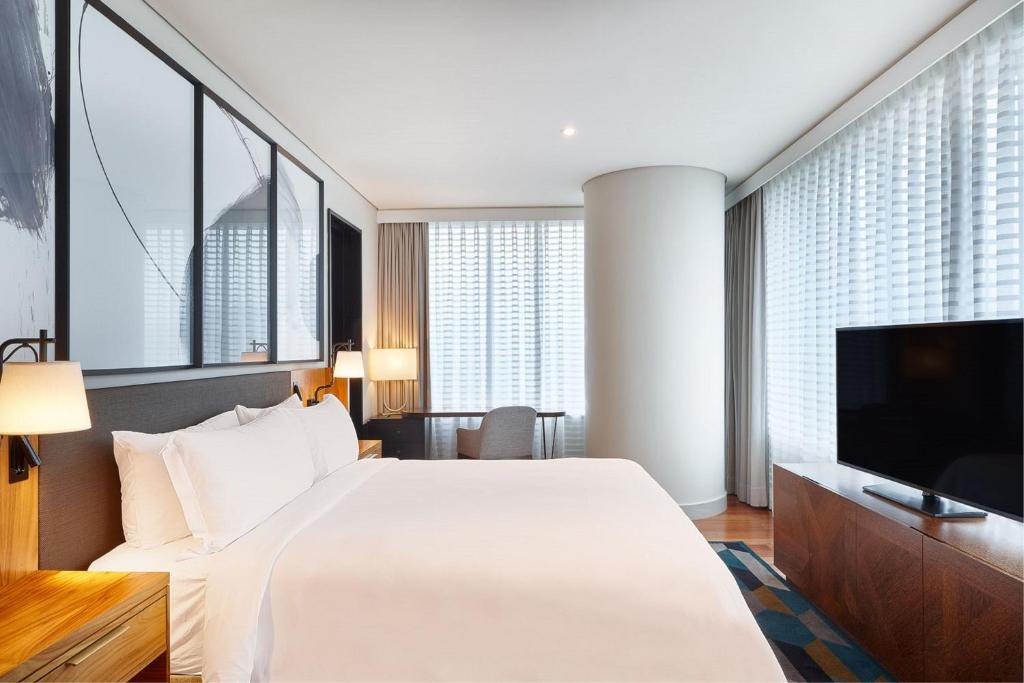 Located in São Paulo, the JW Marriott Hotel São Paulo Unidas is a luxurious 5-star hotel set in a stunning building surrounded by a large landscaped garden designed by Sergio Santana. The hotel offers a range of amenities including a fitness center, concierge service, and luggage storage space. Guests can indulge in traditional Italian cuisine and national ingredients at Restaurante Neto while enjoying breathtaking views of the Estaiada Bridge and the city skyline. The accommodation features beautifully appointed rooms and suites with impeccable design and 5-star perks. Additional services include 24-hour front desk assistance, airport transfers, room service, and free Wi-Fi. Guests can start their day with either continental or buffet breakfast options provided by the hotel. The Bar Caju offers international drinks and classic Brazilian snacks for those seeking refreshment. Relaxation options abound at this hotel with indulgent spa treatments available, as well as access to a modern swimming pool and lounge area, or guests can revitalize themselves at the fitness center. For dining options on-site, Neto Restaurant serves international cuisine while Caju Bar provides after-hours drinks. Additionally, JW Marriott Hotel Sao Paulo boasts sophisticated event spaces that span over 14,681 square meters which are fully customizable to meet any vision for weddings, social events or impressive meetings in São Paulo.
Pros:
– Beautifully designed rooms
– Stunning views of Estaiada Bridge
– Indulgent spa treatments
– Modern swimming pool and lounge area
– Sophisticated event spaces for weddings or meetings
Pestana São Paulo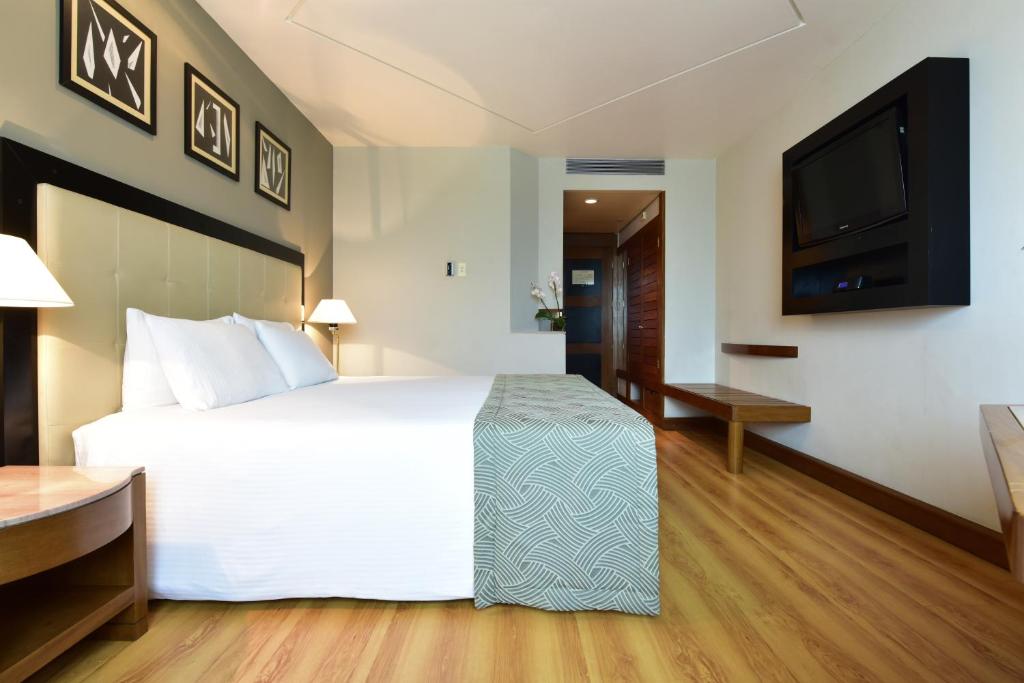 Located just steps away from Paulista Avenue, Pestana São Paulo offers 4-star accommodation in the upscale Jardins neighborhood. The hotel features air-conditioned and soundproofed rooms with a contemporary décor, comfortable beds, and private bathrooms with selected amenities. Each room is equipped with cable TV, a minibar, a work desk, and WiFi. Guests can indulge in fresh traditional and international dishes at the Cais da Ribeira restaurant or enjoy drinks until late evening at the Bar Brahma located in the lobby. With excellent transport connections less than 500 meters away from Brigadeiro metro station, guests have easy access to explore the city. Parque Ibirapuera and its cultural sights are just 1km away from the property while Congonhas Airport is 9 km away and Guarulhos International Airport is located 30 km from the hotel.
– Convenient location near Paulista Avenue
– Contemporary decor in rooms
– On-site restaurant serving traditional and international cuisine
– Lobby bar offering drinks until late evening
– Excellent transport connections
Grand Mercure Sao Paulo Vila Olimpia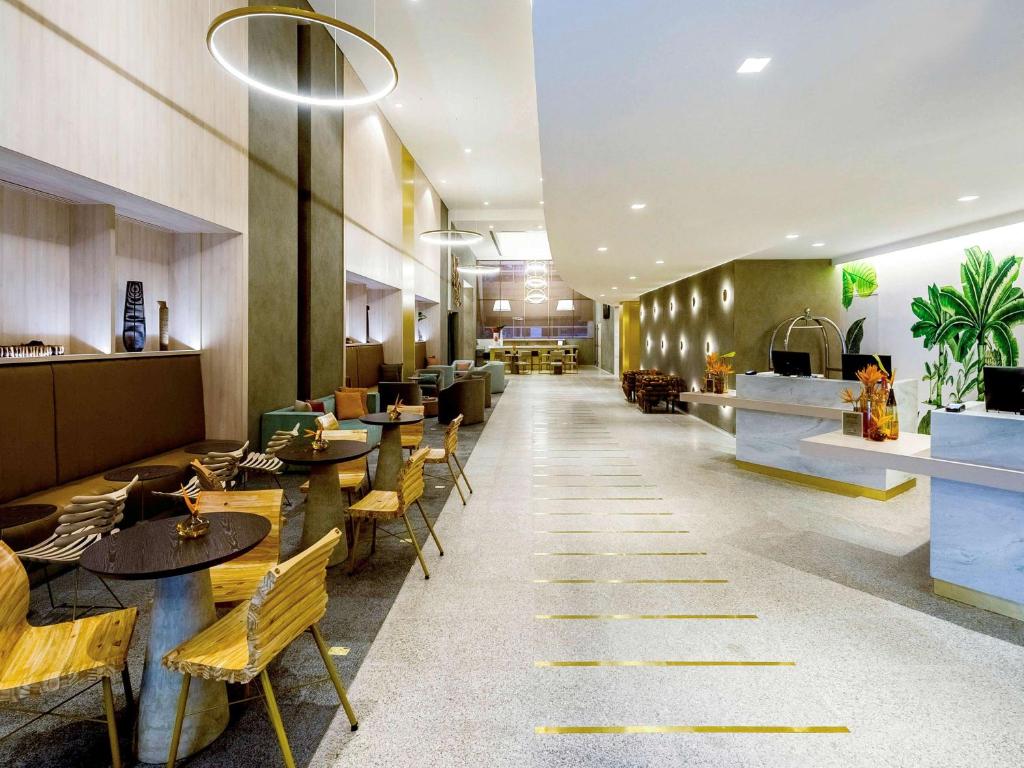 The Grand Mercure Sao Paulo Vila Olimpia is a luxurious hotel located in the thriving business district of Vila Olímpia. Perfect for business travelers, the hotel offers comfortable rooms and a multitude of facilities designed for conventions and other events. With large meeting rooms, multimedia equipment, and professional assistance, the hotel ensures that your business needs are met seamlessly. Additionally, guests can indulge in a delicious breakfast and international dishes at the on-site restaurant. For relaxation, there's a casual atmosphere where you can enjoy snacks and drinks. The hotel is conveniently located near Cidade Jardim Shopping Mall and Ibirapuera Park. Congonhas Airport is just 5.2 km away, while Guarulhos International Airport is 36 km away.
– Convenient location in the rising business district of Vila Olímpia
– Impressive range of facilities for conventions and events
– Delicious breakfast and international dishes at the on-site restaurant
– Casual atmosphere for snacks and drinks
– Close proximity to popular shopping mall and park
Sao Paulo Spa Hotels Information
| | |
| --- | --- |
| 🛎️ Spa Hotels in Sao Paulo | 9 |
| 💵 Hotels Prices From | $119 |
| 💵 Highest price | $855 |
| 🥇 Average Review Score | 8.6/10 |
| 🛏️ Average number of Rooms | 196 |
Top SPA hotels in Sao Paulo
| | |
| --- | --- |
| JW Marriott Hotel Sao Paulo | 9.3/10 |
| Hotel Emiliano | 9.2/10 |
| Grand Mercure Sao Paulo Vila Olimpia | 9/10 |
| Renaissance São Paulo Hotel | 8.8/10 |
| L'Hotel PortoBay São Paulo | 8.8/10 |
FAQ
1. What are some of the most luxurious spa hotels in Sao Paulo?
Sao Paulo is home to several world-class luxury spa hotels that offer unparalleled relaxation and rejuvenation experiences. One of the top choices is the Tivoli Mofarrej São Paulo Hotel, which boasts a lavish spa with an array of treatments and therapies designed to pamper and revitalize guests. Another popular option is the Unique Garden Hotel & Spa, located just outside the city center amidst lush gardens, providing a tranquil oasis for guests seeking ultimate serenity.
2. Are there any spa hotels in Sao Paulo that cater to a holistic wellness approach?
Yes, Sao Paulo offers a range of spa hotels that prioritize holistic wellness and well-being. The Palácio Tangará is one such establishment that embraces holistic healing practices through its exceptional spa facilities. Guests can indulge in traditional therapies as well as alternative treatments like Ayurveda and energy healing sessions, ensuring a comprehensive approach to rejuvenation.
3. What amenities can I expect at a luxury spa hotel in Sao Paulo?
Luxury spa hotels in Sao Paulo typically offer an extensive range of amenities aimed at providing guests with utmost comfort and relaxation. These may include state-of-the-art fitness centers, swimming pools, sauna rooms, steam baths, Jacuzzis, outdoor terraces for lounging or yoga sessions, beauty salons offering various grooming services, and exquisite dining options serving healthy cuisine prepared using locally sourced ingredients.
4. How can I make reservations for spa treatments at these luxury properties?
Reservations for spa treatments at luxury properties can generally be made by contacting the hotel directly via phone or email. Many establishments also provide online booking platforms on their websites where guests can easily select their preferred treatment options along with specific dates and times.
5. Are there any affordable yet quality-oriented spa hotels in Sao Paulo?
Certainly! While Sao Paulo has numerous high-end luxury spa hotels, there are also some options that offer quality treatments at more affordable rates. The L'Hotel PortoBay São Paulo is a fantastic choice for travelers seeking a balance between luxury and affordability. This hotel features a well-equipped spa offering various massage therapies, facials, and body treatments at reasonable prices, without compromising on the overall experience or service standards.
Popular Spa Hotels destinations