Welcome to Reykjavík, the capital city of Iceland! If you're planning a relaxing vacation, then you must know that Reykjavík is among the best destinations for spa hotels. From hot springs to thermal pools and geothermal spas, there are endless options for unwinding in this picturesque location.
With its breathtaking landscapes and natural beauty, Iceland is known for its rejuvenating properties. A visit to one of the many spa hotels in Reykjavík will give you access to some of the finest treatments using organic ingredients like seaweed and minerals sourced from nearby geothermal fields. Whether it's soaking in a hot tub under the Northern Lights or enjoying a deep tissue massage with volcanic ash oil, these spa hotels offer an indulgent experience that will leave your mind and body feeling renewed.
From five-star luxury retreats to cozy boutique hotels, Reykjavík boasts an impressive array of spa accommodations. Take advantage of unique services like ice baths or outdoor saunas that overlook stunning waterfalls. Whatever your preference may be, a stay at one of these top-rated spas will definitely make your trip unforgettable!
Reykjavík Most Relaxing Spa Resorts and Hotels
Hótel Reykjavík Grand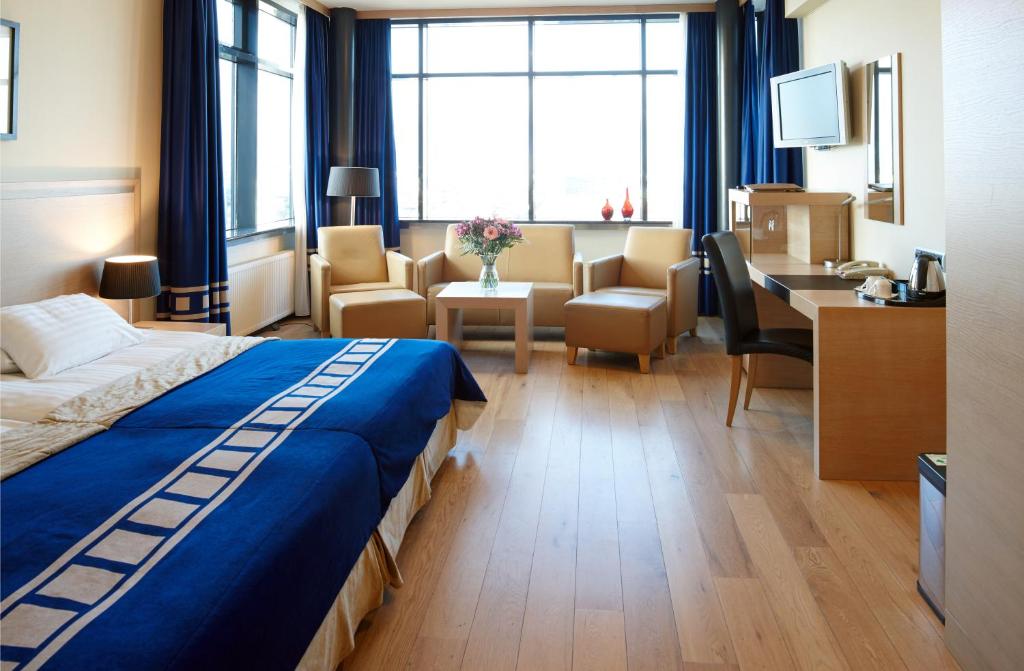 The Hótel Reykjavík Grand is a stylish hotel located just 2 km from Reykjavik city centre. It offers guests a range of luxurious amenities, including a wellness spa, bar, restaurant and free gym access. Guests can also take advantage of the free WiFi and parking available onsite. The hotel's spa offers a variety of treatments for an added fee, such as massages, facials and pedicures. Each spacious room boasts modern amenities like flat-screen TVs, tea/coffee facilities and small fridges. Enjoy stunning views of the sea, mountains or city from your room as well. Staff are knowledgeable about nearby attractions like the Perlan dome with its popular viewing deck. Dine at the Grand Brasserie Restaurant to enjoy delicious Icelandic and Nordic dishes.
– Excellent location near downtown Reykjavik
– Luxurious wellness spa offering various treatments
– Spacious rooms with modern amenities including free WiFi
– Knowledgeable staff who can recommend local attractions
– Delicious dining options at Grand Brasserie Restaurant
Hilton Reykjavik Nordica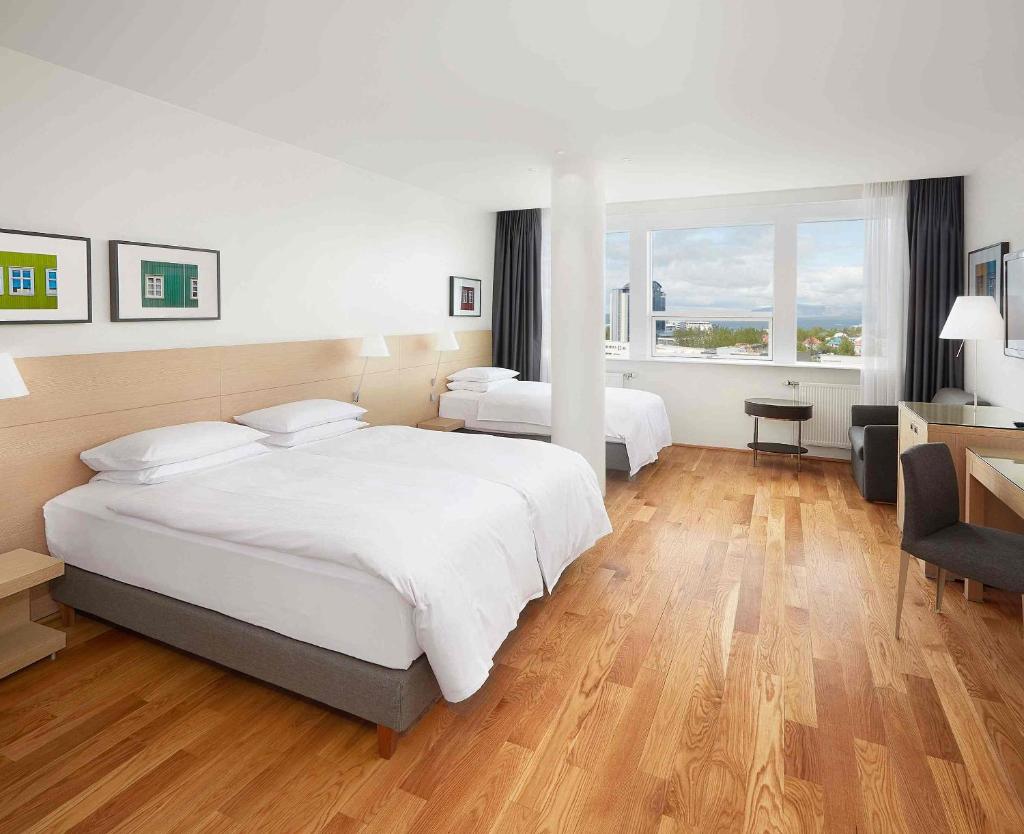 Located in Reykjavik's business district, the Hilton Reykjavik Nordica is a luxurious 5-star hotel that boasts a gourmet restaurant and knowledgeable staff who are always ready to assist guests. The hotel's bright and tastefully decorated rooms come with wooden floors, tea/coffee making facilities, and flat-screen TVs. Guests can take advantage of the spa facilities for a fee including two spa baths, an outdoor hot tub, a relaxation pool, two aroma steam rooms and a sauna. Additionally, many rooms offer stunning views of the Akrafjall and Esja Mountains or Faxaflói Bay.
Pros:
– The gourmet Vox Restaurant serves delicious Icelandic and Scandinavian cuisine.
– Access to the top floor executive lounge offers breathtaking views over Reykjavik.
– Guests have access to free gym facilities along with exercise and yoga classes.
– Helpful staff who are always willing to go above & beyond
– A popular breakfast buffet is available for all guests.
Exeter Hotel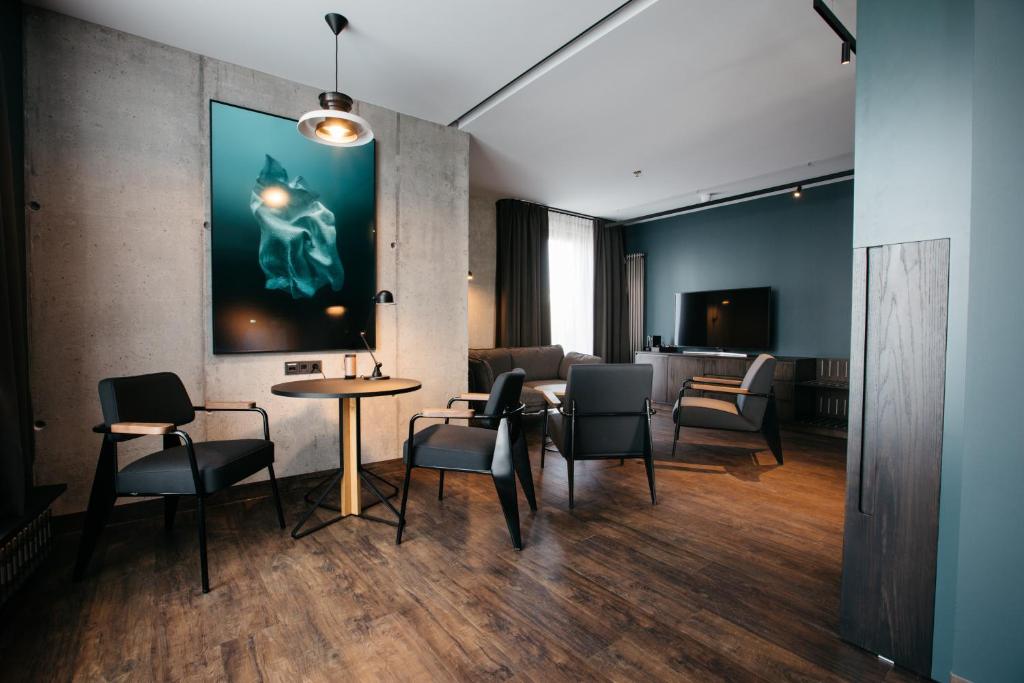 Exeter Hotel is a chic boutique hotel located in Reykjavík's Old Harbour area, just 500 metres away from the Harpa Concert Hall & Conference Centre. The sleek and modern design of this hotel is impressive, featuring industrial decor and modern furnishings with wooden floors. Each room has smart facilities such as TV, Nespresso coffee machine, and refrigerator. Guests can enjoy free WiFi throughout the property along with an onsite restaurant and bakery. Additionally, Exeter Hotel boasts a sauna and fitness room to keep guests relaxed throughout their stay. Other key features include tour assistance by the staff who help organise various activities for guests to indulge in during their vacation. Notable landmarks near the hotel are Solfar Sun Voyager and Hallgrímskirkja Church both within 1 km distance along with Settlement Exhibition, Laugavegur shopping street, and National Gallery of Iceland all being popular tourist spots.
– Free WiFi
– Onsite restaurant and bakery
– Sauna & Fitness room
– Tour assistance available by staff
– Prime location near popular attractions
Other places to stay in Reykjavík
Reykjavík Luxury Spa Hotels
Reykjavík Luxury Spa Hotels offer a serene escape with stunning views and indulgent spa treatments. These hotels are perfect for couples or solo travelers seeking a luxurious and rejuvenating experience.
101 Hotel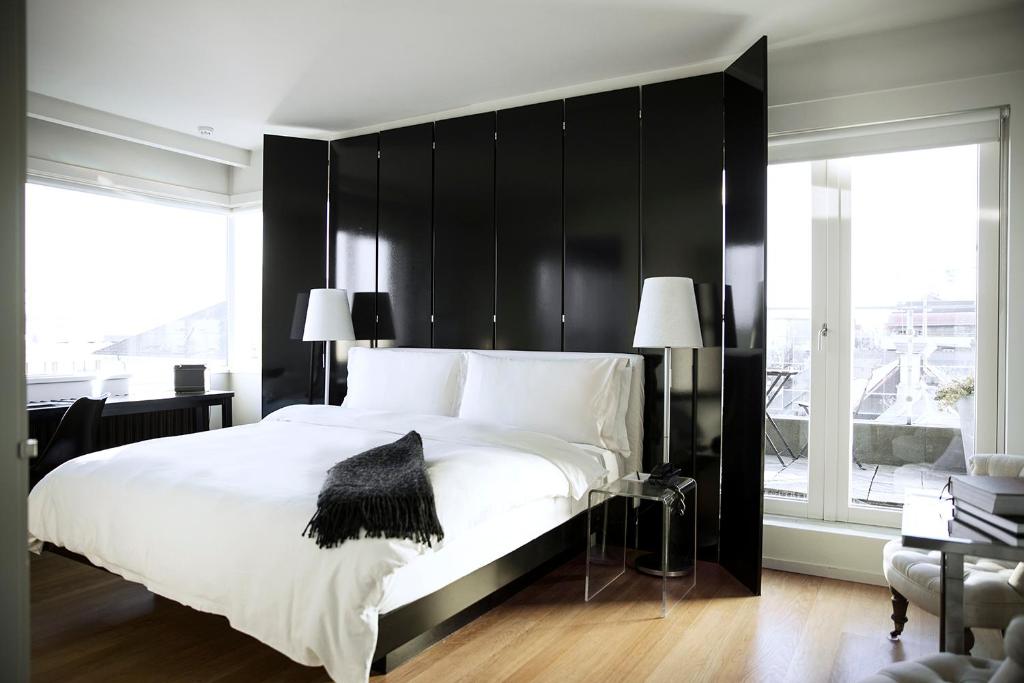 Located in central Reykjavik, next to the Icelandic Opera House, the 101 Hotel offers modern and sleek accommodation with free Wi-Fi. The hotel features a fitness centre and spa facilities for guests to enjoy. Every guest room is styled in contemporary design with black and white interiors, equipped with minibar, satellite TV, CD/DVD player and a Bang & Olufsen Beoplay speaker. Guests can dine at the on-site restaurant which serves traditional Icelandic and international cuisine or grab an after-dinner drink at the trendy bar. With Laugavegur just around the corner from the hotel, guests have easy access to various restaurants, cafés and shops.
– Stylish restaurant serving traditional Icelandic cuisine
– Trendy bar for after-dinner drinks
– Fitness centre and spa facilities available
– Walking distance from many cafes, restaurants and shops
– Contemporary design featured in every guest room
The Reykjavik EDITION
The Reykjavik EDITION is a luxurious 5-star hotel located in the heart of Reykjavík, which opened its doors in October 2021. The hotel features meticulously designed non-smoking rooms with advanced amenities, free Wi-Fi throughout the premises, as well as a restaurant and bar where guests can indulge in exquisite culinary delights. In addition, the hotel offers exceptional concierge services to help plan memorable experiences for guests during their stay. For those looking to relax and unwind, The Reykjavik EDITION boasts an impressive spa and wellness center that includes a fitness center, sauna, hot tub, and hammam. Guests can also enjoy stunning views of the city from certain units that come with private bathrooms outfitted with showers and free toiletries. Other nearby popular points of interest include Hallgrímskirkja Church and Harpa Concert Hall & Conference Centre.
Pros:
– Luxurious 5-star accommodation
– Central location close to popular tourist spots
– High-end facilities such as spa and wellness center
– Exceptional concierge services
– Stunning city views from some units
Center Hotels Arnarhvoll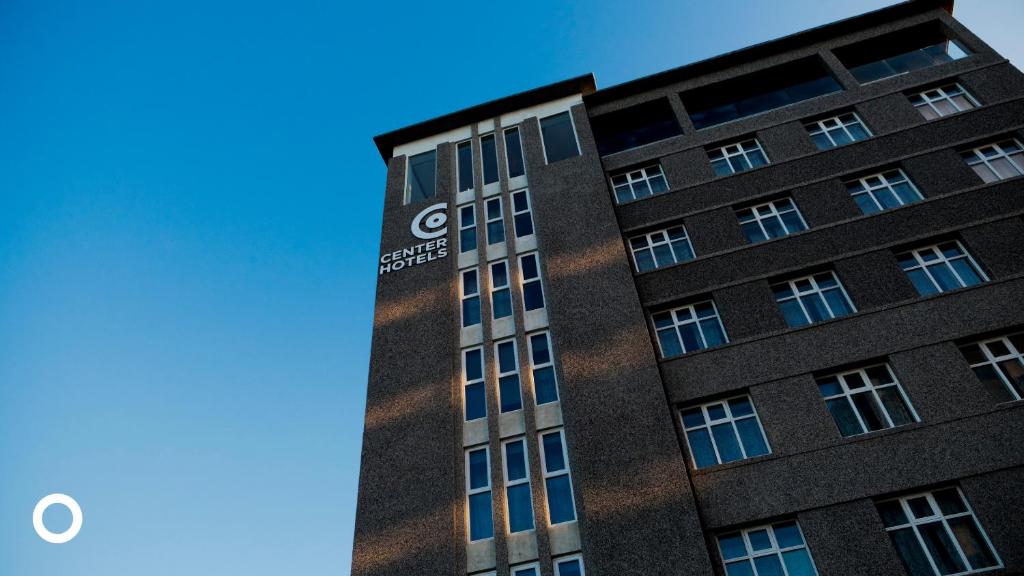 The Center Hotels Arnarhvoll is a modern and stylish hotel located in the heart of Reykjavik, directly across from The Harpa concert hall. The hotel offers contemporary Nordic design and all rooms include free wired internet access, flat-screen TVs, tea/coffee facilities and minibars. Guests can enjoy discounted meals, drinks and snacks at the top-floor SKÝ Restaurant & Bar which offers panoramic views of the city. Leisure facilities include a hot tub and sauna for ultimate relaxation. With Laugavegur – the main shopping street – just around the corner, guests can easily explore all that Reykjavik has to offer. Additionally, whale watching tours with Life of Whales depart just 600 meters away from the hotel.
Pros:
– Modern and stylish interior design
– Free wired internet access in every room
– Panoramic views of Reykjavik from SKÝ Restaurant & Bar
– Relaxation facilities including hot tub and sauna
– Convenient location near popular attractions such as shopping on Laugavegur
5 Star Spa Hotels in Reykjavík
Reykjavík has a great selection of 5-star spa hotels that offer luxury accommodation and top-notch spa facilities. Guests can indulge in various treatments, such as massages, facials, saunas, and hot tubs while enjoying stunning views of the city. These hotels are perfect for those who want to relax and unwind in style.
Iceland Parliament Hotel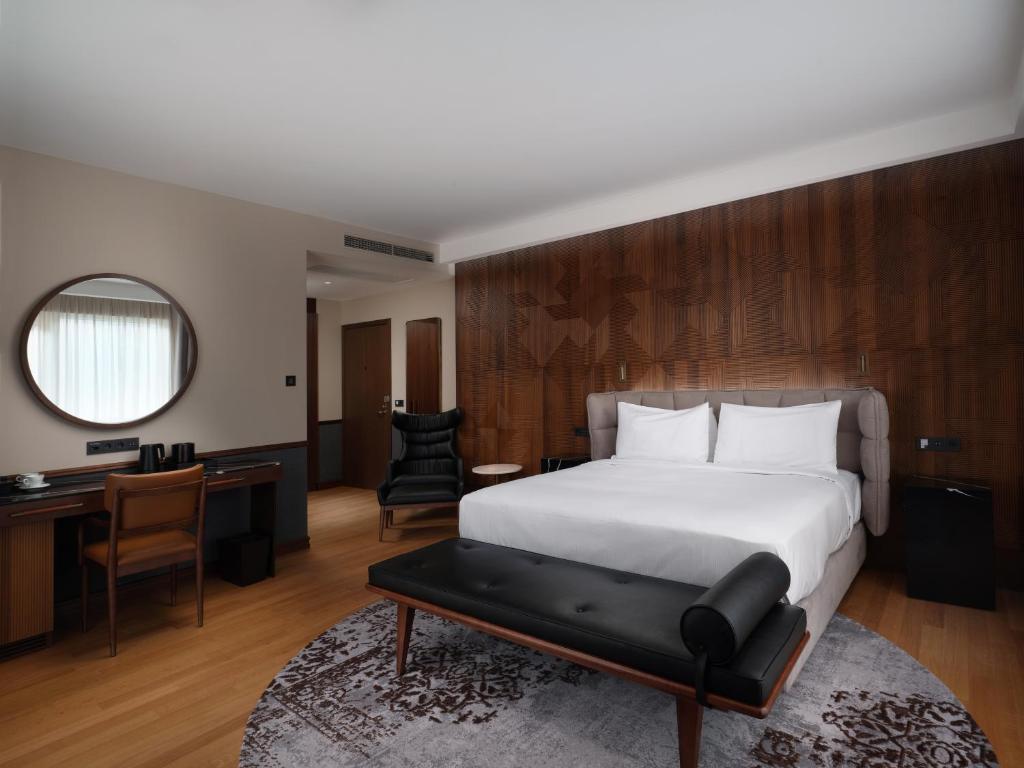 The newly opened Iceland Parliament Hotel, Curio Collection By Hilton in Reykjavík offers guests a luxurious 4-star stay with exceptional amenities. Guests can take advantage of the fitness center, shared lounge, and restaurant and bar on-site. The hotel also features an ATM and concierge service for added convenience. Each unit is equipped with air conditioning, a flat-screen TV with cable channels, minibar, coffee machine, shower, free toiletries and desk. Rooms also offer private bathrooms with hairdryer and bed linen. Buffet breakfast is included for guests to start their day off right. The location of this hotel is ideal for exploring popular attractions such as Hallgrímskirkja Church, Solfar Sun Voyager and Reykjavik Old Harbour.
Pros:
– Newly opened in November 2022
– Luxurious 4-star accommodations
– On-site fitness center and restaurant/bar
– Convenient location near popular attractions
Reykjavík Spa Hotels Information
| | |
| --- | --- |
| 🛎️ Spa Hotels in Reykjavík | 7 |
| 💵 Hotels Prices From | $225 |
| 💵 Highest price | $804 |
| 🥇 Average Review Score | 8.4/10 |
| 🛏️ Average number of Rooms | 175 |
Top SPA hotels in Reykjavík
| | |
| --- | --- |
| Iceland Parliament Hotel | 9.3/10 |
| The Reykjavik EDITION | 9.1/10 |
| Exeter Hotel | 8.8/10 |
| Hótel Reykjavík Grand | 8.3/10 |
| Hilton Reykjavik Nordica | 8.1/10 |
FAQ
What are some popular spa hotels in Reykjavík?
Reykjavik has many luxurious spa hotels. Some popular options include the Blue Lagoon Iceland, Ion Adventure Hotel, and the Retreat at Blue Lagoon. These hotels offer a range of spa amenities from geothermal pools to steam rooms, saunas to massages. Whether you're looking for a quick day trip or an extended staycation, there's a spa hotel in Reykjavik that can cater to your every need.
What is the average price range for staying at these luxury spa hotels in Reykjavík?
The average price for a luxury spa hotel room in Reykjavik can vary depending on the time of year and location. However, typically prices can range from $300 to $1000 per night for standard rooms and upwards of $1500+ per night for suites with extra amenities such as private hot tubs or balconies. It's best to check with each individual hotel directly to get an accurate quote based on your travel dates and preferences.
Are there any family-friendly spa hotels in Reykjavík?
Yes, there are family-friendly spas available within several luxury hotels located around the city center area that have kid-friendly facilities like playgrounds and swimming pools/water slides specifically designed for kids entertainment purposes such as Fosshotel Reykjavík (located right next to Laugardalur park). Other options include Hilton Canopy Hotel which offers babysitting services upon request as well as babysitter referral list from their concierge desk – so parents can relax while their children are being taken care of by professionals.
Do I need my own swimwear when visiting Spa Hotels in Iceland?
Most spas require that you bring your own bathing suits although they may rent them out at an additional fee if needed. The same goes with towels where most guests will be given one free towel for use while visiting the spa. In some cases, there is a dress code as well so be sure to check with each individual hotel before arriving to ensure that you're prepared and comfortable.
What are some other activities or attractions nearby these Spa hotels in Reykjavík?
Aside from the on-site luxury spas, there are many other activities and attractions located near the luxury hotels in Reykjavik. These include things like whale watching tours, helicopter tours over the city and surrounding landscape, horseback riding excursions through nearby valleys or mountains. Additionally, there are many art galleries, museums and restaurants within walking distance of most major hotels where you can explore Icelandic culture at your own pace.
Popular Spa Hotels destinations