Welcome to the enchanting village of Pertisau, nestled in the heart of Austria's mesmerizing Tyrolean region. Immerse yourself in a world of ultimate relaxation and indulgence as we explore some of the finest wellness retreats that this picturesque destination has to offer. Known for its breathtaking Alpine scenery and serene atmosphere, Pertisau is truly a haven for those seeking tranquility and rejuvenation.
Prepare to embark on a journey that will revitalize your senses at these blissful spa sanctuaries. Discover luxurious havens that will pamper you from head to toe, with opulent treatments inspired by ancient healing traditions. Unwind in thermal pools filled with mineral-rich waters or surrender yourself to skilled therapists who will melt away your stress with soothing massages and holistic therapies.
Embrace the harmonious blend of nature and luxury as you unwind amidst the majestic mountainscape. Indulge in exquisite dining experiences that tantalize your taste buds with locally sourced ingredients, promoting both wellness and sustainability. Whether you seek an intimate escape or a romantic retreat, Pertisau's spa hotels offer an idyllic setting where you can rejuvenate your body, mind, and soul.
So pack your bags and prepare to immerse yourself in pure bliss as we delve into the world of Spa Hotels in Pertisau, Austria – where serenity meets sophistication!
Pertisau Most Relaxing Spa Resorts and Hotels
Hotel Central – das kleine Boutique Hotel am Achensee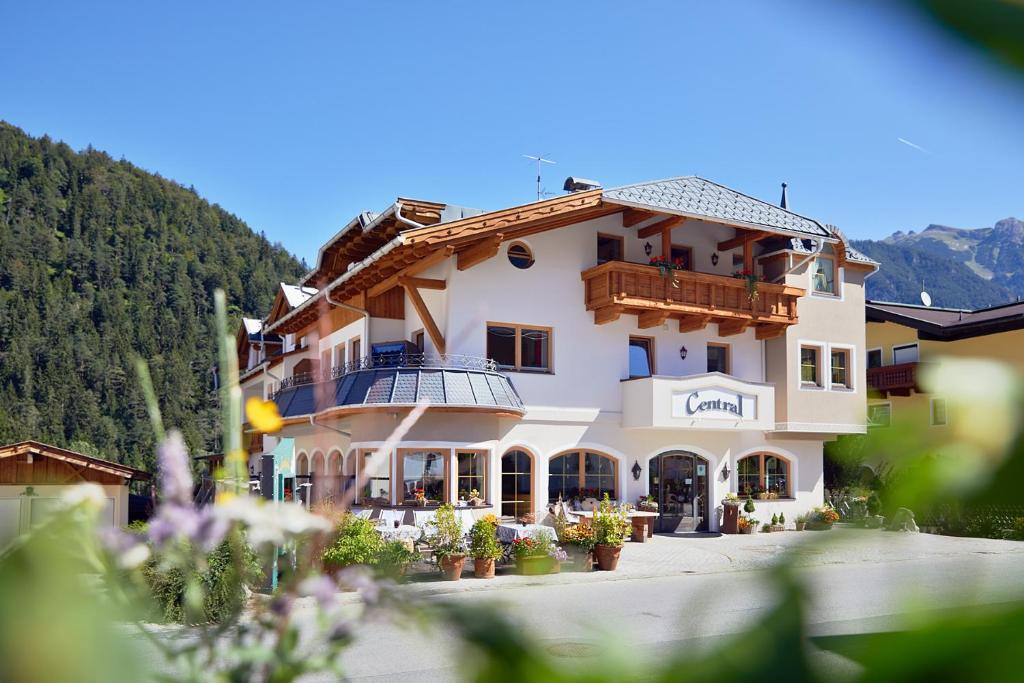 Hotel Central – das kleine Boutique Hotel am Achensee is a charming hotel located in the heart of Pertisau, just a 5-minute walk from the picturesque Lake Achen. The hotel boasts a spa area with luxurious amenities including a sauna, steam bath, sun bed, hot tub, and hydrojet massage. Guests can indulge in delicious cuisine at the on-site restaurant which has been awarded the Grüne Haube for its commitment to using organic, sustainable, regional and seasonal ingredients. The hotel also offers a half-board option and a breakfast buffet featuring delectable regional products. Free WiFi access is available throughout the entire property. For outdoor enthusiasts, there is a cross-country ski run right next to the hotel and guests can take advantage of discounted green fees for the nearby Achensee Golf Course. Additionally, bikes are available for rent (surcharge applies) to explore the beautiful surroundings.
Pros:
– Convenient central location in Pertisau
– Luxurious spa area with various amenities
– Award-winning restaurant offering organic and regional cuisine
– Free WiFi access throughout the entire property
Neuhaus Zillertal Resort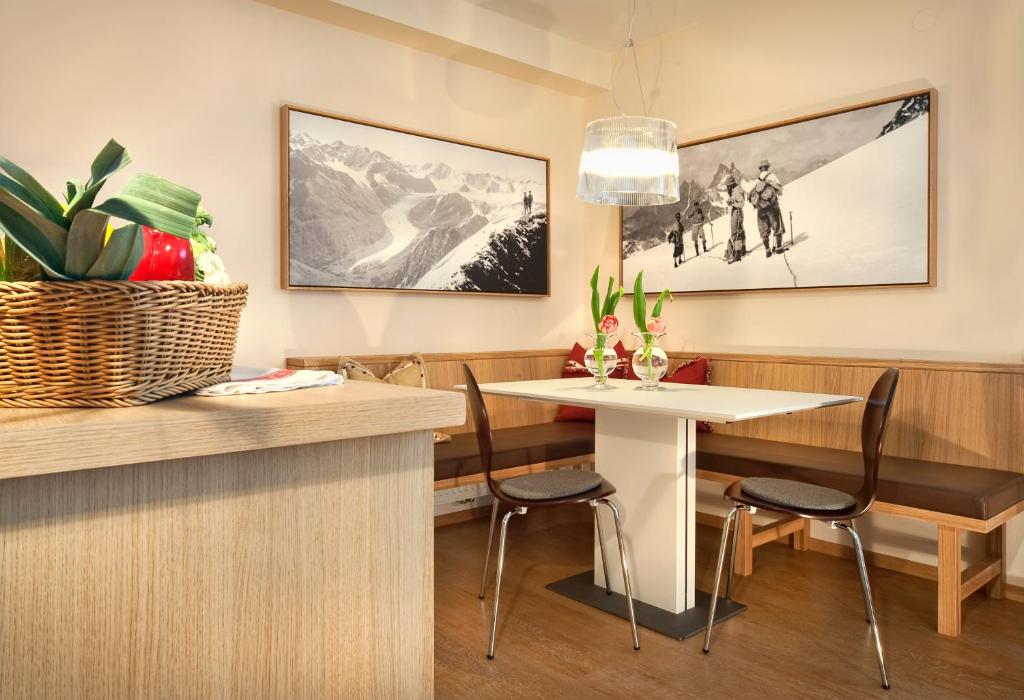 Nestled in the heart of Mayrhofen, the Neuhaus Zillertal Resort is a luxurious spa hotel that provides guests with a tranquil escape in the picturesque Ziller Valley. The hotel boasts an extensive spa area, a well-stocked wine cellar, and convenient free parking. Additional amenities include a small cinema, bowling alleys, and a billiards table on-site. Guests can indulge in half-board options featuring a sumptuous breakfast buffet and a delectable 4-course à la carte dinner accompanied by salad buffets and an array of tempting desserts. Dietary preferences are catered to upon request by the attentive staff at Neuhaus. Each room offers modern comforts such as private bathrooms, cable TV, and comfortable seating areas. Bathrobes are also provided for added relaxation. Most rooms boast balconies offering breathtaking mountain views. Visitors seeking restorative activities can enjoy hot tubs or steam baths at the resort or partake in guided hikes, Nordic walking sessions, or yoga classes organized by the hotel's team. The surrounding area presents numerous opportunities for outdoor enthusiasts with its multitude of mountain biking and hiking trails nearby. For winter sports enthusiasts, accessing the Zillertal 3000 ski area is effortless as the complimentary ski bus conveniently stops just steps away from Neuhaus Zillertal Resort.
– Extensive spa area
– Well-stocked wine cellar
– Convenient free parking
– Breathtaking mountain views from most rooms
– Complimentary ski bus to Zillertal 3000 ski area
Hotel Berghof Mayrhofen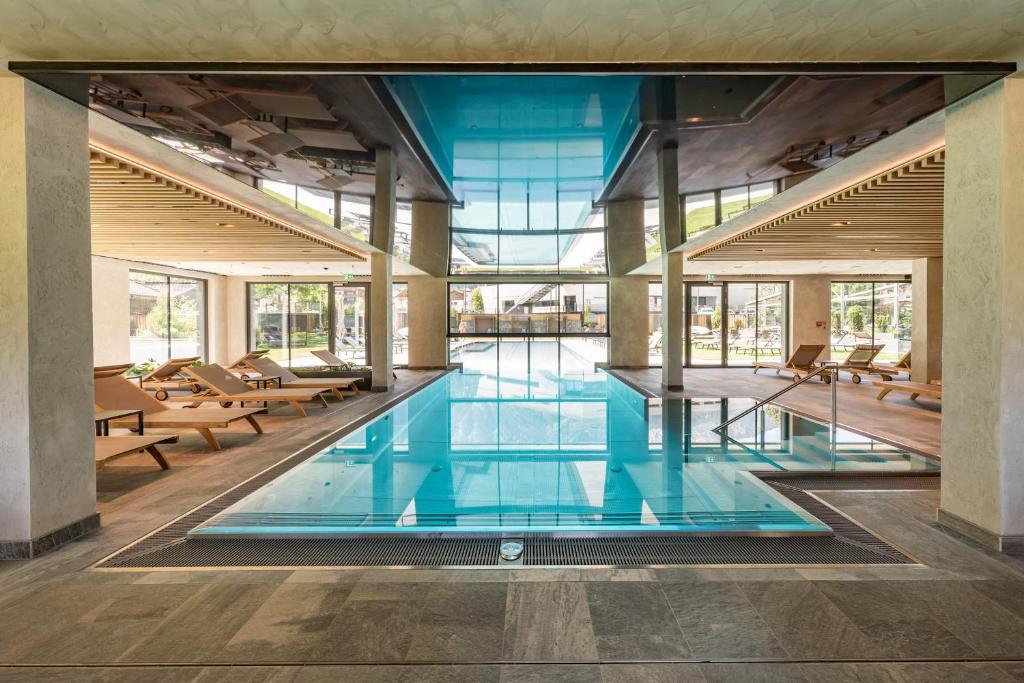 Hotel Berghof Mayrhofen is a luxury spa hotel located in the heart of Mayrhofen. The hotel boasts a large new Garden Spa, complete with an indoor and outdoor pool, kids pool, non-nude sauna, and relaxation zones. For adults looking for some quiet time, there is also a separate sauna area with Finnish saunas, steam baths, cozy chill areas, and herb saunas. The rooms and suites are elegantly furnished with solid wooden furniture and feature balconies or terraces. Guests can enjoy amenities such as satellite TV, fitness facilities, squash and tennis courts. In the summer months, bicycles are available for guests to borrow free of charge. The hotel also offers massages for those looking to relax further. Families will appreciate the in- and outdoor playgrounds where children can have fun. Dining at Hotel Berghof Mayrhofen is a treat as well; guests can savor typical Tyrolean specialties and international cuisine in the Alpine-style restaurant while enjoying live music on the garden terrace during summer evenings. With its convenient location only 40 km from Innsbruck Airport, Hotel Berghof Mayrhofen offers both relaxation and convenience for a memorable stay.
– Large new Garden Spa with pools
– Separate adult-only sauna area
– Elegantly furnished rooms with balconies/terraces
– Fitness facilities & sports courts available
– Free bicycle rental in summer
Pertisau Luxury Spa Hotels
Pertisau in Austria boasts a selection of luxury spa hotels that offer an indulgent retreat for seekers of relaxation and rejuvenation. With world-class facilities and serene surroundings, guests can expect a truly pampering experience amidst the breathtaking natural beauty of the region.
Hotel Christina – Ihr kleinstes 4* Hotel am Achensee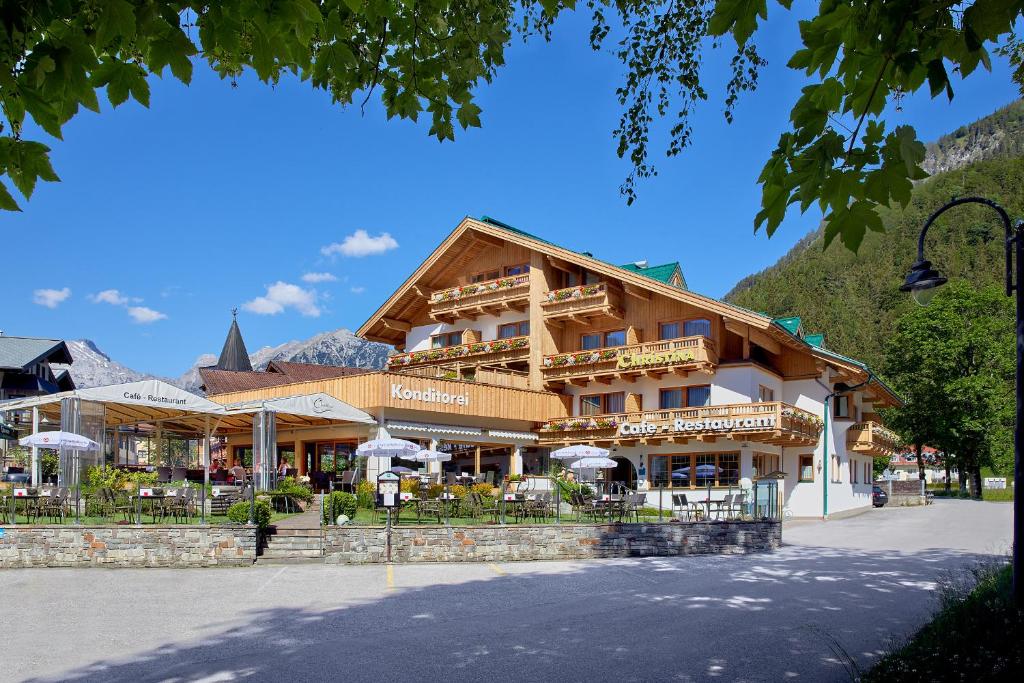 Hotel Christina – Ihr kleinstes 4* Hotel am Achensee is a modern and luxurious spa hotel located in Pertisau, overlooking the stunning Lake Achen and surrounded by the picturesque Karwendel Mountains. The hotel offers comfortable rooms with free WiFi and parking, as well as a small spa area for guests to relax in. The spacious apartment features two bedrooms, a kitchen, a large living area, and three balconies with breathtaking views. It can also be extended to accommodate larger groups of up to 8 people. The rooms are stylishly decorated with parquet flooring, a seating area, refrigerator, and a bathroom complete with bathrobes and hairdryer. Most rooms also come with a balcony offering scenic lake views. The spa area includes facilities such as a Finnish sauna, herbal steam bath, infrared cabin, and relaxation room where guests can unwind after an exciting day exploring the surrounding nature. Additionally, massages are available for those seeking ultimate relaxation. For outdoor enthusiasts, the hotel provides complimentary rucksacks and hiking/Nordic walking sticks to fully enjoy the beautiful surroundings. E-bikes can also be rented on-site for further exploration options. Indulge your taste buds at the hotel's restaurant which serves delicious Tyrolean and international cuisine while their in-house pastry shop offers homemade delights that you wouldn't want to miss out on! From May to October guests can enjoy either complimentary hot soup or cake in the afternoon as an extra treat. Golf enthusiasts will appreciate the 20% green fee discount they receive at Pertisau golf course upon staying at this exclusive 4-star retreat; golf cars are available on-site but subject to availability and surcharge.
Short Pros:
– Stunning location overlooking Lake Achen and surrounded by Karwendel Mountains.
– Modern rooms equipped with all necessary amenities.
– Small yet inviting spa area featuring various wellness facilities.
– Complimentary rucksacks/hiking & Nordic walking sticks provided, as well as e-bike rentals.
– Delicious Tyrolean cuisine and homemade treats available at the in-house restaurant and pastry shop.
Seehotel Einwaller – adults only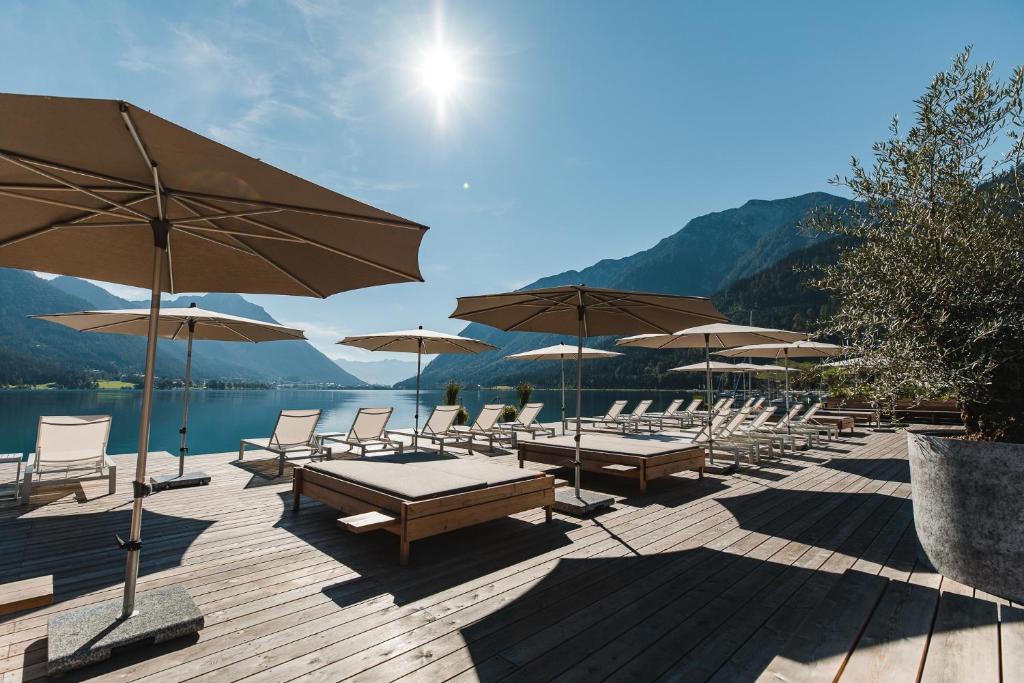 Seehotel Einwaller – adults only is a luxurious spa hotel situated on the shores of Lake Achen, surrounded by the stunning Karwendel mountains in Pertisau. The hotel offers guests an exquisite dining experience with authentic Tyrolean cuisine and boasts exceptional wellness facilities including a sauna and steam bath. One of the highlights of this hotel is the rooftop spa, which provides breathtaking views for all guests. With free Wi-Fi available throughout the property, guests can relax in their rooms featuring balconies or terraces, some even offering panoramic mountain views from a bathtub next to a large window. Each room is equipped with modern amenities such as a flat-screen TV, satellite connection, radio, safe and desk. For added convenience, bathrobes, sauna towels and slippers are available for rent at no additional charge. Guests have the choice to book either half-board or choose à la carte dining options at the restaurant. Whether enjoying an aromatic cappuccino or indulging in tasty regional specialties on the terrace overlooking the lake or inside the restaurant itself, guests are guaranteed to be satisfied by the culinary offerings at Seehotel Einwaller – adults only. Relaxation reaches new heights in their panorama rest area where one can unwind while taking in superb views over Lake Achen's glimmering waters. During summer months, guests also have access to a private pier for sunbathing along the lakefront.
– Stunning location on Lake Achen with picturesque mountain views
– Exquisite Tyrolean cuisine showcasing local flavors
– Rooftop spa offering breathtaking vistas
– Free Wi-Fi available throughout property
– Access to private pier for sunbathing during summer months
Hotel Auszeit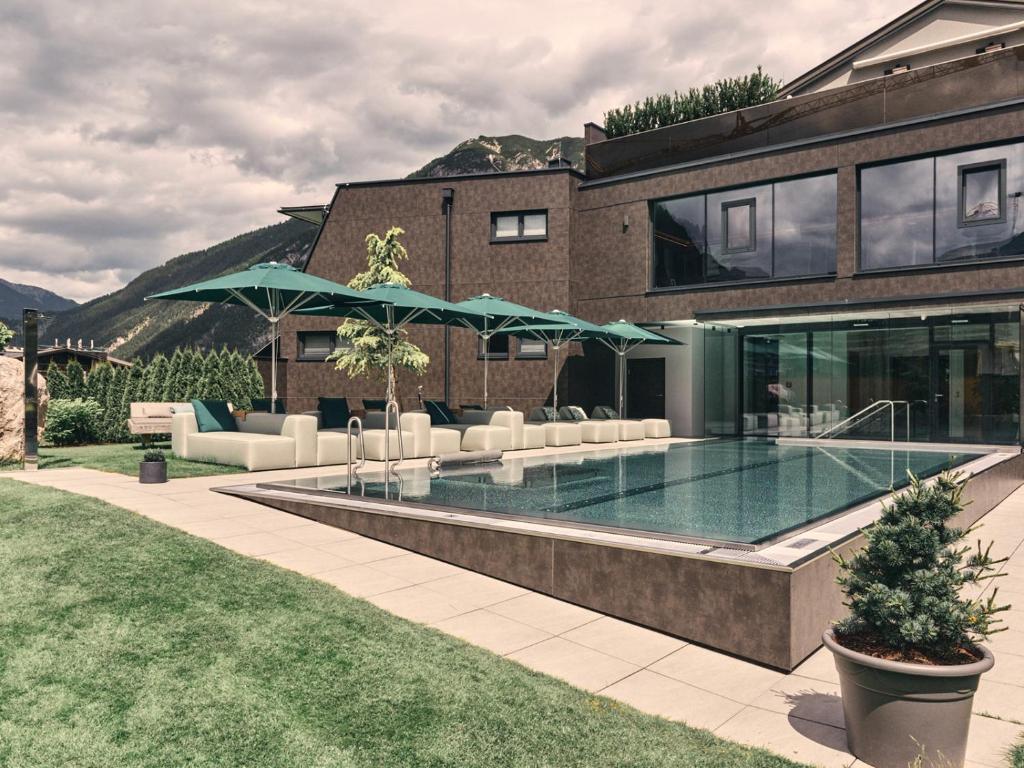 Hotel Auszeit in Pertisau is a luxurious adults-only retreat that offers a range of amenities for a relaxing and rejuvenating stay. With an outdoor swimming pool, a garden, and a shared lounge, guests can enjoy the beautiful surroundings while unwinding in style. The hotel also provides ski storage space and an ATM for added convenience. The highlight of Hotel Auszeit is its spa facilities, which include massage treatments, a hammam, spa center, and sauna. Each room features a balcony with mountain views, as well as free WiFi access and modern amenities such as flat-screen TVs. Guests can start their day with a delicious buffet breakfast before exploring the nearby hiking trails or hitting the slopes for some skiing or snowboarding. Additional attractions near the hotel include Gratlift, Zwölferkopflift, and Planberglift. Innsbruck Airport is also conveniently located just 50 km away from Hotel Auszeit.
– Adults-only accommodation
– Outdoor swimming pool
– Spa facilities including massage treatments
– Balconies with mountain views in each room
– Convenient location for skiing and hiking activities
5 Star Spa Hotels in Pertisau
Pertisau boasts a range of luxurious 5-star spa hotels that offer unparalleled relaxation and indulgence. These exceptional properties are known for their world-class spa facilities, exquisite service, and breathtaking surroundings, providing an idyllic retreat for those seeking the ultimate wellness experience.
das Alois 4 Sterne Superior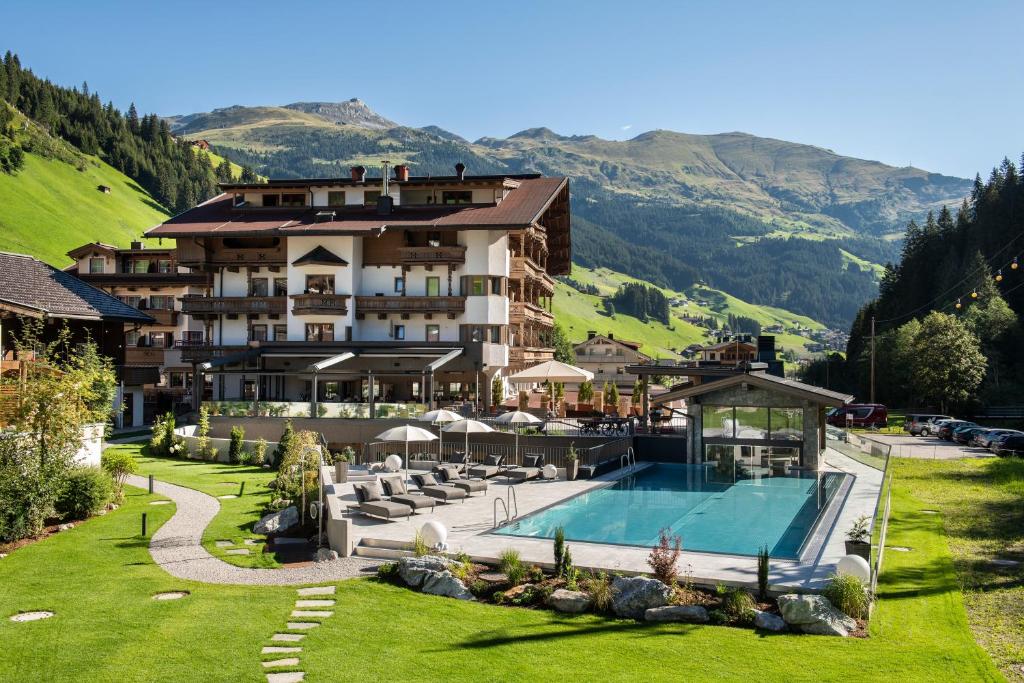 Located in the centre of Tux, das Alois 4 Sterne Superior offers a prime location next to the Eggalm Cable Car for direct access to the Zillertal 3000 Ski Area and is just 7 km from the Hintertux Glacier. This luxury hotel boasts a spacious spa area with an indoor swimming pool, 3 saunas, a steam bath, a sun bed, a sun terrace, and a relaxation area. Guests can also enjoy the fitness studio and gymnastics room for staying active during their stay. The hotel's sports programme includes guided hiking and mountain bike tours, aqua gymnastics, yoga sessions, and pilates classes. The Alpine-style rooms and suites feature balconies with scenic views, comfortable seating areas, TVs for entertainment, and bathrooms complete with plush bathrobes. The on-site restaurant serves light and healthy cuisine that includes a hearty breakfast buffet filled with fresh fruits, juices, nuts – all provided free of charge at the pool.
Pros:
– Convenient location next to Eggalm Cable Car for easy access to Zillertal 3000 Ski Area
– Spacious spa area with various facilities including swimming pool and saunas
– Extensive sports programme offering guided tours and activities like yoga
– Comfortable Alpine-style rooms with balconies showcasing beautiful views
– Delicious light and healthy cuisine served at the on-site restaurant
Brugger's Genießerhotel Lanersbacherhof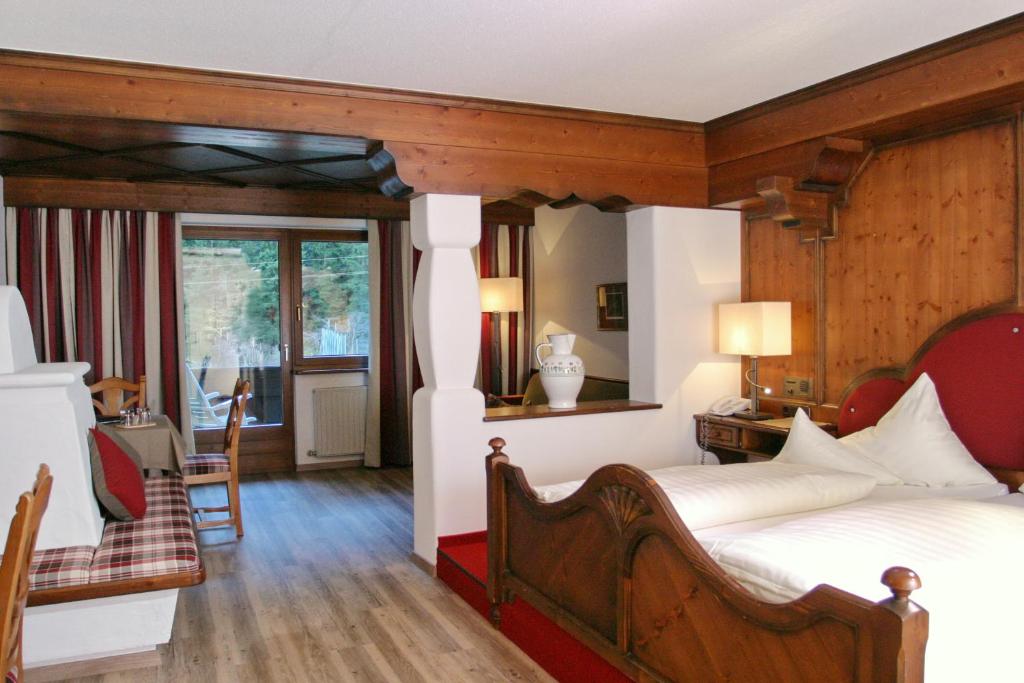 Brugger's Genießerhotel Lanersbacherhof is a charming, family-run gourmet hotel nestled in the picturesque town of Tux in the Ziller Valley. Surrounded by lush green pastures and offering breathtaking views of the Hintertux Glacier, this hotel is a haven for nature lovers and adventure enthusiasts. The highlight of Brugger's Genießerhotel Lanersbacherhof is its renowned restaurant, which has received numerous awards in gourmet restaurant guides. Guests can start their day with a sumptuous breakfast buffet featuring homemade specialties, and half-board guests have the opportunity to create their own personalized menu from the extensive à la carte selection.
The tastefully decorated rooms and apartments at Brugger's Genießerhotel Lanersbacherhof exude rustic charm with wooden furnishings. Every room comes complete with a balcony and satellite TV for added comfort and relaxation. The hotel's wine cellar boasts an impressive collection of 480 different wines, perfect for wine enthusiasts looking to indulge in exquisite taste experiences.
In terms of wellness facilities, guests are pampered with an array of options at Brugger's Genießerhotel Lanersbacherhof. The indoor panorama pool with its counter current system and waterfall provides a serene setting for swimming while enjoying stunning vistas. For those seeking some outdoor relaxation, there are sunny terraces dotted around the property where guests can bask in the sun or enjoy friendly games on the tennis courts. Additionally, a log cabin sauna located amidst the garden offers a tranquil retreat after long days exploring.
Conveniently situated at the valley station of Eggalm cable car, Brugger's Genießerhotel Lanersbacherhof grants skiers direct access to Zillertal 3000 ski area, ensuring easy exploration of thrilling slopes during winter months. Moreover, nature lovers will be thrilled to know that the Hintertux Glacier is just 5 kilometers away and can be easily reached by a free ski bus, with a stop conveniently located right at the hotel. For guests who prefer exploring on foot or by bike, licensed mountain bike and hiking guides are available to show them the most beautiful spots in the Tux Mountains. The hotel even offers complimentary Nordic walking lessons for those seeking an invigorating workout.
Pros:
– Renowned gourmet restaurant with award-winning cuisine
– Rustic rooms and apartments with charming wooden furnishings
– Impressive wine cellar boasting 480 different wines
– Indoor panorama pool with counter current system and waterfall
– Convenient location near ski areas and easy access to Hintertux Glacier
Sonnenhof Genusshotel & Appartements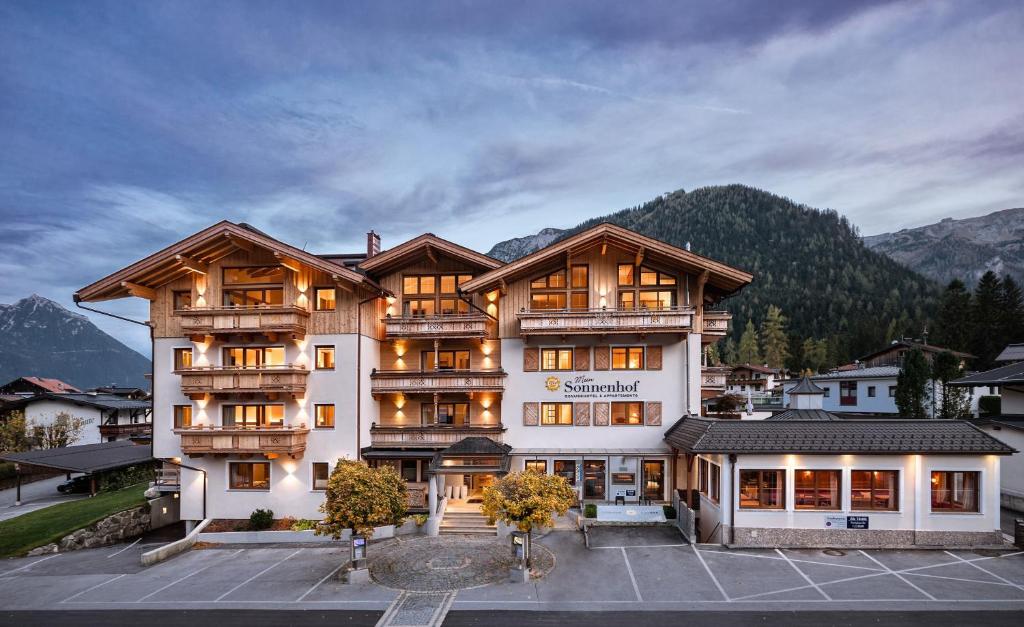 Located at the entrance to the Karwendel Nature Reserve in Pertisau, the Sonnenhof Genusshotel & Appartements is a luxury spa hotel situated next to the Achensee Golf Course. The hotel offers spacious rooms and apartments, all featuring a balcony with breathtaking panoramic mountain views. Guests can enjoy half-board dining at the elegant restaurant, which includes a variety of delicious dishes to choose from. Each room is equipped with modern amenities such as a flat-screen TV, seating area or sofa, and a well-appointed bathroom with a make-up mirror and hairdryer. In addition to its excellent dining options and comfortable accommodations, the Sonnenhof boasts an impressive range of facilities including a bar, Tyrolean lounge, winter garden with a tiled stove, ski storage room, and lift providing panoramic views. The hotel also features an indulgent spa area that opened in December 2015 offering complimentary access for guests to relax and rejuvenate in. For those seeking further relaxation, massages are available for an additional fee. Other recreational activities include table tennis and nearby hiking trails and cross-country ski runs allow guests to explore the beautiful scenery surrounding Lake Achen which is just a 10-minute walk away.
Pros:
1. Stunning panoramic mountain views from every balcony
2. Half-board dining at an elegant restaurant offering delicious regional cuisine
3. Complimentary access to the indulgent spa area for ultimate relaxation
4. Convenient location near hiking trails and cross-country ski runs
5. Spacious rooms and apartments equipped with modern amenities
Spa Hotels in Downtown Pertisau
Downtown Pertisau in Austria is home to some of the finest spa hotels, offering a serene and luxurious retreat for travelers seeking relaxation and rejuvenation. With their tranquil surroundings and exceptional spa services, these hotels provide an unforgettable experience for those looking to unwind and pamper themselves.
Hotel Klosterbräu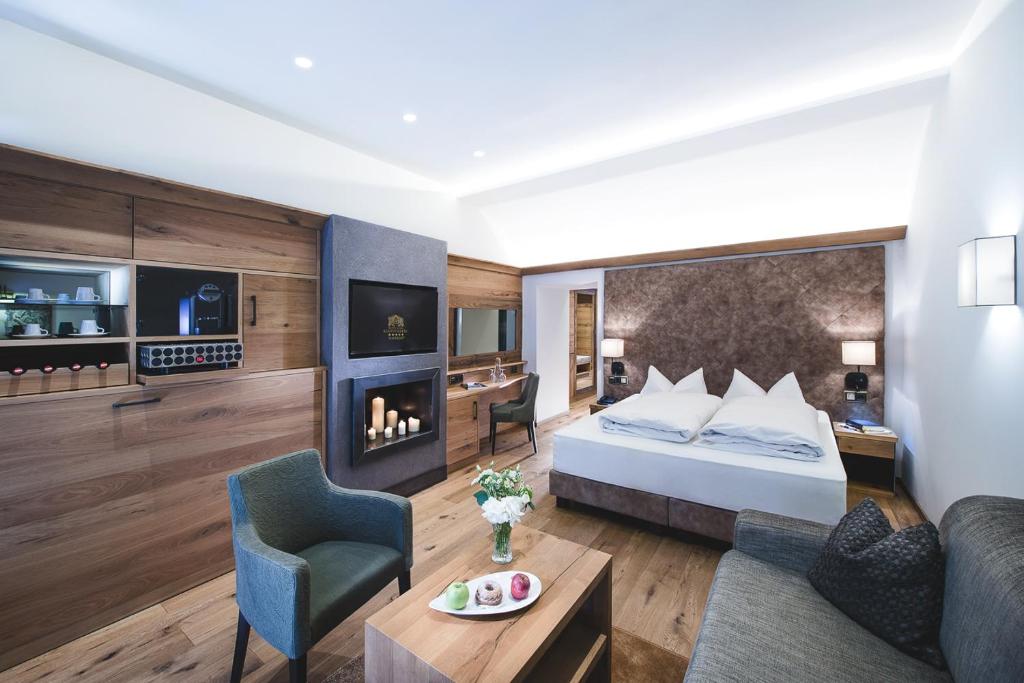 The Hotel Klosterbräu is a luxurious 5-star hotel located in the center of Seefeld. Housed in a former 16th-century monastery, this stunning property offers an exceptional experience for guests. The hotel features a large spa area that spans over 3,500 m² and includes an indoor pool, outdoor pool, saunas, steam baths, relaxation areas, and private spas. The rooms are beautifully designed with thick walls and vaulted ceilings, providing a cozy atmosphere for guests to unwind. With free WiFi available throughout the property, guests can stay connected during their stay. In addition to the outstanding spa facilities and comfortable accommodations, the hotel offers delicious dining options including a large breakfast buffet and a 6-course dinner as part of the half-board package. Guests can also enjoy special wine tastings in the historic 500-year-old wine cellar or indulge in drinks at the traditional Austrian beer hall. Another unique feature of this hotel is its own vegetarian farm and petting zoo called "Sigi's Sauhaufen," where visitors can interact with more than 10 (mini) animal families. Overall, Hotel Klosterbräu provides an unforgettable luxury spa experience combined with exceptional amenities.
– Large spa area with indoor and outdoor pools
– Beautifully designed rooms with luxurious amenities
– Historic wine cellar offering special tastings
– Own vegetarian farm and petting zoo on-site
– Delicious dining options including a generous breakfast buffet
Pertisau Spa Hotels Information
| | |
| --- | --- |
| 🛎️ Spa Hotels in Pertisau | 10 |
| 💵 Hotels Prices From | $132 |
| 💵 Highest price | $823 |
| 🥇 Average Review Score | 9/10 |
| 🛏️ Average number of Rooms | 45 |
Top SPA hotels in Pertisau
| | |
| --- | --- |
| das Alois 4 Sterne Superior | 9.5/10 |
| Hotel Auszeit | 9.4/10 |
| Seehotel Einwaller – adults only | 9.3/10 |
| Hotel Klosterbräu | 9.2/10 |
| Brugger's Genießerhotel Lanersbacherhof | 9/10 |
FAQ
Can you recommend a luxury spa hotel in Pertisau, Austria?
Absolutely! One of the top luxury spa hotels in Pertisau is the Wellnesshotel Alpenrose. This five-star hotel offers a wide range of spa treatments and facilities, including indoor and outdoor pools, saunas, steam rooms, and relaxation areas. The hotel also provides various wellness packages that include massages, beauty treatments, and access to their fitness center. With its stunning location surrounded by the beautiful Austrian Alps, Wellnesshotel Alpenrose is the perfect destination for a truly relaxing and rejuvenating spa experience.
What are some popular activities near Pertisau's spa hotels?
Pertisau offers a plethora of activities for visitors staying at its spa hotels. One popular activity is hiking or biking through the nearby Karwendel Nature Park, where you can explore picturesque trails while immersing yourself in nature. Another great option is to take advantage of the serene Lake Achensee located nearby by participating in water sports such as paddleboarding or kayaking. For those seeking more relaxation after their time at the spa hotel's facilities, they can enjoy a leisurely round of golf at one of Pertisau's scenic golf courses or even embark on a boat tour around Lake Achensee.
Do Pertisau's luxury spa hotels offer specialized treatments?
Yes, many luxury spa hotels in Pertisau provide specialized treatments tailored to meet guests' individual needs and preferences. From traditional massages like Swedish or deep tissue to holistic therapies such as Ayurvedic or hot stone massage – these establishments offer an extensive menu of options for ultimate pampering and well-being. Additionally, most spas use high-quality products from renowned brands ensuring guests receive exceptional care during their stay.
What dining options are available at luxury spas in Pertisau?
Luxury spas in Pertisau often feature exquisite dining options within their premises so guests can indulge in gourmet meals after their spa treatments. Many spa hotels have on-site restaurants that offer a variety of cuisines, including traditional Austrian dishes made with fresh local ingredients. Some establishments even provide special diet menus or vegetarian options upon request. Guests can enjoy a fine dining experience while savoring delicious food and taking in the breathtaking views of the surrounding mountains.
Are there any additional amenities provided by luxury spa hotels in Pertisau?
Absolutely! Luxury spa hotels in Pertisau go above and beyond to ensure their guests have an unforgettable stay. In addition to top-notch spa facilities, these establishments often feature other amenities such as fitness centers equipped with state-of-the-art equipment, swimming pools with panoramic views, beauty salons for hair and nail services, and even outdoor terraces or gardens where guests can relax while enjoying the stunning alpine scenery. Some spas also organize yoga classes or meditation sessions for those seeking inner peace and tranquility during their stay.
Popular Wellness Hotels destinations