Welcome to Kühlungsborn, a picturesque coastal town nestled along the Baltic Sea in Germany. Known for its serene surroundings and refreshing sea breeze, this charming destination is the perfect retreat for those seeking a rejuvenating escape. And what better way to unwind than at one of Kühlungsborn's exquisite wellness resorts? Indulge in the ultimate pampering experience as you immerse yourself in the opulence and tranquility of luxury spa hotels.
Immerse yourself in the lap of lavishness as you step into Kühlungsborn's opulent seaside havens where wellness takes center stage. These magnificent establishments offer an array of relaxation facilities, providing you with everything you need to soothe your senses and revitalize your mind, body, and soul. Embrace serenity as you indulge in a therapeutic massage or melt away stress in the steamy embrace of saunas adorned with intricate mosaics. Imbibe rejuvenating herbal teas while lounging by azure pools that boast breathtaking views of the sparkling Baltic Sea. At these sumptuous spa hotels, every detail has been meticulously curated to create an ambiance of pure indulgence.
Unwind amidst stunning coastal vistas where lush green landscapes meet pristine sandy beaches – this is Kühlungsborn's promise to those seeking solace and renewal. Soothe your weary spirit as you embark on a journey towards holistic well-being at one of these luxurious spa retreats that dot this idyllic German town. Experience unparalleled luxury as skilled therapists transport you into realms of deep relaxation through an array of signature treatments that combine ancient healing practices with modern techniques. From invigorating facials using organic beauty elixirs to blissful aromatherapy massages tailored to your needs – each moment spent here promises to be nothing short of extraordinary.
Escape from life's hustle and bustle as you enter an oasis dedicated solely to pampering and self-care. Whether it's indulging in lavish spa treatments, savoring delectable healthy cuisine, or partaking in rejuvenating fitness activities – Kühlungsborn's luxury spa hotels offer a holistic sanctuary where all your wellbeing needs are catered to. So pack your bags, leave the stresses of everyday life behind, and embark on an exquisite journey filled with relaxation and pure bliss in Kühlungsborn's enchanting spas.
Kühlungsborn Most Relaxing Spa Resorts and Hotels
HOTEL am STRAND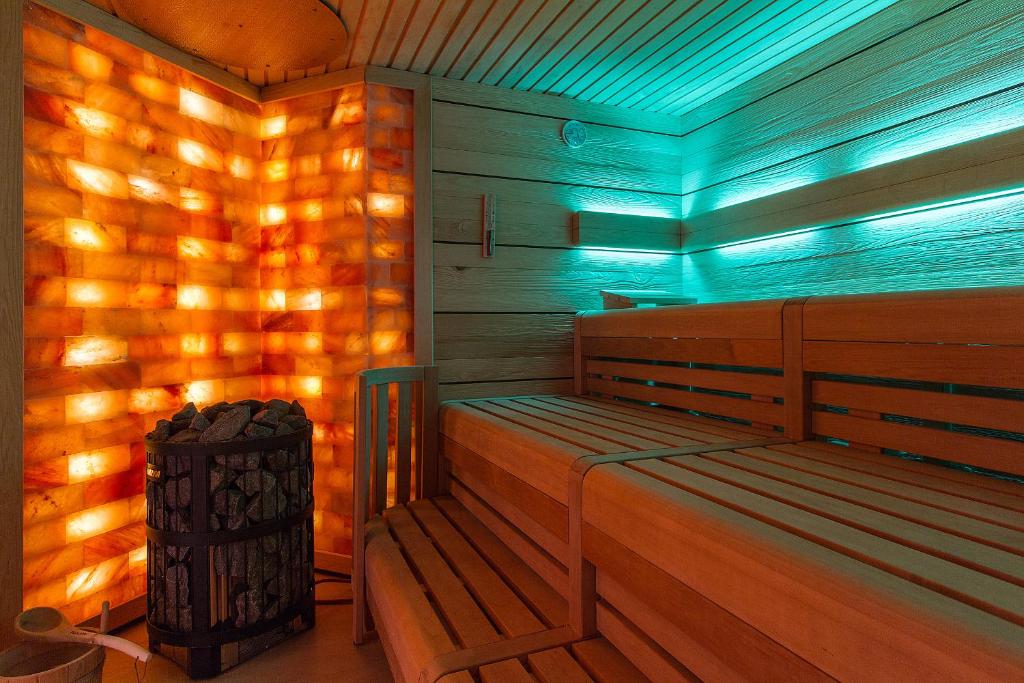 The HOTEL am STRAND in Kühlungsborn is a luxurious 4-star beachfront hotel that offers an array of top-class amenities and services. Guests can enjoy exquisite dining options, indulge in relaxing sessions at the three saunas, and soak up the sun on the terrace spa located in the beautiful courtyard. The hotel also provides private parking for guests' convenience. Situated just 100 meters from the beach and Stadtwald Forest, this elegant hotel boasts stylishly appointed rooms and suites that feature modern amenities such as a flatscreen TV and a luxury bathroom. Free WiFi is available throughout the property, ensuring that guests stay connected during their visit. Additionally, apartments are available with spacious living areas, kitchenettes, and dining tables for those seeking a more home-like experience. Conveniently located only 700 meters from Kühlungsborn pier and a leisurely 20-minute walk from the harbor, guests have easy access to local attractions while Rostock city center is just 30 km away.
– Beachfront location with direct access to both the beach and Stadtwald Forest
– Top-class dining options offering exquisite cuisine
– Three saunas for ultimate relaxation
– Sun terrace spa in picturesque courtyard
– Apartments available with spacious living areas and fully equipped kitchenettes
Landhaus Am Grün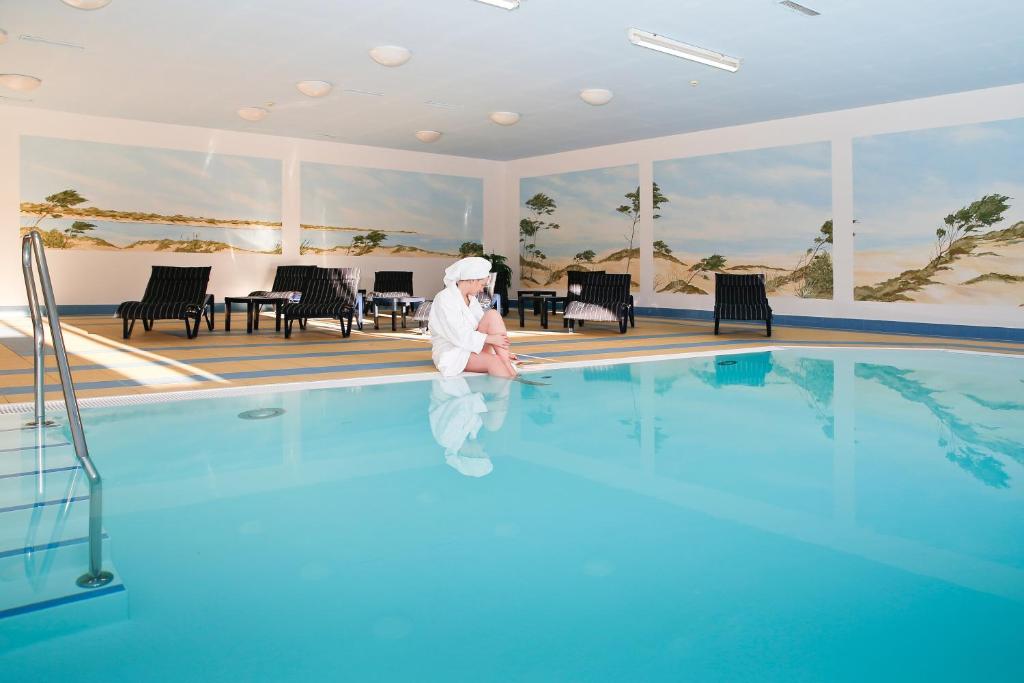 Landhaus Am Grün is a small hotel located in Wittenbeck, just 2.5 km from the Baltic Sea Coast. This charming hotel offers a range of amenities including an indoor swimming pool, sauna, and bicycle rental facilities. The rooms at Landhaus Am Grün are decorated in a warm and homelike fashion, each one featuring satellite TV and a private bathroom. Some rooms also include either a balcony or terrace. Guests can start their day with a delicious breakfast provided by the hotel and enjoy a 3-course menu in the evenings at the on-site restaurant. The well-stocked bar offers a variety of drinks for guests to unwind with after a long day. For those looking to explore the surrounding area, day trips to Kühlungsborn (3 km away) and Heiligendamm (4 km away) are highly recommended. Additionally, there is also a golf course located within 3 km of the hotel.
– Indoor swimming pool
– Sauna
– Bicycle rental facilities
– Charming decor in rooms
– Convenient location near Baltic Sea Coast
Hotel Vier Jahreszeiten Kühlungsborn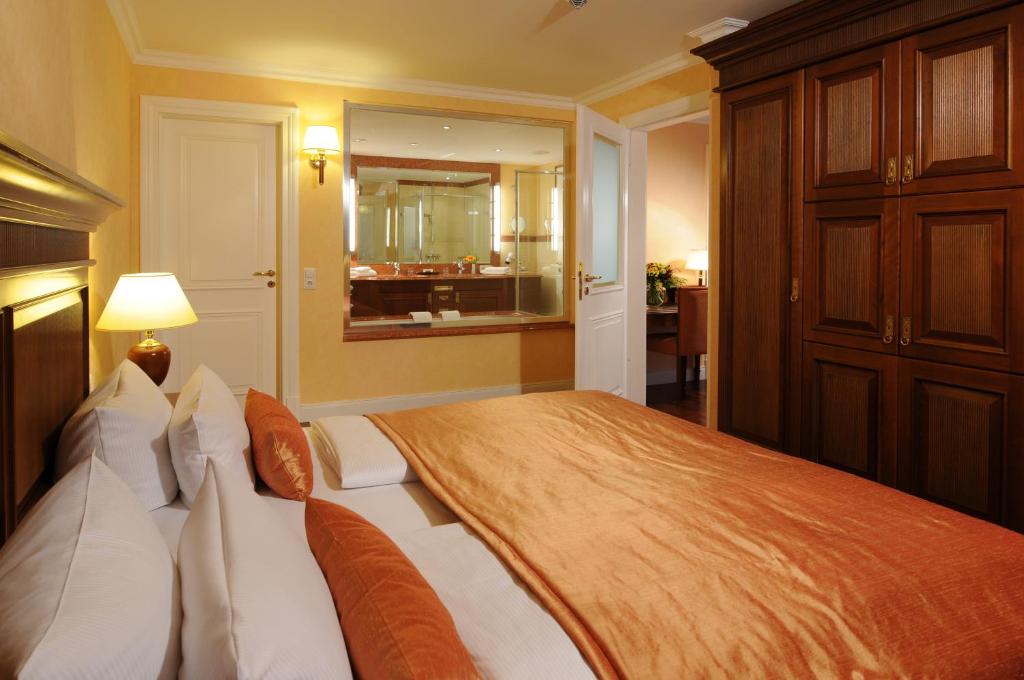 Hotel Vier Jahreszeiten Kühlungsborn is a luxurious 4-star hotel located just 200 meters from the Baltic Sea coast and Stadtwald Forest in Kühlungsborn. This elegant hotel offers a range of amenities including a large spa with an indoor pool, three restaurants, and private parking. The spacious, non-smoking rooms and apartments feature balconies or terraces, satellite TV, and seating areas. Upon request, a small fridge can be added to your room for added convenience. The hotel's stylish spa includes a modern sauna, gym facilities, massage services, and a beauty salon. Guests can enjoy excellent regional cuisine as well as seafood and barbecue specialties at the Jahreszeiten's Orangerie, Wolkenlos, and Seaside restaurants while enjoying breathtaking sea views from the terrace. For those seeking outdoor activities, tennis courts, golf courses, and windsurfing spots can be found nearby. With Rostock city center located just 30 km away from the hotel's doorstep,this makes Hotel Vier Jahreszeiten Kühlungsborn an ideal destination for those looking for relaxation combined with leisure pursuits.
– Large spa with indoor pool
– Three on-site restaurants offering excellent cuisine
– Balconies or terraces in most rooms
– Range of fitness facilities including gym and sauna
– Close proximity to the Baltic Sea coast
Kühlungsborn Luxury Spa Hotels
Kühlungsborn boasts a range of luxurious spa hotels that offer guests the perfect opportunity to unwind and rejuvenate. With serene surroundings, top-notch service, and indulgent spa treatments, these hotels provide a tranquil escape for those seeking ultimate relaxation.
Wittenbeck Resort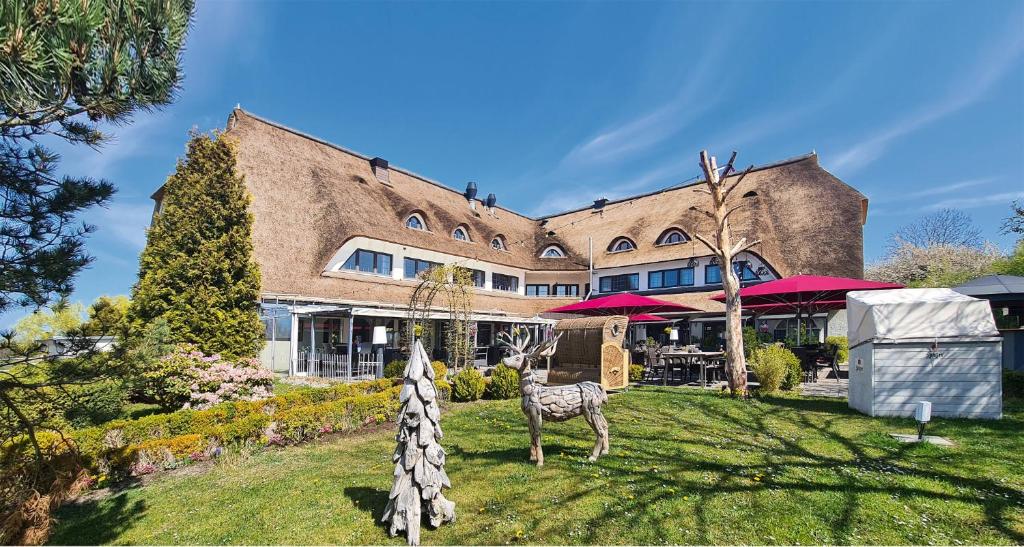 Wittenbeck Resort is a luxurious hotel located in a nature preserve near the stunning Baltic Coast. The resort offers a spa with an indoor pool, various saunas, and an exceptional massage service. Guests can enjoy a range of leisure activities such as golf, bowling, and horse riding both at the resort and in its surrounding areas. The country-style rooms are elegantly furnished and equipped with cable TV and modern bathrooms. The resort also features a beauty salon offering exclusive cosmetic treatments. Free Wi-Fi is available throughout the hotel, and guests can indulge in delicious buffet breakfasts and regional specialties in the spacious conservatory. A bar is also available for guests to relax with a drink. In addition, popular attractions including Kühlungsborn and Heiligendamm are just 3 km away from the resort.
– Spa facilities including an indoor pool
– Varied sports opportunities nearby
– Beautiful location near the Baltic Coast
– Elegant rooms with modern amenities
– Exclusive cosmetic treatments offered in beauty salon
Ringhotel Strandblick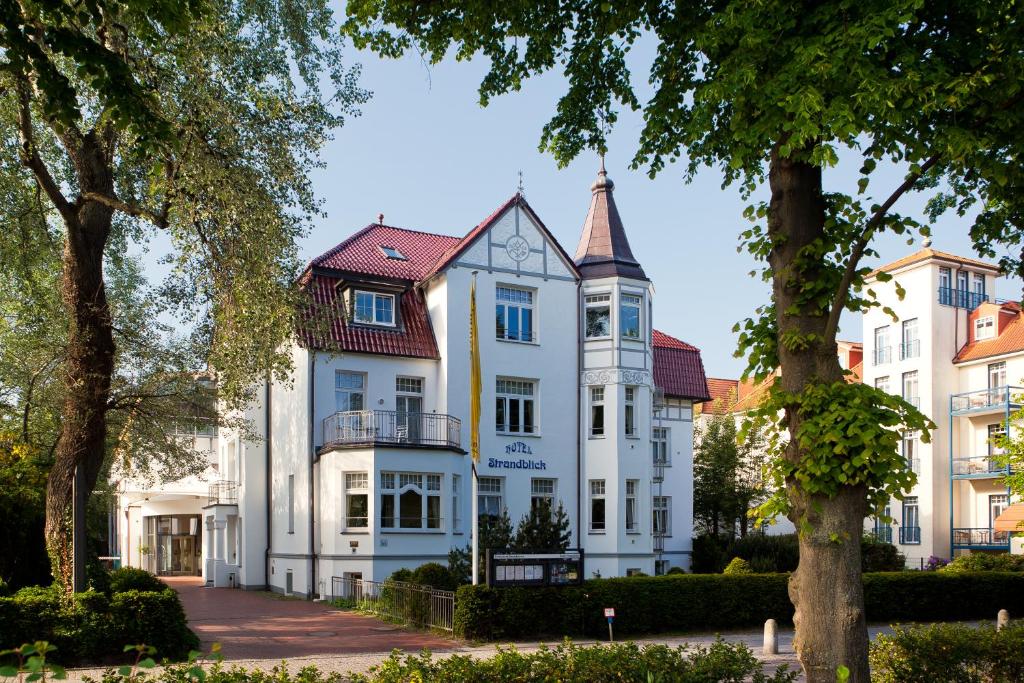 Located just a few steps from Kühlungsborn's beautiful sandy beach, Ringhotel Strandblick is a 4-star-Superior hotel housed in a stunning Art Nouveau villa dating back to 1906. The hotel features spacious and elegantly furnished rooms with amenities such as bathrobes, refrigerators, and free internet access. Guests can indulge in the hotel's modern spa which includes an indoor pool, sauna, and gym. The award-winning Strandauster Restaurant serves Mecklenburg cuisine along with international favorites, while cocktails can be enjoyed at the stylish Jugendstilbar (Art Nouveau Bar). Other highlights of the hotel include a rooftop terrace, garden for relaxation, and rental bicycles for exploring the picturesque Baltic Sea coast. Kühlungsborn Pier is conveniently located just 400 meters away.
– Steps away from the beautiful sandy beach
– Spacious rooms with elegant wood furniture
– Modern spa facilities including an indoor pool
– Award-winning restaurant serving local and international cuisine
– Convenient location near Kühlungsborn Pier
Hotel Residenz Waldkrone Kühlungsborn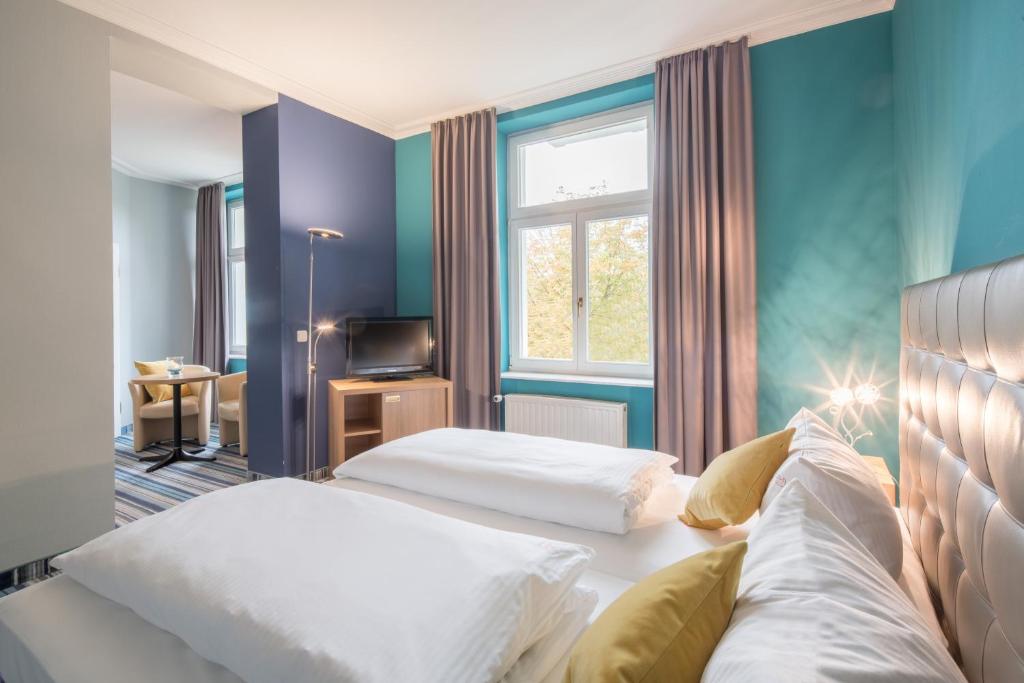 Located just 100 meters from Kühlungsborn's beautiful sandy beach, Hotel Residenz Waldkrone offers elegant rooms and apartments. The hotel features a modern spa where guests can enjoy massages and beauty treatments. The accommodations at the hotel are soundproofed and decorated in a classical style with solid wood furniture. Each room has a bathroom with a hairdryer and bathrobes, while some rooms also offer views of the Baltic Sea. Most apartments include a balcony. Guests can start their day with a delicious breakfast buffet served at Residenz Waldkrone, and for other meals, they can choose from the sea-themed bistro or the bright restaurant with its lovely conservatory. One of the highlights of staying at this hotel is that guests receive a 50 percent discount on spa services, which includes facilities like Finnish sauna and steam room. For those who want to explore the area, rental bicycles are available nearby for exploring the beautiful Baltic coast. Additionally, there is also a water sports center located just a minute's walk away, while Kühlungsborn Tennis Club is only seven minutes away by car.
– Close proximity to Kühlungsborn's long sandy beach
– Elegant accommodations offering both rooms and apartments
– Modern spa with massage and beauty treatments available
– Discounts offered on spa services for hotel guests
– Convenient location near water sports center and tennis club
5 Star Spa Hotels in Kühlungsborn
Located in the charming coastal town of Kühlungsborn, the 5-star spa hotels offer a haven of relaxation and rejuvenation. With luxurious spas offering a range of treatments and therapies, guests can indulge in pampering experiences amidst breathtaking scenery.
Hotel Aquamarin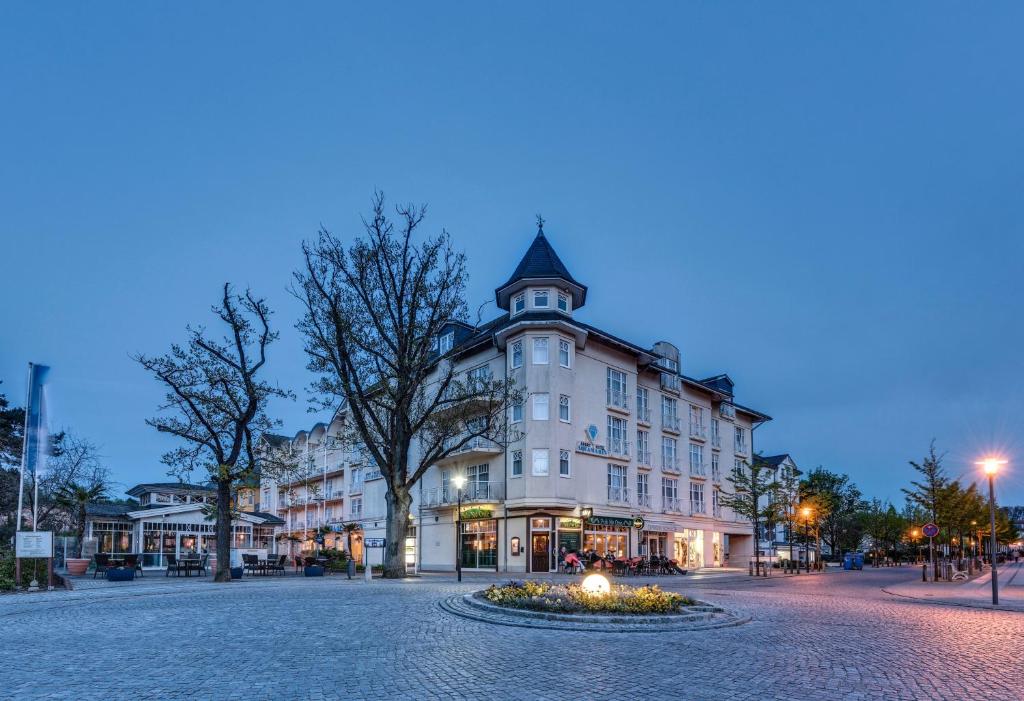 Hotel Aquamarin is a luxurious spa hotel located in Kühlungsborn, just 100 metres from the sandy Baltic coast. This elegant hotel offers an array of amenities including an indoor pool, a wellness centre, and free WiFi. The spa area features saunas and a fitness centre, perfect for guests looking to unwind and rejuvenate. The spacious rooms at Hotel Aquamarin are equipped with modern comforts such as a TV with cable channels, a seating area, and a bathroom complete with a hairdryer and free toiletries. Some rooms even offer balconies with stunning views. Guests can indulge in delicious regional specialities and seasonal dishes at the hotel's Bernstein Restaurant or enjoy live music on Saturday evenings at the on-site Irish Pub. With its convenient location, Ostseebad Kühlungsborn West Train Station is only 700 metres away while Kühlungsborn Marina is just 2.4 km from the hotel.
– Indoor pool for relaxation and leisure
– Wellness centre offering various spa treatments
– Free WiFi for seamless connectivity
– Spacious rooms with modern amenities
– Convenient location near the beach and train station
Kühlungsborn Spa Hotels Information
| | |
| --- | --- |
| 🛎️ Spa Hotels in Kühlungsborn | 7 |
| 💵 Hotels Prices From | $59 |
| 💵 Highest price | $792 |
| 🥇 Average Review Score | 8.2/10 |
| 🛏️ Average number of Rooms | 56 |
Top SPA hotels in Kühlungsborn
| | |
| --- | --- |
| HOTEL am STRAND | 8.8/10 |
| Ringhotel Strandblick | 8.4/10 |
| Wittenbeck Resort | 8.3/10 |
| Hotel Residenz Waldkrone Kühlungsborn | 8.2/10 |
| Hotel Aquamarin | 7.9/10 |
FAQ
How many luxury spa hotels are there in Kühlungsborn?
Kühlungsborn boasts several luxury spa hotels for guests seeking a relaxing and rejuvenating experience. Currently, there are five top-notch spas available in the city, each offering unique treatments, state-of-the-art facilities, and stunning views of the Baltic Sea.
What amenities can I expect at a luxury spa hotel in Kühlungsborn?
Luxury spa hotels in Kühlungsborn offer a wide range of amenities to ensure an unforgettable stay. Guests can indulge in world-class spa treatments such as massages, facials, and body wraps. Additionally, these hotels often feature outdoor pools, saunas, fitness centers, and gourmet restaurants that serve healthy and delicious cuisine.
Are there any wellness programs or activities available at these spa hotels?
Absolutely! Along with their extensive list of spa services, luxury Spa hotels in Kühlungsborn also provide an array of wellness programs and activities to enhance your overall well-being during your stay. From yoga classes on the beach to guided meditation sessions and nature walks through scenic coastal trails – you'll have plenty of options to choose from.
What is unique about the location of Kühlungsborn's luxury spa hotels?
One distinctive feature of luxury Spa hotels in Kühlungsborn is their exceptional location along the beautiful Baltic Sea coastline. This allows guests to enjoy breathtaking ocean views while enjoying their chosen treatment or simply relaxing by the poolside. The serene surroundings contribute to an atmosphere of tranquility that further enhances the overall experience.
Can non-guests visit the spas at these luxury hotels?
While some services might be exclusive to hotel guests only, most luxury Spa hotels in Kühlingsborndo welcome non-guests who wish to enjoy their exceptional spa facilities. Whether you're looking for a day escape or a single treatment session amidst luxurious surroundings – you can still revel in all that these spas have to offer.
Popular Spa Hotels destinations