Welcome to the enchanting world of luxurious wellness retreats in Olbia, Italy. Nestled in the picturesque landscapes of this captivating Mediterranean destination, Olbia offers a plethora of opulent spa hotels that promise to rejuvenate your mind, body, and soul. From soothing massages to revitalizing treatments, these havens of tranquility provide an indulgent escape from the hustle and bustle of everyday life.
Immerse yourself in the epitome of elegance as you step into these sublime accommodations. Each spa hotel exudes an air of sophistication and charm, with sumptuous interiors adorned with tasteful accents. Whether you choose a boutique resort or a grand palace hotel, you will be greeted by warm hospitality and impeccable service.
Prepare to embark on an unforgettable wellness journey as expert therapists pamper you with innovative therapies inspired by ancient traditions. Unwind in serene surroundings as fragrant aromatherapy oils envelop your senses while gentle hands work their magic on tired muscles. Indulge in hydrotherapy sessions or soak in therapeutic mineral-rich baths for ultimate relaxation.
Immerse yourself in a world where stress melts away like dewdrops on morning petals. Discover the perfect harmony between luxury and wellbeing at these divine spa hotels in Olbia, Italy
Olbia Most Relaxing Spa Resorts and Hotels
Hotel Panorama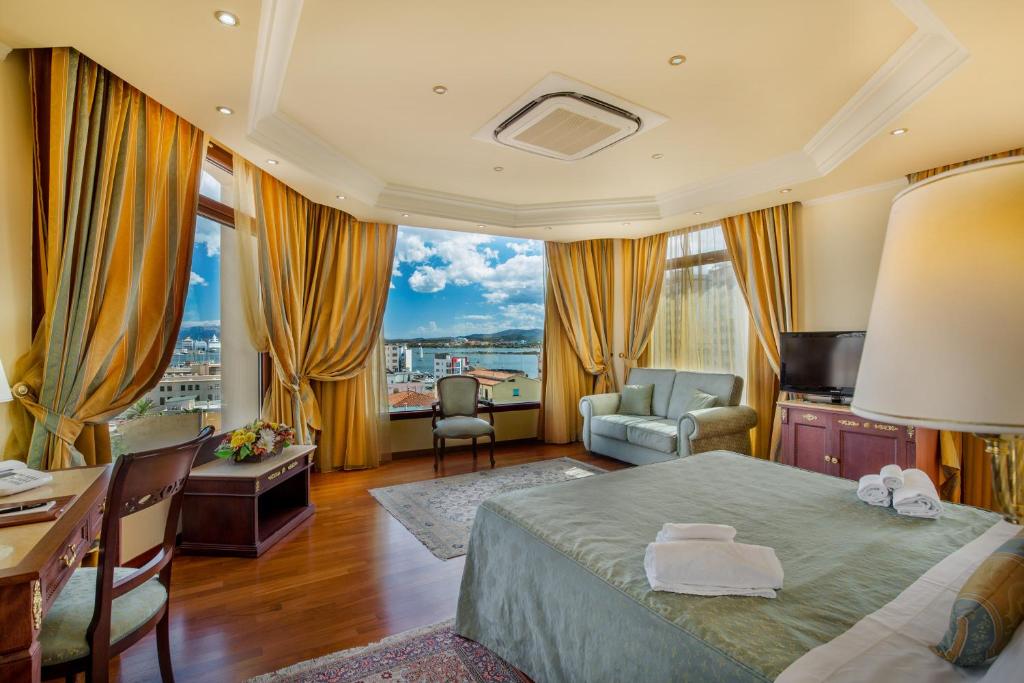 Located in the heart of Olbia, Hotel Panorama offers breathtaking views across the city from its rooftop terrace. This 4-star hotel boasts a luxurious wellness center and fitness center, ensuring guests can relax and rejuvenate during their stay. The rooms at Hotel Panorama are beautifully decorated with wood flooring and feature modern amenities such as free WiFi, a flat-screen satellite TV, and air conditioning. The marble bathrooms add an extra touch of elegance to the rooms. With its convenient location just 20 meters from the pedestrian area, guests have easy access to attractions such as the Archaeological Museum and the popular shopping district of Olbia. Additionally, the stunning beaches of Olbia, as well as the port and airport, are all just a short drive away. Guests will also appreciate the added convenience of free nearby parking.
– Breathtaking views from the rooftop terrace
– Luxurious wellness center for ultimate relaxation
– Convenient location near popular attractions and shopping district
– Modern amenities including free WiFi and flat-screen satellite TV
– Free nearby parking for added convenience
Terra Di Mare Resort&Spa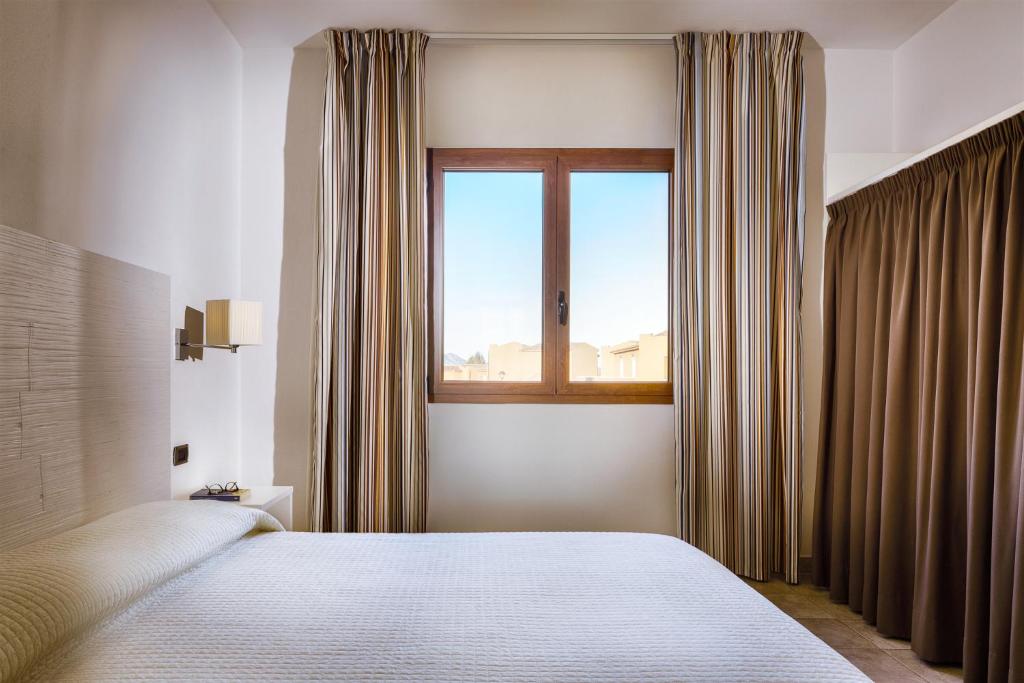 Located in the center of San Teodoro, Terra Di Mare Resort&Spa is a luxury hotel offering a variety of rooms, suites, and apartments with balconies or patios. This beachfront property features an outdoor pool and a tennis court, perfect for active guests. The poolside bar provides a relaxing atmosphere for enjoying post-dinner drinks. With its convenient location in one of the most popular resorts on the east coast of Sardinia, Terra Di Mare is easily accessible from Olbia Airport and port. The hotel offers contemporary design and modern amenities such as satellite TV and air conditioning in each room. Families traveling with children will appreciate the playground available on-site, while business travelers can take advantage of the fully equipped conference room that can accommodate up to 30 delegates. Guests can start their day with a buffet-style breakfast.
Pros:
– Outdoor pool
– Beachfront location
– Variety of accommodation options
– Convenient access to Olbia Airport and port
– Playground for children
The Pelican Beach Resort & SPA – Adults Only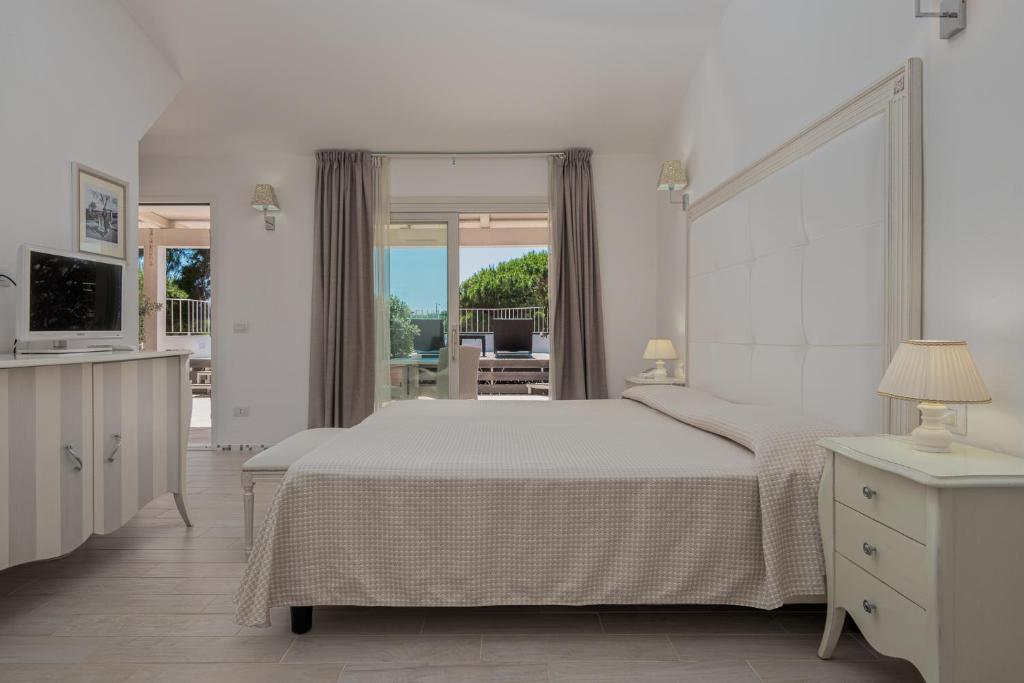 The Pelican Beach Resort & SPA – Adults Only is a luxurious hotel located on the stunning north-east coast of Sardinia, nestled between Olbia and Golfo Aranci. This exclusive adult-only resort offers guests the perfect seaside retreat, with its beautiful garden, rejuvenating wellness centre, and direct access to a pristine sandy beach. Guests can enjoy soaking up the sun by the outdoor pool or lounging in the dedicated sunbathing area while taking in breathtaking views of the sea. The resort also boasts a restaurant with a spacious terrace overlooking the ocean, providing an idyllic setting for dining. The hotel consists of two buildings, with one just steps away from the beach and another 60 meters further inland. For fitness enthusiasts, there is an outdoor fitness area offering panoramic views of Tavolara Island. The elegantly appointed rooms are equipped with satellite TV and air conditioning, and some even feature private balconies complete with table and chairs. With free Wi-Fi available throughout the property, guests can easily stay connected during their stay. For those looking to explore beyond the resort grounds, scooter and car rentals are conveniently offered at reception. The hotel's prime location allows easy access to Olbia's city center just 8 km away as well as its airport and harbor reachable within a short 15-minute drive. Additionally, Porto Cervo is approximately 30 km from The Pelican Beach Resort & SPA – Adults Only.
– Direct access to sandy beach
– Outdoor pool
– Restaurant with ocean-facing terrace
– Panoramic views from outdoor fitness area
– Conveniently located near airport and harbor
Other places to stay in Olbia
Olbia Luxury Spa Hotels
Olbia Luxury Spa Hotels offer an indulgent escape for guests seeking ultimate relaxation and rejuvenation. With world-class spa facilities and treatments, these hotels provide a serene oasis where guests can unwind and pamper themselves in luxurious surroundings.
Casagliana Suite Resort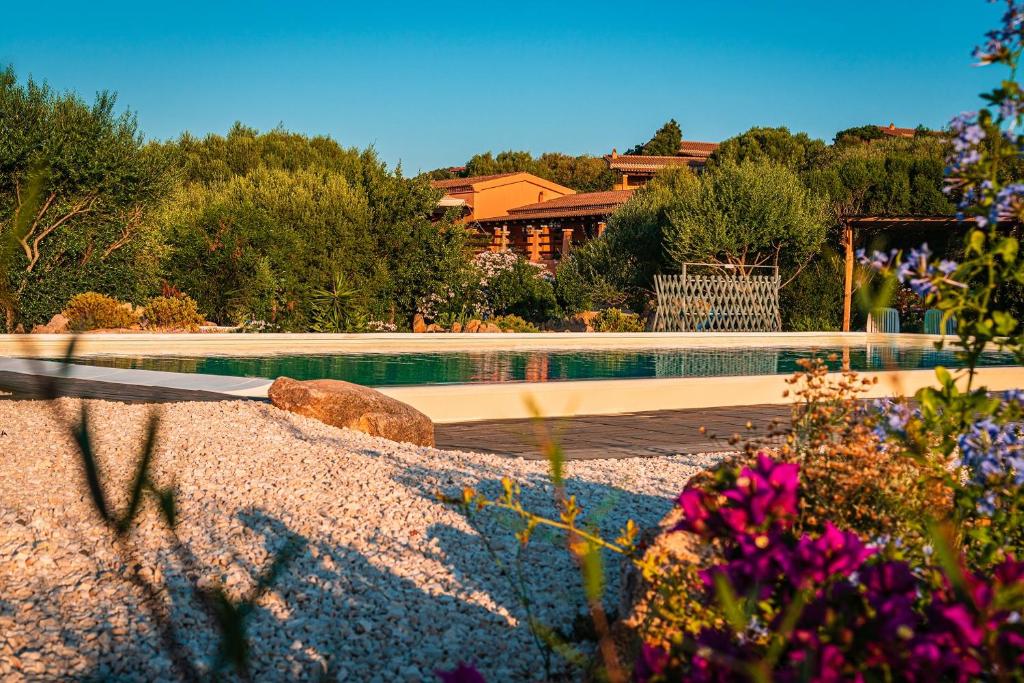 Casagliana Suite Resort is a 4-star superior oasis of peace located just 10 minutes from Olbia and the Costa Smeralda. Situated on 12 hectares of lush greenery, this resort offers a tranquil getaway for guests seeking relaxation and luxury. The resort features 15 independent apartments, each equipped with amenities such as air conditioning, WiFi, parking, and a patio or garden area. At Casagliana Suite Resort, the well-being and safety of guests are top priorities. The apartments are meticulously cleaned and sanitized daily to ensure a safe environment for all visitors. Guests can also enjoy the stunning views of the Gulf of Cugnana from the large infinity pool. With its attentive staff and beautiful surroundings, Casagliana Suite Resort guarantees an unforgettable vacation experience.
– Tranquil location surrounded by greenery
– Well-appointed independent apartments
– Daily cleaning and sanitization for guest safety
– Stunning infinity pool overlooking the Gulf of Cugnana
– Attentive and friendly staff
Mercure Olbia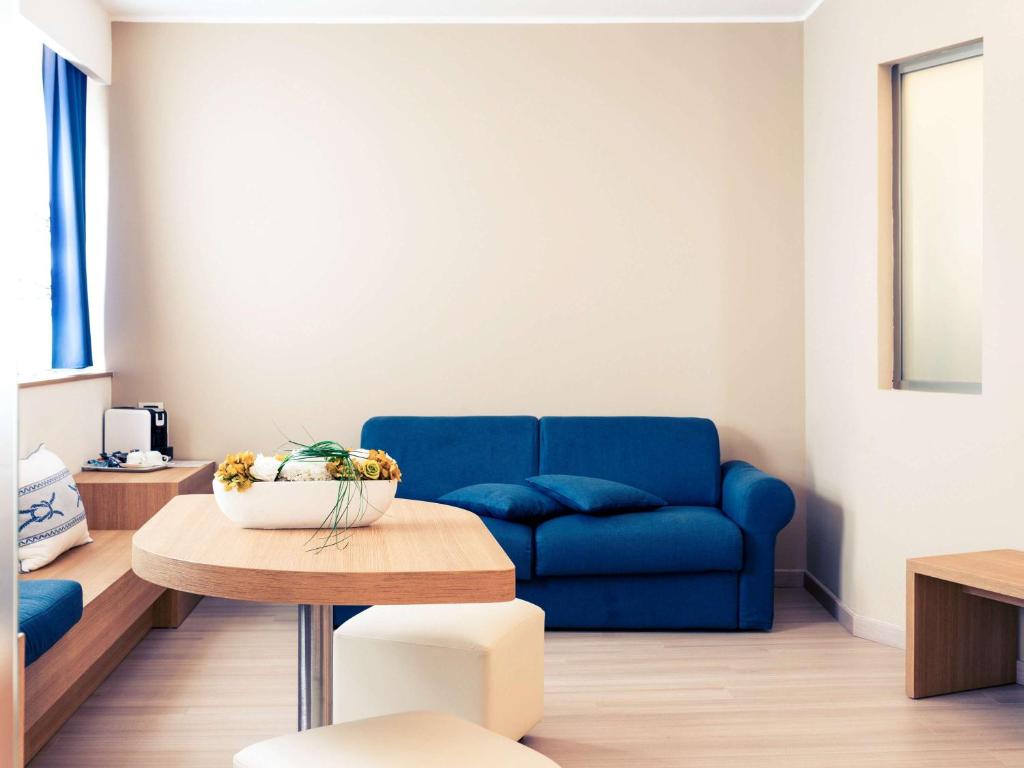 Mercure Olbia is a stylish hotel located just 1.5 km from the port of Olbia. The hotel offers modern rooms with amenities such as free WiFi, air conditioning, satellite flat-screen TV, and minibar. The private bathrooms are equipped with showers and hairdryers. Guests can enjoy drinks and snacks at the Café Bistrot or indulge in a sweet and savory buffet breakfast every morning. The hotel features a spa with an indoor pool where guests can purchase wellness sessions on-site. A fitness area is also available free of charge for those looking to stay active during their stay. Additionally, the hotel offers free parking for added convenience. Situated only a 3-minute walk from the San Simplicio Basilica, Mercure Olbia provides easy access to nearby attractions such as Golfo Aranci which is reachable by car in just 20 minutes.
– Convenient location near the port of Olbia
– Stylish and modern rooms
– Spa with indoor pool for relaxation
– Fitness area available free of charge
– Free parking on-site
Ospitalita' del Conte Hotel & Spa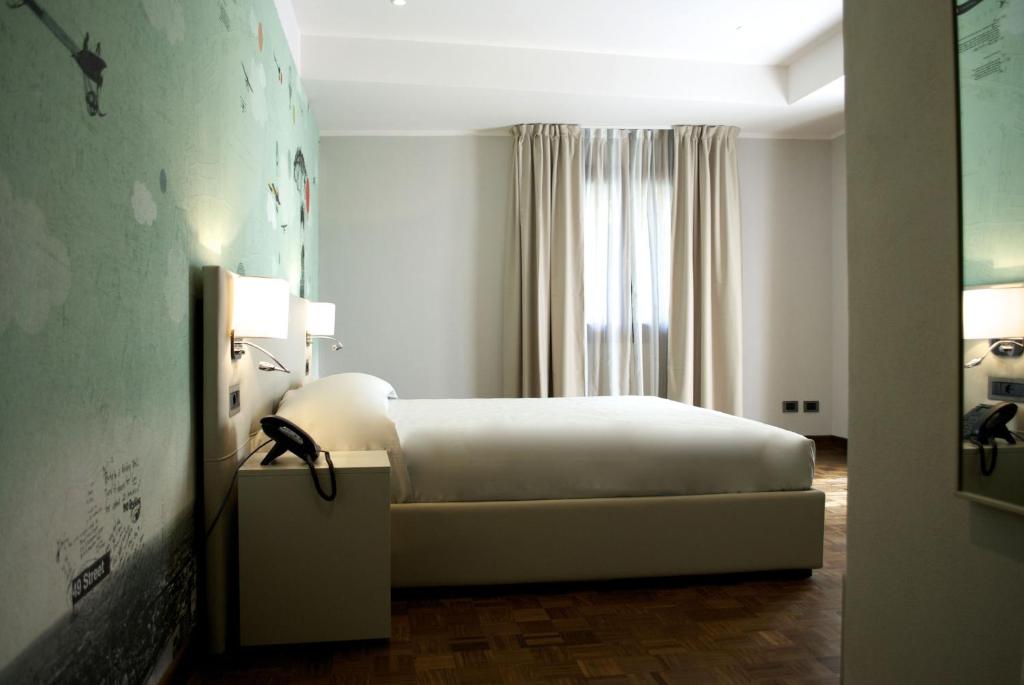 Located in the heart of the historic center of Olbia, Ospitalita' del Conte Hotel & Spa offers a luxurious and elegant stay. The property boasts stunning views of the city from its sun terrace, and guests can enjoy complimentary WiFi throughout their stay. The hotel features a spa area with a pool, hydromassage jets, sauna, Turkish bath, relaxation area, and Rasul shower for those looking to indulge in ultimate relaxation. Each room is beautifully furnished and includes modern amenities such as an LCD TV with satellite channels and air conditioning. Guests can start their day with a delicious breakfast buffet that includes both sweet and savory options. The reception at Ospitalita' del Conte Hotel & Spa is open until midnight for any assistance guests may require. With its convenient location just meters away from the port and less than 3 km from Olbia Airport, this hotel provides easy access for travelers.
– Stunning views of the historic center of Olbia
– Complimentary WiFi throughout the hotel
– Luxurious spa facilities including a pool, sauna, and Turkish bath
– Beautifully furnished rooms with modern amenities
– Convenient location near the port and airport
5 Star Spa Hotels in Olbia
Olbia, a coastal city in Sardinia, offers an array of 5-star spa hotels that guarantee a luxurious and rejuvenating retreat. With their serene surroundings, world-class treatments, and impeccable service, these spa hotels provide the perfect haven for relaxation and indulgence.
Hotel Romazzino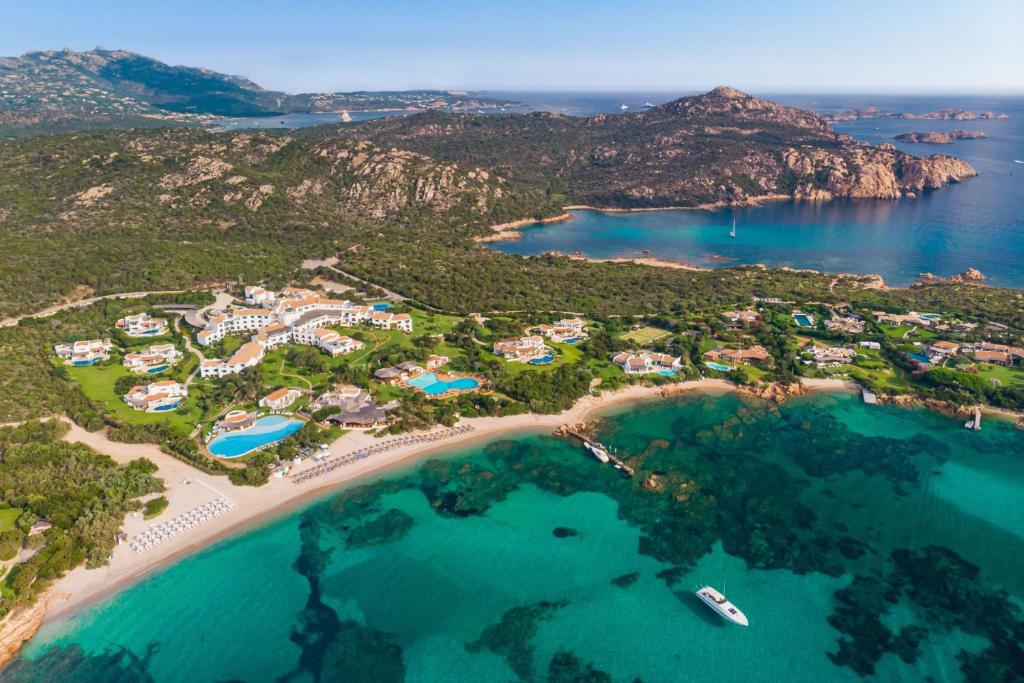 Enjoy pure luxury in a stunning location at Hotel Romazzino. This beautiful whitewashed property offers an array of leisure activities including a top-of-the-line wellness center, two gyms, and a sparkling swimming pool. Indulge in various water sports or play a match on the tennis courts before exploring the boutique shops. For dining options, savor delicious meals at the beachside barbecue restaurant for lunch and enjoy international cuisine at Ristorante Centrale for dinner. Each guest room provides ultimate comfort with a private terrace offering views of either the lush garden or the mesmerizing Mediterranean Sea. Rest well with your choice of pillow from the pillow menu and admire the elegant decor featuring handmade tiles and wooden furniture, including a handcrafted writing desk. Additional modern amenities include an LCD TV with pay-per-view channels and a CD/DVD player. The Romazzino Hotel also boasts its own vast garden adorned with wild flowers and provides access to a private beach along the renowned Emerald Coast. Take advantage of both indoor and outdoor fitness centers as well as a salt-water swimming pool for relaxation purposes. Pamper yourself at the wellness center with rejuvenating massages and beauty treatments while children can engage in entertaining activities, sports, and crafts under professional multilingual supervision at the mini club. Unwind each evening in the piano bar accompanied by live music.
Pros:
– Luxurious setting
– Wide range of leisure activities available
– Beautifully decorated guest rooms with private terraces
– Excellent amenities including LCD TV, CD/DVD player, and pillow menu
– Access to private beach area along Emerald Coast
Hotel For You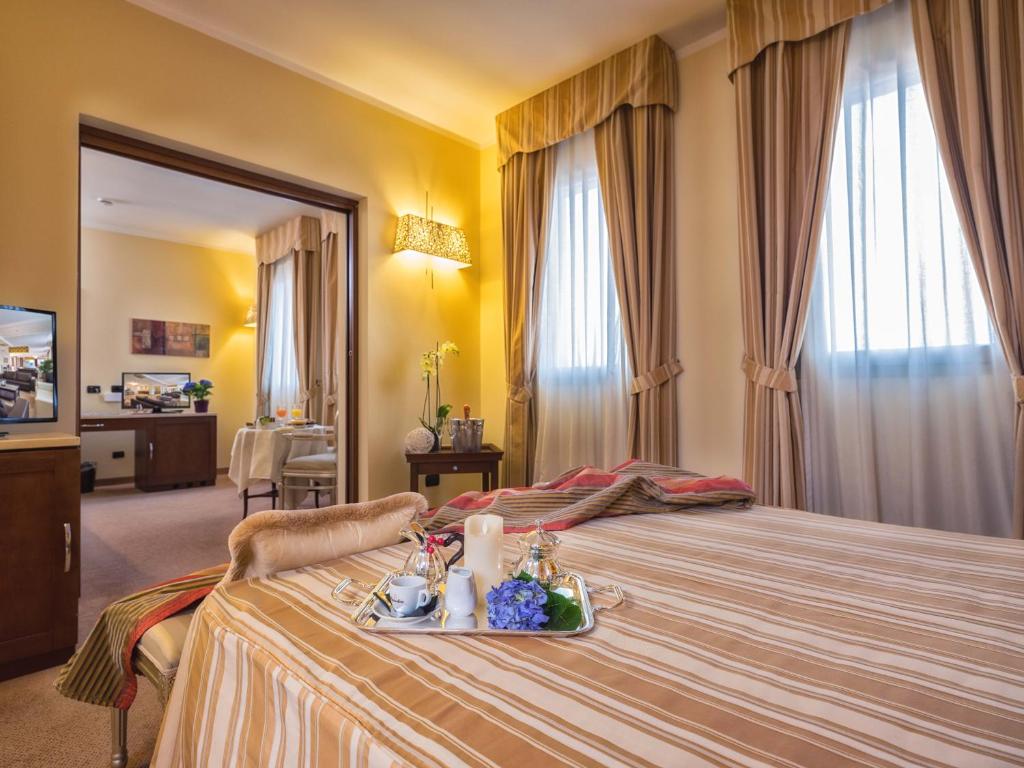 Hotel For You is a small luxury hotel located in the heart of the historic center of Olbia. Situated just a few meters from the central Corso Umberto and near convenient car parks, this hotel offers elegant air-conditioned rooms and a delicious breakfast buffet each morning. The recent renovations have further enhanced the hotel's offerings, including an outdoor swimming pool open seasonally from May to September, a well-equipped fitness room designed by Technogym, and a modern wellness center with amenities such as a Turkish bath, sauna, mini-pool, and emotional shower. The rooms are decorated in neutral colors and feature modern bathrooms, as well as amenities like a TV, minibar, and free Wi-Fi. With its close proximity to Olbia-Costa Smeralda airport (just 4 km away) and Isola Bianca port (only 1 km away), Hotel For You is conveniently located for travelers. The friendly staff is always ready to welcome guests warmly and provide useful tourist services.
– Convenient location in the heart of the historic center
– Elegant air-conditioned rooms
– Outdoor swimming pool
– Fitness room designed by Technogym
– Modern wellness center with various facilities
Jazz Hotel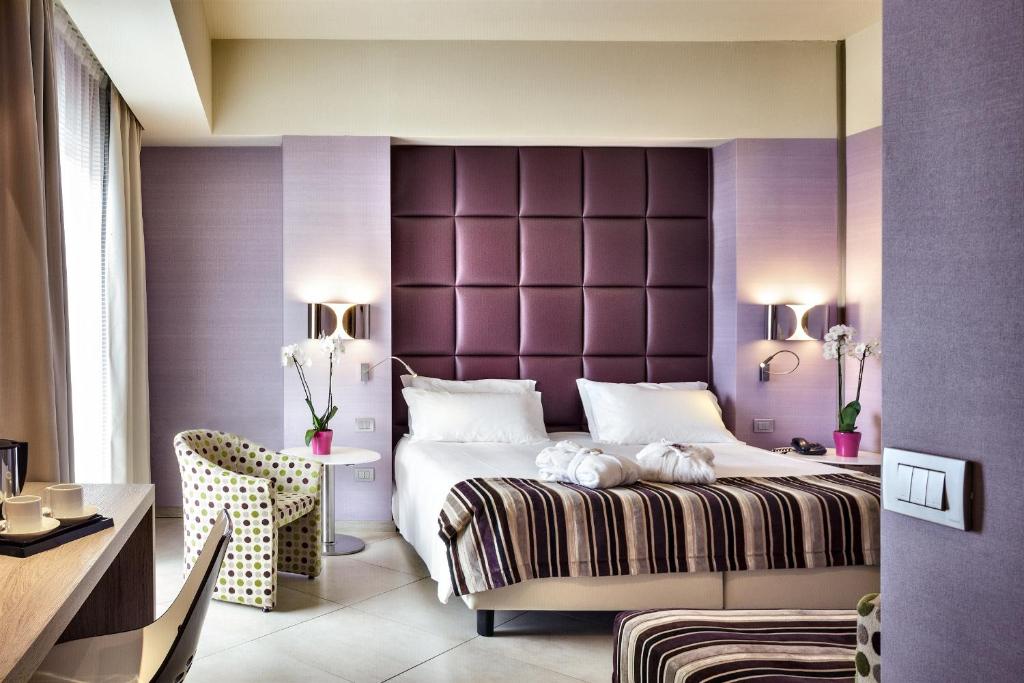 Jazz Hotel, located just 500 meters from Olbia Costa Smeralda Airport and 2 km from Olbia city center, is a luxurious spa hotel that offers a range of amenities for its guests. The hotel features a refreshing swimming pool and air-conditioned rooms with LCD satellite TVs. Some rooms even offer private terraces, while suites come with a spabath for the ultimate relaxation experience. Free Wi-Fi is available throughout the hotel, and each room boasts a contemporary design and comes with a private bathroom complete with slippers and toiletry set.
One of the highlights of Jazz Hotel is the exclusive swimming pool area, which includes a hot tub reserved solely for hotel guests. Guests can also pamper themselves in the spa facilities, which include an emotional shower and Turkish bath, before indulging in herbal tea in the relaxation area. The on-site à la carte restaurant serves an interesting mix of international dishes for lunch and dinner.
In addition to its luxurious amenities, Jazz Hotel also provides modern conference rooms with a maximum capacity of 110 people, making it an ideal choice for business travelers. Situated between Olbia center and Costa Smeralda Airport, the hotel is conveniently connected to all main attractions in the area as well as the island's main roads.
– Convenient location near airport
– Luxurious swimming pool area with hot tub
– Spa facilities including emotional shower and Turkish bath
– On-site à la carte restaurant serving international dishes
– Modern conference rooms accommodating up to 110 people
Spa Hotels in Downtown Olbia
Downtown Olbia offers an array of luxury spa hotels, providing travelers with a serene and rejuvenating retreat. From soothing treatments to state-of-the-art wellness facilities, these hotels offer the perfect balance of relaxation and indulgence for an unforgettable stay.
DoubleTree By Hilton Olbia – Sardinia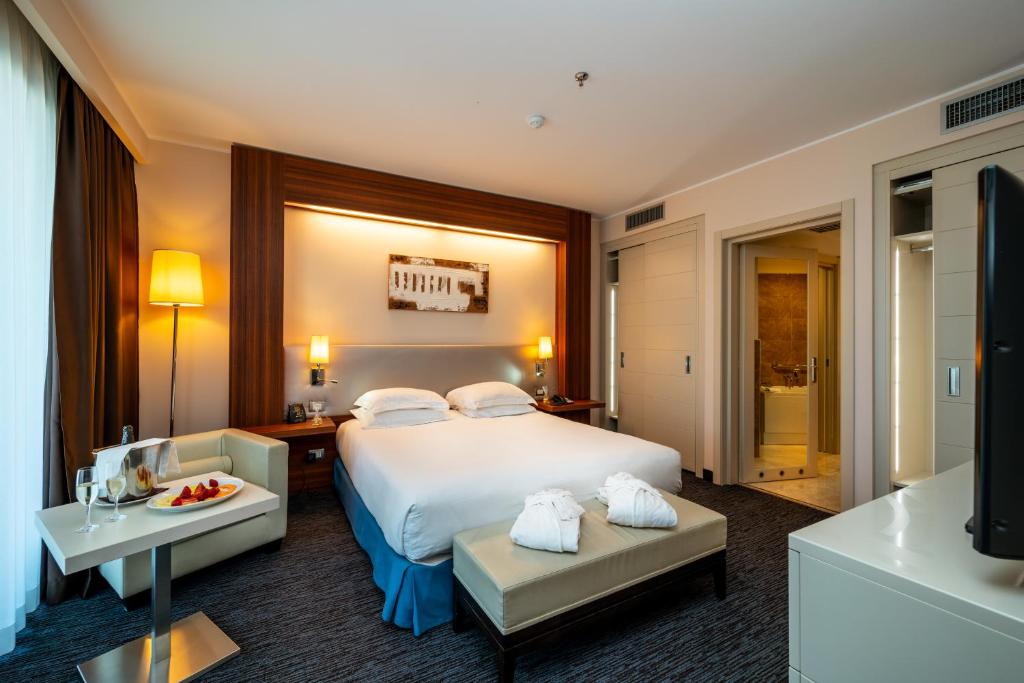 DoubleTree By Hilton Olbia – Sardinia is a modern and luxurious hotel that offers a range of amenities to ensure a comfortable stay. The hotel boasts an outdoor pool with stunning views of Olbia harbour, providing the perfect spot to relax and unwind. Located just a 10-minute walk from Olbia's historic centre, guests have easy access to explore the city's cultural attractions and vibrant atmosphere. Tilibbas Restaurant serves delicious classic Italian cuisine in its main dining room or by the poolside, offering a memorable culinary experience. The hotel also provides free gym facilities and parking for guests' convenience. Each air-conditioned room at DoubleTree By Hilton features an LCD HD TV with Mediaset Premium channels, as well as complimentary tea and coffee-making facilities. Guests can choose between à la carte or buffet-style breakfast options to start their day off right. For those looking to enjoy a refreshing drink or appetizer, Flamingos Bar with Sky TV is the place to be. Situated in the city's industrial area, the hotel is only a short distance away from Pevero Golf Club and the popular Emerald Coast, making it an ideal choice for golf enthusiasts and beach lovers alike. With Olbia Airport just a 10-minute drive away, DoubleTree By Hilton offers both convenience and luxury for travelers visiting Sardinia.
Pros:
– Beautiful outdoor pool overlooking Olbia harbour
– Convenient location within walking distance of Olbia's historic centre
– Tilibbas Restaurant serving delicious Italian cuisine
– Complimentary gym facilities
– Free parking for guests
Hotel Cala di Volpe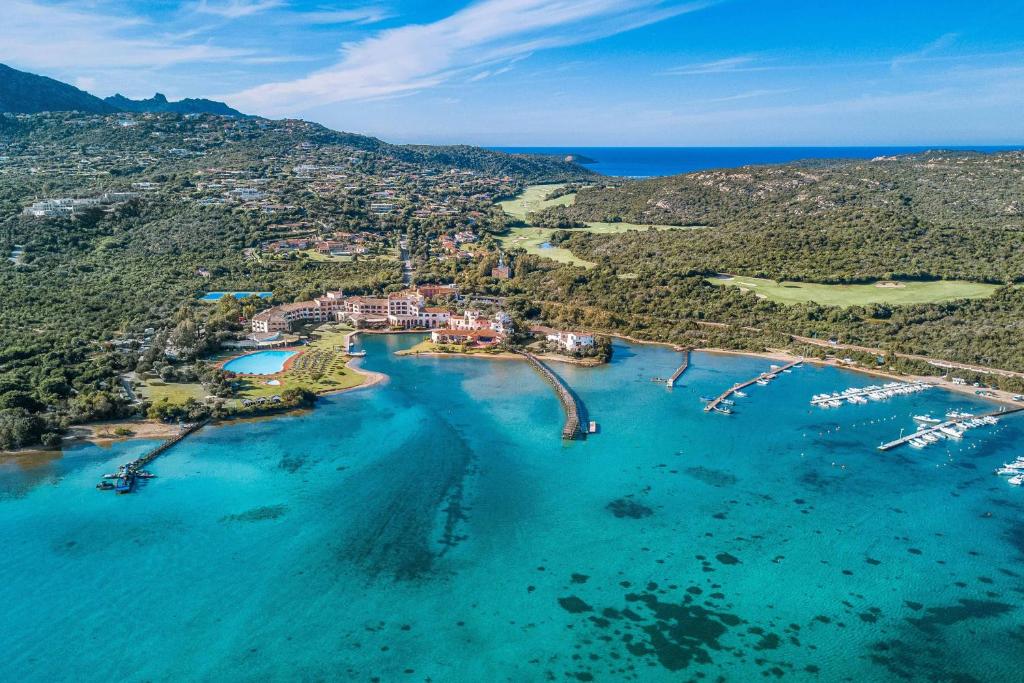 Hotel Cala di Volpe is a luxurious resort nestled in the midst of a lush Mediterranean landscape. The hotel boasts top-notch sports and wellness facilities, as well as a breathtaking private beach. Guests can indulge in a variety of culinary delights at the award-winning restaurants, offering everything from designer Mediterranean cuisine to gourmet Sardinian dishes. With stunning views of the bay, guests can also enjoy wine tasting and much more. The spacious and air-conditioned rooms feature modern amenities such as a 42-inch flat-screen TV with satellite channels and DVD player. Each room offers a private balcony overlooking Cala di Volpe Bay and the hotel gardens. Located near Porto Cervo in Sardinia, guests can partake in various activities including tennis on the three floodlit synthetic grass courts or relax by the large salt-water pool surrounded by shaded huts with loungers and beach towels. The white-sand beach with lifeguard services is just a 5-minute boat ride or 15-minute stroll away, with a free shuttle available every half hour from the pool area. For those looking to stay active during their stay, there is also a well-equipped fitness center open 24 hours with personal trainers available upon request. To enhance relaxation, guests can book rejuvenating beauty treatments or soothing massages at the wellness center. Plus, parking is complimentary for added convenience.
– Surrounded by lush Mediterranean landscape
– Excellent sports and wellness facilities
– Stunning private beach
– Award-winning restaurants offering delectable cuisine with beautiful bay views
– Free parking
Olbia Spa Hotels Information
| | |
| --- | --- |
| 🛎️ Spa Hotels in Olbia | 11 |
| 💵 Hotels Prices From | $115 |
| 💵 Highest price | $1599 |
| 🥇 Average Review Score | 8.5/10 |
| 🛏️ Average number of Rooms | 69 |
Top SPA hotels in Olbia
| | |
| --- | --- |
| Casagliana Suite Resort | 9.4/10 |
| Hotel Cala di Volpe | 9.2/10 |
| Hotel Romazzino | 8.8/10 |
| Jazz Hotel | 8.8/10 |
| Hotel Panorama | 8.6/10 |
FAQ
Are there any luxury spa hotels in Olbia?
Yes, Olbia is home to several luxury spa hotels that offer a range of rejuvenating treatments and wellness activities. These hotels are designed to provide the utmost comfort and relaxation for their guests, with state-of-the-art facilities and professional staff who are trained in various holistic therapies.
What kind of spa treatments can I expect at a luxury hotel in Olbia?
Luxury spa hotels in Olbia offer a wide array of treatments to cater to different needs. From traditional massages like Swedish and deep tissue, to more specialized therapies such as aromatherapy, reflexology, and hot stone massages, you can indulge in ultimate pampering during your stay. Additionally, many hotels also offer facials, body scrubs, wraps, and beauty therapies using high-quality products.
Do the luxury spa hotels have fitness centers or gyms?
Yes, most luxury spa hotels in Olbia understand the importance of maintaining a healthy lifestyle alongside relaxation. Therefore, they often provide well-equipped fitness centers or gyms where guests can continue their workout routine during their stay. These facilities usually include modern exercise machines as well as personal trainers who can provide guidance on achieving fitness goals.
What other amenities can I expect at a luxury spa hotel in Olbia?
Apart from luxurious accommodation and world-class spas, these hotels also offer a range of additional amenities for the convenience of their guests. These may include swimming pools with stunning views, gourmet restaurants serving delectable cuisines made from fresh local ingredients, bars offering a selection of fine wines and cocktails, tranquil gardens or terraces for outdoor relaxation,
and even shuttle services for easy transportation within the city.
Can I book day passes to use the spa facilities without staying at a luxury hotel?
While it varies from hotel to hotel, some luxury spas in Olbia do offer day passes for non-guests who wish to enjoy their facilities. However, it is recommended to inquire with the specific hotel in advance as availability may be limited, especially during peak seasons. Day passes can be a great option for those who want a taste of luxury and relaxation without staying overnight.
Popular Wellness Hotels destinations