Welcome to our latest exploration of the most exquisite wellness retreats in Oberstaufen, Germany. Nestled amidst the picturesque landscapes of Oberstaufen, this charming destination is renowned for its rejuvenating spa hotels. Prepare to embark on a journey where tranquility and luxury seamlessly merge, promising an unforgettable escape from the bustling world.
Oberstaufen boasts an array of opulent spa sanctuaries that cater to discerning travelers seeking serenity and indulgence. These havens of relaxation offer an unparalleled experience, combining ancient healing traditions with modern amenities. Immerse yourself in soothing holistic therapies and pamper your senses with expertly crafted beauty treatments. Unwind in the blissful ambiance as skilled therapists work their magic using indigenous ingredients sourced from the bountiful surroundings.
Indulge in bespoke wellness programs tailored to revitalize your body and soul at these luxurious establishments. From therapeutic massages that melt away tension to invigorating yoga sessions that restore balance, each activity is designed to enhance your overall well-being. Take advantage of state-of-the-art facilities such as steam rooms, saunas, and hydrotherapy pools, ensuring complete rejuvenation during your stay.
Whether you seek a romantic getaway or a solo retreat dedicated to self-care, Oberstaufen's spa hotels offer a haven where you can surrender yourself entirely to pure bliss and tranquility. Join us as we dive into the realm of ultimate relaxation in this captivating German destination!
Oberstaufen Most Relaxing Spa Resorts and Hotels
Allgäu Sonne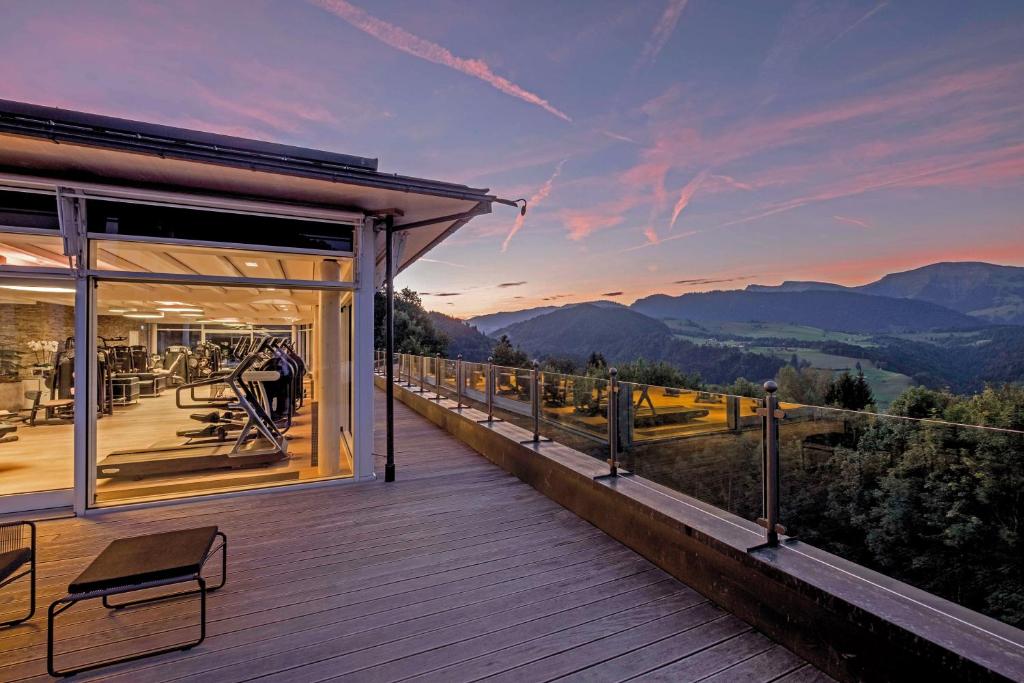 The 5-star Allgäu Sonne hotel is a luxurious retreat located just a 10-minute walk from Oberstaufen town center. It features a stunning wellness area with an outdoor pool and two indoor pools, as well as free fitness classes and a beautiful panorama entrance hall. Guests can relax and rejuvenate in the sauna, steam room, and spa tub. The hotel offers stylish rooms with modern amenities such as a TV, minibar, and safe, many of which boast breathtaking views of the Alps. Free WiFi and complimentary tea and mineral water are provided in the spa area. Guests can enjoy an invigorating workout with excellent views in the panorama fitness room or indulge in a wide range of massages, beauty treatments, and health programs available at the spa. The dining options at Allgäu Sonne are exceptional – guests can start their day with a delectable breakfast buffet or savor fine regional cuisine at the hotel's restaurant. The Stiessbergstüble pub offers drinks along with live music and dance for those looking to unwind after a long day. The half-board option includes either a gourmet 5-course meal or themed buffet for dinner. During the summer months, guests can dine on the terrace or by the pool, enjoying delicious meals and refreshing drinks while taking in picturesque surroundings. Additionally, guests receive a 20% discount at both Golfclub Oberstaufen-Steibis and Golfpark Bregenzerwald. Overall, Allgäu Sonne provides an exquisite holiday experience combining luxury accommodations with outstanding wellness facilities.
Pros:
– Stunning wellness area with indoor/outdoor pools
– Complimentary fitness classes
– Stylish rooms with magnificent Alpine views
– Wide range of spa treatments available
– Excellent dining options including regional cuisine
Bio- und Wellnesshotel Eggensberger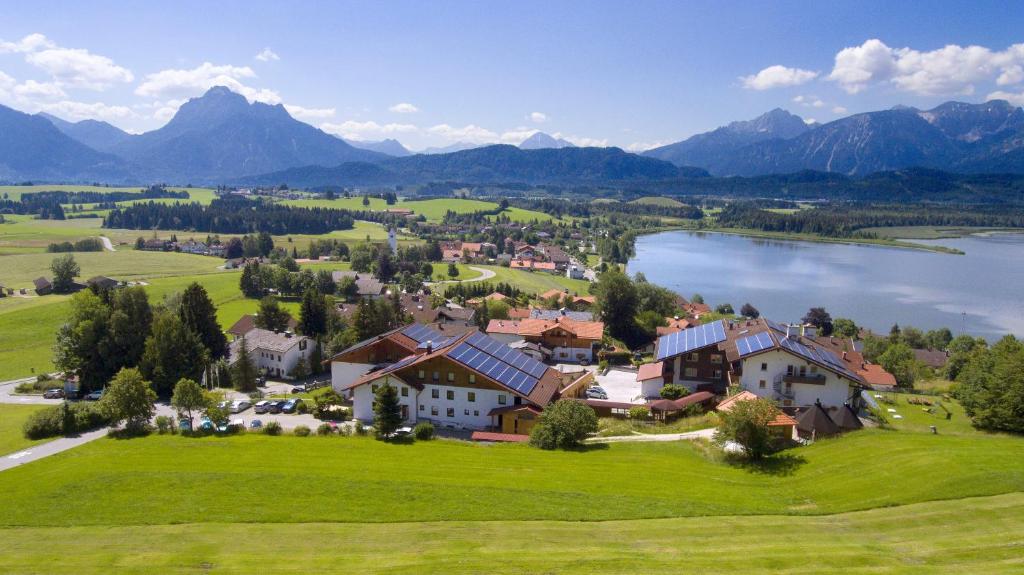 Nestled in the stunning landscape of the Allgäu Alps, between the picturesque Hopfensee and Forggensee lakes, Bio- und Wellnesshotel Eggensberger is a charming family-run 4-star hotel that offers a perfect blend of luxury and relaxation. The hotel features well-appointed double rooms with south-facing balconies providing breathtaking panoramic views of the Alpine scenery and the tranquil lake. Guests are treated to complimentary access to a range of spa facilities including a 10-meter pool, Finnish sauna, biosauna, infrared sauna, relaxation room, and a serene sunbathing lawn. The bright and cheerful decor of the hotel showcases native wood and natural materials creating an inviting atmosphere. With its convenient location, guests can explore various leisure activities all year round in the beautiful Allgäu region or take day trips to nearby attractions like Füssen's historic town (just 4 km away) or the majestic royal palaces of Neuschwanstein and Hohenschwangau. Indulge in delicious organic food throughout your stay starting with a delectable complimentary breakfast each morning followed by a choice between traditional dinner menus or diet-conscious buffets in the evening at the on-site restaurant. What sets this hotel apart is their commitment to sustainability as all food served in the restaurant is sourced from their own family farm while other drinks and snacks are also organic.
Hotel Franks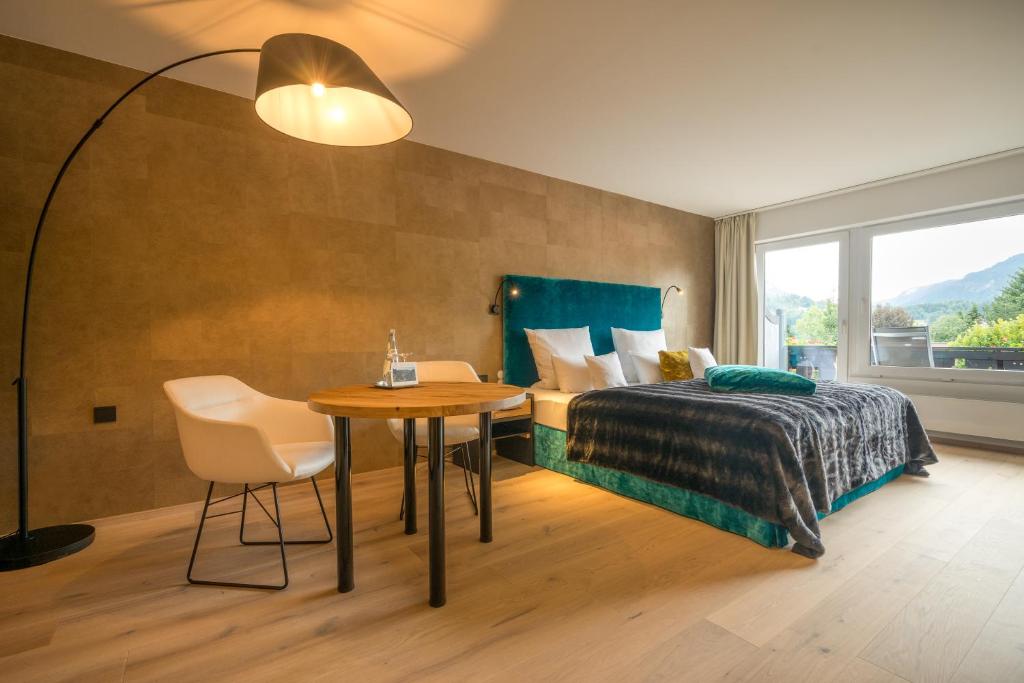 Located in the stunning Allgäu holiday resort of Oberstdorf, Hotel Franks is a luxurious 5-star hotel that offers a range of exceptional features. With its large garden boasting a natural pool and breathtaking mountain views, guests are treated to a tranquil and picturesque setting. The hotel also boasts new indoor and outdoor swimming pools, exclusive spa facilities designed in Alpine style, and two creative restaurants. The WellEtage Spa is particularly impressive with its spacious sauna area featuring a Finnish sauna, multi-purpose sauna, steam bath, and whirlpool. Guests can also indulge in beauty and therapeutic treatments at the spa bar while enjoying refreshing drinks, coffee, tea, and snacks. The rooms and suites at Hotel Franks are spacious and well-appointed with cable TV and modern bathrooms; most even have private balconies offering stunning mountain views. Families are welcome here too as children can enjoy the playroom, adventure playground, and kids club during the summer months. Golf enthusiasts will be delighted to know that guests receive a 15% discount at the nearby golf course as well. And when it comes to dining options, Hotel Franks does not disappoint with its exquisite breakfast buffet served at Frank's restaurant which also offers a wide range of seasonal dishes made using local organic products à la carte style. Guests can opt for half-board or choose from various gourmet dinner options including theme buffets on Saturdays and an extravagant 6-course gala dinner once per week.
– Beautiful natural pool in expansive garden
– Scenic view of mountains
– New indoor and outdoor swimming pools
– Exclusive Alpine-style spa facilities
– Two creative restaurants serving delicious meals
Oberstaufen Luxury Spa Hotels
Oberstaufen Luxury Spa Hotels offer a tranquil and rejuvenating retreat for those seeking the ultimate spa experience. With world-class treatments, breathtaking views, and attention to detail, these hotels provide a luxurious haven for relaxation and wellness.
Interest Vitalhotel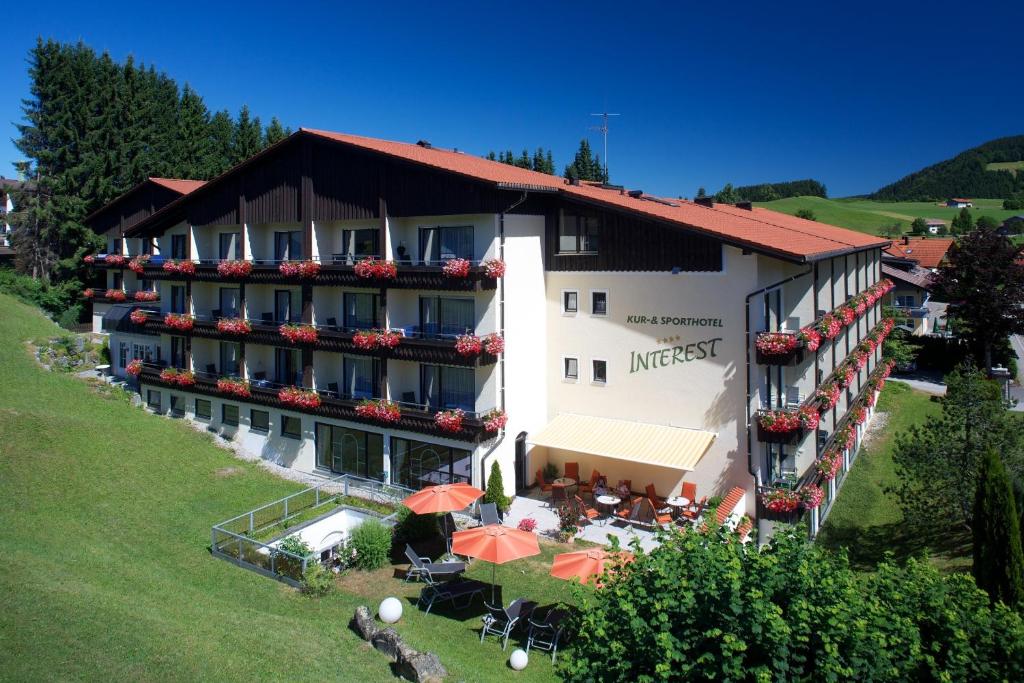 Located in the picturesque green Bavarian countryside of Oberstaufen, Kur- und Sporthotel Interest is a charming 4-star Alpine-style hotel that offers guests a truly relaxing and rejuvenating experience. Each room comes with a balcony, allowing guests to soak in the beautiful surroundings. The hotel features free wifi and a spa area complete with an indoor swimming pool, sauna, Finnish sauna, Bio Sauna, and Infrared cabins. Guests staying at Kur- und Sporthotel Interest also receive the Oberstaufen Plus Card which grants them access to free public transportation, ski passes, entrance to the water park Aquaria, and more. The hotel's restaurant Beim Schweitzer serves delicious Bavarian dishes and there is also a terrace where guests can unwind. Additional amenities include free rental bikes and ski storage as well as complimentary on-site parking.
Pros:
– Indoor pool for relaxation
– Free wifi throughout the property
– Spa facilities including sauna and infrared cabins
– Oberstaufen Plus Card offering numerous perks
– Charming Alpine-style decor
Dein Engel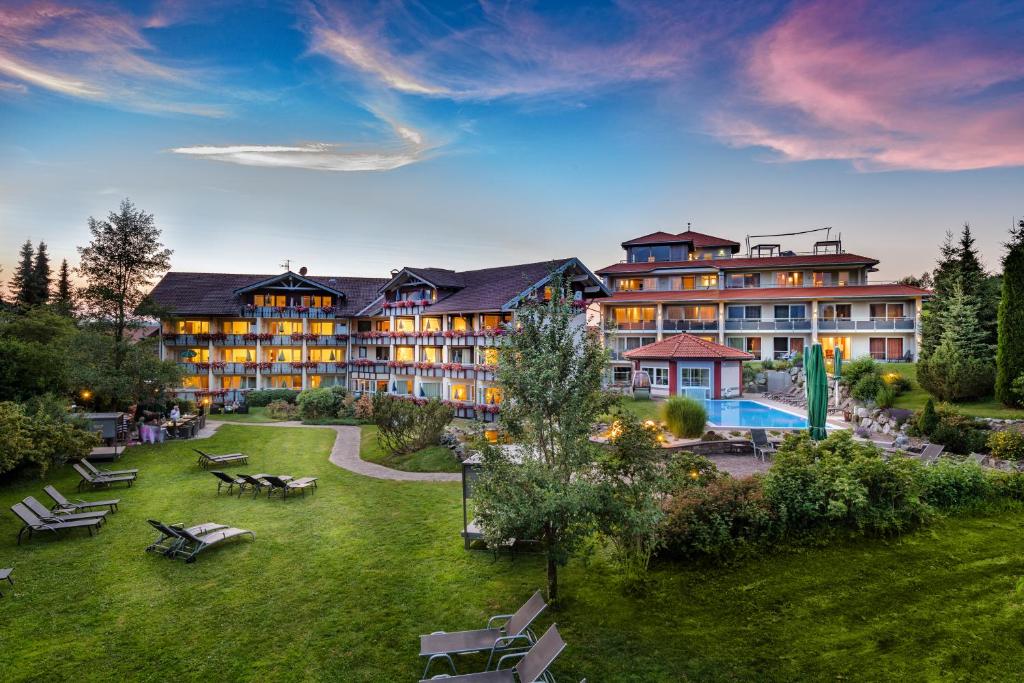 Situated in the charming spa town of Oberstaufen, Dein Engel is a traditional hotel offering a range of luxurious amenities. Located just 2 km from Oberstaufen Train Station, this hotel boasts picturesque views of the Allgäu Mountains and provides guests with free Wi-Fi. The spa at Dein Engel is a true haven for relaxation, featuring a steam bath, massage rooms, and hot tub. The modern and rustic designed rooms are equipped with satellite TV, minibar, telephone, radio, and bathrobe. Some rooms also offer balconies for guests to enjoy the stunning mountain scenery. Guests can start their day with a delicious buffet breakfast served every morning at Dein Engel's traditional restaurant which also offers homemade cakes and regional specialties throughout the day. In the evenings, guests can unwind at the hotel bar with a refreshing drink. For those looking to stay active during their stay, there is a fitness center available as well as tennis court and bowling alley on-site. The sun terrace is perfect for relaxation after an activity-filled day or guests can indulge in some pampering treatments at the spa. Additionally, Dein Engel provides convenience with its conference room and offers cars, bicycles,and ski equipment for hire to explore the surrounding mountains and countryside which are ideal for walking,cycling,and skiing adventures.The town center of Oberstaufen is easily accessible by foot in just 10 minutes or via the comfortable shuttle service.
– Free Wi-Fi.
– Outdoor heated swimming pool.
– Spa facilities including sauna & hot tub.
– On-site restaurant serving homemade cakes & regional specialties.
– Fitness center & various recreational activities available (tennis court,bowling alley).
Hotel Hirsch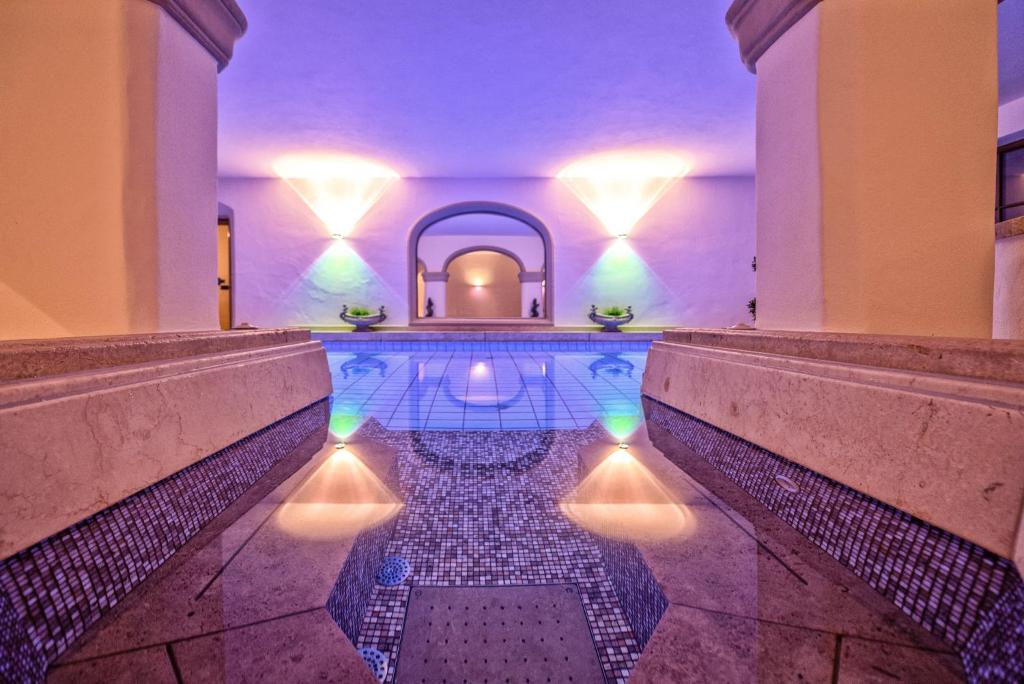 Hotel Hirsch is a peaceful retreat located near the pedestrian area in Oberstaufen's charming city center. This hotel offers an array of wellness options such as physiotherapy, nutritional counseling, and crystal salt therapy. The spacious rooms provide all modern comforts for guests to unwind and relax. Guests can indulge in delicious regional Allgäu cuisine at the rustic-style Hirsch Taverne. Additionally, they will receive the Oberstaufen-Plus-card which grants them free access to public transport, ski passes, and mountain railways. Kur-und Wellnesshotel is an ideal choice for those who wish to explore the breathtaking countryside of Oberallgäu or venture into the shops and boutiques of Oberstaufen. Sports enthusiasts can enjoy activities like golfing, hiking, Nordic walking, mountain biking or winter sports in close proximity to the hotel.
Pros:
– Quiet location near pedestrian area
– Offers various wellness treatments including physiotherapy and crystal salt therapy
– Spacious rooms with modern comforts
– Delicious regional cuisine served at Hirsch Taverne
– Complimentary Oberstaufen-Plus-card providing free access to public transport and ski facilities
5 Star Spa Hotels in Oberstaufen
Oberstaufen offers a selection of 5-star spa hotels that provide guests with the ultimate luxury and relaxation. These hotels boast world-class spa facilities, rejuvenating treatments, and breathtaking views of the surrounding natural beauty.
Landhaus Kössel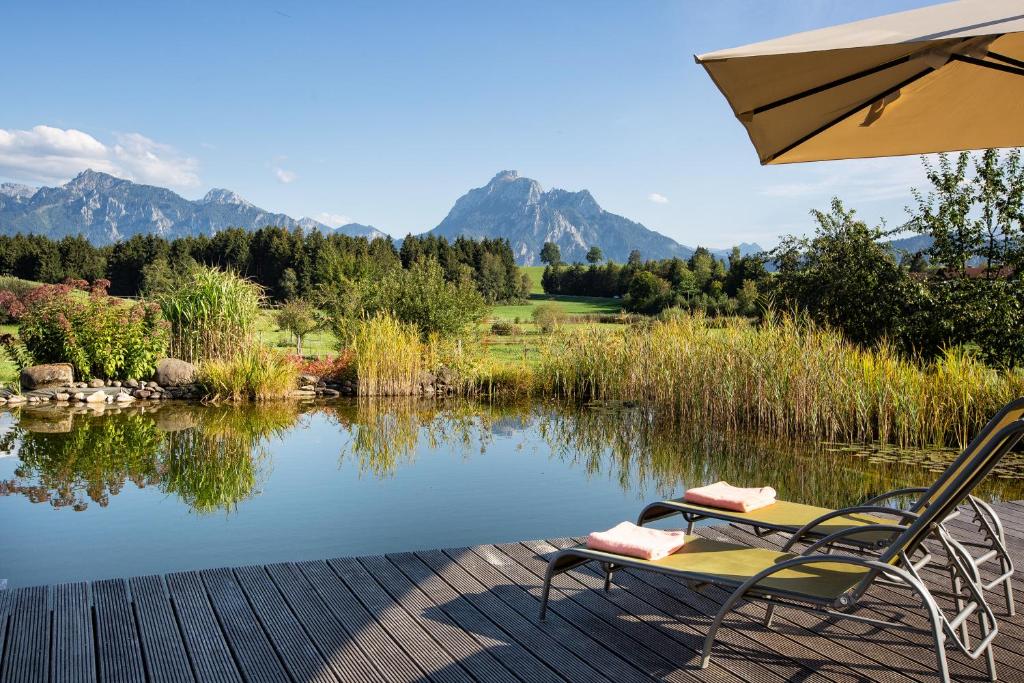 Located in the charming Bavarian health resort of Hopfen am See, Landhaus Kössel offers stunning views of the Allgäu Alps. This family-run, non-smoking hotel is the perfect destination for those seeking a peaceful retreat with spa facilities and a spacious garden complete with a panoramic terrace. The hotel features comfortable country-style rooms, a natural swimming pool with sunbathing area, and a free infra-red sauna. Families will appreciate the ample play space for children, while outdoor enthusiasts can explore the nearby historic town center of Füssen or embark on day trips to attractions such as Neuschwanstein Castle. Guests can enjoy free Wi-Fi internet access and complimentary parking during their stay. For those looking to stay active, golfing, hiking, and cycling opportunities abound in the idyllic Lechtal valley. After an adventure-filled day outdoors, guests can relax in the hotel's wellness area which includes a sauna, infra-red cabin, and solarium.
– Scenic views of the Allgäu Alps
– Spa facilities including an infra-red sauna
– Natural swimming pool with sunbathing area
– Ample play space for children
– Free Wi-Fi internet access and parking
Königshof Health & View
The Königshof Health & View is a luxurious spa hotel located in the picturesque Allgäu region of Oberstaufen, offering guests a stunning view of the surrounding landscape. With complimentary WiFi and access to an indoor pool and fitness area, guests can relax and rejuvenate in style. The hotel also boasts a variety of on-site treatments for ultimate relaxation. The spacious rooms at Königshof Health & View are designed for tranquility, featuring comfortable seating areas, TVs, private bathrooms, and balconies or terraces. Start your day with a healthy vegetarian breakfast at the "Gesund-Restaurant," where each dish is freshly prepared to suit individual preferences. Additional amenities include a shared lounge with a fireplace. Outdoor enthusiasts will find plenty to do in the Oberallgäu region, from hiking and skiing to golfing. The Hündlebahn is just 2.1 km away while the Imbergbahn and Fluhexpress ski lifts are less than 4 km away. Lake Constance is only 35 km away and Friedrichshafen Airport is conveniently located 60 km from the hotel.
– Breathtaking views of Allgäu
– Free WiFi
– Access to indoor pool and fitness area
– On-site relaxing treatments
– Healthy vegetarian breakfast options
Königshof Hotel Resort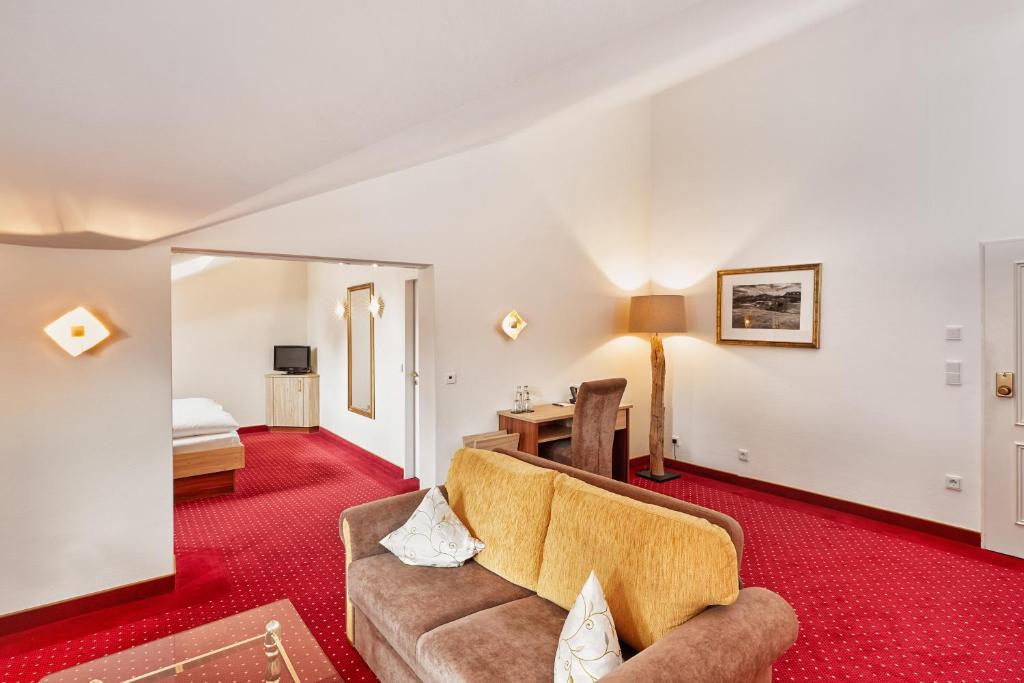 The Königshof Hotel Resort is a small and luxurious 4-star superior hotel located 2 kilometers south of Oberstaufen, near the Austrian border. This charming hotel offers modern rooms with views of the Allgau Mountains and free Wi-Fi. It features a large wellness area (2500m²) where guests can relax and enjoy spa and sports facilities including 1 fresh water and 1 seawater swimming pool, 3 steam rooms, 2 outdoor panorama saunas, and a Roman steam bath. The Königshof also offers a range of activities throughout the week such as Qi Gong, Pilates, water gymnastics, aqua-jogging, and guided hikes through the mountains. Guests can start their day with a delicious breakfast served at the Königshof Hotel Resort between 07:30 and 10:30. The on-site restaurant serves regional and international dishes made from local organic produce while the bar offers a variety of drinks accompanied by live music.
– Small hotel with indoor pool
– Modern rooms with mountain views
– Extensive wellness area (2500m²)
– Range of activities offered throughout the week
– Delicious breakfast served daily
Spa Hotels in Downtown Oberstaufen
Downtown Oberstaufen offers a tranquil escape for travelers seeking the ultimate spa experience. With its stunning surroundings and serene atmosphere, it's the perfect destination to unwind and rejuvenate in luxurious spa hotels.
Golf & Alpin Wellness Resort Hotel Ludwig Royal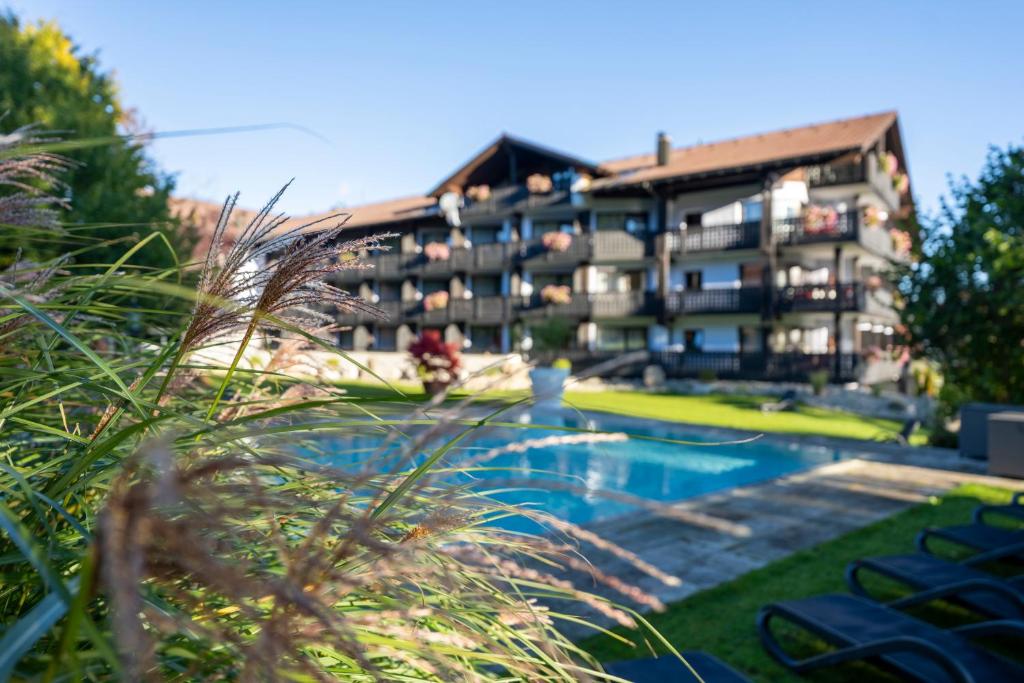 The Golf & Alpin Wellness Resort Hotel Ludwig Royal in Oberstaufen-Steibis is a traditional and reputable hotel that offers a first-class golf and spa holiday. Each room is equipped with a flat-screen TV, seating area, minibar, and private bathroom. Nestled in the picturesque landscape of the Upper Algäu region, this hotel boasts a modern and luxurious spa oasis while being conveniently located near three 18-hole golf courses. Guests can start their day with a delicious breakfast featuring specialty Bircher muesli and enjoy a 4-course menu of regional delicacies at the gourmet restaurant each evening. In winter, visitors can take advantage of one of Germany's finest ski areas with a cross-country ski track right outside the hotel's front door and a ski lift opposite. After an active or relaxing day surrounded by nature, guests can retreat to their enchanting guest rooms for peace and tranquility.
– Modern and luxurious spa facilities
– Convenient location near three 18-hole golf courses
– Delicious breakfast featuring specialty Bircher muesli
– Gourmet restaurant offering regional delicacies
– Proximity to excellent skiing opportunities during winter
DIANA Naturpark Hotel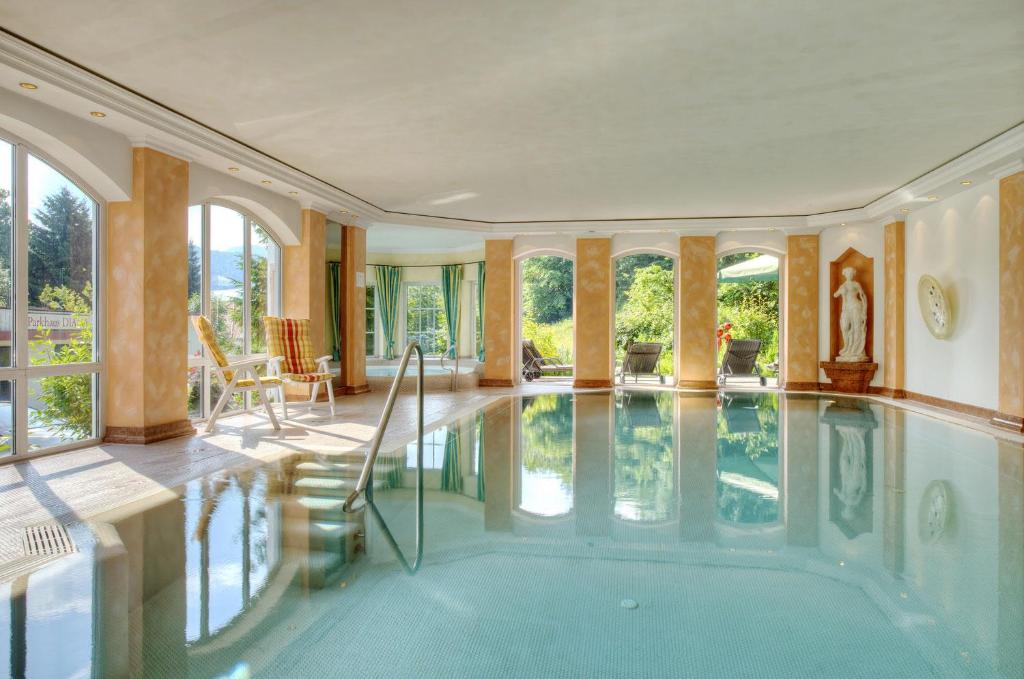 Set in a peaceful location in Oberstaufen, the family-run DIANA Naturpark Hotel offers an extensive breakfast, cosy wellness area, and free use of local mountain railways, golf, and ski facilities. Free WiFi is available in the rooms. The hotel is conveniently located 500 meters away from several restaurants and 850 meters from the Oberstaufen Train Station, making it easily accessible. A drive of just 30 minutes will take you to the A95 motorway. Each morning, guests can enjoy a delicious breakfast buffet from 8 – 11 am with a range of classic options as well as vegan-vegetarian details. The rooms at this 4-star hotel are equipped with modern amenities including a flat-screen TV, minibar, and balcony. The en suite bathrooms feature bathrobes, a hairdryer, and complimentary toiletries for added convenience. With its ideal location surrounded by the beautiful Bavarian countryside, guests have plenty of outdoor activities to choose from such as hiking, biking skiing or golfing (with the Oberstaufen Golf Club just a short 5-minute drive away). After an active day outdoors rejuvenate at the hotel's cosy wellness area which includes a swimming pool sauna steam room and massage service on request.
Pros:
– Extensive breakfast buffet with options for vegans and vegetarians
– Convenient location near restaurants and train station
– Free use of local mountain railways,golf,and ski facilities
– Modern amenities in rooms including flat-screen TV,minibar,and balcony
– Cosy wellness area with swimming pool,suana,and steam room
Oberstaufen Spa Hotels Information
| | |
| --- | --- |
| 🛎️ Spa Hotels in Oberstaufen | 11 |
| 💵 Hotels Prices From | $275 |
| 💵 Highest price | $1762 |
| 🥇 Average Review Score | 8.3/10 |
| 🛏️ Average number of Rooms | 45 |
Top SPA hotels in Oberstaufen
| | |
| --- | --- |
| Hotel Franks | 8.9/10 |
| Landhaus Kössel | 8.9/10 |
| DIANA Naturpark Hotel | 8.9/10 |
| Allgäu Sonne | 8.5/10 |
| Dein Engel | 8.5/10 |
FAQ
1. What are some of the top luxury spa hotels in Oberstaufen?
Oberstaufen offers a range of luxurious spa hotels that cater to different preferences. One highly recommended option is the Lindner Parkhotel & Spa, which boasts a stunning location amidst nature and offers a variety of wellness treatments, including massages, facials, and saunas. Another popular choice is the Hotel Adler, known for its exceptional service and extensive spa facilities such as indoor and outdoor pools, steam baths, and relaxation areas.
2. Are there any spa hotels in Oberstaufen with mountain views?
Absolutely! If you're looking to combine relaxation with breathtaking mountain vistas, Oberstaufen has several options for you. The Panoramahotel Oberjoch is one such hotel where guests can indulge in luxurious spa treatments while enjoying panoramic views of the surrounding mountains. Additionally, the MONDI-HOLIDAY Alpenblickhotel Oberstaufen provides guests with an idyllic setting surrounded by lush greenery and majestic peaks.
3. What types of wellness activities are available at spa hotels in Oberstaufen?
Spa hotels in Oberstaufen offer an array of wellness activities to rejuvenate your body and mind. From traditional massages like Swedish or Thai massage to hydrotherapy sessions like hot stone therapy or aromatherapy baths – there's something for everyone's taste. Many establishments also provide yoga or fitness classes as well as beauty treatments including facials or manicures to ensure a comprehensive wellness experience during your stay.
4. Can I find vegetarian or vegan dining options at spa hotels in Oberstaufen?
Certainly! Most luxury spa hotels in Oberstaufen understand the importance of catering to different dietary preferences and offer vegetarian and vegan dining options on their menus. Whether it's a plant-based breakfast buffet featuring fresh fruits, dairy-free alternatives, or gourmet vegan dishes served for dinner – these establishments strive to accommodate all guests' needs and ensure a satisfying culinary experience.
5. Are there any activities to enjoy outside of the spa hotels in Oberstaufen?
Absolutely! While spa hotels in Oberstaufen are renowned for their exceptional wellness facilities, there's also plenty to see and do outside of the hotel premises. The town itself offers charming shops, cafes, and restaurants where you can immerse yourself in the local culture. Outdoor enthusiasts will appreciate the opportunity to explore the breathtaking landscapes through hiking or cycling trails, while golfers can enjoy a round or two at one of the world-class golf courses nearby.
Popular Spa Hotels destinations