Welcome to the concrete jungle where luxury and relaxation meet in the heart of New York City. If you're looking for a getaway that will leave you feeling refreshed and rejuvenated, then look no further than the Spa Hotels scattered throughout this bustling metropolis. With state-of-the-art treatment facilities and top-notch amenities, these hotels provide everything you need to revitalize your mind, body, and soul.
Immerse yourself in a world of tranquility as you indulge in one of the many treatments on offer at these luxurious spas. From massages to facials to full-body treatments, every inch of your body will be pampered by expertly trained professionals. Take a dip in the heated pool or partake in a yoga class before retreating back to your elegantly appointed room for some much-needed rest and relaxation. Whether it's a romantic weekend away or an extended staycation with friends, there is truly something for everyone at these Spa Hotels in New York City. So what are you waiting for? Book now and let your journey towards ultimate wellness begin!
New York Most Relaxing Spa Resorts and Hotels
The Dominick Hotel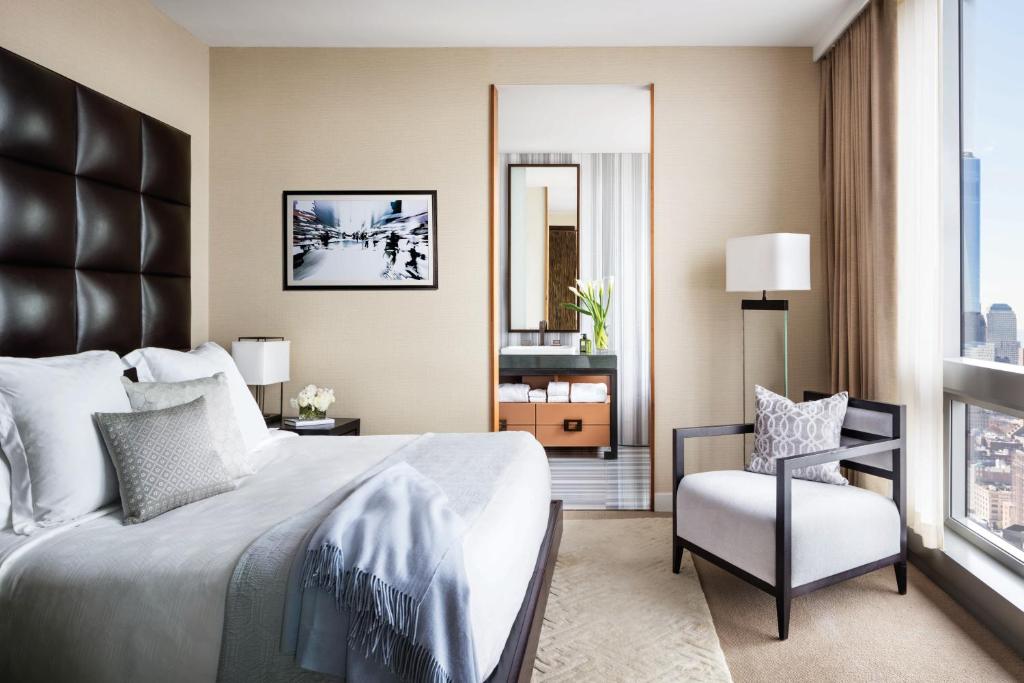 The Dominick Hotel in Manhattan is a top-notch luxury hotel that provides guests with an array of amenities to make their stay comfortable and enjoyable. The hotel boasts 4 restaurants, a full-service spa, a fitness center, and business services. Guests can relax in contemporary rooms featuring custom-made furniture, floor-to-ceiling windows, personalized minibars, 42-inch flat-screen TVs, and iPod docking stations. A seasonal outdoor pool on the 7th floor features a connected bar overlooking the city. Premium Italian marble baths and bathroom vanities with TVs add luxury to the experience. Complimentary WiFi is offered to all guests with premium or platinum options available at a surcharge. The hotel's location is convenient for visiting Washington Square Park (less than 1 km away) and The Film Forum (500 meters).
Pros:
– Excellent location for sightseeing
– Luxurious rooms equipped with modern amenities
– Beautifully designed outdoor pool area
– Convenient access to a variety of dining options
– Top-quality spa services available
Equinox Hotel Hudson Yards New York City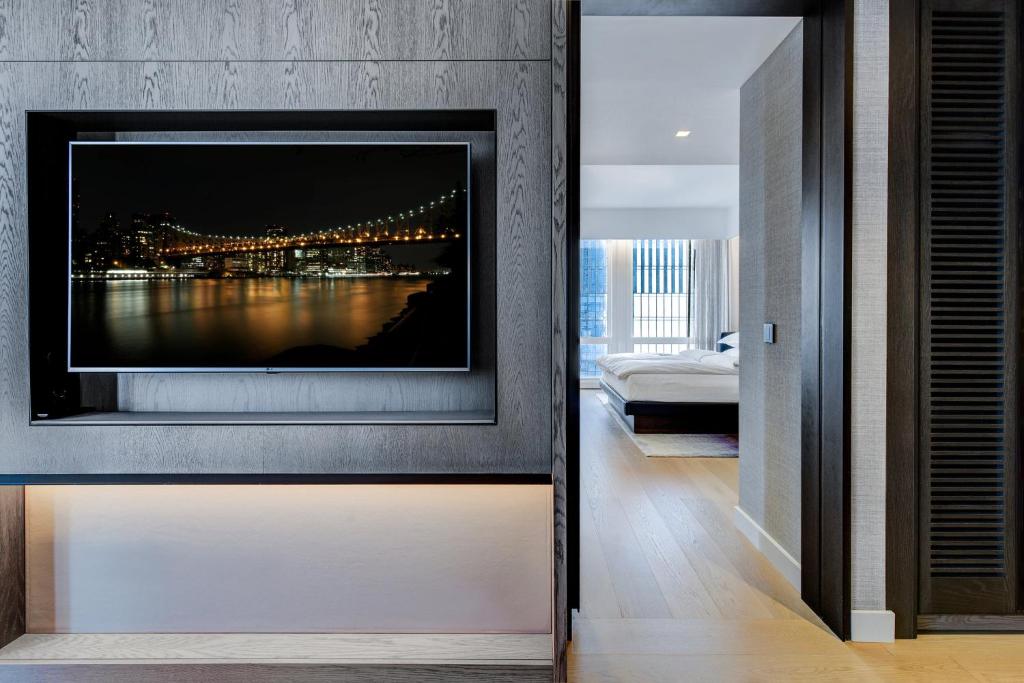 Equinox Hotel Hudson Yards New York City is a luxury hotel that opened its doors in May 2019, catering to those who aspire for a high-end lifestyle. The hotel is located in the newly developed neighborhood of Hudson Yards, which offers more than 100 shops and culinary experiences, public art and cultural institutions. The staff at this accommodation are always available to provide guidance on what to do and what to see in New York City. Additionally, every room features total soundproofing, blackout blinds and integrated technology for personalization purposes.
Pros:
– Centrally located near major airports.
– Equipped with integrated technology for a personalized experience.
– Located within close proximity to Times Square.
– Staff provides guests with recommendations about things to do in NYC.
– Offers a luxurious experience that matches guests' ambitions.
The Marmara Park Avenue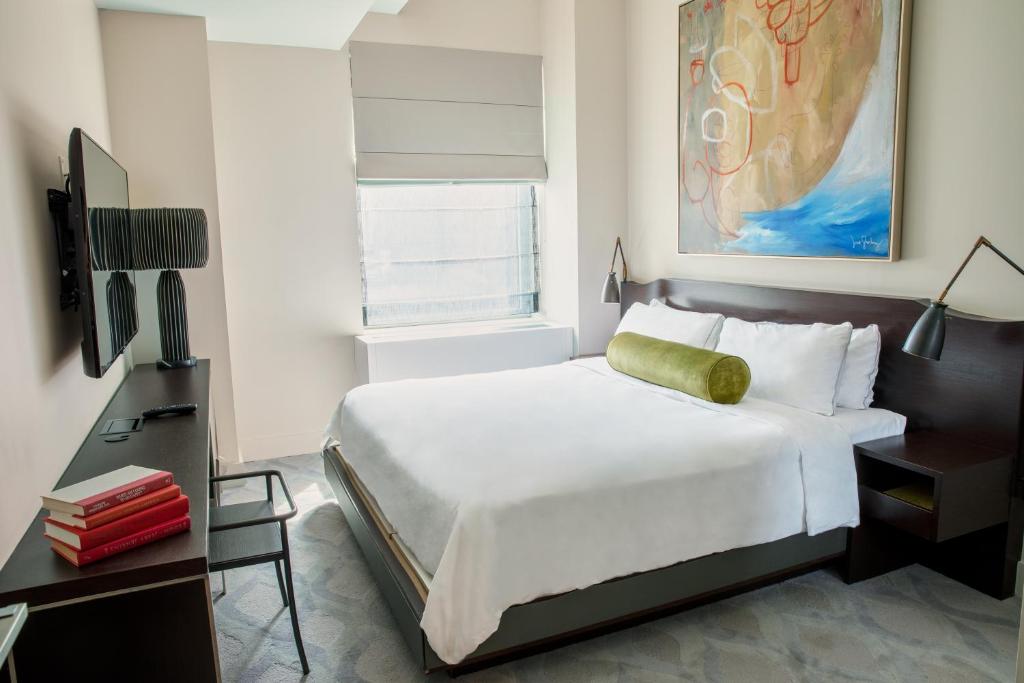 The Marmara Park Avenue is a luxurious hotel located in Manhattan that offers free WiFi access and boasts rooms with a flat-screen TV. Guests can enjoy the wellness centre, which includes an indoor pool, sauna and fitness centre. The hotel features an on-site wine bar and lounge bar for breakfast, lunch and dinner. Room service is also available to guests. The Empire State Building is just a short 6-minute walk away from the hotel, while Herald Square can be reached in 9 minutes on foot. The location also provides luggage storage for added convenience.
– Indoor pool available for guests
– In-room iPad provided
– On-site wine bar
– Wellness center with sauna and fitness center available for guests
– Short walking distance to popular New York City attractions
Other places to stay in New York
New York Luxury Spa Hotels
New York City is home to some of the most luxurious spa hotels in the world, offering unparalleled relaxation and rejuvenation experiences. These hotels are known for their top-notch amenities, expert services, and serene environments designed to provide guests with a peaceful retreat from the bustling city outside.
Hyatt Centric Times Square New York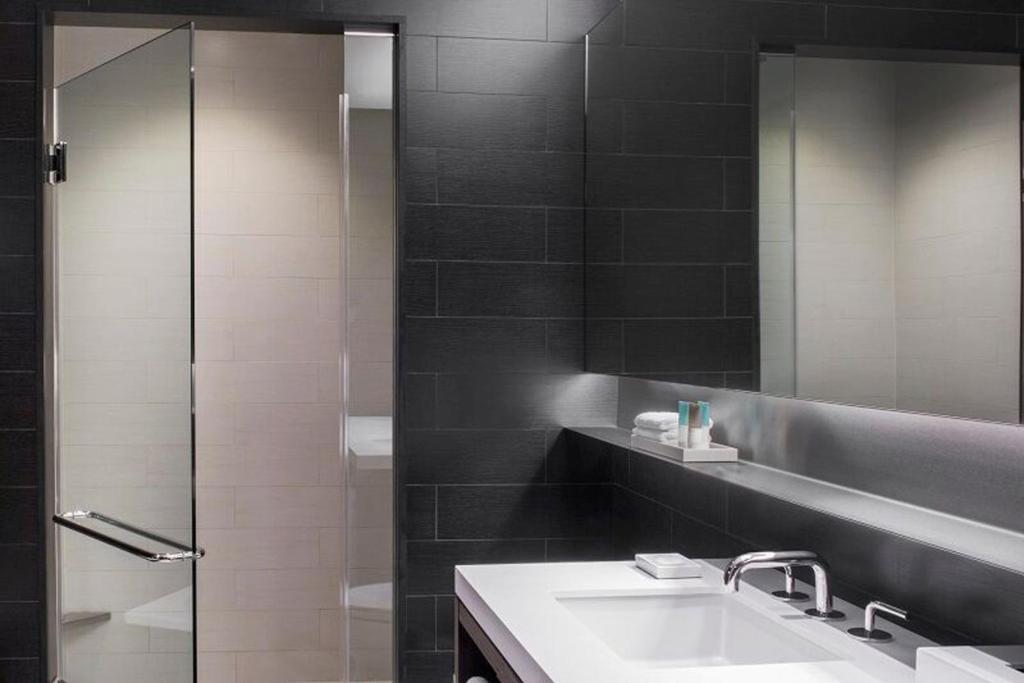 Hyatt Centric Times Square New York is a luxury hotel located in the heart of midtown Manhattan. The rooftop lounge, Bar 54, provides guests with stunning views of the city skyline while sipping on cocktails. All rooms are equipped with modern amenities such as flat-screen TVs, refrigerators, hairdryers and coffee makers for your convenience. Guests can also enjoy complimentary Wi-Fi, access to a 24-hour fitness center, and a business center. Although temporarily closed at the moment, T45 is an onsite restaurant offering American cuisine. The hotel's prime location places guests within walking distance of Time Square and Rockefeller Centre while public transportation options are easily accessible.
– Rooftop lounge with expansive views
– Modern room amenities
– Complimentary Wi-Fi and fitness center access
– Convenient location near popular attractions
– On-site restaurant (temporarily closed)
Arlo Midtown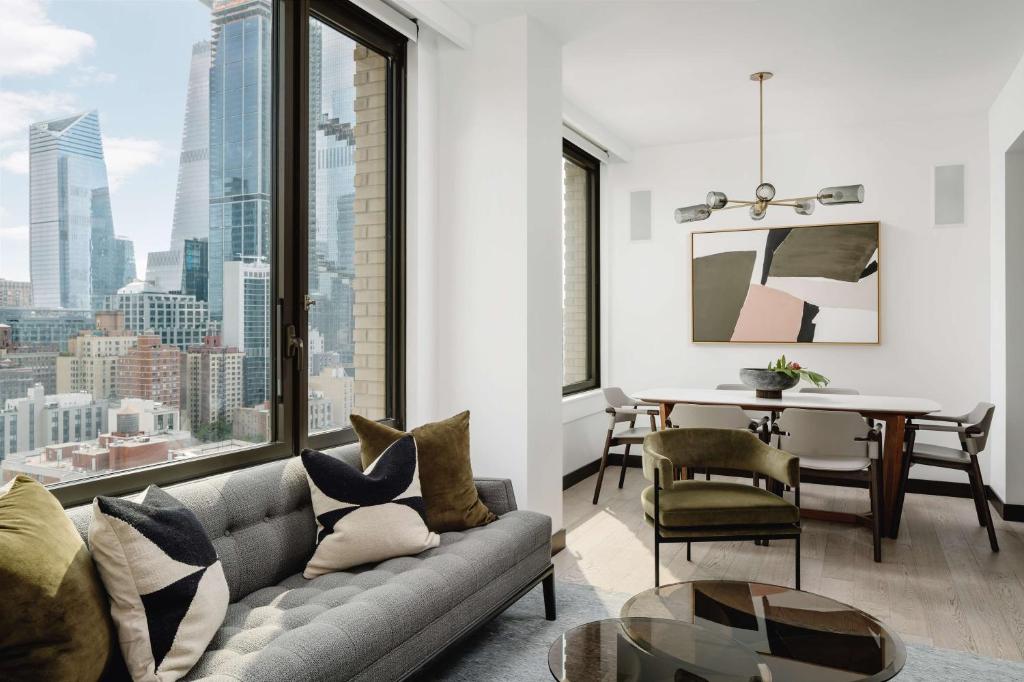 Arlo Midtown is a contemporary 4-star hotel located in New York, which opened its doors in December 2020. The hotel offers convenient amenities such as free bikes, fitness center, shared lounge and terrace. Guests can expect round-the-clock hospitality with a 24-hour front desk and business center. The on-site restaurant serves American and Mediterranean cuisine, while the bar offers an impressive selection of cocktails. Some rooms come with balconies and safety deposit boxes for additional comfort.
– Well-equipped fitness center
– Free bikes for guests to explore the city
– Convenient location near popular attractions like Times Square
– Impressive dining options available on-site
– Round-the-clock hospitality services offered by the staff
The Muse New York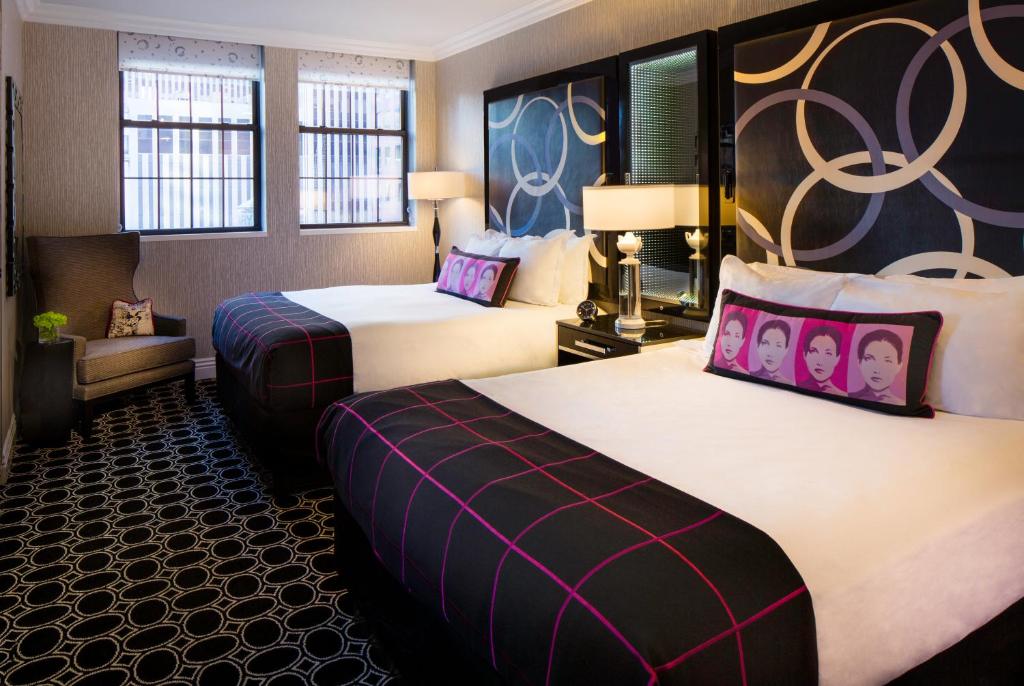 The Muse New York is a stunning eco-friendly boutique hotel situated in Manhattan's vibrant theater district, within easy walking distance of Central Park and Radio City Music Hall. Guests can enjoy a state-of-the-art fitness centre and rooms with 37-inch flat-screen TVs, as well as concierge and business services. Times Square is also nearby, while the Jacob K Javits Convention Center is around 2.7 km away. Here are four additional reasons why The Muse New York should be on your list of top luxury hotels in the city:
– The location is unbeatable for exploring some of New York's most iconic sights.
– The award-winning Muse Bar provides an excellent spot for pre-dinner drinks or a nightcap.
– With its eco-friendly ethos, this hotel offers a guilt-free stay without compromising on style or comfort.
– Rooms come equipped with work desks, making it an ideal base for business travelers looking for both convenience and luxury.
5 Star Spa Hotels in New York
New York boasts some of the most luxurious 5-star spa hotels in the world. These hotels offer world-class spa services, ranging from therapeutic treatments to massages and hydrotherapy. Guests can relax and rejuvenate in tranquil surroundings while enjoying top-notch amenities.
Aliz Hotel Times Square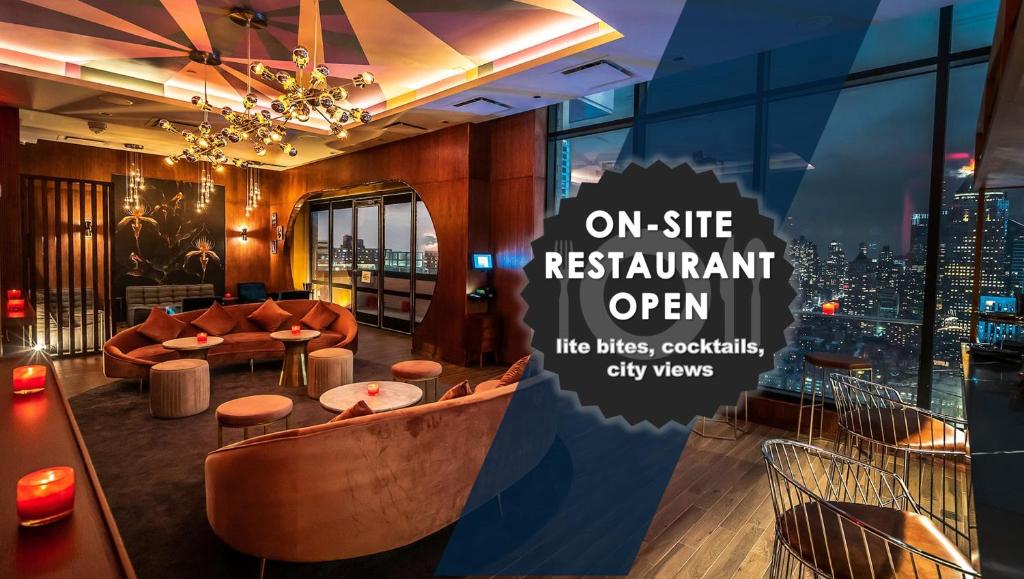 Aliz Hotel Times Square in New York is a luxury hotel that offers free WiFi, air-conditioned rooms with flat-screen TVs and private bathrooms with bath amenities. Some rooms have terraces and river views. The two-story rooftop bar and lounge provides stunning views of the Manhattan skyline, while the onsite food and beverage outlet, Dear Irving on Hudson, serves American breakfast (for guests) and is open Tuesday through Saturday beginning at 4:00p.m. The hotel also features a business centre, fitness centre, cycling studio featuring Peloton bikes®, and has friendly staff available 24/7 to provide tips on the area. Jacob K. Javits Convention Center is within walking distance from the property, Empire State Building is 1.3 km away, and Hudson Yards just a little further at 1.4 km.
– Stunning two-story rooftop bar with views of Manhattan skyline
– Friendly staff available around-the-clock
– Convenient location near popular tourist attractions
– Onsite restaurant serving American breakfast
– Business center & fitness studio equipped with Peloton bikes®
Four Seasons Hotel New York Downtown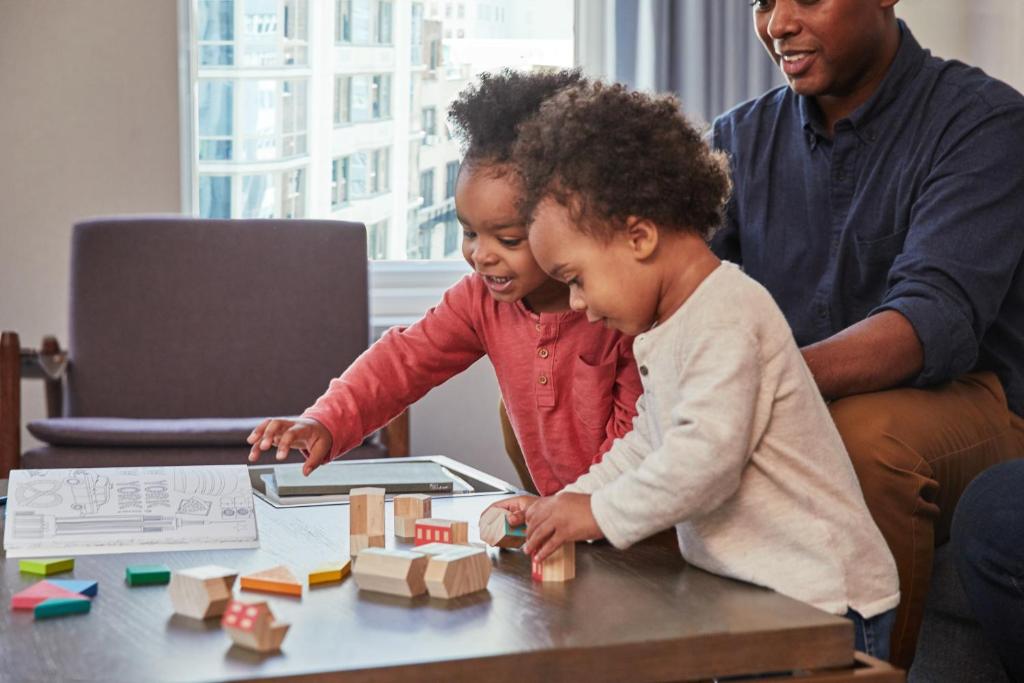 Located in the heart of Downtown Manhattan, Four Seasons Hotel New York Downtown is an ideal luxurious stay for those looking to explore the city. The hotel offers a prime location, less than 700 meters from Brooklyn Bridge and Seaport District, and only 1 km from SoHo's Cast-Iron Historic District. Guests can enjoy a lap pool, spa and gym facilities during their stay. Each room comes equipped with a flat-screen TV, private bathroom with bathrobes and toiletries. The on-site restaurant Cut by Wolfgang Puck serves breakfast, lunch, and dinner while private and in-room dining options are also available. Other nearby attractions include Brookfield Place which provides stunning views of North Cove Marina and Statue of Liberty.
Pros:
– Prime Downtown Manhattan location
– Luxury amenities including lap pool and spa
– On-site restaurant by Wolfgang Puck
– Stunning views from nearby attractions such as Brookfield Place
– Comfortable rooms with all necessary amenities
The Chatwal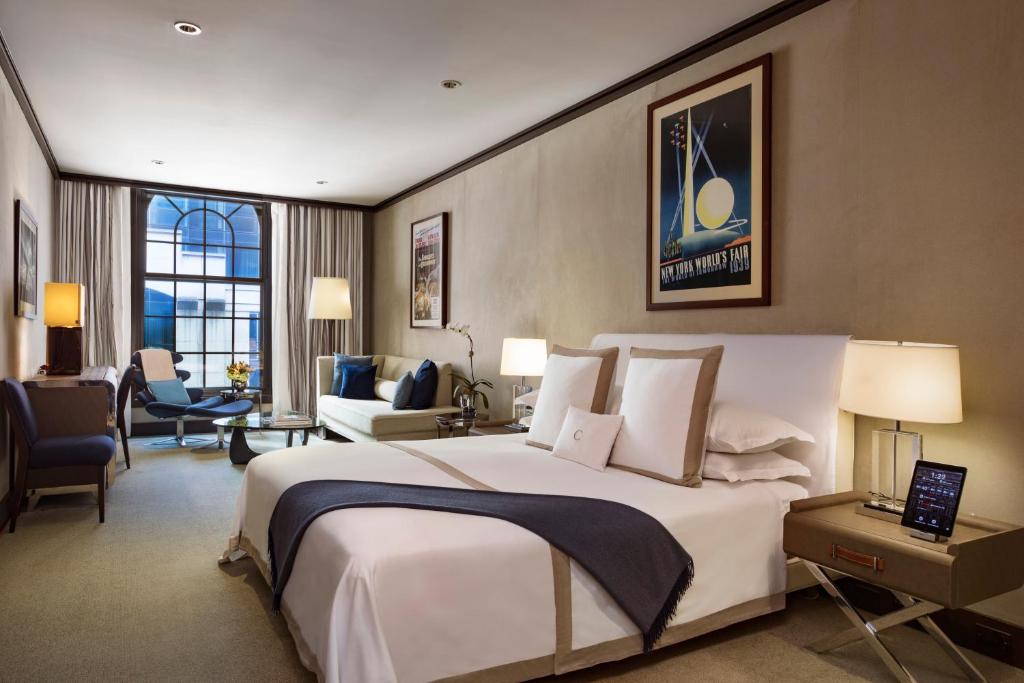 The Chatwal is a 5-star boutique hotel located just a 5-minute walk away from Broadway theaters. The hotel offers luxurious amenities like personal butler service, free Wi-Fi, on-site spa services at MYND Spa & Salon, and a well-equipped gym that's open 24-hours with personal training available upon request. Each guest room features contemporary luxury and old-fashioned design with 400-thread-count linens, down duvets, his-and-hers bath amenities, comfortable terry cloth robes, and even a DVD player and stereo with MP3 connectivity upon request. The Lambs Club at The Chatwal offers modern takes on American classics in their bar-and-grill restaurant which also has a beautiful mezzanine lounge with stunning city views through the 20-foot viewing windows. Nearby attractions include Times Square (a 3-minute walk) and Central Park (a 17-minute walk).
– Personal butler service
– On-site spa services
– Well-equipped gym open 24-hours
– Modern American cuisine at The Lambs Club
– Walking distance to Times Square
Spa Hotels in Downtown New York
Downtown New York offers a wide range of spa hotels that promise guests an indulgent and relaxing stay. These luxury accommodations boast impressive spa facilities where guests can unwind, rejuvenate, and pamper themselves with various treatments.
New York EDITION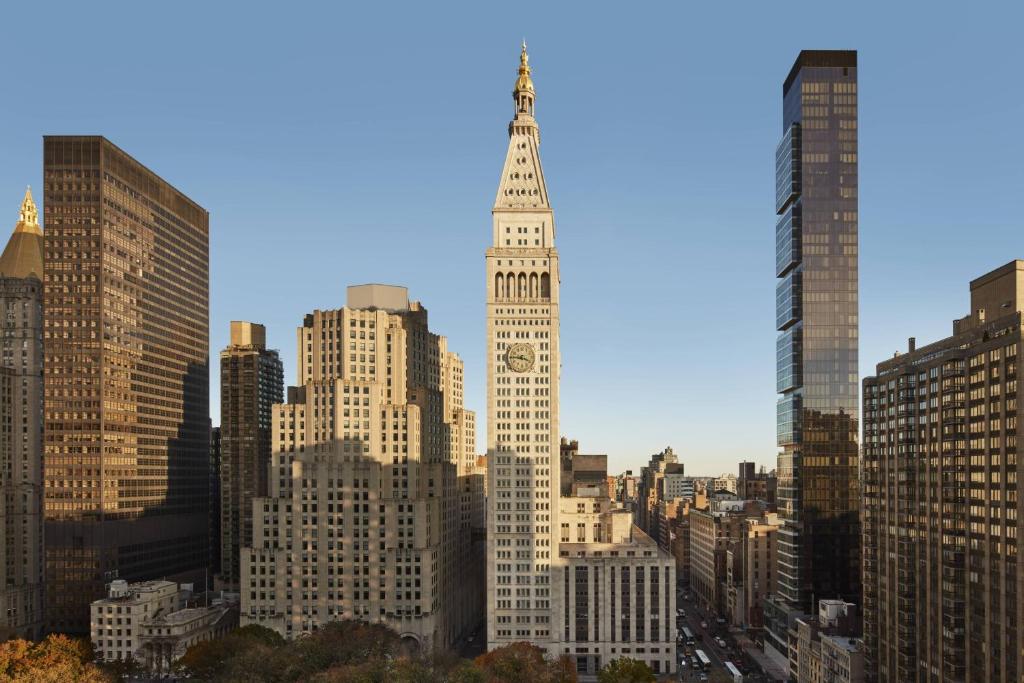 The New York EDITION is a luxurious hotel situated in the iconic Metropolitan Life Clock Tower, just 22 meters away from Madison Square Park. Guests can enjoy sweeping city views and oversized windows in every room, which also includes photography by Melvin Sokolsky. The hotel features a Michelin star restaurant called The Clocktower, offering updated classics and three uniquely-designed dining rooms, a billiards room, and a bar made entirely of gold leaf. Additionally, guests can grab bespoke cocktails and Magic Owl Easy Blonde Ale at the Lobby Bar. Other nearby attractions include Eataly (220 meters away) and Dover Street Market (850 meters away).
– Location in an iconic landmark clock tower
– Michelin star restaurant on-site
– Bespoke cocktails and exclusive beer at Lobby Bar
– Stunning city views from every room
– Custom Le Labo bath amenities
New York Spa Hotels Information
| | |
| --- | --- |
| 🛎️ Spa Hotels in New York | 10 |
| 💵 Hotels Prices From | $192 |
| 💵 Highest price | $1732 |
| 🥇 Average Review Score | 8.3/10 |
| 🛏️ Average number of Rooms | 271 |
Top SPA hotels in New York
| | |
| --- | --- |
| Equinox Hotel Hudson Yards New York City | 9/10 |
| Four Seasons Hotel New York Downtown | 8.9/10 |
| Arlo Midtown | 8.7/10 |
| The Dominick Hotel | 8.6/10 |
| Hyatt Centric Times Square New York | 8.4/10 |
FAQ
What are the top luxury spa hotels in New York City?
New York City is home to some of the most luxurious spa hotels in the world. The Mandarin Oriental, Four Seasons Hotel New York Downtown, and The Ritz-Carlton New York, Central Park are just a few of the top-rated options. Each offers unique amenities and treatments that cater to guests' relaxation needs.
What types of spa services can I expect at a luxury hotel in NYC?
Luxury hotels in New York City offer a variety of spa services ranging from traditional massages and facials to more specialized treatments like hydrotherapy baths, cupping therapy, and cryotherapy. Many spas also offer personalized wellness programs tailored to individual guest needs.
How much should I expect to pay for a luxury spa hotel experience in NYC?
The price for a luxury spa hotel experience varies depending on the location, level of service provided, and type of treatment selected. Spa packages can range anywhere from $200-$1,000 or more per person per day. However, many hotels also offer promotional rates or have seasonal specials that can help bring down costs.
Can non-guests use the spas at these high-end hotels?
While access to hotel spas is generally reserved for guests only at most establishments in NYC., there are some exceptions. Some properties may allow non-guests to purchase day passes or book treatments with advance notice. It's always best to check with each individual location directly for their specific policies regarding non-hotel guests.
What should I consider when choosing a luxury spa hotel in NYC?
When selecting a luxury spa hotel in New York City consider factors such as location convenience (proximity to attractions), quality of accommodations/services provided at the property itself (e.g., dining options), range/options available within the Spa facility (e.g., hot tubs vs cold plunges) ,and overall reputation/reviews online from past guests.
Popular Spa Hotels destinations