Welcome to the bustling city of Manila, where luxury and relaxation meet in the form of Spa Hotels. If you are looking for a destination that will allow you to indulge in self-care while enjoying a vibrant atmosphere, then Manila is your go-to place. This city has a range of upscale Spa Hotels that offer world-class services and amenities.
Take time out from the hectic streets and immerse yourself in the tranquil surroundings of luxurious Manila's Spa Hotels. These hotels are equipped with state-of-the-art facilities such as Jacuzzis, steam rooms, sauna baths, and massage rooms staffed with skilled therapists providing treatments ranging from full-body massages to facial rejuvenation therapies. And when it comes to dining options, these hotels boast some of the best restaurants serving up delicious cuisine that will leave your taste buds wanting more.
So if you're ready to embark on an unforgettable experience filled with wellness and indulgence, then book your stay at one of these exquisite Spa Hotels in Manila today!
Manila Most Relaxing Spa Resorts and Hotels
Armada Hotel Manila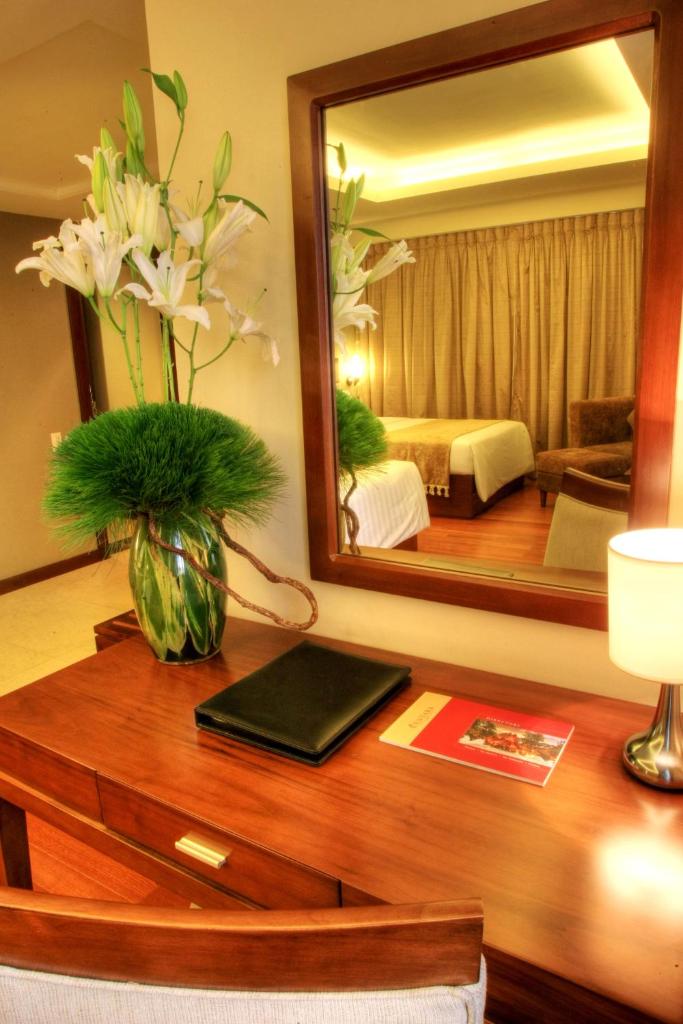 Armada Hotel Manila is a luxurious hotel that offers stunning bay or city views from all of its guest rooms. It boasts a prime location, just a short 5-minute walk from the Manila Bay waterfront and close to shopping and dining options. The hotel features a rooftop pool, fitness centre, Sensui Spa for pampering spa treatments, and concierge services for guests' ultimate convenience. Additionally, it also provides travel arrangements at the tour desk and room/car rental services. Guests can indulge in Filipino and international cuisines at Caliber Cafe which adds up to their exquisite experience.
– Stunning bay or city views
– Rooftop pool with beautiful surroundings
– Pampering spa treatments available at Sensui Spa
– Fitness center equipped with modern facilities
-Dining option includes both Filipino & international cuisiness
City Garden Hotel Makati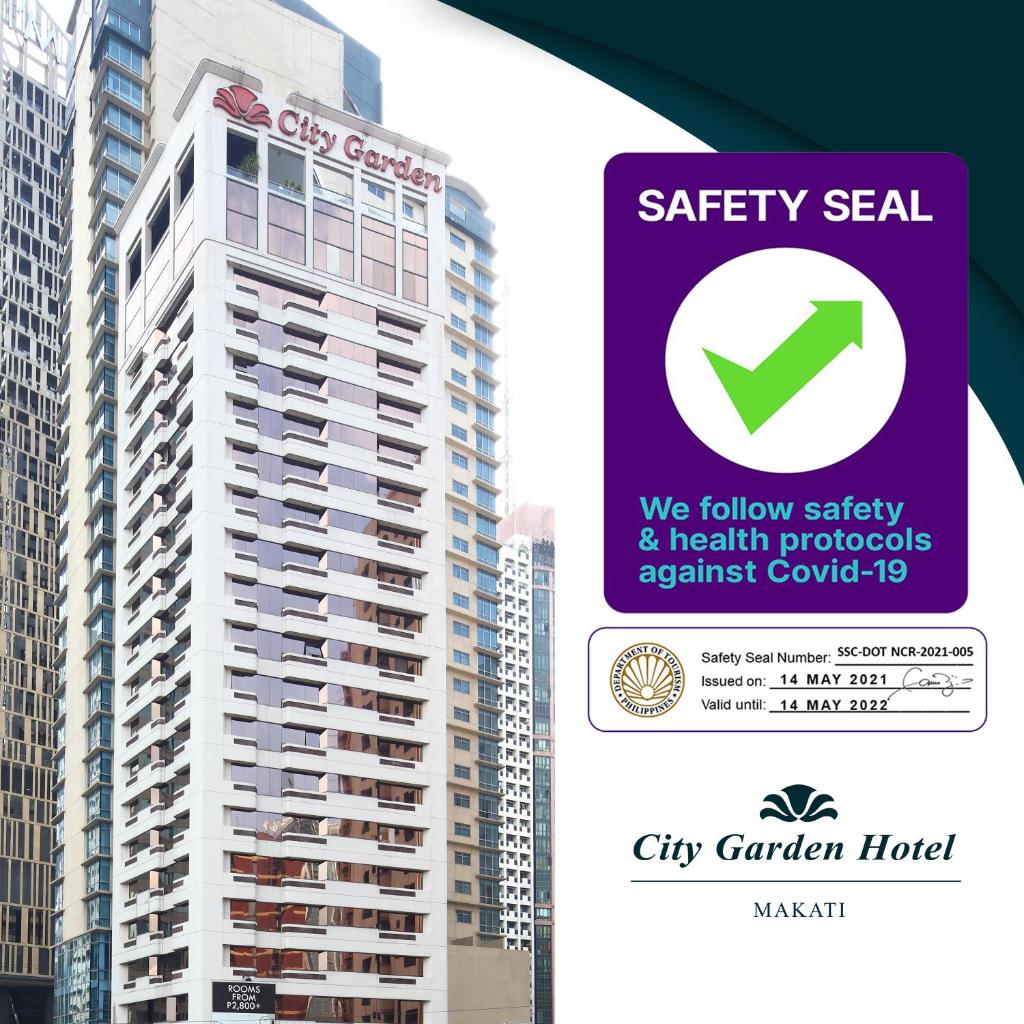 City Garden Hotel Makati offers spacious rooms with stunning city views, air conditioning, cable TV, and a kitchenette equipped with tea/coffee making amenities and a fridge. Guests can enjoy free access to top-notch facilities including an outdoor pool, fitness center, sauna facilities and WiFi. The hotel also has a business center and 24-hour reception for convenience. Dining options include the Encima and Bistro that serve Asian and international dishes. This hotel is located in Makati's business district, just steps away from shopping, dining and nightlife options, as well as being a 5-minute drive from major shopping malls like Glorietta and Landmark. Ninoy Aquino International Airport is only 30 minutes away.
– Spacious rooms with city views
– Free access to first-rate facilities: outdoor pool, fitness center & WiFi
– Kitchenette in each room with free tea/coffee making amenities & fridge
– Convenient location near restaurants & shopping
– Business center & 24-hour reception
Sheraton Manila Hotel
Sheraton Manila Hotel is a luxurious 5-star hotel located in the city of Manila. The hotel features a restaurant, bar, fitness center, and free private parking. Guests can enjoy their stay with room service and a kids' club while being entertained with evening entertainment provided by the accommodation's 24-hour front desk. Air-conditioned guest rooms at Sheraton Manila Hotel include a seating area, flat-screen TV with satellite channels and private bathrooms equipped with a hairdryer and bidet. Additionally, the property provides guests with easy access to nearby tourist attractions such as City of Dreams Manila and Glorietta Mall via its free airport shuttle service.
– Convenient location near Resorts World Manila
– Luxurious amenities including fitness center and children's playground
– Free private parking available on site
– Evening entertainment provided by staff
– Airport shuttle service included for added convenience
Other places to stay in Manila
Manila Luxury Spa Hotels
Manila luxury spa hotels offer guests a chance to relax and rejuvenate in a peaceful and tranquil environment. With world-class spa services and luxurious amenities, these hotels are perfect for those looking for a relaxing getaway.
Marco Polo Ortigas Manila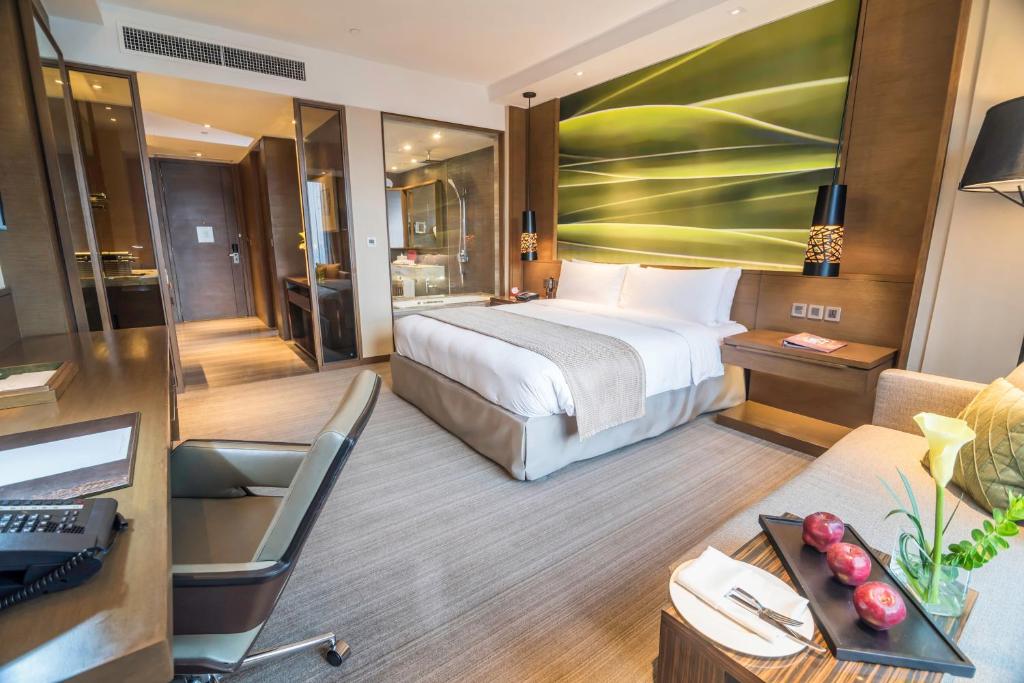 Marco Polo Ortigas Manila is a luxurious 5-star hotel located in the heart of Manila's city centre. The hotel offers breathtaking views from its elegantly designed rooms. Guests can choose from three dining options and enjoy free access to the fitness center and indoor pool while spa treatments and massages are available at the health club. The hotel also provides airport shuttle services, a 24-hour reception, free Wi-Fi access, and exclusive privileges for guests booking the Continental Club. In addition to its Chinese restaurant and lobby lounge serving fresh meals daily, guests can unwind with cocktails at the Sky Bar.
– Spectacular views offered from every room
– Exclusive privileges for Continental Club members
– Variety of dining options including Chinese restaurant and lobby lounge
– Indoor pool and relaxing spa treatments available at health club
– Convenient location near popular attractions such as The Podium and Metrowalk
The Manila Hotel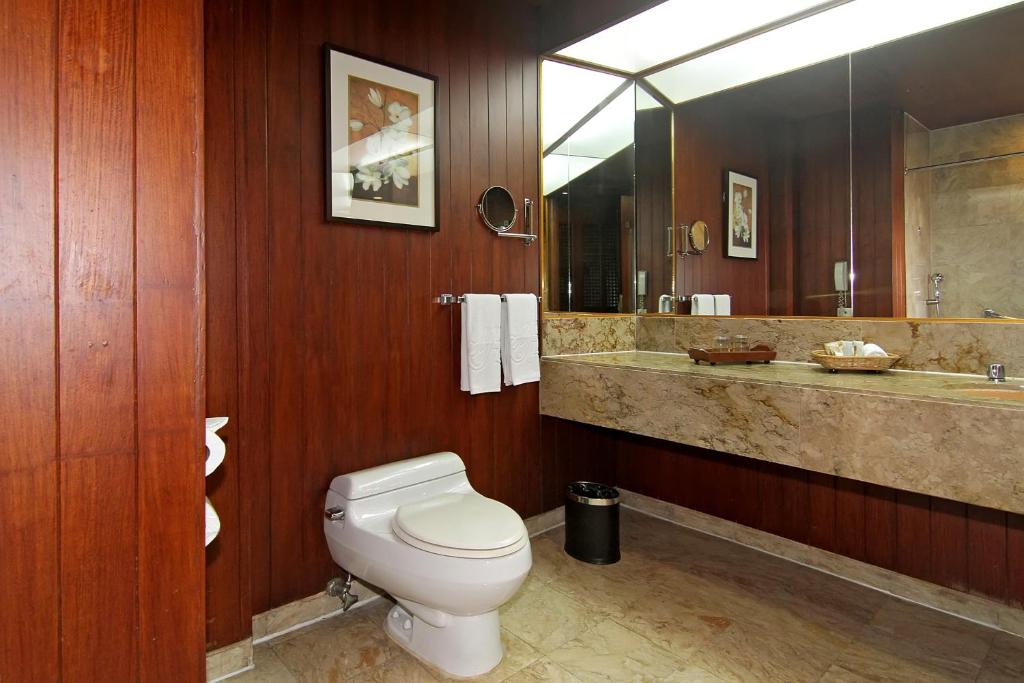 The Manila Hotel is a luxurious 5-star hotel located in the heart of Manila. The hotel offers free Wi-Fi access and various facilities including an outdoor swimming pool, a business centre, and a spa that provides guests with various massages. Guests can enjoy elegantly decorated rooms equipped with modern amenities such as flat-screen TVs, air conditioning, seating areas, private bathrooms with Italian marble and senso memory foam mattresses. Some rooms offer stunning views of the city or Manila Bay. Dining options include authentic Cantonese dishes at Red Jade Restaurant, French delicacies at The Champagne Room and Halal and international cuisines at Cafe Ilang-Ilang. Other facilities include fitness centre, lobby lounge, Tap Room Bar and deli services for desserts/drinks throughout the day.
Pros:
– Free Wi-Fi access.
– Elegant room decor.
– Multiple dining options available on-site.
– Facilities like an outdoor swimming pool and spa provide relaxation to guests.
– A fitness centre is also available for those who want to keep up their workout routine even while traveling.
Conrad Manila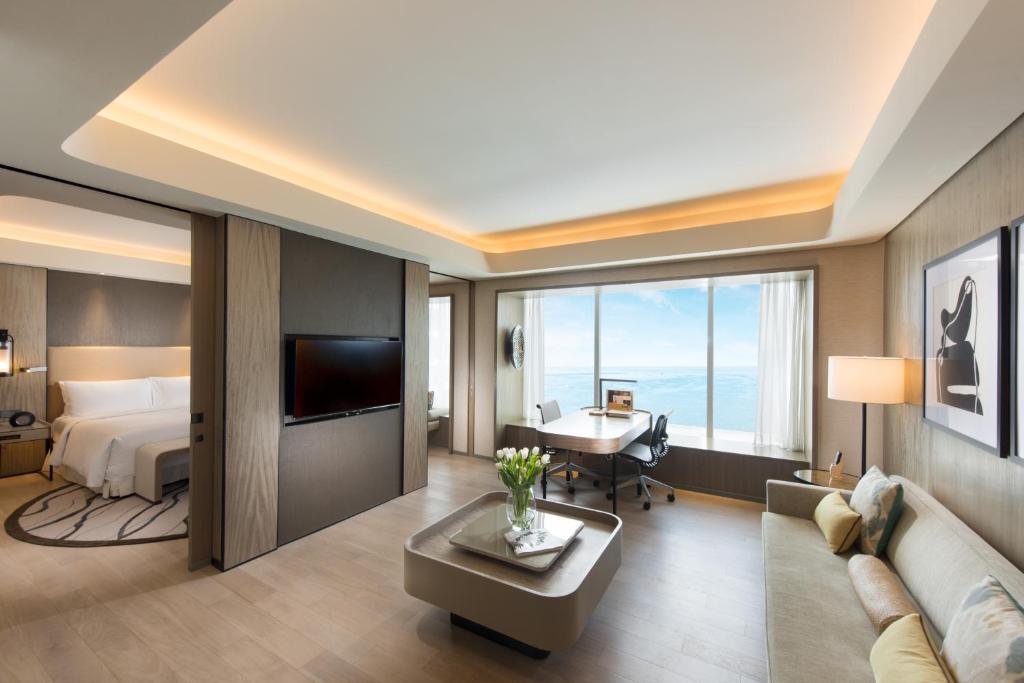 Conrad Manila is a luxurious hotel located in the heart of Manila, just 100 meters away from SMX Convention Center. The hotel boasts free WiFi in public areas and offers free private parking to its guests. Each room at Conrad Manila is equipped with air conditioning, a flat-screen TV with cable channels, bath robes, slippers and free toiletries for the guest's comfort. The hotel also has an on-site bar where guests can relax and enjoy their favorite drinks. Furthermore, the property features a gift shop and car hire service for added convenience. Some of the pros of staying at Conrad Manila include:
– Convenient location near popular attractions such as SM Mall of Asia
– Luxurious amenities including bath robes and slippers
– Free private parking available on site
– On-site bar for guests to unwind after a long day
– Efficient car hire service offered by the hotel
5 Star Spa Hotels in Manila
Manila has a selection of luxurious 5-star spa hotels offering an indulgent and relaxing experience for guests. With top-notch facilities and premium services, these hotels cater to those seeking the ultimate pampering getaway in the city.
The Bellevue Manila – Multiple Use Hotel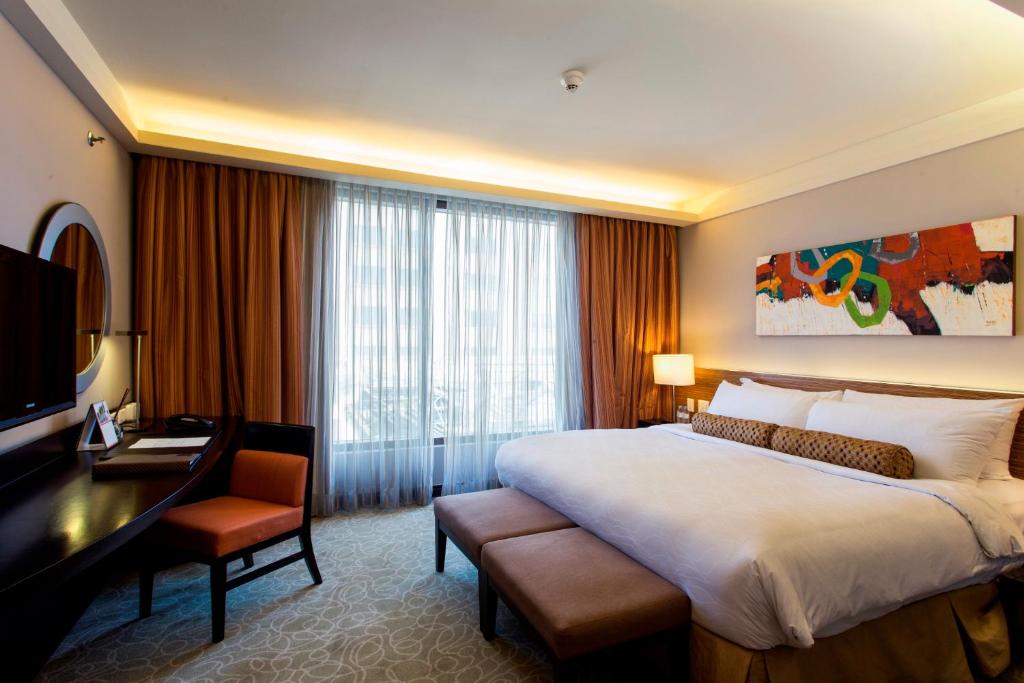 The Bellevue Manila is a luxury hotel located in Alabang, Muntinlupa City. It boasts an outdoor pool, fitness gym, and six dining options. The rooms are spacious with classic interiors and oversized windows that offer natural light. The hotel has a business center, concierge and tour desks to assist guests with their needs. PHOENIX Court specializes in Chinese cuisine while Pastry Corner offers afternoon coffee and pastries. Vue Bar is perfect for guests who want to relax at night while enjoying the skyline view with live entertainment on selected days.
– Stunning skyline view from Vue Bar
– Six dining options available
– Gym facilities for fitness enthusiasts
– Spacious rooms with elegant interiors
– Business center and concierge services offered
Sofitel Philippine Plaza Manila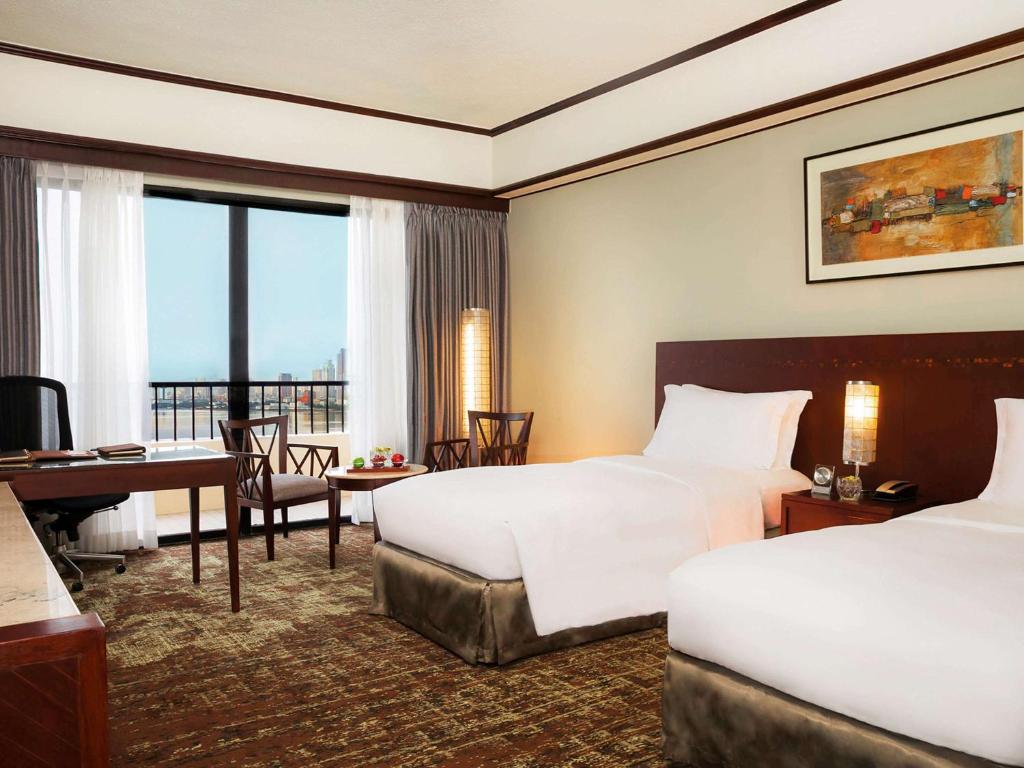 Sofitel Philippine Plaza Manila is a luxurious hotel situated in Pasay City, offering stunning rooms with private balconies that provide breathtaking views of Manila Bay. The hotel features an array of facilities including an outdoor pool, Le SPA for massages and relaxation, several dining options such as Spiral which has 21 dining ateliers serving exquisite dishes crafted masterfully in front of the guests. It also offers sports facilities like tennis courts and a fitness center. The hotel boasts a grand ballroom and 14 meeting rooms along with other amenities to cater to business travelers. Visitors can enjoy drinks at Le Veranda or Sunset Bar while Sports fans can catch up on matches at Snaps Sports Bar. The location is perfect as it's beside the Cultural Centre of the Philippines Complex, less than 2 km from Mall of Asia and only about 7 km away from Manila International Airport.
– Private balconies with views of Manila Bay
– Multiple dining options including Spiral with 21 ateliers
– Spa services offered at Le SPA
– Excellent sports facilities including tennis courts and jogging trail
– Perfectly located near cultural landmarks, shopping mall and airport
Okada Manila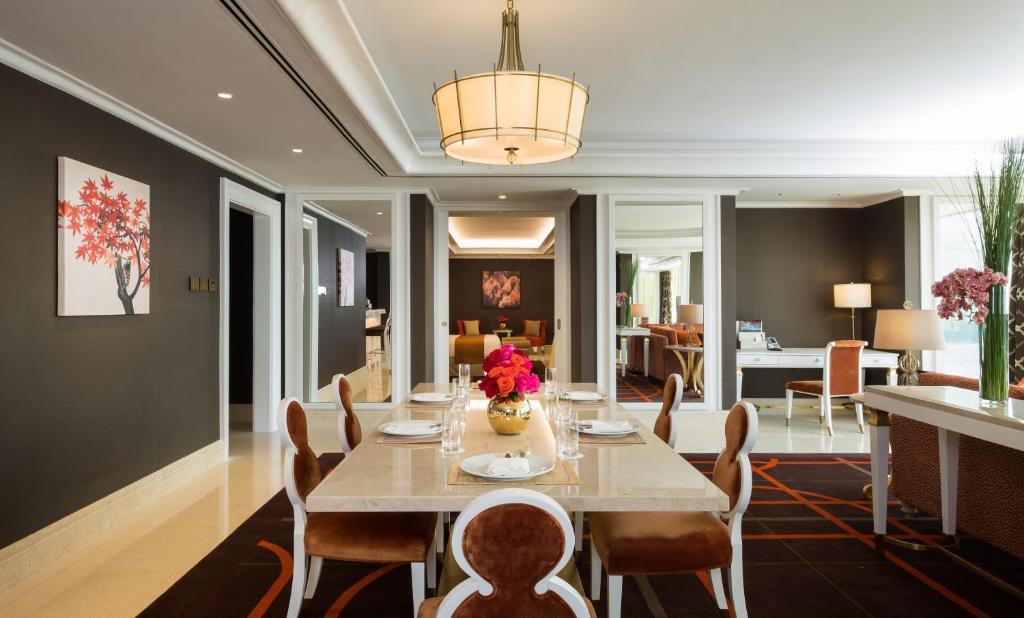 Okada Manila is a luxurious 5-star city resort located in the entertainment hub of Manila, just 2.5 km away from SMX Convention Centre and 3.2 km from SM Mall of Asia. The hotel features world-class amenities such as an outdoor swimming pool that overlooks the beautiful Manila Bay, a casino on the property, and a spa and wellness centre. Guests can also enjoy several dining options with varying ambiance and international cuisines, as well as an indoor beach club. The rooms offer stunning views of either the bay or the swimming pool and come equipped with modern facilities such as flat-screen cable TV, safety deposit box, and bathtub with free bath amenities. The fitness center is open 24/7 while for kids there's Play Kid's Club where they can have fun & play all day long.
– Beautiful location overlooking Manila Bay
– Luxurious outdoor swimming pool
– World-class amenities including a casino on site
– Multiple dining options available offering diverse cuisine choices
– Modern rooms with fantastic views
Spa Hotels in Downtown Manila
Spa hotels in Downtown Manila offer unparalleled luxury and comfort for travelers looking to unwind and relax. These hotels provide a range of spa services, from traditional massages to holistic treatments, ensuring that guests leave feeling refreshed and rejuvenated.
Solaire Resort Entertainment City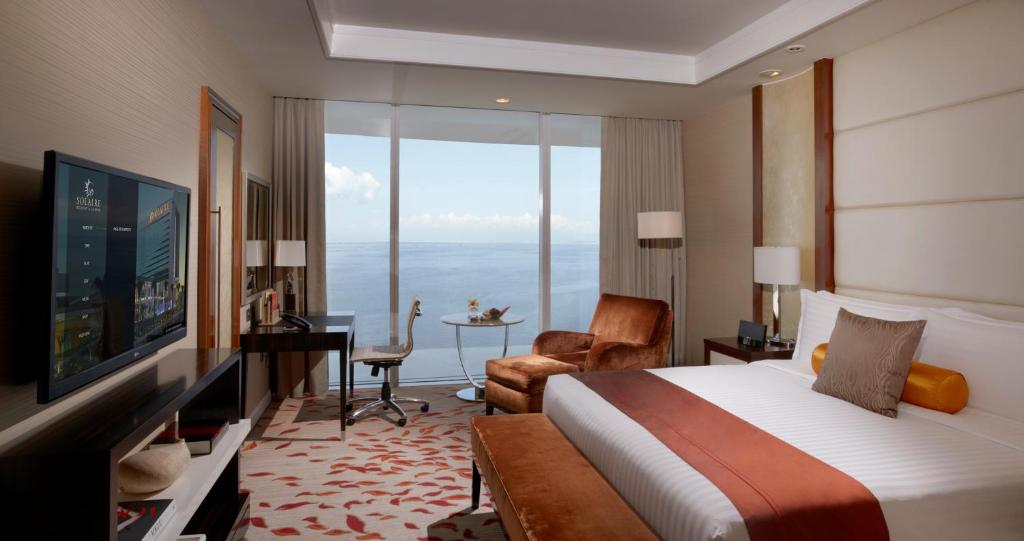 Solaire Resort Entertainment City is a luxurious integrated resort located in the heart of Manila Bay, just five minutes from SM Mall of Asia. The property features an outdoor pool, spa, and 17 dining options, as well as a state-of-the-art lyric theatre showcasing world-class entertainment. Guests can enjoy sunset views from their elegant rooms with floor-to-ceiling windows displaying breathtaking scenery. The rooms have plush 350-thread count bed linen, flat-screen TVs, and en suite bathrooms with bathtubs and separate walk-in showers for ultimate comfort during their stay. Additionally, Solaire Resort Entertainment City offers over 1200 slot machines and 300 table games in its 18,500 sqm casino area that includes an outdoor themed casino, VIP salons and entertainment bar. Here are some pros:
– An extensive selection of renowned restaurants offering various international cuisines
– State-of-the-art facilities including an outdoor pool area and spa
– Rooms with stunning panoramic views perfect for watching the sunset
– An impressive casino area featuring over a thousand slot machines and numerous table games
– Located just five minutes away from SM Mall of Asia Arena making it easy to explore all Manila has to offer
Manila Spa Hotels Information
| | |
| --- | --- |
| 🛎️ Spa Hotels in Manila | 10 |
| 💵 Hotels Prices From | $126 |
| 💵 Highest price | $847 |
| 🥇 Average Review Score | 8.3/10 |
| 🛏️ Average number of Rooms | 461 |
Top SPA hotels in Manila
| | |
| --- | --- |
| Okada Manila | 9.1/10 |
| Marco Polo Ortigas Manila | 8.8/10 |
| Conrad Manila | 8.8/10 |
| Solaire Resort Entertainment City | 8.6/10 |
| The Bellevue Manila – Multiple Use Hotel | 8.5/10 |
FAQ
What are some of the best luxury spa hotels in Manila?
Manila offers a wide range of luxury spa hotels that cater to different needs and preferences of travelers. Some of the most popular ones include The Peninsula Manila, Sofitel Philippine Plaza Manila, and Shangri-La at the Fort. These hotels offer top-notch amenities like luxurious spas, infinity pools, fine dining restaurants and much more to ensure guests have a comfortable stay.
What kind of spa treatments can I expect from these luxury hotels in Manila?
The luxury hotels in Manila offer an array of spa treatments that are sure to pamper your senses and provide utmost relaxation. Services offered include traditional massages like Swedish or Thai massage, beauty treatments like facials, body scrubs and wraps using organic ingredients sourced locally along with aromatherapy sessions all designed to rejuvenate your mind and body.
Are these luxury hotels expensive?
Yes, these luxurious spa hotel experiences come at a price but it's worth it for those who want to indulge themselves during their travels. The cost varies depending on the type of accommodation you choose as well as what services you opt for in addition to the basic room tariff. However there are deals available throughout the year so do keep an eye out for special promotions!
Do I need to book my appointments ahead of time?
It is always recommended to book your spa appointments ahead of time since these luxurious properties get fully booked quickly especially during peak season. In order to avoid any disappointment we recommend making reservations ahead before your arrival so you can tailor make your experience according to your requirements.
What other activities besides Spa treatments could one enjoy while staying at these Luxury Hotels?
Staying at one such property isn't just about indulging yourself with Spa treatment but also exploring other fun activities within or around the city that will make your stay even more memorable! From taking a dip into infinity pools overlooking breathtaking views or working up sweat with Yoga and Pilates classes, participating in cooking classes to deep sea diving and island hopping there is an endless list of activities that these luxurious spa hotels offer for guests.
Popular Spa Hotels destinations