Welcome to an enticing journey through the opulent world of lavish accommodations in Zürich, Switzerland. As we venture into this cosmopolitan city renowned for its financial prowess and picturesque landscapes, prepare to immerse yourself in a tapestry of luxury hotels that will leave even the most discerning travelers spellbound. From grand palaces exuding old-world charm to sleek modern havens boasting cutting-edge design, Zürich promises an unforgettable experience where comfort seamlessly blends with sophistication.
Indulge your senses as you step into a realm where elegance reigns supreme and every whim is catered to with finesse. Immerse yourself in the refined ambiance of boutique establishments that boast bespoke furnishings, personalized service, and intimate settings that offer a haven away from bustling city life. For those seeking panoramic vistas and a taste of unrivaled grandeur, high-rise luxury hotels beckon with their magnificent rooftop terraces overlooking Lake Zürich or the city's historic landmarks.
In this captivating exploration of luxury hotels in Zürich, allow us to be your guide as we unveil hidden gems nestled within this vibrant Swiss metropolis. So pack your bags and get ready for an extraordinary sojourn filled with indulgence and unparalleled extravagance amidst the enchanting backdrop of Zürich's cultural wonders.
Most Luxurious Hotels in Zürich
Swiss Holiday Park Resort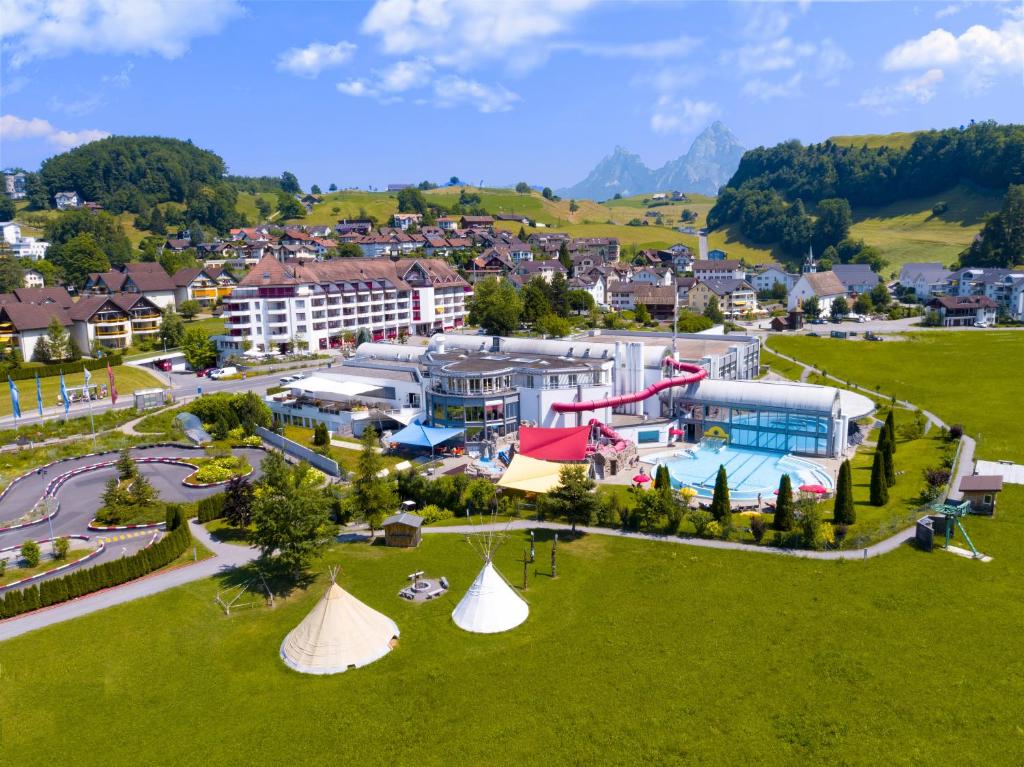 Nestled in the picturesque village of Morschach, high above Lake Lucerne, Swiss Holiday Park Resort is an expansive oasis of relaxation and adventure. Surrounded by majestic mountains and verdant meadows, this luxurious resort offers breathtaking views of the lake and Alps. With its vast array of leisure activities, spa facilities, and delectable dining options, it is no wonder that this is the largest holiday and leisure resort in Switzerland. Guests can indulge in the extensive spa area which includes an adventure pool, thrilling water slides, hot tubs, saunas, salt water pools,and more. Accommodation options range from modern hotel rooms to well-equipped apartments and hostel rooms for budget-conscious travelers. The resort also caters to families with an adventure farm for children to explore and a supervised kid's club. For culinary delights, there are three restaurants serving a variety of cuisines including seasonal Swiss dishes at Schwiizer Stube and international fare at Restaurant Panorama. Pizza lovers can head to Il Gusto for mouthwatering pizza and pasta specialties. In addition to these amenities, guests can enjoy various indoor/outdoor sports activities,games,and a fitness center.There are also ski slopes for children during winter months.The location provides easy access to nearby attractions such as mountains,lakes,museums,cities,and other family-friendly activities.Free shuttle service is provided during winter months making transportation hassle-free.Ski storage room & pass purchases make it convenient for snow enthusiasts.A stay at Swiss Holiday Park Resort promises an unforgettable experience where luxury meets natural beauty.
– Expansive spa area with adventure pool
– Spectacular views of Lake Lucerne and Alps
– Wide range of accommodation options
– Three restaurants offering diverse cuisine
– Convenient location close to various attractions
Park Hyatt Zurich – City Center Luxury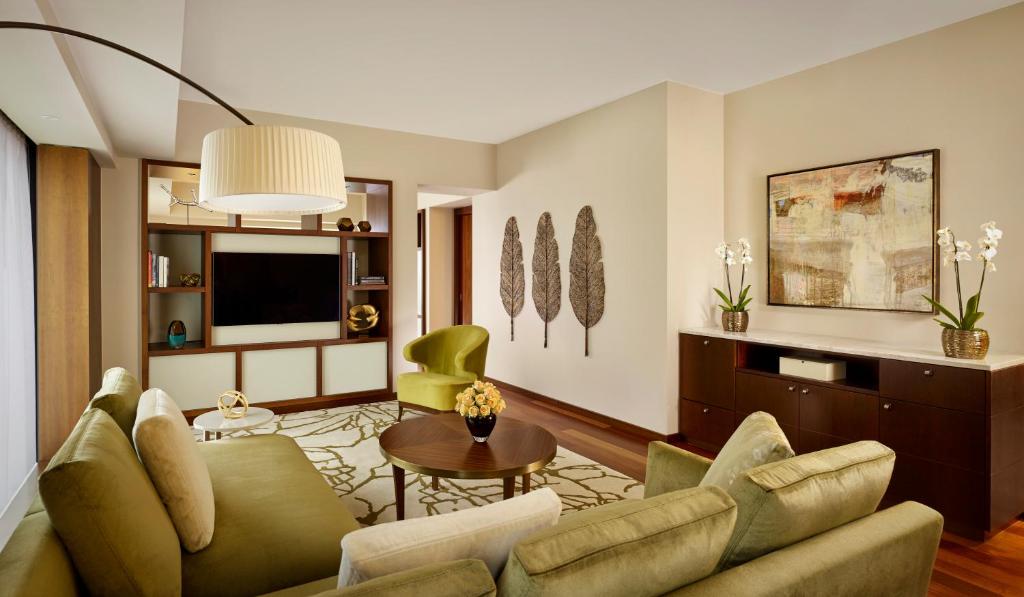 Located in the heart of Zurich, just steps away from the fashionable Bahnhofstrasse shopping street, Lake Zurich, and the Old Town, Park Hyatt Zurich is a contemporary 5-star hotel that offers a luxurious experience. The hotel features a health club with a gym, steam bath, sauna, and treatment rooms for guests to relax and rejuvenate. With its avant-garde architecture and contemporary art displays, Park Hyatt Zurich showcases modern design within its elegant glass-fronted exterior. Guests can enjoy watching chefs at work in the show kitchen of the 'parkhuus' Restaurant which boasts floor-to-ceiling glass on three sides. The hotel also houses a two-story wine library with over 3000 bottles of wine and its own spiral staircase for access. For drinks and socializing, guests can head to the stylish ONYX bar which offers a variety of beverages or relax in The Lounge featuring comfortable lounge chairs, sofas, and an open fireplace. In addition to serving breakfast and light dining options throughout the day, The Lounge also serves afternoon high tea and freshly ground coffee. Conveniently located near public transportation options including Stockerstrasse Tram Stop (100 meters away) as well as being only 1 km from the Main Train Station and 10 km from Zurich International Airport.
Pros:
– Ideal central location
– Modern design with avant-garde architecture
– Health club with gym facilities
– Wine library with extensive selection
– Stylish bar area for cocktails
The Dufour by Hotel Schweizerhof Zürich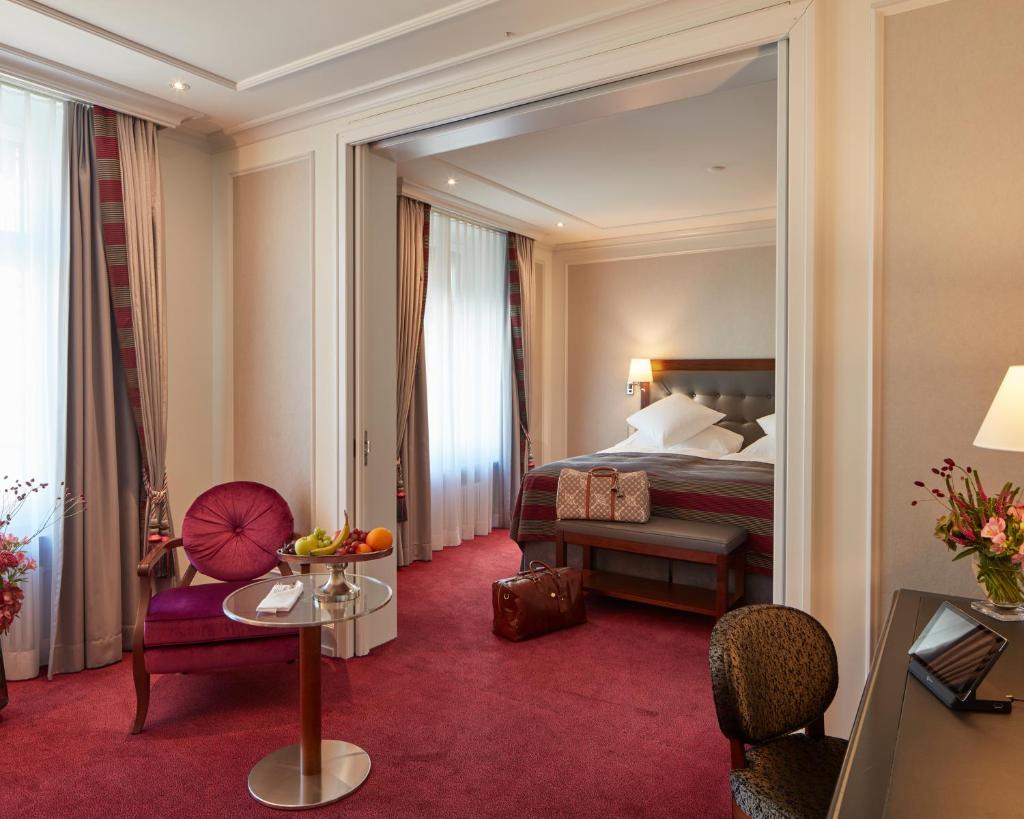 Located in the heart of Zurich's city centre, The Dufour by Hotel Schweizerhof Zürich is a luxurious 5-star hotel that offers an exceptional experience for its guests. Opened in August 2020, this hotel boasts elegant suites and rooms equipped with modern amenities such as air conditioning, flat-screen TVs with satellite channels, and comfortable beds. Guests can enjoy a delicious champagne breakfast buffet at the on-site restaurant before exploring popular attractions like the Swiss National Museum and Lindenhof which are just a short walk away. The hotel also provides convenient services including a concierge service, valet parking, and a 24-hour front desk. For those looking to relax or stay active during their stay, there is a fitness centre available as well as opportunities for hiking in the surrounding area. With its prime location and impeccable service, The Dufour by Hotel Schweizerhof Zürich is the perfect choice for discerning travelers.
Pros:
– Centrally located in Zurich's city centre
– Luxurious suites and rooms with modern amenities
– Delicious champagne breakfast buffet
– Convenient services including concierge service and valet parking
– Opportunities for hiking nearby
Other places to stay in Zürich
Luxury Hotels in Downtown Zürich
Luxury hotels in Downtown Zürich offer an unparalleled experience for discerning travelers seeking the epitome of indulgence and sophistication. Boasting prime locations in the heart of this vibrant city, these accommodations seamlessly blend contemporary design with timeless elegance. Impeccable service and attention to detail are hallmarks of these properties, ensuring guests feel pampered from the moment they arrive. With exquisite dining options showcasing culinary excellence, lavish spa facilities that provide a haven of relaxation, and opulent rooms and suites adorned with luxurious furnishings, staying at a luxury hotel in Downtown Zürich offers an unforgettable escape where every desire is met with utmost care and refinement.
Marktgasse Hotel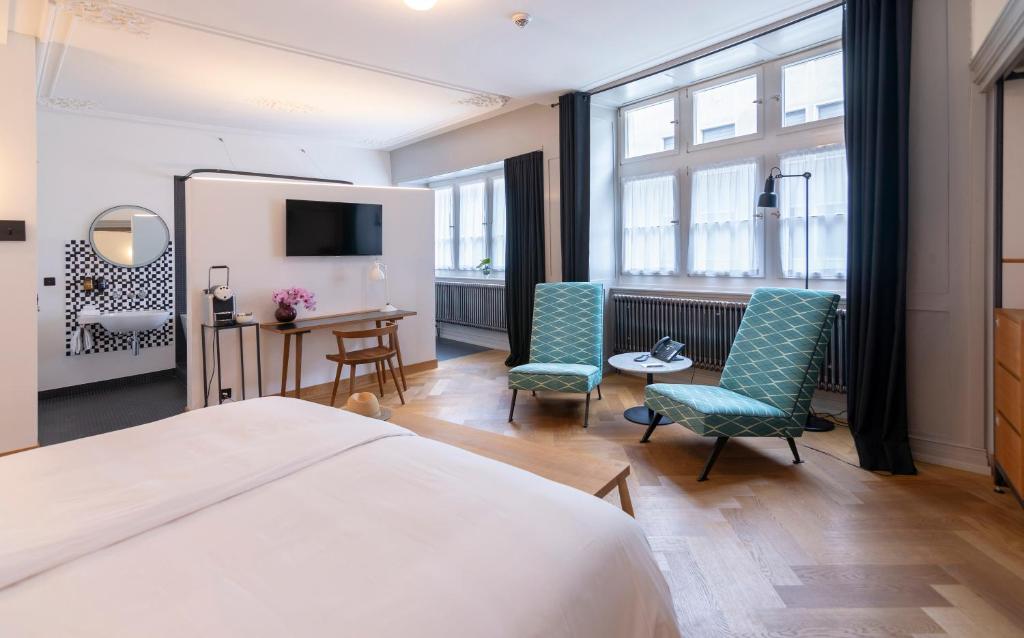 The Marktgasse Hotel is a luxurious and conveniently located hotel in Zurich's Old Town. Just 200 meters away from the iconic Grossmünster and 500 meters from Lake Zurich, it offers guests easy access to popular attractions. The hotel features free WiFi, a wellness center, a restaurant, and a 24-hour reception for ultimate convenience. Guests can enjoy a delicious buffet breakfast at the delish – la pinseria Restaurant and indulge in dinner at the IGNIV Restaurant. Each room is equipped with modern amenities including a flat-screen TV with cable channels, air conditioning, and private bathroom facilities. Some rooms even come with a comfortable seating area. Other amenities include a shared lounge area and luggage storage room. Additionally, there are plenty of shops and bars within walking distance of the hotel. Kunsthaus Zurich and Bahnhofstrasse Shopping Street are both just 400 meters away. For those arriving by plane, Zurich Airport is only 9 km away and airport shuttle services can be arranged upon request for an extra charge.
– Convenient location in Zurich's Old Town
– Free WiFi
– Access to wellness center
– Delicious buffet breakfast at delish – la pinseria Restaurant
– Stylishly decorated rooms with modern amenities
Small Luxury Hotel Ambassador Zurich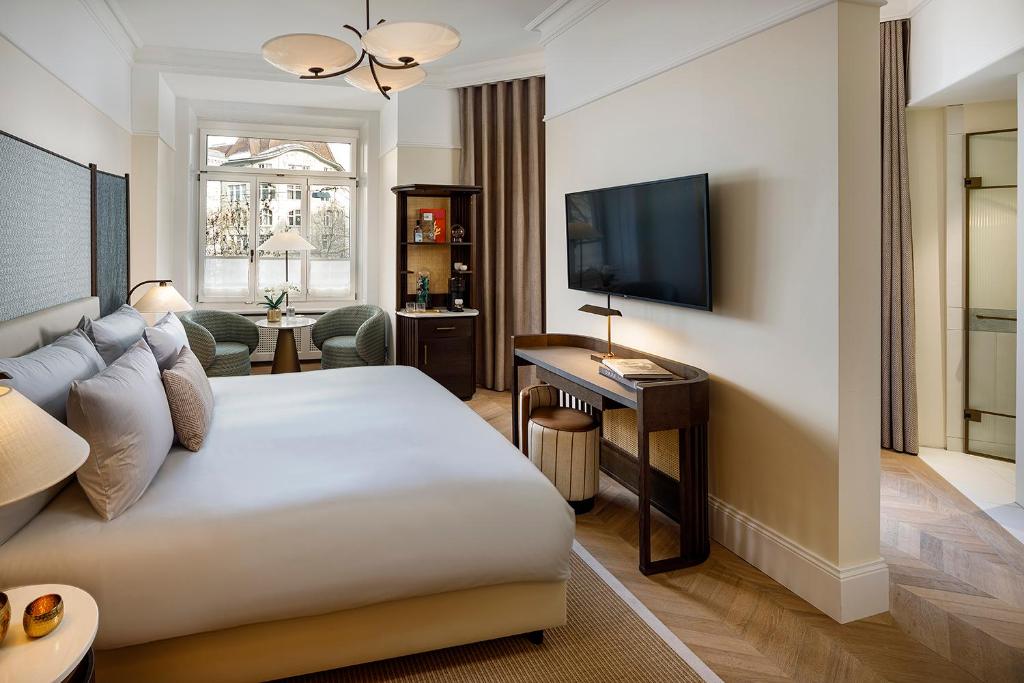 The Small Luxury Hotel Ambassador is a conveniently located luxury hotel, situated next to Zurich's opera house and Lake Zurich in the heart of the city. Guests can enjoy complimentary WiFi throughout the property, making it easy to stay connected during their stay. The hotel offers elegantly furnished rooms, providing a peaceful and comfortable atmosphere for a good night's sleep. After a night at the theater, guests can unwind with a nightcap in the intimate bar. The hotel also boasts Restaurant Opera, which serves delicious seasonal dishes prepared with locally sourced ingredients from nature reserves surrounding Zurich. With its proximity to famous Bahnhofstrasse and its numerous shops, guests can easily explore this vibrant shopping district with just a 10-minute walk.
– Convenient central location near Zurich's opera house and Lake Zurich
– Complimentary WiFi available throughout the property
– Elegantly furnished rooms for a comfortable stay
– Intimate bar for relaxing after-theatre drinks
– Restaurant Opera offering delicious seasonal dishes made with local ingredients
Alden Suite Hotel Splügenschloss Zurich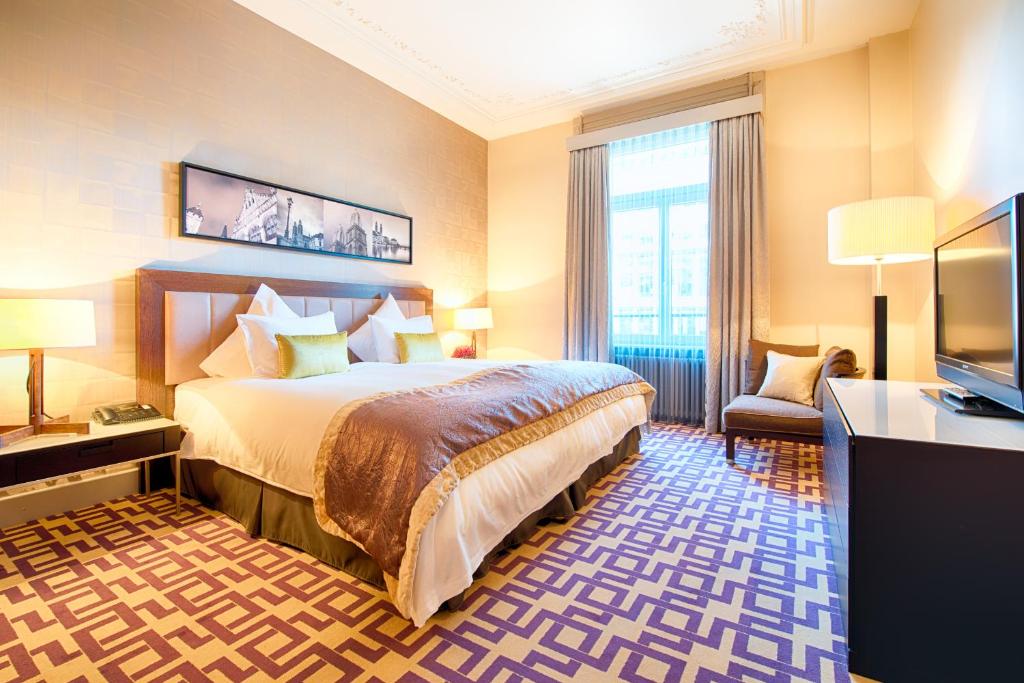 The Alden Suite Hotel Splügenschloss Zurich is a small, yet luxurious 5-star hotel located in the heart of the city. Its central location allows guests to easily explore nearby attractions such as Lake Zurich, beautiful parks, the concert hall, the opera, and the renowned Bahnhofstrasse shopping street. The hotel offers comfortable rooms equipped with modern amenities including an entertainment system with a flat-screen TV, a hot tub, and gym equipment upon request. Guests can indulge in complimentary perks such as a welcome drink, free soft drinks from the minibar, their favorite newspaper, and bathroom amenities. The hotel also features a steakhouse for delectable dining experiences and during summer months, guests have the opportunity to enjoy open-air dining.
Pros:
– Prime central location in Zurich
– Luxurious 5-star accommodations
– Complimentary welcome drink and minibar beverages
– On-site steakhouse for delicious meals
– Option for open-air dining during summer
5 Star Luxury Hotels
5 Star Luxury Hotels are the epitome of opulence and indulgence. These exclusive establishments offer unparalleled service, exquisite decor, and attention to detail that is second to none. From elegant lobbies and stylishly adorned rooms to world-class restaurants and state-of-the-art wellness facilities, these hotels redefine the concept of luxury. Every aspect is meticulously crafted to provide an unforgettable experience for guests, ensuring their every need is anticipated and catered for. Whether it's a romantic getaway or a lavish business trip, 5 Star Luxury Hotels offer an exceptional level of comfort and sophistication that promises an extraordinary stay beyond imagination.
Aparthotel Adagio Zurich City Center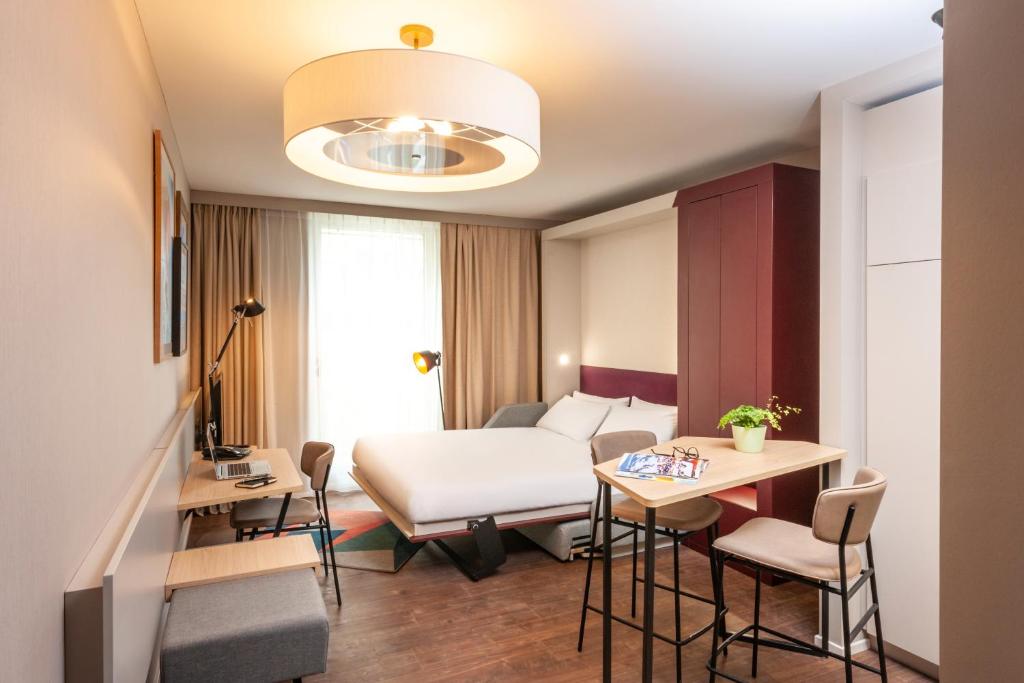 Opened in May 2021, Aparthotel Adagio Zurich City Center is a contemporary luxury hotel conveniently located just 500 meters from the Swiss National Museum. The hotel offers comfortable accommodation with a range of amenities including a restaurant, fitness center, shared lounge, and bar. Guests can enjoy complimentary WiFi throughout the property and have access to private parking on site. Each unit features a well-equipped kitchenette with a fridge and dishwasher, as well as additional amenities like a safety deposit box, satellite flat-screen TV, ironing facilities, desk, and seating area. The spacious private bathrooms are fully equipped with showers and hairdryers. Guests can start their day off right with the daily breakfast buffet offering continental or vegetarian options. The hotel's prime location allows guests to easily explore popular attractions such as Main Railway Station Zurich, Kunsthaus Zurich, and Bahnhofstrasse. For those traveling by air, Zurich Airport is just 10 km away.
– Conveniently located near popular attractions
– Modern and well-equipped kitchenettes in every unit
– Complimentary WiFi throughout the property
– Fitness center available for guests
– Private parking on site
Crowne Plaza Zürich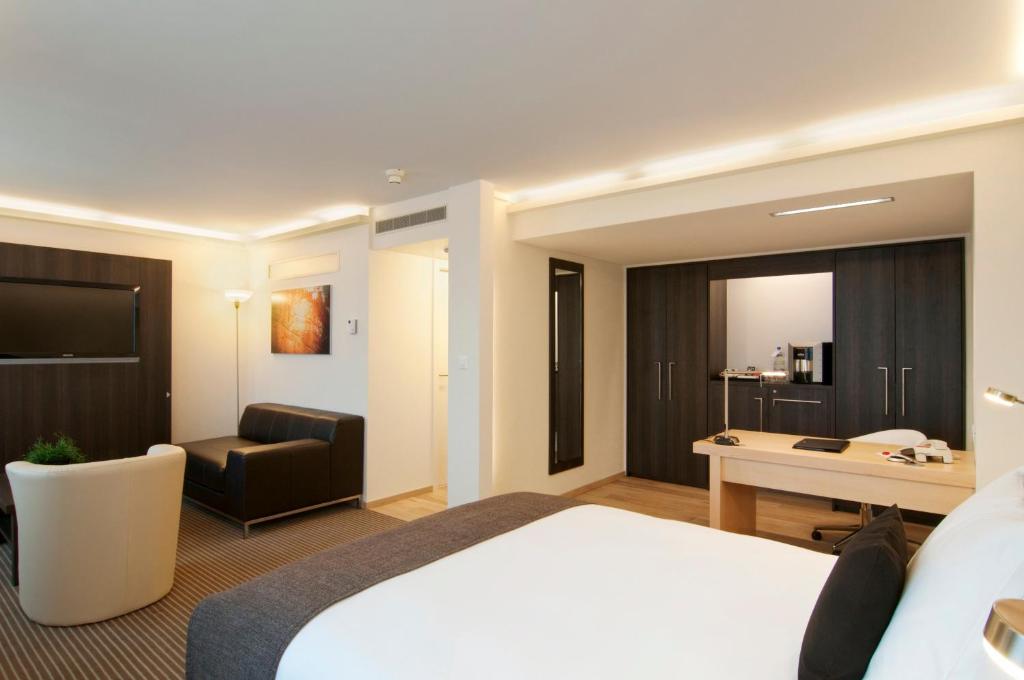 The Crowne Plaza Zurich is a luxurious hotel located just a short tram ride away from Zurich's bustling city center. Guests can enjoy the convenience of free WiFi, as well as indulge in delicious cuisine at one of the hotel's two restaurants offering both local and international dishes. The air-conditioned rooms are equipped with modern amenities including a flat-screen TV with international channels and tea/coffee making facilities. For those seeking wellness and fitness options, the hotel boasts the Holmes Place Health Club, spanning over 2,000 square meters and featuring state-of-the-art equipment, an indoor pool, and more. Additionally, guests can take advantage of the hotel's private parking garage with 550 parking spaces.
– Convenient location with easy access to Zurich's city center
– Free WiFi for all guests
– Two restaurants offering a variety of cuisine options
– Holmes Place Health Club with top-notch sports and wellness facilities
– Ample parking space in private parking garage
Acasa Suites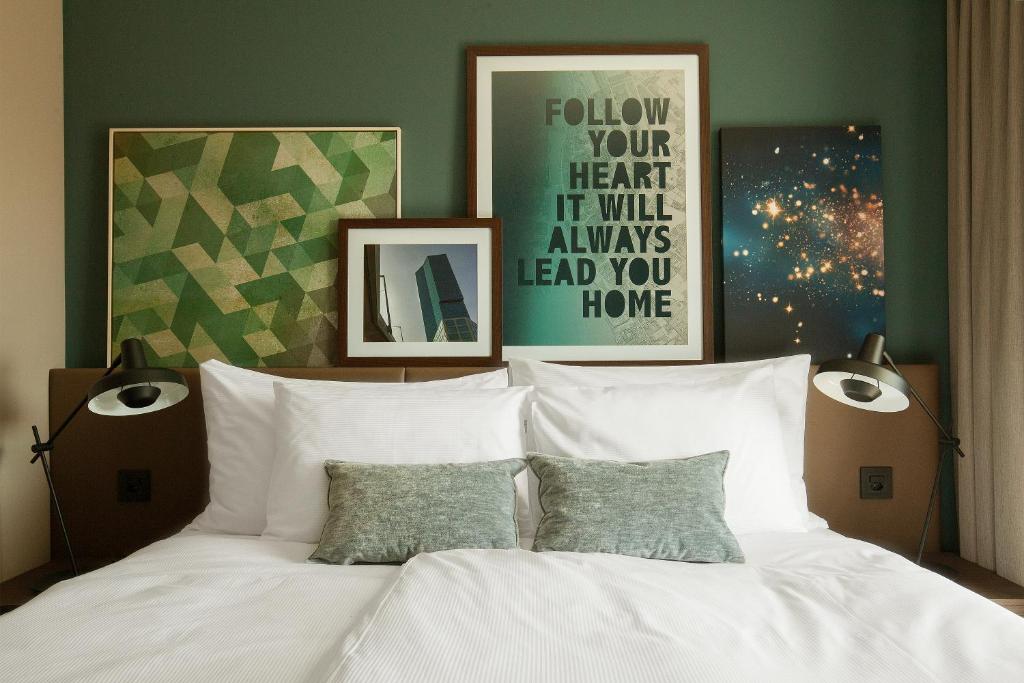 Located in the vibrant Oerlikon district of Zurich, Acasa Suites offers luxurious accommodation just a 3-minute walk away from Oerlikon Train Station. The hotel boasts well-appointed rooms and apartments, featuring modern amenities such as a flat-screen TV, air conditioning, and a private bathroom with a walk-in shower. Some accommodations even come with a kitchenette equipped with a microwave or dishwasher. Guests can enjoy access to the hotel's fitness center, wellness spa area with sauna and steam bath, and indulge in relaxing massages. Additionally, Acasa Suites provides free Wi-Fi, private parking, and business booths for those looking for a quiet working atmosphere. With its convenient location near Messe Zurich and ETH Zurich, this hotel is an ideal choice for both business travelers and leisure guests.
Pros:
– Convenient location near Oerlikon Train Station
– Luxurious rooms and apartments with modern amenities
– Access to fitness center and wellness spa area
– Free Wi-Fi and private parking available
– Business booths for quiet working atmosphere
Most Expensive Hotels in Zürich
Zürich, known for its opulent lifestyle and breathtaking landscapes, is home to some of the most expensive hotels in the world. These luxurious accommodations embody elegance and extravagance, offering discerning travelers an unparalleled experience. With their exceptional service and attention to detail, these hotels redefine luxury living, ensuring that guests indulge in utmost comfort and sophistication. From lavish suites boasting panoramic city views to exquisite dining experiences curated by renowned chefs, Zürich's most expensive hotels are a true testament to the city's status as a global hub for high-end hospitality.
EMA House Hotel Suites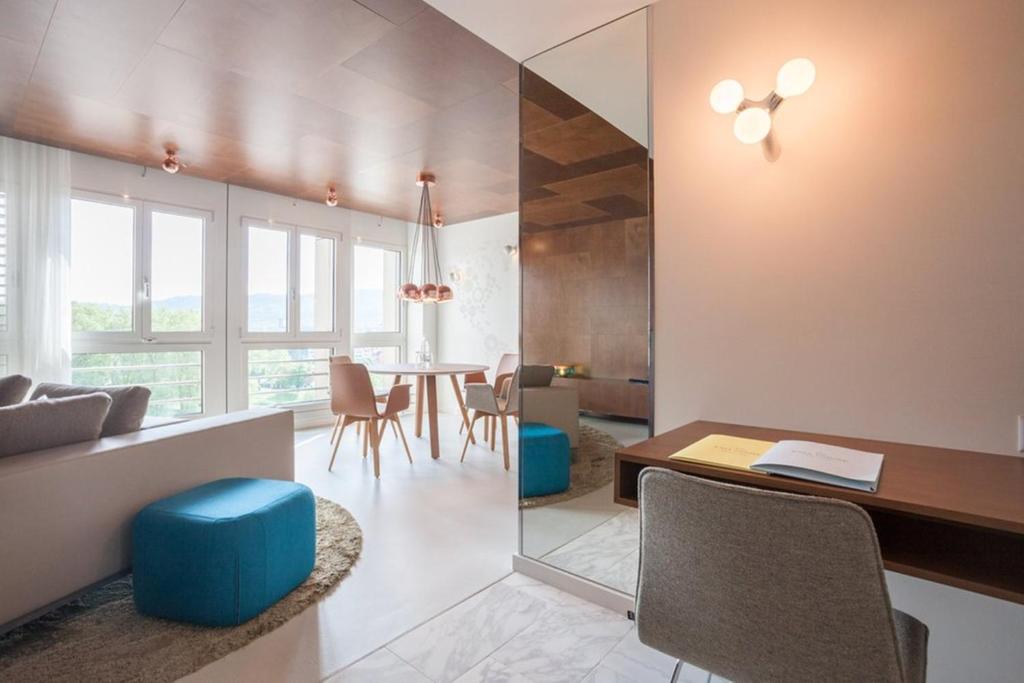 EMA House Hotel Suites offers spacious and luxurious suites in the heart of Zurich. Whether you choose a Junior Suite or a 1- or 2-Bedroom Executive or Residential Suite, you will enjoy privacy and comfort just steps away from the city's main railway station. Each suite is equipped with a work desk, direct dial phones, free Wi-Fi access, and individually adjustable air conditioning. Additionally, there is a shared washing machine available for guest use. For breakfast, guests can indulge in a delicious spread served in-room, featuring fresh bread, scrambled eggs, a meat and cheese platter, cereals, yoghurt or fresh fruit salad, juice, coffee or tea. Parking is available in the hotel's garage (charges apply). The hotel's convenient location allows easy access to popular attractions such as the Old Town and Bahnhofstrasse by tram or on foot within 10 minutes. The airport can be reached by taxi in just 15 minutes and there is also a direct tram line to the fairgrounds and exhibition grounds.
Pros:
– Spacious and luxurious suites
– Convenient location near main railway station
– In-room breakfast with an extensive selection
– Amenities like free Wi-Fi access and individually adjustable air conditioning
– Easy access to popular attractions by tram or walking distance
Luxury Zürich Hotels Information
| | |
| --- | --- |
| 🛎️ Luxury Hotels in Zürich | 10 |
| 💵 Hotels Prices From | $57 |
| 💵 Highest price | $1792 |
| 🥇 Average Review Score | 8.5/10 |
| 🛏️ Average number of Rooms | 116 |
Top Luxury hotels in Zürich
| | |
| --- | --- |
| Small Luxury Hotel Ambassador Zurich | 9.1/10 |
| EMA House Hotel Suites | 9/10 |
| Park Hyatt Zurich – City Center Luxury | 8.9/10 |
| Acasa Suites | 8.9/10 |
| The Dufour by Hotel Schweizerhof Zürich | 8.6/10 |
FAQ
What are some of the top luxury hotels in Zürich?
Zürich is known for its exquisite luxury hotels. Some of the top options include The Dolder Grand, a historic hotel with stunning views of the city and a luxurious spa. Another popular choice is Baur Au Lac, a five-star hotel located on Lake Zürich that offers elegant rooms and exceptional service. For those seeking a modern and chic experience, The Widder Hotel is an excellent choice with its stylish design and Michelin-starred restaurant.
Are there any luxury hotels in Zürich city center?
Yes, there are several luxury hotels located in the heart of Zürich city center. One such option is Park Hyatt Zurich, which offers sophisticated accommodations and world-class amenities such as an on-site spa and gourmet restaurants. Another notable hotel in the city center is Savoy Hotel Baur en Ville, situated on Paradeplatz square and offering refined rooms with beautiful views of downtown Zürich.
What amenities can I expect at luxury hotels in Zürich?
Luxury hotels in Zürich pride themselves on providing exceptional amenities to their guests. These may include spacious rooms or suites with high-end furnishings, luxurious bedding, and impressive views of either the city or Lake Zürich. Many luxury hotels also offer state-of-the-art fitness centers, indulgent spas offering various wellness treatments, fine dining restaurants showcasing gourmet cuisine from around the world, personalized concierge services to cater to individual needs, and often include access to exclusive club lounges.
What are some popular attractions near luxury hotels in Zürich?
There are many popular attractions near luxury hotels in Zürich that make them highly desirable for travelers. Some examples include Bahnhofstrasse – one of the world's most exclusive shopping streets – where you can find renowned designer boutiques just steps away from your upscale hotel. Additionally, Lake Promenade offers a picturesque setting for a leisurely stroll or boat ride. Museums such as Kunsthaus Zürich and the Swiss National Museum are also conveniently located close to luxury hotels, allowing guests to easily explore the city's rich cultural heritage.
How can I book a stay at a luxury hotel in Zürich?
Booking a stay at a luxury hotel in Zürich is quite simple. You can visit the official websites of your desired hotels to check availability and make reservations online. Alternatively, you can use reputable travel booking platforms or consult with luxury travel agencies that specialize in curated experiences and personalized service. It is advisable to book well in advance, especially during peak tourist seasons, to secure your preferred dates and room type at these sought-after establishments.
Popular Most Luxurious hotel destinations