Welcome to our exploration of opulent accommodations in Willemstad, the vibrant capital city of Curaçao. In this hotel guide, we delve into the realm of lavishness and discover exceptional properties that redefine luxury in this tropical paradise. Prepare to be captivated by stunning architecture, impeccable service, and awe-inspiring amenities as we embark on a journey through some of the most exquisite hotels that Willemstad has to offer.
Willemstad is a veritable treasure trove of extravagant lodging options, catering to the discerning traveler seeking an unforgettable experience. With its rich history and colorful Dutch colonial architecture, this UNESCO World Heritage Site provides an enchanting backdrop for these luxurious havens. From boutique hideaways adorned with ornate furnishings to sprawling resorts boasting private beaches and infinity pools overlooking crystal-clear waters – there is no shortage of indulgence here.
Join us as we immerse ourselves in the lap of luxury throughout Willemstad, where refined elegance meets Caribbean charm. Whether you seek tranquil serenity or vibrant excitement during your stay on this idyllic island, you're certain to find it within the confines of these remarkable hotels. Let's uncover the finest accommodations that await your arrival in Willemstad!
Most Luxurious Hotels in Willemstad
Morena Resort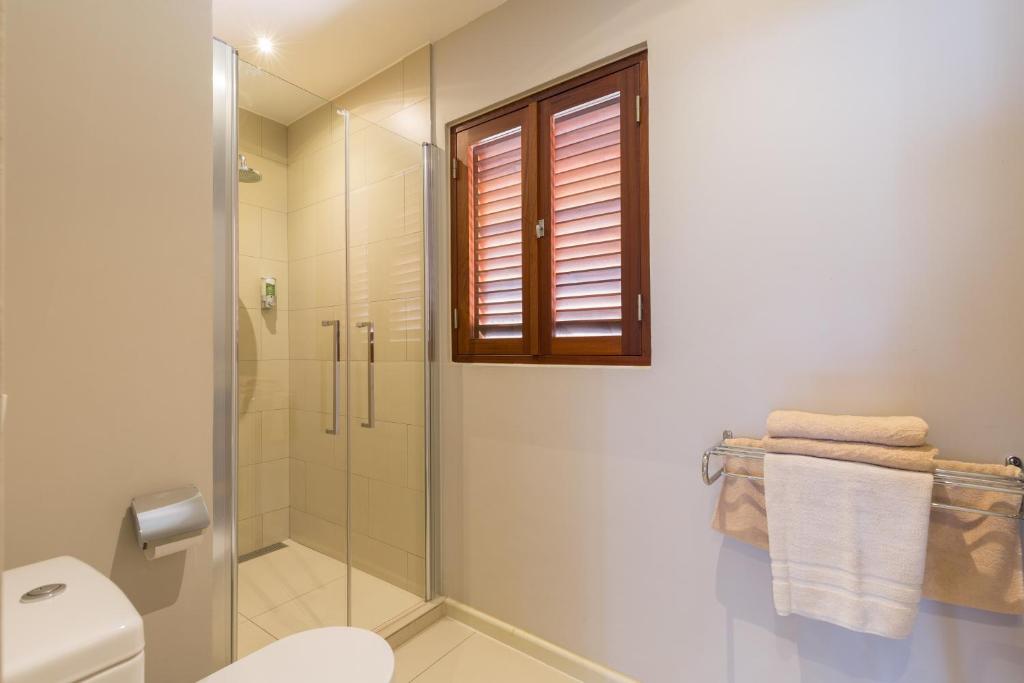 Located in the beautiful Jan Thiel Bay, Morena Eco Resort is a stunning getaway offering guests attractive villas and apartments with terraces, an outdoor swimming pool, and a spa. Surrounded by tropical gardens, this eco-friendly resort is situated in Jan Thiel. Each villa and apartment exudes charm with its wooden furnishings and offers a comfortable seating area with a sofa and flat-screen TV. The kitchen is well-equipped with a fridge, gas hob, and coffee maker. Morena Eco Resort prides itself on using fair trade products and being a car-free zone. Guests can be transported around the resort in Bolderkarren, traditional Dutch carriages. The on-site Fuego Restaurant serves delicious dishes including show cooking options. With Jan Thiel Beach just a 5-minute walk away, the resort also offers easy access to the center of Willemstad which is only a 15-minute drive away. Hato International Airport is conveniently located 22 km from Morena Eco Resort.
– Beautiful villas and apartments
– Outdoor swimming pool
– Spa facilities
– Fair trade products used at the resort
– Car-free zone with transportation in traditional Dutch carriages
BijBlauw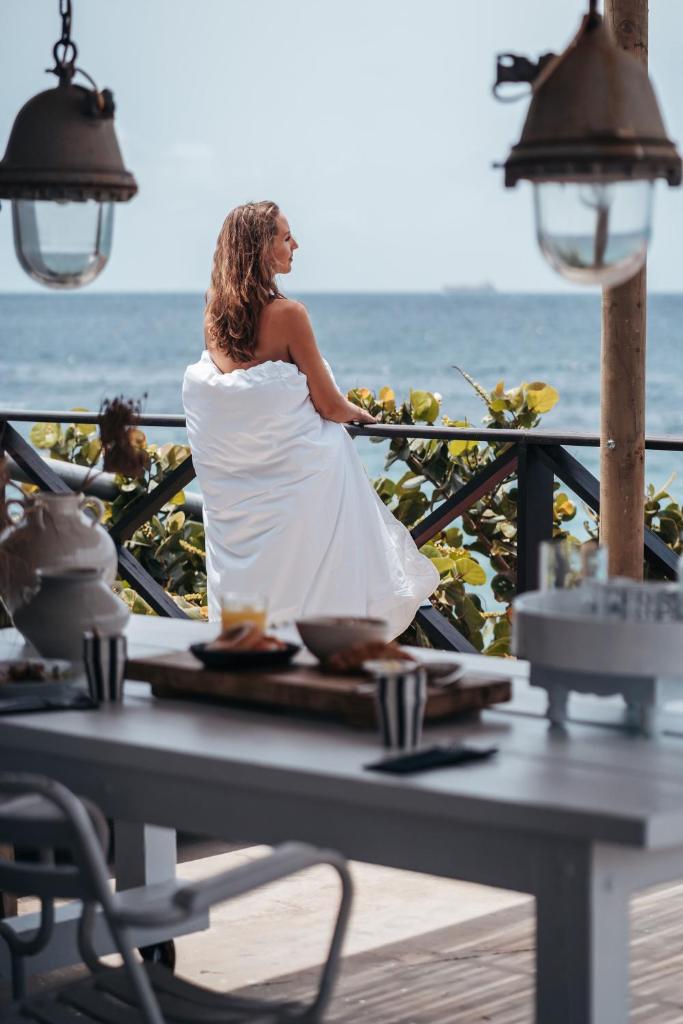 BijBlauw is a luxurious hotel nestled over the seafront, offering breathtaking views of the ocean. Located just a 10-minute walk from Willemstad's Historic Centre and a short 4 km from Curaçao Sea Aquarium, it provides convenience and tranquility in one place. The hotel boasts free WiFi throughout its premises, allowing guests to stay connected while enjoying their stay. With an array of dining options within a 5-minute walk, visitors can indulge in both international cuisine and local delicacies. The rooms at BijBlauw feature elegant wooden décor, air conditioning for optimal comfort, and cable TV for entertainment purposes. Each room also includes a private bathroom with a refreshing shower. For those seeking adventure or relaxation, Mambo Beach is only a 10-minute drive away, while Floating Market can be reached with just a leisurely 20-minute walk. Hato International Airport is conveniently located just 20 minutes by car from the hotel.
Pros:
– Stunning sea views
– Convenient location near historic center and popular attractions
– Free WiFi throughout the property
– Elegant wooden decor in rooms
– Close proximity to various dining options
Renaissance Wind Creek Curacao Resort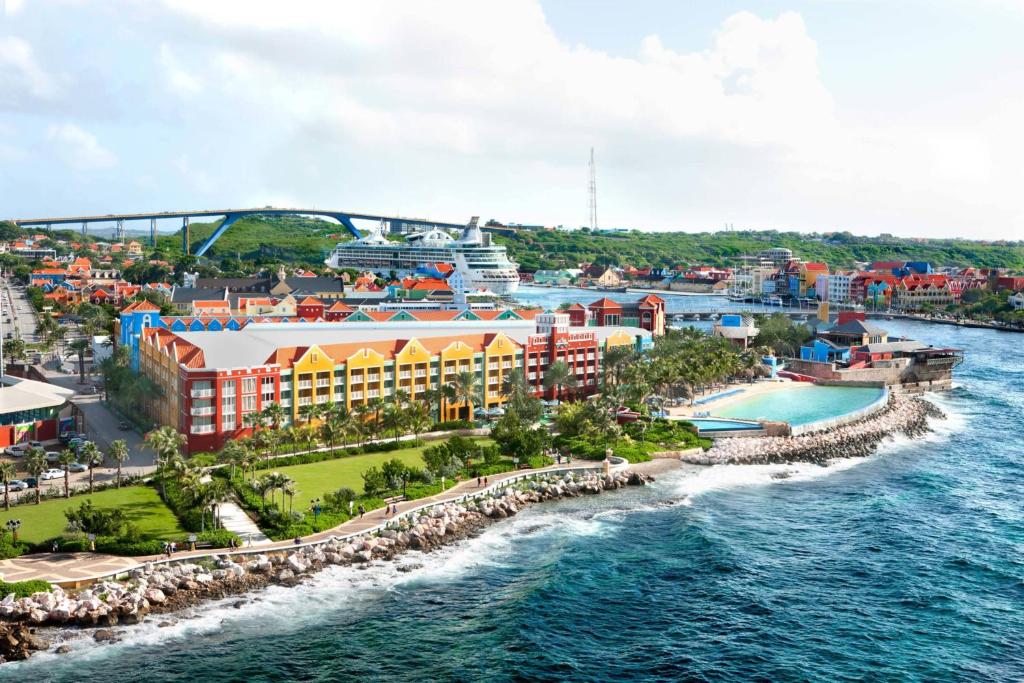 Located in the heart of Willemstad, Curacao, Renaissance Wind Creek Curacao Resort is a luxurious resort that offers guests a private beach club and an exciting Carnaval Casino. With its Four Diamond Award, this resort boasts top-notch amenities such as a saltwater infinity pool and a freshwater pool. The guest rooms are tastefully decorated and feature private balconies, coffee facilities, and small fridges. Each room is equipped with 32-inch flat-screen TVs with HBO channels, while the bathrooms include plush bathrobes and slippers. The resort also offers convenient services like car rentals and a business center. Indulge in delectable cuisine at one of the four on-site restaurants: Nautilus Restaurant for international dishes, The Infinity Beach Bar for refreshing drinks by the ocean, Blue for local specialties, or stop by the Starbucks Kiosk for your daily caffeine fix. Stay active during your stay by taking advantage of the state-of-the-art fitness center or enjoy a jog along the jogging trail. Adjacent to the property is a mall with various stores, bars, restaurants, and entertainment options to explore at leisure. Don't miss out on visiting nearby attractions such as Queen Emma Bridge (400 meters away) or Curacao Sea Aquarium (5 km away). For convenience, Curacao International Airport is just 9 km from Renaissance Wind Creek Curacao Resort.
Pros:
– Private beach club
– Salt water infinity pool
– Four on-site restaurants including Starbucks Kiosk
– State-of-the-art fitness center
– Convenient location near attractions and airport
Other places to stay in Willemstad
Luxury Hotels in Downtown Willemstad
In the heart of Willemstad, visitors can find a selection of luxurious accommodations that embody the essence of indulgence and elegance. Downtown Willemstad boasts a collection of luxury hotels that offer unparalleled comfort and impeccable service. With their prime location, guests can explore the vibrant city's rich history and soak in its captivating culture, all while enjoying refined hospitality at its finest. Each hotel exudes opulence through sophisticated design, lavish furnishings, and breathtaking views. From spacious rooms to world-class dining experiences, these luxurious properties provide an oasis of tranquility amidst the bustling cityscape. Whether seeking relaxation or adventure, travelers are sure to find their ultimate retreat in the downtown area of Willemstad's luxury hotels.
Papagayo Beach Hotel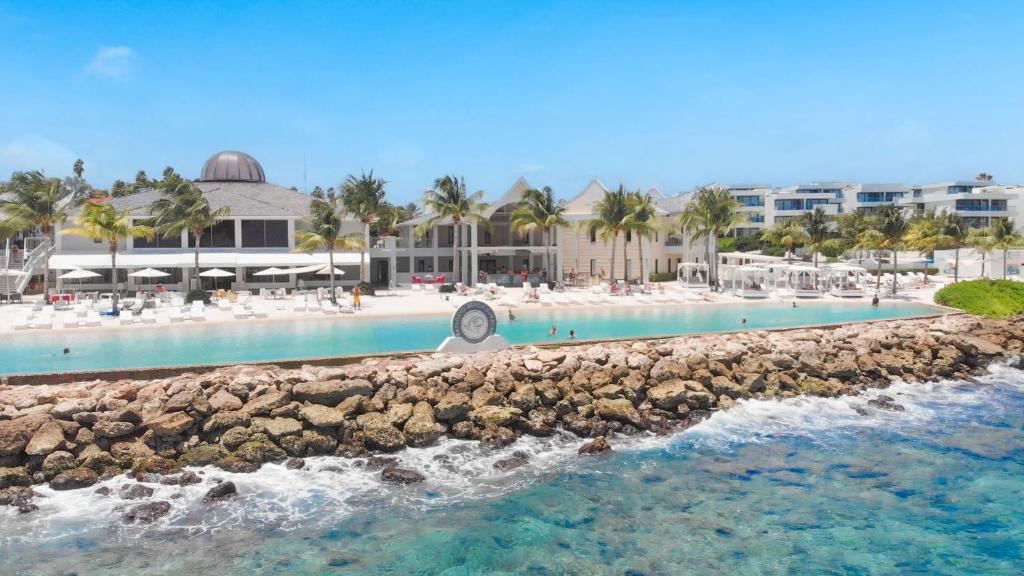 Located on Jan Thiel Beach, Papagayo Beach Hotel offers a luxurious stay with its casino and spa facilities. The hotel features stylish air-conditioned rooms that are equipped with free WiFi and flat-screen cable TV. Decorated in a pristine white theme, each room showcases a desk, sofa, and safe. The modern bathrooms come complete with complimentary toiletries. Indulge in delectable international cuisine at the beachfront restaurant and bar or enjoy a refreshing drink at the elegant lobby bar. The hotel also boasts an array of boutiques for those seeking some retail therapy. With its beautiful surroundings, guests can partake in thrilling activities such as scuba diving and snorkeling just steps away from the hotel. For those who wish to explore further, the historic city of Willemstad is only a 15-minute drive away while Curaçao International Airport can be reached within 25 minutes by car. Convenience is key with free parking available on-site along with additional services such as tours and shuttle arrangements upon request.
– Beautiful location on Jan Thiel Beach
– Luxurious spa facilities for relaxation
– Stylish rooms with modern amenities
– Range of dining options including beachfront restaurant
– Convenient access to scuba diving and snorkeling opportunities
Pietermaai Boutique Hotel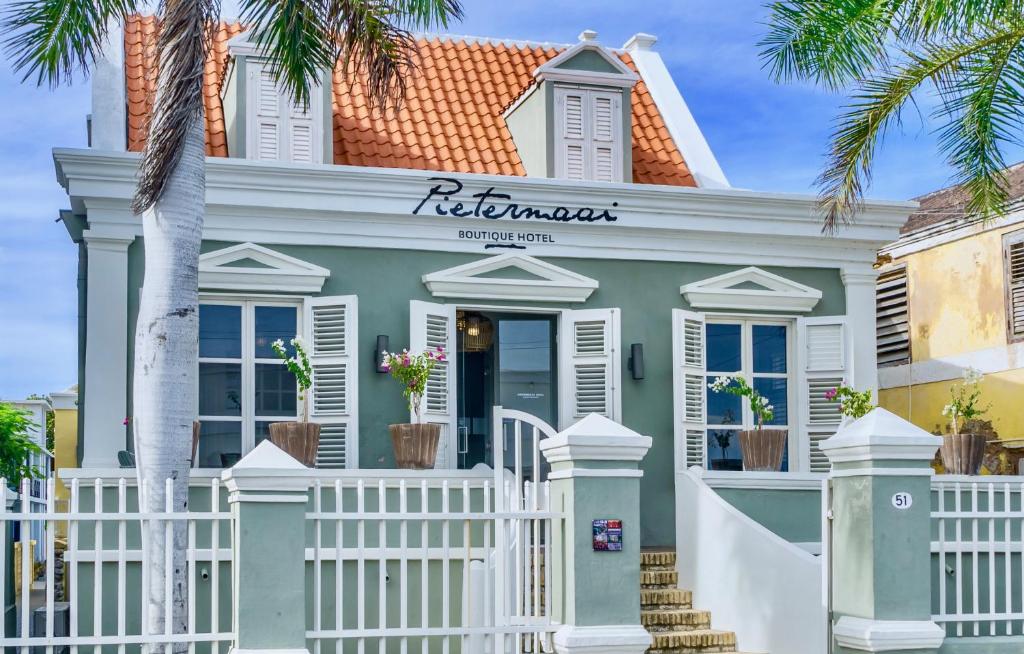 Pietermaai Boutique Hotel is a charming boutique hotel located in the historical Pietermaai district of Willemstad. Just 20 meters from the Caribbean Sea, this hotel offers fully furnished apartments and studios with bright interiors, featuring natural colors and wood-beamed ceilings. Guests can relax in the beautiful garden with a 2-level pool and terrace. The hotel also boasts an on-site mini-market and is conveniently situated next to various restaurants. With its proximity to popular attractions in Willemstad, guests have plenty of options for exploring the city. Additionally, Pietermaai Boutique Hotel provides free on-site parking.
– Fully furnished apartments and studios
– Charming garden with pool and terrace
– Convenient location next to restaurants
– On-site mini-market
– Free on-site parking
Bayside Boutique Hotel – Blue Bay Golf & Beach Resort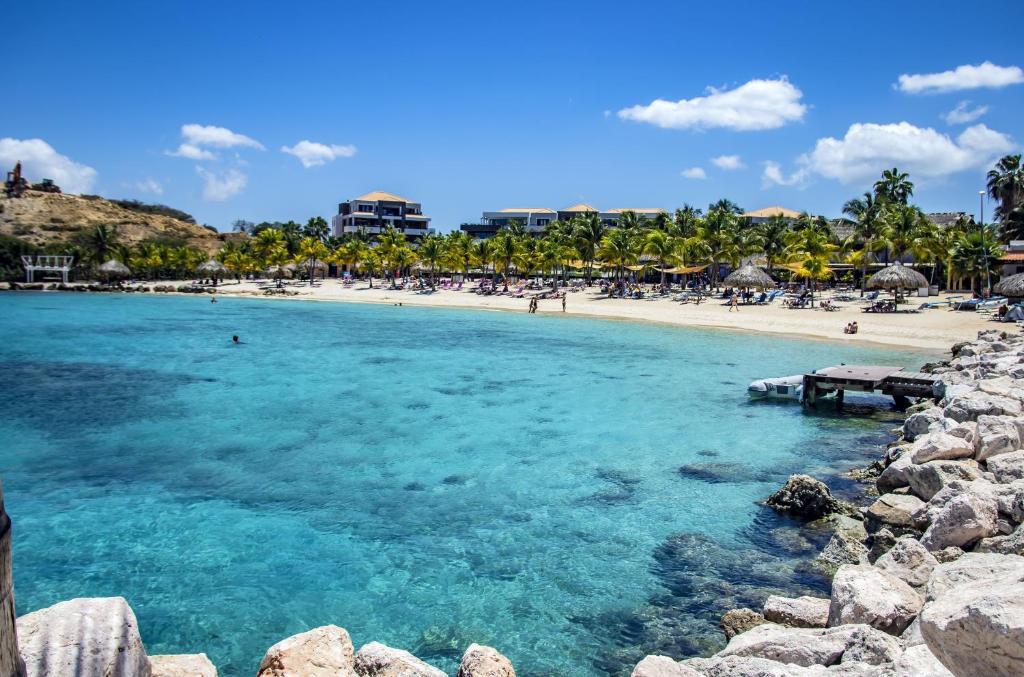 Bayside Boutique Hotel – Blue Bay Golf & Beach Resort is an exquisite hotel situated within the beautiful Blue Bay Golf & Beach Resort. With its prime location, guests of the hotel enjoy a significant discount to the resort's 18-hole golf court, making it a dream destination for golf enthusiasts. Each spacious room comes equipped with modern amenities such as a flat-screen TV and a comfortable seating area. For those seeking breathtaking views, select rooms offer stunning sea vistas. The hotel also boasts excellent facilities including a restaurant, fitness center, tour desk, and luggage storage. Guests can take advantage of water sports facilities throughout their stay, adding an extra element of fun and adventure to their vacation. Located just minutes away from Willemstad center and Curaçao International Airport, Bayside Boutique Hotel is both convenient and idyllic.
– Prime location within the scenic Blue Bay Golf & Beach Resort
– Generous discount offered for access to the resort's 18-hole golf court
– Comfortable rooms with flat-screen TVs and seating areas
– Spectacular sea views available in select rooms
– Excellent on-site facilities including restaurant, fitness center, and tour desk
5 Star Luxury Hotels
5 Star Luxury Hotels are the epitome of extravagance and refinement, offering an unparalleled level of service and comfort. These exclusive accommodations are designed to cater to every desire, ensuring a truly memorable experience for guests. From meticulously decorated interiors that exude elegance to world-class amenities, these hotels provide a haven of opulence where no detail is overlooked. With exceptional dining options that showcase the finest culinary creations and impeccable staff who anticipate every need, 5 Star Luxury Hotels offer a sanctuary of indulgence for discerning travelers seeking the ultimate in sophistication and relaxation.
Scuba Lodge & Suites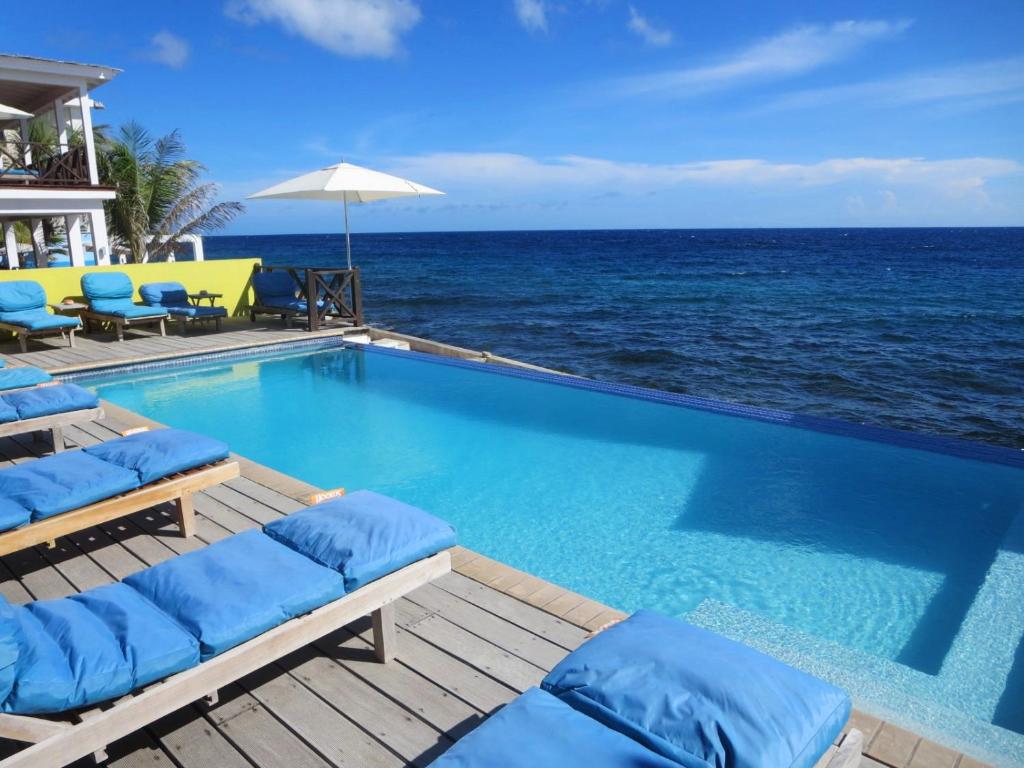 Scuba Lodge & Suites is an oceanfront hotel located less than 2 miles from Willemstad's Floating Market. This luxurious hotel offers scuba diving lessons, a dive gear shop, and a private strip of artificial beach for guests to enjoy. The hotel features an oceanfront bar serving tropical cocktails and a seasonal restaurant right on the beach. Each apartment unit at Scuba Lodge & Suites comes with a full kitchen and is equipped with modern amenities such as free Wi-Fi, flat-screen cable TV, and DVD player. The spacious units also offer multiple bathrooms and a terrace with breathtaking sea views. Guests can unwind at the infinity pool or garden pool or indulge in an on-site massage session. For those who prefer to cook their own meals, barbecue facilities are available for use. A delicious breakfast menu is offered each morning at this hotel. Additionally, popular attractions like the Curacao Maritime Museum and Sea Aquarium are just a short drive away, making it convenient for guests to explore the area's offerings.
– Ideal location close to Willemstad's Floating Market
– Scuba diving lessons available on-site
– Apartments with full kitchens and spectacular sea views
– Relaxing infinity pool and garden pool
– Convenient access to popular attractions such as Curacao Maritime Museum and Sea Aquarium
Blue Bay Golf & Beach Resort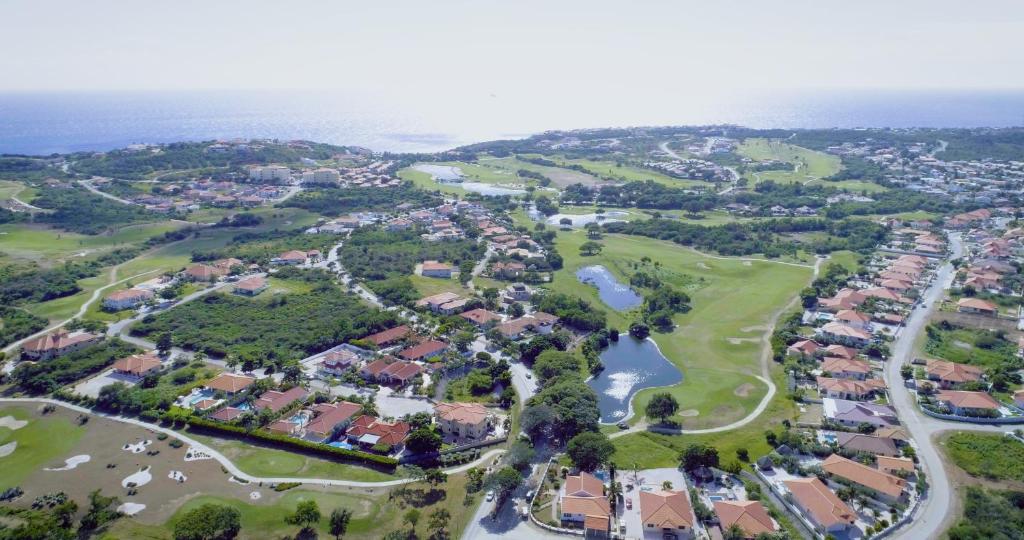 The Blue Bay Curacao Golf & Beach Resort is a luxurious resort situated on a former plantation, now transformed into an exquisite 18-hole golf course and its own private beach. This resort offers a variety of accommodations suitable for families and adults alike. Whether you prefer direct access to the pool or your own private pool, all units come equipped with fully stocked kitchens, air-conditioned bedrooms (ranging from 1 to 5), living rooms, private terraces or balconies, and breathtaking views of the Blue Bay Curacao Golf & Beach Resort. Indulge in delicious meals at their two restaurants or enjoy refreshing drinks at the beach bar throughout the day. The crystal-clear water invites you to take a swim or join an offshore dive session at the onsite Padi 5 dive school. The Plantation House serves as both the front desk and Golf Pro shop, allowing guests to effortlessly book tee times, receive room keys, and savor stunning views while ordering their favorite beverages.
Pros:
– Beautiful 18-hole golf course
– Private beach access
– Various accommodation options with pools available
– Fully equipped kitchens in all units
– Onsite Padi 5 dive school for underwater adventures
Kontiki Beach Resort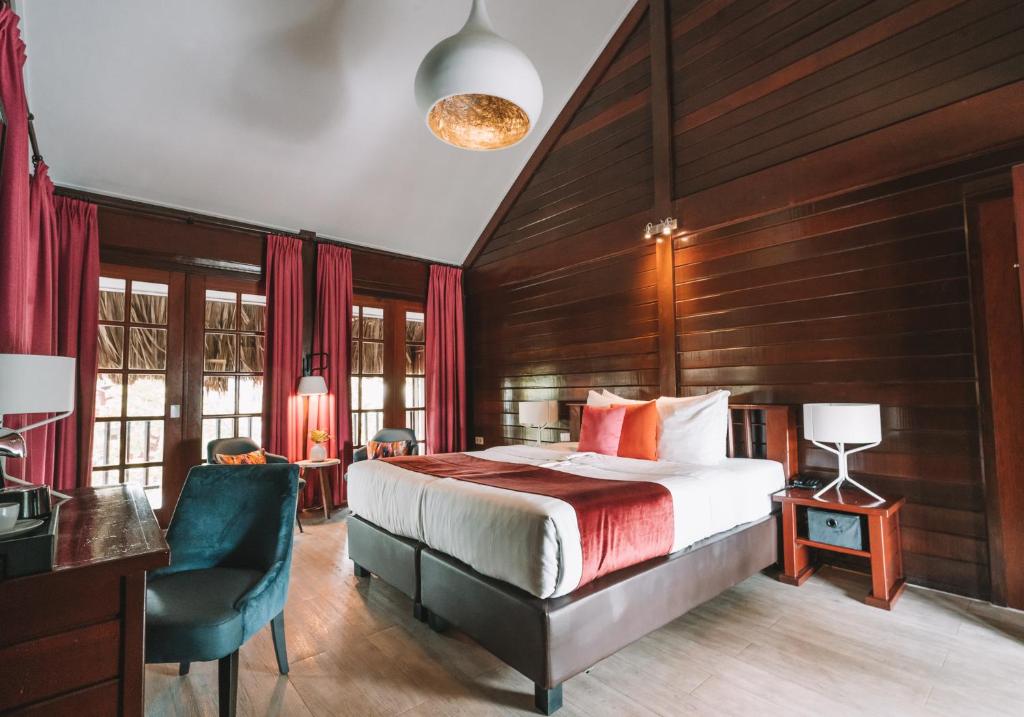 Located just a 3-minute walk from the beach, Kontiki Beach Resort is a tropical oasis offering modern accommodations with private verandas. Surrounded by lush gardens, this resort boasts five saltwater pools and two beach clubs, Cabana Beach and Mood Beach. The rooms are stylishly furnished with dark wood paneling and equipped with amenities such as a TV, safe, air conditioning, and free WiFi. Guests can enjoy a variety of activities arranged by the resort, with convenient pick-up directly at the property. With its prime location on Seaquarium Beach and easy access to Hato Airport just 20 minutes away, Kontiki Beach Resort provides an ideal setting for a luxurious beach getaway.
– Prime location just steps away from the beach
– Five saltwater pools set in beautiful tropical gardens
– Stylish and modern accommodations with private verandas
– Two exclusive beach clubs for guests to enjoy
– Convenient access to Hato Airport for easy travel arrangements
Most Expensive Hotels in Willemstad
In Willemstad, discerning travelers can indulge in the ultimate luxury experience by staying at some of the most exclusive and expensive hotels. These opulent accommodations offer an unparalleled level of sophistication, elegance, and world-class service that caters to the desires of even the most affluent guests. From breathtaking waterfront views to lavish suites adorned with exquisite furnishings, these hotels embody true extravagance. With attention to detail and a commitment to providing unrivaled comfort, these establishments redefine luxury hospitality in this vibrant Caribbean city.
Livingstone Jan Thiel Resort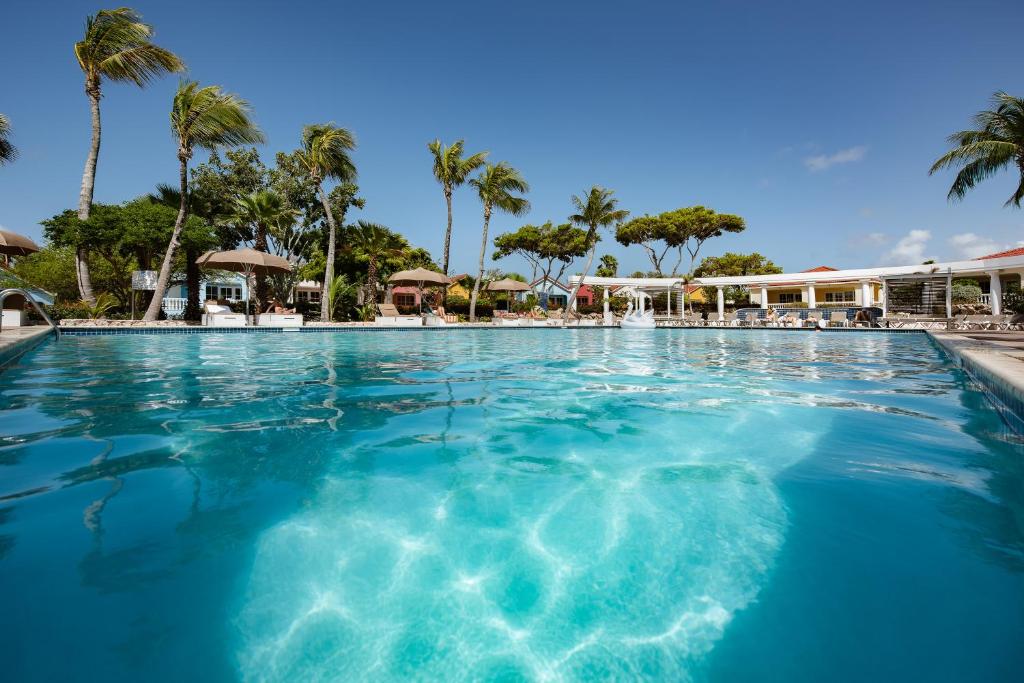 Livingstone Jan Thiel Resort is a luxurious hotel in Curacao that offers spacious apartments and villas with breathtaking views of the ocean and lush tropical gardens. Guests can enjoy easy access to various activities as well as unwind in the resort's relaxing facilities. The highlight of Livingstone Jan Thiel Resort is its large outdoor pool, complete with a children's pool for little ones to splash around in. After a day of exploration, guests can indulge in a refreshing cocktail by the pool or at the hotel's bar. The resort's activities desk is available to assist guests with arranging tours and activities, including scenic mountain bike tours. For dining options, there is Don's Restaurant which boasts a charming colonial-style ambiance and serves delicious breakfast, lunch, and dinner.
– Spacious apartments and villas with stunning ocean views
– Large outdoor pool with separate children's pool
– Activities desk available for tour arrangements
– Colonial-style Don's Restaurant serving delectable meals throughout the day
Luxury Willemstad Hotels Information
| | |
| --- | --- |
| 🛎️ Luxury Hotels in Willemstad | 10 |
| 💵 Hotels Prices From | $274 |
| 💵 Highest price | $1104 |
| 🥇 Average Review Score | 8.1/10 |
| 🛏️ Average number of Rooms | 90 |
Top Luxury hotels in Willemstad
| | |
| --- | --- |
| Renaissance Wind Creek Curacao Resort | 8.8/10 |
| Bayside Boutique Hotel – Blue Bay Golf & Beach Resort | 8.7/10 |
| Scuba Lodge & Suites | 8.6/10 |
| Pietermaai Boutique Hotel | 8.4/10 |
| Kontiki Beach Resort | 8.3/10 |
FAQ
What are some luxury hotels in Willemstad, Curaçao?
Willemstad offers a range of luxurious accommodations for visitors. Some of the top luxury hotels in the city include Baoase Luxury Resort, Santa Barbara Beach & Golf Resort, Renaissance Curaçao Resort & Casino, and Avila Beach Hotel. These hotels offer world-class amenities, stunning views, and exceptional service to ensure a truly unforgettable stay.
What is the average price range for luxury hotels in Willemstad?
The average price range for luxury hotels in Willemstad can vary depending on the time of year and specific hotel. On average, expect to pay anywhere from $200 to $500 per night for a luxury hotel in this city. It's worth noting that prices may fluctuate based on demand and availability during peak travel seasons.
What amenities can I expect at luxury hotels in Willemstad?
Luxury hotels in Willemstad pride themselves on offering an array of upscale amenities to enhance guests' experiences. These may include private beaches or beach access, infinity pools with breathtaking views, spa facilities offering various treatments and massages, fine dining restaurants serving gourmet cuisine, fitness centers equipped with state-of-the-art equipment, concierge services to assist with any requests or reservations needed during your stay.
Is it necessary to make reservations at luxury hotels in advance?
It is highly recommended to make reservations at luxury hotels in advance when planning a trip to Willemstad. Given their popularity among travelers seeking high-end experiences and limited availability due to exclusivity, making reservations ensures that you secure your desired dates and room type. This also allows the hotel staff ample time to prepare for your arrival so they can provide personalized service tailored specifically to your needs.
Are there any popular attractions near luxury hotels in Willemstad?
Yes! One of the great things about staying at a luxury hotel in downtown Willemstad is its close proximity to popular attractions. Take a stroll through the historic Punda and Otrobanda districts, explore the vibrant floating market, visit the famous Queen Emma Bridge, or indulge in some retail therapy at trendy shops and boutiques. Additionally, luxury hotels typically offer easy access to beautiful beaches where you can relax and soak up the Caribbean sun.
Popular Most Luxurious hotel destinations