Welcome to the beautiful state of Vermont, a hidden gem nestled in the heart of New England. If you're seeking an unforgettable getaway filled with opulence and tranquility, then look no further than the luxurious accommodations that this charming state has to offer. Vermont boasts a plethora of lavish hotels that cater to every discerning traveler's desires.
Prepare to be enchanted by the magnificent hotels this picturesque state boasts. From elegant boutique establishments to grand historic manors, Vermont offers a diverse selection of upscale accommodations. Whether you prefer a cozy inn adorned with rustic charm or a modern retreat boasting sleek sophistication, there is something for everyone in this haven of luxury.
Indulge your senses as you immerse yourself in the lavish amenities and impeccable service provided by these exquisite hotels. Immerse yourself in world-class spa treatments, savor gourmet cuisine crafted from locally sourced ingredients at award-winning restaurants, or simply sip on a glass of fine wine as you admire breathtaking views from your private balcony.
Escape from the hustle and bustle of everyday life and experience true serenity amongst the rolling hills and majestic mountains that characterize Vermont's landscape. Embark on extraordinary adventures during the day – whether it's skiing down powdery slopes or exploring charming nearby towns – before retreating back to your lavish abode for an evening of relaxation.
Discover why Vermont is synonymous with luxury as you embark on an unforgettable journey through its finest accommodations. Prepare for unparalleled comfort, unrivaled hospitality, and memories that will be etched into your heart forever as you indulge in all that these magnificent hotels have to offer.
Most Luxurious Hotels in Vermont
Kimpton Taconic Hotel (Manchester)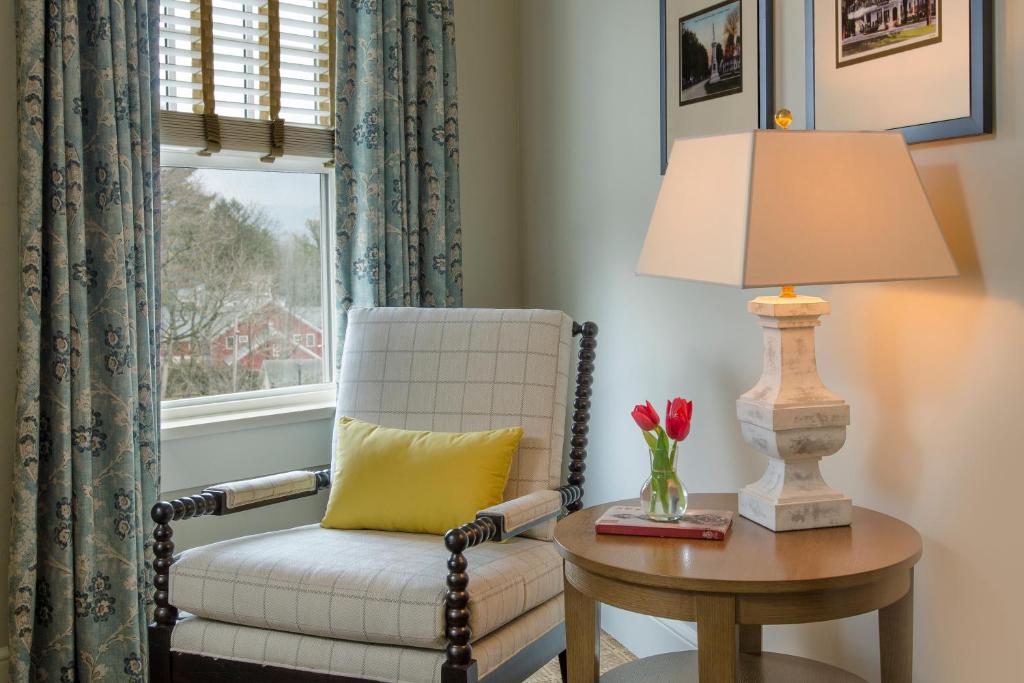 The Kimpton Taconic Hotel in Manchester offers luxurious and pet-friendly accommodations. With a seasonal outdoor pool and stunning mountain views, guests can relax and unwind while enjoying a drink at the bar. The hotel also provides private parking and a 24-hour front desk for convenience. Each room is beautifully decorated with a soothing earth-tone palette, plush beds, curated local artwork, and breathtaking mountain vistas. Guests can look forward to an evening social hour with complimentary wine and local brews. Located in historic Manchester Village, the hotel offers easy access to various outdoor adventures throughout the year, including leaf-peeping in the fall, skiing in winter, maple sugaring in spring, and art festivals in summer. The nearest airport is Albany International Airport which is 76 km away.
– Pet-friendly accommodations
– Seasonal outdoor pool with mountain views
– Complimentary evening social hour with wine and local brews
– Easy access to outdoor adventures all year round
– Convenient private parking on site
Topnotch Resort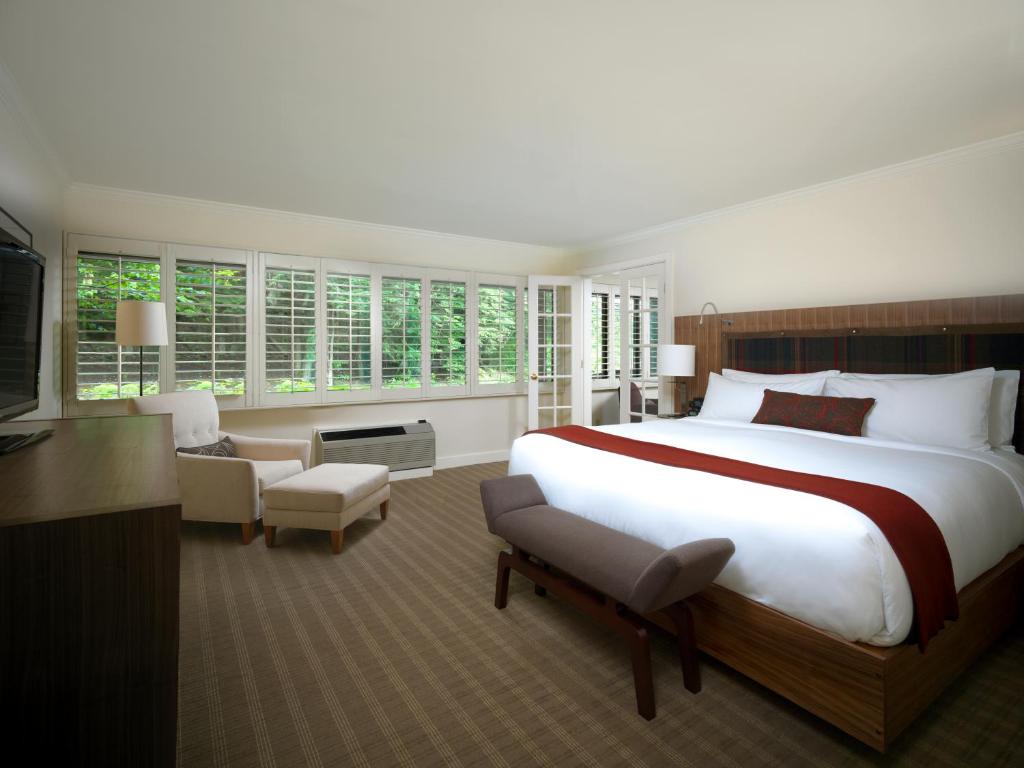 Situated in the heart of Vermont's Green Mountains on 120 acres of lush forested land, Topnotch Resort is a luxurious retreat that offers an array of leisure activities, exquisite dining options, and easy access to top-rated ski trails. With indoor and outdoor swimming pools, state-of-the-art tennis facilities, and a full-service spa offering rejuvenating massages and facial treatments, guests can indulge in ultimate relaxation during their stay. The resort also features on-site boutiques for those looking for some retail therapy. In addition, guests are treated to free afternoon tea and biscuits along with the convenience of 24-hour room service. The Roost is the perfect spot to enjoy delicious pub fare and signature cocktails while cozying up next to a warm fireplace. Regardless of the season, Topnotch Resort offers an abundance of outdoor activities such as cross-country skiing, scenic hiking trails, horseback riding, and cycling paths – ensuring everyone finds something exciting to do.
Grand Summit Resort (Dover)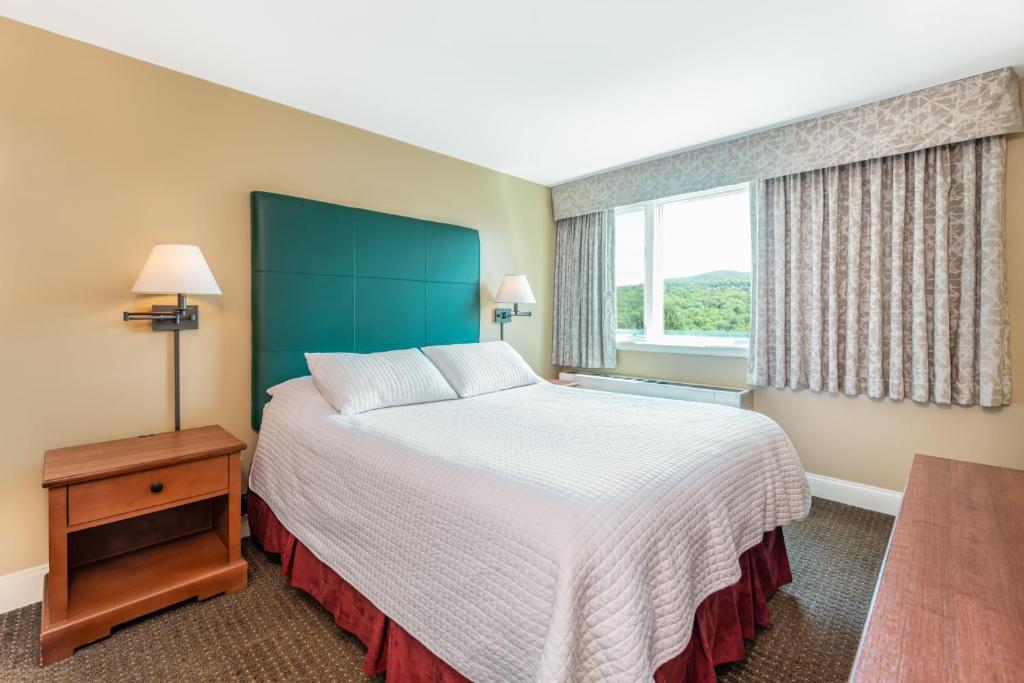 Grand Summit Resort, located in Dover, is a newly opened 4-star luxury hotel. Offering stylish and comfortable accommodations, the resort is conveniently situated just 49 km away from Mount Equinox and Bennington Museum. For outdoor enthusiasts, Mount Snow Resort is only 7.8 km away, while Molly Stark State Park is a short drive of 20 km. The property boasts non-smoking rooms equipped with modern amenities such as air conditioning and a safety deposit box. Guests can enjoy the convenience of in-room coffee machines and private bathrooms with showers and hairdryers. Some rooms even feature fully equipped kitchens with fridges for added convenience. With its prime location and luxurious accommodations, Grand Summit Resort offers an exceptional stay for travelers seeking both relaxation and adventure.
– Stylish and comfortable accommodations
– Convenient location near popular attractions
– Non-smoking rooms with modern amenities
– Fully equipped kitchens available in some rooms
– Friendly staff providing excellent service
Other places to stay in Vermont
Luxury Hotels in Downtown Vermont
Luxury hotels in downtown Vermont offer an unparalleled experience of elegance and sophistication. Nestled amidst the picturesque surroundings, these hotels boast a seamless blend of modern comforts and traditional charm. With their impeccable service, exquisite decor, and attention to detail, these properties create an oasis for discerning travelers seeking a remarkable stay. From luxurious accommodations to world-class dining options, guests can indulge in opulence at every turn. Downtown Vermont's luxury hotels provide a perfect retreat for those seeking tranquility and relaxation while exploring the vibrant cityscape just outside their doors.
Stoweflake Mountain Resort & Spa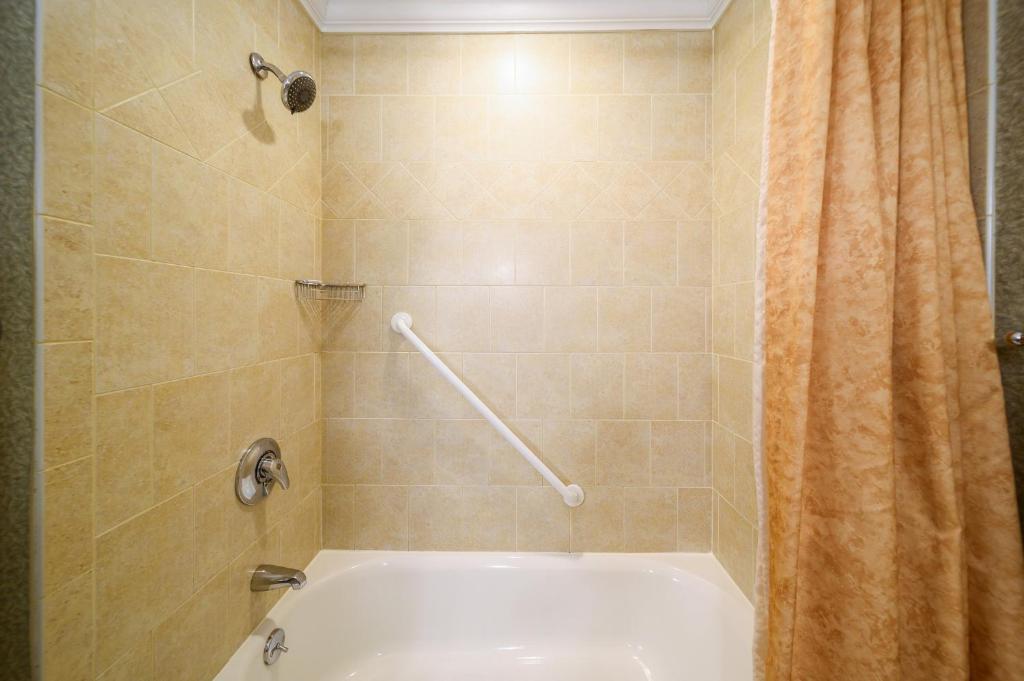 Located in Stowe, Vermont, the Stoweflake Mountain Resort & Spa is a luxurious 4-star resort that offers breathtaking views of Mt. Mansfield. This upscale resort boasts a range of amenities including an award-winning spa with 30 treatment rooms, a fully equipped gym, and indoor and outdoor pools. The resort also features two restaurants – one serving gourmet American cuisine and another offering traditional pub dishes – both with an extensive wine selection from the resort's wine cellar. Guests can choose to stay in superior rooms equipped with gas fireplaces, free Wi-Fi, refrigerators, and coffee makers. Each room is spacious and individually decorated, providing guests with spa bathrobes and toiletries for added comfort. Additional amenities offered by the Stoweflake Resort include a private hot air balloon ride during the summer months, tennis courts for sports enthusiasts, and a children's program for families traveling with little ones.
– Stunning views of Mt. Mansfield
– Award-winning spa with 30 treatment rooms
– Two on-site restaurants serving delicious cuisine
– Spacious and beautifully decorated guest rooms
– Wide range of amenities including pools, gym, hot air balloon rides (during summer), tennis courts, and children's program
Trapp Family Lodge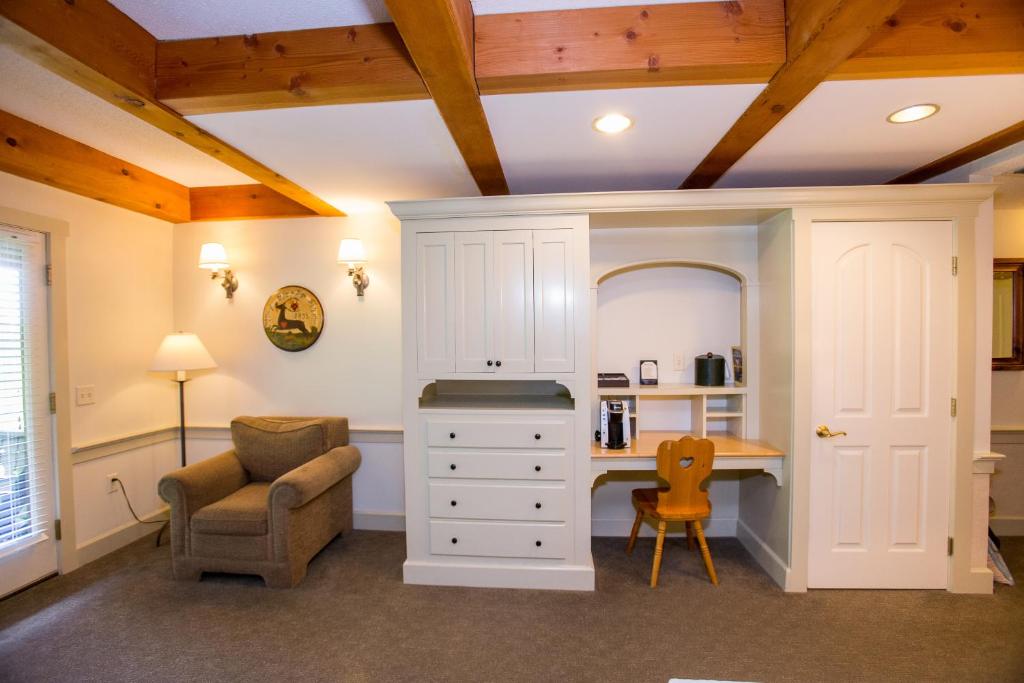 Located on 2,500 acres in the picturesque town of Stowe, Vermont, Trapp Family Lodge is a one-of-a-kind mountain resort that transports guests to Austria with its stunning Austrian-inspired architecture and European-style accommodations. The lodge offers breathtaking mountain views and unparalleled service, ensuring a truly luxurious experience for every guest. Whether you visit during the snowy winter months or the vibrant summer season, there are activities for everyone to enjoy. Wine connoisseurs can savor new flavors at The Wine Cellar and von Trapp Brewing, where only the finest wines and lagers crafted onsite are served. In addition to indulging in exquisite beverages, guests can explore the surrounding area filled with cross-country skiing trails, charming local wineries, and scenic hiking paths.
– Unique Austrian-inspired architecture
– European-style accommodations
– Stunning mountain views
– Exclusive wine cellar serving onsite wines
– Proximity to cross-country skiing trails, wineries and hiking paths
Holiday Inn Club Vacations Mount Ascutney Resort (Brownsville)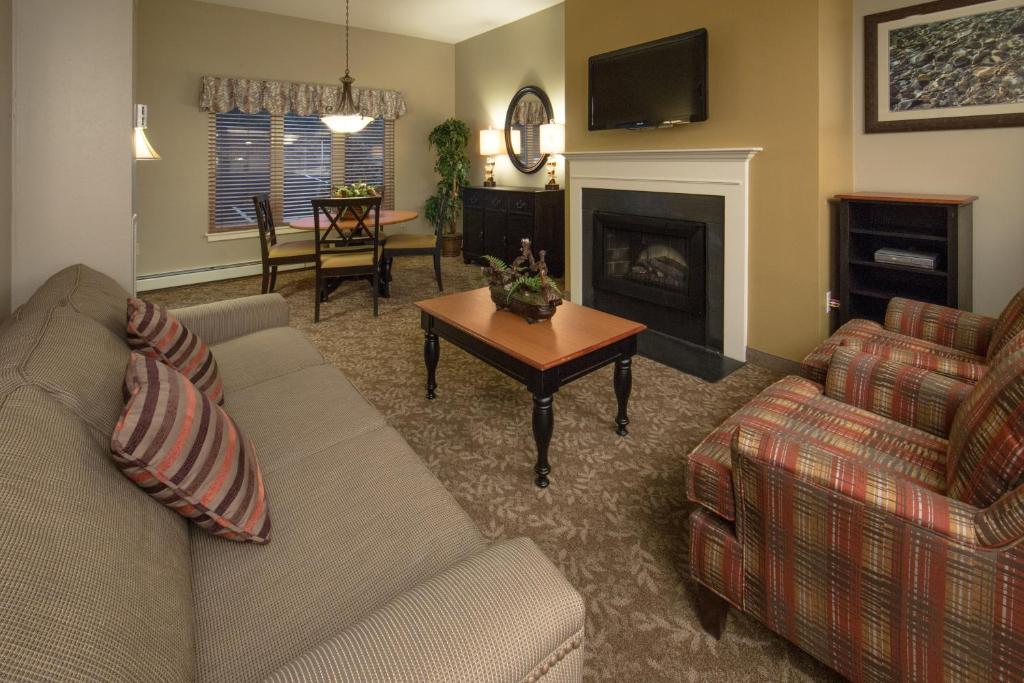 Located in Brownsville, Vermont, Holiday Inn Club Vacations Mount Ascutney Resort is a charming resort offering a range of amenities for guests to enjoy. With both indoor and outdoor pools, guests can relax and unwind all year round. The resort also boasts an on-site fitness center and arcade, making it the perfect destination for families. For those who enjoy being active, there are tennis, racquetball, and basketball courts available as well as nearby activities such as backpacking and mountain biking. The Maple Kitchen at the resort offers farm-to-table dining with hand-selected wines and delectable desserts. For a truly enjoyable stay in Brownsville, look no further than Holiday Inn Club Vacations Mount Ascutney Resort.
– Indoor and outdoor pools for year-round relaxation
– On-site fitness center and arcade for family fun
– Tennis, racquetball, and basketball courts available
– Farm-to-table dining at The Maple Kitchen
– Close proximity to backpacking trails and mountain biking opportunities
5 Star Luxury Hotels
5 Star Luxury Hotels offer the pinnacle of elegance, opulence, and exceptional service. From the moment guests step into these lavish establishments, they are enveloped in a world of sophistication and indulgence. The meticulously designed interiors exude grandeur, showcasing exquisite craftsmanship and attention to detail. Each room or suite is a sanctuary of comfort, featuring plush furnishings, luxurious linens, and state-of-the-art amenities. With an array of gourmet dining options available, guests can savor culinary delights prepared by world-renowned chefs. Impeccable spa facilities provide rejuvenation and relaxation with a range of pampering treatments. Whether it's the stunning poolside views or personalized attention from dedicated staff members, these 5 Star Luxury Hotels redefine luxury living at its finest.
The Equinox Golf Resort & Spa (Manchester)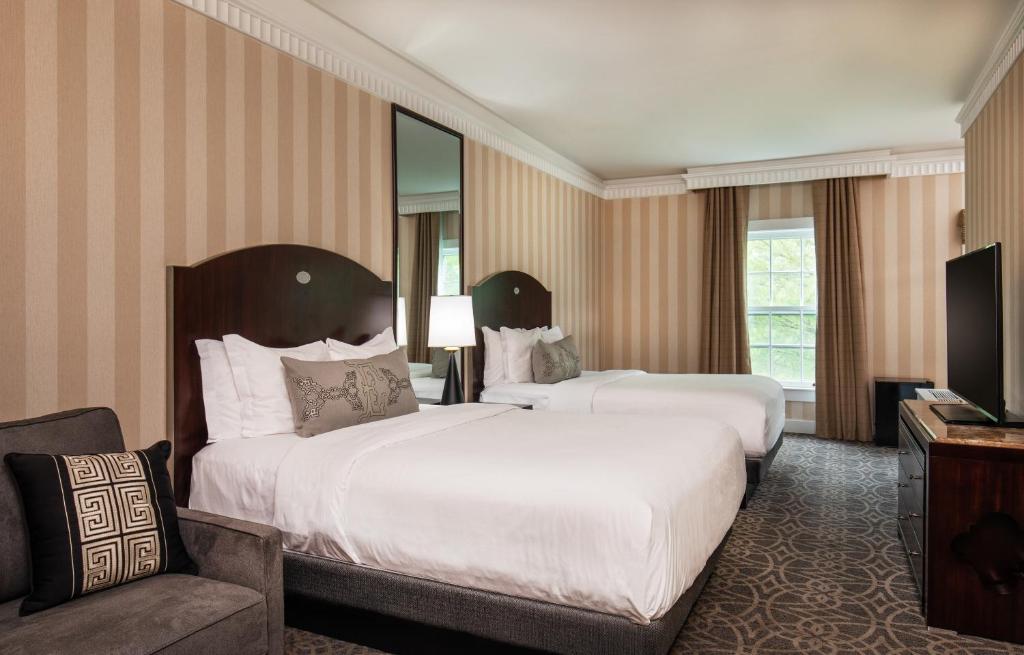 Nestled amidst the breathtaking beauty of the Green Mountains, The Equinox Golf Resort & Spa in Manchester is a luxurious retreat that offers an array of amenities for its guests. With an 18-hole golf course and a full-service spa, relaxation and indulgence are at your fingertips. The resort also boasts an indoor pool, sauna, and fitness center for guests to enjoy. The elegantly decorated rooms feature modern amenities such as flat-screen TVs, en suite bathrooms with plush bathrobes, and some even offer stunning mountain or garden views. In terms of dining options, guests can savor delicious meals at The Chop House steakhouse or dine alfresco at Dormy Grill while enjoying a cocktail at the Falcon Bar. In addition to its tranquil setting and top-notch facilities, the hotel's convenient location puts various shops in Manchester Village within one mile and Bromley Mountain skiing just ten miles away.
Pros:
– Luxurious resort surrounded by scenic Green Mountains
– Full-service spa offering ultimate relaxation
– 18-hole golf course for avid golfers
– Multiple on-site restaurants offering delectable dining experiences
– Convenient location with easy access to shops in Manchester Village
Mountain Lake Cottages (Westmore)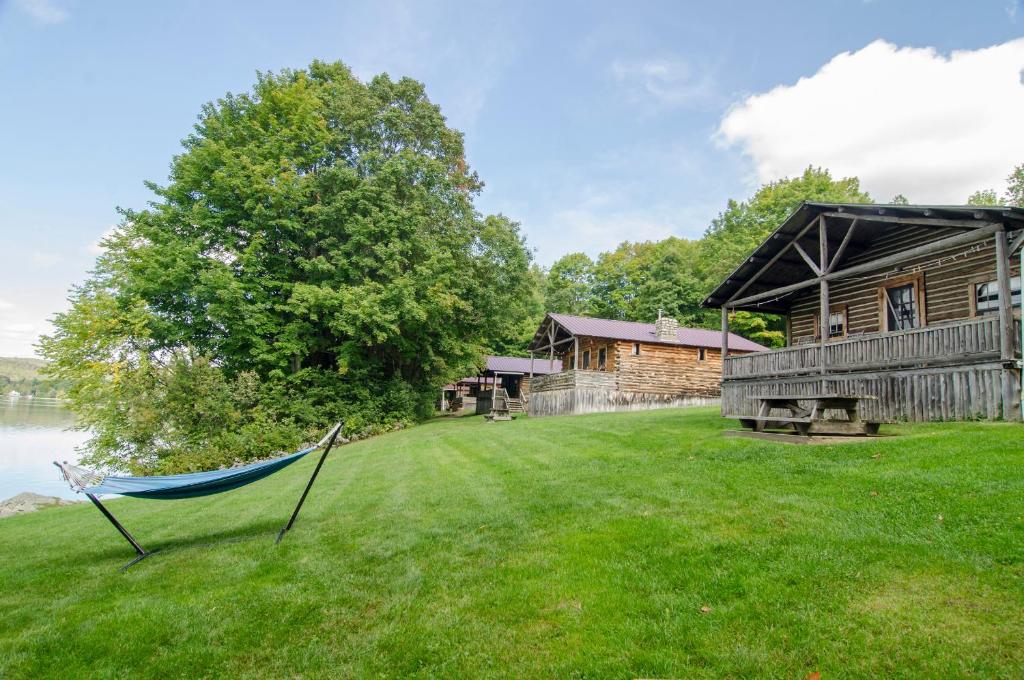 Mountain Lake Cottages, a luxurious hotel that opened in January 2022, is nestled in the scenic town of Westmore. Situated just 1.5 km from the breathtaking Lake Willoughby, this property offers a perfect retreat for nature lovers and outdoor enthusiasts alike. With free WiFi and complimentary private parking, guests can enjoy modern comforts while immersing themselves in the serene surroundings. The hotel is conveniently located 14 km away from Crystal Lake State Park and an easy drive to Brighton State Park, offering endless opportunities for hiking, swimming, and picnicking. For travelers flying into the area, Burlington International Airport is approximately 123 km from Mountain Lake Cottages.
– Stunning location near Lake Willoughby
– Free WiFi access throughout the property
– Complimentary private parking
– Close proximity to Crystal Lake State Park and Brighton State Park
– Convenient access to Burlington International Airport
Hampton Inn Burlington – Colchester (Burlington)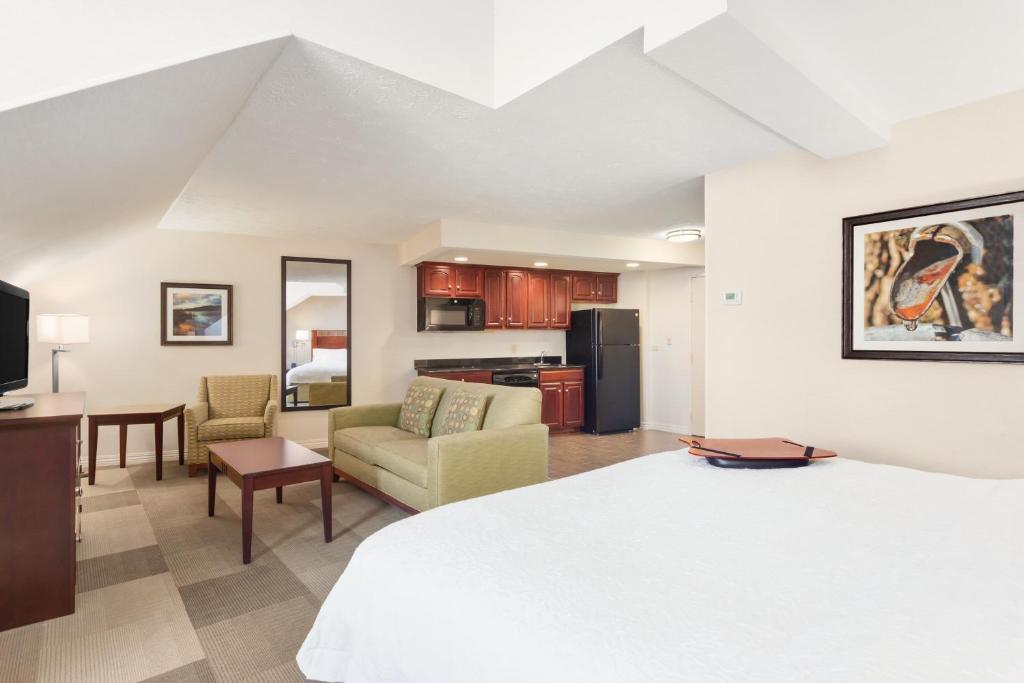 Hampton Inn Burlington – Colchester, located just 7.3 km from Burlington International Airport, offers a luxurious and convenient stay for travelers. The hotel boasts a range of amenities including a heated indoor pool, free WiFi, and a well-equipped fitness center. The guest rooms are comfortable and stylishly designed, featuring cable TV with video games, coffee makers, and ironing facilities for added convenience. Guests can enjoy a delicious breakfast served at the hotel along with complimentary cookies and milk throughout the day. The hotel also offers laundry facilities to cater to guests' needs. For business travelers, there are meeting rooms and a business center available on-site. Hampton Inn is ideally located within close proximity to popular attractions such as Lake Champlain, Church Street Marketplace, the University of Vermont, and the renowned Vermont Teddy Bear Company.
– Convenient location near the airport
– Heated indoor pool for relaxation
– Complimentary WiFi throughout the hotel
– Fitness center for maintaining an active lifestyle
– Close proximity to popular attractions such as Lake Champlain
Luxury Vermont Hotels Information
| | |
| --- | --- |
| 🛎️ Luxury Hotels in Vermont | 9 |
| 💵 Hotels Prices From | $106 |
| 💵 Highest price | $1618 |
| 🥇 Average Review Score | 8.2/10 |
| 🛏️ Average number of Rooms | 119 |
Top Luxury hotels in Vermont
| | |
| --- | --- |
| Mountain Lake Cottages (Westmore) | 10/10 |
| Holiday Inn Club Vacations Mount Ascutney Resort (Brownsville) | 8.9/10 |
| Kimpton Taconic Hotel (Manchester) | 8.7/10 |
| Topnotch Resort | 8.7/10 |
| Trapp Family Lodge | 8.5/10 |
FAQ
What are the best luxury hotels in Vermont?
Vermont offers a range of luxurious accommodations for travelers seeking a lavish stay. Some of the best luxury hotels in Vermont include The Equinox Resort & Spa, offering elegant rooms, fine dining options, and a world-class spa experience. Another top choice is Twin Farms, an exclusive all-inclusive resort nestled in lush surroundings with private cottages and personalized service. Stowe Mountain Lodge is also highly recommended, boasting stunning mountain views, upscale amenities, and proximity to outdoor activities such as skiing and hiking.
What amenities can I expect at luxury hotels in Vermont?
Luxury hotels in Vermont pride themselves on providing exceptional amenities to enhance your stay. Expect features like indulgent spas where you can enjoy rejuvenating treatments and massages. Many luxury properties offer gourmet dining experiences with farm-to-table menus highlighting local ingredients. You'll also find fitness centers equipped with state-of-the-art equipment, swimming pools for relaxation or exercise purposes, concierge services to assist with any requests or reservations you may have during your stay.
Are there any luxury boutique hotels in Vermont?
Absolutely! If you're looking for a more intimate luxury experience, consider staying at one of Vermont's boutique hotels. These smaller-scale establishments often offer unique decor and personalized service that sets them apart from larger chain properties. Hotel Vermont in Burlington is a popular choice with its rustic-chic design aesthetic and cozy atmosphere. The Pitcher Inn located in Warren is another excellent option featuring individually decorated rooms inspired by various themes along with exquisite dining options.
Do luxury hotels in Vermont cater to families?
While many luxury hotels cater primarily to adults seeking tranquility and relaxation, several options exist that are family-friendly as well. Resorts like Topnotch Resort in Stowe provide kids' clubs, outdoor playgrounds or adventure centers specifically designed for children's entertainment while ensuring parents can enjoy their own leisure time too. Other resorts offer spacious family suites or connecting rooms to accommodate larger groups traveling together. Be sure to check with your chosen hotel regarding their specific amenities and offerings for families.
What is the best time to visit Vermont for a luxury hotel experience?
Vermont offers diverse experiences throughout the year, but the best time to visit for a luxurious getaway depends on personal preferences. During summer, you can enjoy outdoor activities like hiking, biking, and boating in pleasant weather conditions. Fall brings stunning foliage colors that attract many visitors seeking picturesque landscapes. Winters offer opportunities for skiing and snowboarding in world-class resorts. Spring showcases beautiful blooms and is a quieter time to explore the state's charming towns and culinary scene. Ultimately, it's recommended to research each season's offerings and choose based on your preferred activities and interests.
Popular Most Luxurious hotel destinations