Welcome to a dazzling exploration of opulence and grandeur as we embark on a journey through the captivating world of high-end accommodations in the enchanting region of Valais, nestled amidst the picturesque landscapes of Switzerland. Prepare to be whisked away into a realm of sophistication and refinement as we delve into the crème de la crème of luxury hotels.
Valais, with its stunning alpine vistas and charming villages, offers an idyllic setting for those seeking an indulgent escape. From exquisite chateaus exuding timeless elegance to contemporary sanctuaries boasting cutting-edge design, this region is a haven for discerning travelers yearning for unparalleled comfort and style. Immerse yourself in lavish surroundings where no detail is spared, each hotel showcasing its own unique character and charm. Whether you seek a tranquil retreat cocooned within nature or desire to immerse yourself in the vibrant energy of cosmopolitan towns, Valais has an array of luxurious options to cater to every taste.
Indulge your senses with remarkable gastronomic experiences showcasing local delicacies crafted by acclaimed chefs or rejuvenate mind and body with exclusive spa treatments using Swiss-inspired ingredients. With impeccable service tailored to meet even the most discerning guest's needs, every moment spent in these prestigious accommodations promises utmost satisfaction.
Join us as we unearth hidden gems within Valais, revealing magnificent luxury hotels that elevate hospitality into an art form. Prepare for unforgettable experiences that will leave you yearning for more in this mesmerizing destination where extravagance meets nature's breathtaking beauty.
Most Luxurious Hotels in Valais
The Omnia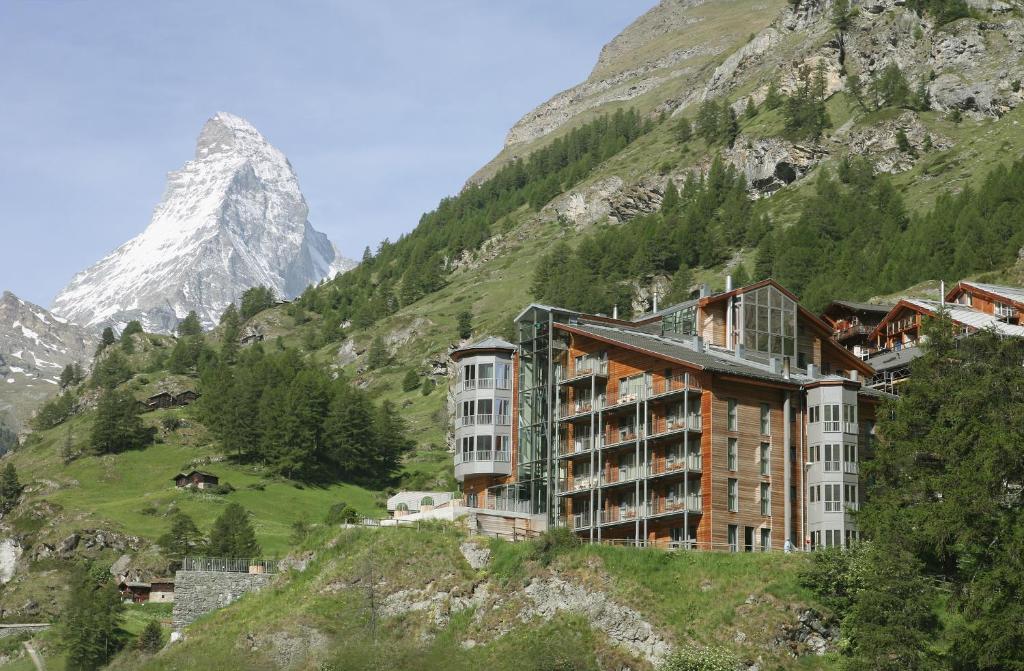 Perched 45 meters above the enchanting town of Zermatt, The Omnia offers guests a truly unique experience. Accessible via a tunnel and elevator that leads directly to the lobby, this luxurious hotel boasts stunning views of the surrounding mountains and valleys. The restaurant at The Omnia serves refined international cuisine crafted from carefully selected seasonal ingredients, which can be enjoyed either indoors or on the terrace. Each accommodation at this elegant establishment features a modern design with private balconies, allowing guests to soak in the breathtaking scenery. After indulging in a delicious dinner, visitors can unwind by lounging on comfortable sofas in front of a crackling fireplace while savoring an espresso or grappa. For ultimate relaxation, the spa area offers various treatments to rejuvenate after a day spent exploring the fresh mountain air. In addition to these superb amenities, wireless internet is available throughout the hotel free of charge. The Omnia goes above and beyond by providing its own taxi service for convenient transportation to and from Zermatt railway station, car park or heliport. Furthermore, their dedicated team can arrange shuttle or helicopter services for guests traveling to nearby airports. For those seeking adventure on the slopes during winter months, Zermatt's renowned winter sports area is just a short 15-minute walk away or easily accessible via electrically-powered buses and taxis. It should be noted that there is ongoing construction work nearby from April 1st, 2021 through August 1st, 2024; some rooms may be affected by noise.
– Breathtaking views over Zermatt
– Elegant modern design with private balconies
– Refined international cuisine made from seasonal ingredients
– Relaxation by the fireplace with complimentary espresso or grappa
– Convenient transportation services including taxi and shuttle arrangements
Chalet d'Adrien (Verbier)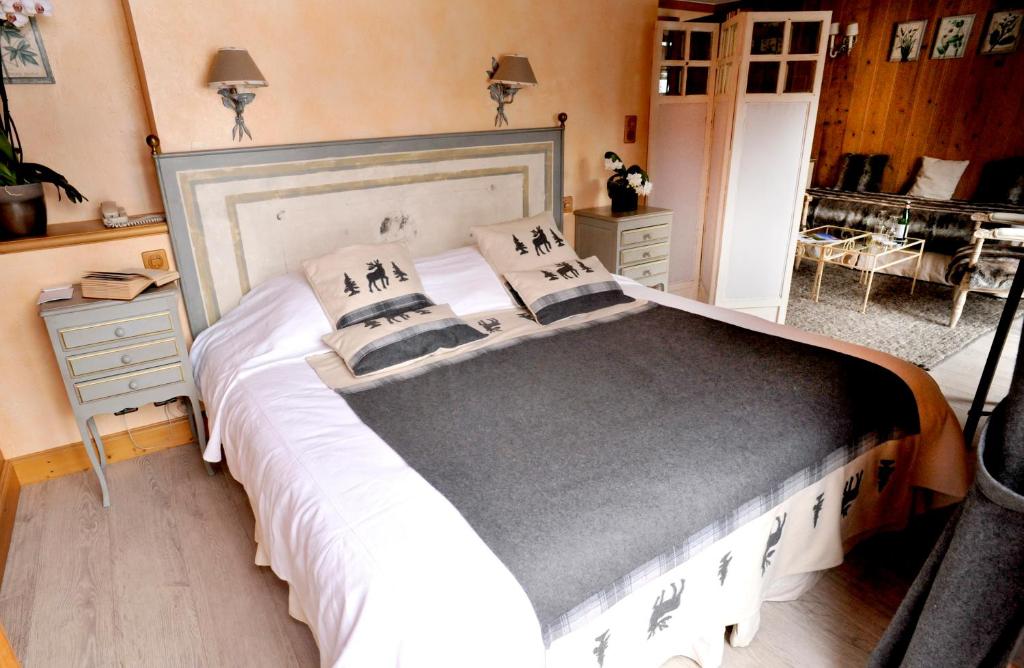 Located in the picturesque town of Verbier, Chalet d'Adrien offers a luxurious Alpine retreat for guests seeking relaxation and adventure. With its spa area and swimming pool overlooking the majestic mountains, this elegant hotel provides a serene atmosphere for guests to unwind. The Alpine-style rooms feature balconies with stunning mountain views, allowing guests to immerse themselves in the natural beauty of their surroundings. Gourmet dining is a highlight at Chalet d'Adrien, where Italian influences blend with traditional dishes such as fondue and stew pots. The terrace is the perfect spot for lunchtime barbecues, serving freshly grilled meat, fish, and seafood amidst panoramic mountain vistas. In addition to these culinary delights, the hotel also boasts spacious rooms equipped with modern amenities such as flat-screen TVs and DVD players. Guests can take advantage of facilities like a large fitness room, free WiFi, outdoor parking, and a games room for children. Additionally, Chalet d'Adrien offers services including valet and garage parking (at an additional charge) as well as ski equipment rentals and ski pass purchases on-site. With its convenient location just minutes away from Verbier and Medran by car or free ski bus outside the hotel's doors, Chalet d'Adrien ensures that guests have easy access to all that this charming Swiss resort has to offer.
– Spectacular mountain views from terrace
– Award-winning gourmet dining experience
– Luxurious spa area
– Convenient access to skiing facilities
– Spacious rooms with modern amenities
La Vue Luxury Living Apartments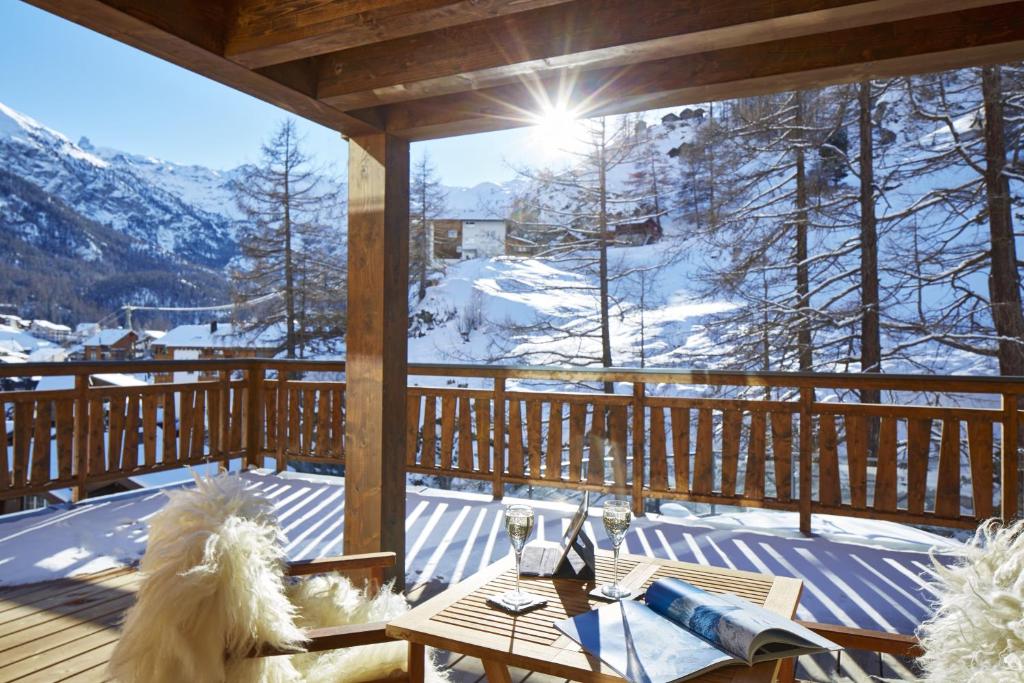 La Vue Luxury Living Apartments is a stunning apartment hotel offering breathtaking 360-degree views of Zermatt and the surrounding Alpine panorama. Located in a tranquil part of the village, this property provides a serene retreat for guests. The hotel features a complimentary spa area with a large hot tub, steam bath, and Finnish sauna, perfect for relaxation after a day of exploring. Guests can also indulge in rejuvenating massages upon request. Each modern Alpine-style apartment is beautifully appointed with high-quality furniture and offers a balcony as well as a spacious living area equipped with electronic devices like Apple TV, Blu-ray player, and iPad. A delicious breakfast is served daily within the privacy of the apartments. With its convenient location just 500 meters from Matterhorn Glacier Paradise and steps away from the main square, La Vue Luxury Living Apartments provide easy access to both natural wonders and local attractions. The apartments feature at least two bedrooms with en-suite bathrooms, hairdryers, and fully equipped kitchens including dishwashers. Some accommodations even boast additional amenities such as fireplaces and terraces. Free WiFi is available throughout the property ensuring that guests stay connected during their visit. Furthermore, daily cleaning service ensures that guests can enjoy their stay free from any worries about tidying up while having their own private chef to prepare dinner adds an extra touch of luxury to one's experience here at La Vue Luxury Living Apartments. Those who prefer to dine in their apartments will appreciate the convenience of grocery deliveries or special diet menus which can be arranged on-site.The property also provides shared lounge facilities with Hi-Fi systems & video beamers for entertainment purposes while outside there is ample space in the large garden complete with sun terrace to relax in style.
Pros:
– Breathtaking 360-degree views
– Complimentary spa area with hot tub, steam bath & Finnish sauna
– Stylishly furnished apartments equipped with electronic devices
– Convenient location near popular attractions
– Daily cleaning service & private chef available for dinner preparations
Other places to stay in Valais
Luxury Hotels in Downtown Valais
Located in the heart of Valais, Downtown Valais is a haven for luxury hotels that offer unparalleled comfort, style, and sophistication. With their prime locations amidst bustling city streets, these accommodations provide easy access to a plethora of shopping, dining, and entertainment options. Impeccably designed rooms boast opulent furnishings and thoughtful touches that cater to the discerning traveler's every need. The seamless blend of contemporary elegance and timeless charm creates an atmosphere of refined indulgence throughout these establishments. Whether enjoying world-class cuisine at on-site restaurants or unwinding with pampering spa treatments, guests will be treated to an unforgettable experience in Downtown Valais' luxurious hotels.
Wellnesshotel Schweizerhof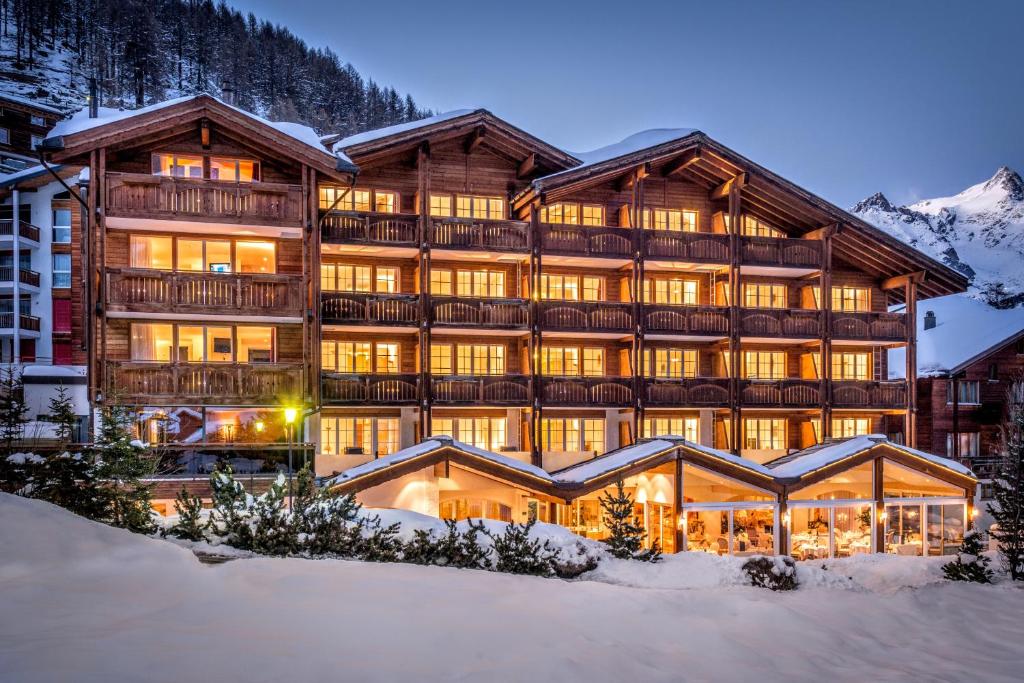 Located in the tranquil yet convenient setting of Saas Fee, the Wellnesshotel Schweizerhof Hotel offers stunning views of the Saas mountains. This luxurious hotel boasts a fantastic spa area and complimentary Wi-Fi. The 1000 m² wellness area, known as The Wave, features a panoramic sauna, a relaxation room with glacier views, a pool, a whirlpool, and a steam room. Guests can unwind in the lobby's unique waterfall or enjoy stargazing at the hotel bar in the evenings. The on-site restaurant serves delicious gourmet Swiss and international cuisine. Additionally, guests receive special benefits upon arrival such as free public transport and cable car access during summer (excluding Summer skiing) and discounts on various activities during winter.
Hotel Royal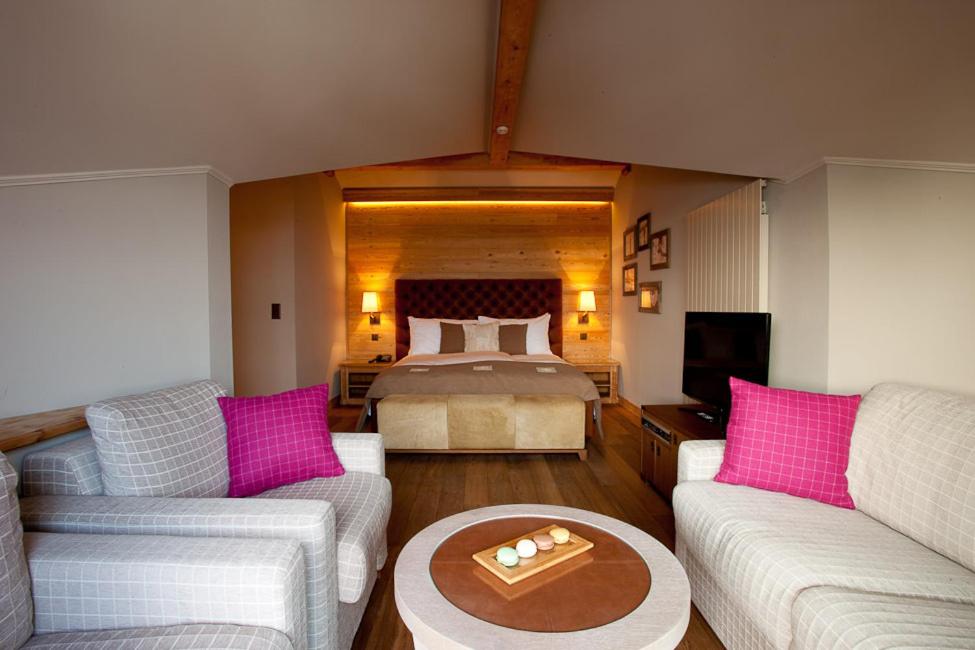 Located in the heart of Crans-Montana, Hotel Royal is a luxurious 5-star hotel that offers guests a stunning setting surrounded by the majestic Swiss Alps. Recently renovated in November 2012, this hotel provides an array of amenities to ensure a truly unforgettable stay. Guests can indulge in relaxation at the hot tub and indoor pool, or pamper themselves with rejuvenating spa treatments including massages and beauty treatments. The south-facing rooms are elegantly furnished, featuring balconies where guests can enjoy breathtaking views. Complimentary Wi-Fi, cable TV and a seating area are provided for added comfort. The hotel also offers fax machines on request. Enjoy the exceptional dining experience at Hotel Royal with French and Mediterranean gourmet cuisine along with an extensive selection of local wines. The lounge area is perfect for unwinding while enjoying live music performances regularly held there. The ski area and ski schools are conveniently within walking distance from the hotel, making it an ideal choice for winter sports enthusiasts. Furthermore, transportation to and from the airport can be arranged upon request, ensuring hassle-free travel for guests arriving or departing from the hotel.
– Spectacular views of the Swiss Alps
– Luxurious spa facilities
– Convenient location near ski areas and golf course
– Live music entertainment in lounge area
– Airport pickup service available
Le Mirabeau Hotel & Spa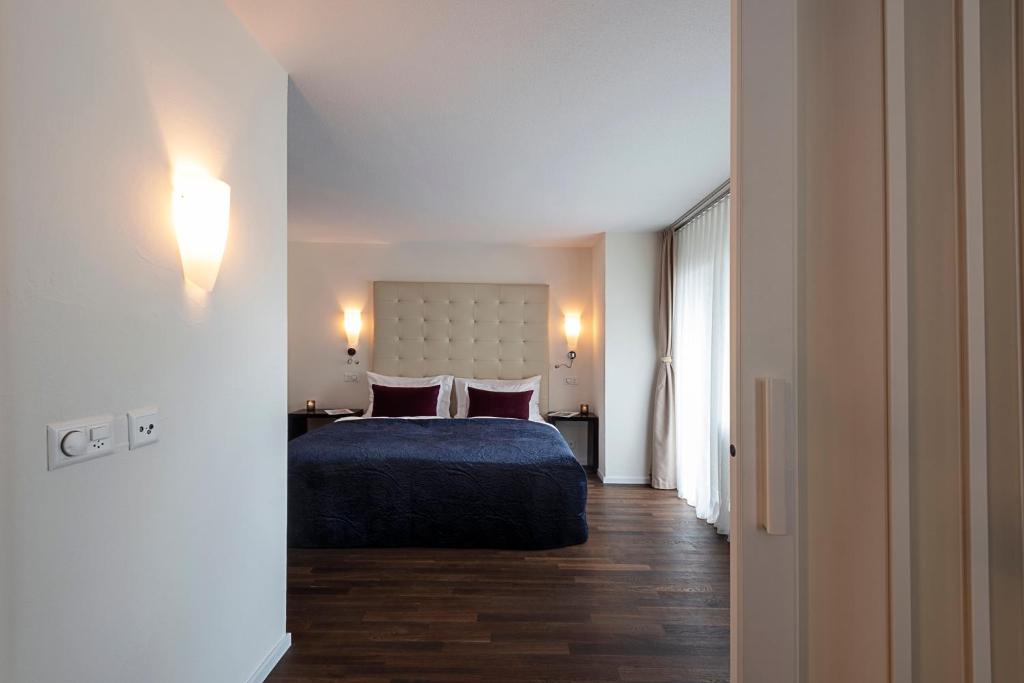 Le Mirabeau Hotel & Spa is a tranquil luxury hotel located just 200 meters from the Zermatt railway station. It boasts stunning views of the Matterhorn and offers exceptional wellness facilities. The hotel's prime location allows guests to easily access the center of Zermatt, as well as the Gornergrat and Sunnegga-Rothorn train and funicular stations in just a short 3-minute walk. Recently renovated rooms feature oak wood parquet flooring and soundproof windows, ensuring a peaceful stay. Guests can indulge in various relaxation treatments at the on-site spa, including a mountain-flower steam bath, sauna, hot-stone herbal bath, and rejuvenating massages. For dining options, Marie's Deli offers an extensive wine selection and warm meals throughout the day until late at night. The hotel's restaurants serve light, market-fresh cuisine with a rich breakfast buffet available each morning. Guests can also enjoy a 5-course gourmet dinner or opt for à-la-carte meals at either Veranda or Marie's Deli restaurant. Complimentary wireless internet is available throughout the entire hotel.
– Tranquil location near railway station
– Superb wellness facilities
– Stunning Matterhorn views
– Recently renovated rooms with modern amenities
– Delicious dining options offering market-fresh cuisine
5 Star Luxury Hotels
5 Star luxury hotels are the epitome of opulence and indulgence, providing an unparalleled level of comfort, service, and elegance. From exquisite decor to world-class cuisine, these hotels offer a truly extraordinary experience for even the most discerning travelers. With impeccable attention to detail and personalized service, guests can expect nothing less than perfection during their stay. Whether it's unwinding in luxurious suites or relaxing by stunning pools, every aspect of these hotels is designed to create a remarkable and unforgettable experience.
Hotel ZERMAMA Zermatt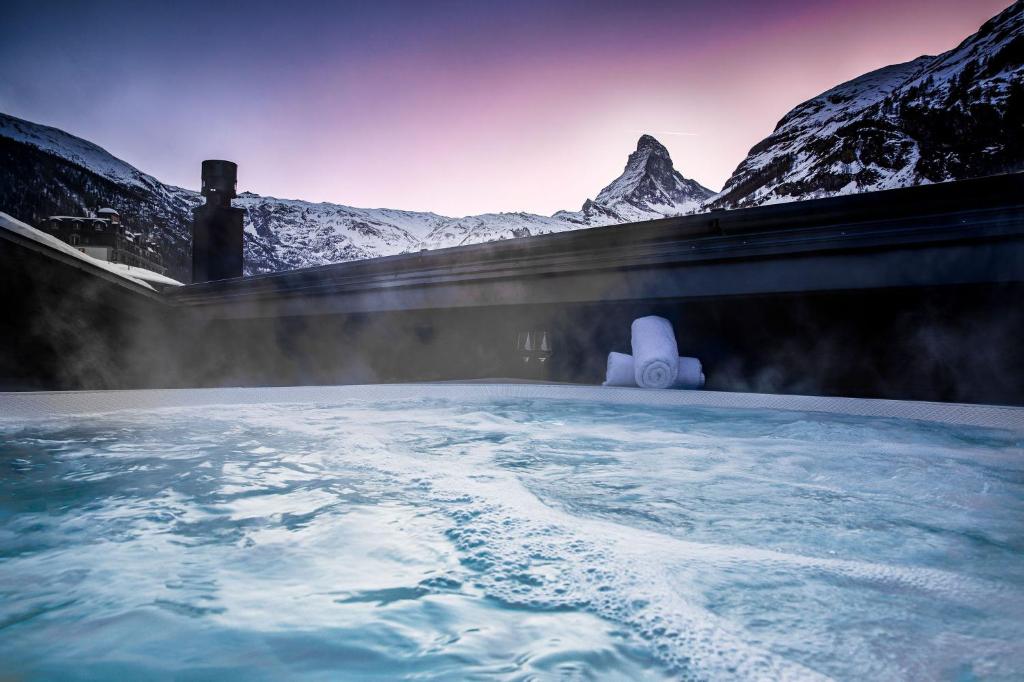 Hotel ZERMAMA Zermatt is a newly renovated luxury hotel located in the heart of Zermatt. Situated just a 5-minute walk from Zermatt Train Station and across the road from the valley station of the Sunnegga Express, this hotel offers guests a convenient and accessible location. With free WiFi available throughout, guests can stay connected during their visit. The hotel boasts stylishly appointed rooms, each featuring an LCD TV and a private bathroom for ultimate comfort. For those looking to explore the surrounding area, both the Matterhorn Express Cable Car and the Gornergrat Monte Rosa train are easily accessible by electric bus, with the bus stop conveniently located right in front of Hotel ZERMAMA Zermatt.
– Prime location in the center of Zermatt
– Free WiFi throughout the hotel
– Stylishly appointed rooms with modern amenities
– Easy access to main attractions via electric bus stop directly outside
– Close proximity to train station for hassle-free travel
Walliserhof Grand-Hotel & Spa Relais & Châteaux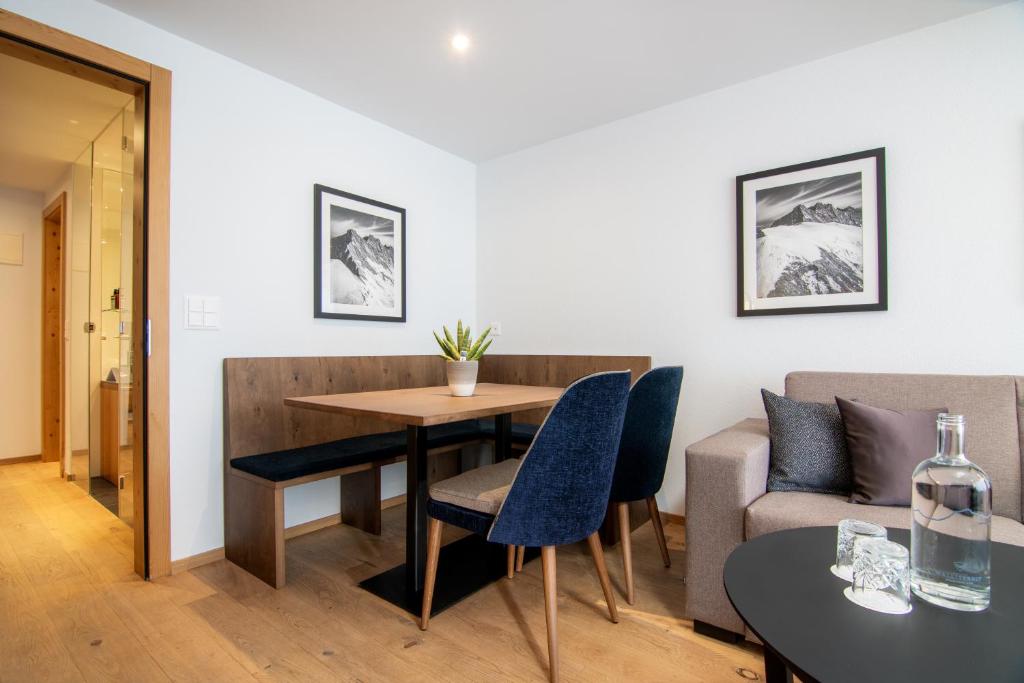 Nestled in the charming village of Saas-Fee, the Walliserhof Grand-Hotel & Spa Relais & Châteaux is a luxurious 5-star chalet-style hotel that offers an unforgettable Alpine experience. With its three exquisite restaurants and exclusive spa area, complete with a pool and hot tub, this hotel redefines luxury. Each room is tastefully furnished in an Alpine style and equipped with cable TV for your entertainment. Indulge in delectable dishes crafted from seasonal and regional ingredients at the Cäsar Ritz, Del Ponte, and Art Stübli restaurants. Guests can also enjoy fitness classes or pamper themselves with rejuvenating cosmetic treatments. The piano bar with its cozy open fireplace creates the perfect ambiance for relaxation. The spa boasts several saunas and a serene pool where you can unwind after a long day of exploring the beautiful surroundings. Upon arrival, guests are greeted with a pass that grants complimentary access to public transport and cable cars in the Saas Valley during summer (excluding Metro Alpin).
– Exquisite dining options featuring seasonal and regional cuisine
– Exclusive spa area with multiple saunas and pool
– Fitness classes available for guests' enjoyment
– Complimentary pass for free access to public transport and cable cars during summer
22 Summits Boutique Hotel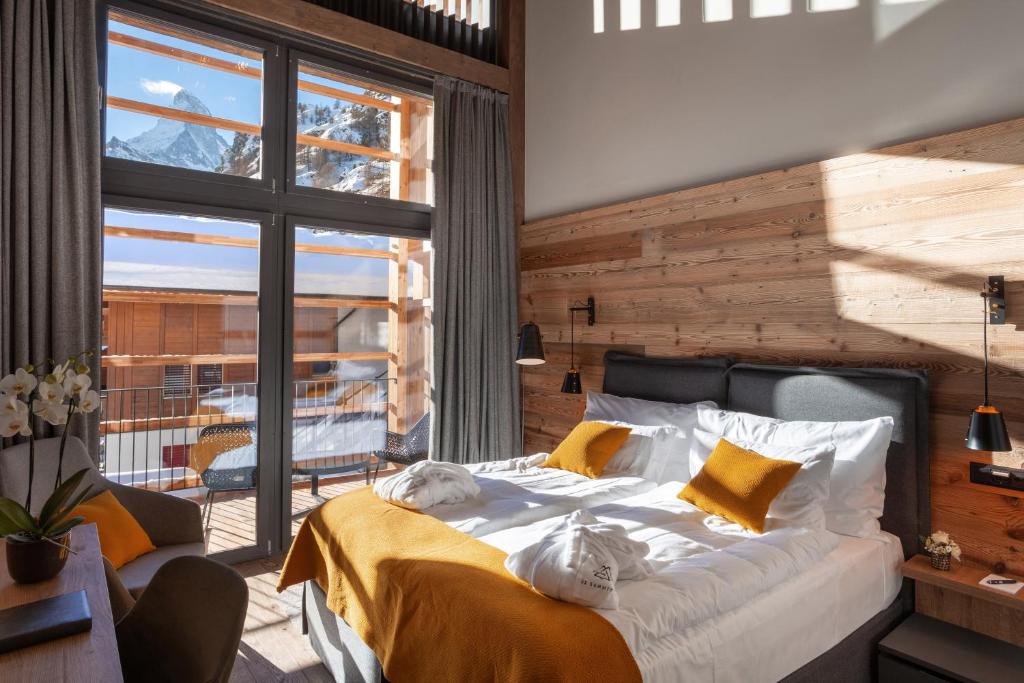 Located in the picturesque town of Zermatt, the 22 Summits Boutique Hotel offers a luxurious retreat with impeccable services and modern amenities. Just 1.3 km away from Zermatt Railway Station, this 4-star hotel provides guests with convenience and comfort. The hotel boasts concierge services, allergy-free rooms, free WiFi throughout the property, and a stylish bar for guests to unwind. For those seeking relaxation, the spa and wellness center offers a fitness center, sauna, hot tub, and a shared lounge area. Each well-appointed unit at the hotel features a cozy seating area, flat-screen TV with satellite channels, safety deposit box for valuables, and a private bathroom complete with a shower, free toiletries, and a hairdryer. Coffee machines are included in every room while select accommodations have balconies or pool views for added enjoyment. Guests can indulge in delicious buffet or continental breakfast options daily before exploring the surrounding attractions such as Zermatt – Matterhorn or visiting Matterhorn Golf club and Matterhorn Museum. With ski resorts nearby, outdoor enthusiasts can partake in thrilling skiing adventures during their stay at 22 Summits Boutique Hotel.
– Convenient location near Zermatt Railway Station
– Allergy-free rooms for optimum comfort
– Spa and wellness center with fitness facilities
– Free shuttle service for easy transportation
– Stylish bar to relax after an eventful day
Most Expensive Hotels in Valais
Valais, a picturesque region in Switzerland, is home to some of the most opulent and extravagant hotels in the world. These establishments are renowned for their unparalleled luxury and grandeur, offering guests an unforgettable experience. From breathtaking views of majestic mountains to exquisite decor and world-class service, these hotels spare no expense in ensuring an indulgent stay for their discerning guests. With lavish accommodations, impeccable attention to detail, and exceptional culinary offerings, the most expensive hotels in Valais epitomize luxury at its finest.
Hotel Aristella Swissflair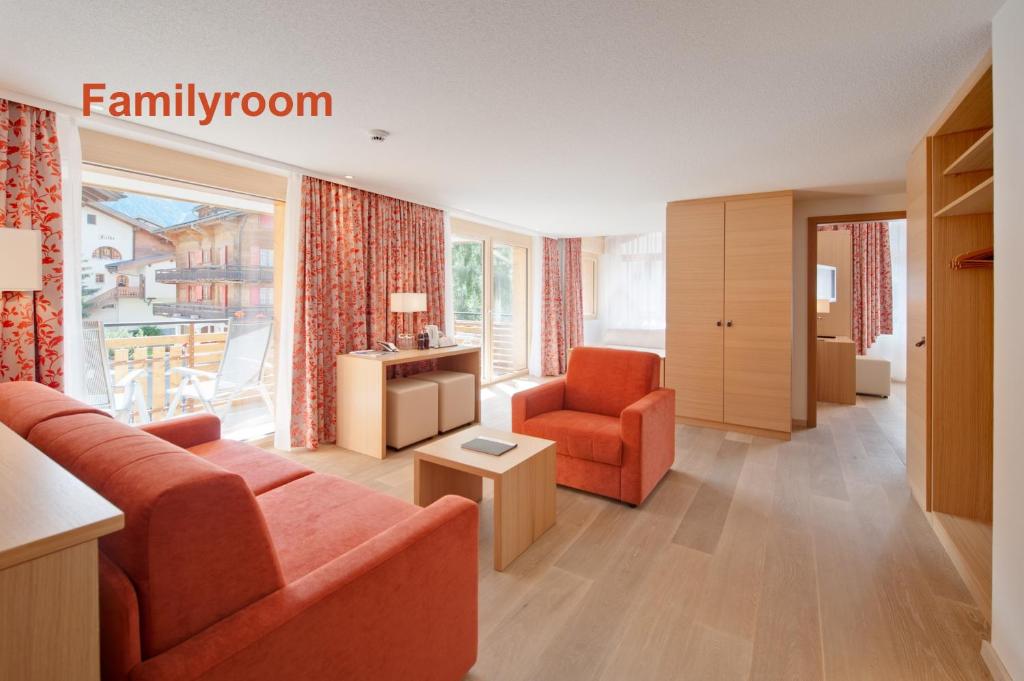 Located just 200 meters away from the center of Zermatt, Hotel Aristella Swissflair is a stylish and themed 4-star hotel that offers a convenient central location. With its modern rooms offering stunning views of the Matterhorn, guests can relax after a day on the slopes in the hotel's spa area, which features a hot tub, steam bath, and sauna. The rooms are bright and beautifully furnished with parquet or wooden floors, equipped with flat-screen cable TVs, tea/coffee makers, and iPod docking stations available upon request. Bathrobes and slippers are also provided for added comfort. The hotel offers a ski storage room with boot dryers for guests' convenience. Dining options include traditional Swiss cuisine as well as international dishes at the hotel's restaurant where fine wines are also offered. Packed lunches and special diet menus can be requested, and room service is available. Sunnegga Cable Car is only a 5-minute walk away while Klein Matterhorn Cable Car is just 10 minutes away by foot. A ski bus stop can be reached within 2 minutes, while a ski rental shop is conveniently located opposite the property.
– Central location in Zermatt
– Modern rooms with stunning Matterhorn views
– Spa area with hot tubs, steam bath, and sauna
– Ski storage room with boot dryers
– Restaurant serving traditional Swiss and international cuisine
Europe Hotel & Spa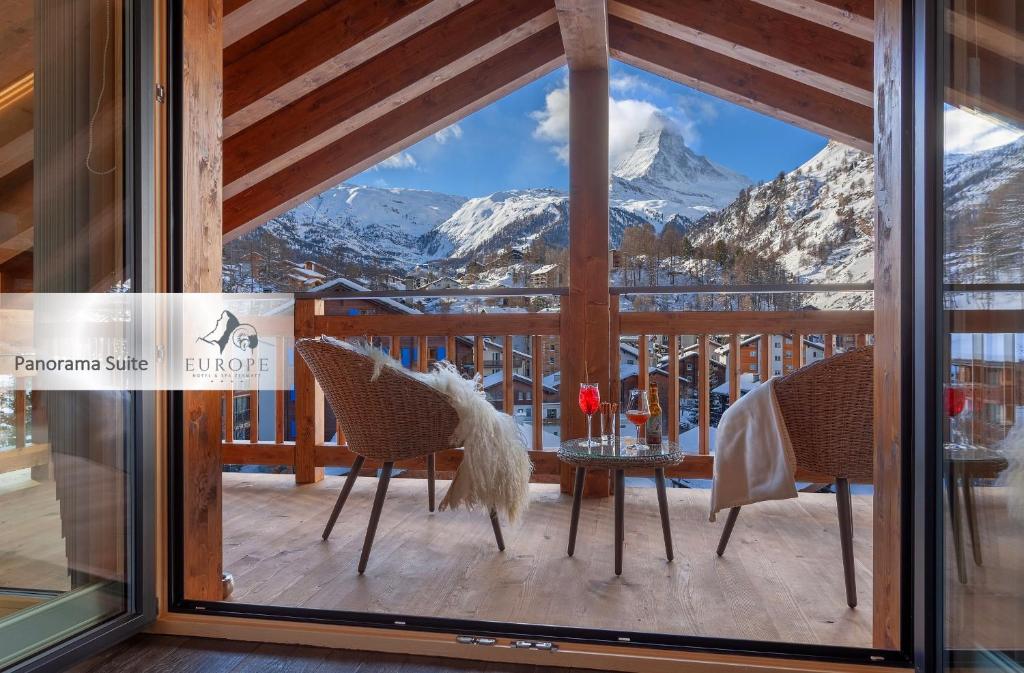 Europe Hotel & Spa is a luxurious property located just 700 metres away from the Zermatt Train Station, the Zermatt-Furi Ski Lift, and the Matterhorn Glacier Paradise Station. This hotel offers a spa area with 2 saunas, a steam bath, a hot tub, and a massage room and relaxation area for guests to unwind and rejuvenate. The rooms are beautifully decorated and equipped with modern amenities such as minibar, flat-screen TV, and ensuite bathroom with shower, bathrobes, free toiletries, and hairdryer. Many rooms also boast balconies with stunning views of the Matterhorn Mountain. Guests can enjoy buffet breakfast every morning while dinner is accompanied by an extensive wine selection. Massages can be arranged upon request.
Pros:
– Convenient location near train station and ski lift
– Relaxing spa facilities including saunas and hot tub
– Stylishly furnished rooms with modern amenities
– Balconies offering breathtaking mountain views
– Delicious meals accompanied by a wide range of fine wines
Luxury Valais Hotels Information
| | |
| --- | --- |
| 🛎️ Luxury Hotels in Valais | 11 |
| 💵 Hotels Prices From | $186 |
| 💵 Highest price | $1652 |
| 🥇 Average Review Score | 9.1/10 |
| 🛏️ Average number of Rooms | 36 |
Top Luxury hotels in Valais
| | |
| --- | --- |
| La Vue Luxury Living Apartments | 9.8/10 |
| The Omnia | 9.7/10 |
| Europe Hotel & Spa | 9.3/10 |
| 22 Summits Boutique Hotel | 9.2/10 |
| Hotel ZERMAMA Zermatt | 9.1/10 |
FAQ
What luxury hotels are available in Valais?
Valais offers a range of luxury hotels that cater to different preferences and budgets. Some of the top luxury options include The Chedi Andermatt, a stunning alpine retreat offering luxurious rooms, Michelin-starred dining, and a world-class spa. Another popular choice is The Lodge Verbier, owned by Sir Richard Branson, which offers elegant chalet-style accommodation with personalized service and access to exceptional amenities such as a private chef and chauffeur. Other notable luxury hotels in Valais include LeCrans Hotel & Spa in Crans-Montana, known for its breathtaking views of the Swiss Alps, and Mont Cervin Palace in Zermatt, an iconic hotel dating back to 1851.
What amenities can I expect at luxury hotels in Valais?
Luxury hotels in Valais pride themselves on providing exceptional amenities to ensure an unforgettable stay. These may include spacious and beautifully designed rooms or suites with high-end furnishings and breathtaking views of the surrounding landscapes. Many luxury properties also offer world-class dining experiences with renowned chefs creating exquisite menus using locally sourced ingredients. Additionally, you can expect access to well-appointed spas offering a wide range of relaxing treatments, fitness centers with state-of-the-art equipment, indoor or outdoor swimming pools, concierge services for personalized assistance throughout your stay, complimentary Wi-Fi access throughout the property, and often even dedicated ski-in/ski-out facilities during the winter season.
Which areas in Valais are best for luxury hotel stays?
Several areas within Valais stand out as ideal locations for luxurious hotel stays. Zermatt is undoubtedly one of the most sought-after destinations with its picturesque setting beneath the Matterhorn peak and charming car-free streets filled with high-end boutiques and gourmet restaurants. Verbier is another popular choice known for its vibrant après-ski scene and exclusive chalet-style accommodations nestled amidst beautiful alpine landscapes. Crans-Montana is a luxurious resort town boasting stunning views and a wide range of outdoor activities, while Andermatt is gaining popularity as an up-and-coming destination for luxury travelers seeking a tranquil mountain retreat.
What is the best time to visit Valais for a luxury hotel experience?
Valais offers something unique to luxury travelers throughout the year. The winter season, from December to March, is perfect for those who enjoy skiing and snowboarding. Luxury hotels in Valais often provide direct access to ski slopes and offer exclusive amenities such as private ski guides or chalet rental with dedicated staff. If you prefer milder temperatures and outdoor adventures like hiking or golfing, the summer months from June to September are ideal. During this period, you can relish in long days of sunshine while enjoying various recreational activities amidst stunning alpine landscapes.
How can I make reservations at luxury hotels in Valais?
To make reservations at luxury hotels in Valais, it is recommended to contact the desired property directly through their official website or by calling their reservation
Popular Most Luxurious hotel destinations