Welcome to the dazzling world of opulence and elegance nestled amidst the majestic peaks of the Swiss Alps. Immerse yourself in a haven of luxury hotels that exude sophistication and offer an unforgettable retreat for discerning travelers. Switzerland's Alpine region is renowned for its breathtaking landscapes, and it comes as no surprise that it is also home to some of the most exclusive accommodations in the world.
Picture yourself basking in refined grandeur, where every detail has been meticulously crafted to ensure an extraordinary experience. From charming boutique lodges to 5-star resorts, each luxury hotel in this alpine paradise offers a unique blend of unparalleled comfort and impeccable service. Indulge your senses with sumptuous gourmet cuisine prepared by world-renowned chefs, unwind in lavish spa facilities boasting panoramic mountain views, or simply relax in elegantly appointed suites adorned with exquisite furnishings.
The Swiss Alps provide an idyllic backdrop for those seeking solace and tranquility amidst nature's magnificence. Whether you are yearning for thrilling outdoor adventures, such as skiing or hiking along scenic trails, or simply desiring a peaceful respite from bustling city life, these luxury hotels cater to your every desire. So pack your bags and allow yourself to be transported into a realm where indulgence knows no bounds – welcome to the epitome of refined luxury nestled among the glorious Swiss Alps!
Most Luxurious Hotels in Swiss Alps
W Verbier (Verbier)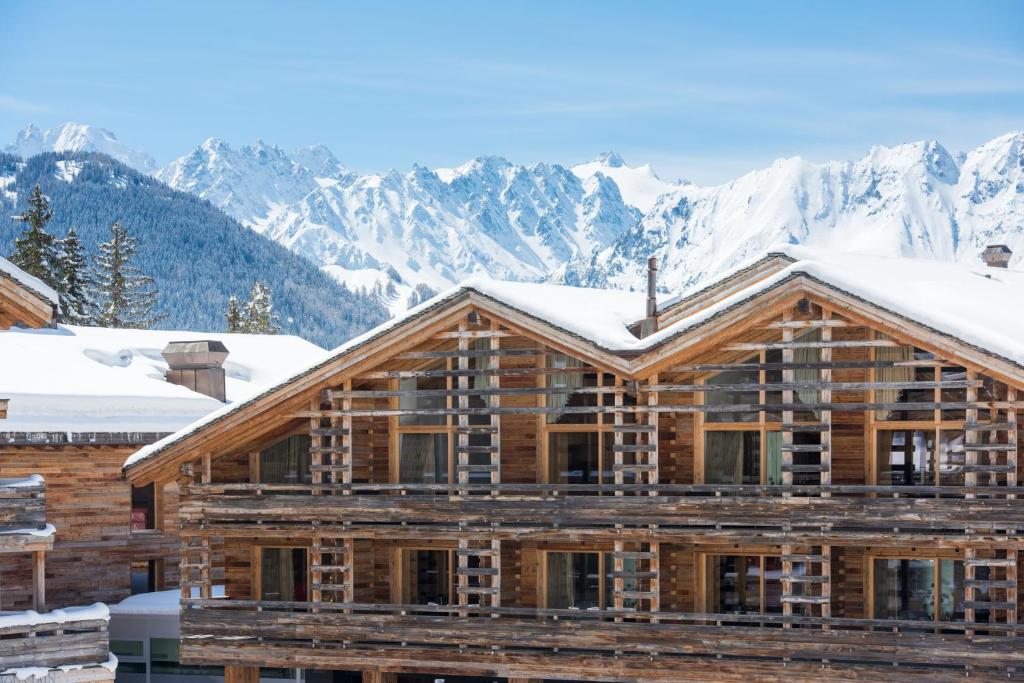 W Verbier is a luxurious hotel situated in the heart of Verbier, offering guests a contemporary alpine design and an array of upscale amenities. With ski-to-door access and its proximity to the Verbier Cable Car, this hotel is perfect for winter sports enthusiasts. The hotel features an impressive spa area with both an indoor and heated outdoor pool, as well as a modern gym for guests to enjoy. The accommodation consists of 6 chalets surrounding the town centre, each with stylishly designed rooms featuring balconies, flat-screen TVs, coffee machines, and spacious bathrooms. Some rooms even offer stunning views of the mountains or valley. Guests can indulge in delicious meals at the W Kitchen restaurant which serves modern Swiss and Mediterranean cuisine for breakfast and dinner. Additionally, there is a tapas bar by Sergi Arola, a sushi bar, and a café on site to cater to every culinary preference. To further enhance your stay, the hotel offers a 24-hour concierge service and complimentary WiFi throughout. For those looking to explore beyond Verbier's slopes, the ski lifts leading to the expansive Verbier Ski Area are conveniently located just 100 meters away from the hotel. Should you require transportation assistance, a shuttle service to Geneva Airport can be arranged upon request – making your journey hassle-free from start to finish.
– Central location in modern centre of Verbier
– Spa area with indoor & heated outdoor pools
– Ski-to-door access
– Stylishly designed rooms with balconies
– Wide range of dining options on-site
Hotel ZERMAMA Zermatt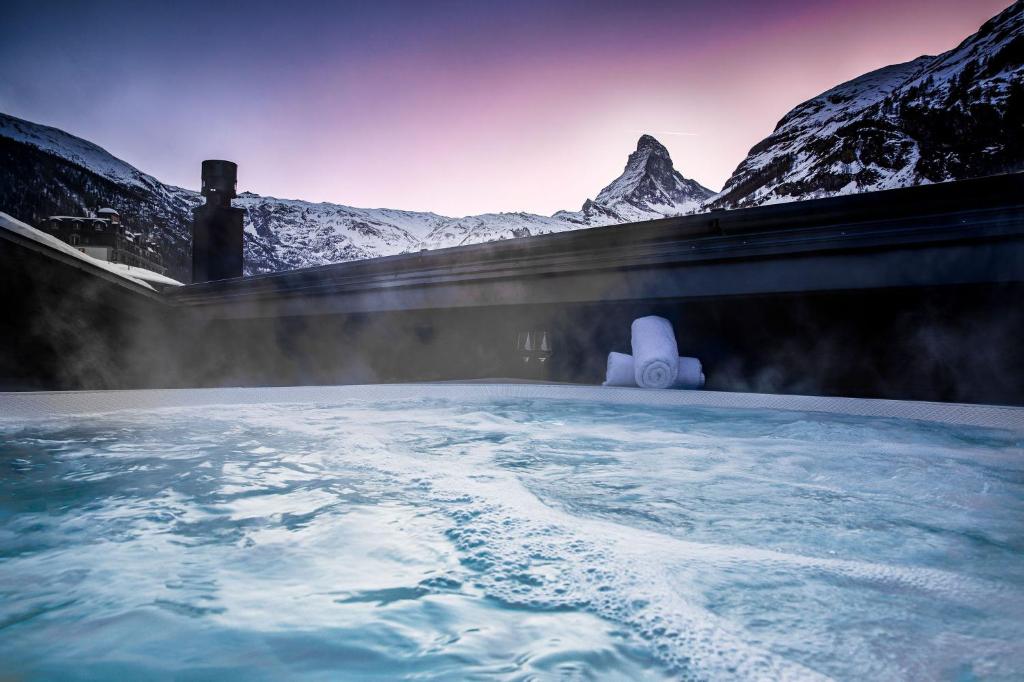 Hotel ZERMAMA Zermatt is a newly renovated luxury hotel located in the heart of Zermatt, just a short 5-minute walk from the train station and conveniently situated opposite the Sunnegga Express valley station. This stylish hotel offers guests complimentary WiFi throughout their stay. The rooms at Hotel Mama are elegantly furnished and equipped with modern amenities, including an LCD TV and a private bathroom. With its prime location, guests can easily access popular attractions such as the Matterhorn Express Cable Car and the Gornergrat Monte Rosa train via the convenient electric bus stop directly in front of the hotel.
Pros:
– Prime central location in Zermatt
– Newly renovated with stylish decor
– Free WiFi available for guests
– Close proximity to public transportation for easy access to nearby attractions
– Comfortable and well-equipped rooms with modern amenities
Hotel Sonne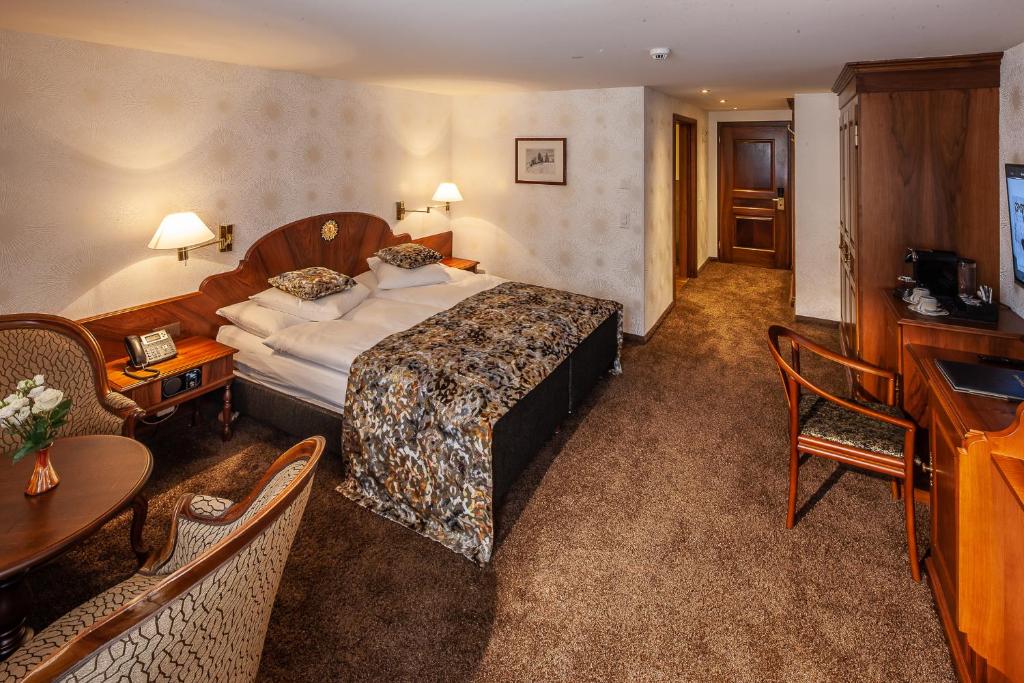 Located in the peaceful town of Zermatt, Hotel Sonne is a 4-star-superior sanctuary offering guests an array of luxurious amenities. Indulge yourself with delectable cuisine at their restaurant, take a dip in the indoor pool or unwind in the outdoor hot tub. For ultimate relaxation, the hotel boasts a Roman-style wellness area complete with aroma steam baths and a sauna. The elegantly furnished rooms all feature balconies, cable TV, tea and coffee makers, and complimentary wired internet access. In addition to these impressive features, Hotel Sonne also offers a newly built smokers' lounge for those seeking comfort and convenience.
– Quiet location in Zermatt
– Fine cuisine
– Indoor pool and outdoor hot tub
– Roman-style wellness area
– Newly built smokers' lounge
Other places to stay in Swiss Alps
Luxury Hotels in Downtown Swiss Alps
Luxury hotels in downtown Swiss Alps offer an unrivaled experience for travelers seeking both opulence and breathtaking natural beauty. Nestled amidst picturesque mountain peaks, these upscale accommodations boast elegant interiors, impeccable service, and stunning views of the surrounding landscapes. From cozy alpine lodges to grand chalets, every detail is carefully curated to provide guests with an unforgettable stay. With a variety of world-class dining options, serene spa retreats, and exclusive access to outdoor activities such as skiing and hiking, luxury hotels in downtown Swiss Alps promise an indulgent getaway that seamlessly combines comfort with the awe-inspiring majesty of nature.
Petit Chalet Schönegg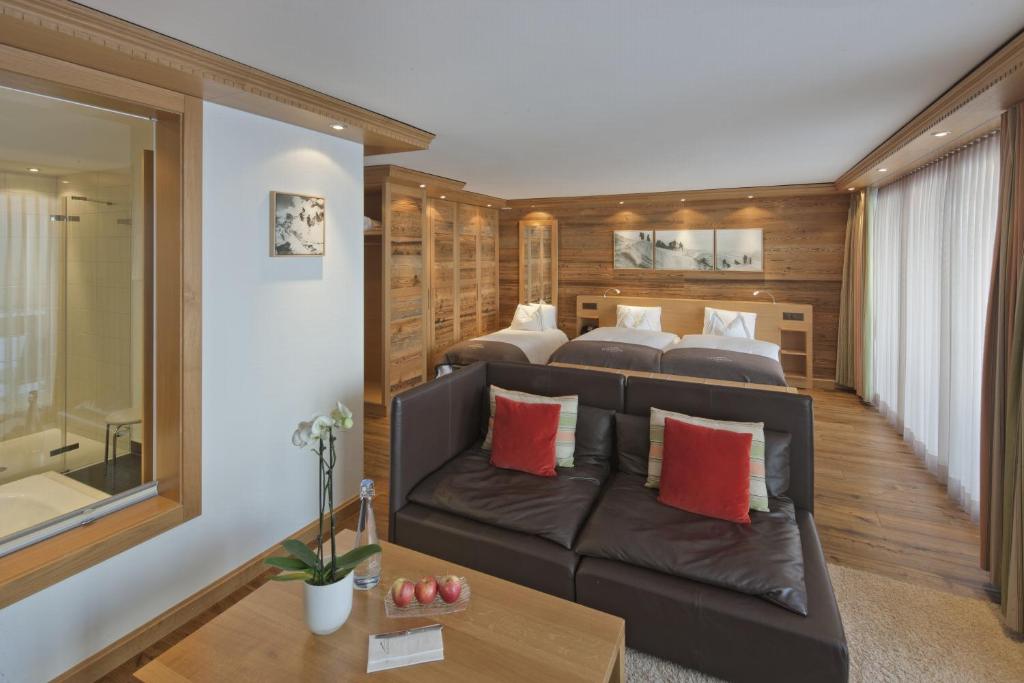 Petit Chalet Schönegg is a luxurious hotel located in Zermatt, offering breathtaking panoramic views over the town and the iconic Matterhorn mountain. Situated just 100 metres from the Sunnegga Express funicular, this charming retreat presents stylish rooms with balconies and complimentary WiFi. The accommodations are elegantly furnished in a modern Alpine style, featuring comfortable wooden beds, wood-panelled walls, and sleek bathrooms. Guests can take advantage of the spa area and restaurant at the connected Chalet Hotel Schönegg. Additionally, within a 5-minute walk from the property, visitors can explore the bustling centre of Zermatt with its abundance of restaurants and shops. Conveniently situated near public transportation options like the bus stop (20 meters away), as well as Gornergrat Cog Railway and Zermatt Train Station (both within a 5-minute walk), Petit Chalet Schönegg offers an ideal base for exploring all that Zermatt has to offer.
– Breathtaking panoramic views
– Stylish rooms with balconies
– Complimentary WiFi
– Access to spa area and restaurant at Chalet Hotel Schönegg
– Convenient location near public transportation
Hotel-Restaurant Valrose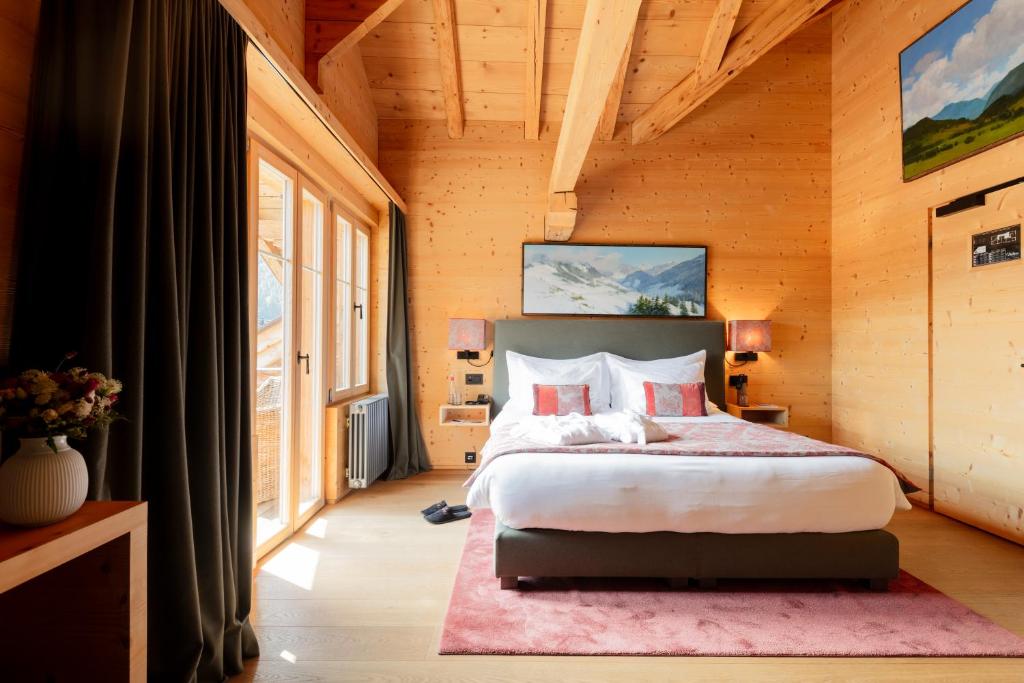 Hotel-Restaurant Valrose is a charming luxury hotel located in the heart of Rougemont, just steps away from the train station and Ski Lift La Videmanette. The property offers free WiFi throughout and convenient outdoor parking. Indulge in delightful meals at their on-site restaurant that serves local cuisine made from fresh regional products. The spacious and luminous rooms are exquisitely furnished, providing ultimate comfort with amenities like a flat-screen TV with cable channels, bathrobes, and slippers for added luxury. Take advantage of the terrace or unwind in the cozy lounge bar. Additionally, guests have access to useful facilities such as ski and bike rooms, as well as a nearby ski equipment rental service.
Pros:
– Convenient location next to the train station and ski lift
– Spacious and bright rooms with comfortable furnishings
– On-site restaurant serving delicious local cuisine
– Terrace and lounge bar for relaxation
– Ski room, bike room, and ski equipment rental available
Grand Resort Bad Ragaz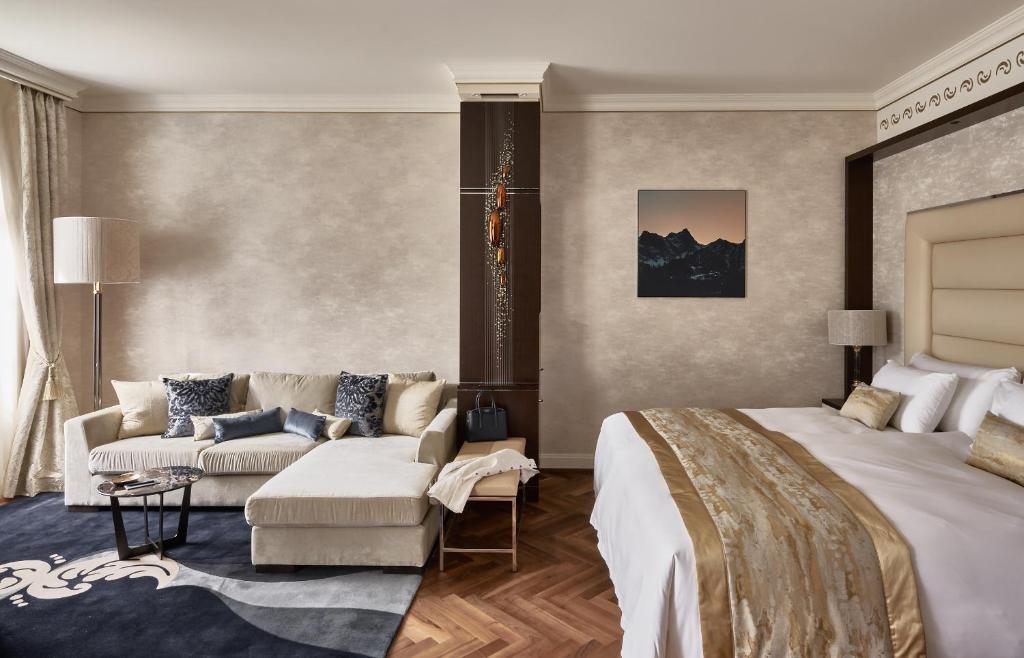 The Grand Resort Bad Ragaz is a first-class spa hotel located in Eastern Switzerland, just an hour's drive from Zurich. Nestled amidst the stunning foothills of the Alps, this luxury resort offers a breathtaking mountain landscape with picturesque hiking trails and world-class ski resorts. Guests can also indulge in two golf courses, a meetings and events center, the public Tamina Therme thermal spa, and even their own casino. The thermal spa features various pools including the historic Helena pool, a sports pool, a garden pool, a family spa, and an exquisite sauna area—all filled with 36.5°C thermal water from the nearby Tamina gorge. With its own thermal spring and medical health center on-site, this 5-star resort offers unparalleled relaxation opportunities. The elegantly designed rooms and suites provide comfort beyond compare. Moreover, guests can savor culinary delights at any of the resort's seven restaurants— boasting an impressive total of 75 GaultMillau points and six Michelin stars—alongside a sushi takeaway, bistro and café options for those with discerning taste buds. Complementing its extensive spa amenities is the renowned expertise of their medical health center and Bad Ragaz Clinic which specializes in convalescent patient treatments.
– Stunning location amidst the Alps
– Wide range of outdoor activities including hiking and skiing
– Luxurious accommodations combining elegance with comfort
– Impressive dining options with multiple highly-acclaimed restaurants
– Comprehensive wellness offerings including thermal spas and medical health services
5 Star Luxury Hotels
When it comes to a truly indulgent and unforgettable stay, nothing quite compares to the opulence and grandeur of 5-star luxury hotels. These exquisite establishments embody elegance and sophistication like no other, offering guests a refined sanctuary that exceeds their highest expectations. From breathtaking architecture and sumptuous interiors to impeccable service and attention to detail, every aspect of a 5-star luxury hotel is meticulously designed with the discerning traveler in mind. With an array of amenities catering to every need, guests can indulge in world-class dining experiences, rejuvenate at state-of-the-art spas, or simply relax in lavish accommodations that showcase the epitome of comfort. A stay at a 5-star luxury hotel is an experience that transcends ordinary travel, leaving guests feeling pampered, refreshed, and completely enchanted.
(Note: This paragraph can be modified as per the specific requirements of each blog post.)
7132 Hotel, VALS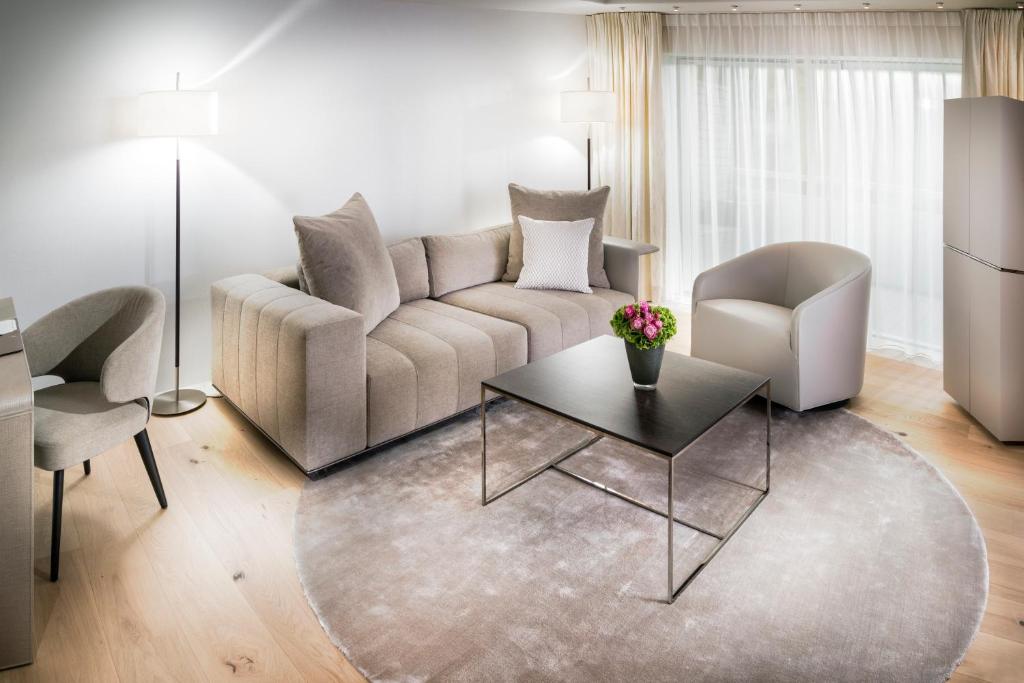 Located in the charming town of Vals, the 7132 Hotel is a luxurious 5-star property that opened its doors in September 2019. Boasting a prime location just 29 km from Freestyle Academy – Indoor Base, this hotel offers guests a range of exceptional amenities. With an outdoor swimming pool, free private parking, a fitness centre, and a garden, guests can unwind and enjoy their stay to the fullest. The hotel also features a hammam and terrace for ultimate relaxation. Hiking and skiing enthusiasts will be delighted by the nearby outdoor activities available, while those looking to explore can take advantage of bike hire services offered at the hotel. With room service and concierge assistance readily available, guests are guaranteed to have all their needs catered to during their stay.
– Outdoor swimming pool
– Fitness centre
– Hammam and terrace for relaxation
– Close proximity to hiking and skiing areas
– Room service and concierge assistance
Sport & Wellnesshotel San Gian St. Moritz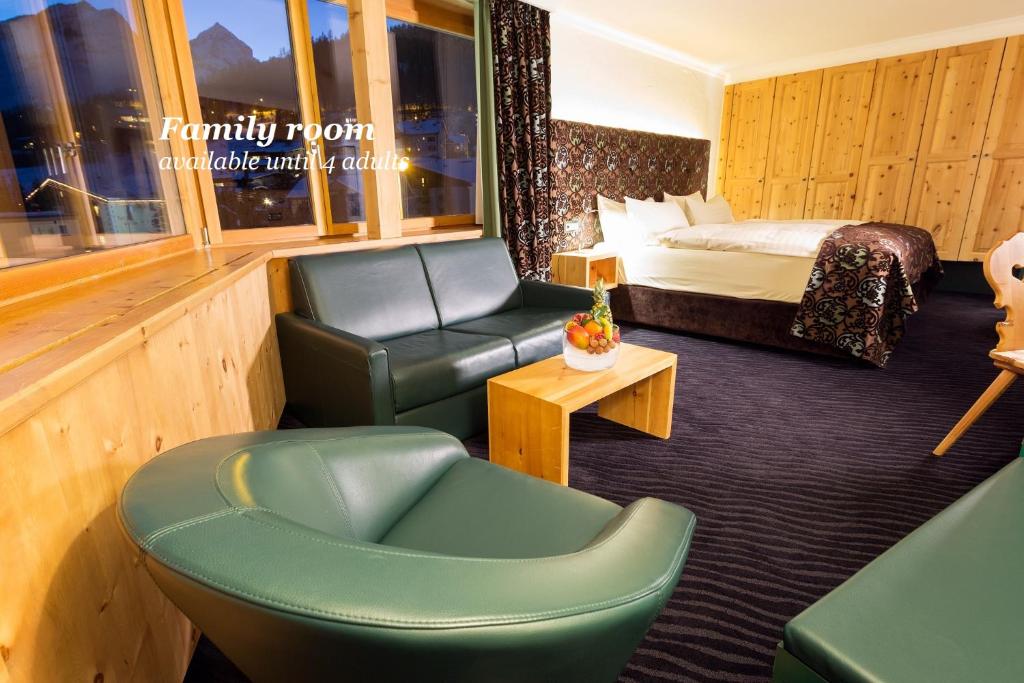 Located just 150 meters from the Sankt Moritz-Signal Cable Car, the 4-star Sport & Wellnesshotel San Gian St. Moritz offers a luxurious stay with an array of amenities. Guests can indulge in various massages and relaxation treatments, enjoy free WiFi access, and dine at two exquisite restaurants. The hotel provides complimentary access to the Ovaverva recreation complex across the street, which features a swimming pool, spa and wellness area, and fitness center. Each room is elegantly decorated with contemporary furniture and equipped with a flat-screen TV, minibar, seating area, and stylish bathroom complete with bathrobes and slippers. The Royal Mongolian buffet restaurant offers an open show kitchen where guests can savor an extensive selection of Mongolian and international dishes. The hotel also serves Swiss and international cuisine along with fine wines for breakfast and other meals. During the winter season, guests staying for two nights or more can avail reduced rates on ski passes while during summer seasons, tickets for cable cars and public transportation are included in the rate for stays of two nights or more. Conveniently situated just a 5-minute walk from bus stops, this hotel is perfect for exploring various ski trails and bike paths within a 10-minute drive away. Underground parking is available on-site at an additional cost.
– Prime location near Sankt Moritz-Signal Cable Car
– Free access to Ovaverva recreation complex
– Elegant contemporary rooms with modern amenities
– Exquisite dining options including Royal Mongolian buffet restaurant
– Winter ski pass discounts available
Matterhorn FOCUS Design Hotel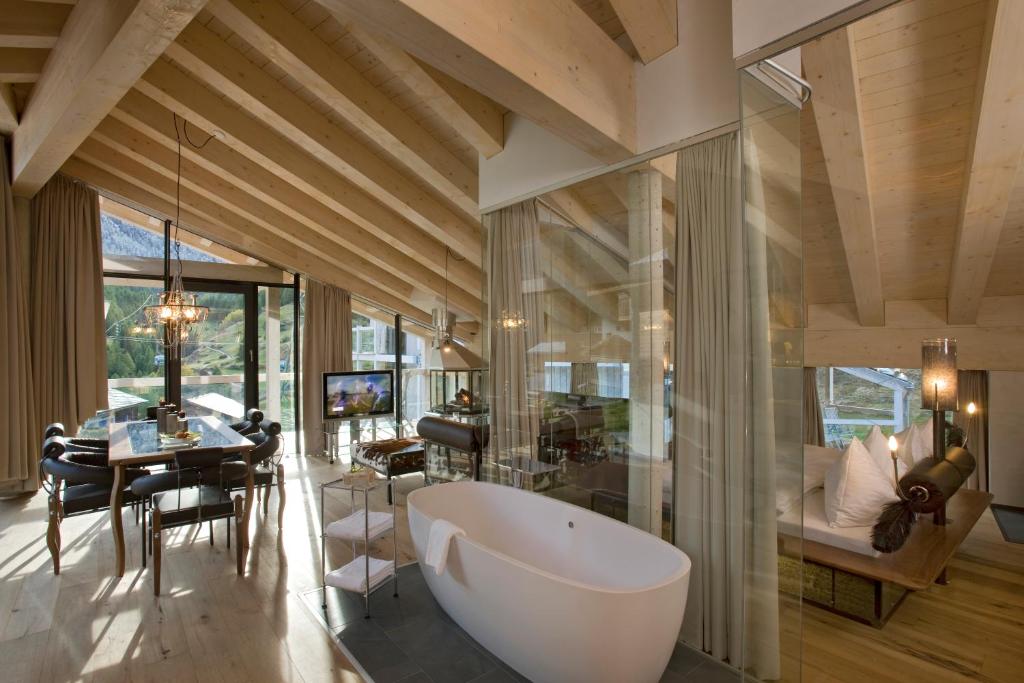 Nestled in the car-free town of Zermatt, Matterhorn FOCUS Design Hotel offers an unparalleled experience with its breathtaking views of the iconic Matterhorn. Guests can indulge in a sumptuous breakfast buffet and take advantage of the complimentary Wi-Fi throughout the property. The hotel's spa area is a true oasis of relaxation, featuring indoor and outdoor hot tubs, a salt-water bath, Finnish sauna, and a serene relaxation room with warm deck chairs. Designed by renowned Swiss artist Heinz Julen, each room and suite is equipped with LCD flat-screen TVs and Nespresso coffee machines. Many also boast balconies or terraces overlooking the majestic Matterhorn. For added convenience, guests can unwind on the enchanting ground floor terrace or rejuvenate themselves through massage and beauty treatments available upon request. Accessible via a tunnel from Kleinmatterhorn valley station, the hotel provides easy access to Zermatt's largest ski and hiking area within minutes. Moreover, guests can enjoy a short stroll to explore the charming village center and make use of the complimentary shuttle service between 8:00 am to 7:00 pm to/from Zermatt Train Station, Taxi Stand or Heliport.
– Unique location with unbeatable views of Matterhorn
– Luxurious spa area featuring indoor/outdoor hot tubs and sauna
– Beautifully designed rooms by Swiss artist Heinz Julen
– Terrace for relaxing while enjoying stunning Matterhorn view
– Complimentary shuttle service provided for convenience
Most Expensive Hotels in Swiss Alps
Nestled amidst the majestic Swiss Alps, the most expensive hotels in this breathtaking region offer an unparalleled luxury experience. With their exquisite attention to detail and exceptional service, these properties cater to discerning travelers seeking a truly exclusive retreat. From opulent suites boasting panoramic views of snow-capped peaks to lavish spas offering indulgent wellness treatments, every aspect of these hotels is designed to provide an unforgettable stay. Whether it's savoring gourmet cuisine prepared by world-class chefs or engaging in thrilling outdoor adventures, guests will be enthralled by the extraordinary offerings that epitomize the epitome of luxury in the Swiss Alps.
Hotel Arc-en-ciel Gstaad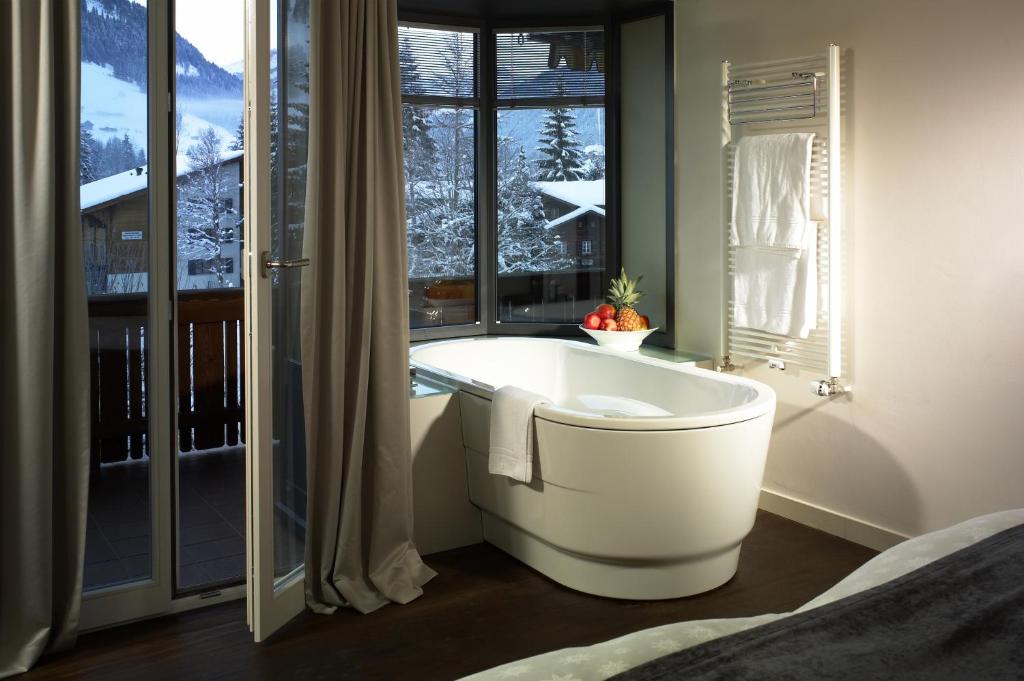 Hotel Arc-en-ciel Gstaad is a charming and traditional Chalet-style hotel located in a peaceful area on the outskirts of Gstaad. It is conveniently situated next to the Eggli cable car station, allowing easy access to the car-free center. The hotel offers a range of amenities and activities for both adults and children. During the summer months, guests can relax by the outdoor swimming pool while their children enjoy the playground or electric car track. The hotel also features an inviting private spa area with a sauna, steam bath, and tub for 2-4 people, which can be reserved for exclusive use at an additional fee. Additionally, guests can request fitness sessions, massages, and beauty treatments. Dining options include a charming Pizzeria with a wood-fired oven and the elegant La Sarine restaurant with its winter garden and sunny terrace. A cozy lounge with a fireplace can be found in the hotel lobby. Free parking is available on-site, while garage parking is offered at an extra cost. Guests can easily explore nearby skiing and hiking trails or go mountain biking with free bicycles provided by the hotel.
Pros:
– Convenient location next to Eggli cable car station
– Peaceful surroundings on the outskirts of Gstaad
– Relaxing outdoor swimming pool
– Inviting private spa area available for reservation
– Variety of dining options including Pizzeria and fine restaurant
Hostellerie du Pas de l'Ours Relais et Châteaux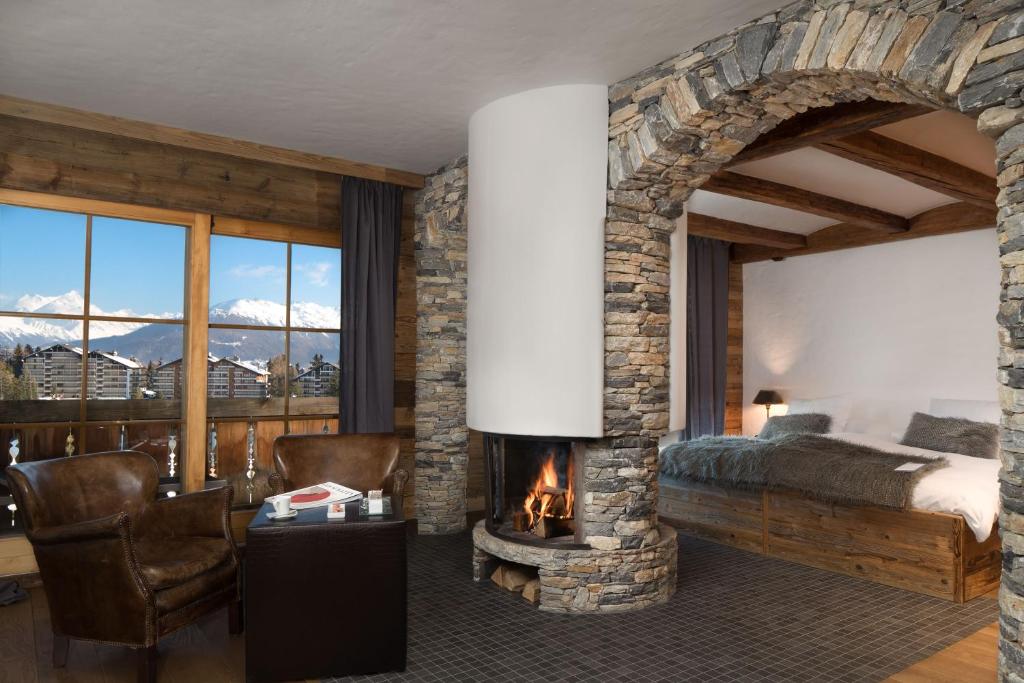 Nestled in the picturesque surroundings of Crans Montana, Switzerland, Hostellerie du Pas de l'Ours is a charming boutique hotel housed in a stylish chalet. With its breathtaking mountain views and tranquil atmosphere, this Relais et Châteaux property offers a luxurious retreat for discerning travelers. The suites at Hostellerie du Pas de l'Ours exude elegance and comfort, featuring amenities such as an open fireplace and spa bath. Guests can indulge their taste buds at the hotel's gourmet restaurant, l'Ours, which boasts a Michelin star and 18 Gault-Millau points. The restaurant's décor showcases exposed wooden beams, natural stones and fur fabrics, creating a cozy ambiance for enjoying hearty and traditional dishes. For more casual dining options, guests can visit Le Bistrot des Ours which also serves delectable cuisine. The hotel's spa area, I'Alpage, provides an oasis of relaxation with its range of treatments designed to unwind both adults and children from age three onwards.
Luxury Swiss Alps Hotels Information
| | |
| --- | --- |
| 🛎️ Luxury Hotels in Swiss Alps | 11 |
| 💵 Hotels Prices From | $135 |
| 💵 Highest price | $1277 |
| 🥇 Average Review Score | 9.1/10 |
| 🛏️ Average number of Rooms | 52 |
Top Luxury hotels in Swiss Alps
| | |
| --- | --- |
| 7132 Hotel, VALS | 9.4/10 |
| Matterhorn FOCUS Design Hotel | 9.3/10 |
| Hostellerie du Pas de l'Ours Relais et Châteaux | 9.3/10 |
| Hotel Sonne | 9.2/10 |
| Petit Chalet Schönegg | 9.2/10 |
FAQ
1. What are some luxury hotels to consider when visiting the Swiss Alps?
When visiting the Swiss Alps, there are several luxury hotels that promise a truly indulgent experience. The Chedi Andermatt is a top choice, offering lavish rooms and suites with stunning mountain views, exquisite dining options, and an exceptional spa for the ultimate relaxation. Another remarkable option is Badrutt's Palace Hotel in St. Moritz, known for its grandeur and legendary service. This iconic hotel boasts opulent rooms, gourmet restaurants, a luxurious spa, and even a private ice rink.
2. Are there any luxury eco-friendly hotels in the Swiss Alps?
Yes, indeed! If you're seeking luxury accommodations that prioritize sustainability in the Swiss Alps, The Whitepod Eco-Luxury Hotel could be your perfect match. This unique hotel offers cozy geodesic-shaped pods nestled high up in the mountains of Switzerland's Valais region. Each pod features modern amenities while being entirely eco-friendly with minimal ecological impact. From energy-efficient heating systems to locally sourced organic meals at their on-site restaurant, The Whitepod combines luxury and environmental consciousness seamlessly.
3. Can you recommend a luxurious hotel in Zermatt with breathtaking Matterhorn views?
For those seeking an unforgettable stay amidst stunning Matterhorn views in Zermatt, The Omnia is an excellent choice. This boutique hotel perfectly blends contemporary design with traditional Alpine elements to create a truly sophisticated atmosphere for its guests. From stylishly furnished rooms to world-class cuisine served at their Michelin-starred restaurant or on their panoramic terrace overlooking the majestic Matterhorn peak – this luxurious haven guarantees an extraordinary vacation experience.
4. Which luxury hotel offers exclusive ski-in/ski-out access in Verbier?
When it comes to exclusive ski-in/ski-out access in Verbier – one of Switzerland's premier ski resorts – The W Verbier stands out from the crowd. Boasting an unbeatable location at the foot of the slopes, this luxurious hotel offers direct access to some of the best skiing terrain in the Swiss Alps. After an exciting day on the slopes, guests can unwind in their spacious and elegantly designed rooms or enjoy a relaxing spa treatment followed by delectable dining options offered within the hotel.
5. Are there any luxury hotels with private chalets available in Gstaad?
Absolutely! Gstaad is renowned for its luxurious chalet-style accommodations, and The Alpina Gstaad takes it to another level with its exclusive private chalets. These stunning retreats offer unparalleled privacy and comfort while still providing access to all the amenities and services of a five-star hotel. Each chalet features elegant interiors, spacious living areas with fireplaces, fully equipped kitchens, private terraces or balconies, and even personal butler service – making your stay in Gstaad truly unforgettable.
Popular Most Luxurious hotel destinations