Welcome to our guide on opulent accommodations in South Tyrol, Italy. Nestled in the heart of the breathtaking Dolomite mountains, this enchanting region offers a remarkable array of lavish hotels to indulge the most discerning traveler. Whether you yearn for a tranquil escape amidst nature's splendor or seek a luxurious retreat with world-class amenities, South Tyrol has it all.
Prepare to be captivated by the unparalleled beauty and charm that await you in this picturesque destination. Immerse yourself in the rich cultural heritage of South Tyrol as you marvel at its medieval castles and vineyard-draped hillsides. The luxury hotels here effortlessly blend contemporary elegance with authentic Alpine style, creating an oasis of sophistication and comfort that will leave you longing for more.
Experience ultimate relaxation in spa resorts that boast rejuvenating treatments inspired by traditional alpine therapies. From sumptuous Michelin-starred restaurants serving delectable cuisine crafted from locally-sourced ingredients to panoramic rooftop bars offering sweeping views over pristine valleys, these luxury hotels spoil guests with unforgettable culinary experiences. So whether you're seeking adventure amidst towering peaks or simply want to unwind surrounded by natural beauty, South Tyrol's luxury hotels guarantee an indulgent stay beyond compare
Most Luxurious Hotels in South Tyrol
Parc Hotel Am See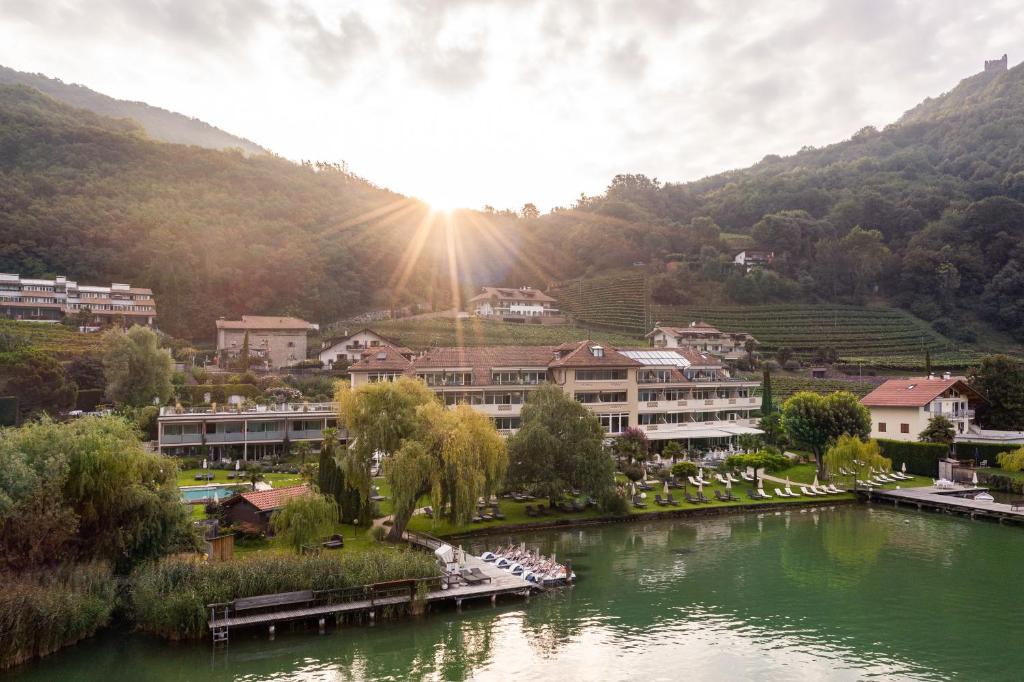 Parc Hotel Am See is a 4-star superior hotel located on the shores of Lake Caldaro, offering stunning panoramic views of the lake and lush green surroundings. Guests can enjoy free access to the hotel's range of luxurious amenities, including an indoor swimming pool, sauna, gym, and outdoor saltwater pool. The on-site restaurant serves delicious Mediterranean cuisine and Tyrolean specialties for both lunch and dinner. The beautifully appointed rooms feature private balconies, air conditioning, satellite TV, and classic furnishings. The bathrooms are complete with bathrobes, slippers, and hairdryers. Guests can start their day with a refreshing breakfast in the dining room overlooking the picturesque landscape. Parc Hotel Am See also boasts a spacious garden with complimentary sun loungers and parasols as well as a private beach area by the lake. For convenience, the hotel provides a free shuttle service to Caldaro's center which is just 4.5 km away. Bolzano is easily accessible within a 30-minute drive.
– Breathtaking views of Lake Caldaro
– Access to luxurious amenities such as indoor swimming pool and sauna
– Delicious Mediterranean cuisine and regional specialties at the on-site restaurant
– Comfortable rooms with private balconies
– Convenient location with easy access to Bolzano
Hotel Kassian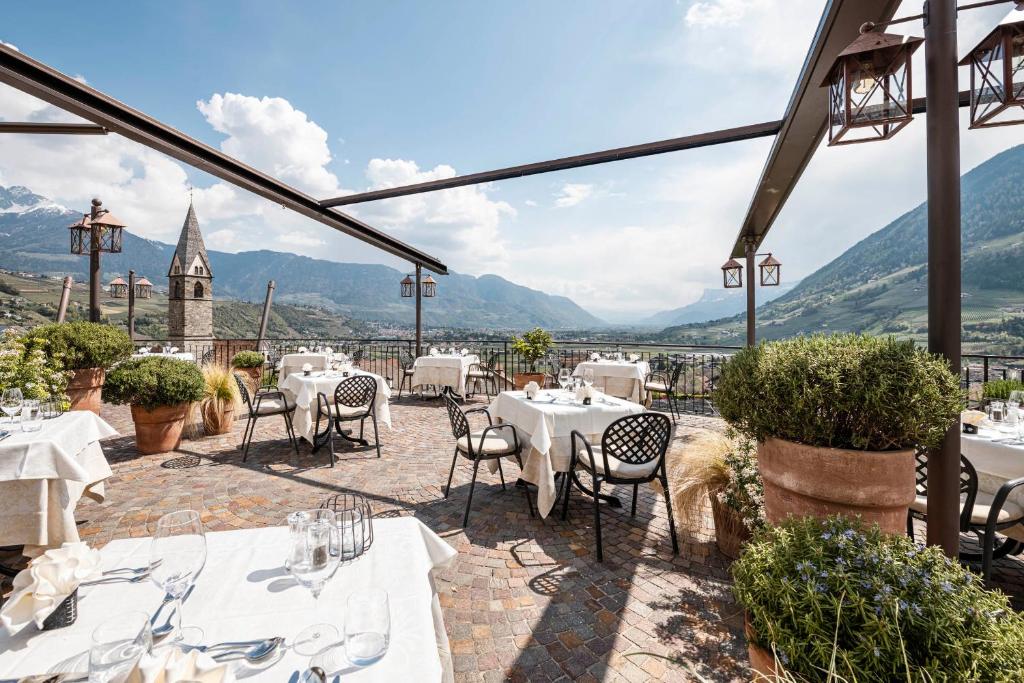 Nestled amidst the breathtaking Texel Group mountains, Hotel Kassian is a haven of luxury and tranquility located just a short 10-minute drive from Merano city center. With its charming Alpine-style rooms and a heated swimming pool offering panoramic views, Hotel Kassian promises an unforgettable stay. Each room boasts tasteful decor featuring light wood furniture, a flat-screen TV with satellite channels, a mountain-view balcony, and a private bathroom with all modern amenities including a hairdryer. Guests can enjoy complimentary wired internet access throughout their stay. The on-site restaurant serves delectable traditional homemade Trentino cuisine while the furnished panoramic terrace provides the ideal spot for savoring refreshing drinks during summer months. For those looking to explore the beautiful surroundings, Hotel Kassian offers complimentary bicycles as well as a convenient free shuttle service to Merano city center and Golf Club Lana.
– Stunning location surrounded by majestic mountains
– Heated swimming pool with breathtaking panoramic views
– Charming Alpine-style rooms with modern amenities
– Delicious traditional homemade Trentino cuisine at the on-site restaurant
– Complimentary bicycles and free shuttle service for exploring the area
Gloriette Guesthouse Hotel & Restaurant (Soprabolzano)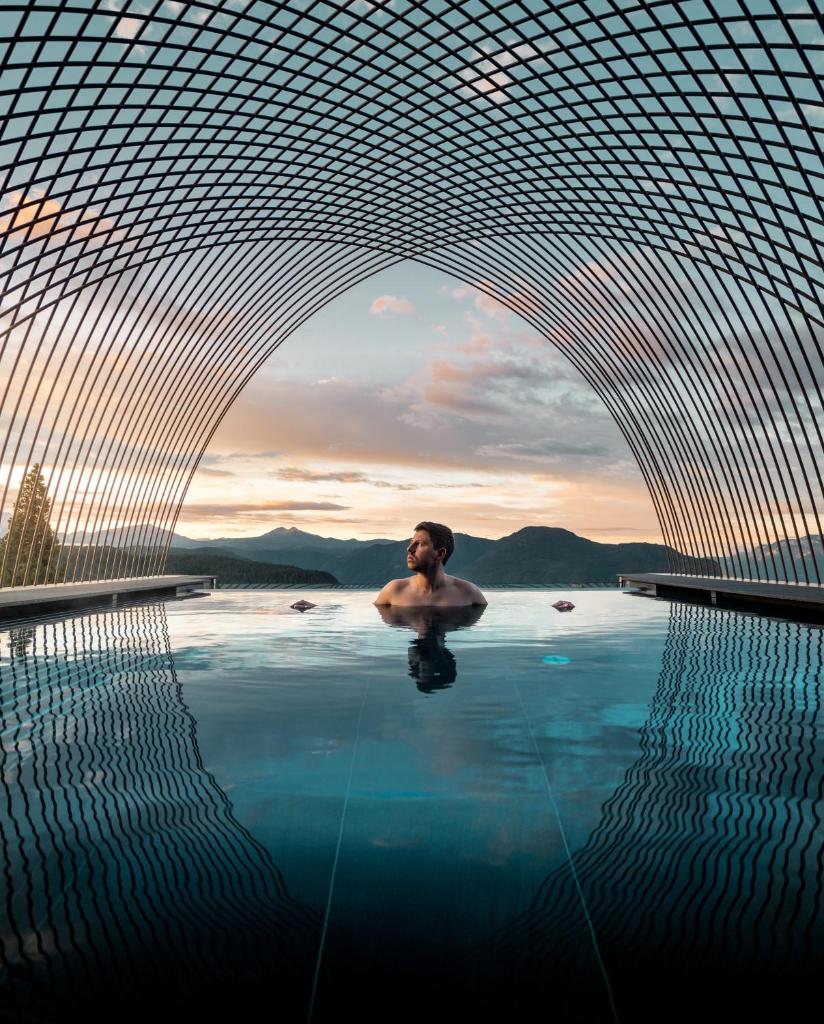 Located in the charming town of Oberbozen, on the high plateau of Ritten, Gloriette Guesthouse Hotel & Restaurant is a luxurious property that offers a delightful stay for guests. With its proximity to the aerial cableway connecting to Bolzano, getting around the area is convenient and hassle-free. The hotel caters to sports enthusiasts with seasonal activities such as skiing, hiking, cycling, and Nordic walking. After an adventurous day, guests can unwind at the on-site Bistrot which serves delicious South Tyrolean dishes and international cuisine. The hotel also boasts a ski-storage room and a spa with sauna facilities in the attic where guests can relax while enjoying breathtaking views of the Dolomites. Each room is well-equipped with modern amenities including a radio, safe, and flat-screen TV with satellite channels.
– Convenient location near aerial cableway
– Wide range of seasonal sport activities available
– On-site Bistrot serving delicious South Tyrolean dishes
– Spa and sauna facilities with stunning views of the Dolomites
– Well-equipped rooms with modern amenities
Other places to stay in South Tyrol
Luxury Hotels in Downtown South Tyrol
Luxury hotels in Downtown South Tyrol epitomize the perfect blend of elegance and sophistication. Nestled amidst breathtaking landscapes, these establishments offer discerning travelers an unparalleled experience of comfort and opulence. From impeccably designed interiors to exquisite dining options, every aspect is meticulously crafted to exceed expectations. Guests can indulge in rejuvenating spa treatments, savor gourmet cuisine prepared with locally sourced ingredients, and unwind in elegantly furnished rooms offering panoramic views of the surrounding natural beauty. With their impeccable service and attention to detail, luxury hotels in Downtown South Tyrol provide a truly unforgettable stay for those seeking a refined retreat in this enchanting region.
Hotel Avelina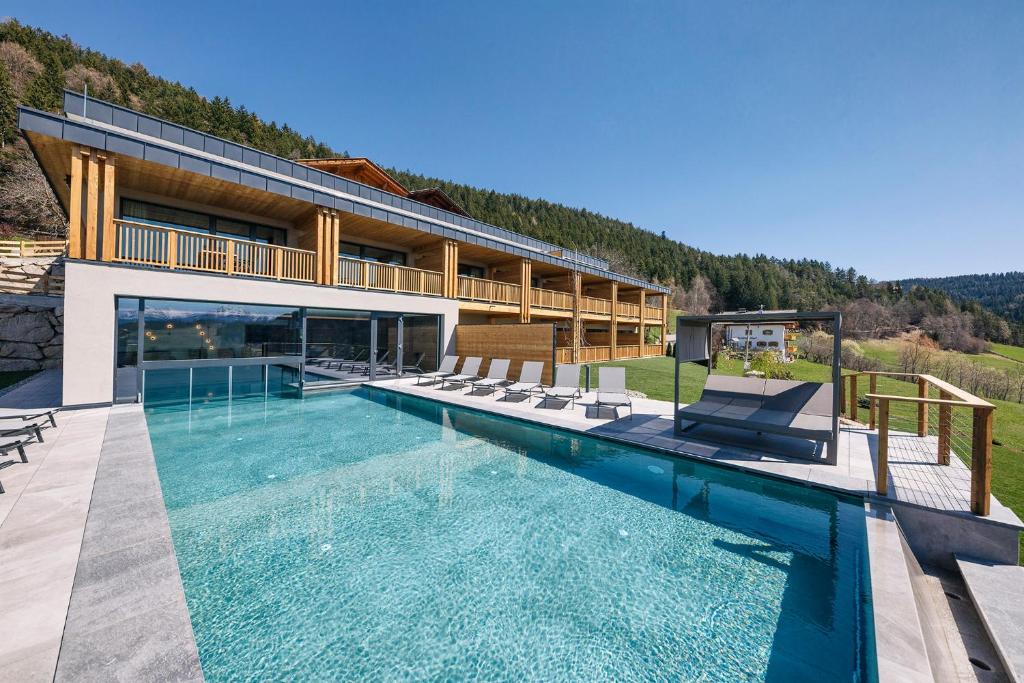 Hotel Avelina is a charming luxury hotel nestled in a picturesque wooded area, just 1 km from the quaint town of Avelengo. With its authentic Tyrolean restaurant and relaxing Finnish sauna, guests can indulge in both culinary delights and rejuvenating wellness experiences. The hotel offers free ski storage for those seeking winter adventures, while the Alpine-style rooms provide a cozy retreat with satellite LCD TVs. Guests can delight in local cuisine at the restaurant, which also caters to vegetarian and lactose-free preferences. The rooms exude an inviting atmosphere with exposed-beam ceilings and wood-panelled walls, complete with comfortable carpeted floors. Slippers and bathrobes are provided in the private bathrooms, adding an extra touch of luxury. Most rooms boast mountain-view balconies that offer breathtaking vistas of the surroundings. Start your day off right with a delicious buffet breakfast featuring eggs, ham, and homemade cakes to fuel your explorations or relaxation activities ahead. For those looking for outdoor excitement, horse riding is available on-site, ensuring unforgettable memories can be made amidst nature's beauty. Additionally, Hotel Avelina is perfectly situated for summer hiking adventures in the enchanting Dolomites region. If skiing is more your style, head to the nearby Merano 2000 ski slopes located just 7 km away from the hotel's doorstep. And when it's time to explore further afield or experience city life, Bolzano – the provincial capital – is only a scenic 40-minute drive away.
– Charming location in a wooded area near Avelengo
– Authentic Tyrolean restaurant showcasing local cuisine
– Relaxing Finnish sauna for ultimate rejuvenation
– Comfortable Alpine-style rooms with mountain-view balconies
– Convenient access to hiking trails and ski slopes
Hotel Angelo Engel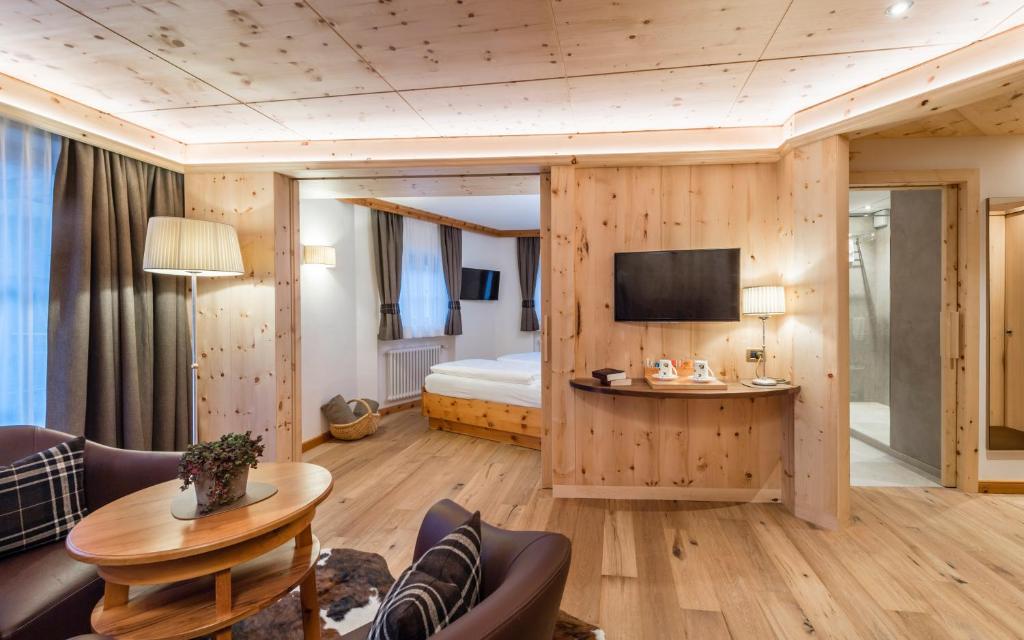 Located in the heart of Ortisei, Hotel Angelo Engel is a charming boutique hotel that offers an array of luxurious amenities. With both indoor and outdoor pools, guests can relax and unwind after a day of exploring the stunning surroundings. The hotel also boasts a free wellness center where guests can indulge in pampering treatments or take advantage of the saunas for ultimate relaxation. For those looking to explore the outdoors, free hiking and skiing excursions are available to showcase the beauty of Alpe di Siusi, Europe's largest high altitude Alpine meadow. The rooms at Hotel Angelo Engel are beautifully decorated in Alpine-style with warm wooden furnishings and feature modern amenities such as LCD TVs, free WiFi, satellite channels, and SKY channels. Each room also comes with a bathrobe, slippers, and a toiletry set for added comfort. Guests can start their day off right with a delicious sweet and savory buffet breakfast before heading out to enjoy all that Ortisei has to offer. The on-site restaurant serves local and Italian cuisine for lunch and dinner, providing guests with a memorable culinary experience during their stay at Hotel Angelo Engel.
Pros:
– Indoor and outdoor pools
– Free wellness center with saunas
– Free hiking excursions
– Free skiing excursions
– Charming Alpine-style rooms with modern amenities
Hotel Torgglhof
Hotel Torgglhof, located in beautiful Caldaro, offers guests a luxurious stay with its range of upscale amenities. Guests can enjoy stunning mountain views from their rooms, which are equipped with a seating area, flat-screen TV, safety deposit box, and private bathroom with free toiletries. The hotel features both an outdoor and indoor swimming pool, as well as a sauna and spa center for ultimate relaxation. With free WiFi available throughout the property and a paid airport shuttle service, guests can enjoy convenience during their stay. In addition to its excellent facilities, Hotel Torgglhof offers a buffet breakfast each morning and activities such as table tennis for entertainment. The hotel's location is ideal for exploring the surrounding area by hiking or cycling. With popular attractions like The Gardens of Trauttmansdorff Castle and Touriseum museum nearby, guests will have plenty to see and do during their visit.
Pros:
– Beautiful mountain views
– Outdoor and indoor swimming pools
– Sauna and spa center
– Buffet breakfast available
– Convenient location for exploring nearby attractions
5 Star Luxury Hotels
When it comes to indulgence and opulence, nothing quite compares to the world of 5-star luxury hotels. These exclusive establishments offer an unparalleled level of service and sophistication, making every guest feel like royalty. From exquisite decor and impeccable attention to detail, to gourmet dining experiences and state-of-the-art facilities, every element is carefully curated to create a memorable stay. Whether nestled in bustling city centers or tucked away in idyllic landscapes, these prestigious hotels provide an oasis of tranquility where guests can relax, rejuvenate, and immerse themselves in absolute luxury.
Alpin & Vital Hotel La Perla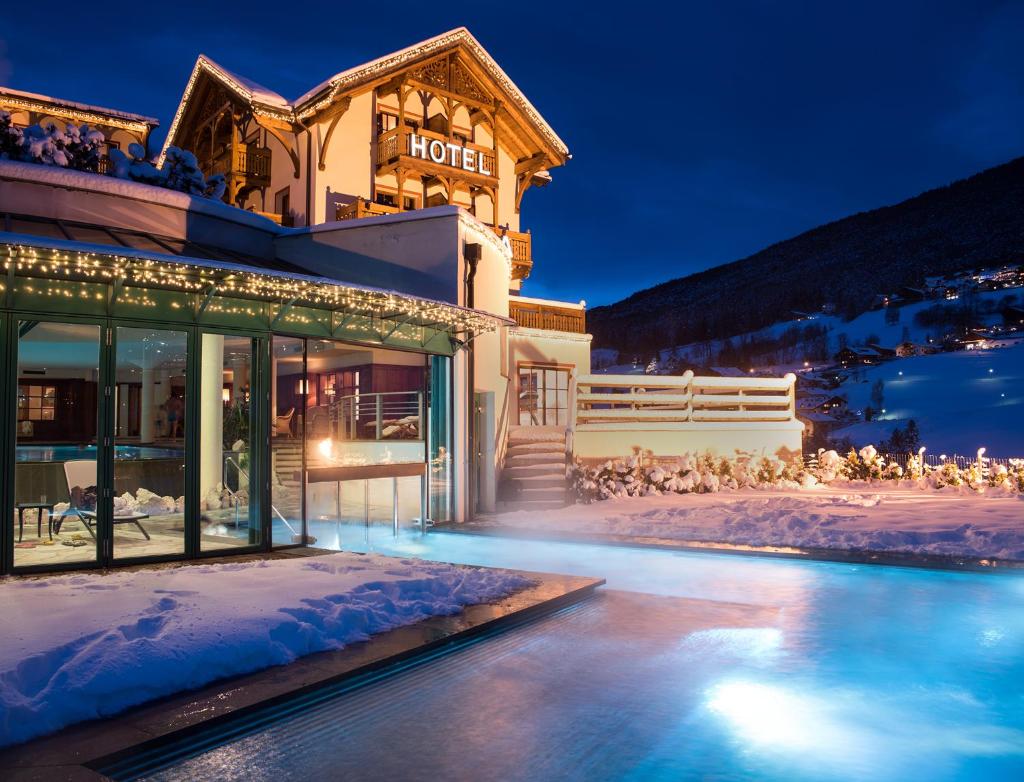 Located in the picturesque Val Gardena Valley and just 1 km from the center of Ortisei, Alpin & Vital Hotel La Perla offers a luxurious stay with its range of amenities. The hotel features spacious rooms with free Wi-Fi, a restaurant that serves delectable South Tyrol and national cuisine, and complimentary covered parking for guests. The highlight of this hotel is its wellness area, which includes an indoor pool, an infinity pool with stunning views, a Finnish sauna, and a steam bath. Guests can also enjoy a hearty breakfast each morning in the dining room and take advantage of the gym facilities. With its convenient location near the Sella Ronda ski slopes and complimentary ski bus service, as well as being within driving distance of Bressanone Train Station, Alpin & Vital Hotel La Perla is an ideal choice for both winter sports enthusiasts and those seeking relaxation in a beautiful mountain setting.
Pros:
– Convenient location near Ortisei's center
– Luxurious wellness area with multiple pools and saunas
– Delicious South Tyrol and national cuisine served at the restaurant
– Complimentary covered parking available for guests
– Free ski bus service to Sella Ronda ski slopes
Hotel Chalet Mirabell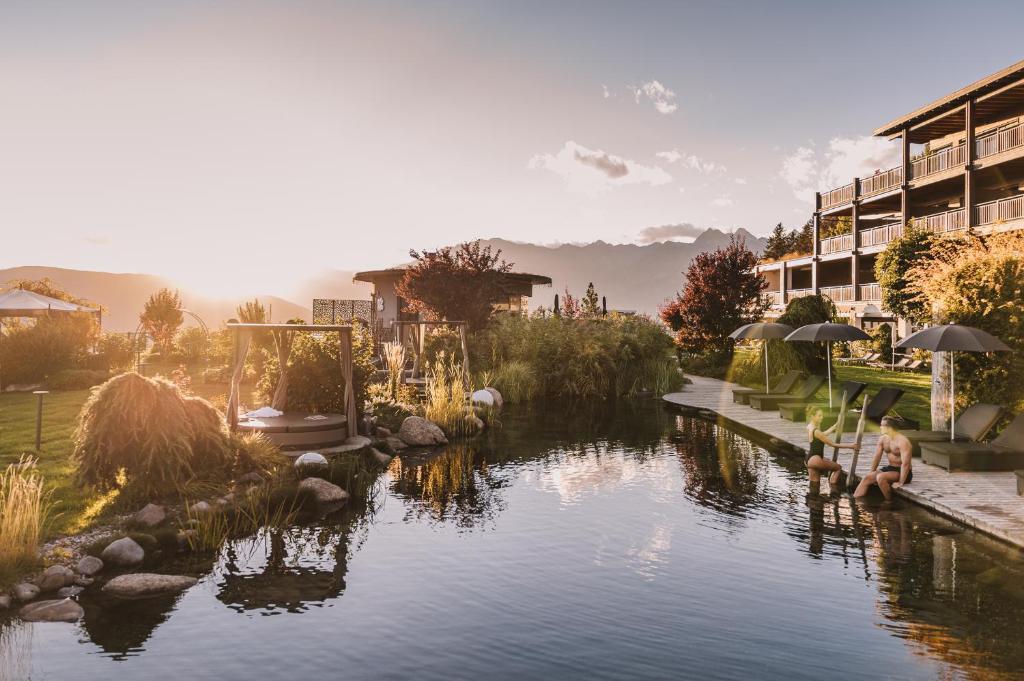 Nestled in the picturesque town of Avelengo, Hotel Chalet Mirabell offers a luxurious retreat with stunning mountain views. This family-run hotel boasts modern and Alpine-style rooms and suites, each featuring a balcony or terrace, a seating area, and a minibar. The en-suite bathrooms are equipped with bathrobes and slippers for ultimate comfort. Guests can indulge in the delicious buffet breakfast that includes an array of cakes, fresh fruit, cold cuts, cheese, and eggs with bacon. The on-site restaurant offers exquisite à la carte dining options. For relaxation and rejuvenation, guests can take advantage of the free sauna and spa facilities which include a pool overlooking the garden, Finnish sauna, and a free-standing hot tub. Massages can also be booked upon request. Additionally, guests have access to bike rentals to explore the surrounding area. During winter months, a convenient ski bus is available to transport guests to the nearby Merano 2000 slopes. Located just 13 km from Merano Train Station and town center, Hotel Chalet Mirabell is an ideal choice for those seeking luxury accommodation amidst breathtaking natural beauty.
Pros:
– Beautiful mountain views
– Luxurious rooms with balconies or terraces
– Free sauna and spa facilities
– Gourmet restaurant offering à la carte dining
– Convenient ski bus service during winter months
Vigilius Mountain Resort (Lana)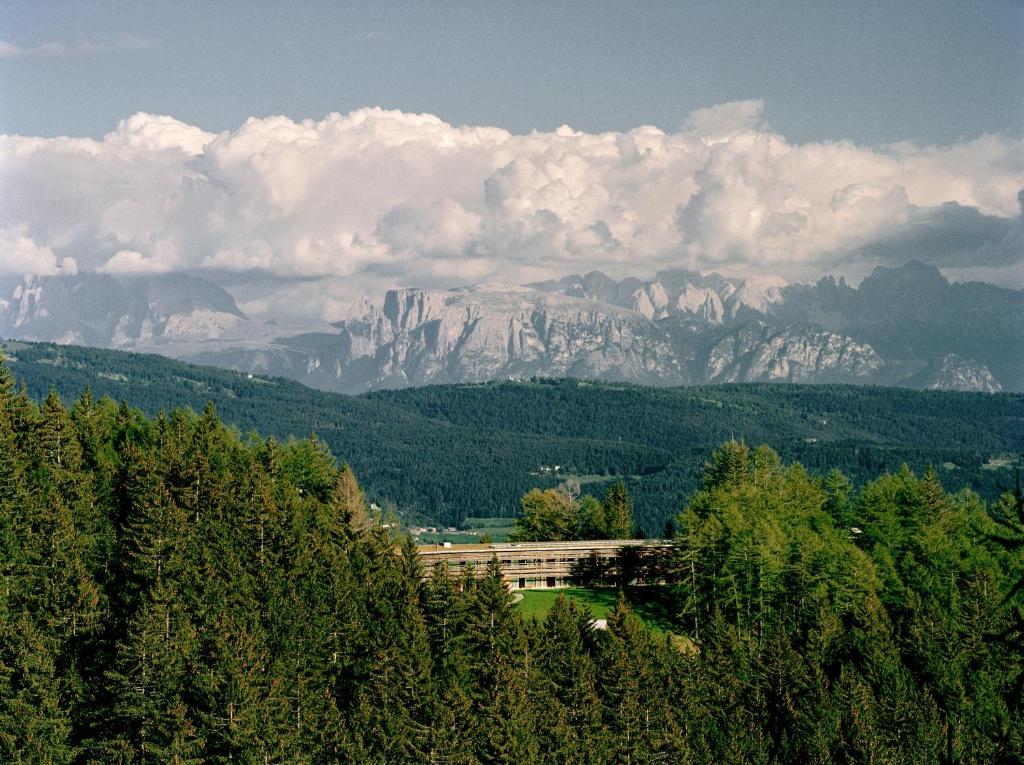 Located at an altitude of 1500 metres, Vigilius Mountain Resort in Lana is a boutique hotel that offers a unique and eco-friendly mountain retreat. Accessible only by cable car, this resort provides a tranquil escape with stunning panoramic views of the Dolomites. The resort boasts spacious rooms built from sustainable, natural materials, each featuring parquet floors and a furnished balcony or patio. Guests can indulge in various spa treatments at the free wellness centre or participate in complimentary activities led by a physical trainer such as hiking, meditation, and the Five Tibetans. With two restaurants on-site serving regional and international cuisine made from fresh local ingredients, guests are spoiled for choice when it comes to dining options. Additionally, the resort offers mountain bike tours and Nordic walking experiences at no extra charge. Just 7 km from Merano and a short 30-minute drive from Bolzano, Vigilius Mountain Resort is conveniently located for exploring the surrounding area.
– Eco-friendly mountain retreat
– Free wellness centre with spa treatments
– Complimentary activities led by physical trainer
– Panoramic views of the Dolomites
– Conveniently located near Merano and Bolzano
Most Expensive Hotels in South Tyrol
South Tyrol is home to some of the most expensive hotels in the world. These accommodations are known for their exquisite attention to detail, stunning architecture, and unparalleled service. From opulent suites with panoramic mountain views to fine dining experiences that tantalize the taste buds, these luxury hotels offer a truly indulgent experience for those seeking a lavish getaway. With their exclusive amenities and refined elegance, they provide the perfect setting for a memorable stay in this breathtaking region of Italy.
Passo Sella Dolomiti Mountain Resort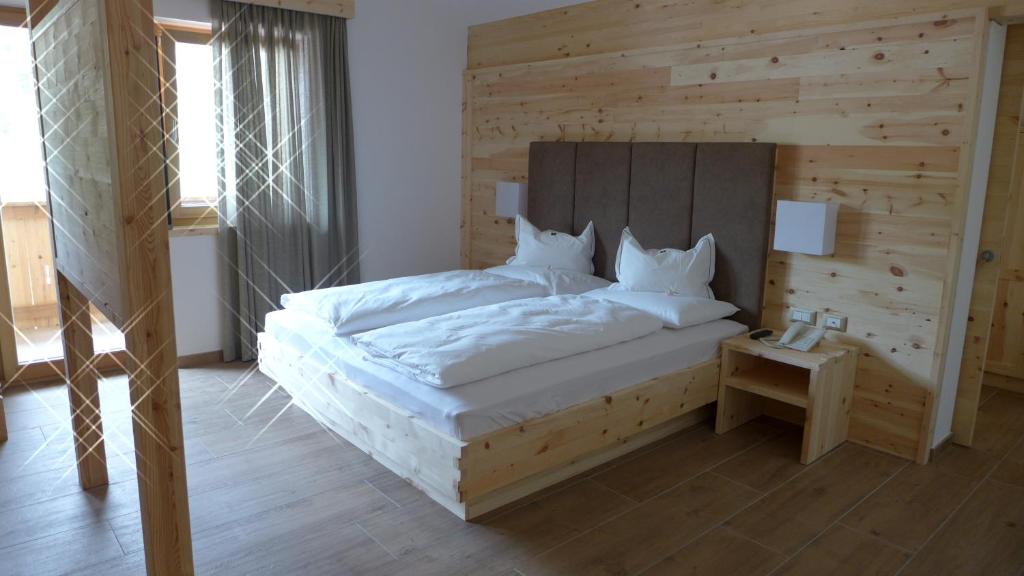 Nestled in the breathtaking Dolomites, Passo Sella Dolomiti Mountain Resort offers guests the ultimate ski-in/ski-out experience with panoramic mountain vistas and immediate access to the iconic Sella Ronda ski circuit. This luxurious resort boasts a sauna and an indoor pool for ultimate relaxation. The resort's amenities also include a restaurant, snack bar, and fitness room. Each of the modern Alpine-style rooms is thoughtfully designed with hypoallergenic materials, wooden floors, and furnishings. Guests can enjoy complimentary WiFi, satellite TV, and a private bathroom complete with a hairdryer and deluxe toiletries. For added indulgence, massages are available upon request. Families will appreciate the children's playground and convenient ski storage room. With Selva di Val Gardena just a short 15-minute drive away and Canazei only 13 km from the resort, guests are perfectly situated to explore nearby attractions or embark on thrilling hiking and mountain biking adventures right from their doorstep.
Pros:
– Stunning panoramic views of the Dolomites
– Ski-to-door access for an effortless winter getaway
– Modern alpine-style rooms with hypoallergenic features
– Relaxation options including sauna and indoor pool
– Convenient location for outdoor activities such as hiking and mountain biking
Luxury South Tyrol Hotels Information
| | |
| --- | --- |
| 🛎️ Luxury Hotels in South Tyrol | 10 |
| 💵 Hotels Prices From | $238 |
| 💵 Highest price | $1483 |
| 🥇 Average Review Score | 9.3/10 |
| 🛏️ Average number of Rooms | 32 |
Top Luxury hotels in South Tyrol
| | |
| --- | --- |
| Parc Hotel Am See | 9.8/10 |
| Gloriette Guesthouse Hotel & Restaurant (Soprabolzano) | 9.7/10 |
| Hotel Kassian | 9.3/10 |
| Hotel Angelo Engel | 9.2/10 |
| Hotel Chalet Mirabell | 9.2/10 |
FAQ
What are some luxury hotels in South Tyrol, Italy?
South Tyrol offers a range of exquisite luxury hotels for travelers seeking an exceptional experience. Some notable options include the Alpiana Resort, known for its modern design and wellness facilities, the Castel Fragsburg with its breathtaking views and Michelin-starred restaurant, and the Rosa Alpina Hotel & Spa, renowned for its elegant accommodations and world-class service.
What amenities can I expect at luxury hotels in South Tyrol?
Luxury hotels in South Tyrol go above and beyond to provide a truly indulgent stay. Expect amenities such as spacious rooms or suites with stylish decor, premium bedding and toiletries, state-of-the-art fitness centers or spas offering various treatments, gourmet restaurants serving fine cuisine using local ingredients, outdoor pools with stunning panoramic views, concierge services for personalized assistance, and often access to exclusive experiences like wine tastings or guided hikes.
Are there any luxury eco-friendly hotels in South Tyrol?
Yes! Sustainability is a priority in South Tyrol's hospitality industry. Several luxury eco-friendly hotels offer luxurious accommodations while being environmentally conscious. For example, Vigilius Mountain Resort is an architectural masterpiece that seamlessly integrates with nature using renewable materials and relies on geothermal energy. Another option is Adler Lodge Ritten which combines alpine style with sustainability practices like solar panels and locally sourced organic food.
Where can I find luxury ski resorts in South Tyrol?
South Tyrol is famous for its excellent skiing opportunities coupled with world-class hospitality. There are several luxury ski resorts to choose from based on your preferences. For those seeking convenience near the slopes without compromising on elegance, options like Hotel Rosa Alpina in San Cassiano or Hotel Ciasa Salares in Alta Badia are highly recommended. Alternatively, if you desire a more secluded mountain retreat experience combined with top-notch amenities including private chalets or villas, the Vigilius Mountain Resort or Miramonti Boutique Hotel in Merano are excellent choices.
What is the best time to visit South Tyrol for a luxury hotel experience?
South Tyrol offers something unique in every season, so the best time to visit depends on your preferences. For a winter wonderland experience with skiing and snow activities, December to March is ideal. Spring brings blooming meadows and pleasant temperatures for outdoor adventures from April to June. Summer (June to September) showcases South Tyrol's natural beauty with lush landscapes and sunny weather perfect for hiking or mountain biking. Autumn (September to November) charms visitors with vibrant foliage colors and harvest festivals celebrating local traditions, making it an enchanting time for a luxury retreat.
Popular Most Luxurious hotel destinations