Welcome to our latest exploration of opulent accommodations in Somerset, England. Prepare to be swept away by the unparalleled charm and elegance that luxury hotels in this picturesque region have to offer. Nestled amidst rolling hills and captivating countryside, these lavish establishments redefine indulgence and provide an unforgettable escape from the ordinary.
As you embark on your quest for sumptuous accommodation, Somerset unveils a plethora of options that will leave you spoilt for choice. From historic manor houses exuding grandeur to contemporary masterpieces showcasing cutting-edge design, each hotel serves as a testament to exquisite taste and uncompromising attention to detail. Immerse yourself in refined luxury as you are greeted by impeccable service, sophisticated interiors adorned with fine art, and rooms brimming with comfort and style.
Allow yourself to be transported into a realm of tranquility at the spa facilities offered at many of these luxurious hotels. Surrender your senses to rejuvenating treatments that combine ancient rituals with modern techniques and unwind in serene surroundings designed solely for your wellbeing. Whether it's a soothing massage or an invigorating swim in an infinity pool overlooking lush gardens, these prestigious properties provide an oasis of calm where relaxation is paramount.
Join us as we embark on this extraordinary journey through some of the most extravagant havens awaiting discerning travelers seeking an exceptional experience among Somerset's luxury hotels.
Most Luxurious Hotels in Somerset
Harington's Boutique Hotel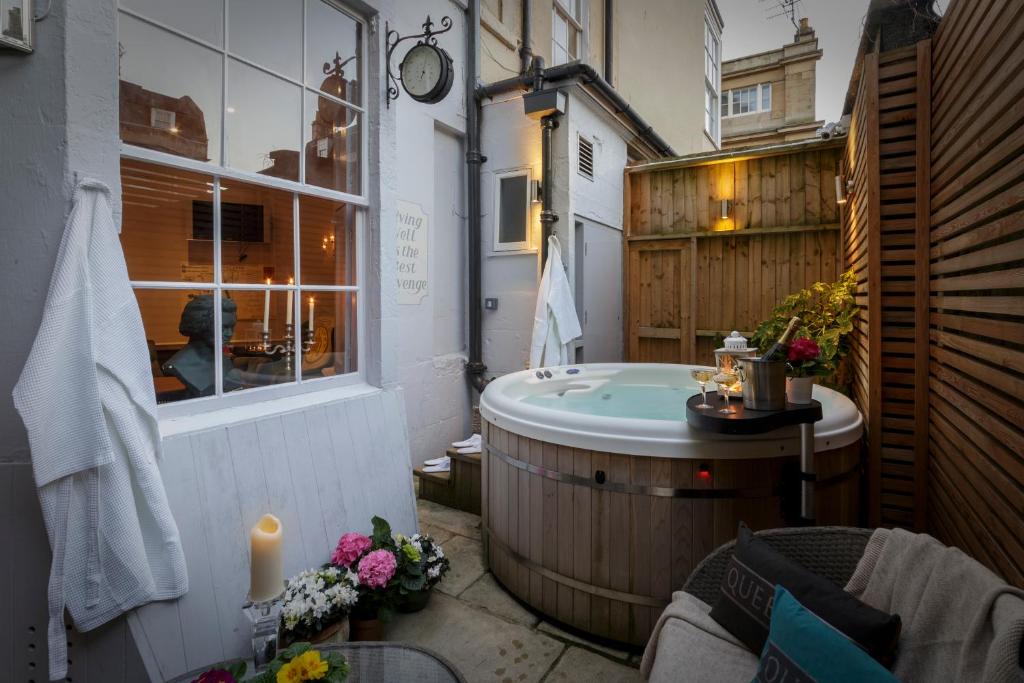 Located on a charming cobbled street in the heart of Bath, Harington's Boutique Hotel offers a truly unique and elegant stay. The 18th-century hotel features beautifully refurbished bedrooms adorned with vibrant colors and textures, creating a modern and stylish atmosphere. With its prime location just a minute's walk from the Roman baths and other major attractions, restaurants, shops, and nightlife, guests can easily explore all that Bath has to offer. Warm hospitality is extended to both humans and pets alike as the hotel is pet-friendly, welcoming furry companions for a small supplement. For an extra indulgence, guests can unwind in Harington's own outdoor hot tub. Whether enjoying homemade scones with clotted cream in the coffee lounge or relaxing on the patio with a drink from the bar, every aspect of Harington's Boutique Hotel ensures an unforgettable experience.
– Central location near major attractions
– Stylishly decorated rooms with imaginative colors
– Pet-friendly accommodation with special amenities
– Coffee lounge serving homemade treats
– Outdoor hot tub for ultimate relaxation
The Bird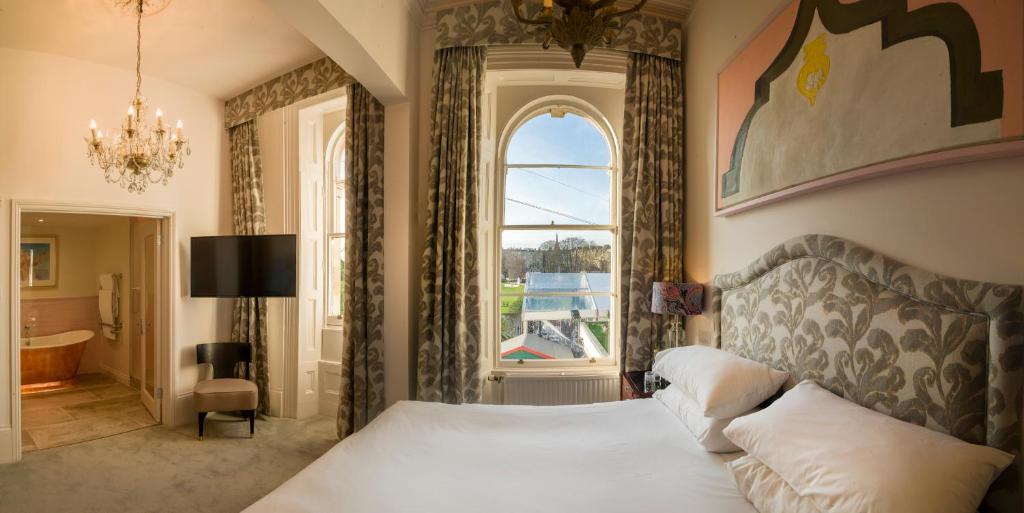 Situated in the heart of Bath, The Bird offers stunning views of the city's renowned Recreation Ground and Bath Abbey. This boutique townhouse hotel is perfect for those looking to explore the attractions of Bath's 'World Heritage Site,' with free WiFi available throughout the property. The guest rooms at The Bird are beautifully designed and feature amenities such as a flat-screen TV and tea/coffee making facilities. Each room also comes with its own en suite bath or shower room. Guests can start their day off right with a delicious full English breakfast served in the mornings, while the well-stocked bar provides a great spot to relax and enjoy a drink. For an authentic British dining experience, guests can visit the on-site restaurant, The Plate, which offers dishes made with fresh and seasonal produce. With its central location, The Bird is surrounded by a plethora of restaurants, pubs, shops, as well as beautiful countryside, museums, and attractions to explore. The famous Roman Baths are just a short 10-minute walk away from the hotel while Bath Spa Railway Station is conveniently only 12 minutes away on foot. Additionally, for those arriving from Bristol International Airport, there are direct bus links available from the nearby bus station which is just 15 miles away.
– Stunning views over Recreation Ground and Bath Abbey
– Boutique townhouse style accommodation
– Delicious full English breakfast served each morning
– On-site restaurant offering authentic British dishes
– Conveniently located near train station and airport transportation
DoubleTree by Hilton Bath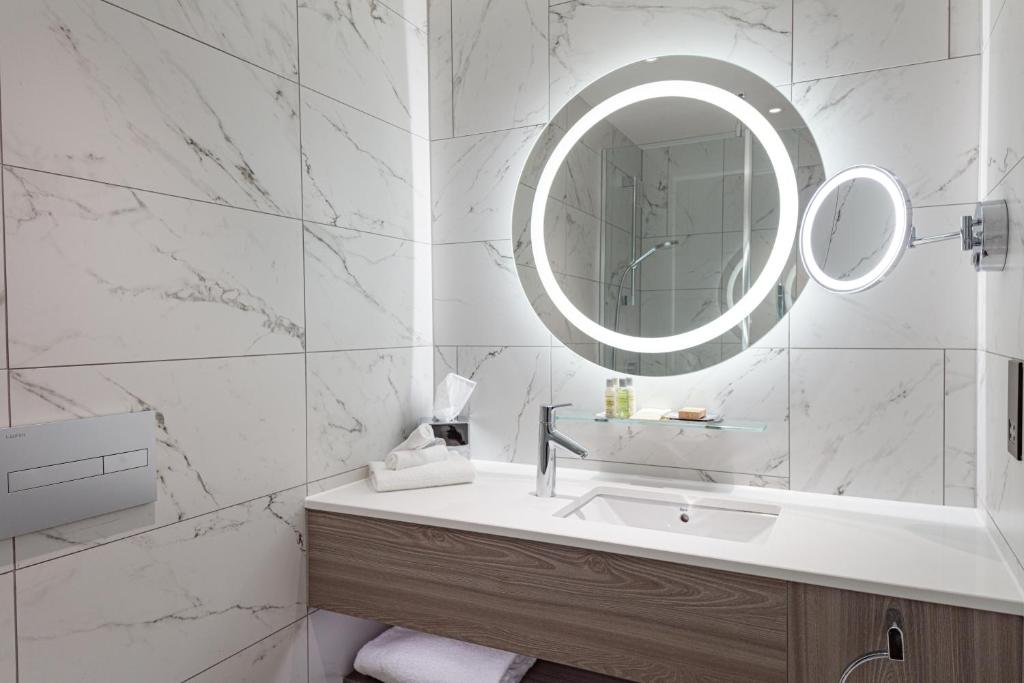 Located in the heart of Bath, DoubleTree by Hilton Bath offers a luxurious stay with its modern and comfortable rooms. Each room features air-conditioning, en-suite bathroom or shower rooms with complimentary luxury amenities. The hotel provides flexible banqueting rooms for events, including the Abbey Suite and County Suite, which can accommodate up to 150 delegates. Guests can enjoy stunning views of the city, River Avon, and the surrounding countryside. The hotel's restaurant and bar, Emma's Bar and Restaurant, serves delicious meals and drinks in a renovated open-plan area with outdoor seating on the terrace. The hotel also offers a fitness room exclusively for guests' use. With its proximity to popular attractions like The Roman Baths and The Royal Crescent, DoubleTree by Hilton Bath is an ideal choice for both leisure and business travelers.
– Prime location in Bath's city center
– Luxurious rooms with river or city views
– Flexible banqueting rooms for events
– On-site restaurant and bar serving delicious food
– Fitness room available exclusively for guests
Other places to stay in Somerset
Luxury Hotels in Downtown Somerset
Downtown Somerset is a haven for luxury hotel enthusiasts seeking refined accommodations and impeccable service. Nestled amidst the vibrant cityscape, these exclusive establishments cater to the discerning traveler with their sophisticated design, elegantly furnished rooms, and stunning views of the skyline. The warm ambiance paired with discreet yet attentive staff ensures a seamless experience for guests, while the central location provides convenient access to nearby attractions and upscale dining options. Whether indulging in world-class spas or savoring gourmet cuisine, luxury hotels in Downtown Somerset offer an unforgettable retreat for those seeking comfort and opulence during their stay.
Hornsbury Mill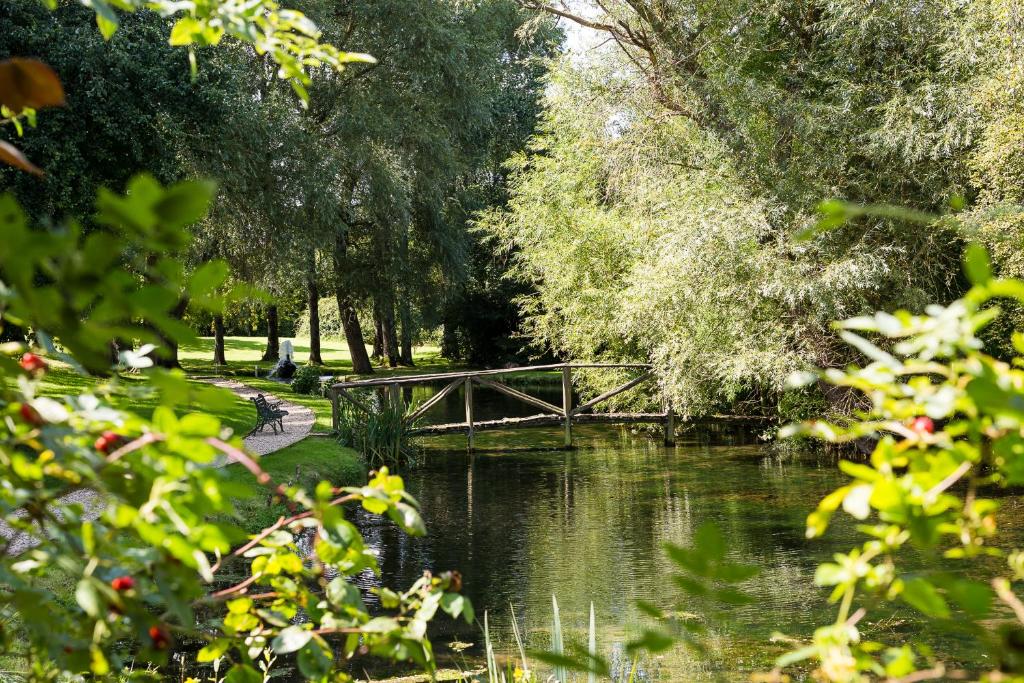 Hornsbury Mill is a charming boutique hotel located in the heart of Somerset. Set within 5 acres of peaceful, landscaped water gardens, this 19th-century watermill seamlessly blends beautiful original features with modern comforts. The hotel offers individually designed and decorated en suite rooms, each exuding traditional country charm with unique characteristics such as window seats overlooking the stream. Guests can indulge in a delightful lunch or candlelit dinner at the Mill Restaurant while being mesmerized by the turning waterwheel. The restaurant takes pride in serving modern English cuisine using locally sourced ingredients, including organic vegetables, local beef, trout, and Somerset cheeses. With its idyllic location just 3.2 km from Chard and on the edge of the Blackdown Hills, Hornsbury Mill provides a luxurious and relaxing retreat for guests seeking tranquility amidst nature.
– Boutique hotel with charming original features
– Individually designed rooms with traditional country style
– Delightful dining experience at the Mill Restaurant
– Beautifully landscaped water gardens
– Idyllic location for a peaceful break
The Bath Arms Hotel (Cheddar)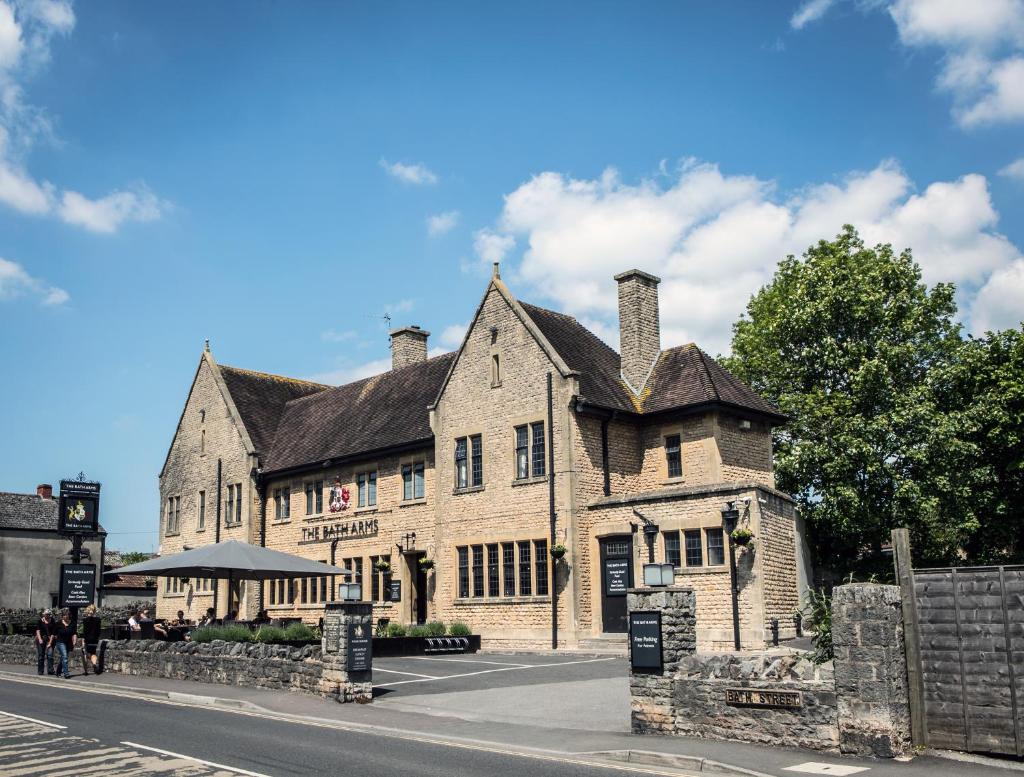 Located in the charming village of Cheddar, The Bath Arms Hotel offers adult-only accommodation with a restaurant and bar onsite. Just a short 10-minute walk away are the famous Cheddar Gorge Caves. Guests can enjoy free WiFi and private parking during their stay. The spacious rooms feature modern amenities such as flat-screen TVs, work desks, and tea/coffee making facilities. The private bathrooms offer complimentary toiletries, a hairdryer, and vintage showers. Start your day with an extensive breakfast menu that includes delicious options like full cooked breakfasts and Eggs Benedict. The hotel's restaurant serves a daily menu featuring traditional pub favorites, while the bar offers a wide range of drinks to choose from. In warmer months, guests can even dine in the lovely beer garden. With golfing, cycling, and hiking opportunities nearby, there is plenty to keep you entertained during your stay at The Bath Arms Hotel. Additionally, this hotel is perfectly situated for exploring neighboring towns such as Axbridge and Glastonbury or venturing further to Wells – a historic cathedral city.
– Adult-only accommodation
– Onsite restaurant & bar
– Free WiFi & private parking
– Extensive breakfast menu
– Close proximity to Cheddar Gorge Caves
Hampton By Hilton Bath City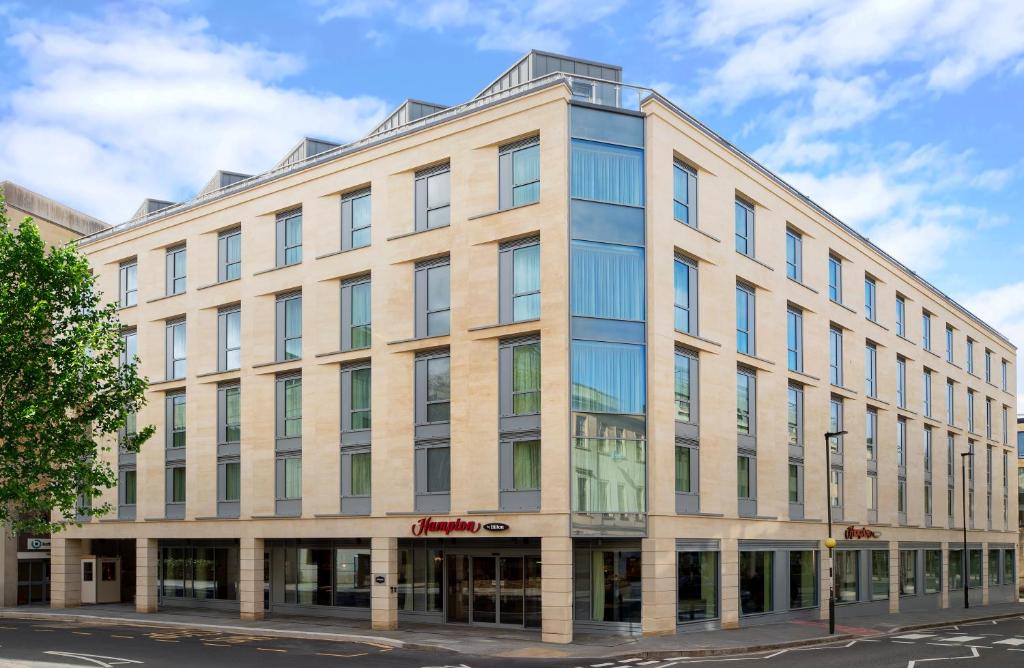 Opened in January 2022, Hampton By Hilton Bath City is a stylish hotel located in the heart of Bath. With its air-conditioned rooms, fitness centre, and free WiFi, this hotel offers a comfortable stay for both business and leisure travelers. The property is conveniently situated near popular attractions such as Bath Spa Train Station, The Circus Bath, and Bath Abbey. Guests can enjoy a variety of amenities including a bar, restaurant, and a buffet breakfast. The friendly reception staff are also available to provide helpful tips and recommendations on exploring the area. Additionally, the hotel offers easy access to nearby landmarks like the Roman Baths and Oldfield Park Train Station.
– Convenient central location
– Modern and stylish rooms
– Fitness centre for guests' use
– Free WiFi throughout the property
– Helpful reception staff providing local tips
5 Star Luxury Hotels
5 Star luxury hotels are the epitome of opulence and sophistication, offering guests an unparalleled experience of indulgence and pampering. From the moment you step into their grand lobbies, you are enveloped in a world of elegance and impeccable service. Every detail is meticulously curated to ensure your utmost comfort and satisfaction. These hotels boast luxurious accommodations adorned with high-end furnishings, plush bedding, and state-of-the-art technology. Their gourmet restaurants tantalize your taste buds with exquisite cuisine prepared by world-class chefs. The extensive range of amenities includes lavish spas, fitness centers, swimming pools, and exclusive lounges where you can unwind and relax in style. No request is too big or small for the attentive staff who anticipate your every need to make your stay unforgettable. In a 5 Star luxury hotel, you are transported to a realm of sheer indulgence where every moment is crafted to perfection.
The Queensberry Hotel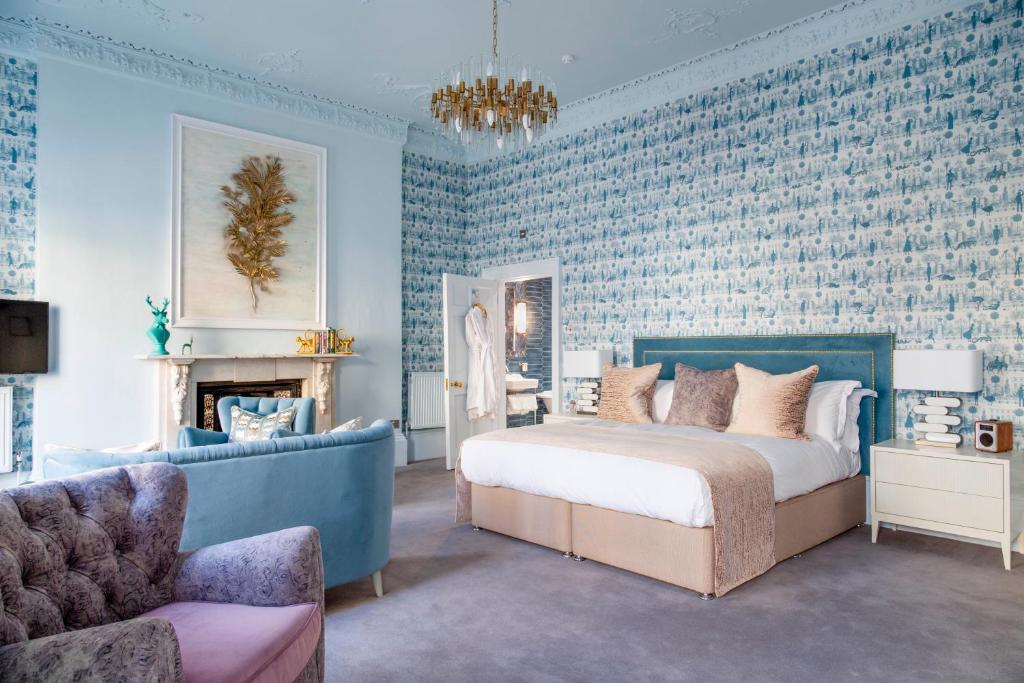 The Queensberry Hotel is a charming boutique townhouse hotel located in the heart of Georgian Bath. This luxurious hotel seamlessly blends modern style with historic architecture, creating a truly unique and elegant atmosphere. The highlight of the property is its quiet courtyard garden, a serene oasis amidst the bustling city. The hotel's award-winning restaurant, The Olive Tree, holds a Michelin Star and offers guests a delightful culinary experience with its modern British cuisine made from the finest local and seasonal ingredients. The bedrooms are welcoming and interestingly designed, while the reception rooms exude an air of casual luxury. All rooms feature top-notch amenities such as flat-screen TVs, digital radios with Bluetooth connection, and other luxurious touches befitting its AA Red Star status. Guests can also take advantage of valet parking for an additional fee or enjoy complimentary tea and coffee in the drawing room throughout the day. With its central location and impeccable service, The Queensberry Hotel guarantees an unforgettable stay in Bath.
– Charming boutique hotel in central Bath
– Quiet courtyard garden for relaxation
– Award-winning Michelin Star restaurant showcasing modern British cuisine
– Well-appointed rooms with luxurious amenities
– Convenient valet parking available
The Swan Hotel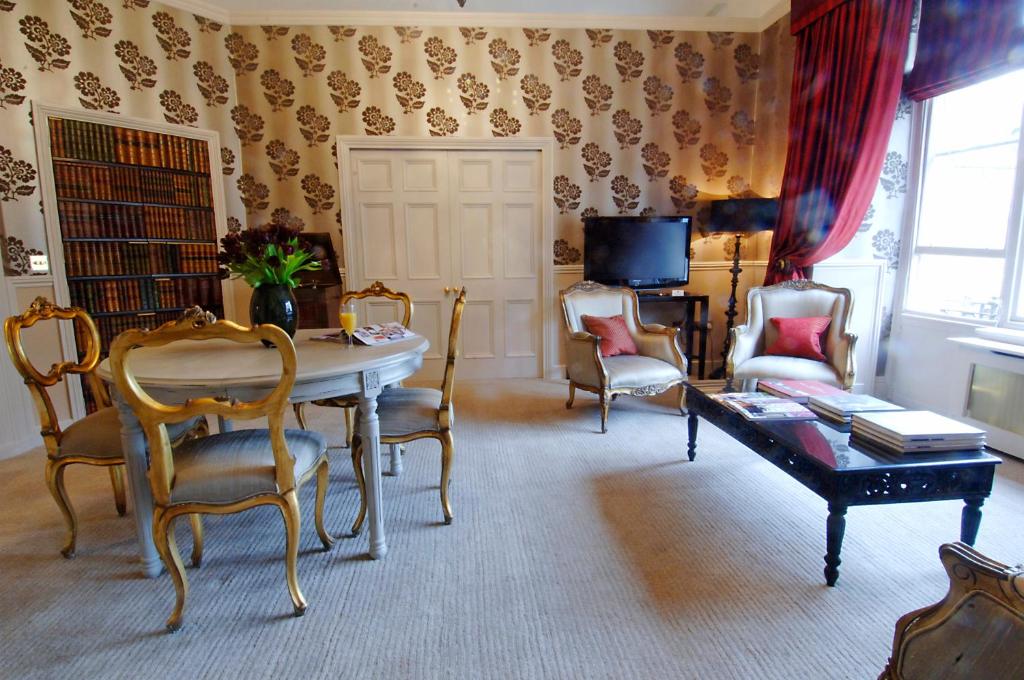 Located in the picturesque city of Wells, The Swan Hotel offers luxurious accommodation and a range of high-end amenities. This privately-owned 15th-century coaching inn boasts a prime location facing the magnificent Wells Cathedral. Guests can indulge in the hotel's charmingly decorated bedrooms, featuring original four-poster beds and cozy log fires. With its proximity to popular attractions such as Bath, Bristol, Wookey Hole Caves, Glastonbury Abbey, and historic houses, The Swan makes for an ideal base to explore Somerset. The hotel also features a beautiful courtyard garden and conference facilities that can accommodate up to 90 delegates. Dining at The Swan is a delightful experience with its unique oak-paneled restaurant serving both traditional and contemporary cuisine. Whether you are looking for a leisure break or planning a romantic weekend getaway or even hosting your dream wedding, The Swan Hotel offers an array of packages tailored to suit your needs.
– Stunning location facing Wells Cathedral
– Charming individually designed non-smoking bedrooms
– Courtyard garden for relaxation
– Conference facilities for up to 90 delegates
– Unique oak-paneled restaurant offering delicious cuisine
DoubleTree by Hilton Bristol South – Cadbury House (Yatton)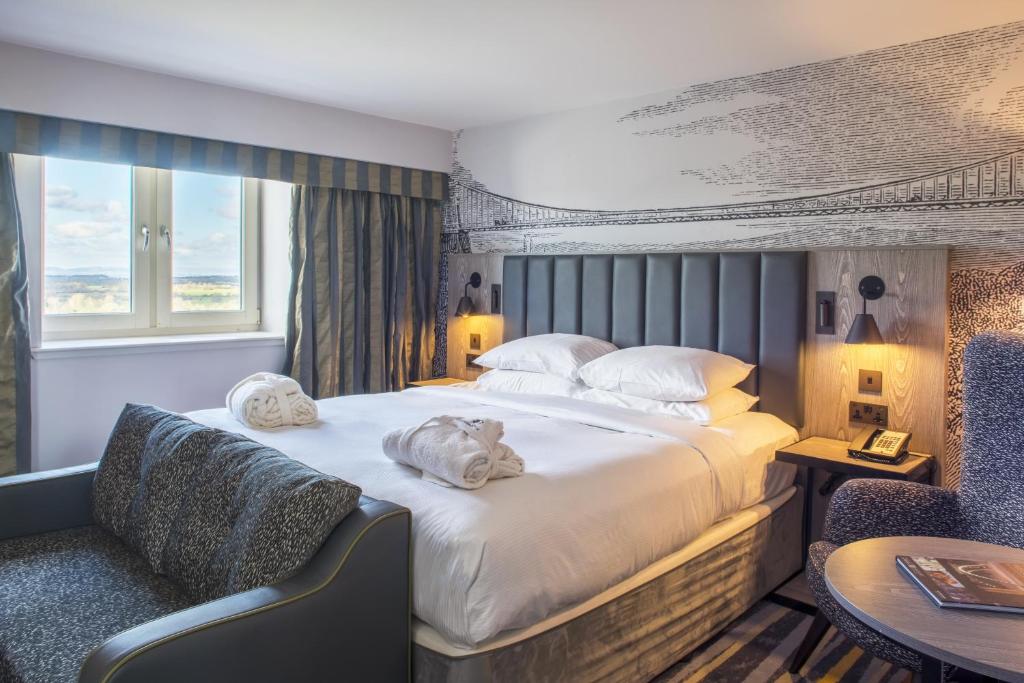 Nestled within 6 acres of picturesque landscape gardens in Avon, Bristol, the DoubleTree by Hilton Bristol South – Cadbury House is a stylish and contemporary hotel. Located just 12 miles from the city center and offering easy access to the M5 motorway, this hotel is conveniently situated for both business and leisure travelers. The hotel is also just a short 15-minute drive from Bristol Airport. With stunning views across the Bristol Channel and beyond, guests can enjoy a tranquil stay surrounded by beautiful grounds. The hotel offers free WiFi in public areas, ensuring guests can stay connected throughout their stay. Each room boasts modern facilities while echoing its historical surroundings with its décor. Guests have complimentary access to the superb health club and spa, which has been voted the best fitness club in the UK by the Fitness Industry Association. With facilities including a swimming pool, hot tub, sauna, and luxury treatment rooms, guests are able to indulge in ultimate relaxation during their stay. The on-site Marco Pierre White Steakhouse Bar & Grill offers interesting steakhouse meat-based menus alongside an impressive selection of world wines in stylish surroundings. For more casual dining options, there is also a lounge bar featuring personal tabletop TVs. In the morning, guests can enjoy a cooked full English breakfast to start their day off right. Business travelers will appreciate the available business facilities at the hotel, including metering rooms and audiovisual equipment for hire as well as printing and photocopying services. Additionally, Yatton Train Station with direct links to London is only a minute away from DoubleTree by Hilton Bristol South – Cadbury House.
Pros:
– Convenient location near both Bristol city center and Bristol Airport
– Beautiful grounds with stunning views
– Complimentary access to health club and spa
– On-site restaurant offering unique steakhouse menus
– Quality amenities for business travelers
Most Expensive Hotels in Somerset
Somerset, known for its idyllic countryside and historic charm, offers a range of luxurious accommodations that cater to discerning travelers seeking opulence and comfort. The most expensive hotels in Somerset boast unparalleled service, exquisite design, and breathtaking views. Each one is meticulously crafted to provide an unforgettable experience, with attention paid to even the smallest details. From grand country estates to contemporary boutique hotels, Somerset's high-end offerings promise a haven of indulgence for those seeking the ultimate luxury getaway in this picturesque region.
Hotel Indigo – Bath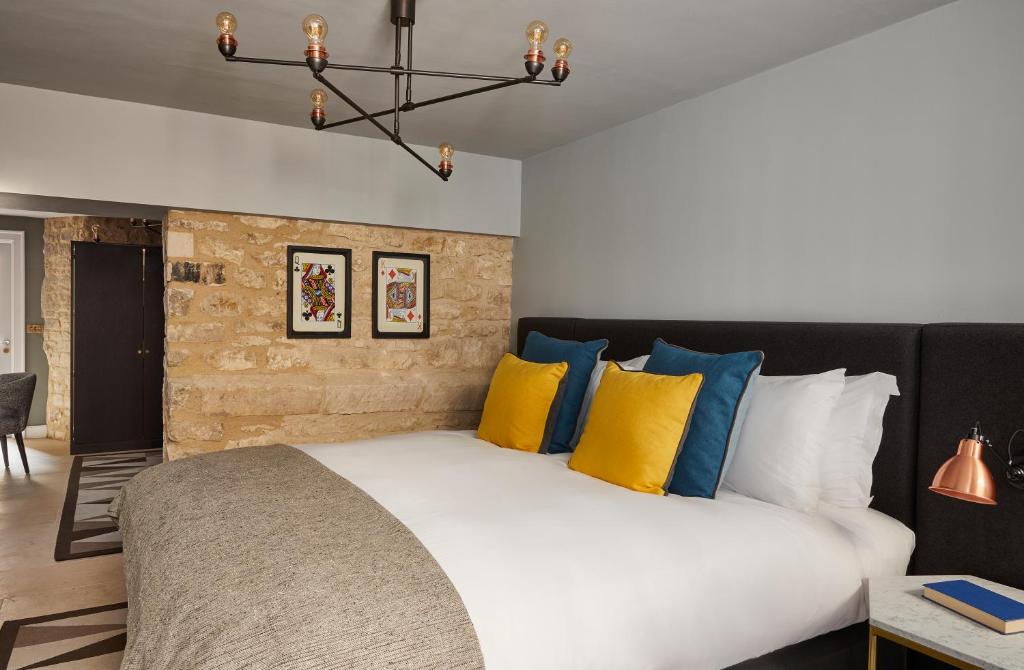 Located in the heart of historic Bath, Hotel Indigo – Bath is housed in an 18th-century Georgian building and offers a boutique hotel experience. With its stylish bedrooms, free Wi-Fi, and a bar restaurant, this hotel provides all the amenities you need for a luxurious stay. Each room features comfortable Hypnos beds with luxury Egyptian cotton linen, Nespresso coffee machines, air conditioning, and a 40-inch flat-screen TV. The contemporary design of the bedrooms seamlessly blends tradition with modernity. The on-site restaurant, The Elder by Mike Robinson, showcases contemporary British cuisine that focuses on sustainability, seasonality, and locally-sourced produce. Situated just moments away from the banks of the River Avon, Hotel Indigo – Bath is within walking distance of popular attractions such as Bath Abbey and Bath Rugby Club. Additionally, Thermae Bath Spa is only a short stroll away. If you're looking to explore further afield, Bristol is just a 30-minute drive from the hotel.
Pros:
– Convenient location in the heart of historic Bath
– Stylish and comfortable bedrooms with modern amenities
– On-site bar restaurant offering sustainable British cuisine
– Proximity to popular attractions such as Bath Abbey and Thermae Bath Spa
– Easy access to Bristol for additional exploration opportunities
Luxury Somerset Hotels Information
| | |
| --- | --- |
| 🛎️ Luxury Hotels in Somerset | 10 |
| 💵 Hotels Prices From | $226 |
| 💵 Highest price | $1070 |
| 🥇 Average Review Score | 8.5/10 |
| 🛏️ Average number of Rooms | 94 |
Top Luxury hotels in Somerset
| | |
| --- | --- |
| The Queensberry Hotel | 9.1/10 |
| The Bath Arms Hotel (Cheddar) | 8.9/10 |
| Hotel Indigo – Bath | 8.9/10 |
| The Bird | 8.7/10 |
| Hornsbury Mill | 8.7/10 |
FAQ
What are the top luxury hotels in Somerset?
Somerset offers a range of luxurious accommodations for discerning travelers. Some of the top luxury hotels in the city include The Castle Hotel, known for its historic charm and elegant rooms, and Babington House, a country house hotel with beautiful grounds and excellent spa facilities. Another popular choice is Charlton House Hotel, which boasts stunning views of the surrounding countryside and offers impeccable service to its guests.
Which luxury hotels in Somerset have the best views?
For breathtaking views, consider staying at Ston Easton Park, a magnificent mansion set in picturesque parkland that offers sweeping vistas of the rolling hills. Another option is Combe House Hotel & Restaurant, located amidst tranquil gardens and boasting panoramic views over the countryside. Both these hotels provide an unforgettable experience where you can relax while soaking up the beauty of your surroundings.
What amenities can I expect at luxury hotels in Somerset?
Luxury hotels in Somerset offer an array of amenities to ensure a comfortable stay. Typically, you can expect spacious and beautifully decorated rooms with plush beds and high-quality linens. Many luxury establishments also feature on-site spas with treatments such as massages or facials for ultimate relaxation. Additionally, fine dining options serving exquisite cuisine using locally sourced ingredients are often available at these hotels.
Are there any boutique luxury hotels in Somerset?
Certainly! If you're looking for something unique and intimate, consider staying at The Mount Somerset Hotel & Spa – a boutique hotel nestled within four acres of stunning gardens that exude tranquility. With its stylish decor and personalized service, this hotel provides an exclusive experience tailored to each guest's preferences.
What nearby attractions should I visit when staying at a luxury hotel in Somerset?
When staying at a luxury hotel in Somerset, be sure to explore some nearby attractions during your visit. One must-see destination is Glastonbury Tor – climb to the top for panoramic views across the county. Also, don't miss Cheddar Gorge, known for its stunning cliffs and caves that offer opportunities for adventurous activities like hiking or cave exploring. Additionally, a visit to Wells Cathedral is highly recommended
Popular Most Luxurious hotel destinations