As a connoisseur of all things opulent, I cannot help but marvel at the grandeur and elegance of luxury hotels in Prague. This picturesque city in Czechia boasts a rich cultural heritage and is home to some of the most luxurious accommodations in Europe. From majestic castles to chic boutique hotels, Prague has something for everyone seeking an indulgent escape.
One cannot mention luxury hotels in Prague without acknowledging the splendid architecture that surrounds them. The ornate buildings, steeped in history dating back centuries, provide a refined backdrop for guests looking to immerse themselves in the city's rich culture. Whether you're seeking panoramic views of Prague Castle or wish to indulge yourself with world-class spa treatments, these hotels spare no expense when it comes to offering their guests unparalleled comfort and convenience.
When it comes to dining experiences, luxury hotels in Prague do not disappoint either. Their world-renowned restaurants serve up delectable dishes prepared by master chefs using only the freshest ingredients sourced from local farms and markets. From finger-licking street food stalls to Michelin-starred establishments – one can find a plethora of options that will satiate even the most discerning palate here!
Most Luxurious Hotels in Prague
The Grand Mark Prague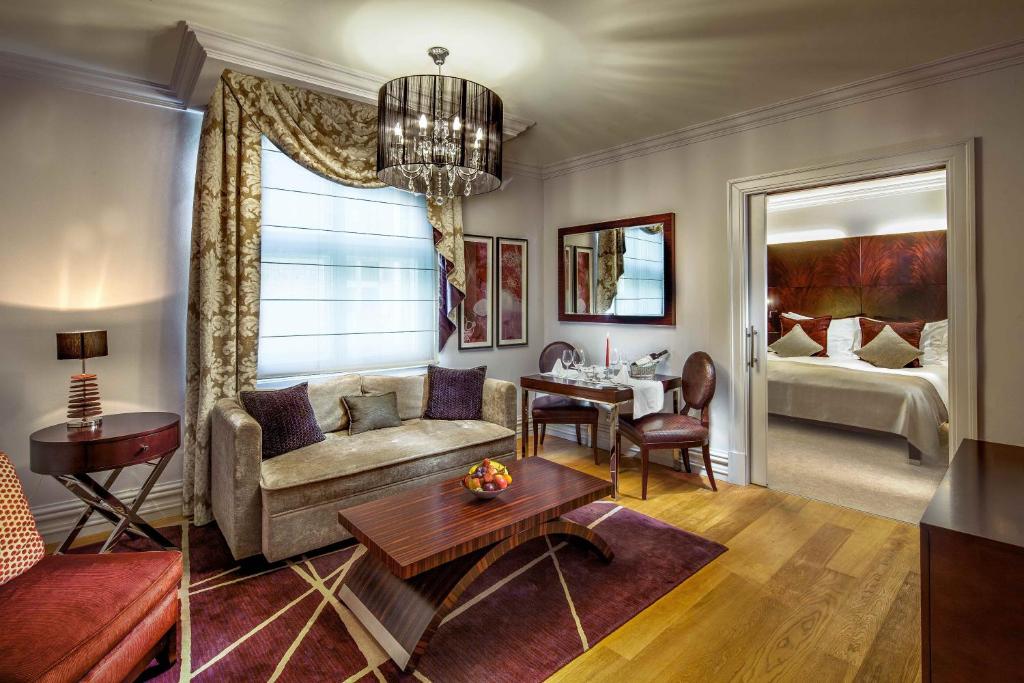 The Grand Mark Prague – The Leading Hotels of the World is a boutique hotel located in the heart of Prague, occupying a 17th-century residential palace. The hotel features well-furnished rooms, spacious bathrooms with heated floors and garden or street views, as well as modern design mixed with traditional elegance. Its private courtyard garden is a premier venue for dining and unforgettable occasions. Guests can enjoy meals at Le Grill Restaurant, Two Step Bar or Garden Restaurant, while a generous buffet breakfast offers local organic and homemade foods. A welcome drink voucher is also included for guests along with complimentary access to the fitness center.
– Prime location in the heart of Prague
– Beautifully designed interiors blending tradition and modernity
– Spacious, well-furnished rooms with separate living areas
– Private courtyard garden ideal for dining and events
– Complimentary access to fitness center
STAGES HOTEL Prague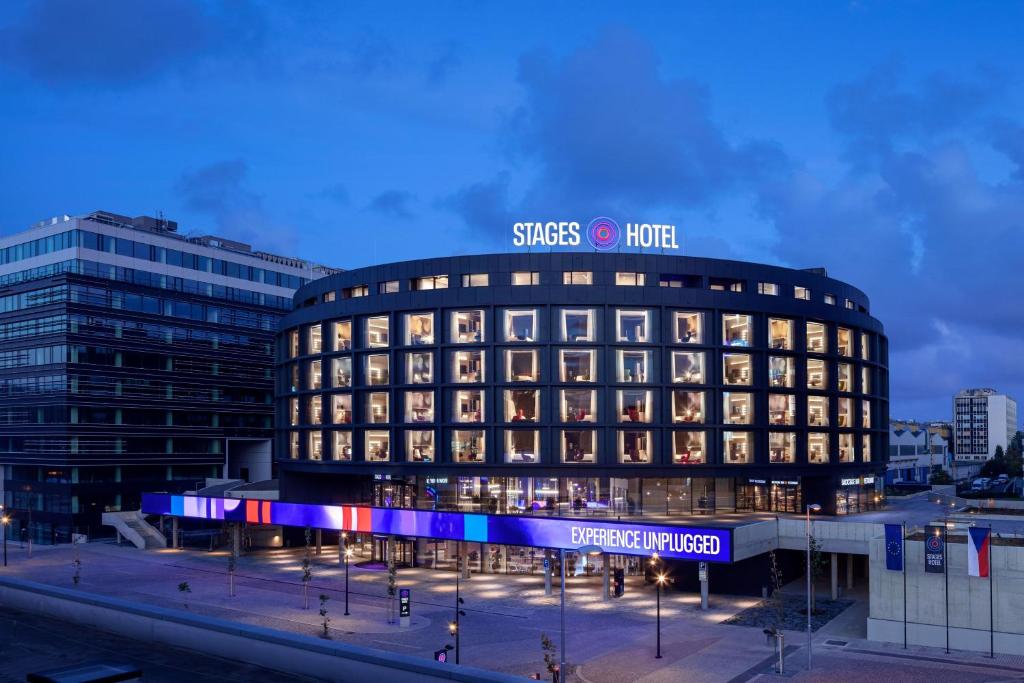 STAGES HOTEL Prague, a Tribute Portfolio Hotel is a newly opened 4-star hotel in Prague with a range of impressive features including on-site restaurant, bar and garden. Guests can also take advantage of free bikes, free WiFi and a 24-hour front desk complete with an ATM facility. The hotel comprises family rooms furnished with modern amenities such as air conditioning, flat-screen TV, private bathroom (including bath or shower and hairdryer) and comfortable bedding. An added convenience for guests is the availability of breakfast buffet and business center facilities. Additionally, the strategic location offers easy access to O2 Arena Prague which is located just steps away from the hotel while Municipal House is only 5.7 km away.
– Convenient location
– Modern Amenities
– Bicycles available for guests' use
– Business Center facility
– Professional customer service
Pytloun Chateau Hotel Ctěnice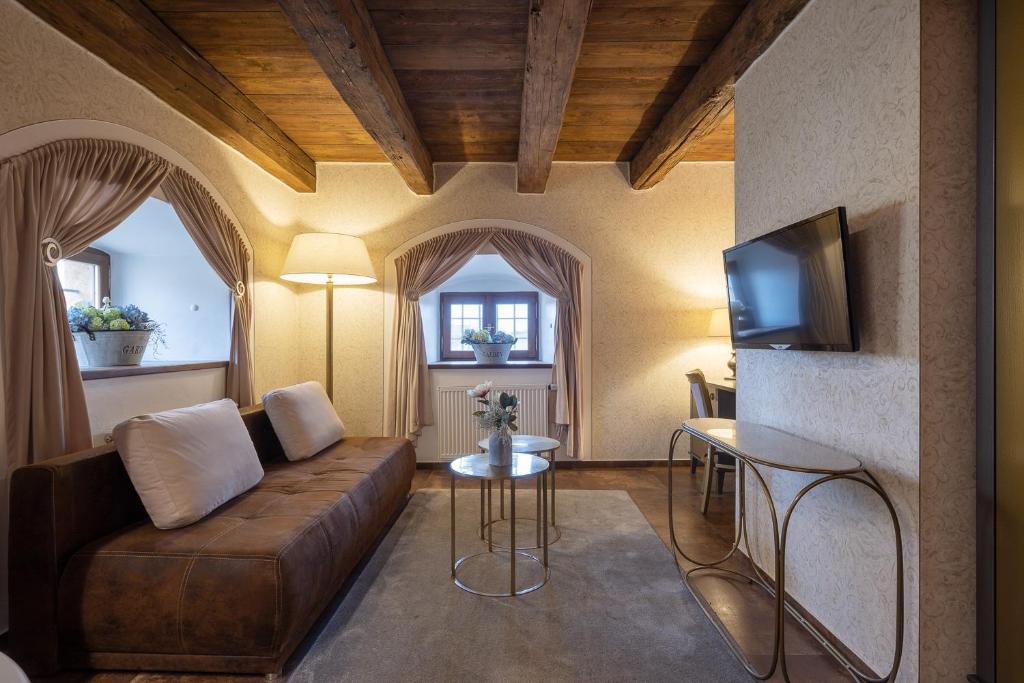 Pytloun Chateau Hotel Ctěnice is a rustic hotel located right next to the impressive Ctěnice Chateau, on the border of Prague and Central Bohemia. The hotel features on-site stables and Czech-European cuisine served at their restaurant. Guests can enjoy free admission to year-round exhibitions in the castle grounds showcasing local history and traditional crafts. The rooms are equipped with satellite TV, private bathrooms, and some offer courtyard views. Additionally, guests can unwind at the café or indulge in complimentary tapas snacks at the lobby bar from 14:00 until 16:00. With free parking available, guests can reach Prague's city center by car or public transport within 15 minutes.
– On-site stables for horse enthusiasts
– Free admission to year-round exhibitions showcasing local history and traditional crafts
– Complimentary tapas snacks offered at the lobby bar from 14:00 until 16:00
– Rustic rooms offering courtyard views
– Easy access to Prague's city center by car or public transport
Other places to stay in Prague
Luxury Hotels in Downtown Prague
Luxury hotels in downtown Prague embody the city's historical charm, featuring elegant architecture and lavish interiors. Each hotel stands out with its own unique style, providing guests with an exceptional experience that blends luxury and culture.
Hunger Wall Residence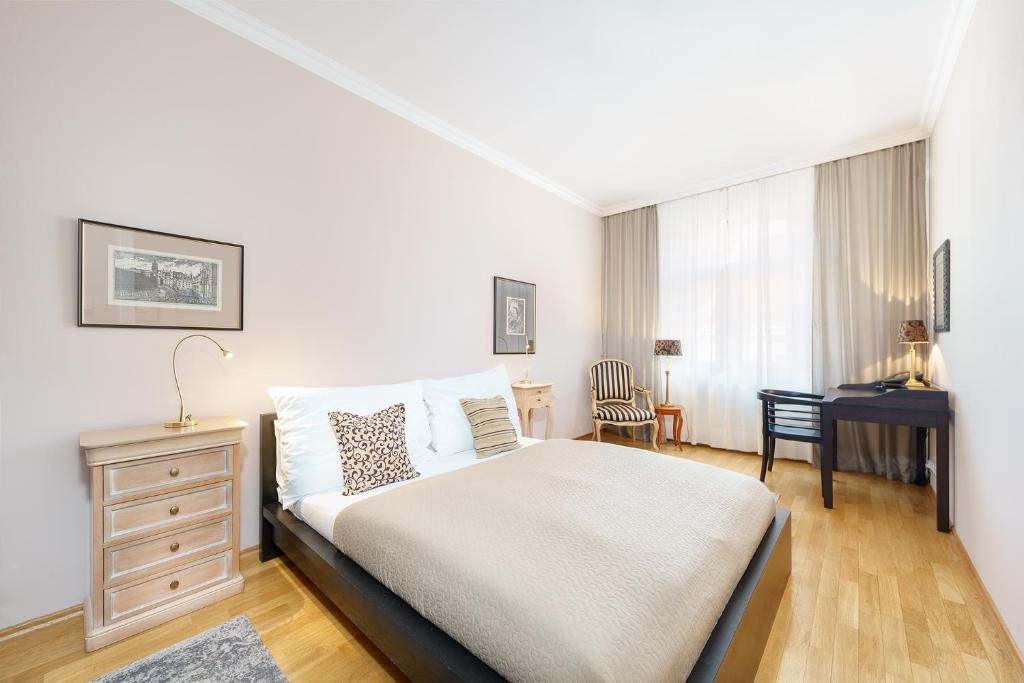 Hunger Wall Residence is a 4-star accommodation located in the heart of Prague, just a short walk away from Anděl Metro Station. This renovated 1903 building offers guests quiet surroundings to enjoy their stay in one of the well-furnished apartments, featuring kitchens and free Wi-Fi. The apartments include wood floors, modern furniture, and white linens with in-room facilities such as a kitchenette and laundry facilities. Each apartment also comes equipped with an LCD TV with satellite channels and a DVD player for entertainment purposes. Hotel staff can assist guests in booking tickets to cultural events at the nearby National Theatre or other attractions such as Charles Bridge and Prague Castle within 1 km from the residence. Additionally, Ujezd tram stop is conveniently located just 50 metres away.
Pros:
– Central location close to public transportation
– Well-equipped apartments with kitchens and laundry facilities
– Free Wi-Fi for all guests
– Assistance in booking tickets for cultural events available through hotel staff
– Quiet surroundings for a peaceful stay
LH Vintage Design Hotel Sax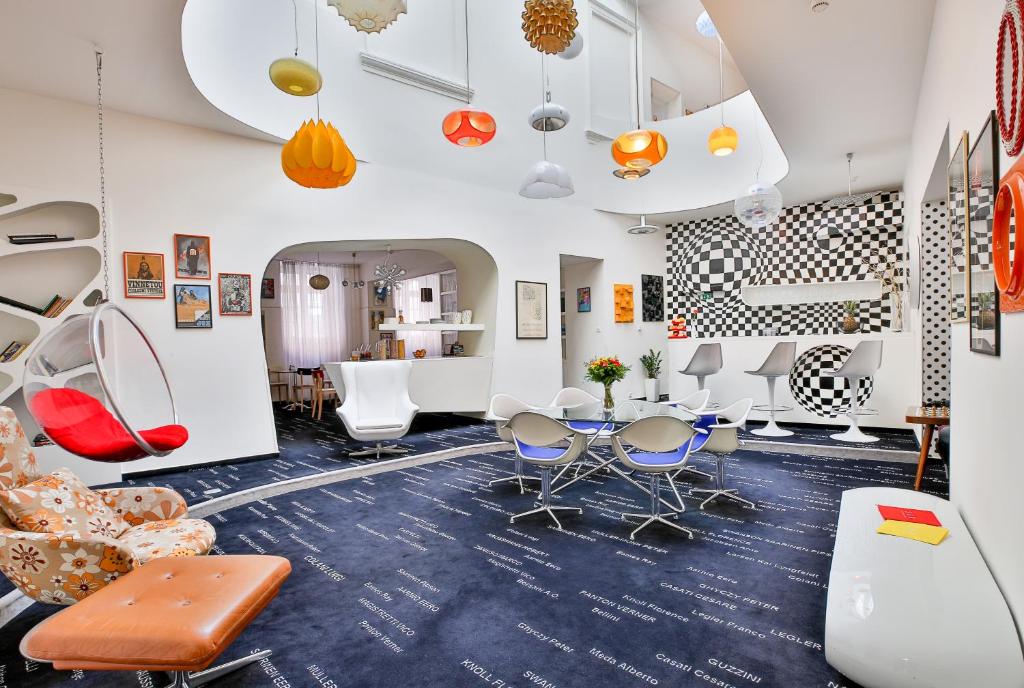 Located in the heart of the historic city centre and just a 5-minute walk from Prague Castle, LH Vintage Design Hotel Sax offers guests an immersive experience into the iconic designs of the 1950s, 60s, and 70s. Each room features original furniture pieces from renowned designers such as Panton, Colani, Saarinen and Eames. Guests can enjoy free WiFi access and a daily buffet breakfast with their stay. Some rooms even offer balconies or terraces with stunning views of Prague's skyline. The hotel is conveniently located near several landmarks including St. Nicholas Church, Schwarzenberg Palace and Charles Bridge which are all easily accessible by foot. Other key highlights include paid on-site parking options and an airport shuttle service for a fee.
– Great location in the heart of Prague
– Unique vintage design concept
– Free WiFi access throughout hotel
– Delicious daily buffet breakfast included with stay
– Paid on-site parking options available
Pytloun Kampa Garden Hotel Prague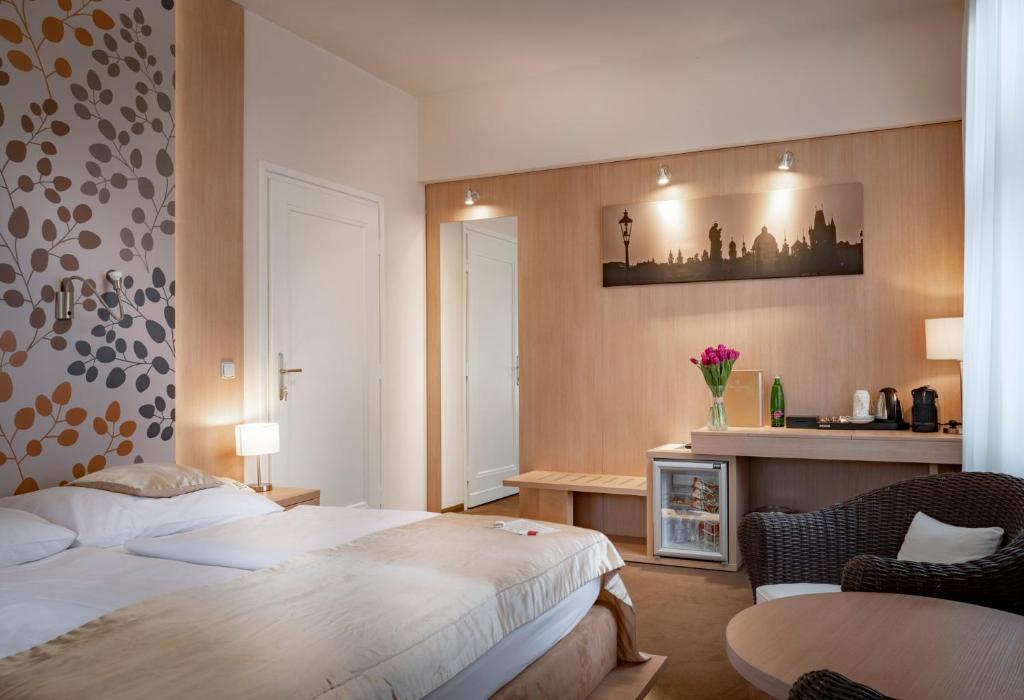 Nestled in the heart of Prague on Kampa Island, Pytloun Kampa Garden Hotel offers a serene and peaceful stay, surrounded by historic architectural wonders and the famous Charles Bridge. The spacious guest rooms offer stunning views of the river, castle or bridge while providing a comfortable and tranquil ambiance. Guests can enjoy free Wi-Fi and nearby paid parking (upon confirmation).
– Quiet location in historic heart of Prague
– Spacious and comfortable guest rooms with scenic views
– Free Wi-Fi access
– Paid parking available upon prior confirmation
– Close proximity to major landmarks
5 Star Luxury Hotels
5 Star Luxury Hotels offer an opulent experience for guests who demand the best. From premium bedding to world-class dining, these hotels provide impeccable service and luxurious amenities to ensure a memorable stay.
Hotel Nerudova 211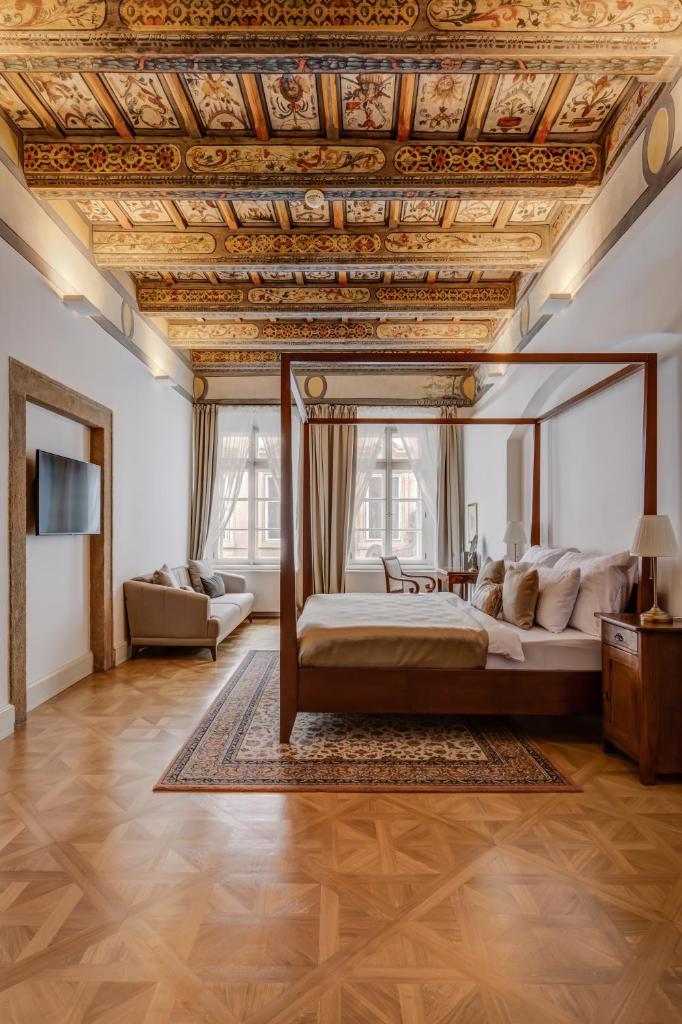 Hotel Nerudova 211 is a newly renovated 4-star hotel located in the desirable Prague 1 district, just a stone's throw away from iconic landmarks such as St. Vitus Cathedral, Prague Castle and Charles Bridge. Guests can enjoy the convenience of a concierge service and tour desk, with additional amenities including a 24-hour front desk, airport transfers, an ATM and free WiFi throughout the property. The rooms are elegantly furnished and equipped with modern conveniences such as flat-screen TVs, private bathrooms and seating areas. Some rooms even come with fully-equipped kitchens for guests who prefer to prepare their own meals. With its rich history dating back to the eighteenth century when it was owned by renowned architect Jan Blažej Santini, guests are sure to be enchanted by its authentic wooden ceilings, ribbed vaults and wall fresco paintings.
– Prime location near popular tourist attractions
– Fully-equipped kitchens in selected rooms
– Rich historical charm
– Helpful staff offering concierge services
Small Luxury Palace Residence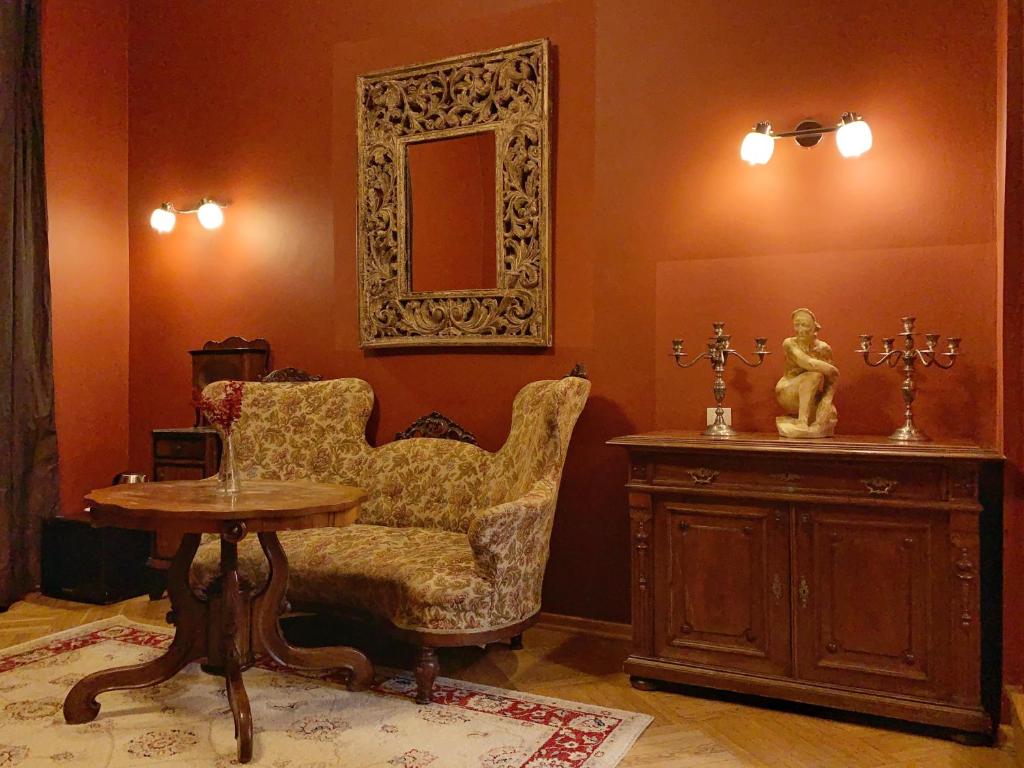 Small Luxury Palace Residence is a 17th-century building located in the heart of historic Prague. It is just a short stroll away from the popular attractions such as Prague Castle, Charles Bridge and St. Nicholas Cathedral. The picturesque Mala Strana neighbourhood houses this beautiful residence with apartments that are furnished with Czech antiques and original oil paintings. Free internet access is available for guests' convenience.
– Conveniently located near major tourist attractions
– Picturesque neighbourhood to explore
– Rooms decorated with unique Czech antiques
– Original oil paintings add to the charm and character of the place
– Free internet access for guests
Golden Star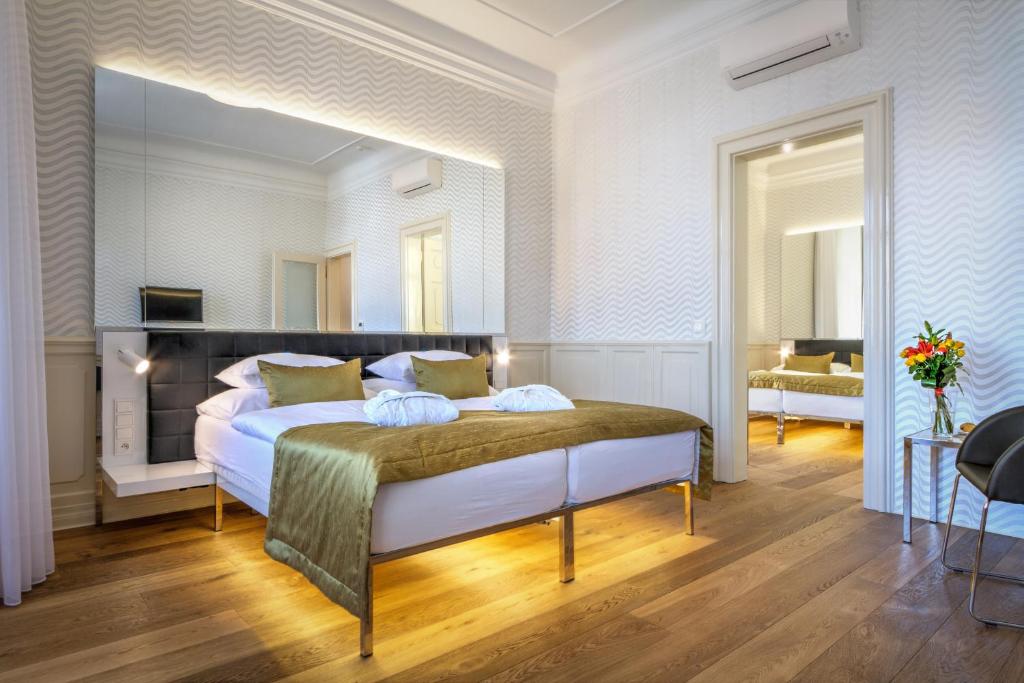 The Golden Star hotel is a luxurious Baroque building located beneath the Prague Castle. The hotel offers stunning panoramas of Old Town, Lesser Town and Prague Castle which can be accessed within 5 minutes by foot. Guests can also explore the Old Town and Charles Bridge, just a 15-minute walk away. Boasting individually controlled air conditioning, designer furniture, satellite flat-screen TV, minibar and grand modern bathrooms with bathtubs or showers plus hairdryers in all rooms. The restaurant features historic vaulted ceilings serving typical Czech dishes alongside international cuisine with daily breakfast buffet options available to guests. Free WiFi throughout the property is also provided as well as limited parking facilities directly outside of the hotel.
Pros:
– Stunning panoramic views over Prague from below the castle
– Luxurious design featuring decorated ceilings and individual air conditioning
– Historic vaulted ceiling restaurant with typical Czech dishes
– Daily breakfast buffet provided for guests
– Free WiFi throughout property
Most Expensive Hotels in Prague
Prague boasts some of the most luxurious hotels in the world, with prices varying from several hundred to thousands of dollars per night. These high-end accommodations offer an unforgettable experience for discerning travelers seeking ultimate comfort and exceptional service.
U Stare Pani – At the Old Lady Hotel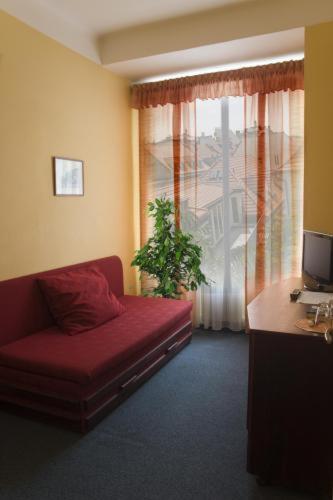 The U Stare Pani – At the Old Lady Hotel is a historic building from the 15th century that offers visitors a luxurious stay. Located in the heart of Prague, this hotel occupies a pedestrian zone and provides free WiFi access to its guests. The hotel features spacious, air-conditioned rooms with satellite TV, minibars and hairdryers. Moreover, it also has an on-site restaurant serving both Czech and international dishes.
– Occupies a historic building dating back to the 15th century
– Located in a prime location within Prague's pedestrian zone
– Offers free WiFi access to guests
– Spacious and air-conditioned rooms equipped with modern amenities
– Delicious Czech and international cuisine served at on-site restaurant
The President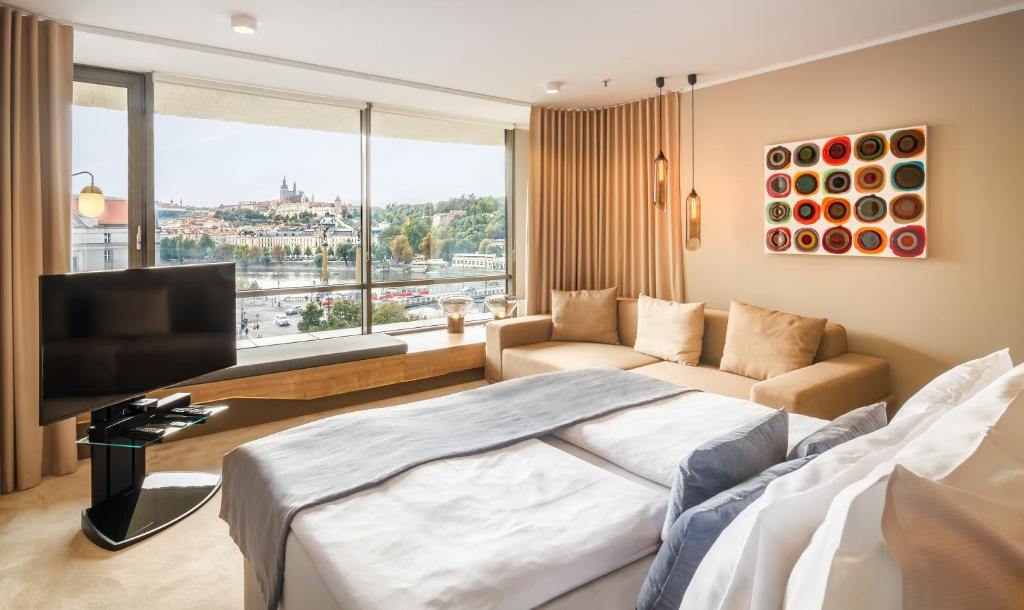 The President is a modern business hotel located in the heart of Prague's Old Town, on the banks of the Vltava River. Guests can enjoy free access to the hotel wellness center and choose from elegantly decorated and spacious rooms that offer stunning views of the city's iconic landmarks. The hotel also provides parking for up to 10 cars at an additional cost, and serves daily breakfast in its restaurant. Other nearby attractions include Old Town, the Jewish Quarter, and Parizska shopping street.
Pros:
– Free access to wellness center
– Stunning views of Prague Castle, river, or Old Town from rooms
– Daily breakfast served in restaurant
– Parking available for up to 10 cars (at additional cost)
– Prime location near Old Town, Jewish Quarter, and Parizska shopping street
Luxury Prague Hotels Information
| | |
| --- | --- |
| 🛎️ Luxury Hotels in Prague | 11 |
| 💵 Hotels Prices From | $289 |
| 💵 Highest price | $1397 |
| 🥇 Average Review Score | 9.1/10 |
| 🛏️ Average number of Rooms | 54 |
Top Luxury hotels in Prague
| | |
| --- | --- |
| Hotel Nerudova 211 | 9.9/10 |
| Hunger Wall Residence | 9.6/10 |
| The Grand Mark Prague | 9.4/10 |
| STAGES HOTEL Prague | 9.4/10 |
| Golden Star | 9.3/10 |
FAQ
What are some of the top luxury hotels in Prague?
Prague, Czechia is home to many luxurious hotels that cater to the needs and wants of every traveler. Some notable establishments include The Augustine, Mandarin Oriental, Four Seasons Hotel Prague, and Aria Hotel Prague. Each hotel boasts unique features and exceptional services that distinguish them from one another. For instance, The Augustine stands out for its historic charm as it was originally built as a monastery in the 13th century. Meanwhile, Mandarin Oriental provides guests with stunning views of the city's landmarks such as Charles Bridge and Prague Castle.
What amenities can guests expect at luxury hotels in Prague?
Guests staying at luxury hotels in Prague can expect top-notch amenities that aim to provide them with an unforgettable experience. These may include access to spas and wellness centers where they can indulge in massages and other treatments, fitness centers equipped with state-of-the-art equipment for their workout routines, rooftop terraces or gardens offering panoramic views of the city's skyline while enjoying cocktails or fine dining options offered by gourmet restaurants located within the premises.
Are luxury hotels in Prague expensive?
Staying at luxury hotels comes with a hefty price tag but visitors to Prague can still find affordable options based on their budget preferences. Rates vary depending on factors like location within the city center or proximity to popular attractions including Old Town Square or Wenceslas Square among others – seasonality also plays a role during peak travel periods like summer months when demand is high which drives prices up accordingly but rates tend to drop during off-peak seasons.
How do I book a stay at a luxury hotel in Prague?
Many reputable booking websites offer travelers opportunities to book stays at luxurious hotels – these range from online travel agencies (OTAs) like Expedia.com or Booking.com which provide listings for various accommodation options worldwide including those located within Europe such as Czechia's capital city of Prague. Visitors can also book directly with the hotels of their choice by contacting them through their websites or calling them directly to inquire about availability and rates.
What activities can I partake in while staying at a luxury hotel in Prague?
Prague is rich in culture and history, therefore visitors who opt to stay at luxurious hotels will have access to plenty of activities. These range from guided tours around the city's landmarks like Charles Bridge, Old Town Square or Prague Castle, as well as museum visits such as The National Museum or The Jewish Museum. Visitors can also choose to explore the city on foot or bike rides around neighborhoods like Vinohrady which feature picturesque streets lined with art nouveau buildings and hip cafes popular among locals and tourists alike.
Popular Most Luxurious hotel destinations