Welcome to the enchanting world of opulence and elegance in Northumberland, UK. Nestled amidst breathtaking landscapes and steeped in rich history, Northumberland is a destination that seamlessly blends natural beauty with refined luxury. Allow me to be your travel companion as we unveil the hidden gems of this remarkable region, where regal castles stand tall against a backdrop of rolling hills and pristine coastlines.
Prepare to be captivated by an array of exquisite accommodations that epitomize indulgence and sophistication. From grand manor houses to charming boutique hotels, Northumberland offers a plethora of options for discerning travelers seeking the crème de la crème of hospitality experiences. Immerse yourself in timeless charm as you step into lavish suites adorned with plush furnishings, elegant artwork, and breathtaking views. Experience unrivaled comfort as attentive staff cater to your every whim, ensuring an unforgettable stay.
As we embark on this extraordinary journey through Northumberland's luxury hotels, get ready to immerse yourself in the lap of extravagance while discovering the region's striking landscapes and rich cultural heritage. Are you ready for an unparalleled experience? Let us delve into this captivating world where luxury meets history and nature intertwines with sophistication.
Most Luxurious Hotels in Northumberland
Slaley Hall Hotel (Slaley)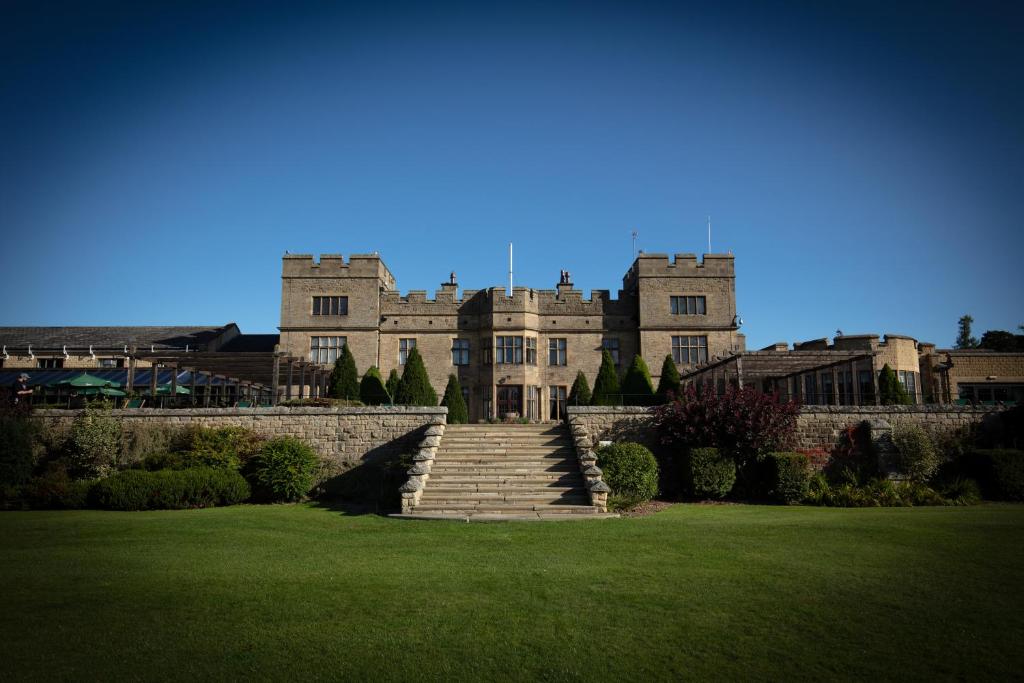 Slaley Hall Hotel, Spa & Golf Resort is a stunning Edwardian mansion house nestled in 1000 acres of picturesque Northumberland countryside. Located just 24 miles from Newcastle, this luxurious hotel offers guests a perfect blend of old-world charm and modern amenities. With its lavish spa, two championship golf courses, and three exquisite restaurants, Slaley Hall Hotel is an ideal retreat for those seeking relaxation and indulgence. The hotel's leisure club and spa boast a large swimming pool, sauna, steam room, whirlpool, beauty spa, and fully equipped gym. The stylish rooms are elegantly decorated with a spacious work desk and comfortable seating area. Many rooms also offer breathtaking views of the golf course. Guests can enjoy a wide range of outdoor activities including off-road driving, quad biking, archery, clay pigeon shooting, and segway tours. Dining options at the hotel include Duke's Grill, Claret Jug, Hadrian's Brasserie – all serving delicious modern British cuisine made with locally sourced ingredients. For those looking to unwind after a day of exploration or play on the green fairways there is a cocktail bar and Whisky Snug overlooking the beautiful Northumberland landscape. Surrounded by scenic countryside with plenty of walking and cycling routes nearby; Slaley Hall Hotel ensures that guests can make the most of their stay while also enjoying convenient access to popular nearby towns such as Hexham and Corbridge which are just a short drive away. With its idyllic setting and extensive range of amenities available on-site; this extraordinary hotel promises an unforgettable luxury experience.
– Expansive grounds offering stunning views
– Luxurious spa facilities for ultimate relaxation
– Two PGA Championship golf courses for avid golfers
– Three exquisite restaurants serving modern British cuisine
– Convenient location close to popular attractions
Manor House Hotel and Restaurant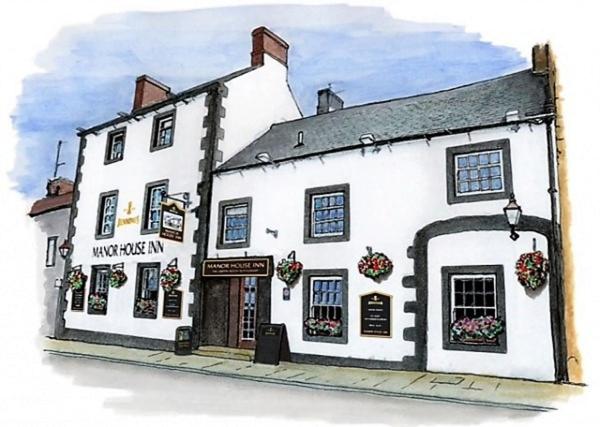 Opened in July 2019, the Manor House Hotel and Restaurant is a luxurious 4-star hotel located in Haltwhistle. Situated just 7.5 km from Thirlwall Castle, this stunning property offers guests a tranquil retreat surrounded by beautiful gardens. With amenities such as free private parking, a shared lounge, and a terrace, guests will feel right at home. The hotel also boasts excellent dining options with an on-site restaurant and bar serving delicious meals throughout the day. The location is perfect for outdoor enthusiasts, as activities like hiking and cycling can be enjoyed in the surrounding area. With comfortable rooms featuring modern amenities like flat-screen TVs and private bathrooms, guests are guaranteed a pleasant stay at Manor House Hotel and Restaurant.
– Beautiful garden surroundings
– On-site restaurant and bar
– Free private parking
– Ideal location for outdoor activities
– Comfortable and modern rooms
Battlesteads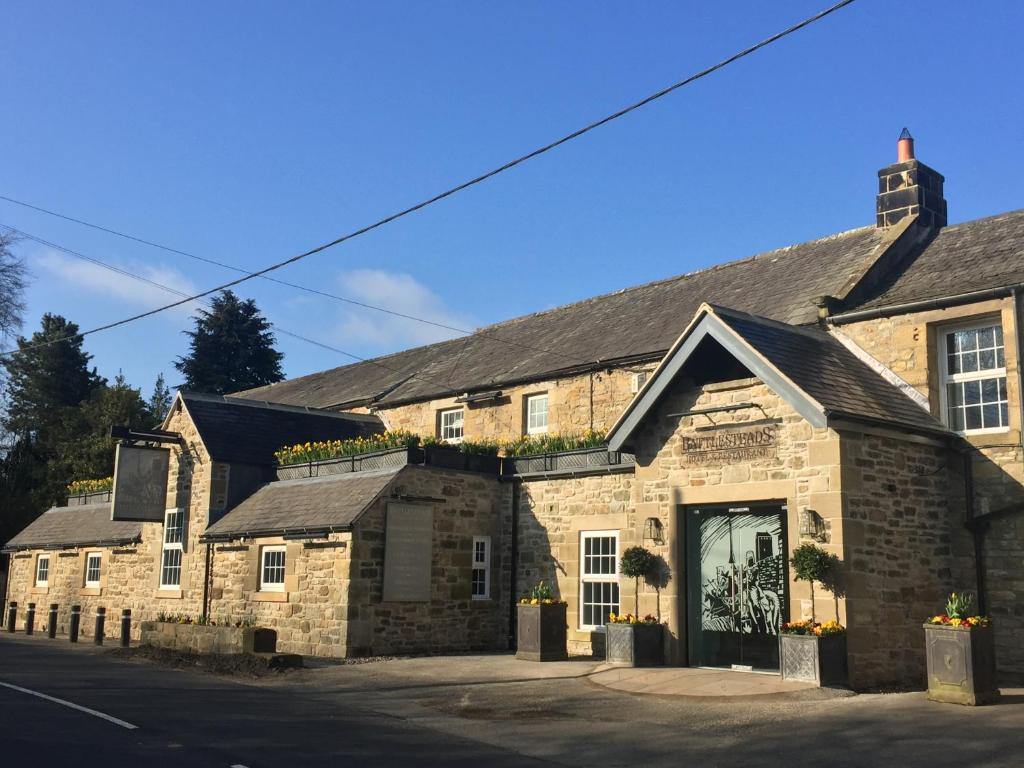 Battlesteads is a stylish country inn, converted from an 18th-century farmstead, located in the beautiful countryside near the Roman Wall. With its en suite rooms and 80-seat restaurant, guests can enjoy a comfortable stay while indulging in delicious meals. The inn prides itself on its 'Green' credentials, earning a Gold Award from the Green Tourism Business Scheme. Featuring beamed ceilings and a cosy wood-burning stove, Battlesteads maintains a charming Northumbrian country atmosphere. The addition of a light and airy conservatory that opens onto a patio and walled garden adds to the overall appeal of this traditional inn.
Pros:
– Beautiful countryside location near the Roman Wall
– 'Green' credentials with Gold Award
– Charming Northumbrian country atmosphere
– En suite rooms for added comfort
– Delicious dining options at the 80-seat restaurant
Other places to stay in Northumberland
Luxury Hotels in Downtown Northumberland
Luxury hotels in Downtown Northumberland offer an exquisite experience for discerning travelers seeking the pinnacle of comfort and sophistication. Nestled in the heart of this vibrant city, these establishments seamlessly combine elegance with modernity, providing a sanctuary for relaxation and indulgence. From opulent accommodations to world-class dining options, every aspect is meticulously designed to cater to the desires of the most discerning guests. With impeccable service and attention to detail, these luxury hotels in Downtown Northumberland ensure an unforgettable stay that embodies both grandeur and refined simplicity.
Eshott Hall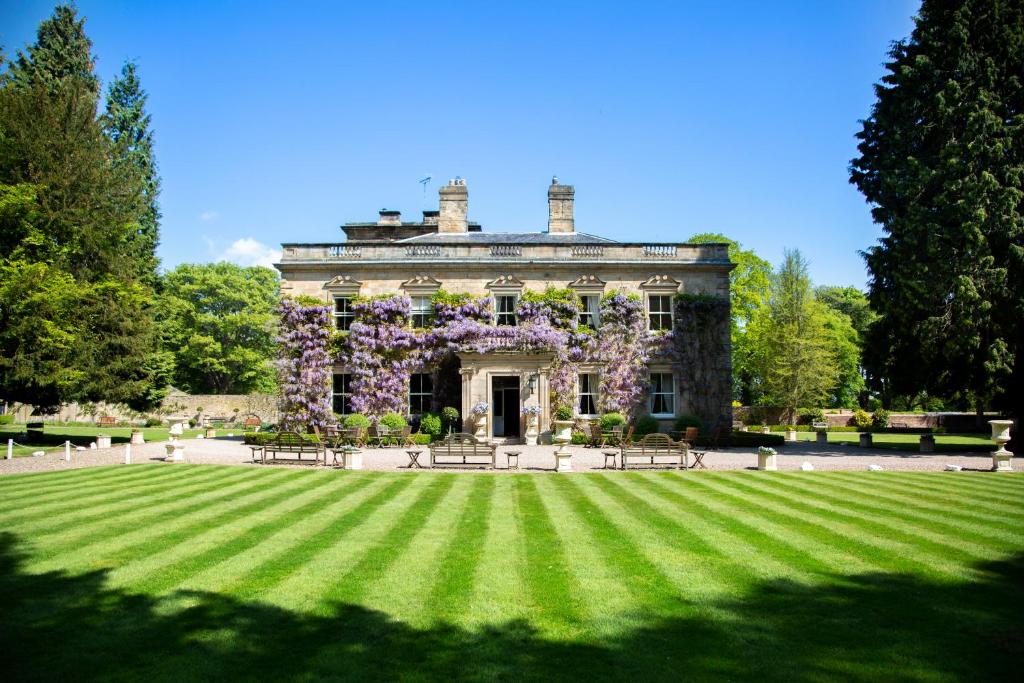 Set in private grounds, Eshott Hall is a 17th-century luxury guest house offering beautifully decorated bedrooms with period features. Located just a short drive from Newcastle, this 4-star hotel provides free parking and Wi-Fi in public areas. The renowned Eshott Hall Restaurant has received 2 AA Rosettes for its fine dining experience, showcasing creative menus with locally sourced ingredients. Guests can enjoy scenic views from their sumptuous rooms, which are equipped with luxury toiletries, plasma-screen TVs, and bathrobes. The hotel also boasts enchanting gardens, woodland surroundings, a tennis court, an elegant drawing room, and a grand library. For outdoor enthusiasts, the sandy beaches of Northumberland and Northumberland National Park are within easy reach. Free Wi-Fi in public areas; Award-winning fine dining at Eshott Hall Restaurant; Scenic views from sumptuous bedrooms; Enchanting gardens and woodland surroundings; Convenient access to sandy beaches and national park activities
Marshall Meadows Manor House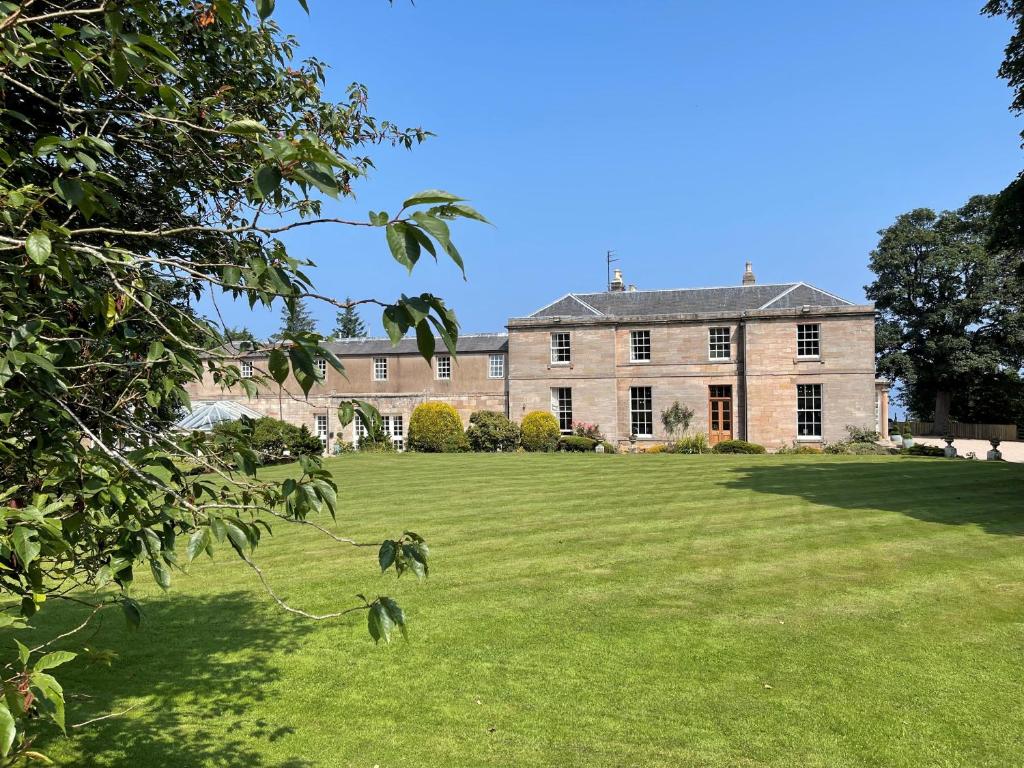 Located just 300 yards from the Scottish Border, Marshall Meadows Manor House is England's most northerly hotel. Situated in 15 acres of enchanting woodland gardens, this luxurious hotel offers breathtaking sea views and an exceptional dining experience. Only a mile away from Berwick-upon-Tweed, with its historic Elizabethan walls and mainline railway station, guests can easily explore the surrounding area. The restaurant at Marshall Meadows Manor House features two levels, including a wood-panelled mezzanine floor and a ground floor with a soaring high ceiling. Visitors can also enjoy direct access to the renowned Berwickshire Coastal Path that runs alongside the hotel's grounds. Each elegantly appointed room boasts a bathroom with power showers and a large bath, as well as tea/coffee making facilities and ironing amenities for convenience. Guests can indulge in delicious evening meals and bar snacks which are served every night from 18:30, while sandwiches and homemade soup are available throughout the day.
– Stunning location near the Scottish Border
– Beautifully landscaped woodland gardens
– Exquisite sea views
– Convenient access to Berwick-upon-Tweed attractions
– Excellent dining options
Langley Castle Hotel
Langley Castle Hotel is a magnificent 14th-century castle nestled in a 12-acre woodland estate. Steeped in history, this award-winning castle offers luxury accommodations with features like four-poster beds and window seats set in the ancient stone walls, providing breathtaking views of the picturesque grounds. Indulge in a romantic candlelit dinner at Josephine's Restaurant, which has been awarded 2 AA Rosettes for its exquisite cuisine. The castle boasts 7-foot thick walls and a superb drawing room with stained-glass windows and a cozy log fire, creating an atmosphere of elegance and comfort. With free Wi-Fi throughout the building and complimentary on-site parking available, Langley Castle is the perfect base for exploring nearby attractions such as Hadrian's Wall, located just 5 miles away. Additionally, Newcastle city centre is less than a 40-minute drive from the castle.
– Luxurious rooms featuring four-poster beds
– Stunning views of the beautiful grounds
– Fine dining experience at Josephine's Restaurant
– Cozy drawing room with stained-glass windows and log fire
– Convenient location for exploring Hadrian's Wall and Newcastle city centre
5 Star Luxury Hotels
5 Star Luxury Hotels are the epitome of opulence and indulgence. They offer a sophisticated and elegant experience, providing guests with unparalleled comfort and exceptional service. From exquisite decor to lavish accommodations, these hotels pride themselves on attention to detail and creating an unforgettable stay. With world-class dining options, state-of-the-art facilities, and top-notch amenities, 5 Star Luxury Hotels ensure that every need is met with utmost care and expertise. Whether for business or pleasure, these exclusive establishments are renowned for offering a seamless blend of luxury and relaxation, making them the ultimate choice for discerning travelers seeking the finest experiences.
St Mary's Inn (Morpeth)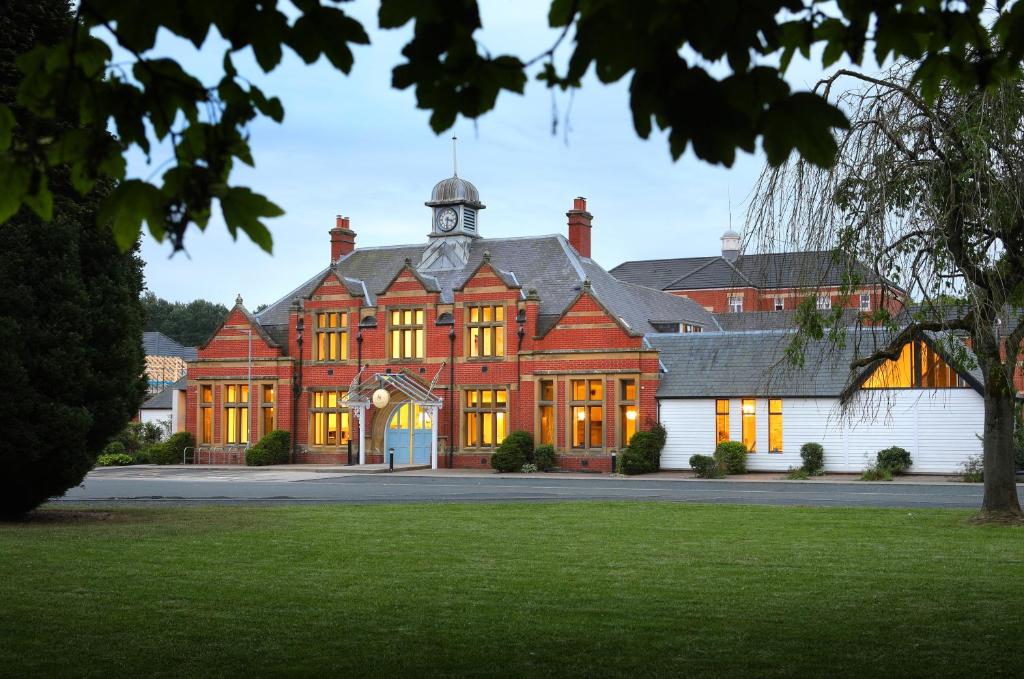 St Mary's Inn, located in Morpeth, is a luxurious 4-star hotel that opened its doors in February 2022. Situated just 23 km away from Northumbria University, this stunning accommodation offers guests a shared lounge, restaurant, and bar. With free WiFi throughout the property and a non-smoking environment, St Mary's Inn guarantees a comfortable stay for all guests. Start your day with a delicious Full English/Irish or vegetarian breakfast before exploring the surrounding area. The hotel also boasts a sun terrace for relaxation and entertainment options such as darts. Conveniently located near Newcastle Train Station (24 km) and Sage Gateshead (24 km), this hotel is perfect for both leisure and business travelers. For those flying in, Newcastle International Airport is just 25 km away from St Mary's Inn.
– Newly opened luxury hotel
– Free WiFi throughout the property
– Delicious breakfast options available
– Relaxing sun terrace
– Close proximity to popular attractions and transportation links
Anglers Arms (Alnwick)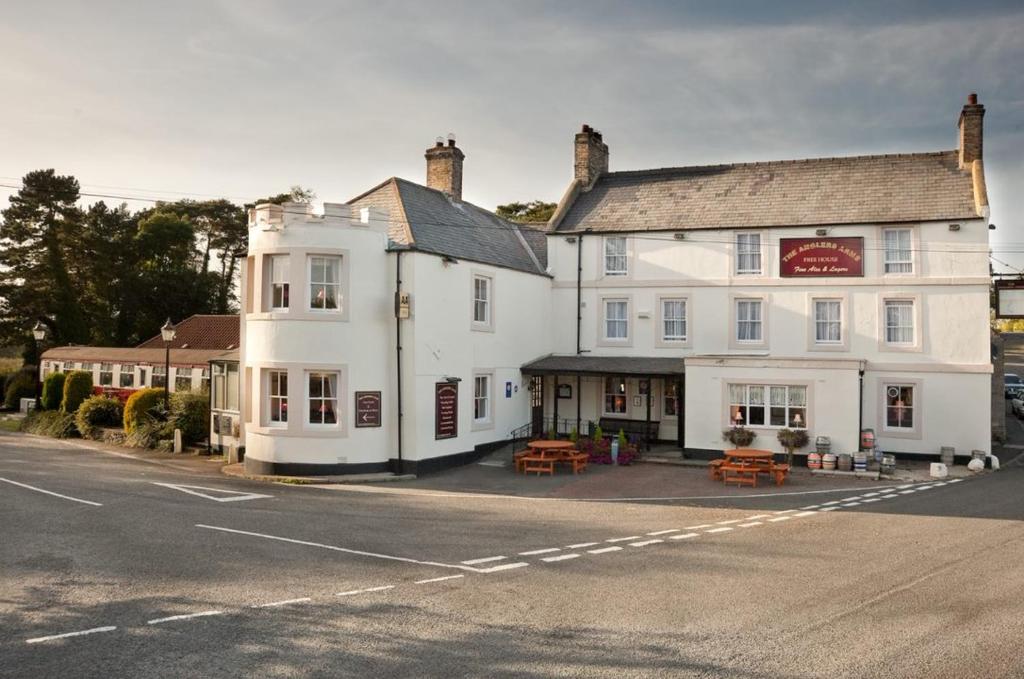 Anglers Arms, a luxurious 4-star hotel located in Alnwick, opened its doors in January 2022. With its shared lounge, restaurant, bar, and water sports facilities, this hotel offers a range of amenities to ensure a comfortable and enjoyable stay. The property is non-smoking and conveniently situated just 22 km from the famous Alnwick Castle.
The guest rooms at Anglers Arms are well-appointed and feature modern amenities such as a TV and kettle. Selected rooms even come with a fully-equipped kitchen including a fridge, oven, and dishwasher. Bed linen and towels are provided for added convenience.
Guests can start their day with either a continental or Full English/Irish breakfast offered by the accommodation. For families traveling with children, there is also a children's playground available on-site. Additionally, guests can take advantage of the hotel's prime location to engage in activities like fishing and cycling in the beautiful surroundings of Alnwick.
For those looking to explore further afield, Northumbria University is just 38 km away while Theatre Royal is also within easy reach at the same distance. Newcastle International Airport is the nearest airport to Anglers Arms at only 33 km away.
Pros:
– Newly opened luxury hotel
– Convenient location near Alnwick Castle
– Well-equipped guest rooms with kitchenettes available
– Varied breakfast options offered
– Opportunities for outdoor activities like fishing and cycling nearby
Le Petit Chateau & William de Percy (Otterburn)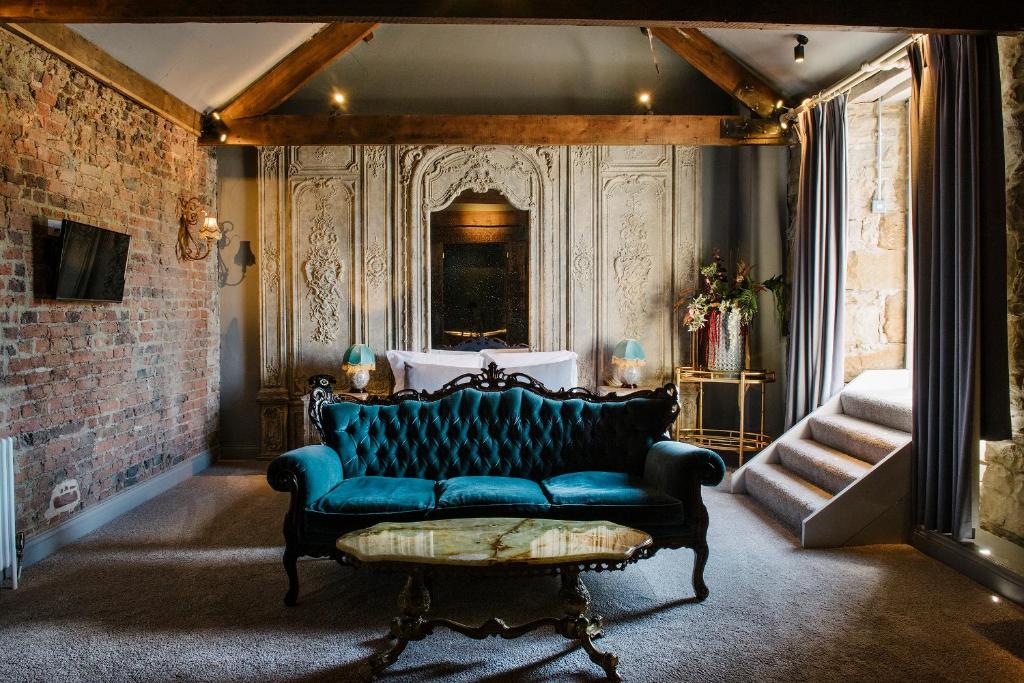 Located in the picturesque village of Otterburn, Le Petit Chateau & William de Percy offers a luxurious and unforgettable stay. This charming hotel boasts comfortable accommodation with family rooms available, ensuring a perfect retreat for all guests. The well-appointed rooms feature modern amenities such as flat-screen TVs, satellite channels, kettles, showers, hairdryers, and desks. Each room also includes a wardrobe and a private bathroom for convenience. With free WiFi throughout the property and 24-hour front desk service, guests can enjoy seamless connectivity and attentive assistance throughout their stay. Additionally, the on-site restaurant presents delectable culinary delights while the bar invites visitors to unwind with their favorite drinks. The hotel also offers free private parking and a beautiful garden for guests to explore at their leisure. As an added bonus, there is a terrace where visitors can relax outdoors while taking in stunning views of the surroundings. To start off the day on a high note, guests are treated to a scrumptious Full English/Irish breakfast each morning. Conveniently located just 43 km away from Newcastle International Airport, Le Petit Chateau & William de Percy provides an idyllic escape for those seeking tranquility in Northumberland.
– Charming village location
– Comfortable family rooms
– Delicious on-site restaurant
– Beautiful garden and terrace
– Attentive 24-hour front desk service
Most Expensive Hotels in Northumberland
Located in the picturesque region of Northumberland, some of the most expensive hotels boast an unrivaled blend of opulence, sophistication, and exquisite design. With breathtaking views of the surrounding countryside or stunning coastlines, these exclusive retreats offer guests a luxurious escape from everyday life. From meticulously decorated suites to world-class service, every detail has been carefully curated to ensure a truly extraordinary stay. Indulge in fine dining experiences showcasing local flavors or relax in lavish spa facilities designed to rejuvenate body and mind. The most expensive hotels in Northumberland guarantee an unforgettable experience for those seeking the pinnacle of luxury and elegance.
The Bondgate Boutique (Alnwick)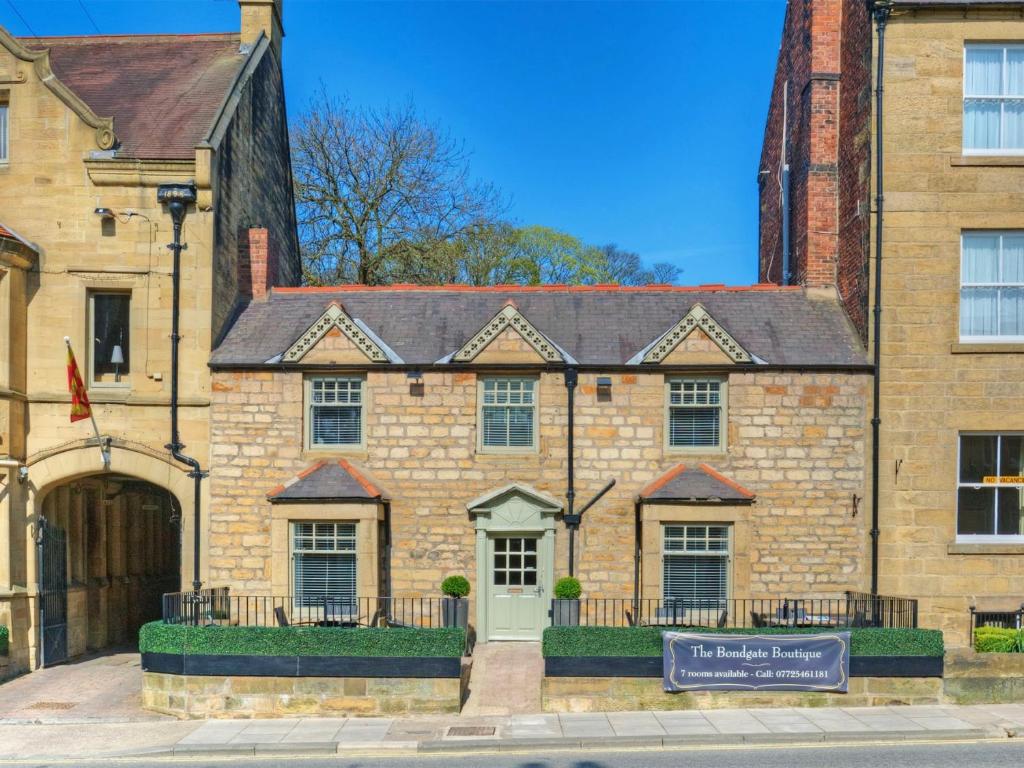 Welcome to The Bondgate Boutique, a charming hotel nestled in the heart of Alnwick, a historic market town situated on the River Aln in Northumberland, England. Housed within a beautiful Grade II listed building dating back to 1705, our boutique accommodation offers individually designed bedrooms with en-suite facilities. With seven rooms to choose from, each featuring king-size or super king-size beds dressed in luxurious Egyptian cotton linen, hypoallergenic pillows, and soft throws, your comfort is our priority. Conveniently located within walking distance of Alnwick's finest coffee shops and restaurants, you'll have plenty of options for indulging in local cuisine. Parking is also available free of charge in the property's spacious gravel car park located through the archway behind the Plough Hotel. Immerse yourself in the rich history and attractions that Alnwick has to offer; visit the famous Alnwick Castle which has been home to the Percy family since 1309 and served as a filming location for various movies and TV shows. Don't miss out on exploring the exquisite Alnwick Garden with its impressive collection of flowers, trees, and water features. Uncover hidden gems as you wander through Alnwick's charming streets filled with unique shops, delightful restaurants, and cozy pubs. And when you're ready to venture further afield, take advantage of our convenient transport links to other parts of the country. At The Bondgate Boutique hotel in Alnwick, we strive to create an unforgettable stay where history seamlessly merges with modern comfort.
– Charming Grade II listed building dating back to 1705
– Individually designed bedrooms with en-suite facilities
– Luxurious king-size and super king-size beds dressed in Egyptian cotton linen
– Hypoallergenic pillows provided for added comfort
– Convenient location near quality coffee shops and restaurants
Doxford Hall Hotel And Spa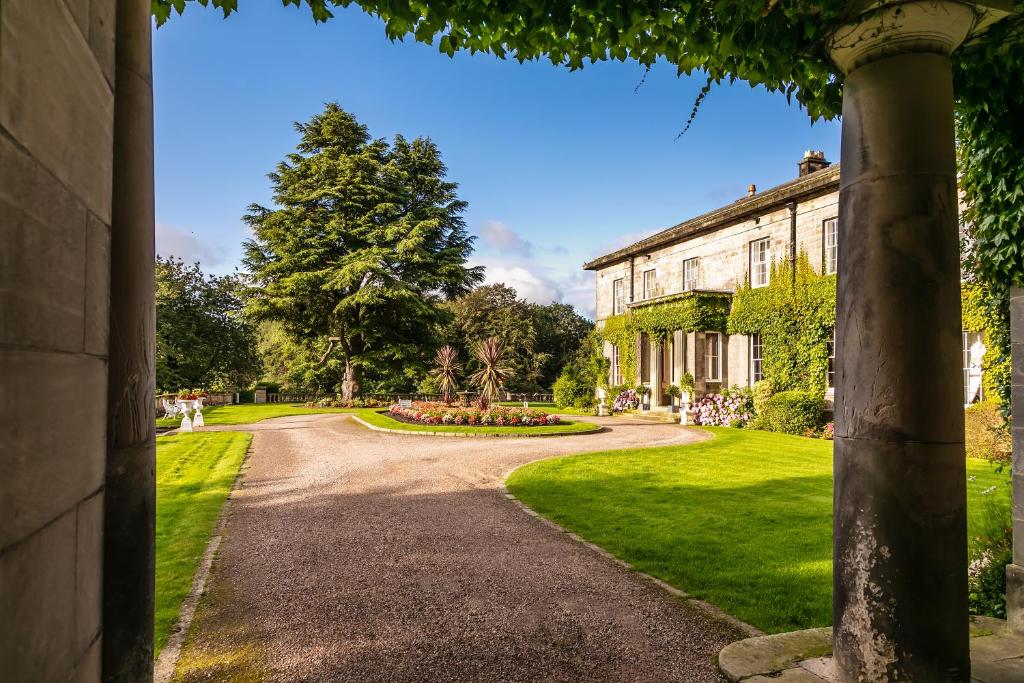 Doxford Hall Hotel And Spa is a charming boutique hotel located in Northumberland, England. Originally built in 1818, this beautifully restored country house offers a luxurious and tranquil retreat for guests. Situated in 10 acres of stunning grounds, the hotel is just a short drive away from the picturesque town of Alnwick. With its 4 AA red stars and state-of-the-art spa facilities, Doxford Hall provides an exceptional experience for guests seeking relaxation and comfort. The hotel features an indoor swimming pool, two spa baths, a sauna, and steam room. There are also five treatment rooms where guests can indulge in therapeutic and beauty treatments using products from the holistic spa brand Ytsara. The George Runciman Restaurant at Doxford Hall has been awarded 2 AA Rosettes for its creative menus made with fresh local produce. Each elegantly furnished bedroom boasts satellite TV and a marble bathroom, offering ultimate comfort during your stay. Named after Northumbrian castles, many rooms offer breathtaking views of the estate. In addition to its luxurious amenities, Doxford Hall also provides free parking for guests' convenience. With its proximity to beautiful sandy beaches along the scenic coastline and easy access to major transportation routes like the A1 motorway, this hotel is an ideal base for exploring Northumberland's natural beauty. Edinburgh is also within reach at just 80 miles away.
– Boutique hotel set in stunning grounds
– State-of-the-art spa facilities
– Luxuriously furnished bedrooms with satellite TV
– Award-winning restaurant serving creative menus using fresh local produce
– Free parking provided
Luxury Northumberland Hotels Information
| | |
| --- | --- |
| 🛎️ Luxury Hotels in Northumberland | 11 |
| 💵 Hotels Prices From | $85 |
| 💵 Highest price | $1551 |
| 🥇 Average Review Score | 8.5/10 |
| 🛏️ Average number of Rooms | 28 |
Top Luxury hotels in Northumberland
| | |
| --- | --- |
| Anglers Arms (Alnwick) | 8.9/10 |
| Battlesteads | 8.8/10 |
| Marshall Meadows Manor House | 8.8/10 |
| Langley Castle Hotel | 8.8/10 |
| St Mary's Inn (Morpeth) | 8.8/10 |
FAQ
What luxury hotels are located in Northumberland, United Kingdom?
Northumberland is home to several luxury hotels that offer exceptional accommodations and amenities. Some of the top luxury hotels in the area include Langley Castle Hotel, Doxford Hall Hotel & Spa, and Eshott Hall. These hotels boast luxurious rooms, exquisite dining options, and impeccable service to ensure a truly indulgent stay for their guests.
What is the average cost of a luxury hotel room in Northumberland?
The cost of a luxury hotel room in Northumberland can vary depending on factors such as location, amenities, and time of year. On average, you can expect to spend around £200-£400 per night for a luxurious stay in this beautiful region. However, it's important to note that prices may fluctuate during peak seasons or special events.
What facilities can I expect at a luxury hotel in Northumberland?
Luxury hotels in Northumberland offer an array of world-class facilities to enhance your stay. From well-appointed rooms with plush bedding and stunning views to upscale restaurants serving gourmet cuisine, these establishments leave no stone unturned when it comes to providing comfort and indulgence. Additionally, many luxury hotels feature spa facilities where guests can enjoy rejuvenating treatments and wellness activities.
Are there any historic luxury hotels in Northumberland?
Yes, there are several historic luxury hotels that have been meticulously restored while retaining their rich heritage charm. One such example is Langley Castle Hotel which dates back to the 14th century and offers opulent rooms within its medieval walls. Another option is Eshott Hall which is set within a Grade II listed Georgian mansion surrounded by idyllic gardens – perfect for those seeking an elegant stay with historical significance.
Do luxury hotels in Northumberland provide transportation services for sightseeing purposes?
Many luxury hotels in Northumberland understand the importance of convenience for their guests' explorations of the region's attractions. As such, they often offer transportation services such as chauffeur-driven cars or organized tours to nearby landmarks and points of interest. It's always recommended to check with your chosen hotel about their specific offerings and availability for sightseeing purposes.
Popular Luxury Hotels destinations