Welcome to a destination that epitomizes opulence and grandeur in the United Kingdom – North Yorkshire. Nestled in the heart of England, this exquisite region boasts a wealth of luxurious accommodations that redefine elegance. Whether you are seeking resplendent manor houses or charming boutique hotels, North Yorkshire offers an array of indulgent options to cater to your every desire.
Prepare to be enchanted as you step into a world where lavishness meets unrivaled beauty. With its breathtaking landscapes, historic charm, and timeless allure, North Yorkshire sets the stage for an unforgettable luxury getaway. Immerse yourself in the rich tapestry of history as you explore ancient castles and wander through picturesque villages adorned with quaint cottages and blooming gardens.
Indulge in unparalleled sophistication as you retreat to some of the most esteemed luxury hotels this region has to offer. Experience true bliss as each property pampers you with impeccable service, sumptuous amenities, and exquisite décor that exudes understated elegance.
Experience unadulterated bliss at these idyllic sanctuaries where refined taste is celebrated at every turn. From Michelin-starred restaurants serving gastronomic delights to serene spa havens offering rejuvenating treatments, these luxury hotels go above and beyond to ensure your stay is nothing short of extraordinary.
Discover a haven where comfort blends seamlessly with style; where modern comforts meet old-world charm. Join us on an exploration of North Yorkshire's most opulent establishments that promise to transport you into a realm of refined luxury like no other.
Most Luxurious Hotels in North Yorkshire
The Pine Marten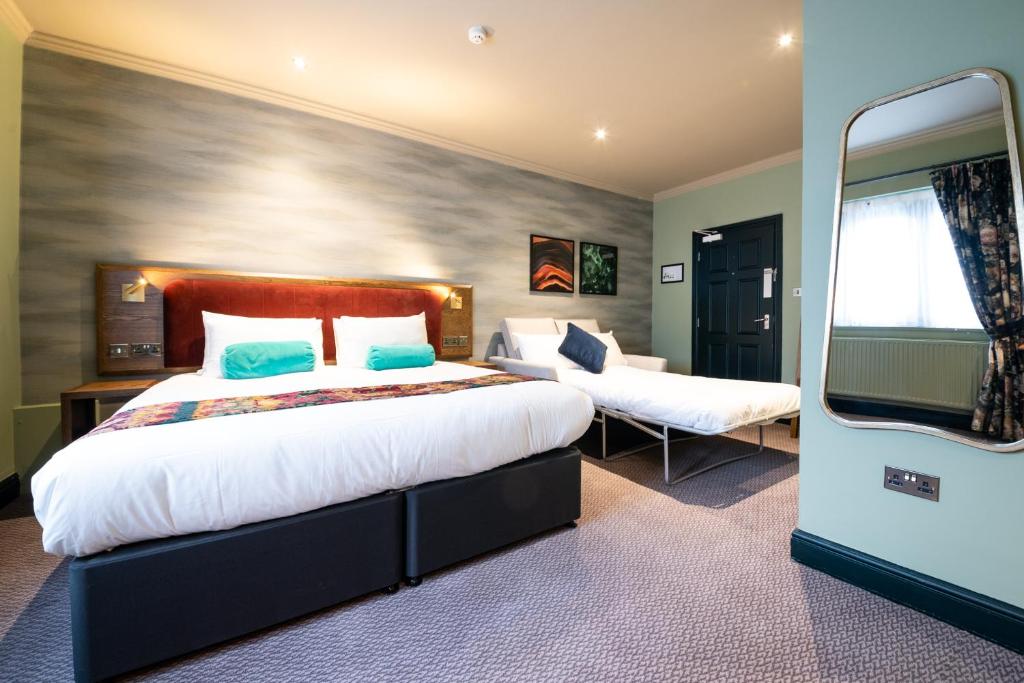 The Pine Marten, located just a 5-minute drive from the charming center of Harrogate, offers free parking and easy access to the Royal Horticultural Society Gardens, which are only a 5-minute walk away. The hotel features bright and warmly furnished rooms, each equipped with an en suite bathroom with free toiletries and a hairdryer. Guests can unwind in their rooms while enjoying the TV and tea/coffee facilities provided. The Pine Marten pub serves a delightful combination of modern British dishes and Mediterranean cuisine. For those interested in exploring the area's attractions, the Royal Pump Room Museum, Royal Baths, and famous Betty's Tearooms are just 1.5 miles away. Harrogate Station is conveniently located 2 miles away, while Leeds Bradford Airport is approximately 12 miles from the lodge.
– Conveniently located with free parking
– Close proximity to beautiful gardens
– Bright and warmly furnished rooms
– Variety of delicious cuisines served at on-site pub
– Easy access to popular attractions
Moxy York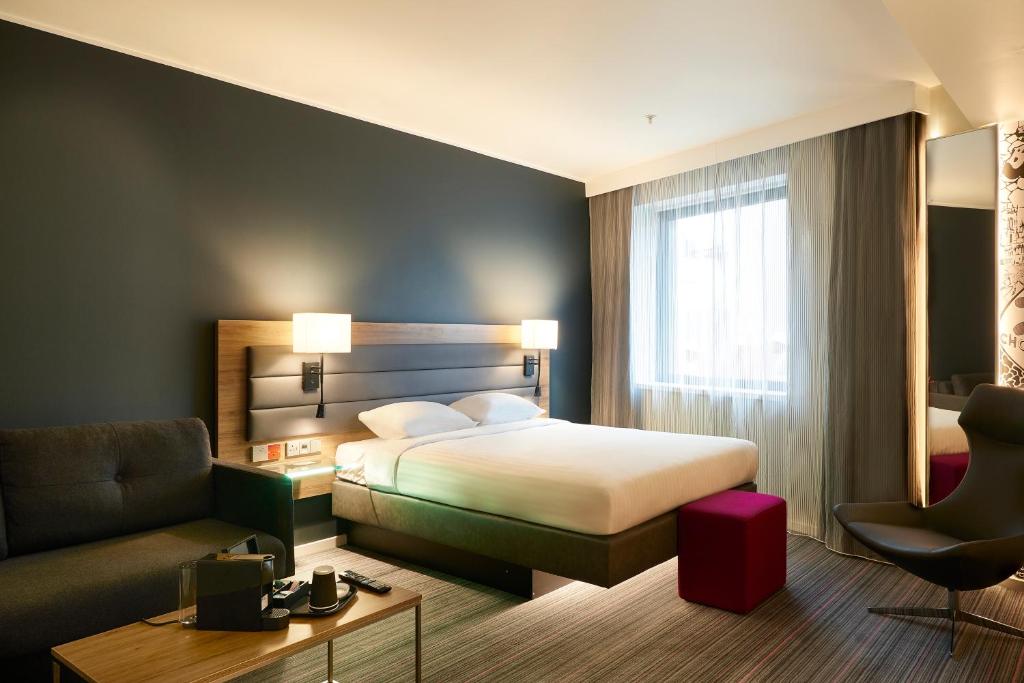 Located in the heart of York, just 700 meters from York Minster, Moxy York is a luxurious 4-star hotel offering modern amenities and exceptional service. Guests can enjoy access to a fitness center, terrace, and bar during their stay. The hotel also provides free WiFi, a 24-hour front desk, and a business center for guests' convenience. Each guest room features a flat-screen TV, private bathroom with shower and complimentary toiletries. Bed linen and towels are provided in every room. Guests can start their day with a delicious breakfast that includes buffet options as well as continental and Full English/Irish dishes. For entertainment, there is also an on-site billiards table available for use. With its excellent location, Moxy York is within easy reach of popular attractions such as Bramham Park (34 km away) and Harrogate International Centre (37 km away). Leeds Bradford International Airport is the nearest airport at 48 km distance.
– Convenient central location
– Modern amenities
– Free WiFi
– Fitness center
– Bar & terrace
Middlethorpe Hall & Spa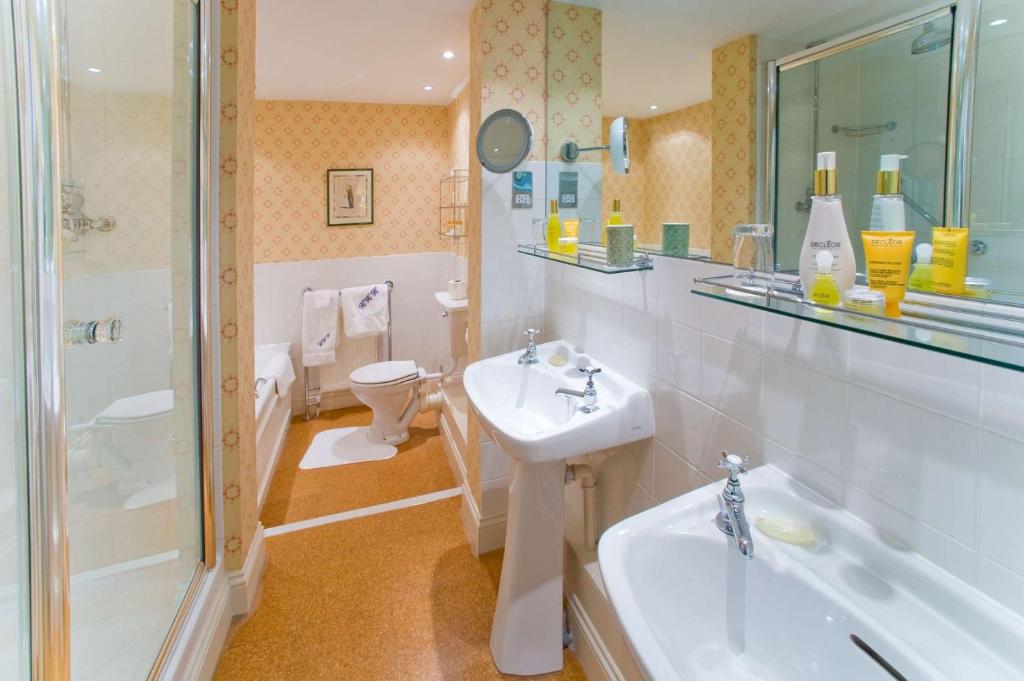 Nestled in magnificent gardens with stunning views of York Racecourse, Middlethorpe Hall & Spa is a historic hotel offering an unforgettable luxury experience. Located just 2 miles from York's city center, this award-winning hotel boasts a boutique spa and a grand restaurant serving creative British cuisine by candlelight. The elegant bedrooms are adorned with antiques and offer picturesque views of the grounds. Guests can enjoy the indoor swimming pool, spa bath, sauna, steam room, and gym in the Victorian summer house. With menus featuring fresh local produce and ingredients from the kitchen garden, Middlethorpe Hall offers a truly indulgent stay. As an added bonus, this hotel is part of the National Trust, with all profits going to charity.
Pros:
– Boutique spa offering relaxation and rejuvenation
– Magnificent gardens with leafy terraces and fragrant orchards
– Elegant bedrooms decorated with antiques and scenic views
– Delicious British cuisine served in a grand restaurant
– Convenient location just minutes away from York Minster
Other places to stay in North Yorkshire
Luxury Hotels in Downtown North Yorkshire
Luxury hotels in downtown North Yorkshire offer an unparalleled experience that seamlessly combines elegance, comfort, and sophistication. Nestled in the heart of this charming city, guests will find themselves surrounded by historic architecture, vibrant culture, and stunning natural landscapes. Impeccable design and attention to detail are evident throughout these prestigious establishments, creating a refined atmosphere that exudes opulence at every turn. From the lavish guest rooms adorned with plush furnishings to the world-class dining options serving delectable culinary creations, luxury hotels in downtown North Yorkshire provide a haven of indulgence for discerning travelers seeking an unforgettable escape.
Victoria Hotel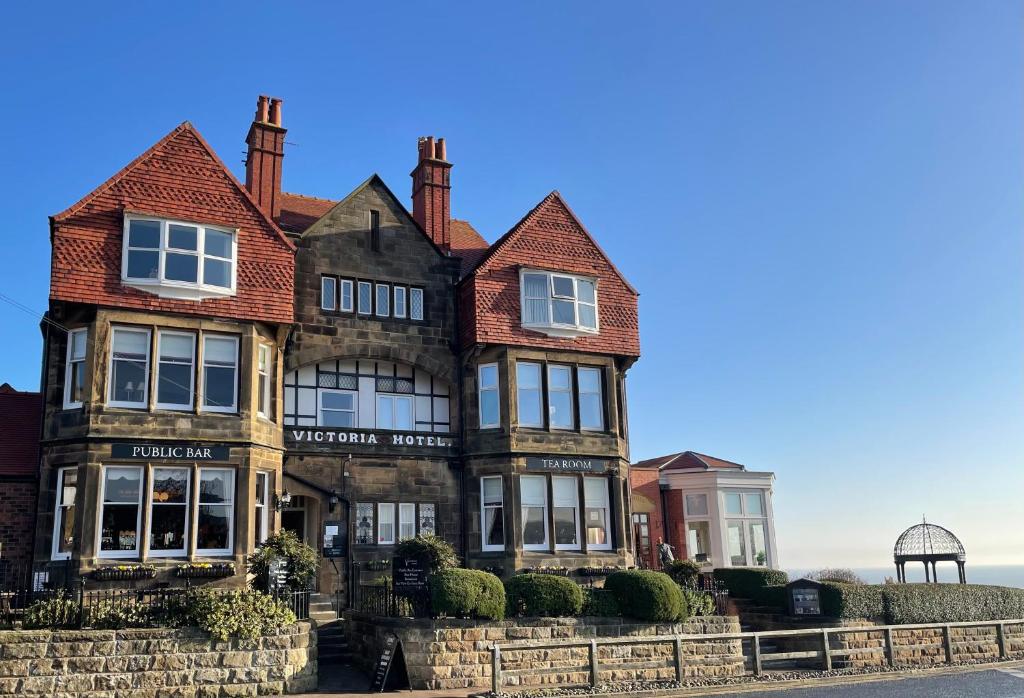 Located on the edge of the North York Moors with breathtaking cliff-top views of Robin Hood's Bay, Victoria Hotel is a grand Victorian hotel that offers guests a luxurious stay. The hotel features homemade food and rooms adorned with Egyptian cotton bedding. Guests can indulge in delicious meals at the Sea View Restaurant which uses local Yorkshire ingredients for its hearty breakfasts and local cuisine dinners. The elegant rooms are equipped with modern amenities including flat-screen TVs, free Wi-Fi, and complimentary tea and coffee facilities. Each room also comes with a private bathroom stocked with free toiletries and a hairdryer. During the day, guests can enjoy the stunning sea views from the hotel's coffee shop and tea room. The bar serves real ales and has a cliff top beer garden where guests can relax while enjoying their drinks. With Historic Whitby just 10 minutes' drive away and scenic Goathland only 25 minutes' drive away, there are plenty of opportunities for guests to explore the nearby North York Moors or drive along the picturesque Yorkshire Heritage Coast.
– Stunning cliff-top views over Robin Hood's Bay
– Homemade food served at Sea View Restaurant
– Rooms equipped with Egyptian cotton bedding
– Coffee shop/tea room overlooking sea
– Proximity to Historic Whitby & scenic Goathland
Middletons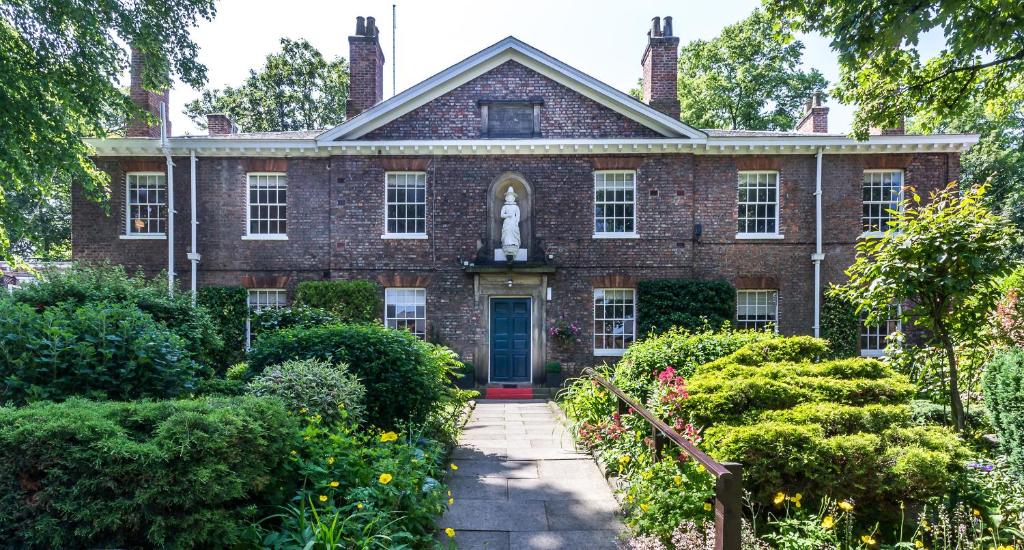 Middletons is a collection of six historical, Grade-II listed buildings nestled around a peaceful courtyard garden in the heart of York city centre. With its prime location just 800 meters away from York Rail Station and York Minster, it offers convenience and tranquility to its guests. The hotel provides complimentary access to a fitness centre with a well-equipped gym, allowing guests to stay active during their stay. Each en suite room is individually decorated and features free high-speed WiFi, a TV, and tea and coffee-making facilities. Start your day with a delicious breakfast served fresh every morning, and indulge in the diverse menu offered at the contemporary Sawmill restaurant throughout the day. For those seeking relaxation, two sunny terraces and beautiful hotel gardens are perfect spots to enjoy a refreshing drink. The hotel's proximity to the main shopping areas and popular attractions makes it an ideal choice for exploring York on foot. In addition, nearby landmarks such as the iconic Grand Opera House and thrilling York Dungeons are just a short stroll away. For guests arriving by car, secure on-site parking is available at an extra cost.
– Convenient location in the heart of York city centre
– Complimentary access to fitness centre with gym
– Individually decorated rooms with free high-speed WiFi
– Fresh breakfast served daily & varied menu at Sawmill restaurant
– Relaxing outdoor spaces including sunny terraces & gardens
Grays Court Hotel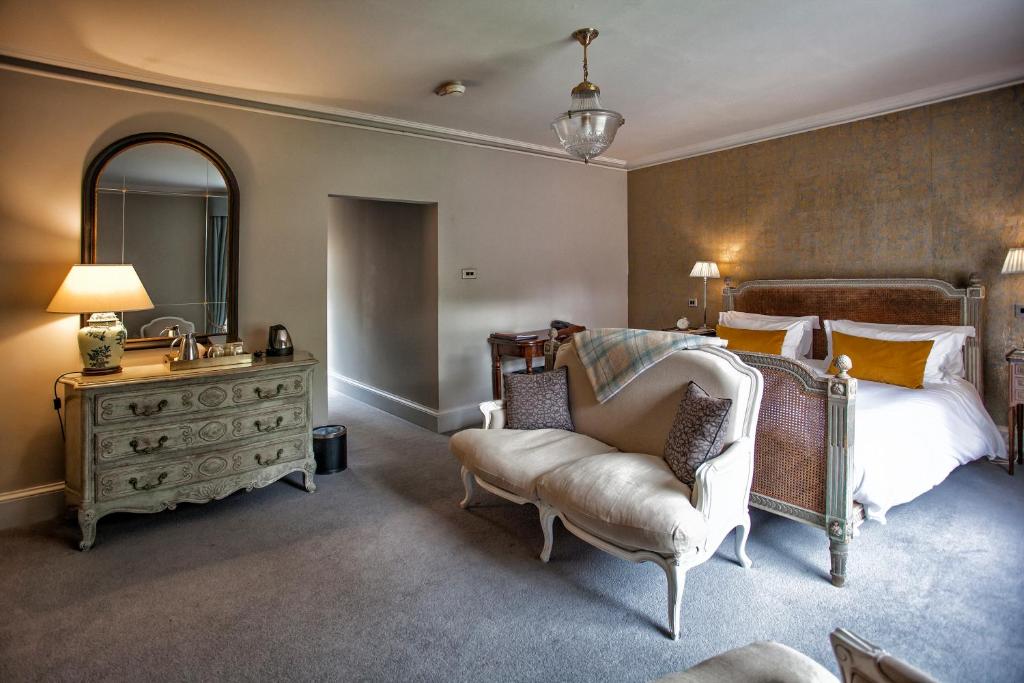 Grays Court Hotel is a charming boutique hotel located in York, offering stunning views of the city's medieval walls. Housed within a historic building that was once home to King James I, this grand house boasts leafy gardens and a cozy restaurant. The Bow Room Restaurant has received accolades such as 2 AA rosettes and recognition in the Michelin guide 2021 for its exquisite 6-course tasting menu served from Tuesday to Saturday. Guests can unwind in the beautiful gardens or admire the impressive art collection in the Bow Room. The stylish bedrooms feature luxurious linens, antique furniture, flat-screen satellite TVs, and picturesque views of either the gardens or York Minster. In addition to serving drinks at their bar throughout the day, Grays Court Hotel offers a full cooked-to-order breakfast each morning. Relaxation can be found in the Jacobean Long Gallery with its oak paneling, comfortable sofas, and original paintings. Steeped in history and nestled within York's walls, this country house hotel is just a short stroll away from popular attractions like Shambles shopping streets, Theatre Royal, and York Museum and Gardens.
– Located beside York Minster
– Leafy gardens with picturesque views
– Acclaimed Bow Room Restaurant with award-winning cuisine
– Stylish bedrooms featuring luxurious amenities
– Historical setting steeped in charm
5 Star Luxury Hotels
5 Star Luxury Hotels are the epitome of elegance, sophistication, and opulence. These exclusive establishments offer a truly memorable experience, where every detail has been meticulously curated to provide unparalleled comfort and indulgence. From exquisite interior designs that evoke a sense of grandeur to personalized, attentive service that cater to every whim, 5 Star Luxury Hotels aim to create an atmosphere of luxury and tranquility for their discerning guests. With world-class dining options showcasing culinary masterpieces from renowned chefs, state-of-the-art wellness facilities promoting relaxation and rejuvenation, and breathtaking views that leave one in awe, these hotels redefine the concept of luxury accommodation. Whether for business or pleasure, staying at a 5 Star Luxury Hotel promises an unforgettable stay that is sure to exceed all expectations.
The Golden Fleece Hotel (Thirsk)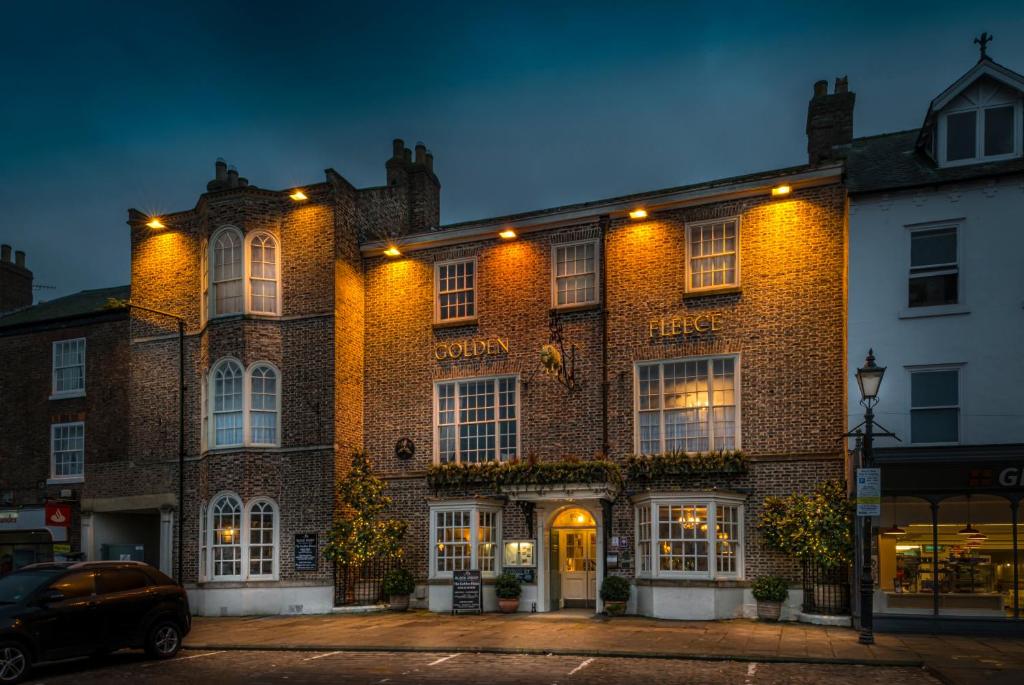 Located in the charming town of Thirsk, The Golden Fleece Hotel is nestled between the picturesque Yorkshire Moors and Yorkshire Dales National Parks. This historic hotel, listed as one of England's oldest coaching inns, offers a comfortable stay with individually designed en suite rooms that are equipped with all the necessary amenities for a relaxing stay. The hotel prides itself on its home-cooked meals made from locally sourced produce, providing guests with an authentic taste of the region. The service at The Golden Fleece is relaxed and friendly, ensuring that guests feel welcomed and well taken care of throughout their stay. The hotel's prime location makes it an ideal base for exploring the stunning North Yorkshire countryside either by foot or by car. Guests can take in the beauty of Aysgarth Falls, Sutton Bank, and even visit notable attractions such as the World of James Herriot, Fountains Abbey, and Castle Howard. For those looking to explore beyond Thirsk, the conveniently located Thirsk Train Station offers regular services to London and other parts of the North East.
Pros:
– Convenient location for exploring North Yorkshire
– Comfortable rooms with individual designs
– Home-cooked meals using local produce
– Friendly and relaxed service
– Close proximity to Thirsk Train Station offering easy access to London and other destinations in the North East
Goodramgate Apartments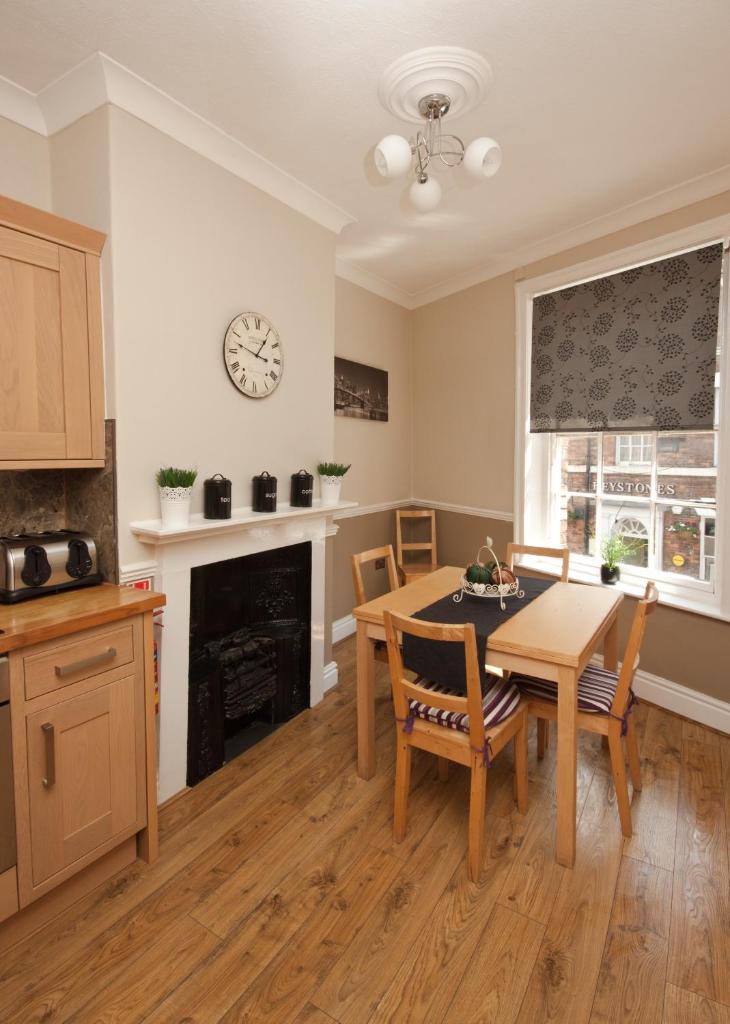 Goodramgate Apartments, located in the heart of historic York, offer modern luxury in historically listed buildings. With free WiFi throughout, these apartments are ideal for both business and leisure travelers. The famous York Minster is just a stone's throw away, while the JORVIK Viking Centre can be reached in less than 10 minutes' walk. The apartments feature a lounge area with a flat-screen TV and a fully equipped kitchen including an oven, hob, fridge/freezer, and microwave. Some apartments also boast picturesque views of the city's historic surroundings. Each bedroom offers a king-size bed adorned with Egyptian cotton sheets for ultimate comfort. Bathrooms come with shower facilities, heated towel rails, towels, and toiletries. Guests can take a short stroll to the riverside or reach York Rail Station on foot in about 15 minutes. Additionally, The Richard III Experience at Monk Bar is conveniently located just outside the property.
– Prime location in the heart of historic York
– Free WiFi throughout
– Modern amenities including flat-screen TVs and fully equipped kitchens
– Comfortable king-size beds with Egyptian cotton sheets
– Proximity to major attractions such as York Minster and JORVIK Viking Centre
Herriots Hotel (Skipton)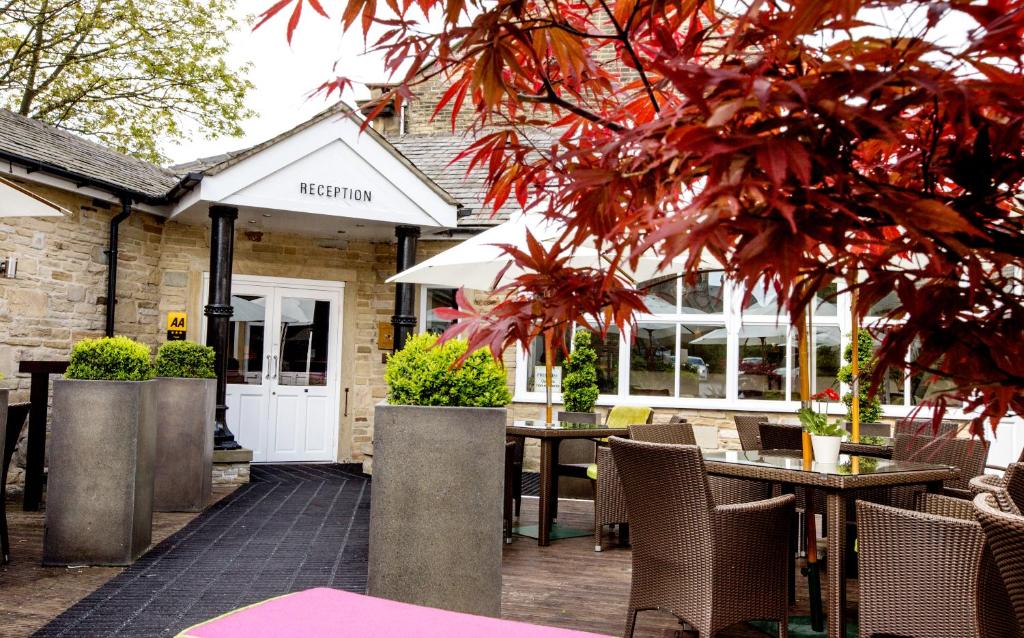 Located at the gateway to the picturesque Yorkshire Dales and a mere 100m away from Skipton Railway Station, Herriots Hotel in Skipton offers a charming and convenient place to stay. Housed in a beautifully preserved Victorian Listed building, this hotel seamlessly blends tradition with modern comforts. The menu features delicious traditional food, complemented by a selection of quality cask ales. With its ideal location, guests can easily explore the stunning countryside, indulge in local fishing activities, or tee off at the nearby Skipton golf course. For those looking to organize events or meetings, Herriots Hotel provides well-equipped meeting rooms and banqueting facilities. Its proximity to both Manchester and Leeds (45 miles away) makes it an excellent choice for both leisure and business travelers.
– Conveniently located near Skipton Railway Station
– Traditional food menu with quality cask ales
– Victorian Listed building adds charm and character
– Proximity to beautiful countryside and outdoor activities
– Meeting rooms and banqueting facilities available
Most Expensive Hotels in North Yorkshire
Nestled in the breathtaking landscapes of North Yorkshire, visitors can find an array of opulent accommodations that epitomize luxury at its finest. With their unrivaled elegance and impeccable service, these most expensive hotels offer a truly indulgent experience for discerning travelers. From grand manor houses showcasing exquisite architecture to charming countryside retreats boasting stunning views, North Yorkshire's exclusive hotels promise a haven of tranquility where guests can unwind and immerse themselves in the region's rich cultural heritage. With meticulous attention to detail and extraordinary attention to guest comfort, these lavish establishments redefine the meaning of luxury hospitality in this picturesque corner of England.
The Devonshire Fell Hotel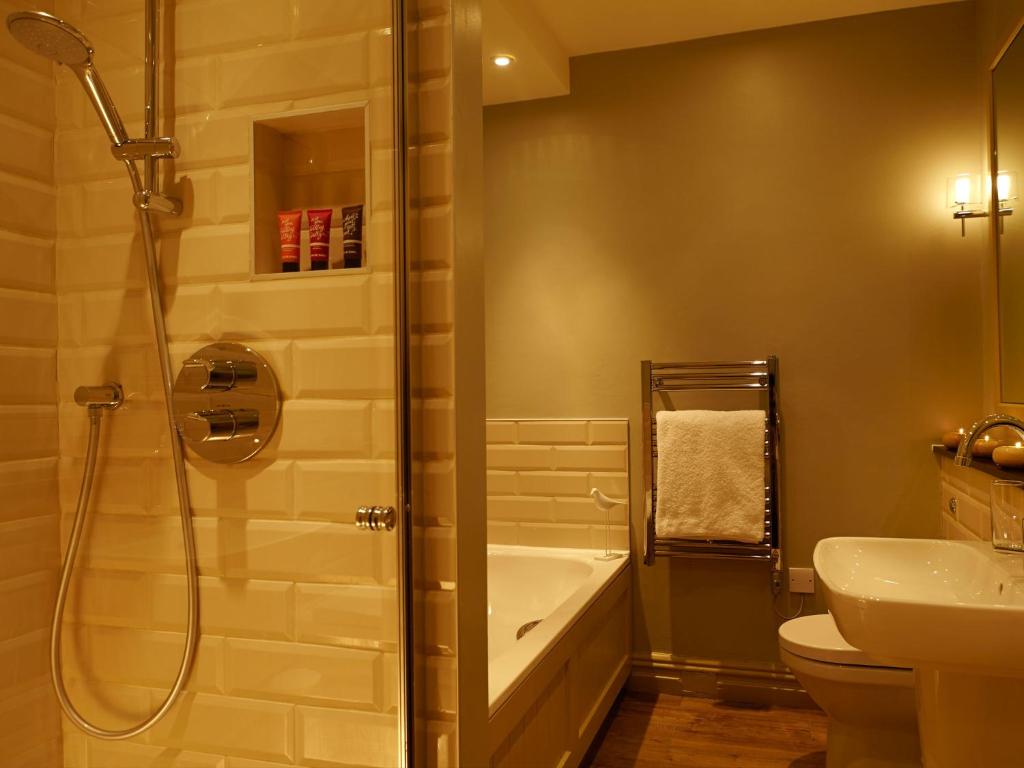 The Devonshire Fell Hotel, located in the charming village of Burnsall on the edge of the Bolton Abbey Estate, is a haven of luxury and tranquility. Surrounded by picturesque rolling hills, country lanes, and dry stone walls, this stunning property offers guests a truly idyllic retreat. With 16 individually designed bedrooms, many offering breathtaking views of the Yorkshire countryside, guests are treated to a unique and memorable stay. The vibrant and cozy reception area and bar provide the perfect setting for unwinding with a drink after exploring the local area. The 2AA Rosettes restaurant offers mouth-watering dishes made from locally sourced produce, all enjoyed against a backdrop of striking views. For dog owners looking to explore the beautiful landscape together with their furry friends, the hotel happily accommodates four-legged companions for an additional fee.
– Charming location in the pretty village of Burnsall
– Stunning views of Yorkshire countryside from many rooms
– Vibrant and cozy reception area and bar
– 2AA Rosettes restaurant serving delicious locally sourced cuisine
– Pet-friendly accommodation available at an extra fee
The Belmont – Harrogate Stays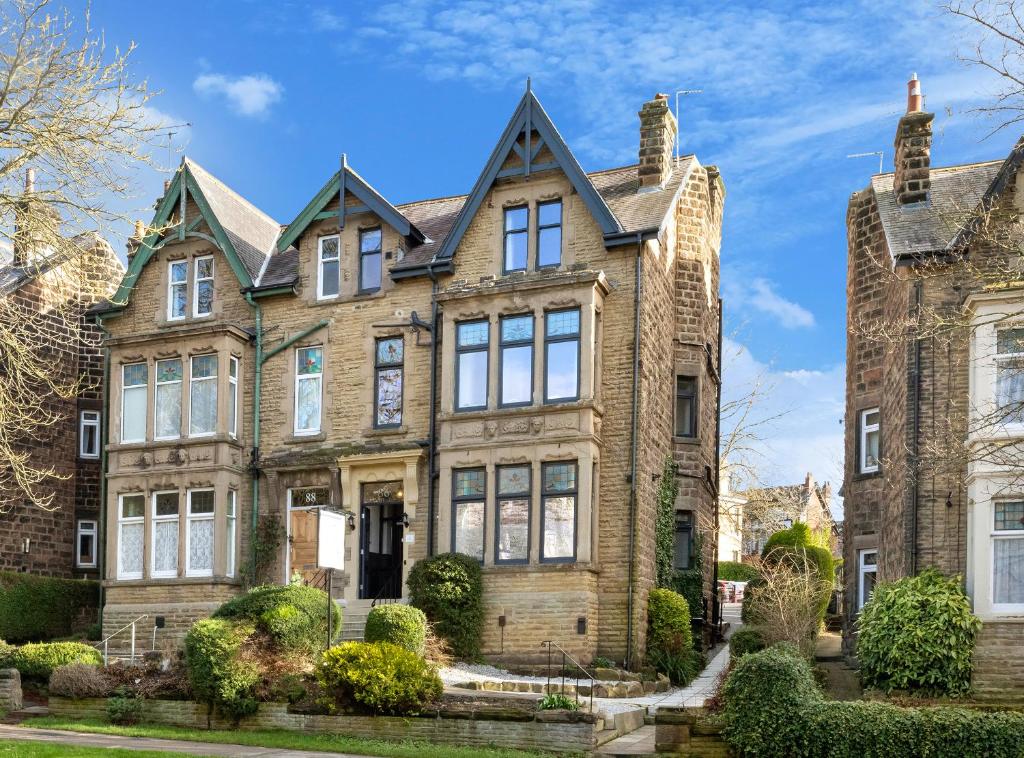 The Belmont – Harrogate Stays is a charming Victorian house turned 4-star apartment hotel, located close to the center of Harrogate. This modern and stylish accommodation option offers room-only stays with free Wi-Fi, making it perfect for those who prefer a self-catering experience. The International Conference Centre is just a short 2-minute walk away, while Harrogate's shops and restaurants are within easy reach. The studio apartments at The Belmont are tastefully decorated with rich and warm tones, exuding character and charm. Each room features a smart TV, Amazon Alexa smart speaker, luxury toiletries, and a coffee machine for added comfort. Guests can enjoy the convenience of a smart lock entry system and unlimited fiber Wi-Fi throughout their stay. Moreover, free private on-site parking is available for guests who are exploring the surrounding area or planning day trips to the picturesque Yorkshire Dales National Park.
– Convenient location walking distance to town
– Stylish studio apartments with rich décor
– Modern amenities including smart TV and coffee machine
– Smart lock entry system for ease of access
– Free on-site parking
Luxury North Yorkshire Hotels Information
| | |
| --- | --- |
| 🛎️ Luxury Hotels in North Yorkshire | 11 |
| 💵 Hotels Prices From | $256 |
| 💵 Highest price | $1972 |
| 🥇 Average Review Score | 8.7/10 |
| 🛏️ Average number of Rooms | 28 |
Top Luxury hotels in North Yorkshire
| | |
| --- | --- |
| Grays Court Hotel | 9.3/10 |
| Middlethorpe Hall & Spa | 9.1/10 |
| Victoria Hotel | 9/10 |
| The Belmont – Harrogate Stays | 9/10 |
| Goodramgate Apartments | 8.8/10 |
FAQ
What are the top luxury hotels in North Yorkshire?
North Yorkshire boasts several top-notch luxury hotels that cater to the discerning traveler. Among them are The Grand Hotel and Spa, a stunning 5-star hotel located in the heart of York offering opulent rooms and exceptional service. Another option is Swinton Park Hotel, a lavish countryside retreat with elegant rooms, a spa, and Michelin-starred dining. Additionally, Grantley Hall is a magnificent country house hotel with beautiful grounds, luxurious rooms, and an impressive range of amenities including fine dining restaurants and a spa.
Are there any luxury hotels near North York Moors National Park?
Yes, there are some exquisite luxury hotels conveniently situated near North York Moors National Park. One such property is Raithwaite Sandsend, an upscale hotel located just outside Whitby. It offers stylish rooms with modern amenities along with beautiful gardens and beach access. Another excellent choice is The Black Swan at Helmsley, a historic boutique hotel nestled in the picturesque market town of Helmsley. This charming property combines period features with luxurious touches to provide an unforgettable stay amidst the stunning surroundings of the national park.
Which luxury hotels in North Yorkshire offer fine dining options?
Several luxury hotels in North Yorkshire pride themselves on their outstanding fine dining establishments. The Yorke Arms is one such establishment—an exquisite country inn featuring Michelin-starred cuisine created by renowned chef Frances Atkins. Meanwhile, The Star Inn at Harome offers guests an exceptional culinary experience with its innovative menu showcasing seasonal ingredients sourced from local suppliers. These are just two examples of the many extraordinary luxury hotels in North Yorkshire that will satisfy even the most discerning food connoisseurs.
Can I find spa facilities at luxury hotels in North Yorkshire?
Absolutely! Many luxury hotels in North Yorkshire understand the importance of relaxation and well-being for their guests and offer exceptional spa facilities on-site or nearby. Rudding Park Hotel and Spa, for instance, offers a state-of-the-art spa and wellness facility where guests can indulge in a variety of pampering treatments. Similarly, The Feversham Arms Hotel & Verbena Spa is renowned for its luxurious spa featuring a heated outdoor pool, aromatherapy rooms, and an extensive range of treatments. These luxury hotels provide the perfect opportunity to unwind and rejuvenate during your stay in North Yorkshire.
What activities can I enjoy near luxury hotels in North Yorkshire?
When staying at a luxury hotel in North Yorkshire, you'll have access to an array of activities that cater to different interests. For those seeking outdoor adventures, options like hiking or cycling through the stunning landscapes of the Yorkshire Dales or exploring the picturesque villages of North York Moors are sure to delight. History enthusiasts can visit iconic sites such as York Minster or Castle Howard. Alternatively, you can immerse yourself in culture by attending performances at theaters like Harrogate Theatre or exploring art galleries such as York Art Gallery. Whatever your preferences may be, there's something for everyone near these
Popular Most Luxurious hotel destinations