Welcome to this guide on opulent accommodations in Naples, America. If you're craving a luxurious getaway with top-notch amenities and breathtaking views, look no further than the world-class hotels available in this charming coastal town. With lavish choices ranging from stylish boutique properties to grand resorts, Naples offers something for everyone seeking a first-rate lodging experience.
Nestled along the pristine Gulf of Mexico coastline, Naples boasts warm turquoise waters and sugary white sand beaches that are unparalleled in beauty. Whether you're here for leisure or business, indulge in 5-star treatment while taking advantage of the many luxuries these hotels have to offer. Enjoy world-class cuisine at award-winning restaurants, rejuvenate your mind and body at luxurious spas or lounge by elegant pools surrounded by lush tropical gardens. From plush bedding and spacious suites to state-of-the-art fitness centers and oceanfront balconies offering stunning sunsets over the Gulf of Mexico, expect nothing less than grandeur when staying at one of these exceptional luxury hotels in Naples.
Most Luxurious Hotels in Naples
The Westin Cape Coral Resort at Marina Village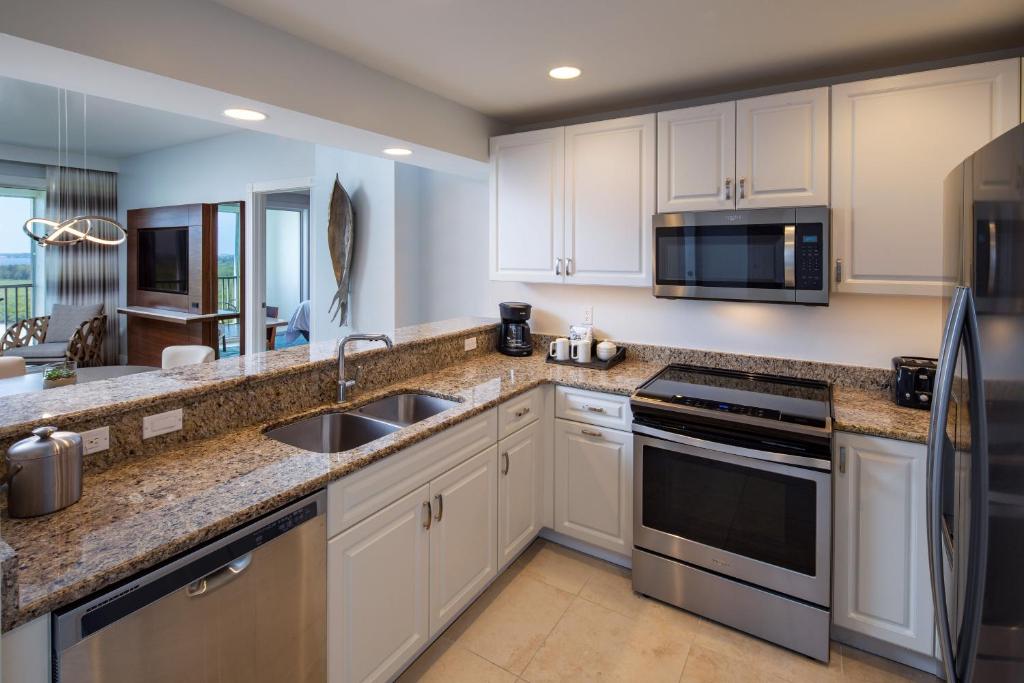 The Westin Cape Coral Resort at Marina Village is a luxurious apartment-style hotel situated at the Tarpon Point Marina. Guests can savour stunning views of the Caloosahatchee River and Gulf of Mexico while relishing two on-site restaurants and free Wi-Fi access. The property also has a spa, salon, and retail shops for guests' convenience. The suites are well-equipped with modern amenities including flat-screen TV, balcony, and fully equipped kitchen in select suites. The resort facilities include a fitness center and two seasonal outdoor pools. Guests can enjoy casual dining with live music on weekends at Nauti Mermaid Dockside Bar & Grill or indulge in fine dining experience at Marker 92 Waterfront Bar & Bistro.
– Magnificent water views
– Extremely comfortable rooms with top-notch amenities
– Excellent on-site food options
– Access to a fitness center and multiple pools
– Conveniently located near shopping centers
Inn On Fifth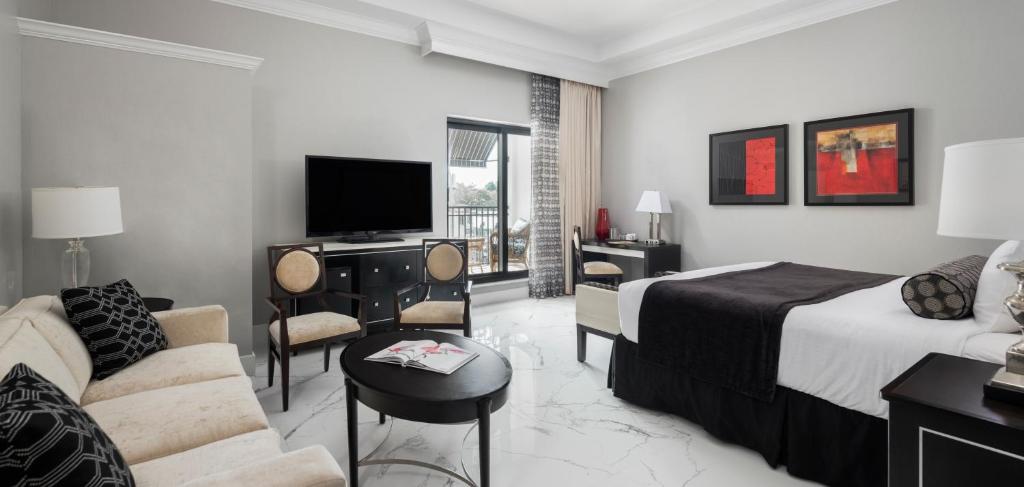 Inn On Fifth, located in the heart of Naples city centre, boasts Mediterranean-inspired architecture and houses an on-site spa where guests can enjoy massages, facials and body wraps. Each room comes equipped with cable TV, a seating area, a work desk and ironing facilities as standard. Guests also have access to a fitness centre, business centre and outdoor pool during their stay. Two dining options are available within the hotel – Truluck's Seafood Steak Crabhouse serves lunch and dinner specialising in Florida stone crab while Ocean Prime offers seafood and steak dishes throughout the day. Additionally, Inn On Fifth is situated just a 12-minute walk away from the beach as well as adjacent to Fifth Avenue South shopping centre which features numerous dining and shopping options.
Pros:
– Located in central Naples
– Has a full-service on-site spa
– Offers two dining options serving seafood and steak
– Access to fitness center, business center & outdoor pool
Edgewater Beach Hotel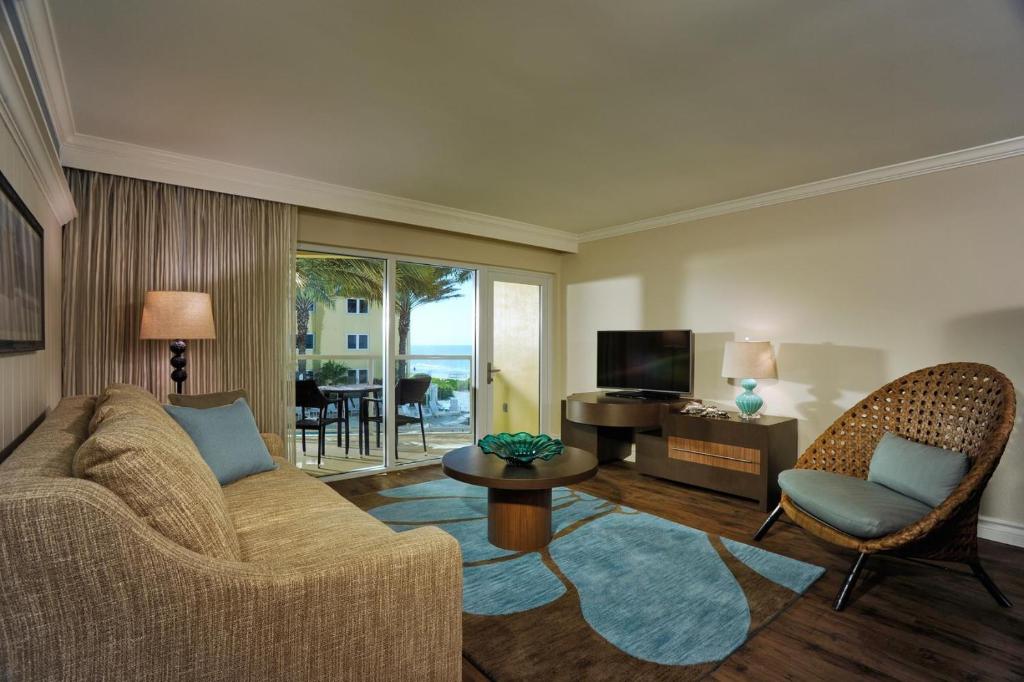 The Edgewater Beach Hotel is a luxurious beachfront resort located in Naples. Guests can enjoy stunning views of the Gulf of Mexico and relax on their own private balcony. The hotel offers a range of amenities, including free WiFi access, a fitness center, and on-site shops. One of the perks of staying at the Edgewater Beach Hotel is dining at Coast, an on-site restaurant that serves global cuisine with beachfront views. The hotel also offers free parking for guests. Some other pros include:
– Beautiful water and pool views from select rooms
– Kitchenettes in every room
– Indoor and outdoor seating options at Coast
– Close proximity to popular attractions such as Naples Zoo and the Naples Museum of Art
Other places to stay in Naples
Luxury Hotels in Downtown Naples
Downtown Naples offers a variety of luxury hotels to choose from. These hotels provide top-notch services and amenities for their guests, making them an ideal destination for travelers seeking a luxurious stay in the heart of the city.
JW Marriott Marco Island Beach Resort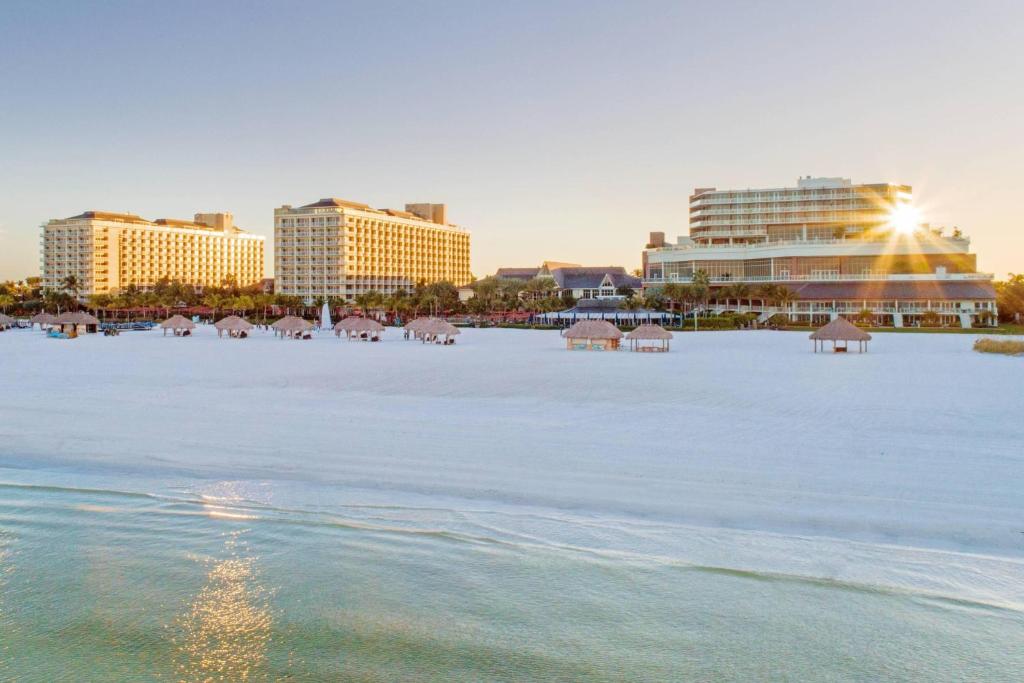 JW Marriott Marco Island Beach Resort is a resort located on the beautiful Marco Island Beach in Florida. This luxury beachfront hotel offers guests access to 3 outdoor pools, 2 private 18-hole golf courses, and a variety of sports facilities including volleyball and tennis. All rooms come equipped with a private balcony, marble bathroom, and small refrigerator while select rooms offer stunning views of the pool, resort or Gulf of Mexico. Guests can relax at Spa by JW®, which offers an array of services from body scrubs to facials and massages as well as beauty treatments such as nail services. With 10 restaurants available on-site serving everything from Caribbean specialties to light salads, there's something for every palate. Other nearby attractions include the Marco Island Historical Museum where guests can explore fossils and cultural items from Florida's past just 2 miles away as well as Tin City shops and Naples waterfront located only 8 miles away.
– Stunning views of the pool, resort or Gulf of Mexico available in select rooms
– Access to multiple outdoor pools
– On-site spa offering various wellness services
– Plenty of dining options including Caribbean specialties
Hilton Naples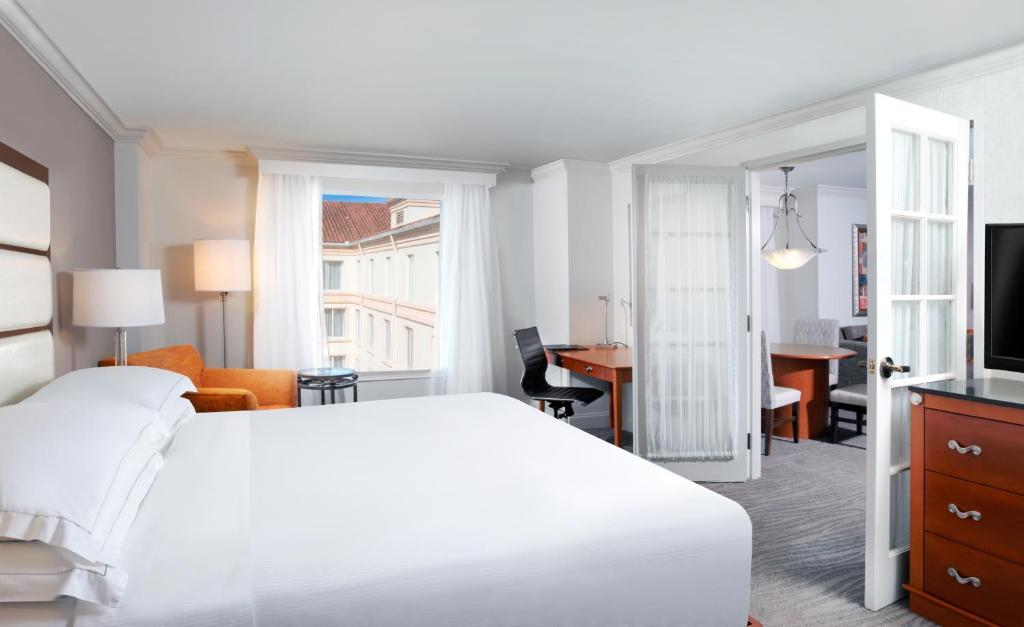 Located just half a mile away from the pristine beaches of Naples, Florida and in close proximity to several popular attractions, Hilton Naples is a premier luxury hotel that boasts spacious accommodations, modern amenities and award-winning dining options. Guests can relax by the outdoor waterfall swimming pool or work out at the 24-hour fitness centre equipped with state-of-the-art equipment. The hotel also offers free bicycle hire for guests to explore the surrounding areas. Other features include spacious meeting and banquet facilities with professional event services, flat-screen TVs in guest rooms along with small refrigerators and Shula's Steak House restaurant which serves up delectable steak cuts alongside other menu options. Waterside Shops are located within walking distance of the hotel, providing an array of shopping, dining and entertainment options.
– Located near beautiful beaches
– Award-winning on-site dining
– Proximity to popular points of interest
– Well-equipped 24-hour fitness centre
– Complimentary bicycle hire
Bellasera Resort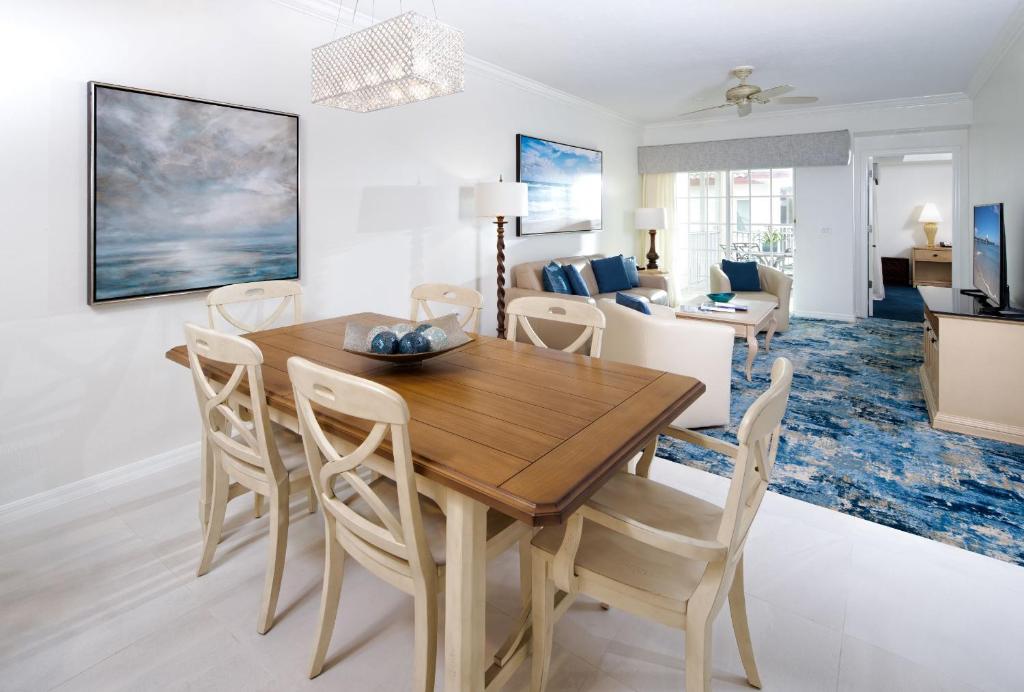 Bellasera Resort in Naples is situated at the entrance of 5th Avenue South, famous for its galleries, boutiques, and restaurants. The resort offers guests the convenience of on-site poolside cabanas, a heated outdoor pool, and a fitness centre. Each accommodation has private balconies with courtyard views, while suites come equipped with fully functional kitchens that include a refrigerator, kitchenware and coffee-making facilities. Dining and living areas are also included in suites. The resort offers concierge services to ensure guests enjoy their stay to the fullest. Naples Zoo at Caribbean Gardens and Naples Pier are only 7 minutes away by car while the Naples Botanical Garden is only 10 minutes' drive from the hotel.
– Located at gateway to 5th Avenue South
– On-site poolside cabanas
– Private balconies with courtyard views
– Fully equipped kitchens in suites
– Close proximity to popular attractions such as Naples Zoo and Pier
5 Star Luxury Hotels
5 Star Luxury Hotels are the epitome of elegance and sophistication, offering guests unparalleled comfort and exceptional service. From opulent decor to top-notch amenities, these hotels provide a memorable experience for those seeking the finest in luxury accommodations.
The Ritz-Carlton Naples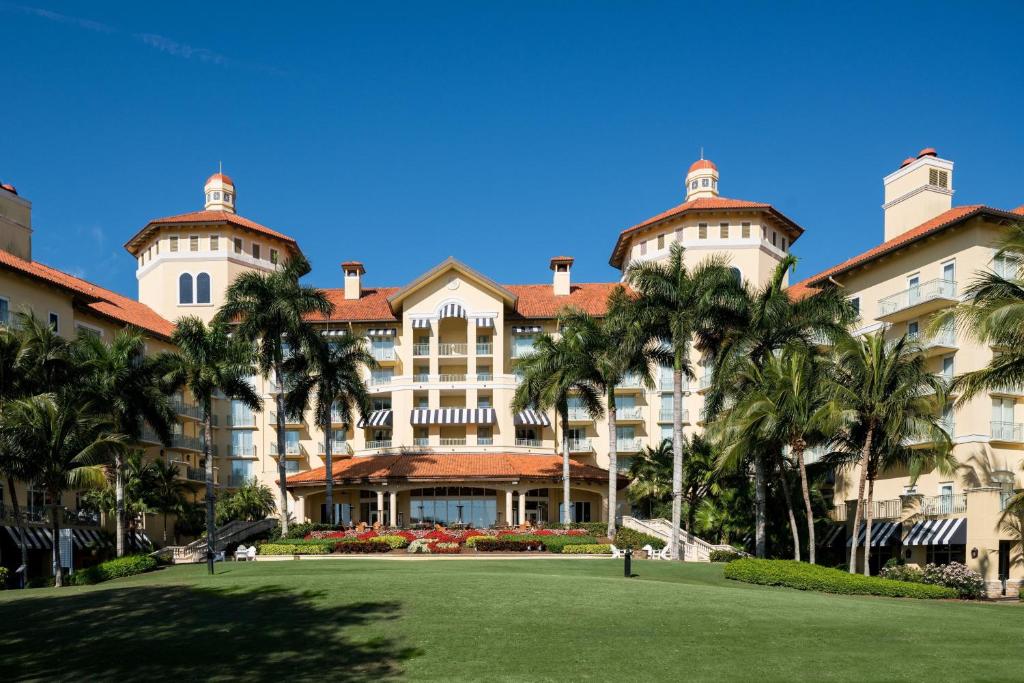 Located in Naples, The Ritz-Carlton Naples is a 4-star, 5-diamond resort offering guests access to two championship golf courses and three award-winning restaurants. The spacious rooms come with a private balcony that showcases either resort or golf course views, as well as modern amenities including a 37-inch flat-screen TV and a marble bathroom stocked with spa toiletries and bathrobes. Other facilities at the hotel include an outdoor pool, four tennis courts, and a well-equipped gym. Here are some additional highlights of the property:
– Lemonía restaurant serves delicious globally-inspired cuisine
– Bella Vista Lounge provides nightly live music and pool tables
– Free shuttle service to nearby Ritz Carlton Beach Resort's luxury spa and beach facilities
– Tiburón Golf Course features 36 holes and free putting lessons
La Playa Beach & Golf Resort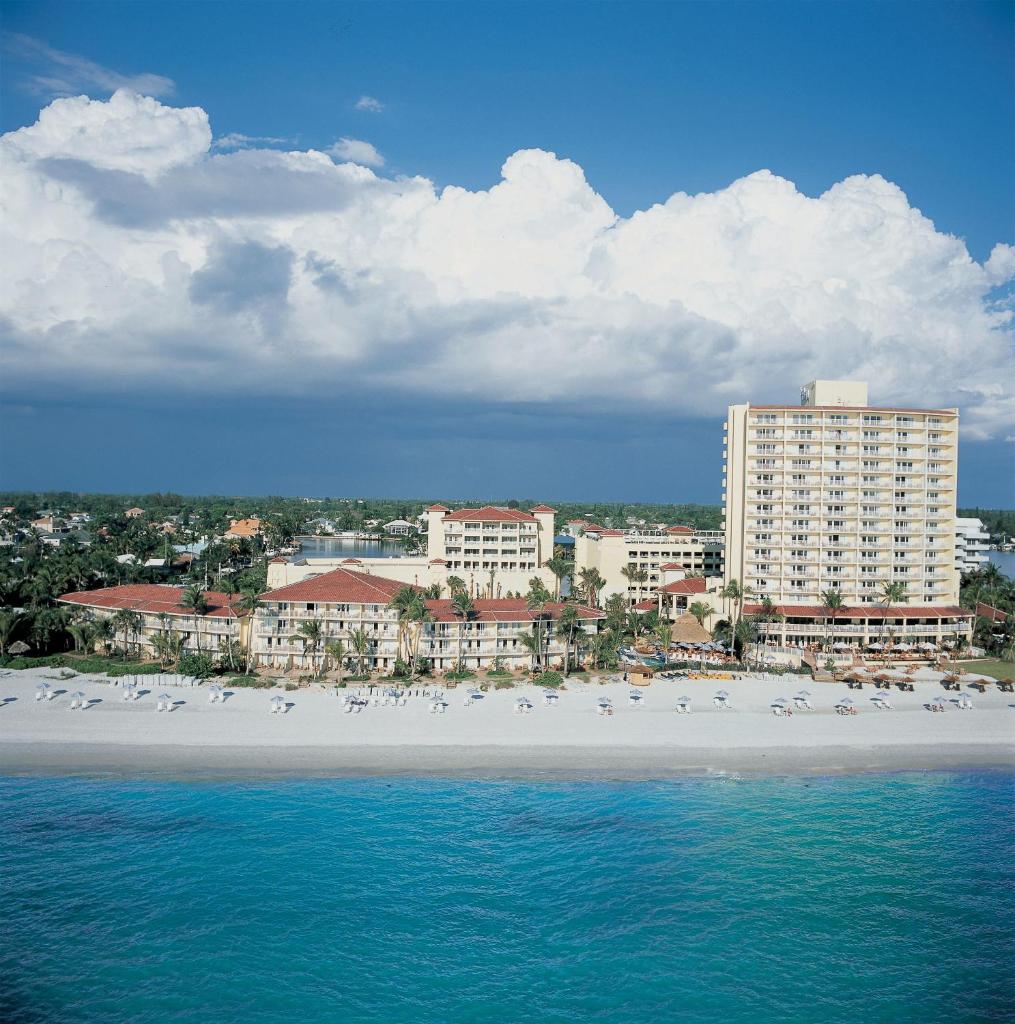 LaPlaya Beach & Golf Resort is temporarily closed due to Hurricane Ian's impact and anticipates a phased reopening from late February 2023 through March 2023. During this time, there will be limited amenities and services such as no access to the Restaurant, Spa, and pools for guests. However, the team is working hard to restore the resort to its full tropical beauty. If you have any questions or concerns about your reservation, please contact their reservations department at 1-800-237-6883 or check their website for updates.
Pros:
– Beautiful beachfront location
– On-site golf course
– Luxurious rooms with ocean views
– Close proximity to local attractions such as Naples Zoo and shopping areas
The Ritz-Carlton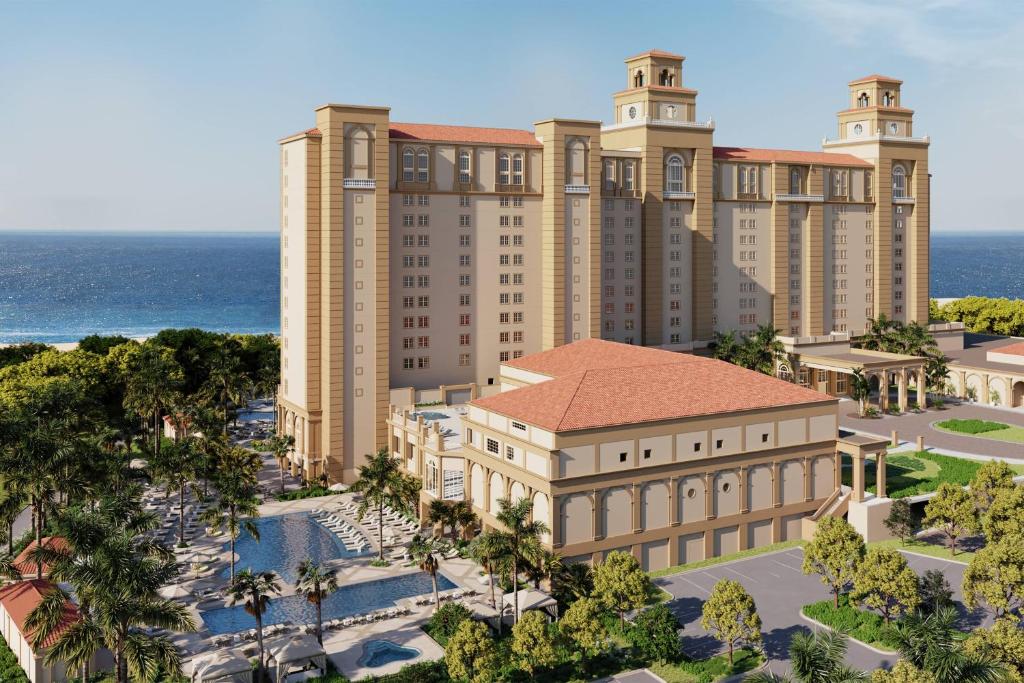 The Ritz-Carlton in Naples is a luxurious resort located on the Gulf of Mexico featuring a 3-mile beach, 2 outdoor pools, a spa, and sauna. The spacious rooms come with minibars, flat-screen TVs with HBO, Wi-Fi, iPod docking stations, DVD players with movies for rent, seating areas, desks, and safety deposit boxes. The hotel offers seven restaurants and a bar as well as amenities such as an on-site barber/beauty shop and car rental service. Guests can also take advantage of the tennis court and gym facilities or relax in the game room. Overall pros are:
– Stunning location on the Gulf of Mexico
– Spacious rooms with high-end amenities
– Seven restaurants to choose from
– Tennis court and gym available to guests
– Variety of additional services offered including car rental
Most Expensive Hotels in Naples
Naples is home to some of the most expensive hotels in Italy. These luxurious accommodations offer guests unparalleled comfort and opulence, making for an unforgettable stay in this beautiful city.
Inn at Pelican Bay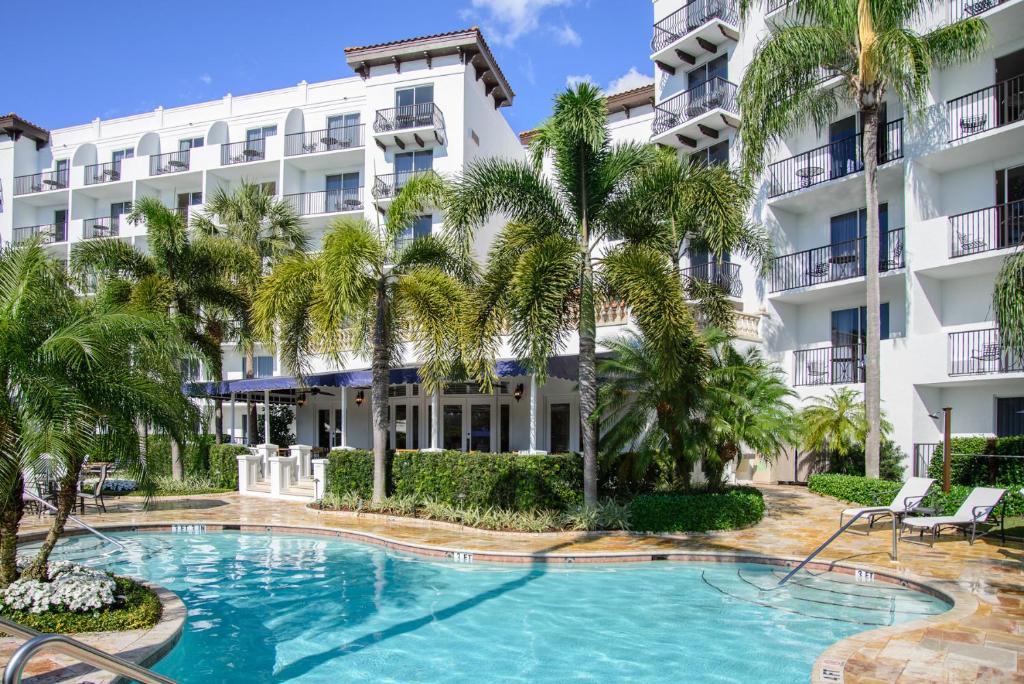 The Inn at Pelican Bay is a charming boutique hotel in the heart of Naples, Florida. This 4-star hotel boasts a prime location, just steps away from Vanderbilt Beach and Mercato Shops. Guests can enjoy complimentary breakfast and WiFi, as well as transportation to the beach. The hotel features an outdoor heated pool and fire pit for relaxation, as well as a 24-hour fitness center for those who want to stay active. Guest rooms are elegantly furnished with hardwood floors and equipped with modern amenities such as refrigerators and cable TVs.
– Prime location across from Mercato Shops
– Complimentary beach transfer service
– Outdoor heated pool and fire pit for relaxation
– Elegant guest rooms with modern amenities
– Concierge service available for arranging dinner reservations
Wiggins Pass Chalet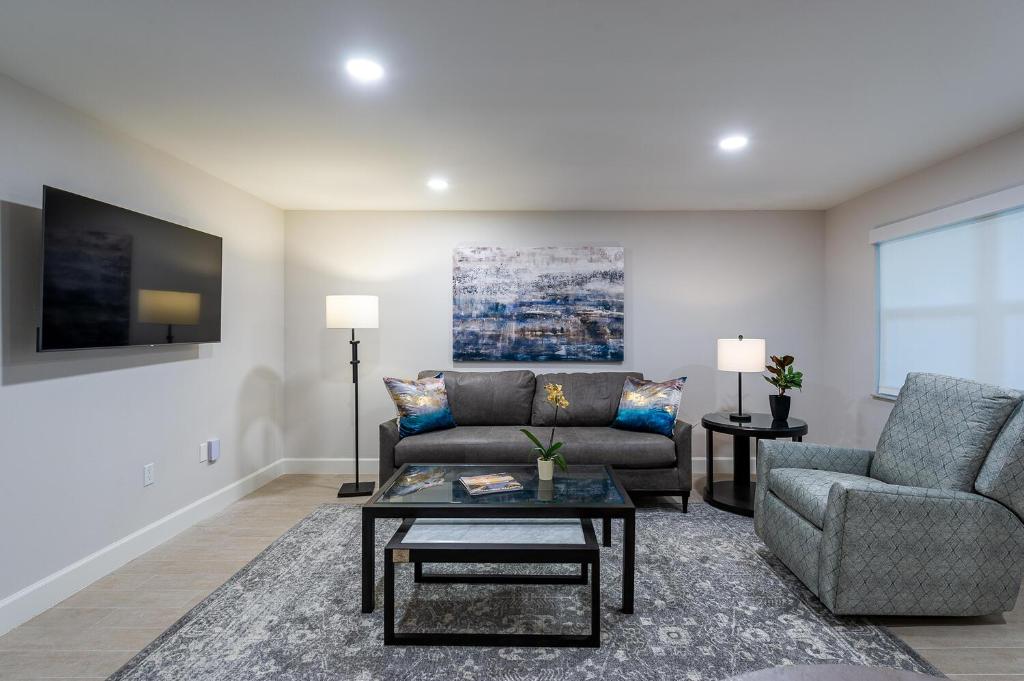 Wiggins Pass Chalet is a newly opened luxury aparthotel located in Naples, just 5.2 km away from Silverspot Cinema and Delnor-Wiggins Pass State Park. The hotel features modern accommodations with air conditioning, free WiFi, fully equipped kitchens and private bathrooms with free toiletries. Guests can enjoy stunning views of the surrounding area from the terrace or relax in the shared lounge area. Naples Museum of Art is just 9.3 km away while Naples Municipal Airport is located 20 km from Wiggins Pass Chalet.
– Modern and fully equipped kitchens
– Private bathrooms with complimentary toiletries
– Access to shared lounge
– Beautiful terrace for relaxing or taking in the view
– Free WiFi available throughout the hotel
The Capri Inn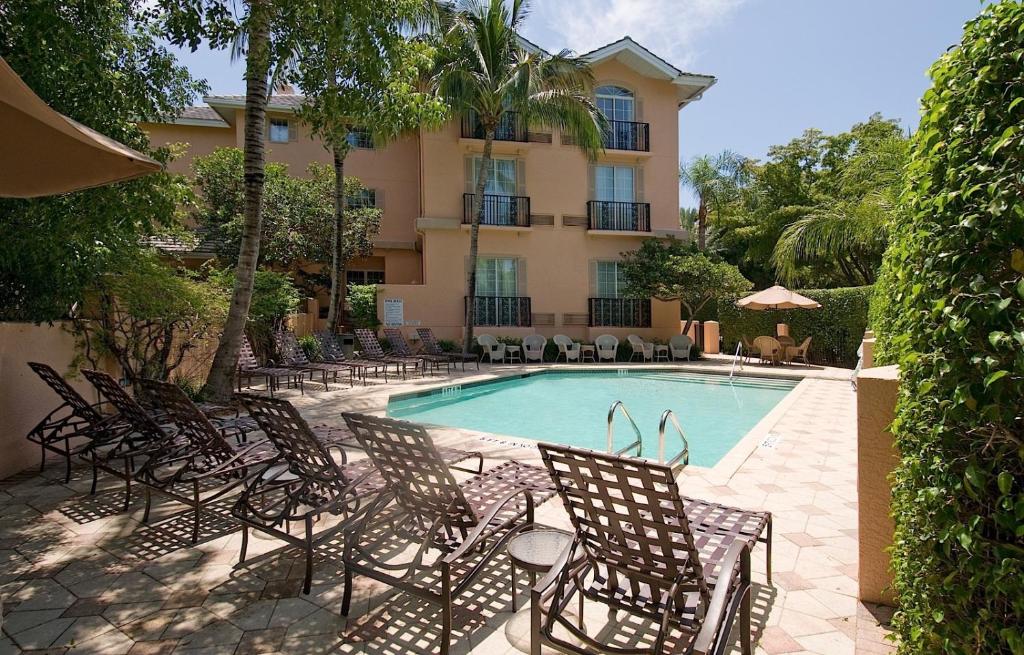 The Trianon Old Naples is a classic hotel in the heart of Naples city center, just a short distance from the beach. Guests can indulge in a heated outdoor pool and take advantage of amenities such as flat-screen cable TV and coffee-making facilities, with some rooms featuring a balcony or standing terrace. Free WiFi is available throughout the entire hotel and guests have access to laundry services. The lobby lounge serves an a la carte continental breakfast experience with full coffee bar in the morning and wine or beer during the evening. This hotel is conveniently located 4 minutes' walk from dining options on 5th Avenue and less than 5 minutes' drive away from Naples Pier.
– Heated outdoor pool
– Free WiFi available throughout hotel
– Conveniently located near dining options
– Access to laundry services
– Classical rooms feature modern amenities
Luxury Naples Hotels Information
| | |
| --- | --- |
| 🛎️ Luxury Hotels in Naples | 12 |
| 💵 Hotels Prices From | $244 |
| 💵 Highest price | $1418 |
| 🥇 Average Review Score | 8.6/10 |
| 🛏️ Average number of Rooms | 157 |
Top Luxury hotels in Naples
| | |
| --- | --- |
| Bellasera Resort | 9.2/10 |
| Inn at Pelican Bay | 9.2/10 |
| Wiggins Pass Chalet | 9.1/10 |
| The Westin Cape Coral Resort at Marina Village | 8.9/10 |
| Inn On Fifth | 8.8/10 |
FAQ
What are the best luxury hotels to stay at in Naples?
Naples is home to several luxurious accommodations that cater to travelers seeking comfort and indulgence. The Ritz-Carlton Golf Resort, Naples is a popular choice among visitors, with its elegant rooms overlooking the golf course and excellent dining options. Another top pick is the Waldorf Astoria Naples, which boasts spacious suites with ocean views and sophisticated amenities such as a spa and two heated outdoor pools. Other recommended options include the LaPlaya Beach & Golf Resort and The Inn on Fifth.
What is the price range of luxury hotels in Naples?
The cost of luxury hotels in Naples varies depending on several factors such as location, amenities, season, etc. However, you can expect to pay anywhere between $300-$1000 per night for a stay at a top-tier hotel like The Ritz-Carlton or Waldorf Astoria. It's also worth noting that prices may be higher during peak tourist seasons like winter months when visitors flock to Florida for sunny weather.
Do luxury hotels in Naples offer recreational activities for guests?
Yes! Many luxury hotels in Naples provide guests with access to various recreational activities such as golfing, tennis courts, private beaches or beach clubs with water sports equipment rentals like kayaks or paddleboards. Some of these properties even have their own marinas where guests can dock their yachts while staying on land! Additionally, most luxurious resorts feature world-class spas that offer an array of rejuvenating treatments and wellness programs.
Are there any pet-friendly luxury hotels in Naples?
Yes! While not all high-end hotels accept pets due to their rigorous hygiene standards and upscale decorum requirements, some do cater specifically to furry friends' needs. For example: The Ritz-Carlton Golf Resort welcomes dogs under 40lbs for an additional fee per day (covers cleaning costs), while Pet-friendly rooms at LaPlaya Beach & Golf Resort offer specialized amenities like dog beds, water bowls, and treats. Be sure to check with the hotel's pet policy before booking.
What makes Naples stand out as a luxury travel destination?
Naples is known for its lush tropical landscapes, picturesque beaches, and upscale shopping and dining scene. The city boasts numerous world-class golf courses that attract visitors year-round. And since it's located on Florida's Gulf Coast, Naples offers unique opportunities to explore the surrounding waters by taking sunset or dolphin-watching cruises. Moreover, many luxurious hotels in Naples feature exceptional fine-dining experiences prepared by renowned chefs that incorporate locally sourced seafood and farm-to-table ingredients.
Popular Luxury Hotels destinations