Welcome to a magnificent destination where opulence meets tranquility – Merano, Italy. Nestled in the heart of the picturesque South Tyrol region, this enchanting city exudes charm and elegance at every turn. If you're seeking an indulgent escape from the everyday hustle and bustle, Merano's collection of lavish accommodations is sure to leave you spellbound.
Prepare to immerse yourself in a world of refined luxury as you step into the realm of exquisite hotels that dot the cityscape. From grand palaces boasting centuries-old architecture to modern boutique hideaways offering contemporary sophistication, Merano has it all. Delight in the sumptuousness of plush suites adorned with tasteful furnishings, where attention to detail is paramount. Be pampered with impeccable service as attentive staff cater to your every need, ensuring an unforgettable stay.
As you explore this elegant paradise, take time to indulge in lavish amenities that will transport you into a state of pure bliss. Unwind at rejuvenating spas that offer an array of revitalizing treatments designed to melt away stress and invigorate your senses. Enjoy world-class dining experiences featuring gourmet cuisine prepared by renowned chefs who showcase their culinary artistry using local flavors and ingredients.
Escape into a haven of serenity and sophistication as you discover Merano's unrivaled luxury hotels. Let yourself be captivated by its timeless beauty and experience unbridled luxury like never before.
Most Luxurious Hotels in Merano
Hotel Europa Splendid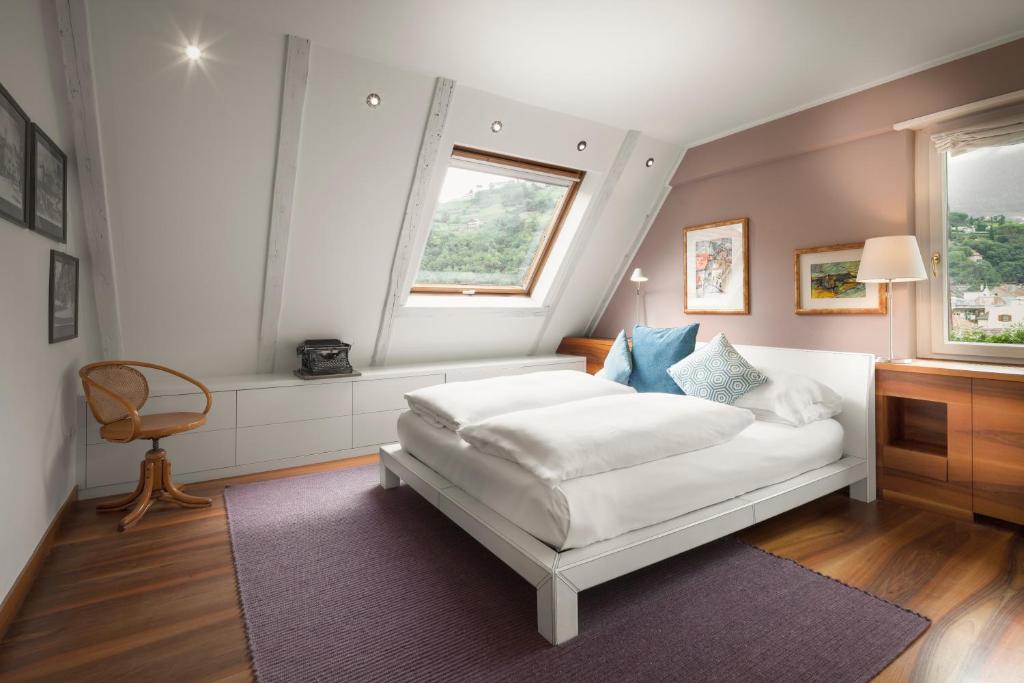 Located next to Merano's pedestrian area and just 100 meters away from the Passirio River, Hotel Europa Splendid is a luxurious 4-star superior hotel. The rooms at this hotel are available in different styles, each featuring soundproofed windows and free Wi-Fi. Whether you prefer a rustic ambiance or a more modern setting with large refurbished bathrooms, your room at Europa Splendid will surely suit your taste. To start off your day, indulge in a sumptuous buffet breakfast. In the evening, savor South Tyrol specialities at the hotel's restaurant while enjoying the cozy lounge area or terrace. This hotel is conveniently situated within walking distance of Merano's thermal spas, shops, and theater. Additionally, there is a local bus stop just 50 meters away.
– Prime location next to pedestrian area
– Variety of room styles to choose from
– Delicious buffet breakfast included
– Restaurant serving South Tyrol specialties
– Convenient access to thermal spas and shops
Guesthouse Suiteseven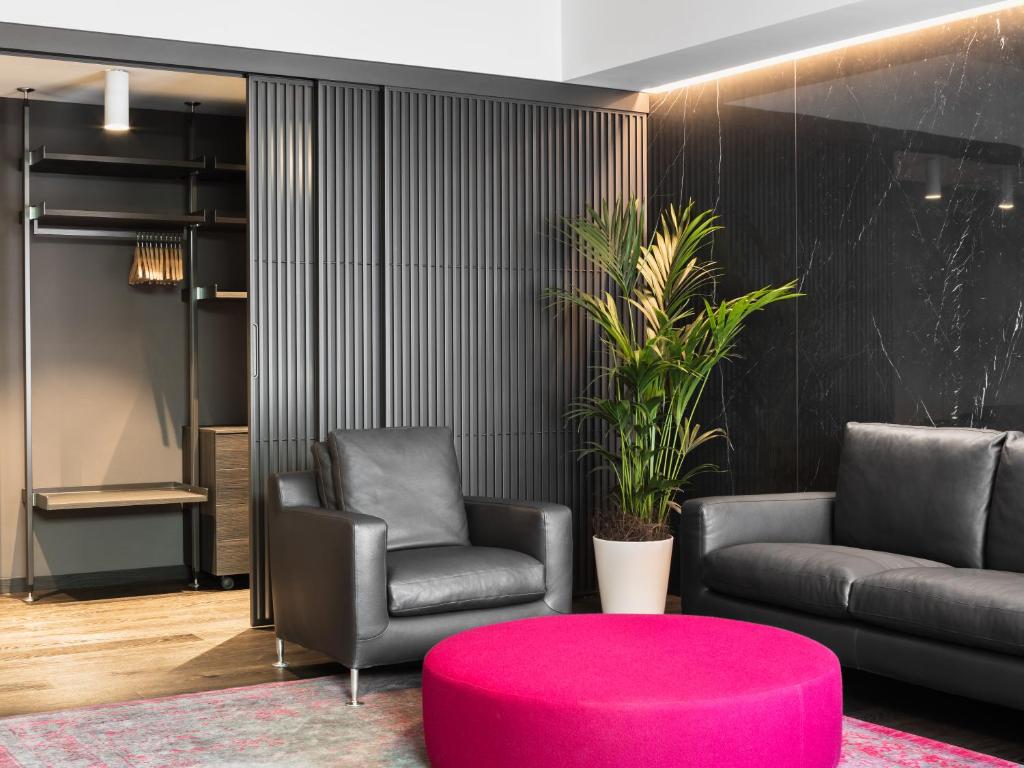 Guesthouse Suiteseven in Merano is a luxurious hotel that offers free WiFi and a trendy bar. Located just steps away from Kunst Merano Arte and Princes' Castle, this property is also conveniently close to popular attractions such as Kurhaus and Women's Museum. The hotel features beautifully designed guest rooms with modern amenities including a flat-screen TV, Blu-ray player, and private bathroom with complimentary toiletries. Guests can enjoy a delicious buffet breakfast before venturing out to explore nearby landmarks like Parc Elizabeth and Parc Terme Merano. With its central location and comfortable accommodations, Guesthouse Suiteseven provides an ideal base for travelers seeking a sophisticated stay in Merano.
– Convenient location near popular attractions
– Stylishly decorated guest rooms with modern amenities
– Free WiFi for guests to stay connected
– Trendy bar offering refreshing drinks
– Buffet breakfast available for guests to start their day off right
Hotel Pollinger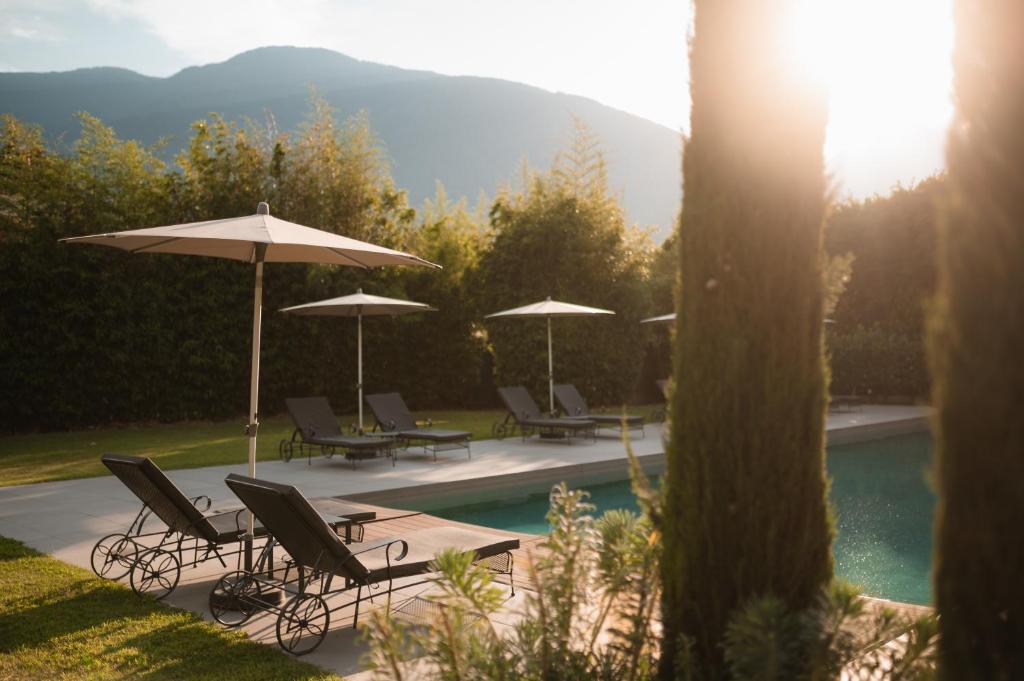 Hotel Pollinger is a luxurious hotel located in a beautiful park, just a short 15-minute walk from Meran centre. The hotel offers an array of amenities including outdoor and indoor swimming pools, free parking, and rooms with private balconies. Guests can enjoy a buffet breakfast until 10:30 a.m and indulge in à la carte lunch and gourmet dinner at the on-site restaurant. Each air-conditioned room features free WiFi, a radio, and a 32-inch plasma-screen TV with satellite channels, along with breathtaking panoramic views of the Texel Mountains. The hotel also offers guided excursions around the mountains for those seeking adventure. After an exciting day exploring, guests can unwind in the wellness centre which includes a gym, sauna, and massage room.
– Beautiful location in a large park
– Outdoor and indoor swimming pools
– Rooms with private balconies
– Buffet breakfast until late morning
– Wellness center with gym, sauna, and massage room
Other places to stay in Merano
Luxury Hotels in Downtown Merano
Downtown Merano boasts a selection of exquisite luxury hotels that exude elegance and sophistication. Nestled amidst the charming streets, these accommodations offer a unique blend of modern comfort and timeless opulence. With impeccable service and attention to detail, guests can indulge in the utmost pampering and relaxation. The architectural beauty of these hotels is complemented by tastefully designed interiors, creating an atmosphere of refined luxury. Whether it's unwinding at the rooftop pool or savoring delectable cuisine at world-class restaurants, every aspect of the stay promises an unforgettable experience.
Prinz Rudolf Smart Hotel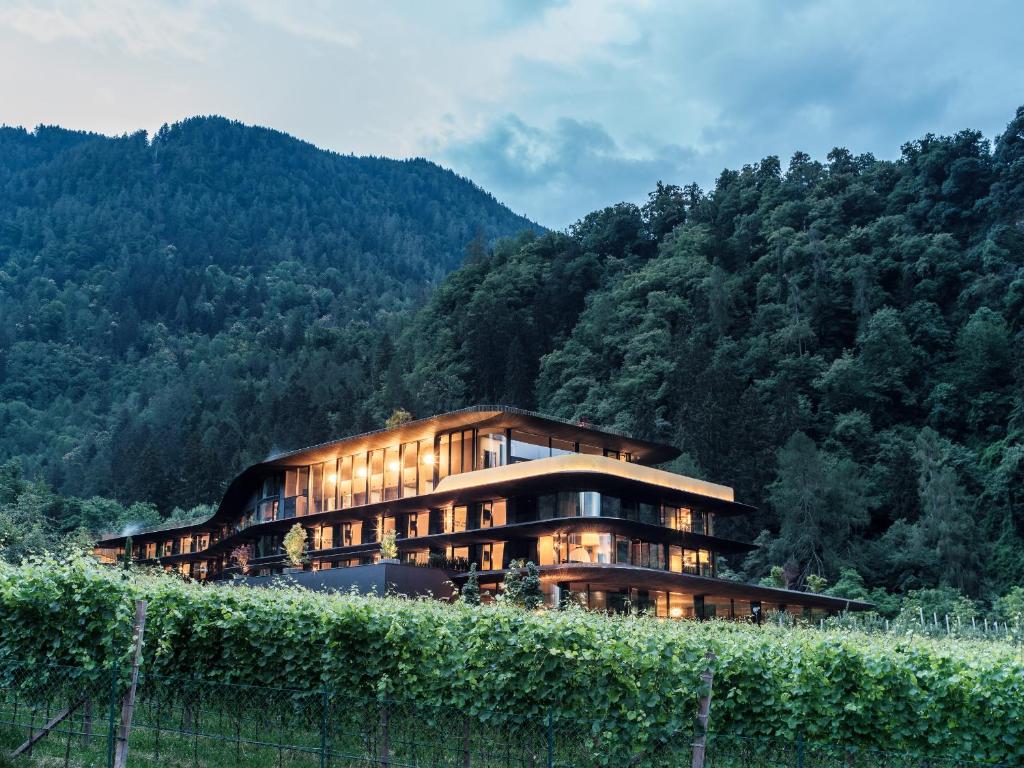 The Prinz Rudolf Smart Hotel is perfectly situated just 300 meters from the Meran cable-way and 400 meters from the skiing area of Merano2000. Surrounded by lush forests and apple orchards, this hotel offers a serene setting with breathtaking panoramic views of the surrounding landscape. In the summer, guests can enjoy trekking and mountain biking in the nearby area. The hotel features a charming restaurant where you can indulge in local specialties and delicious Italian cuisine. For relaxation, there is an outdoor pool and wellness facilities including two saunas available all year round. The comfortable accommodations offer modern conveniences, with many rooms featuring a panoramic balcony.
– Peaceful location amidst forests and apple orchards
– Panoramic views of the surrounding landscape
– Restaurant serving local specialties and Italian cuisine
– Outdoor pool for relaxation
– Wellness facilities including two saunas available all year
Boutique Hotel ImperialArt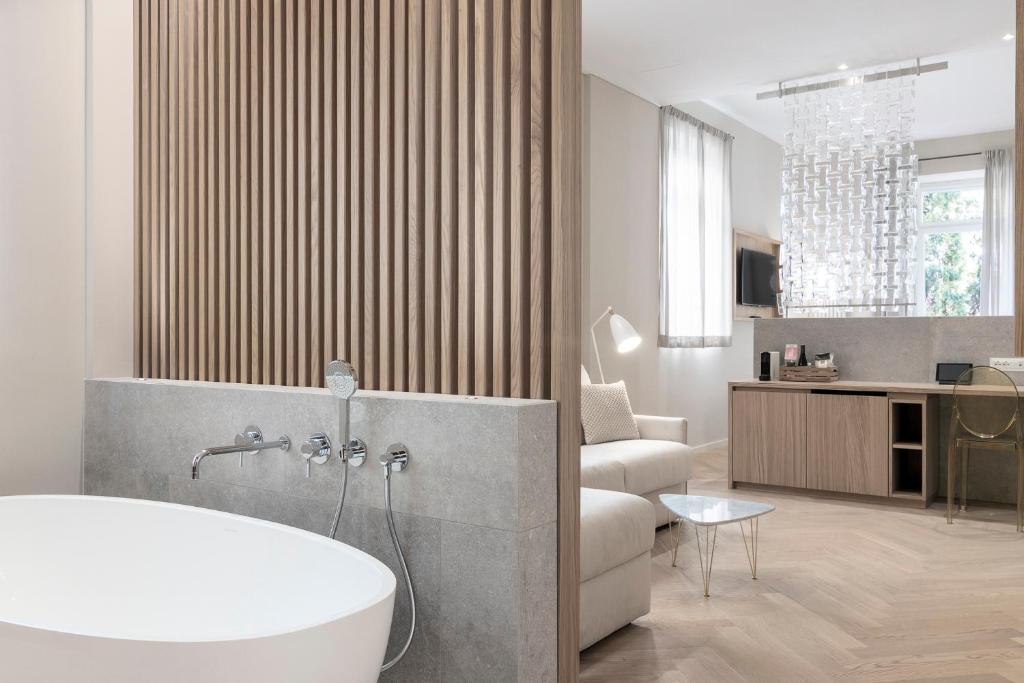 Located in the heart of Merano, just 5 km from the Merano 2000 Cable Car, Boutique Hotel ImperialArt offers a luxurious stay with its beautifully designed rooms and modern amenities. Each room is inspired by local artists and features air conditioning, a flat-screen satellite TV, and a minibar. Guests also have free access to a contemporary art gallery adjacent to the hotel. The hotel's proximity to the Merano Thermal Baths and the town's annual Christmas market makes it an ideal choice for those looking to explore the city's cultural offerings. Additionally, most rooms offer private balconies, allowing guests to enjoy stunning views of the surrounding area. Other services include a bar, Wi-Fi access throughout the building, and a public shuttle service for easy transportation to nearby ski resorts.
– Ideal central location in Merano
– Unique design inspired by local artists
– Free access to contemporary art gallery
– Proximity to thermal baths and Christmas market
– Private balconies offering picturesque views
Hotel Bavaria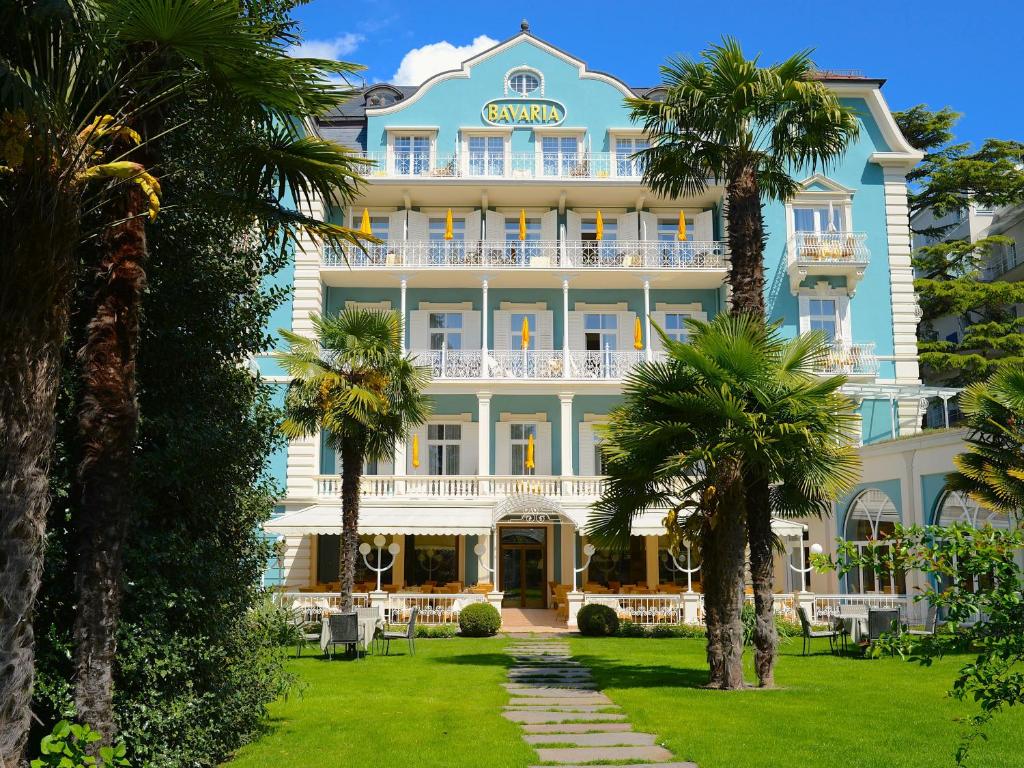 Hotel Bavaria is a charming boutique hotel that offers an elegant yet casual atmosphere, combining traditional charm with modern comfort. Situated in South Tirol, between Austria and Italy, this hotel immerses guests in a unique ambiance. Conveniently located in a peaceful neighborhood near the city center, visitors can explore attractions such as the Museum of Tourism and the Botanical Gardens at Trauttmansdorff Castle. After a day of exploration, guests can unwind in the hotel's romantic garden surrounded by palm trees and cedars, enjoying the region's mild climate all year round. Additionally, Hotel Bavaria features a cozy restaurant where guests can savor delicious meals.
– Charming boutique hotel
– Convenient location near city center
– Tranquil garden with palm trees and cedars
– Mild climate all year round
– Cozy onsite restaurant
5 Star Luxury Hotels
5 Star Luxury Hotels offer an unparalleled experience of opulence and sophistication. From the moment guests step into these lavish properties, they are greeted by impeccable service, exquisite design, and attention to detail. These hotels boast a harmonious blend of comfort and elegance, providing guests with luxurious accommodations that feature plush furnishings and state-of-the-art amenities. With world-class dining options, indulgent spas, and unrivaled views of breathtaking landscapes or city skylines, 5 Star Luxury Hotels ensure an unforgettable stay for those seeking the ultimate in luxury travel experiences.
Hotel Garni Partaneshof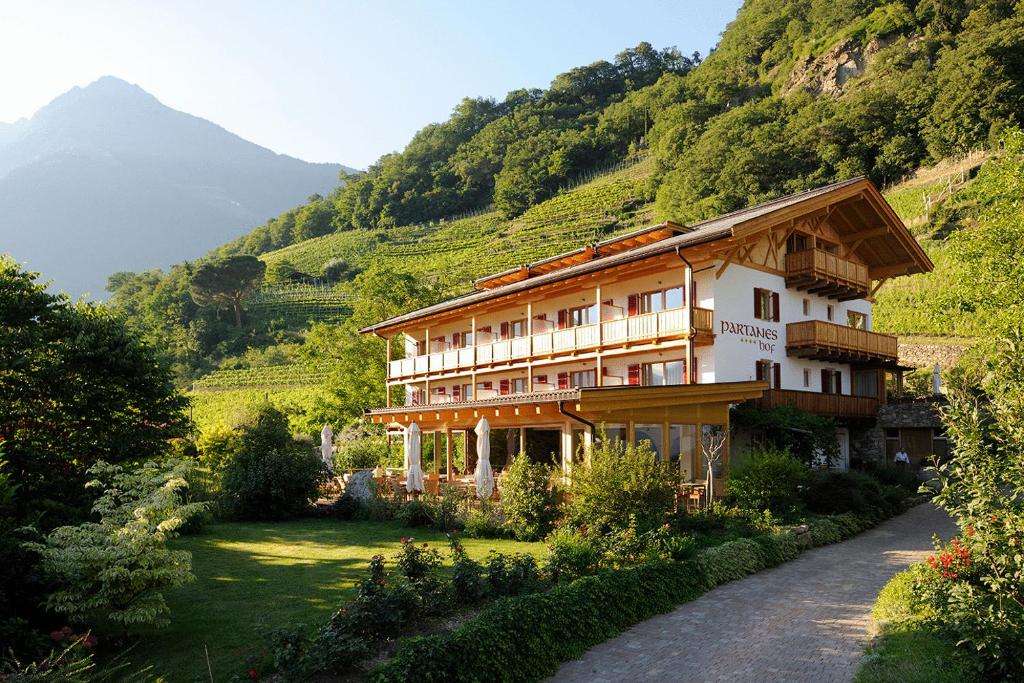 Hotel Garni Partaneshof is a charming boutique hotel located in the heart of Meran, surrounded by its own beautiful orchards and vineyards. This 4-star hotel offers a tranquil retreat just a 20-minute walk from the city center. Guests can enjoy the hotel's swimming pool and relax in the pleasant garden, immersing themselves in the natural beauty of their surroundings. One of the highlights of this hotel is that it produces its own wine, allowing guests to sample and purchase these delightful wines on-site. The guest rooms are stylishly furnished and provide modern amenities such as air conditioning, satellite TV, and free internet access. Each room also features a balcony or terrace, providing panoramic views of the stunning landscape.
– Boutique hotel with unique charm
– Proximity to city center
– Beautiful orchards and vineyards surrounding the property
– Swimming pool for relaxation
– On-site wine production with tasting opportunities
Relais & Chateaux Hotel Castel Fragsburg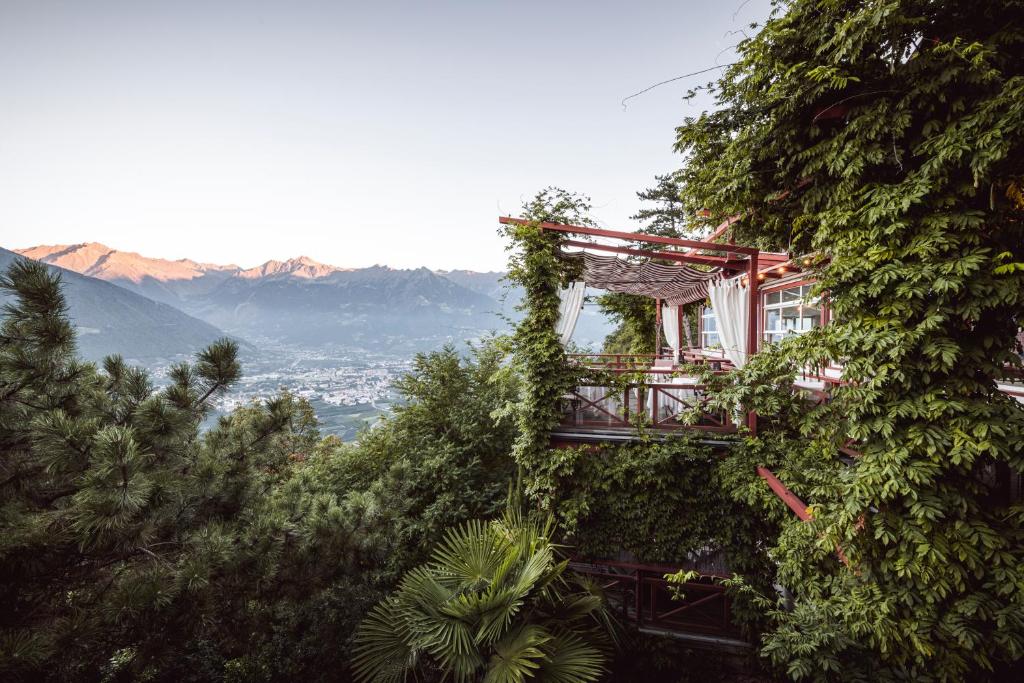 Nestled on a sunny mountainside, Relais & Chateaux Hotel Castel Fragsburg offers an exclusive and luxurious retreat with breathtaking panoramic views of the surrounding mountains. This former hunting castle exudes charm and elegance, providing guests with a one-of-a-kind experience. With its expansive garden, heated outdoor pool, and Spa Castellum Natura wellness center, the hotel is perfect for those seeking relaxation and rejuvenation. The wellness center features various treatments and massages, a sauna, a Turkish bath, and even a panoramic lodge with a wooden bathtub. In addition to its outstanding amenities, the hotel's gourmet restaurant delights guests with traditional and Mediterranean cuisine made from locally sourced ingredients. Overlooking the stunning valley of Merano, this hidden gem is just 15 minutes away from the bustling city center by car.
– Breathtaking panoramic mountain views
– Luxurious spa facilities including treatments and massages
– Expansive garden with heated outdoor pool
– Gourmet restaurant serving delicious local cuisine
– Convenient location near Merano's city center
Hotel Aurora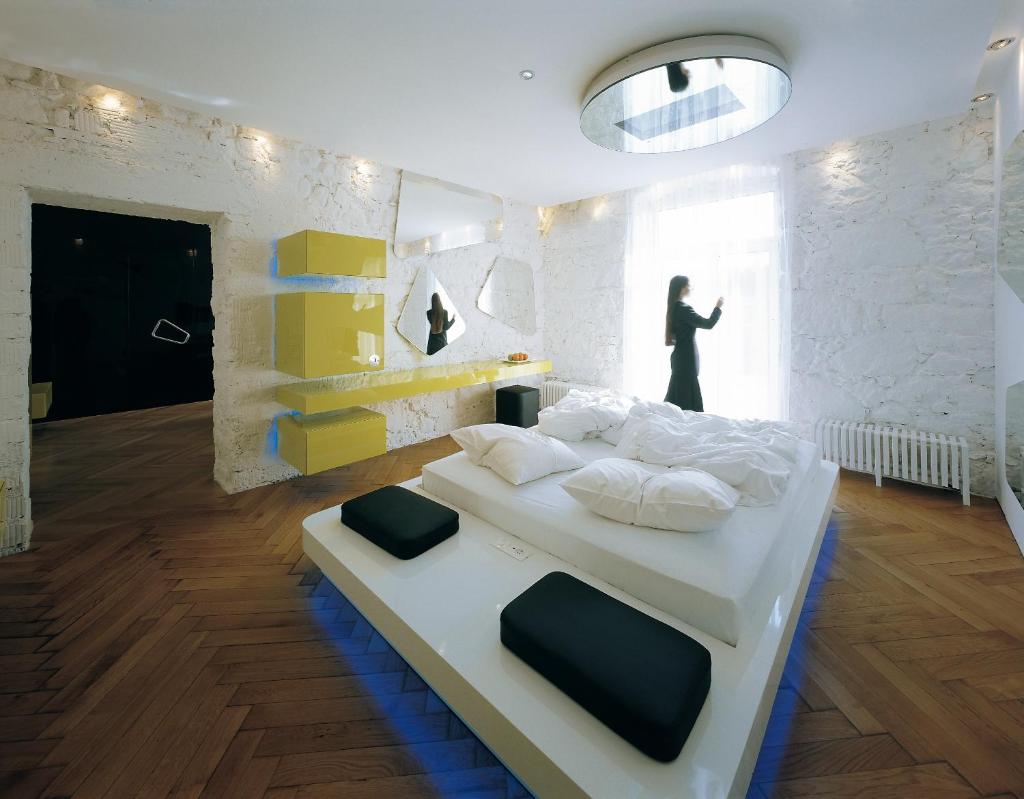 Located in the heart of the picturesque spa town of Merano, Hotel Aurora is a charming family-run hotel. Situated on the river's promenade and facing the thermal baths, this hotel offers guests a truly relaxing and rejuvenating experience. The hotel features a restaurant that serves up delicious regional, national, and international cuisine. The rooms at Hotel Aurora are tastefully decorated and offer either a vintage ambiance or a modern design style. Each room comes with air-conditioning, a minibar, and a private bathroom complete with a hairdryer. For an additional cost, guests can request shuttle service to/from various airports in the area including Bolzano, Verona, Bergamo, Milan, Venice, Treviso, Innsbruck and Munich. Just a short 5-minute drive away are the magnificent Gardens of Trauttmansdorff Castle – a must-visit for nature lovers. Guests can take advantage of discounted parking rates at the thermal baths located on the opposite side of the river where there is also secure garage parking available. For those arriving by train, free public parking is conveniently located near Merano Train Station.
Pros:
– Prime location in the heart of Merano
– Beautiful views overlooking the river
– Delicious dining options available onsite
– Comfortable and stylishly decorated rooms
– Convenient shuttle service to nearby airports
Most Expensive Hotels in Merano
Merano, a charming destination nestled in the heart of the Italian Alps, boasts some of the most opulent and exclusive hotels in the world. These sophisticated retreats offer an unparalleled level of luxury and indulgence for discerning travelers seeking an unforgettable experience. With lavish accommodations, impeccable service, and breathtaking views, the most expensive hotels in Merano are truly a haven for those who appreciate refinement and elegance. From sumptuous fine dining to tranquil spa facilities, every aspect is meticulously designed to cater to even the most discerning tastes. These remarkable establishments redefine luxury hospitality, creating an atmosphere where guests can relax and enjoy a truly extraordinary stay in this enchanting alpine paradise.
Hotel Greif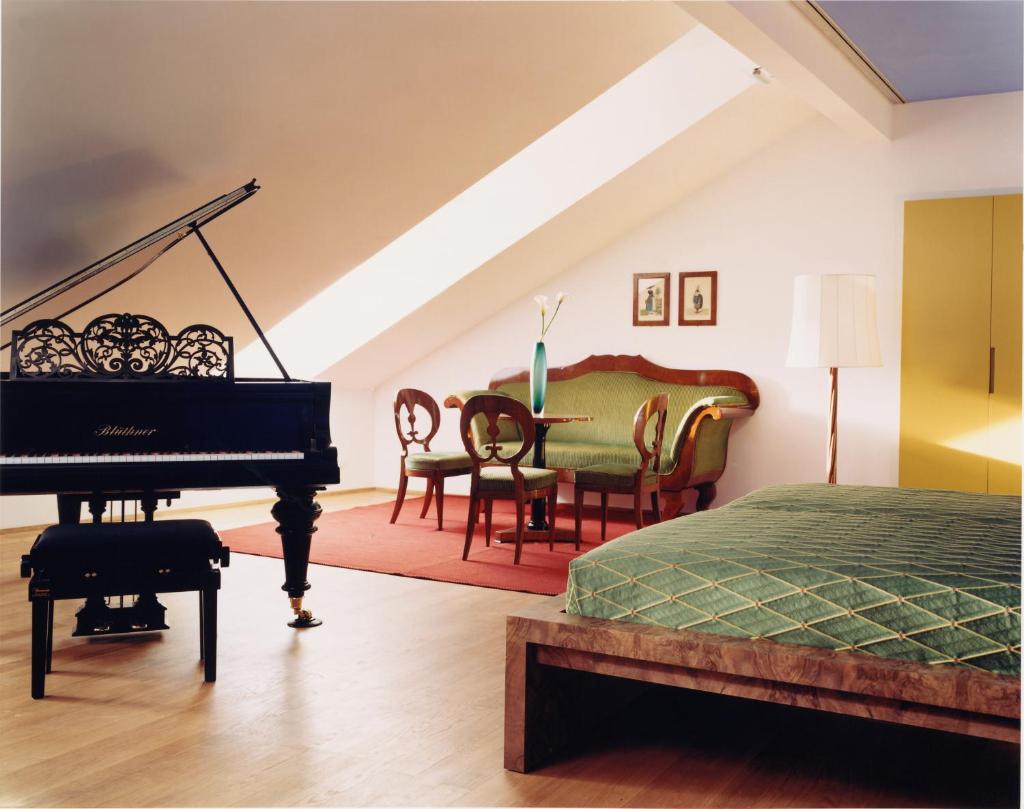 Hotel Greif is a stunning design hotel located in a historical building with breathtaking views of the Dolomites and Piazza Walther, Bolzano's main square. The hotel offers stylish rooms with wooden floors, free WiFi, and an interactive TV with satellite channels. Guests can enjoy a workout at the complimentary gym or explore nearby attractions such as Maretsch Castle and Bolzano Train Station. Individually decorated rooms feature a living area and marble bathroom with free toiletries. The buffet breakfast, served on the panoramic terrace, showcases locally sourced ingredients along with freshly baked cakes, homemade jams, and marmalade. Classic and contemporary drinks are available at Grifoncino Lounge Bar while a restaurant just 80 meters away offers local and Mediterranean cuisine options. For convenience, the A22 motorway is only 10 minutes away by car.
Pros:
– Spectacular views of the Dolomites and Piazza Walther
– Stylish rooms with wooden floors
– Complimentary gym for guests' use
– Locally sourced buffet breakfast served on the panoramic terrace
– Convenient location near train station and attractions
Luxury Merano Hotels Information
| | |
| --- | --- |
| 🛎️ Luxury Hotels in Merano | 10 |
| 💵 Hotels Prices From | $114 |
| 💵 Highest price | $1867 |
| 🥇 Average Review Score | 8.9/10 |
| 🛏️ Average number of Rooms | 26 |
Top Luxury hotels in Merano
| | |
| --- | --- |
| Guesthouse Suiteseven | 9.5/10 |
| Relais & Chateaux Hotel Castel Fragsburg | 9.4/10 |
| Hotel Greif | 9.2/10 |
| Hotel Pollinger | 9/10 |
| Boutique Hotel ImperialArt | 9/10 |
FAQ
1
What luxury hotels are available in Merano, Italy?
There are several luxury hotels in Merano, Italy that offer outstanding accommodations and services. Some of the top luxury hotels in the city include Grand Hotel Bellevue, Hotel Terme Merano, and Castel Fragsburg. These hotels provide luxurious rooms and suites with elegant decor and modern amenities such as spa facilities, outdoor pools, gourmet restaurants, and stunning views of the surrounding mountains.
2
What is the best time to visit Merano for a luxury hotel experience?
The best time to visit Merano for a luxury hotel experience is during the spring (April to June) or fall (September to October) when the weather is pleasant and there are fewer crowds compared to peak summer months. This allows guests to fully enjoy their stay at luxury hotels without feeling overwhelmed by large numbers of tourists.
3
Are there any Michelin-starred restaurants near luxury hotels in Merano?
Yes, there are Michelin-starred restaurants conveniently located near luxury hotels in Merano. For example, Restaurant Sissi at Hotel Chrys offers an exquisite dining experience with its innovative cuisine and has been awarded one Michelin star. Another renowned restaurant is Stube Gourmet at Castel Fragsburg which has two Michelin stars. Guests staying at these luxurious establishments can indulge in gourmet meals prepared by talented chefs.
4
Do luxury hotels in Merano offer spa facilities?
Absolutely! Luxury hotels in Merano pride themselves on providing exceptional spa facilities for their guests' relaxation and rejuvenation. Many of these spas feature thermal baths fed by natural hot springs known for their healing properties. Visitors can enjoy various spa treatments such as massages, facials, body scrubs, and hydrotherapy sessions offered within serene settings designed to promote tranquility.
5
What activities are available near luxury hotels in Merano?
Guests staying at luxury hotels in Merano have access to a plethora of activities nearby. They can explore the beautiful Merano Gardens, take a leisurely stroll along the Passer River promenade, or visit historical landmarks such as Trauttmansdorff Castle and Kurhaus Merano. Additionally, outdoor enthusiasts can go hiking in the surrounding mountains or indulge in winter sports like skiing and snowboarding at nearby ski resorts.
Popular Most Luxurious hotel destinations