Maine is a hidden gem in the northeastern region of the United States. Known for its picturesque scenery, fresh seafood, and laid-back lifestyle, this state offers a luxurious escape from the hustle and bustle of everyday life. The stunning coastline of Maine boasts some of the most beautiful luxury hotels in the country, with breathtaking views of the Atlantic Ocean and charming coastal towns.
Whether you're looking to unwind at a spa resort or enjoy outdoor activities like hiking and sailing, Maine has something for every type of traveler. From historic mansions turned hotels to modern beachfront properties, there are plenty of options for those seeking an opulent experience. Indulge in locally sourced cuisine prepared by award-winning chefs or sip on craft cocktails while watching the sunset over the water.
With so many incredible luxury hotels scattered throughout Maine's diverse landscape, it's no wonder why this state is becoming one of America's top destinations for indulgent getaways. So pack your bags and immerse yourself in all that this stunning state has to offer – from scenic drives along rugged coastlines to cozy evenings spent fireside at a lavish hotel.
Most Luxurious Hotels in Maine
Elmwood Resort Hotel (Wells)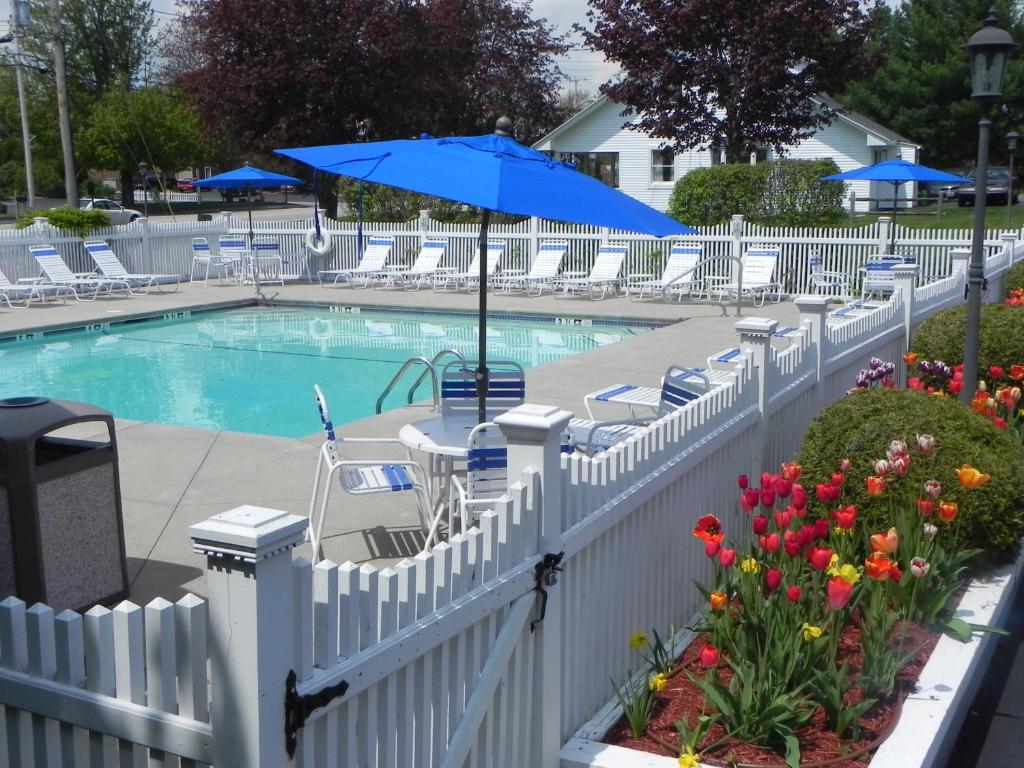 The Elmwood Resort Hotel in Wells, Maine is a luxurious, modern hotel that offers fully stocked kitchens and living rooms with a queen sofa bed, high definition TV with DVD player, telephone with voicemail and free WiFi. This hotel is centrally located to all the Southern Coast of Maine has to offer, just minutes away from beaches, shopping areas, restaurants and galleries. Guests can enjoy their stay by taking advantage of the amenities including both indoor and outdoor heated pools, sauna, laundry facilities, picnic area with gas grills and playground. In addition to this the hotel also offers an off-site fitness club membership along with an off-site spa for those who want more pampering during their stay. There is something for everyone at Elmwood Resort Hotel; guests can have fun watching movies at the outdoor movie theatre or gather around the gas fire pit or even enjoy seasonal live entertainment.
– Centrally located close to beaches.
– Fully stocked kitchens available.
– Indoor and outdoor heated pools & sauna for relaxation.
– Play area for children.
– Seasonal live entertainment offered.
The Tides Beach Club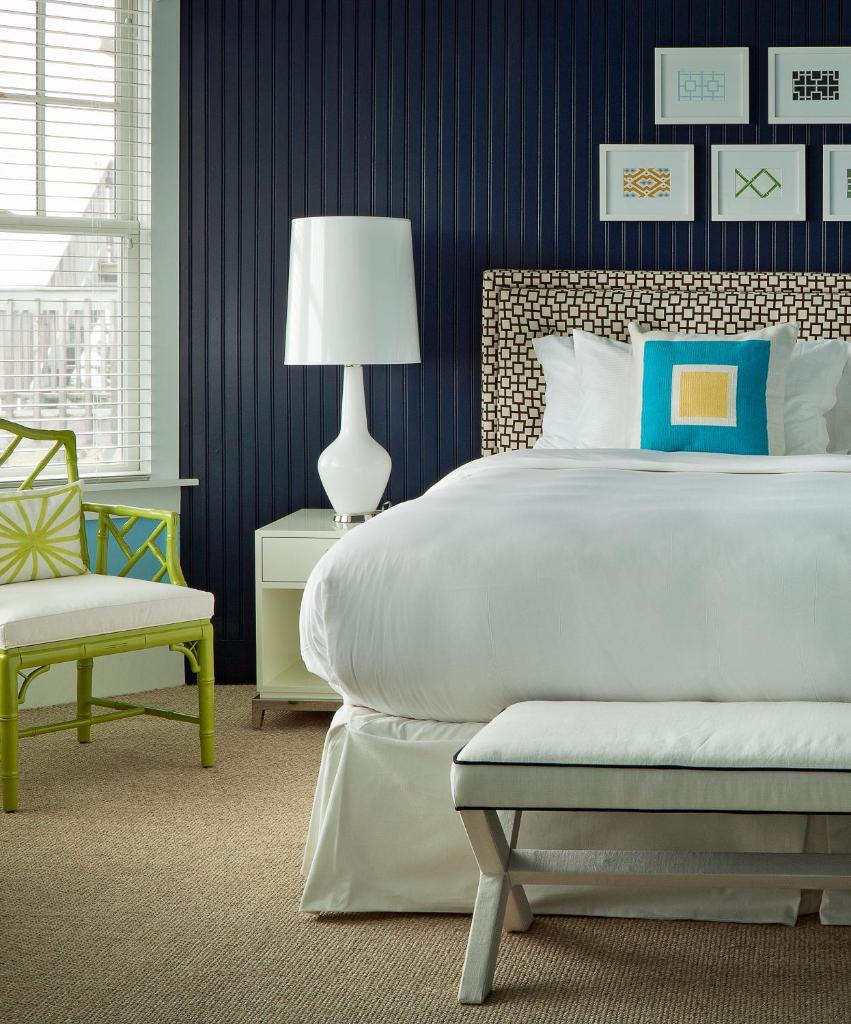 The Tides Beach Club is a luxury hotel situated on the beachfront in Kennebunkport. The hotel features an on-site restaurant that serves gourmet seafood and cocktails, and offers guests free WiFi access. Each room comes with a flat-screen cable TV, air conditioning, and an en suite bathroom complete with marble and stainless steel finishes, shower, and free toiletries. Guests can also enjoy complimentary beach chairs, towels, and umbrellas. For relaxation or fitness enthusiasts, the hotel offers access to outdoor pool, garden area spa services and a nearby fitness centre with a shuttle service provided for free.
– Prime location on the beachfront
– Complimentary Wi-Fi access
– On-site gourmet seafood restaurant
– Access to outdoor pool & garden area spa services
– Free shuttle service to nearby fitness centre
Sheepscot Harbour Village Resort (Edgecomb)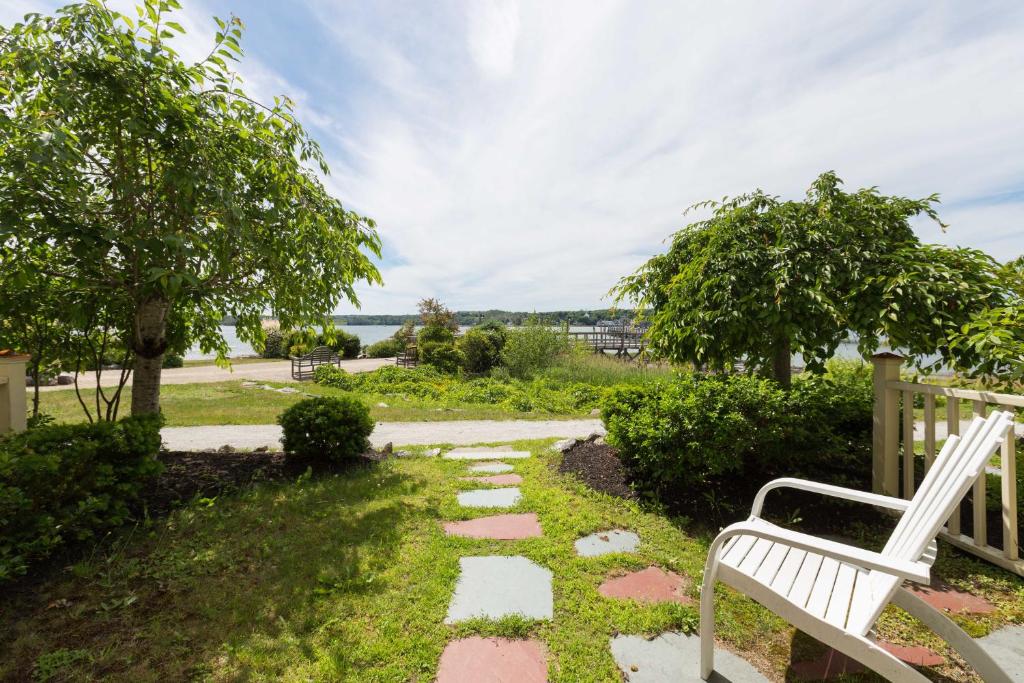 Sheepscot Harbour Village Resort in Edgecomb is an idyllic vacation rental property located on the Sheepscot River, just over the bridge from Wiscasset. This luxurious resort offers a range of accommodation options including cottages, inn rooms, and waterfront lodge rooms. Each room is thoughtfully equipped with modern amenities such as free WiFi, a refrigerator, and a microwave. Some of the rooms also feature fully equipped kitchens complete with dishwashers and ovens. Guests can enjoy the serene views of the river or indulge in a relaxing soak in the spa bath available in select inn rooms. The resort's convenient location makes it easy for guests to explore popular nearby attractions such as Freeport and Bath.
– Serene location on Sheepscot River
– Range of accommodation options
– Modern amenities including free WiFi
– Fully equipped kitchens in select rooms
– Convenient proximity to nearby attractions
Other places to stay in Maine
Luxury Hotels in Downtown Maine
Luxury Hotels in Downtown Maine offer upscale accommodations and top-notch service to their guests. With prime locations in the heart of the city, travelers can easily explore its vibrant culture and attractions.
Portland Harbor Hotel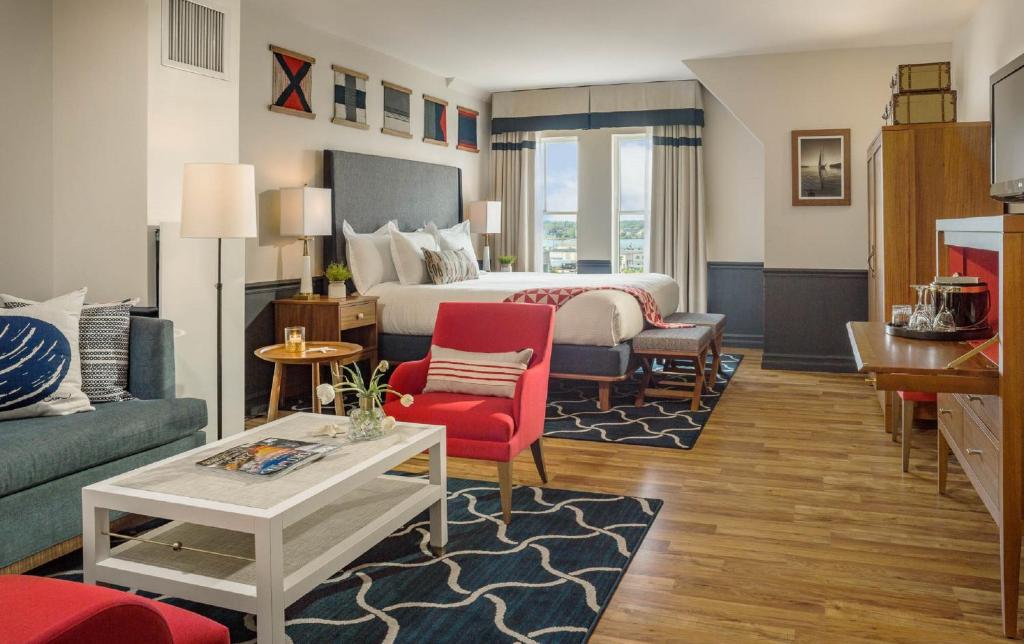 Located near the Portland Waterfront, Portland Harbor Hotel is a luxurious hotel that offers guests a restaurant and fitness centre. The hotel is situated close to several tourist attractions including Wadsworth Longfellow House, Portland Downtown Historic District and Victoria Mansion. With its comfortable rooms that come equipped with flat-screen TVs and refrigerators, select rooms offering spa baths and scenic views, this luxury hotel provides guests with an unforgettable stay. Free WiFi access is also available throughout the property. Other amenities include meeting facilities, luggage storage and valet parking at their private garage.
– Convenient location near major tourist attractions
– Luxurious accommodations with comfortable amenities
– On-site restaurant for convenient dining options
– Fitness centre for guests who like to stay active
– Private garage with valet parking for added convenience
Lodge at Kennebunk (Kennebunk)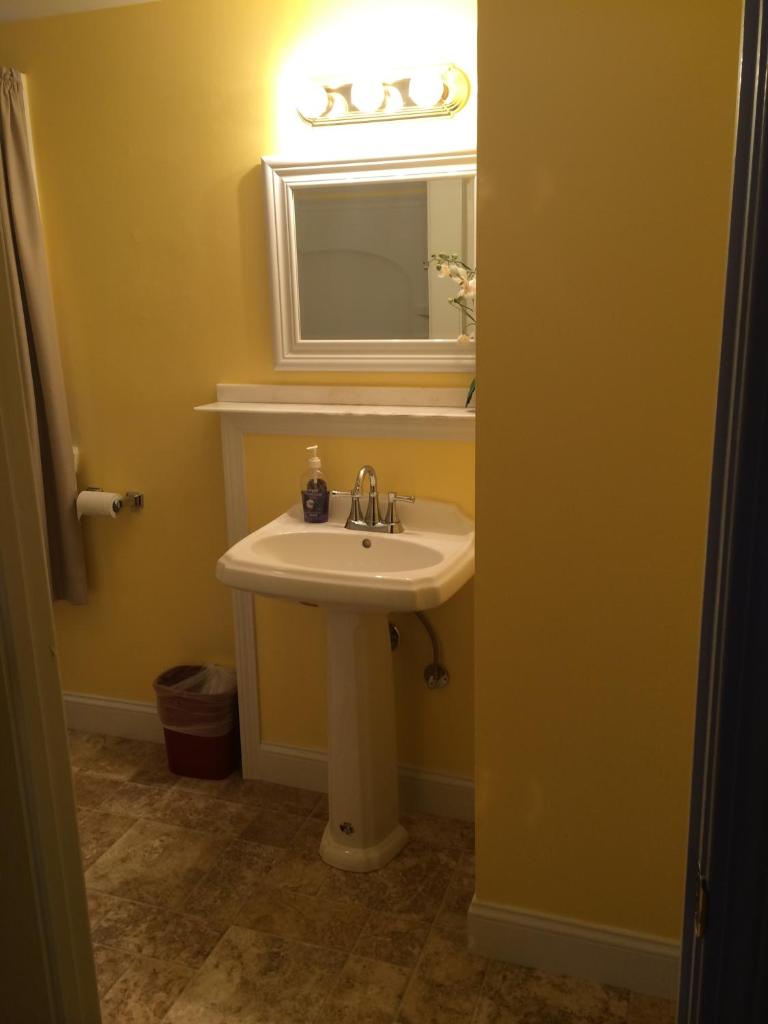 The Lodge at Kennebunk is located in the charming town of Kennebunk, Maine on an 8-acre peaceful property right off Interstate 95. The hotel's prime location places it just across the Kennebunk River from the famous town of Kennebunkport known for its beaches, shopping and dining options. Travelers will appreciate that this luxurious hotel is only halfway between Portland, Maine and Portsmouth, New Hampshire and a short drive from Boston.
– Tranquil setting away from busy streets
– Convenient access to I-95
– Short distance to both Portland and Portsmouth
– Luxurious amenities
– Close proximity to popular beaches
The Boathouse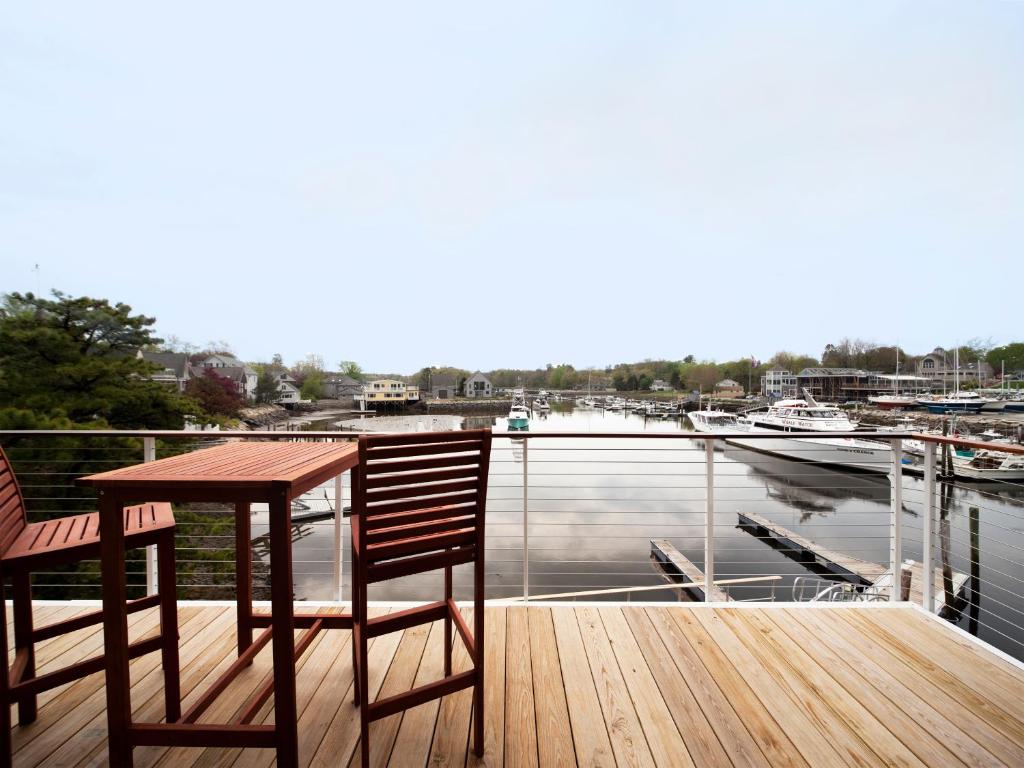 The Boathouse in Kennebunkport is a charming hotel that offers free Wi-Fi to its guests. The hotel features an on-site restaurant, which has two bars and serves delicious local Maine flavors. The rooms are equipped with flat-screen TVs, iPod docking stations, and complimentary bath amenities. There's also a sun terrace and concierge services provided for the guests' convenience. Additionally, the hotel offers complimentary bicycles to explore the surrounding area.
Pros:
– Beautiful wrap-around porch with waterfront views
– Central location with easy access to shops and restaurants
– Complimentary bicycles for exploring the area
– On-site restaurant serving creative dishes with local Maine flavors
– Sun terrace available for relaxation
5 Star Luxury Hotels
5 Star luxury hotels offer an unparalleled level of service and comfort. From personalized attention from staff to luxurious amenities and carefully curated design, these hotels provide guests with an unforgettable experience. Whether for business or leisure, a stay at a 5 Star luxury hotel promises to exceed expectations.
Comfort Inn Civic Center (Augusta)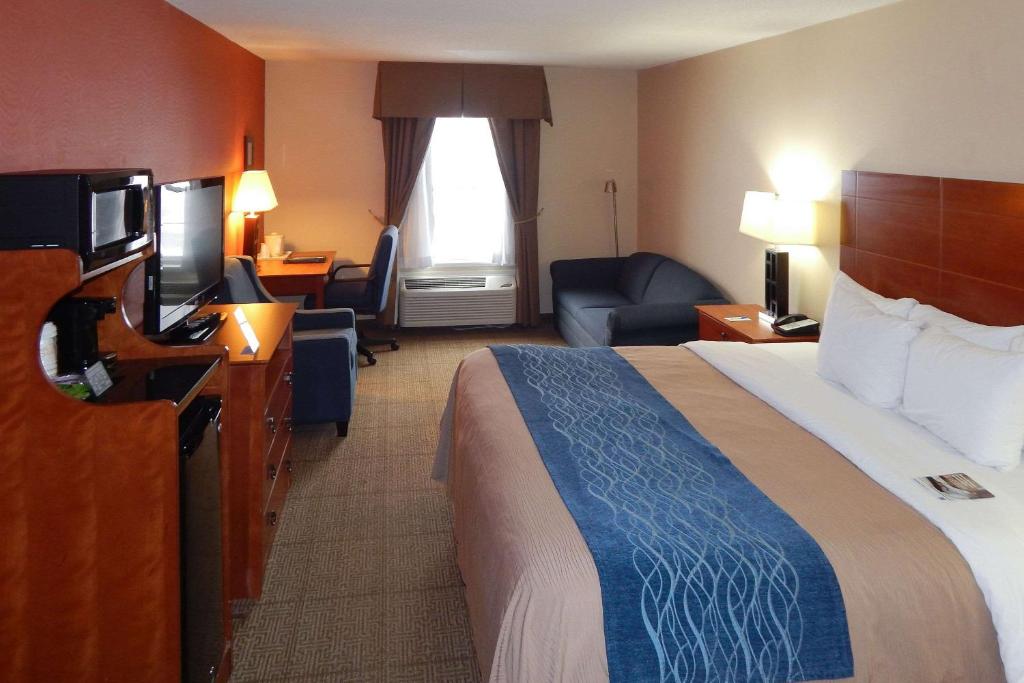 Located just 1 mile away from the University of Maine at Augusta, Comfort Inn Civic Center is a wonderful hotel that features an indoor pool and an on-site restaurant. The rooms are tastefully decorated and come equipped with all necessary amenities such as a microwave, fridge, coffee maker, ironing facilities, seating area, free Wi-Fi, and cable TV with pay-per-view movies. Guests can enjoy a workout session in the well-equipped fitness center or get their work done in the business center. The hotel's daily continental breakfast serves delicious waffles. Some of the advantages of staying at Comfort Inn Civic Center include:
– Convenient location near many attractions
– On-site restaurant serving delectable dishes
– Well-maintained indoor pool for relaxation
– Clean and comfortable rooms with modern amenities
– Excellent fitness center for workouts
Village By The Sea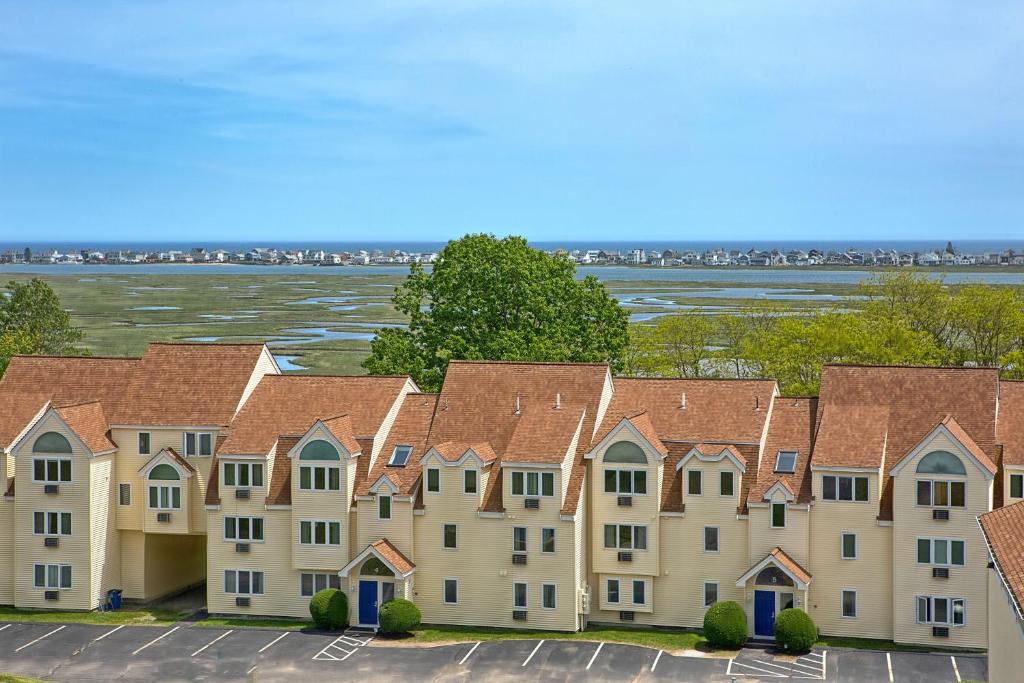 Village By The Sea, located in Wells, is a family-friendly resort with an on-site fitness center and both indoor and outdoor swimming pools. Their home-like condominiums have full kitchens and living rooms in addition to patios or balconies. They offer free parking for up to two cars per unit and are available by phone 24/7 for guests' needs. The nearby Ogunquit Beach and Kennebunkport are easily accessible as they are just a 13-minute drive away.
– Family-friendly resort
– On-site fitness center
– Indoor/outdoor swimming pools
– Home-like condominiums with full kitchens
– Free parking
Cutty Sark Motel (York Beach)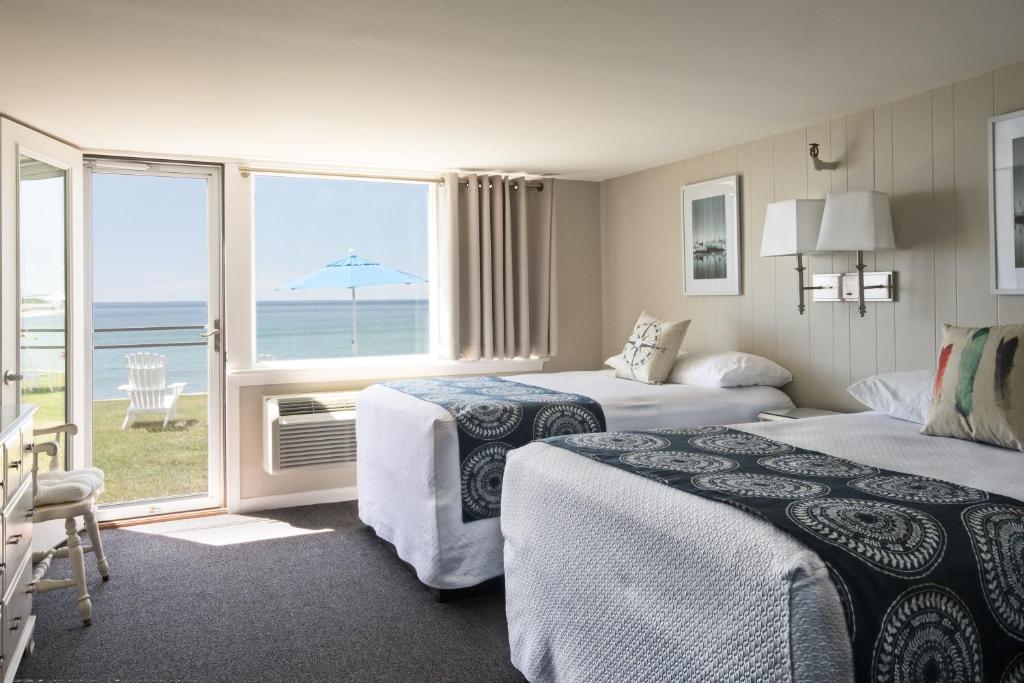 Cutty Sark Motel in York Beach is the perfect accommodation option for travelers who are looking for comfort and convenience. The motel features rooms with private bathrooms that come equipped with showers and TVs. Guests can take advantage of the 24-hour front desk service as well as enjoy complimentary coffee and muffins in the morning during summer. The location is unbeatable, situated just 500 meters away from Nubble Lighthouse and 200 meters from Long Sands Beach. Portland International Jetport Airport is only a short distance away, making it easy to travel to and from the hotel.
– Convenient location near attractions
– Complimentary coffee and muffins served in the morning
– 24-hour front desk service available
– Rooms come equipped with TVs
– Private bathrooms in each room
Most Expensive Hotels in Maine
Maine is known for its picturesque coastal towns and charming inns, but it also has some of the most lavish hotels in the country. These luxurious properties offer unparalleled amenities and services for guests seeking an indulgent getaway in Maine.
Bluenose Inn – Bar Harbor Hotel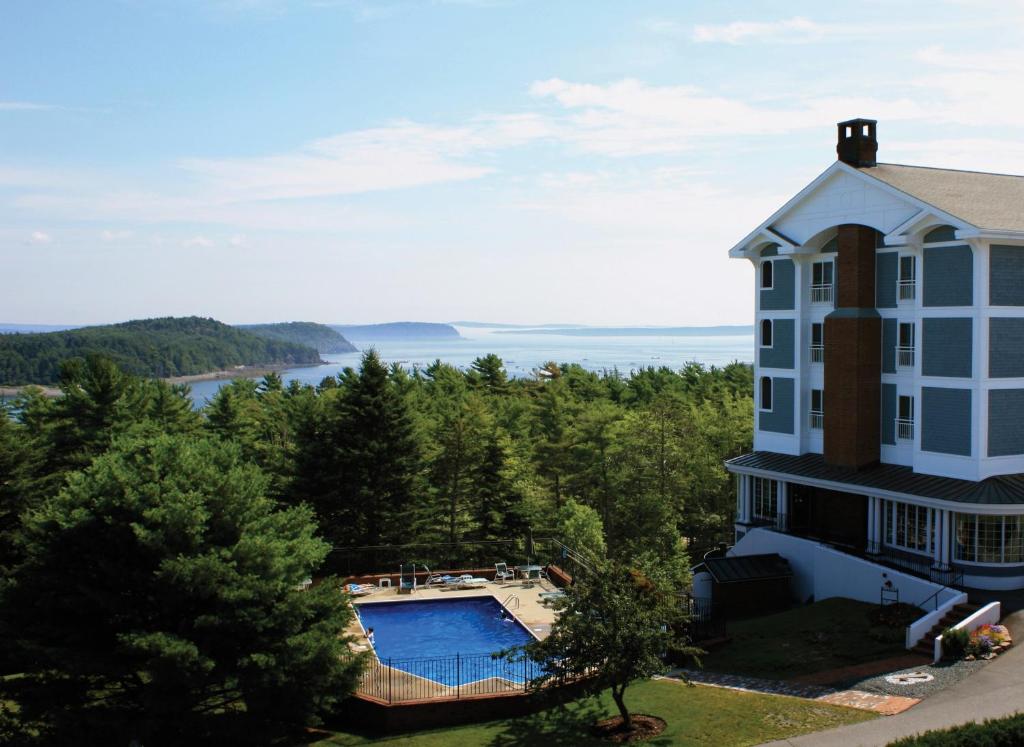 Bluenose Inn – Bar Harbor Hotel is a luxurious property located on Mount Desert Island, offering breathtaking views of the Frenchman Bay. The hotel is conveniently situated within a short drive to the Acadia National Park and just 1.6 km away from Downtown Bar Harbor and the Bar Harbor Whale Watch Company. Bluenose Inn – Bar Harbor Hotel features a spa, heated indoor and outdoor pools, free Wi-Fi, Mizzentop's Great Room with live piano music and cocktails, and the Looking Glass restaurant which serves delicious cuisine. Guest rooms offer modern amenities such as flat-screen cable TV, mini-fridge, Keurig coffee maker, fireplace (in some rooms), private balcony with stunning views of Frenchman Bay (in some rooms), and DVD player upon request. Guests can enjoy working out in the gym or relaxing in the hot tub or steam room while unique Maine-made souvenirs are available for purchase at the 24-hour gift shop. The hotel is also within walking distance from George B. Dorr Museum of Natural History.
– Breathtaking views of Frenchman Bay
– Convenient location near Acadia National Park and downtown Bar Harbor
– Spa services available
– Unique Maine-made souvenirs sold at 24-hour gift shop
– Fitness center with hot tub and steam room
The Press Hotel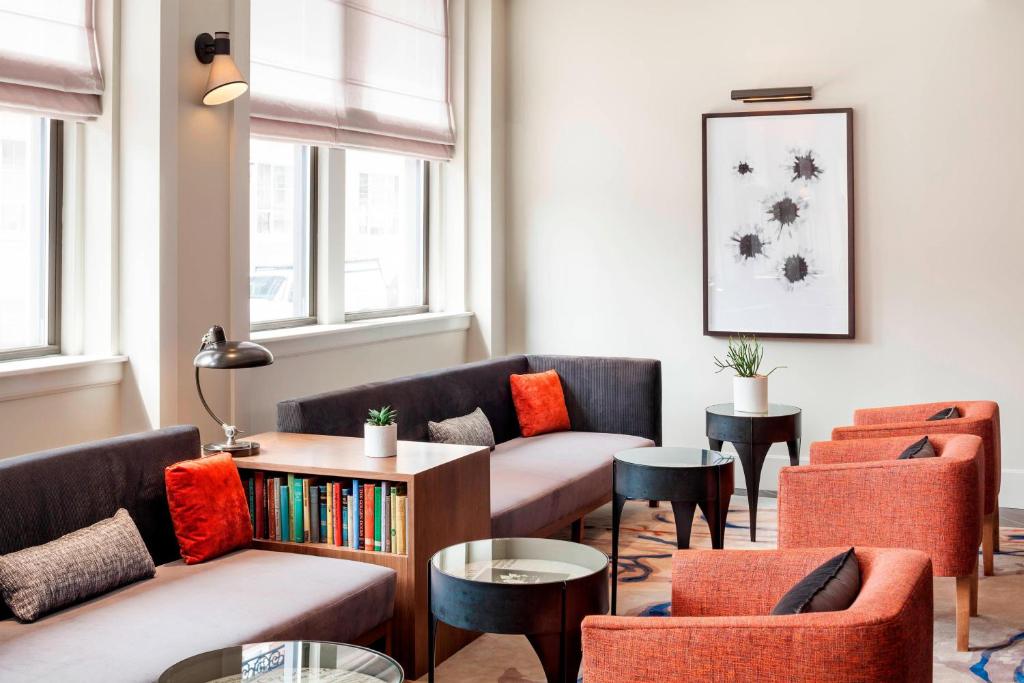 Located in Portland, The Press Hotel, Autograph Collection is a luxurious hotel that offers a restaurant and fitness center. This hotel is situated just 100 meters away from the Portland Downtown Historic District, 400 meters from Wadsworth Longfellow House, and 900 meters from Victoria Mansion. Each room at The Press Hotel features air conditioning and a private bathroom with free toiletries. Additional amenities include city views, a refrigerator, a safety deposit box, and bed linens. An airport shuttle service is available for guests' convenience, along with meeting facilities onsite. Pros:
– Prime location in the heart of downtown Portland
– Elegant decor throughout the hotel
– Fitness center for guests to use during their stay
– Airport shuttle service provided
– Meeting facilities available for business travelers
16 Bay View (Camden)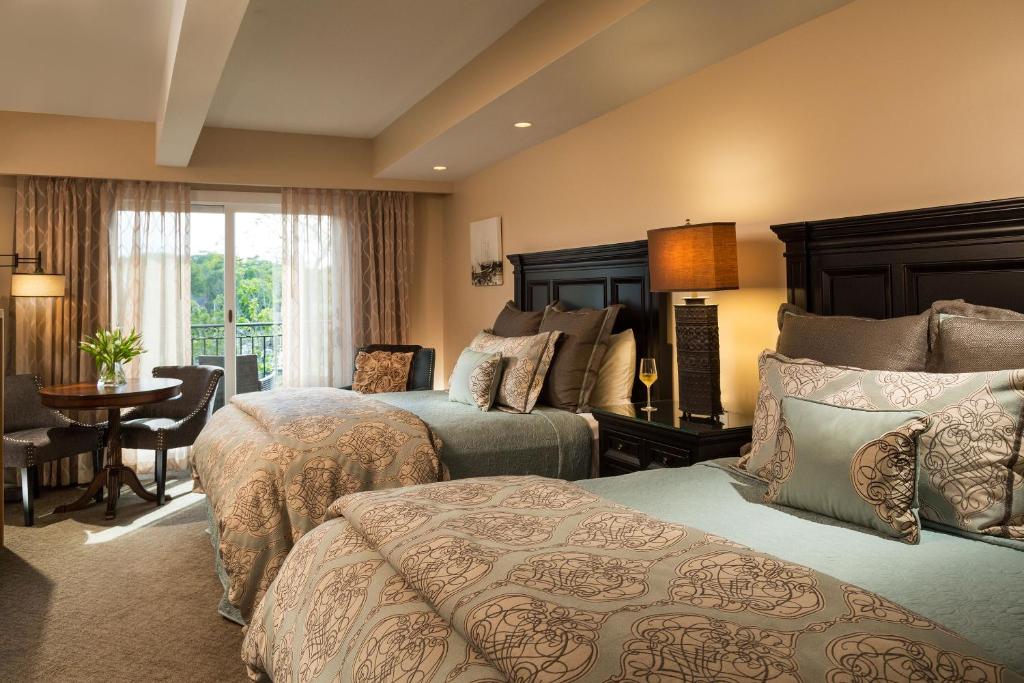 Experience luxury and comfort at 16 Bay View located in Camden, just 600 metres away from Laite Memorial Beach. This hotel boasts a fitness centre, private parking, a shared lounge, and a bar on-site. Guests can enjoy the convenience of a 24-hour front desk and business centre along with free WiFi throughout the property. The air-conditioned rooms come equipped with essential amenities such as coffee machines, fridges, microwaves, safety deposit boxes, flat-screen TVs and private bathrooms with showers. Some rooms offer city views while others feature balconies to soak in the surrounding scenery. Guests can start their day with a continental breakfast served every morning. The hotel is non-smoking and situated around 12 km from Mount Battie while attractions such as Farnsworth Art Museum are only 13 km away.
Pros:
– Convenient location near Laite Memorial Beach
– Well-equipped air-conditioned rooms offering modern amenities
– Great views of the city from select rooms
– Continental breakfast served daily
Small Luxury Hotels in Maine
Small Luxury Hotels offer a unique and luxurious experience for travelers to Maine. These properties provide personalized services and amenities that cater to discerning guests looking for an intimate and exclusive stay.
Holiday Inn Bar Harbor Regency Hotel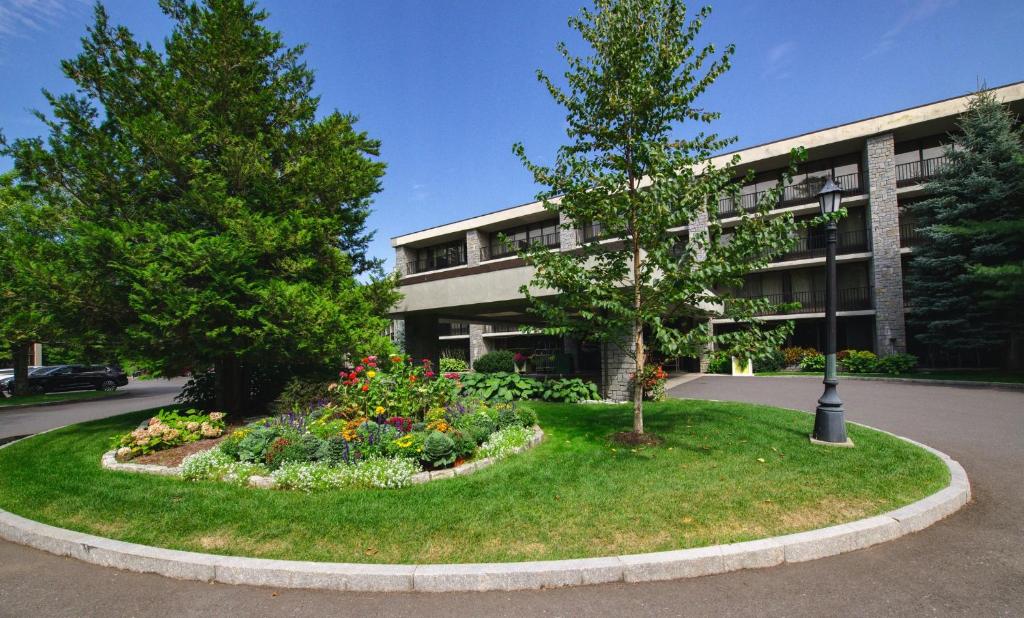 Holiday Inn Bar Harbor Regency Hotel is a resort that overlooks Frenchman's Bay in Bar Harbor, Maine. It features an on-site marina, oceanfront lounge, tennis court, and sauna. The resort also boasts a seasonal outdoor pool with hot tub and the Splash Pool Bar that offers light lunches and full bar. Guests can choose to stay in either the main building or annex building and enjoy rooms equipped with wood furniture and headboards, refrigerator, coffee facilities. La Bella Vita restaurant offers stunning views of Frenchman's Bay for breakfast and dinner while Stewman's Lobster Pound serves dinner seasonally by the oceanfront. The College of Atlantic is only ten minutes away while the Bar Harbor Whale Watch is only 1.5 miles away.
Pros:
– Oceanfront location overlooking Frenchman's Bay
– On-site marina
– Outdoor pool with hot tub
– Sauna and tennis court available for guests
– Restaurants on site with beautiful bay views
The Seaside Inn (Kennebunk Beach)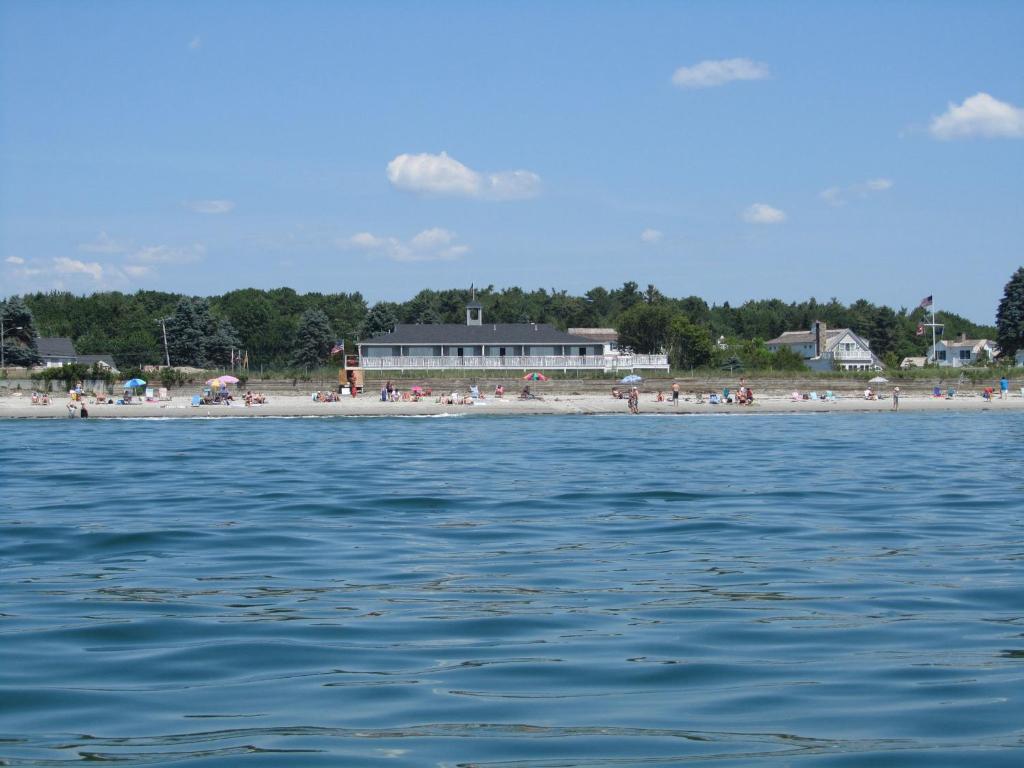 The Seaside Inn, a 4-star hotel located in Kennebunk Beach, offers guests comfortable accommodations equipped with free bikes and private parking. With a fitness center and garden available, guests can enjoy their stay while taking advantage of the free WiFi provided. Select rooms feature balconies offering breathtaking sea views while guests can indulge in continental breakfast during their stay. The Seaside Inn also provides a hot tub and terrace to ensure maximum relaxation for its visitors. Hiking, cycling, and car hire are just some of the activities on offer at this establishment.
Pros:
– Perfect location steps away from Goochs Beach
– Free bike rentals makes it easy to explore the area
– Offers both fitness center and hot tub for physical activity or relaxation
– Continental breakfast included with stay
– Balconies with sea view available in some rooms
Luxury Maine Hotels Information
| | |
| --- | --- |
| 🛎️ Luxury Hotels in Maine | 14 |
| 💵 Hotels Prices From | $102 |
| 💵 Highest price | $1593 |
| 🥇 Average Review Score | 8.5/10 |
| 🛏️ Average number of Rooms | 61 |
Top Luxury hotels in Maine
| | |
| --- | --- |
| The Press Hotel | 9.1/10 |
| Elmwood Resort Hotel (Wells) | 9/10 |
| The Tides Beach Club | 9/10 |
| 16 Bay View (Camden) | 9/10 |
| Cutty Sark Motel (York Beach) | 8.9/10 |
FAQ
What are some of the best luxury hotels in Maine?
Maine has no shortage of luxurious accommodations. Some of the top-rated options include The White Barn Inn & Spa in Kennebunk, The Press Hotel in Portland, and Cliff House Maine in Cape Neddick. Each offers its own unique blend of high-end amenities and personalized service to ensure an unforgettable stay.
Are there any oceanfront luxury hotels in Maine?
Yes, several! One standout is the Samoset Resort Golf Course & Spa in Rockport. This sprawling property features stunning ocean views from its spacious rooms and suites, as well as a wealth of on-site amenities including a golf course, spa, and multiple dining options.
What can guests expect from luxury hotels in Maine?
Guests at luxury hotels in Maine can expect first-class service from attentive staff members who go above and beyond to make their stay memorable. Amenities may include fine dining restaurants featuring locally sourced ingredients, full-service spas offering massages and other treatments, fitness centers with state-of-the-art equipment, luxurious guest rooms with high-end furnishings and linens, concierge services that can arrange everything from restaurant reservations to private tours or transportation around town.
When is the best time to visit Maine for a luxury hotel experience?
The peak season for visiting Maine is typically during the summer months (June-August) when temperatures are warmest and outdoor activities such as hiking/biking/water sports are at their prime. However, fall (September-November) can also be an excellent time to visit for those looking to enjoy colorful foliage displays along with lower rates at many area hotels.
What types of activities can guests participate during their stay at a luxury hotel in Maine?
There's plenty to keep guests engaged during their stay at a luxury hotel in Maine! Depending on location/season/weather preferences visitors might enjoy shopping excursions through quaint coastal towns like Kennebunkport or Boothbay Harbor, whale watching cruises, brewery tours, scenic coastal drives/hikes/bike rides, and indulging in the area's famous seafood cuisine. Many hotels also offer on-site activities such as golfing/nature walks/spa treatments/cooking classes/etc.
Popular Most Luxurious hotel destinations