Welcome to an exquisite journey into the world of opulence and lavishness, as we explore the realm of high-end accommodations in the enchanting city of Limassol, situated on the captivating island of Cyprus. Prepare to be immersed in a symphony of elegance and sophistication as we delve into the epitome of grandeur that encapsulates every luxury hotel in this vibrant coastal town.
Limassol, known for its idyllic beaches and rich cultural heritage, beckons discerning travelers with its array of exclusive accommodations that redefine extravagance. From boutique hideaways nestled amidst lush greenery to iconic landmarks offering panoramic views of the azure Mediterranean Sea, each luxury hotel boasts its unique charm and unrivaled hospitality. Indulge your senses in artfully curated interiors adorned with timeless designs, where every detail has been meticulously crafted to create an ambiance that exudes refinement.
Experience refined gastronomy at award-winning restaurants within these luxurious havens, where world-renowned chefs showcase their culinary expertise using only the finest ingredients sourced from local producers. Unwind in sumptuous spa retreats that offer rejuvenating treatments inspired by ancient wellness traditions or bask in secluded pools overlooking breathtaking vistas. Whether you seek moments of serenity or exhilarating adventures, Limassol's luxury hotels promise an unforgettable escape where comfort meets exclusivity.
Most Luxurious Hotels in Limassol
GrandResort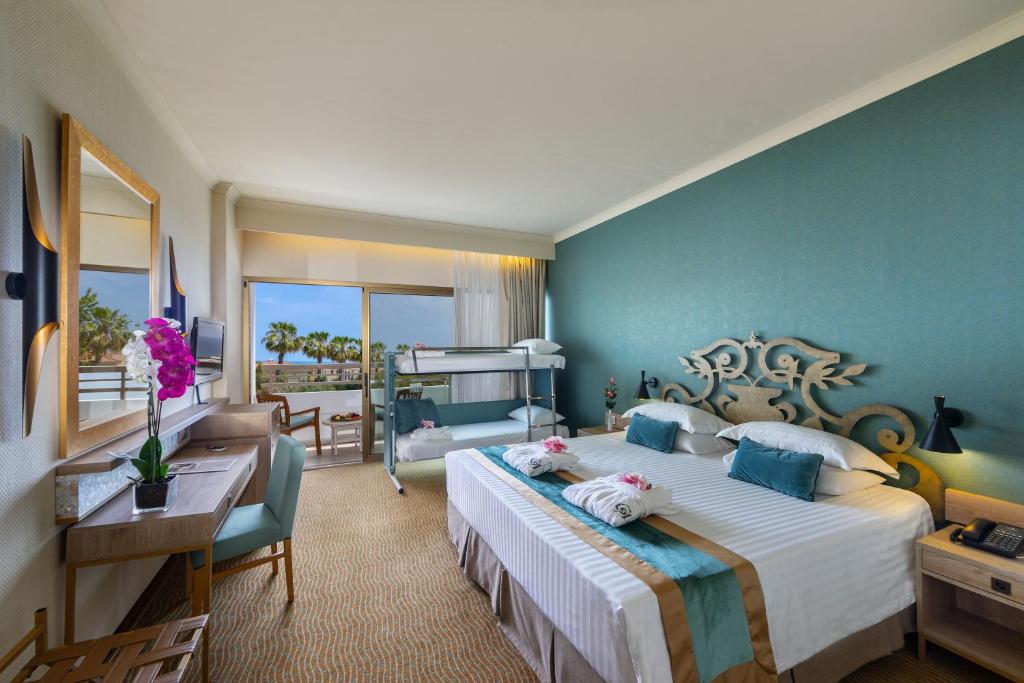 Located on a private beach in Amathus, Limassol, the 5-star GrandResort offers guests a luxurious tropical getaway. With beautiful gardens and two pools, this hotel provides the perfect setting for relaxation and enjoyment. Guests can indulge in the wellness center, complete with a spa and fitness club, or take advantage of the free WiFi throughout the property. The spacious rooms are equipped with modern amenities such as LED TVs, free WiFi, laptop safes, and minibars. Most rooms also have balconies overlooking the stunning Mediterranean Sea. The six restaurants at GrandResort offer a variety of cuisines to satisfy every palate. From international dishes at Restaurant Salaminia to seafood and red meat options at Kohili on the beachfront, guests will find something to suit their taste buds. For those craving Asian flavors, Kyoshi prepares authentic Asian dishes along with sake in an open-air setting. To enjoy cocktails or after-dinner drinks while taking in breathtaking sea views, Tycoons Bar and Ethnic Lobby Lounge are excellent choices. Additional features include an indoor swimming pool and a games room with a billiards table. Diving courses can be arranged through the hotel's staff for those looking for underwater adventures. Younger guests will love spending time at the kid's club provided by GrandResort.. The hotel is conveniently located 56 km from Larnaca Airport and 70 km from Paphos Airport while Limassol is just 11 km away.
Pros:
– Private beach location
– Wellness center with spa and fitness club
– Six diverse restaurants offering various cuisines
– Stunning views of the Mediterranean Sea from most rooms
– Kid's club available for younger guests
Sofianna Resort & Spa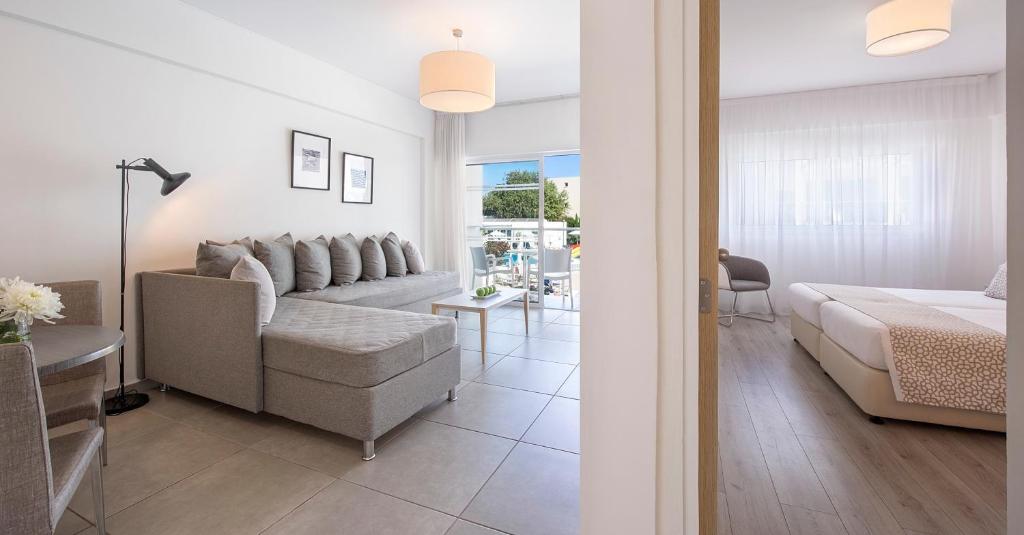 Located just 3 km from Paphos City Centre, the Sofianna Resort & Spa is a luxurious non-smoking property that offers guests a wide range of amenities. With two outdoor pools, a children's pool, and a themed waterpark, as well as a fitness centre and spa centre, there is something for everyone to enjoy. The resort also features a kids' club and is conveniently situated just 2 km from Paphos Harbour. The rooms are beautifully appointed with air conditioning, flat-screen TVs with international channels, and high-speed internet. Some units even offer private terraces. Guests can choose from various dining options including International, European, and Italian cuisine at the on-site restaurants. Mediterranean cuisine is available at Mesogios a la carte restaurant or guests can opt for all day snacks at Mylos. In addition to the indoor swimming pool, there are plenty of activities to keep guests entertained such as darts. With non-stop assistance available at reception and five designated smoking areas throughout the property, Sofianna Resort & Spa ensures that every guest's needs are met during their stay.
– Convenient location near Paphos City Centre
– Two outdoor pools and a children's pool
– Themed waterpark for added fun
– Variety of dining options available on-site
– Indoor swimming pool for year-round enjoyment
Atlantica Bay – Adults Only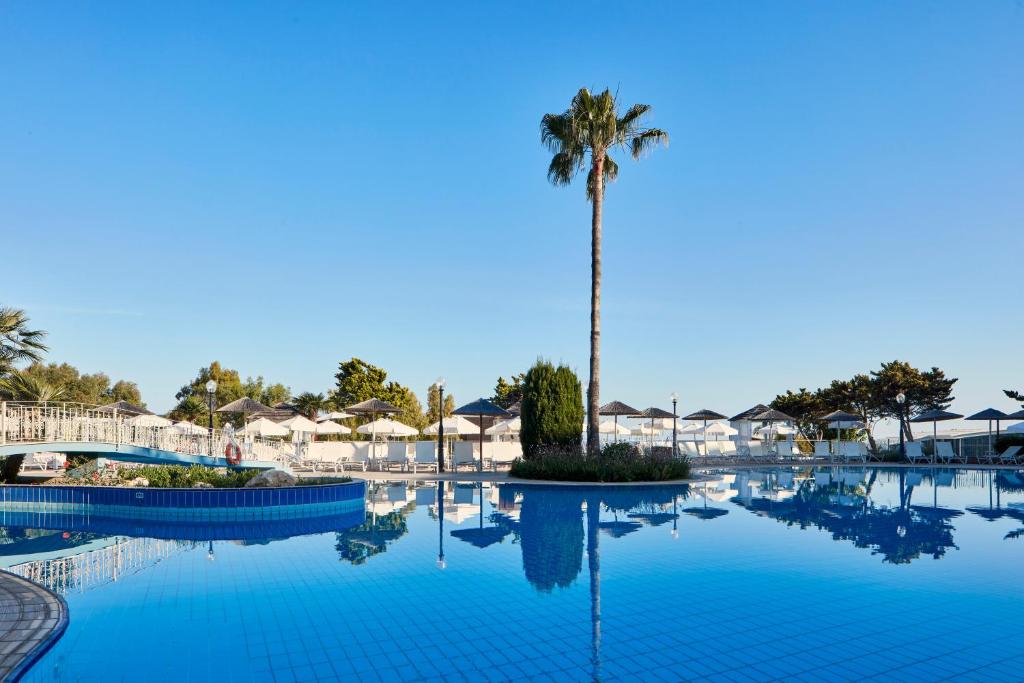 Located in the picturesque town of Limassol, Atlantica Bay – Adults Only is a newly opened 4-star hotel that offers a luxurious and exclusive experience for adult guests. Just 400 meters from Agios Tychonas Beach, this hotel boasts an outdoor swimming pool, a rooftop pool with stunning views, and free private parking. The stylishly designed rooms feature modern amenities such as air conditioning, flat-screen TVs with satellite channels, and private bathrooms with complimentary toiletries. Some rooms even offer balconies or sea views for added relaxation. Guests can enjoy a variety of activities including table tennis, darts, tennis, and cycling in the surrounding area. The hotel also provides evening entertainment and has facilities like an indoor pool, hot tub, fitness center, shared lounge area, hairdresser's salon, business center,and a multilingual reception staff to cater to every need. Dining options include an on-site restaurant serving international cuisine with vegetarian and gluten-free options available upon request. With its convenient location near popular beaches such as Parekklisia Beach and Loures Beach and easy access to Larnaca International Airport just 56 km away, Atlantica Bay – Adults Only is the perfect choice for discerning travelers seeking relaxation in style.
Pros:
– Rooftop pool with breathtaking views
– Newly opened luxurious hotel
– Wide range of amenities including indoor pool and fitness center
– Convenient location near beautiful beaches
– Multilingual staff offering exceptional service
Luxury Hotels in Downtown Limassol
Luxury Hotels in Downtown Limassol offer discerning travelers an opulent and sophisticated experience in the heart of this bustling Cypriot city. With their prime locations, these hotels provide easy access to the vibrant streets filled with shops, restaurants, and cultural attractions. Exuding elegance and grandeur, these establishments boast luxurious accommodations adorned with stylish decor. Impeccable service ensures that guests' every need is met, while state-of-the-art facilities create an indulgent retreat. From breathtaking views of the Mediterranean Sea to exquisite dining options, these downtown luxury hotels epitomize refined luxury for a memorable stay in Limassol.
Amphora Hotel & Suites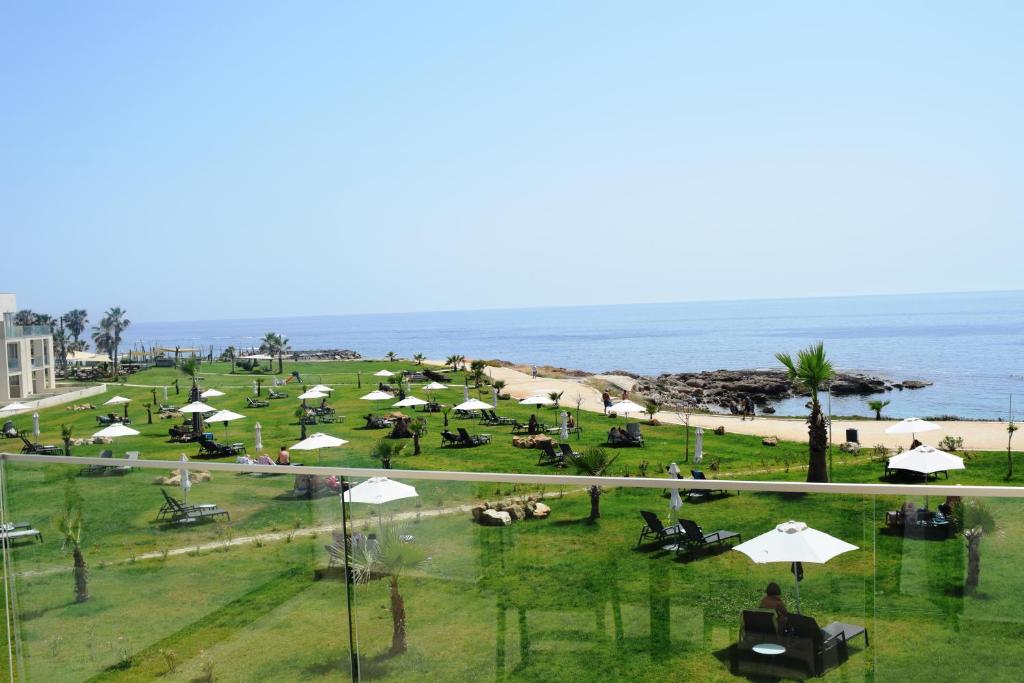 Located on a beautiful beachfront, the Amphora Hotel & Suites offers guests stunning views of the sea from its landscaped gardens. The hotel features a kidney-shaped pool, a restaurant serving Cypriot and international cuisine, and a lounge bar for relaxation. The well-appointed rooms, suites, and apartments all come with modern amenities such as flat-screen satellite TVs, electric kettles, and air conditioning. Guests can enjoy an American breakfast in the morning and take advantage of free Wi-Fi throughout the property. Conveniently located near Paphos Castle and Harbor, the hotel also offers complimentary 2-way transfers from Paphos International Airport for reservations of 2 nights or more.
Pros:
– Beachfront location with unobstructed sea views
– Kidney-shaped pool for leisurely swims
– Restaurant serving both Cypriot and international flavors
– Complimentary transfers from Paphos International Airport
– Free Wi-Fi available throughout the property
St George Beach Hotel & Spa Resort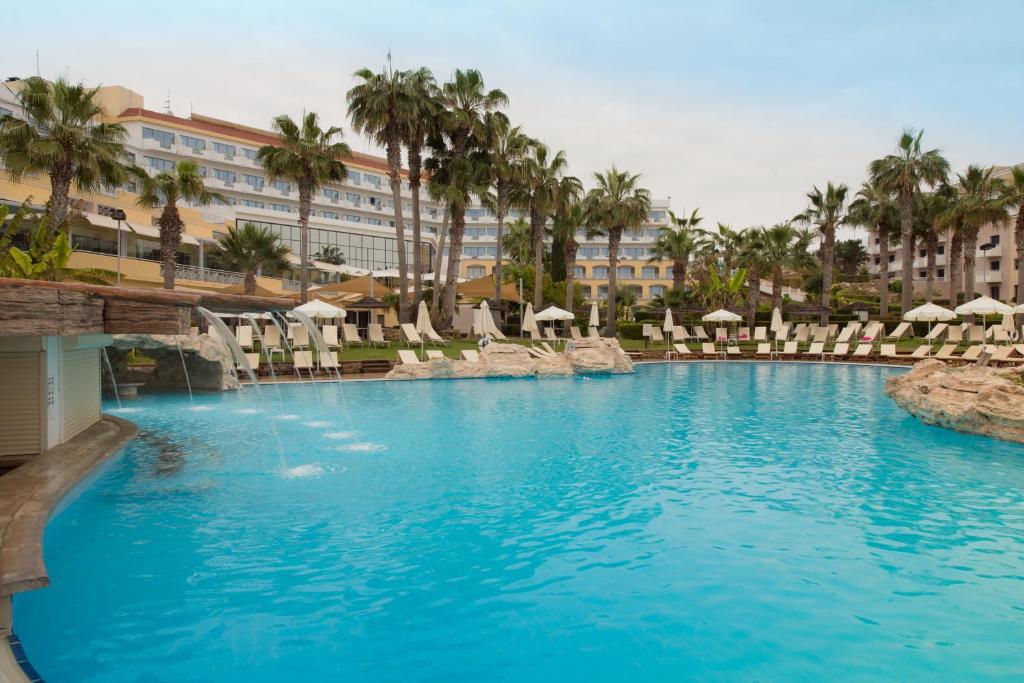 St. George Beach Hotel & Spa Resort is an elegant hotel located on Chlorakas Beach, just a short distance from Paphos Harbour. The hotel offers a range of top-notch facilities and beautifully landscaped gardens. Guests can enjoy free Wi-Fi throughout the property. With its rich heritage and modern amenities, the resort provides a perfect setting for rest and relaxation. Whether you're traveling with family or looking for some alone time, St. George has something for everyone. Start your day with a certified Cypriot breakfast included in your room rate as you plan your activities. Children can have fun at the kid's club while adults make use of the fitness center or indulge in wine tasting at nearby wineries. Sports enthusiasts can take advantage of various sports activities including golfing at the resort's courses. Away from crowded tourist areas, St. George Beach Hotel & Spa Resort offers live entertainment shows in the evenings, adding to the overall luxury experience.
Pros:
– Beautifully landscaped gardens
– Range of first-class facilities
– Ideal for both families and couples
– Free Wi-Fi throughout
– Live entertainment shows in the evenings
Alasia Boutique Hotel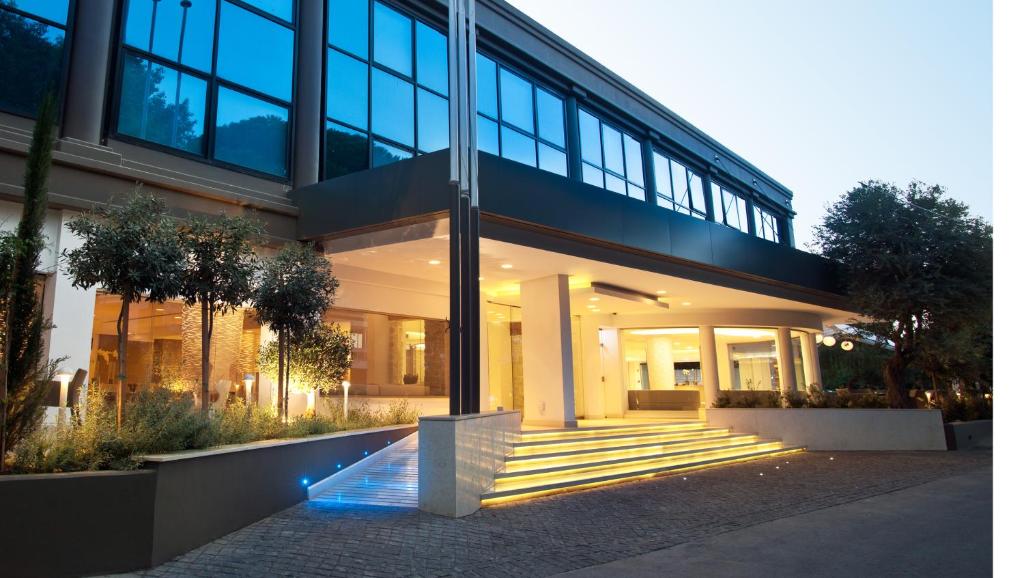 Located in the heart of Limassol, the Alasia Boutique Hotel is a luxurious retreat surrounded by beautifully manicured gardens. The hotel offers a range of amenities including an outdoor pool, a restaurant, and a spa with a heated ozone therapeutic pool. The stylish rooms feature free WiFi and balconies with views of the city or pool. Guests can enjoy cocktails and light food at the Polo Bar Restaurant or indulge in Mediterranean cuisine and selected wines at the onsite restaurant. The accommodations are equipped with modern comforts such as LCD satellite TVs, minibars, and free toiletries. Some units even boast spa baths or outdoor hot tubs. In addition to these features, guests can take advantage of rejuvenating treatments, sauna sessions, steam baths, and a state-of-the-art fitness center. The hotel is conveniently located near Limassol's shopping center as well as the old and new ports, marina and Cyprus University of Technology. With Paphos Airport just a 35-minute drive away, guests will find it easy to reach this luxurious haven that also offers free private parking on-site.
– Outdoor pool for relaxation
– Stylish rooms with city or pool views
– Spa with heated ozone therapeutic pool
– Onsite restaurants serving cocktails & Mediterranean cuisine
– Convenient location near shopping center & major attractions
5 Star Luxury Hotels
5 Star Luxury Hotels are the epitome of indulgence, offering an unparalleled level of comfort and sophistication. From the moment you step foot through their grand entrances, you are transported into a world of opulence and refinement. Impeccably decorated rooms exude elegance and style, where every detail is meticulously curated to ensure a truly luxurious experience. The impeccable service provided by highly trained staff ensures that your every need is met with utmost care and attention. Fine dining restaurants tantalize your taste buds with exquisite culinary creations, while state-of-the-art wellness facilities pamper your body, mind, and soul. Whether for business or pleasure, 5 Star Luxury Hotels provide an oasis of tranquility where guests can immerse themselves in the lap of luxury.
Ajax Hotel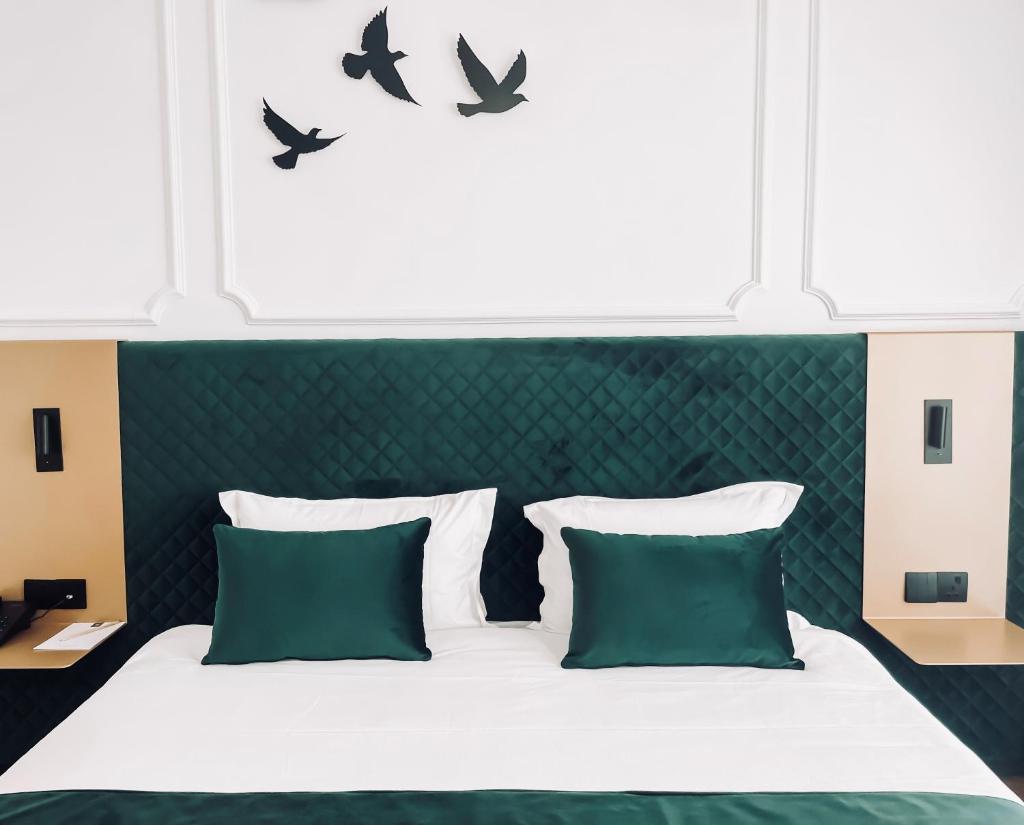 The Ajax Hotel is a 4-star luxury hotel located in the heart of the city, offering guests easy access to the main attractions of Limassol. This includes being near the main shopping streets and sights such as the archaeological museum, Old Town, and Medieval Castle. The hotel features Ayana Spa, which offers a variety of body and facial treatments influenced by Japanese culture. With its sauna, treatment rooms, and expert guidance from qualified trainers for physical fitness, guests can unwind and rejuvenate during their stay. The property boasts 171 tastefully furnished air-conditioned rooms with satellite TV and balconies overlooking either the hotel garden or city views. The Ulysses' Bar – Café and Terrace offer a casual setting for enjoying beverages or light snacks, while Ekavi Restaurant serves up delicious international and Cypriot cuisine for formal dining experiences. For those seeking an active lifestyle even while traveling, the gym at Ajax Hotel provides state-of-the-art equipment as well as individual and group training classes. Guests can also enjoy facilities like an indoor pool, tennis court, indoor/outdoor swimming pools,and Poseidon Pool Bar serving refreshing cocktails. Please note that guests must be over 16 years old to access the spa and gym area. Additionally,the hotel's proximity to Limassol's highway allows for convenient travel connections to both airports on the island.The Larnaca International Airport is approximately 65 km away while reaching the sea front only requires a pleasant 10-minute stroll.
Pros:
– Convenient central location in Limassol
– Ayana Spa offers Japanese-inspired treatments
– Tastefully furnished air-conditioned rooms with balcony views
– Wide range of dining options including Ulysses' Bar – Café & Terraceand Ekavi Restaurant
– Excellent leisure facilities including an indoor pool,tennis court,and outdoor swimming pools
Almyra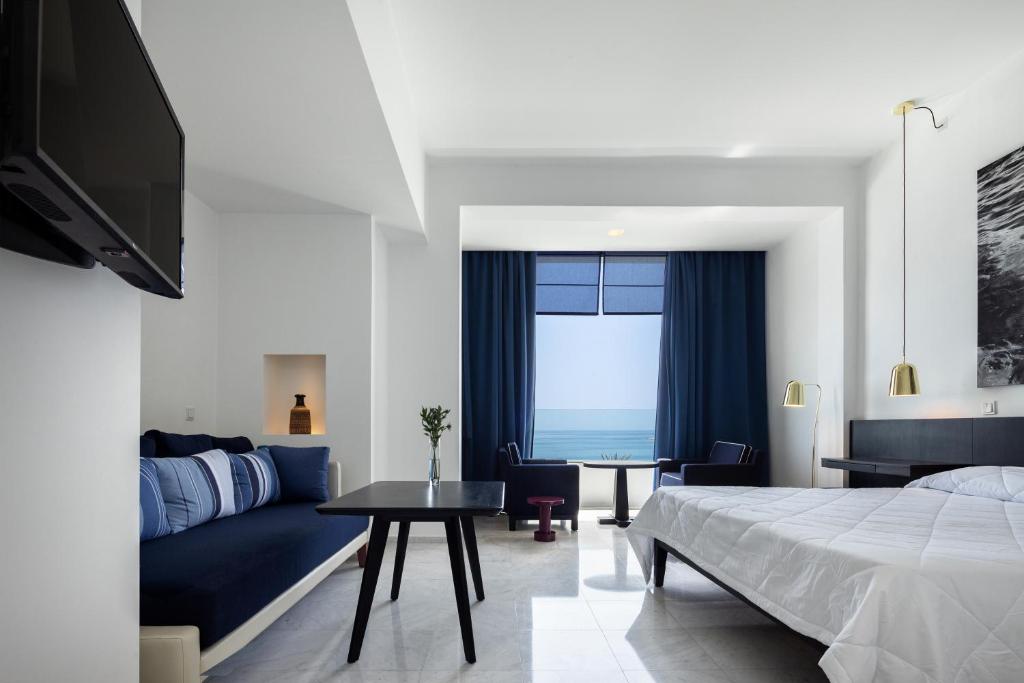 Set amidst lush tropical gardens with stunning views of the Mediterranean Sea, Almyra Hotel offers a luxurious and serene retreat just a short 5-minute walk from Paphos Harbour. The hotel boasts spacious, air-conditioned rooms that feature floor-to-ceiling windows, balconies or terraces overlooking either the beautifully landscaped garden or the sparkling sea. Each room is equipped with modern amenities including satellite TV, a minibar and safe. Guests can indulge in pampering treatments at the hotel's spa which includes holistic therapies, massages, sauna and a fully-equipped gym. Start your day off right with a certified full buffet breakfast served at Almyra's restaurant where you can also enjoy international cuisine and local Cypriot dishes throughout the day. With its unbeatable location and top-notch facilities, Almyra offers everything you need for an unforgettable luxury escape in Paphos.
– Stunning views of the Mediterranean Sea
– Spacious rooms with modern amenities
– Luxurious spa offering holistic treatments
– Four restaurants serving international and Cypriot cuisine
– Close proximity to Paphos Harbour and airport
City of Dreams Mediterranean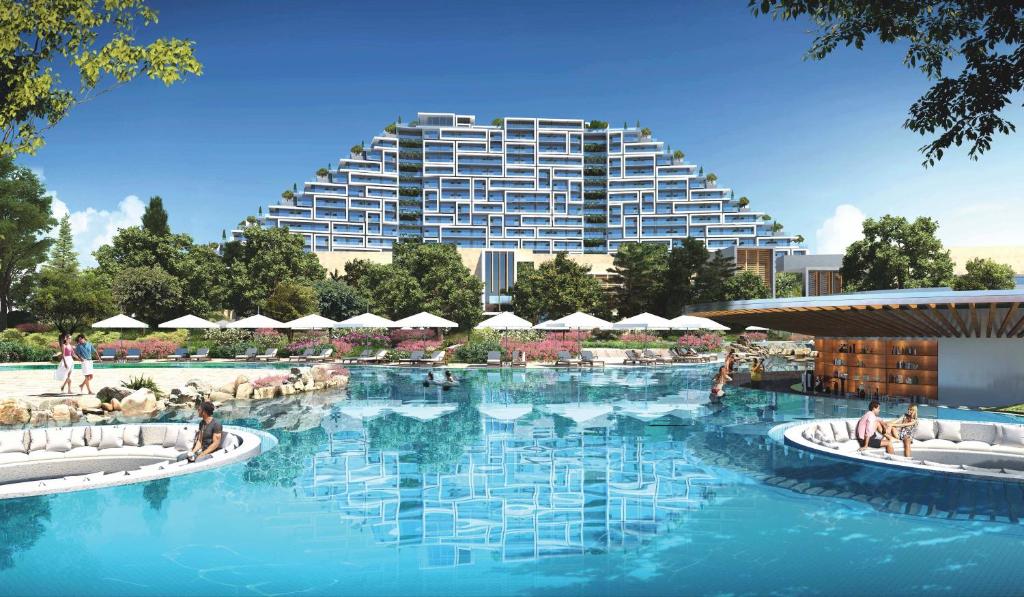 The newly opened City of Dreams Mediterranean is a luxurious 5-star resort located in the vibrant city of Limassol, just under 1 km away from MyMall. This exquisite hotel offers guests a range of exceptional amenities, including a fitness centre, free private parking, a garden, and a terrace. With free WiFi available throughout the property, guests can also enjoy access to the kids' club and room service. Sports enthusiasts can indulge in games of squash and tennis while exploring the area's popular cycling routes. The resort boasts additional features such as a sauna for relaxation, evening entertainment for a delightful experience, and a 24-hour front desk for any assistance needed. Each unit at City of Dreams Mediterranean is elegantly furnished with modern comforts like air conditioning, a seating area, flat-screen TV with satellite channels, safety deposit box, and private bathroom equipped with shower facilities along with complimentary toiletries and hairdryer. Some units offer stunning city views while all rooms come complete with balconies. Guests are provided with bed linen and towels during their stay. A highlight of this hotel is its restaurant serving an array of delectable Chinese, Japanese, and Mediterranean cuisine options. Dietary preferences are catered to as vegetarian, vegan, and dairy-free choices are available upon request. Families visiting will appreciate the children's playground on-site for younger guests to enjoy while adults can relax at the spa center or visit the hairdresser's or business center within the property premises. The hotel's excellent location places it just 5.7 km away from Castle of Limassol and 5.8 km from Limassol Marina; Paphos International Airport is conveniently situated 56 km away.
Pros:
– Newly opened luxury resort
– Convenient location near MyMall
– Impressive range of amenities including fitness center and kids' club
– Exquisite dining options featuring Chinese/Japanese/Mediterranean cuisine
– On-site spa center, hairdresser's, and business center for added convenience.
Most Expensive Hotels in Limassol
Limassol, a coastal city in Cyprus, is known for its luxurious and opulent hotels that cater to the discerning traveler. These high-end accommodations offer an unparalleled level of luxury and sophistication, with exquisite design, impeccable service, and breathtaking views. From lavish suites to indulgent spa experiences, these hotels redefine luxury hospitality. With their attention to detail and commitment to providing the utmost comfort and exclusivity, Limassol's most expensive hotels are truly a haven for those seeking a truly indulgent escape.
Azia Resort & Spa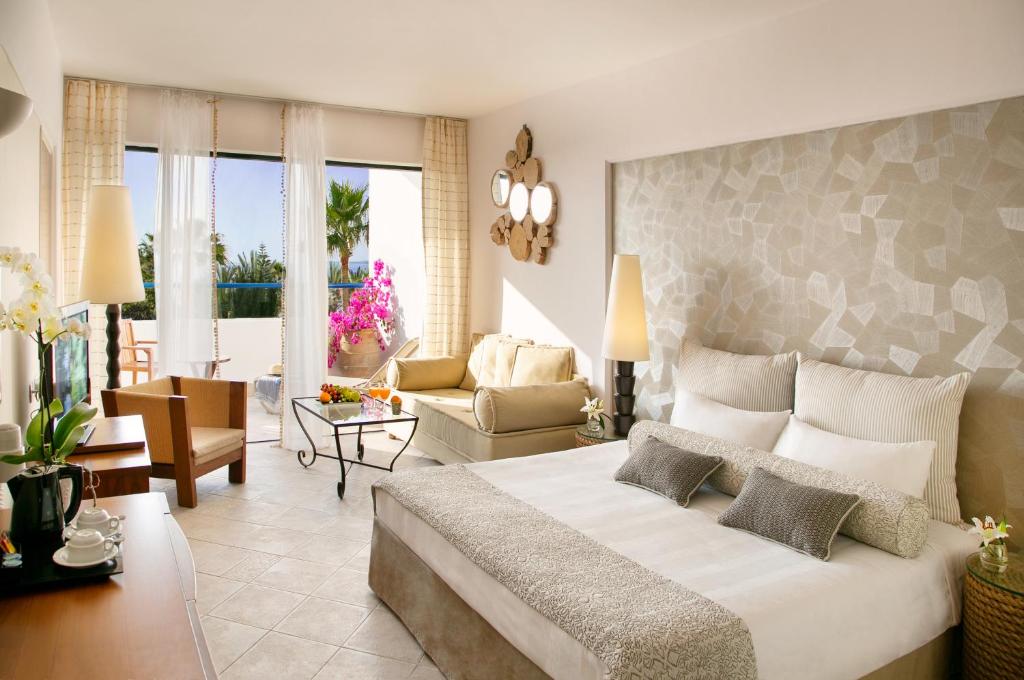 Situated on the picturesque coastline of Kato Paphos, the Azia Resort & Spa is a luxurious haven surrounded by lush tropical gardens. This elegant spa hotel offers the perfect setting for a relaxing and rejuvenating break in sunny Cyprus. Indulge in one of the many soothing spa treatments or take a dip in the indoor pool, sauna, or hot tub. For those seeking an active getaway, there are plenty of activities to enjoy such as yoga classes and water polo. With five restaurants and six dining options to choose from, guests can savor a variety of culinary delights throughout their stay. The resort features two large separate grounds catering to families and adults over 16 years old, ensuring that each guest's needs are met. Stylish decor ranging from contemporary to exotic Arabian-inspired touches can be found throughout the property. Unwind by one of the two outdoor pools on a comfortable sun lounger, or relax in one of the cozy lounges located poolside. For those looking for adventure outside of the resort, Kings Avenue Mall and Tombs of the Kings are just 4 km away while Paphos Zoo is 12 km away.The center of Paphos is 6 km away with Paphos Airport at 22 km distance and Larnaca Airport at 122 km distance.
– Beautifully landscaped tropical gardens
– Extensive spa facilities including indoor pool, sauna, and hot tub
– Multiple dining options with diverse cuisine choices
– Separate grounds for families and adults over 16 years old
– Convenient location near popular attractions
Royal Apollonia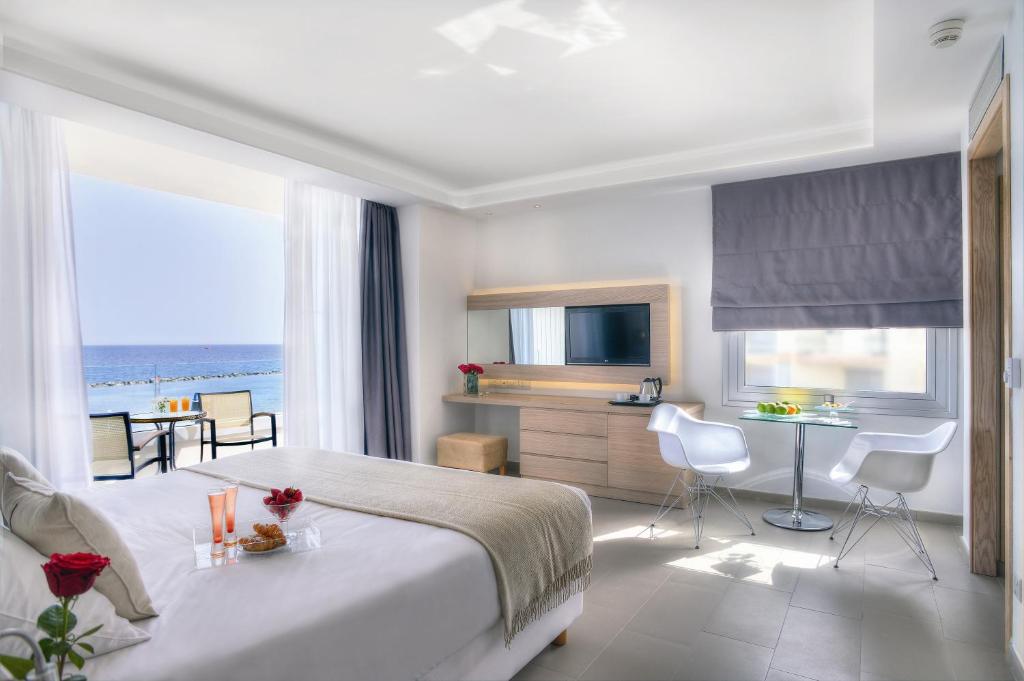 The Royal Apollonia is a luxury hotel located on the beachfront of Limassol Town in Cyprus. It offers a range of amenities including indoor and outdoor pools, 2 floodlit tennis courts, and a sauna. The hotel is also renowned for its excellent cuisine. Guests can relax on the beach with free umbrellas and sun loungers or enjoy one of the three swimming pools, including a heated children's paddling pool. The rooms are modernly furnished with balconies offering views of either the Troodos Mountains or the Mediterranean Sea. Other amenities include air conditioning, satellite TV, tea/coffee facilities, slippers, bathrobes, hairdryer, and minibar. Free WiFi is available throughout the hotel. Guests can indulge in spa treatments or participate in aerobics classes during their stay. Dining options include Japanese cuisine at Akakiko, international dishes at Aura Dining, and Greek flavors at Alati Greek Flavors restaurant. A seasonal swim-up bar called Indigo serves snacks and cocktails during the day while drinks can be enjoyed at the indoor Luna lounge. The center of Limassol is just 5 km away and Larnaca International Airport is 68 km away from the hotel.
– Luxury hotel situated on a beautiful beachfront location
– Indoor and outdoor pools for guests to enjoy
– Excellent cuisine offered at multiple dining options
– Modern rooms with stunning views from private balconies
– Amenities such as spa services and aerobics classes available
Alexander The Great Beach Hotel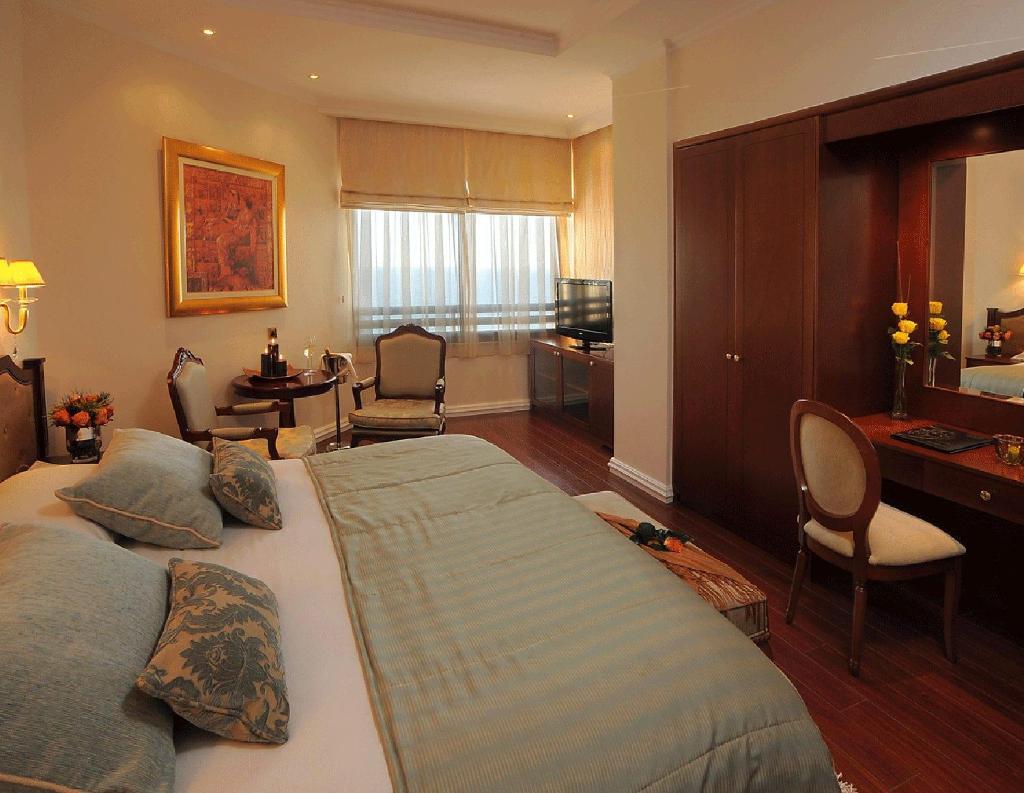 Located just 150 meters from central Paphos, the Alexander The Great Beach Hotel is a 4-star luxury hotel that offers stunning sea views and easy access to the city's main attractions. Overlooking a Blue Flag sandy beach and within walking distance of Paphos Harbour, this hotel provides guests with a memorable stay. The rooms are elegantly decorated and some feature furnished balconies with panoramic views of the sea, medieval castle, and old fishing harbor of Paphos. Guests can enjoy delicious meals at the on-site restaurants which offer themed buffets, international cuisine, Italian dishes at an adults-only á la carte restaurant, Japanese cuisine with an outdoor terrace, and traditional tavern fare. The hotel also boasts two pools including an indoor pool for year-round swimming as well as a tennis court, fitness center, kids club, and games room with billiards. For those looking to explore the area's history and culture, Paphos Archaeological Park and the Church by St. Paul's Pillar are just a short walk away while shops and bars are conveniently located only 50 meters from the hotel.
– Seafront location overlooking a Blue Flag sandy beach
– Elegant rooms with stunning sea views
– Variety of dining options including themed buffets
– Indoor pool for year-round swimming
– Convenient proximity to shops and bars
Luxury Limassol Hotels Information
| | |
| --- | --- |
| 🛎️ Luxury Hotels in Limassol | 12 |
| 💵 Hotels Prices From | $57 |
| 💵 Highest price | $1299 |
| 🥇 Average Review Score | 8.7/10 |
| 🛏️ Average number of Rooms | 142 |
Top Luxury hotels in Limassol
| | |
| --- | --- |
| Alasia Boutique Hotel | 9.3/10 |
| Alexander The Great Beach Hotel | 9/10 |
| Almyra | 8.9/10 |
| Azia Resort & Spa | 8.9/10 |
| Royal Apollonia | 8.9/10 |
FAQ
What are some luxury hotels to stay in Limassol, Cyprus?
Limassol offers a variety of luxury hotels for travelers seeking ultimate comfort and indulgence. Some top choices include the Amara Hotel, a sleek and contemporary beachfront property offering stylish rooms, world-class amenities, and breathtaking sea views. The Four Seasons Hotel is another excellent option with its luxurious accommodations, extensive spa facilities, and exceptional dining options. For those looking for a more boutique experience, the Londa Hotel provides elegance and sophistication along with personalized service and a stunning beachfront location.
What are the amenities typically offered by luxury hotels in Limassol?
Luxury hotels in Limassol go above and beyond to provide their guests with an extraordinary experience. These establishments often offer lavish amenities such as spacious suites with private balconies or terraces overlooking the sea or cityscape. Guests can enjoy access to exclusive lounges, state-of-the-art fitness centers, infinity pools, exquisite spa facilities offering rejuvenating treatments, fine dining restaurants serving gourmet cuisine, 24-hour concierge service for personalized assistance throughout their stay.
Are there any luxury hotels that cater specifically to families in Limassol?
Yes! Luxury hotels in Limassol understand the needs of families traveling together and offer tailored services and amenities suitable for all ages. The Parklane Resort & Spa is an excellent choice for families as it features spacious family rooms or suites equipped with kid-friendly facilities like bunk beds or connecting rooms. The hotel also offers a kids' club providing engaging activities for children while parents relax at the spa or indulge in other leisure pursuits.
What is the best time of year to visit Limassol for a luxury hotel experience?
The best time to visit Limassol for a luxurious hotel experience is during spring (April-May) or autumn (September-October). During these months, you can expect pleasant temperatures without extreme heatwaves that are common during the summer months. The city is less crowded, allowing for a more serene and exclusive experience in luxury hotels. Additionally, this period offers a perfect balance between warm weather and comfortable conditions for exploring Limassol's attractions or relaxing on its stunning beaches.
What are some popular attractions near luxury hotels in Limassol?
Limassol offers a wealth of attractions near luxury hotels that are sure to enhance your stay. The famous Limassol Marina is a must-visit destination with its stylish waterfront promenade lined with upscale restaurants, bars, and boutiques. History enthusiasts can explore the medieval Limassol Castle or visit the ancient ruins of Amathus nearby. For nature lovers, the beautiful Akrotiri Salt Lake provides an opportunity to observe migratory birds while enjoying the tranquility of lush wetlands just outside the city.
Popular Luxury Hotels destinations