Welcome, fellow travelers and luxury enthusiasts! Today, we embark on a journey to explore the magnificent realm of opulent accommodations in Lanzarote, Spain. Situated in the mesmerizing archipelago of the Canary Islands, this volcanic paradise offers an exquisite blend of natural beauty and world-class hospitality that is sure to captivate even the most discerning traveler.
Prepare to indulge your senses in a symphony of elegance as we delve into Lanzarote's collection of luxurious havens. From boutique hotels adorned with contemporary art installations to sprawling beachfront resorts exuding timeless charm, there is no shortage of options for those seeking a taste of refined extravagance. Each property showcases its own unique character while effortlessly blending modern comforts with authentic island heritage.
As we wander through this enchanting island oasis, we will discover sumptuous suites overlooking dramatic volcanic landscapes and private villas nestled within lush gardens. Immerse yourself in ultimate relaxation at lavish spa retreats where skilled therapists pamper you with rejuvenating treatments using locally sourced ingredients. Delight your palate at Michelin-starred restaurants offering avant-garde culinary delights inspired by traditional Canarian flavors.
Join us on this unforgettable sojourn as we uncover hidden gems amidst Lanzarote's luxury hotel scene. Unwind, rejuvenate, and embrace the artistry that lies within each carefully curated establishment – an experience that promises to transcend beyond mere accommodation into a world where elegance meets unparalleled indulgence.
Most Luxurious Hotels in Lanzarote
CalaLanzarote Suites Hotel – Adults Only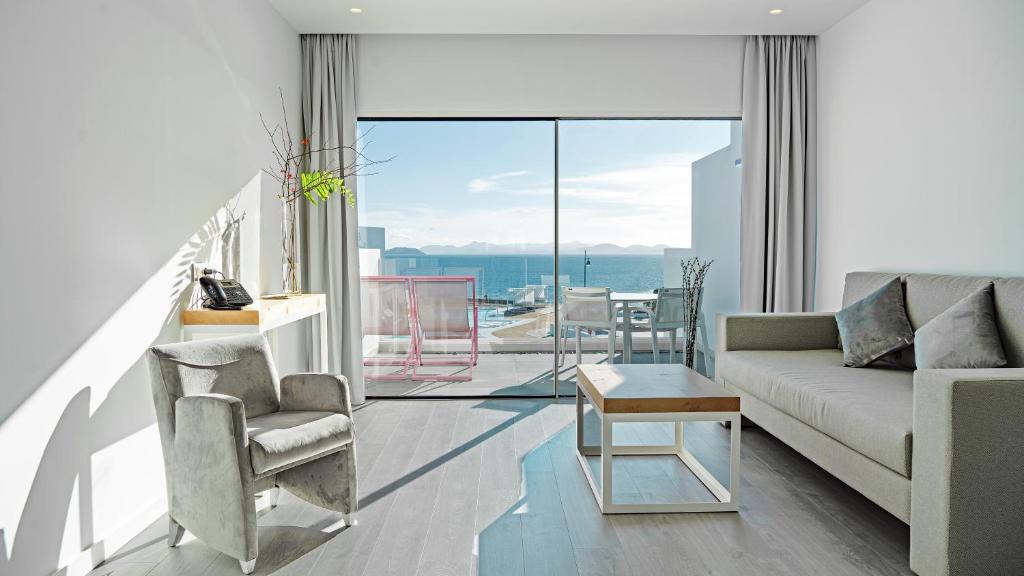 Opened in September 2019, CalaLanzarote Suites Hotel – Adults Only is a luxurious 5-star hotel located in Playa Blanca. This stunning property offers an array of top-notch amenities, including an outdoor swimming pool, a fitness center, a garden, and a terrace. The hotel features tastefully designed air-conditioned rooms equipped with modern facilities such as flat-screen TVs, coffee machines, safes, wardrobes, and private bathrooms with showers. Some rooms even come with fully-equipped kitchens. Guests can indulge in delectable international cuisine at the on-site restaurant or enjoy a buffet-style breakfast with dairy-free and gluten-free options available upon request. Other services provided by the hotel include airport transfers, a tour desk for organizing local excursions, free WiFi throughout the property, and a 24-hour front desk for any assistance needed. Conveniently situated within close proximity to Playa de las Coloradas and Playa Dorada beaches, as well as Mujeres Beach and Caleton del Cobre Beach just a short distance away, CalaLanzarote Suites Hotel – Adults Only is the perfect choice for travelers seeking both tranquility and easy access to beachfront activities.
Pros:
– Newly opened luxurious hotel
– Beautiful outdoor swimming pool
– Well-equipped fitness center
– Delicious international cuisine at the on-site restaurant
– Close proximity to various stunning beaches
Vitalclass Lanzarote Resort (Costa Teguise)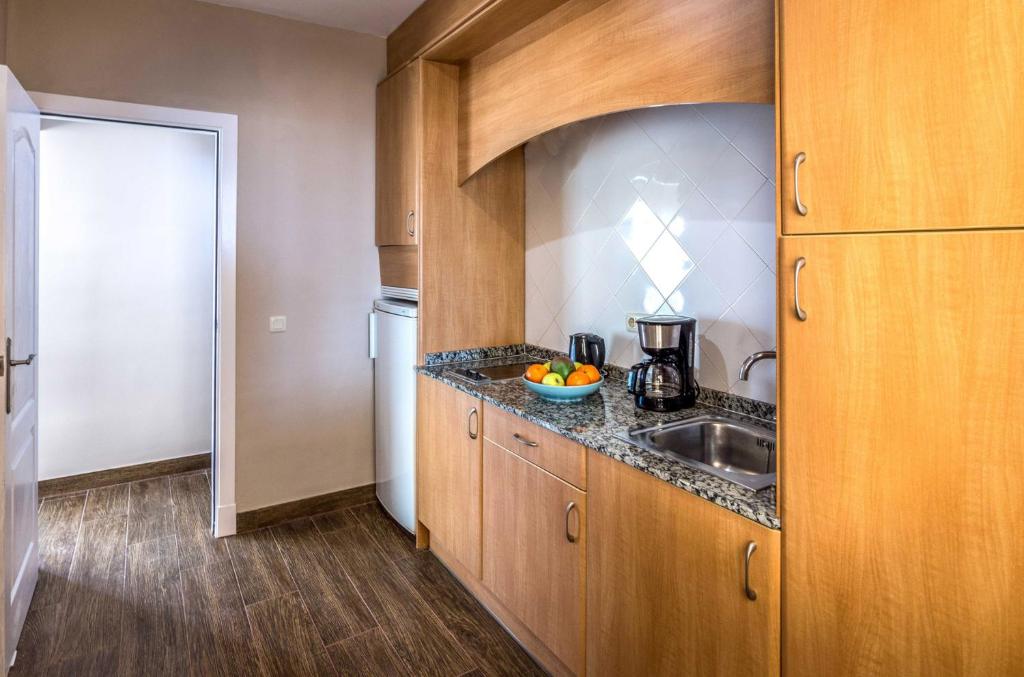 Vitalclass Lanzarote Resort is a luxurious hotel situated in the tranquil residential area of Costa Teguise, just 900 meters from Bastián Beach. The resort offers an array of impressive amenities including free WiFi, three outdoor pools, a water park, and an extensive spa. The spacious rooms feature private terraces and Canarian-style décor, complete with a flat-screen TV and air conditioning. Guests can enjoy complimentary access to the gym and one free visit to the spa during their stay. The resort's spa boasts an indoor heated swimming pool, hot tubs, Turkish baths, saunas, and even a physiotherapy center for additional pampering. Dining at the hotel restaurant is a treat with its delectable buffet offering for breakfast, lunch, and dinner. For added convenience, there is also a disco and poolside snack bar on-site. Guests can rent bicycles or take advantage of the car rental service to explore the nearby attractions such as Arrecife Ferry Terminal and Lanzarote Airport located just minutes away.
Pros:
– Convenient location in Costa Teguise's peaceful residential area
– Impressive range of amenities including multiple outdoor pools and water park
– Extensive spa with facilities like heated indoor swimming pool and Turkish baths
– Stylish rooms featuring Canarian-style décor with modern comforts
– Complimentary access to gym facilities during your stay
Secrets Lanzarote Resort & Spa – Adults Only (+18)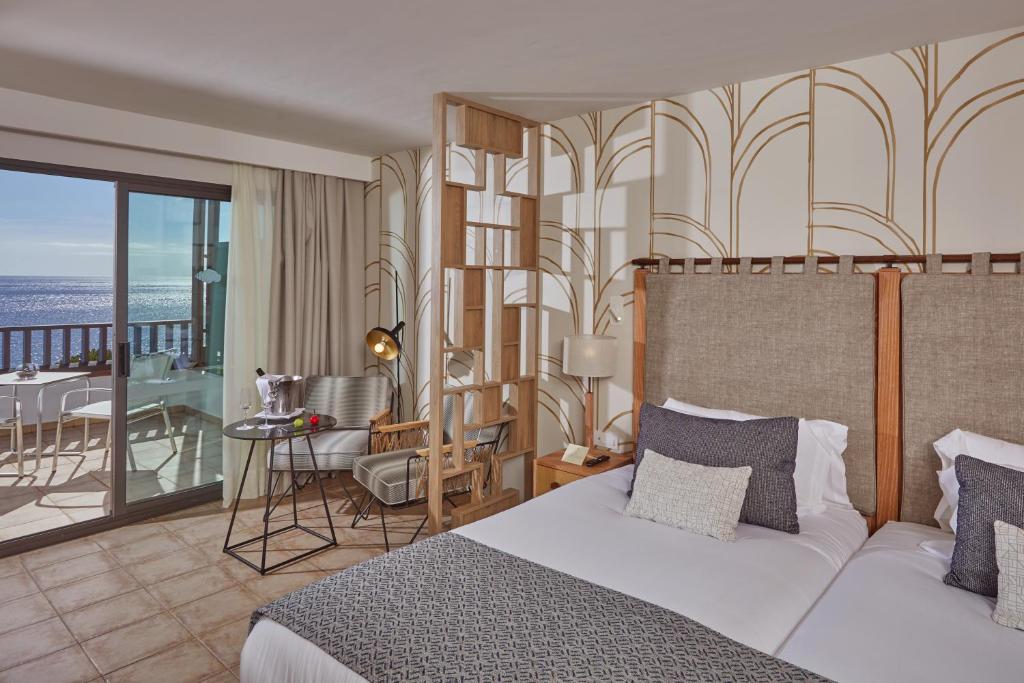 Located in Puerto Calero, just 13 km from Lanzarote Airport, Secrets Lanzarote Resort & Spa is a luxurious adults-only (+18) hotel. It boasts four heated outdoor pools, including an exclusive one for Preferred Club Members, as well as a free gym and sports facilities such as tennis, paddle, volleyball and squash courts. Guests also enjoy complimentary WiFi and parking. Indulge in gourmet dining options at the hotel's six restaurants or savor international cuisine at the à la carte restaurant, buffet, café or grill. For ultimate relaxation, guests can access the spa for a supplement where they can enjoy sauna sessions, hot tubs, steam rooms and various treatments and massages. Additionally, Secrets Lanzarote Resort & Spa offers exclusive services through its Preferred Club®, including access to the Preferred Club Lounge with snacks and drinks throughout the day, personalized concierge service and privileged room selections with superior attributes.
Pros:
– Four heated outdoor pools including an exclusive pool for Preferred Club Members
– Free gym and sports facilities like tennis courts
– Complimentary WiFi and parking
– Six gourmet dining options
– Exclusive services through the Preferred Club®
Other places to stay in Lanzarote
Luxury Hotels in Downtown Lanzarote
Luxury hotels in downtown Lanzarote epitomize elegance and sophistication, offering discerning travelers a haven of tranquility amidst the bustling city. With their opulent interiors, impeccable service, and stunning views, these accommodations redefine luxury living. From stylishly designed rooms to gourmet dining experiences, every aspect caters to the refined tastes of guests seeking the perfect blend of comfort and indulgence. Whether relaxing by the poolside or exploring the vibrant nearby attractions, staying at a luxury hotel in downtown Lanzarote promises an unforgettable experience that captures the essence of ultimate luxury.
Barceló Lanzarote Royal Level (Costa Teguise)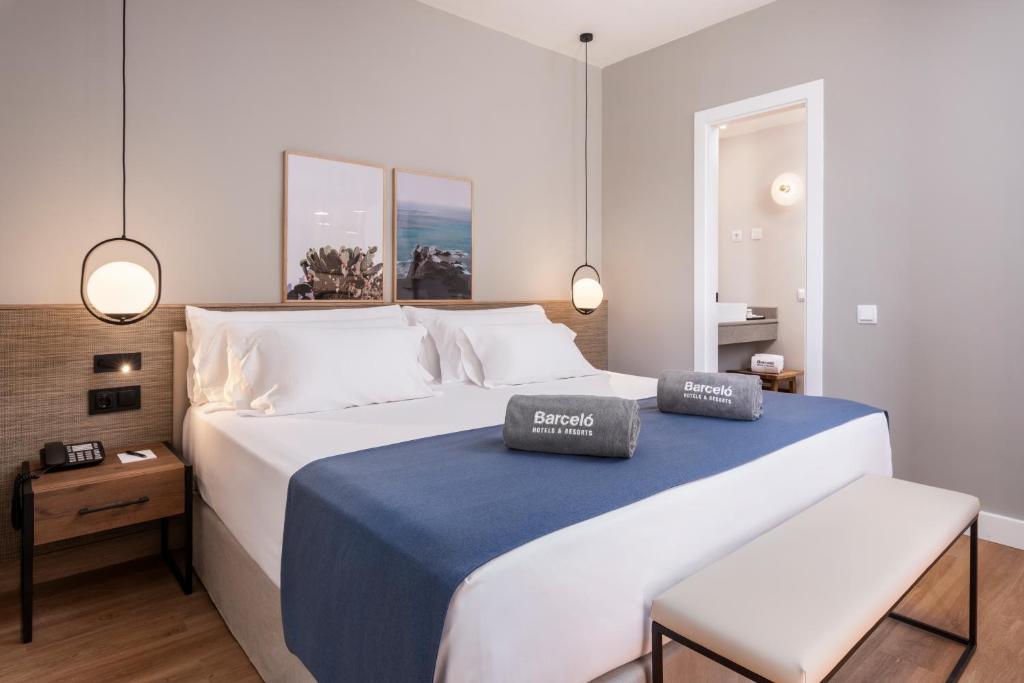 Barceló Lanzarote Royal Level, located in Costa Teguise, is a stunning 4-star luxury hotel that opened its doors in September 2021. Situated right on the beachfront, this hotel offers guests a truly indulgent experience. The property boasts an outdoor swimming pool and a well-equipped fitness centre for those looking to stay active during their stay. The beautifully landscaped garden provides a tranquil oasis for relaxation. With excellent service as one of its top priorities, Barceló Lanzarote Royal Level offers round-the-clock room service and convenient access to an ATM. The hotel's 24-hour front desk ensures that guests' needs are always met with utmost efficiency. For families traveling with children, there is a dedicated kids' club available on-site.
The air-conditioned rooms at Barceló Lanzarote Royal Level are designed to provide ultimate comfort and convenience. Each room features modern amenities such as a desk, coffee machine, minibar, safety deposit box, flat-screen TV, balcony, and private bathroom with bath or shower facilities. Some rooms offer breathtaking sea views while every room includes the convenience of having a kettle provided.
Culinary delights await at the hotel's restaurant which serves exquisite Italian, Mediterranean and Spanish cuisine. Vegetarian and gluten-free options can be requested to cater for various dietary needs. Guests can start their day off right with buffet or continental breakfast options served each morning.
With its prime location by the beachfront and surrounded by beautiful natural landscapes, Barceló Lanzarote Royal Level presents ample opportunities for outdoor activities such as cycling. Bike hire services are available on-site for guests who want to explore the area further.
In summary:
– Luxurious 4-star beachfront hotel
– Outdoor swimming pool and fitness centre
– Beautifully landscaped garden
– Round-the-clock room service and ATM access
– Kids' club for families traveling with children
Paradisus Salinas Lanzarote, Adults recommended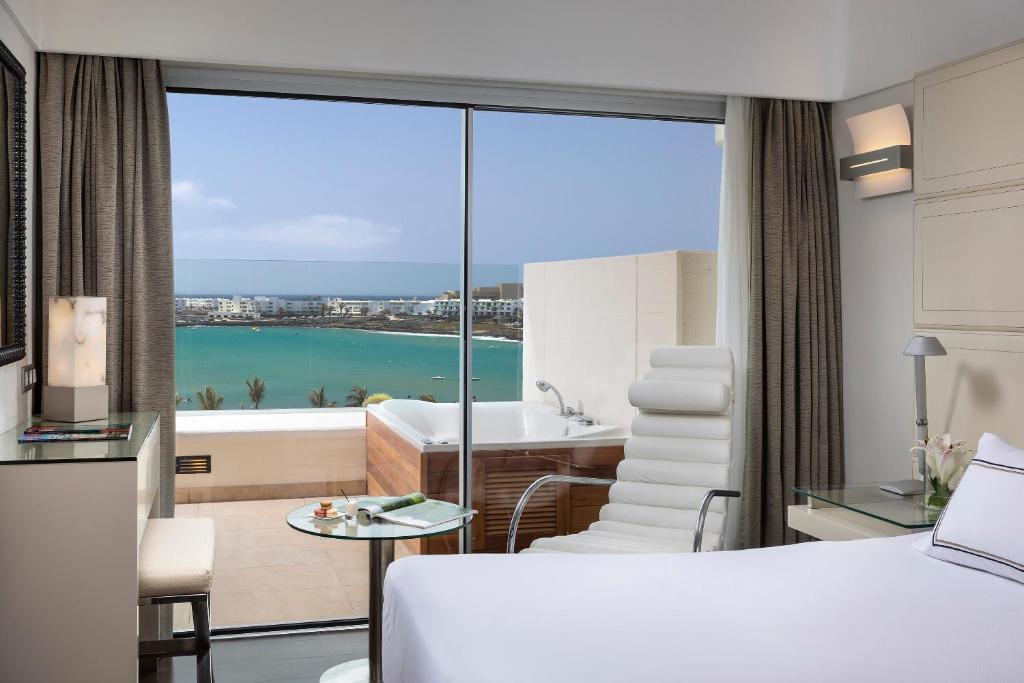 The Paradisus Salinas Lanzarote is a boutique hotel that offers a luxurious experience for adults. Situated on two white sandy beaches, this hotel provides the perfect setting to enjoy the beautiful year-round sunshine and tropical gardens of Lanzarote. The outdoor pool is ideal for cooling off from the warm sun, and there are multiple bars and lounges where guests can relax and unwind. Sports enthusiasts will appreciate the three floodlit tennis courts, while those seeking relaxation can indulge in the spa, sauna, or whirlpool. The vibrant interior design of the hotel is inspired by renowned local artist Cesar Manrique. With four on-site restaurants and three bars, guests have plenty of dining options to choose from including live culinary shows as part of the evening's entertainment. Additional amenities include direct beach access, private check-in areas in some rooms, an espresso machine, pillow menu, and concierge services.
– Boutique hotel with outdoor pool
– Surrounding by two white sandy beaches
– Vibrant interior inspired by local artist Cesar Manrique
– Multiple dining options including live culinary shows
– Additional services in some rooms such as private check-in area and pillow menu
Seaside Los Jameos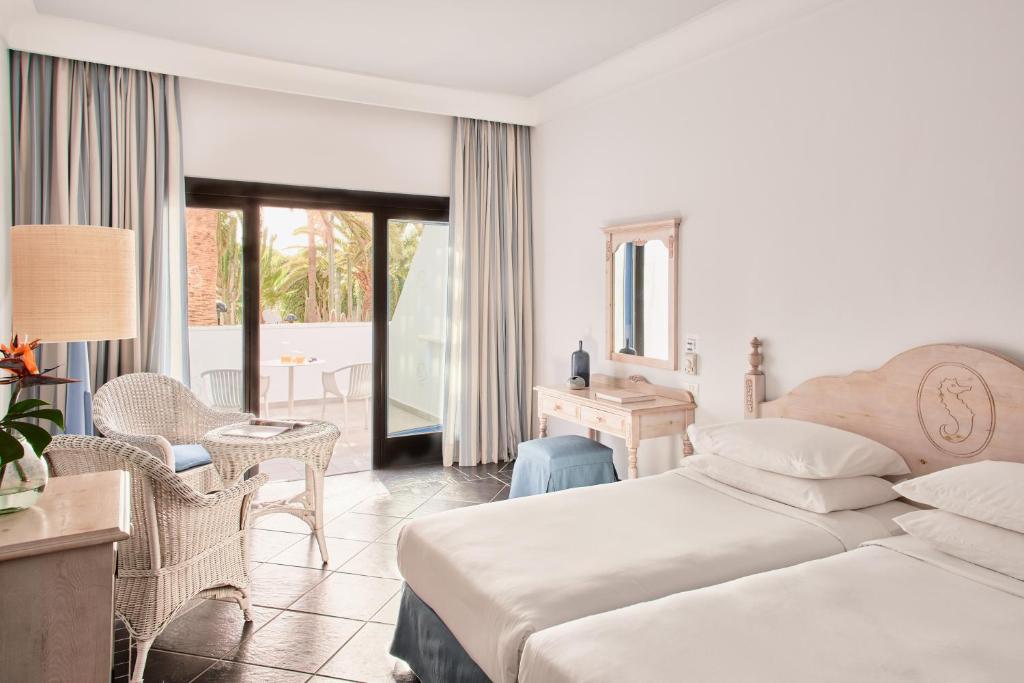 Located on Los Pocillos Beach, Seaside Los Jameos is a Canarian-style luxury hotel offering a range of amenities. Guests can enjoy outdoor pools surrounded by palm trees and make use of the 4 tennis courts available. The hotel also features a small Finnish spa, complete with a gym, bio-sauna, and Turkish Bath. Each spacious air-conditioned room at Seaside Los Jameos is tastefully decorated in soft colors and light wood furniture. The rooms include satellite TV, with the option to rent minibars and safes. The main restaurant offers a varied buffet dinner with special themes and BBQ nights, while the Belingo Bar provides an animated entertainment program including live music and dancing. For both adults and children, there are daily activities such as mini golf and beach volleyball, as well as games for children. Within a 10-minute walk from the hotel, guests will find several bars, restaurants, shops, and there is also a golf course less than 3 km away. Lanzarote Arrecife Airport is conveniently situated just 5 km away.
– Outdoor pools surrounded by palm trees
– Small Finnish spa with gym
– Varied buffet dinner with special themes
– Daily activities for both adults and children
– Convenient location near airport
5 Star Luxury Hotels
5 Star Luxury Hotels provide a truly exceptional experience for the discerning traveler. From the moment you step into their grand lobbies, you are greeted with impeccable service and attention to detail. These hotels are renowned for their elegant and stylish decor, showcasing the finest craftsmanship and luxurious materials. The spacious rooms and suites exude sophistication and comfort, offering plush bedding, exquisite furnishings, and state-of-the-art technology. Indulge in world-class dining options that tantalize your taste buds with gourmet cuisine prepared by celebrated chefs. Pamper yourself with lavish spa treatments that rejuvenate both body and mind. With an array of upscale amenities and facilities, such as swimming pools, fitness centers, and business centers, these hotels ensure that every need is met seamlessly. Whether you're traveling for business or pleasure, 5 Star Luxury Hotels promise an unforgettable stay where every moment is designed to exceed your expectations.
Iberostar Selection Lanzarote Park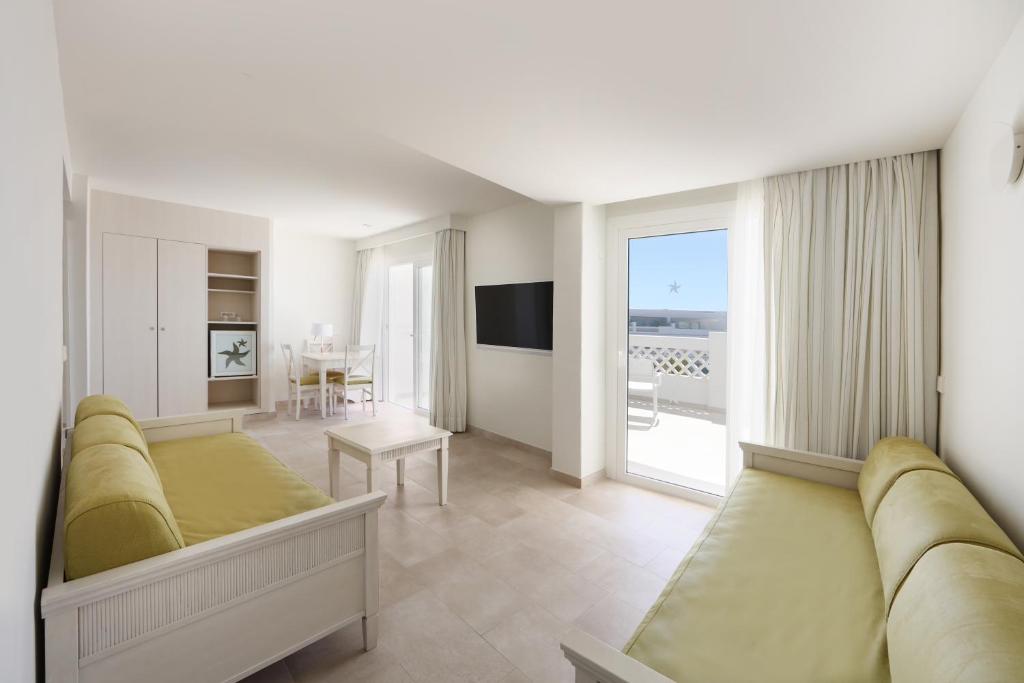 Located on the beachfront with stunning views of the Atlantic Ocean in Lanzarote, Iberostar Selection Lanzarote Park is a luxurious hotel that offers a comfortable and relaxing stay. The hotel features both indoor and outdoor pools, allowing guests to enjoy a swim regardless of the weather. With free WiFi available throughout the property, guests can stay connected during their visit. The hotel boasts 4 outdoor swimming pools for adults and 3 for children, ensuring plenty of space for everyone to enjoy a refreshing dip. The rooms at Iberostar Selection Lanzarote Park are well-appointed with amenities such as a TV and free toiletries in the bathroom. For those staying in Star Prestige rooms, additional perks include beach towels, bathrobe and slippers, a Nespresso Coffee machine, kettle, and free safe access. Guests can also take advantage of the free gym and relax on the sun terrace furnished with comfortable loungers. For an extra indulgence, the spa offers various treatments including a sauna, hammam, and hot tub (available at an additional cost). Located just 20 km from Timanfaya National Park and a short 30-minute drive to Lanzarote Airport, this hotel provides easy access to popular attractions. Overall, Iberostar Selection Lanzarote Park is an excellent choice for luxury-seeking travelers looking for relaxation in beautiful surroundings.
– Luxury beachfront location
– Indoor and outdoor pools
– Free WiFi
– Star Prestige rooms with extra amenities
– Accessible location to popular attractions
Gloria Izaro Club Hotel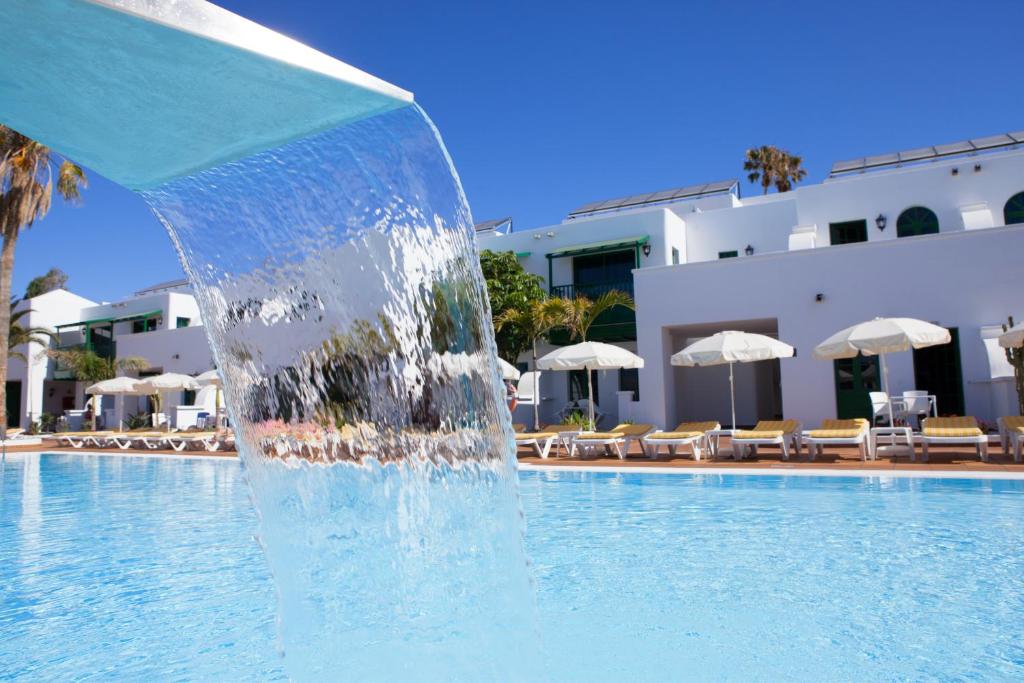 Located in Puerto del Carmen, the Gloria Izaro Club Hotel is a luxurious complex of aparthotels offering a range of amenities and services. Guests can enjoy an outdoor pool with sun loungers, as well as a restaurant and bar. The hotel serves delicious breakfast and dinner buffets with show cooking. Each air-conditioned apartment features a comfortable living room with a sofa and flat-screen TV, along with a fully equipped kitchenette including a hob, microwave, and toaster. Additional facilities include luggage storage, currency exchange services, and a snack bar. The hotel is conveniently situated just 1 km away from various bars, restaurants, and nightclubs in Puerto del Carmen town center. The location is perfect for those seeking outdoor activities such as windsurfing or paragliding. Lanzarote Airport is also easily accessible at just 12 km from the property.
– Outdoor pool with sun loungers
– Delicious breakfast and dinner buffets
– Fully equipped kitchenettes in each apartment
– Convenient location near bars and restaurants
– Ideal for outdoor activities like windsurfing
Boutique Hotel H10 White Suites – Adults Only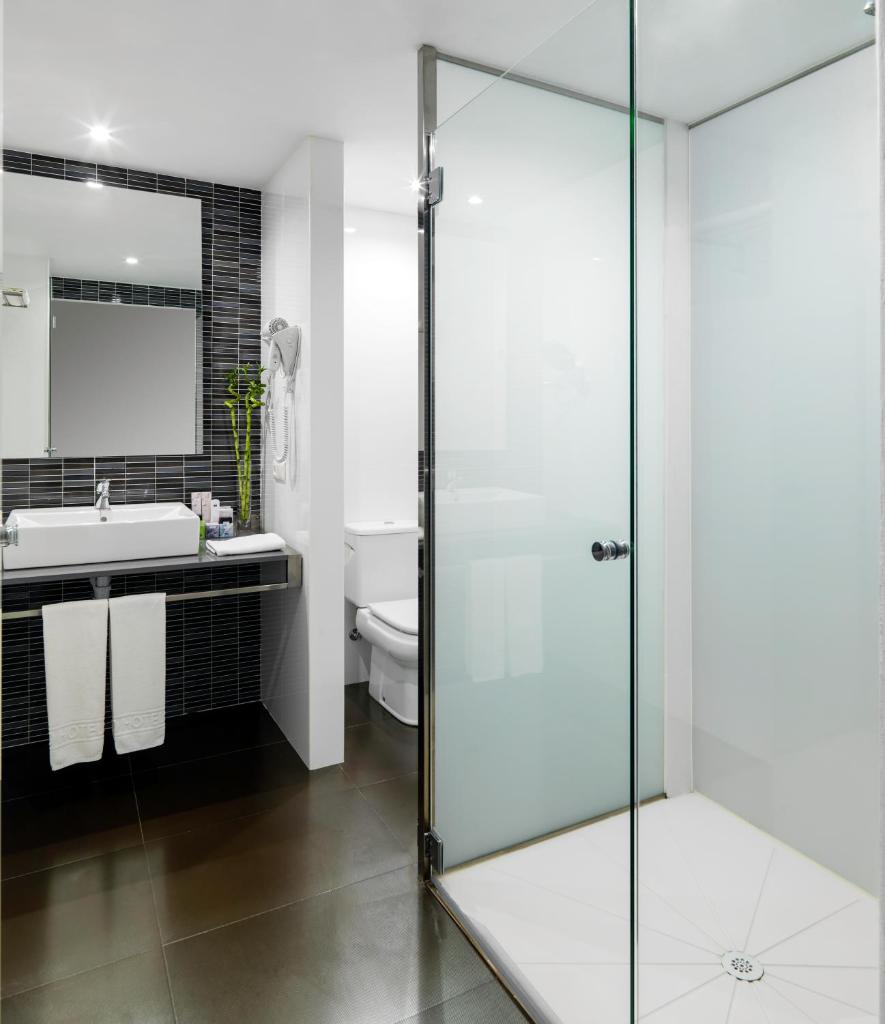 Boutique Hotel H10 White Suites – Adults Only is a charming small hotel located in the picturesque fishing village of Playa Blanca in Lanzarote. Designed in a traditional Canarian style with whitewashed exteriors, this hotel offers a tranquil and stylish retreat for adults only. Guests can enjoy two outdoor pools, a fitness and beauty center, and luxurious accommodations with views of the pool or garden. With three bars to choose from, including a poolside bar with Balinese beds, guests can relax and unwind while sipping on their favorite drink. The hotel also offers free Wi-Fi throughout the property.
The air-conditioned suites are equipped with private balconies or terraces, iPod docking stations, LCD TVs with international channels, minibars, Nespresso coffee makers (with four free capsules per day), and one complimentary bottle of water upon arrival. The modern bathrooms feature bathrobes, slippers, and hairdryers.
For ultimate relaxation and pampering, guests can indulge in personalized massages and treatments at the beauty center or take advantage of the sauna, hot tub, and sun terrace. The hotel also offers daily Pilates, Tai Chi lessons as well as other activities for those looking to stay active during their vacation.
Dining at Boutique Hotel H10 White Suites is a treat at Galeón Restaurant which serves buffet meals with show cooking that can be enjoyed on the terrace overlooking the beautiful surroundings. Special dietary menus such as diabetic and celiac options are available upon request.
Additional amenities include private parking for an extra cost and 24-hour medical assistance on site. A supermarket conveniently located next to the property makes it easy for guests to stock up on any necessities they may need during their stay. Arrecife city center and its airport are approximately 30 km away.
– Charming small hotel with traditional Canarian design
– Two outdoor pools available for relaxation
– Fitness & beauty center offering personalized treatments
– Three bars, including a poolside bar with Balinese beds
– Stunning terrace at Galeón Restaurant serving buffet meals with show cooking
Most Expensive Hotels in Lanzarote
Lanzarote, one of the stunning Canary Islands, is home to some of the most opulent and exclusive hotels that cater to the discerning traveler seeking luxury and indulgence. These luxurious accommodations boast breathtaking views of sparkling turquoise waters, pristine white sandy beaches, and volcanic landscapes. With lavish interiors adorned with contemporary designs and high-end furnishings, guests can expect nothing but the finest in comfort and elegance. From exquisite gastronomy experiences to world-class spas offering rejuvenating treatments, these most expensive hotels in Lanzarote guarantee an unparalleled stay where every desire is met with exceptional service and attention to detail.
Lani's Suites de Luxe – Adults Only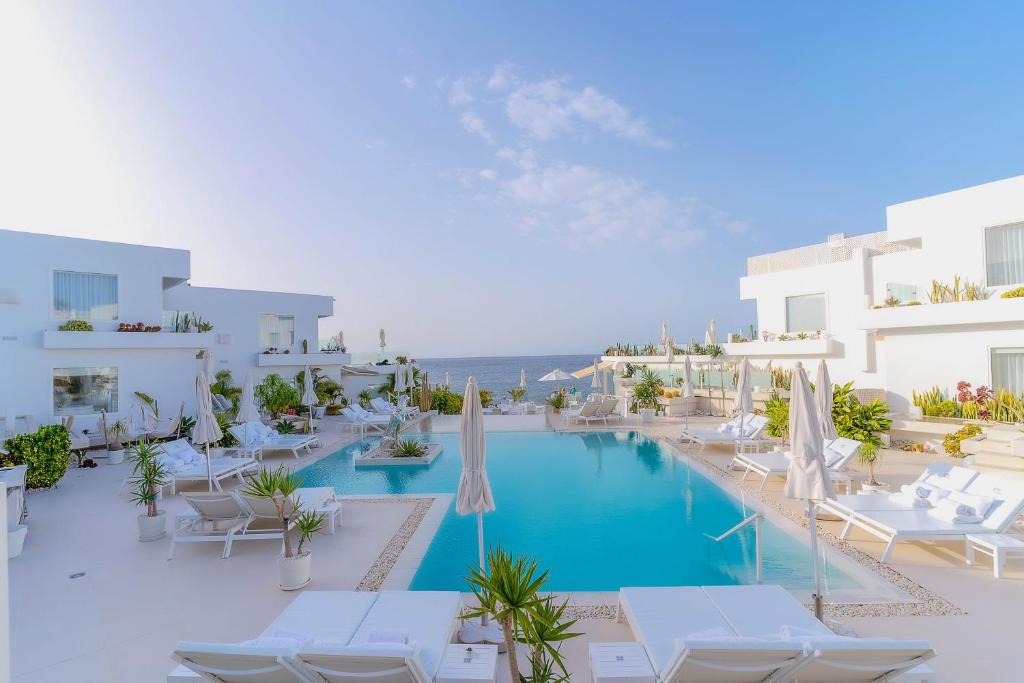 Lani's Suites de Luxe – Adults Only is a stunning boutique hotel located on the beachfront in Puerto del Carmen. The hotel offers luxurious air-conditioned suites with free WiFi, all of which boast breathtaking ocean and pool views. Each suite features a terrace or balcony, a spacious seating area, and a dining area. Guests can enjoy modern amenities such as a flat-screen TV, laptop safe, and coffee machine. The bathroom includes a hairdryer and bathrobes for extra comfort. Lani's Suites de Luxe also offers an outdoor swimming pool and an exquisite restaurant where guests can indulge in delicious cuisine. For those seeking relaxation, the hotel has a beauty center that offers massages. A café is also available on-site for guests who want to unwind with a cup of coffee or tea. Although this is an adults-only hotel, children are welcome at the café. Conveniently located near Lanzarote Airport (7 km), Timanfaya National Park (20 km), and Arrecife (12 km), Lani's Suites de Luxe provides the perfect luxury getaway experience.
– Breathtaking ocean and pool views from every suite
– Luxury amenities including flat-screen TV and coffee machine
– Relaxing outdoor swimming pool
– Indulgent beauty center offering massages
– Convenient location near the airport and popular attractions
Princesa Yaiza Suite Hotel Resort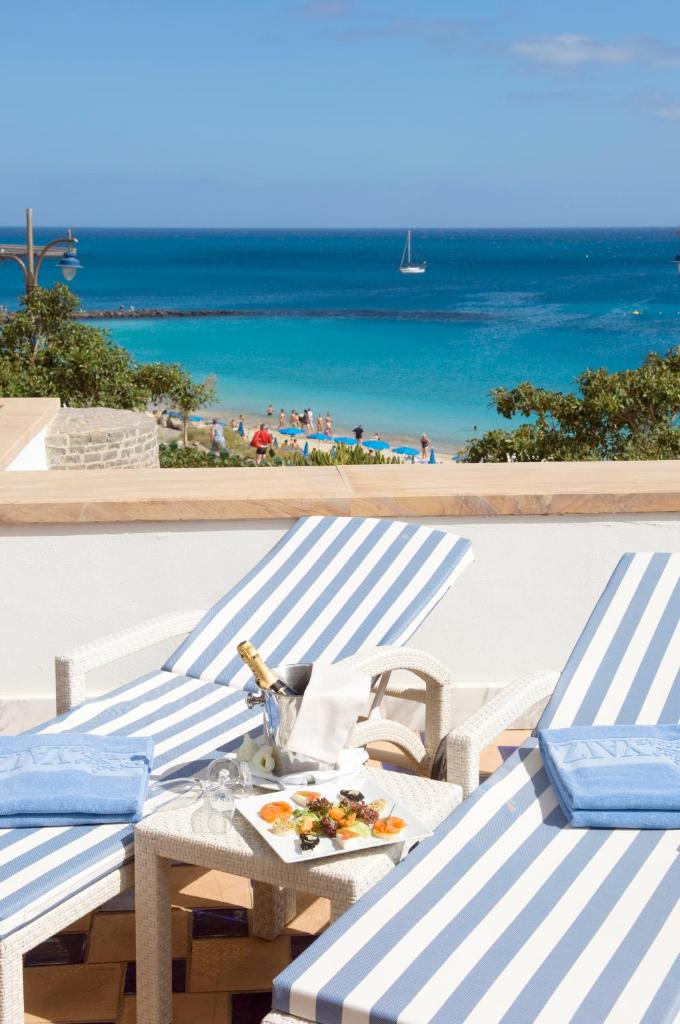 The Hotel Princesa Yaiza Suite Hotel Resort is a luxurious beachfront resort in Playa Blanca. With its stunning location, this hotel offers guests the ultimate seaside getaway. The resort boasts six outdoor swimming pools, providing ample space for relaxation and leisurely swims. For those seeking ultimate indulgence, there is a Thalasso and spa center offering various treatments and therapies. Guests can choose from eight restaurants serving a range of cuisines including Mexican, Italian, Japanese, and gourmet Spanish dishes. Each room at the hotel comes with a balcony or patio that offers breathtaking sea views or overlooks the pools and gardens. Other amenities include a small kitchenette, flat-screen TV, bathrobe, slippers, and access to facilities such as fitness classes and a sauna free of charge. The highlight of the resort is the Thousand and One Nights seawater circuit at the Thalassotherapy center where guests can enjoy hydro-massage jets, underwater music, color therapy sessions along with other rejuvenating experiences like Turkish baths and treatment cabins.
Pros:
– Beautiful beachfront location
– Extensive choice of restaurants offering diverse cuisines
– Luxurious Thalasso and spa center for ultimate relaxation
– Six outdoor swimming pools for guests to enjoy
– Access to fitness classes and sauna free of charge
Luxury Lanzarote Hotels Information
| | |
| --- | --- |
| 🛎️ Luxury Hotels in Lanzarote | 11 |
| 💵 Hotels Prices From | $178 |
| 💵 Highest price | $1226 |
| 🥇 Average Review Score | 8.7/10 |
| 🛏️ Average number of Rooms | 219 |
Top Luxury hotels in Lanzarote
| | |
| --- | --- |
| Lani's Suites de Luxe – Adults Only | 9.8/10 |
| CalaLanzarote Suites Hotel – Adults Only | 9/10 |
| Seaside Los Jameos | 8.9/10 |
| Iberostar Selection Lanzarote Park | 8.8/10 |
| Princesa Yaiza Suite Hotel Resort | 8.8/10 |
FAQ
What are some of the luxury hotels in Lanzarote?
Lanzarote offers an array of luxurious accommodations for travelers seeking a lavish retreat. Some notable luxury hotels on the island include Princesa Yaiza Suite Hotel Resort, a five-star beachfront resort offering stunning views and first-class amenities, as well as Arrecife Gran Hotel & Spa, which provides elegant rooms and a rooftop pool with panoramic city views.
What is the average price range for luxury hotels in Lanzarote?
The average price range for luxury hotels in Lanzarote varies depending on the time of year and specific hotel. Generally, you can expect to pay between $200 and $500 per night for a luxurious stay at one of the top-rated establishments. Keep in mind that prices may fluctuate based on factors such as demand, seasonality, and availability.
Are there any all-inclusive luxury resorts in Lanzarote?
Yes, there are several all-inclusive luxury resorts available in Lanzarote catering to discerning travelers who prefer convenience and indulgence. One popular option is Hesperia Lanzarote Playa Dorada, which offers an all-inclusive package with gourmet dining options, premium beverages, and access to exclusive facilities such as spa centers and private beaches.
What are some popular attractions near luxury hotels in Lanzarote?
Luxury hotels in Lanzarote are strategically located near some of the island's most famous attractions. Visitors staying at these establishments can easily access attractions like Timanfaya National Park with its dramatic volcanic landscapes or Jameos del Agua—a unique underground cave complex designed by famed artist César Manrique. Other notable nearby destinations include Papagayo Beaches renowned for their pristine beauty or Mirador del Río viewpoint offering breathtaking views over La Graciosa Island.
Do luxury hotels provide personalized services in Lanzarote?
Yes, luxury hotels in Lanzarote pride themselves on providing personalized services to ensure a truly luxurious experience for their guests. From dedicated concierge assistance and 24/7 room service to customized spa treatments and exclusive access to private amenities, these hotels go above and beyond to cater to the individual needs and preferences of their discerning clientele.
Popular Most Luxurious hotel destinations