Welcome to an enchanting exploration of opulent accommodations on the stunning Isle of Wight, situated in the United Kingdom. Prepare to embark on a journey where extravagance meets natural beauty, and indulge yourself in the epitome of refined luxury. This idyllic island boasts an array of sumptuous hotels that cater to even the most discerning traveler, ensuring an unforgettable getaway.
Set against a backdrop of breathtaking landscapes, the Isle of Wight offers a haven for those seeking tranquility and unspoiled beauty. Immerse yourself in serene coastal views as you luxuriate in the lavish comforts provided by these exceptional establishments. From elegant boutique hotels nestled within picturesque villages to grand retreats with panoramic ocean vistas, every corner offers a unique experience that will captivate your senses.
Whether you are yearning for indulgent spa treatments, exquisite fine dining experiences or simply craving unparalleled service and attention to detail, luxury hotels on this captivating island have it all. Discover hidden treasures at historic manor houses transformed into exclusive resorts or relish in modern elegance at sleek waterfront properties. Allow yourself to be pampered and rejuvenated amidst a world-class setting brimming with charm and grace.
Uncover a world where sophistication merges seamlessly with nature's splendor; let us guide you through our carefully curated selection of luxury hotels on the beguiling Isle of Wight.
Most Luxurious Hotels in Isle of Wight
The Hambrough (Ventnor)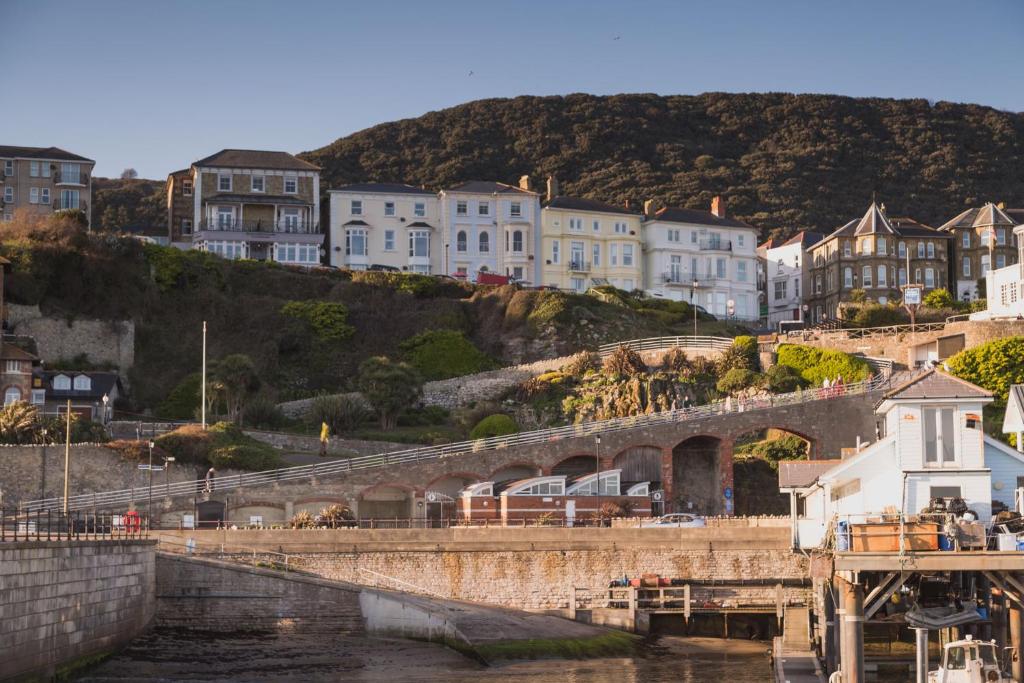 Located high above Ventnor Fishing Harbour on the southern tip of the Isle of Wight, The Hambrough offers a luxurious boutique accommodation experience with stunning sea views. Just a short 2-minute walk from Ventnor beach and a quick 5-minute drive from the renowned Ventnor Botanic Gardens, this hotel is perfectly situated for guests to explore all that the area has to offer. The Hambrough is also home to award-winning chef Matthew Tomkinson, who serves up delicious meals in the hotel's restaurant. Each morning, guests can enjoy a hearty breakfast that has been awarded the prestigious AA 5* breakfast award. The bedrooms are elegantly designed with comfortable beds, espresso machines, and flat-screen TVs with satellite channels. Bathrooms feature Molton Brown toiletries and all but one room boasts magnificent sea views. Additionally, due to its sheltered location on the cliff of the island's south coast, The Hambrough enjoys more sunshine than many other parts of Britain. For those looking to explore further afield, Ventnor town centre is just a 5-minute walk away. With its unbeatable location and excellent amenities, it's no wonder that couples rate The Hambrough as their favorite part of Ventnor.
Pros:
– Spectacular sea views
– Award-winning chef serving exquisite cuisine
– Comfortable and well-equipped bedrooms
– Proximity to popular attractions like Ventnor beach and Botanic Gardens
– Conveniently located near Ventnor town center
One Holyrood Hotel & Cafe (Newport)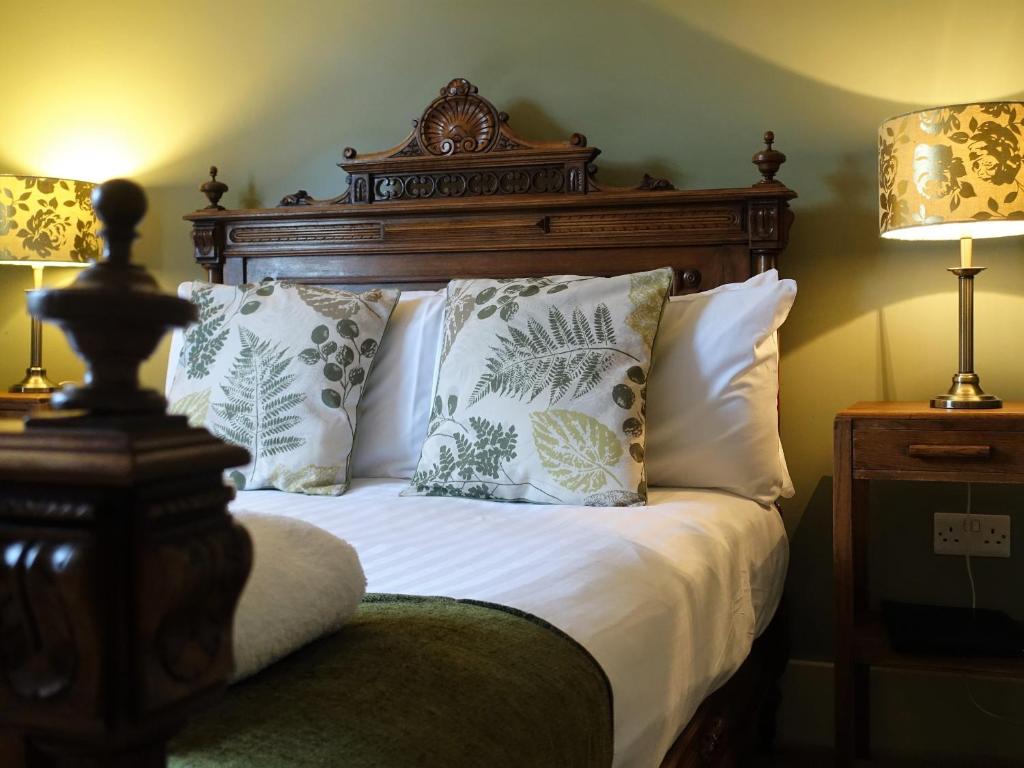 Nestled in the charming town of Newport, One Holyrood Hotel & Cafe offers a delightful retreat for travelers seeking a luxurious stay on the Isle of Wight. With its prime location just 1.5 km from Carisbrooke Castle and 7 km from Osborne House, guests can easily explore the island's historical landmarks and natural beauty. The hotel boasts a tranquil garden where guests can relax, along with free WiFi throughout the property. Indulge in delectable breakfasts, brunches, and afternoon teas at the shared lounge or sip on wines, beers, and spirits at the licensed cafe. The well-appointed rooms feature garden views and come equipped with modern amenities such as flat-screen TVs and private bathrooms with showers. Start your day right with a choice of continental or buffet breakfast to fuel up for an adventurous day ahead. For those looking to unwind outdoors, One Holyrood Hotel & Cafe offers a terrace to soak up the serene surroundings. Hiking enthusiasts will also appreciate easy access to scenic trails nearby.
– Convenient location near popular attractions like Carisbrooke Castle
– Tranquil garden setting for relaxation
– Complimentary WiFi throughout the property
– Delicious breakfasts, brunches, and afternoon teas available
– Terrace area to enjoy outdoor activities like hiking
The Grange B&B (Shanklin)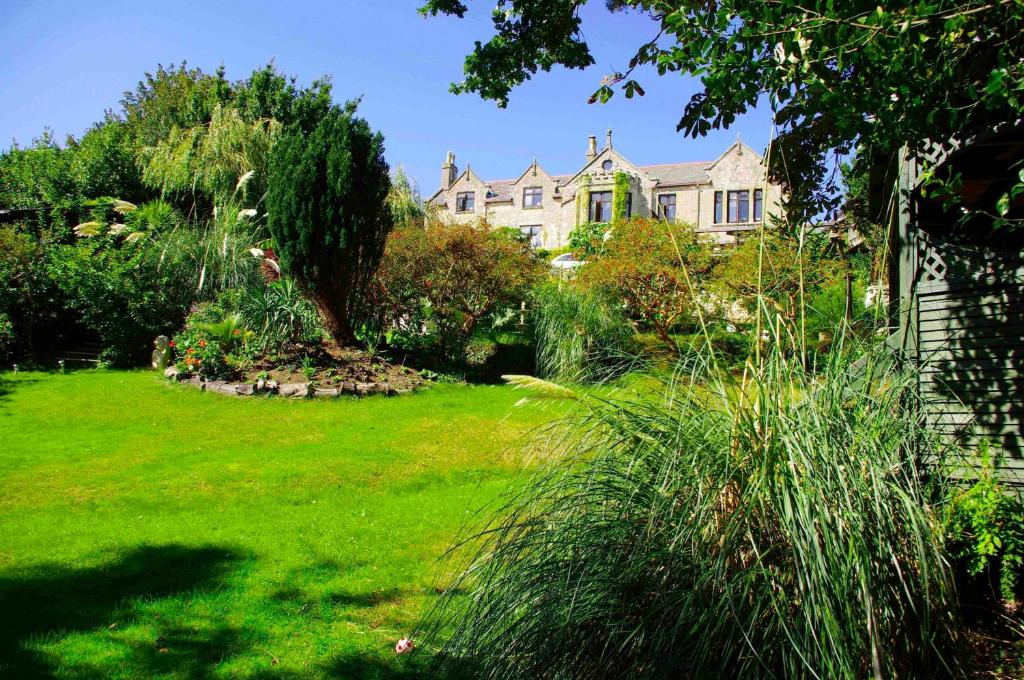 Located in the heart of Shanklin's charming Old Village, The Grange B&B offers a luxurious 4-star stay in a stunning Georgian country house. Recognized by the AA's Best British B&B Guide, this elegant establishment is less than 1 km away from the beach, providing guests with both tranquility and convenience. The Grange B&B pampers its guests with all-day supplies of tea, coffee, and biscuits, as well as offering a sauna and various activities to enhance relaxation. Within walking distance are the local train station, shops, restaurants, and the beautiful sandy beach. For added indulgence, there are two chalets on-site – one is equipped with a sauna for guest use and a massage treatment room while the other serves as a gym/yoga room. Surrounded by lush greenery and just moments away from thatched pubs and cozy tearooms, The Grange B&B also boasts proximity to Shanklin Chine where visitors can marvel at breathtaking waterfalls right at the bottom of their garden. Each room is tastefully decorated in natural tones adorned with bold and colorful art pieces. Guests can enjoy complimentary luxury toiletries while many rooms offer splendid views of either the sea or downs. With its spacious dining room, inviting bar area, and an outdoor terrace for al fresco meals or drinks under pleasant weather conditions; this inviting hotel truly caters to every need of its discerning clientele. In addition to superior accommodations and facilities provided by The Grange B&B team ensures unforgettable experiences through courses like yoga sessions or creative writing workshops as well as activities such as music lessons or dance classes (prior booking required).
Other places to stay in Isle of Wight
Luxury Hotels in Downtown Isle of Wight
Downtown Isle of Wight offers a remarkable selection of luxury hotels that epitomize sophistication and elegance. These exclusive establishments boast impeccable service, breathtaking architecture, and captivating interior design. Guests are treated to a world-class experience as they indulge in lavish accommodations, exquisite dining options, and opulent amenities. Every detail is thoughtfully curated to create an atmosphere of ultimate relaxation and indulgence. Whether it's enjoying panoramic views from rooftop terraces or unwinding in luxurious spas, these downtown hotels in Isle of Wight guarantee an unforgettable stay for discerning travelers seeking the pinnacle of luxury hospitality.
The Clifton (Shanklin)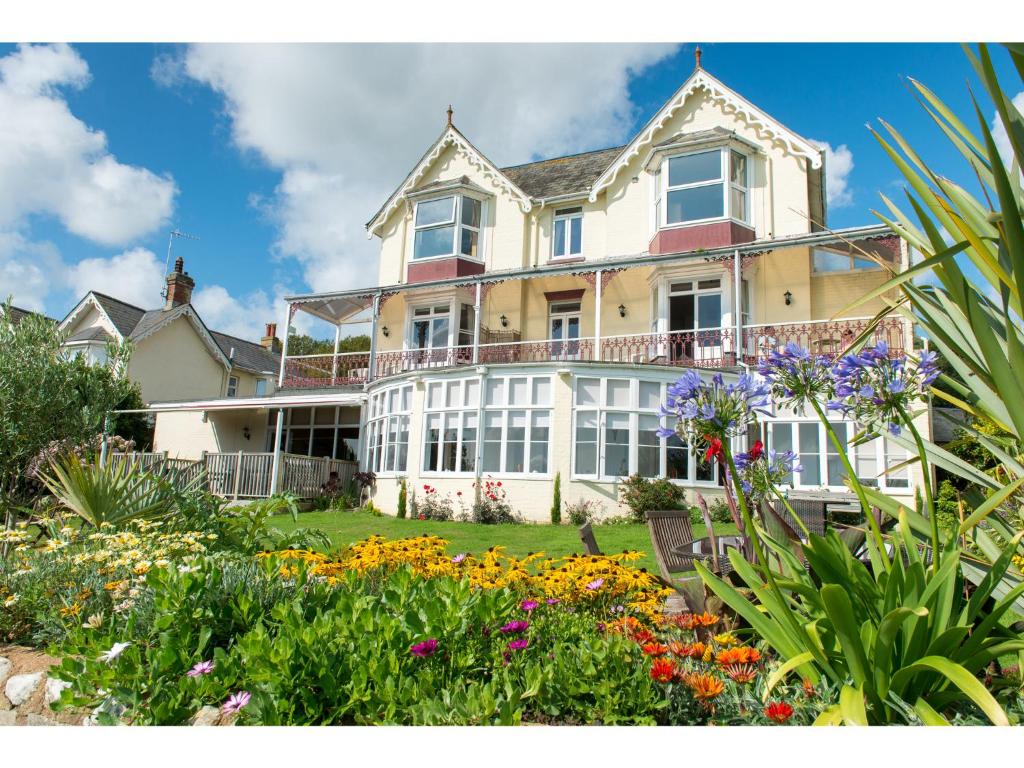 The Clifton is a charming luxury hotel located on the cliffs of Shanklin, offering breathtaking views of Sandown Bay. Guests can enjoy these stunning vistas from the conservatory lounge and garden. The hotel's bistro takes pride in using local produce to create a delectable menu. The spacious bedrooms offer picturesque views of the Isle of Wight's coast, with some rooms even featuring a balcony. Each room comes equipped with free Wi-Fi, a TV, radio, private bathroom, and complimentary tea, coffee, and hot chocolate facilities. The dining room offers delicious home-cooked meals made with seasonal ingredients sourced from nearby farmland, ensuring an unforgettable culinary experience. Guests with dietary requirements will also be well looked after. The bar impresses guests with its selection of beers brewed on the Isle itself. Moreover, the hotel's garden leads directly to the Coastal Walk between Shanklin and Sandown—perfect for leisurely strolls along the coastline. Additionally, guests can explore Shanklin Old Village just a 5-minute walk away or visit Shanklin Chine and the beach—all within easy reach from The Clifton.
Pros:
– Stunning cliff-top location with panoramic views over Sandown Bay
– Bistro showcasing delicious dishes made from locally sourced produce
– Spacious bedrooms offering coastal views and some equipped with balconies
– Dining room serving homemade fare using seasonal ingredients
– Convenient access to Shanklin Old Village and nearby attractions such as Shanklin Chine and the beach
The Havelock (Shanklin)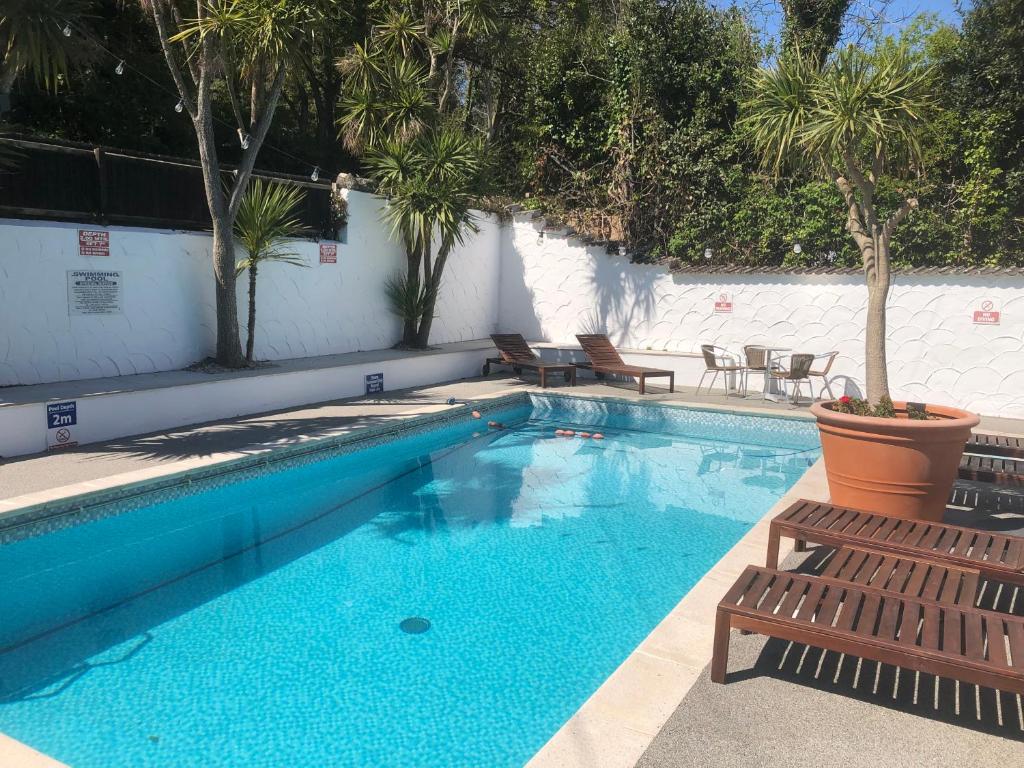 The Havelock in Shanklin is a charming small hotel nestled amidst beautiful gardens. Guests can enjoy the Mediterranean-style outdoor pool and relax on the outdoor terrace with comfortable seating. The hotel offers en suite rooms, some of which boast stunning sea views. For convenience, there is free private parking available and the seafront is just a short walk away. Inside, each stylishly designed bedroom comes equipped with digital TV featuring Freeview channels and tea/coffee making facilities. Most rooms also provide free WiFi access. Start your day with a delicious full English breakfast made from fresh local produce when available. Vegetarian and gluten-free options are also offered daily. Throughout the day, guests can indulge in hot beverages from the bar along with tasty snacks.
Pros:
– Small hotel offering an intimate experience
– Gorgeous outdoor pool set in attractive gardens
– Some rooms offer breathtaking sea views
– Convenient location close to the seafront
– Delicious breakfast options including vegetarian and gluten-free choices
The Belmont (Shanklin)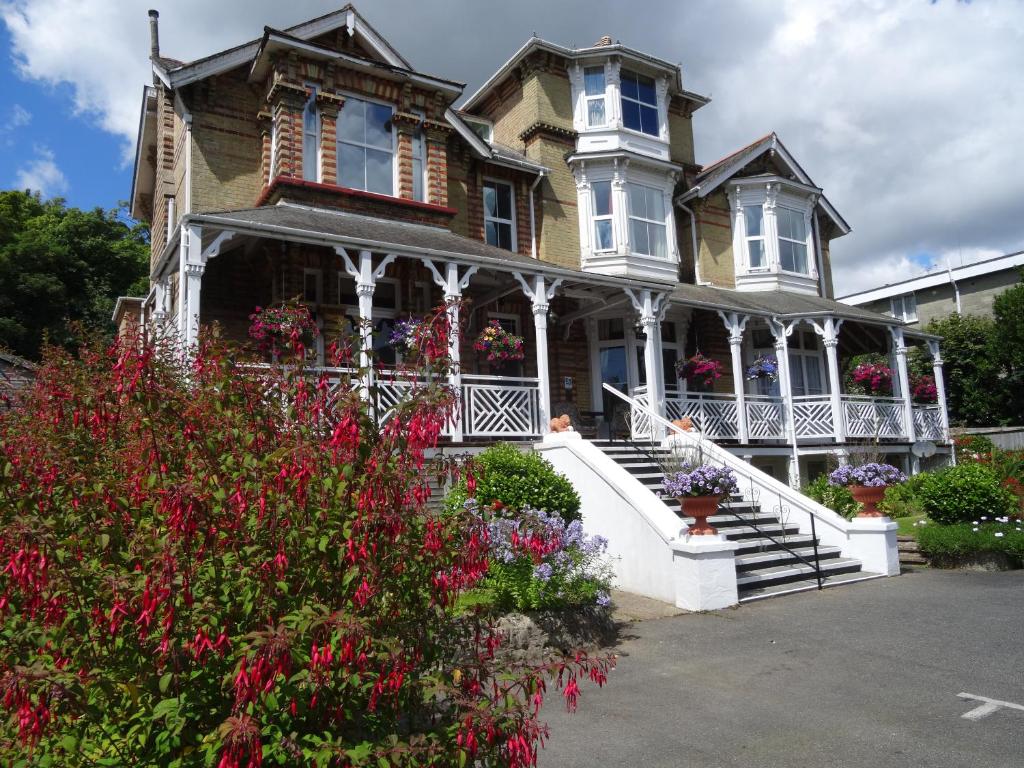 The Belmont in Shanklin, Isle of Wight offers a luxurious adult-only accommodation just a 3-minute walk from Shanklin Beach. Guests can enjoy free Wi-Fi and parking, as well as the hotel's beautiful garden and sauna for ultimate relaxation. Located near the charming Shanklin Old Village with its thatch-roofed inns, tearooms, bars, and restaurants, The Belmont provides an ideal location for exploring the area. The en-suite rooms are tastefully decorated with flat-screen Freeview TVs and many offer stunning sea views. Mixing original Victorian elegance with modern comforts, the rooms also include radios, hairdryers, fans, toiletries, and tea/coffee facilities. The secluded garden features a solar heated swimming pool while the hotel also boasts its own relaxing sauna. Guests can unwind at the bar which opens up to picturesque French doors leading to the garden or relax in the comfortable lounge area.
Pros:
– Adult-only accommodation for a peaceful stay
– Conveniently located just minutes away from Shanklin Beach
– Beautiful gardens offering a tranquil atmosphere
– Sauna available for guests' relaxation
– Well-appointed rooms with modern amenities and sea views
5 Star Luxury Hotels
5 star luxury hotels are the epitome of opulence, providing an extravagant experience for discerning travelers. From the moment guests step into the grand lobby, they are greeted with impeccable service and attention to detail. These hotels boast luxurious accommodations, boasting elegant decor and plush furnishings that create a sense of indulgence and comfort. The dining options range from Michelin-starred restaurants to trendy bars offering exquisite cuisine and innovative cocktails. With state-of-the-art facilities including lavish spas, fitness centers, and swimming pools, guests can unwind and rejuvenate in style. Every aspect of a 5 star luxury hotel is carefully curated to provide an unforgettable stay that exceeds all expectations.
The Royal Hotel (Ventnor)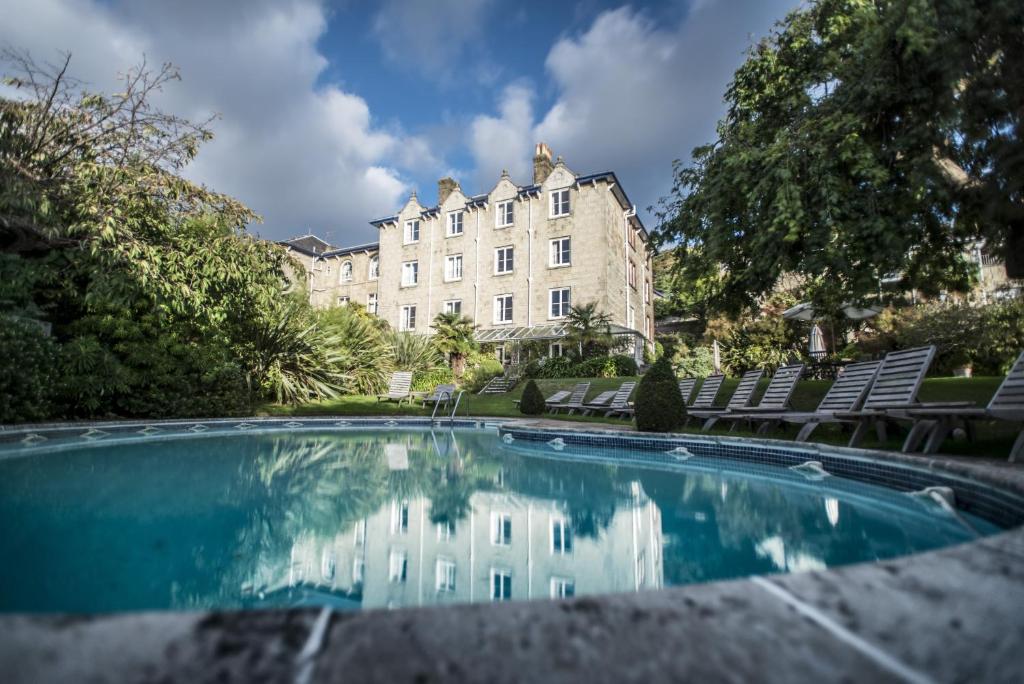 The Royal Hotel in Ventnor, Isle of Wight, is a luxurious 4-star hotel that offers stunning views of Ventnor Bay. With its award-winning food served in the beautiful conservatory eating area and an inviting outdoor swimming pool, guests are treated to a truly indulgent experience. Each room is equipped with modern amenities such as a flat-screen TV and tea/coffee-making facilities, and free WiFi is available throughout the hotel. The hotel also provides complimentary private parking for guests' convenience. The subtropical gardens offer the perfect setting for relaxation, while the surrounding coastline boasts picturesque cliff-top walks. Just a short walk away are the sandy beaches of Heritage, allowing guests to enjoy sun-soaked days by the sea. Additionally, the hotel's location provides easy access to explore the nearby Areas of Outstanding Natural Beauty.
Pros:
– Stunning views overlooking Ventnor Bay
– Award-winning dining experience
– Outdoor swimming pool for relaxation
– Well-equipped rooms with modern amenities
– Convenient location with nearby heritage beaches and natural beauty areas
Lakeside Park Hotel & Spa (Ryde)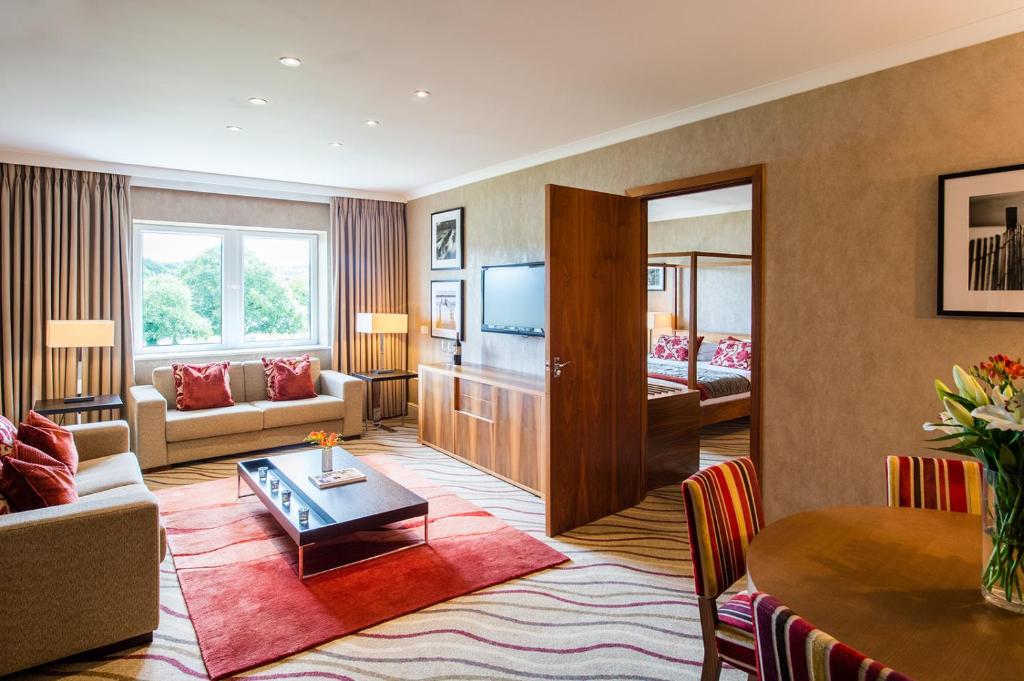 Situated in Ryde, the Lakeside Park Hotel & Spa is a luxurious 4-star retreat that offers breathtaking views of a 20-acre lake and is nested within 17 acres of stunning grounds. With its indulgent spa facilities and complimentary Wi-Fi throughout, this hotel promises an opulent experience for its guests. The extensive leisure facilities include an indoor swimming pool, a fragranced experience shower, a hot tub, a sauna, and a steam room. Each room is elegantly designed with air conditioning, an en suite bathroom, and a flat-screen LCD TV with Freeview. For those seeking ultimate luxury, two of the suites feature four-poster beds. The hotel also boasts four treatment rooms and a relaxation room to further enhance the pampering experience. Dining at the Lakeside Park Hotel offers picturesque views while enjoying delicious meals in their brasserie or on the lakeside terrace. The menu includes a wide selection of cocktails, beers, and wines to cater to every guest's taste preferences. With Shanklin just 11 km away from this magnificent accommodation, guests can easily explore nearby attractions while staying in this exquisite hotel.
– Indoor swimming pool.
– Overlooking a beautiful 20-acre lake.
– Extensive spa facilities including treatments rooms.
– Elegant rooms with air conditioning and LCD TVs.
– Dining options with picturesque views on the lakeside terrace.
(Note: Please note that some sentences were repeated in the original information provided.)
Luxury Isle of Wight Hotels Information
| | |
| --- | --- |
| 🛎️ Luxury Hotels in Isle of Wight | 8 |
| 💵 Hotels Prices From | $120 |
| 💵 Highest price | $1176 |
| 🥇 Average Review Score | 8.5/10 |
| 🛏️ Average number of Rooms | 20 |
Top Luxury hotels in Isle of Wight
| | |
| --- | --- |
| The Belmont (Shanklin) | 9/10 |
| The Havelock (Shanklin) | 8.9/10 |
| One Holyrood Hotel & Cafe (Newport) | 8.8/10 |
| The Royal Hotel (Ventnor) | 8.7/10 |
| The Grange B&B (Shanklin) | 8.6/10 |
FAQ
What are some luxury hotels in Isle of Wight?
The Isle of Wight offers a range of luxurious accommodations for travelers seeking an indulgent experience. Some of the top luxury hotels on the island include The Royal Hotel, a historic property with elegant rooms and stunning sea views
What amenities can I expect at luxury hotels in Isle of Wight?
Luxury hotels in Isle of Wight go above and beyond to ensure their guests enjoy a pampered stay. From plush bedding and upscale furnishings to spa facilities offering rejuvenating treatments, these establishments prioritize comfort and relaxation. Fine dining restaurants serving delectable cuisine made from locally sourced ingredients, concierge services catering to individual needs, fitness centers, swimming pools, and scenic views are among the many amenities you can expect at luxury hotels on the island.
What activities can I engage in near luxury hotels in Isle of Wight?
Staying at a luxury hotel in Isle of Wight grants you access to an array of exciting activities nearby. You can explore the stunning coastline with sailing or yachting experiences, partake in water sports such as paddleboarding or kayaking, venture on hiking trails through picturesque landscapes like Tennyson Down or St. Boniface Downs, or simply relax on pristine beaches enjoying breathtaking sunsets. Additionally, attractions like Osborne House – Queen Victoria's former residence – Carisbrooke Castle and Ventnor Botanic Garden are also worth visiting during your stay.
Are there any exclusive services offered by luxury hotels in Isle of Wight?
Absolutely! Luxury hotels on the Isle of Wight strive to provide an unrivaled experience for their guests. In addition to impeccable service standards common across all areas including housekeeping and room service, they often offer exclusive services such as private dining experiences, personal butlers, chauffeur-driven transfers, and customized excursion arrangements. These additional services are designed to cater to the specific needs and preferences of discerning luxury travelers.
What is the best time to visit Isle of Wight for a luxury hotel experience?
The Isle of Wight can be enjoyed year-round, each season providing its own unique charm. However, if you're seeking a luxury hotel experience paired with pleasant weather and vibrant atmosphere, the summer months from June to September are ideal. During this time, you can make the most of outdoor activities and enjoy events like the famous Isle of Wight Festival or Cowes Week – one of the world's largest sailing regattas.
Popular Most Luxurious hotel destinations