Welcome to a new adventure in one of the most breathtaking cities in the world – Interlaken, Switzerland. This charming city offers stunning views of snow-capped mountains and crystal-clear lakes that will leave any traveler mesmerized. The city is home to some of the world's most luxurious hotels that provide an unforgettable experience for those seeking comfort and indulgence.
Interlaken has always been synonymous with luxury thanks to its upscale hotels nestled in peaceful surroundings. From grand villas with lavish spas to cozy boutique hotels, there is something for everyone looking for extravagance. With their exceptional services, these hotels offer guests more than just a place to stay; they provide an escape from reality into a world of opulence and relaxation. Whether you are traveling alone or with your loved ones, Interlaken's luxury accommodation options are sure to cater to all your needs and exceed your expectations. So pack your bags, grab your camera, and get ready for an unforgettable journey filled with indulgence and breathtaking sceneries!
Most Luxurious Hotels in Interlaken
Hostellerie du Pas de l'Ours Relais et Châteaux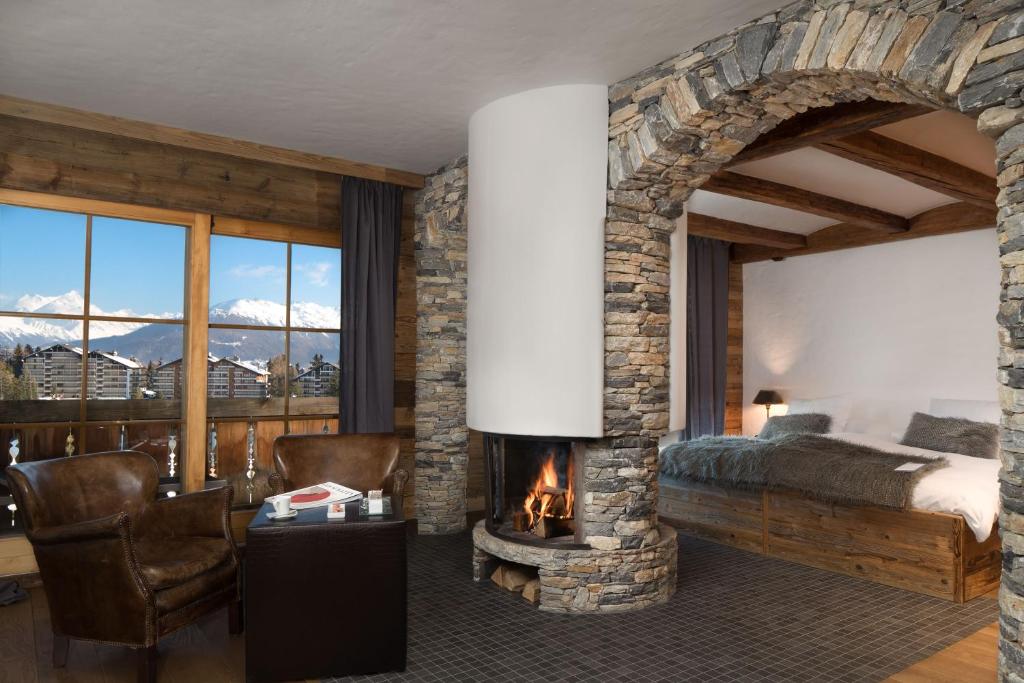 Hostellerie du Pas de l'Ours "Relais et Châteaux" is a luxurious boutique hotel tucked away in the stylish chalet-filled area of Crans Montana, Switzerland. This hotel offers guests breathtaking views of the Swiss Alps, free WiFi, parking and suites equipped with a spa bath and open fireplace. The Michelin-starred restaurant L'Ours serves gourmet meals while Le Bistrot des Ours offers hearty traditional dishes. The hotel's spa area, I'Alpage is a must-visit to relax and rejuvenate. Additionally, fun treatments are available for children as young as 3 years old.
– Breathtaking mountain views
– Michelin-starred gourmet restaurant
– Luxurious spa area
– Traditional and hearty dishes served in the bistro
– Fun treatments for children from 3 years old
Hotel Krebs Interlaken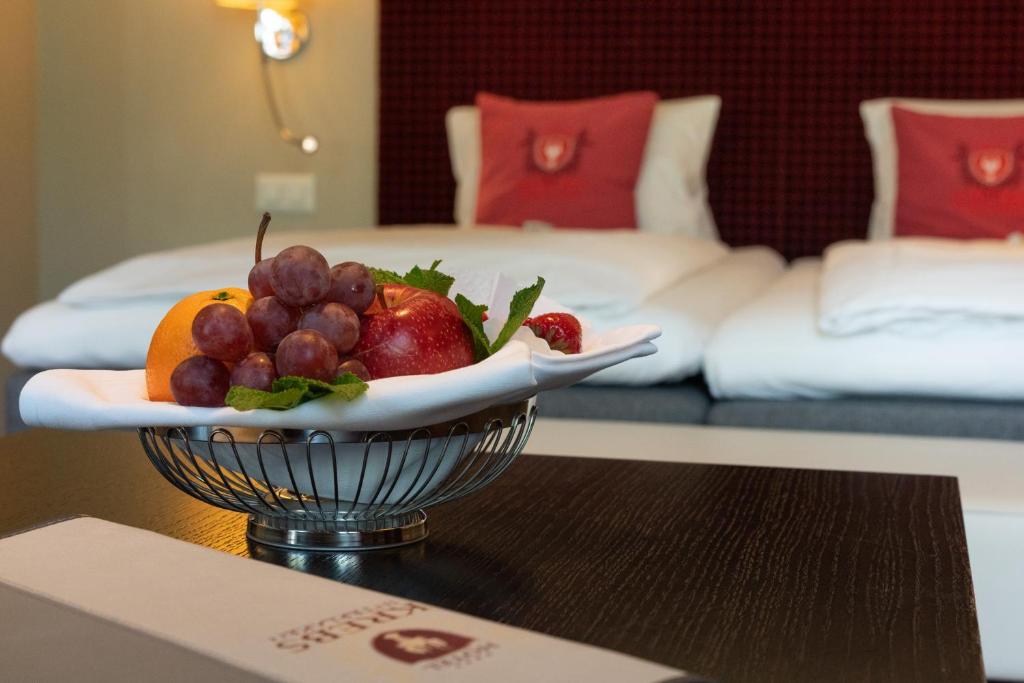 Hotel Krebs Interlaken is a traditional hotel located in the heart of Interlaken, with excellent accessibility to the western train station and all nearby attractions. The hotel offers modernly furnished rooms, including a specially designed junior suite for handicapped guests. Guests can enjoy Swiss specialties at the hotel's restaurant while taking in breathtaking views of the Bernese Oberland mountains from its terrace. Additionally, half board meal plans include a delicious 3-course dinner. The hotel serves as an ideal base for excursions to explore nearby mountains, lakes or cities.
– Central location
– Modernly furnished rooms
– Specially designed handicap-friendly suite
– Restaurant serving Swiss specialties with stunning mountain views
– Ideal starting point for mountain, lake and city excursions
The HEY HOTEL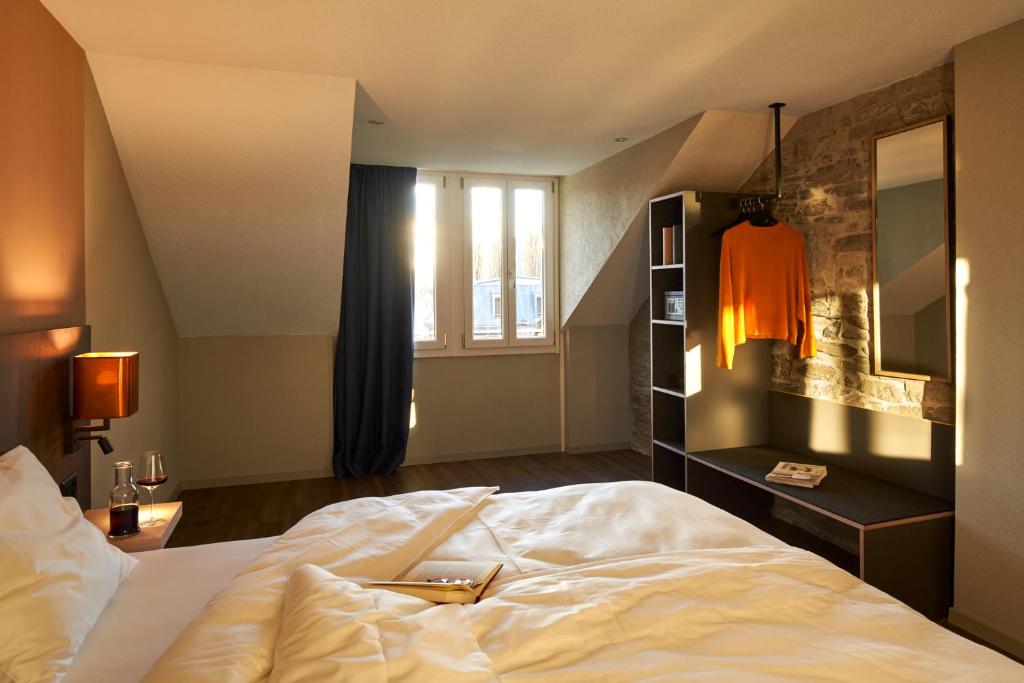 The HEY HOTEL is a stylish and comfortable accommodation located in the heart of Interlaken, just a short walk from Interlaken-West Train Station. The hotel boasts modern design interiors and a relaxed Swiss ambience, making it an ideal choice for both business and leisure travelers. With a range of room options available to suit individual needs or groups of up to 5 people, most rooms come equipped with air conditioning. The hotel's restaurant with bar is situated on the ground floor, offering guests a range of dining options. The open lobby concept creates an inviting and welcoming atmosphere for guests to relax in. In collaboration with Outdoor Interlaken, the hotel offers free daily services such as river rafting, jet boating, canyoning and ski tours – perfect for adventure seekers! Surrounded by charming shops, boutiques, cafes and restaurants within walking distance of all that Interlaken has to offer including the congress centre makes this hotel very convenient.
Pros:
– Central location
– Modern design interiors & relaxed Swiss ambience
– Wide selection of rooms catering to individuals or groups
– Daily free services offered in collaboration with Outdoor Interlaken
– Walking distance to shops/boutiques/cafes/restaurants & attractions
Other places to stay in Interlaken
Luxury Hotels in Downtown Interlaken
Luxury hotels in downtown Interlaken offer top-notch accommodations and services that cater to the needs of discerning travelers. These hotels exude elegance, sophistication, and exclusivity, making them an ideal choice for those seeking a luxurious getaway experience.
Hotel Royal St Georges Interlaken MGallery Collection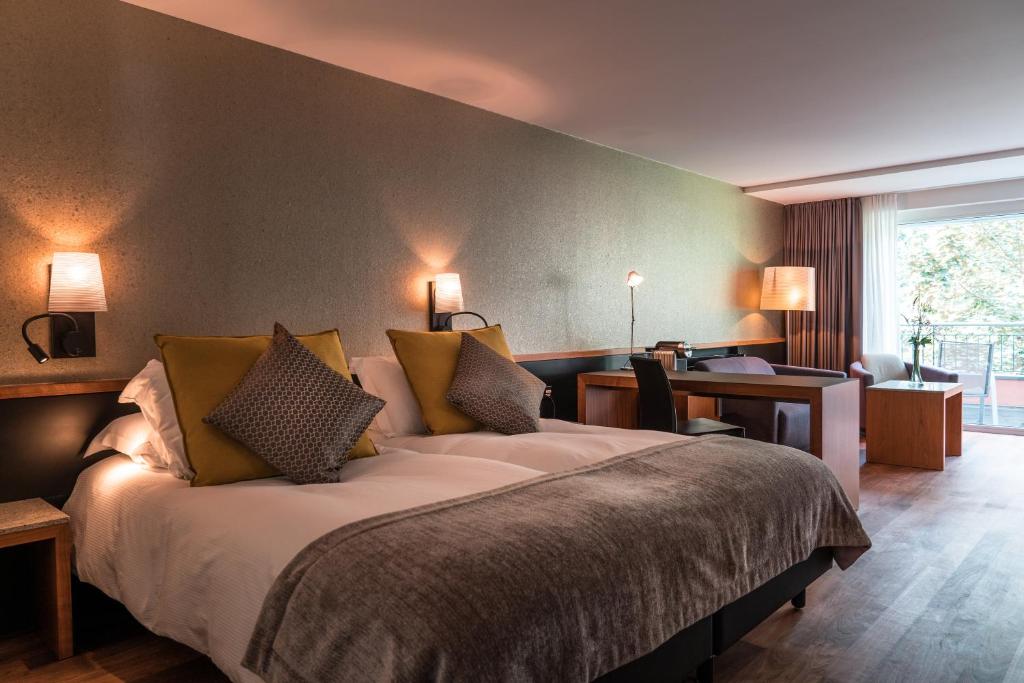 The Hotel Royal-St.Georges Interlaken – MGallery Collection is a 4-star superior hotel, conveniently located just 300 metres from the Harderbahn Funicular Railway and 400 metres from the centre of Interlaken. The historic façade dates back to 1908 and there is a large lobby, elegant restaurant and wonderful wellness area with two saunas. Guests can enjoy Swiss and international cuisine in the restaurant or sip cocktails in the bar. The Art Nouveau style ballroom is perfect for events, while the terrace and garden offer stunning mountain views. Free WiFi, shuttle service to train stations, banquet/meeting rooms etc are available.
– Convenient location close to railway station
– Historic façade dating back to 1908
– Beautiful Art Nouveau style ballroom
– Wonderful wellness area with two saunas
– Complimentary shuttle service to Interlaken Train Stations
Hotel Monopol Luzern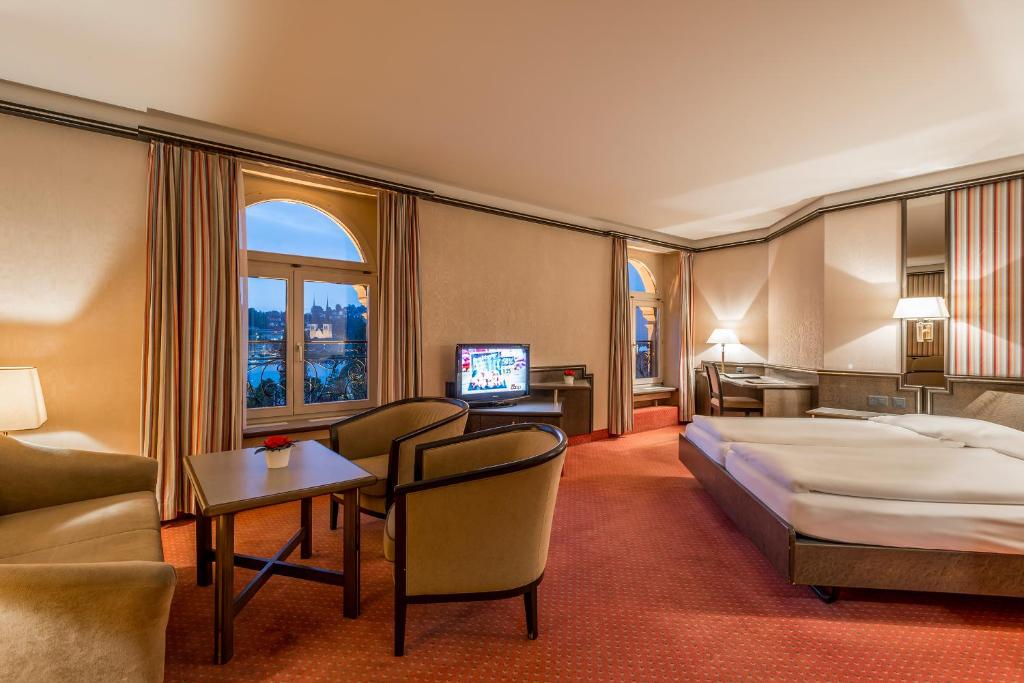 Hotel Monopol Luzern is a palace-style hotel conveniently located next to the Lucerne Train Station, Chapel Bridge and KKL Convention Centre. The hotel offers spacious, non-smoking rooms with modern amenities such as free WiFi, small fridge, safe and satellite TV. Guests can enjoy stunning views of the city, lake and mountains from the comfort of Suite Lounge & Bar on the 7th floor. The hotel provides a complimentary Lucerne City-Mobility ticket upon check-in which allows guests to use all buses and trains (2nd class, excluding ships) in town for free. Additional features include nearby parking spaces for an additional fee and numerous restaurant options in close proximity.
– Convenient location next to train station and attractions
– Spacious non-smoking rooms with modern amenities
– Complimentary Lucerne City-Mobility ticket for guests
– Stunning views from Suite Lounge & Bar on 7th floor
– Nearby parking available for an additional fee
Hotel Du Nord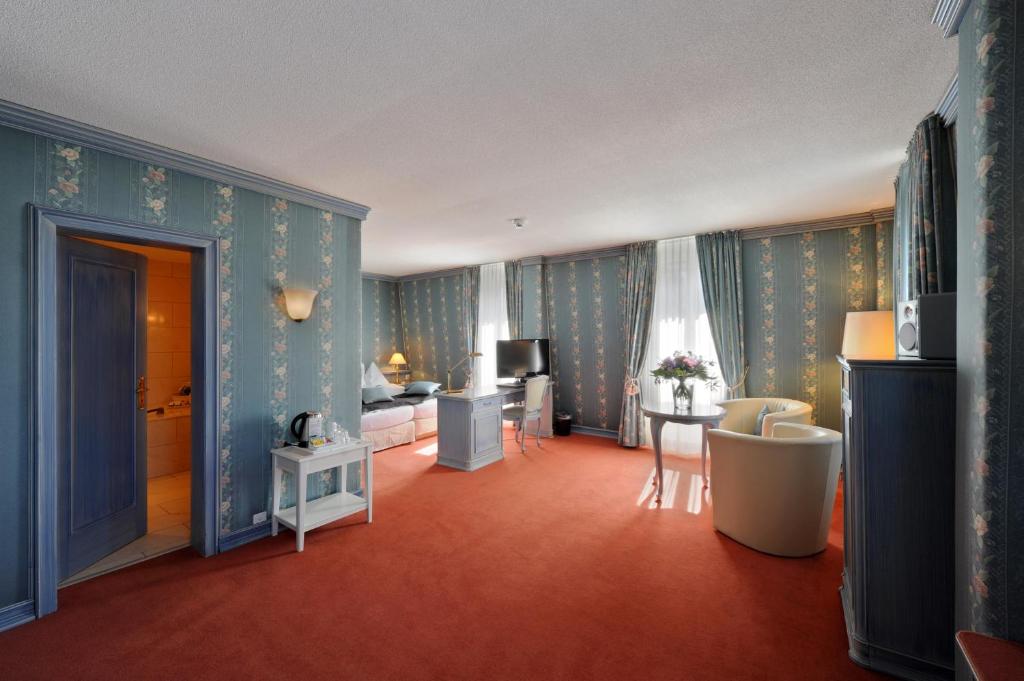 Hotel Du Nord is a traditional and historic hotel that offers panoramic mountain views. It dates back to 1847 and is situated in the centre of Interlaken, just 400 metres from the Interlaken Ost Train Station and pier, as well as being conveniently located 200 metres from the Harderbahn Cable Car. Free WiFi is available throughout the property, making it easy for guests to stay connected during their stay. The hotel also offers non-smoking rooms that come equipped with tea-making facilities, while some rooms even have balconies or terraces for guests to enjoy magnificent views. The Bödelibad is an excellent recreational facility near Hotel Du Nord where guests can access indoor and outdoor pools, spas, fitness facilities and rent bicycles for some fun activities.
Pros:
– Amazing mountain views
– Convenient location near train station and cable car
– Free WiFi available throughout the property
– Non-smoking rooms with tea-making facilities
– Close proximity to Bödelibad recreational facility
5 Star Luxury Hotels
Five-star luxury hotels are defined by their exceptional service and amenities that go beyond the typical hotel experience. These hotels offer guests a unique and indulgent stay, with high-end features such as spas, fine dining restaurants, luxurious bedding, and personalized attention from staff. Whether you're traveling for business or leisure, staying at a five-star luxury hotel is an unforgettable experience.
Hotel Interlaken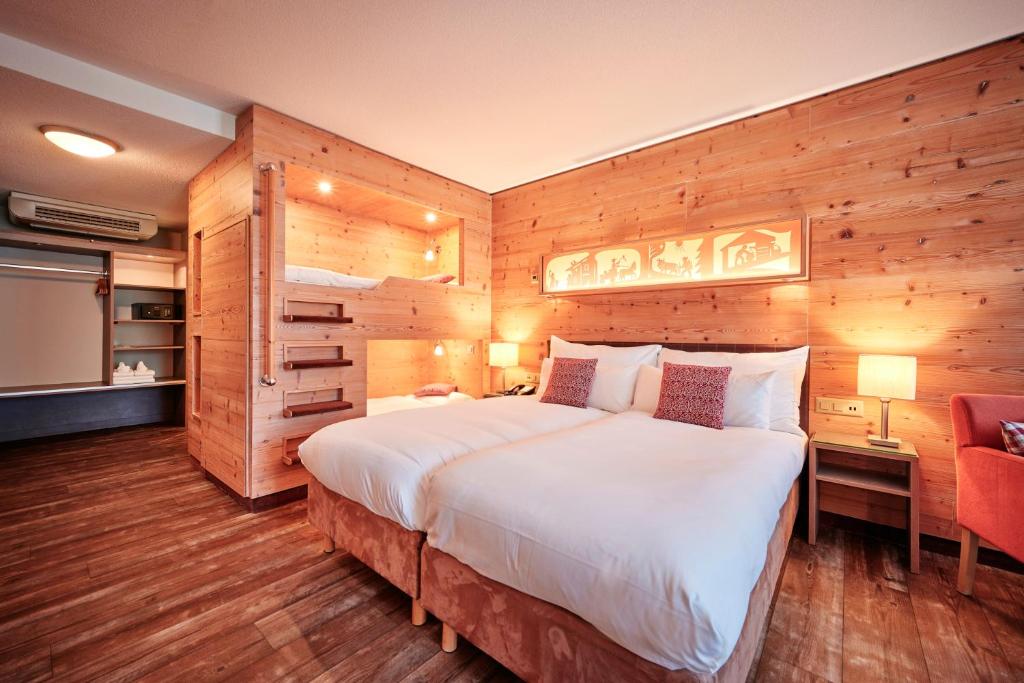 Hotel Interlaken is a splendid 4-star hotel that has been meticulously restored and is situated at the heart of Interlaken. The Eastern Train Station and the Congress Centre are only a mere 5-minute walk away from the hotel, making it ideal for travelers who want to explore the city conveniently. This charming establishment is adjacent to the picturesque Japanese Gardens and dates back to the 14th century, providing guests with a unique experience of historical grandeur amid modern amenities. The elegantly decorated rooms boast complimentary wired and wireless internet access, cable television, in-room safes, and work tables. Taverne restaurant serves delicacies from Switzerland and around the world every day during summer from 16:00 while breakfast is available daily.
– Convenient location near major attractions such as Congress Centre
– Beautifully renovated historic building
– Complimentary wired & wireless internet access
– Delicious Swiss & international cuisine at on-site Taverne Restaurant
– Comfortable rooms with modern amenities
ERMITAGE Wellness- & Spa-Hotel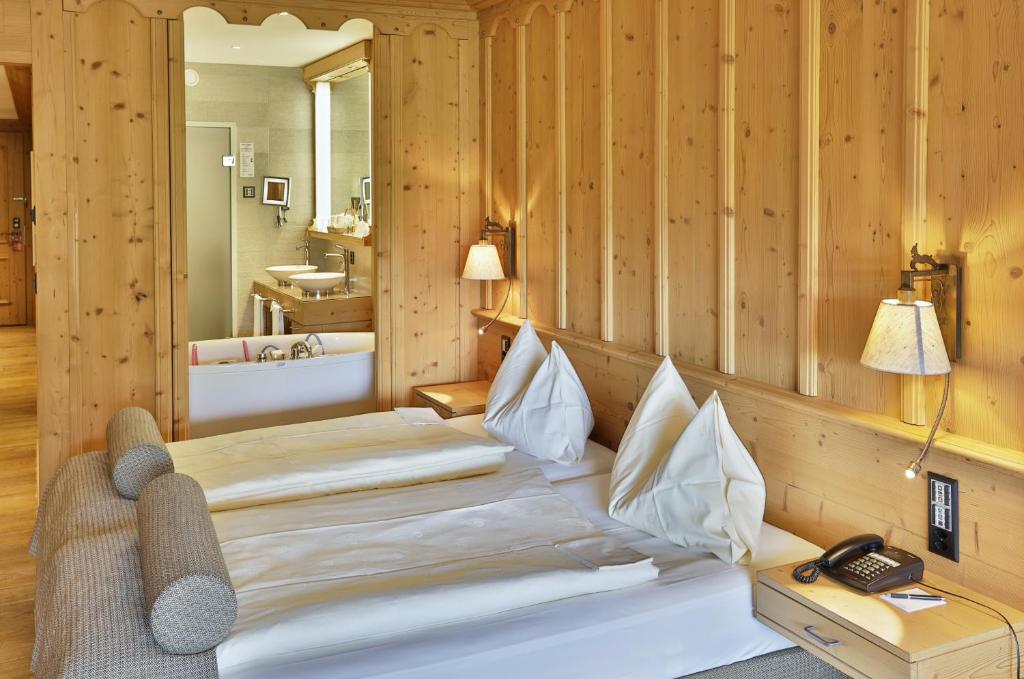 The Ermitage Wellness & Spa-Hotel in Schönried – Gstaad offers stunning panoramic views of the Saanenland and surrounding mountains. Guests can indulge in a large spa area with steam bath, different saunas, and tepidarium. All rooms have a balcony with picturesque views, seating area, and minibar. The hotel provides indoor/outdoor swimming pools along with an outdoor hot tub. Fine Swiss cuisine is served in the restaurant, and guests may request half-board which includes breakfast, lunch, cake/coffee in the afternoon, and a 5-course dinner menu. The Horneggli Ski Lift is only 800 metres away while guided hiking/mountain biking tours are organised on site. The Gstaad-Saanenland Golf Course is also nearby.
Pros:
– Picturesque panoramic views
– Large spa area with multiple options
– Different indoor/outdoor swimming pools provided
– Fine Swiss cuisine served
– Guided hiking/mountain biking tours organised on-site
Park Gstaad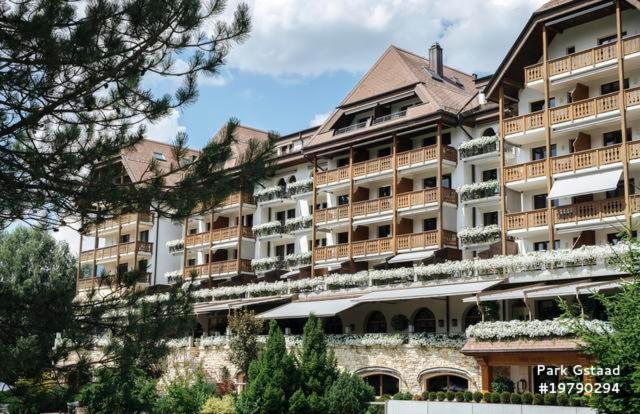 Situated in the breathtaking Swiss Alps, Park Gstaad is a luxurious hotel that first opened its doors in 1910. The hotel's interiors are inspired by the surrounding scenery and offer elegant rooms and suites equipped with Bang & Olufsen TV entertainment systems. Park Gstaad offers guests four restaurants to choose from, offering international cuisine alongside traditional Swiss dishes. Additionally, you can work out at the fitness center with a personal trainer or perfect your golf game using their state-of-the-art Indoor Golf Club and PGA Tour simulator. You can also indulge in a range of pampering treatments at the 1000-m² spa area while enjoying stunning views of the mountains. Finally, for those looking to relax and unwind after a long day, there is always an array of fine wines, cocktails, cognacs or Cuban cigars available at Cigar Lounge or Club Bar.
Most Expensive Hotels in Interlaken
Interlaken is a popular summer and winter destination in Switzerland, known for its picturesque location between two lakes. The city boasts several luxurious hotels that offer stunning views of the Alps and top-notch amenities for guests to enjoy.
HUUS Gstaad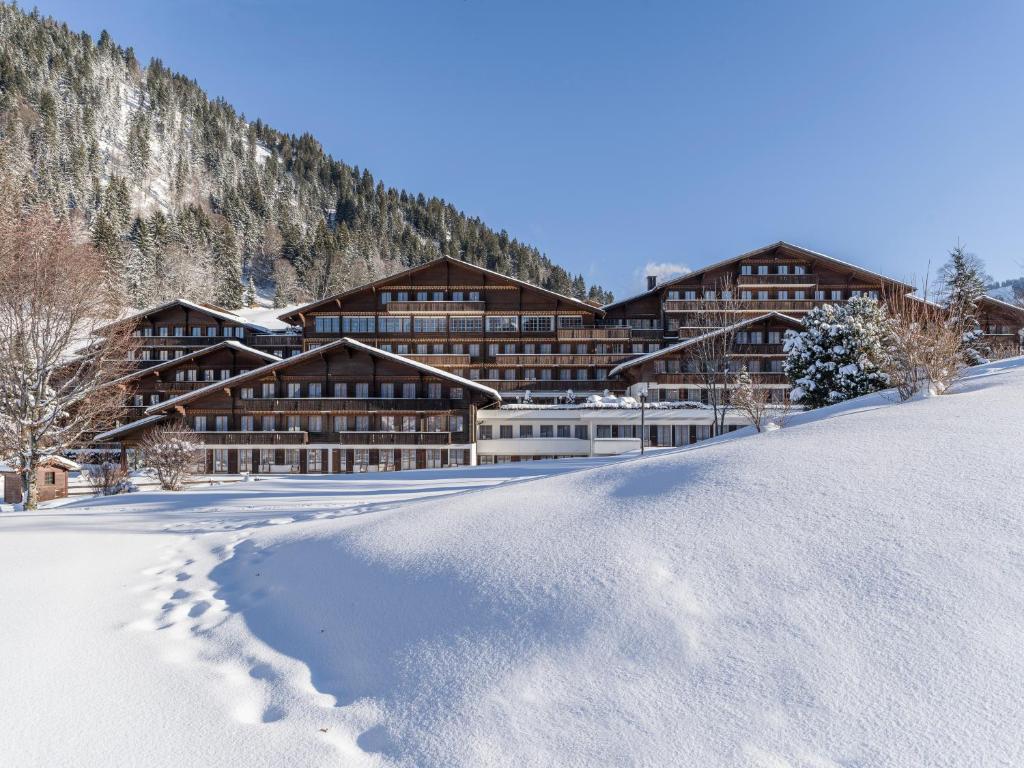 HUUS Gstaad is the perfect luxury hotel for those looking for a winter vacation filled with adventure and family-friendly activities. Included in your room rate, guests can take advantage of the Children's Ski School, which offers free ski passes and equipment rentals for children under ten. With a comprehensive menu of Alpine activities through their partner, Alpine Zentrum, there is no shortage of things to do during your stay at HUUS Gstaad. Enjoy off-piste skiing, guided powder skiing, snowshoe hiking or try out winter hiking with expert guides.
– Free ski passes and equipment rentals for children under ten.
– Comprehensive menu of Alpine activities offered through our partner Alpine Zentrum.
– Off-piste skiing and guided powder skiing available.
– Expert guides available for snowshoe hiking and winter hiking.
– Family-friendly atmosphere with something to offer everyone.
Luxury Interlaken Hotels Information
| | |
| --- | --- |
| 🛎️ Luxury Hotels in Interlaken | 10 |
| 💵 Hotels Prices From | $222 |
| 💵 Highest price | $1143 |
| 🥇 Average Review Score | 8.5/10 |
| 🛏️ Average number of Rooms | 70 |
Top Luxury hotels in Interlaken
| | |
| --- | --- |
| Hostellerie du Pas de l'Ours Relais et Châteaux | 9.3/10 |
| Park Gstaad | 9.1/10 |
| ERMITAGE Wellness- & Spa-Hotel | 9/10 |
| Hotel Interlaken | 8.6/10 |
| HUUS Gstaad | 8.6/10 |
FAQ
What are some of the best luxury hotels in Interlaken?
Interlaken is home to many luxurious hotels, each offering unique experiences. Some of the top options include Victoria-Jungfrau Grand Hotel & Spa, Lindner Grand Hotel Beau Rivage, and Hotel Royal St. Georges Interlaken – MGallery. These hotels offer breathtaking views of the Swiss Alps and exceptional amenities such as spas, fine dining restaurants, and luxurious rooms.
What is the average cost per night for a luxury hotel in Interlaken?
The average cost per night for a luxury hotel in Interlaken ranges from CHF 400 to CHF 900 depending on factors such as location, amenities offered and time of year you visit. High season usually sees prices rise due to increased demand.
What amenities can I expect at a luxury hotel in Interlaken?
Luxury hotels in Interlaken offer a wide range of amenities including spas, fitness centers, indoor or outdoor swimming pools, fine dining restaurants featuring local cuisine accompanied by wine lists that feature both international and local wines. You can also expect high-end room service offerings with personalized attention from staff members to ensure your stay is comfortable and enjoyable.
Can I book tours or activities through luxury hotels in Interlaken?
Yes! Many Luxury Hotels have concierge services which are trained professionals who can help guests book tours or activities during their stay. They will assist you with everything from choosing which excursions suit your interests best down to booking tickets for events etc.. In addition they are also able to provide general information about popular attractions nearby that tourists may want to visit like Jungfraujoch mountain railway or Schilthorn peak via cable car ride offering panoramic views over the Bernese Alps
Are there any pet-friendly luxury hotels in Interlake?
Yes! There are several pet-friendly Luxury Hotels located throughout this stunning area including Hotel Bellevue Palace Bern, Victoria-Jungfrau Grand Hotel & Spa and many others. These hotels offer amenities such as pet-sitting services and dog-walking facilities to ensure your furry friend has a comfortable stay too.
Popular Most Luxurious hotel destinations