Welcome, fellow travelers, to an exquisite guide on opulent accommodations in the charming town of Hopkins, Belize. Nestled along the pristine coastline of this Central American gem lies a collection of lavish hotels that promise an unforgettable stay. Prepare to indulge your senses as we embark on a journey through the world of grandeur and luxury in this little slice of paradise.
As you step foot into Hopkins, prepare to be captivated by its untouched beauty and rich cultural heritage. Here, luxury takes on a whole new meaning, with hotels that embody elegance and sophistication at every turn. From boutique hideaways to sprawling beachfront resorts, each establishment offers a unique blend of modern comforts and authentic charm.
Immerse yourself in the warm embrace of Belizean hospitality as you discover accommodations adorned with ornate furnishings and stylish decor. Enjoy unparalleled views from private balconies or pamper yourself with rejuvenating spa treatments that will transport you to realms of blissful relaxation. With world-class amenities and personalized service catering to your every need, these luxurious retreats are bound to leave you spellbound.
So join us as we unveil the hidden treasures that lie within Hopkins' most sumptuous hotels. Get ready for an extraordinary experience where indulgence meets tranquility amidst the breathtaking natural beauty that surrounds this idyllic coastal town in Belize.
Most Luxurious Hotels in Hopkins
Thatch Caye Resort a Muy'Ono Resort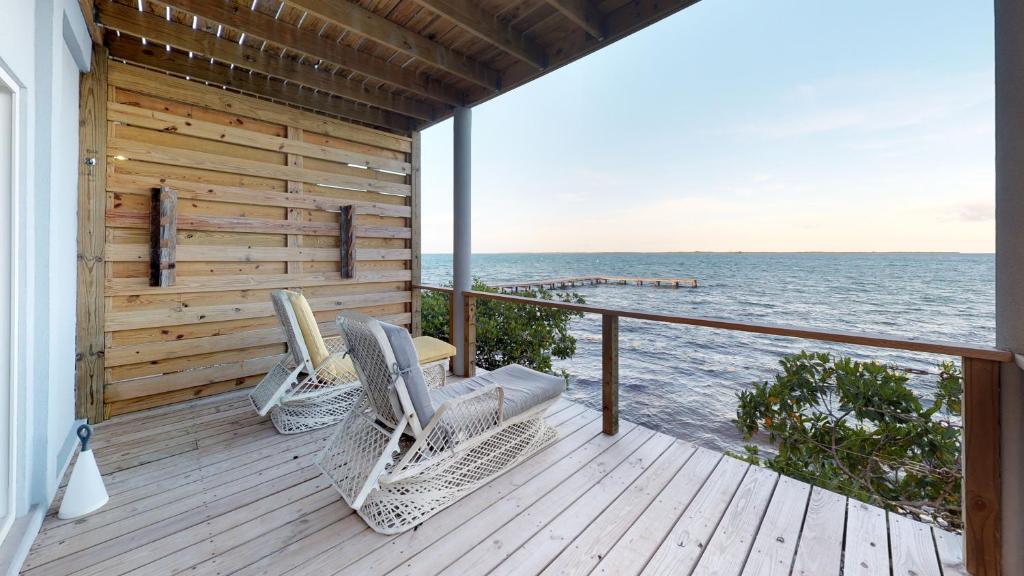 Located on a private island in Dangriga, Thatch Caye Resort is a luxurious getaway that offers guests a truly unforgettable experience. With its pristine beach area and on-site dive facilities, this resort is perfect for those seeking adventure and relaxation. The bungalows at Thatch Caye boast stunning 180-degree sea views from their private overhang patios, allowing guests to wake up to breathtaking ocean vistas every morning. The resort also features a restaurant serving a wide range of delicious Belizean and International dishes, as well as the Starfish Bar where guests can unwind with their favorite drinks. For those looking to explore the area, kayaks are available for rent to venture out into the crystal-clear waters surrounding the island. Additionally, Thatch Caye Resort can arrange activities such as fly fishing and tours to mainland destinations, ensuring that guests have plenty of exciting options during their stay.
– Private island setting
– On-site dive facilities
– Spectacular sea views from bungalows
– Restaurant serving Belizean and International cuisine
– Activities like kayaking and fly fishing arranged by the resort
Parrot Cove Lodge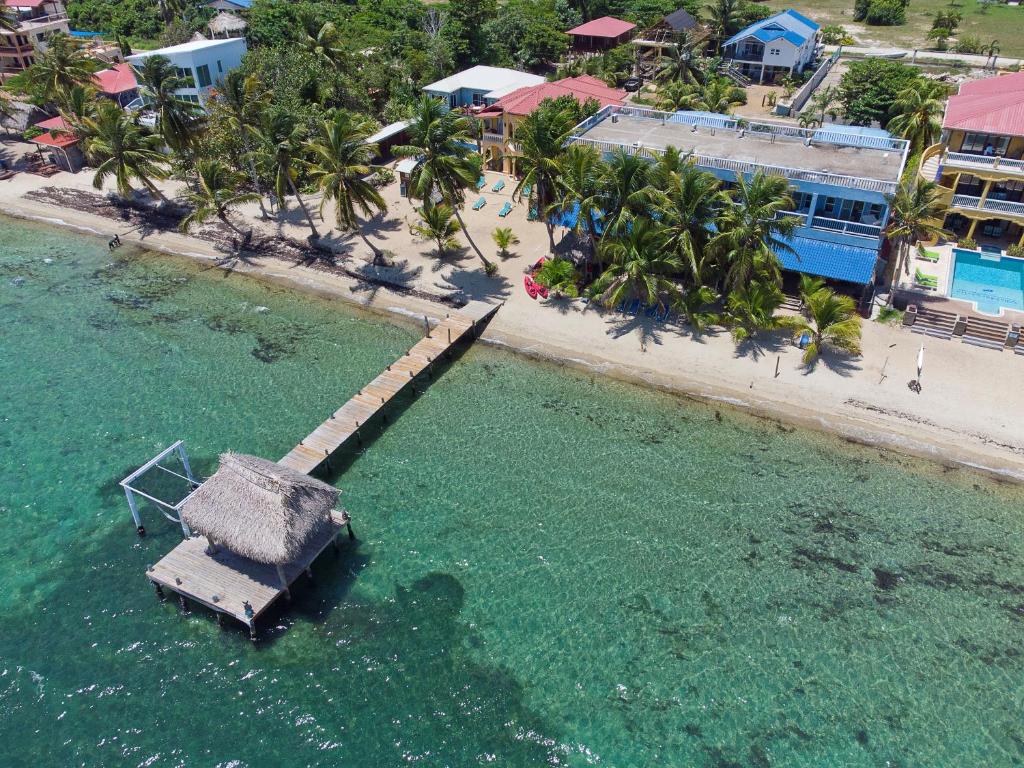 Located in the heart of the Caribbean coastline in Hopkins, Belize, Parrot Cove Lodge offers guests a luxurious stay between the reef and the rainforest. The hotel features an outdoor swimming pool, a garden, and a terrace, providing guests with ample opportunities to relax and unwind. The rooms at Parrot Cove Lodge are adorned with tropical decor and offer stunning views of the pool. Each room is equipped with modern amenities such as cable TV, a small refrigerator, coffee machine, ceiling fan, and an in-room safety deposit box. Indulge your taste buds at Chef Rob's Gourmet Cafe which changes its dinner menu daily based on market fresh products and international cuisine. Love on the Rocks stone grill restaurant is also available for guests to enjoy delicious meals. Additionally, Parrot Cove Lodge provides complimentary bicycles, kayaks, and stand-up paddle boards for guests to explore their surroundings. The friendly staff at the lodge are readily available to assist guests in planning additional activities during their stay. With Philip Goldson International Airport just a three-hour drive away and Hopkins city centre only 2.2 km away from the hotel's location, Parrot Cove Lodge ensures convenience while providing luxury accommodation.
– Outdoor swimming pool for relaxation
– Stunning views of the pool from each room
– On-site gourmet cafe with daily changing dinner menu
– Complimentary use of bicycles,
kayaks,
and stand-up paddle boards
– Convenient location close to airport
and city centre
The Colonial at Jaguar Reef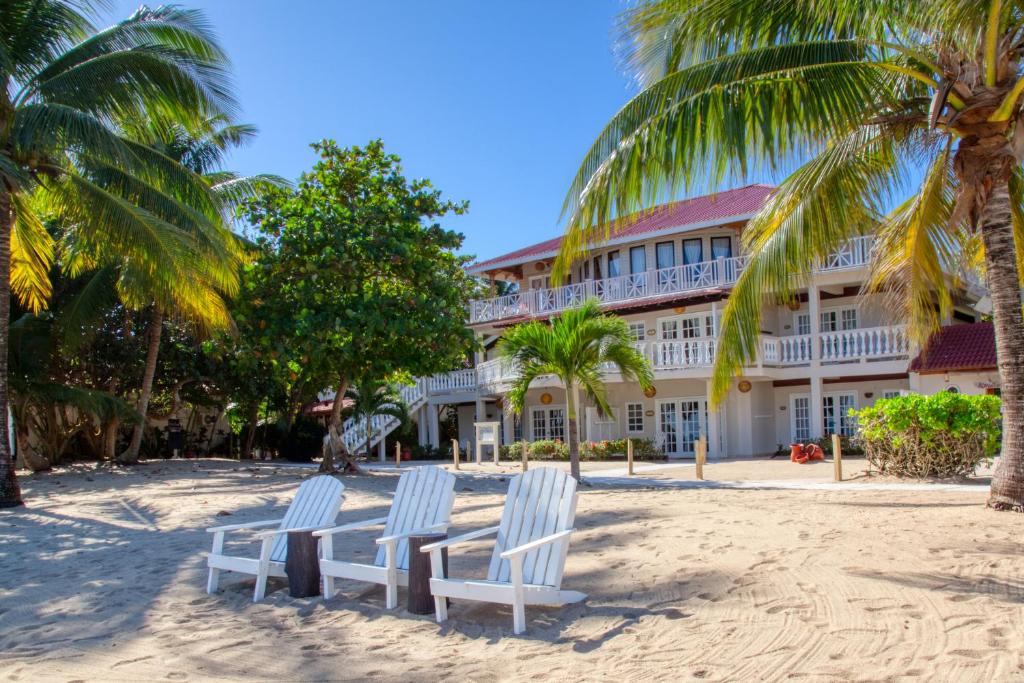 The Colonial at Jaguar Reef is a charming boutique hotel located just a few steps from Hopkins Beach in Belize. This 4-star hotel offers luxurious accommodations with amenities such as free WiFi, room service, and a concierge service. Guests can start their day with a delicious breakfast that includes buffet, à la carte, or continental options. The hotel also provides free private parking and paid airport shuttle service for the convenience of its guests. The air-conditioned rooms are well-appointed with a desk, coffee machine, fridge, safety deposit box, flat-screen TV, terrace, and private bathroom with a shower. Some rooms even feature a kitchenette with a stovetop. The Colonial at Jaguar Reef boasts an on-site restaurant serving delectable Caribbean cuisine, including vegetarian, vegan, and gluten-free options upon request. For those arriving by plane, Placencia Airport is the nearest airport located 64 km away.
Pros:
– Prime location near Hopkins Beach
– Luxurious 4-star accommodations
– Free WiFi and room service available
– Delicious breakfast options
– On-site restaurant serving Caribbean cuisine
Luxury Hotels in Downtown Hopkins
Downtown Hopkins offers an exquisite selection of luxury hotels that epitomize elegance and opulence. These refined accommodations boast unrivaled sophistication, combining contemporary design with timeless charm. Each hotel in this vibrant district showcases impeccable service, ensuring a truly memorable stay for discerning travelers. With luxurious interiors and breathtaking views, these properties serve as an oasis of tranquility amidst the bustling cityscape. Whether it's unwinding in lavish suites or indulging in gourmet dining experiences, guests can expect nothing short of perfection when staying at one of Downtown Hopkins' luxurious hotels.
Bocawina Rainforest Resort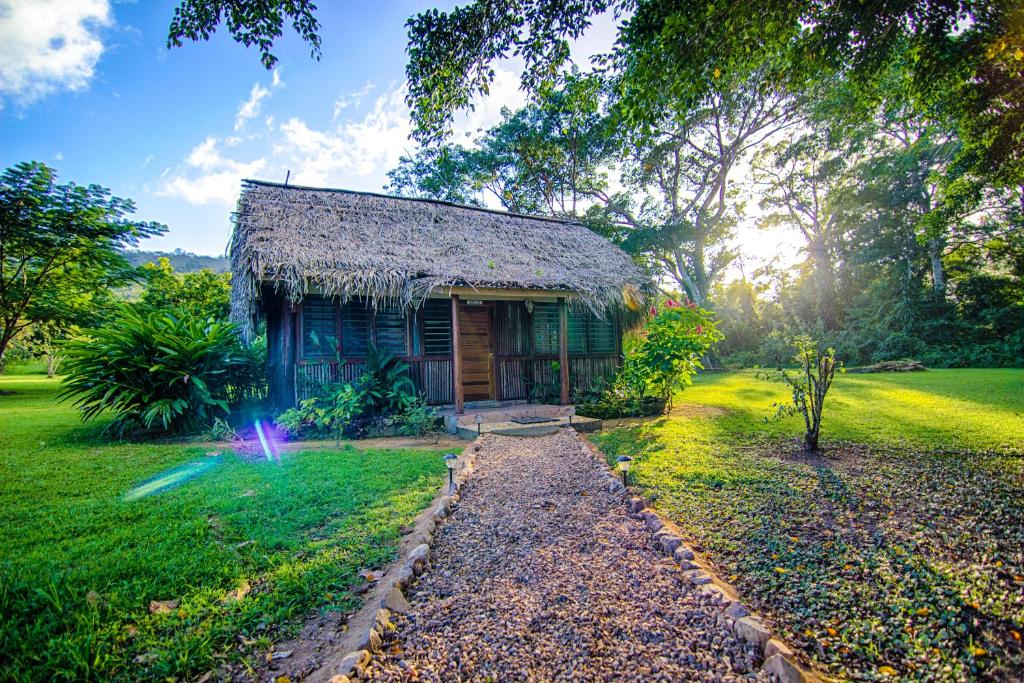 Nestled deep within the lush tropical rainforest, Bocawina Rainforest Resort is an eco-friendly property that harnesses the power of solar panels and hydro energy to provide a sustainable retreat. The resort offers complimentary Wi-Fi access, allowing guests to stay connected amidst nature's tranquility. Indulge in delectable international cuisine at the on-site restaurant or unwind with a refreshing drink at the full-service bar. The well-lit wooden-furnished rooms are adorned with colorful beddings and equipped with ceiling fans, wooden floors, and wardrobes. The bathrooms feature showers and complimentary toiletries while some accommodations offer mesmerizing garden views. Adventure enthusiasts will be spoilt for choice as they can enjoy thrilling activities like zip lining, waterfall rappelling, exploring ancient Mayan ruins, and snorkeling in vibrant reefs. Situated just 16 km away from Dangriga and 65 km from Belize City, Bocawina Rainforest Resort offers a truly immersive getaway experience.
Pros:
– Eco-friendly property utilizing renewable energy sources
– Complimentary Wi-Fi access
– On-site restaurant serving international dishes
– Full-service bar for relaxation and enjoyment
– Exciting range of adventure activities including ziplining and waterfall rappelling
Hopkins Bay Belize a Muy'Ono Resort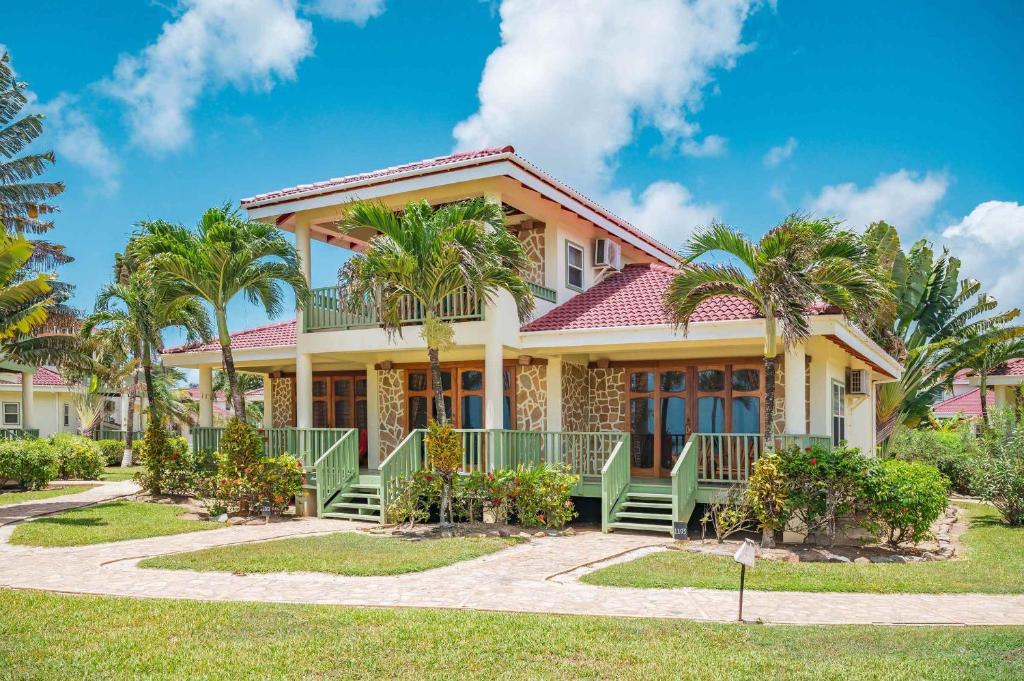 Hopkins Bay Belize, a Muy'Ono Resort, is a luxurious beachfront hotel located on Hopkins Bay Beach, just 3 km away from the town centre. With its private beach area and stunning views of the sea, this resort offers an idyllic setting for a relaxing getaway. The Beach Houses provide spacious rooms with rustic décor featuring locally made wooden furniture and high ceilings. Guests can enjoy modern amenities such as air conditioning, flat-screen TVs, and balconies with sea views. The resort boasts two swimming pools surrounded by a beautifully landscaped garden, perfect for unwinding and soaking up the sun. For dining options, guests can explore the nearby restaurants in Hopkins town or indulge in delicious international and local cuisine at the on-site restaurant called The Rhum Shack. The pool bar named The Drum is also available for refreshing drinks during happy hour daily. In addition to its exceptional facilities, Hopkins Bay Belize offers a tour desk that can arrange various exciting activities including canoeing, fishing, diving, snorkeling, hiking and exploring Ancient Mayan Sites, the Rainforest of Belize,and cave expeditions. With its convenient location near Dangriga Town Centre (30 km), Belmopan Capitol City (100 km), and Phillip SW Goldson International Airport (2 hours' drive away), Hopkins Bay Belize provides easy access to explore more of what Belize has to offer.
Pros:
– Private beach area
– Beautifully landscaped gardens
– Two swimming pools
– On-site restaurant serving international and local cuisine
– Convenient location for exploring nearby attractions
Beaches and Dreams Boutique Hotel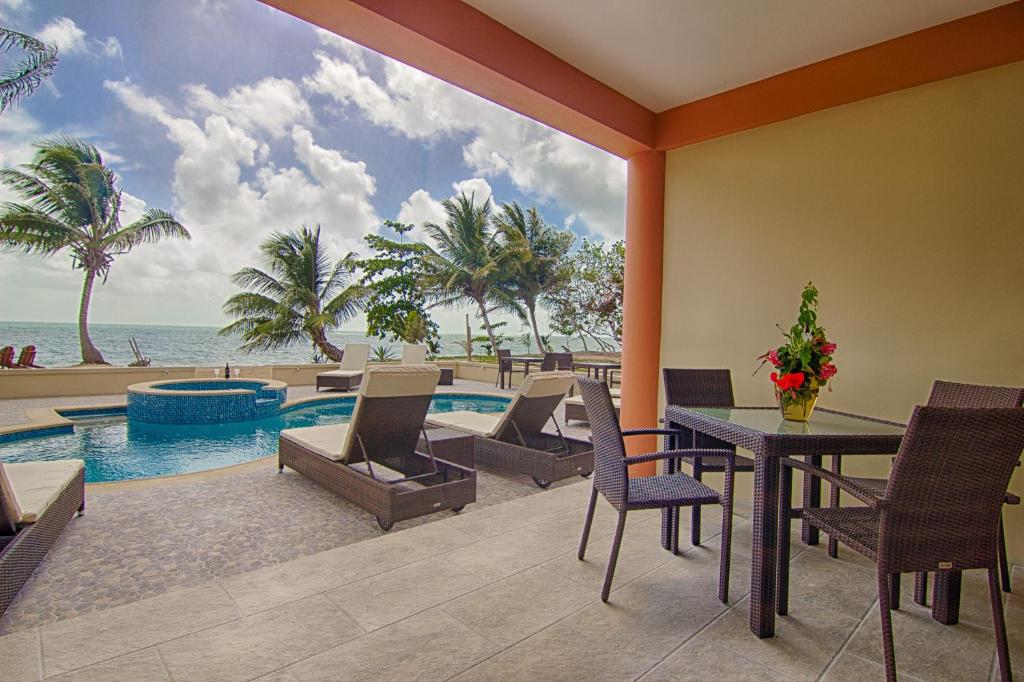 Located on the longest beach in Belize, Beaches and Dreams Boutique Hotel offers a luxurious resort experience with its outdoor pool and beachfront dining at Al Fresco restaurant. The hotel features a furnished dock with loungers, free WiFi, and various common areas including a rooftop with panoramic views of the Mayan Mountains. The six Boutique Hotel Suites are equipped with modern amenities such as air conditioning, mini-fridges, sitting areas, and large private decks overlooking the pool and Caribbean Sea. Families can enjoy spacious rooms that accommodate up to five people, including separate beds for each child. For couples or small families seeking a cozy retreat, the cabana-style rooms provide tiled floors, hardwood accents, king beds, and fold-down futons. Guests can indulge in a peaceful night's sleep while listening to the soothing sound of the sea or savor breathtaking sunrises from their porch hammock chairs. A unique accommodation option is The Treehouse perched atop stilts nestled within a majestic mango tree capturing refreshing ocean breezes. Designed for larger groups of up to five individuals, it offers a double bed on the ground floor and three twin beds in an upstairs loft area. Although not directly on the beach like other accommodations at Beaches and Dreams Boutique Hotel, The Treehouse is only 40 yards away from the ocean—making it an excellent choice for value-conscious travelers. Guests also have access to complimentary kayak, bicycle, and paddleboard rentals during their stay at this exceptional resort. Additionally, convenient services such as golf cart rental options are available along with spa treatments provided by onsite licensed professionals.
Pros:
– Outdoor pool
– Beachfront dining at Al Fresco restaurant
– Rooftop offering stunning views of Mayan Mountains
– Spacious suites accommodating families of up to five people
– Complimentary use of kayaks,bicycles,and paddleboards
Luxury Hopkins Hotels Information
| | |
| --- | --- |
| 🛎️ Luxury Hotels in Hopkins | 6 |
| 💵 Hotels Prices From | $82 |
| 💵 Highest price | $995 |
| 🥇 Average Review Score | 8.8/10 |
| 🛏️ Average number of Rooms | 25 |
Top Luxury hotels in Hopkins
| | |
| --- | --- |
| Thatch Caye Resort a Muy'Ono Resort | 9.3/10 |
| The Colonial at Jaguar Reef | 8.9/10 |
| Parrot Cove Lodge | 8.8/10 |
| Hopkins Bay Belize a Muy'Ono Resort | 8.6/10 |
| Bocawina Rainforest Resort | 8.2/10 |
FAQ
What luxury hotels are available in Hopkins, Belize?
Hopkins, Belize offers a range of luxury hotels for discerning travelers. Some of the top luxury accommodations in the area include resorts like Almond Beach Resort & Spa, offering beachfront villas with private pools and impeccable service. Other options include Villa Verano, an exclusive waterfront property with luxurious suites and personalized butler service. Whether you prefer a classic resort experience or a more intimate boutique hotel, there are plenty of choices to suit your preferences in Hopkins.
What amenities can I expect at luxury hotels in Hopkins?
Luxury hotels in Hopkins go above and beyond to provide their guests with exceptional amenities. Expect world-class facilities such as spa services, fitness centers, infinity pools overlooking the Caribbean Sea, private beaches with cabanas, gourmet restaurants serving local and international cuisine, beach bars offering refreshing cocktails, concierge services to assist you with any requests or bookings for activities and excursions. You can also enjoy perks like complimentary Wi-Fi throughout the property and spacious rooms or suites equipped with premium bedding and high-end toiletries.
Are there any luxury eco-friendly hotels in Hopkins?
Yes! If you're looking for luxury accommodations that prioritize sustainability and eco-friendliness, you're in luck. Several resorts in Hopkins have embraced environmentally conscious practices while maintaining their standard of luxury. For example, Hamanasi Adventure & Dive Resort is a prime example of an eco-luxury resort that provides guests with unforgettable experiences while minimizing its ecological footprint through initiatives like solar-powered energy systems and responsible waste management practices.
Do luxury hotels provide transportation services from the airport to the hotel?
Most luxury hotels offer transportation services from major airports to their properties as part of their commitment to providing seamless experiences for their guests. It's always recommended to contact your chosen hotel directly before your arrival to confirm if they offer airport transfers upon booking or if it can be arranged separately at an additional cost. This way, you can ensure a hassle-free start to your luxurious stay in Hopkins.
What are some popular nearby attractions near luxury hotels in Hopkins?
When staying at a luxury hotel in Hopkins, you'll have access to a wide range of nearby attractions and activities. Explore the underwater wonders of the Belize Barrier Reef with snorkeling or scuba diving excursions. Embark on thrilling adventures such as zip-lining through lush rainforests or exploring ancient Mayan ruins like Xunantunich. If relaxation is what you seek, indulge in beachside massages or take leisurely walks along pristine white sand beaches. With so many options available, you're bound to find something that suits your interests and enhances your luxury experience in Hopkins.
Popular Most Luxurious hotel destinations