Welcome to the paradise of opulent accommodations in Honolulu, the ultimate haven for discerning travelers seeking a lavish escape. Nestled along the picturesque coastline of Oahu Island, this idyllic destination is renowned for its breathtaking landscapes, vibrant culture, and world-class luxury hotels. Whether you are exploring the magnificent Waikiki Beach or immersing yourself in the rich history of Pearl Harbor, Honolulu offers an indulgent sanctuary to retreat to after a day of adventuring.
Prepare to be captivated by a plethora of sumptuous accommodations that boast exquisite style and unrivaled sophistication. From sophisticated boutique hotels adorned with contemporary artwork and sleek furnishings to grand resorts exuding timeless elegance, every property presents an enchanting narrative that tells tales of unparalleled comfort and refined aesthetics. Indulge your senses at deluxe spa resorts where tranquility meets rejuvenation or unwind in private villas nestled amidst lush tropical gardens, providing utmost seclusion and intimacy. With impeccable service delivered by attentive staff members who anticipate your every need, these luxurious establishments ensure that your stay will be nothing short of extraordinary.
So pack your bags and embark on an unforgettable journey through the lap of luxury in Honolulu—a destination where dreams come true and memories are made amidst captivating beauty and unparalleled extravagance. Get ready to immerse yourself in a world where relaxation intertwines with indulgence as you discover why these luxurious havens have earned their rightful place as some of the finest accommodations in all of Hawaii.
Most Luxurious Hotels in Honolulu
Courtyard by Marriott Waikiki Beach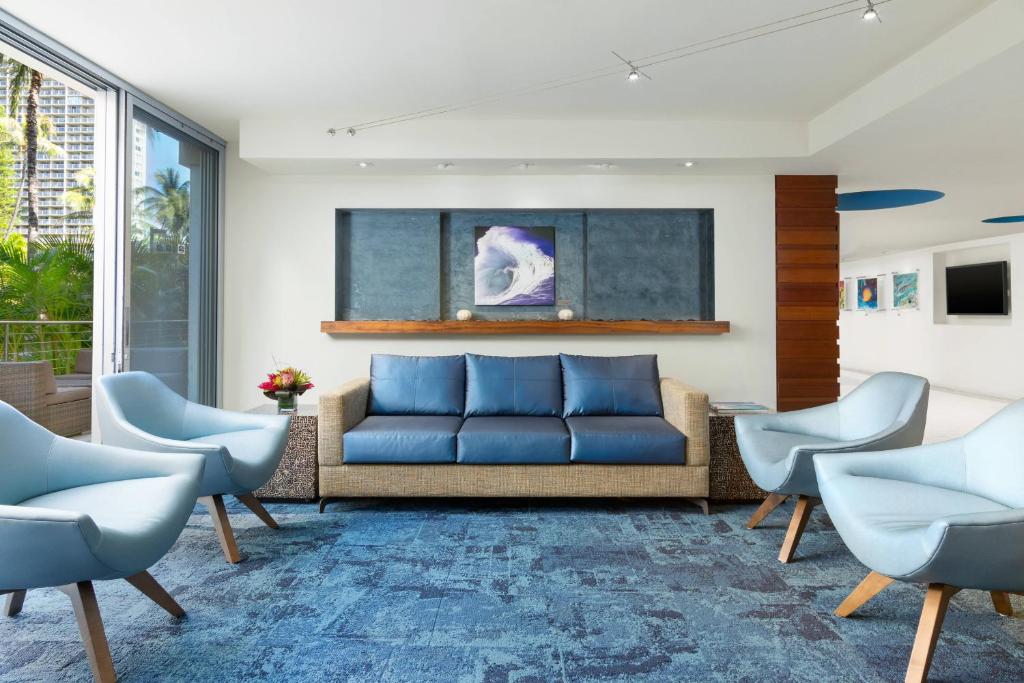 Located beachside at 2570 Kalakaua Avenue, the Courtyard by Marriott Waikiki Beach offers a luxurious and unforgettable stay in Honolulu, Hawaii. With its range of elevated amenities and services, this hotel ensures that guests have everything they need for a remarkable experience. The daily $35 USD (plus taxes) Destination Amenity Fee includes enhanced High-Speed Wi-Fi Internet Access, Waikiki Beach Candy, beach amenity rentals for two guests daily (including beach games, umbrellas, surfboards, paddle boards, and more), usage of GoPro camera for eight hours per day, bicycle rental for eight hours per day, sun screen and AfterSun lotion available poolside, access to the new Waikiki Fitness Health & Fitness Club located at 2490 Kalakaua Avenue (for two guests), and 9-hole Courtyard Waikiki putt-putt golf for two guests daily. The guest rooms at this hotel are well-appointed with air-conditioning and a refrigerator. In-room entertainment is provided by a flat-screen cable TV while coffee lovers can indulge in Hawaiian coffee brewed using the in-room coffee machine. The en suite bathroom features free toiletries and a hairdryer. Select rooms even offer a seating area for added comfort. Guests can enjoy local Hawaiian cuisine prepared by renowned chef Chai Chaowasaree at the on-site restaurant which is open for breakfast and dinner. The restaurant also offers an impressive selection of craft cocktails from local breweries as well as Chef's select wine list. Additional facilities include a fitness center and a coffee shop in the lobby while various activities such as jet skiing and surfing can be enjoyed both onsite or in the surrounding areas filled with shops and restaurants of Central Waikiki. For those looking to explore further attractions nearby include Honolulu Zoo which is just 5 minutes' drive away while War Memorial Natatorium is located approximately 3.8 km away.
Pros:
– Outdoor pool
– Complimentary beach amenity rentals for two guests daily
– Usage of GoPro camera and bicycle rental for two guests
– Access to the new Waikiki Fitness Health & Fitness Club for two guests
– 9-hole Courtyard Waikiki putt-putt golf for two guests daily
The Ritz-Carlton Residences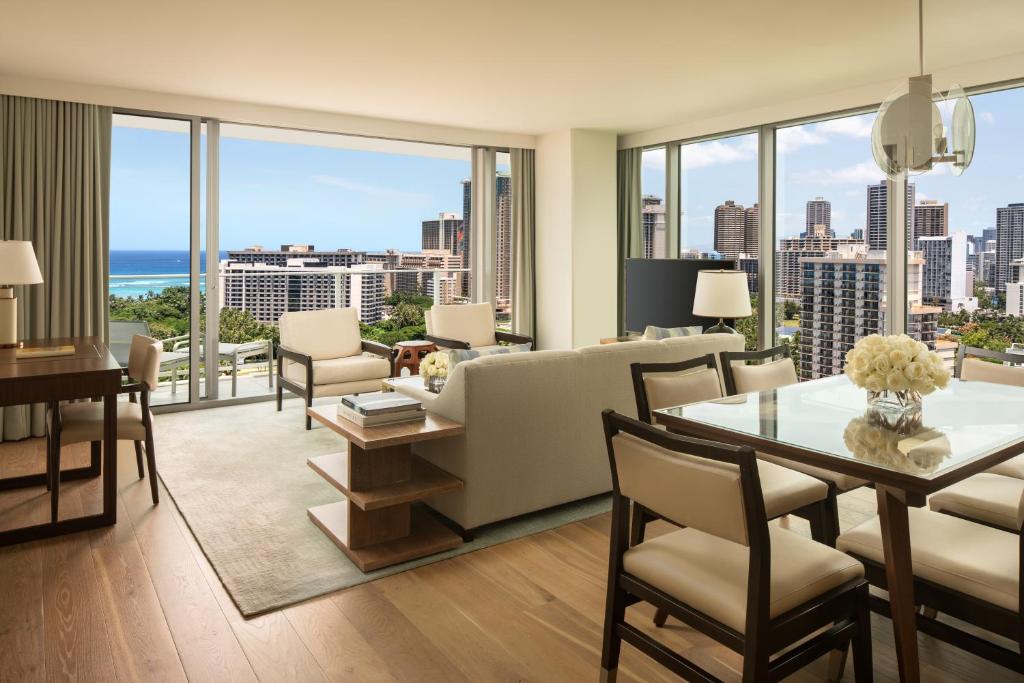 The Ritz-Carlton Residences in Waikiki offers a truly exceptional resort experience that combines the comforts of home with luxurious amenities. With 552 ocean-view rooms and suites, including gourmet kitchens and premium brand washers and dryers, this property sets the standard for residential-style accommodations. As Oahu's first Ritz-Carlton property, it boasts the largest number of hotel luxury suites on the island. Guests can enjoy two infinity pools with private cabanas, a state-of-the-art fitness center, yoga room, movie theater, and indulgent treatments at The Ritz-Carlton Spa. The dining options are equally impressive, offering creative cuisine from around the world. Additionally, with over 6,000 square feet of indoor function space, this hotel is perfect for meetings or events. Not to mention its prime location near Waikiki Beach and popular shopping centers.
Lotus Honolulu at Diamond Head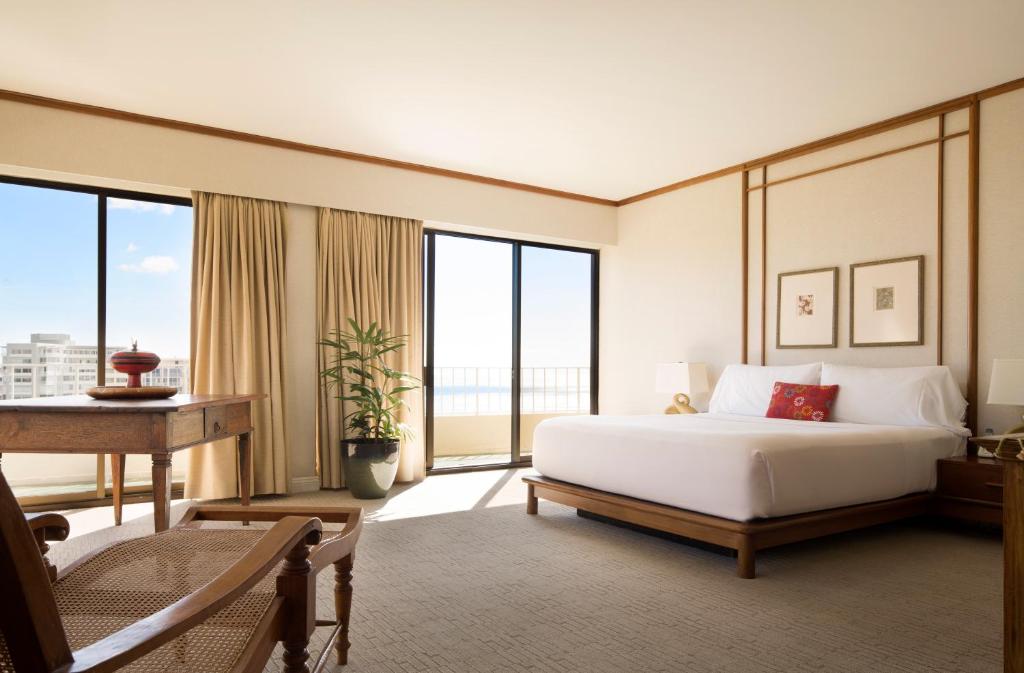 Experience a unique and tranquil stay in Waikiki at the luxurious Lotus Honolulu at Diamond Head. Nestled underneath the iconic Diamond Head, this hotel offers an escape from the hustle and bustle of downtown Waikiki. Guests can enjoy walking paths that lead to two nearby beaches, allowing for relaxation and breathtaking views. The guestrooms are well-appointed with modern amenities such as a 42-inch LCD TV with cable and an iPod dock. Each room also features either a balcony or patio, providing guests with their own private oasis. Additionally, every room is equipped with a refrigerator and premium illy Espresso machine, ensuring that guests have everything they need for a comfortable stay. The hotel's prime location directly across from Queen Kapiolani Park allows guests to easily explore popular attractions such as the Honolulu Zoo and the Waikiki Aquarium, which are just steps away. For those looking for adventure or leisure activities, golf courses, unique shops, and water activities are all easily accessible from Lotus Honolulu.
– Tranquil location tucked away under Diamond Head
– Walking paths to two nearby beaches
– Breathtaking views of Diamond Head
– Well-appointed guestrooms with balconies or patios
– Prime location near popular attractions
Luxury Hotels in Downtown Honolulu
Downtown Honolulu is a hotspot for luxury hotels, offering an exquisite experience that captures the essence of Hawaiian charm and indulgence. These opulent accommodations boast stunning views of both the cityscape and the sparkling ocean, creating a captivating backdrop for guests. With their elegant designs, impeccable service, and attention to detail, these luxury hotels in Downtown Honolulu provide an oasis of sophistication and relaxation amidst the bustling energy of this vibrant city.
Hyatt Centric Waikiki Beach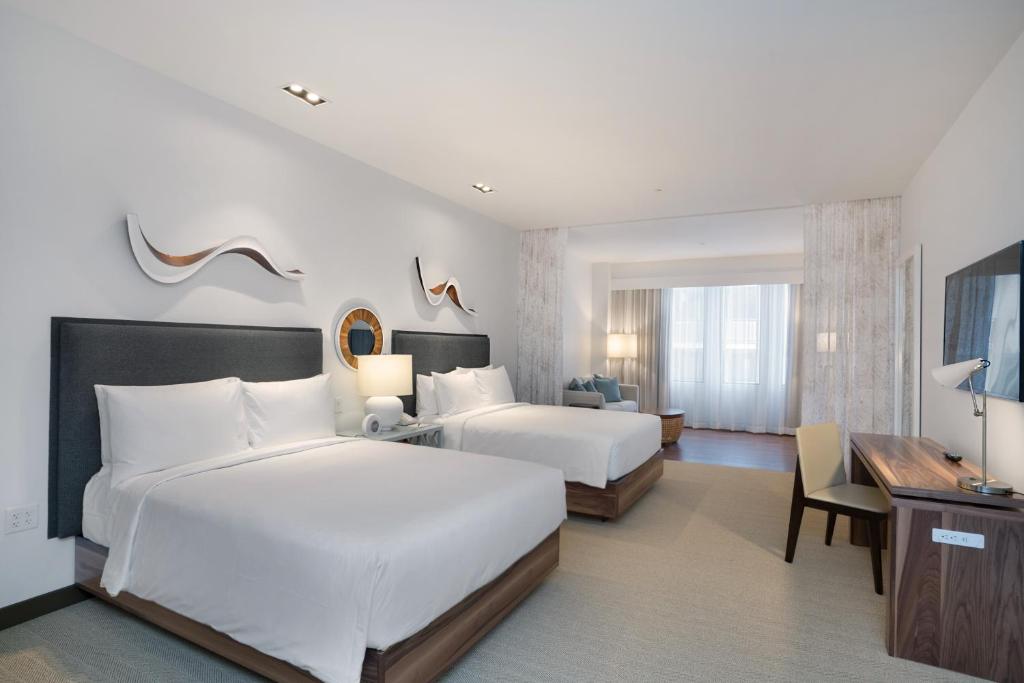 Hyatt Centric Waikiki Beach is a stunning beachfront hotel in Honolulu. With its prime location, guests can enjoy easy access to the beautiful Waikiki Beach and nearby attractions like Kuhio Beach Torch Lighting & Hula Ceremony. The hotel offers a range of amenities including an on-site restaurant and bar, a lounge with a wading pool, and outdoor fire pits. Each room at the property is equipped with modern comforts such as a 55" flat-screen TV, an in-room coffee maker, a mini refrigerator, and a clock. The floor-to-ceiling windows allow guests to soak in breathtaking views of the surroundings. Additionally, the hotel features convenient facilities like a fitness center, business center, and café for guests' comfort. The Lanai Restaurant serves delectable local cuisine for dinner, adding to the overall indulgence of your stay. For those looking to explore the area further, bike hire is available at the resort. With its luxurious amenities and unparalleled location near popular attractions, Hyatt Centric Waikiki Beach is an excellent choice for travelers seeking upscale accommodation in paradise.
– Prime beachfront location
– On-site restaurant and bar
– Lounge with wading pool
– Breathtaking views from floor-to-ceiling windows
– Convenient amenities including fitness center and business center
Four Seasons Resort Oahu at Ko Olina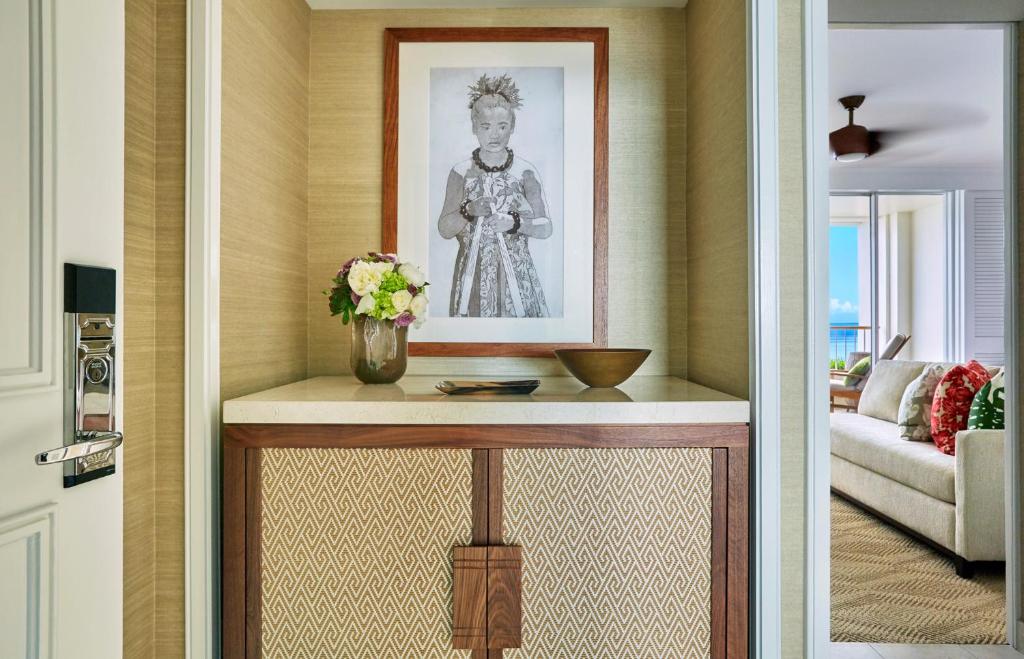 Located on Oahu's picturesque west coast, Four Seasons Resort Oahu at Ko Olina is a luxurious Hawaiian beach resort offering an array of amenities and activities for guests to enjoy. With its stunning lagoons and water sports options, as well as tennis courts, golf courses, and a delightful spa, this resort provides everything needed for a truly indulgent vacation. The Honolulu International Airport is conveniently located within 30 minutes' drive from the hotel. Each guest room at Four Seasons Resort Oahu at Ko Olina features modern comforts such as free WiFi and a 65-inch flat-screen HDTV. The rooms also boast a private balcony, deep soaking tubs, walk-in glass showers, and the renowned Four Seasons Bed with a choice of plush, signature or firm mattress topper. In addition to all these luxuries, guests can take advantage of 24-hour in-room dining services and access to the well-equipped fitness center. Furthermore, the resort's prime location allows easy access to attractions like Ko Olina Marina and Ko Olina Golf Club which are just five minutes away by car while historic sites like the Arizona Memorial and Battleship Missouri Memorial at Pearl Harbor are within 27 minutes' drive. Experience ultimate luxury in paradise at Four Seasons Resort Oahu at Ko Olina.
Pros:
– Stunning location on Oahu's sunny west coast
– Wide range of onsite amenities including restaurants, bars, swimming pools, and lagoons with water sports
– Luxurious guest rooms featuring modern comforts and lavish details
– Easy access to Honolulu International Airport
– Proximity to popular attractions such as Ko Olina Marina and historic sites like Pearl Harbor
Halekulani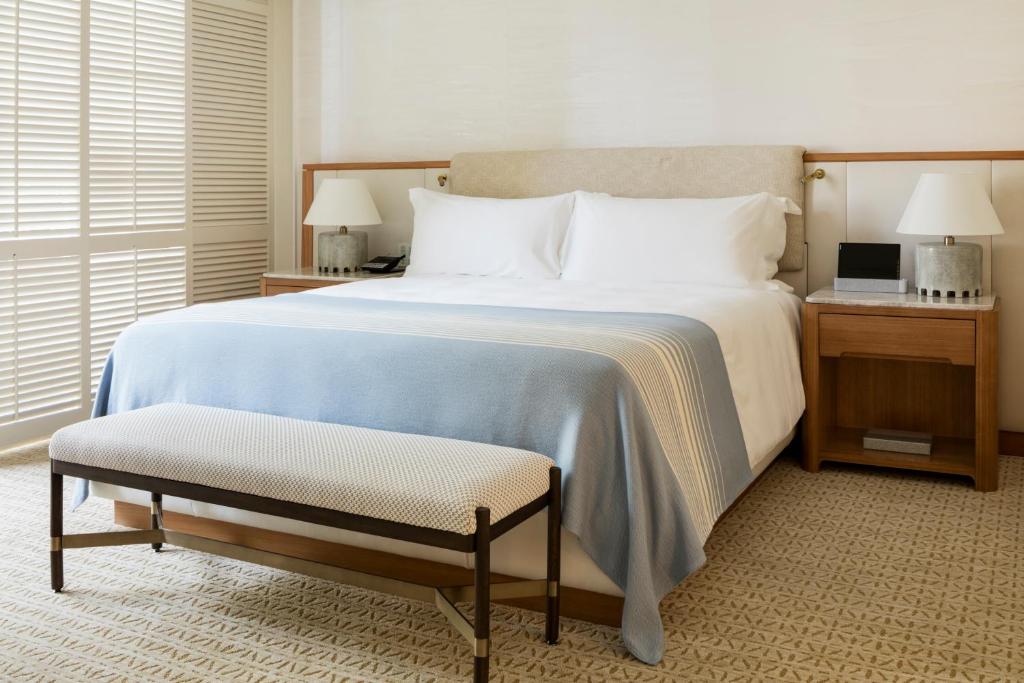 Located on the beautiful Waikiki Beach with stunning views of Diamond Head, Halekulani is a luxury hotel offering 3 restaurants, a live jazz lounge, and a day spa. Each guest room features a spacious lanai and an ensuite bathroom with plush bathrobes, premium toiletries, marble vanities, deep soaking tubs, and separate glassed-in showers. The internationally-awarded La Mer restaurant serves fine French cuisine using fresh local Hawaiian ingredients while Orchids restaurant offers seafood specialties for breakfast, lunch, and dinner. A House Without a Key provides oceanfront casual terrace dining and nightly entertainment. Guests can indulge in traditional Polynesian rituals at The Spa Halekulani which offers massages, facials, body therapies, and beauty services. Amenities include free WiFi throughout the property, a full-service business center, and a heated swimming pool with breathtaking views of Waikiki Beach. With its convenient location just 35 minutes' drive from Honolulu International Airport and close proximity to upscale shopping at Ala Moana Shopping Center, Halekulani is the perfect choice for an unforgettable luxury experience.
– Stunning views of Diamond Head
– Luxurious ensuite bathrooms with deep soaking tubs
– Internationally-acclaimed La Mer restaurant serving French cuisine
– Oceanfront casual terrace dining at A House Without a Key
– Traditional Polynesian rituals at The Spa Halekulani
5 Star Luxury Hotels
5 Star Luxury Hotels provide the epitome of elegance, sophistication, and indulgence for discerning travelers seeking a truly unforgettable experience. From opulent decor to impeccable service, these exceptional establishments offer a seamless blend of luxury and comfort. Every aspect is meticulously designed to cater to the highest standards, ensuring an exquisite stay. From world-class dining options to state-of-the-art facilities and lavish accommodations, 5 Star Luxury Hotels promise an unparalleled level of refinement that caters to the desires and whims of their esteemed guests.
Embassy Suites by Hilton Waikiki Beach Walk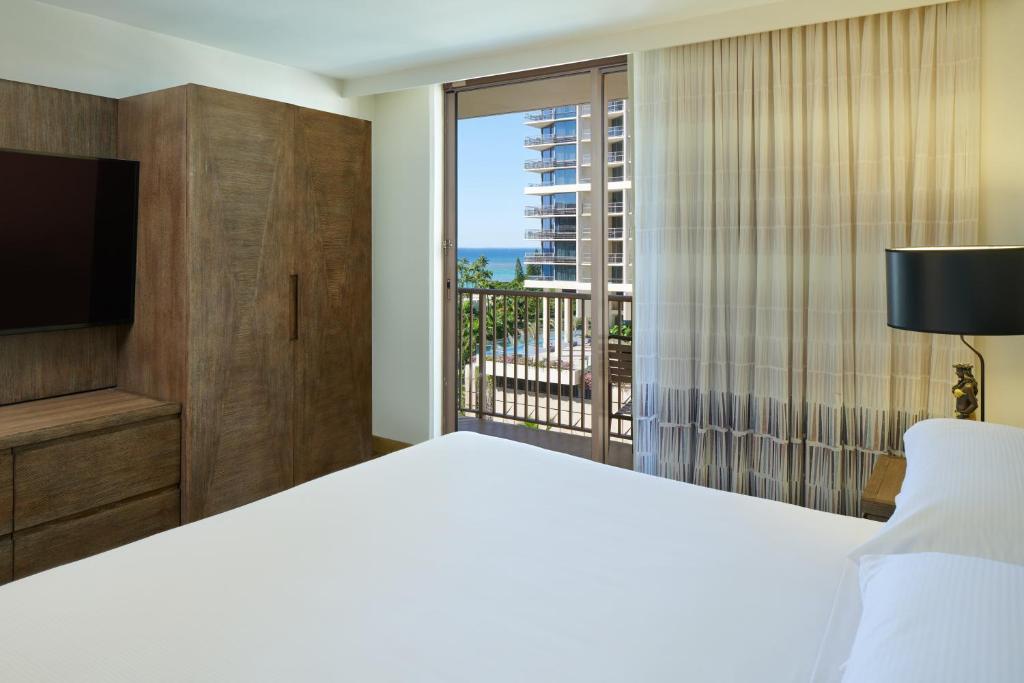 Located just steps from the world-famous Waikiki Beach, Embassy Suites by Hilton Waikiki Beach Walk is a luxurious all-suite resort nestled in the heart of Kalakaua Avenue. Surrounded by lush landscaping and adorned with traditional Hawaiian art, this resort offers a tranquil escape for guests seeking comfort and relaxation. The highlight of the hotel is undoubtedly its rooftop pool deck, featuring a heated swimming pool, hot tub, and children's pool. Indulge in a hot, full cook-to-order breakfast while enjoying beverages and snacks poolside. Each suite is spacious and well-equipped with a living room area and kitchenette complete with modern amenities. Select suites offer breathtaking views of the city or ocean complemented by private balconies. On the 4th floor, guests can unwind at the open-air Grand Lanai where they can relax on the sundeck while sipping cocktails from the Pakini Bar. Live Hawaiian entertainment is performed four times a week to provide an authentic cultural experience. Additionally, guests can take advantage of the fitness center, laundry facilities, and business center at their convenience. Boasting an ideal location on an 8-acre stretch known as Waikiki Beach Walk, this resort offers easy access to an outdoor entertainment plaza featuring 40 retail shops and restaurants. Cultural activities are also available for both kids and adults to enjoy at Beach Walk. With Diamond Head only 5.6 km away and popular attractions like Honolulu Zoo and Ala Moana Shopping Center within close proximity (2.4 km), Embassy Suites by Hilton Waikiki Beach Walk guarantees an unforgettable stay in paradise.
Pros:
– Rooftop swimming pool with stunning views
– Spacious suites with kitchenettes
– Complimentary hot breakfast
– Convenient location near beachfront shops & restaurants
– Regular live Hawaiian entertainment
Waikiki Beach Marriott Resort & Spa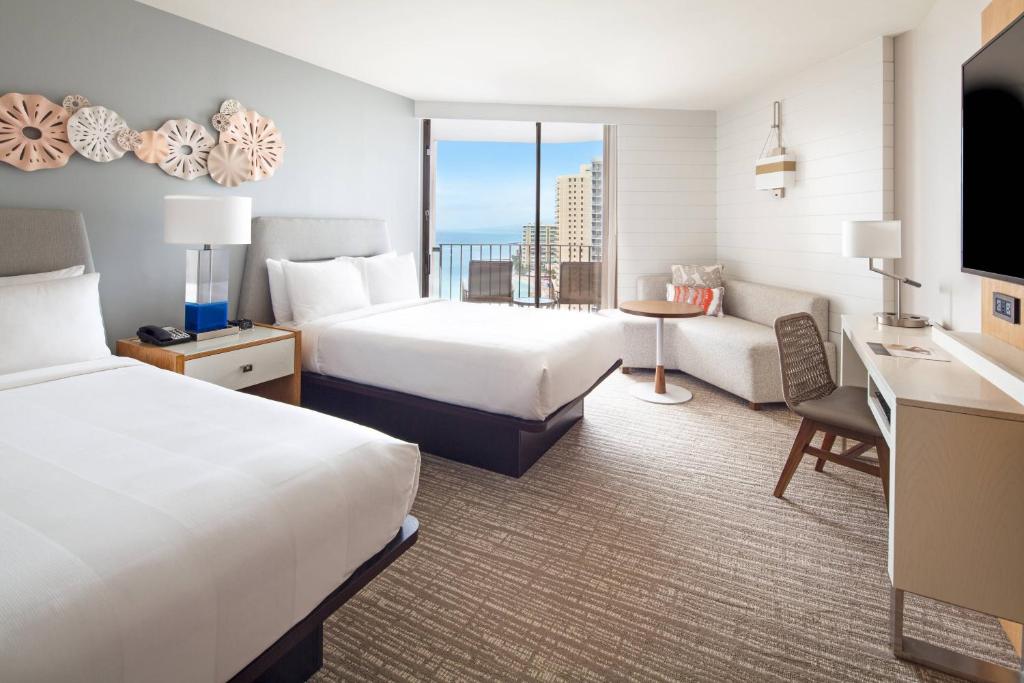 Located just steps away from the stunning Waikiki beach, the Waikiki Beach Marriott Resort & Spa offers guests a luxurious and relaxing stay. With 5 restaurants and the Royal Kaila Spa on site, guests can indulge in delicious cuisine and pampering spa treatments. The resort is 100% smoke-free and each spacious guest room features a flat-screen TV, coffee machine, and refrigerator for convenience. The property also offers a gym and 2 outdoor swimming pools where guests can enjoy poolside cocktails with live nightly entertainment. On-site laundry services are available, and the helpful staff can recommend babysitting services if needed. Additionally, this resort is conveniently located within walking distance of popular attractions such as the Honolulu Zoo and Waikiki Aquarium, making it an ideal choice for travelers looking to explore the area.
– Prime location across from Waikiki beach
– Variety of dining options on site
– Relaxing spa facilities for ultimate rejuvenation
– Well-equipped gym and refreshing outdoor swimming pools
– Conveniently located near popular attractions
Jet Luxury Private Residences in Waikiki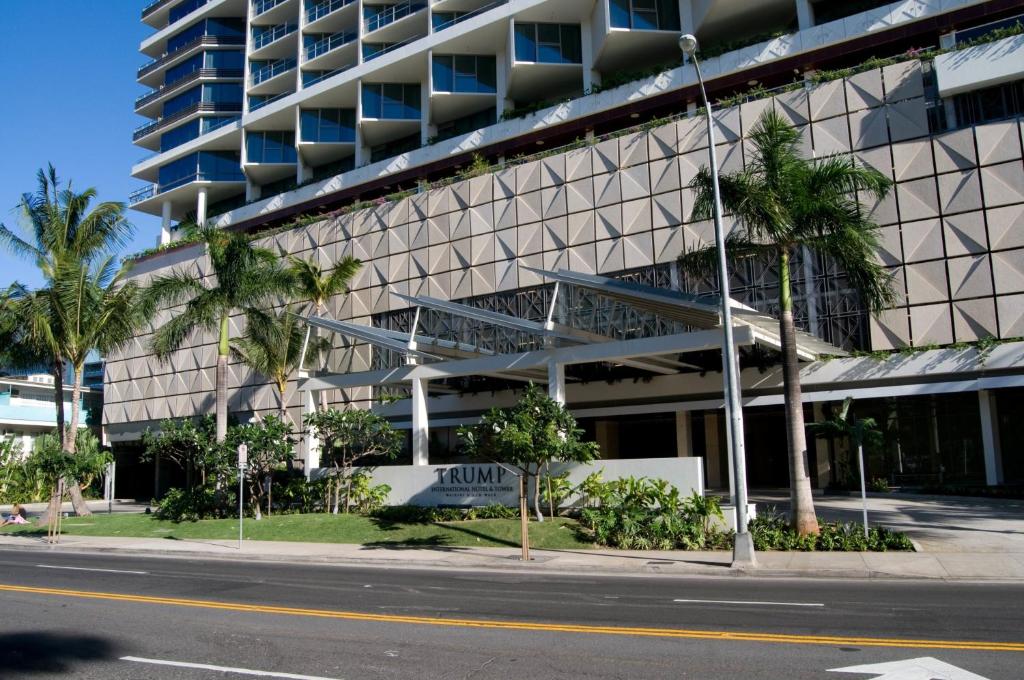 Located in the heart of Honolulu, Jet Luxury Private Residences in Waikiki offers a luxurious and unforgettable experience. Situated right on the famous Waikiki Beach Walk, guests can enjoy stunning views from their floor-to-ceiling windows in every suite. The well-equipped gourmet kitchenette with granite countertops allows for convenient dining options. The resort boasts a modern fitness center and a luxury spa, where guests can indulge in ultimate relaxation. The sixth floor features an infinity pool and an outdoor deck, perfect for soaking up the Hawaiian sun. With its prime location, guests have easy access to nearby attractions such as the Royal Hawaiian Theater Legends in Concert Waikiki and the Royal Hawaiian Shopping Center. For those arriving by plane, Honolulu Airport is just 11 km away.
– Located on famous Waikiki Beach Walk
– Floor-to-ceiling windows with breathtaking views
– Gourmet kitchenettes with granite countertops
– Modern fitness center and luxury spa on-site
– Infinity pool and outdoor deck on the sixth floor
Most Expensive Hotels in Honolulu
Honolulu, the capital city of Hawaii, is renowned for its breathtaking natural beauty and vibrant culture. It is no surprise that this tropical paradise is also home to some of the most luxurious and exclusive hotels in the world. Catering to affluent travelers seeking unparalleled opulence, these high-end establishments offer a level of service and sophistication that is second to none. With lavish accommodations boasting stunning ocean views, indulgent spa treatments, exquisite dining experiences, and unrivaled privacy, Honolulu's most expensive hotels provide an unforgettable haven of luxury in this idyllic destination.
ESPACIO THE JEWEL OF WAIKIKI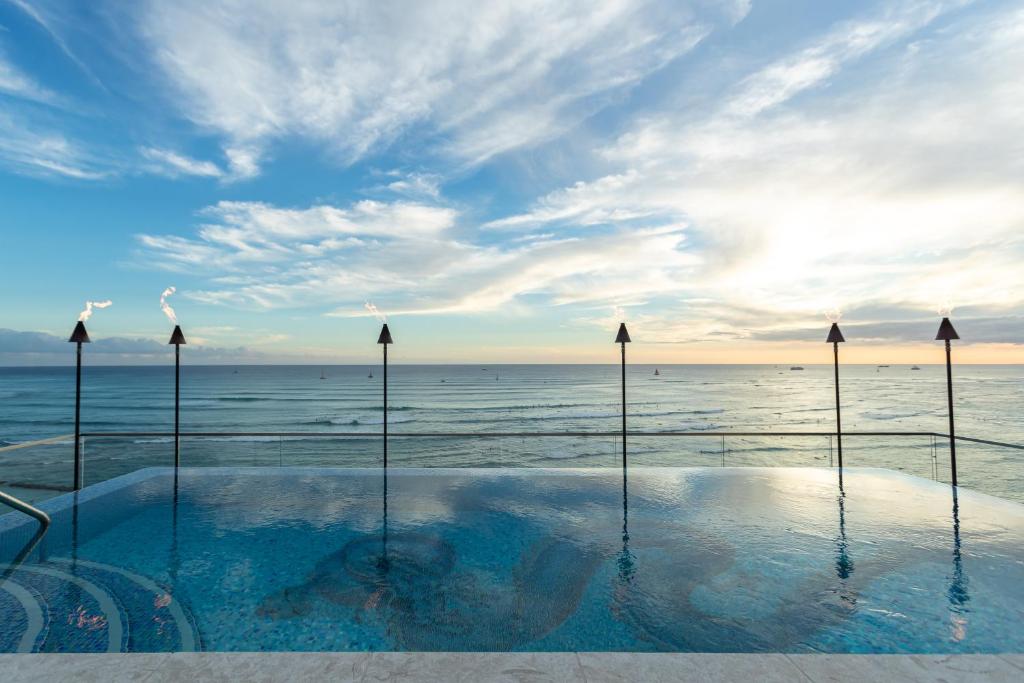 ESPACIO THE JEWEL OF WAIKIKI is a luxurious hotel that opened its doors in July 2019. Situated in the heart of Honolulu, directly facing the stunning Waikiki Beach, this hotel offers an unparalleled experience. Guests can indulge in the rooftop infinity pool and rejuvenate at the full-service spa. The on-site Mugen restaurant provides an exclusive fine dining experience. Each elegant suite features Italian marble details and accents from Morocco, as well as a Smart TV and fully controllable amenities through an iPad. Guests are welcomed with a wine card and two bottles of wine, along with complimentary admission to renowned museums such as the Bishop Museum and Honolulu Museum of Art. The private entrance on each floor ensures utmost privacy for guests, while the modern kitchen equipped with top-notch appliances adds convenience to their stay. A hot tub on a private balcony allows for ultimate relaxation, while saunas (except in Accessible suites) offer further indulgence. Complimentary daily continental breakfast, round-trip luxury airport transportation per reservation, and car services enhance the overall experience. Additionally, guests can enjoy a gourmet rooftop barbecue station alongside amenities like a rooftop infinity swimming pool, whirlpool, sundeck, and proximity to attractions like the Honolulu Zoo.
– Rooftop infinity pool offering breathtaking views
– Fine dining experience at Mugen restaurant
– Elegant suites with Italian marble details
– Fully controllable amenities through iPad
– Complimentary admission to renowned museums
The Equus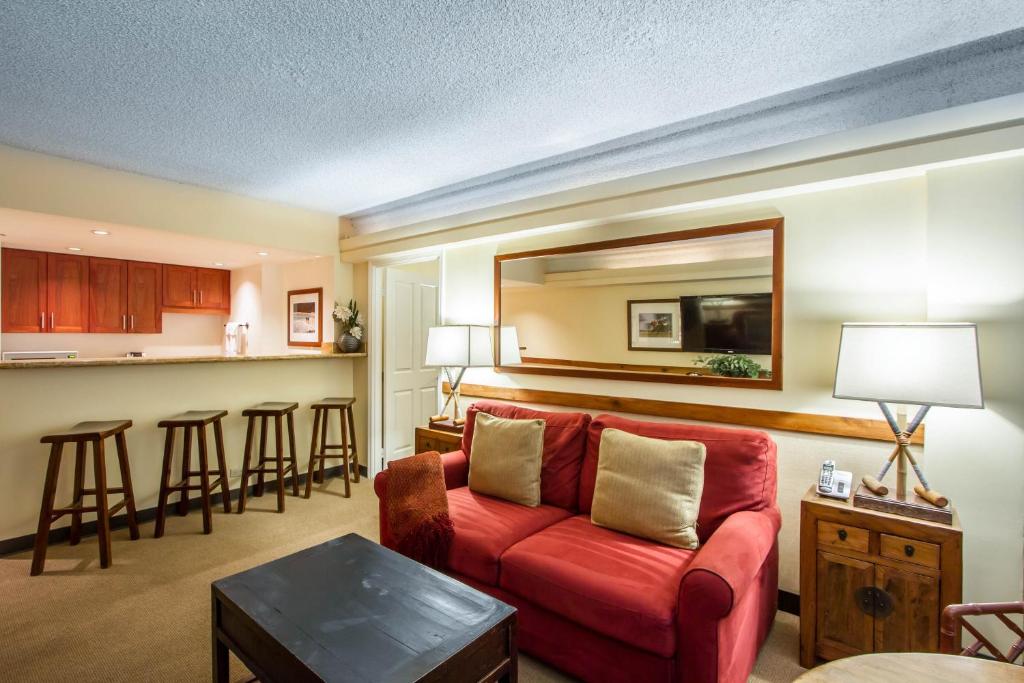 Located in Honolulu, just 700 meters from Kahanamoku Beach, The Equus is a luxurious 4-star hotel offering a range of amenities for guests to enjoy. From the outdoor swimming pool and private parking to the terrace and restaurant, this hotel provides everything needed for a comfortable stay. With a 24-hour front desk, an ATM, and free WiFi, guests have convenience at their fingertips. The rooms are elegantly designed with air conditioning, a seating area, flat-screen TV with cable channels, safety deposit box, and private bathroom with complimentary toiletries and hairdryer. Some rooms even come with a kitchenette featuring a microwave. The hotel also offers evening entertainment and has a business center available for those traveling for work purposes. Additionally, bike hire is available for exploring the popular cycling routes nearby. With Fort DeRussy Beach, Ala Moana Beach, and Magic Island within proximity as well as Honolulu International Airport 14 km away, The Equus is an ideal choice for travelers seeking both relaxation and convenience.
– Outdoor swimming pool
– Free WiFi
– Restaurant on-site
– Convenient location near popular beaches
– Complimentary toiletries
Luxury Honolulu Hotels Information
| | |
| --- | --- |
| 🛎️ Luxury Hotels in Honolulu | 11 |
| 💵 Hotels Prices From | $228 |
| 💵 Highest price | $1371 |
| 🥇 Average Review Score | 8.5/10 |
| 🛏️ Average number of Rooms | 367 |
Top Luxury hotels in Honolulu
| | |
| --- | --- |
| ESPACIO THE JEWEL OF WAIKIKI | 9.9/10 |
| Halekulani | 9.3/10 |
| The Ritz-Carlton Residences | 9.2/10 |
| Four Seasons Resort Oahu at Ko Olina | 9.2/10 |
| Embassy Suites by Hilton Waikiki Beach Walk | 8.7/10 |
FAQ
What are some of the best luxury hotels in Honolulu?
Honolulu offers a wide range of luxury hotels that cater to different preferences and budgets. Some of the top recommended options include The Royal Hawaiian, Halekulani Hotel, Trump International Hotel Waikiki, and Moana Surfrider. These hotels boast luxurious amenities, stunning ocean views, world-class dining options, and impeccable hospitality.
Can I find luxury beachfront hotels in Honolulu?
Absolutely! Honolulu is renowned for its beautiful beaches, and many luxury hotels offer beachfront locations. The Kahala Hotel & Resort is a highly recommended option with its private lagoon and secluded white sand beach. Other beachfront luxury hotels include The Modern Honolulu which overlooks the Ala Wai Harbor and Waikiki Beach Marriott Resort & Spa with direct access to one of Hawaii's most famous beaches.
What are some must-visit attractions near luxury hotels in Honolulu?
When staying at a luxury hotel in Honolulu, you'll have easy access to some incredible attractions. Don't miss out on visiting Diamond Head State Monument for breathtaking views of Waikiki Beach and downtown Honolulu from atop an ancient volcanic crater. Another must-visit attraction is Pearl Harbor where you can learn about the history of World War II through various museums and memorials.
Are there any all-inclusive luxury resorts in Honolulu?
While all-inclusive resorts are more common in other destinations, there aren't many options available in Honolulu specifically. However, several luxury resorts offer packages or add-ons that include meals, activities, spa treatments or other amenities to enhance your stay such as Aulani Disney Resort & Spa which offers a variety of inclusive packages for families.
What is the best time to visit Honolulu for a luxurious vacation?
Honolulu enjoys warm weather year-round making it an ideal destination for a luxurious vacation anytime. However, if you're looking to avoid crowds while enjoying pleasant weather conditions then the best time to visit is during the shoulder seasons of spring (April to June) and fall (September to November). The weather is generally sunny, prices may be slightly lower than peak season, and you'll have a more peaceful experience exploring the city and its luxurious offerings.
Popular Most Luxurious hotel destinations