Welcome to our guide on opulent accommodations in Hertfordshire, a splendid county nestled in the United Kingdom. Prepare to immerse yourself in the realm of refined hospitality and discover the epitome of luxury hotels in this enchanting destination.
Hertfordshire, known for its breathtaking countryside and rich history, offers a magnificent array of sumptuous establishments that cater to discerning travelers seeking an unparalleled experience. Experience awe-inspiring architecture fused with contemporary design as you step foot into these grandiose havens. Indulge your senses with impeccable service and meticulous attention to detail that will leave you feeling pampered and rejuvenated.
From historic manor houses exuding elegance at every turn to modern retreats boasting cutting-edge amenities, Hertfordshire boasts a diverse collection of luxury hotels that cater to all preferences. Whether you desire a tranquil sanctuary surrounded by lush greenery or prefer being at the heart of vibrant city life, rest assured that Hertfordshire has something extraordinary waiting for you.
Join us as we take you on a virtual journey through the most lavish accommodations Hertfordshire has to offer – where sophisticated comfort meets timeless charm.
Most Luxurious Hotels in Hertfordshire
Down Hall Hotel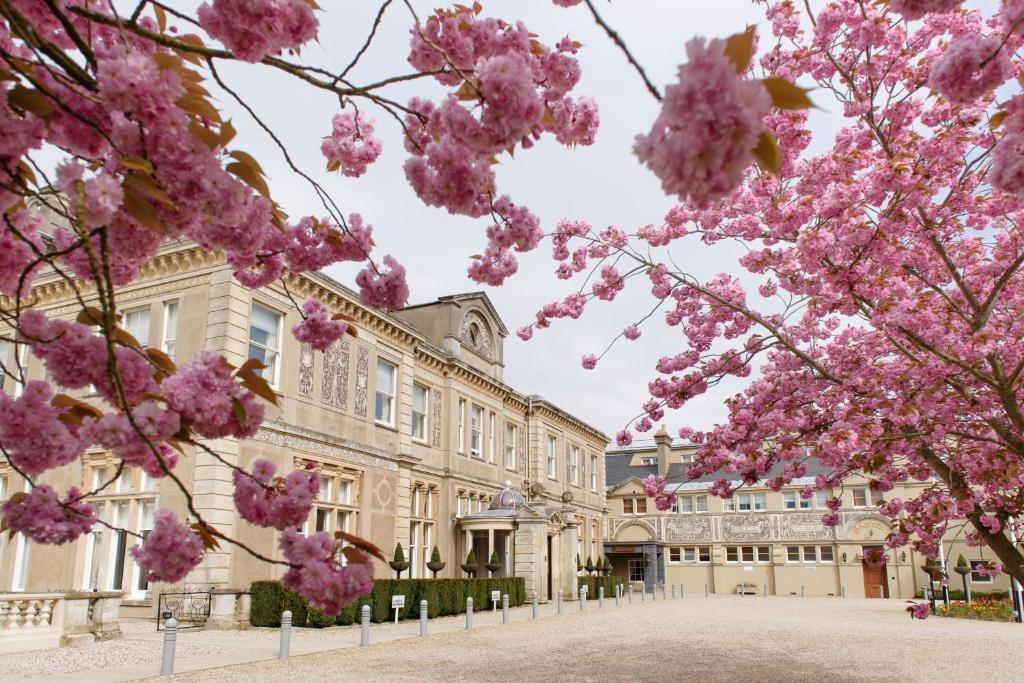 Located on a picturesque 110-acre estate on the Hertfordshire/Essex border, Down Hall Hotel is a stunning 4-star country-house hotel. The elegant rooms offer beautiful garden views and are equipped with modern amenities such as flat-screen TVs and marble bathrooms. Guests can indulge in luxurious treatments at Eden Spa, which features four treatment rooms, a sauna, steam room, and hydrotherapy pool. The hotel boasts two exquisite dining options – the Grill Room Restaurant serving international cuisine with vegetables sourced from their own garden, and the Terrace Restaurant offering al fresco dining. Other facilities include a cocktail bar, free WiFi, a conference center, and free parking. With its convenient location near Bishop's Stortford, Harlow, London, and major motorways like M11 to M25 or Cambridge, as well as being just 15 minutes away from Stansted Airport by car – Down Hall Hotel ensures both luxury and convenience for its guests.
– Beautiful country-house setting in a vast estate
– Elegant rooms with garden views
– Luxurious spa facilities including sauna and hydrotherapy pool
– Two exceptional dining options with fresh ingredients from their own garden
– Convenient location near major cities and transportation links
Tewinbury (Tewin)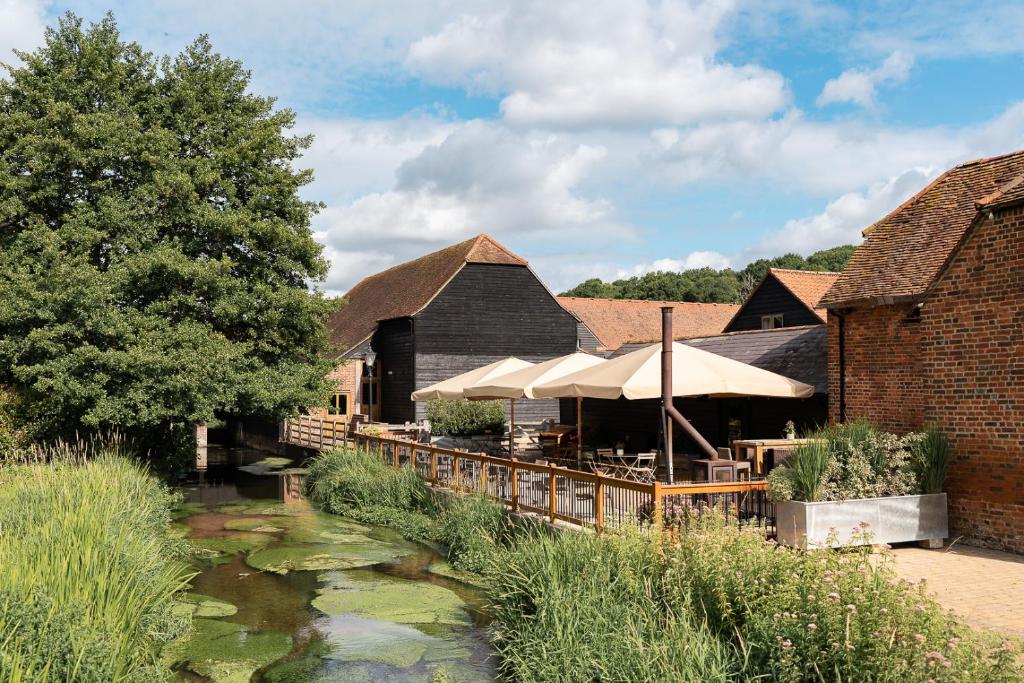 Tewinbury is a charming hotel located in the picturesque village of Tewin. Guests can unwind and relax in the comfortable rooms, each equipped with a flat-screen TV, kettle, and private bathroom. The rooms also offer free toiletries and a hair dryer for added convenience. The hotel's on-site bar provides a delightful space to enjoy a refreshing drink. With a 24-hour front desk, guests can expect excellent service throughout their stay. For outdoor enthusiasts, the surrounding area offers fantastic opportunities for cycling adventures. Additionally, Tewinbury enjoys a prime location with London just 34 km away and Cambridge situated 48 km from the property. Luton Airport is conveniently only 19 km away.
Pros:
– Comfortable rooms with modern amenities
– On-site bar for relaxation
– Attentive 24-hour front desk service
– Ideal location for exploring London and Cambridge
– Close proximity to Luton Airport
Hilton London Watford (Watford)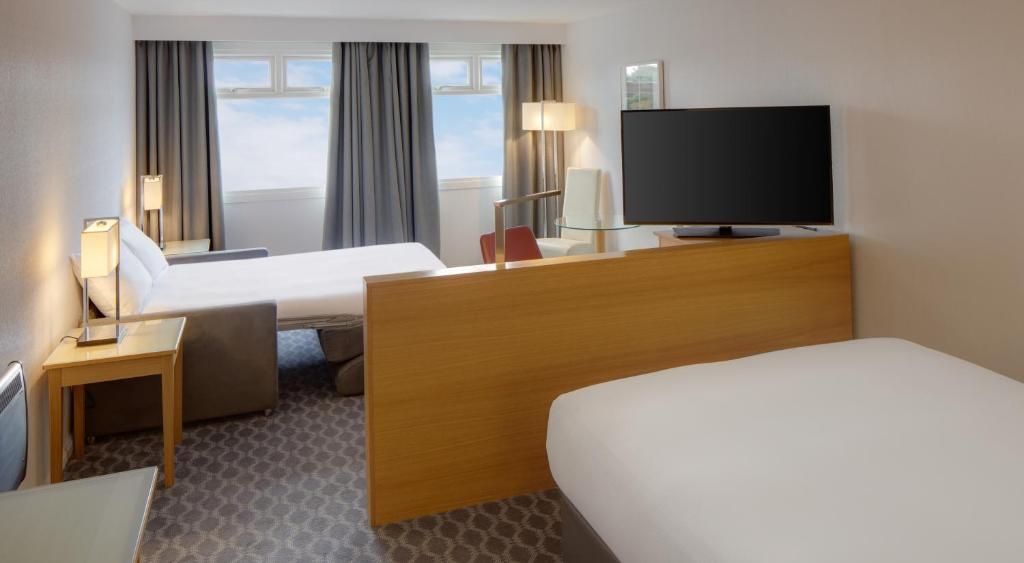 Located just 18 miles from central London, Hilton Watford offers a convenient and luxurious stay for travelers. With free parking and easy access to the M1 motorway, guests can explore both the city and the surrounding areas with ease. The hotel boasts a well-equipped gym featuring cardiovascular equipment and a selection of free weights, perfect for those looking to stay active during their stay. Each of the modern rooms offers 24-hour room service, a TV with cable channels, and facilities for making tea and coffee. Guests can indulge in delicious meals at Jaime's Restaurant which serves breakfast and dinner daily with an à la carte menu available. For those looking for a more casual setting, The Patio Bar is equipped with a widescreen TV and offers a range of snacks throughout the day. With its proximity to Wembley Stadium (20-25 minutes' drive) and Warner Brothers Studio (7-minute drive), there are plenty of attractions nearby to explore. Additionally, rail and tube links are conveniently located nearby offering easy access to central London in just 45 minutes.
Pros:
– Convenient location near M1 motorway
– Free parking available
– Well-equipped gym on-site
– Delicious dining options at Jaime's Restaurant
– Close proximity to Wembley Stadium and Warner Brothers Studio
Luxury Hotels in Downtown Hertfordshire
Luxury hotels in downtown Hertfordshire offer discerning travelers a unique blend of elegance, comfort, and impeccable service. Nestled in the heart of this vibrant region, these exclusive properties provide an oasis of sophistication amidst bustling city life. With opulent interiors, well-appointed rooms, and attention to detail that surpasses expectations, these luxury hotels redefine indulgence. From sleek and modern designs to classical charm, each hotel reflects its own distinct character while consistently delivering on the promise of unparalleled luxury. Whether it's for business or pleasure, guests can expect an unforgettable experience at these prestigious addresses in downtown Hertfordshire.
Pendley Manor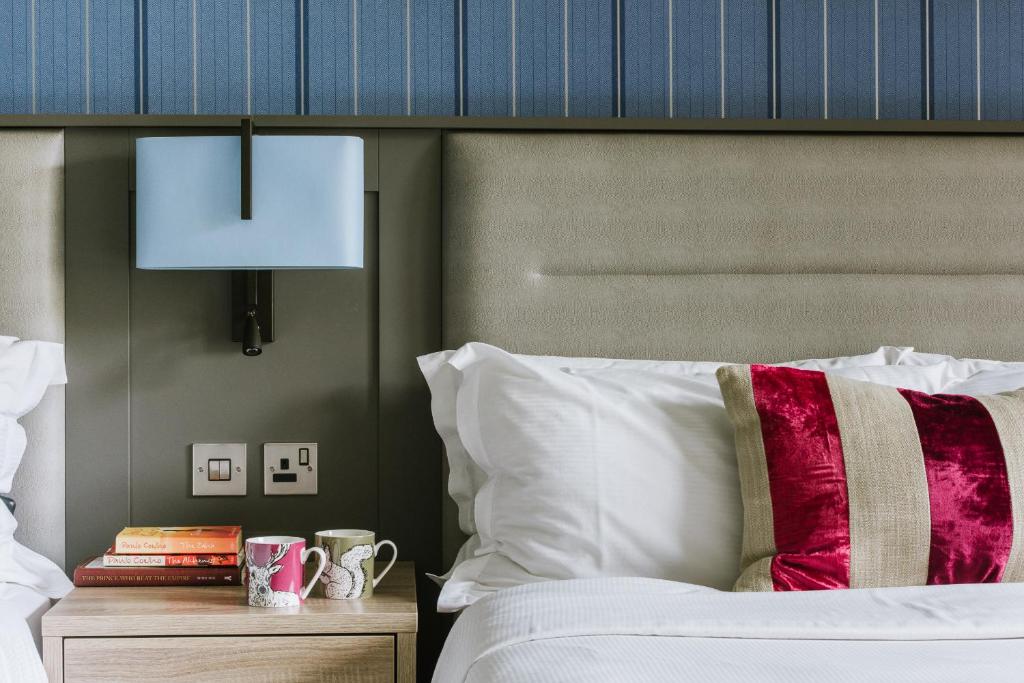 Set in 35 acres of delightful wooded parkland, Pendley Manor is a magnificent manor house offering a perfect blend of modern amenities and historic charm. Boasting an indoor pool and a well-equipped gymnasium, this peaceful retreat also holds an AA Rosette for its dining experience. Guests can unwind in the elegant Shakespeare Bar or relax in the inviting Peacock Conservatory Lounge while enjoying a refreshing drink. With its close proximity to Whipsnade Zoo and just a short drive away from Chiltern Forest Golf Club, Pendley Manor offers something for everyone. The conservatory with its outdoor terrace provides stunning views of the garden, making it an ideal spot for relaxation.
– Set in picturesque wooded parkland
– Indoor pool and gymnasium available
– Award-winning dining with an AA Rosette
– Convenient location near attractions like Whipsnade Zoo
– Beautiful conservatory with outdoor terrace overlooking gardens
Hanbury Manor Marriott Hotel & Country Club (Ware)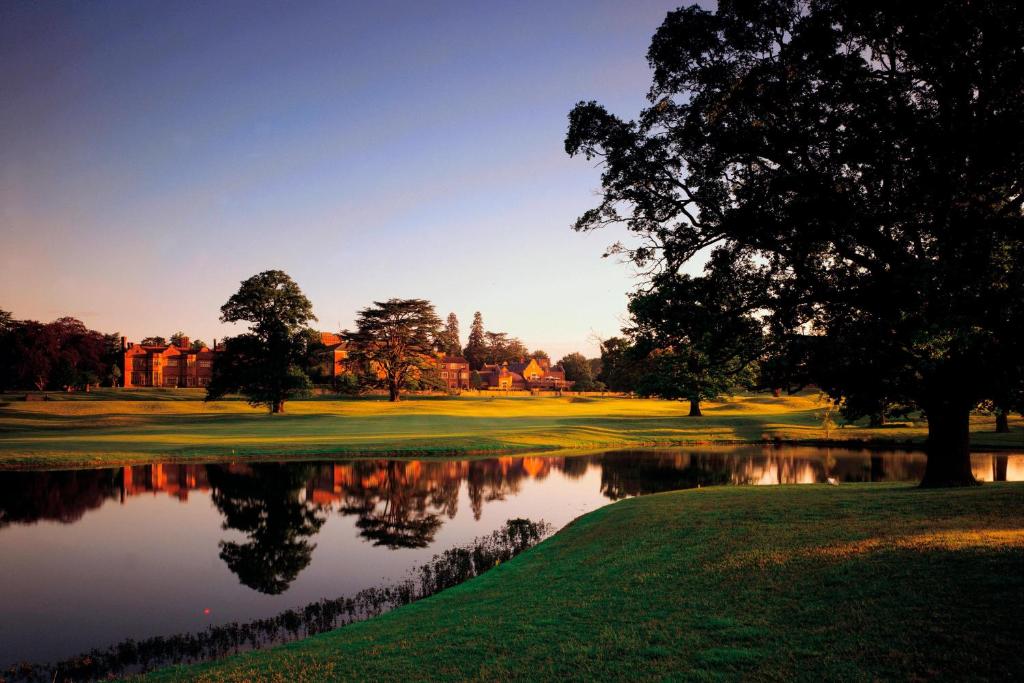 Nestled in 200 acres of picturesque parkland, Hanbury Manor Marriott Hotel & Country Club is a stunning 17th-century-style country house hotel located in Ware, Hertfordshire, just 25 miles from central London. This luxurious hotel offers an array of amenities, including its own PGA Championship golf course, an award-winning restaurant, and a leisure center complete with a pool, sauna, gym, spa bath, and steam rooms. The historic building seamlessly blends original character with modern luxury. The beautifully decorated rooms feature luxurious beds, flat-screen TVs, work desks, and laptop safes. Guests can indulge in delicious light meals and snacks at Vardon's sports bar or enjoy afternoon teas and cocktails by the real fire in the traditional wood-paneled bar. For a more contemporary dining experience with breathtaking views overlooking the hotel's golf course's 18th hole, guests can visit the Cast Iron Grill terrace. Complimentary WiFi is available for 24 hours in public areas. Although air conditioning is not available on-site and staying cool might be a challenge during hot summer months as a result; this minor inconvenience does not detract from the exceptional amenities offered at this charming countryside retreat. Golf enthusiasts will delight in the hotel's renowned golf course originally designed by Harry Vardon and later re-designed by Jack Nicklaus II. PGA professionals are readily available to assist guests with any golfing needs while the Golf Academy provides excellent tuition for those looking to improve their skills on the greens. With free parking provided and Stansted Airport less than 40 minutes away by car; Hanbury Manor Marriott Hotel & Country Club combines elegance and convenience to offer guests an unforgettable luxury stay.
– Stunning 17th-century-style country house set amidst sprawling parkland
– Own PGA Championship golf course providing top-notch facilities for avid golfers
– Award-winning restaurant offering delectable cuisine options
– Luxurious leisure center equipped with various facilities for ultimate relaxation
– Convenient location, just 25 miles from central London and close to Stansted Airport.
Sopwell House Hotel (Saint Albans)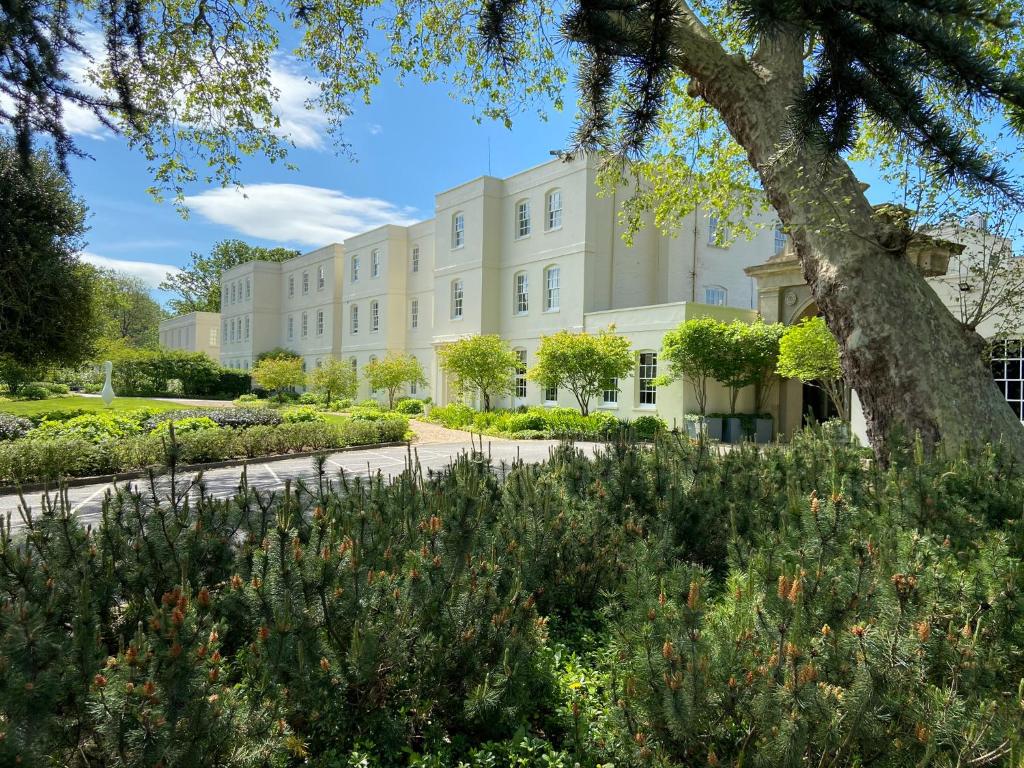 Sopwell House Hotel in Saint Albans is a stunning Georgian Country House Hotel that offers guests a truly luxurious and relaxing experience. With 12 acres of beautifully landscaped gardens, guests can indulge in leisurely strolls and enjoy the peace and tranquility of the surroundings. The hotel features a Brasserie restaurant serving delicious meals throughout the day, as well as a new dining sharing experience called Omboo, which is inspired by the spice routes of Asia and the Far East. The hotel also boasts impressive leisure facilities including a 14-meter pool, gym, fitness studio, steam room, two vitality pools, and a sauna. For an extra cost, guests can access the exclusive Club at Cottonmill Spa facilities. The spacious and elegantly decorated bedrooms offer modern amenities such as flat-screen TVs with Sky Sports channels and tea/coffee making facilities. Complimentary Elemis toiletries are provided in the private bathrooms. Guests can enjoy light meals and hot drinks at the Conservatory Bar or sip on cocktails late into the night at the Cocktail Lounge. Conveniently located just 30 minutes by train or a 40-minute drive from central London, Sopwell House Hotel ensures that guests have easy access to all that this vibrant city has to offer.
Pros:
– Beautiful Georgian Country House setting with expansive gardens
– Variety of dining options including an innovative Asian-inspired sharing experience
– Impressive leisure facilities including pools, gym, fitness studio, steam room,
vitality pools and sauna
– Spacious and elegantly decorated bedrooms with modern amenities
– Convenient location with easy access to central London
5 Star Luxury Hotels
5 Star Luxury Hotels are the epitome of grandeur and elegance, offering an unparalleled experience for discerning travelers. From stunning architecture to impeccable service, these hotels are designed to provide a sanctuary of opulence and comfort. Every aspect, from the meticulously decorated rooms to the lavish common areas, exudes luxury at every turn. With attention paid to every detail, guests can expect nothing less than perfection during their stay at these prestigious establishments. Indulge in world-class dining options, unwind in lavish spas, or simply bask in the breathtaking views that surround these magnificent properties. Whether it's for a romantic getaway or a business trip, 5 Star Luxury Hotels redefine hospitality and leave guests with memories that will last a lifetime.
The Manor Elstree (Elstree)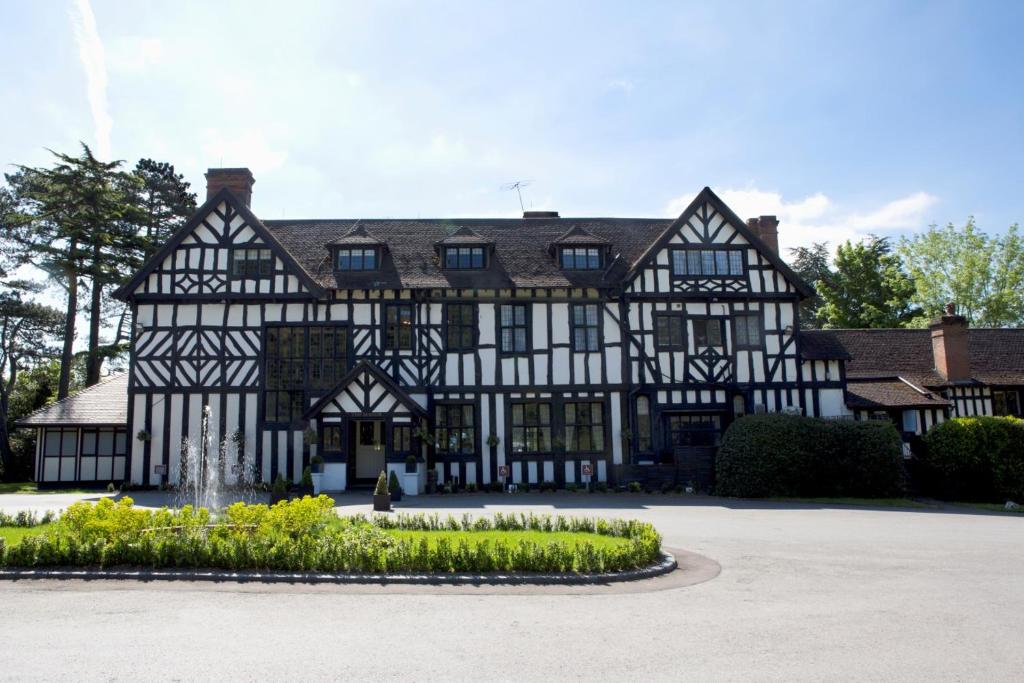 The Manor Elstree is a charming Tudor-style country house located just 13 miles from the bustling city center of London and conveniently close to the M1 motorway. Guests can enjoy picturesque garden views and indulge in exquisite fine dining experiences at this elegant hotel. Throughout the property, guests can stay connected with complimentary WiFi access. The interior of The Manor Hotel has been beautifully restored, with each room, luxury suite, bar, and restaurant furnished by renowned designer Laura Ashley. The bedrooms are situated in the 4-Star AA Silver Award house and feature amenities such as satellite TV and comfortable furnishings. For a delightful dining experience, guests can visit Edgwarebury Bar which overlooks the stunning hotel gardens. Additionally, guests have the option of enjoying a convenient grab-and-go breakfast during their stay. Those looking to explore London can easily access transportation services at nearby Elstree & Borehamwood Train Station, which provides direct access to London St Pancras Station.
Pros:
– Beautiful Tudor-style country house
– Fine dining experiences
– Free WiFi available throughout the property
– Stunning garden views from Edgwarebury Bar
– Convenient location near Elstree & Borehamwood Train Station for easy access to London St Pancras Station
Holiday Inn Stevenage (Stevenage)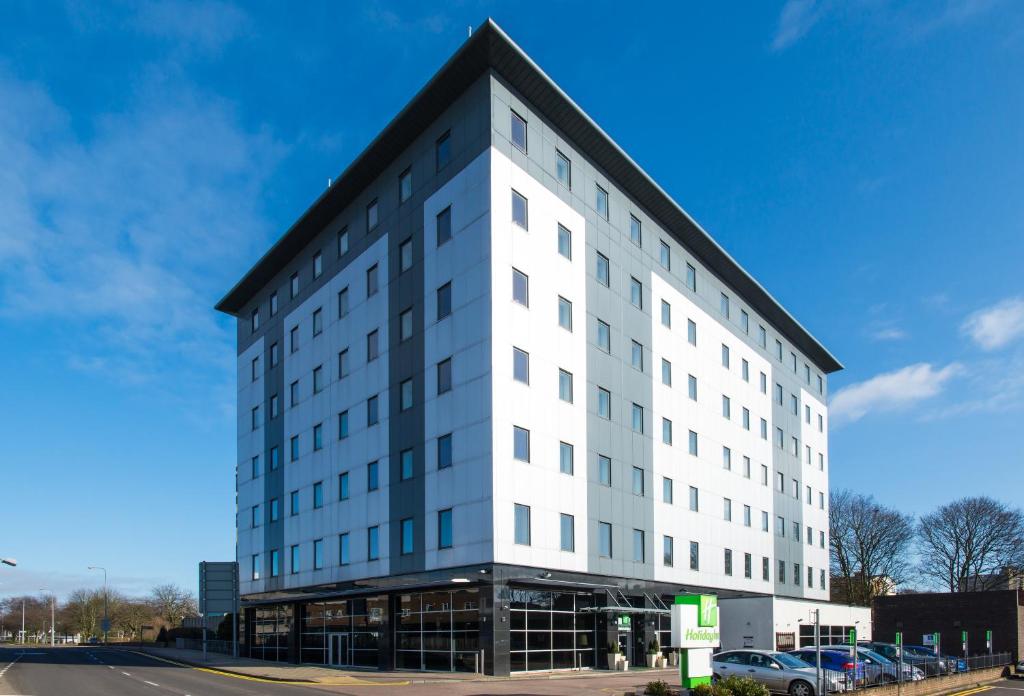 Located just a short distance from Stevenage's city centre and only a 10-minute walk from the railway station, Holiday Inn Stevenage is a modern and stylish hotel that offers convenience and comfort. With its mini-gym and the contemporary Destinations Bar and Restaurant, guests can enjoy both relaxation and exquisite dining experiences. The hotel is easily accessible from junction 7 of the A1 (M). For travelers arriving by air, London Luton Airport is just a 20-minute drive away, while central London can be reached in 25 minutes by train. Additionally, the historic city of Cambridge is only a 40-minute drive away. The hotel features air-conditioned rooms with flat-screen TVs, black-out curtains, tea/coffee making facilities, and en-suite facilities for ultimate guest convenience. Free WiFi is available throughout the entire premises. With conference facilities capable of accommodating up to 400 guests, Holiday Inn Stevenage offers an ideal location for both business events and leisure stays alike. Start your day off right with their buffet breakfast that includes a selection of continental and cooked items.
Pros:
– Close proximity to city centre
– Conveniently located near railway station
– Modern design with stylish bar and restaurant
– Easy access to major transportation routes
– Range of amenities including mini-gym
Kings Arms Hotel (Berkhamsted)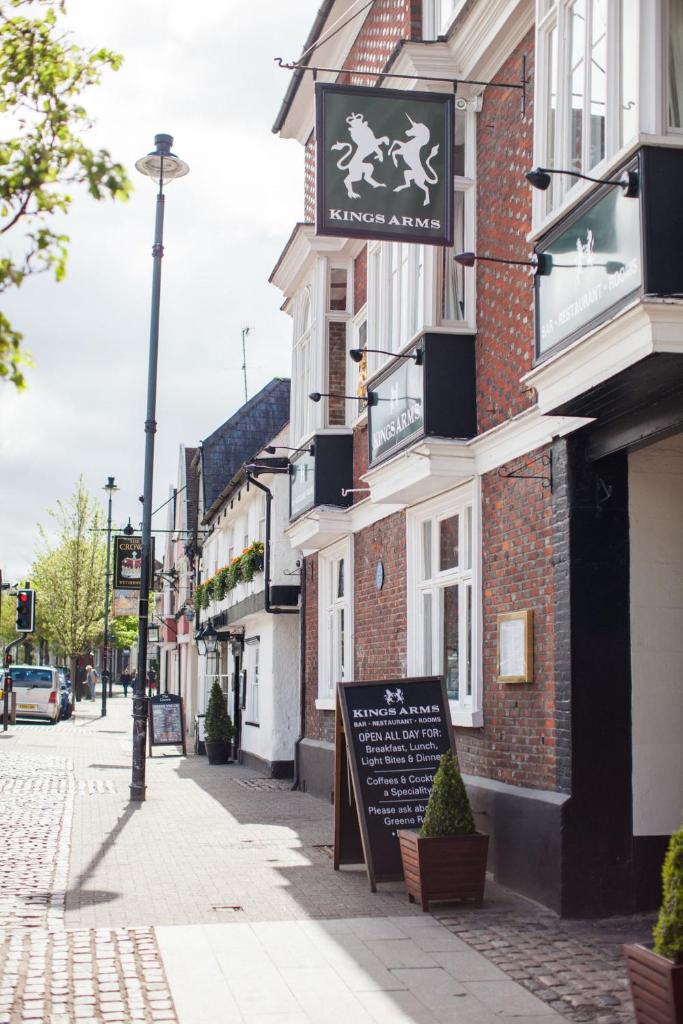 The Kings Arms Hotel in Berkhamsted is a charming 17th century former coaching inn situated in the heart of this historic town. The hotel offers luxurious boutique-style rooms, each individually decorated and named after a character from Graham Greene's novels. Guests can enjoy modern amenities such as iPod docking stations, private en suite bathrooms, flat-screen TVs, and free Wi-Fi. The hotel also boasts an elegant restaurant with an open plan charcoal grill, serving up delicious aged steaks, fresh fish, and locally sourced produce throughout the day. The stylish bar and lounge area offer a diverse range of beverages including local real ales, fine wines, champagne, and cocktails. With its blend of traditional charm and contemporary comforts, The Kings Arms Hotel provides a delightful stay for luxury travelers.
– Boutique-style rooms with luxurious amenities
– Unique decor inspired by Graham Greene's novels
– Elegant restaurant featuring an open plan charcoal grill
– Stylish bar offering a diverse selection of drinks
– Central location in the historic town of Berkhamsted
Most Expensive Hotels in Hertfordshire
Hertfordshire, located just a stone's throw away from the bustling city of London, boasts some of the most opulent and luxurious hotels in the region. The most expensive hotels in Hertfordshire offer an exclusive experience for discerning travelers seeking unparalleled elegance and indulgence. With their exquisite interiors, lavish furnishings, and impeccable service, these hotels redefine luxury hospitality. From glamorous suites with panoramic views to world-class dining experiences curated by renowned chefs, every aspect of these establishments is meticulously designed to cater to the desires of its esteemed guests. Whether it's a relaxing spa retreat or a memorable event at one of the grand ballrooms, staying at these upscale properties in Hertfordshire promises an unforgettable stay where no expense is spared.
Holiday Inn Hemel Hempstead M1 (Hemel Hempstead)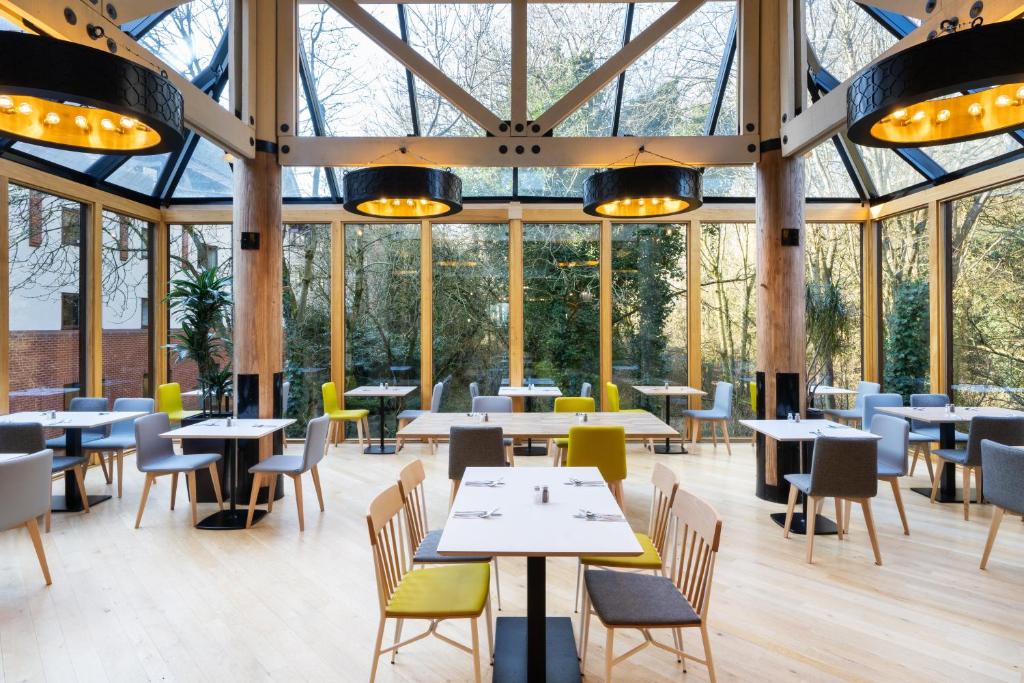 The Holiday Inn Hemel Hempstead M1, Jct. 8 is a conveniently located hotel just off the M1 (Junction 8) and easily accessible from the M25. Guests can enjoy a range of amenities including a fully equipped leisure club with an indoor swimming pool and fitness center. The hotel offers high-speed internet throughout and each air-conditioned room comes with a flat-screen HD TV and pillow menu. The on-site restaurant serves up delicious traditional British dishes and hosts themed menus, while the hotel bar offers pizzas, steaks, and Starbucks Coffee in the lounge. Families will also appreciate that kids under 13 eat for free. For those looking to explore the area, the hotel is just 8 miles from Luton Airport, 21 miles from Heathrow Airport, and 15 miles from Wembley Stadium. Good local rail links to London Euston are available as well as easy access to attractions like Warner Brothers Studio (10-minute drive) and Silverstone Race Track (53 miles away).
– Convenient location near major highways
– Fully equipped leisure club with indoor pool
– High-speed internet throughout
– On-site restaurant with themed menus
– Family-friendly policy: kids under 13 eat for free
Great Hallingbury Manor (Bishops Stortford)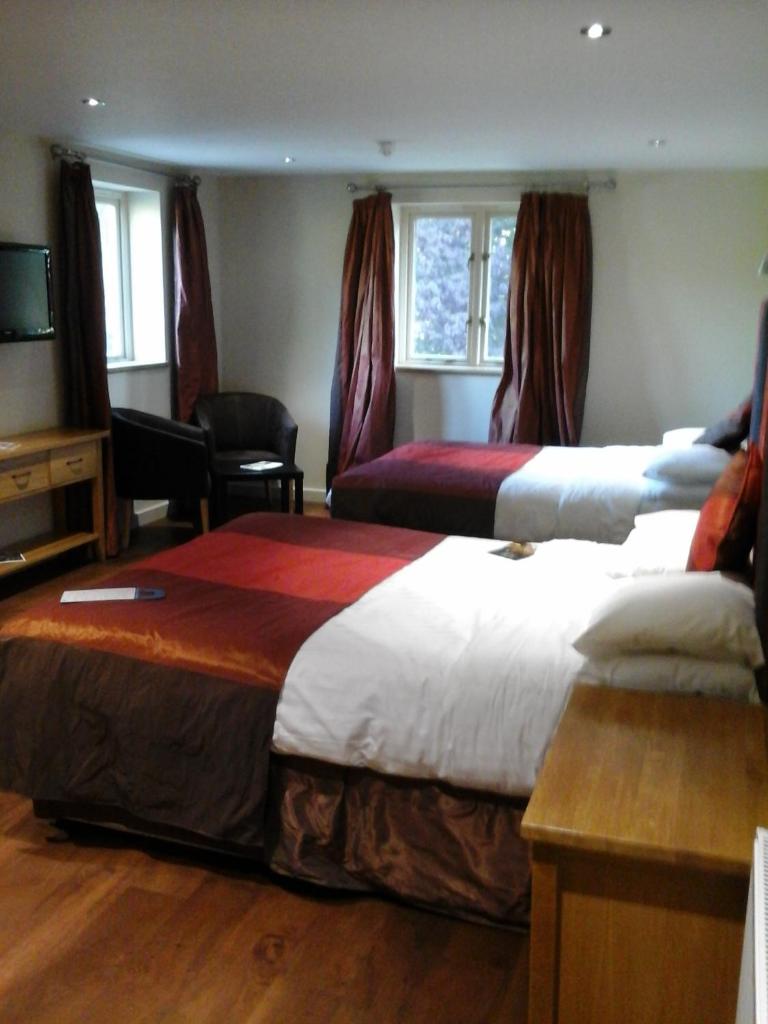 Just a 5-minute drive from Stansted Airport, Great Hallingbury Manor Hotel offers free overnight parking and high-speed internet access. This Tudor-style manor is surrounded by picturesque gardens and features a bar and lounge on-site. The stylish bedrooms are equipped with plasma-screen TVs and luxurious modern bathrooms. Guests can enjoy amenities such as free WiFi, work desks, and tea/coffee facilities in each room. Situated amidst the scenic Hertfordshire countryside, Manor Hotel at Great Hallingbury is conveniently located just a 5-minute drive from Bishop's Stortford. The hotel also provides free on-site parking and easy access to the M11 motorway. In addition to its excellent amenities, Great Hallingbury Manor is proud to be an eco-friendly hotel that strives for carbon neutrality.
– Convenient location near Stansted Airport
– Scenic gardens surrounding the Tudor-style manor
– Stylish rooms with modern amenities
– Free WiFi access throughout the hotel
– Commitment to sustainability as an eco-friendly accommodation
Aubrey Park Hotel (Hemel Hempstead)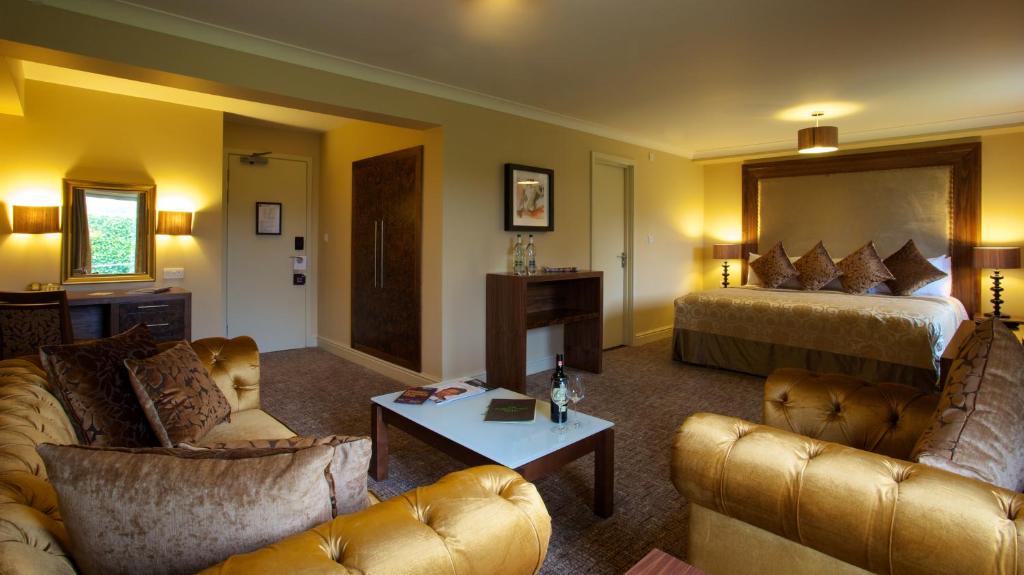 The Aubrey Park Hotel is a luxurious retreat nestled in the beautiful woodlands just a short drive from Hemel Hempstead and St Albans. Conveniently located only 8 miles from Luton Airport, with easy access to junction 9 of the M1 and the M25, this hotel offers ample free parking for guests. The rooms are elegantly appointed, featuring modern amenities such as free Wi-Fi, a 32-inch flat-screen TV, and an en suite bathroom with luxury toiletries. The on-site brasserie restaurant serves delectable dishes made with locally sourced produce, offering both traditional English breakfast options and a variety of continental choices. With its close proximity to attractions such as Harry Potter Studio Tours, Hertfordshire Show Grounds, Historic St.Albans, Whipsnade Zoo, Woburn Safari Park, and Hemel Hempstead Snow Center, the Aubrey Park Hotel provides an ideal base for exploring the surrounding area.
– Tranquil woodland setting
– Ample free parking
– Brasserie restaurant serving locally sourced dishes
– Close proximity to popular attractions
– Modern amenities in every room
Luxury Hertfordshire Hotels Information
| | |
| --- | --- |
| 🛎️ Luxury Hotels in Hertfordshire | 12 |
| 💵 Hotels Prices From | $129 |
| 💵 Highest price | $1351 |
| 🥇 Average Review Score | 7.6/10 |
| 🛏️ Average number of Rooms | 105 |
Top Luxury hotels in Hertfordshire
| | |
| --- | --- |
| Tewinbury (Tewin) | 8.7/10 |
| Sopwell House Hotel (Saint Albans) | 8.1/10 |
| Holiday Inn Stevenage (Stevenage) | 8/10 |
| Pendley Manor | 7.9/10 |
| Holiday Inn Hemel Hempstead M1 (Hemel Hempstead) | 7.9/10 |
FAQ
What are some luxury hotels in Hertfordshire?
Hertfordshire offers a range of luxury hotels that cater to different preferences. One option is the Grove, a picturesque estate set amidst 300 acres of stunning countryside. With luxurious rooms, an award-winning spa, and an 18-hole championship golf course, it provides a truly indulgent experience. Another noteworthy choice is the Sopwell House Hotel, boasting elegant suites, fine dining options, and a luxurious spa for ultimate relaxation. Additionally, The Brocket Hall Estate offers luxury accommodation in a historic setting with extravagant interiors and beautiful landscapes.
Are there any luxury hotels near Hertfordshire's major attractions?
Yes, there are several luxury hotels conveniently located near the major attractions in Hertfordshire. For example, the Hanbury Manor Marriott Hotel & Country Club is situated close to popular attractions like Hatfield House and Lee Valley Park. It features luxurious rooms with modern amenities and stunning views of its own 18-hole championship golf course. Another option is the Aubrey Park Hotel which provides easy access to Whipsnade Zoo and St Albans Cathedral while offering comfortable rooms and excellent leisure facilities.
What amenities can I expect at luxury hotels in Hertfordshire?
Luxury hotels in Hertfordshire offer a wide range of amenities to ensure guests have an extraordinary experience during their stay. From upscale spas providing rejuvenating treatments to state-of-the-art fitness centers equipped with top-notch equipment for guests' well-being – you can expect nothing but excellence. Moreover, most luxury hotels offer exceptional dining experiences with renowned chefs crafting exquisite menus using locally sourced ingredients. Dedicated concierge services are also available for personalized recommendations on exploring local attractions or arranging transportation.
Do luxury hotels in Hertfordshire provide exclusive experiences or activities?
Absolutely! Luxury hotels in Hertfordshire go beyond providing comfortable accommodations by offering exclusive experiences and activities tailored for their guests. Many hotels organize guided tours to nearby attractions, such as historic sites or scenic walks in the countryside. Some even have their own on-site activities like cooking classes, wine tastings, or afternoon tea ceremonies that allow guests to immerse themselves in local culture and traditions.
What is the best time to visit Hertfordshire for a luxury hotel experience?
Hertfordshire can be enjoyed throughout the year, but certain seasons offer unique experiences for luxury hotel travelers. Spring (March to May) brings pleasant weather and blooming gardens, making it an ideal time for outdoor activities and exploring the countryside. Summer (June to August) offers longer days with festivals and events happening across the county. Autumn (September to November) showcases stunning fall foliage and harvest celebrations. Winter (December to February) presents a cozy atmosphere with festive decorations and warm hospitality at luxury hotels, creating an enchanting experience for visitors seeking relaxation during colder months.
Popular Most Luxurious hotel destinations