Welcome to the stunning city of Hamburg, Germany, where luxury accommodations await you at every corner. In this guide, we will take you on a virtual journey through the finest and most opulent hotels that Hamburg has to offer. Prepare to be captivated by the elegance and grandeur of these lavish establishments as we delve into their unique features and unrivaled hospitality.
As you explore this vibrant port city, indulge in a stay at one of Hamburg's exquisite lodgings, where comfort merges seamlessly with sophistication. Immerse yourself in the charm of historic boutique hotels that exude a timeless allure or opt for contemporary establishments boasting cutting-edge design elements. From sumptuous suites with panoramic views of the Elbe River to meticulously crafted amenities that cater to your every need, these luxurious accommodations promise an unforgettable experience.
Whether you are seeking a relaxing retreat or a glamorous urban escape, our guide will lead you through an array of options that guarantee utmost indulgence during your visit to Hamburg. So sit back, relax, and let us transport you into a world where impeccable service meets unparalleled elegance in one of Europe's most enchanting cities.
Most Luxurious Hotels in Hamburg
Mercure Hotel Hamburg City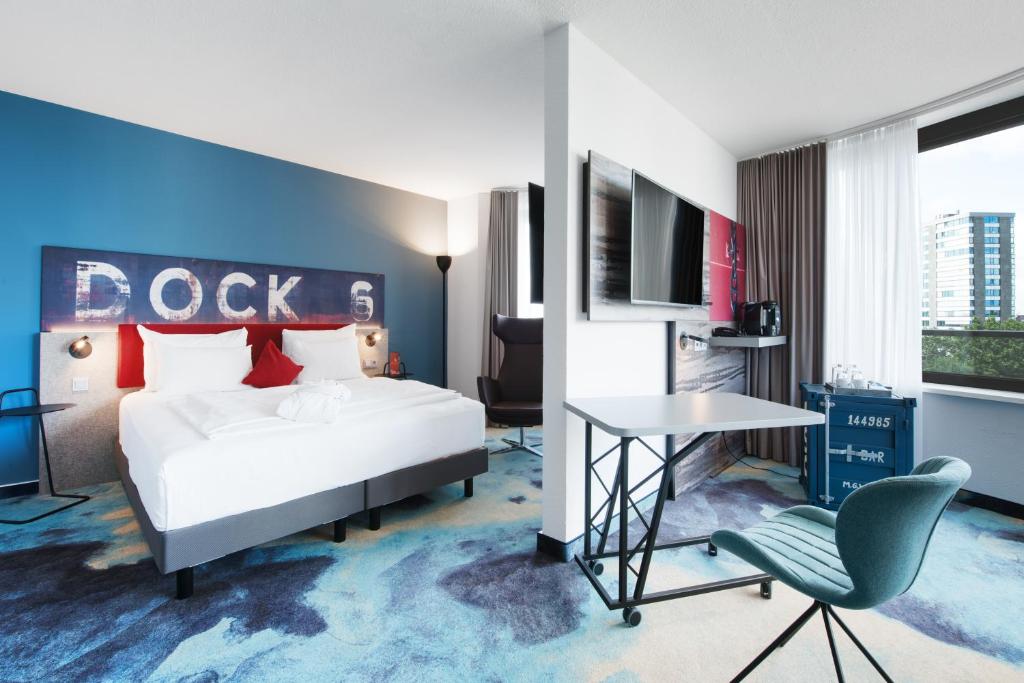 The newly renovated Mercure Hotel Hamburg City offers a prime location close to popular attractions such as the Speicherstadt, Mehr! Theater, city centre, and main train station. The hotel features soundproofed rooms with modern amenities including air conditioning, a 50-inch LCD flat-screen TV, and a portable desk. Guests can indulge in international cuisine and regional specialties at the on-site Pier_1163 bistro and bar, while daily breakfast is also available. The hotel boasts leisure facilities including a bar, and the KAI10 lounge can be reserved for private events. Convenient transportation is provided by the nearby Hammerbrook S-Bahn station which connects to the main train station within minutes. For those traveling by car, the hotel offers its own large underground car park as well as paid parking spaces in front of the hotel entrance.
Pros:
– Newly renovated rooms with modern amenities
– Prime location near attractions and public transportation
– On-site bistro and bar serving delicious cuisine
– Leisure facilities including a bar
– Private event space available
INNSiDE by Meliá Hamburg Hafen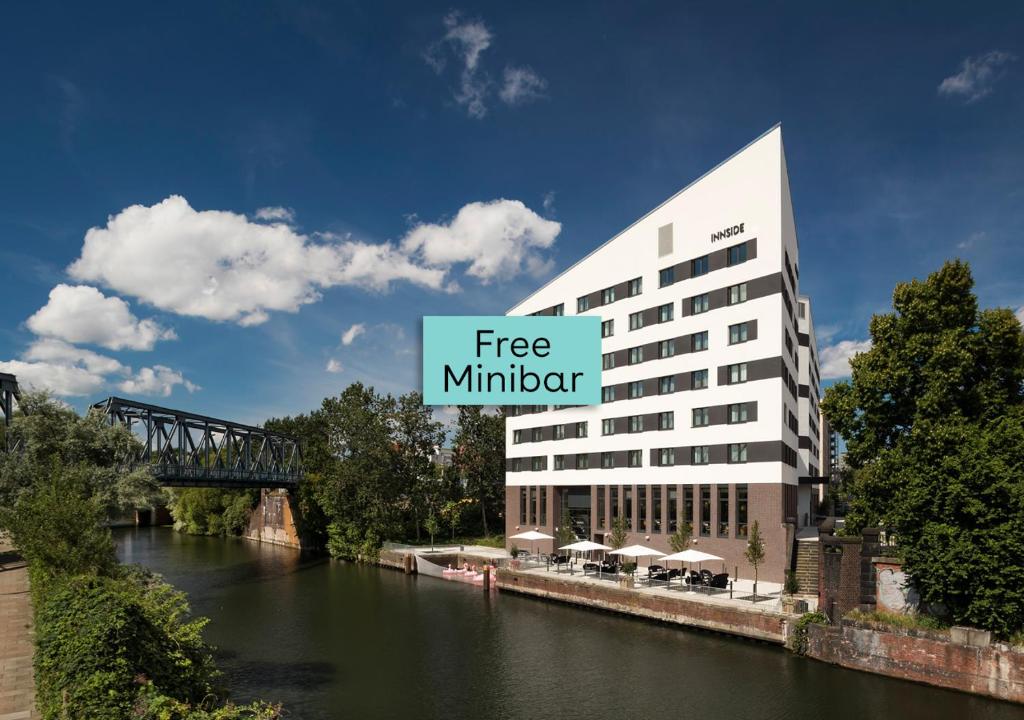 Conveniently situated between Hamburg's lively harbour city and the historic warehouse districts, the INNSIDE by Meliá Hamburg Hafen is a fantastic choice for travelers looking for a stylish and comfortable stay. This 4-star hotel offers a range of amenities including a terrace, sauna, and gym. The spacious rooms feature an attractive urban design with modern furnishings. Guests can enjoy the convenience of flat-screen TVs and open-plan bathrooms with rain showers, complimentary toiletries, and hairdryers. The on-site restaurant serves both regional Northern German dishes and international cuisine, with the added bonus of a terrace overlooking the canal. For added convenience, there is also a 24-hour front desk available at this property. Located just 10 km from Hamburg Airport, INNSIDE by Meliá Hamburg Hafen ensures a seamless travel experience.
– Convenient location between harbour city and warehouse districts
– Terrace overlooking the canal
– Sauna and gym facilities available
– Stylish rooms with modern amenities
– On-site restaurant serving regional and international cuisine
Hotel Baseler Hof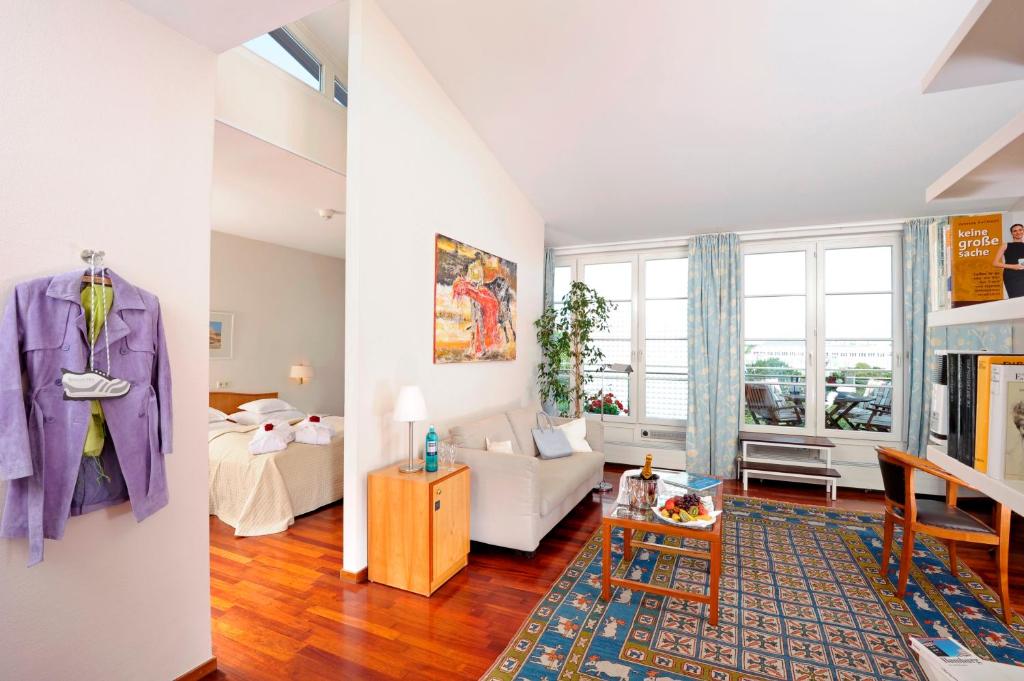 Hotel Baseler Hof is a traditional hotel conveniently located in the heart of Hamburg, between the Alster lake and the Planten un Blomen gardens. The hotel offers comfortable en suite rooms with wireless internet access, providing a cozy and welcoming atmosphere. Guests can kickstart their day with an excellent breakfast buffet before venturing out to explore the city. In the evening, they can indulge in a delightful dining experience at Kleinhuis, the hotel's restaurant and wine bar, which boasts an impressive selection of over 40 wines along with a variety of coffees, teas, and cakes. The hotel's prime location allows guests easy access to Dammtor railway station, shopping streets, and the CCH congress center—all within walking distance. As an added bonus upon arrival, guests receive a 3-day ticket for free travel on all public transport.
Pros:
– Central location in Hamburg
– Cozy and warmly-lit rooms
– Excellent breakfast buffet
– Restaurant and wine bar offering extensive options
– Convenient proximity to transportation hubs and popular attractions
Other places to stay in Hamburg
Luxury Hotels in Downtown Hamburg
Downtown Hamburg boasts a remarkable array of luxury hotels, each offering an unparalleled experience in opulence and refinement. Nestled amidst the vibrant city streets, these prestigious accommodations exude timeless elegance and sophisticated charm. From grand facades to impeccably designed interiors, every detail is meticulously crafted to provide guests with the ultimate indulgence. With a fusion of modern amenities and top-notch service, these luxury hotels promise an unforgettable stay in the heart of Hamburg's bustling downtown district.
Steigenberger Hotel Treudelberg Hamburg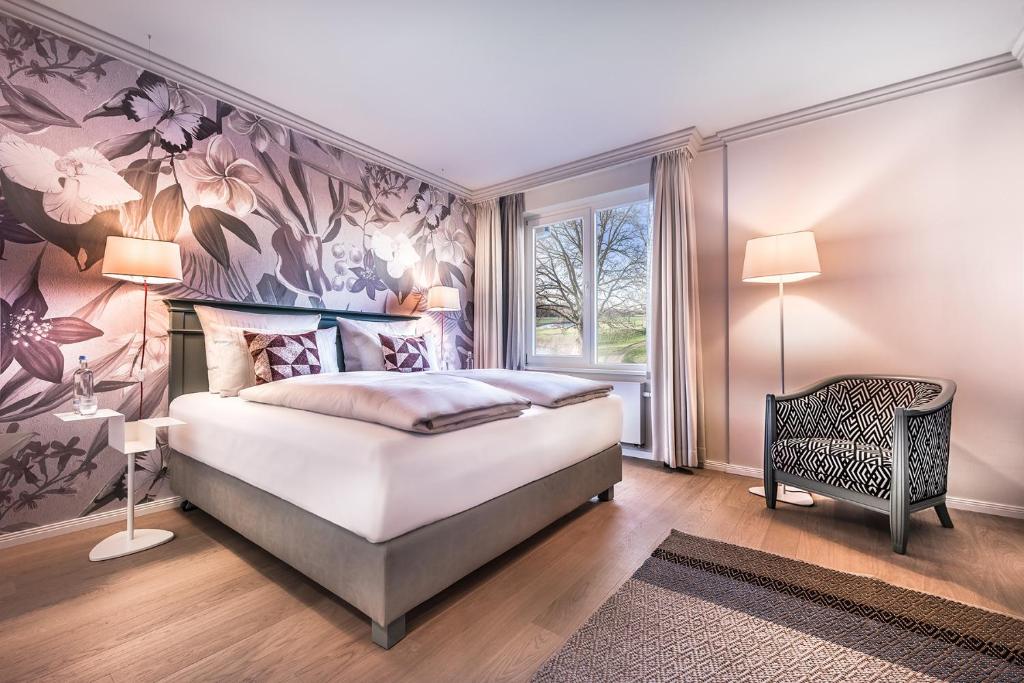 Situated in the scenic Alstertal Reserve, alongside the Treudelberg Golf Club, the Steigenberger Hotel Treudelberg Hamburg offers a luxurious retreat just 15 km away from Hamburg city center. This upscale hotel boasts a range of amenities including a free spa, private golf facilities, and an exquisite restaurant. Guests can indulge in relaxation at the Country Club, featuring a spacious sauna area, an inviting indoor pool, and a well-equipped fitness center. The hotel's rooms are beautifully appointed with satellite TV and elegant bathrooms. For an additional fee, guests can enjoy playing on the 27-hole championship golf course or pamper themselves with indulgent massages and beauty treatments. Culinary delights await at Hotel Treudelberg's Bistro 19 and à-la-carte Restaurant Lemsahler, while the large summer terrace and trendy Treudelbar provide delightful spots to unwind.
Pros:
– Indoor pool for year-round swimming enjoyment
– Free spa facilities for ultimate relaxation
– Private golf facilities with access to a championship course
– Elegant rooms with satellite TV
– Excellent dining options including international cuisine in Bistro 19 and Restaurant Lemsahler
Hotel Louis C. Jacob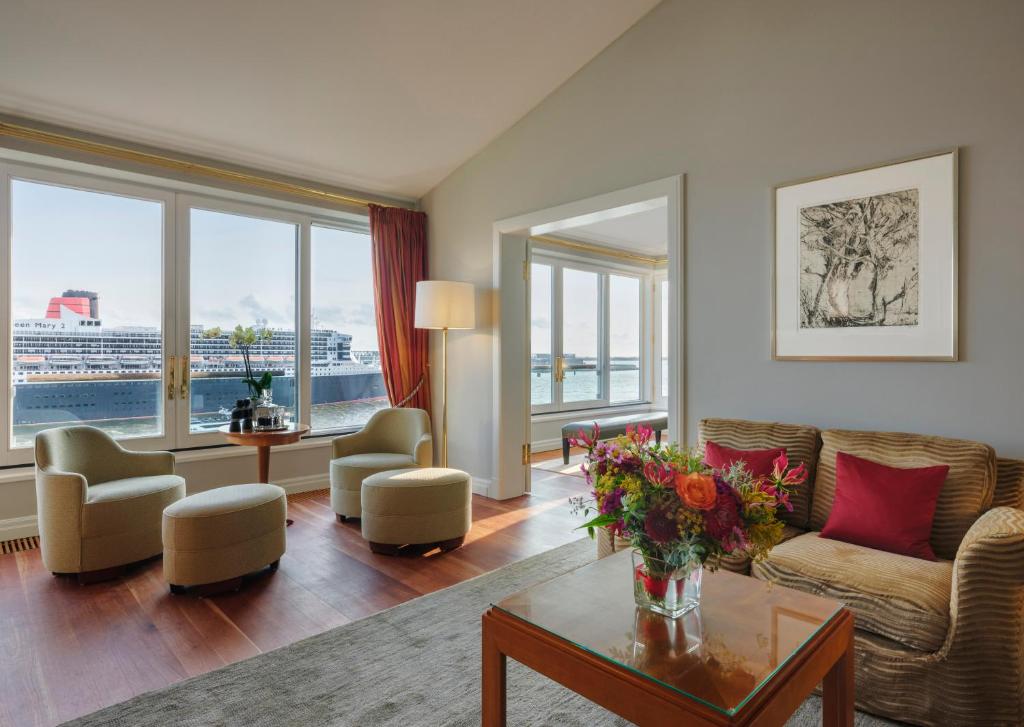 Located on the picturesque River Elbe, Hotel Louis C. Jacob is a luxurious 5-star hotel that offers guests an unforgettable experience. With elegant rooms featuring free WiFi, a spa and an impressive restaurant, this hotel provides everything you need for a comfortable stay. The renowned Jacobs Restaurant serves modern cuisine with French influences and boasts a large wine cellar, while its opulent decor including crystal chandeliers, wall paintings, and stucco ceilings adds to the overall charm. Dating back over 200 years, the hotel exudes history and character. The rooms and suites are tastefully designed with wooden flooring, hand-made rugs, walk-in wardrobes, and Nespresso coffee machines. Some rooms also offer breathtaking views of the River Elbe. Guests can enjoy dining on the linden terrace while taking in the stunning vistas or take advantage of the available rental bicycles to explore nearby attractions like Hochkamp S-Bahn Station, Jenisch Park, and Hirsch Park – all within a 15-minute walking distance.
– Elegant rooms with free WiFi
– Impressive restaurant serving modern cuisine
– Breathtaking views of the River Elbe from some rooms
– Convenient location with easy access to Hamburg's city centre by bus
– Accessible attractions such as Hochkamp S-Bahn Station and beautiful parks within walking distance
Henri Hotel Hamburg Downtown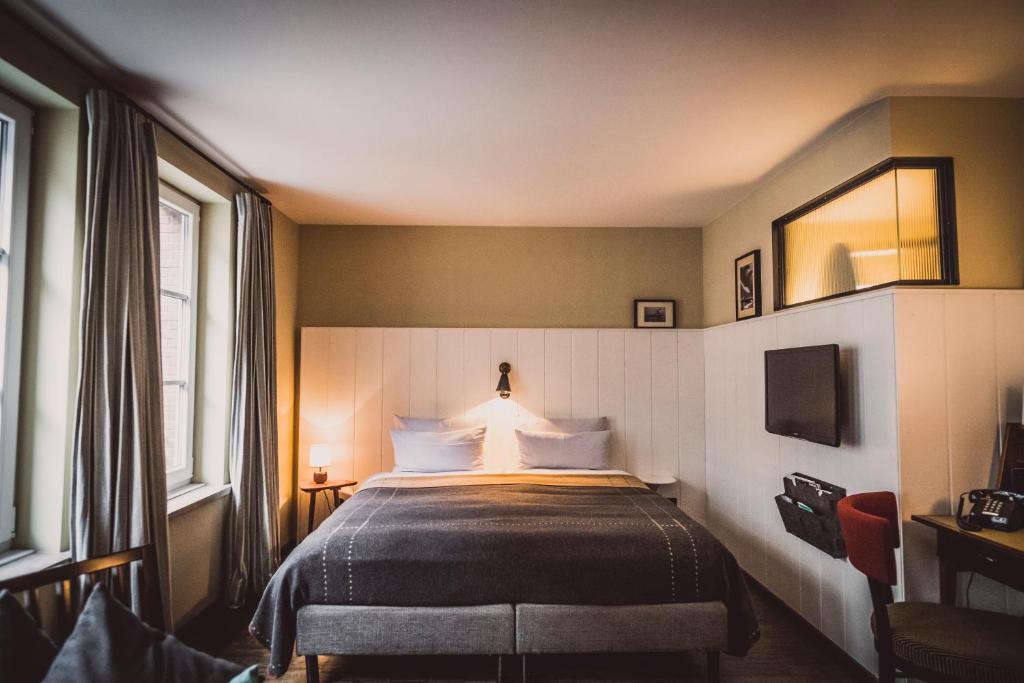 Henri Hotel Hamburg Downtown is a modern luxury hotel located in the heart of Hamburg, just a 5-minute walk from the Central Train Station. It offers spacious suites and studios with hand-crafted furniture and solid wooden flooring. The hotel features amenities such as a sauna, gym, and free WiFi access in the stylish lounge area. Mönckebergstraße Underground Station is conveniently located only 90 meters away, providing excellent connections around the city. Each room is equipped with a large flat-screen TV, hot drinks facilities, an open bathroom concept with separate WC, and some rooms even have fully equipped kitchenettes available for a surcharge. Guests can enjoy a rich buffet breakfast and drinks served daily in Henri's Kontor lounge area. The lively Hafencity district with its shops, bars, and restaurants is only 1.5 km away for those looking to explore more of what Hamburg has to offer. After a long day of sightseeing or business meetings, guests can unwind in the sauna or work out in the gym while enjoying scenic views of the city.
Pros:
– Convenient location near Hamburg Central Train Station
– Spacious suites and studios with stylish decor
– Amenities include sauna and gym for relaxation
– Free WiFi access available throughout the hotel
– Option to upgrade to rooms with fully equipped kitchenettes
5 Star Luxury Hotels
5 Star Luxury Hotels offer an unparalleled experience of opulence and sophistication. From the moment guests step into these grand establishments, they are greeted by a world of refined elegance and impeccable service. Every detail, from the sumptuous décor to the exquisite furnishings, is carefully curated to create an atmosphere of indulgence. The dedicated staff anticipates every need and desire, ensuring that guests feel like royalty throughout their stay. These luxurious havens boast top-notch amenities, exclusive services, and gastronomic delights that tantalize taste buds. Whether it's unwinding in lavish spas or savoring gourmet cuisine at world-class restaurants, 5 Star Luxury Hotels provide an unforgettable retreat for discerning travelers seeking nothing but the best.
Holiday Inn – Hamburg – HafenCity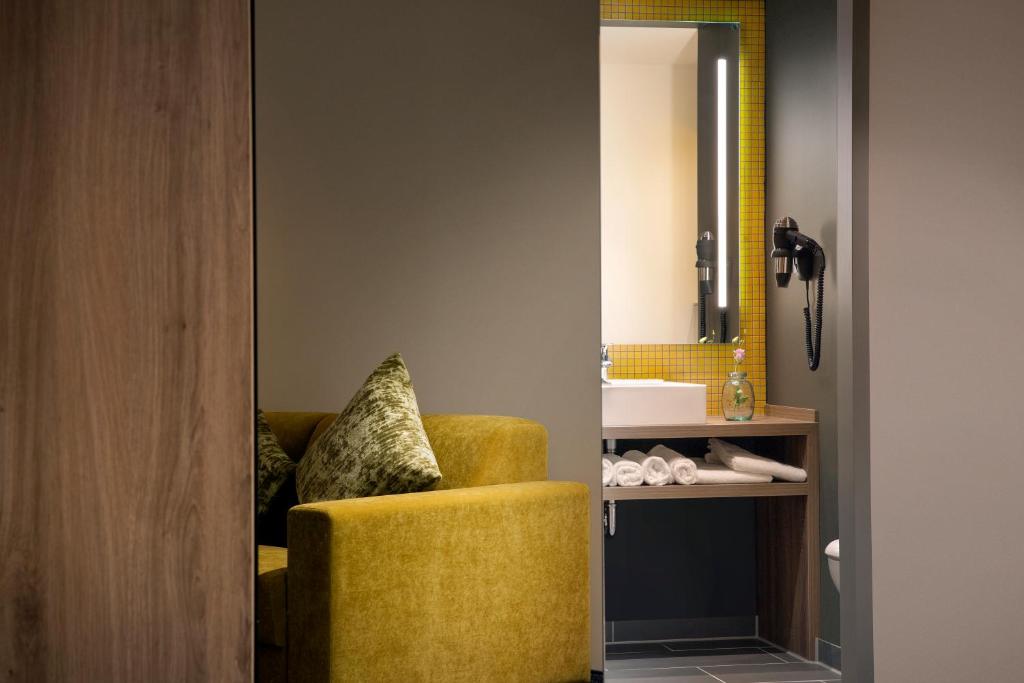 The Holiday Inn – Hamburg – HafenCity is a stylish new hotel located in the vibrant HafenCity district of Hamburg. Offering contemporary-style rooms and suites, this hotel provides all the modern amenities guests need for a comfortable stay. Each room includes individually adjustable air conditioning, a 43-inch flat-screen TV, a desk, high-quality bedding and a pillow menu. Suites also offer a living area, bathrobes, slippers and a complimentary minibar. Guests can enjoy free WiFi throughout the hotel and make use of the convenient 24-hour business centre. The 6th-floor gym provides stunning views of Hamburg while guests work up a sweat. The open lobby is an inviting space to relax, check emails or grab something to eat at the café or restaurant serving regional German and modern European dishes. Room service is available around the clock for those who prefer to dine in privacy. The hotel's location allows guests to easily explore popular attractions such as the River Elbe, Speicherstadt warehouse buildings, and the impressive Elbphilharmonie concert hall which are all within walking distance. Local buses and the nearby HafenCity Universität Underground Station provide excellent connections to other parts of Hamburg. On-site parking is available for an additional charge making it convenient for guests with their own vehicles. With its contemporary design, fantastic amenities, and prime location in HafenCity district, Holiday Inn – Hamburg – HafenCity offers guests an exceptional luxury experience.
Pros:
– Stylish new hotel located in vibrant HafenCity district
– Contemporary-style rooms with modern amenities
– 24-hour business center and gym with great views
– Open lobby with cafe and restaurant serving regional German cuisine
– Convenient location within walking distance of popular attractions
Hyperion Hotel Hamburg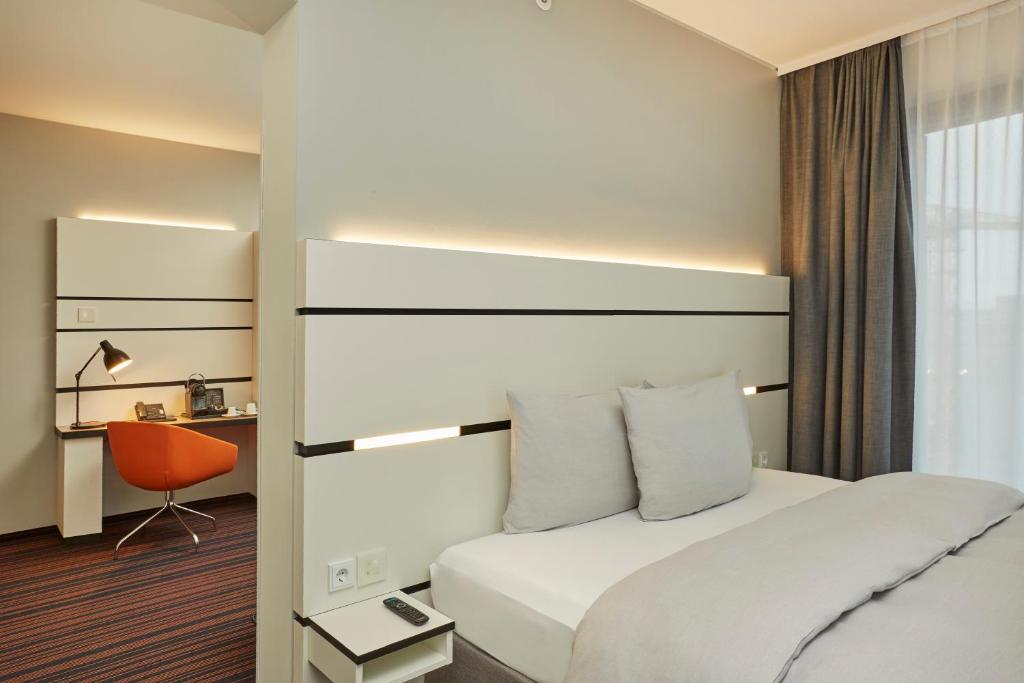 Located just 800 meters from Speicherstadt, Hyperion Hotel Hamburg offers guests a luxurious stay in the heart of the city. The hotel features BAR 11 on the eleventh floor, providing stunning views of the city, as well as an on-site restaurant called Gaumenfreund. Guests can indulge in relaxation at the spa area, which includes a Kneipp footbath, sauna, and whirlpool tub. With free WiFi throughout the property and paid parking available, convenience is prioritized for guests. The rooms are elegantly designed and equipped with a flat-screen TV and private bathroom with bath or shower. A 24-hour front desk is available for assistance, ensuring a seamless stay for all guests.
– Convenient location near Speicherstadt
– Stunning views from BAR 11
– On-site restaurant offering delectable cuisine
– Relaxing spa area with various amenities
– Free WiFi throughout the property
Leonardo Hotel Hamburg Altona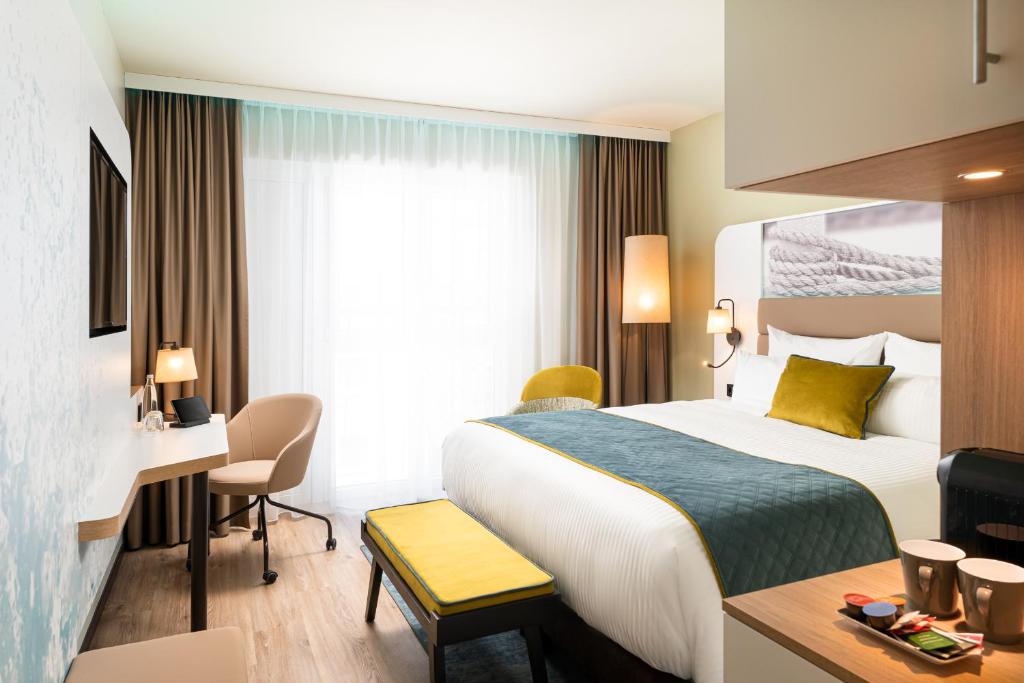 Opened in February 2022, Leonardo Hotel Hamburg Altona is a luxurious accommodation option located in the vibrant city of Hamburg. Situated just 3.3 km from Hamburg-Altona Train Station, this hotel offers convenience and comfort to its guests. The property features a fitness centre, private parking, a restaurant, and a bar. With room service and a 24-hour front desk, guests have access to all the necessary amenities during their stay. The hotel also boasts free WiFi throughout the property and is allergy-free for added convenience. Each air-conditioned room comes equipped with a desk, coffee machine, safety deposit box, flat-screen TV, and a private bathroom with a shower. Bed linen and towels are provided for every guest. In the morning, visitors can enjoy a buffet breakfast that includes vegetarian or gluten-free options. For those on business trips, there is also a business centre available on site along with vending machines offering snacks and drinks. The hotel's location puts it within close proximity to popular attractions such as Volksparkstadion (3.7 km), Port of Hamburg (4.8 km), and Hamburg Fair (5.1 km). With Hamburg Airport just 8 km away from the hotel, guests have easy access to transportation options for their travels.
– Convenient location near train station
– Fitness centre on-site
– Free WiFi throughout the property
– Buffet breakfast with vegetarian or gluten-free options
– Business centre available
Most Expensive Hotels in Hamburg
Hamburg, a vibrant city in Germany, offers an array of luxurious accommodations that cater to discerning travelers seeking the most extravagant experiences. These opulent hotels in Hamburg boast stunning architecture and impeccable design, promising unparalleled elegance and sophistication. With their exclusive locations throughout the city, guests can enjoy breathtaking views of the picturesque surroundings. Pampering services and world-class dining options further enhance the lavishness provided by these top-tier establishments, ensuring an unforgettable stay for those seeking the utmost in luxury.
Barceló Hamburg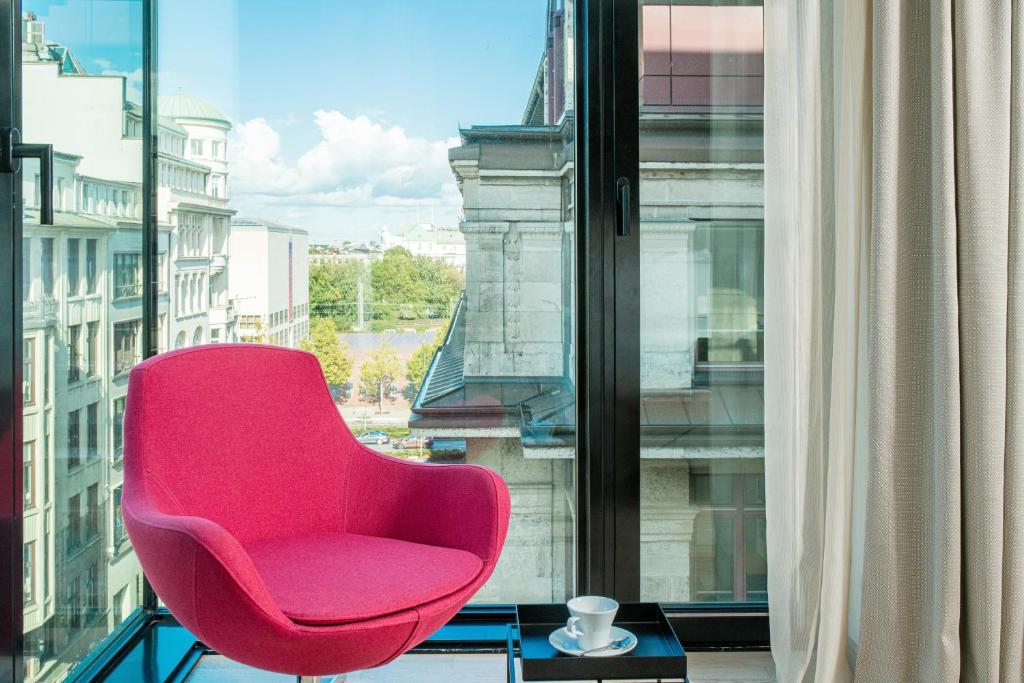 The Barceló Hamburg is a modern 4-star-Superior hotel located in the heart of central Hamburg. With its contemporary Spanish-style rooms, this hotel offers a stylish and comfortable stay for guests. The hotel features an elegant restaurant, lobby bar, sauna, and fitness facilities. Its convenient location just 500 meters from Hamburg Central Station makes it easily accessible for travelers. The 1700 restaurant serves as a breakfast café and à la carte restaurant offering Mediterranean dishes with a northern German touch made from locally sourced ingredients. The B-Lounge provides a cozy atmosphere with its wine bar and patio terrace. Guests can also enjoy the on-site gym and sauna facilities. Additionally, the hotel is within walking distance to popular shops, cafes, restaurants on Mönckebergstrasse, as well as Binnenalster Lake which provides a picturesque jogging route. Overall, the Barceló Hamburg offers modern luxury in a convenient location.
– Modern interior design
– Free Wi-Fi
– Excellent sauna and fitness facilities
– Convenient location near Hamburg Central Station
– Locally sourced Mediterranean cuisine at the 1700 restaurant
Luxury Hamburg Hotels Information
| | |
| --- | --- |
| 🛎️ Luxury Hotels in Hamburg | 10 |
| 💵 Hotels Prices From | $290 |
| 💵 Highest price | $1617 |
| 🥇 Average Review Score | 8.3/10 |
| 🛏️ Average number of Rooms | 197 |
Top Luxury hotels in Hamburg
| | |
| --- | --- |
| Henri Hotel Hamburg Downtown | 8.7/10 |
| Leonardo Hotel Hamburg Altona | 8.7/10 |
| Holiday Inn – Hamburg – HafenCity | 8.5/10 |
| Steigenberger Hotel Treudelberg Hamburg | 8.4/10 |
| Hotel Louis C. Jacob | 8.4/10 |
FAQ
What are the top luxury hotels in Hamburg?
Hamburg boasts a variety of luxury hotels that cater to discerning travelers. Some of the top options include The Fontenay, a stunning waterfront hotel with breathtaking views and impeccable service
Which luxury hotels in Hamburg offer spa facilities?
For those seeking relaxation and rejuvenation during their stay, several luxury hotels in Hamburg offer exceptional spa facilities. The Fontenay features a state-of-the-art spa with an indoor/outdoor pool, sauna, steam room, and various treatment rooms. Another notable option is SIDE Design Hotel Hamburg, which offers a stylish spa area complete with a Finnish sauna, bio-sauna, steam bath, ice fountain, and relaxation areas.
Are there any luxury hotels near major attractions in Hamburg?
Yes! There are several luxury hotels conveniently located near major attractions in Hamburg. The Park Hyatt Hamburg is situated in the heart of the city center and is just steps away from popular landmarks such as Mönckebergstraße shopping street and St. Michael's Church. Additionally, THE MADISON Hotel is within walking distance of HafenCity district and offers easy access to attractions like Miniatur Wunderland and Speicherstadt.
Do luxury hotels in Hamburg have fine dining restaurants?
Absolutely! Luxury hotels in Hamburg are renowned for their exceptional culinary offerings. Many of them feature fine dining restaurants that showcase both local specialties and international cuisine prepared by talented chefs. For instance, guests can indulge in gourmet delights at Lakeside Restaurant at The Fontenay or Haerlin Restaurant at Fairmont Hotel Vier Jahreszeiten – both Michelin-starred establishments offering unforgettable dining experiences.
What amenities can I expect at luxury hotels in Hamburg?
Luxury hotels in Hamburg pride themselves on providing a wide range of amenities to ensure a truly luxurious stay. Apart from spacious and elegantly appointed rooms, common amenities include fitness centers, spa facilities, exquisite dining options, concierge services, and 24-hour room service. Many luxury hotels also offer additional perks such as rooftop terraces, swimming pools, private balconies with panoramic views, and exclusive access to club lounges for extra comfort and convenience.
Popular Luxury Hotels destinations