Welcome to the stunning city of Geneva, Switzerland – a place of wonder and opulence where luxury hotels reign supreme. Nestled on the banks of Lake Geneva, this picturesque destination offers visitors a unique blend of French sophistication and Swiss charm. Rich in history and culture, the city boasts a plethora of world-class museums, galleries, and haute couture boutiques.
Geneva is renowned for its lavish accommodations that cater to discerning travelers seeking exceptional service, amenities, and unparalleled views. Whether you're looking for a classic elegance or contemporary chic vibe, you'll find it all in these luxurious properties that offer sumptuous suites with high-end furnishings and state-of-the-art equipment. From fine dining restaurants to rooftop lounges with panoramic vistas over the lake's sparkling waters and snow-capped mountains beyond, every aspect has been designed to provide an unforgettable experience for guests. Come discover what makes Geneva one of Europe's most exclusive destinations!
Most Luxurious Hotels in Geneva
Beau-Rivage Genève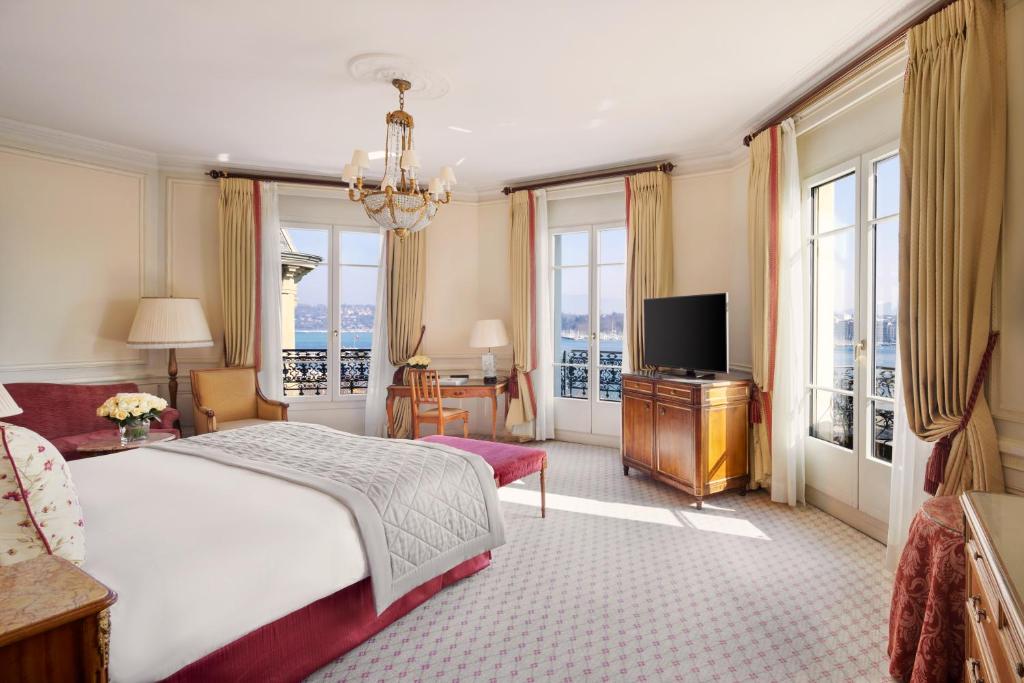 Hotel Beau-Rivage Genève is a luxurious hotel situated in the heart of Geneva and boasts magnificent panoramic views of Lake Geneva and Mont Blanc. The UN's Palais des Nations is located close to the hotel, making it an ideal location for business travelers. Guests can enjoy free Wi-Fi throughout the property and indulge in French cuisine at Le Chat Botté restaurant which has been rated with 1 star in the 2015 Michelin Guide and with 18 out of 20 points in the 2012 Gault Millau restaurant guide. Additionally, there is a chef's private table located inside the kitchen which can accommodate up to 8 guests. For those looking to unwind, there is a peaceful atrium available as well as a lakeside terrace during summer months. Other key attractions such as the business and shopping area are only a short walk away, while an airport limousine transfer service can be arranged at an additional cost.
– Stunning panoramic views of Lake Geneva and Mont Blanc
– Michelin-starred French cuisine at Le Chat Botté restaurant
– Relaxing atrium and lakeside terrace for guests to unwind
– Convenient location close to important business areas
– Airport limousine transfer service available upon request
Les Armures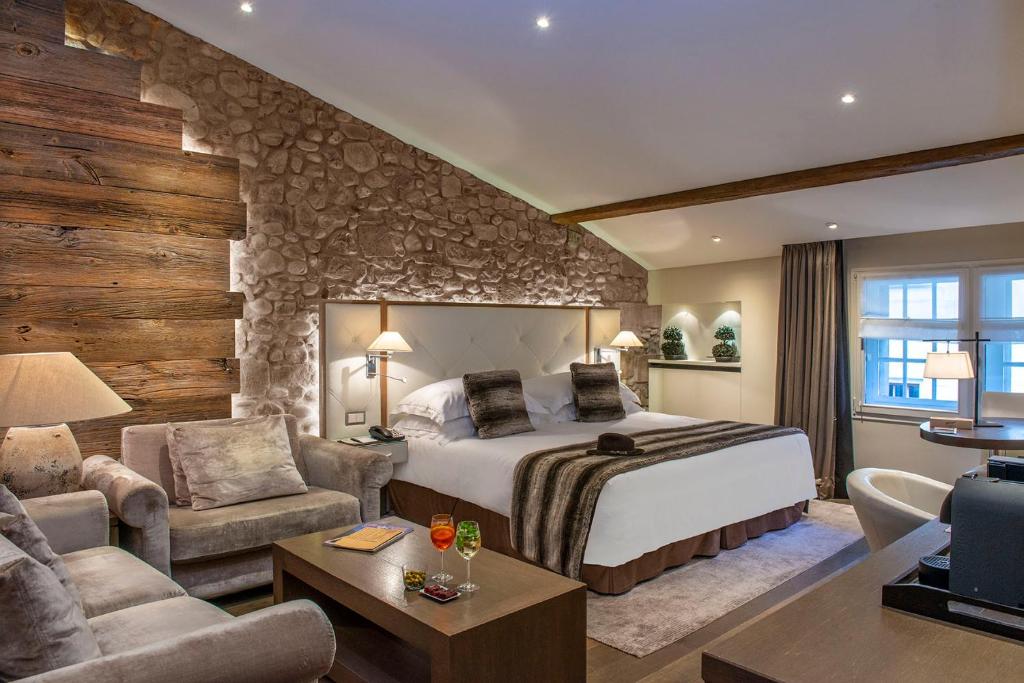 Les Armures is a unique luxury hotel situated in the heart of Geneva's old town. Housed in a 17th-century building, it offers guests a historic atmosphere with charming rooms and fine dining options. The hotel's prime location provides easy access to shopping districts, museums and lake-front promenades. The restaurant serves classic French gourmet cuisine while the cellar houses cheese specialties such as Raclette and Fondue. Guests can enjoy unpretentious but luxurious accommodation with air-conditioned rooms, marble bathrooms, thick bathrobes, satellite TVs and free wireless internet access. Café Les Armures is Geneva's oldest coffee house and an iconic landmark for visitors to explore. A notable attraction for dignitaries around the world, Les Armures has welcomed presidents like Bill Clinton, Jimmy Carter and John F. Kennedy.
Pros:
– Historic atmosphere
– Prime location in Geneva's old town
– Fine dining options featuring classic French gourmet cuisine
– Luxurious yet unpretentious accommodation with modern amenities
– Home to iconic landmark – café Les Armures
Hotel d'Allèves
Hotel d'Allèves, located in the heart of Geneva, was built in the mid-18th century and offers a tranquil escape while still being close to all the city's main attractions. Guests can enjoy a short 5-minute walk to the train station or take a leisurely stroll just 100 meters down to Lake Geneva. This elegant hotel provides guests with comfortable air-conditioned rooms equipped with modern amenities such as a flat-screen satellite TV, minibar, safe, and free Wi-Fi. The hotel also boasts four-star services including concierge assistance and breakfast served in-room upon request.
Pros:
– Tranquil location in central Geneva
– Modern amenities
– Complimentary Wi-Fi
– Four-star services including concierge assistance
– Breakfast served in-room upon request
Other places to stay in Geneva
Luxury Hotels in Downtown Geneva Switzerland
Downtown Geneva in Switzerland is home to some of the finest luxury hotels. Visitors can expect world-class service, elegant rooms and suites, as well as easy access to top attractions in the city.
Hôtel Longemalle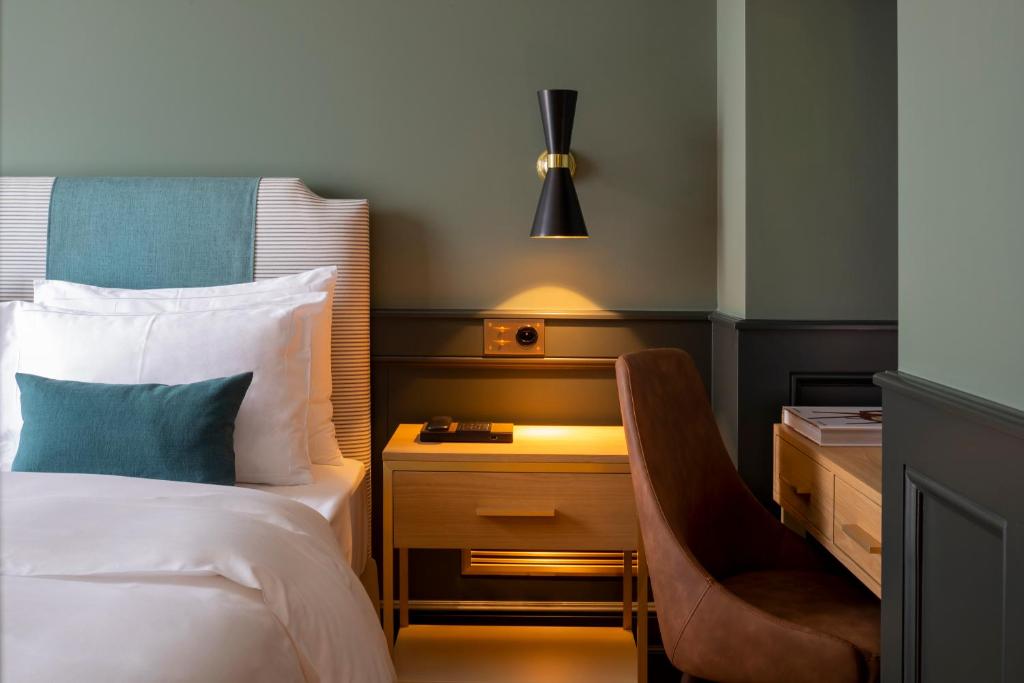 Hôtel Longemalle is an elegant boutique hotel located in the heart of Geneva's business, shopping and banking district, just a 3-minute walk from the Old Town, the English Garden and from Lake Geneva. The hotel offers air-conditioned rooms equipped with period furniture, an HD LED TV and free WiFi. Situated in the pedestrian area, guests can take advantage of concierge services and enjoy buffet breakfast in the hotel's dining room or terrace. Additionally, guests can experience delicious Lebanese cuisine at the new restaurant open daily between 12:00 and 22:00.
– Prime location near popular tourist attractions
– Stylish decor with period furniture
– Comprehensive concierge services
– Buffet breakfast offered in various locations
– New Lebanese restaurant on-site
Hotel Rotary Geneva – MGallery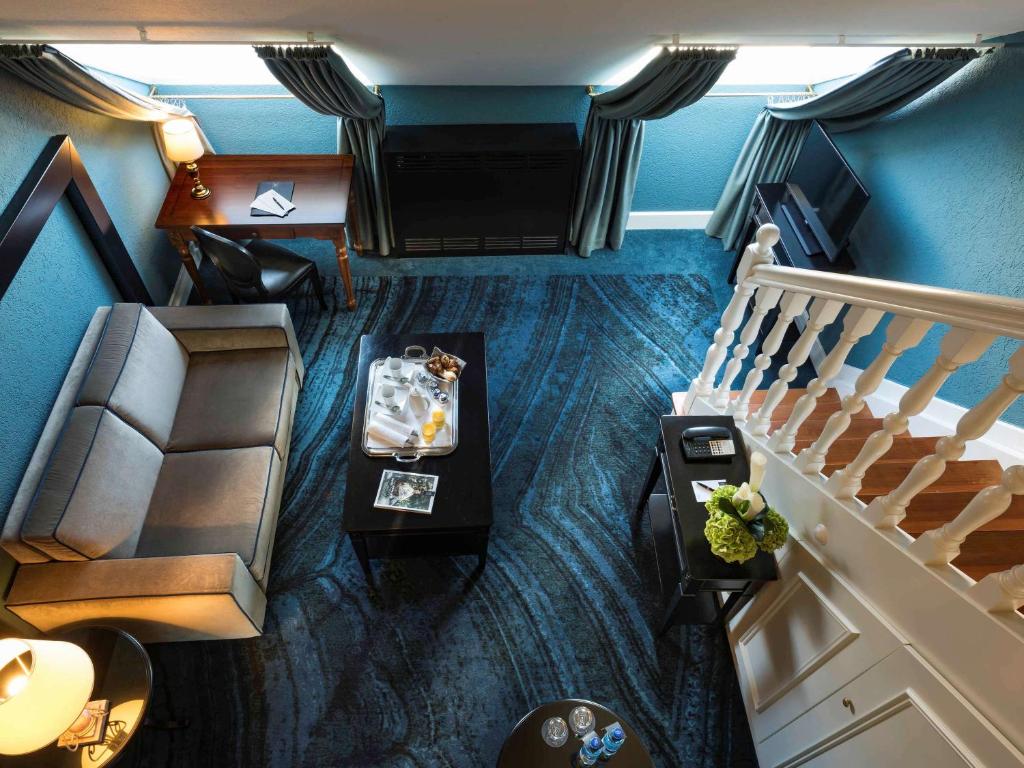 Hotel Rotary Geneva – MGallery is a 4-star superior boutique hotel located in the heart of Geneva. The hotel is conveniently situated just a 5-minute walk from the Cornavin Train Station and a 3-minute walk from Lake Geneva. With free WiFi available throughout the hotel, guests can stay connected while they relax in air-conditioned rooms which come with a 43" flat-screen TV, minibar and complimentary bottles of water. The L'Artisan restaurant serves homemade French dishes made with fresh and seasonal products, perfect for an indulgent meal. Guests can also unwind at the hotel bar or by the fireplace. In addition to these amenities, Hotel Rotary Geneva – MGallery provides access to a fitness centre and sauna for guests who want to maintain their workout routine or enjoy some relaxation time. Moreover, all hotel guests receive a free city ticket that provides free use of Geneva public transport including the airport train.Luxury travel experience
– Centrally located near transportation links
– Free access to fitness center and sauna
– Complimentary bottles of water provided upon arrival
– Free city ticket for public transportation included
The Ambassador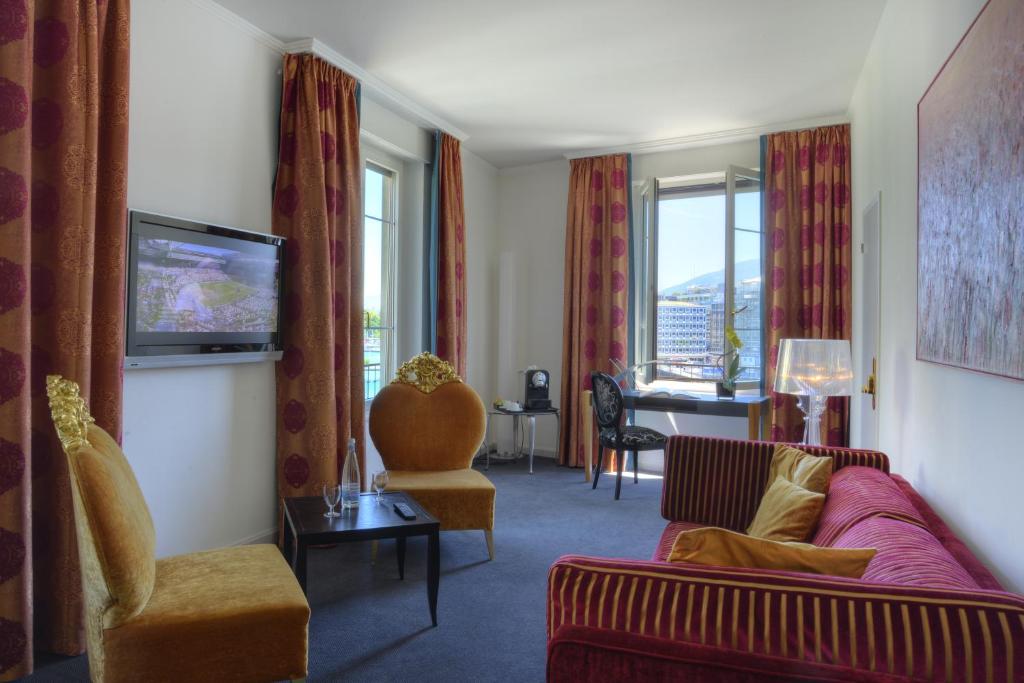 The Ambassador Hotel is a luxurious property situated in the heart of Geneva, overlooking a beautiful square on the bank of the Rhône River and Lake Geneva. It's located just 15 minutes away from Geneva airport and 500 metres from the train station. The hotel offers free Wi-Fi and most rooms provide stunning views of the lake and river. Guests can indulge in Swiss and French cuisine at the charming restaurant or enjoy meals on the street-side terrace.
Pros:
– Prime location in central Geneva
– Stunning views of Lake Geneva and Rhône River
– Charming restaurant serving Swiss and French specialities
– Free Wi-Fi for guests
– Street-side terrace offers unique dining experience.
5 Star Luxury Hotels
Five-star luxury hotels provide the ultimate in comfort, elegance, and world-class service. These properties are typically located in prime locations with stunning views and offer guests access to a wide range of amenities and facilities designed to pamper them throughout their stay.
N'vY Manotel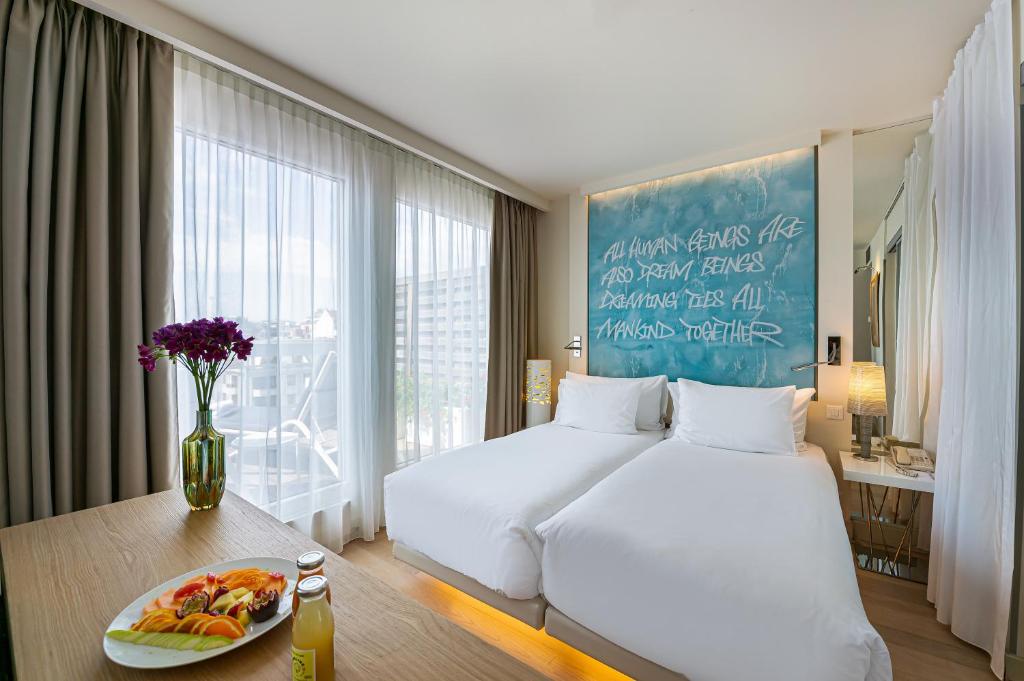 The Hotel N'vY Manotel is a stylish and modern hotel located within 15 minutes walking distance from the center of Geneva and UN. Renovated in 2012, the hotel features chic rooms equipped with amenities such as flat-screen HD TV, Hi-Fi system, multi-media plug and free wired/wireless internet access. The Tag's Café offers a relaxed atmosphere with New York vibes where guests can enjoy food to eat-in or take-away along with tablet computers available for use. The hotel's exclusive design created by renowned graffiti artist Meres One gives off an urban, non-conformist feel. Moreover, guests have easy access to sophisticated cocktails at N'vY Bar while enjoying tasty tapas and burgers. Trilby restaurant also offers gourmet dishes using fresh seasonal local ingredients.
– Chic and modern rooms
– Relaxed atmosphere at Tag's Café
– Urban non-conformist feel designed by Meres One
– Access to sophisticated cocktails at N'vY Bar
– Gourmet dishes made with fresh seasonal local ingredients at Trilby restaurant
NH Geneva City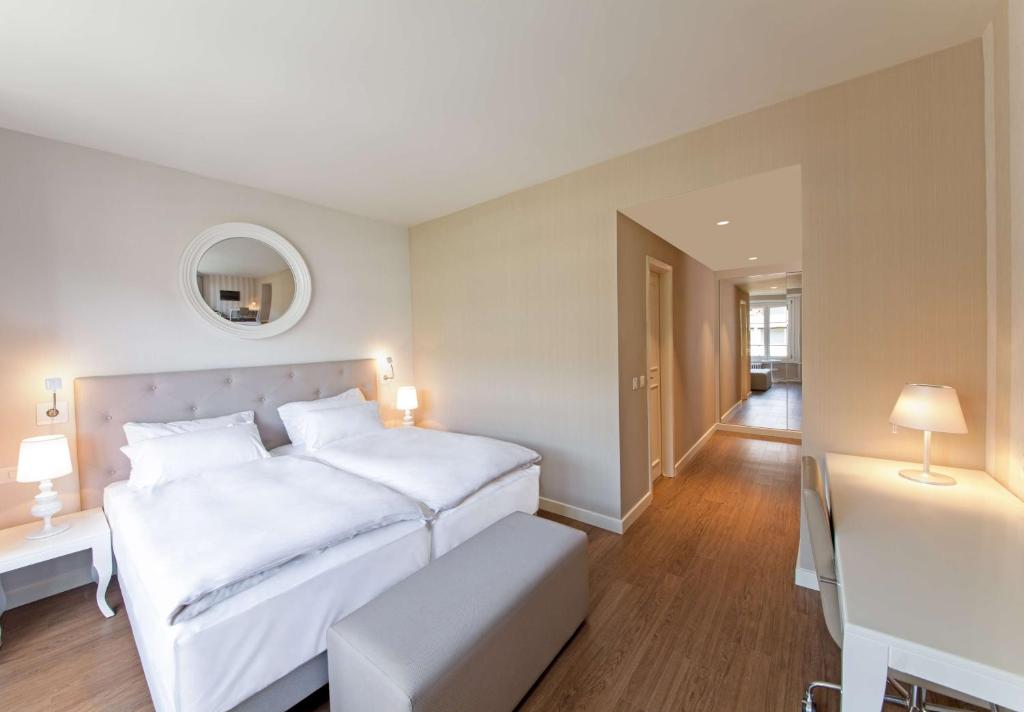 NH Geneva City, which was fully renovated in July 2017, is a spacious and sophisticated hotel located in Geneva. The hotel is just a 20-minute walk away from the Old Town and guests can enjoy free WiFi during their stay. The air-conditioned rooms are beautifully designed and feature flat-screen TVs, while some also offer stunning garden views. NH Geneva City is conveniently located within 2 km of Franchises Park, United Nations European Headquarters, and Ariana Ceramics and Glass Museum. Guests looking to explore Saint-Pierre Cathedral or the Reformation Wall Monument need only travel 3 km to reach them. Additionally, the hotel offers direct bus lines connecting guests to the UN building as well as other important international organizations throughout the city. For those with vehicles, paid parking is available on-site (subject to availability).
– Convenient location near popular tourist attractions
– Beautifully designed and spacious rooms with air conditioning
– Free WiFi for all guests
– Direct bus line connecting to important organizations throughout city
– Paid parking available on-site (subject to availability)
Beau-Rivage Palace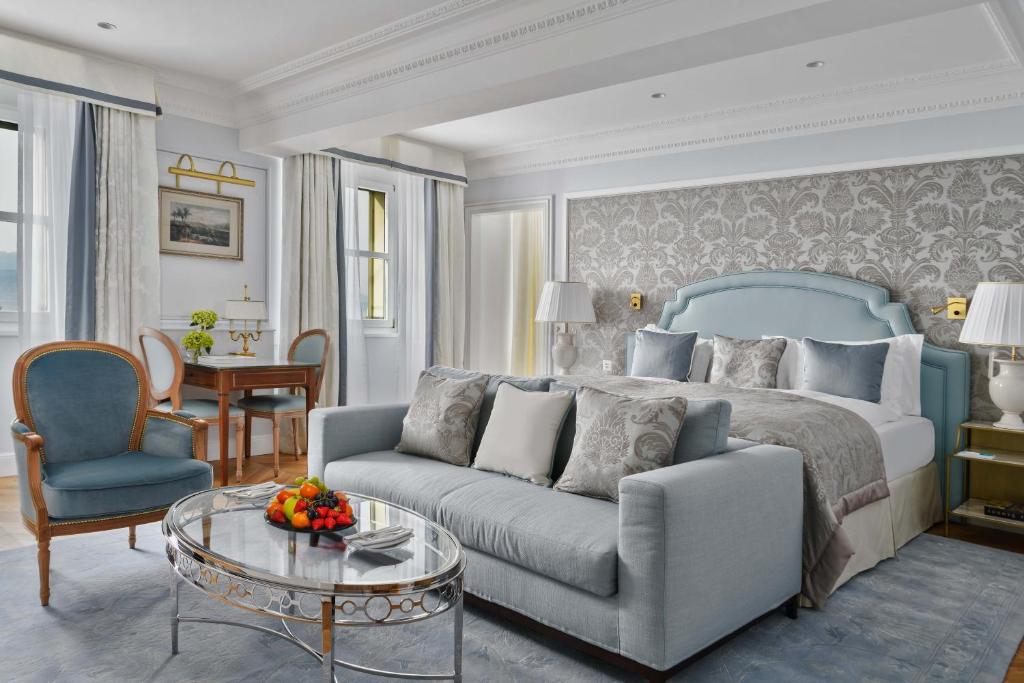 The Beau-Rivage Palace, located in Lausanne on the banks of Lake Geneva, is a renowned luxury hotel famous for its exceptional service and high standards. The elegant belle époque buildings are situated in 10 acres of parkland and offer stunning views of the French Alps beyond the lake. Guests can immerse themselves in the luxurious past with antique decor, sumptuous architecture, and fine reproductions throughout both public and private spaces. The warm and attentive staff, including Switzerland's only female chief concierge, make guests feel right at home.
– Breathtaking view of Lake Geneva
– Luxurious belle époque buildings with antique decor
– Exceptional service provided by attentive staff
– Switzerland's only female chief concierge
– Gorgeous parkland surroundings
Most Expensive Hotels in Geneva Switzerland
Geneva is home to some of the most expensive hotels in the world, catering to a wealthy clientele seeking ultimate luxury and exclusivity. These hotels offer stunning views, impeccable service, and top-notch facilities.
Villars Palace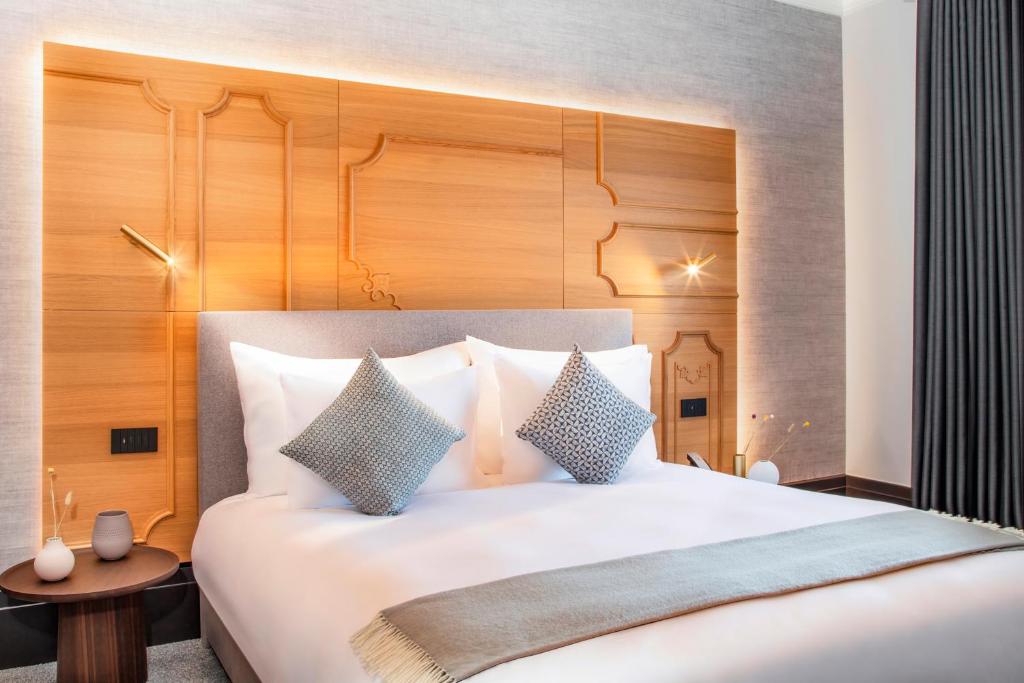 Villars Palace is a luxurious 5-star hotel located in Villars-sur-Ollon, offering guests an exceptional experience. The hotel opened its doors in February 2022 and boasts a range of facilities that include a sauna, hammam, spa center, fitness center, outdoor swimming pool, and even a nightclub. Guests can enjoy concierge services and free Wi-Fi throughout the property as well as non-smoking rooms equipped with safety deposit boxes. Some rooms also feature balconies with breathtaking views of the surrounding mountains. The hotel restaurant serves delectable French cuisine with vegetarian, vegan and dairy-free options available upon request. Additional amenities include room service, 24-hour front desk service, and kids' club activities.
– Luxurious 5-star hotel
– Wide range of facilities including spa center and outdoor swimming pool
– Offers non-smoking rooms with safety deposit boxes
– Restaurant serving delicious French cuisine with dietary restriction options available
– Kids' club activities to keep children entertained
Baron Tavernier Hotel Restaurant & SPA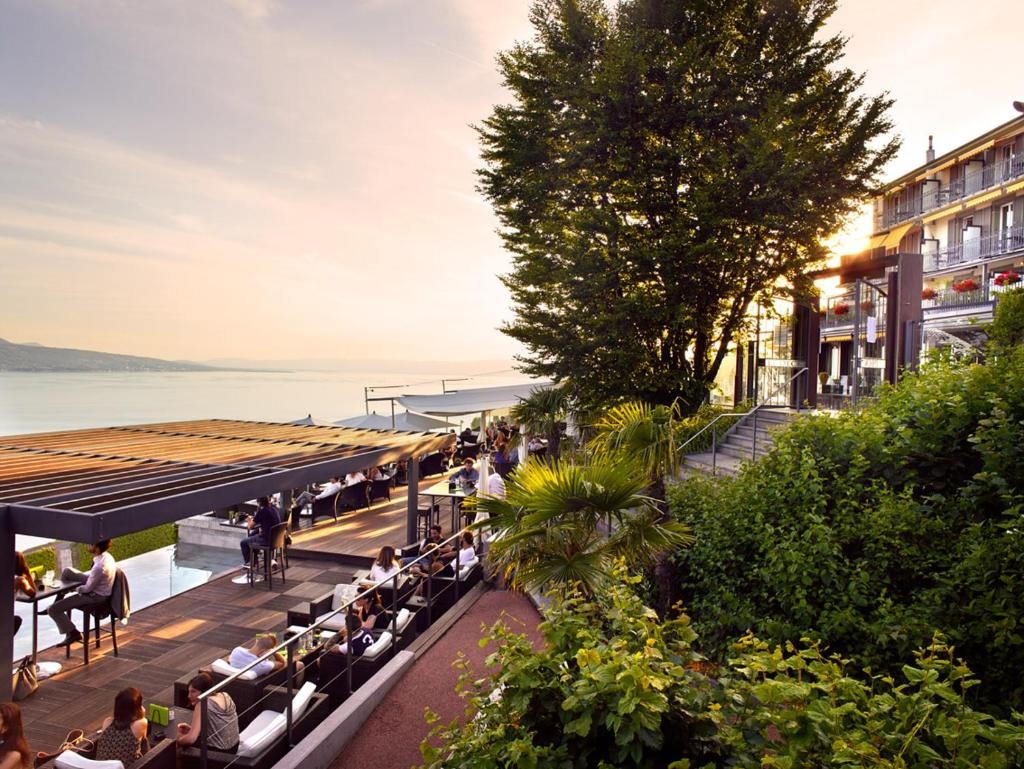 Baron Tavernier Hotel Restaurant & SPA is a luxurious hotel located in Chexbres that offers stunning panoramic views of Lake Geneva from its spacious terrace. The hotel has elegantly decorated rooms and suites with private bathrooms, minibars, cable flat-screen TVs, free WiFi, and balconies or terraces. Guests can explore the picturesque town of Chexbres and the vineyard terraces of Lavaux which are a UNESCO World Heritage Site. The hotel has an upscale dining area, lounge bar, and renowned restaurant Le Deck which is open during summer months. In winter, guests can enjoy fine dining at Le Baron restaurant or have a more casual meal at the Le Bon Sauvage Bistro. The Spa features fitness rooms, hot tubs, saunas, hammam steam rooms and outdoor pavilions for relaxation while beauty treatments and massages are available upon request for an extra charge. Outdoor activities include golfing as there is an 18-hole course just 15-minute drive away from the property while skiing slopes can be reached within 40 minutes by car. Lastly, there's also free private parking on site.
– Stunning panoramic views of Lake Geneva
– Elegant decor in all rooms and suites
– Renowned restaurants with delicious cuisine
– Modern spa area with many facilities for relaxation
– Free private parking on site
citizenM Geneva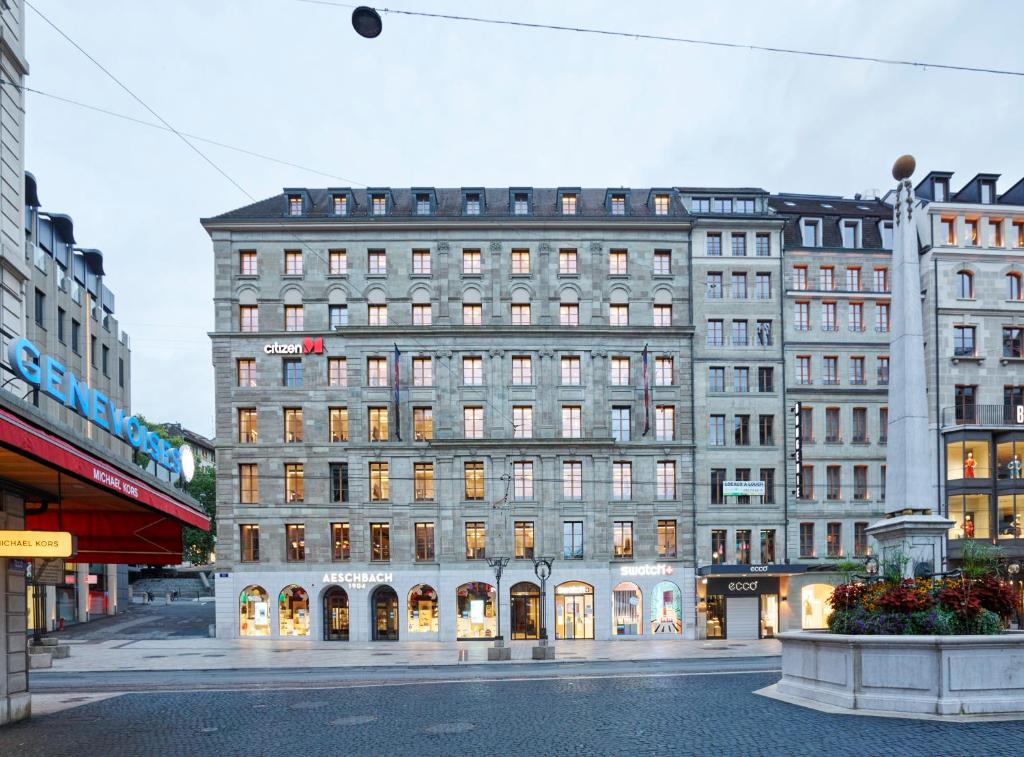 CitizenM Geneva is a brand new hotel that opened in January 2020, located just 250 metres away from Lake Geneva and within easy reach of main attractions such as the St. Pierre Cathedral and Jet d'Eau. The rooms are air-conditioned with a flat-screen TV, private bathroom and equipped with an iPad or citizenM app to control the room's features. Guests can even stream from their personal Netflix, Prime or Disney+ accounts at no extra charge through Chromecast technology. The hotel offers an allergy-free environment and a breakfast buffet for its guests.
– Convenient location in the city centre
– High-tech amenities in each room for maximum comfort
– Allergy-free property ideal for sensitive guests
– Buffet breakfast included for all guests
– Close proximity to many popular tourist destinations
Small Luxury Hotels in Geneva Switzerland
Small Luxury Hotels in Geneva, Switzerland offer guests an intimate and personalized experience with refined accommodations. These hotels are known for their attention to detail, exceptional service, and prime locations that allow guests to easily explore the city's rich culture and history.
Crowne Plaza Geneva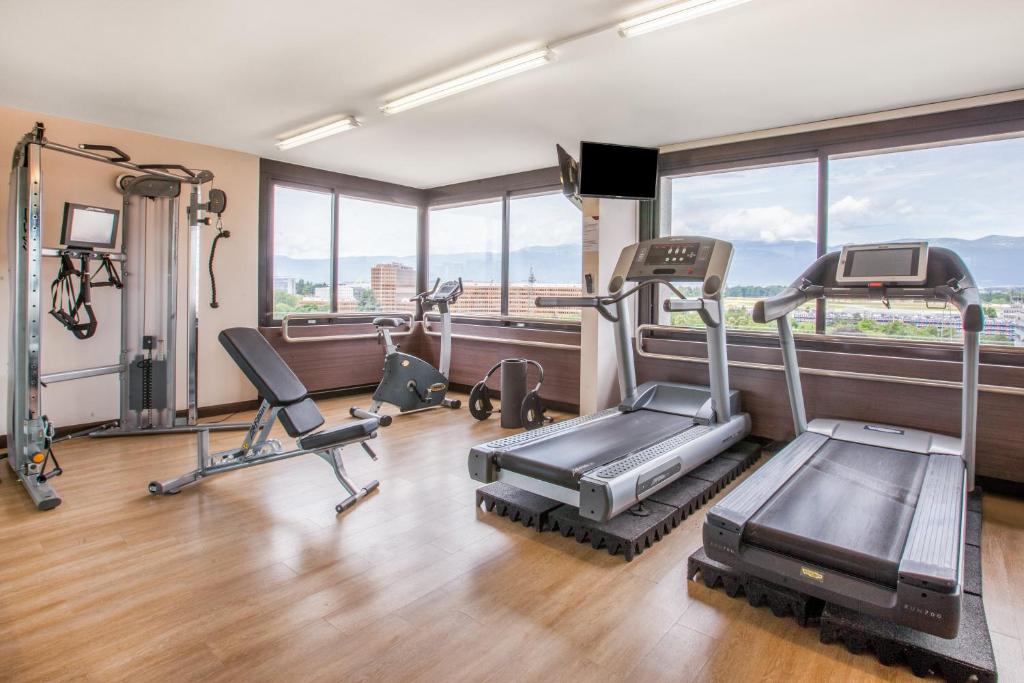 The Crowne Plaza Geneva is a luxurious hotel that boasts of an excellent location, only a 3-minute drive away from the Geneva Airport and the Palexpo Exhibition Centre. The city center is also easily accessible, just a 10-minute drive away. Guests here can enjoy free WiFi and shuttle service to and from the airport. The hotel offers Club rooms on the top floor with breathtaking panoramic views of the surroundings and free access to the Club lounge, where guests can have refreshments, snacks, and complimentary breakfast. The restaurant Seventy5 serves innovative cuisine using seasonal produce while meeting facilities are also available for conferences or events. Other amenities include fitness and sauna facilities on site, cable internet in all rooms plus internet access in the business centre as well as hairdressing services. Lastly, public transport is easy to reach with a bus stop right outside of the hotel and free cards for public transportation available at reception.
Pros:
– Excellent location close to airport and exhibition center
– Free shuttle service provided
– Complimentary breakfast, refreshments/snacks offered in Club lounge
– Panoramic views from Club floor's balcony terrace
– Wide selection of amenities such as fitness/sauna facilities
Nash Suites Airport Hotel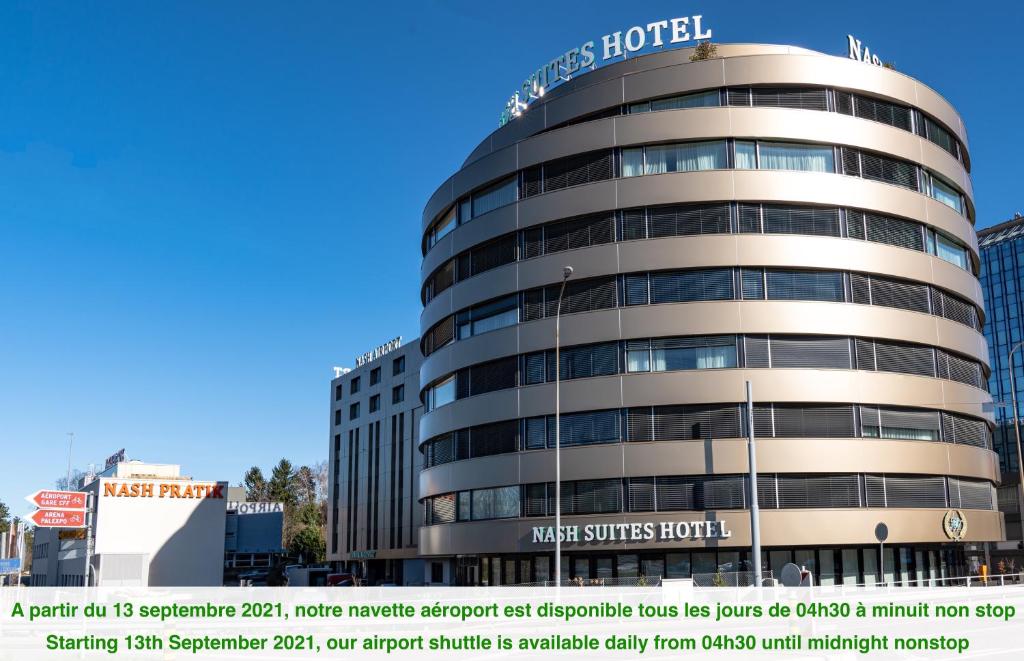 Nash Suites Airport Hotel in Geneva is a 4-star accommodation that offers guests an executive suite with a balcony, kitchenette and flat-screen TV. The hotel features amenities such as a fitness centre, shared lounge, sauna and terrace. A 24-hour front desk and room service are available along with free WiFi, concierge service and luggage storage space. Breakfast is served each morning from 05h30 until 10h30 AM and vending machines with drinks and snacks are available on site at the hotel. The hotel's location is ideal for those visiting PalExpo or United Nations Geneva.
– Executive suite with balcony
– Fitness centre
– Sauna and terrace
– Free WiFi
– Ideal location near PalExpo
IntercityHotel Geneva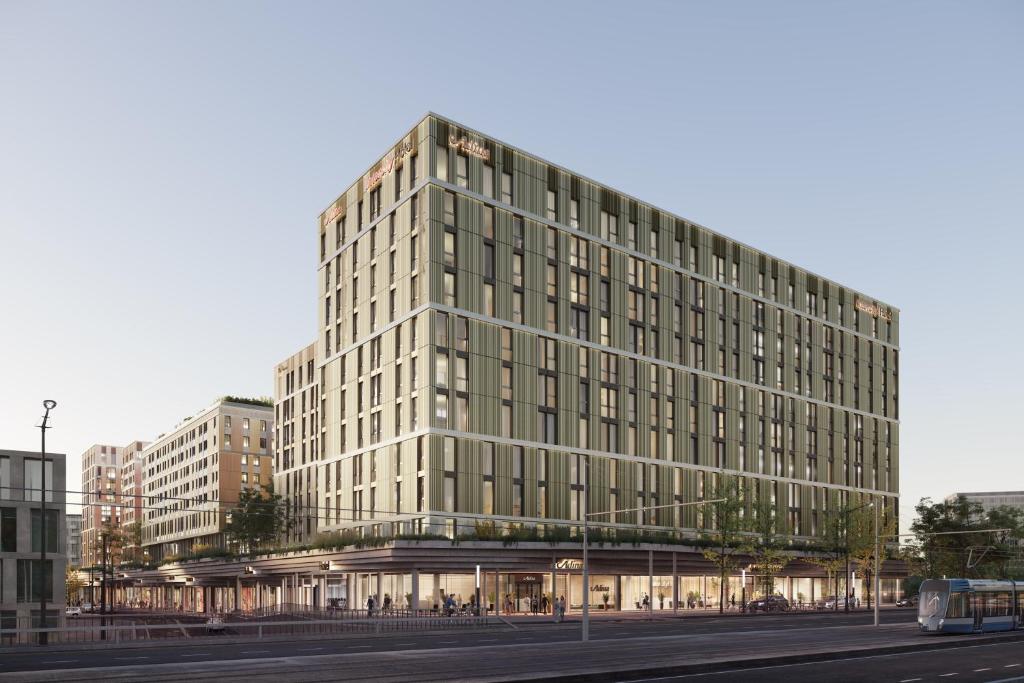 IntercityHotel Geneva is a newly opened 4-star hotel that boasts concierge services, allergy-free rooms, a fitness centre, and free WiFi throughout the property. The hotel features a restaurant, bar, spa and wellness centre with city views. Each room at IntercityHotel Geneva comes with air conditioning, a seating area, flat-screen TV with satellite channels, safety deposit box, private bathroom with free toiletries and hairdryer. Guests can enjoy buffet or continental breakfast while the business centre and vending machines are available on-site. The multilingual staff at the 24-hour front desk speaks Arabic, German, English and Spanish.
Pros:
– Recently opened luxurious hotel
– Offers allergy-free rooms for guests
– Features spa and wellness center with city views
– Multilingual staff are available to attend to guest needs any time of day
– Close proximity to popular tourist attractions such as PalExpo and United Nations Geneva
Luxury Geneva Hotels Information
| | |
| --- | --- |
| 🛎️ Luxury Hotels in Geneva | 15 |
| 💵 Hotels Prices From | $255 |
| 💵 Highest price | $920 |
| 🥇 Average Review Score | 8.7/10 |
| 🛏️ Average number of Rooms | 123 |
Top Luxury hotels in Geneva
| | |
| --- | --- |
| Beau-Rivage Palace | 9.4/10 |
| Les Armures | 9.2/10 |
| Villars Palace | 9.2/10 |
| Beau-Rivage Genève | 9/10 |
| Hotel d'Allèves | 9/10 |
FAQ
What are some of the best luxury hotels in Geneva, Switzerland?
Geneva is a city known for its luxury offerings, and there are several high-end hotels to choose from. Some notable options include the Four Seasons Hotel des Bergues Geneva, Hotel President Wilson, Ritz Carlton Hotel de la Paix Geneve, Mandarin Oriental Geneva and Grand Hotel Kempinski Geneva.
What amenities can I expect at a luxury hotel in Geneva?
Luxury hotels in Geneva come with a range of amenities to make your stay comfortable and memorable. You can expect features like spas, fine dining restaurants, swimming pools, fitness centers and concierge services. Many also offer stunning views of Lake Geneva or the Alps.
How much does it cost to stay at a luxury hotel in Geneva?
The cost of staying at a luxury hotel in Geneva varies depending on factors such as room type, seasonality and location. On average, prices start around CHF 500 (approx $540 USD) per night but can go up significantly for suites or during peak travel times.
Are children welcome at luxury hotels in Geneva?
Yes! While some luxury hotels may have age restrictions or require additional fees for children's stays or activities (such as spa treatments), most welcome families with children. Some even have dedicated family-friendly amenities like play areas or kids' clubs.
What is the best time to visit Geneva for my stay at one of its Luxury Hotels?
Geneva weather varies greatly depending on the time of year you plan your visit but is generally mild throughout most seasons making it an ideal destination year-round especially if you stay in one of these luxurious accommodations! The summer months between June and August tend to be the busiest due to festivals like Fête de la Musique while winter sees crowds descend on ski resorts near Lake Leman so try shoulder season: April-May & September-October when rates dip slightly but the weather still remains pleasant.
Popular Luxury Hotels destinations