Welcome to an enchanting journey through the realm of opulence and grandeur in Évora, Portugal. Nestled in the heart of this historic region lies a treasure trove of luxurious accommodations, where indulgence and sophistication seamlessly blend with the timeless beauty of its surroundings. Prepare to be transported to a world where every detail is meticulously crafted to create an unforgettable experience for the discerning traveler.
Évora, renowned for its rich heritage and UNESCO World Heritage status, offers a lavish retreat for those seeking refined elegance. In this captivating city, you will discover a selection of exquisite hotels that epitomize luxury at its finest. From stunning architectural masterpieces adorned with intricate detailing to sumptuous suites boasting breathtaking views, each establishment exudes an air of exclusivity that is sure to captivate your senses.
Settle into a haven of tranquility where impeccable service is complemented by lavish amenities. Whether you choose to unwind in the opulent spa facilities or savor gourmet cuisine prepared by award-winning chefs, these hotels spare no expense in ensuring your every desire is met. With their unwavering commitment to exceeding expectations, it's no wonder that Évora has become synonymous with unrivaled luxury and unparalleled sophistication.
Embark on a sojourn unlike any other as we delve into the allure of luxury hotels in Évora; prepare yourself for an extraordinary odyssey through refinement and extravagance in one of Portugal's most charming destinations.
Most Luxurious Hotels in Évora
Evora Hotel
Evora Hotel, located on Av. Túlio Espanca in Évora, offers a luxurious and relaxing experience for its guests. Surrounded by landscaped gardens, this hotel boasts both indoor and outdoor pools, providing plenty of opportunities to unwind and enjoy the beautiful surroundings. The guest rooms offer stunning views of the Alentejo plains, hotel gardens, or pool area, each with a private balcony. Indulge in regional cuisine at the hotel's restaurant, which has been recognized by Évora residents for its high-quality buffet for 29 years. For lighter dining options, visit the Lounge Natural Living restaurant which serves meals made with natural ingredients. The bar offers refreshing drinks and snacks to enjoy throughout the day.
Notable features of Evora Hotel:
– Indoor and outdoor pools
– Sauna, gym facilities
– Turkish Bath and Jacuzzi for relaxation
– Babysitting services available upon request
– Wellness treatments and massages offered
– Golfers can utilize Évora's driving range
Located within the city of Évora on a private space of 15 hectares, Evora Hotel is conveniently close to Évora's train station which provides a direct two-hour connection to Lisbon. Additionally, wine enthusiasts can explore various experiences around the theme through their wine shop in partnership with local producers. The recently renovated wine bar offers an open interior space that is well ventilated with abundant natural light; perfect for spending time with friends and family without disturbance from other guests. Enjoy maximum safety and comfort on the renovated lounge terrace where you can relax while taking in breathtaking views.
In summary, Evora Hotel provides a tranquil oasis with its beautiful pools and gardens alongside top-notch amenities like wellness treatments and golfing opportunities. With its convenient location near transportation links as well as its commitment to showcasing regional cuisine through their renowned buffet restaurant and natural ingredient-focused eatery, this hotel ensures an unforgettable stay for all guests.
Convento do Espinheiro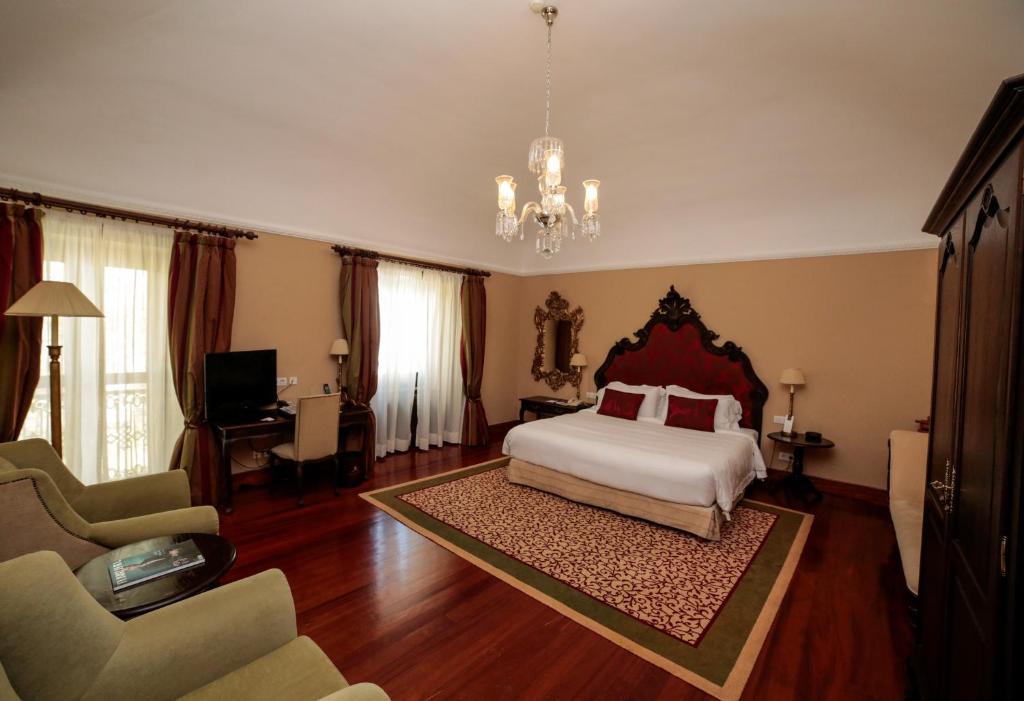 Located just 4 km from Évora city center, Convento do Espinheiro is a luxurious 5-star hotel set in a beautifully renovated 15th-century convent. Surrounded by 80,000m² of stunning gardens, this hotel offers a peaceful and picturesque retreat for guests. The guest rooms are exquisitely furnished and feature amenities such as free WiFi and a coffee machine. Each en-suite bathroom is equipped with bathrobes, slippers, and complimentary toiletries. Some rooms even boast private terraces. Guests can indulge in massage treatments at the hotel's spa or enjoy leisure facilities including an indoor and outdoor pool, tennis court, and well-equipped fitness center. After a day of relaxation, visitors can unwind with cocktails at the poolside bar or savor a delectable mix of Mediterranean and Portuguese cuisine at Restaurant Divinus. Additionally, every evening guests have the opportunity to participate in a complimentary wine tasting experience.
– Beautifully renovated 15th-century convent
– Luxurious furnishings in guest rooms
– Spa treatments available
– Indoor and outdoor pools for relaxation
– Complimentary wine tasting experience every evening
Selina Evora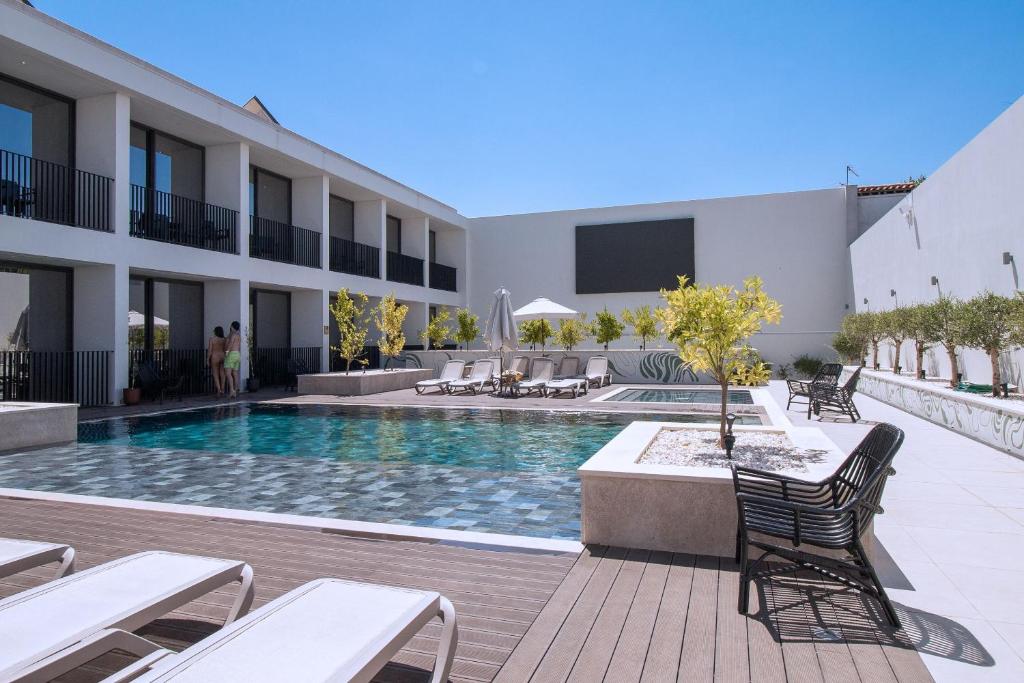 Selina Evora is a luxurious 4-star hotel located in the charming city of Évora. Recently opened in May 2021, this hotel offers guests a truly upscale experience. The property features a shared lounge and bar, providing the perfect place to relax and unwind. For those seeking ultimate relaxation, Selina Evora boasts a seasonal outdoor swimming pool and a spa and wellness center complete with a sauna, hot tub, and hammam. Each air-conditioned room comes with free WiFi, a private bathroom, desk, and flat-screen TV. Some rooms even offer stunning pool views and balconies. Wake up to a delicious buffet or continental breakfast before exploring popular nearby attractions such as the Cathedral of Evora Se, Chapel of Bones, and Roman Temple of Evora. With its convenient location and attentive staff fluent in English, Spanish, and Portuguese available at the reception 24/7 to assist guests with any needs or inquiries; Selina Evora ensures an unforgettable stay.
Pros:
– Brand new hotel offering modern amenities
– Luxurious spa facilities including sauna, hot tub & hammam
– Stunning seasonal outdoor swimming pool for relaxation
– Convenient location near popular attractions
– Attentive multilingual staff available around the clock at reception
Luxury Hotels in Downtown Évora
Downtown Évora is a destination that offers a captivating blend of history, culture, and luxury hotels. With their impeccable design and understated elegance, these accommodations seamlessly merge with the city's charming architecture. Expanding beyond mere comfort, these luxury hotels provide an elevated experience through their attention to detail and personalized service. Situated amidst Évora's vibrant streets, guests can easily explore the city's UNESCO World Heritage sites while also indulging in exquisite dining options and exclusive amenities within the hotel premises. Whether seeking a tranquil retreat or an immersive cultural adventure, Downtown Évora's luxury hotels offer an unparalleled experience that leaves guests feeling pampered and rejuvenated.
BejaParque Hotel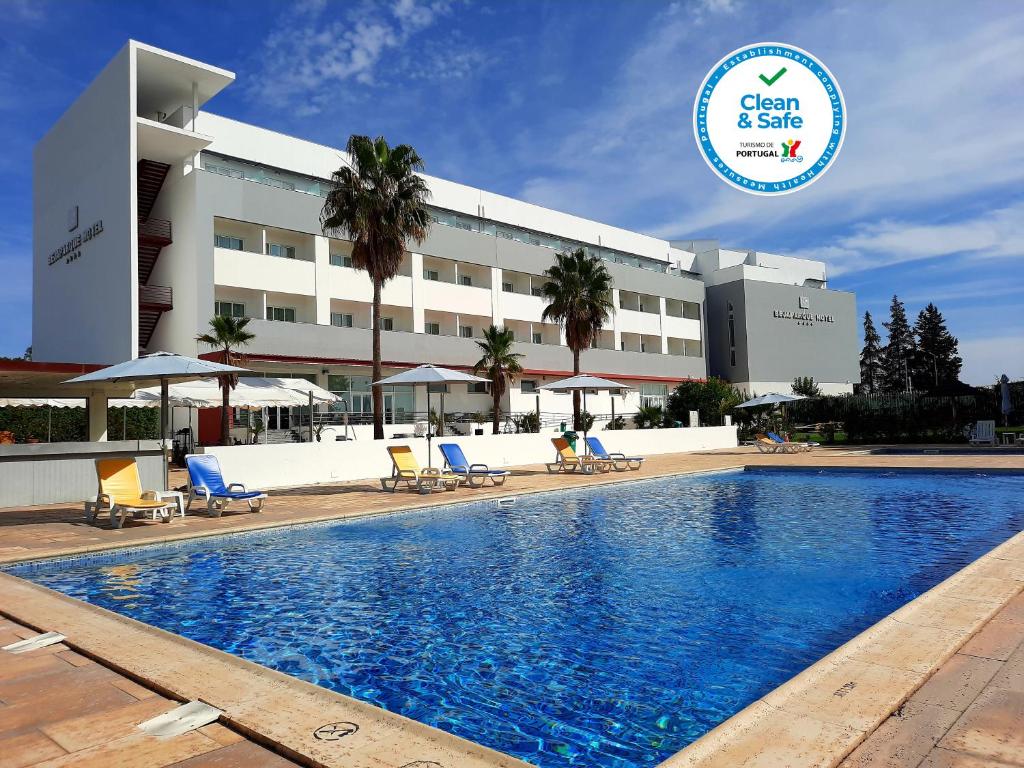 Located in the beautiful region of Alentejo, BejaParque Hotel offers a luxurious stay in the charming city of Beja. With its prime location, the hotel is less than 2 km away from top attractions such as the Castelo de Beja. The hotel boasts an outdoor pool that is perfect for relaxation and rejuvenation. The air-conditioned rooms at BejaParque Hotel are elegantly decorated and feature balconies with stunning views of either Beja or the Alentejo countryside. Each room is equipped with modern amenities including satellite TV and a minibar. Guests can indulge in regional cuisine and international dishes at Restaurante Seara, which offers a delightful dining experience with picturesque views of the garden and pool. The bar at Seara serves local Portuguese wines, allowing guests to savor the flavors of the region. Conveniently located near transportation hubs, BejaParque Hotel is less than 3 km away from both the bus and railway station, making it easily accessible for travelers. Free private parking is available on-site for added convenience, along with a car rental service to explore all that Beja has to offer.
Pros:
– Prime location within close proximity to top attractions
– Outdoor pool for relaxation
– Stylishly decorated rooms with balconies offering breathtaking views
– Delicious regional cuisine served at Restaurante Seara
– Convenient access to transportation hubs
Pousada Convento de Evora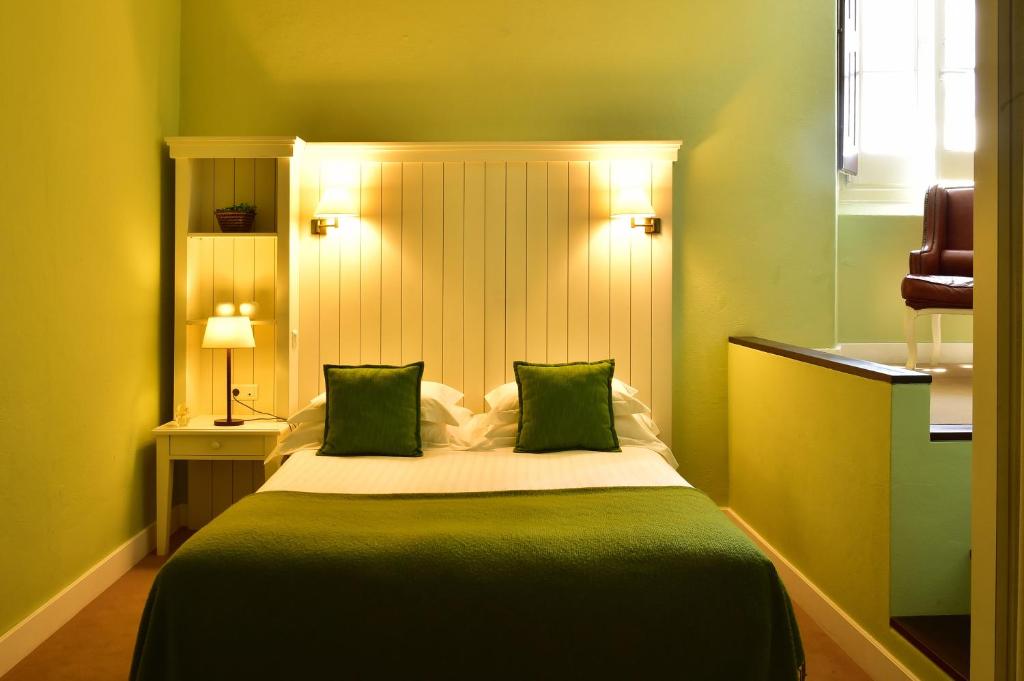 Located between Évora's Gothic cathedral and the Templo de Diana, Pousada Convento de Évora is a renovated convent that perfectly blends historical charm with modern comfort. The rooms, which were once the cells of the Lóios monks, have been carefully updated while still maintaining their original features. Guests can indulge in delicious Portuguese cuisine at the chic indoor dining hall or enjoy al fresco dining on the covered terrace by the pool. The hotel also offers free WiFi access, a mini-bar, air conditioning, safety deposit box, and flat-screen TV in each room. With its 24-hour reception, Pousada de Évora can arrange horse riding trips and hikes for guests to explore the surrounding area. Additionally, guests can easily walk around the city center and visit Giraldo's Square with its stunning 16th-century fountain.
Pros:
– Unique experience of sleeping in a converted cell
– Courtyard swimming pool adds a touch of luxury
– Chic indoor dining hall and covered terrace for enjoying Portuguese dishes
– Convenient amenities such as free WiFi and flat-screen TVs
– Helpful 24-hour reception for arranging activities and exploring Évora
The Noble House – by Unlock Hotels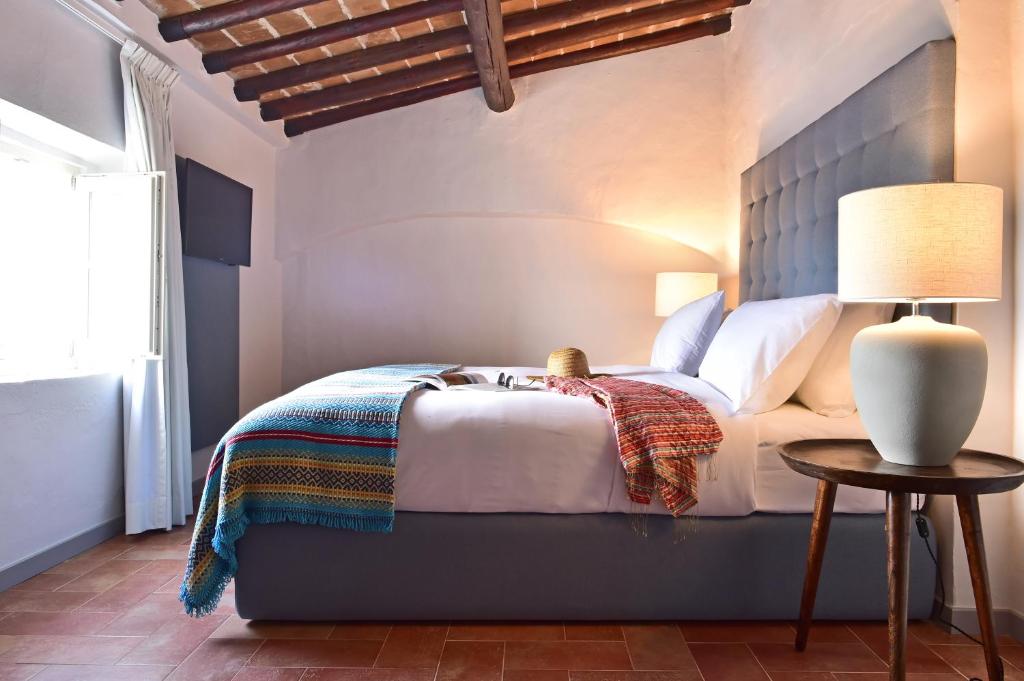 Combining history and Alentejo tradition with a modern concept, The Noble House – by Unlock Hotels offers a central location in Évora old town, just a short walk from the Roman Temple and Évora Cathedral. This recently refurbished hotel is filled with charm, evoking memories of the past through its Roman wall, tiles, and vaulted ceilings. The rooms are equipped with all the necessary amenities including a flat-screen TV, mini-bar, and safe. Some rooms even offer breathtaking views of the Alentejo plains. Each morning, guests can indulge in a delicious breakfast made from regional products served in either the vaulted breakfast room or on the terrace. The bar maintains its original features such as the chimney while serving up cocktails and regional wines. The Bones Chapel and Giraldo Square are within 500 meters of The Noble House – by Unlock Hotels, making it an ideal base for exploring the city. Additionally, there are many white-washed villages like Évoramonte located just a few minutes' drive away that are worth visiting. If you want to venture further out, Lisbon is only a 1.5-hour drive via the A6 motorway which is conveniently located around 14 km from the hotel. For those looking to explore more of Alentejo's treasures, Arraiolos and Montemor-o-Novo are both within 30 km of The Noble House – by Unlock Hotels.
– Central location in Évora old town
– Recently refurbished with historical charm
– Stunning views of Alentejo plains from some rooms
– Delicious breakfast made from regional products
– Convenient access to nearby attractions and cities
5 Star Luxury Hotels
When it comes to indulgent experiences, 5-star luxury hotels are in a league of their own. These opulent establishments offer an unparalleled level of service and comfort that caters to the most discerning travelers. From elegant accommodations adorned with luxurious furnishings to world-class cuisine prepared by renowned chefs, these hotels spare no expense in creating an unforgettable stay. Impeccable attention to detail is evident in every aspect of the hotel, from the personalized service provided by attentive staff members to the array of high-end amenities and facilities available for guests' enjoyment. Whether you're seeking relaxation by the poolside or exploring exquisite spa treatments, 5-star luxury hotels provide an unparalleled level of sophistication and magnificence that sets them apart from the rest.
Octant Evora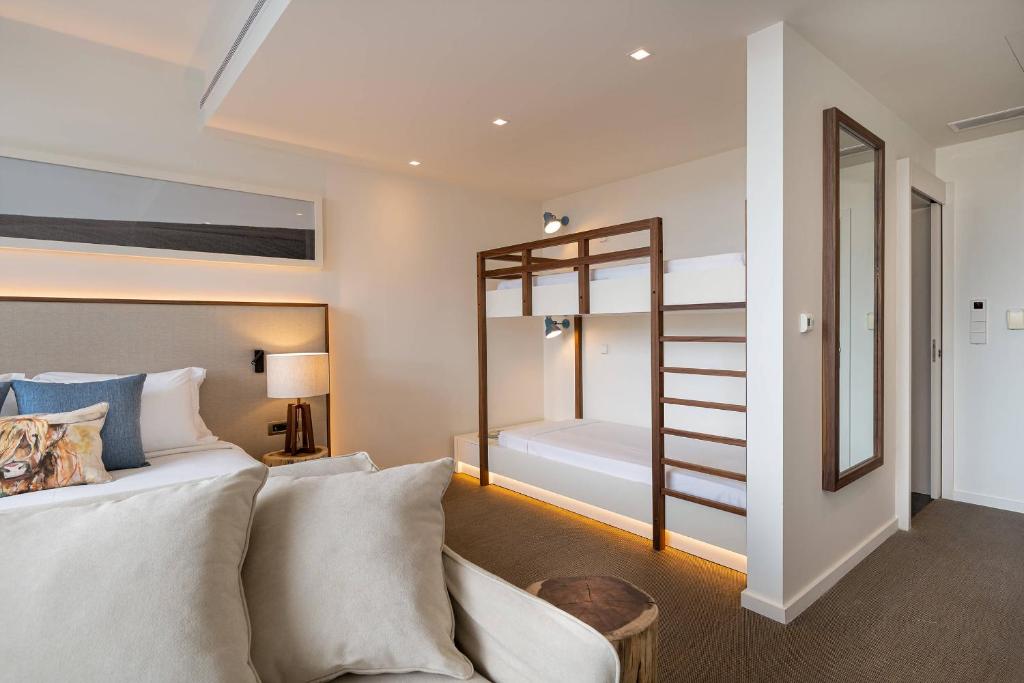 Octant Evora is a luxurious 4-star hotel located in the charming city of Évora, just 18 km away from the Cathedral of Evora Se. This newly opened hotel offers an array of amenities including free bikes, free private parking, an outdoor swimming pool, a fitness centre, and even an indoor pool and sauna. Guests can indulge in delicious meals at the on-site restaurant or simply relax in the beautiful garden. The hotel provides excellent service with a 24-hour front desk, airport transfers, and a kids' club. The rooms are spacious and fully equipped with modern comforts such as air conditioning, a coffee machine, a safety deposit box, and a flat-screen TV. Some rooms even come with a kitchen featuring a fridge, oven, and dishwasher. For added convenience, bed linen and towels are provided. In the morning guests can enjoy a delightful buffet breakfast or opt for gluten-free options. Octant Evora also boasts a spa centre where guests can unwind after exploring the city or taking part in activities like cycling. With its prime location near major attractions including Roman Temple of Evora and Chapel of Bones, Octant Evora is the perfect choice for travelers seeking luxury combined with convenience.
Pros:
– Newly opened luxury hotel
– Wide range of amenities including outdoor swimming pool and fitness centre
– On-site restaurant serving delicious meals
– Convenient location near popular attractions
– Excellent service with 24-hour front desk assistance
Pousada Convento de Beja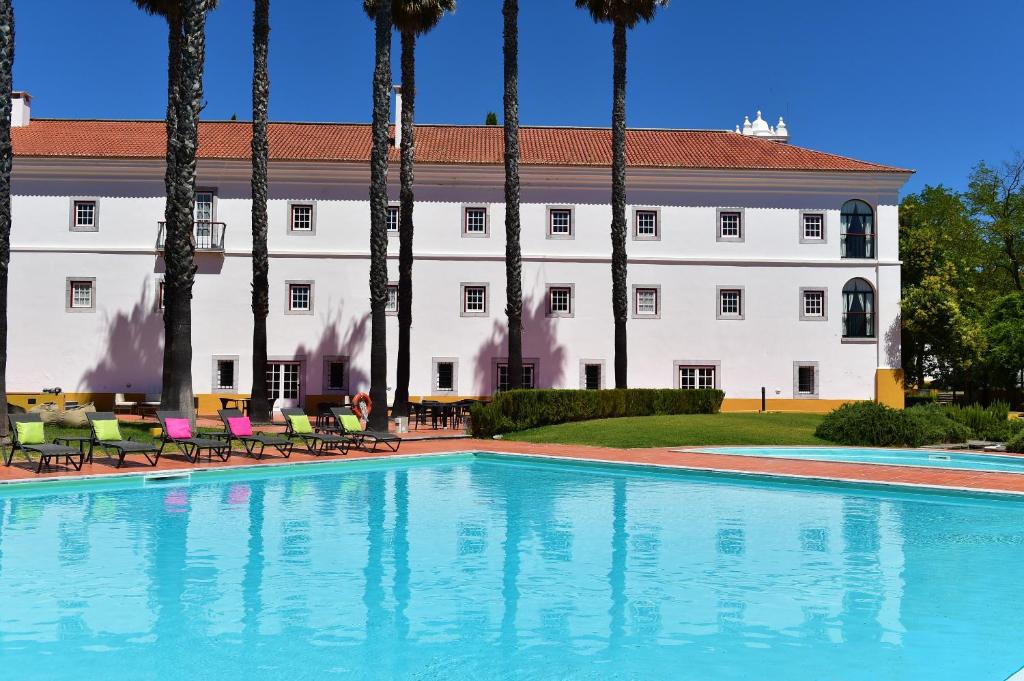 Located in the heart of Beja's historical center, Pousada Convento de Beja is a unique luxury hotel housed in a former 13th-century Franciscan convent. The charming rooms feature original architectural details and are adorned with warm colors and wooden furniture. Guests can enjoy modern amenities such as cable TV, minibar, and en suite bathrooms. The hotel offers a range of facilities including an outdoor pool, tennis court, and charging stations for electric vehicles. With its central location, popular attractions like Castelo de Beja and Museu Rainha Dona Leonor are just a short walk away. The on-site restaurant serves both regional dishes and international classics, while room service is also available for those looking to indulge in the comfort of their own room. The friendly 24-hour reception staff can assist with arranging various activities such as bicycle tours, horse riding trips, and country walks. Additionally, free parking is provided on site.
Pros:
– Unique historical setting within a former Franciscan convent
– Charming rooms with original features
– Facilities include an outdoor pool and tennis court
– Central location near popular attractions
– Range of activities available through the 24-hour reception
Hilton Garden Inn Evora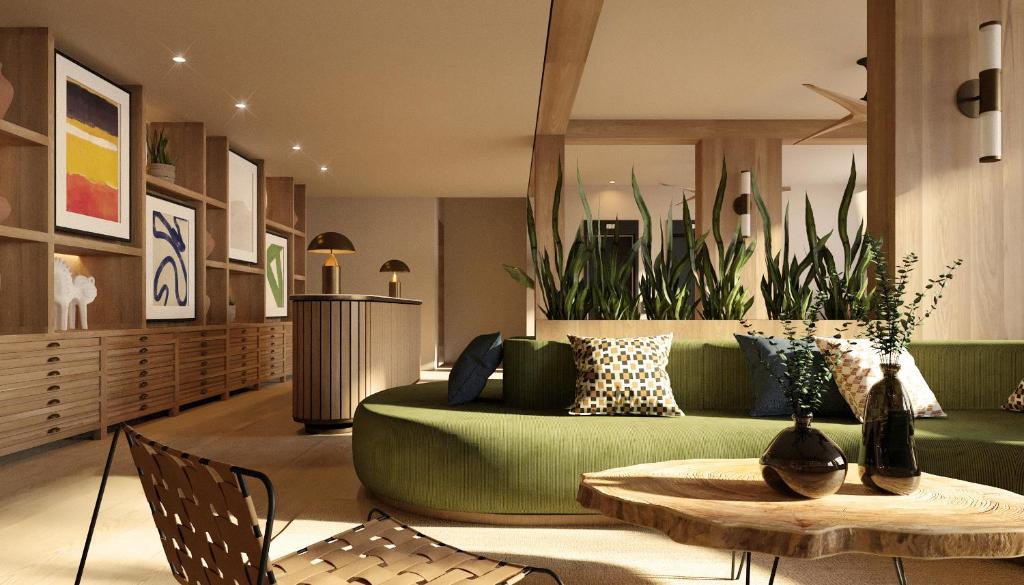 Newly opened in February 2023, Hilton Garden Inn Evora is a luxurious 4-star hotel situated in Évora. This exquisite property boasts a fitness center, terrace, restaurant, and bar for guests to enjoy. With a 24-hour front desk and room service available, guests can expect excellent service throughout their stay. The air-conditioned rooms are elegantly furnished with amenities such as a desk, safety deposit box, flat-screen TV, and private bathroom with a shower. Bed linen and towels are provided in each room. Guests can start their day right with the daily breakfast buffet offering continental and American options. Hilton Garden Inn Evora is conveniently located near popular attractions including the Cathedral of Evora Se, Chapel of Bones, Roman Temple of Evora, and Evora Train Station. The nearest airport is Badajoz Airport which is approximately 117 km away.
Pros:
– Recently opened luxury hotel
– Excellent location near popular attractions
– Fitness center for guests to stay active during their stay
– Terrace area to relax and enjoy the surroundings
– Delicious on-site restaurant and bar serving a variety of options
Luxury Évora Hotels Information
| | |
| --- | --- |
| 🛎️ Luxury Hotels in Évora | 9 |
| 💵 Hotels Prices From | $259 |
| 💵 Highest price | $1150 |
| 🥇 Average Review Score | 8.4/10 |
| 🛏️ Average number of Rooms | 106 |
Top Luxury hotels in Évora
| | |
| --- | --- |
| Convento do Espinheiro | 9/10 |
| Octant Evora | 9/10 |
| Pousada Convento de Beja | 8.4/10 |
| Pousada Convento de Evora | 8.3/10 |
| The Noble House – by Unlock Hotels | 8.3/10 |
FAQ
What are some luxury hotels in Évora?
Évora offers a range of luxury hotels that cater to discerning travelers. One outstanding option is the Convento do Espinheiro Historic Hotel & Spa, housed in a beautifully restored 15th-century convent. This five-star hotel boasts elegantly appointed rooms, a luxurious spa, and multiple dining options. Another top choice is the M'AR De AR Aqueduto, set within a 16th-century palace. It features stylish rooms with modern amenities, an outdoor pool, and a rooftop terrace with stunning views of the city.
What services can I expect at luxury hotels in Évora?
Luxury hotels in Évora provide an array of exceptional services to enhance your stay. Expect personalized concierge services that can assist with everything from restaurant reservations to arranging local excursions or private tours. Many luxury hotels also offer spa facilities where guests can indulge in rejuvenating treatments and therapies for ultimate relaxation. Additionally, you'll find high-end dining options within these establishments, serving delectable gourmet cuisine made from fresh local ingredients.
Are there any historic luxury hotels in Évora?
Absolutely! Évora is known for its rich history and charming architecture, which is beautifully reflected in some of its luxury hotel offerings. One such example is the Pousada Convento de Evora – Loios Hotel, situated within a former Franciscan monastery dating back to the 15th century. This historic property has been carefully renovated while preserving its original features, offering guests an opportunity to experience both luxurious accommodations and cultural heritage all under one roof.
What are popular attractions near luxury hotels in Évora?
Évora has numerous attractions located near its luxury hotels that are worth exploring during your stay. The iconic Roman Temple of Diana is just steps away from many central accommodations and provides insight into Portugal's ancient past. The Cathedral of Évora, with its stunning Gothic architecture, is another must-visit attraction within close proximity. Additionally, the Évora Museum and the Chapel of Bones are popular landmarks that offer a glimpse into the city's history and art.
What is the best time to visit Évora for a luxury hotel experience?
The best time to visit Évora for a luxury hotel experience is during spring (April to June) and fall (September to October). These seasons offer pleasant weather for outdoor explorations while avoiding the major influx of tourists. During these months, you can enjoy the luxurious amenities and services provided by high-end hotels without dealing with overcrowded areas or exorbitant prices often associated with peak tourist seasons.
Popular Luxury Hotels destinations