Welcome to the enchanting world of opulent accommodations in Dorset, United Kingdom. Nestled amidst breathtaking landscapes and steeped in history, this captivating region beckons discerning travelers with its unrivaled luxury hotels. Prepare to embark on a splendid journey where timeless elegance meets impeccable service, leaving you captivated by every moment.
Indulge your senses as you enter a realm of grandeur and sophistication. Dorset's lavish hotels offer an exquisite fusion of modern amenities and charm that will transcend your expectations. Prepare to be pampered in lavish suites adorned with plush furnishings, where comfort seamlessly blends with style. Unwind in expansive spa facilities that promise rejuvenation and serenity, or savor delectable cuisine crafted by masterful chefs who effortlessly showcase the region's finest flavors.
Discover a multitude of experiences awaiting your arrival, from idyllic coastal retreats overlooking the sparkling waters of the English Channel to stately manor houses nestled within picturesque countryside. Whether you seek tranquil escapes surrounded by nature or vibrant city getaways pulsating with energy, Dorset's luxury hotels will ensure an unforgettable stay characterized by refined elegance and unparalleled hospitality.
Join us as we embark on a luxurious rendezvous through breathtaking landscapes and indulge in exclusive experiences that epitomize refinement. Welcome to the world of luxury hotels in enchanting Dorset; prepare to be captivated at every turn.
Most Luxurious Hotels in Dorset
Harbour Hotel Christchurch (Christchurch)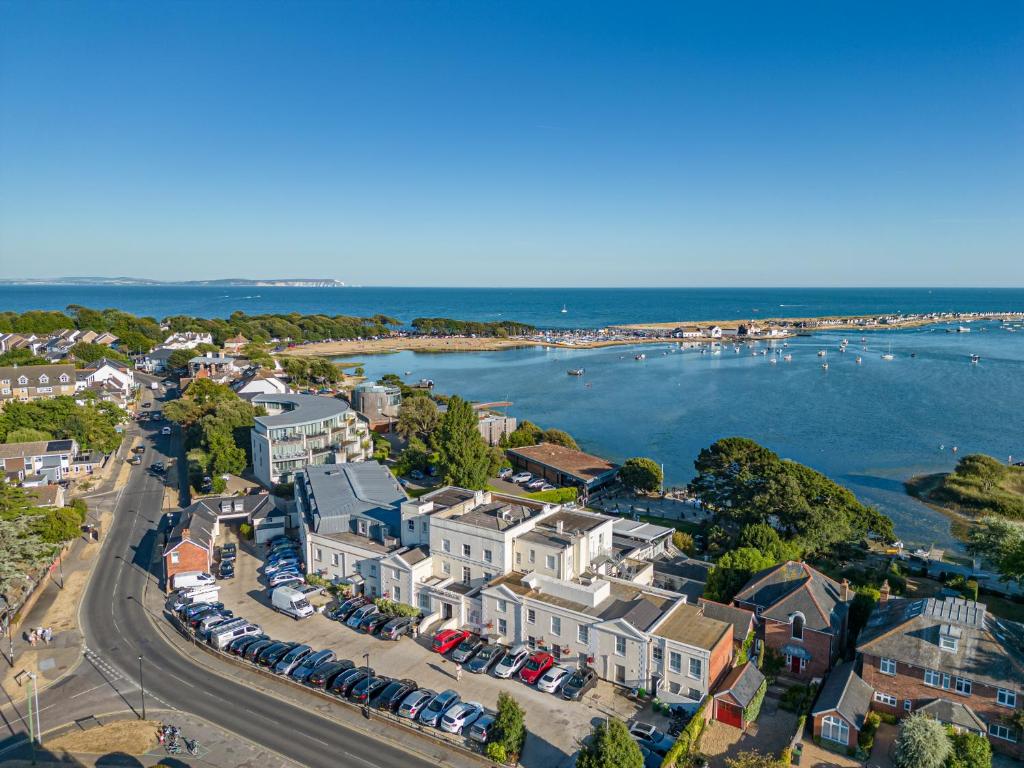 Harbour Hotel Christchurch, located in the charming town of Christchurch in Dorset, offers guests a luxurious and picturesque getaway. This waterfront hotel boasts stunning views of the estuary and features a 2 AA-Rosette restaurant called Jetty that showcases an impressive contemporary design. The hotel's newly refurbished spa, known as Christchurch Harbour Spa, is a haven of relaxation with its indoor swimming pool, sauna, steam room, hydrotherapy pool, and treatment rooms. For those interested in exploring the area's natural beauty, the nearby Christchurch Harbour offers ferry rides to the Poole Harbour Islands. Golf enthusiasts will appreciate being just a 5-minute drive away from Two Riversmeet Golf Club. With its international menu prepared by Michelin-starred chefs and an extensive wine list to complement your meal, dining at this hotel is truly an exquisite experience. Additionally, guests can stay active at the fully-equipped gym on-site. Housed within an impressive Victorian building and conveniently situated only 20 minutes from Bournemouth center, Harbour Hotel Christchurch combines elegance with convenience for an unforgettable stay.
– Indoor pool for year-round swimming
– Stunning views overlooking Dorset's picturesque estuaries
– Luxurious modern spa offering various treatments
– Convenient location near golf club and ferry services to Poole Harbour Islands
– Exquisite dining experience with an international menu prepared by Michelin-starred chefs
The Grosvenor Arms (Shaftesbury)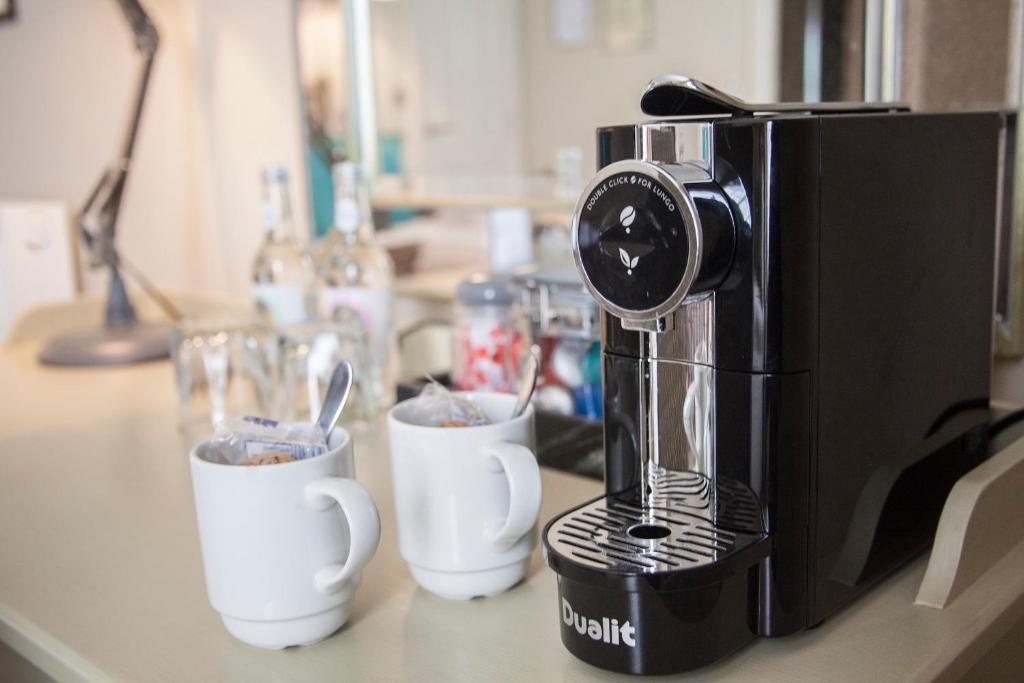 Located in the heart of Shaftesbury town center, The Grosvenor Arms is a Georgian building that has been transformed into a stylish hotel offering a luxurious experience. The spacious rooms are adorned with modern decor and feature plush beds, flat-screen TVs, and coffee machines. With a perfect blend of original features and contemporary design, each individually decorated room boasts an en suite bathroom, some even equipped with separate showers and roll-top baths. Guests can unwind in the bar area by the open fireplace or enjoy the pleasant ambiance of the courtyard terrace. The hotel's stylish restaurant serves a delicious breakfast every day, while dinner service offers a modern menu from Monday to Saturday. For those seeking outdoor dining options, alfresco dining and wood-fired pizzas cooked in their oven are also available. Conveniently situated just a two-minute walk from Shaftesbury Abbey, guests have easy access to numerous restaurants and shops nearby.
– Central location in Shaftesbury town center
– Stylishly decorated rooms with luxury amenities
– Bar with open fireplace and charming courtyard terrace
– Delicious breakfast served daily; modern dinner menu offered throughout the week
– Close proximity to Shaftesbury Abbey, restaurants, and shopping options
Plumber Manor Hotel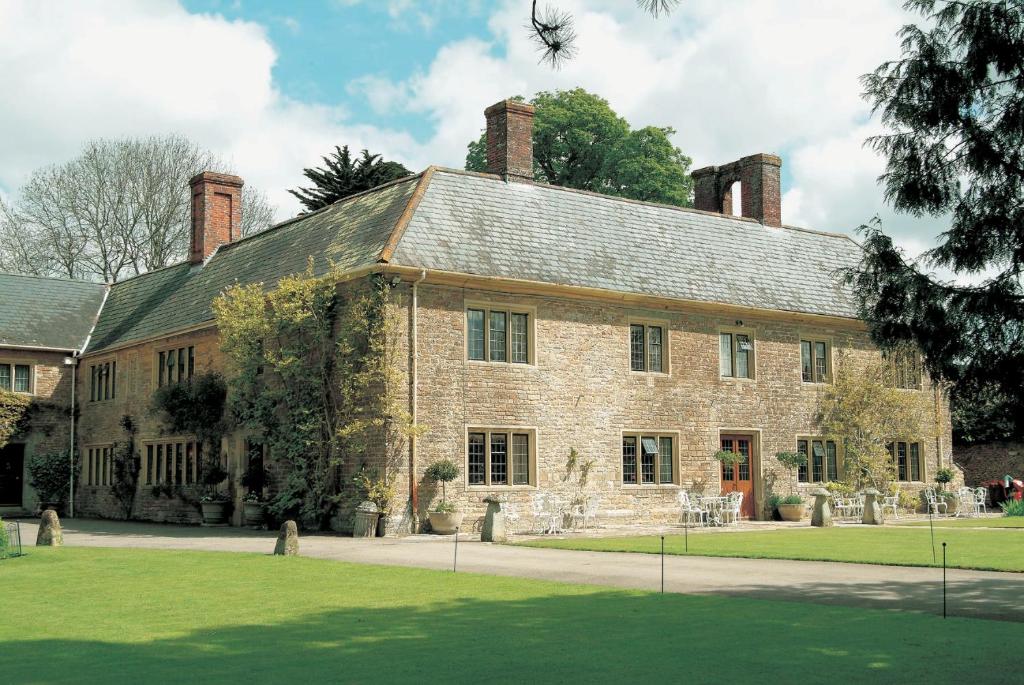 Plumber Manor Hotel is a timeless 4-star accommodation nestled in beautiful gardens with a tennis court and croquet, surrounded by picturesque fields and a tranquil stream. The hotel's location offers excellent opportunities for walking and sightseeing in the nearby area. With its renowned restaurant featured in the Good Food Guide for four decades, guests can indulge in exceptional British dishes. The spacious bedrooms and bathrooms are adorned with luxurious Molton Brown toiletries, and provide tea and coffee facilities along with homemade shortbread. Each room features a flat-screen TV and a comfortable seating area to relax after a day of exploring. For those traveling with their furry friends, three of the rooms are dog-friendly (advance reservation required). Plumber Manor Hotel also offers free parking and WiFi for the convenience of its guests.
– Beautiful gardens with tennis court and croquet
– Excellent walking and sightseeing nearby
– Renowned restaurant featured in the Good Food Guide
– Spacious bedrooms with luxurious amenities
– Dog-friendly rooms available (advance reservation required)
Other places to stay in Dorset
Luxury Hotels in Downtown Dorset
Downtown Dorset boasts a collection of luxurious hotels that elevate the concept of hospitality to new heights. These opulent establishments offer discerning travelers an exquisite blend of architectural grandeur, impeccable service, and awe-inspiring design. Each hotel showcases meticulously crafted rooms and suites adorned with lavish furnishings, ensuring utmost comfort and relaxation. With their prime locations in the heart of downtown, guests are treated to breathtaking views of the city's skyline while being surrounded by world-class dining, shopping, and cultural attractions. Whether it's unwinding in plush spa facilities or indulging in delectable gastronomic experiences, luxury hotels in Downtown Dorset promise an unforgettable stay that epitomizes refined elegance.
The Nici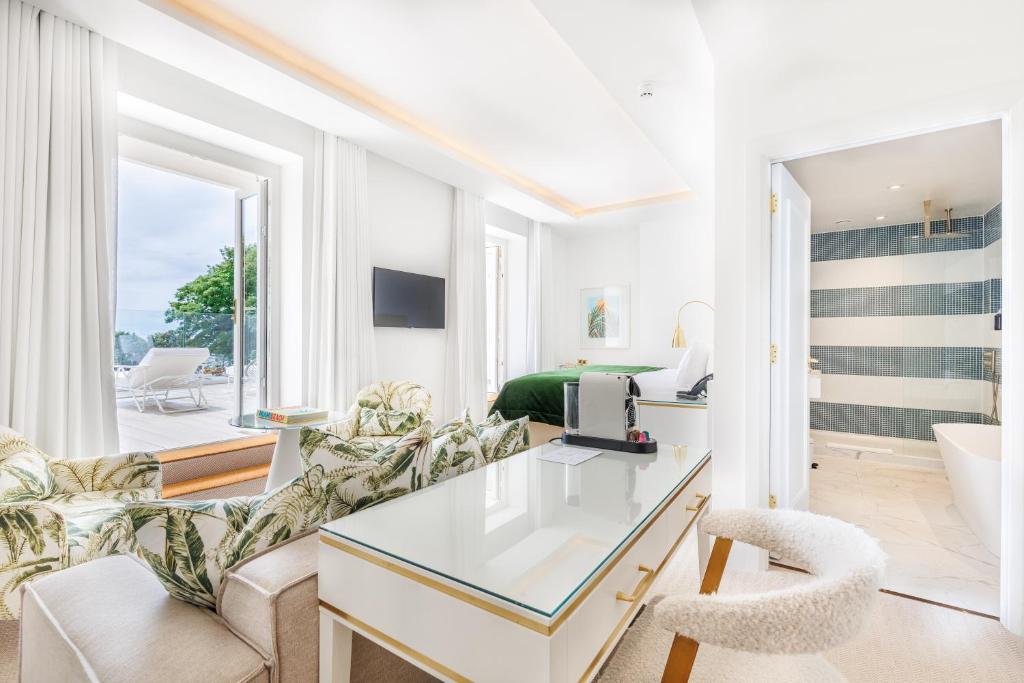 Nestled in the picturesque coastal town of Bournemouth, The Nici is an elegant Edwardian hotel that offers a luxurious stay with its own outdoor swimming pool and prime seafront location. This stylish hotel boasts a range of exceptional amenities including a games room, bar, restaurant, 24-hour front desk, and sun terrace. The spacious rooms feature contemporary designs and come equipped with all the modern comforts such as TVs and en suite bathrooms with hairdryers. Guests can start their day with a delightful breakfast buffet while enjoying breathtaking garden views. Free Wi-Fi access is available in public areas, ensuring guests stay connected throughout their stay. The recently refurbished bar and lounge area provide the perfect spot to unwind, while the seasonal dinner menu caters to various dietary needs. Conveniently located just a short car ride away from The Pavilion Theatre & Ballroom and less than 2 miles from Bournemouth Pier, The Nici allows guests easy access to explore nearby attractions such as the historic Corfe Castle.
– Prime seafront location
– Outdoor swimming pool
– Stylish Edwardian design
– Games room for entertainment
– Close proximity to popular attractions
Harbour Heights Hotel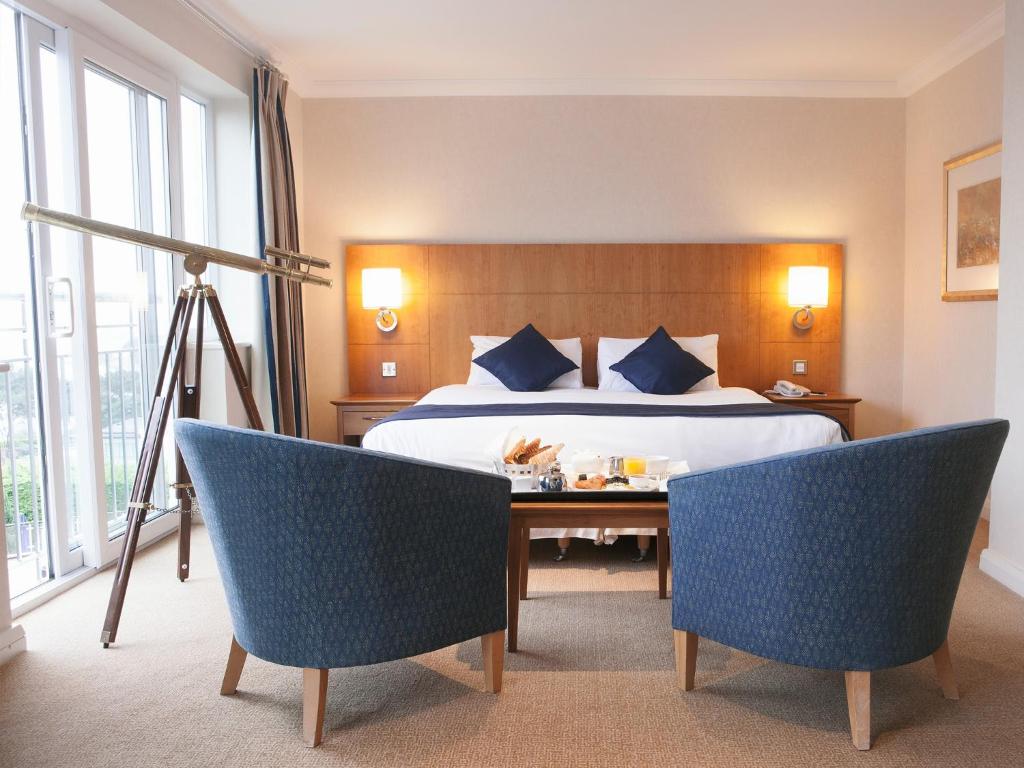 Located with breathtaking views of Poole Harbour, Harbor Heights Hotel offers a luxury boutique experience. The hotel boasts elegant nautical-themed rooms, complete with air conditioning, private bathrooms with spa baths, and even fluffy bathrobes upon request. Guests can enjoy fine dining at The Amalfi View Restaurant, which serves Italian cuisine and classic style specials in a contemporary setting adorned with bespoke furnishings and artwork. For those craving Asian flavors, the Chinese Restaurant 'Ocean Palace at Harbour Heights' offers an exquisite dining experience while taking in the picturesque harbor views. With its tranquil surroundings just outside of Poole center and convenient proximity to Bournemouth and Parkstone Golf Club, guests can indulge in both relaxation and exploration during their stay. Additionally, the large landscaped terrace provides the perfect spot for al fresco dining with panoramic sea views.
– Stunning panoramic sea views
– Elegant nautical-themed rooms
– Fine Italian cuisine at The Amalfi View Restaurant
– Exquisite Asian dining experience at Ocean Palace
– Convenient location near Bournemouth and Parkstone Golf Club
Marsham Court Hotel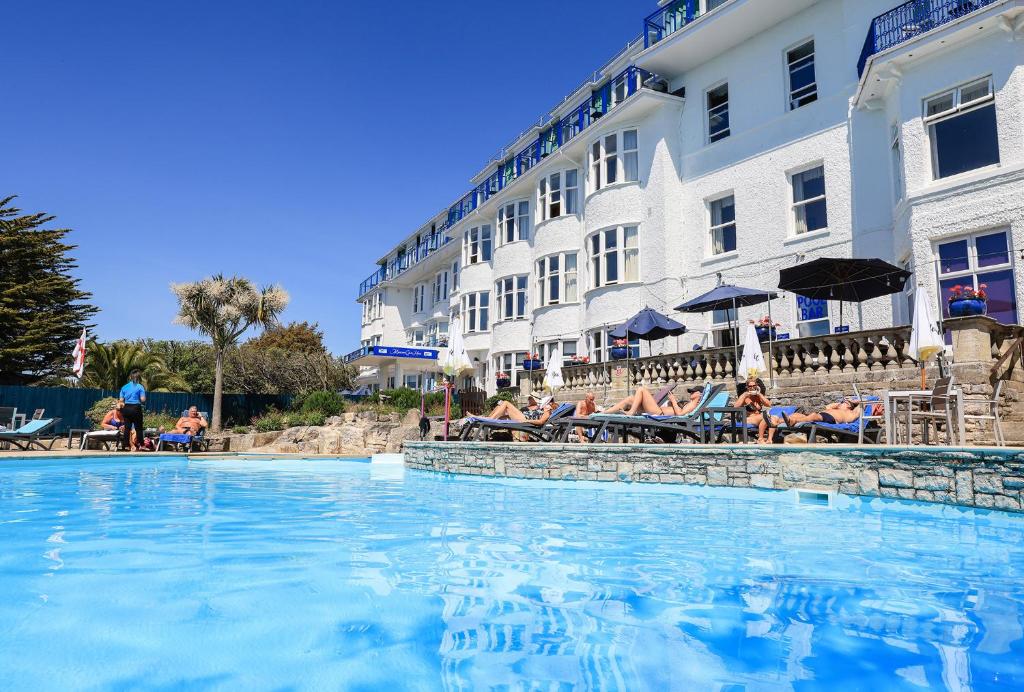 Located on East Cliff, with a breathtaking view of Bournemouth's Pier, bay, and beaches, the Marsham Court Hotel is a family-run establishment that offers a luxurious experience. The hotel boasts a beautiful south-facing swimming pool, open from May to September, as well as an award-winning restaurant. The property also features stunning gardens with sun terraces that overlook the bay and offer mesmerizing sea views. The stylish bedrooms are individually decorated and come with modern bathrooms, many of which have large walk-in showers. Each room is equipped with a flat-screen TV, laptop safe, ironing facilities, and tea/coffee making amenities. Guests can enjoy refreshing drinks at the on-site bar or indulge in afternoon tea and homemade dishes. With its prime location just meters away from Bournemouth's sandy beaches and only a short walk from the city center and shopping streets, the Marsham Court Hotel provides guests with an unbeatable luxury experience.
– Stunning location overlooking Bournemouth's Pier, bay, and beaches
– South-facing swimming pool for relaxation
– Award-winning gardens with captivating sea views
– Stylishly decorated rooms with modern bathrooms
– Convenient proximity to Bournemouth's city center and attractions
5 Star Luxury Hotels
5 Star Luxury Hotels are the epitome of opulence and unparalleled excellence. From the moment you step foot inside, you are greeted with impeccable service and a sense of grandeur. The attention to detail is evident in every aspect, from the luxuriously appointed rooms to the exquisite dining options and world-class spa facilities. These hotels offer a haven of relaxation and indulgence, where every need is anticipated and catered to. With their plush furnishings, state-of-the-art technology, and breathtaking views, 5 Star Luxury Hotels provide an unforgettable experience that leaves guests feeling pampered, rejuvenated, and completely immersed in ultimate luxury.
Haven Hotel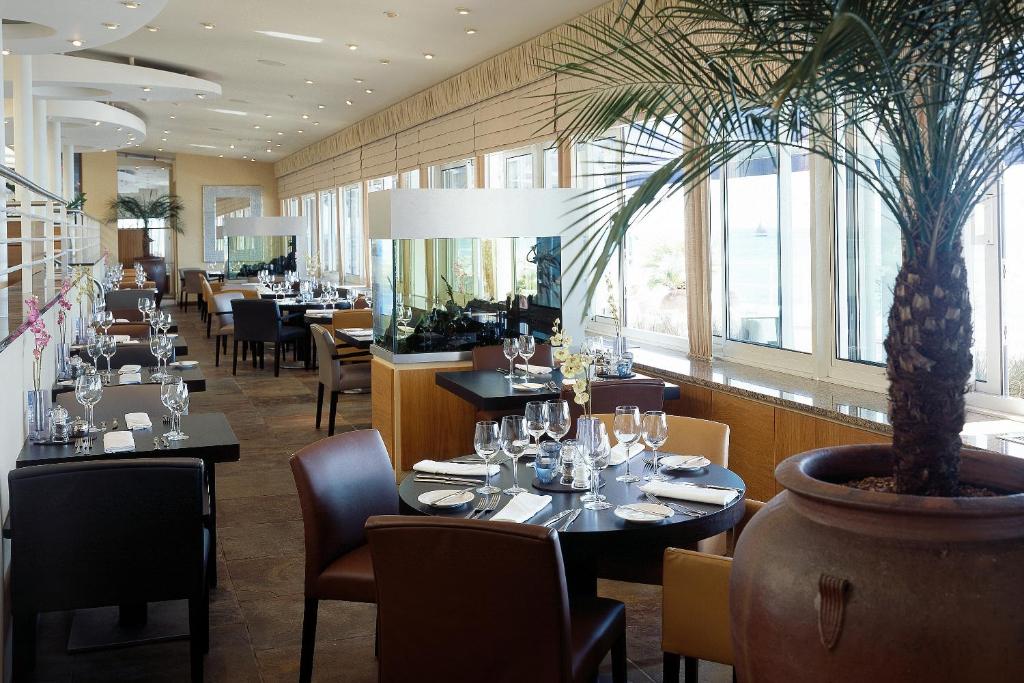 Located on the stunning Sandbanks Peninsula of Poole Harbour, Haven Hotel offers a luxurious stay with its elegant rooms and breathtaking panoramic views of Poole Bay. The hotel boasts both indoor and outdoor pools, allowing guests to relax and unwind in style. With free WiFi available throughout the property, guests can stay connected during their stay. The bright and comfortable bedrooms feature satellite TVs, tea/coffee facilities, and modern private bathrooms. Some rooms even offer scenic views towards the beautiful Purbeck Hills or Brownsea Island. Refined dining awaits at The Point restaurant, led by Head Chef Mark Nagle, where guests can savor exquisite dishes made from local and sustainable ingredients whenever possible. For a more casual setting, there is also a stylish lounge bar perfect for enjoying a drink or two. With its enviable location just a few meters away from Sandbanks Beach, Haven Hotel provides an ideal base for exploring the area's natural beauty.
– Indoor and outdoor pools
– Panoramic views of Poole Bay
– Excellent food at The Point restaurant using local and sustainable ingredients
– Stylish lounge bar
– Close proximity to Sandbanks Beach
Avon Causeway Hotel (Christchurch)
Nestled on the edge of the picturesque New Forest National Park, Avon Causeway Hotel in Christchurch offers a perfect blend of luxury and convenience. Located just 1 mile from Bournemouth Airport and a short 10-minute drive from the charming town of Christchurch, this hotel is an ideal choice for both business and leisure travelers. The spacious rooms are tastefully decorated and feature modern amenities such as TVs, tea/coffee making facilities, and a dining area. The en suite or private bath/shower rooms come with complimentary toiletries for added comfort. Guests can enjoy free Wi-Fi throughout the property. Start your day off right with a delicious breakfast from their extensive menu which includes options like full English, smoked salmon, or vegetarian breakfasts – all made using quality produce. For lunch and dinner, indulge in homemade dishes at the restaurant that prides itself on serving delectable meals crafted with care. The lounge bar offers a wide selection of ales, wines, and spirits to enjoy after a long day of exploring.
Aside from its excellent facilities and comfortable accommodations, Avon Causeway Hotel is renowned for its exciting Murder Mystery events that add an extra layer of entertainment to your stay. If you're looking to explore further afield during your visit, the hotel's prime location puts you just 10 minutes away from the historic market town of Ringwood and only a short drive away from Bournemouth's sandy beaches where you can relax by the seafront or engage in outdoor activities such as cycling and hiking.
For those seeking more adventure or wanting to discover nearby attractions, Poole is also easily accessible within just 25 minutes by car – offering beautiful parks along with stunning beach life experiences. Plus, if you're traveling by car there's no need to worry about parking as free parking is provided at Avon Causeway Hotel with extended free parking options available for up to 2 weeks when booking directly before catching your flight.
Grovefield Manor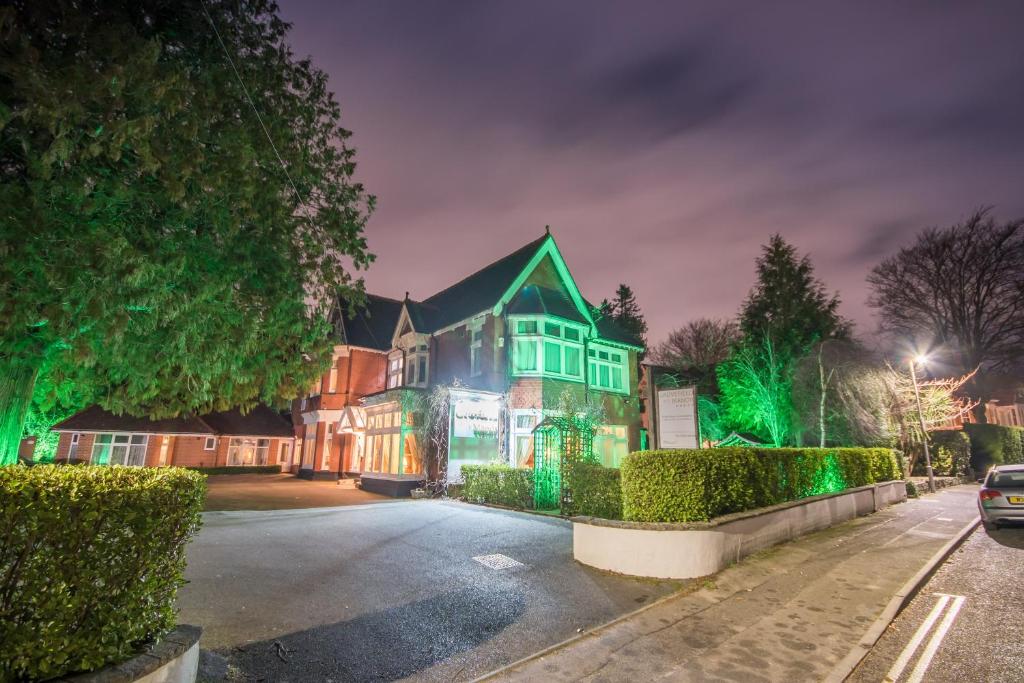 Dating back to 1895, Grovefield Manor is a charming bed and breakfast located on England's picturesque south coast. Situated just a short walk from Canford Cliffs and the sandy beaches, guests can enjoy the convenience of outside seating on the patio. The rooms at Grovefield are equipped with modern amenities such as flat-screen TVs, and free Wi-Fi is accessible throughout the building. Additionally, guests can take advantage of free private parking available on site. For exploring the surrounding area, there is a bus stop conveniently located right outside the manor that provides direct transport to Bournemouth. Those looking for adventure can embark on a memorable boat trip to the stunning Brownsea Island from either Poole Quay or Sandbanks.
Pros:
– Convenient location near Canford Cliffs and sandy beaches
– Charming historic property dating back to 1895
– Modern amenities including flat-screen TVs in each room
– Free Wi-Fi access throughout the building
– Complimentary private parking for guests' convenience
Most Expensive Hotels in Dorset
Dorset, known for its stunning coastlines and picturesque countryside, offers a selection of luxurious accommodations that cater to the discerning traveler. These opulent retreats provide a seamless fusion of elegance and comfort, with impeccable service and attention to detail. From enchanting manor houses nestled in rolling hills to lavish coastal villas boasting breathtaking ocean views, the most expensive hotels in Dorset offer an unparalleled experience of refinement and indulgence. With their refined decor, exquisite dining options, and world-class spa facilities, these exclusive properties provide the ultimate sanctuary for those seeking an unforgettable luxury getaway in this idyllic English county.
The Greyhound Wetherspoon (Bridport)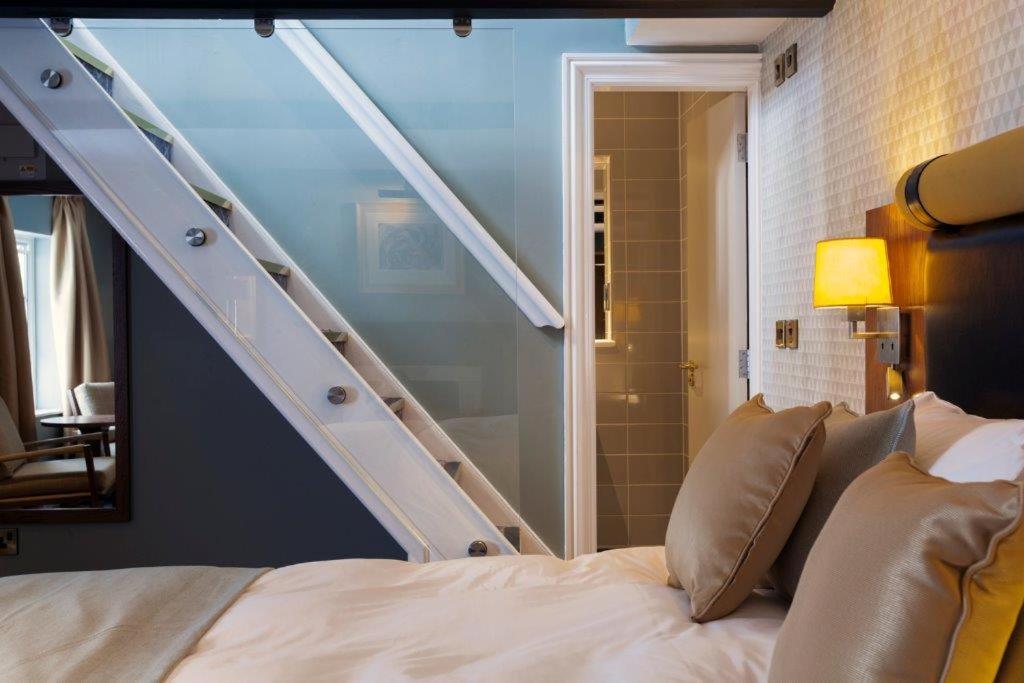 The Greyhound Wetherspoon, located in Bridport, offers guests a comfortable and convenient stay. The hotel features modern rooms equipped with flat-screen TVs and kettles for your convenience. Each room also includes a private bathroom with free toiletries and a hairdryer. Guests can enjoy the on-site bar and take advantage of the free WiFi available throughout the property. With its close proximity to Weymouth, Taunton, Dorchester, Exmouth, and Exeter International Airport, The Greyhound Wetherspoon is ideally situated for exploring the surrounding areas.
– Convenient location near popular destinations
– Modern rooms with comfortable amenities
– On-site bar for relaxation
– Free WiFi access throughout the property
– Close to transportation hubs for easy travel
Captain's Club Hotel & Spa (Christchurch)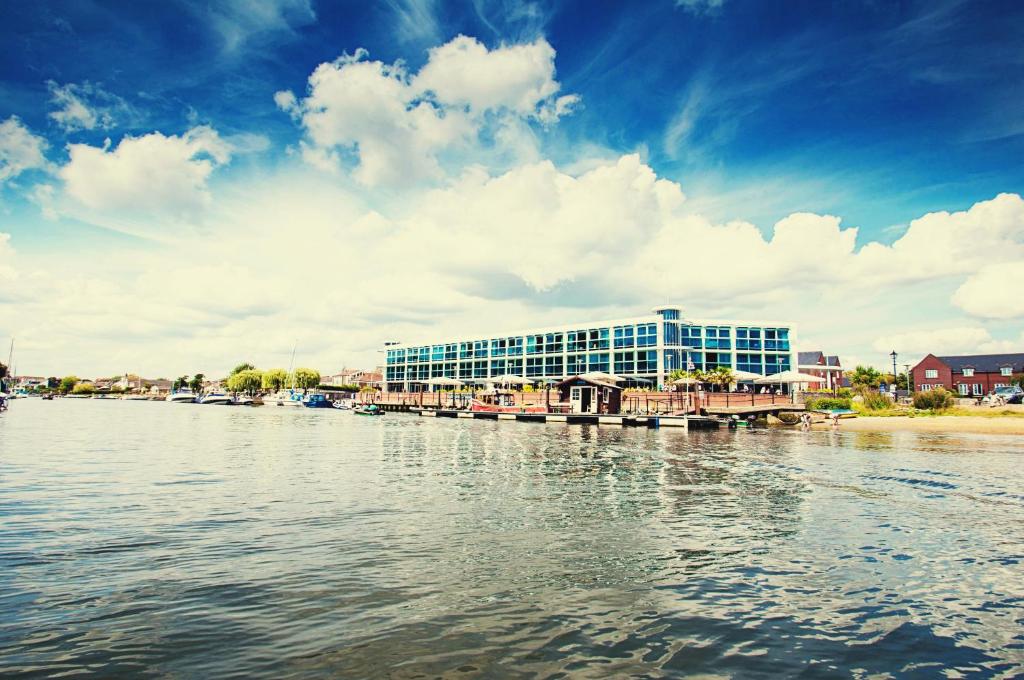 Located in Christchurch, just a 15-minute drive from Bournemouth town centre and airport, Captain's Club Hotel & Spa is a luxury hotel offering river-facing suites. With a chic and modern design, the spacious suites feature separate kitchen and living areas, all with stunning views of the River Stour. The hotel boasts spa facilities including a hydrotherapy pool and sauna, as well as a range of luxurious products from famous brands like Caudalie. Guests can enjoy delicious meals at the popular Club Restaurant while taking in panoramic views of the picturesque river. The property also offers free parking and Wi-Fi, making it convenient for guests to explore the surrounding area.
– Convenient location near the beach and popular tourist destinations
– Luxury spa facilities including a hydrotherapy pool
– Spacious suites with separate kitchen and living areas
– Stunning river views from all bedrooms and suites
– Dog-friendly accommodation available in designated suites
The Eastbury Hotel & Spa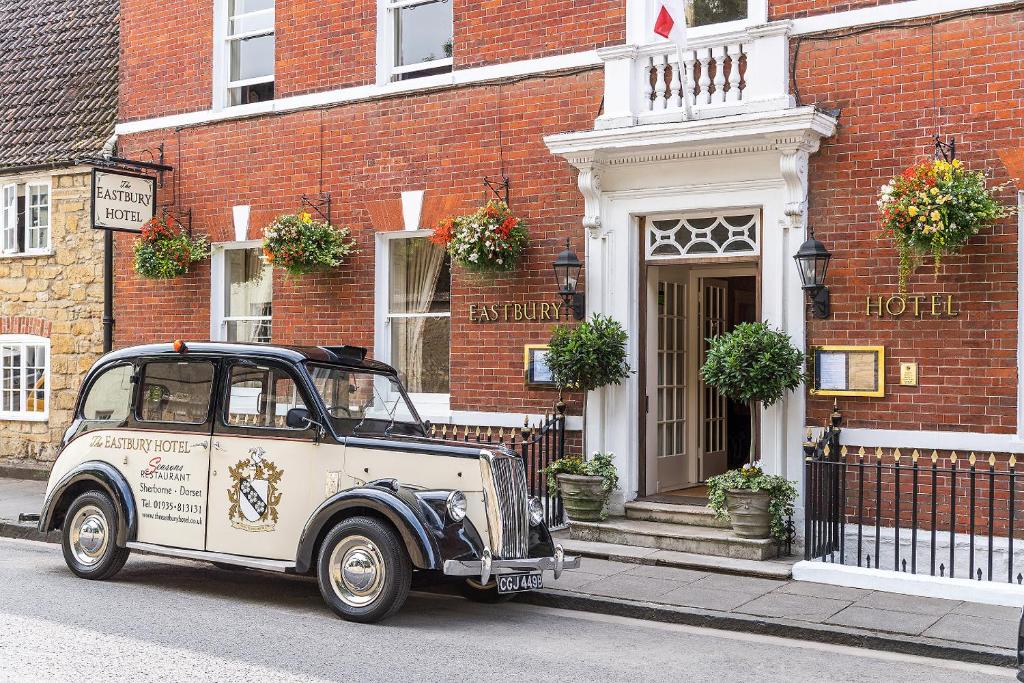 The Eastbury Hotel & Spa is a luxurious Georgian country house-style hotel and boutique spa nestled in the heart of Sherborne, a lively historic town in the beautiful Dorset countryside. Originally designed as an 18th-century gentleman's residence, this elegant property offers rooms that exude warmth and character, providing guests with a welcoming home-away-from-home experience. The hotel features secure parking and each individually decorated room boasts an en suite bathroom. Guests can unwind in the exclusive lounges, explore the library and snooker room, or soak up the beauty of the walled gardens. For private dining experiences, a unique pod is available. With its luxurious sofas, fresh flowers, and inviting fireplace, The Eastbury Hotel & Spa ensures a truly indulgent stay. While currently operating as a luxury Bed & Breakfast with its restaurant closed, guests can still enjoy exceptional dining options through partnerships with local restaurants in Sherborne to enhance their culinary experience during their visit.
– Luxurious Georgian country house-style accommodation
– Beautifully manicured gardens for relaxation
– Exclusive access to two lounges, library, and snooker room
– Private dining in a unique pod setting
– Partnership with local Sherborne restaurants for exceptional culinary experiences
Luxury Dorset Hotels Information
| | |
| --- | --- |
| 🛎️ Luxury Hotels in Dorset | 12 |
| 💵 Hotels Prices From | $65 |
| 💵 Highest price | $902 |
| 🥇 Average Review Score | 8.5/10 |
| 🛏️ Average number of Rooms | 38 |
Top Luxury hotels in Dorset
| | |
| --- | --- |
| Plumber Manor Hotel | 9.2/10 |
| Captain's Club Hotel & Spa (Christchurch) | 9/10 |
| The Nici | 8.9/10 |
| The Grosvenor Arms (Shaftesbury) | 8.8/10 |
| Harbour Hotel Christchurch (Christchurch) | 8.6/10 |
FAQ
What are some of the luxury hotels in Dorset?
Dorset offers a range of luxurious accommodations for travelers seeking opulence and comfort. Some notable luxury hotels in Dorset include The Pig on the Beach, a charming country house hotel with stunning views of Studland Bay, and Summer Lodge Country House Hotel, a five-star Georgian manor surrounded by beautiful gardens. Another option is Moonfleet Manor Hotel, a family-friendly luxury hotel located on the Jurassic Coast offering elegant rooms and an array of leisure facilities.
What amenities can I expect at luxury hotels in Dorset?
Luxury hotels in Dorset pride themselves on providing top-notch amenities to enhance guests' stay. Expect spacious and elegantly designed rooms or suites with comfortable beds, luxurious linens, and well-appointed en-suite bathrooms. Many properties offer on-site restaurants serving gourmet cuisine using local ingredients along with high-end spa facilities for ultimate relaxation. Additionally, you can enjoy leisure activities such as swimming pools, fitness centers, tennis courts, or even access to private beaches.
Are there any luxury boutique hotels in Dorset?
Absolutely! For travelers looking for a more intimate and unique experience, Dorset has several luxury boutique hotels that cater to their needs. The Acorn Inn is a perfect example – situated in the idyllic village of Evershot, this 16th-century coaching inn boasts individually designed rooms combining traditional charm with modern comforts. Another option is Captain's Club Hotel & Spa located on the banks of River Stour which offers contemporary style accommodation alongside its tranquil riverside terrace and full-service spa.
Which luxury hotel in Dorset offers sea views?
If you desire breathtaking sea views during your stay in Dorset, look no further than The Alexandra Hotel & Restaurant located right on Lyme Regis' waterfront. This beautifully restored Victorian property offers luxurious rooms that overlook the captivating Jurassic Coastline where you can enjoy stunning sunsets from your balcony. The hotel's award-winning restaurant also boasts panoramic sea views, allowing guests to indulge in delicious cuisine while enjoying the picturesque surroundings.
Do luxury hotels in Dorset provide easy access to tourist attractions?
Yes, many luxury hotels in Dorset offer convenient access to popular tourist attractions of the region. For example, The Cumberland Hotel is located just a short walk from Bournemouth Beach and Pier, ideal for those seeking a seaside getaway. Another option is The King's Arms Hotel situated in the heart of Christchurch which provides easy access to the historic Christchurch Priory and charming Quay area. With well-connected transport links, exploring popular landmarks and attractions from these luxury hotels is a breeze.
Popular Luxury Hotels destinations