Welcome to a captivating destination nestled in the heart of the Andes Mountains – Cusco, Peru. As you embark on a journey to this enchanting city, prepare to indulge in the epitome of opulence and elegance with its exceptional selection of extravagant accommodations. Immerse yourself in the rich history and vibrant culture that permeates every corner of this ancient Incan capital, while relishing in the luxurious comforts offered by Cusco's plethora of lavish hotels.
Step into a world where sophistication meets authenticity, as these distinguished establishments seamlessly blend traditional Peruvian charm with contemporary indulgence. From boutique hotels tucked away amidst cobblestone streets to grand restored mansions boasting breathtaking views of historical sites, each luxury hotel offers an exclusive experience that is as unique as the city itself. Pamper yourself with exquisite amenities and impeccable personalized service, ensuring that your stay is nothing short of extraordinary.
Cusco's luxury hotels not only provide an oasis for relaxation after exploring ancient ruins or wandering through bustling markets but also serve as gateways to unparalleled culinary experiences. Delight your taste buds with delectable dishes crafted from locally sourced ingredients, showcasing Peru's diverse culinary heritage. Allow skilled sommeliers to guide you through a mesmerizing selection of South American wines while basking in elegant settings adorned with intricate details that pay homage to Cusco's cultural tapestry.
Whether you seek adventure or tranquility, immerse yourself in the allure of Cusco's luxury hotels; where ancient wonders meet modern indulgence, creating an unforgettable escape for discerning travelers seeking nothing but utmost refinement.
Most Luxurious Hotels in Cusco
Casa Andina Premium Cusco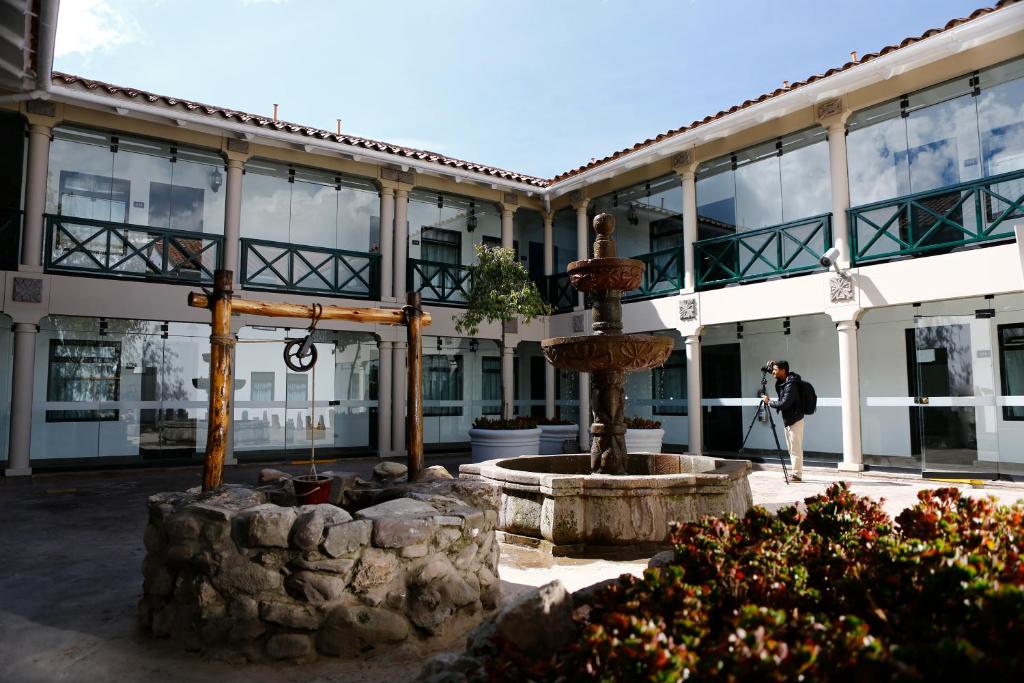 Casa Andina Premium Cusco is a luxury hotel located in central Cusco, offering stunning views of Limacpampa Square. The hotel features traditional rooms with courtyard views, providing a tranquil and authentic experience. Just a short walk away from Plaza de Armas and Koricancha, guests can easily explore the city's main attractions. The property offers free WiFi throughout for added convenience. The rooms and suites are beautifully designed around colonial-style courtyards with wooden balconies and provide cable TV for entertainment. Guests can indulge in delicious gourmet meals at Alma Restaurante & Bar, which showcases fresh produce from the Sacred Valley and serves delightful Andean specialties. In the evenings, guests can relax in the colonial-style bar or enjoy drinks on the terrace while taking in the view. For those seeking relaxation, there is a cozy lounge and reading room with a fireplace to unwind after a day of exploring. Additionally, Casa Andina Premium Cusco is only a 10-minute drive from the airport.
Pros:
– Central location overlooking Limacpampa Square
– Traditional rooms with courtyard views
– Gourmet restaurant serving fresh local produce
– Cozy lounge and reading room with fireplace
– Close proximity to main attractions and airport
Andean Wings Boutique Hotel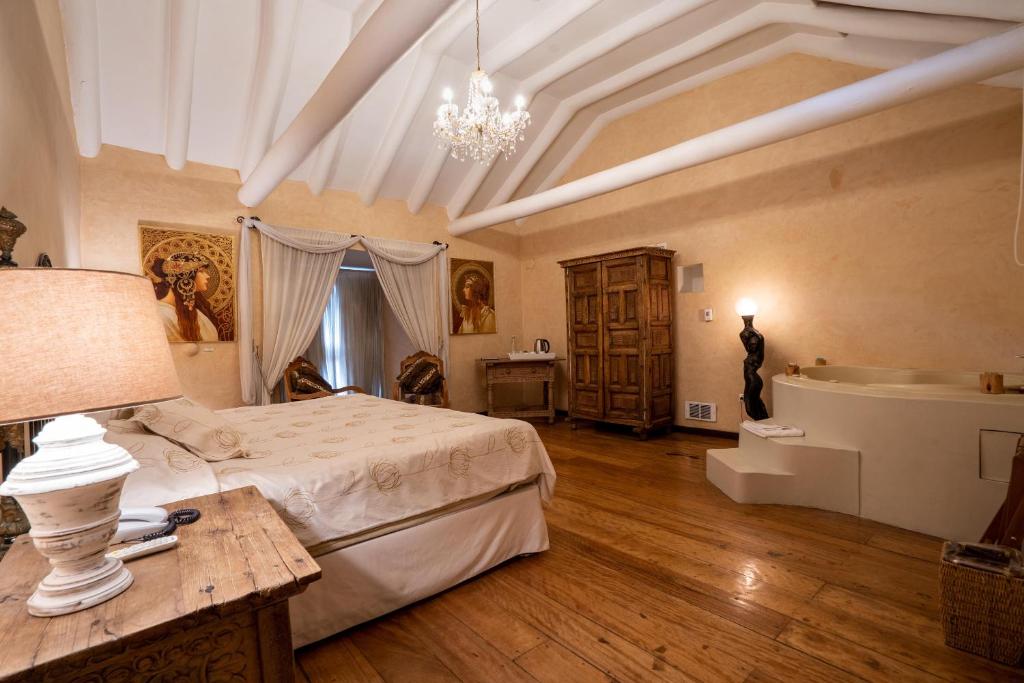 Located in a beautifully renovated colonial house in historical Cusco, Andean Wings Boutique Hotel offers intimate boutique-style accommodation just 200 meters from Cusco city center. The hotel features a patio restaurant serving traditional and international cuisine, as well as designer décor elements that can be purchased by guests upon request. The tastefully decorated hotel rooms are individually stylized with typical Peruvian features and include amenities such as flat-screen TVs, minibars, and private bathrooms with hairdryers. Guests can enjoy Wi-Fi throughout the property. In addition to its convenient location for exploring Cusco's rich history, the hotel is also a great starting point for adventures on the Inca Trail to Machu Picchu and visits to lesser-known ruins such as Inca Wasi and Old Vilcabamba. Alejandro Velasco Astete International Airport is just 5 km away from Andean Wings Boutique Hotel.
– Intimate boutique-style accommodation
– Traditional and international food served in the patio restaurant
– Opportunity to purchase unique designer décor elements
– Convenient location near Cusco city center
– Close proximity to popular sites like the Inca Trail and Machu Picchu
Terra Andina Colonial Mansion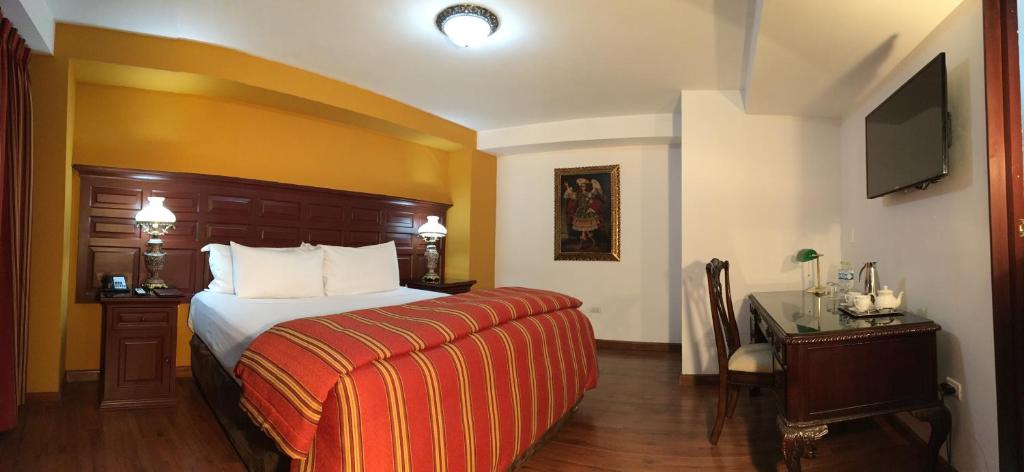 Terra Andina Colonial Mansion is a beautifully converted colonial mansion conveniently located just 200 meters from Cusco Train Station and only four blocks away from the bustling main square of the city. The hotel offers comfortable rooms with private bathrooms featuring hot water, cable TV, and complimentary WiFi. Guests can start their day by enjoying a delicious buffet breakfast in the open-air inner courtyard, surrounded by charming dining tables. Furthermore, this luxurious hotel is ideally situated for those planning to visit Aguas Calientes tourist destination, which can be reached within a scenic four-hour drive.
– Convenient location near Cusco Train Station
– Comfortable rooms with private bathrooms
– Complimentary WiFi access
– Delicious buffet breakfast served in an open-air courtyard
– Easy access to Aguas Calientes tourist destination
Other places to stay in Cusco
Luxury Hotels in Downtown Cusco
Luxury Hotels in Downtown Cusco offer a captivating blend of history, culture and opulence. Nestled amidst the ancient Incan ruins and cobblestone streets, these hotels provide an extraordinary experience for discerning travelers. With their exquisite architecture, elegant interiors and impeccable service, visitors are treated to a truly indulgent stay. Each hotel seamlessly combines modern comforts with traditional Andean charm, creating a unique ambiance that reflects the rich heritage of this enchanting city. From breathtaking views of the surrounding mountains to luxurious spa treatments and world-class dining experiences, luxury hotels in downtown Cusco cater to every desire ensuring an unforgettable stay for guests seeking the pinnacle of comfort and sophistication.
Novotel Cusco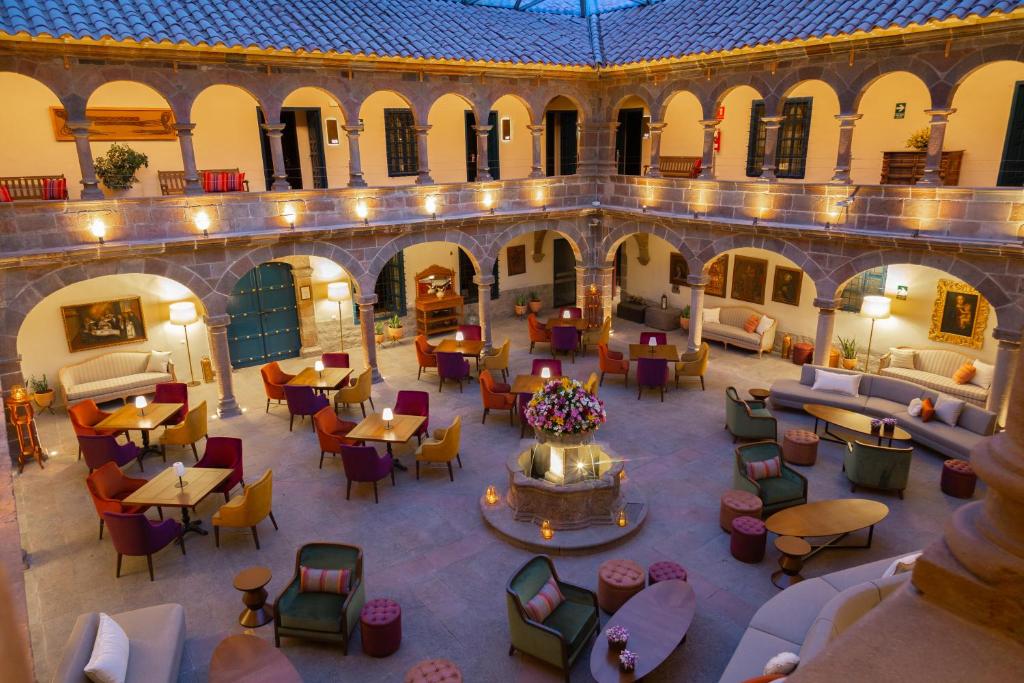 Novotel Cusco is a luxurious hotel located in a beautifully restored 16th-century building in the heart of Cusco. The hotel offers modern and comfortable rooms with heating, cable TV, minibar, work desk, and private bathroom. Some rooms even feature flat-screen TVs. Guests can indulge in international and local cuisine at La Cave Restaurant or enjoy drinks and snacks at the bar on the heated patio covered with a stunning glass ceiling. For more dining options, Le Cote Jardin 365 is also available. The hotel provides free WiFi access on public computers, along with 24-hour reception and a tour desk to assist guests with their travel needs. Additionally, Novotel Cusco is conveniently situated just three blocks away from Plaza De Armas and the cathedral, as well as five minutes from the Koricancha Temple.
Pros:
– Convenient location near major attractions
– Beautifully restored historic building
– Modern amenities in rooms
– Two excellent dining options available
– Helpful staff at tour desk
Quinta San Blas by Ananay Hotels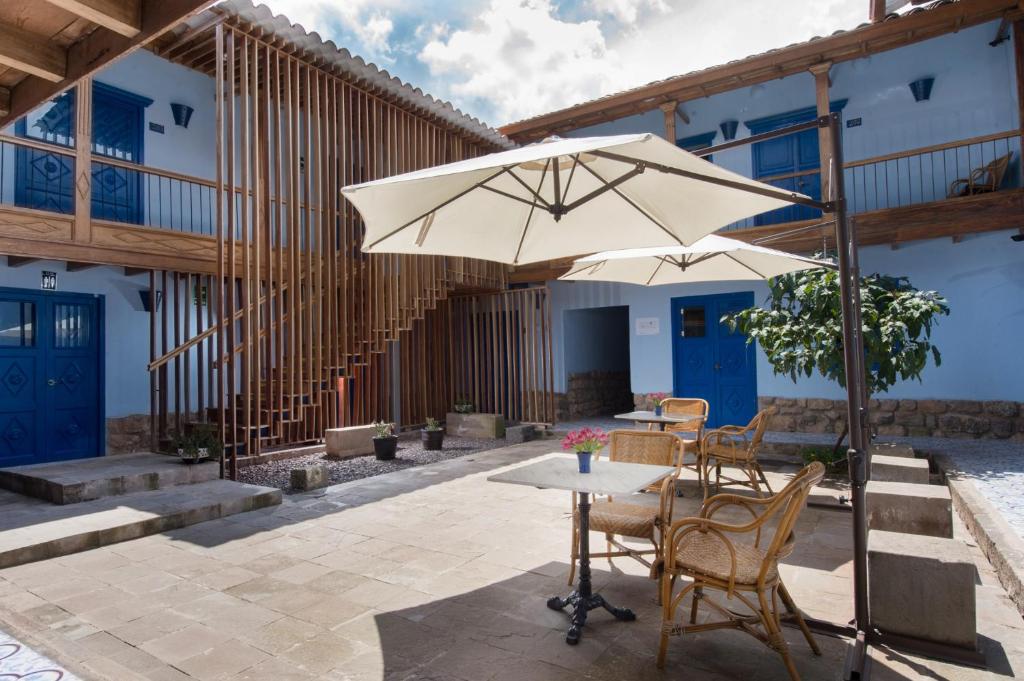 Quinta San Blas by Ananay Hotels in Cusco offers impeccable service and comfortable accommodations with free WiFi access. Situated just 100 meters from Hatun Rumiyoc and 200 meters from San Blas Church, guests can easily explore the city's attractions. The hotel features rooms with amenities such as a safety-deposit box, wardrobe, and private bathrooms with complimentary toiletries. Guests can enjoy shared lounge areas, a terrace, and a bar on site. The 24-hour front desk is available for ticket services and helpful information about the area. Located only 1.5 km from Wanchaq Train Station, Quinta San Blas is an ideal choice for travelers seeking convenience and comfort.
– Free WiFi access throughout the property
– Daily breakfast included
– Convenient location near popular landmarks
– Helpful and attentive staff
– Comfortable rooms with essential amenities
Antigua Casona San Blas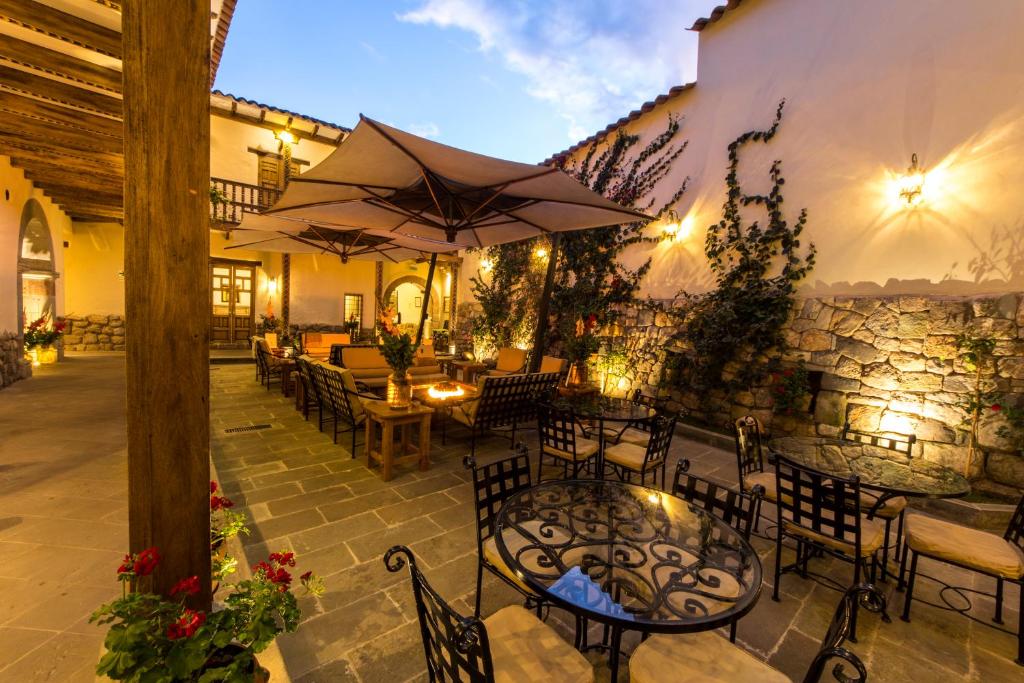 Located just 700 meters from Cusco's main square and 100 meters from the San Blas Church, Antigua Casona San Blas is a charming luxury hotel offering 26 well-appointed rooms. Each room features modern amenities such as in-room WiFi, radiant heating, a flat-screen TV, unlimited hot water, and private bathrooms. The hotel boasts a central patio with a cozy fireplace and an in-house bar where guests can unwind after a day of exploring the city. With its convenient location, guests will find themselves within walking distance of various renowned restaurants and bars in Cusco. Additionally, the property offers a 24-hour front desk for any assistance or inquiries guests may have during their stay.
– Conveniently located near Cusco's main attractions
– Comfortable and well-equipped rooms
– Charming central patio with a fireplace
– In-house bar for relaxation and socializing
– Friendly and helpful staff available at the 24-hour front desk
5 Star Luxury Hotels
5 Star Luxury Hotels provide the epitome of elegance, comfort, and exclusivity. These exceptional establishments exude impeccable service and attention to detail, ensuring an unforgettable experience for discerning travelers. From luxurious accommodations adorned with lavish furnishings to world-class dining options that tantalize the taste buds, every aspect is meticulously crafted to cater to the most refined tastes. With indulgent spas offering rejuvenating treatments and state-of-the-art fitness centers providing a haven for wellness enthusiasts, 5 Star Luxury Hotels strive to create a sanctuary where guests can relax and unwind in opulent surroundings.
Sonesta Hotel Cusco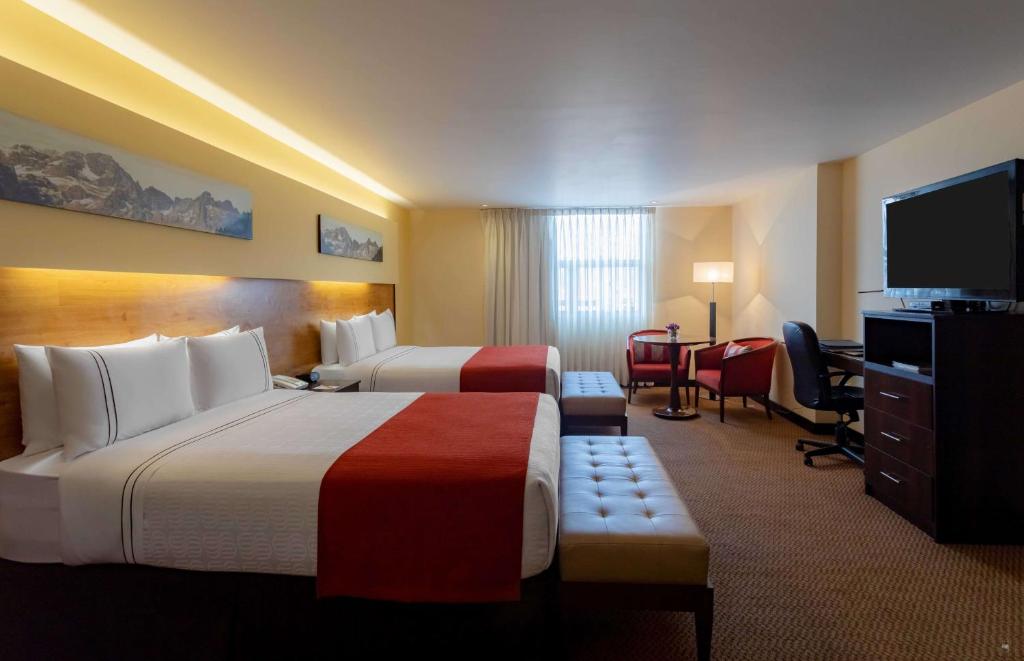 Located just 8 minutes drive from Velasco Astete Airport and less than 1 km from the city centre, Sonesta Hotel Cusco offers stunning mountain or city views from all of its contemporary rooms. Each room is equipped with cable TV, free WiFi, and a private bathroom with a separate bathtub. The hotel's fine dining restaurant serves a fusion of Peruvian and international cuisine, while the bar offers regional spirits for guests to enjoy. For added convenience, there are rates available that include either lunch or dinner, which consist of two appetizers, one main course, and one non-alcoholic beverage. The hotel's proximity to Cusco Metro Station makes it easily accessible for exploring the city, and it is also conveniently located just 130 km away from Machu Picchu.
– Convenient location near airport and city center
– Stunning views of mountains or city
– Contemporary rooms with modern amenities
– Fusion of Peruvian and international cuisine in the fine dining restaurant
– Option for rates that include meals with multiple course choices
Aranwa Cusco Boutique Hotel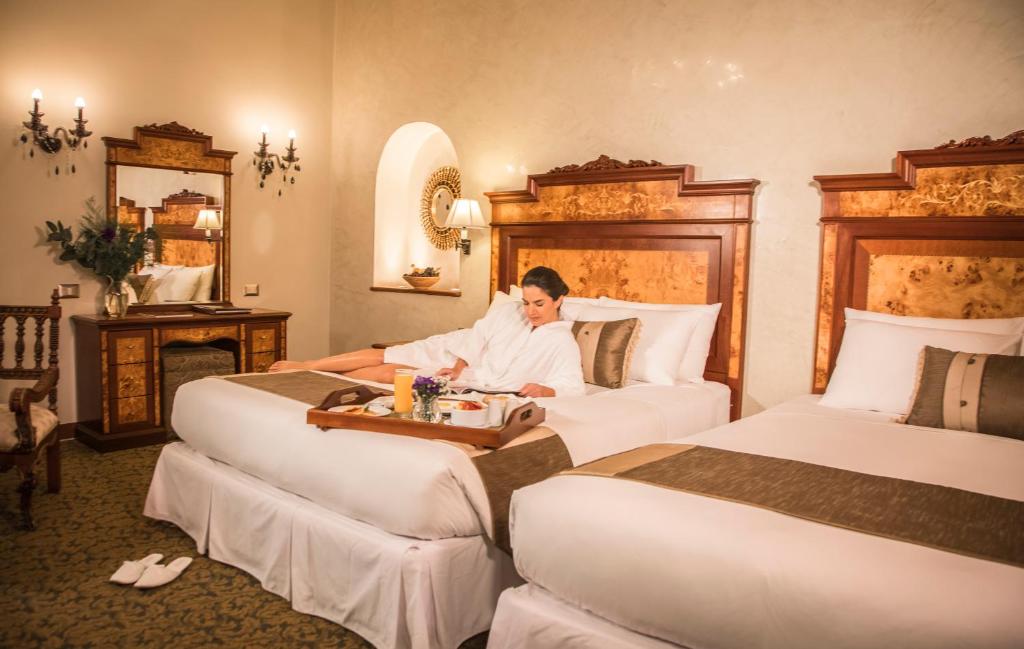 Aranwa Cusco Boutique Hotel offers a truly luxurious experience in the heart of downtown Cuzco. Housed in a beautifully restored sixteenth-century mansion, declared a National Historic Monument, this 5-star hotel exudes regal elegance with its stylish antiques and crystal chandeliers. The large suites are lavishly adorned with luxurious upholstery, wall frescoes, and fresh lily bouquets. Guests can indulge in creative Peruvian cuisine at the Mishti Gourmet Restaurant or enjoy tapas and pisco-based cocktails at the Khasikay Bar. The hotel also provides free WiFi access, intelligent oxygen systems in all rooms, and marbled bathrooms with circular hot tubs. Additionally, guests can take advantage of personalized city tours of Cuzco and enjoy a delicious breakfast featuring fresh fruit salad, omelettes, and chocolate cakes. With its convenient location just two blocks from Plaza de Armas and a thirty-minute drive from Velasco Astete International Airport, Aranwa Cusco Boutique Hotel is an ideal choice for discerning travelers seeking luxury accommodations.
– Beautifully restored sixteenth-century mansion
– Stylish interiors with antique furnishings and crystal chandeliers
– Large suites with luxurious upholstery and wall frescoes
– Mishti Gourmet Restaurant serving creative Peruvian flavors
– Convenient location near Plaza de Armas
Xima Exclusive Cusco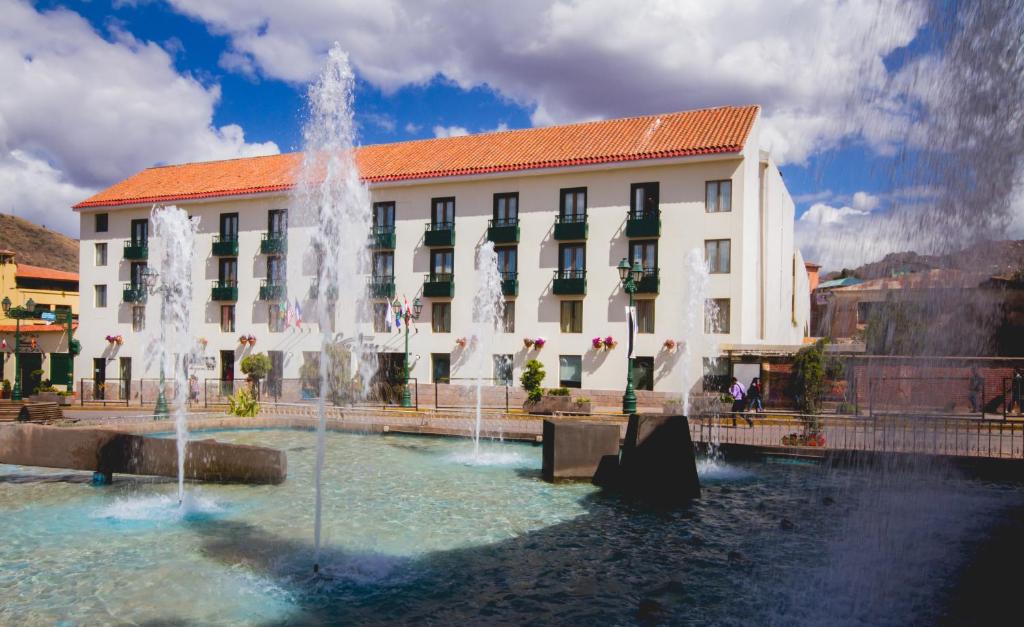 Xima Exclusive Cusco Hotel is a modern and luxurious hotel located just a few blocks away from the Plaza de Armas in Cusco. Situated right in front of Cusco's largest craft market, this hotel offers convenience and easy access to local attractions. The rooms are stylishly designed and feature LCD flat-screen TVs with cable channels. Some rooms even come with balconies, providing guests with breathtaking views of the city. Guests can enjoy a delicious buffet breakfast included in their stay, as well as free wired internet access throughout the hotel. The highlight of Xima Exclusive Cusco Hotel is its impressive Spa, where guests can indulge in special treatments and relaxation massages that incorporate elements and techniques from the Inca Culture, leaving them feeling rejuvenated in both body and mind. For those looking to unwind further, the Atrium Café offers a serene ambiance with lovely water features to enjoy while sipping a cup of coffee or accessing WiFi.
– Convenient location near Plaza de Armas
– Stylish and modern rooms
– Spa offering unique Inca-inspired treatments
– Buffet breakfast included
– WiFi access available
Luxury Cusco Hotels Information
| | |
| --- | --- |
| 🛎️ Luxury Hotels in Cusco | 9 |
| 💵 Hotels Prices From | $185 |
| 💵 Highest price | $1138 |
| 🥇 Average Review Score | 9/10 |
| 🛏️ Average number of Rooms | 59 |
Top Luxury hotels in Cusco
| | |
| --- | --- |
| Antigua Casona San Blas | 9.7/10 |
| Aranwa Cusco Boutique Hotel | 9.1/10 |
| Quinta San Blas by Ananay Hotels | 9/10 |
| Sonesta Hotel Cusco | 9/10 |
| Terra Andina Colonial Mansion | 8.9/10 |
FAQ
What are some of the top luxury hotels in Cusco?
Cusco offers a range of luxurious accommodations that cater to different preferences. Some of the top luxury hotels in the city include Belmond Palacio Nazarenas, which is known for its stunning views and personalized service, Inkaterra La Casona, a beautiful boutique hotel with exceptional attention to detail, and JW Marriott El Convento Cusco, housed in a restored 16th-century convent offering modern comforts and historical charm. These hotels provide an unforgettable experience for guests looking for indulgence during their stay in Cusco.
Are luxury hotels in Cusco expensive?
Luxury hotels in Cusco do tend to come with higher price tags compared to other options. However, considering the opulent amenities, world-class service, and unique experiences they offer, many visitors find them worth the splurge. The rates can vary depending on factors such as location, seasonality, and specific offerings. It is recommended to check for special packages or deals that these luxury hotels may have from time to time.
What amenities can I expect at a luxury hotel in Cusco?
Luxury hotels in Cusco go above and beyond to provide guests with exceptional amenities. Alongside comfortable rooms or suites fitted with high-quality furnishings and bedding, you can expect facilities like spas offering various wellness treatments inspired by ancient Andean traditions. Gourmet dining options featuring both local Peruvian delicacies and international cuisine are also common at luxury hotels here. Additionally, most luxury properties offer services such as concierge assistance for organizing tours or private transportation arrangements.
Are there any historical luxury hotels in Cusco?
Yes! History lovers will be thrilled to know that there are several historic luxury hotels located within the city of Cusco. These properties often feature colonial-style architecture blended seamlessly with modern comforts. For example, Belmond Hotel Monasterio is a former 16th-century monastery that has been transformed into a luxurious hotel while retaining its original charm. Additionally, Palacio del Inka, another well-known luxury hotel, is housed in a historic mansion with a captivating past and fascinating architecture.
Do luxury hotels in Cusco offer tours or experiences?
Many luxury hotels in Cusco offer exclusive tours and experiences that allow guests to immerse themselves fully in the city's rich history and culture. These can include guided visits to archaeological sites like Machu Picchu or excursions to nearby attractions such as the Sacred Valley. Some properties even organize unique activities like cooking classes where guests can learn to prepare traditional Peruvian dishes. It's best to inquire with your chosen luxury hotel about the specific tours and experiences they offer during your stay.
Popular Luxury Hotels destinations