Welcome to the enchanting world of opulent accommodations in Cumbria, a captivating region nestled in the heart of the United Kingdom. As an aficionado of luxurious hotels, I have had the pleasure of exploring and immersing myself in the sheer magnificence that this charming destination has to offer. Prepare to be captivated by Cumbria's awe-inspiring array of lavish establishments, meticulously designed to cater to even the most discerning travelers.
Cumbria, located in picturesque surroundings, boasts an impressive selection of sumptuous hotels that seamlessly blend elegance with breathtaking natural beauty. From secluded countryside retreats adorned with lush greenery and rolling hills to stunning waterfront properties overlooking crystal-clear lakes, this captivating region offers something for every luxury-seeking traveler. Indulge yourself in ultimate comfort as you unwind amidst regal furnishings and unparalleled amenities, all crafted with meticulous attention to detail.
Embark on a journey through time as you step into historic manor houses and stately homes converted into exquisite luxury hotels. Immerse yourself in a world where grandiosity meets contemporary sophistication; each room exudes its own unique character while radiating timeless elegance. Experience unrivaled culinary delights prepared by renowned chefs who effortlessly fuse traditional flavors with innovative techniques, tantalizing your taste buds and ensuring an unforgettable gastronomic experience.
In Cumbria's luxury hotels, no stone is left unturned when it comes to creating a haven of tranquility for guests seeking respite from their busy lives. Allow yourself to be pampered at world-class spas offering rejuvenating treatments inspired by ancient therapies or bask in the serenity of beautifully manicured gardens enveloped by fragrant blooms. Whether you seek outdoor adventures amidst breathtaking landscapes or simply yearn for moments of relaxation cocooned within splendid surroundings, Cumbria's luxury hotels truly epitomize indulgence at its finest.
Join me as we embark on an extraordinary journey through Cumbria, exploring the crème de la crème of luxury accommodations that are sure to leave you spellbound. Immerse yourself in a world where elegance meets nature, and allow Cumbria's unrivaled beauty to captivate your senses as you revel in the lap of luxury.
Most Luxurious Hotels in Cumbria
Applegarth Villa Hotel & Restaurant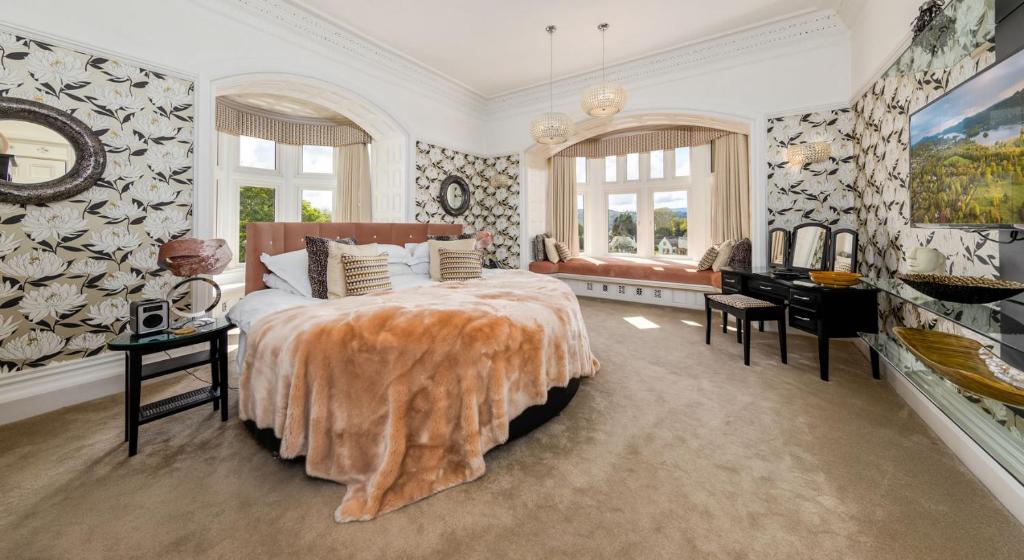 Located near Windermere village, Applegarth Villa Hotel & Restaurant is a stunning Victorian mansion house offering a luxurious stay. The hotel features an elegant conservatory restaurant, free parking, and stylish rooms equipped with iPod docks and flat-screen TVs. Just a 3-minute walk away from Windermere Rail Station, this adult-only hotel provides guests with free bottled water and digital radios in each room. The on-site JR's restaurant offers a tempting menu showcasing local produce, while the en suite rooms boast Egyptian cotton linen and sleek bathrooms with power showers. Guests can enjoy free Wi-Fi throughout the property and indulge in a variety of drinks at the cosy oak-panelled bar. Nestled in a peaceful street, this family-run hotel is conveniently located within walking distance of Lake Windermere's shores and just 20 minutes' drive from the M6 motorway.
– Convenient location near Windermere village
– Elegant Victorian mansion house
– Stylish rooms with modern amenities
– On-site restaurant featuring locally sourced ingredients
– Cosy oak-panelled bar serving a selection of beverages
Aphrodites Group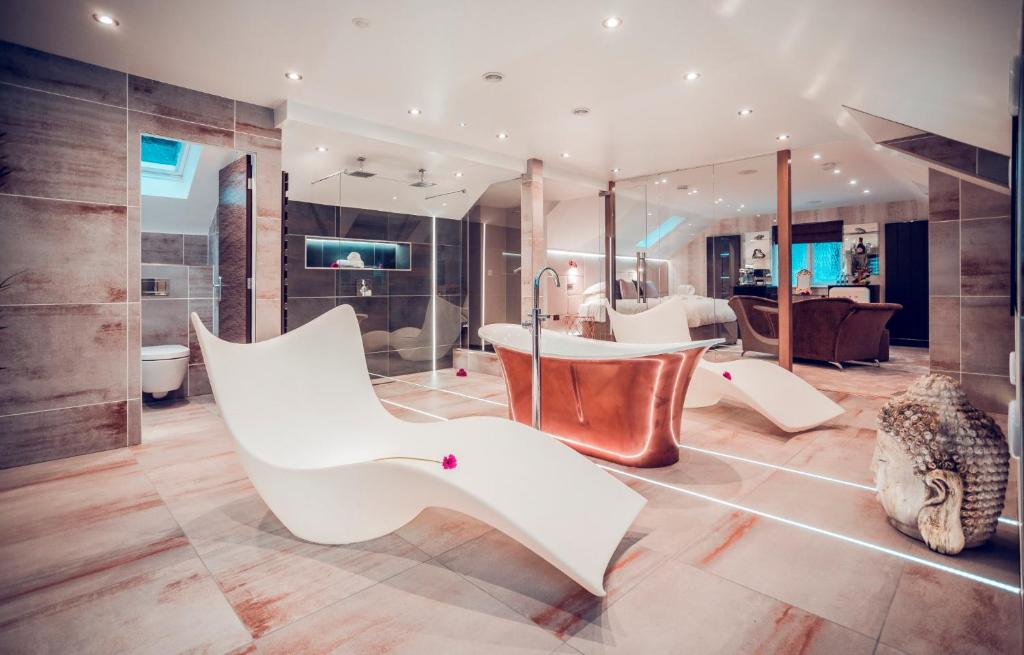 Located above Lake Windermere, Aphrodites Group is a luxurious hotel offering themed suites with spa baths or private hot tubs. The suites are beautifully decorated with romantic features and elegant furnishings. Guests can enjoy free parking and Wi-Fi throughout the property. Indulge in a delicious full English or continental breakfast at the restaurant or have it delivered to your room. Each suite includes a seating area, flat-screen satellite TV with DVD player, and a modern bathroom stocked with Molton Brown toiletries and a spacious double-size bath. Take advantage of the onsite sauna and steam room, or relax in the stylish conservatory guest lounge. Surrounded by manicured lawns and natural woodland, Aphrodites Group provides a tranquil escape in the stunning Lake District. It is conveniently located just 10 minutes' walk from the Bowness Ferry Crossing and a leisurely 20-minute stroll to Bowness-on-Windermere center where you can find an array of shops, restaurants, and pubs.
– Themed suites with spa baths or private hot tubs
– Free parking and Wi-Fi
– Scenic location in the beautiful Lake District
– Sauna and steam room on-site
– Stylish conservatory guest lounge
Royal Oak at Keswick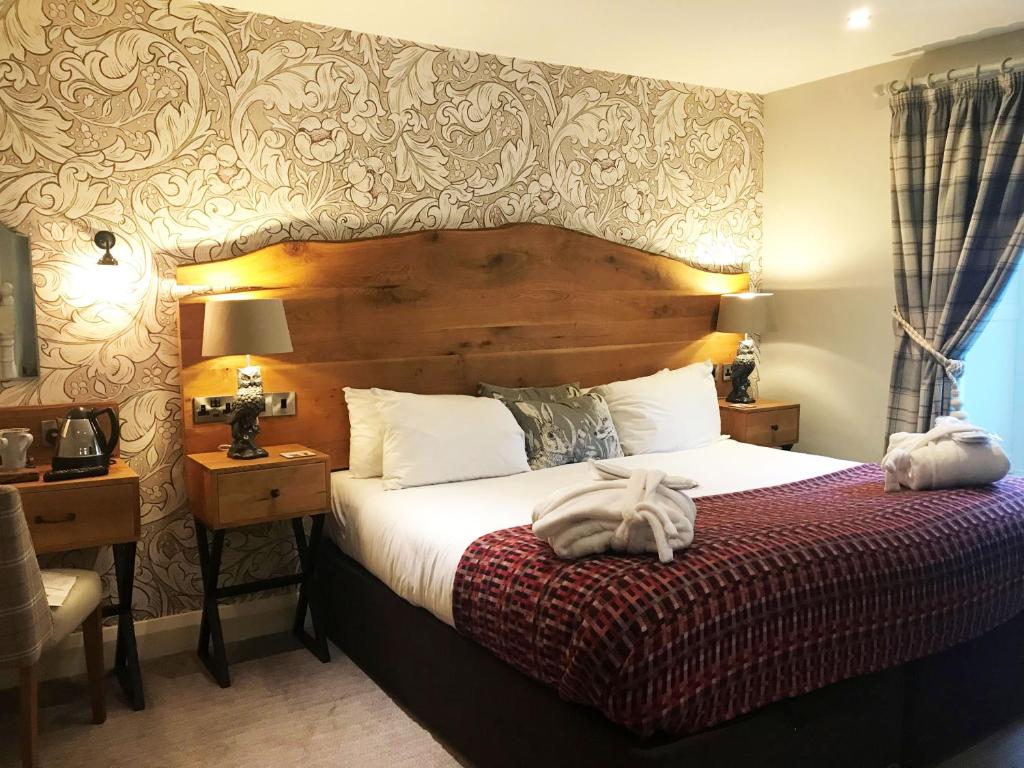 The Royal Oak at Keswick is an 18th-century luxury hotel located in the charming market town of Keswick, just 2 miles from Derwentwater. This traditional pub offers a warm and cozy atmosphere along with delicious home-cooked seasonal food and a selection of cask ales. The hotel features elegant en suite rooms, each equipped with modern amenities including an LCD TV, tea and coffee making facilities, and free Wi-Fi. Guests can enjoy stunning views of the surrounding hills and take advantage of the hotel's close proximity to the town center. With its excellent location, the Royal Oak at Keswick is the perfect base for exploring the beautiful Lake District.
Pros:
– Traditional pub atmosphere
– Delicious home-cooked seasonal food
– Elegant en suite rooms with modern amenities
– Stunning views of surrounding hills
– Close proximity to town center
Other places to stay in Cumbria
Luxury Hotels in Downtown Cumbria
Downtown Cumbria is a haven for luxury hotels, offering discerning travelers an unparalleled experience of opulence and elegance. Nestled amidst breathtaking landscapes, these hotels seamlessly blend modern sophistication with old-world charm. Impeccable service, thoughtfully-designed interiors, and attention to detail create an ambiance that exudes refinement and indulgence. From stylishly-appointed rooms to exquisite dining options showcasing the finest local cuisine, every aspect of a stay in downtown Cumbria's luxury hotels is designed to exceed expectations. Whether it's exploring the surrounding natural wonders or simply basking in the serenity of their surroundings, guests are treated to a truly unforgettable experience in these exceptional establishments.
Langdale Hotel & Spa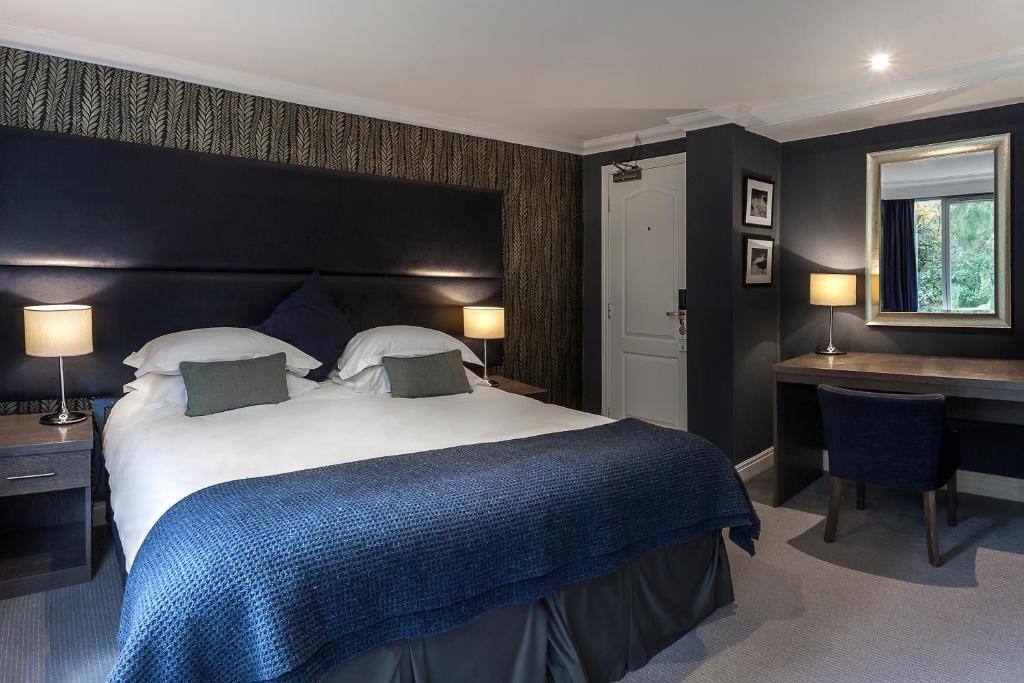 Located in the heart of the stunning Lake District, Langdale Hotel & Spa is a luxurious 4-star woodland estate offering a range of top-notch amenities. Guests can indulge in the hotel's award-winning dining options, unwind at the luxury spa, or explore the expansive 35 acres of scenic grounds. The hotel features an indoor swimming pool and fully equipped fitness center for guests to enjoy. Each room boasts modern bathrooms with designer toiletries and plush robes, along with flat-screen TVs, free Wi-Fi, and iPod docks. With its picturesque surroundings and convenient location just a 10-minute drive from Ambleside and Lake Windermere, Langdale Hotel & Spa offers an unforgettable luxury experience.
– Indoor pool for relaxation and exercise.
– Award-winning dining options.
– Luxury spa offering beauty treatments and thermal experiences.
– Modern rooms with top-notch amenities.
– Convenient location near popular attractions in the Lake District.
Burn How Garden House Hotel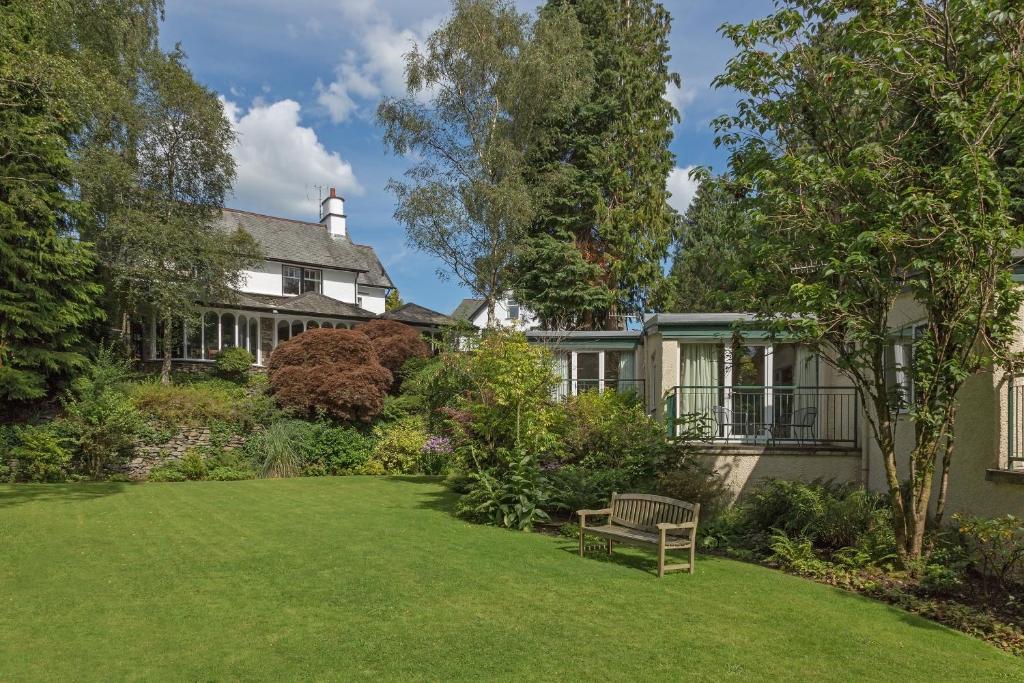 Located just a short 5-minute stroll from Lake Windermere, Burn How Garden House Hotel is a peaceful and family-run retreat in the heart of the Lake District. The hotel offers individually decorated rooms situated in private grounds away from the main building. Each room comes with its own free dedicated car parking space and WiFi, with many also featuring a private balcony for guests to enjoy. Breakfast is served overlooking the beautiful garden, creating a serene start to your day. The hotel also boasts a relaxing lounge, patio, and bar that are open throughout the day and evening for guests to unwind. As an added bonus, every afternoon guests can indulge in complimentary Tea & Cake. For those looking to explore the surrounding area, countryside walks and cruises on Lake Windermere are easily accessible from the hotel's location. Additionally, the hotel provides secure bike storage for cycling enthusiasts wanting to explore the picturesque landscapes of the Lake District. Within just a 5-minute walk from Burn How Garden House Hotel lies Bowness-on-Windermere – home to an array of restaurants, bars, specialty stores, and even the World of Beatrix Potter Attraction.
– Individually decorated rooms
– Free dedicated car parking space and WiFi
– Complimentary Tea & Cake every afternoon
– Peaceful location near Lake Windermere
– Close proximity to attractions such as Bowness-on-Windermere and World of Beatrix Potter
North Lakes Hotel and Spa (Penrith)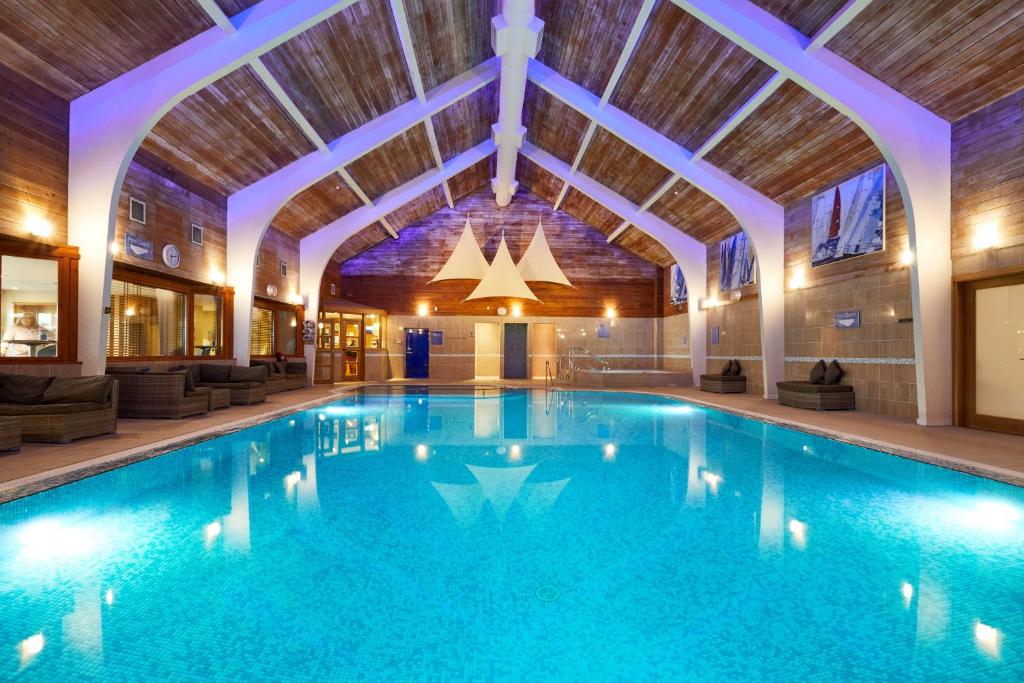 Located just off the M6 motorway, the 4-star luxury North Lakes Hotel and Spa in Penrith boasts an indoor swimming pool, whirlpool, and modern rooms. Guests can enjoy free WiFi and locally sourced cuisine at the on-site restaurant. The hotel also features Health & Fitness facilities including a gym, functional studio, sauna, steam room, and hot tub for an additional cost. Each stylishly furnished room offers cosy beds, free bottled water, freshly ground coffee and tea facilities along with fresh milk. The hotel is conveniently situated a 15-minute walk from Penrith center and within close proximity to attractions such as Ullswater lake (a 10-minute drive away), Rheged Activity Centre (less than 5 minutes away by car), Skiddaw mountain (30 minutes' drive away), and the vibrant town of Keswick (a 25-minute drive).
5 Star Luxury Hotels
5 Star Luxury Hotels offer the pinnacle of opulence and sophistication, providing guests with an extraordinary experience that is unrivaled. From the moment you step through their grand entrances, you are enveloped in a world of elegance and impeccable service. Every aspect has been meticulously designed to ensure utmost comfort and indulgence, from lavish guest rooms adorned with plush furnishings to exquisite dining options that tantalize your taste buds with culinary delights. The attention to detail is evident in every corner, creating an ambiance of refined luxury throughout. These hotels redefine luxury by offering personalized experiences tailored to your preferences, whether it's arranging exclusive access to events or providing bespoke spa treatments. A stay in a 5-star luxury hotel promises an unforgettable journey where every desire is catered for, leaving you feeling pampered and rejuvenated.
Lakeside Hotel and Spa (Newby Bridge)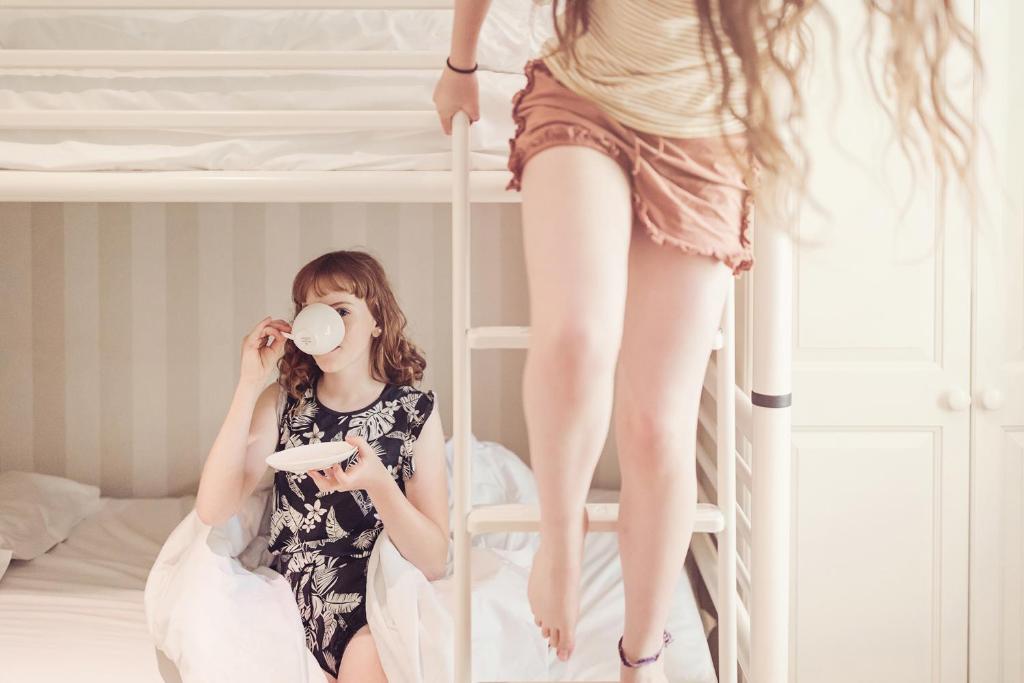 Situated on the picturesque southern shore of Lake Windermere, Lakeside Hotel and Spa in Newby Bridge offers guests a luxurious retreat just 15 minutes from junction 36 of the M6 motorway. With its stunning views of the lake, this sumptuously furnished hotel boasts en suite rooms, a 17-meter pool, and an exquisite spa offering a range of treatments. As an Aveda Destination Spa, guests can indulge in the pool, spabath, gymnasium, and various massage therapies. The hotel itself is steeped in history, with original features including oak panelling and real fires. Guests can relax in the elegant Oval Room or enjoy breathtaking panoramic views from the Conservatory and Terrace. Dining at Lakeside is a treat for the senses with fine dining showcasing produce from local farms available in their restaurant or lighter options offered at Ruskin's bar. Traditional breakfasts are included in the room rate for a perfect start to each day. With its convenient location by Lake Windermere, guests can easily embark on boat trips or explore nearby towns such as Bowness and Ambleside known for their charming shops, cafes, and restaurants. Free parking is also available for added convenience.
Pros:
– Stunning views of Lake Windermere
– Luxurious spa facilities offering various treatments
– Elegant rooms with free fibre-optic Wi-Fi
– Fine dining using locally sourced produce
– Convenient location near Lake Windermere and nearby towns
Beech Hill Hotel & Spa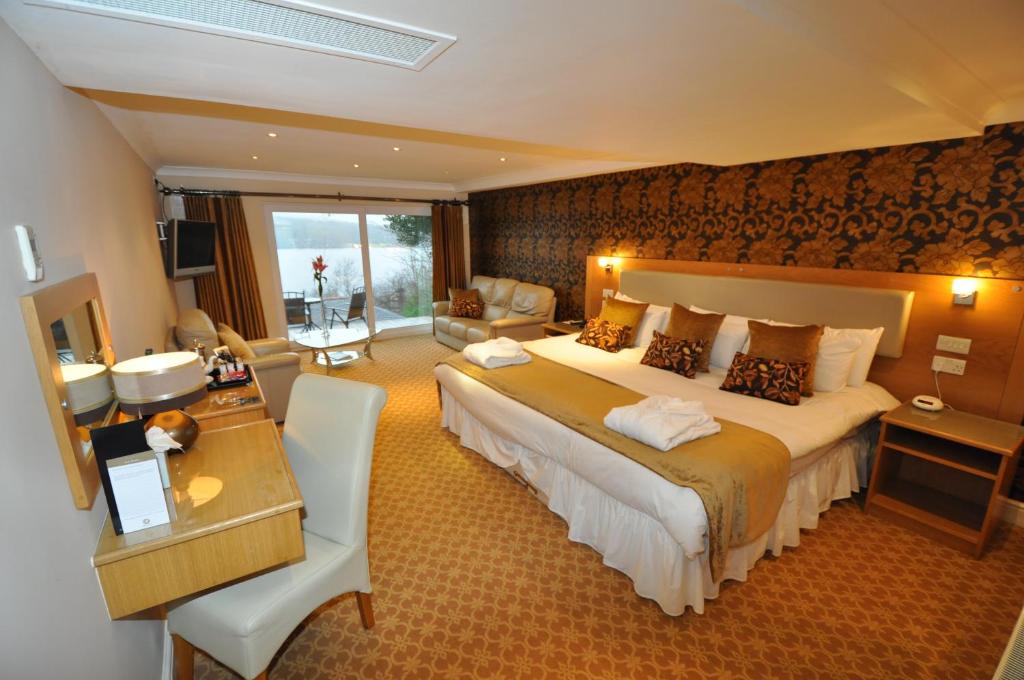 Located in the picturesque Lake District, Beech Hill Hotel & Spa offers a luxurious retreat with its stunning landscaped gardens and first-class facilities. The hotel boasts an AA Rosette restaurant, Burlington's, where guests can indulge in award-winning cuisine while enjoying breathtaking lake views. The Spa centre features an indoor heated swimming pool, sauna, steam room, and outdoor spa pool for ultimate relaxation. Each elegantly designed room at Beech Hill offers partial lake views and is equipped with satellite TV and tea/coffee-making facilities. Some rooms even feature spa baths, four-poster beds or garden terraces. Griffin Bar and Lounge provides a cozy ambiance with log fires and a large terrace where guests can enjoy afternoon tea or light snacks. Additionally, the hotel offers free secure parking and Wi-Fi in public areas. With its prime location on the shores of Lake Windermere, guests can easily access river cruises and scenic walking routes.
– Stunning landscaped gardens
– AA Rosette restaurant serving award-winning food
– Spa center with indoor heated pool and outdoor spa pool
– Elegant rooms with partial lake views
– Convenient location near Lake Windermere for river cruises and walking routes
The Duke of Edinburgh Hotel & Bar (Barrow in Furness)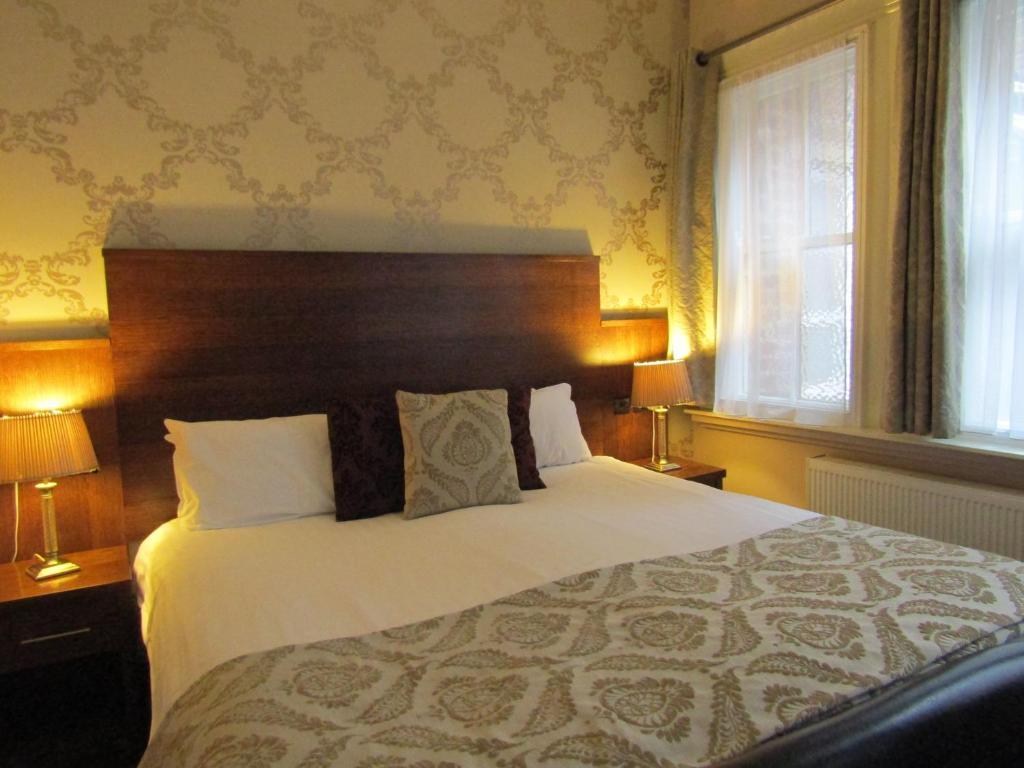 Located just a short three-minute walk from Barrow town center, The Duke of Edinburgh Hotel & Bar offers a luxurious stay with its stylish rooms featuring super king-sized beds, flat-screen TVs, and designer en suite bathrooms. The hotel also provides free Wi-Fi and parking for its guests. Guests can enjoy a traditional pub experience at The Duke's Bar and Grill, which boasts over 100 bottled beers and serves delicious meals made from locally-sourced produce. With its close proximity to Barrow-in-Furness Rail Station and attractions such as the Isle of Walney and Furness Golf Club just over a mile away, this hotel is the perfect choice for both convenience and relaxation. Plus, Windermere is easily accessible in under an hour by car. Not to mention, their upgraded breakfast menu served until 10:30 am every day adds an extra touch of luxury to your stay.
– Stylishly decorated rooms with super king-sized beds
– Convenient location near town center and rail station
– Delicious pub meals made from locally-sourced produce
– Extensive selection of over 100 bottled beers
– Upgraded breakfast menu with extended service times
Most Expensive Hotels in Cumbria
Cumbria, renowned for its stunning landscapes and natural beauty, also offers some of the most opulent and exclusive accommodations in the country. The region is home to a selection of incredibly luxurious hotels that cater to the discerning traveler seeking an unforgettable experience. These hotels are decorated with exquisite taste, boast impeccable service, and offer guests an unparalleled level of comfort and indulgence. With breathtaking views of the countryside, world-class dining options, and a range of lavish amenities, Cumbria's most expensive hotels provide a truly extraordinary stay for those seeking the epitome of luxury.
White Lion Hotel by Innkeeper's Collection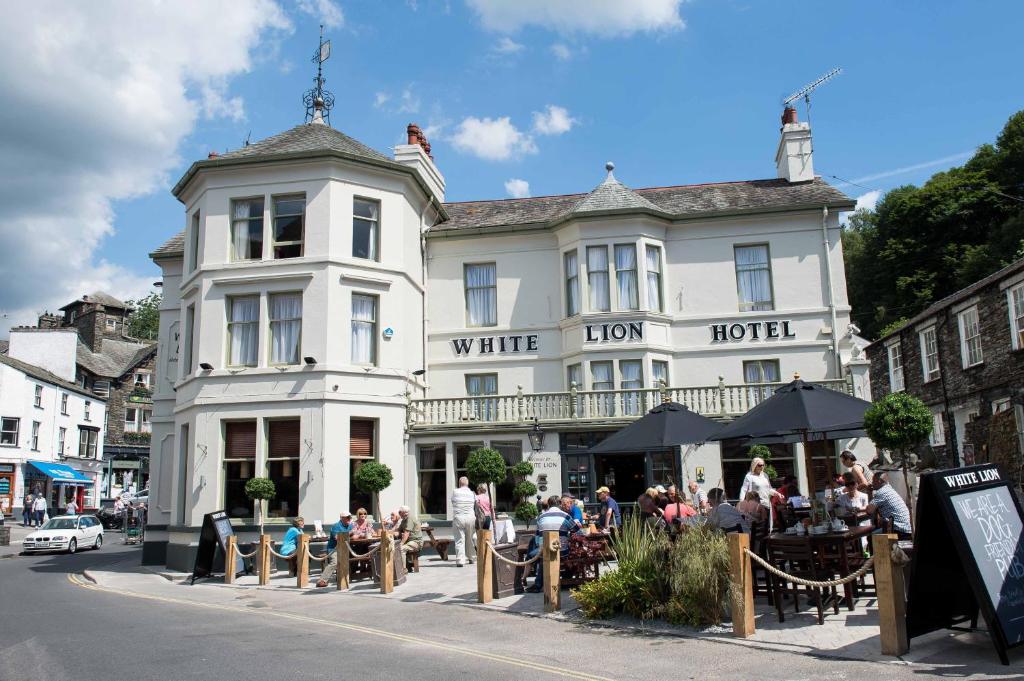 Located in the peaceful village of Ambleside, White Lion Hotel by Innkeeper's Collection is housed in a charming 18th-century coaching inn. Its prime location provides guests with easy access to both the picturesque Lake District National Park and the popular Grasmere, just 4 miles away. The hotel offers complimentary parking and each room features free Wi-Fi and an en suite shower room. With rooms situated on either the first or second floor, guests can enjoy a comfortable stay in this historic establishment. The hotel's pub serves delicious traditional pub food daily, accompanied by an extensive selection of ales and wines. For outdoor enthusiasts, Scafell Pike, England's highest mountain, is just an hour's drive away. Visitors can also partake in activities such as mountain biking, fishing, and hill walking.
– Prime location near Lake District National Park
– Charming 18th-century coaching inn
– Complimentary parking for guests
– Free Wi-Fi throughout the property
– Traditional pub serving delicious food and wide selection of drinks
Luxury Cumbria Hotels Information
| | |
| --- | --- |
| 🛎️ Luxury Hotels in Cumbria | 10 |
| 💵 Hotels Prices From | $194 |
| 💵 Highest price | $1636 |
| 🥇 Average Review Score | 8.3/10 |
| 🛏️ Average number of Rooms | 35 |
Top Luxury hotels in Cumbria
| | |
| --- | --- |
| Royal Oak at Keswick | 8.9/10 |
| Applegarth Villa Hotel & Restaurant | 8.8/10 |
| Burn How Garden House Hotel | 8.7/10 |
| Aphrodites Group | 8.5/10 |
| Langdale Hotel & Spa | 8.5/10 |
FAQ
What are the top luxury hotels in Cumbria?
Cumbria boasts a range of top luxury hotels that offer unparalleled comfort and opulence. Some of the most highly recommended options include The Gilpin Hotel & Lake House, Armathwaite Hall Hotel & Spa, Storrs Hall Hotel, Windermere Suites, and Linthwaite House. These establishments provide exquisite accommodations, outstanding service, breathtaking views of the surrounding landscapes, and an array of luxurious amenities to ensure an unforgettable stay.
Which luxury hotel in Cumbria offers spa facilities?
Armathwaite Hall Hotel & Spa is a premier luxury hotel in Cumbria that stands out for its exceptional spa facilities. Situated amidst stunning parkland overlooking Bassenthwaite Lake, this hotel offers a serene oasis where guests can rejuvenate their mind, body, and soul. The spa features luxurious treatment rooms offering a wide range of indulgent therapies and treatments. Additionally, it boasts state-of-the-art thermal facilities including saunas, steam rooms, hydrotherapy pool as well as tranquil outdoor hot tubs set against the picturesque backdrop.
Are there any luxury hotels near Lake District National Park in Cumbria?
Yes! Cumbria is home to several luxury hotels conveniently located near the renowned Lake District National Park. One such example is The Gilpin Hotel & Lake House situated just a short distance from Windermere with stunning lake vistas on offer. Visitors can enjoy the idyllic setting while experiencing lavish accommodations complete with private hot tubs or enjoy fine dining at their Michelin-starred restaurant surrounded by beautiful gardens.
What are some unique features offered by luxury hotels in Cumbria?
Luxury hotels in Cumbria pride themselves on offering unique features to enhance guests' experiences. For example: Storrs Hall Hotel provides seaplane rides over Lake Windermere for an unforgettable aerial view of the region. Windermere Suites offers a "Bath Butler" service where guests can select from a range of luxurious bath products and enjoy a relaxing soak in their suite's oversized bathtub. Linthwaite House offers private hot tubs on their Lake District view terraces, allowing guests to immerse themselves in the tranquil surroundings while enjoying ultimate relaxation.
Do luxury hotels in Cumbria offer fine dining options?
Absolutely! Luxury hotels in Cumbria are renowned for their exceptional fine dining experiences. Many of these establishments boast award-winning restaurants helmed by talented chefs, ensuring that every meal is a culinary delight. Whether it's tasting the seasonal dishes crafted using locally sourced ingredients at The Gilpin Hotel & Lake House or savoring gourmet cuisine with breathtaking lake views at Armathwaite Hall Hotel & Spa, visitors can indulge their taste buds while immersing themselves in pure luxury.
Popular Most Luxurious hotel destinations