Welcome to the captivating Costa Brava, a mesmerizing coastal region in Spain that is renowned for its luxurious accommodations. If you are seeking an indulgent getaway filled with opulent amenities, exquisite views, and unparalleled service, then look no further than the lavish hotels nestled along this enchanting coastline. Prepare to immerse yourself in a world of extravagance as we explore some of the most sumptuous lodgings Costa Brava has to offer.
The picturesque Costa Brava offers an array of splendid resorts that cater to even the most discerning traveler. From glamorous beachfront retreats to secluded cliff-top hideaways, each hotel exudes sophistication and provides an unmatched level of comfort and elegance. Whether you wish to relax by sparkling infinity pools or rejuvenate your senses at state-of-the-art spa facilities, these luxurious havens have it all. Soak up the breathtaking views from your private balcony while savoring delectable cuisine prepared by world-class chefs. Indulge in personalized service tailored to your every need as you unwind in absolute bliss during your stay on this dazzling stretch of Spanish paradise.
Embark on a journey where luxury meets tranquility by choosing one of Costa Brava's acclaimed hotels as your home away from home. With their impeccable attention to detail and commitment to exceptional hospitality, these establishments redefine opulence and leave guests feeling pampered beyond belief. Let us guide you through a handpicked selection of extraordinary accommodations that will elevate your vacation experience on the mesmerizing shores of Costa Brava!
Most Luxurious Hotels in Costa Brava
Mas Salvi Country Boutique Hotel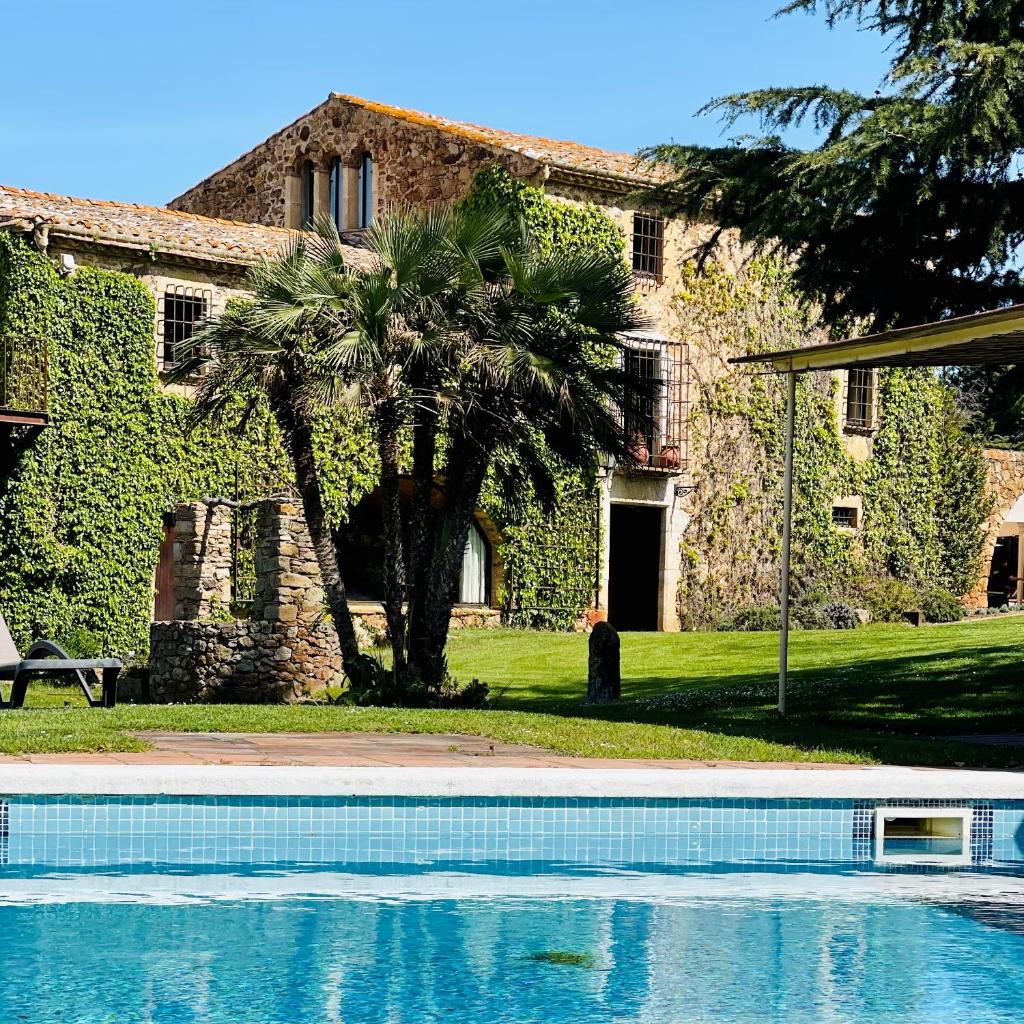 Mas Salvi Country Boutique Hotel is a hidden gem nestled in the Carmany green belt in Pals, right at the heart of the Costa Brava. This beautifully restored XVII Century Manor House combines old-world charm with modern amenities, ensuring a comfortable and luxurious stay for its guests. With 30 lavish suites to choose from, guests can enjoy their own private sanctuary amidst 70,000 square meters of pristine woodland. Whether it's exploring the nearby coastal towns or simply unwinding in the tranquil surroundings, Mas Salvi offers a truly unforgettable experience.
– Exclusive location in the Carmany green belt
– Luxurious suites with modern conveniences
– Serene and private natural setting
– Close proximity to charming coastal towns
– Combines historic charm with contemporary comfort
Hotel Helios Lloret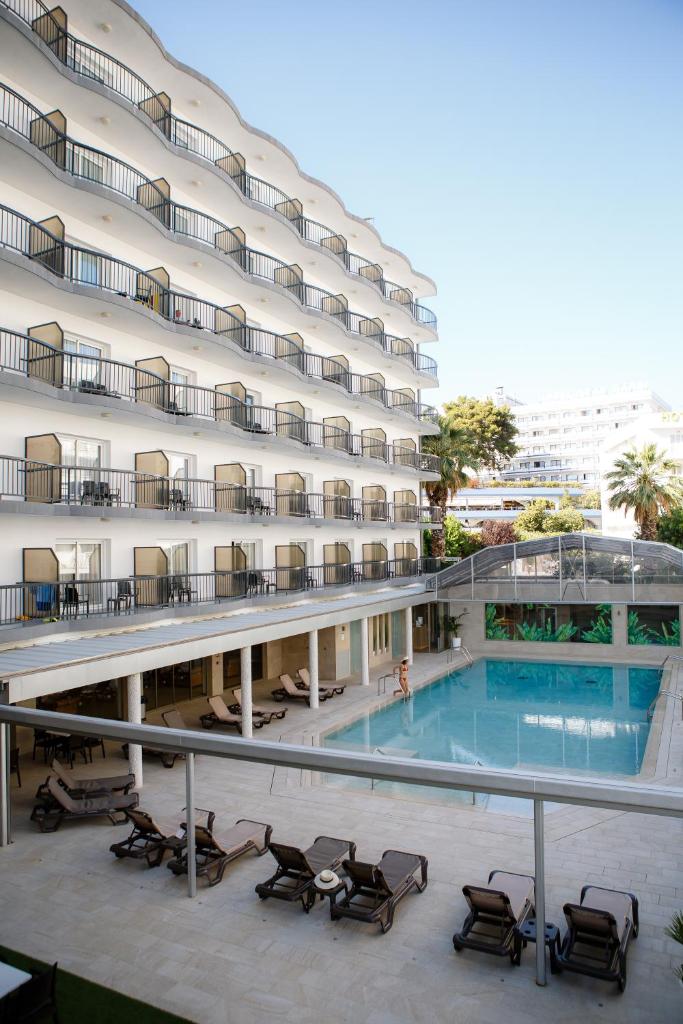 Hotel Helios Lloret is a centrally located luxury hotel in Lloret de Mar, just steps away from the picturesque Lloret Beach. The hotel boasts a delightful terrace and offers air-conditioned rooms with balconies, TVs, and private bathrooms. Guests can enjoy delicious meals at the buffet restaurant and take advantage of the 24-hour front desk services. The convenient location of the hotel allows easy access to numerous bars and restaurants within a short 5-minute walk. Additionally, the nearby Lloret Bus Station provides regular transportation services to other Costa Brava towns, as well as Girona Airport and Barcelona. The spacious and comfortable rooms at Hotel Helios feature private balconies, satellite TV, air conditioning, safes, mini fridges, and en-suite bathrooms.
Pros:
– Central location in Lloret de Mar
– Terrace for relaxation
– Buffet restaurant with delicious meals
– Easy access to bars and restaurants nearby
– Convenient transportation options
Hotel Convent de Begur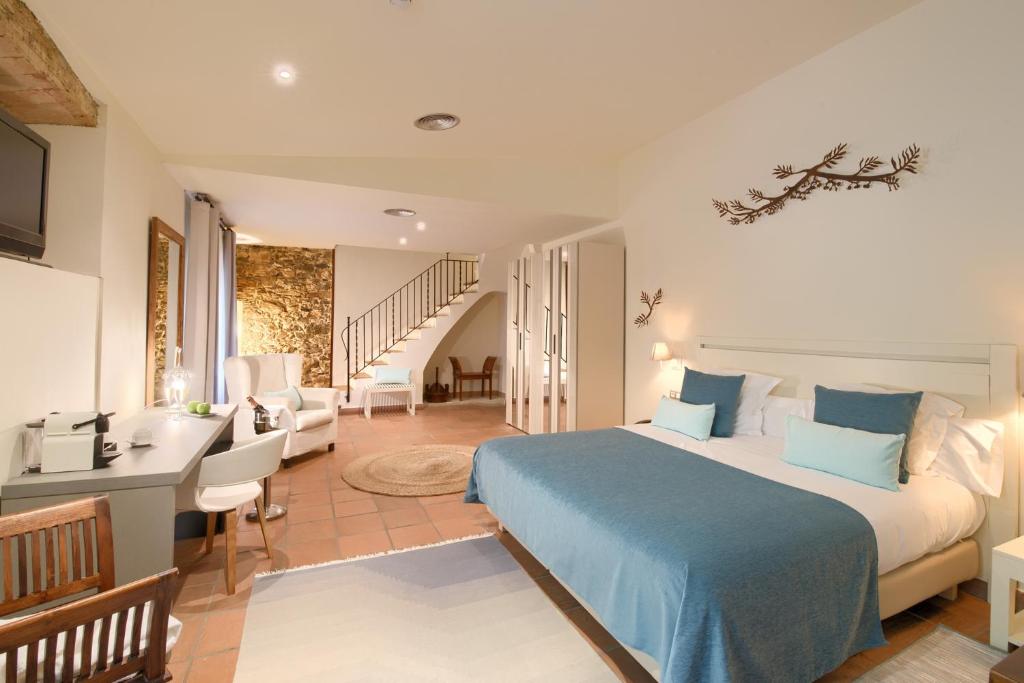 Hotel Convent de Begur is a stunning 17th-century convent that has been restored to offer a luxurious and unique experience in the beautiful coastal town of Begur, in the Baix Empordà region. With its free Wi-Fi access and outdoor pool, guests can relax and soak up the tranquility of this historical property. The on-site Restaurant La Rectoria serves delicious traditional Catalan and Mediterranean cuisine, adding to the overall indulgence of staying at this hotel. Each room in Hotel Convent de Begur is individually designed, showcasing the original features from when it belonged to the Minimos religious order. The deluxe rooms offer lovely views of the garden and pool, ensuring a peaceful retreat for guests. In addition to its picturesque gardens, this hotel also provides free public parking for convenience. For those seeking sun and sand, Sa Riera Beach is just a short 5-minute walk away.
– Restored 17th-century convent with unique rooms
– Free Wi-Fi access
– Outdoor pool with garden views
– On-site restaurant serving traditional Catalan and Mediterranean food
– Convenient location near Sa Riera Beach
Other places to stay in Costa Brava
Luxury Hotels in Downtown Costa Brava
Downtown Costa Brava offers an exceptional selection of luxury hotels that seamlessly blend modern elegance with authentic charm. From their prime locations overlooking the sparkling Mediterranean Sea, these hotels provide a refined and sophisticated experience for discerning travelers. Impeccable service, attention to detail, and a dedication to creating unforgettable experiences are hallmarks of these luxurious accommodations. With exquisite design, plush interiors, and panoramic views, guests can unwind in the lap of luxury after exploring the vibrant streets and cultural attractions of downtown Costa Brava. Whether indulging in world-class dining options or relaxing by stunning rooftop pools, these luxury hotels ensure an opulent stay for those seeking the finer things in life.
Mas de Torrent Hotel & Spa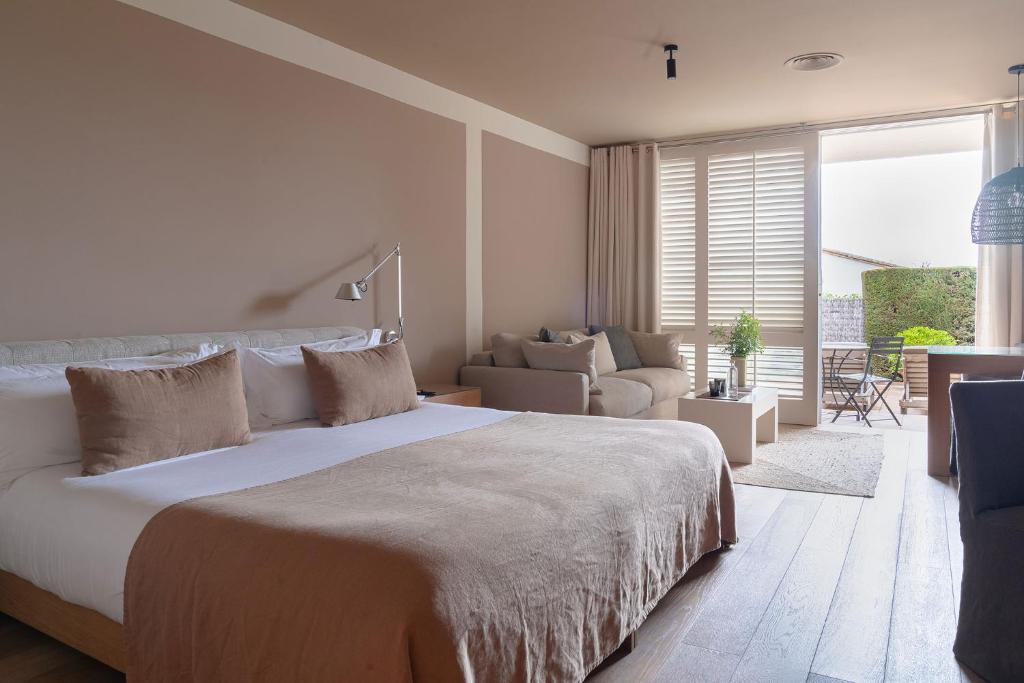 Mas de Torrent Hotel & Spa, Relais & Châteaux is a luxurious 18th-century Catalan farmhouse nestled amidst lush gardens. Located just a short drive from Pals, this elegant hotel offers air-conditioned rooms with hardwood floors and an impeccable decor. The spa features a sauna, steam room, and a variety of massage and beauty services. Guests can also enjoy the fitness center, tennis courts, and outdoor swimming pool. Indulge in gourmet Catalan cuisine at the restaurant or unwind at the bar and terrace. With free bicycles available for exploration, guests can partake in outdoor activities like hiking, horse riding, and cycling in the beautiful Baix Empordà region. Golf enthusiasts will be pleased with the proximity to three golf courses within 15 minutes' drive of the hotel. Additionally, the Costa Brava is easily accessible by car in just 20 minutes.
– Stunning 18th-century Catalan farmhouse surrounded by beautiful gardens
– Luxurious spa offering sauna, steam room, and massage services
– Fitness center and tennis courts available for active guests
– Gourmet Catalan cuisine served at the restaurant with an extensive wine list
– Convenient location near various outdoor activities and attractions
Hotel Don Juan Tossa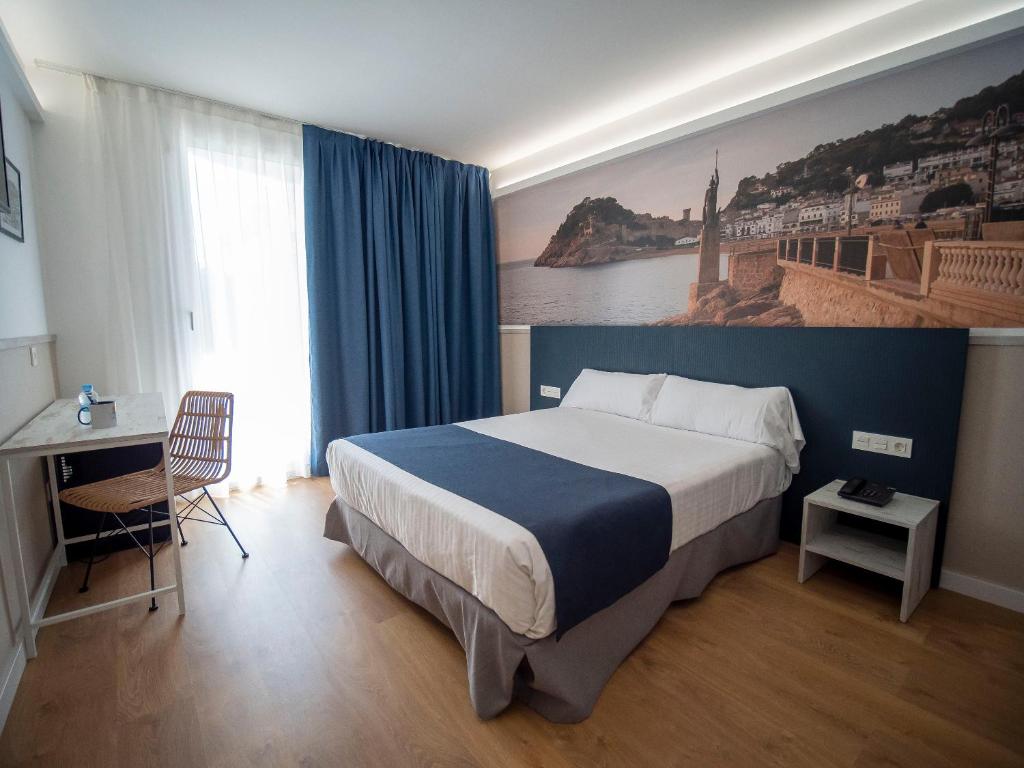 Hotel Don Juan Tossa is a luxurious 4-star hotel located just 200 metres away from the beautiful Platja Gran Beach in Tossa de Mar. The hotel boasts an outdoor rooftop swimming pool and terrace, offering stunning views of the surrounding area. The air-conditioned rooms are bright and spacious, featuring a private balcony, satellite TV, and a fully renovated kitchen and buffet in 2020. Guests can enjoy various recreational activities at the hotel's games room, which includes pool and table tennis tables. The buffet restaurant serves delicious Mediterranean cuisine, while the modern bar offers refreshing drinks and snacks. For families traveling with children, the hotel provides an entertainment program specifically tailored to their needs. Additionally, Hotel Don Juan Tossa offers on-site parking for convenience and easy access to Barcelona Airport via buses that depart from the nearby bus station.
– Outdoor rooftop swimming pool with panoramic views
– Convenient location near Platja Gran Beach
– Fully renovated kitchen and buffet in 2020
– Games room with pool and table tennis tables
– Family-friendly entertainment program
Vistabella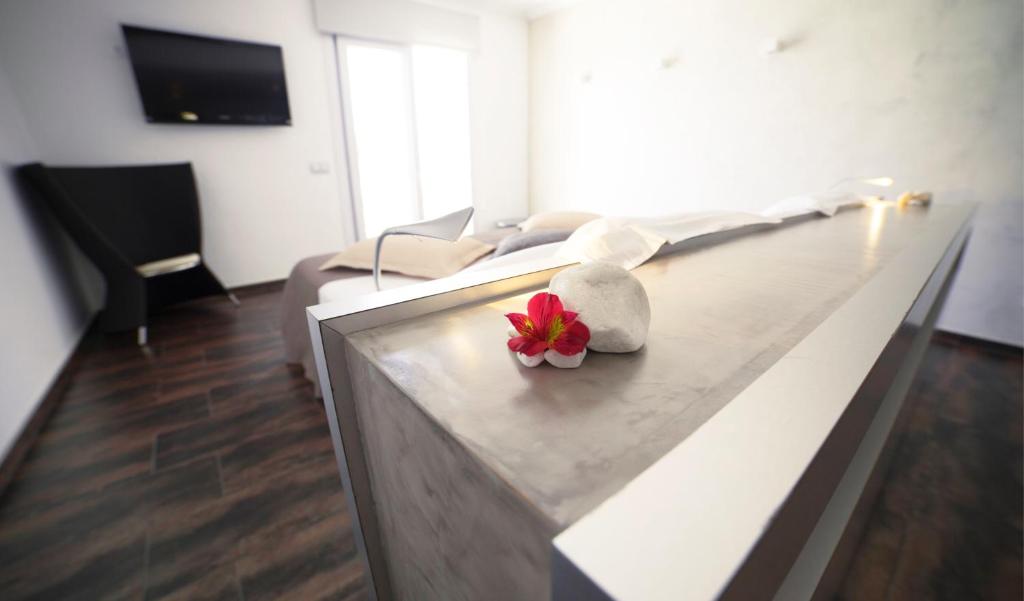 Located on the seafront, Vistabella is a luxurious hotel offering breathtaking views of Roses Bay and the surrounding mountains. Boasting 5 restaurants, a spa, and rooms with balconies, this hotel promises an unforgettable stay. The aMare Restaurant serves delectable Italian cuisine, including pasta, risotto, and seafood. Each room at Vistabella features a flat-screen TV and a bathroom with a cozy bathrobe. With individualized decor, some rooms even offer stunning sea or mountain views. The spa provides ultimate relaxation with its indoor swimming pool, whirlpool, steam baths, sauna, and an array of massage and wrap treatments to choose from. Els Brancs offers creative cuisine accompanied by over 300 wines to indulge in while dining on the charming terrace overlooking the Mediterranean Sea. For casual beachside dining right by the water's edge with its own jetty included, guests can head to El Pirata (open from June until September). La Tapa specializes in traditional tapas dishes while Blue Bar provides picturesque views of Roses Bay.
– Spectacular seafront location
– Multiple dining options featuring various cuisines
– Spa facilities for ultimate relaxation
– Individualized room decor with balcony options
– Breathtaking views of Roses Bay
5 Star Luxury Hotels
5 Star Luxury Hotels offer the epitome of indulgence and elegance, providing guests with an unforgettable experience. From the moment you step foot inside, you are treated to unparalleled levels of service, attention to detail, and opulent surroundings. These hotels boast exquisite architecture, lavish interiors, and meticulously designed rooms that exude luxury at every turn. The amenities and facilities cater to every need and desire, ensuring a seamless stay filled with comfort and convenience. Impeccable dining options tantalize your taste buds with world-class cuisine prepared by renowned chefs. Whether for business or leisure travel, 5 Star Luxury Hotels redefine hospitality by creating a haven of sophistication and grandeur that exceeds expectations at every level.
Hotel-Spa Classic Begur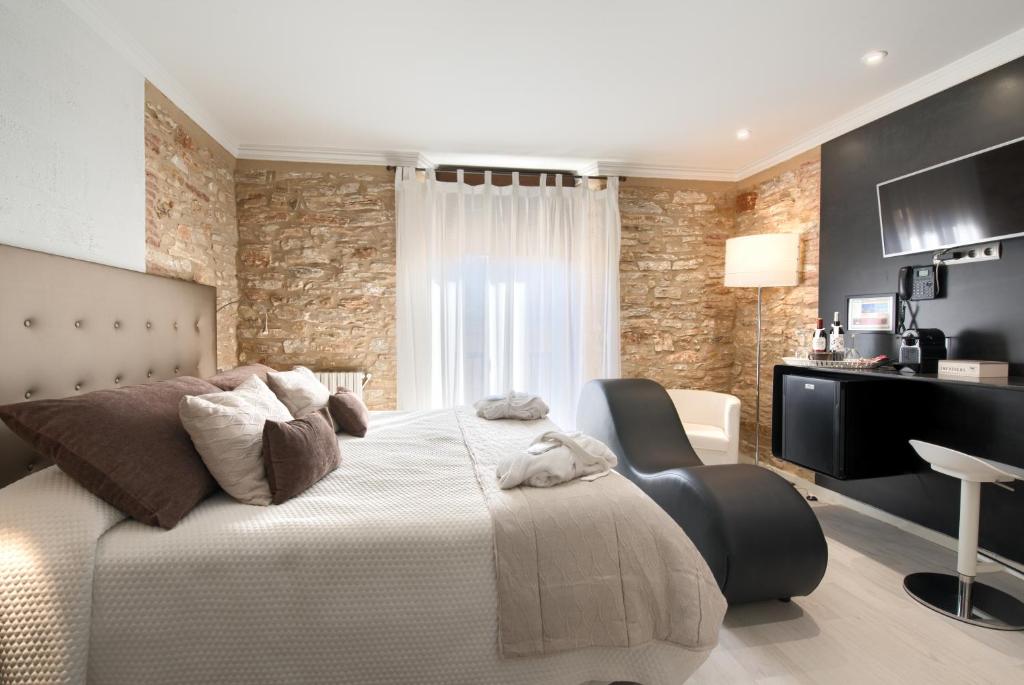 Hotel-Spa Classic Begur is a charming small hotel located in Vila Marinera de Begur on the Costa Brava. Housed in a restored 19th-century house, the hotel features original decorative ceilings and frescoes, creating an elegant and unique ambiance. The air-conditioned rooms are beautifully designed and offer modern amenities such as free Wi-Fi, flat-screen TVs, minibars, and some even have coffee makers. Guests can indulge in ultimate relaxation at the hotel's spa area which includes a heated swimming pool, hydromassage bath, therapeutic shower with hot and cold contrast, Turkish baths, and thermal massage tables. The on-site restaurant La Cuina offers delicious dishes in a relaxed and romantic atmosphere while the bar with an outdoor terrace provides a perfect spot to unwind. The helpful staff can assist with car rental services and provide information about the region. During summer months, guests can enjoy a convenient shuttle bus service to nearby beaches like Sa Riera, Aiguablava, and Sa Tuna. Additionally, the hotel is conveniently located near several car parks for those traveling by car.
– Charming restored 19th-century house
– Luxurious spa facilities including heated swimming pool and Turkish baths
– Elegant rooms with modern amenities
– Convenient shuttle bus service to nearby beaches
– Helpful staff providing car rental services
Hapimag Resort Mas Nou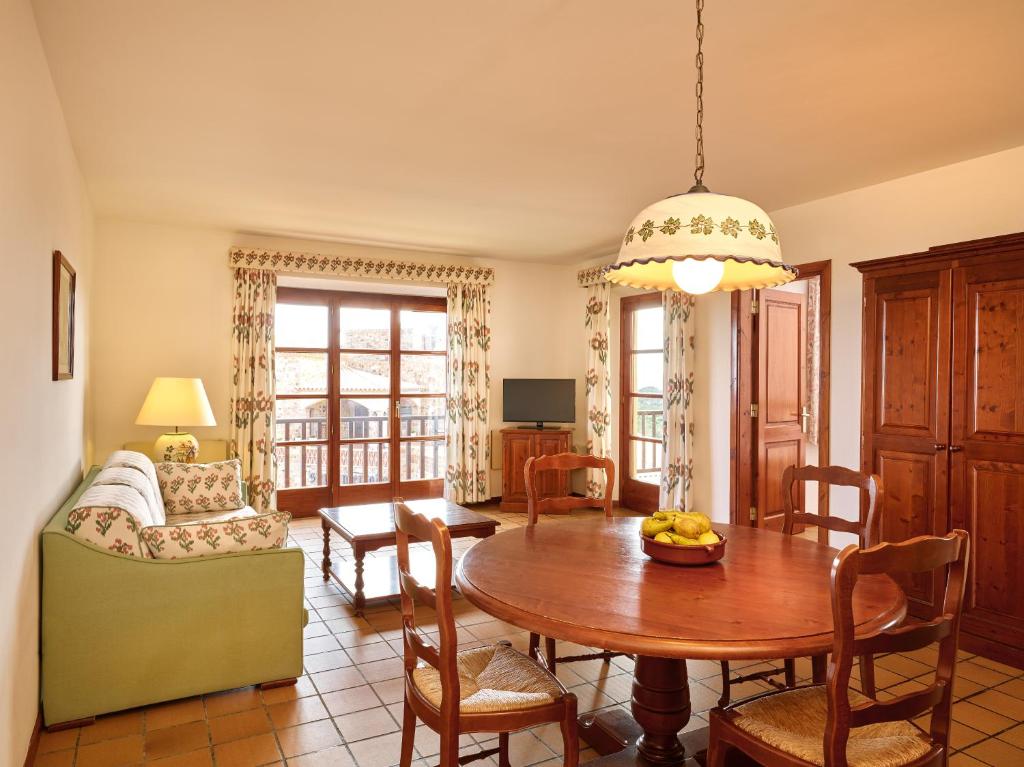 Hapimag Resort Mas Nou is a luxurious apartment hotel located within the Club de Golf d'Aro Golf Course. This tranquil resort offers a wide range of amenities including both indoor and outdoor pools, a sauna, a sports bar in the lounge, and a pool bar. Guests can enjoy night entertainment and even visit the on-site water park. The spacious apartments are equipped with kitchen areas, TVs, and balconies or terraces for guests to relax and unwind. The Brasa restaurant at Mas Nou serves delicious modern interpretations of traditional regional dishes. Golf enthusiasts will appreciate the free golf equipment storage and the convenience of arranging green fees and golf course transfers through the hotel. Although parking comes at an additional cost, this shouldn't deter guests from experiencing all that Hapimag Resort Mas Nou has to offer.
– Apartment hotel with indoor and outdoor pools
– Free WiFi
– Night entertainment
– On-site water park
– Convenient location within Club de Golf d'Aro Golf Course
Rigat Park & Spa Hotel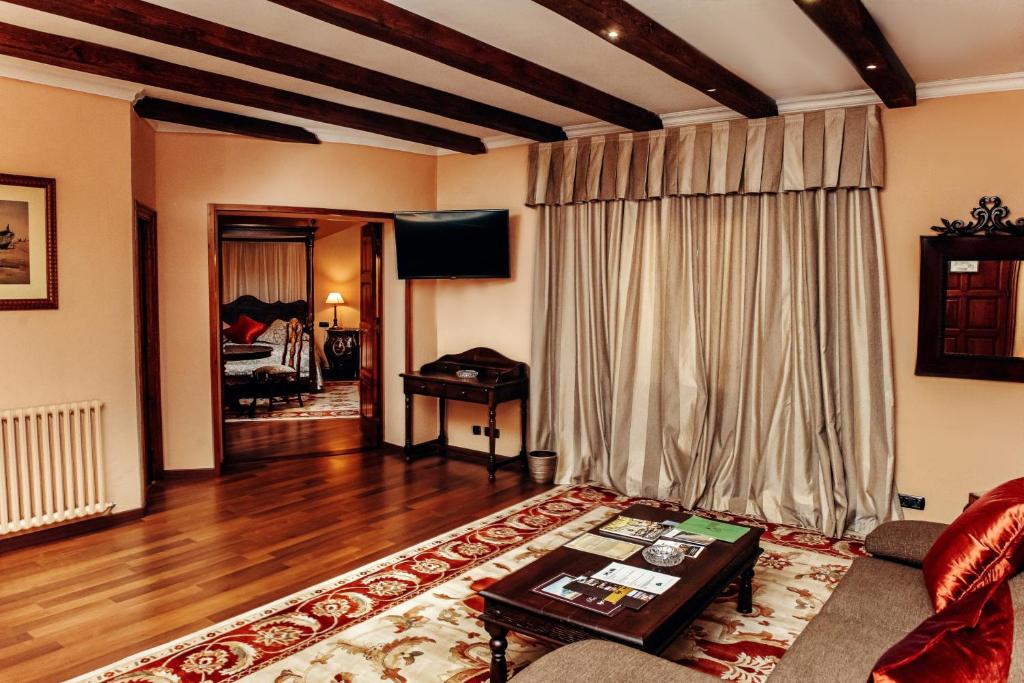 The Rigat Park & Spa Hotel is a luxurious 5-star hotel that offers a range of amenities for its guests. The hotel provides free parking and Wi-Fi access throughout the property. With its elegant Palace-style decor, the hotel exudes a sophisticated and regal ambiance. Guests can indulge in the spa facilities, including a hot tub, sauna, Turkish bath, and massage services. For business travelers, there are conference rooms of various sizes available. The hotel's Lounge Bar is perfect for enjoying cocktails, while the gourmet restaurant Le Privée combines traditional and avant-garde cuisine on its expansive terrace. The spacious rooms at Rigat Park & Spa Hotel feature private terraces with views of either the park or the sea. They are soundproofed and beautifully decorated with colonial-style furnishings and restored neoclassical furniture. Additional amenities include air conditioning, parquet floors, ceiling beams, and flat-screen TVs. Outside, guests can enjoy an outdoor pool with underwater music and solar heating as well as an outdoor Jacuzzi surrounded by sun loungers and lush gardens. Overall, the Rigat Park & Spa Hotel offers a luxurious retreat with impeccable service.
– Free parking
– Free Wi-Fi access
– Elegant Palace-style decor
– Spa facilities with hot tub, sauna, Turkish bath, and massages
– Gourmet restaurant serving traditional and avant-garde cuisine
Luxury Costa Brava Hotels Information
| | |
| --- | --- |
| 🛎️ Luxury Hotels in Costa Brava | 9 |
| 💵 Hotels Prices From | $161 |
| 💵 Highest price | $1670 |
| 🥇 Average Review Score | 8.4/10 |
| 🛏️ Average number of Rooms | 104 |
Top Luxury hotels in Costa Brava
| | |
| --- | --- |
| Mas de Torrent Hotel & Spa | 9/10 |
| Hotel Helios Lloret | 8.7/10 |
| Hotel Convent de Begur | 8.6/10 |
| Vistabella | 8.6/10 |
| Rigat Park & Spa Hotel | 8.4/10 |
FAQ
What are some luxury hotels in Costa Brava, Spain?
Costa Brava boasts a range of luxurious hotels that cater to the discerning traveler. Some of the top luxury hotels in the region include Hotel Camiral at PGA Catalunya Resort, Hostal de La Gavina, and Alva Park Costa Brava. These establishments offer impeccable service, stunning views, top-notch amenities, and a truly indulgent experience.
What are the must-visit attractions near luxury hotels in Costa Brava?
When staying at a luxury hotel in Costa Brava, you'll have access to some amazing attractions nearby. Explore beautiful seaside towns like Tossa de Mar and Cadaqués with their charming beaches and historic streets. Don't miss visiting the picturesque fishing village of Begur or exploring the Salvador Dalí sites such as the Dalí Theatre-Museum in Figueres or his former residence in Port Lligat.
What dining options can be found near luxury hotels in Costa Brava?
Luxury hotels in Costa Brava often feature exquisite on-site restaurants offering gourmet cuisine prepared by renowned chefs. Additionally, there are numerous fantastic dining options near these establishments for those looking to explore further. From traditional Spanish tapas bars serving mouthwatering local delicacies to Michelin-starred restaurants showcasing innovative culinary creations – there is something for every palate.
Are there any spa facilities available at luxury hotels in Costa Brava?
Many luxury hotels in Costa Brava pride themselves on providing outstanding spa facilities where guests can indulge and rejuvenate themselves. From world-class wellness centers offering an array of treatments and therapies to tranquil outdoor pools with breathtaking views – these accommodations ensure that guests can relax both body and mind during their stay.
How far is Barcelona from luxury hotels in Costa Brava?
The city of Barcelona is approximately 80 kilometers away from most luxury hotels located along the coast of Costa Brava. This means that guests can easily take a day trip to explore the vibrant city and its iconic attractions like Sagrada Familia, Park Güell, and Las Ramblas. Additionally, Barcelona's international airport provides convenient access for those arriving by air.
Popular Luxury Hotels destinations