Welcome to an alluring island destination that features a combination of rugged coastline, sparkling Mediterranean waters, and lush interior landscapes. Corsica is one of the most popular tourist spots in France, renowned for its exquisite beauty and luxury hotels. Nestled amidst dramatic cliffs and turquoise bays lie some of the finest accommodations that provide guests with an indulgent experience like no other.
Corsica's luxury hotels offer a perfect blend of comfort, relaxation, and top-notch amenities to make your stay truly memorable. Anticipate experiencing the best spa treatments from experienced therapists who use locally sourced organic ingredients to create personalized therapies that rejuvenate you from head to toe. The lavish suites ooze elegance with designer furnishings and breathtaking views over the sea or countryside. Guests can start their day with artisanal breakfasts made using local produce accompanied by freshly brewed coffee for a perfect start before embarking on a day full of exploration or simply lounging by the pool.
Most Luxurious Hotels in Corsica
Lodge de Charme A Cheda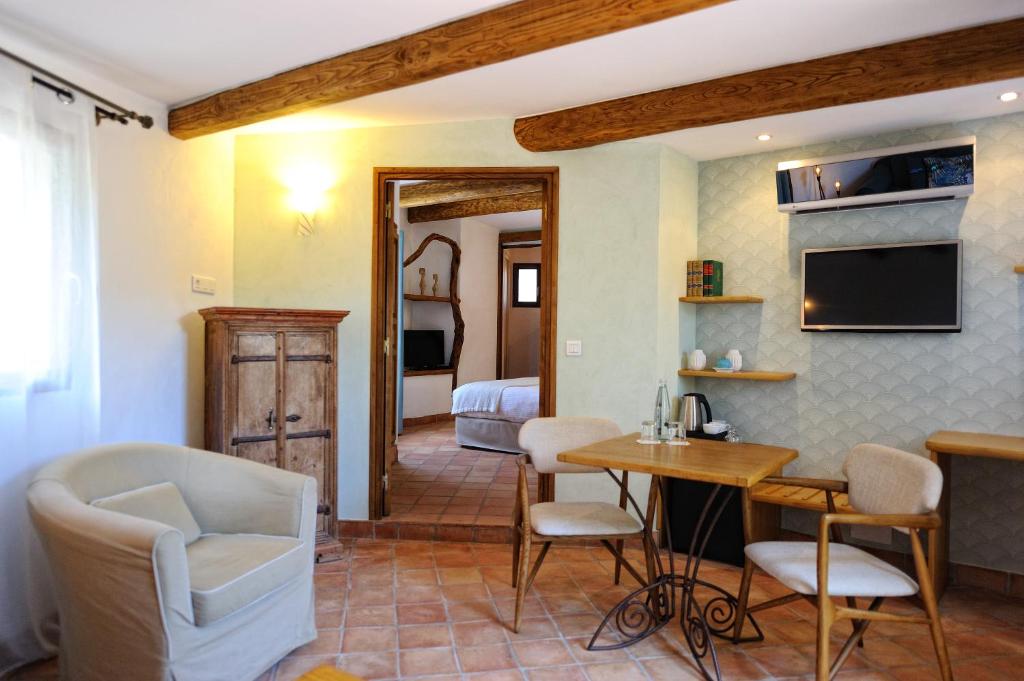 Nestled at the entrance of Bonifacio, Lodge de Charme A Cheda boasts a large garden and a heated outdoor pool with hot tub available from April to October. Enjoy gourmet Mediterranean cuisine made with organic ingredients at the hotel's restaurant or relax in the sauna and indulge in body treatments. Each room is individually decorated with elegant exposed beams and stone walls, equipped with modern amenities such as flat-screen TV, DVD player, free WiFi and terrace overlooking the garden. For families traveling with small children, a baby kit can be provided for added convenience. The hotel also offers a cookery workshop with their chef onsite and guided tours or boat trips can be arranged upon request.
– Heated outdoor pool & hot tub
– Gourmet Mediterranean cuisine made with local products & organic ingredients
– Sauna & body treatments
– Cookery workshop with hotel's chef available on site
– Guided tours & boat trips can be organised
Hôtel Version Maquis Santa Manza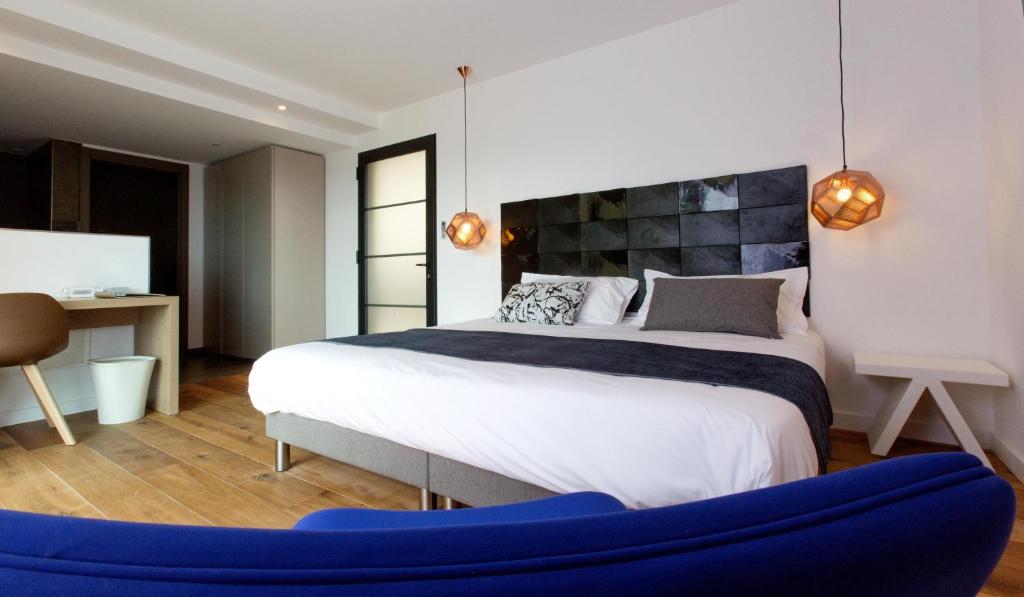 Hôtel Version Maquis Santa Manza is a luxurious property located in the beautiful Bonifacio countryside, overlooking the stunning Santa Manza Bay. The hotel offers an outdoor pool, free shuttle to the beach, garden and complimentary Wi-Fi. Guests can enjoy a buffet breakfast every morning and drinks at the onsite bar. All rooms are elegantly decorated with contemporary furnishings and feature a terrace with sea views, flat-screen TV, desk, mini bar and fully equipped private bathroom with free toiletries. Plus points of this hotel include:
– Picturesque location overlooking Santa Manza Bay
– Outdoor pool for guests to relax and unwind
– Free shuttle service to the nearby beach
– Buffet breakfast provided each morning
– Complimentary Wi-Fi available throughout the property
Private Hôtel – Adult Only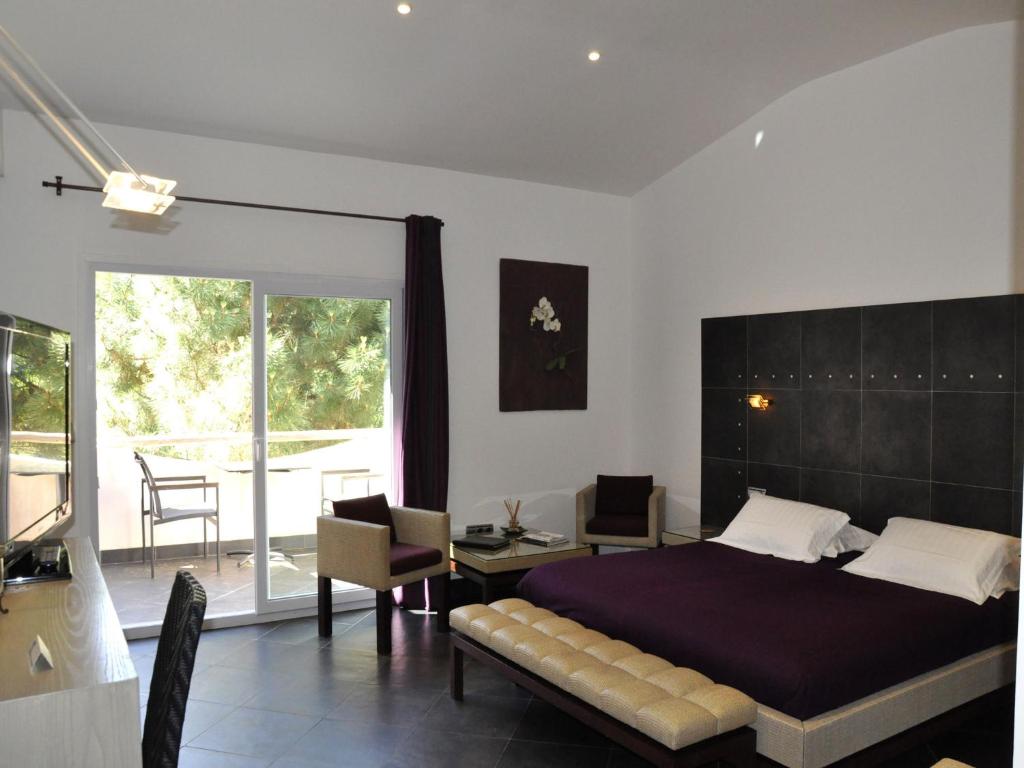 Private Hôtel is a boutique hotel exclusively for adults, situated on the hillside of Porto-Vecchio, just a short distance from Palombaggia Beach and Santa Giulia Beach. Guests can enjoy access to the hotel's outdoor swimming pool, sauna, hammam and hot tub. All of the contemporary rooms come with a private balcony or terrace offering pleasant views of the garden. They are equipped with modern amenities such as flat-screen TVs with DVD players and some even feature spa baths. The hotel provides free Wi-Fi access and massages can be arranged at an extra cost through reception. Free private parking is available on site and Figari Airport is located 30 km away.
Pros:
– Adults only hotel for peace and quiet
– Access to outdoor swimming pool, sauna, hammam and hot tub
– Modern amenities in all rooms including flat-screen TVs with DVD players
– Free Wi-Fi access provided throughout the property
– Private balconies or terraces offer beautiful views of the garden
Other places to stay in Corsica
Luxury Hotels in Downtown Corsica
Luxury hotels in downtown Corsica offer an unparalleled experience of comfort, luxury, and relaxation. With their prime locations, guests can easily explore the city's top attractions and enjoy a luxurious stay with world-class amenities.
Perla Rossa (L'Île-Rousse)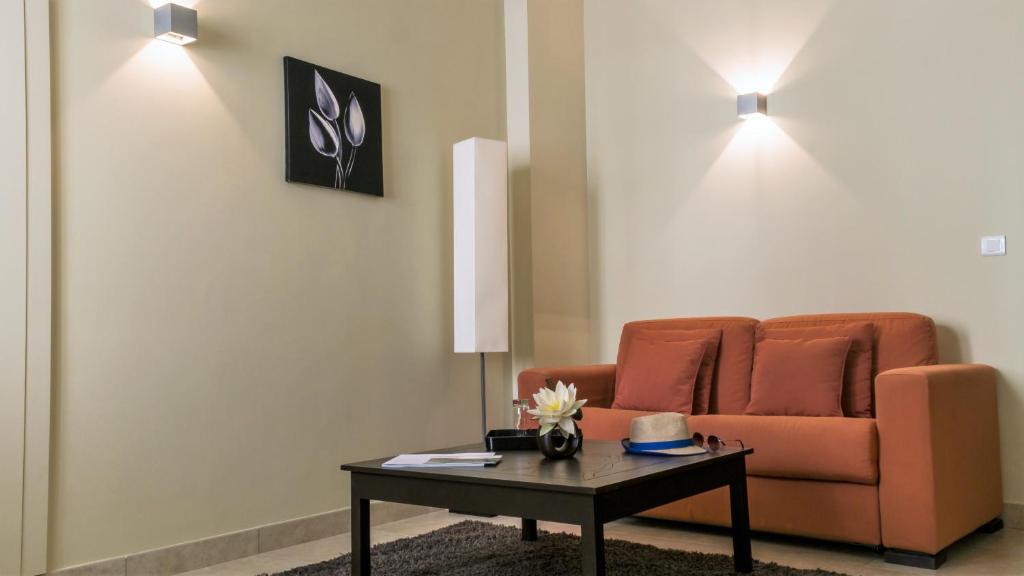 The Perla Rossa is an upscale hotel located on the seafront of L'Île-Rousse in Corsica. The spacious rooms are elegantly decorated in a modern style with en suite facilities, some offering unrestricted views of the Mediterranean Sea and others overlooking the old town. Guests can enjoy a traditional Corsican breakfast served on the terrace with stunning views. Activities such as snorkelling, canoeing, horse rides and hiking are available on site.
– Stunning views overlooking the Mediterranean Sea
– Convenient location between the sea and the old town
– Stylish and modern decor in spacious rooms
– Traditional Corsican breakfast served on terrace
– On-site activities including snorkelling, canoeing, horse rides and hiking
Hotel Spa Genovese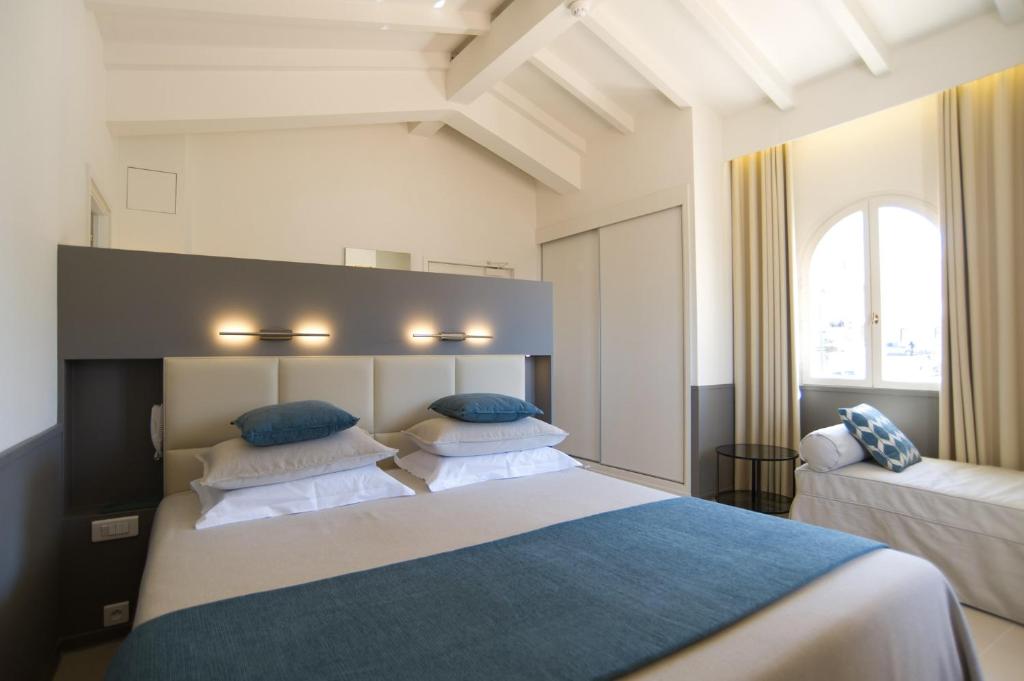 Hotel Spa Genovese is a luxurious hotel located in Bonifacio, Corsica. The hotel features an outdoor pool with sun terrace and lounge chairs, an onsite restaurant offering Mediterranean fish and pasta dishes with an option of poolside dining in the summer, as well as free Wi-Fi throughout the property. The rooms have a modern décor with air conditioning and satellite TV, while the suites are situated in a separate port-side building. Guests can enjoy daily breakfast at the hotel and benefit from 24-hour reception services that include guided boat tours arrangements. Hotel Spa Genovese provides free private parking and is located 20 km away from Figari-Sud Corse Airport.
Pros:
– Breathtaking panoramic views from cliff top position
– Modern décor in guest rooms and suites
– Outdoor pool with sun terrace for relaxation
– Onsite restaurant serving delicious Mediterranean cuisine
– Guided boat tour arrangements available through 24-hour reception
Résidence Saint Cyprien plage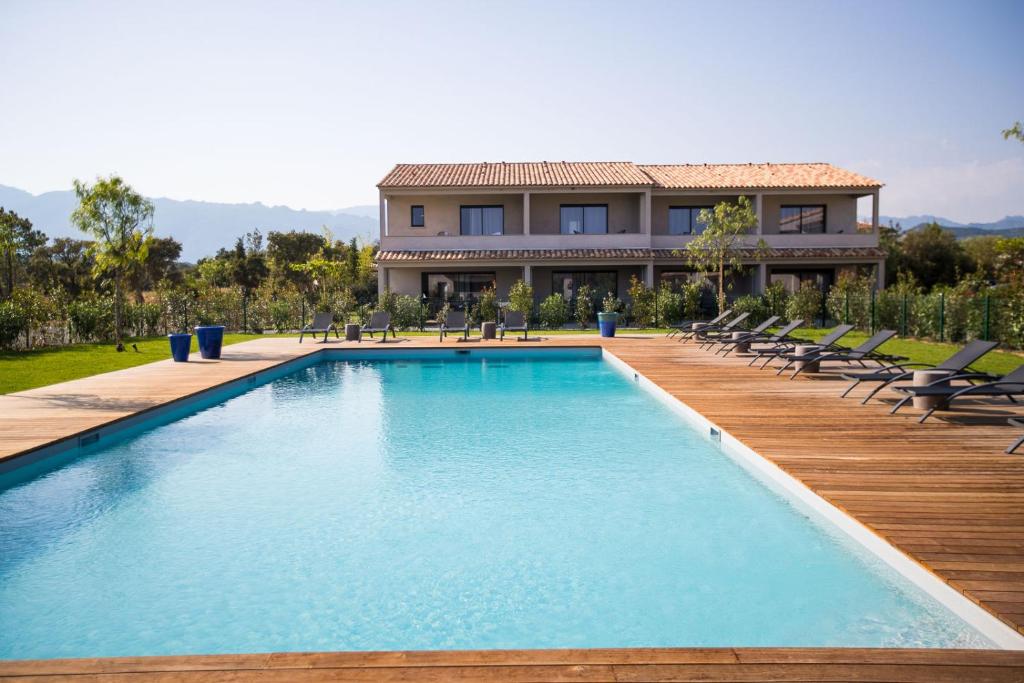 Résidence Saint Cyprien plage is a newly opened (August 2020) aparthotel located 1.1 km from Saint Cyprien, offering a seasonal outdoor pool and air-conditioned accommodations with free WiFi, balconies, flat-screen TVs, and fully equipped kitchenettes. Guests can enjoy pool views and relax on the terrace or make use of the barbecue facilities available on site. The location also offers opportunities for snorkeling and cycling nearby. Plus points include close proximity to the Tour Beach (1.4 km) and Figari-Sud Corse Airport (30 km), as well as having garden access.
– Newly opened in 2020
– Seasonal outdoor pool
– Fully equipped kitchenettes available
– Proximity to local attractions such as Tour Beach
– Garden access
5 Star Luxury Hotels
5 Star Luxury Hotels offer exceptional service, exquisite accommodations and unparalleled amenities. They provide guests with a personalized experience that caters to their every need, leaving them feeling pampered and relaxed. These hotels are the perfect place to indulge in luxury and create unforgettable memories.
Residenza Leca Colonna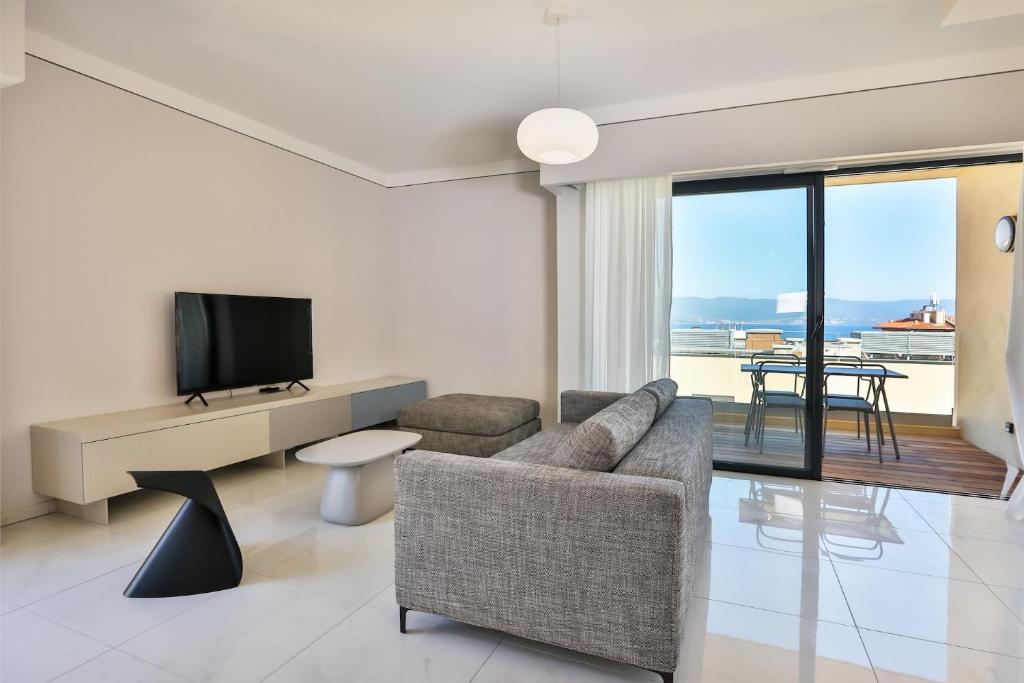 Residenza Leca Colonna is a new apartment hotel that opened in June 2020, located in Ajaccio. The property offers free WiFi, air conditioning, a garden and terrace. Each unit comes fully equipped with modern amenities including a washing machine, TV, sofa and wardrobe. The aparthotel is conveniently situated 400 metres from Saint Francois Beach and just 500 metres from Trottel Beach. Other nearby attractions include Chapelle des Grecs Beach (1.2 km) and Port des Cannes (2.5 km). Pros of Residenza Leca Colonna include:
– Modern amenities in each unit
– Free WiFi throughout the property
– Convenient location near popular beaches
– Access to a garden and terrace for relaxation
– Close proximity to Ajaccio Napoléon Bonaparte Airport
KASANO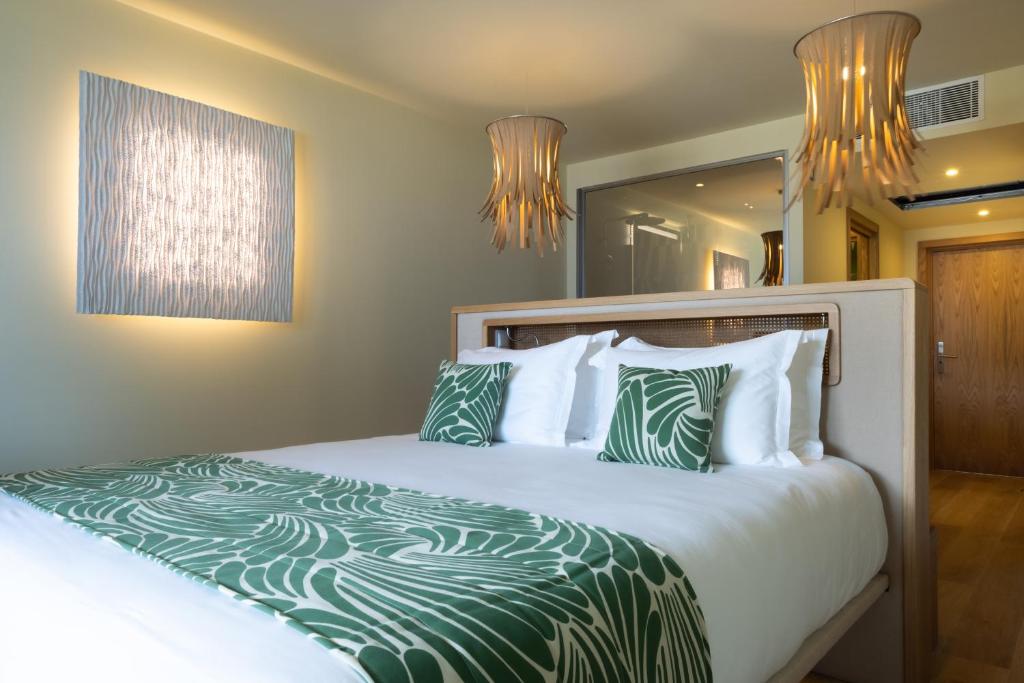 KASANO is a luxurious 4-star hotel situated in Calvi, offering private balconies with city views. This hotel features an array of amenities including an outdoor pool, fitness centre, sauna and bar. Guests can enjoy a buffet breakfast every morning while staying in air-conditioned rooms equipped with flat-screen TVs and safety deposit boxes. KASANO's convenient location offers easy access to popular points of interest such as Roncu Beach, Pinède Beach and the Calvi Train Station.
– Outdoor pool available for guests
– Fitness centre and sauna on site
– Buffet breakfast served daily
– Private balconies with city views offered in every room
– Close proximity to popular beaches and train station
La Signoria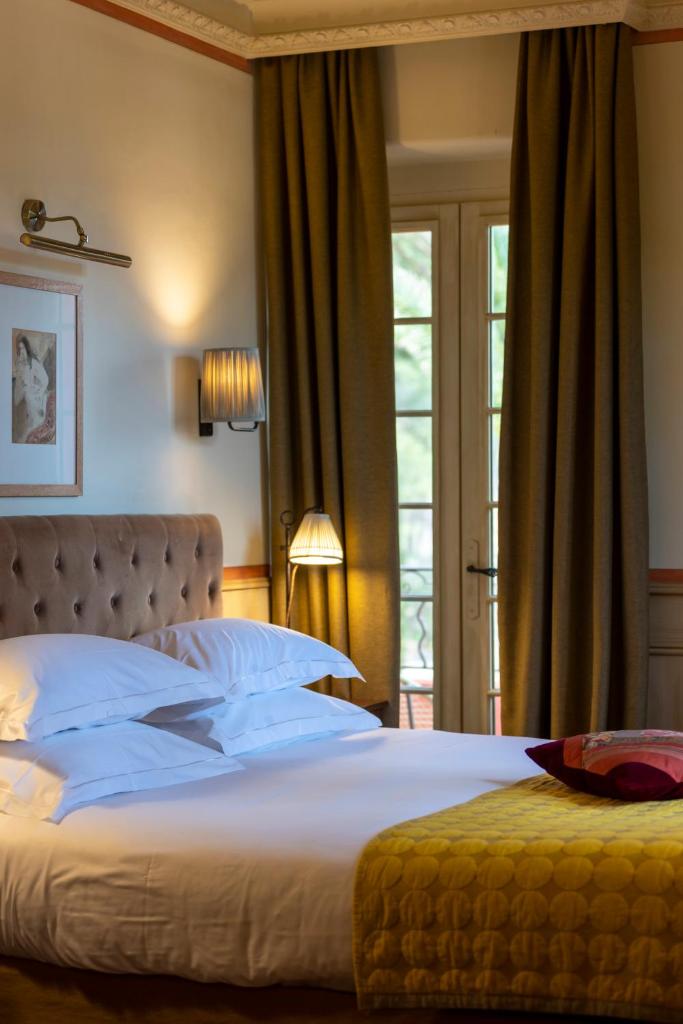 La Signoria is a luxurious 5-star property in Calvi that dates back to the 18th century. The hotel features an exquisite gastronomic restaurant, outdoor pool, fitness centre, and a spa and wellness centre. Each room comes equipped with air conditioning, minibar, TV and garden views. Guests can take advantage of the free WiFi access throughout the premises as well as free private parking. Located just 3 km from Calvi Beach and 2 km from Calvi – Sainte-Catherine Airport, La Signoria offers convenience and relaxation to all its guests.
– Historic building dating back to the 18th century
– Beautiful outdoor pool for swimming or lounging
– Exquisite gastronomic restaurant serving delicious food
– Convenient location near both beach and airport
– Spa & wellness center perfect for some relaxing me-time
Most Expensive Hotels in Corsica
Corsica is home to some of the most luxurious and expensive hotels in the world. These hotels are known for their stunning locations, exclusive amenities, top-notch services, and unparalleled levels of privacy and seclusion.
Demeure Loredana (Saint-Florent)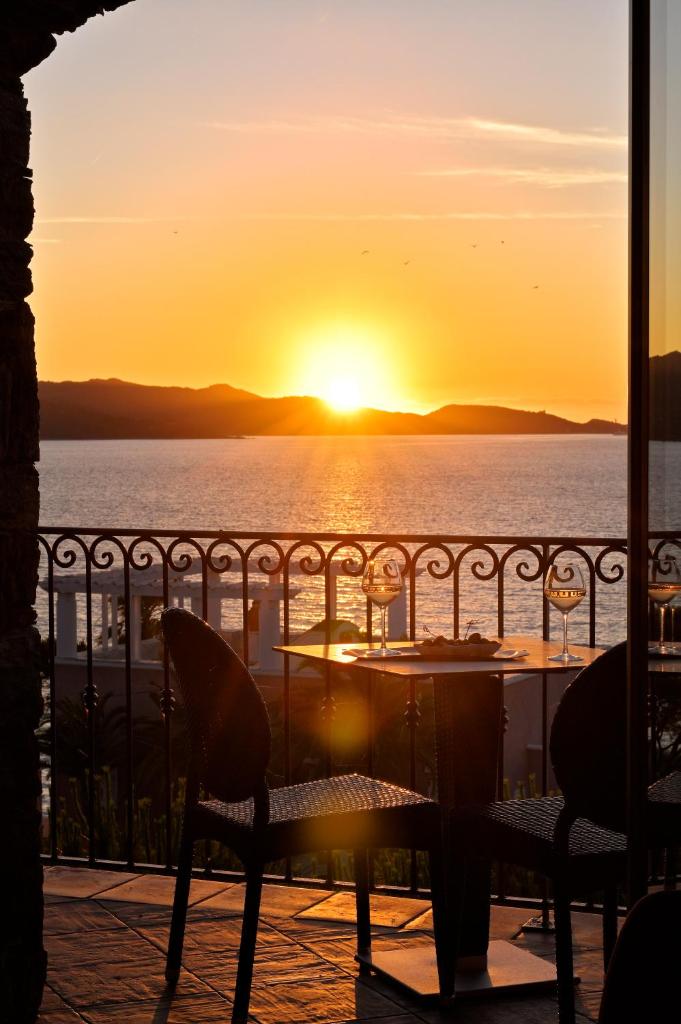 Demeure Loredana is a luxury hotel situated in the stunning Gulf of Saint-Florent. This hotel offers en suite accommodation with sea and garden views, featuring individually decorated air-conditioned rooms equipped with a TV and bathroom. The hotel boasts an outdoor and indoor swimming pool, Turkish bath, massage room, free Wi-Fi throughout the property and free parking. Guests can enjoy breakfast by the pool or in-room dining. The location of the Demeure Loredana makes it easy to access many of Corsica's beaches such as Lotu and Saleccia along with nearby attractions including Saint Florent port.
– Beautiful sea and garden views from all rooms
– Indoor and outdoor pools
– Turkish bath & massage room
– Located near village of Saint Florent for convenience
– Easy access to Corsica's beaches
Le Roc E Fiori Hotel – Les Collectionneurs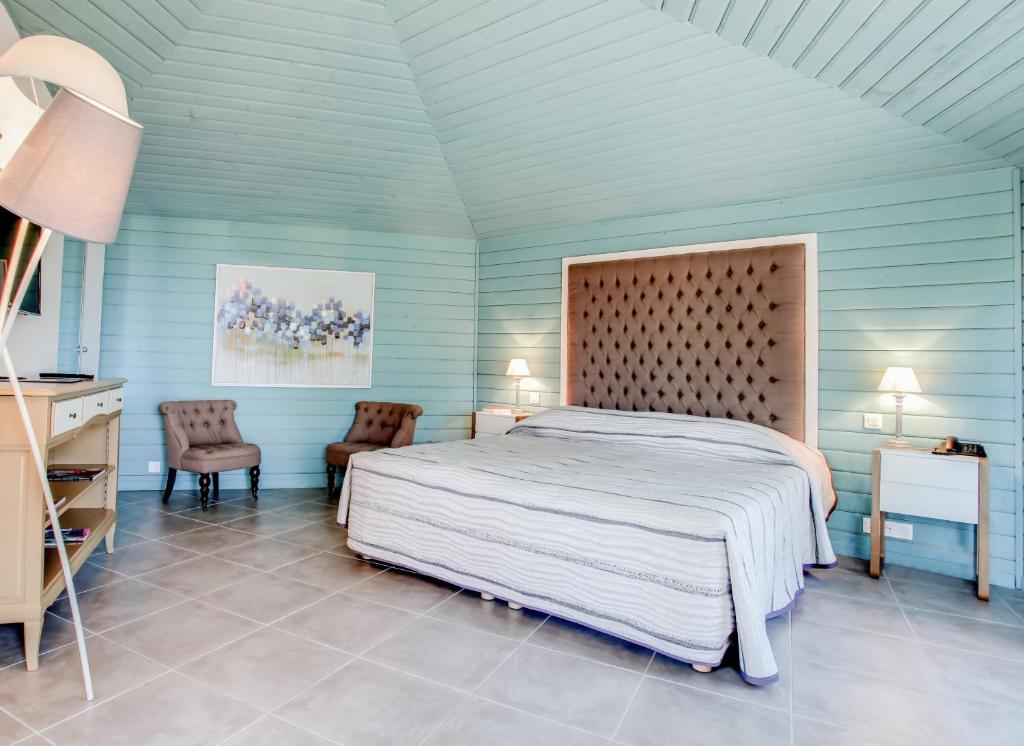 Located in the stunning town of Porto-Vecchio in Corsica, Le Roc E Fiori Hotel – Les Collectionneurs is just 4km away from famous beaches like Santa Giulia and Palombaggia. The hotel offers a range of amenities that make it perfect for travelers looking to indulge and relax. The luxurious property features a swimming pool, hot tub, hammam and pool-side terrace where guests can unwind with a cool drink in hand. The hotel also has rooms with private terraces that offer breathtaking views of the garden and mountains. Other amenities include free Wi-Fi throughout the property, computer access at reception, bicycle and scooter rentals as well as massages and exfoliating treatments upon request.
Pros:
– Convenient location close to beautiful beaches
– Luxurious amenities including swimming pool, hot tub and hammam
– Breath-taking views from rooms with private terraces
– Free Wi-Fi access throughout the property
– Additional services such as bicycle/scooter rental & massage treatments available upon request
Hotel Le Maquis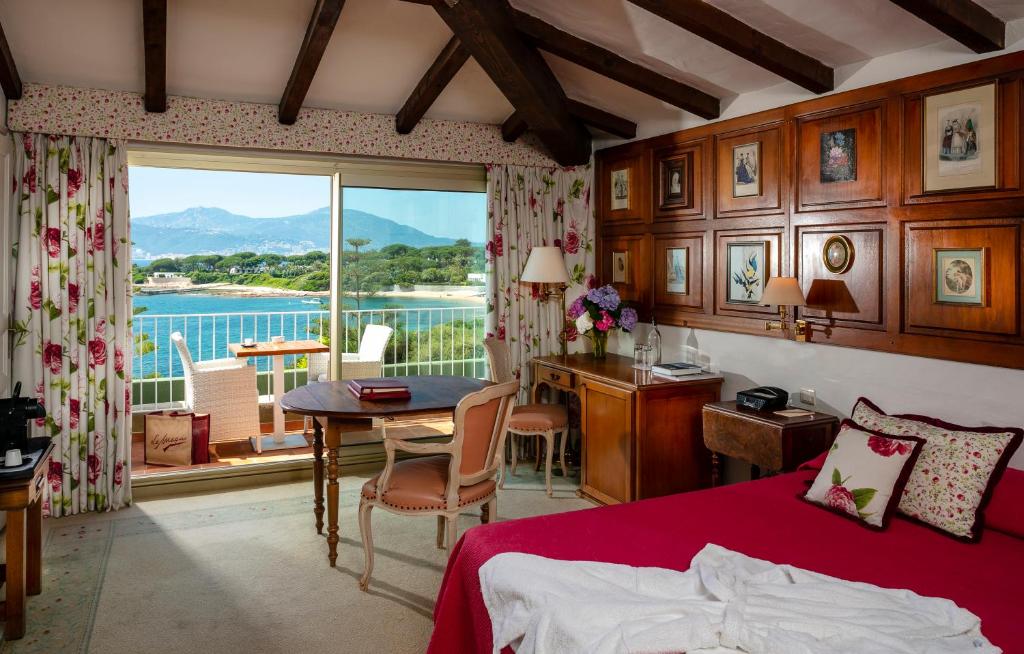 Hotel Le Maquis offers an exquisite 5-star beachfront accommodation in Porticcio, housed in a former Corsican family home. The hotel boasts an outdoor swimming pool, indoor heated pool, and bar amongst other facilities. The property provides free WiFi throughout the hotel with a 24-hour front desk and room service available for guests. L'Arbousier is the on-site restaurant offering Mediterranean cuisine with both indoor and outdoor seating options while serving breakfast as well. The hotel offers bike hire to its patrons looking to explore surrounding areas that include features such as garden, beach, terrace and onsite business centre amenities.
– Beachfront location
– Indoor heated pool
– On-site gastronomic restaurant
– Free Wi-Fi throughout the property
– Bike rental services available
Small Luxury Hotels in Corsica
Small Luxury Hotels in Corsica offer an intimate and exclusive experience for guests seeking a luxurious getaway. With breathtaking views of the island's natural beauty and personalized service, these hotels provide a secluded retreat to unwind and relax.
Hôtel Le Belvédère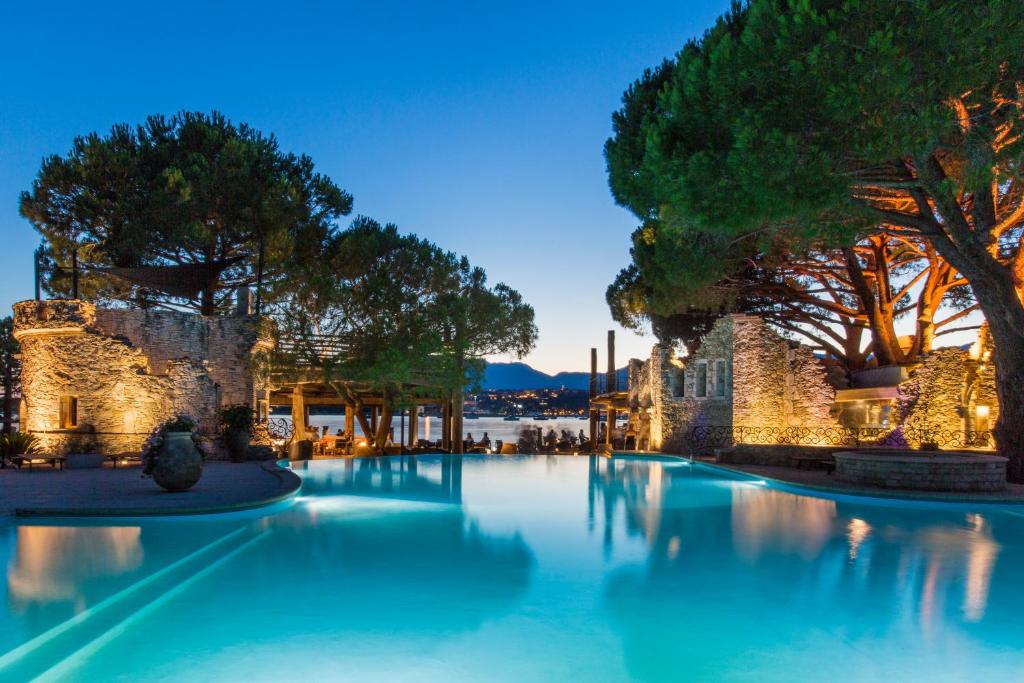 Nestled among lush pine, eucalyptus, and palm trees, Hôtel Le Belvédère is a luxurious retreat located just opposite the historic town of Porto-Vecchio. This hotel boasts an outdoor infinity pool with stunning sea views and two hot tubs for ultimate relaxation. Guests can enjoy dining at three restaurants on site, including a gastronomic restaurant and a seafood specialty one. Each room features a private terrace with garden views and an en suite bathroom with premium amenities. The rooms also offer free Wi-Fi, air conditioning, and flat-screen TVs. A wine cellar and bar are available to enhance your culinary experience.
– Spectacular location surrounded by natural beauty
– Outdoor infinity pool with breathtaking sea views
– Multiple on-site dining options offering exceptional cuisine
– Private terraces in all rooms for utmost comfort
– Wine cellar & bar provides an excellent selection of drinks
Luxury Corsica Hotels Information
| | |
| --- | --- |
| 🛎️ Luxury Hotels in Corsica | 13 |
| 💵 Hotels Prices From | $262 |
| 💵 Highest price | $1578 |
| 🥇 Average Review Score | 9/10 |
| 🛏️ Average number of Rooms | 18 |
Top Luxury hotels in Corsica
| | |
| --- | --- |
| Résidence Saint Cyprien plage | 9.6/10 |
| Residenza Leca Colonna | 9.6/10 |
| Hôtel Version Maquis Santa Manza | 9.4/10 |
| Private Hôtel – Adult Only | 9.3/10 |
| La Signoria | 9/10 |
FAQ
What are the best luxury hotels in Corsica?
Corsica offers an array of luxury hotels that match every budget and preference. If you are looking for a luxurious stay, some of the most recommended options include La Signoria, Grand Hôtel Cala Rossa, Casadelmar Hotel & Spa and Hotel La Villa Calvi.
What amenities can I expect at a luxury hotel in Corsica?
Luxury hotels in Corsica offer a range of amenities to make your stay comfortable and relaxing. You can expect features like sea-facing rooms with stunning views, private beaches, spa services, infinity pools, Michelin-starred restaurants and more.
How much does it cost to stay in a luxury hotel in Corsica?
The price for luxury accommodation in Corsica depends on several factors such as location, seasonality and amenities offered. Generally speaking, you can expect to pay anywhere between 250 euros per night to upwards of 1000 euros per night for an ultra-luxurious suite during peak season.
Are there any adults-only luxury hotels in Corsica?
Yes! For travelers looking for an adults-only experience or romantic getaway without children around may want to consider Le Lodge De Charme A Cheda or U Capu Biancu which offer private terraces or balconies with breathtaking views over the Mediterranean Sea.
What is the best time to visit and enjoy Luxury Hotels In Corsica?
The best time to visit Corsica would be from mid-April until late June after which prices typically go up or during September when temperatures remain warm but most tourists have already left. The climate is simply perfect then – not too hot yet still sunny and clear making it ideal weather conditions for enjoying all that this island has on offer including relaxation at one of its many beautiful coastal resorts.
Popular Most Luxurious hotel destinations