Welcome to a captivating journey through the world of opulence and grandeur in Cologne, Germany. In this enchanting city that effortlessly blends history with modernity, prepare to indulge your senses in a myriad of exquisite luxury accommodations. From sumptuous boutique hotels nestled amidst cobblestone streets to magnificent five-star palaces boasting awe-inspiring architecture, Cologne offers an unrivaled selection of extravagant options for the discerning traveler seeking nothing but the best.
Step into a realm where refinement knows no bounds, as you explore the city's most prestigious establishments that redefine luxury living. Immerse yourself in refined elegance at one of Cologne's resplendent establishments overlooking the majestic Rhine River or discover hidden gems tucked away in historical neighborhoods adorned with picturesque charm. With their impeccable service and attention to detail, these lavish havens will transport you into a world of utmost indulgence, where every whim is catered for and every desire is fulfilled.
Allow yourself to be captivated by the allure of Cologne's luxury hotels, where timeless beauty meets contemporary sophistication. Whether you seek an oasis of tranquility after exploring iconic landmarks such as Cologne Cathedral and Hohenzollern Bridge or wish to immerse yourself in vibrant nightlife before retiring to your lavish suite, this captivating city promises an unforgettable escape into pure extravagance. Join us as we embark on a mesmerizing journey through these remarkable accommodations that epitomize luxury at its finest – welcome to your extraordinary sanctuary in historic Cologne.
Most Luxurious Hotels in Cologne
Dorint Hotel am Heumarkt Köln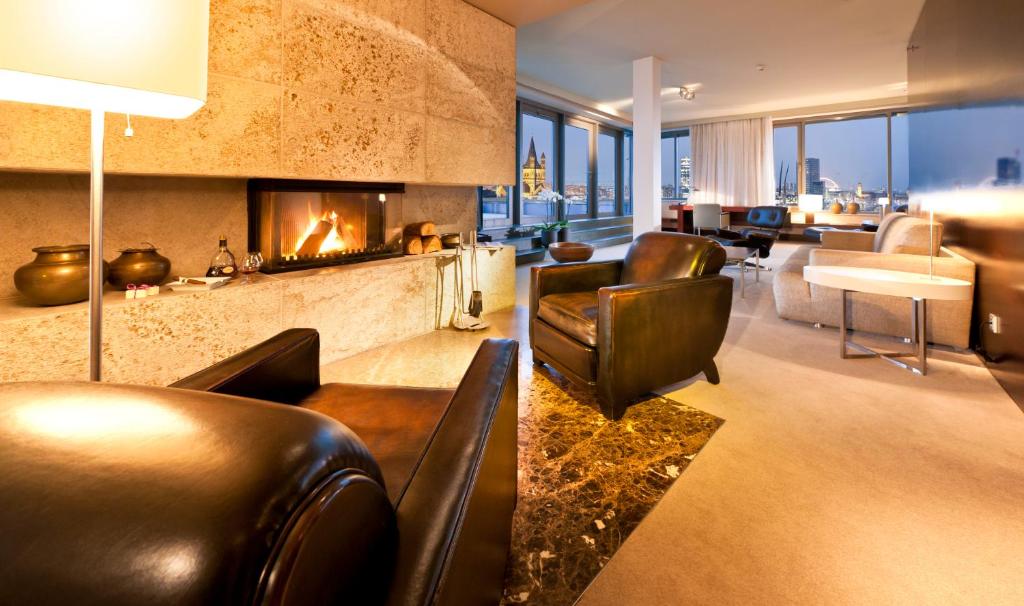 The Dorint Hotel am Heumarkt Köln is a luxury hotel located in the heart of Cologne city centre, just 200 metres from the vibrant Heumarkt Square. The hotel offers spacious rooms with soundproofed windows and modern decor, providing guests with a comfortable and stylish stay. Each room includes free tea/coffee facilities and a luxurious marble bathroom, while some rooms even offer stunning views of Cologne Cathedral. Guests can indulge in a delicious full buffet breakfast at the hotel's restaurant and enjoy live music at Harry's New-York Bar. Additionally, for those looking to relax and stay fit during their stay, there is an external gym and wellness area by Holmes Place available for an additional fee. With its convenient location, the hotel is only 8 minutes away from Cologne Main Station by train and 11 minutes away from the Koelnmesse Exhibition Centre.
– Convenient central location
– Spacious rooms with modern decor
– Stunning views of Cologne Cathedral in some rooms
– Delicious full buffet breakfast offered
– External gym and wellness area available for an additional fee
Pullman Cologne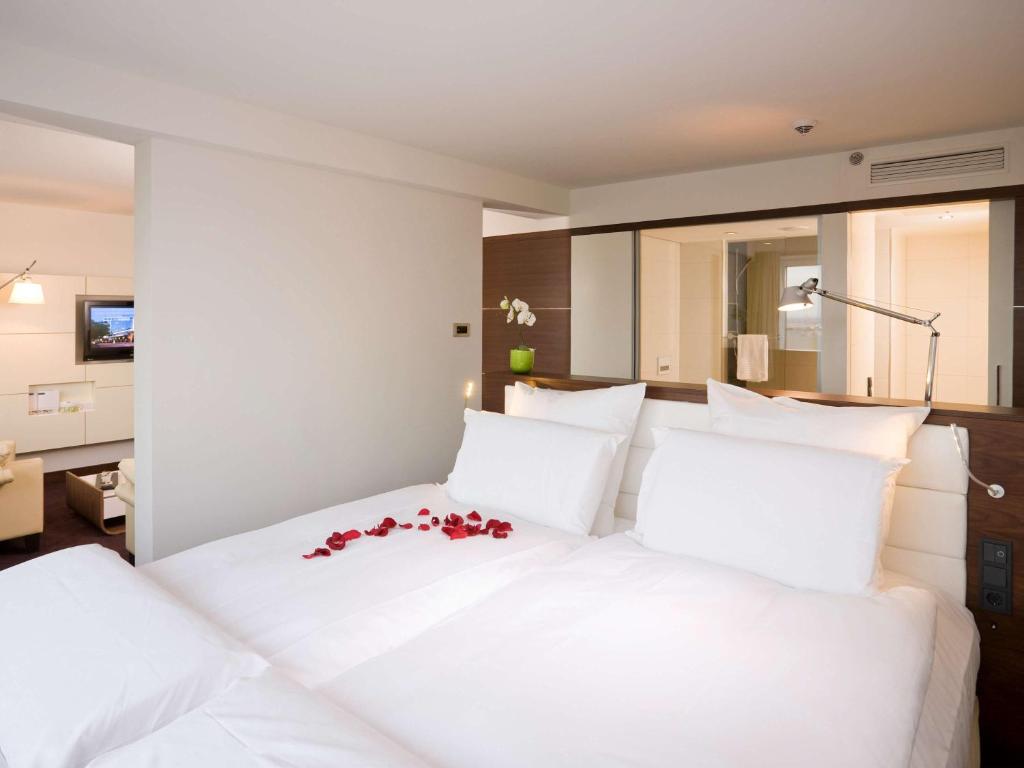 The Pullman Cologne is a luxurious 4-star superior hotel located in the heart of Cologne's shopping district, offering guests a peaceful retreat within walking distance of the iconic Cologne Cathedral. The hotel boasts spacious rooms with modern design, providing a comfortable and stylish environment for guests to relax in. The luxury spa at Pullman Cologne is a highlight, featuring a sauna, gym, and massage treatments for ultimate relaxation and rejuvenation. The hotel also offers amenities such as air conditioning, flat-screen TVs, and modern bathrooms with bath and shower facilities in each room. High-speed internet is available for an additional charge, while WiFi is provided free of charge in public areas. Guests can indulge in delicious cuisine at the brasserie e.l.f., which features a summer terrace for al fresco dining. For those seeking unique aromatic drinks inspired by perfume, LAB12 is the perfect spot to unwind at this fragrance-filled city's bar scene. Underground parking facilities are available for added convenience. Additionally, Friesenplatz Underground Station is just 400 meters away from the hotel – only two stops from Cologne Main Station.
Pros:
– Quiet location within Cologne's shopping district
– Luxury spa offering sauna, gym, and massage treatments
– Modern and spacious rooms with elegant design
– Brasserie e.l.f serving delectable dishes with summer terrace
– LAB12 bar inspired by perfume offering aromatic drinks
Hilton Cologne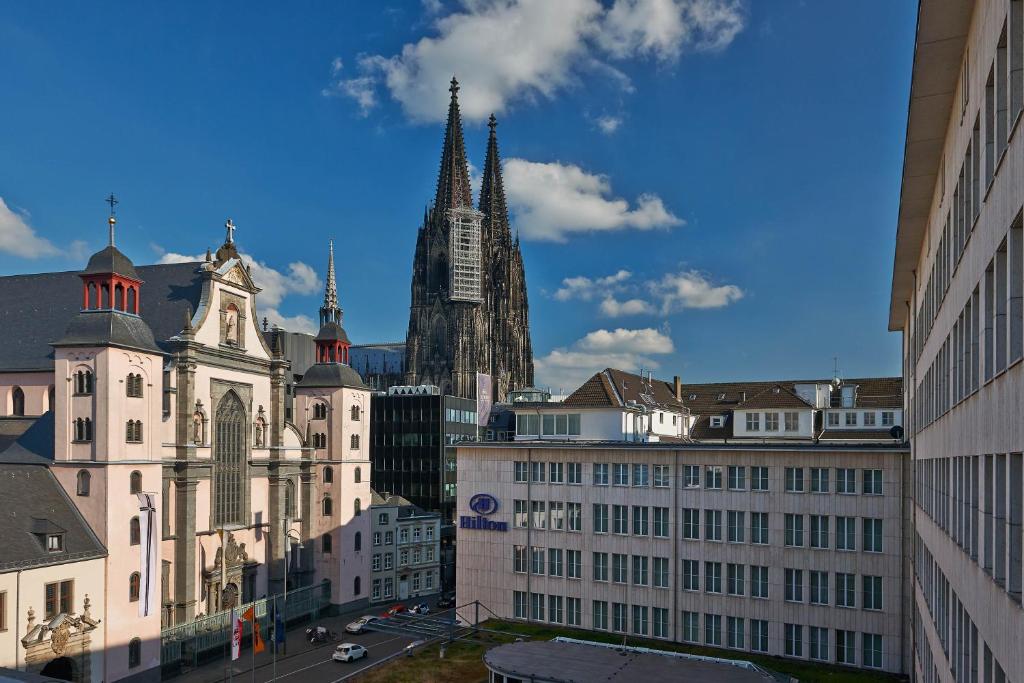 Located just 200 meters away from the Cologne Cathedral, Hilton Cologne is a family-friendly hotel that offers an array of luxurious amenities. The spacious and stylish rooms are equipped with air-conditioning, tea/coffee facilities, and an elegant desk. Guests can also request bathrobes and choose from a variety of pillows for maximum comfort. The hotel's exclusive spa, Fit & Well Health Club, features a Finnish sauna and sanarium, as well as massage treatment sessions upon request. The Pigeon Post Bar & Eatery is the perfect place to unwind or socialize while enjoying a culinary experience that combines local ingredients with Mediterranean specialties and international influences. Additionally, children under 18 can stay in their parents' room for free at Hilton Cologne.
– Exclusive spa with 24-hour gym
– Gourmet cuisine at Pigeon Post Bar & Eatery
– Stylish and spacious rooms with luxury amenities
– Convenient location near Cologne Cathedral
– Children under 18 stay for free in parents' room
Other places to stay in Cologne
Luxury Hotels in Downtown Cologne
Luxury Hotels in Downtown Cologne offer an exceptional experience for discerning travelers seeking the utmost in comfort and style. Nestled in the heart of this vibrant city, these hotels boast prime locations that provide easy access to iconic landmarks, cultural attractions, and exclusive shopping districts. With their elegant and sophisticated designs, impeccable service, and world-class dining options, these luxury establishments create an atmosphere of indulgence and relaxation. Whether it's a rooftop terrace with breathtaking views or a lavish spa offering rejuvenating treatments, each hotel offers unique amenities that cater to every guest's desires. Meticulously crafted rooms and suites exude opulence while ensuring absolute tranquility for a restful night's sleep. Immerse yourself in the essence of luxury at one of downtown Cologne's esteemed luxury hotels.
Prevôt Restaurant & Hotel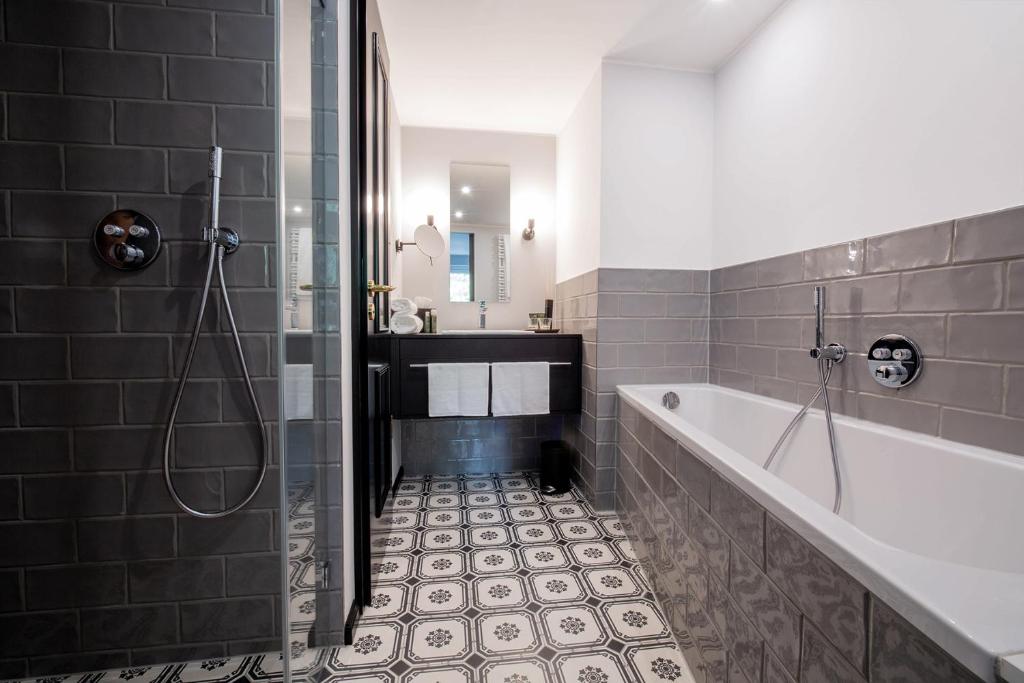 Prevôt Restaurant & Hotel is a chic boutique hotel located in the heart of Cologne. This newly opened hotel features a terrace, a restaurant, and a bar, providing guests with plenty of options to relax and unwind. The prime location places guests just 200 meters away from popular attractions such as the Cologne Philharmony and the Romano-Germanic Museum, while also being within walking distance of the iconic Cologne Cathedral. Other nearby points of interest include the Hohenzollern Bridge, Musical Dome Cologne, and Wallraf-Richartz Museum. The hotel offers free WiFi throughout the property and caters to those with allergies. The air-conditioned rooms are elegantly furnished with amenities like a desk, coffee machine, minibar, safety deposit box, flat-screen TV, and private bathroom with a shower. Some rooms even feature balconies or offer stunning city views. Each room comes equipped with comfortable bed linen and towels for added convenience. For travelers flying into Cologne Bonn Airport, it is situated just 15 km away from Prevôt Restaurant & Hotel.
Pros:
– Prime central location in Cologne
– Terrace ideal for relaxation
– Stylishly designed rooms with modern amenities
– On-site restaurant serving delicious cuisine
– Close proximity to major attractions
Hotel Spiegel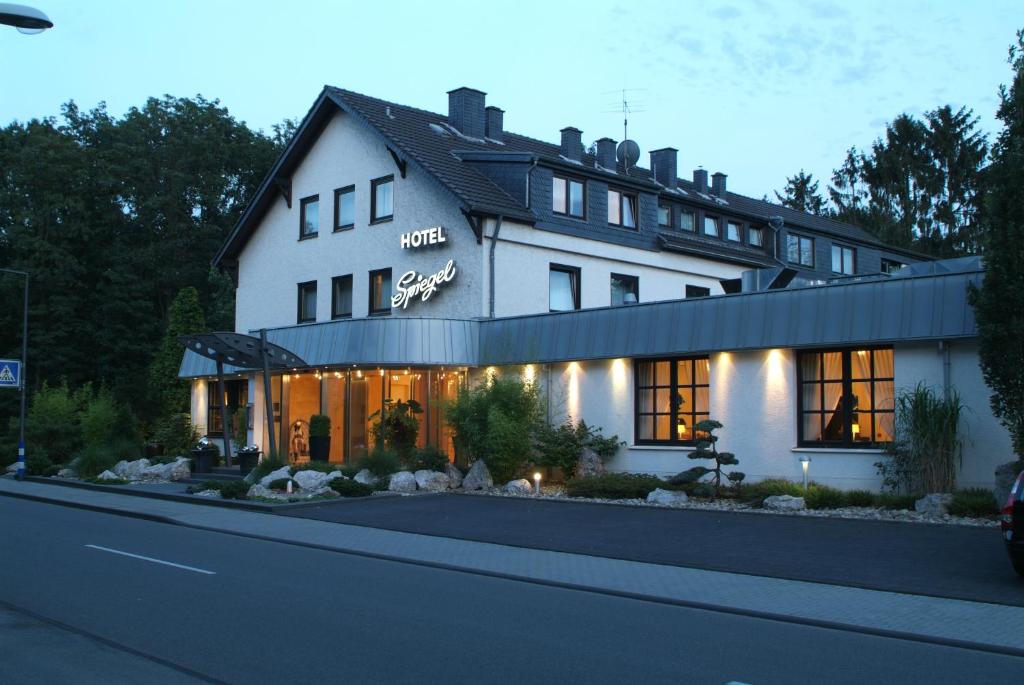 Located conveniently for accessing Cologne-Bonn Airport and the exhibition grounds, Hotel Spiegel offers modern and inviting guest rooms beside the beautiful Porzer Stadtwald conservation area. The hotel boasts elegant interiors and fine cuisine, making it perfect for any activities you may have planned in Cologne. One of the highlights of the property is its bright conservatory, where guests can relax by an open fireplace. Additionally, there is a welcoming lounge that can accommodate up to 60 guests, and during good weather, guests can unwind outdoors in the Japanese garden with terrace.
– Convenient location for accessing airport and exhibition grounds
– Modern and inviting guest rooms
– Elegant interiors
– Fine dining options
– Beautiful Japanese garden with terrace
Villahotel Rheinblick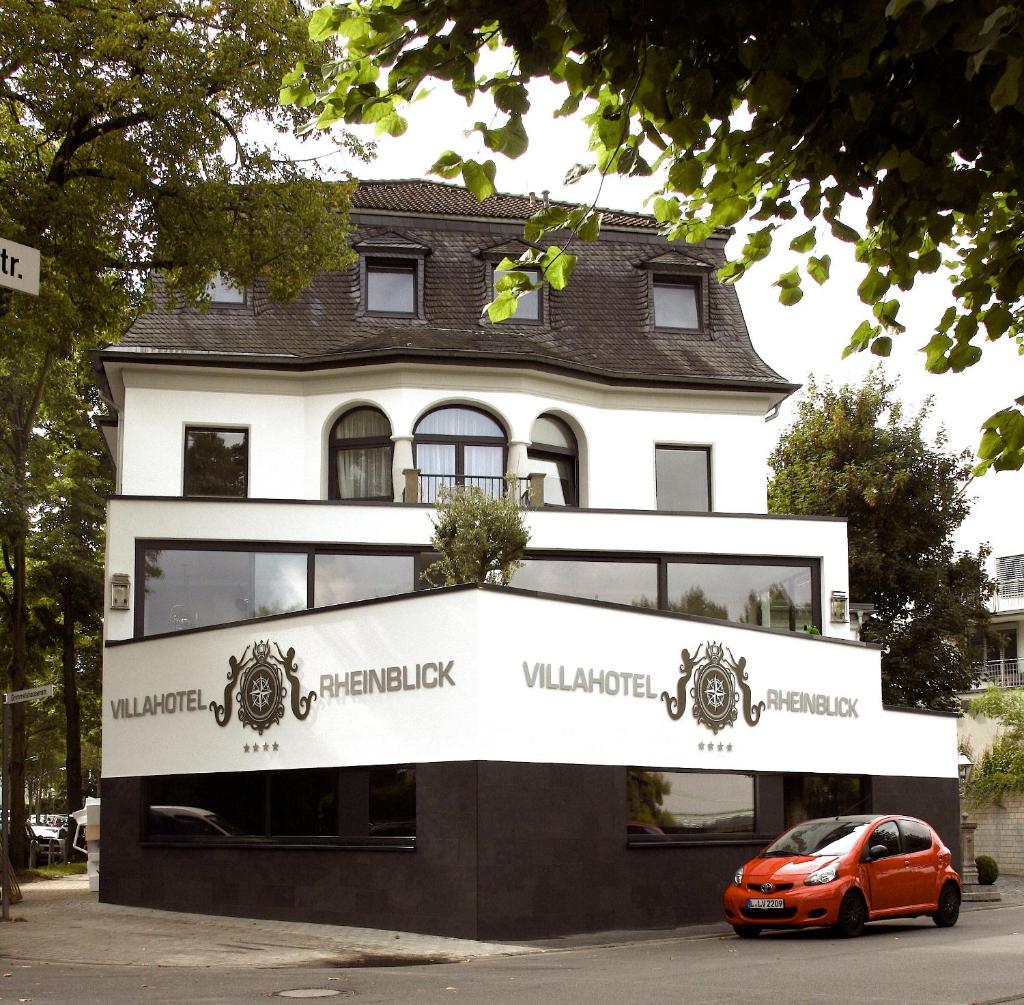 Located on the scenic River Rhine, just 6 km away from Cologne Cathedral and the Kölnmesse Exhibition Grounds, Villahotel Rheinblick is a stylish villa offering a luxurious stay. The hotel features well-appointed air-conditioned rooms with elegant furnishings, free WiFi, flat-screen satellite TVs, desks, and private bathrooms. Guests can enjoy the convenience of a 24-hour front desk, as well as amenities such as a terrace, bar, shared lounge, and luggage storage. With Rodenkirchen Underground Station within a 15-minute walk and the M4 motorway only 2 km away, exploring the city is hassle-free.
Pros:
– Beautiful location overlooking the River Rhine
– Comfortable and tastefully decorated rooms
– Helpful and friendly staff available around-the-clock
– Convenient access to public transportation
– On-site facilities including a bar and terrace for relaxation
5 Star Luxury Hotels
5-star luxury hotels are the epitome of sophistication and elegance, offering an unparalleled level of comfort and service. From the moment you step into these luxurious establishments, you are enveloped in a world of opulence where every detail has been meticulously crafted to create an unforgettable experience. With their lavish accommodations, breathtaking designs, and impeccable attention to detail, 5-star luxury hotels provide a sanctuary for travelers seeking uncompromising indulgence and relaxation. Whether it's the exquisite cuisine at their fine dining restaurants or the personalized services offered by their dedicated staff, these exceptional hotels leave no stone unturned in ensuring that every guest feels like royalty during their stay.
HOPPER Hotel St. Josef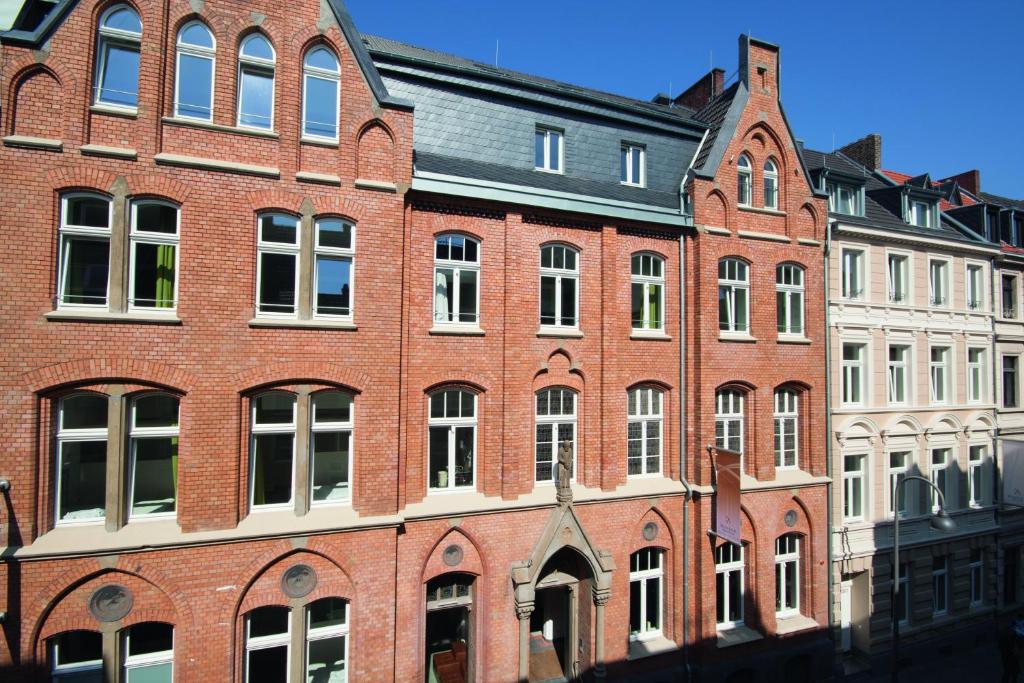 HOPPER Hotel St. Josef is a unique and stylish luxury hotel located in the southern part of Cologne. Situated within a former chapel, this charming hotel is just a 2-minute walk away from the Rhine, the Old Town, and the bustling Severinstrasse shopping street. The rooms at Hopper Hotel St. Josef are beautifully designed with solid oak flooring, walnut furniture, and bathrooms adorned with natural stone. Guests can enjoy modern amenities such as flat-screen TVs and safes in their rooms. What sets this hotel apart are its convenient location near various underground stations, allowing easy access to attractions like the famous chocolate museum and Rheinauhafen harbor. Additionally, it's only a short 15-20 minute walk from both the main train station and the magnificent cathedral. For those arriving by car, the exhibition grounds and airport are just a 10-20 minute drive away. One of the highlights of Hopper Hotel is its impressive art and sculpture displays that add an artistic touch to guests' experiences.
Pros:
– Unique setting within a former chapel
– Stylish rooms with elegant design elements
– Convenient location near major attractions
– Artistic displays throughout the hotel
– Modern amenities for guest comfort
Cologne Marriott Hotel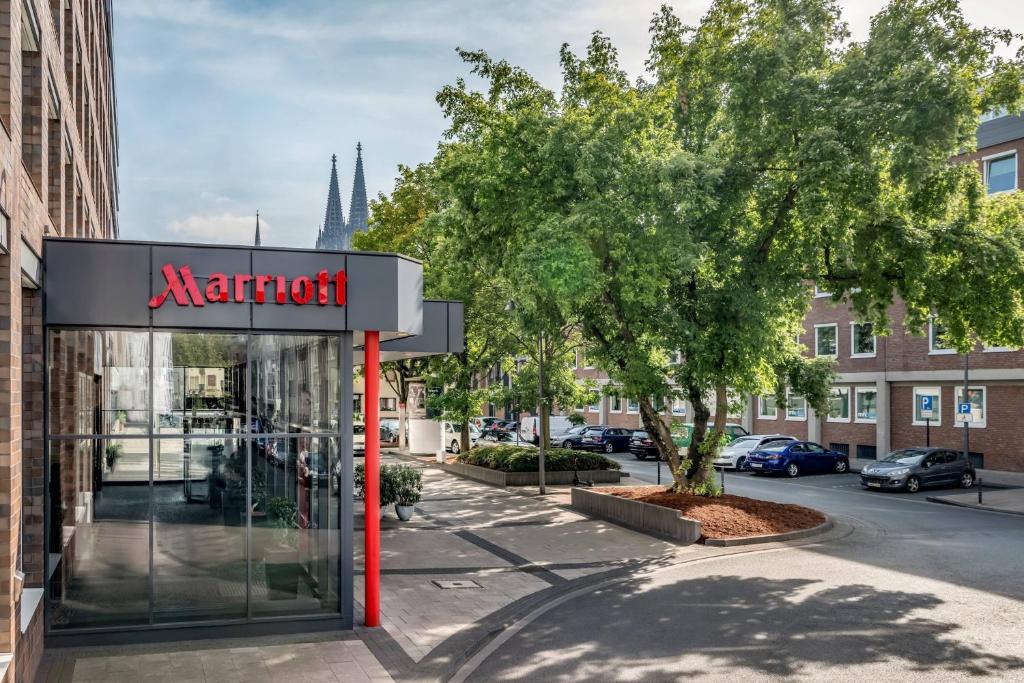 The Cologne Marriott Hotel is a stylish and modern hotel located in the heart of Cologne. Just a short 3-minute walk from Cologne Main Station and 4 minutes from the iconic Cologne Cathedral, this hotel offers convenience and luxury. The air-conditioned rooms are spacious and well-appointed with amenities such as flat-screen TVs, soundproofed windows, and dark wood furniture. Guests can enjoy free WiFi throughout the entire property. The hotel features the Cast Iron Grill which serves a delicious full buffet breakfast as well as international dishes. For relaxation, guests can unwind in the Pluesch Bar & Lounge with its cozy seating area. Fitness enthusiasts will appreciate the modern gym available on-site. Additionally, on-site parking is available for guests' convenience. The hotel is just one stop away by S-Bahn train from Kölnmesse Exhibition Centre and the Lanxess Arena.
– Convenient central location
– Spacious and well-appointed rooms
– Free WiFi throughout the property
– Delicious buffet breakfast options
– Modern gym facilities
Hotel Stadtpalais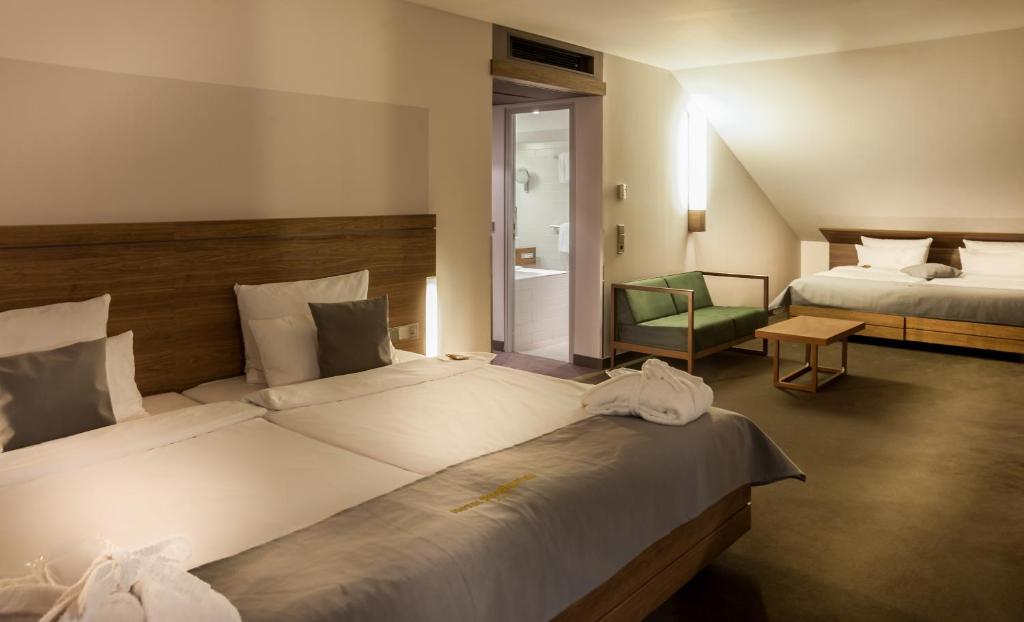 Hotel Stadtpalais is a unique luxury hotel in Cologne, Germany, conveniently located opposite the Lanxess Arena and offering excellent transport links. Housed in a protected historic building, this hotel combines both historic charm and modern architecture. The spacious rooms are elegantly furnished, providing a comfortable and luxurious stay. Guests can enjoy free satellite sports channels in the lounge area as well as in all rooms, along with free WiFi access throughout the hotel. For relaxation, there is also a Finnish sauna available. In the mornings, guests can indulge in a delicious and varied breakfast buffet while evenings can be spent unwinding in the lounge or bar area. With its proximity to Deutz Technische Fachhochschule Underground Station just a 2-minute walk away, exploring Cologne's attractions is made easy from Hotel Stadtpalais.
– Unique mix of historic and modern architecture
– Convenient location opposite Lanxess Arena
– Spacious and elegantly furnished rooms
– Free satellite sports channels and WiFi access
– Relaxing Finnish sauna
Most Expensive Hotels in Cologne
Cologne, a city known for its stunning architecture and vibrant culture, is also home to some of the most luxurious hotels in the world. These opulent establishments offer an unparalleled experience, combining lavish interiors with impeccable service and breathtaking views. From stylish suites to indulgent spa facilities, these hotels cater to the discerning traveler seeking the epitome of luxury. With their prime locations and exquisite attention to detail, the most expensive hotels in Cologne are truly a haven for those seeking sophistication and indulgence during their visit to this captivating city.
Hotel Imperial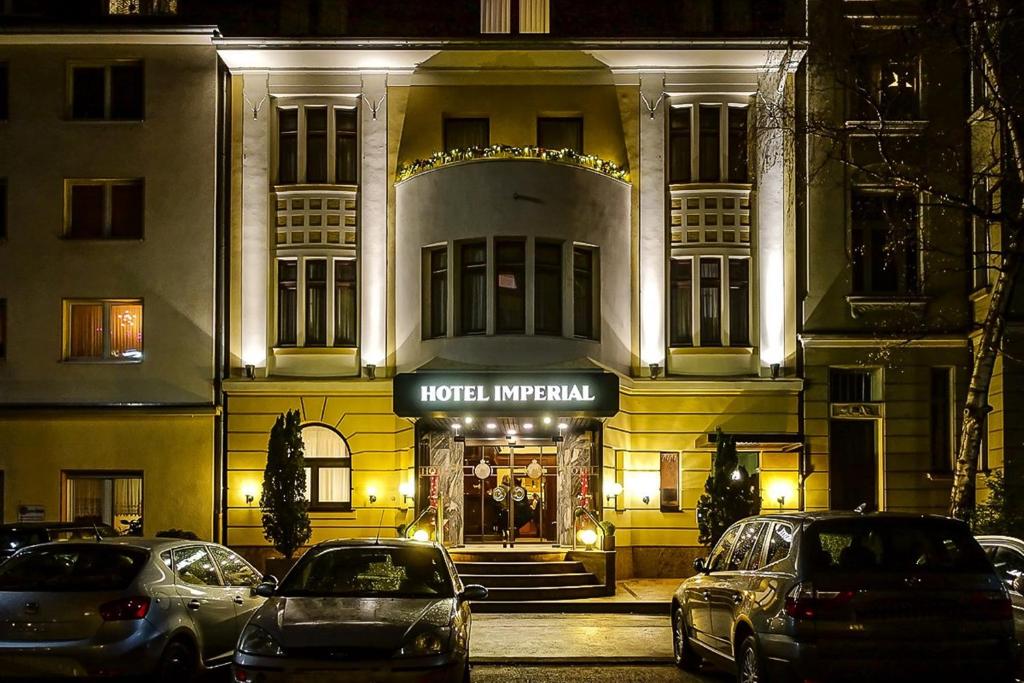 Located in the peaceful Ehrenfeld district, near the Stadtgarten park, Hotel Imperial is a 4-star luxury hotel that offers its guests a serene and comfortable stay. With free WiFi available throughout the hotel, it provides an ideal base for exploring Cologne and its many attractions. The hotel is conveniently connected to public transportation and is just a 5-minute drive from the city center. The warm Rhineland hospitality can be felt in its comfortable rooms, which are perfect for relaxation after a day of sightseeing. For business travelers, Hotel Imperial offers well-equipped rooms and technical facilities for meetings and conferences. Additionally, rental bikes are available for those who wish to explore the city on wheels.
– Peaceful location near Stadtgarten park
– Free WiFi throughout the hotel
– Excellent public transport connections
– Comfortable rooms reflecting warm Rhineland hospitality
– Suitable rooms and technical equipment for meetings/conferences
Lindner Hotel City Plaza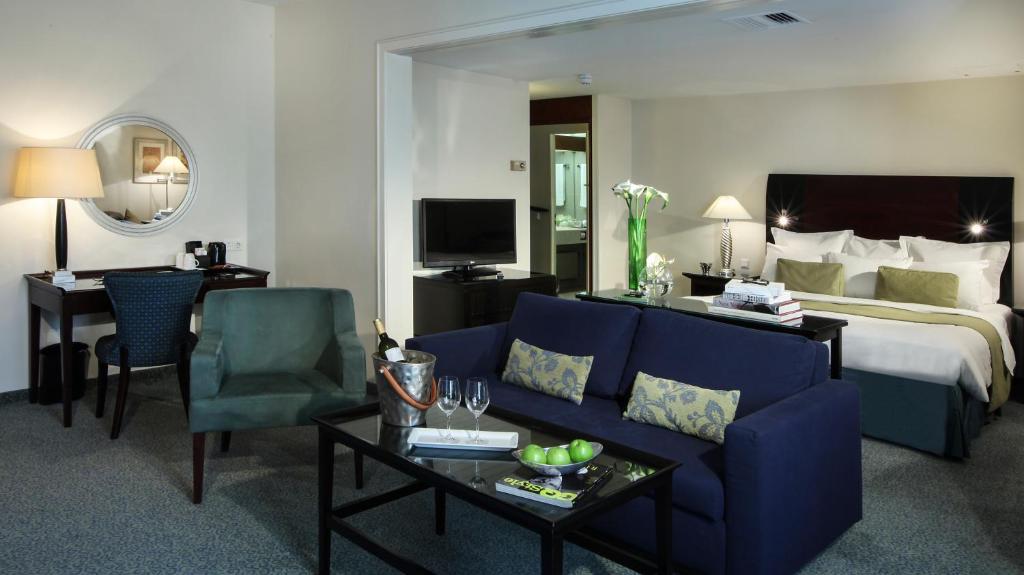 Located in the trendy Friesenplatz district of Cologne, Lindner Hotel City Plaza is a luxurious hotel offering a range of amenities for its guests. The hotel features a sauna and a modern fitness studio equipped with cardio and exercise equipment. It is conveniently situated just a 7-minute drive from the Koelnmesse Exhibition Centre and Lanxess Arena. The elegant rooms are tastefully decorated and include satellite TV, a seating area, and an en-suite bathroom with complimentary toiletries. Free WiFi is available throughout the property. Guests can indulge in Cologne specialties and international dishes at the hotel's restaurant or enjoy drinks on the large terrace of the lively bar. The surrounding area offers plenty of shops and restaurants within 1 km, while Cologne Cathedral is just a 15-minute walk away. For those looking to explore further, the banks of the River Rhine are located 2 km from the hotel. Convenient transportation options include being only a 2-minute walk from Friesenplatz Underground Station and 800 meters from Köln-West Train Station. Additionally, it takes approximately 20 minutes to reach Cologne-Bonn Airport.
– Convenient location in trendy Friesenplatz district
– Sauna and modern fitness studio on-site
– Elegant rooms with satellite TV
– Restaurant serving Cologne specialties and international dishes
– Lively bar with large terrace for relaxation
Luxury Cologne Hotels Information
| | |
| --- | --- |
| 🛎️ Luxury Hotels in Cologne | 11 |
| 💵 Hotels Prices From | $105 |
| 💵 Highest price | $1746 |
| 🥇 Average Review Score | 8.3/10 |
| 🛏️ Average number of Rooms | 144 |
Top Luxury hotels in Cologne
| | |
| --- | --- |
| Villahotel Rheinblick | 8.8/10 |
| Prevôt Restaurant & Hotel | 8.7/10 |
| Hotel Stadtpalais | 8.7/10 |
| Hotel Spiegel | 8.5/10 |
| HOPPER Hotel St. Josef | 8.3/10 |
FAQ
Can you recommend a luxury hotel in Cologne?
Certainly! One of the top luxury hotels in Cologne is The Excelsior Hotel Ernst. This iconic establishment has been welcoming guests since 1863 and offers a perfect blend of tradition and modernity. Located next to the famous Cologne Cathedral, it boasts beautifully furnished rooms, Michelin-starred dining options, a luxurious spa, and impeccable service.
What amenities can I expect at a luxury hotel in Cologne?
Luxury hotels in Cologne offer a range of world-class amenities to enhance your stay. These often include lavish accommodations with stylish interiors, state-of-the-art fitness centers, relaxing spa facilities offering massages and beauty treatments, gourmet restaurants serving exquisite cuisine, concierge services to assist with any requests or reservations you may have, and sometimes even exclusive access to private clubs or rooftop bars with stunning views of the city.
Are there any luxury hotels near the Rhine River in Cologne?
Absolutely! If you're looking for a luxurious experience by the Rhine River in Cologne, consider staying at Hyatt Regency Cologne. This elegant five-star hotel offers stunning views over the river and features spacious rooms with contemporary designs. Guests can enjoy indulgent spa treatments, dine at one of their fine restaurants offering international cuisine or relax at their chic cocktail bar overlooking the water.
Do luxury hotels in Cologne offer airport transportation services?
Yes, many luxury hotels in Cologne provide airport transportation services for their guests' convenience. Some hotels offer complimentary shuttle services from either Köln Bonn Airport or Düsseldorf Airport directly to their property. Alternatively, they can arrange private transfers upon request for an additional fee. It's advisable to check with your chosen hotel prior to arrival if this service is available.
What are some popular attractions near luxury hotels in Cologne?
Cologne has numerous popular attractions that are conveniently located near many luxury hotels. The most iconic attraction is undoubtedly the breathtaking Gothic Cathedral, which is often just a short walk away. Other notable sites include the historic Old Town with its charming cobblestone streets and colorful buildings, the modern Rheinauhafen district with its unique architecture, and the Museum Ludwig for art enthusiasts.
Popular Most Luxurious hotel destinations