Welcome to our latest exploration of opulent accommodations in Cheshire, an exquisite county nestled in the heart of the United Kingdom. Join us as we embark on a journey through luxurious hotels and experience the epitome of grandeur and indulgence. Prepare to be captivated by the enchanting charm and breathtaking beauty that this captivating region has to offer.
From historic manor houses exuding old-world elegance, to contemporary havens boasting cutting-edge design, Cheshire boasts a plethora of refined establishments that cater to even the most discerning travelers. Discover sumptuous suites adorned with lavish furnishings, where no detail is left unattended. Immerse yourself in first-class amenities such as spa retreats, fine dining experiences, and personalized service that will leave you feeling pampered beyond measure.
Whether you seek tranquil seclusion or proximity to vibrant city life, luxury hotels in Cheshire effortlessly strike a harmonious balance between serene countryside landscapes and urban sophistication. Soothe your senses amidst picturesque gardens or revel in the cosmopolitan energy just moments away from your doorstep. Indulge in Michelin-starred gastronomy showcasing seasonally-inspired menus crafted with local produce, paired with an extensive selection of world-class wines.
Join us as we unravel the secrets of unrivaled luxury within these idyllic surroundings – because when it comes to experiencing opulence at its finest, Cheshire truly reigns supreme.
Most Luxurious Hotels in Cheshire
Willington Hall Hotel (Tarporley)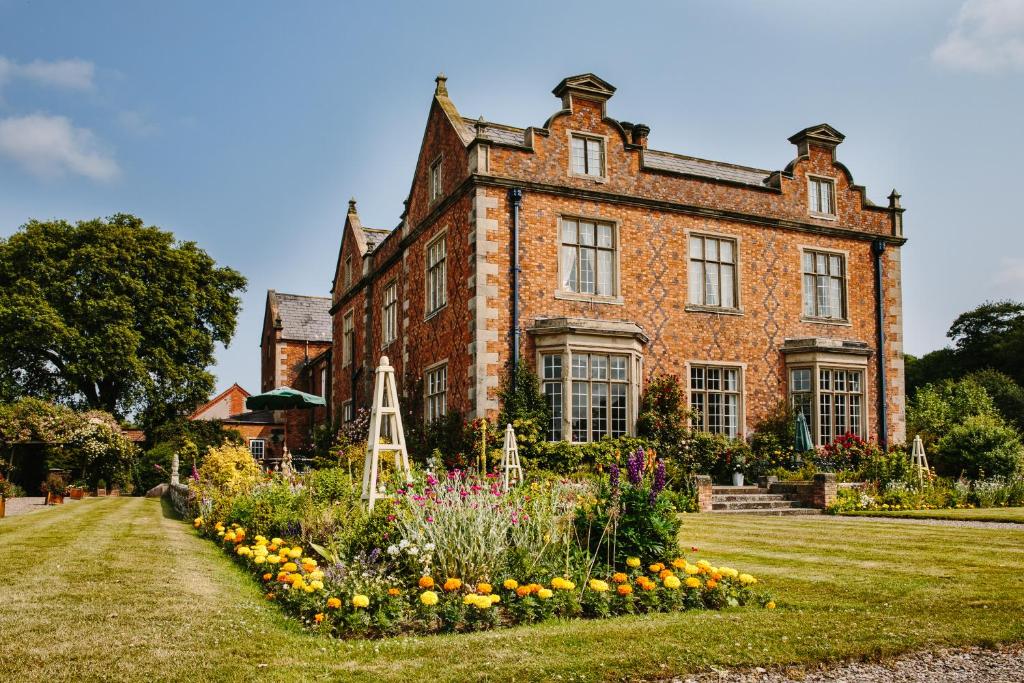 Located in Tarporley, Willington Hall Hotel is a grand Victorian hotel surrounded by seventeen acres of stunning formal gardens and parkland. The hotel takes pride in using fresh produce grown on its own grounds to create delicious modern British dishes served in the restaurant. Each of the individually designed rooms features antique furnishings, Egyptian cotton linen, and flat-screen TVs for guests to relax in front of. Guests can enjoy afternoon tea on the terrace or in the elegant drawing room and indulge in the popular homemade pie of the week at the bar. The hotel also offers picnic hampers for those looking to explore the Cheshire countryside, which can be complemented by bike rides through Delamere Forest just a short drive away. Overall, Willington Hall Hotel provides a luxurious escape with beautiful views and excellent amenities.
– Seventeen acres of stunning formal gardens and parkland
– Fresh produce used from the hotel's grounds
– Antique furnishings in each individually designed room
– Afternoon tea available on terrace or drawing room
– Picnic hampers provided for outdoor exploration
Grosvenor Pulford Hotel & Spa (Pulford)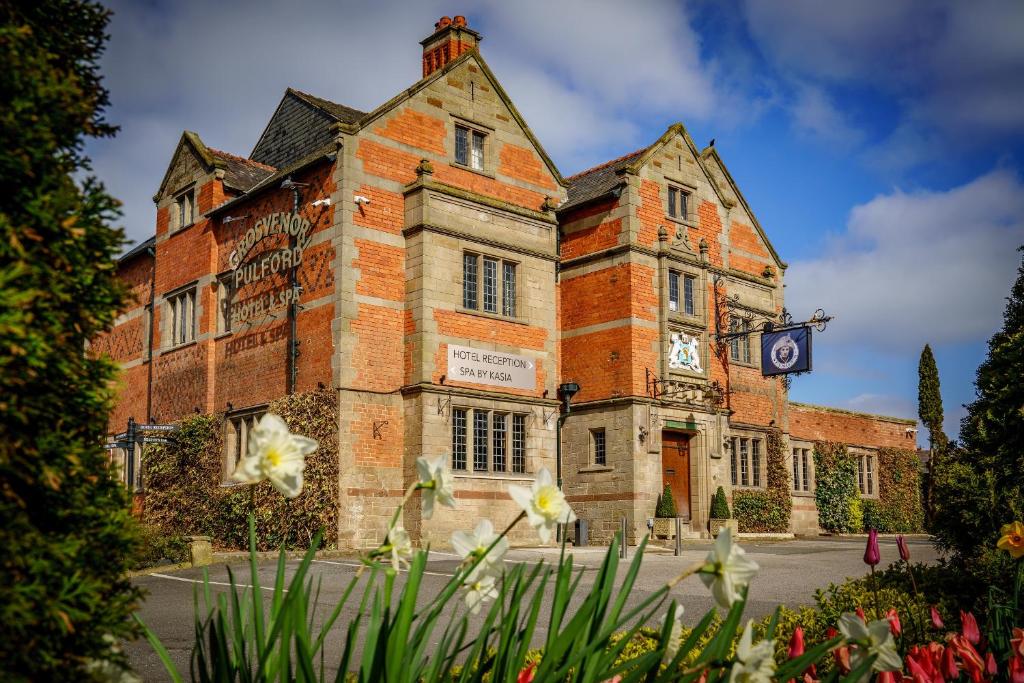 Located just a short 15-minute drive away from the historical center of Chester, Grosvenor Pulford Hotel & Spa is a luxurious haven offering a range of amenities. This charming hotel boasts an exquisite spa, complete with a rejuvenating pool and state-of-the-art gym facilities. Situated near the Welsh border, guests can enjoy the convenience of free Wi-Fi access throughout their stay, along with spacious and comfortable rooms to relax in. The beautiful grounds surrounding the hotel add a touch of tranquility to the overall experience. Each en suite room features a flat-screen TV with digital channels and tea/coffee facilities for added convenience. Additionally, guests can take advantage of 24-hour room service for all their needs.
– Convenient location: Just a short drive away from Chester's historical center.
– Luxurious spa: Guests can unwind and indulge in relaxation at the hotel's exquisite spa.
– Free Wi-Fi: Stay connected throughout your stay with complimentary Wi-Fi access.
– Comfortable rooms: Enjoy spacious and well-appointed rooms for utmost comfort.
– Beautiful grounds: The picturesque surroundings at Grosvenor Pulford Hotel & Spa provide a serene atmosphere.
The Golden Pheasant (Knutsford)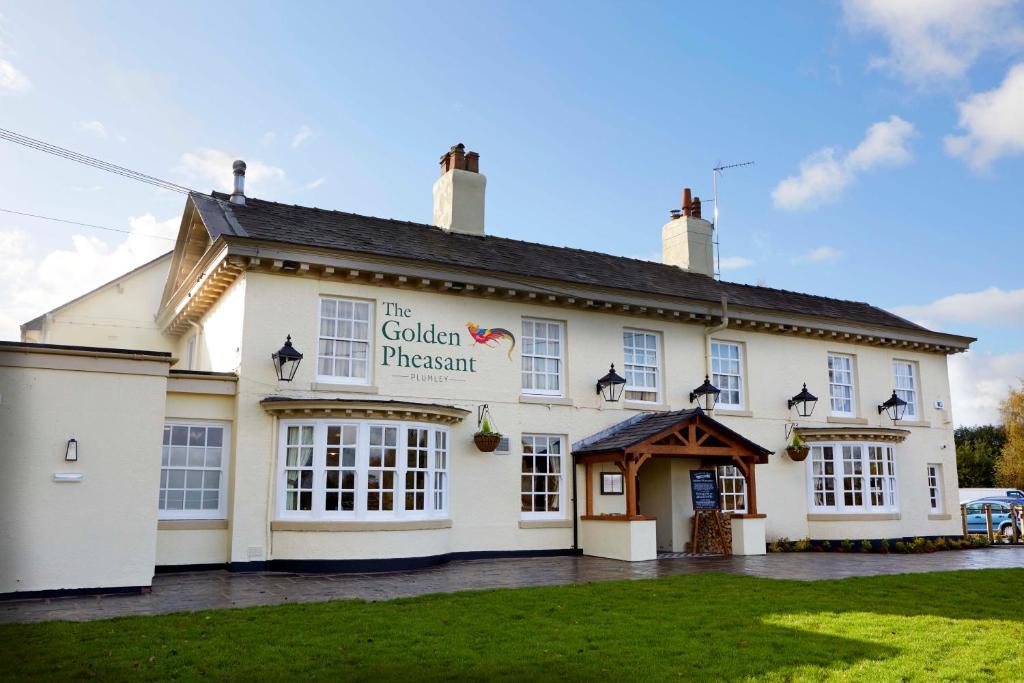 Located in the charming village of Plumley, The Golden Pheasant is not your average pub. With its warm and welcoming atmosphere, this establishment offers more than just a place to grab a drink. Boasting a restaurant and bar, guests can enjoy delicious meals paired with an extensive selection of cask ales and fine wines. The rooms at The Golden Pheasant are comfortable and well-equipped, featuring flat-screen TVs and private bathrooms stocked with free toiletries. Some rooms even offer picturesque countryside views and cozy seating areas for ultimate relaxation. Families will appreciate the spacious garden with its play area, making it perfect for children to run around while adults unwind. What sets this pub apart is its dog-friendly sections inside, allowing guests to bring their furry companions along on their luxury getaway. With free WiFi throughout the property and convenient access to Manchester Airport just 14 km away, The Golden Pheasant combines comfort, convenience, and hospitality in one unforgettable experience.
– Charming village location
– Delicious food & drink selection
– Comfortable rooms with countryside views
– Family-friendly amenities & spacious garden
– Dog-friendly sections inside
Other places to stay in Cheshire
Luxury Hotels in Downtown Cheshire
Luxury hotels in Downtown Cheshire offer a captivating experience that blends opulence with convenience. Nestled amidst the bustling cityscape, these hotels boast elegant architectural designs and sophisticated interiors. Impeccable service is a hallmark of these accommodations, ensuring guests receive personalized attention throughout their stay. The strategic location allows guests to easily explore nearby attractions, fine dining establishments, and upscale shopping districts. With a harmonious blend of comfort and style, luxury hotels in Downtown Cheshire exude an ambiance of exclusivity, making them the ideal choice for discerning travelers seeking a lavish retreat in the heart of the city.
Carden Park Hotel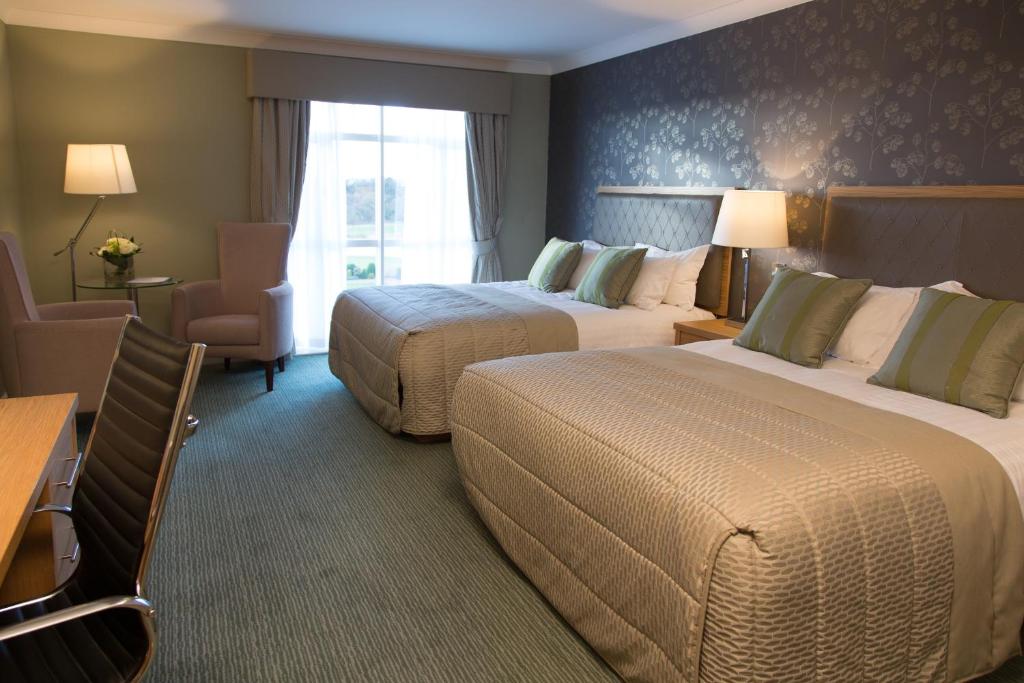 Nestled within 1000 acres of picturesque Cheshire countryside, Carden Park Hotel, Golf Resort and Spa is a luxurious haven offering guests a truly indulgent experience. Boasting indoor and outdoor pools, a modern spa, two championship golf courses, and lavish rooms with breathtaking views, this hotel is the epitome of luxury. With free parking and Wi-Fi, it's conveniently located just a short 20-minute drive from Chester. The Spa at Carden is one of the UK's largest spa gardens, featuring relaxing hot tubs, a panoramic sauna, and an inviting outdoor pool. In addition to its stunning facilities, the hotel also offers fine dining experiences with gourmet dishes made from locally sourced ingredients at The Vines restaurant. For a more casual setting, Redmond's offers friendly brasserie-style dining while Morgan's Bar serves delightful afternoon teas and evening drinks. Plus, Jack's Bar provides incredible views over the championship golf course. Surrounded by beautiful countryside and boasting its own private vineyard just minutes away from the Welsh Border in Wrexham –Carden Park Hotel truly offers an unforgettable experience for those seeking relaxation or an exhilarating round of golf on their highly regarded championship courses.
– Indoor and outdoor pools
– Modern spa with extensive facilities
– Two championship golf courses
– Scenic views from luxury rooms
– Gourmet dining experiences with locally sourced ingredients
DoubleTree by Hilton Chester
Located just outside of Chester, DoubleTree by Hilton Chester is a luxurious 18th-century manor house surrounded by 12 acres of beautifully landscaped gardens. The hotel offers a convenient location, only a 2-minute drive from the M53 motorway and 23 miles from Liverpool John Lennon Airport. The spa facilities include two swimming pools and a fully equipped gym. Guests can also enjoy free WiFi and on-site parking. Those who book a spa package can indulge in relaxation in the aroma steam room, glass-fronted sauna or hot tub, as well as pamper themselves with treatments in the candlelit beauty rooms. The hotel's 4-star bedrooms feature flat-screen LCD TVs with on-demand movies, en suite bathrooms with quality toiletries, air conditioning, and work desks. The Garden Room and Terrace provide an excellent setting for cocktails and light meals, while there is also a lounge bar available for guests to unwind. Additionally, DoubleTree by Hilton Chester is conveniently located near popular attractions such as Chester Zoo (a 5-minute drive away) and Chester Racecourse (a 10-minute drive away).
– Convenient location just outside of Chester
– Beautifully landscaped gardens
– Luxurious spa facilities including two swimming pools
– Free WiFi and on-site parking available
– Nearby attractions such as Chester Zoo
Inglewood Manor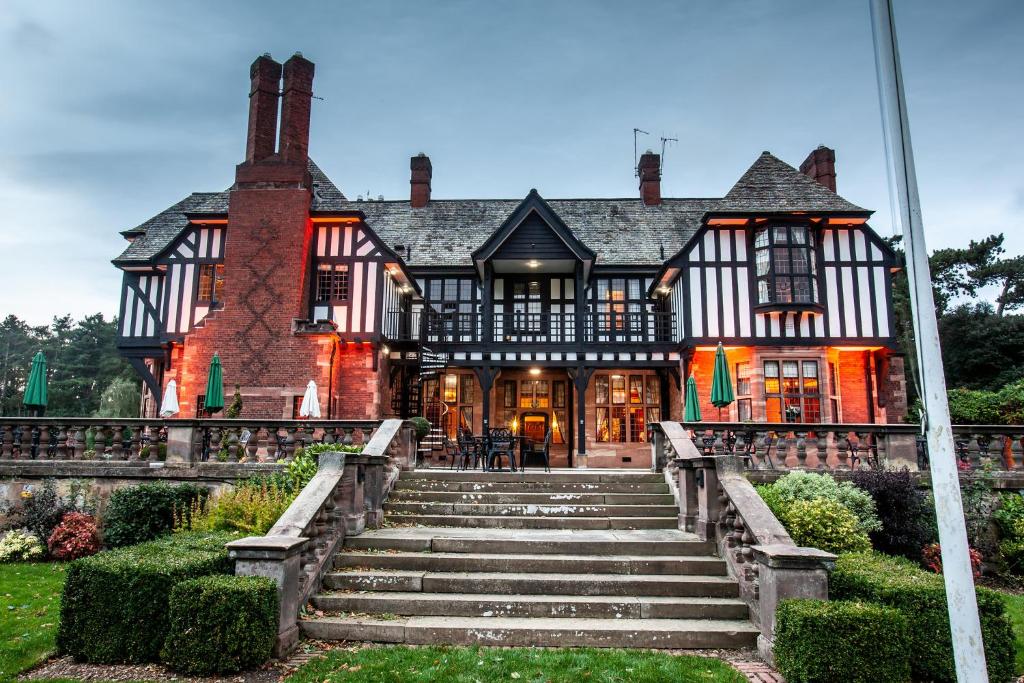 Nestled within 38 acres of tranquil grounds, just a short drive from Chester, Inglewood Manor is an exquisite Edwardian manor that exudes timeless elegance. Originally constructed in 1915, this Grade II listed building boasts a wealth of historical character and magnificent original features such as oak-panelled rooms, picturesque terraces, and sprawling manicured lawns. The individually decorated rooms offer enchanting views and a unique charm that is sure to captivate guests. Indulge in delectable English and continental cuisine at the hotel's superb restaurant, where a team of award-winning chefs create culinary masterpieces. With 29 comfortable en suite rooms available, including executive and standard options, Inglewood Manor offers a truly luxurious stay. Guests can also enjoy fishing, walking, and tennis within the expansive grounds while conveniently accessing nearby historic Chester as well as the vibrant cities of Liverpool and Manchester.
– Peaceful location amidst 38 acres of grounds
– Beautifully preserved Edwardian manor with historic character
– Charming individually decorated rooms with glorious views
– Excellent on-site restaurant offering English and continental cuisine
– Convenient access to Chester, Liverpool, and Manchester
5 Star Luxury Hotels
5 Star Luxury Hotels offer the epitome of indulgence, elegance, and impeccable service. These opulent establishments are designed to provide guests with an extraordinary experience that goes beyond the ordinary. From lavish accommodations adorned with exquisite furnishings to world-class dining options prepared by acclaimed chefs, every detail is meticulously crafted to ensure a truly unforgettable stay. With impeccable attention to detail, personalized service, and a wide range of luxurious amenities, these hotels strive to create an ambiance of pure luxury and sophistication for their discerning guests.
Crewe Hall Hotel & Spa (Crewe)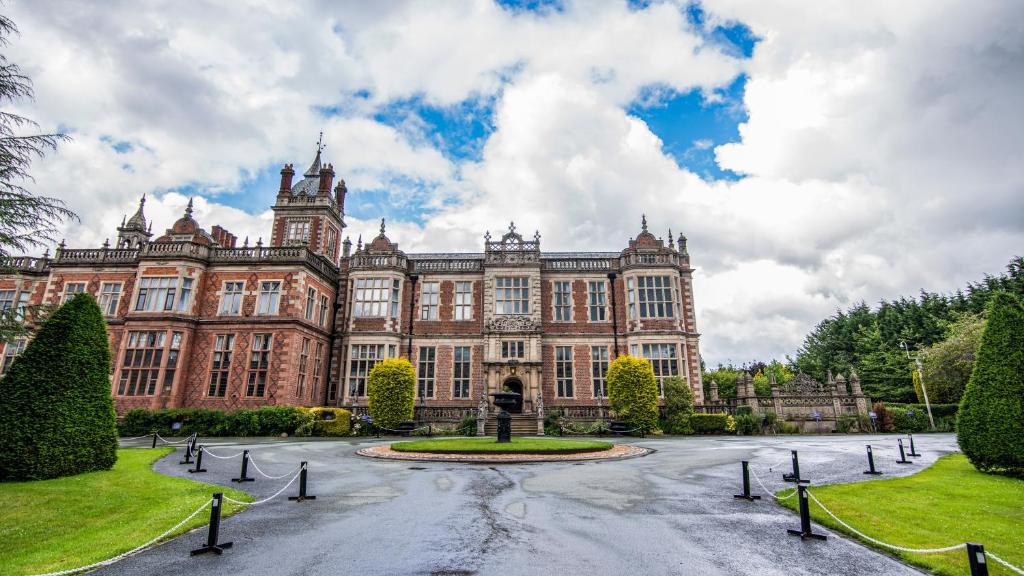 Crewe Hall Hotel & Spa is a stunning 17th-century Grade I-listed hotel located in the picturesque Cheshire countryside. With a perfect blend of historic Jacobean and modern architecture, this luxurious hotel offers a serene escape from the bustling city life. The hotel boasts an impressive spa and leisure club, allowing guests to indulge in ultimate relaxation. The hotel's convenient location places it just 3 miles away from Crewe Station and a short 10-minute drive from Junction 16 of the M6 motorway. Each room is equipped with modern amenities including free WiFi, en-suite bathrooms, flat-screen TVs with some Sky channels, hairdryers, and tea/coffee-making facilities. The spa features six treatment rooms offering various wellness treatments such as massages, facials, and manicures. Guests can enjoy exquisite dining at the brasserie restaurant which offers a contemporary space along with a bar for after-dinner drinks. Additionally, the hotel provides ample parking space with 500 free parking spots available for guests' convenience. Crewe Hall Hotel & Spa's location also makes it an ideal base for exploring nearby attractions such as historic Chester (40-minute drive), Alton Towers (25 minutes away by car), Tatton Park, and Chester Zoo (both reachable within 45 minutes by car). Furthermore, Manchester Airport is easily accessible with just a 40-minute drive from the hotel.
Pros:
– Beautifully preserved Grade I-listed building
– Extensive grounds providing a tranquil setting
– Luxurious spa facilities including swimming pool, steam room, sauna, and whirlpool
– Modern amenities in each room including free WiFi and flat-screen TVs
– Convenient location near transport links and popular tourist destinations
Cheshire Cat (Nantwich)
Located in the charming town of Nantwich, Cheshire Cat offers guests a delightful stay with its bar and free WiFi throughout the property. The hotel also features a restaurant where guests can indulge in delicious meals served by attentive staff. Each room at Cheshire Cat is well-appointed with a wardrobe, flat-screen TV, and a private bathroom. Some rooms even come with a kitchen equipped with a dishwasher, providing added convenience for longer stays. Guests can start their day off right with a freshly cooked traditional English breakfast that is made to order. Additionally, dining at the hotel's restaurant comes with the added benefit of a 10% discount (reservation required). With Manchester Airport just 37km away, Cheshire Cat provides ease of access for travelers.
– Convenient location in Nantwich
– Cozy rooms with modern amenities
– Delicious on-site restaurant
– Free WiFi throughout the property
– 10% discount on dining in the restaurant
Rowton Hall Hotel and Spa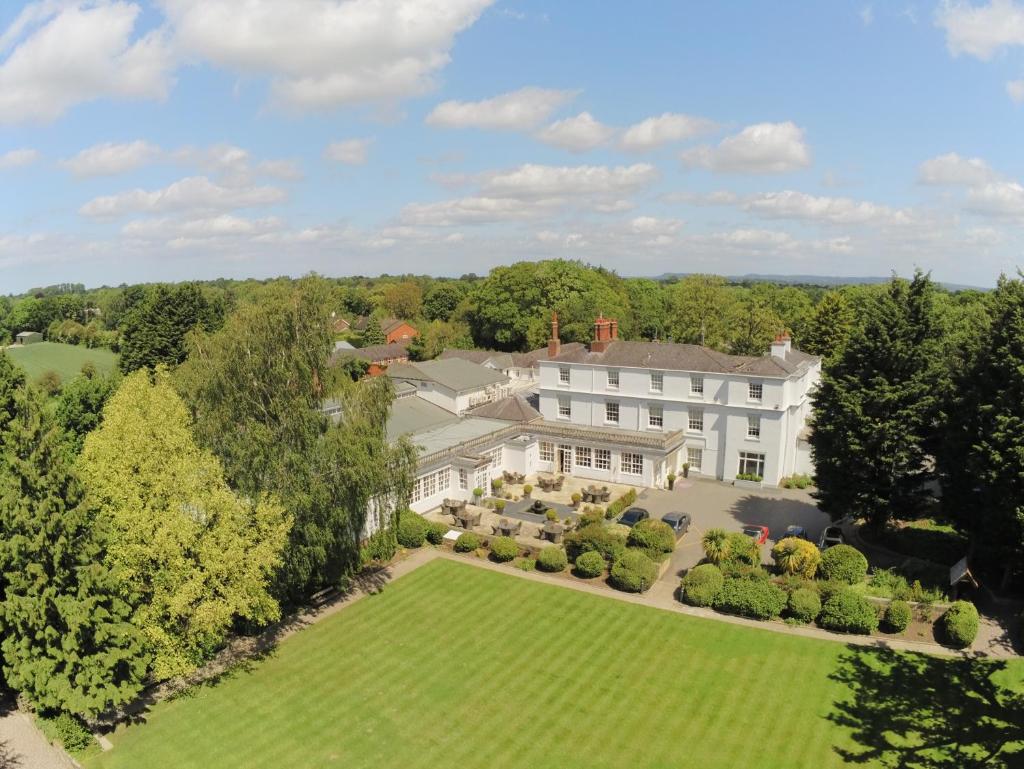 Nestled within 8 acres of stunning gardens, Rowton Hall Hotel and Spa is a charming Georgian manor that offers an exquisite luxury retreat. Located in the picturesque Cheshire countryside, just a short 3-mile drive from the historic city of Chester, this hotel boasts boutique bedrooms, an award-winning restaurant, and a remarkable spa. Each of the sumptuous bedrooms is beautifully appointed with modern bathrooms and offers free internet access for guests' convenience. The elegant oak-paneled Langdale Restaurant delights guests with a creative menu featuring locally sourced produce and ingredients from the kitchen garden. After indulging in a delectable meal, guests can relax on the terrace or at the conservatory lounge while enjoying refreshing drinks. With its close proximity to Chester Racecourse and the city's historic center, as well as free on-site parking and easy access to attractions like Chester Zoo, Rowton Hall Hotel and Spa guarantees both tranquility and convenience for an unforgettable stay.
– Set in 8 acres of beautiful gardens
– Luxury spa offering ultimate relaxation
– Boutique bedrooms with modern amenities
– Creative menu using local produce at award-winning restaurant
– Close proximity to Chester attractions such as racecourse and zoo
Most Expensive Hotels in Cheshire
When it comes to luxury accommodations, Cheshire offers some of the most opulent and extravagant options in the world. From its picturesque countryside to its charming towns, this region boasts a selection of hotels that cater to even the most discerning travelers. With stunning architecture, impeccable service, and an array of lavish amenities, these establishments redefine elegance and indulgence. Whether you seek tranquility amidst lush gardens or prefer the grandeur of a historical estate, Cheshire's most expensive hotels provide an unforgettable experience that epitomizes luxury at its finest.
pentahotel Warrington (Warrington)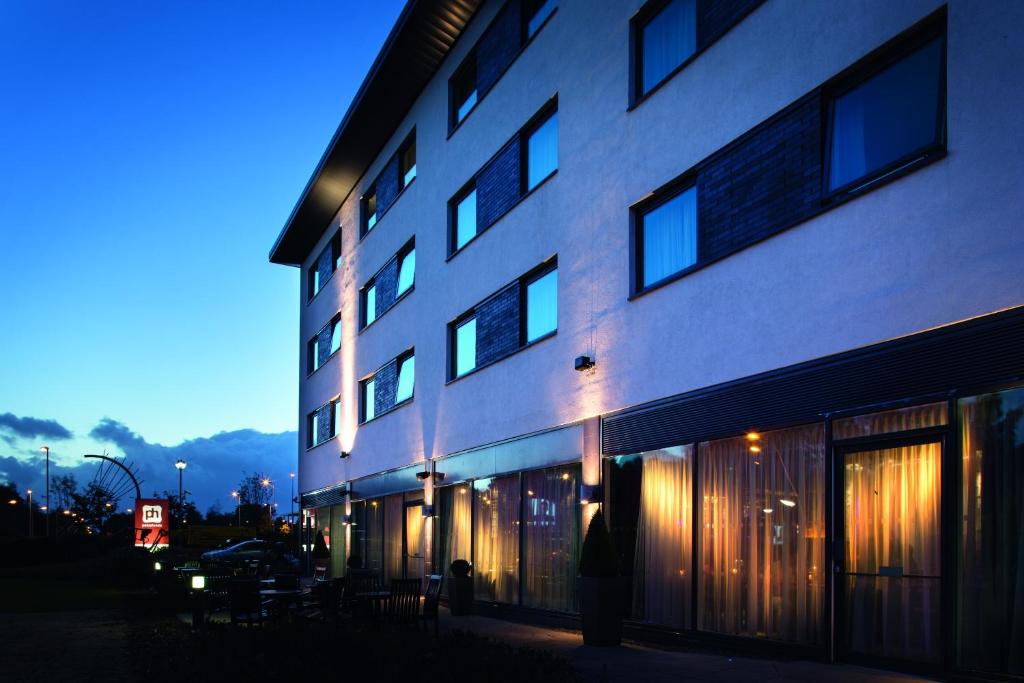 Located in Birchwood Business Park, pentahotel Warrington offers modern and vibrant accommodation with convenient amenities. The hotel features a 24-hour front desk and complimentary Wi-Fi throughout the property. With its close proximity to the M6 and M62 motorways, guests can easily explore the surrounding areas, including Liverpool which is just a 30-minute drive away. The colourful rooms at pentahotel Warrington are equipped with air conditioning, tea and coffee-making facilities, as well as a private bathroom with a power shower. Guests can also enjoy their favorite movies on the flat-screen TV with on-demand options. For dining options, the elegant Pentalounge offers an array of snacks, light meals, and cocktails to satisfy any craving. Additionally, guests can unwind in the games room featuring a Sony Playstation and an American pool table. A 10-minute drive will take you to Gulliver's World theme park while Manchester city centre is only 15 miles away from the hotel. The Trafford Centre is easily accessible within a 10-minute drive and football enthusiasts can reach Old Trafford stadium in just 20 minutes by car.
– Convenient location near motorways for easy travel
– Vibrant and modern rooms with air conditioning
– Pentalounge serving delicious snacks, light meals, and cocktails
– Games room for entertainment featuring Sony Playstation and American pool table
– Close proximity to popular attractions such as Gulliver's World theme park
Luxury Cheshire Hotels Information
| | |
| --- | --- |
| 🛎️ Luxury Hotels in Cheshire | 10 |
| 💵 Hotels Prices From | $285 |
| 💵 Highest price | $862 |
| 🥇 Average Review Score | 8.2/10 |
| 🛏️ Average number of Rooms | 82 |
Top Luxury hotels in Cheshire
| | |
| --- | --- |
| Carden Park Hotel | 8.7/10 |
| Inglewood Manor | 8.6/10 |
| Willington Hall Hotel (Tarporley) | 8.5/10 |
| Grosvenor Pulford Hotel & Spa (Pulford) | 8.5/10 |
| The Golden Pheasant (Knutsford) | 8.4/10 |
FAQ
What are some luxury hotels in Cheshire?
Cheshire is home to several stunning luxury hotels that cater to the discerning traveler. One such hotel is Carden Park Hotel, a magnificent estate featuring elegant rooms, world-class dining options, and a renowned spa. Another option is Peckforton Castle, a medieval-style castle offering opulent accommodations and breathtaking views of the countryside. Other notable luxury hotels in Cheshire include The Chester Grosvenor, a historic hotel with beautifully appointed rooms and an award-winning restaurant, and Rookery Hall Hotel & Spa, a Georgian mansion surrounded by picturesque gardens.
What amenities can I expect at luxury hotels in Cheshire?
Luxury hotels in Cheshire pride themselves on providing top-notch amenities for their guests. You can expect luxurious bedding and linens, spacious rooms with tasteful decor, and high-end toiletries. Many of these hotels also offer state-of-the-art fitness centers and swimming pools for guests to enjoy during their stay. Additionally, you may find gourmet restaurants serving exquisite cuisine, tranquil spas offering rejuvenating treatments, and concierge services to assist with any special requests or arrangements.
Are there any golf courses near luxury hotels in Cheshire?
Yes! If you're a golf enthusiast looking for luxury accommodation in Cheshire, you're in luck. Several upscale hotels are located near exceptional golf courses where you can tee off amidst beautiful surroundings. Carden Park Hotel boasts two championship golf courses designed by Jack Nicklaus and Nicklaus Design – The Nicklaus Course and The Cheshire Course – providing an unforgettable experience for avid golfers. Other luxury hotels like Mottram Hall offer convenient access to superb golf facilities such as their 18-hole Championship Course set within stunning parkland.
Can I host events or weddings at luxury hotels in Cheshire?
Absolutely! Luxury hotels in Cheshire make ideal venues for hosting memorable events or magical weddings. With their elegant surroundings and impeccable service, these hotels offer a sophisticated setting for any special occasion. Many of them have dedicated event planners who can assist in organizing every detail, from selecting the perfect menu to arranging floral decorations and entertainment. Whether you're planning an intimate gathering or a grand celebration, Cheshire's luxury hotels are equipped with flexible event spaces that cater to your specific needs.
What nearby attractions can I explore while staying at luxury hotels in Cheshire?
Staying at a luxury hotel in Cheshire not only provides a luxurious retreat but also offers convenient access to various nearby attractions. Chester Zoo, one of the UK's top zoos featuring over 27,000 animals across 125 acres of zoological gardens, is a must-visit attraction located near many luxury hotels. If you're interested in history and culture, explore Chester's Roman walls and visit its iconic cathedral. For outdoor enthusiasts, Delamere Forest Park offers scenic walking trails and opportunities for cycling and wildlife spotting. Additionally, the stunning landscapes of Snowdonia National Park are within driving distance from Cheshire for those seeking adventure
Popular Most Luxurious hotel destinations