Welcome to the enchanting realm of opulence and indulgence nestled in the exquisite highlands of Cameron, a true haven for those seeking an elevated retreat. Prepare to immerse yourself in a world where luxury knows no bounds, as we embark on a journey through the finest accommodations this magnificent Malaysian destination has to offer. With its mesmerizing landscapes, cool climate, and lush tea plantations stretching as far as the eye can see, Cameron Highlands sets the perfect backdrop for an extraordinary getaway.
Indulge in refined elegance and impeccable service as you step into one of the premier luxury hotels that grace this captivating region. From charming boutique establishments to internationally acclaimed resorts, each sanctuary boasts its unique allure that is sure to captivate even the most discerning traveler. Be pampered by lavish amenities and attentive staff who strive to ensure every moment is nothing short of perfection. Immerse yourself in tranquility amidst breathtaking vistas from your private balcony or unwind with a rejuvenating spa treatment designed to soothe mind, body, and soul.
As you explore Cameron Highlands' endless wonders and picturesque landscapes, allow these luxurious havens to be your sanctuary after each day's adventures. Embrace utter indulgence while discovering all that this glorious region has to offer – from savoring delectable cuisine prepared by award-winning chefs using locally sourced ingredients to embarking on exhilarating treks through verdant valleys and majestic mountains. Let these luxurious oases enhance your experience in Cameron Highlands as they embody unparalleled relaxation intertwined with sophisticated charm.
Prepare for an unparalleled escape filled with sumptuous surroundings and exceptional hospitality – welcome to a world where luxury seamlessly merges with nature's beauty at every turn.
Most Luxurious Hotels in Cameron Highlands
Hotel De' La Ferns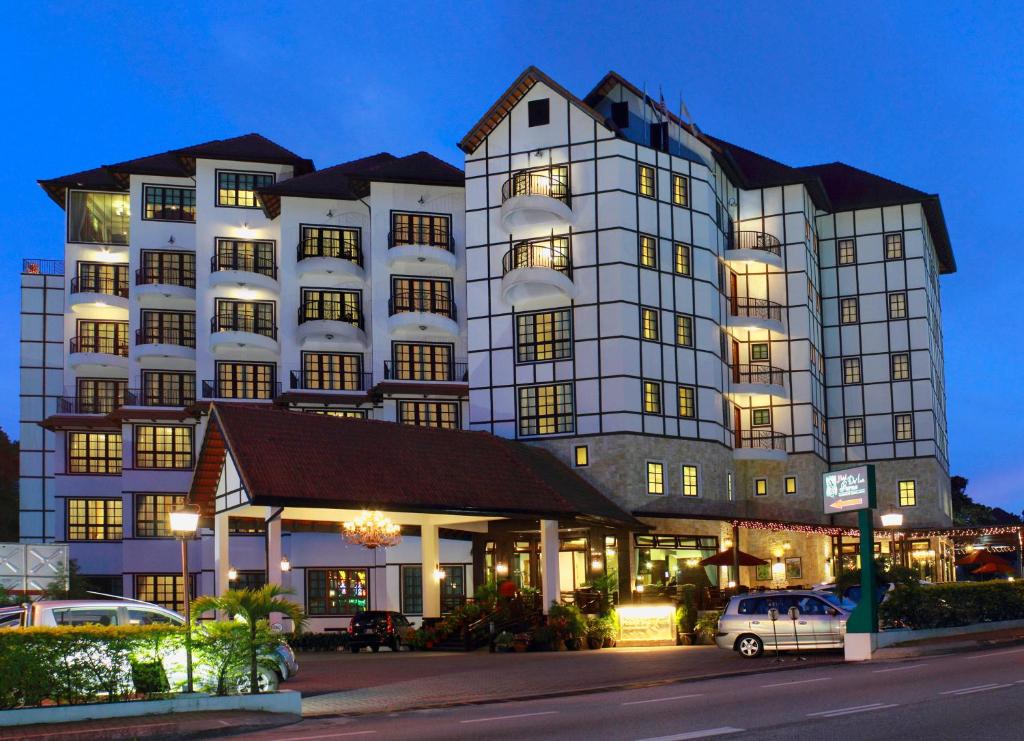 Located on the cool hills of Cameron Highlands, Hotel De' La Ferns boasts an elegant English Tudor-style architecture. This luxurious hotel offers a range of amenities including a restaurant and free Wi-Fi. Guests can enjoy breathtaking views of the countryside and golf course from select rooms. The hotel is conveniently located just a 5-minute drive from Tanah Rata and Brin Chang. Each room at De' La Ferns Hotel is equipped with satellite TV and a minibar, ensuring guests have everything they need for a comfortable stay. The private bathrooms feature shower facilities and a hairdryer. Room service is available for those looking to indulge in some pampering. With its 24-hour front desk, the hotel offers additional services such as faxing and photocopying for added convenience. Guests who are driving can take advantage of the free parking on site.
– Stunning English Tudor-style architecture
– Free Wi-Fi throughout the hotel
– Beautiful views of the countryside and golf course
– Convenient location near Tanah Rata and Brin Chang
– Excellent room service available
Copthorne Cameron Highlands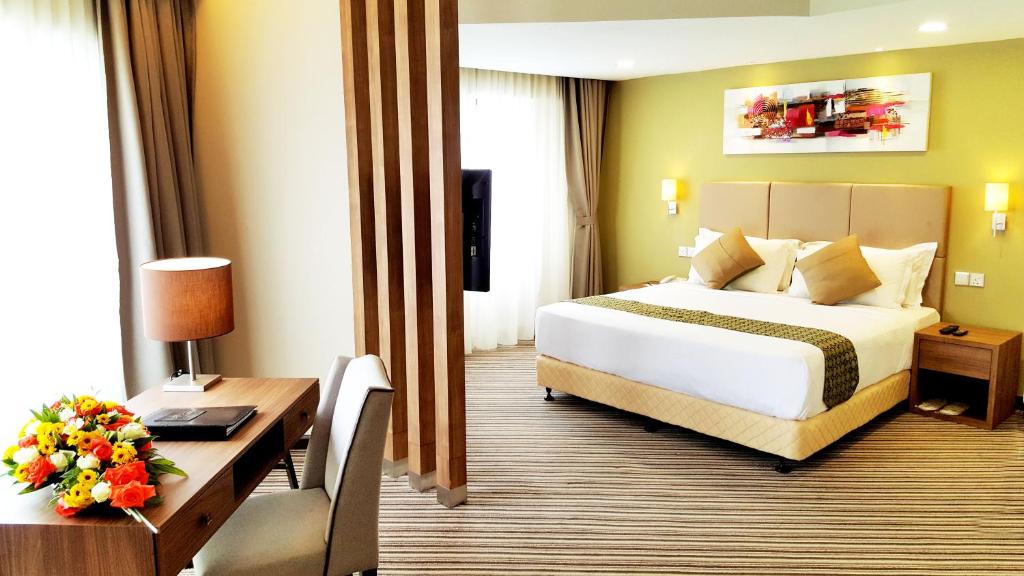 Located high above sea level with a cool climate all year round, Copthorne Cameron Highlands is a resort that offers affordable accommodation and facilities including an indoor pool while surrounded by mountains and valleys. The Tudor-styled resort provides rooms with scenic views of the highland landscapes, each equipped with a TV with in-house video channels, minibar, and tea and coffee making facilities. Guests can enjoy various recreational facilities such as a fitness center and children's playground, in addition to the indoor swimming pool. The resort also boasts multiple dining options serving Chinese, Malaysian, Asian, and International cuisines. The Cricket Lounge is the perfect spot to catch live sports programs. Nearby attractions like Robinson Waterfall, the Butterfly Farm and Garden, and Boh Tea Plantation are just a stone's throw away from this charming retreat in Cameron Highlands.
Pros:
– Affordable luxury accommodations
– Scenic views of highland landscapes from room
– Indoor swimming pool for relaxation
– Variety of dining options serving different cuisines
– Close proximity to nearby attractions
Strawberry Park Resort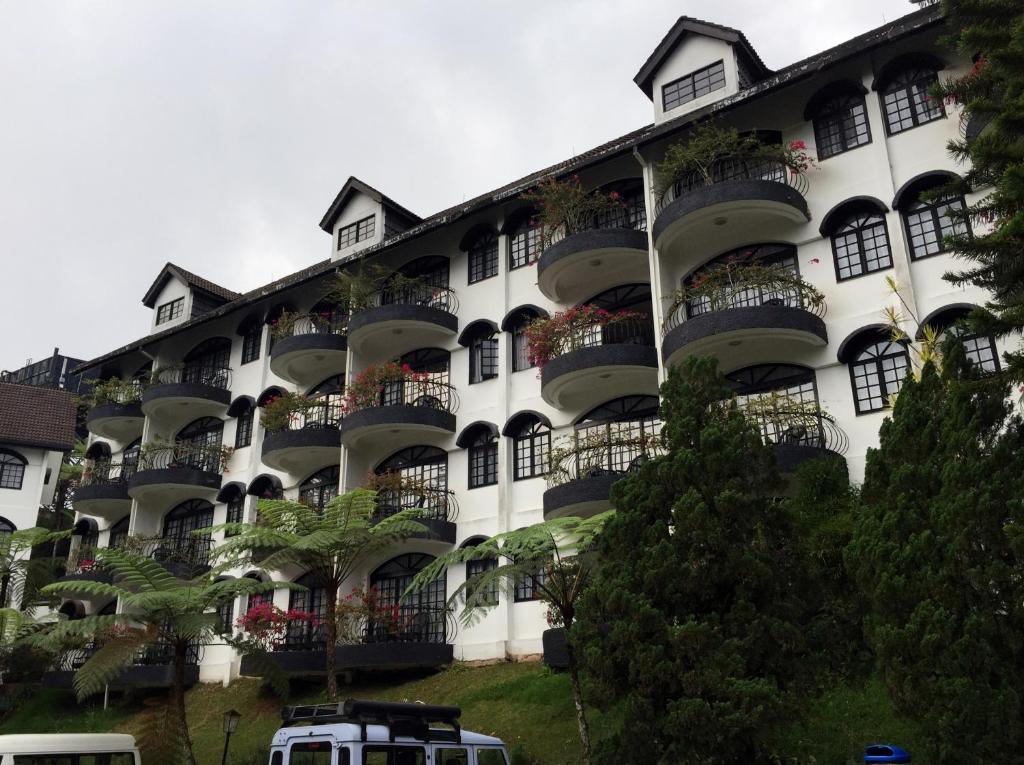 Nestled within lush tropical jungles and mountain ranges, Strawberry Park Resort is the perfect luxury retreat in the Cameron Highlands. The resort offers a range of amenities including 7 dining options, an indoor swimming pool, and a squash court. Guests can enjoy their stay in luxurious suites fitted with a balcony. Free parking is also provided on-site. The resort's location is ideal, being just a 5-minute drive to the Cameron Highlands Golf Course and a 10-minute drive to the lively weekend night market. For nature lovers, the Butterfly Farm is within a 20-minute drive and the popular Sungai Palas Tea Plantation is a scenic 45-minute drive away. The modern suites feature parquet flooring and are furnished with an electronic safe, flat-screen satellite TV, seating area, tea/coffee making facilities, and fridge. The en suite bathroom comes with a hairdryer, shower, and free bath amenities. In addition to its luxurious accommodations, Strawberry Park Resort offers luggage storage services along with currency exchange and laundry services for guests' convenience. Those seeking relaxation can indulge in pampering massages or unwind in the hot tub at the contemporary Balinese-inspired spa on-site. The tour desk is available to assist guests with sightseeing and travel arrangements while meeting/banqueting facilities are also available for those looking to host events or conferences during their stay. Guests can start their day right with a delicious continental breakfast served daily at Brasserie'85 restaurant which offers stunning views of the surrounding area. For fresh seafood lovers as well as those craving smoked meats in a casual outdoor setting, The Garden Terrace provides an excellent dining option on-site. Drinks are also available at the Lobby Bar for guests looking for some evening refreshments after exploring all that this luxury resort has to offer.
Pros:
– Beautiful location nestled within lush tropical jungles
– Luxurious suites featuring balconies
– Wide range of dining options on-site
– Indoor swimming pool and squash court for recreational activities
– Convenient location close to popular attractions in the Cameron Highlands
Luxury Hotels in Downtown Cameron Highlands
Luxury hotels in Downtown Cameron Highlands offer a serene and sophisticated retreat amidst the natural beauty of this picturesque region. With their impeccable service and opulent interiors, these accommodations exude elegance and provide guests with an indulgent escape from everyday life. Whether it's enjoying breathtaking mountain views from luxurious suites or unwinding in lavish spa facilities, these hotels excel in providing a refined experience that caters to the discerning traveler seeking tranquility and relaxation. The combination of exceptional hospitality and idyllic surroundings make Downtown Cameron Highlands an ideal destination for those seeking a luxury getaway.
Century Pines Resort Cameron Highlands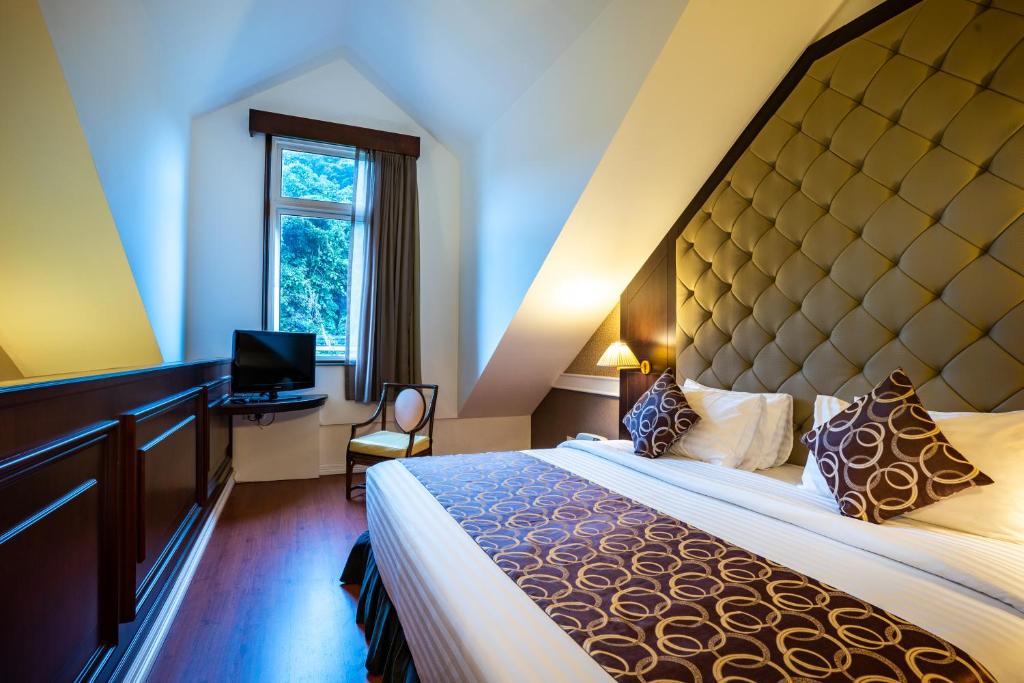 Located 1,500 metres above sea level in the charming Cameron Highlands, Century Pines Resort offers a luxurious retreat for travelers seeking tranquility and natural beauty. The resort features spacious rooms with balconies that allow guests to soak in breathtaking views of the surrounding landscape. With modern décor and hardwood flooring, each room is filled with plenty of natural light creating a warm and inviting atmosphere. The resort also boasts a range of amenities including a restaurant serving local and international dishes, a spa for ultimate relaxation, a fitness centre for those who want to stay active, and even a gift shop where guests can purchase local souvenirs. Additionally, free Wi-Fi and parking are provided for convenience. Nearby attractions such as the Rose Farm, Night Market, and Boh Tea Plantation make Century Pines Resort an ideal choice for exploring the wonders of Cameron Highlands.
– Breathtaking views from the balconies
– Convenient location near popular attractions
– Excellent dining options with local and international dishes
– Relaxing spa facilities available
– Spacious rooms with modern décor
Avillion Cameron Highlands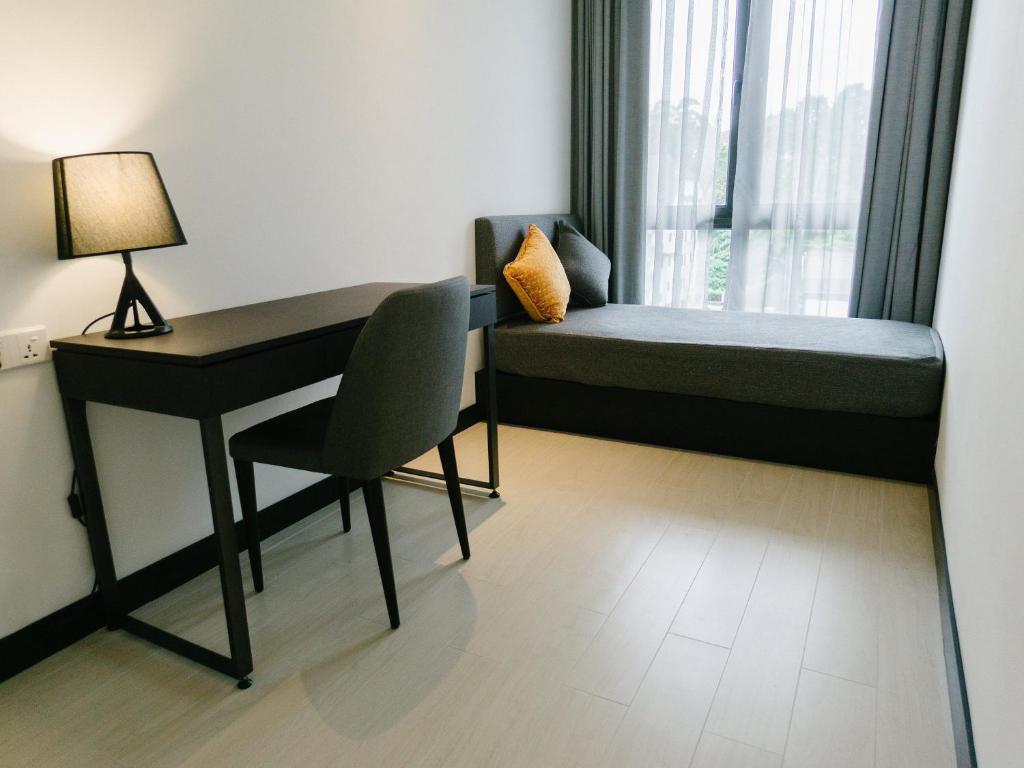 Located in the serene Cameron Highlands, Avillion Cameron Highlands offers a delightful stay surrounded by lush gardens. This luxury hotel is conveniently situated just 5 km away from the famous Boh Tea Plantation, providing guests with easy access to one of the region's most popular attractions. The hotel boasts a 24-hour front desk and stylishly furnished rooms featuring flat-screen TVs and private bathrooms with complimentary toiletries. Guests can start their day with a complimentary light breakfast served at the property. With its beautiful surroundings and top-notch amenities, Avillion Cameron Highlands promises an unforgettable experience.
– Convenient location near Boh Tea Plantation
– Stylishly furnished rooms with modern amenities
– Complimentary light breakfast served daily
– Beautiful gardens surrounding the property
– 24-hour front desk for added convenience
Heritage Hotel Cameron Highlands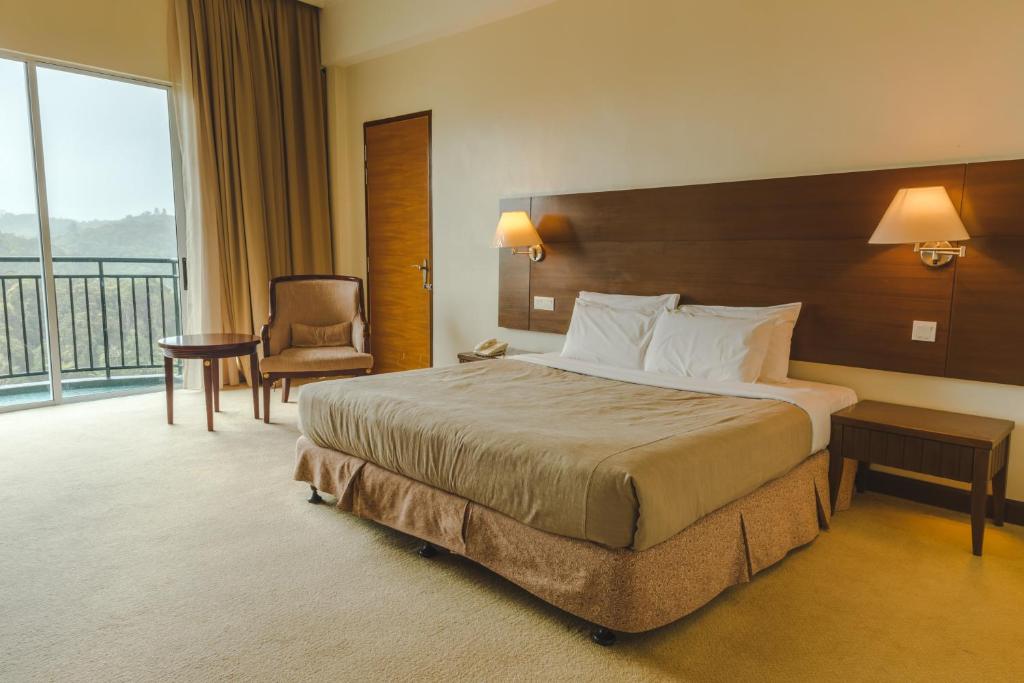 Located 1,500 meters above sea level, Heritage Hotel Cameron Highlands is a charming Tudor-style boutique hotel perched on a hill with breathtaking views of Tanah Rata. This boutique hotel offers more than just the cool climate; it boasts a library, beautifully landscaped gardens, and an array of dining options. Surrounded by lush tropical forests, Heritage Hotel is conveniently situated a mere 10-minute walk from the town center of Tanah Rata. The spacious rooms at Heritage Hotel feature private balconies, LCD TVs with cable channels and in-house movies, as well as tea/coffee making facilities and minibars. In-room dining is also available for guests' convenience. For added luxury and comfort, the new Deluxe Wing rooms offer DVD players and in-room safes. The hotel provides tour arrangements and has a business center to cater to guests' needs. While staying here, guests can enjoy complimentary WiFi in the lobby area. When it comes to dining choices at Heritage Hotel Cameron Highlands, visitors are spoiled for choice. Jasmine Garden Restaurant serves delectable Chinese dishes from the Canton province while The Rainforest Restaurant offers all-day dining with an enticing buffet spread and an extensive à la carte menu. For those looking for lighter fare or refreshing drinks, The Vintage Bar provides snacks and beverages while The Vintage Lounge tempts guests with various Cameron teas along with cakes and cookies.
Pros:
– Breathtaking views of Tanah Rata
– Charming Tudor-style boutique hotel
– Lush gardens perfect for relaxation
– Convenient location near town center
– Wide range of dining options
5 Star Luxury Hotels
5 Star Luxury Hotels are the epitome of opulence and extravagance, offering guests an unparalleled level of comfort and service. From the moment you step foot into these lavish properties, you are greeted with elegant decor and a warm, welcoming atmosphere. The attention to detail is impeccable, with every aspect carefully curated to ensure a truly unforgettable experience. From luxurious bedding and spacious rooms to world-class dining options and state-of-the-art facilities, 5 Star Luxury Hotels cater to the discerning traveler who seeks nothing but the best. Whether you're enjoying a relaxing spa treatment or indulging in gourmet cuisine, these hotels spare no expense in creating an ambiance of sophistication and refinement.
Nova Highlands Hotel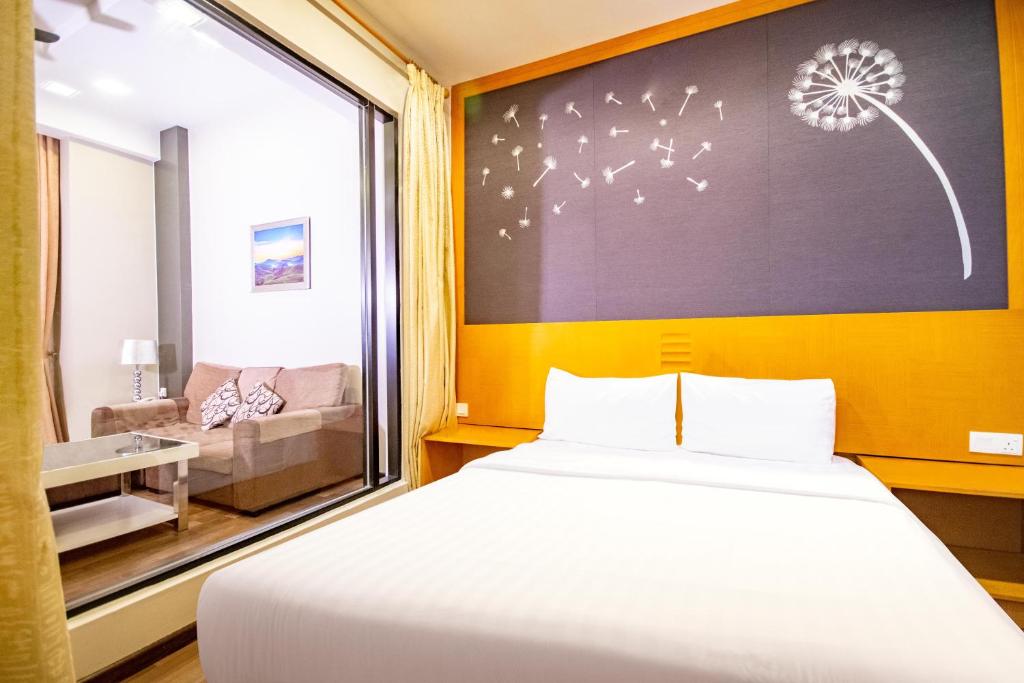 Located in the beautiful Cameron Highlands, Nova Highlands Hotel offers guests a luxurious and comfortable stay. The hotel features modern suites with free WiFi access, allowing guests to stay connected throughout their visit. Each suite is fan-cooled and comes with a private balcony, flat-screen TV, and seating area. For added convenience, a kitchenette and hairdryer are also available in every suite. Guests can enjoy a buffet breakfast at Nova Highlands Cafe, or explore the numerous restaurants and cafes located in the nearby shopping arcade. The friendly 24/7 reception staff is always on hand to assist with any inquiries or provide local area information. Additionally, guests can rent bikes to explore the surrounding area or request laundry and dry cleaning services at an additional charge. With its convenient location near attractions such as Cameron Highlands Butterfly Farm and Raju's Hill Strawberry Farm, Nova Highlands Hotel is the perfect choice for those looking for both comfort and convenience during their stay.
– Modern suites with free WiFi access
– Private balconies in every suite
– Conveniently located near shopping arcade
– Friendly 24/7 reception staff
– Close proximity to popular attractions
Luxury Cameron Highlands Hotels Information
| | |
| --- | --- |
| 🛎️ Luxury Hotels in Cameron Highlands | 7 |
| 💵 Hotels Prices From | $259 |
| 💵 Highest price | $1488 |
| 🥇 Average Review Score | 7.5/10 |
| 🛏️ Average number of Rooms | 134 |
Top Luxury hotels in Cameron Highlands
| | |
| --- | --- |
| Strawberry Park Resort | 8/10 |
| Hotel De' La Ferns | 7.9/10 |
| Century Pines Resort Cameron Highlands | 7.8/10 |
| Avillion Cameron Highlands | 7.8/10 |
| Heritage Hotel Cameron Highlands | 7.6/10 |
FAQ
What are some luxury hotels in Cameron Highlands?
Cameron Highlands offers a range of luxury hotels that cater to discerning travelers. Some notable options include The Lakehouse Cameron Highlands, a charming Tudor-style boutique hotel overlooking the Sultan Abu Bakar Lake, and The Cameron Highland Resort, a colonial-style retreat surrounded by lush greenery and offering top-notch amenities such as an award-winning spa and golf course.
What is the average price range for luxury hotels in Cameron Highlands?
The average price range for luxury hotels in Cameron Highlands varies depending on the season and specific property. However, generally speaking, you can expect to pay anywhere from $150 to $300 per night for a luxurious stay at one of the high-end hotels in this picturesque destination.
What are some unique features offered by luxury hotels in Cameron Highlands?
Luxury hotels in Cameron Highlands pride themselves on offering unique features that enhance guests' experiences. From private balconies or terraces with stunning views of the surrounding mountains and tea plantations to cozy fireplaces and personalized butler services, these properties go above and beyond to create memorable moments for their guests.
Are there any Michelin-starred restaurants in luxury hotels in Cameron Highlands?
While there are no Michelin-starred restaurants within the luxury hotels of Cameron Highlands specifically, many establishments boast excellent dining options that showcase delectable local cuisine as well as international flavors prepared by talented chefs. Guests can indulge in gourmet meals made with fresh local produce while enjoying breathtaking views from elegant dining venues.
Do luxury hotels in Cameron Highlands offer spa facilities?
Yes, most luxury hotels in Cameron Highlands feature exceptional spa facilities where guests can relax and rejuvenate amidst tranquil surroundings. These spas offer a wide range of treatments inspired by traditional Malay healing traditions as well as modern wellness therapies. Whether it's a soothing massage or an invigorating body scrub, guests can indulge their senses while enjoying world-class pampering at these luxurious retreats.
Popular Luxury Hotels destinations