Welcome to the enchanting world of opulent accommodations in Cala d'Or, Spain. Nestled along the azure shores of the Mediterranean Sea, this idyllic destination boasts an array of lavish establishments that redefine the meaning of luxury. Prepare to be immersed in a realm where elegance meets comfort and indulgence knows no bounds.
From magnificent seaside villas to sophisticated boutique hotels, Cala d'Or offers a plethora of options for discerning travelers seeking unparalleled extravagance. Each property exudes its own unique charm, adorned with exquisite furnishings and adorned with intricate details. Immerse yourself in a haven of tranquility as you bask in panoramic vistas of sun-kissed beaches or lush gardens bursting with vibrant flora.
Embark on a culinary journey like no other as you savor delectable creations crafted by world-renowned chefs using only the finest local ingredients. Indulge your senses at exclusive spa retreats, where ancient healing techniques are combined with modern innovations to transport you into a state of blissful relaxation. Whether you're seeking adventurous water sports or simply lounging by pristine pools, these luxury havens in Cala d'Or will cater to your every desire and elevate your vacation experience to unprecedented heights.
Most Luxurious Hotels in Cala d´Or
Melia Cala d'Or Boutique Hotel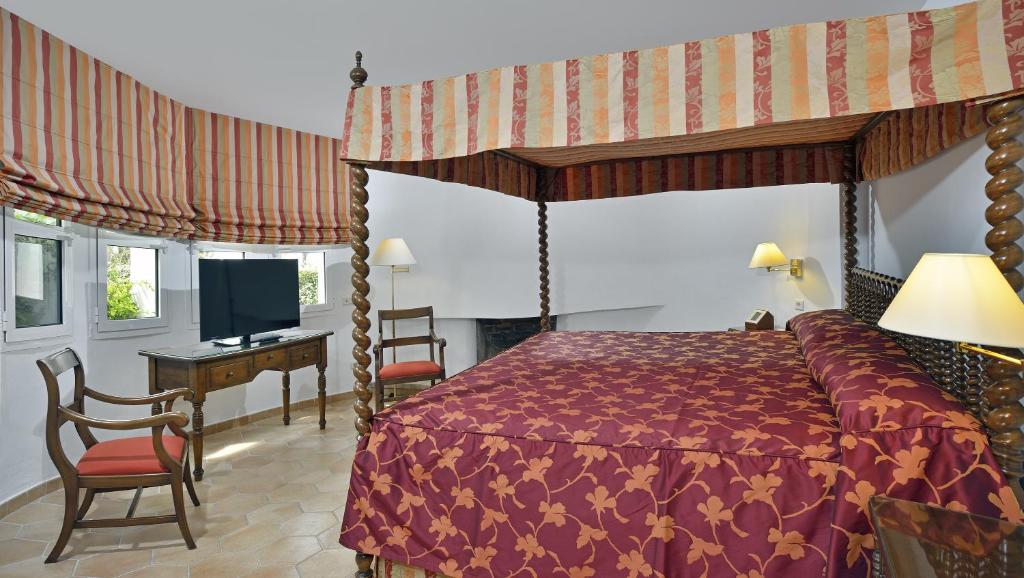 Located in Cala d'Or, the Meliá Cala d'Or Boutique Hotel is a luxurious property offering an array of amenities for guests to enjoy. The hotel features both indoor and outdoor pools, perfect for a refreshing swim or lounging under the sun. With free WiFi throughout, guests can stay connected and share their experiences with friends and family. The hotel's central location allows easy access to popular attractions such as Cala Gran and Cala Ferrera, making it convenient for exploring the area. Indulge in delicious meals at one of the on-site restaurants, including Restaurant Es Llaüt, Sa Pastera, or Salon Wistaria. The outdoor pool is accompanied by a whirlpool and children's pool, surrounded by beautiful gardens creating a tranquil setting. Relax poolside at Sa Pastera Bar while enjoying drinks and snacks throughout the day. The elegant rooms feature Mediterranean design elements along with modern amenities like air conditioning and free WiFi. Upgrade to one of the junior suites to enjoy additional space with a kitchenette and lounge area. Start your day off right with breakfast at Es Llaüt, offering local and international cuisine for dinner as well during summer nights when it transforms into a peaceful dining spot. Indulge in ultimate relaxation at the spa which offers heated pools, spabaths, saunas, steam baths, bithermal showers, gym facilities as well as massages and beauty treatments available upon request (with room rates including free access). With its serene sun terrace and beautifully landscaped gardens surrounding the property, Meliá Cala d'Or Boutique Hotel provides an elegant getaway filled with luxury amenities.
– Indoor and outdoor pools
– Free WiFi throughout
– Central location near popular attractions
– On-site restaurants offering delicious meals
– Spa facilities including heated pools
Barceló Aguamarina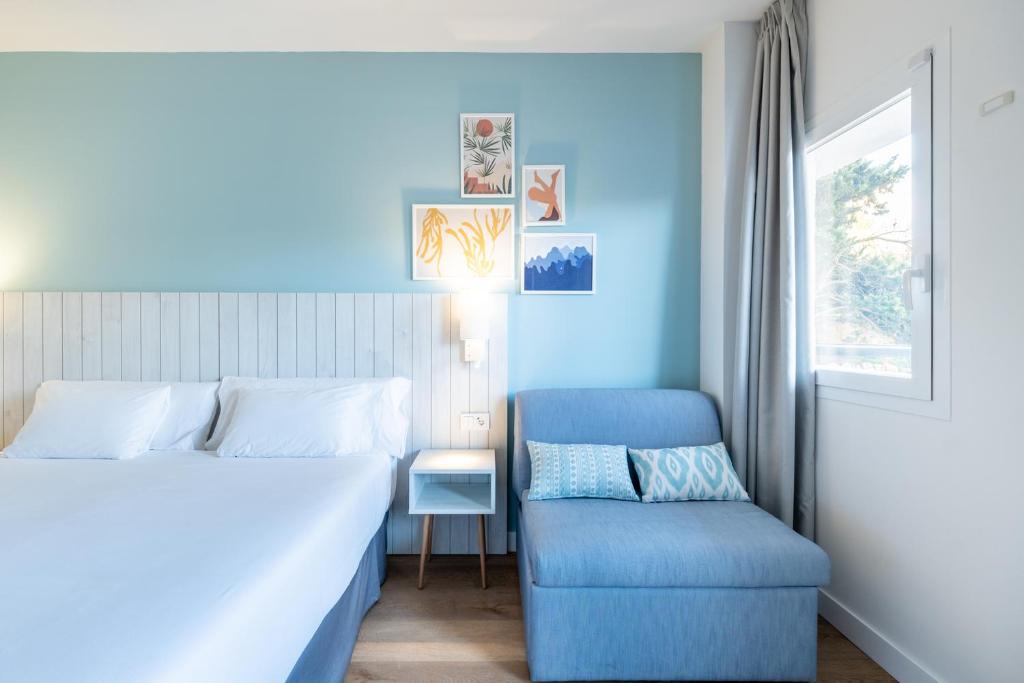 Barceló Aguamarina is a luxurious 4-star hotel conveniently located on the picturesque Cala Ferrera beach in the charming town of Cala D'Or. This resort offers an array of services and top-notch entertainment options for both adults and children. Guests can enjoy a refreshing dip in the outdoor pool, challenge themselves to a game of mini-golf or tennis on-site, or take advantage of the hotel's coastal location for diving and golfing excursions. With its stunning surroundings and excellent amenities, Barceló Aguamarina ensures a memorable stay for every guest.
– Prime beachfront location
– Variety of services and entertainment options
– Outdoor pool for relaxation
– Mini-golf and tennis court for recreation
– Ideal spot for diving and golf enthusiasts
Hotel Can Moragues Health & Wellness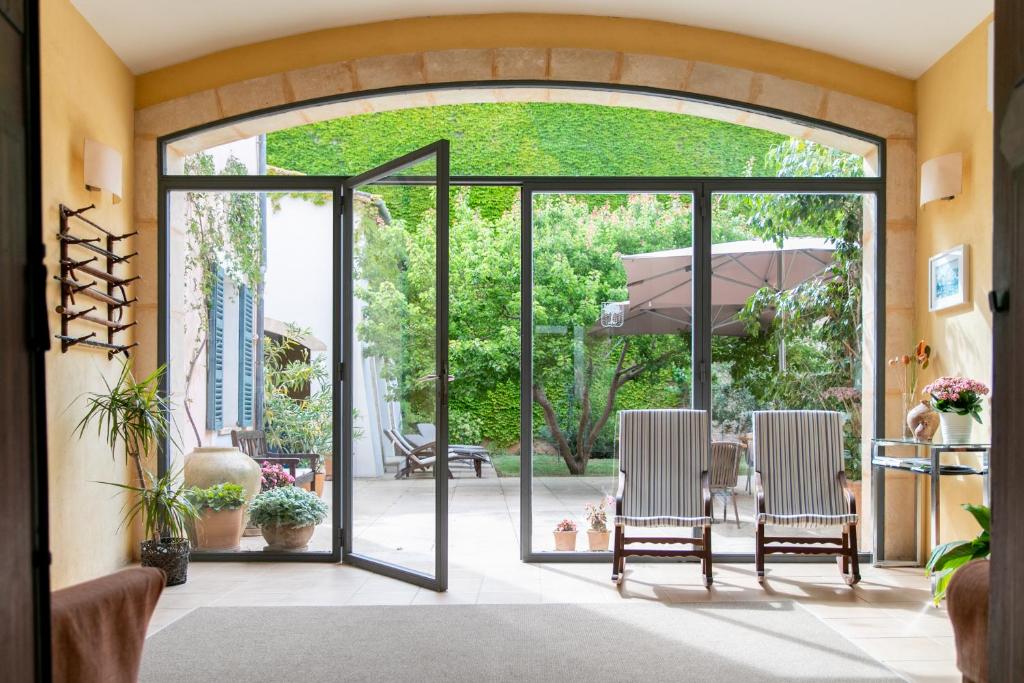 Hotel Can Moragues Health & Wellness is a charming boutique hotel located in the beautiful countryside of Majorca. Housed in a converted 18th-century manor house, this hotel seamlessly combines historic charm with modern comforts. The hotel boasts a delightful patio filled with fragrant orange trees, offering guests an authentic taste of Mediterranean life. Each guest room at Can Moragues has its own unique décor, blending original features such as bare stone walls with contemporary design elements. The hotel is ideally situated in the ancient streets of Artá, allowing guests to explore and experience traditional Majorcan village life. For relaxation, guests can enjoy the warm sunshine on the sun terrace or take a refreshing dip in the covered swimming pool. Additionally, there is a peaceful reading room where guests can unwind after a day of exploring. For those seeking adventure, guided tours arranged by the hotel are available or guests can venture into the local countryside on bike or horseback. The location also provides easy access to excellent golf courses and breathtaking Mediterranean beaches.
– Authentic feel of typical Mediterranean life
– Beautifully decorated guest rooms blending history and modernity
– Convenient location for exploring ancient streets of Artá
– Relaxation options including sun terrace and covered swimming pool
– Access to guided tours, biking/horseback riding adventures, golf courses, and stunning beaches
Other places to stay in Cala d´Or
Luxury Hotels in Downtown Cala d´Or
Downtown Cala d´Or offers a selection of upscale luxury hotels that cater to discerning travelers seeking an indulgent and unforgettable experience. These exclusive accommodations boast elegant design, impeccable service, and opulent guest rooms, providing a haven of relaxation and comfort. With their prime locations in the heart of the city, guests can easily access nearby attractions, trendy shops, exquisite dining options, and vibrant nightlife. Whether basking by the pool or savoring gourmet cuisine at on-site restaurants, luxury hotels in Downtown Cala d´Or offer a refined sanctuary for those seeking the pinnacle of hospitality.
Hotel Son Trobat Wellness & Spa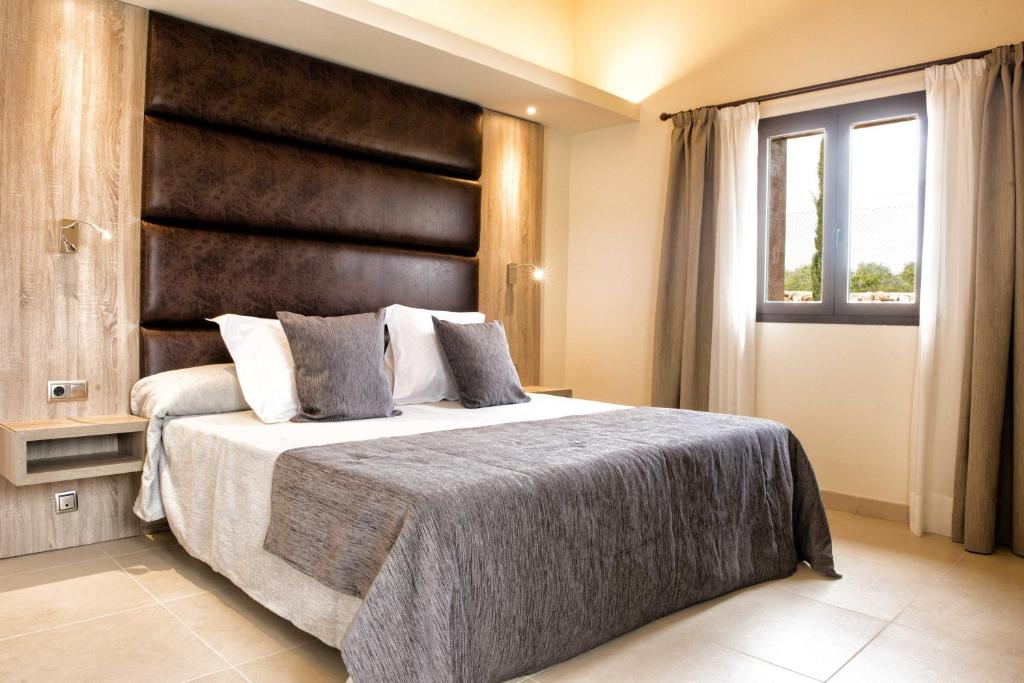 Nestled in a picturesque and tranquil landscape, Hotel Son Trobat Wellness & Spa is a beautifully restored rural mansion that offers luxurious accommodations amidst enchanting gardens adorned with fruit trees. Guests are treated to complimentary access to the hot tub, sauna, Turkish bath, and tennis courts, providing ample opportunities for relaxation and rejuvenation. The hotel also provides free bicycle rentals, allowing guests to explore the surrounding countryside at their leisure. The gardens of Son Trobat provide an idyllic setting for leisurely walks or quiet reading sessions, complete with comfortable garden furniture where one can bask in the warm Majorcan sunshine. Each air-conditioned room boasts abundant natural light and features traditional Mallorcan-style decor along with modern amenities such as satellite TV. With its ideal location as a base, visitors can indulge in a range of outdoor activities including horse riding, trekking, or even exhilarating hot air balloon rides.
Pros:
– Stunning restored rural mansion surrounded by beautiful gardens
– Complimentary access to spa facilities including hot tub and sauna
– Free bicycle rental for exploring the charming countryside
– Tranquil setting perfect for relaxing strolls or serene reading sessions
– Ideal location for engaging in various outdoor activities such as horse riding and trekking
Blau Colònia Sant Jordi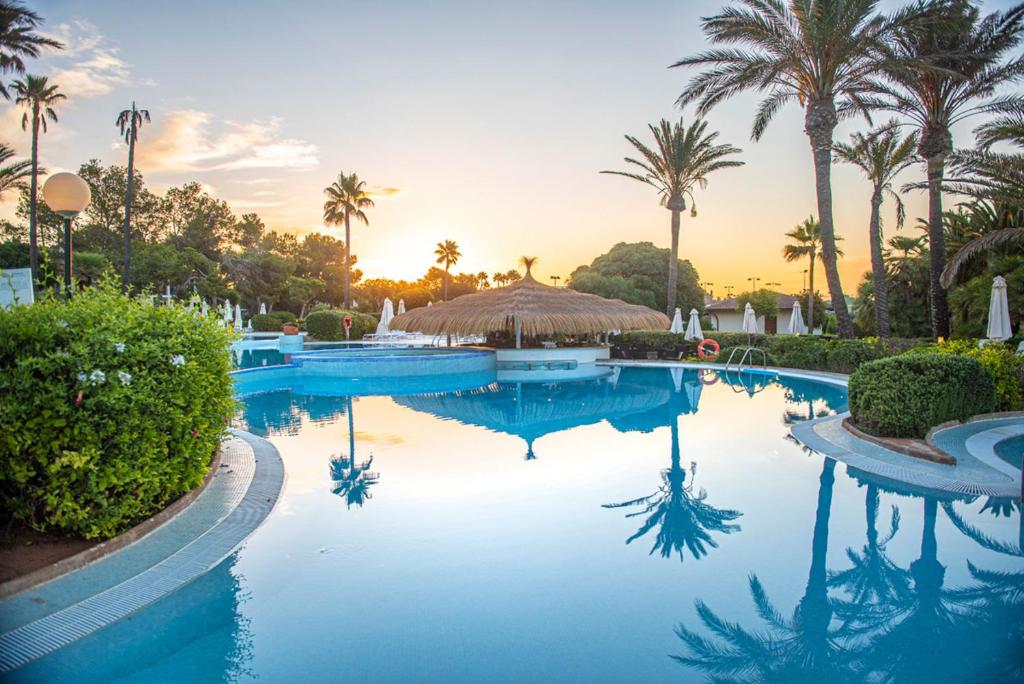 Blau Colònia Sant Jordi is a luxurious hotel located in large gardens just 1 km away from Es Trenc Beach, on Mallorca's stunning south coast. This exquisite hotel offers a range of amenities including a spa, both indoor and outdoor pools, and air-conditioned rooms with balconies overlooking the beautiful surroundings. With tennis courts available, as well as a hot tub, Turkish bath, and gym within the spa area, guests can indulge in ultimate relaxation. The hotel boasts two restaurants; one buffet-style serving international cuisine and another à la carte Italian restaurant with a terrace offering picturesque views. Additionally, there is a poolside bar and snack bar where live music performances take place. Blau Colònia Sant Jordi also provides an extensive entertainment program for both adults and children to enjoy. Located approximately 45 minutes' drive from Palma and its airport makes this hotel easily accessible for travelers.
– Beautifully set in large gardens
– Variety of amenities including spa and pools
– Air-conditioned rooms with balconies
– Two restaurants serving international cuisine
– Entertainment program for all ages
Son Gener Hotel Spa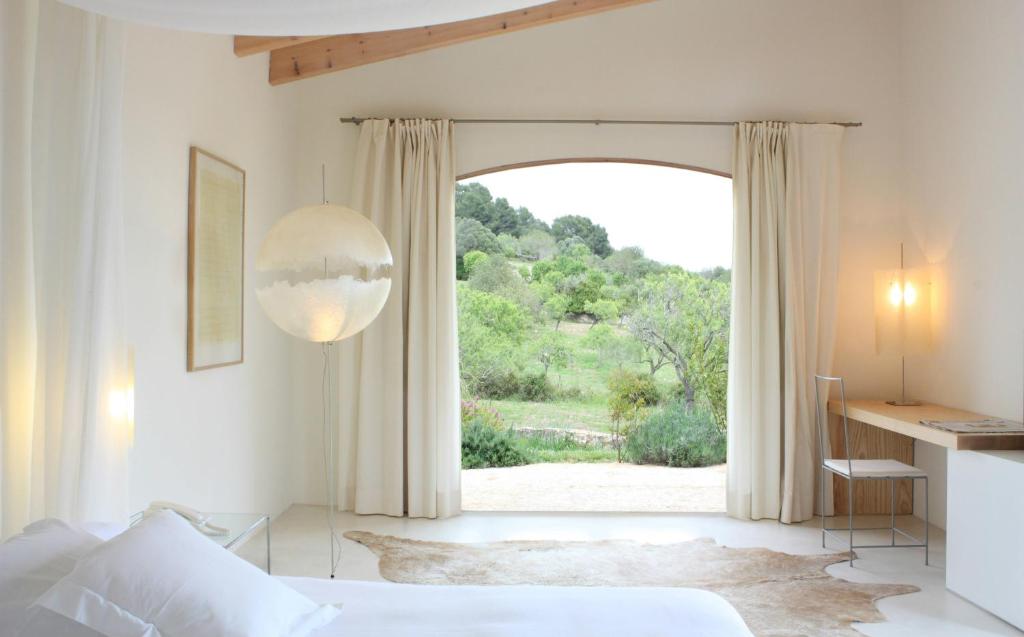 Situated in the charming town of Son Servera, Son Gener Hotel Spa is a beautifully restored 18th-century farmhouse that offers guests a truly luxurious and relaxing experience. With its indoor and outdoor pools, as well as a spa and wellness center, guests can unwind and rejuvenate in style. The recently renovated property features free Wi-Fi throughout and parking on site, ensuring convenience for all visitors. Each suite is air-conditioned and includes a spacious seating area, along with a flat-screen TV with satellite channels for entertainment. The elegant bathrooms come equipped with both a bath and shower, complete with complimentary toiletries. One of the highlights of staying at Son Gener is the opportunity to savor the delicious fruits and vegetables grown in their organic garden. Additionally, the hotel boasts its own wine cellar stocked with excellent Majorcan wines for guests to sample. Golf enthusiasts will be pleased to know that Pula Golf Club is just a quick 7-minute drive away, while those looking to soak up some sun can head to Cala Bona Beach which is only 3 km from the hotel's doorstep. For ease of travel, Palma de Mallorca Airport can be reached within an hour by car.
Pros:
– Beautifully restored 18th-century farmhouse
– Indoor pool, outdoor pool, and spa & wellness center
– Complimentary Wi-Fi throughout
– Organic garden providing fresh produce
– Own wine cellar offering exceptional Majorcan wines
5 Star Luxury Hotels
5 Star Luxury Hotels offer an unparalleled experience of opulence, sophistication, and impeccable service. These exemplary establishments pride themselves on providing guests with the highest level of comfort and indulgence. From lavish furnishings to exquisite dining options, every aspect of these hotels is meticulously designed to cater to the discerning traveler's every need. With attention to detail that is second to none, 5 Star Luxury Hotels create an ambiance that exudes elegance and ensures a memorable stay for those seeking the utmost in luxury and refinement.
AluaSoul Mallorca Resort – Adults only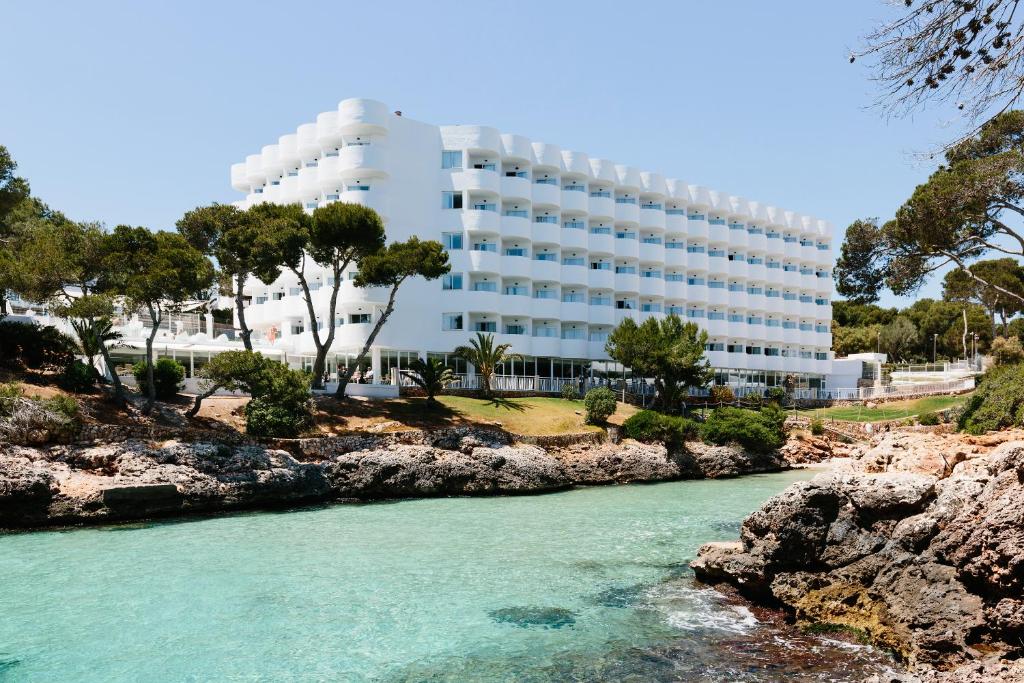 AluaSoul Mallorca Resort – Adults only is a luxurious four-star superior hotel situated in a picturesque cove on the southeast coast of Mallorca, overlooking Cala Egos Beach. With its three outdoor pools, including an exclusive pool for My Favorite Club guests, guests can indulge in ultimate relaxation and soak up the sun. The resort boasts five restaurants offering a variety of dining options, from à la carte to buffet style, as well as two bars, one of which is a beach bar where guests can enjoy refreshing cocktails and aperitifs against the backdrop of breathtaking views. Guests can also unwind on the extensive solarium areas or chill out in serene surroundings. The elegantly designed rooms feature modern amenities such as rain showers, air conditioning, equipped balconies, safes, tea/coffee makers, 42'' TVs with satellite channels, free Wi-Fi access, and hair dryers. The private bathrooms come complete with complimentary toiletries. AluaSoul Mallorca Resort offers an array of entertainment options throughout the day and evening and even has its own beach club for those seeking seaside enjoyment. Additional facilities include a gymnasium for fitness enthusiasts and a wellness area for relaxation purposes. In addition to all these remarkable features and services, this adults-only retreat is conveniently located just 2.5 km away from Cala d'Or's vibrant center filled with shops, bars, and restaurants. For an unparalleled experience during your stay at AluaSoul Mallorca Resort – Adults only opt for their exclusive My Favourite Club®, which offers personalized check-in/out services along with access to the My Favourite Club Lounge featuring snacks and beverages. You will also have reserved areas both indoors and outdoors at your disposal while enjoying accommodation in some of the finest rooms that boast superior attributes.
Pros:
– Stunning location overlooking Cala Egos Beach
– Variety of dining options including à la carte and buffet restaurants
– Exclusive pool for My Favorite Club guests
– Extensive solarium areas and chill out zones
– Convenient proximity to the lively center of Cala d'Or
Hotel Cala Dor – Adults Only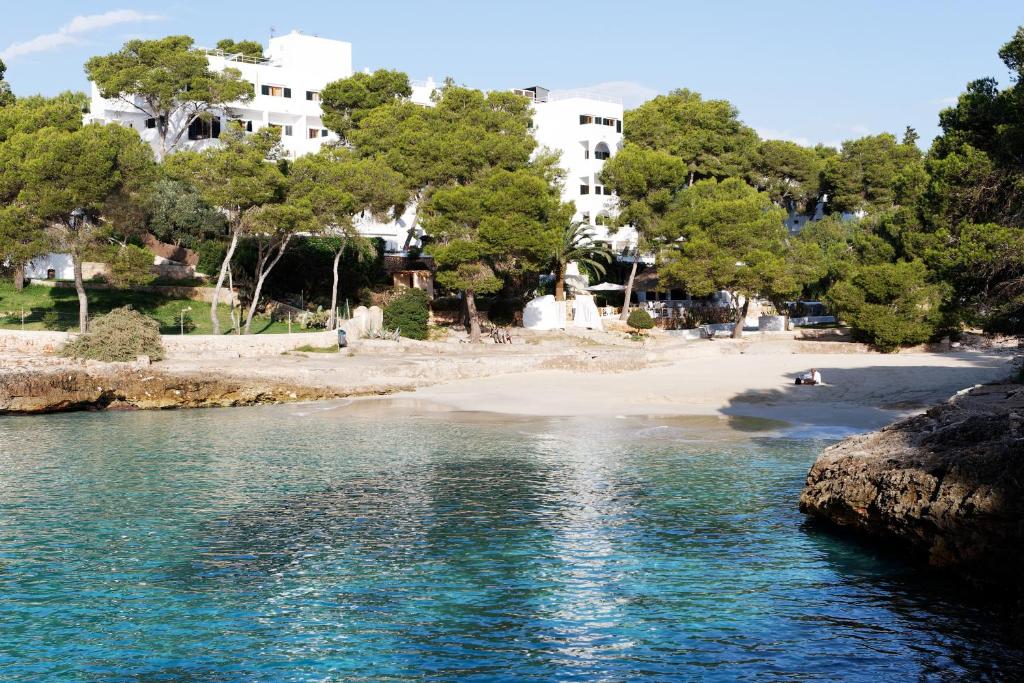 Hotel Cala Dor – Adults Only is a small hotel nestled in a tranquil cove, offering breathtaking views of the sea or gardens from the balconies of its cozy bedrooms. The hotel boasts an outdoor pool where guests can relax and soak up the glorious sunshine, take a refreshing swim, or simply indulge in a siesta. For snacks and refreshments, there is a poolside cafe as well as another option down by the beach. With a fascinating history dating back to 1932 when it served as military headquarters during the Spanish Civil War, Hotel Cala Dor offers an intriguing glimpse into the past. Guests can enjoy easy access to the bright blue Mediterranean waters and pristine white sands just footsteps away. Afterward, they can unwind with a workout at the gym before indulging in some relaxation at the sauna and hot tub. The hotel's restaurant boasts panoramic views over the cove and sea, providing an exquisite dining experience. In the evening, guests can head to the bar for delicious cocktails while mingling with other visitors.
Pros:
– Stunning location with picturesque views of sea or gardens
– Outdoor pool for lounging and swimming under clear skies
– Historical significance adds intrigue to your stay
– Accessible beachfront location for ultimate convenience
– Gym, sauna, hot tub facilities provide opportunities for relaxation
Prinsotel Alba & Spa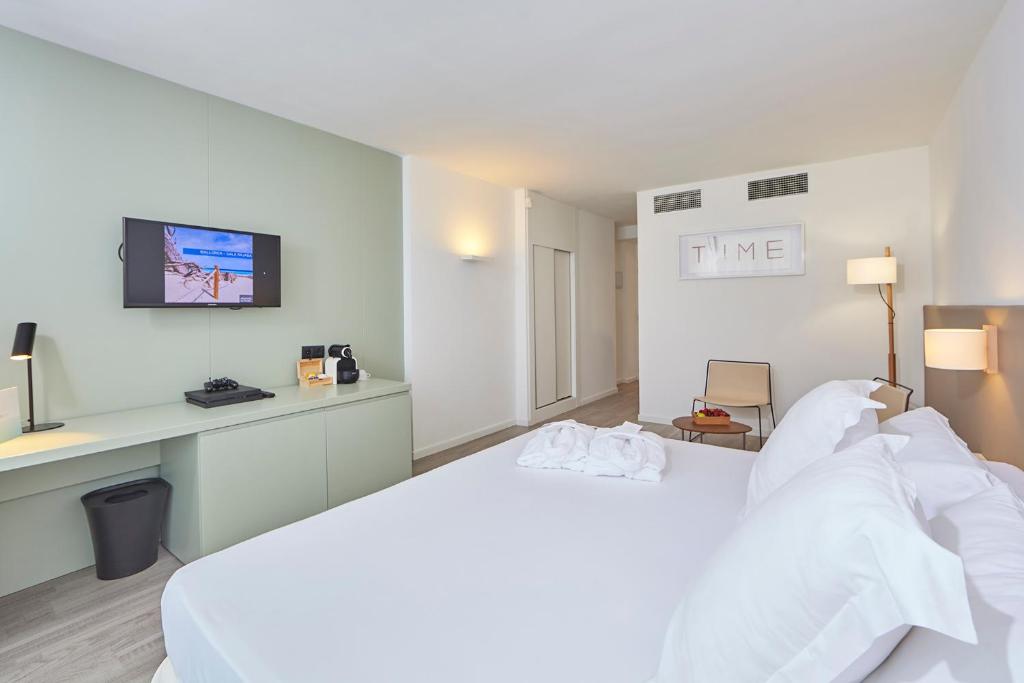 Prinsotel Alba & Spa is a stunning apartment hotel located in the resort of Cala d'Or, Majorca. Recently renovated, this holiday complex offers guests a luxurious stay just steps away from the crystal-clear Mediterranean waters of Cala Gran. The property features a large outdoor swimming pool and sun loungers for guests to relax and soak up the sunshine. With free WiFi available throughout, you can stay connected while enjoying your vacation. The hotel also provides an outdoor bar where you can enjoy refreshing drinks by the poolside or in the lounge bar. Built in a typical Balearic style, Prinsotel Alba & Spa offers an authentic Majorcan experience. The hotel's convenient location puts you within reach of Cala d'Or's popular seaside and water sports activities, as well as easy access to explore the rest of this beautiful island with car and bike rental services available at the reception.
Pros:
– Recently renovated luxury apartment hotel
– Proximity to Cala Gran beach
– Large outdoor swimming pool
– Authentic Majorcan experience in Balearic-style architecture
– Convenient location for exploring Cala d'Or and beyond with car and bike rental service available
Most Expensive Hotels in Cala d´Or
Cala d'Or, a coastal gem on the enchanting island of Mallorca, offers an array of luxurious accommodations that cater to the discerning traveler. These opulent hotels showcase unparalleled elegance and sophistication, providing guests with an extraordinary experience in style and comfort. With impeccable service, breathtaking views, and lavish surroundings, these establishments redefine luxury living. From exquisite dining options to indulgent spa treatments, every aspect of these prestigious properties exudes sheer extravagance. Immerse yourself in the lap of luxury as you explore the most expensive hotels in Cala d'Or – a true paradise for those seeking a world-class retreat.
MarSenses Ferrera Blanca Hotel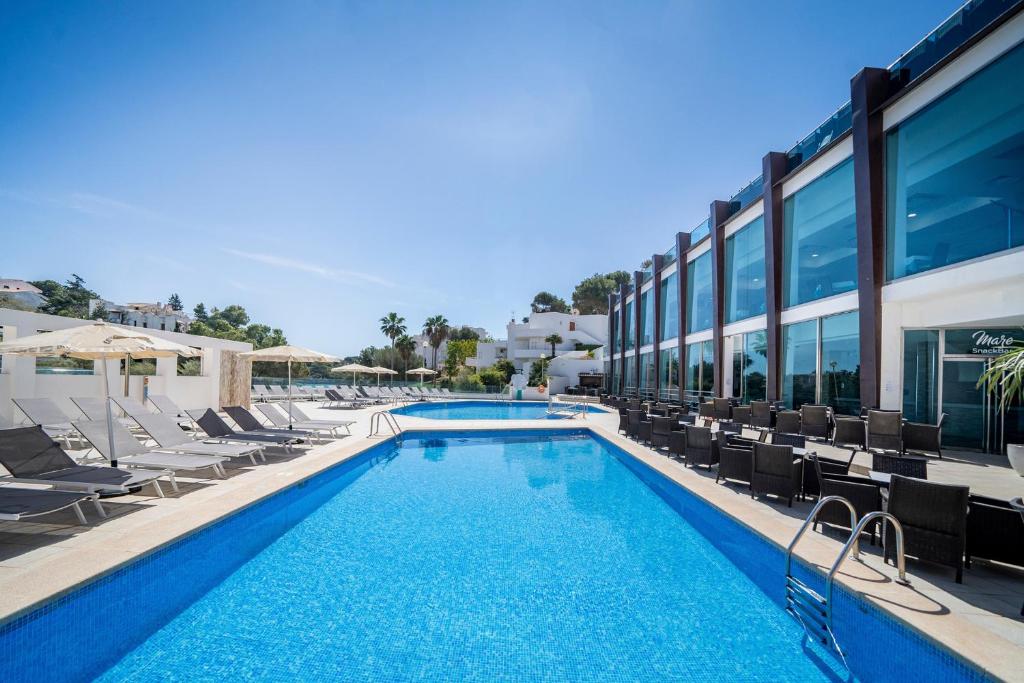 Located in a tranquil area and offering direct access to Cala Ferrera beach, MarSenses Ferrera Blanca Hotel is the ultimate destination for a sun-soaked holiday. Surrounded by stunning beaches in Majorca, this fantastic resort provides the perfect setting for relaxation. Guests can unwind by taking a refreshing swim in the outdoor pool or basking in the sun on the spacious sunbathing areas. The fully equipped apartments are tailored to accommodate families and offer breathtaking views from their large terraces. A leisurely stroll around the beautifully manicured gardens adds a touch of serenity to your stay.
– Direct access to Cala Ferrera beach
– Tranquil location ideal for relaxation
– Outdoor swimming pools with sunbathing areas
– Fully equipped apartments perfect for families
– Breathtaking views from large terraces
Inturotel Sa Marina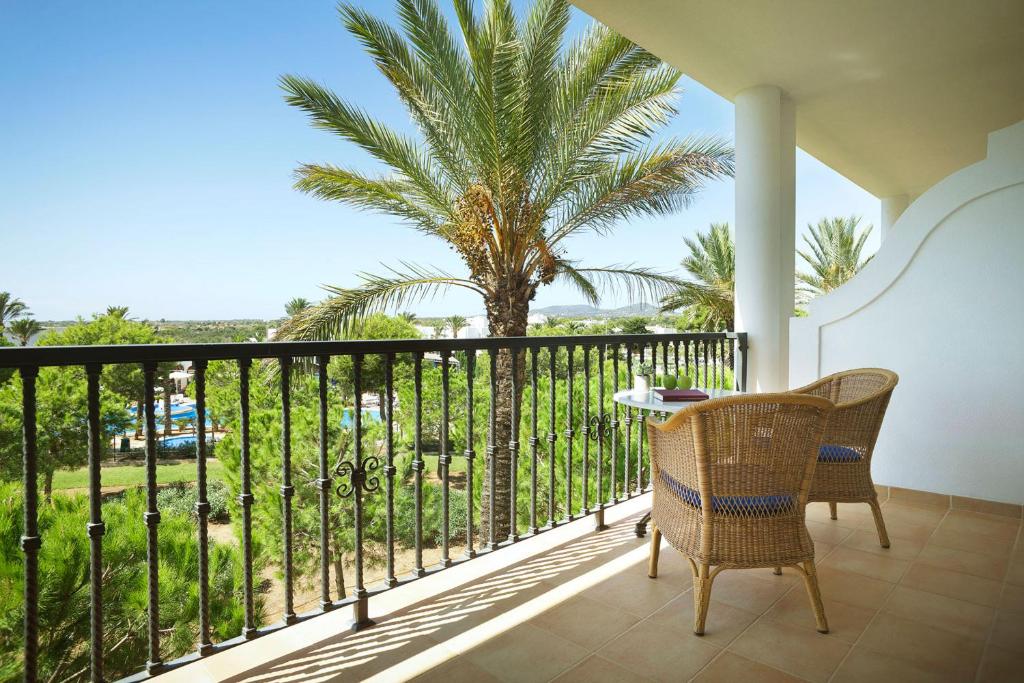 The Inturotel Sa Marina is a luxurious apartment hotel located in Cala D'Or, just 500 meters from the beach. This stunning hotel offers a range of amenities and services to ensure a comfortable and enjoyable stay for guests. The hotel features indoor and outdoor pools, perfect for relaxing and taking a dip. For those looking to stay active during their vacation, there is also a fitness center available. The apartments themselves are spacious and well-appointed, with private balconies offering views of the city or gardens. Inside, guests will find a lounge area with sofa beds and satellite TV for ultimate comfort and entertainment. The hotel also boasts an array of family-friendly facilities such as a play area and Mini Club, as well as evening entertainment to keep everyone entertained throughout their stay. Additionally, guests can indulge in some pampering at the spa which includes amenities such as sauna and hot tubs. Surrounding the hotel are shops, restaurants, the Cala Llonga Marina, and two beautiful beaches – Cala D'Or and Cala Gran – making it convenient for guests to explore their surroundings. Dining options at the hotel include a buffet restaurant serving Spanish and international dishes, as well as a snack bar and lobby bar for lighter fare or refreshing drinks.
– Convenient location near beaches
– Excellent range of facilities including indoor/outdoor pools
– Spacious apartments with private balconies
– Family-friendly amenities such as play area and Mini Club
– On-site spa featuring sauna and hot tubs
Hotel Club Cala Marsal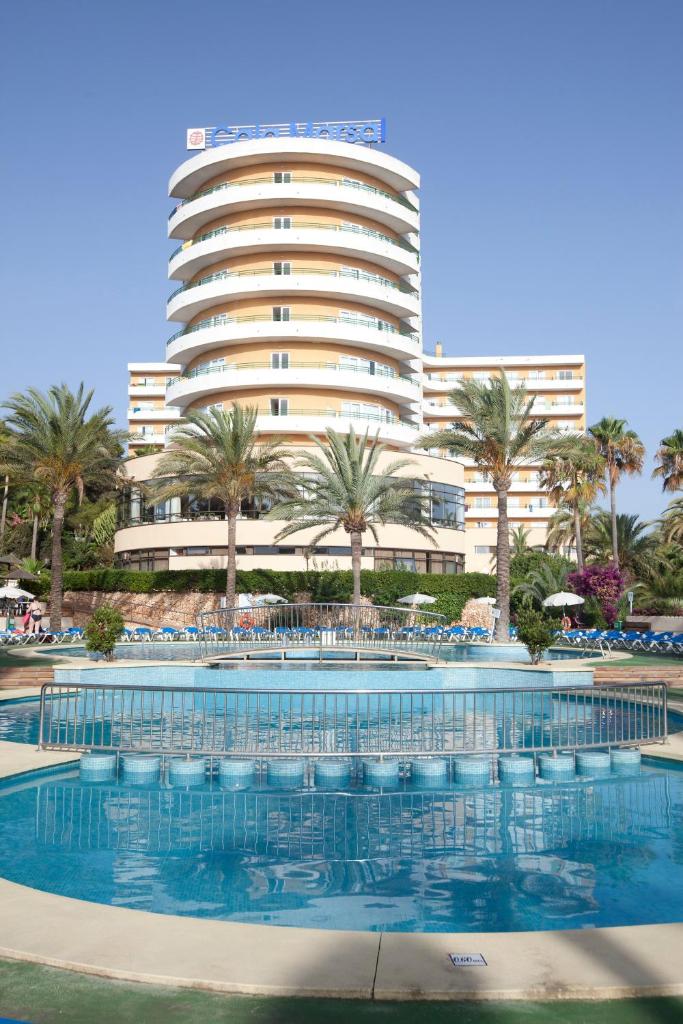 Located just 200 meters from Mallorca's beautiful white beaches, Hotel Club Cala Marsal offers a range of amenities for the whole family to enjoy. Guests can take advantage of the outdoor pool, free Wi-Fi, and indulge in delicious buffet dining. The hotel features spacious and air-conditioned rooms with private balconies boasting stunning sea views. Whether you prefer relaxing by the pool or exploring the picturesque scenery on a rental bike, there are plenty of activities to keep you entertained. Additionally, guests can stay active at the gym or partake in games such as tennis, table tennis, and snooker. For those seeking refreshments, there are multiple bars on-site offering Sangria and Spanish beer. Children are also well catered for with a dedicated pool area, entertainment programs throughout the week, a games room, and playground.
– Convenient location near beautiful beaches
– Spacious rooms with private balconies
– Variety of activities including swimming pools and sports facilities
– Multiple bars serving refreshing drinks
– Excellent amenities for children including entertainment programs and games room
Luxury Cala d´Or Hotels Information
| | |
| --- | --- |
| 🛎️ Luxury Hotels in Cala d´Or | 12 |
| 💵 Hotels Prices From | $206 |
| 💵 Highest price | $1072 |
| 🥇 Average Review Score | 8.5/10 |
| 🛏️ Average number of Rooms | 144 |
Top Luxury hotels in Cala d´Or
| | |
| --- | --- |
| Son Gener Hotel Spa | 9.6/10 |
| Hotel Son Trobat Wellness & Spa | 9.4/10 |
| Hotel Can Moragues Health & Wellness | 9/10 |
| Melia Cala d'Or Boutique Hotel | 8.8/10 |
| Inturotel Sa Marina | 8.7/10 |
FAQ
What are some of the luxury hotels in Cala d'Or?
Cala d'Or offers a range of luxurious accommodation options. Some of the top luxury hotels in the city include the stunning Sentido Cala d'Or Gardens, known for its beautiful gardens and breathtaking sea views. Another popular choice is Meliá Cala d'Or Boutique Hotel, which offers a combination of elegance and modern comforts. For those seeking ultimate relaxation, Iberostar Cala Barca is a fantastic option with its luxurious spa facilities and direct access to a private beach.
Can you recommend any luxury hotels with waterfront views in Cala d'Or?
Absolutely! If you're looking for an unforgettable stay with stunning waterfront views, I highly recommend checking out Blau Privilege PortoPetro Beach Resort & Spa. This 5-star hotel not only offers exquisite accommodations but also boasts magnificent sea views from most rooms. Another excellent option is Hotel Monnaber Nou, located on a hilltop overlooking the bay of Cala Millor. Its idyllic setting allows guests to enjoy panoramic views while indulging in impeccable service and amenities.
What is unique about luxury hotels in Cala d'Or compared to other cities in Spain?
One thing that sets luxury hotels in Cala d'Or apart from others in Spain is their emphasis on creating an oasis-like experience for guests. These hotels are designed to offer tranquility amidst beautiful natural surroundings, often featuring lush gardens or direct access to picturesque beaches. Additionally, many luxury properties in Cala d'Or focus on personalized services and attention to detail, ensuring that every guest feels pampered throughout their stay.
Are there any all-inclusive luxury hotels available in Cala d'Or?
Yes, there are several all-inclusive luxury hotel options available in Cala d'Or. One notable example is Prinsotel Alba Hotel & Apartments, which offers a fantastic all-inclusive package that includes meals and drinks served at their top-notch restaurants and bars. Another great choice is Blau Punta Reina Resort, known for its extensive range of amenities and services available in the all-inclusive package, from gourmet dining to various recreational activities.
What are some popular features or amenities offered by luxury hotels in Cala d'Or?
Luxury hotels in Cala d'Or pride themselves on offering a wide array of upscale features and amenities to enhance guests' experiences. It's common to find properties with lavish swimming pools, state-of-the-art fitness centers, exquisite spa facilities offering rejuvenating treatments, gourmet restaurants serving delectable cuisine, stylish bars for evening cocktails, and even exclusive access to private beaches. Many luxury hotels also offer concierge services to cater to guests' every need during their stay.
Popular Most Luxurious hotel destinations